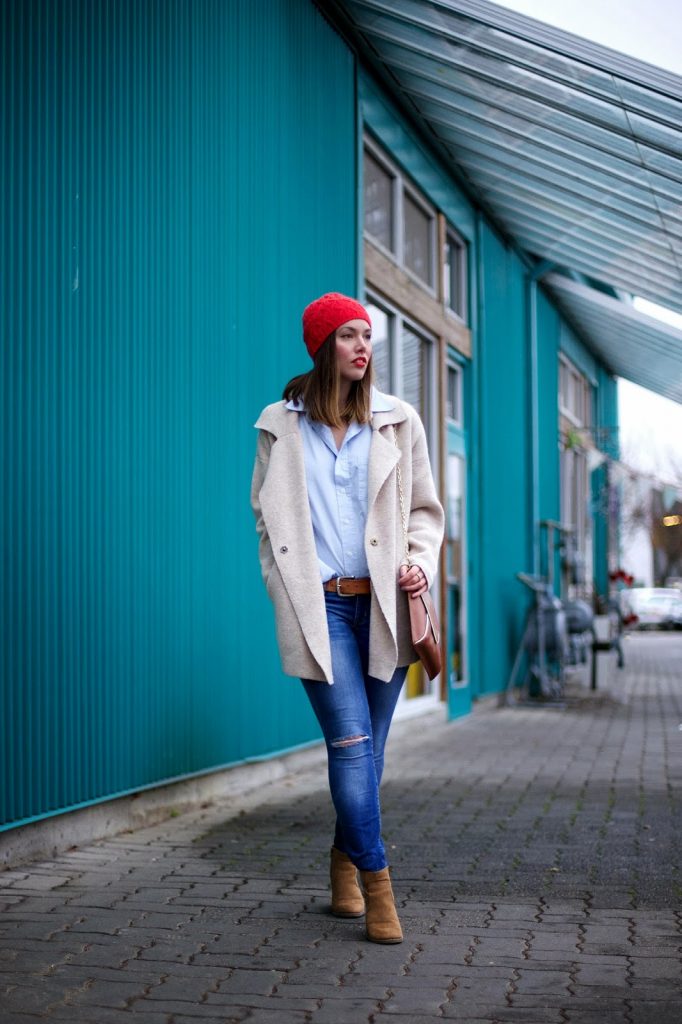 brother's shirt, H&M hat, booties c/o Old Navy,
Unlike
yesterday's full-grey outfit
, sometimes I feel this irrepressible urge right around this time of year to break out the brights. The rain has been torrential for days, the skies are grey and it's still getting dark around 4:30 every day. Brightening up your wardrobe is almost a must in order to brighten up your mood. I love neutrals, but there's only so much black and grey I can wear day after day, particularly when it's so gloomy outside.
I'm particularly fond of this punchy persimmon tone, especially because it's something that I can pair with my lips (always a fan of coordinating lips with your outfit – something so retro and chic about it!). This
Lush lippie
in Strong is a year-round favourite. And while I'm all for full brights if you can pull it off, I personally find that keeping the rest of the look as toned-down as possible really lets the punches of colour pop. Next on my winter brights list? Chartreuse! I have one cashmere sweater in particular that needs to get broken out of the spring pile.
On another note, I had such a great little get-together with
Jen
,
Alicia
and
Erin
last night – I find chatting with my closest blogger girls helps infinitely in terms of getting grounded and gaining some perspective. I don't know about you, but oftentimes I'm so in my own rhythm and patterns that I get too caught up with my work and/or start to see things from a limited point of view. Talking about why we're blogging, bouncing ideas off one another and providing support to each other helps so, so much. If you don't have a blogger circle in your city already, try to get one going! Even if you don't have any other bloggers locally, make a point of visiting one or two blogger friends when you make your next trip to their city – being able to connect in person is honestly one of my favourite aspects of blogging.
On that note, there are a couple things I'm really looking forward to, particularly in early February. Can't wait to experience it all and share it soon! Happy hump day everyone 🙂