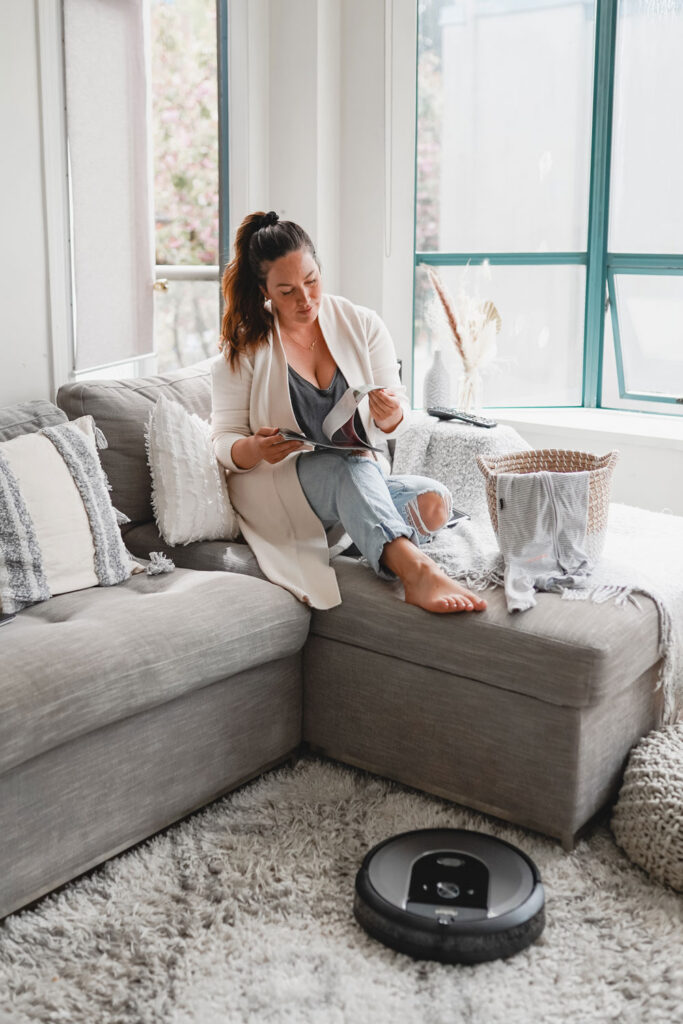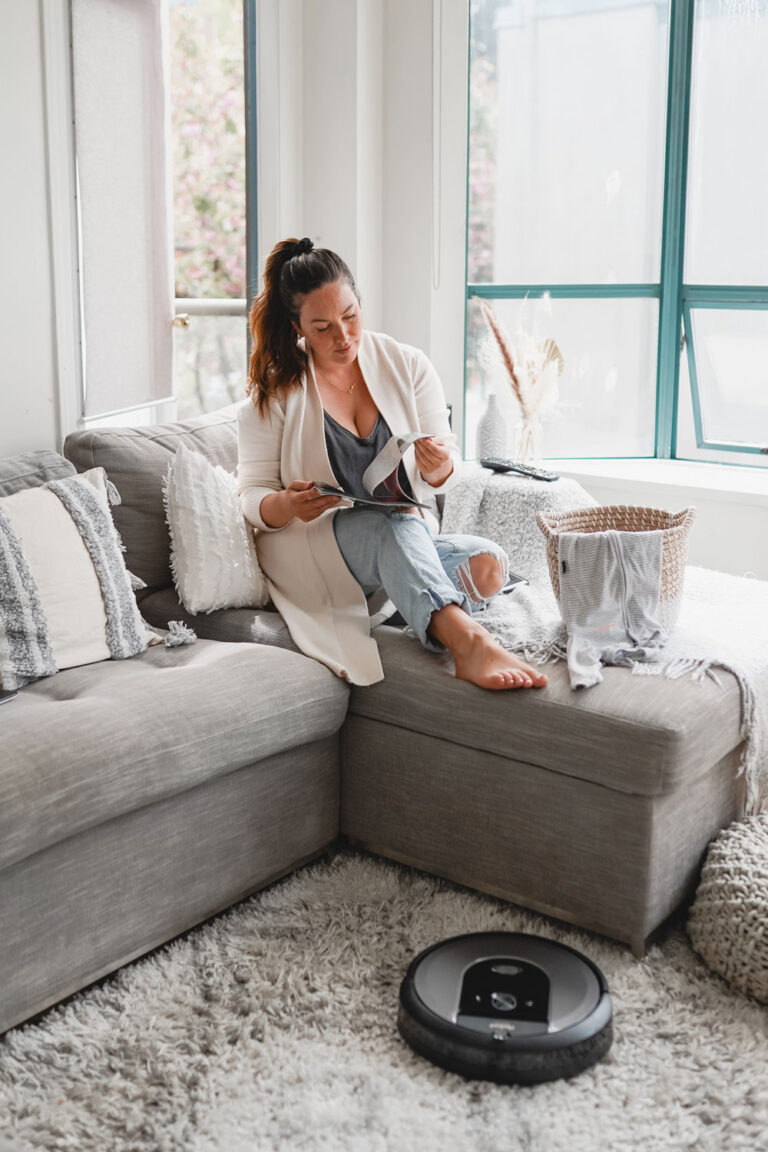 With both Mother's Day right around the corner and having recently rung in my 6-month milestone as a new mama, I've been thinking a lot lately about what I've learned over the last 6 months and just reflecting on what becoming a mum has meant to me and how it's changed me fundamentally. The first and most obvious thing is just that you tap into a different type and capacity for love, and this instant impulse to just do anything and everything you can to make your little one happy. I'm usually someone who has no problem taking that time to take care of myself (I've never really had much guilt about taking "me time") but I've somehow just benched it for the most part the last 6 months, and pretty unquestioningly and without complaint (which again, isn't like me!).
But having said that…I'm TIRED. We're in the middle of a sleep regression right now, I've been trying to work as close to full-time as I can since basically Day 1, I'm the primary parent during the week and Callum is also a freakishly early developer, from getting his teeth absurdly early (and two more look like they're very much on the way, which may explain some of this sleep regression behaviour too) to crawling and he keeps me running after him pretty non-stop, so I feel like I literally take a moment to catch my breath all day until I lie down at night (and for the last couple of weeks, that's often only for a few hours…hope he gets back to his amazing sleep routine soon!). Put simply, I need self-care. It's just getting to the point where carving out that time and being strategic about implementing self-care every day is just so important because with COVID, I haven't done the usual little things that would lift me up & offer a reset (a pedicure, drinks out with friends, a massage, etc), and in the last month or so the effects of not hitting pause have started to catch up to me and I'm just starting to really feel the exhaustion. So what better time to make these changes than with Mother's Day around the corner…I'm teaming up with Best Buy Canada to share one product in particular that has unexpectedly made a huge impact in my day-to-day life: the iRobot Roomba i8+!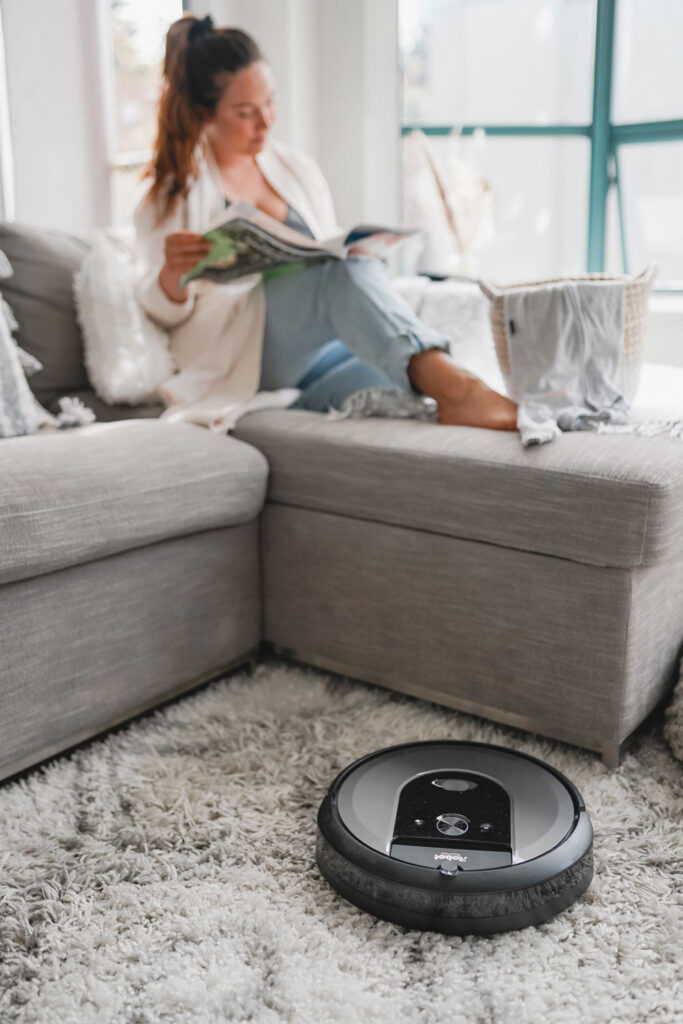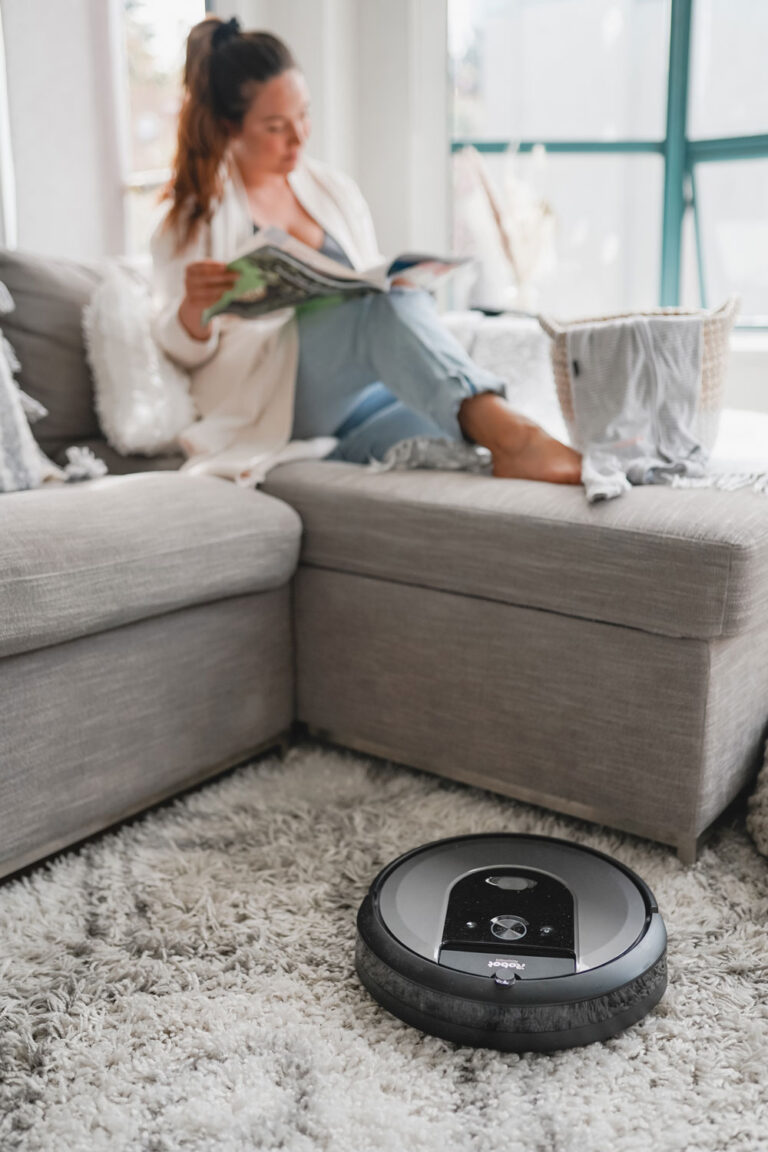 I'll be entirely honest, initially I was a bit skeptical of these robot vacuums, particularly before Cal arrived. Like, is it really that hard to just vacuum your place? We live in a 700 sq ft condo, it can't be that hard to just do a quick whizz with our Dyson (which I also love, FYI) whenever we need it! Well, I was eating my words pretty quickly after Callum came into our lives…I feel like we managed to keep our place semi-tidy during the newborn days, but since Cal started moving & grooving, I'm lucky if I do his laundry so that he at least has some fresh bibs to soak through, let alone vacuum. What I wasn't prepared for either was postpartum hair loss. I thought maybe I'd gotten away without it happening as it hit me a bit later, but once I started losing hair, I started really losing hair (don't panic if you're looking ahead to postpartum…already my hair loss is slowing down and I'm seeing little regrowth!).
Basically, our apartment was covered in a layer of dust, the kitchen floor was a disaster, my hair was absolutely everywhere and of course, I felt appalled and worried about Cal being around all these potential allergens, dust & build-up…both Matt and I were doing our best but both of us were feeling absolutely burnt out just barely containing the mess in our place (it becoming completely clean is a pipe dream I think we've both let go of some time ago…just reasonably tidy is okay now). There's a certain level of busy that you just can't comprehend until you have a baby, particularly if you're trying to work around caring for them too. Barring having a cleaner coming in every week, we just needed some serious help.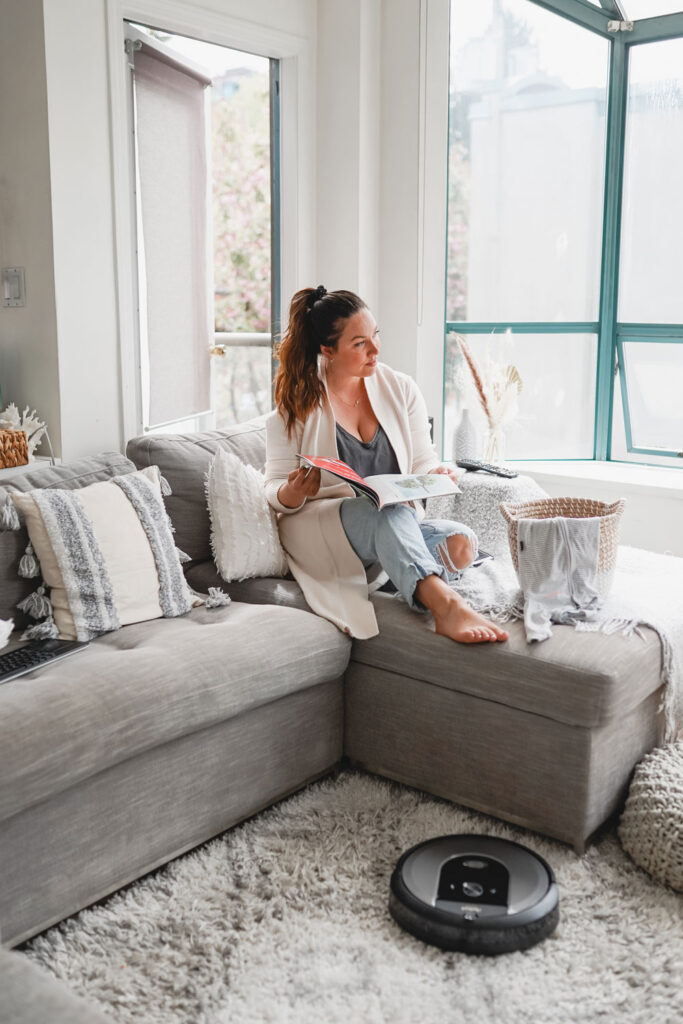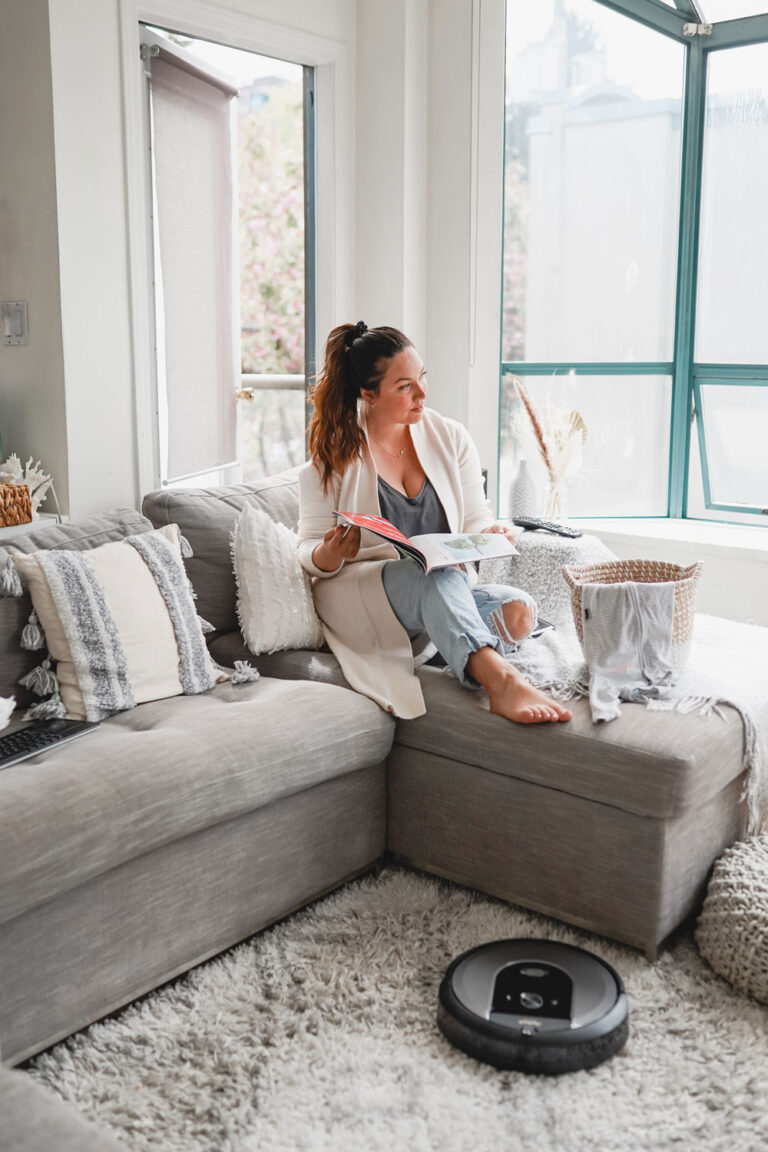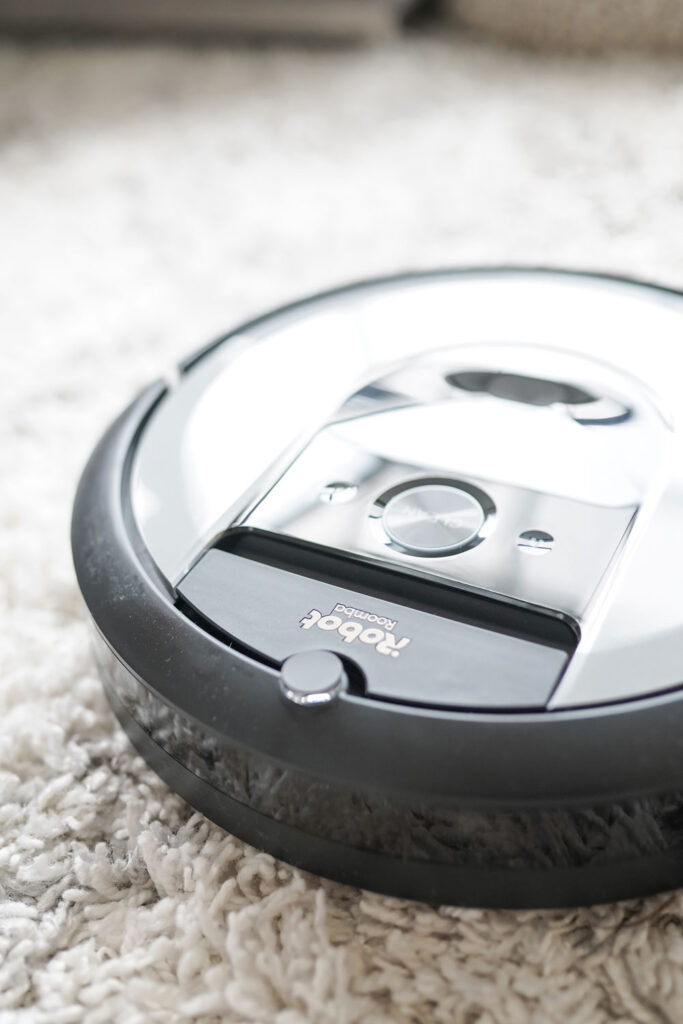 A bit skeptically, we set up the Roomba and honestly within its very first run, we were both iRobot converts. All controlled from the iRobot app (though it's also compatible with smart home systems such as Google Home and Amazon Alexa [we have Google Home], allowing for easy voice commands for spot cleanings), it was so cool to see it literally mapping out our space on its initial run, using its signature vSLAM navigation to learn the layout of our home.
Once it's done a couple runs of your home, it builds Smart Maps that you can personalize so that each room is labeled and separated properly, allowing you to do single room vacuums, or even a specific combination of rooms (like the family room and kitchen). It also allows you to have Keep Out Zones, which is awesome for us since we don't want the vacuum going near his playpen, where Cal spends 99% of his time crawling around like a maniac.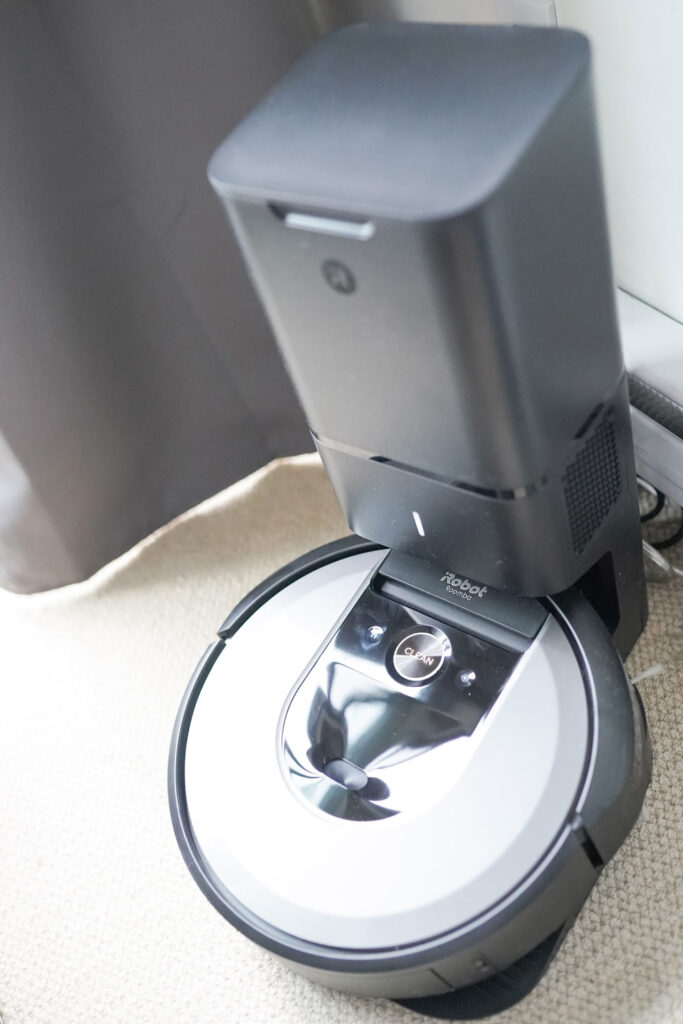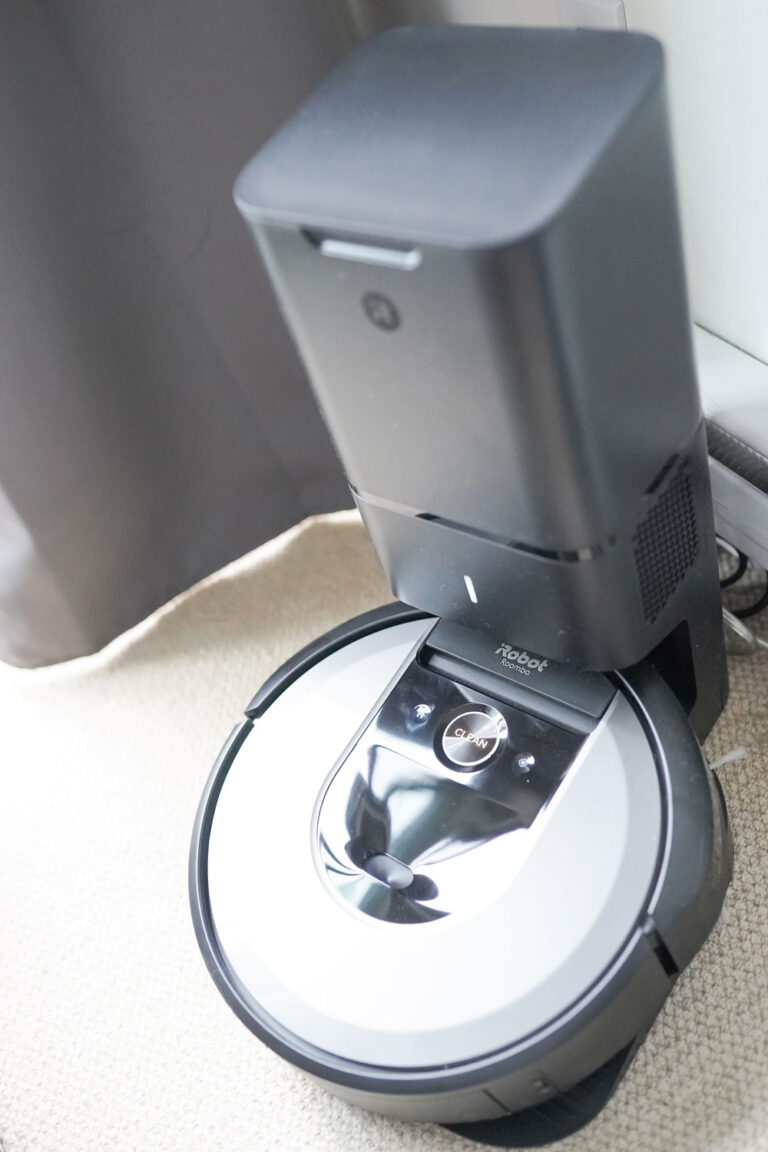 We both have developed pretty intense obsessions in our short time with the Roomba in getting it to vacuum our place at least once a day while we work and like the nerds that we are, excitedly watch it navigate hard-to-reach areas like underneath Cal's crib, under the TV console, etc, but the real beauty of it is that it basically can clean your space on automated schedules that you set up, and will even return back to its charging home base on its own when done or when it needs a charge (also knowing to resume its exact position if its battery runs low and needs to charge, picking up the job right where it left off). So while we really wanted to see it in action at first, we're setting up a schedule to line up with our daily walks so that it will tidy up our space while we're gone for our afternoon jaunt around the neighbourhood (though of course, you can always just start a cleaning on demand with the tap of a finger in the app).
Given we're the top floor of our condo building and just the nature of our space has always meant we get a lot of dust, which I not only don't want Cal to be around, but I also happen to be really sensitive to. Not only do its AllergenLock Bags capture & trap 99% of pollen and mould to keep our space fresh, but the Clean Base Automatic Dirt Disposal in the home base empties the vacuum for up to 60 days, meaning you literally don't have to lift a finger at all. Its premium 3-stage cleaning system covers most any surface, crossing from hardwood to carpet seamlessly. It has incredible suction and tackles deep-down dirt with ease, and it's honestly just the biggest treat to see the floors cleared of my hair. And seriously, it gets under spaces I can't ever reach even with a handheld vacuum, not to mention it's a pain having to get down on the ground and get so close to tons of dust!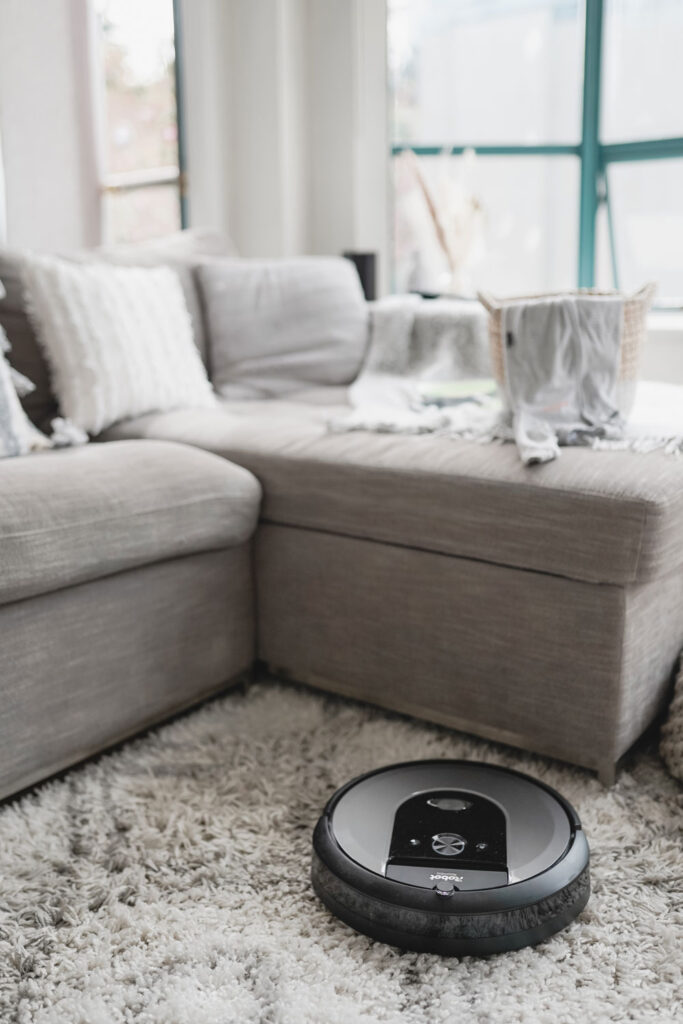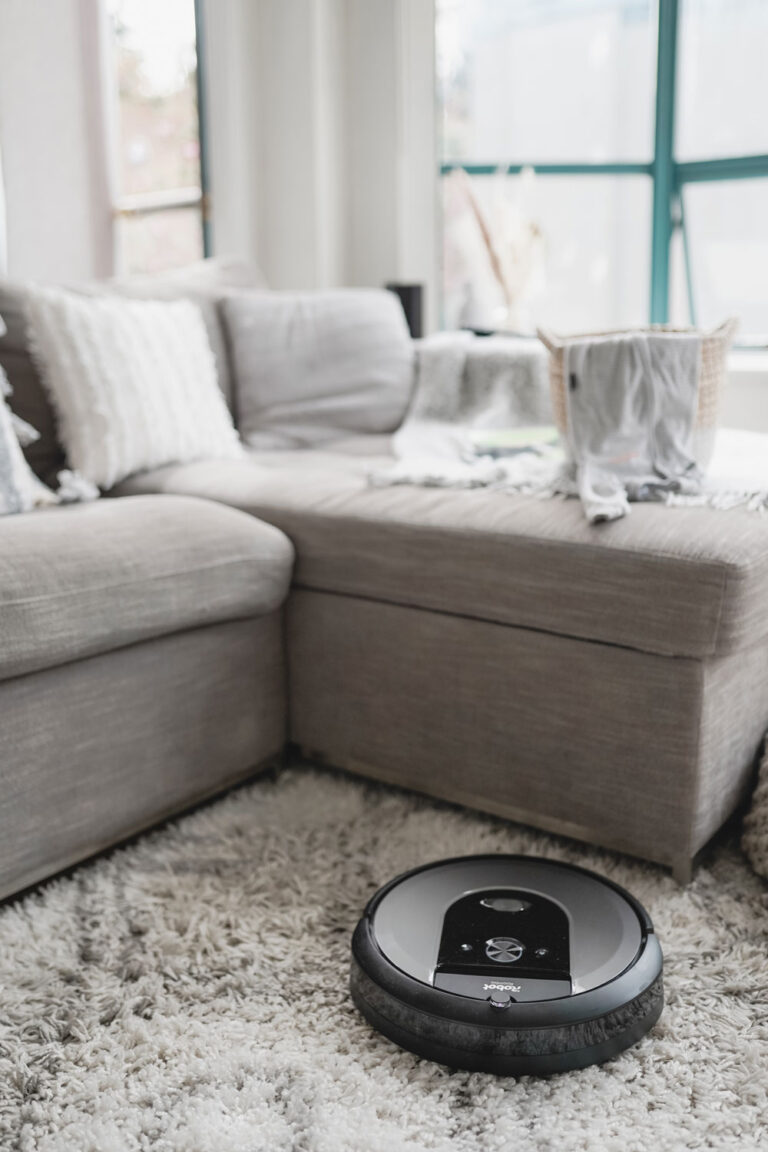 The last little detail I need to cover because I just think it's so cool and shows the level of thought that's gone into building this machine is that its smart tech learns your cleaning routines, suggesting personalized schedules and even suggesting extra cleanings during allergy or pet-shedding seasons! It's honestly been such a huge asset to me already…I feel like our space is not only so much tidier, but just getting to cross off one near-daily chore off my list has really freed me up to not only get to other to-do's faster, but allowed me to take a second to watch a show (Housewives always, the ultimate turn-my-brain-off program I need right now), have a glass of wine, read a magazine, etc.
Shop the iRobot Roomba i8+ (currently on sale for $300 off until May 6th) and more amazing Mother's Day tech gift ideas at BestBuy.ca! Trust me, the mama in your life deserves a break (and if you're reading this and you're a new parent also experiencing a similar level of burnout…please do me a favour and seriously consider the Roomba!).