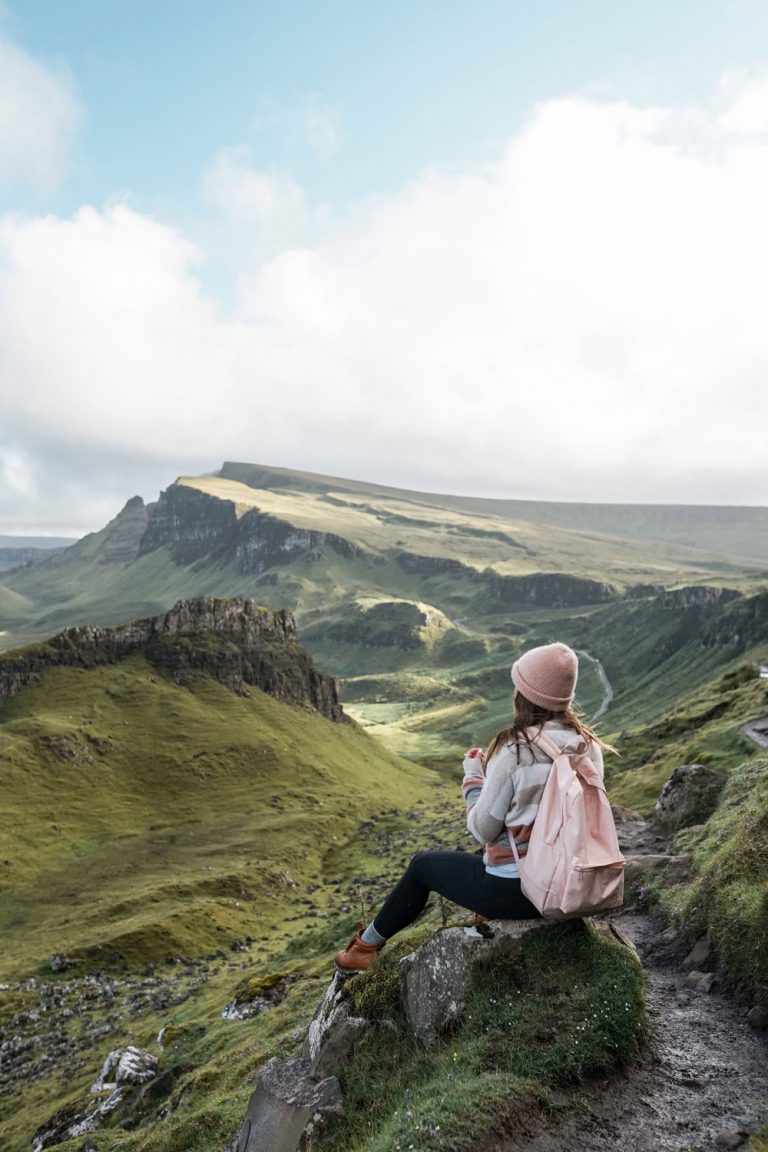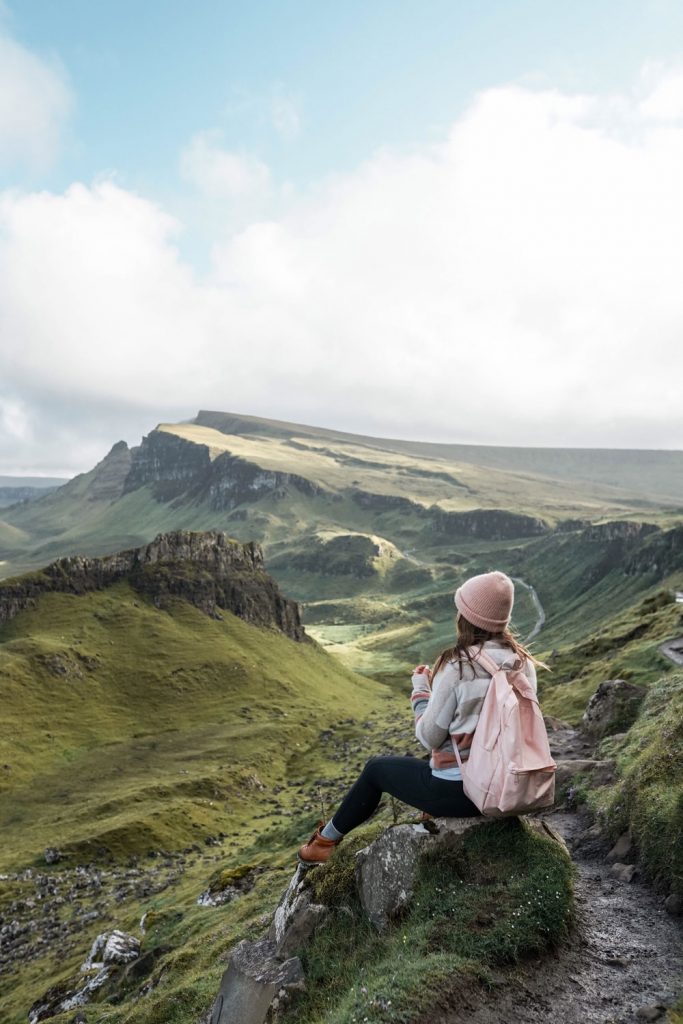 While I covered literally everything that we did on our epic Scotland road trip in my A 1 Week Road Trip Itinerary to Scotland guide, I wanted to round-up the must-see attractions of Isle of Skye specifically (and will do one soon about Edinburgh, another dense location) because this was such a special leg of the trip and really worth spending as much time as possible at. I honestly could've spent a couple more days here, getting to really soak in all the attractions at a slower pace and discovering more of this magical island. So if you're planning your Scotland adventure now, out of the gate please try to budget as much time as you can to Isle of Skye! You'll see why after covering all these top 8 magical experiences below.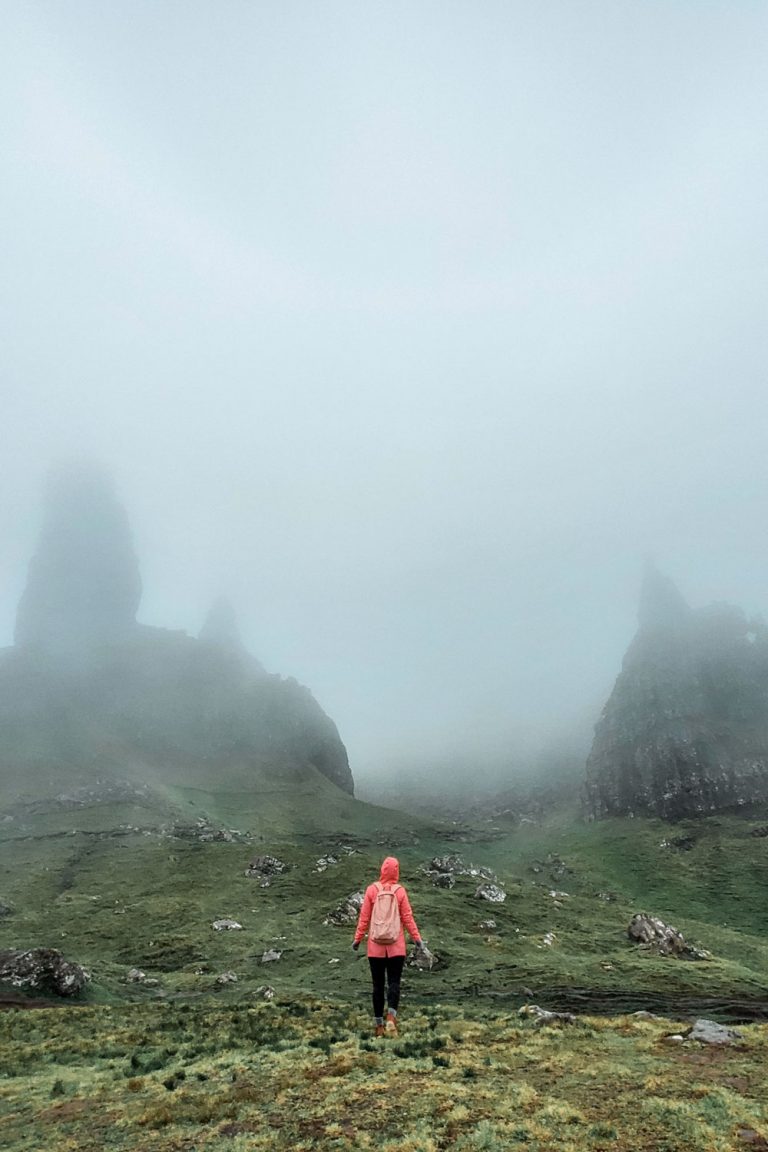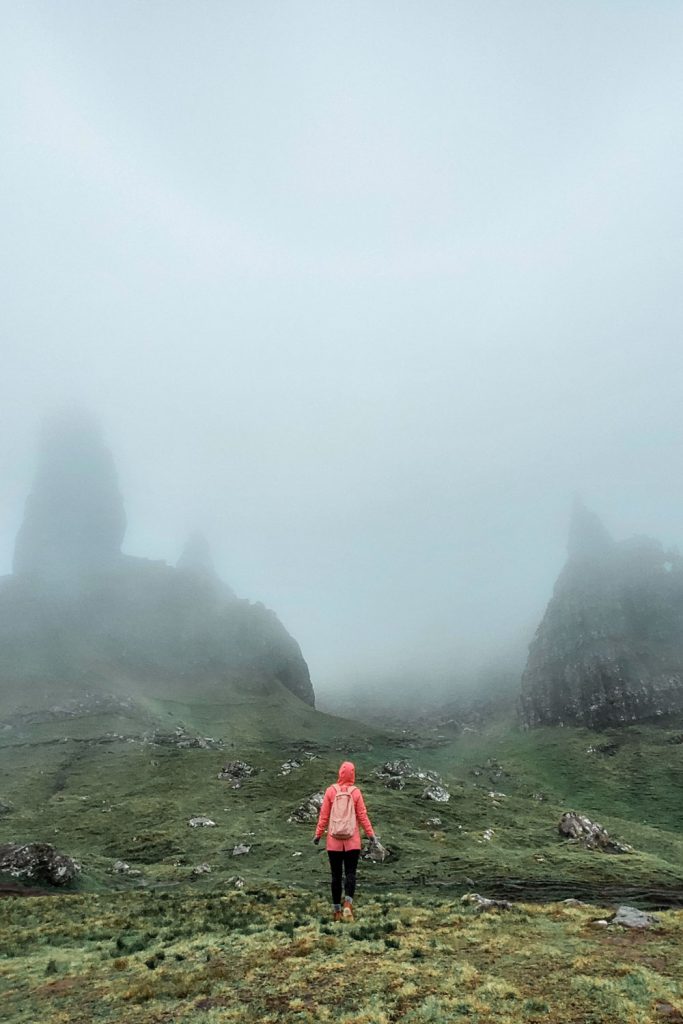 9 Essential Isle of Skye Experiences

The Old Man of Storr, Kilt Rock + Mealt Falls, The Quiraing, The Fairy Glen, Drive the Trotternish Loop, The Fairy Pools, Portree, Neist Point Lighthouse + Coral Beach
The Old Man of Storr
As I mentioned in last week's guide, we literally got rained out of The Old Man of Storr, which was a little heartbreaking but also hilarious. We're from Vancouver where it rains all the time, so we were pretty cocky heading up when we saw all these rain-soaked tourists dejectedly making their way down. Not us!!! We've dealt with far worse. But while we were one of the few who bothered to make it to the top, the rain and wind only intensified making it impossible to actually see the gorgeous rock formations (you can see them in clear weather here).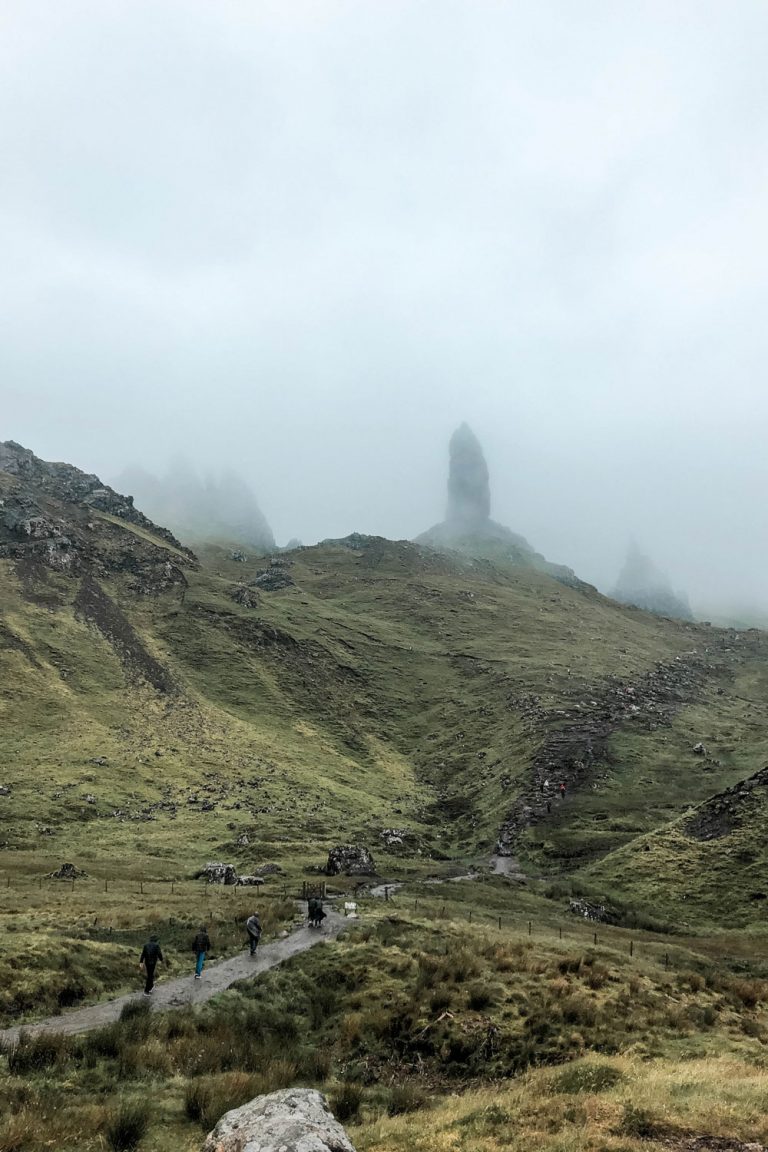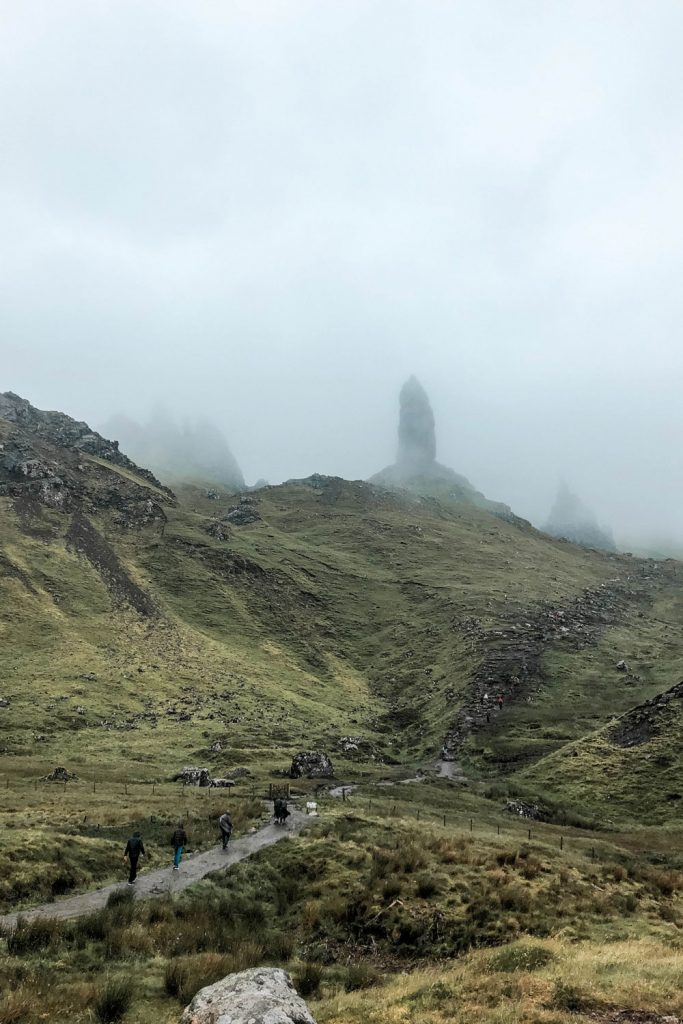 We ended up getting worried that I was going to be hypothermic because I was shaking so violently that we had to head back down after waiting it out for some time but even in thick cloud and rain, it was still gorgeous – if you're lucky enough to get a clear day, make this your first stop as it's likely one of the busier locations on the island!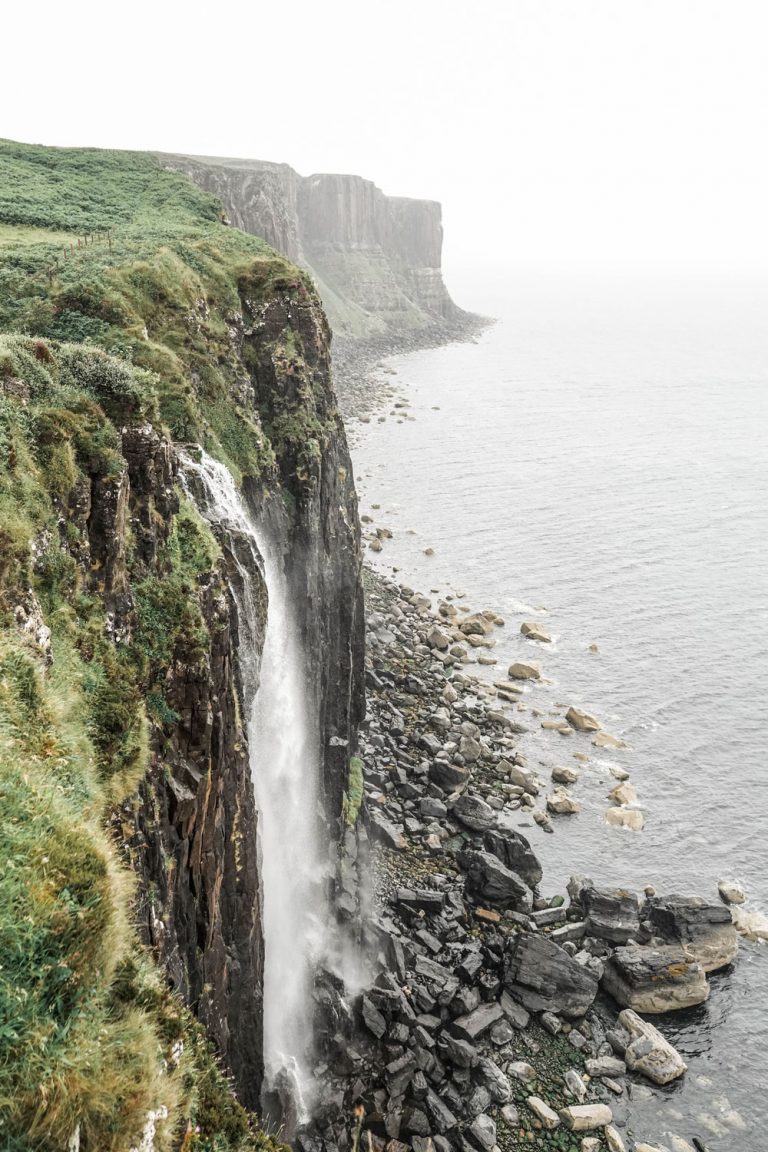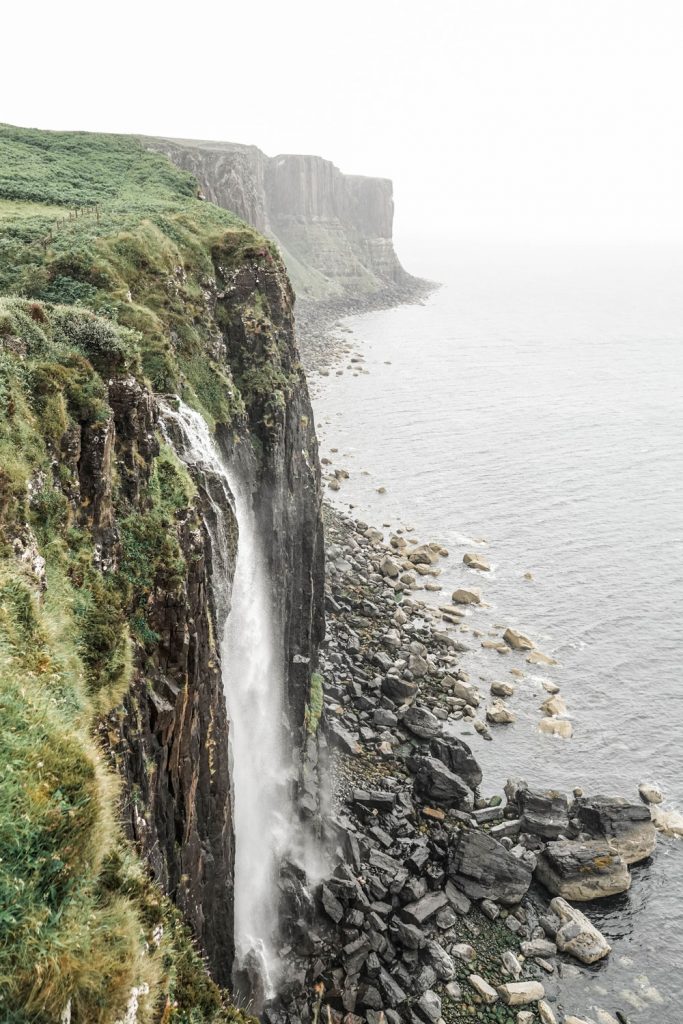 Kilt Rock + Mealt Falls
This is a super easy stop but one worth seeing quickly! It's literally just a car park and then you can walk up to viewing platforms so if you're doing the Trotternish Peninsula Loop drive (more on that in a second), it's well worth just popping out to see! And as you can see in that snap above, it's beautiful.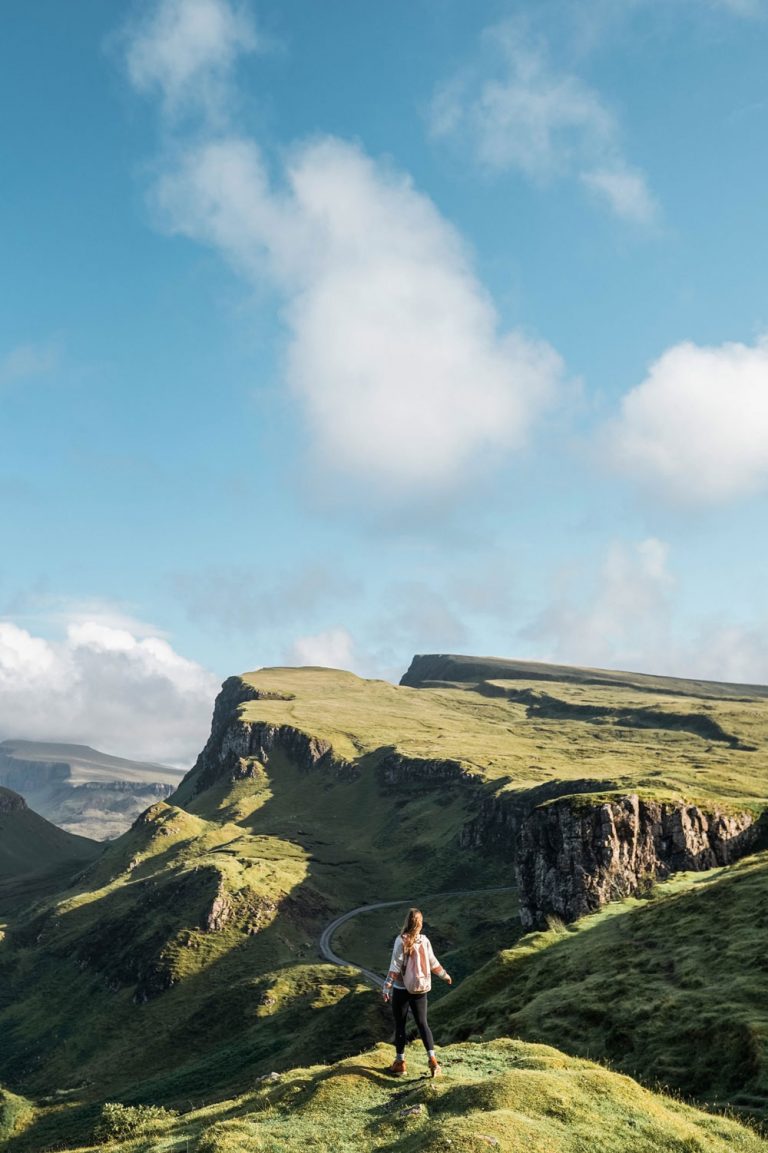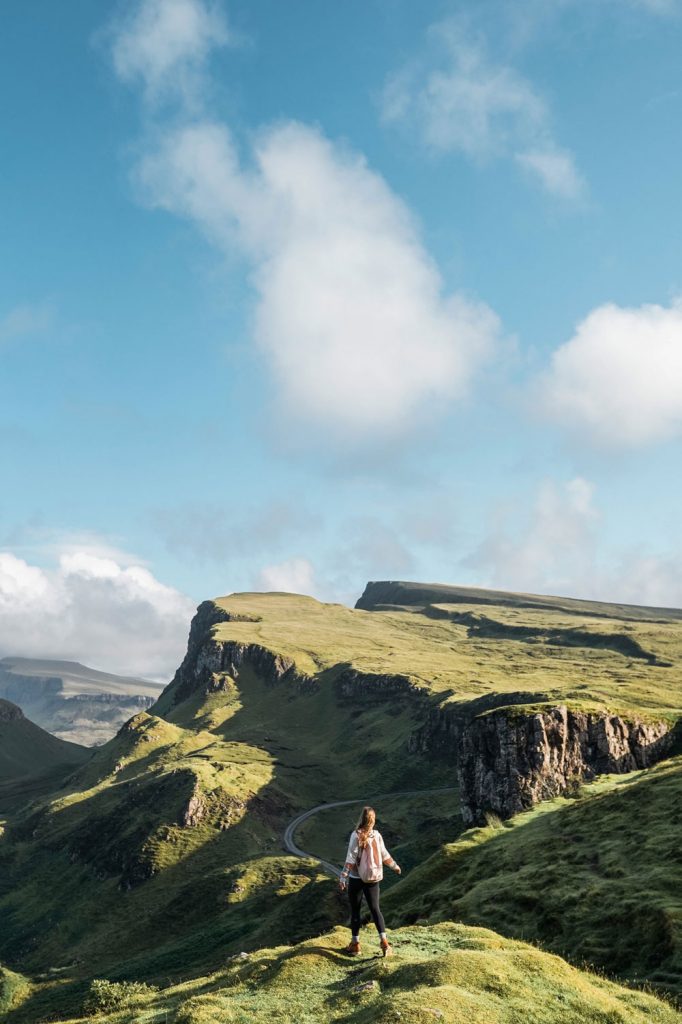 The Quiraing
I have more pictures from the Quiraing over on my Insta feed and on the blog than any other location from Scotland and with good reason – even though we only spent an hour or two here, it was easily the most magical and picturesque thing we'd seen over our entire trip, including our first leg in Ireland! It's just magical. Pack your hiking boots and head out to take in all the magnificent views – make sure you budget for extra time because you'll be stopping non-stop.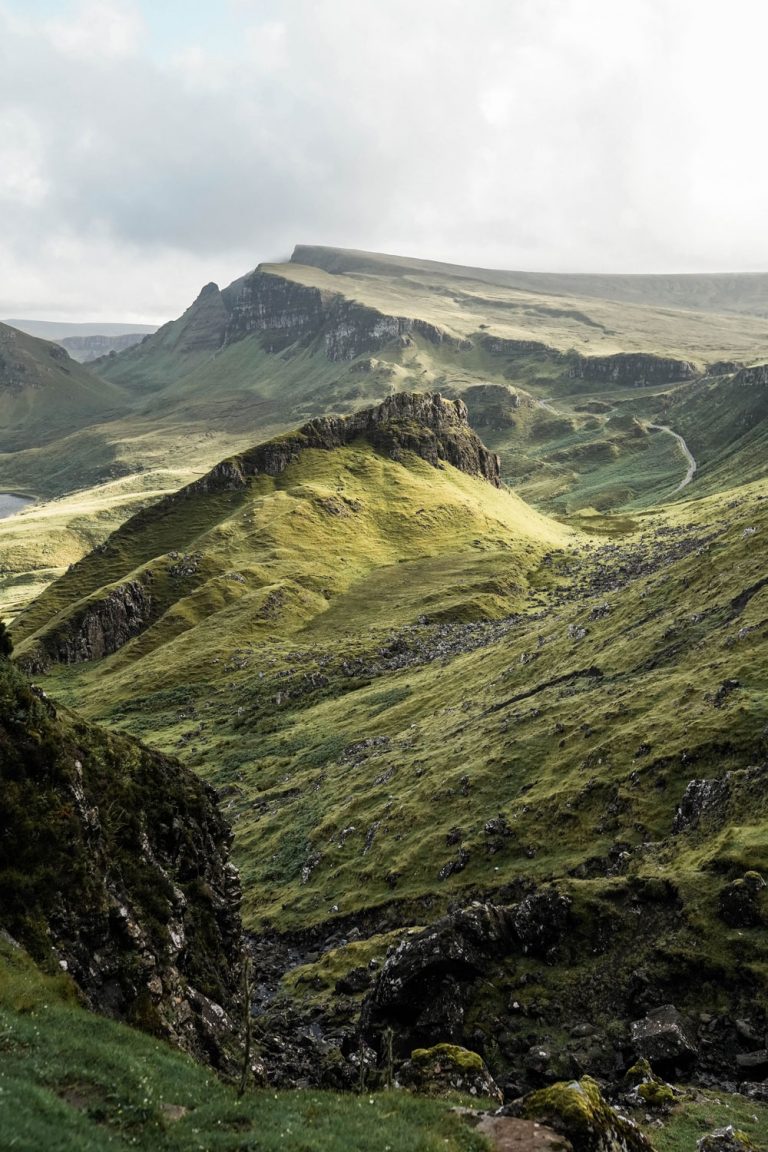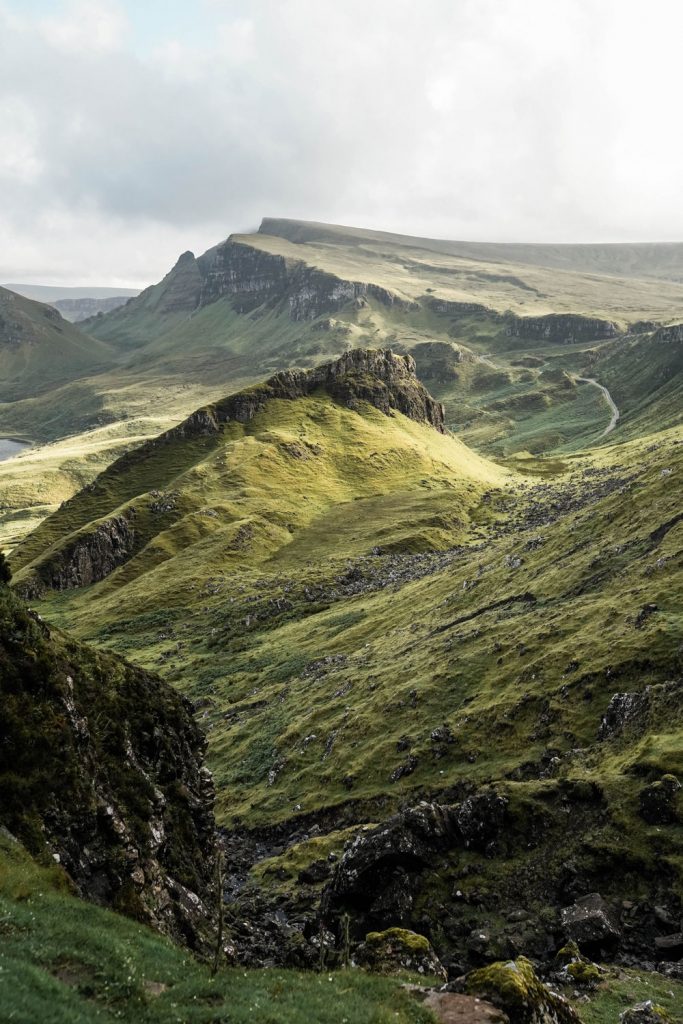 Like the Storr, the Quiraing's unique dips, valleys and rock formations are a result of landslips (or landslides) over the years. This is a common theme throughout the Isle of Skye, so a lot of the island has these special formations or unique, otherworldly hills and peaks. It just adds to the magic of the island.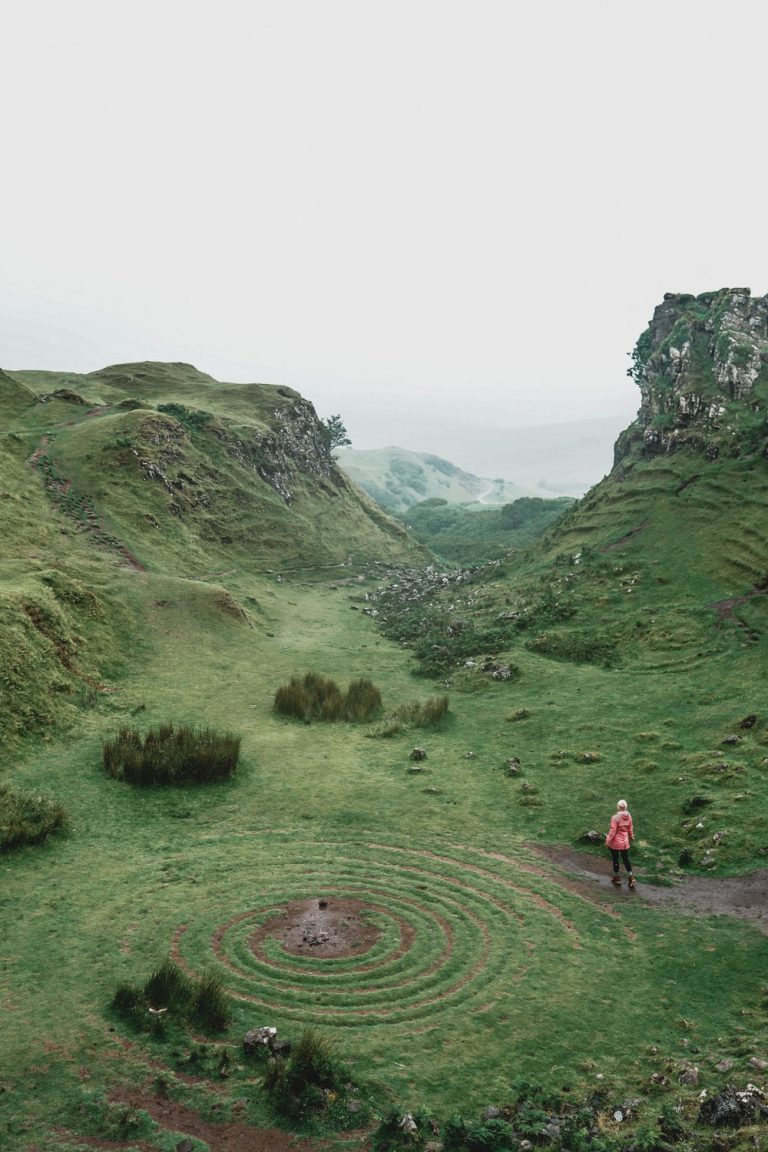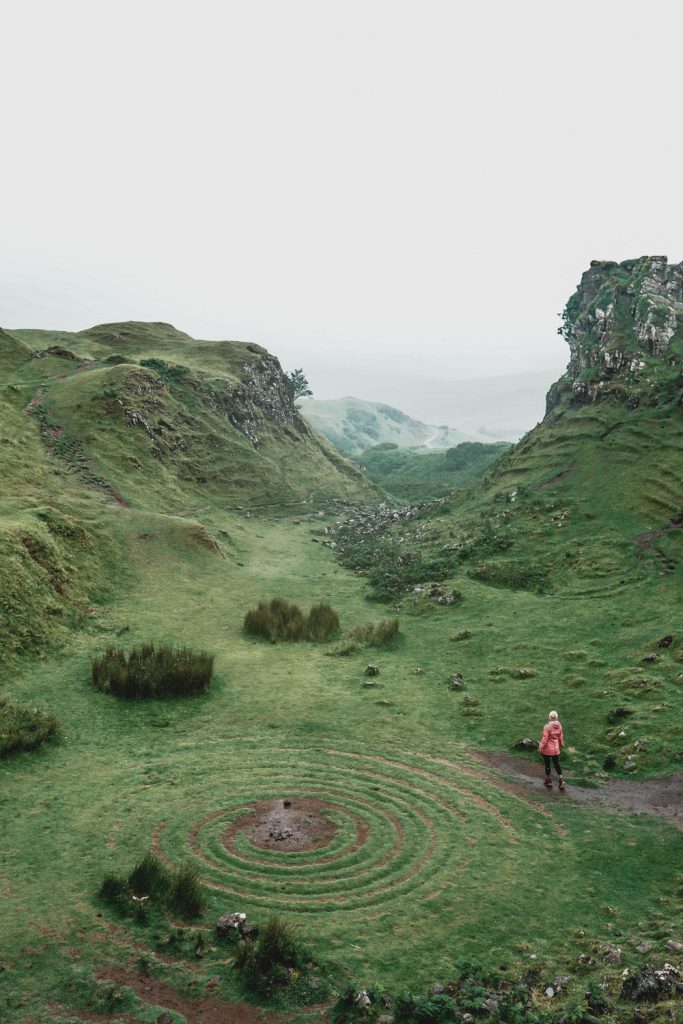 The Fairy Glen
Speaking of magic, we'd been getting seriously rained out all day (those snaps of the Quiraing above were taken later in the day when the sun finally broke through the clouds) but when we arrived at the Fairy Glen, the rain had calmed down to this beautiful, soft mist. It made everything more fairytale like as we walked into this serene space.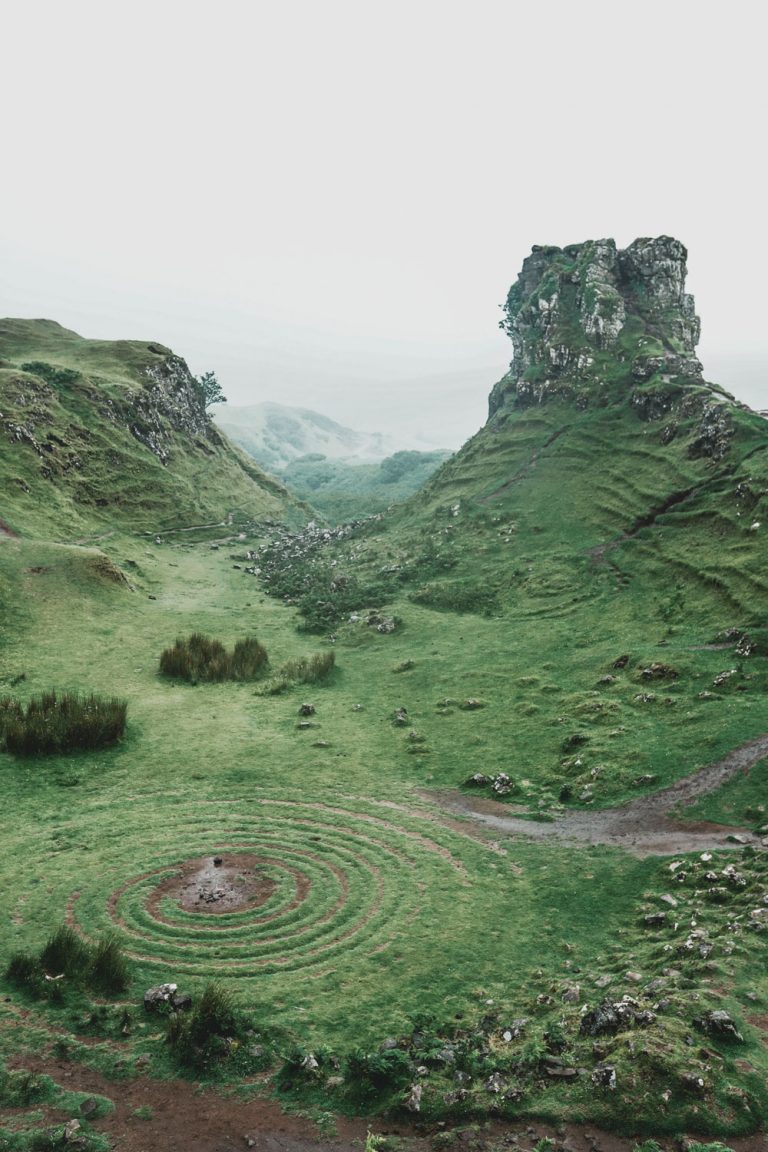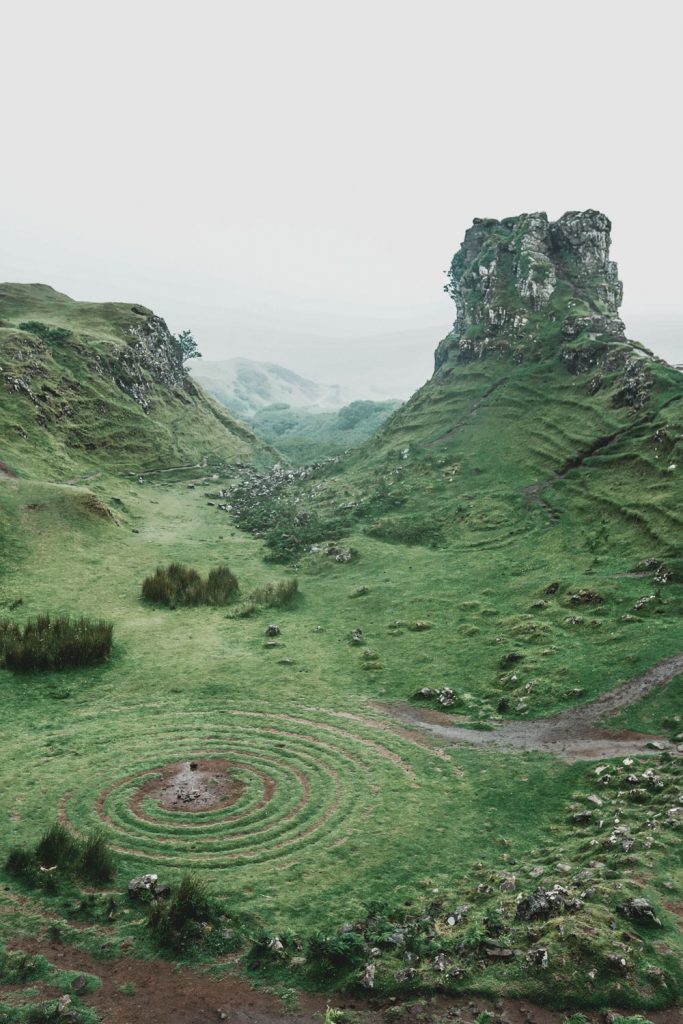 I've read that this can actually be quite touristy but for us, it was nearly empty the entire time we were there. I'd take advantage of a rainy day and come here because it will keep some less hardy tourists at bay and it's one place that is just as beautiful and safe to navigate in the rain as in the sun!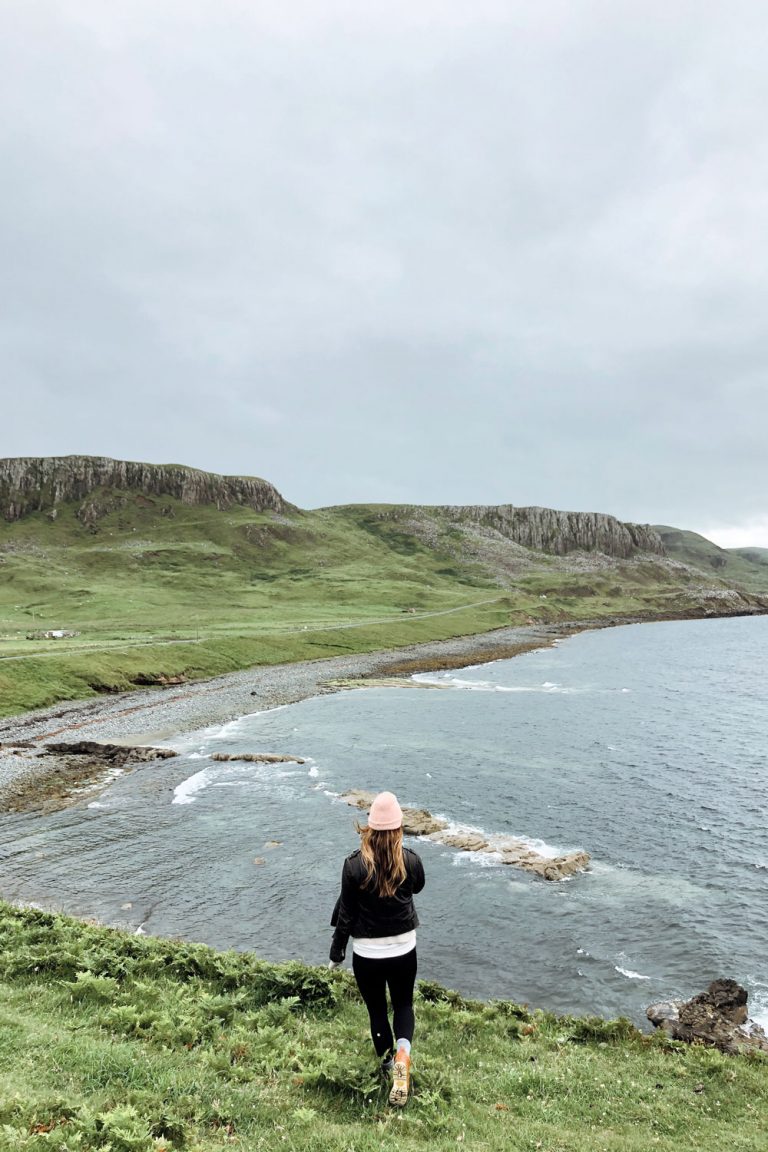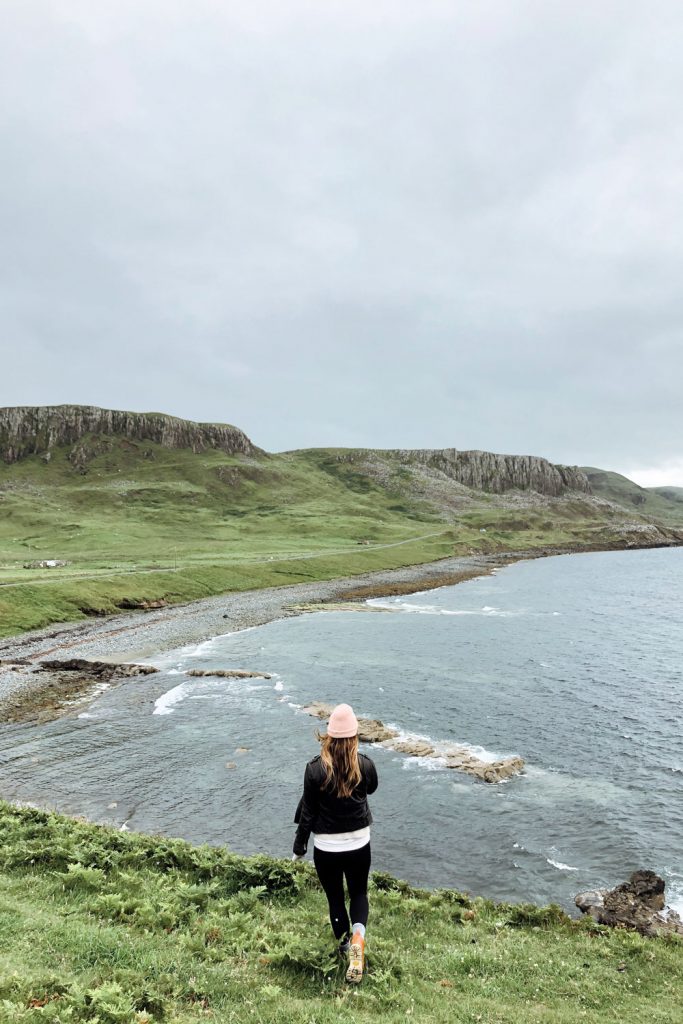 Drive the Trotternish Loop
While this is just a general drive, I have to include it because there are so many picturesque and gorgeous views to pull over so it's kind of an attraction in and of itself. This snap shows a general route for it and some of the things you'd see on it, but you'll be starting in Portree and heading north to cover Old Man of Storr, Kilt Rock, the Quiraing and the Fairy Glen! So not only are you taking in a ton of the incredible attractions already listed above, but the drive itself is just beyond gorgeous. I would commit one day to doing this from start to finish, which is what we did and it was a full day.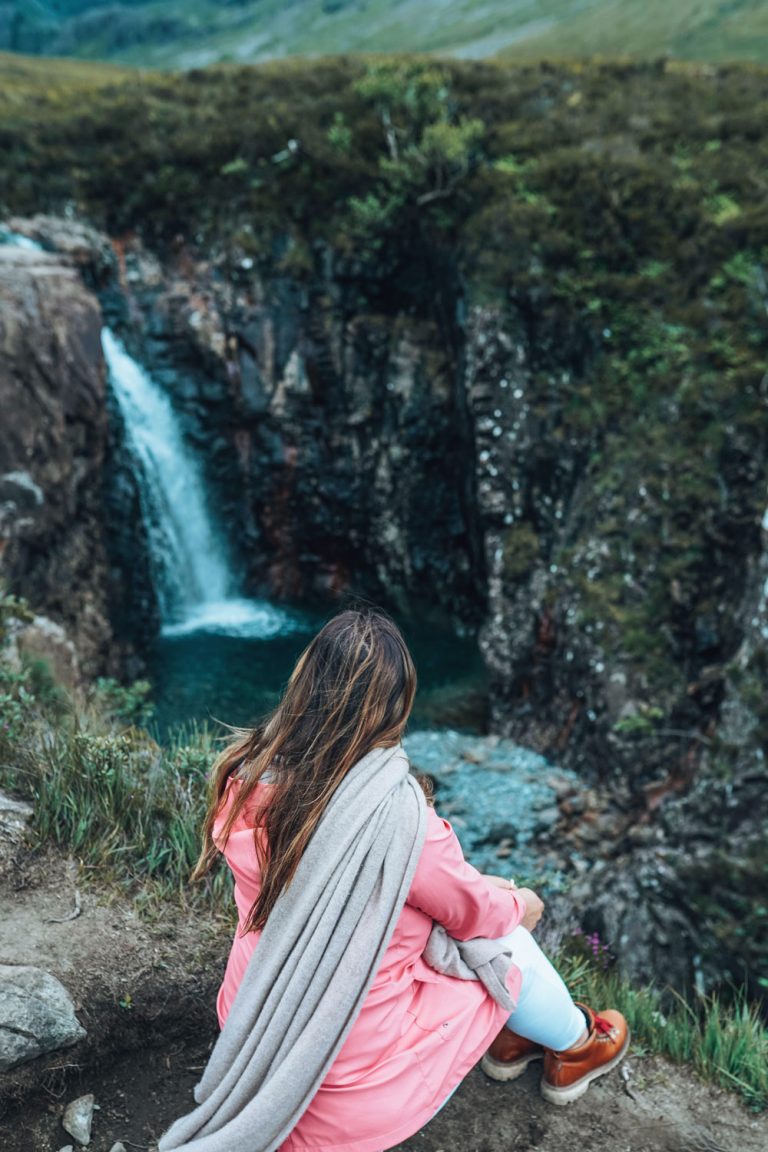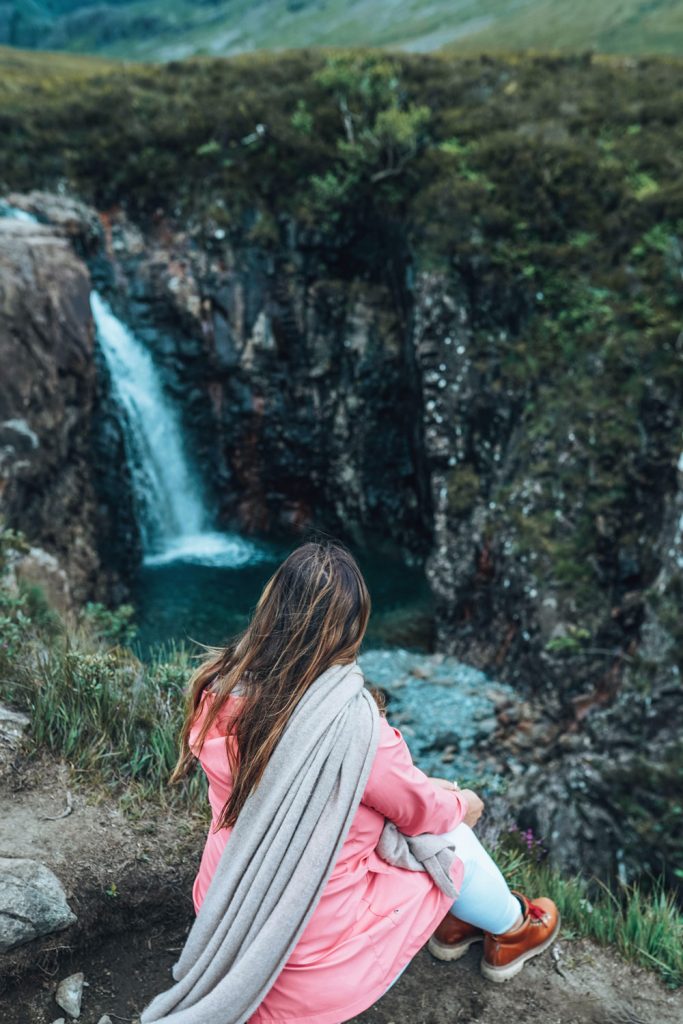 The Fairy Pools
I wouldn't do this on the same day as the Trotternish Loop – keep this as its own experience (maybe on a day that you take in Neiss Point or other things on the west side) as the walk itself is pretty decent and if you're lucky enough to be there on a warm enough day, you should swim in the pools too!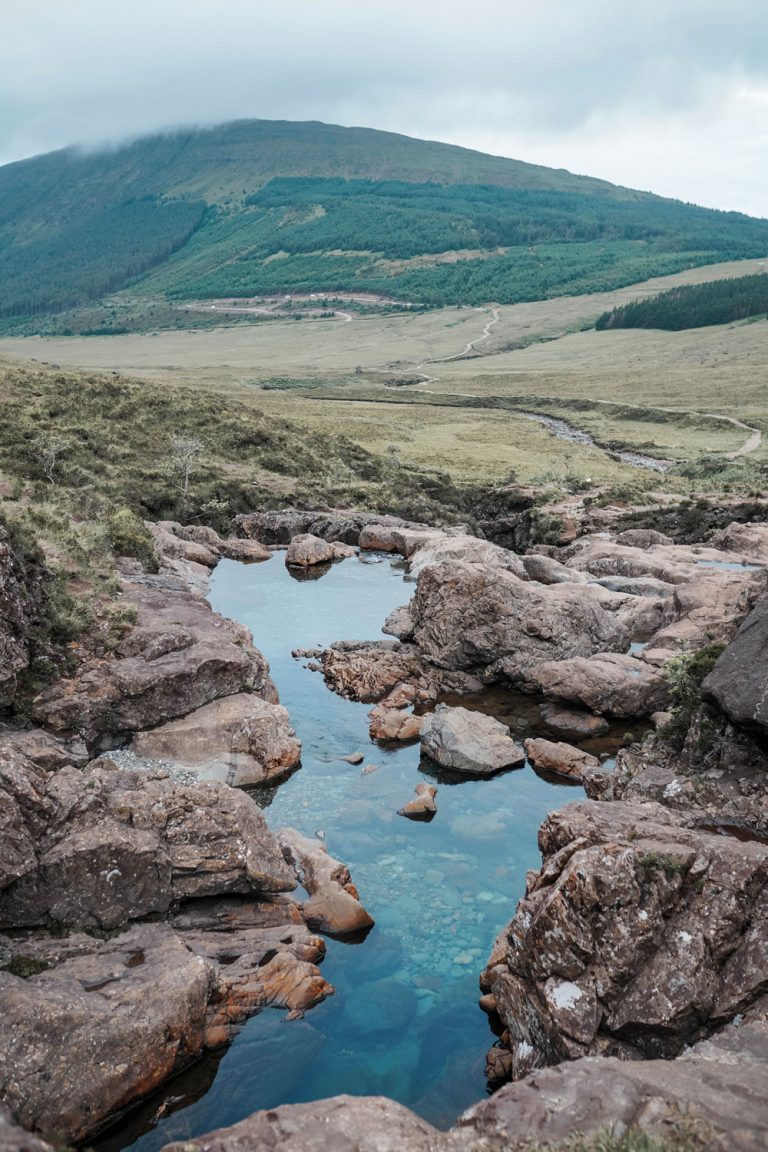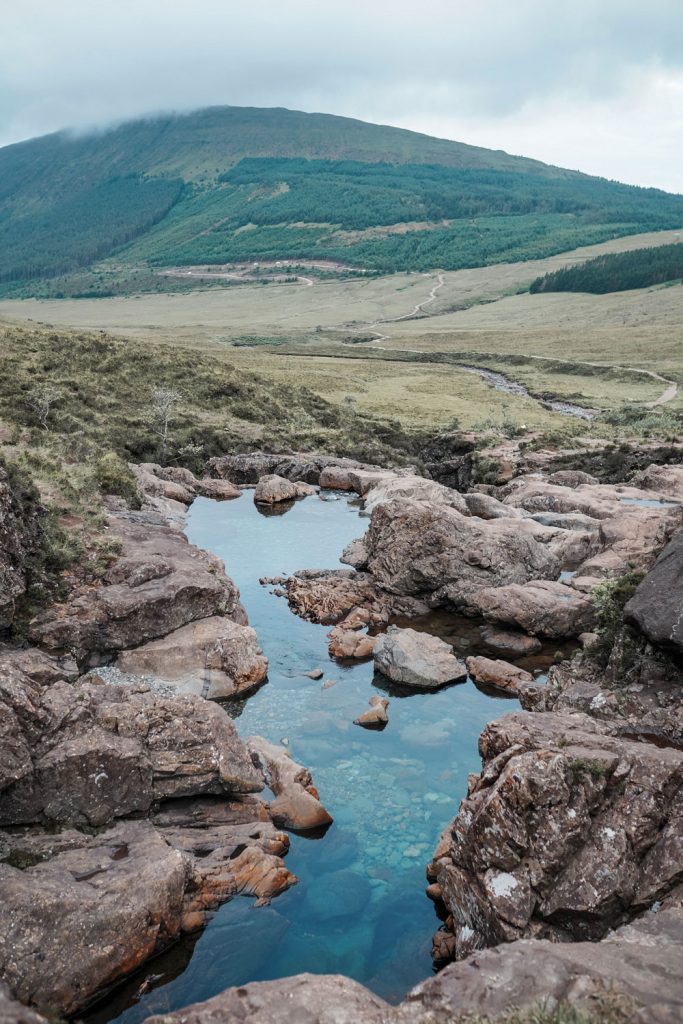 These turquoise waters cascade down a series of waterfalls, with gorgeous rock formations above and inside the pools. The water is ice cold but it is an experience to swim there! Just make sure you're being safe and above all else, respectful of this natural wonder and being careful in how you get down to the pools so as not to disturb the natural surroundings.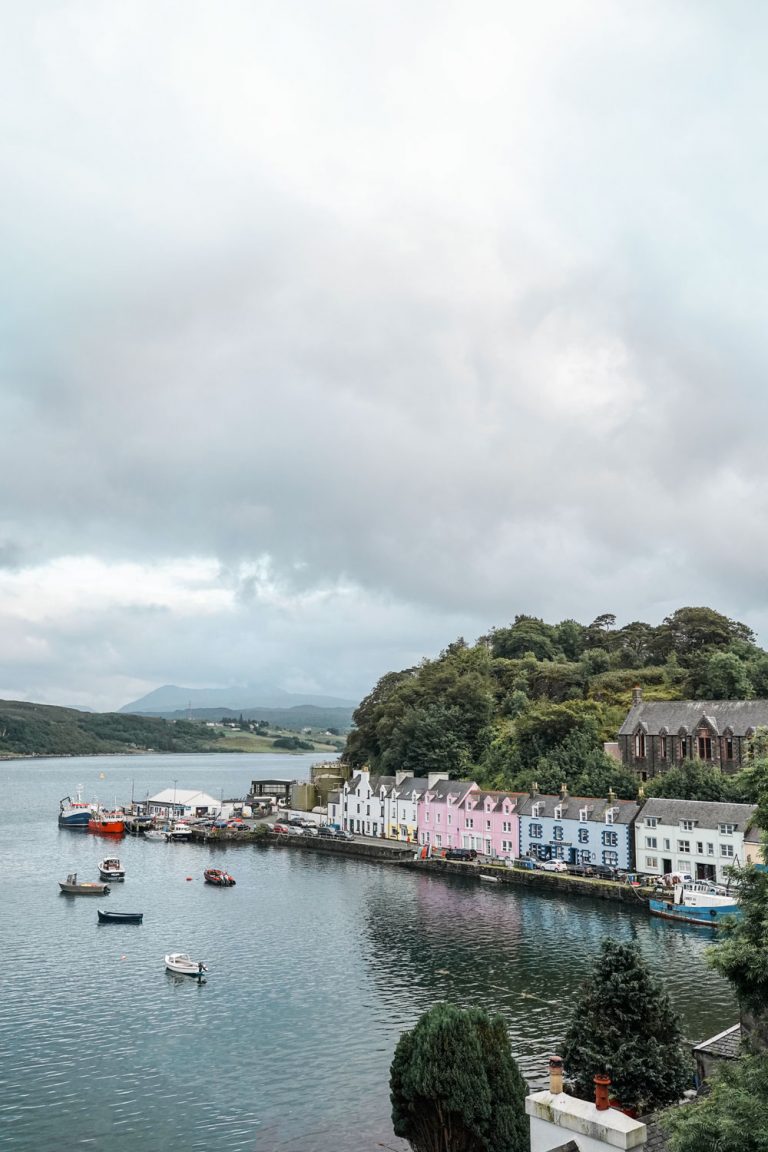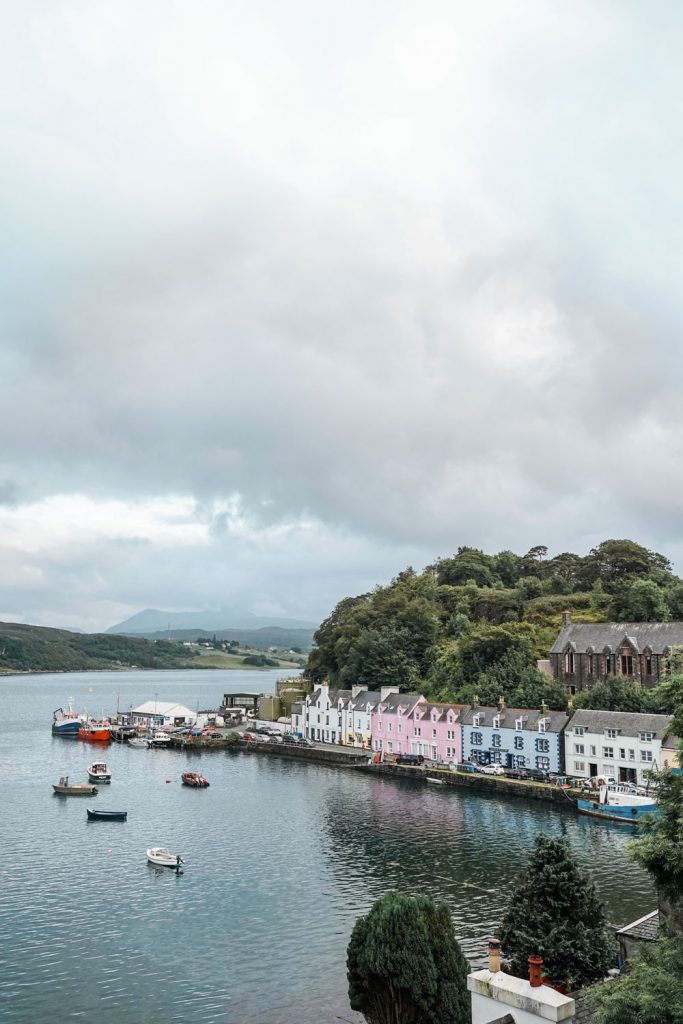 Portree
The Portree harbour is so gorgeous and is lovely to walk along but even more beautiful to capture from above. You don't need too much time in Portree to experience it but as either your starting point or ending point to the Trotternish Loop, it's definitely worth taking in!
Neist Point Lighthouse + Coral Beach
As I mentioned we got pretty rained out on our Isle of Skye trip, but our Airbnb host John (more on where to stay in Scotland in a post coming soon!) said that Neist Point Lighthouse was seriously gorgeous and being on the west side of the island, an amazing place to take in sunset. I also wanted to visit Coral Beach so desperately being not only a water baby (and desperately wanting a swim at this point in our trip, as my bikini had been completely unused) but I'm so obsessed with coral and wanted to see this beach. So while we didn't get a chance to see it, based off of not just my research but what we heard from the locals these two aren't to be missed! You can see the beauty of Neist Point in Renee Roaming's photography guide here.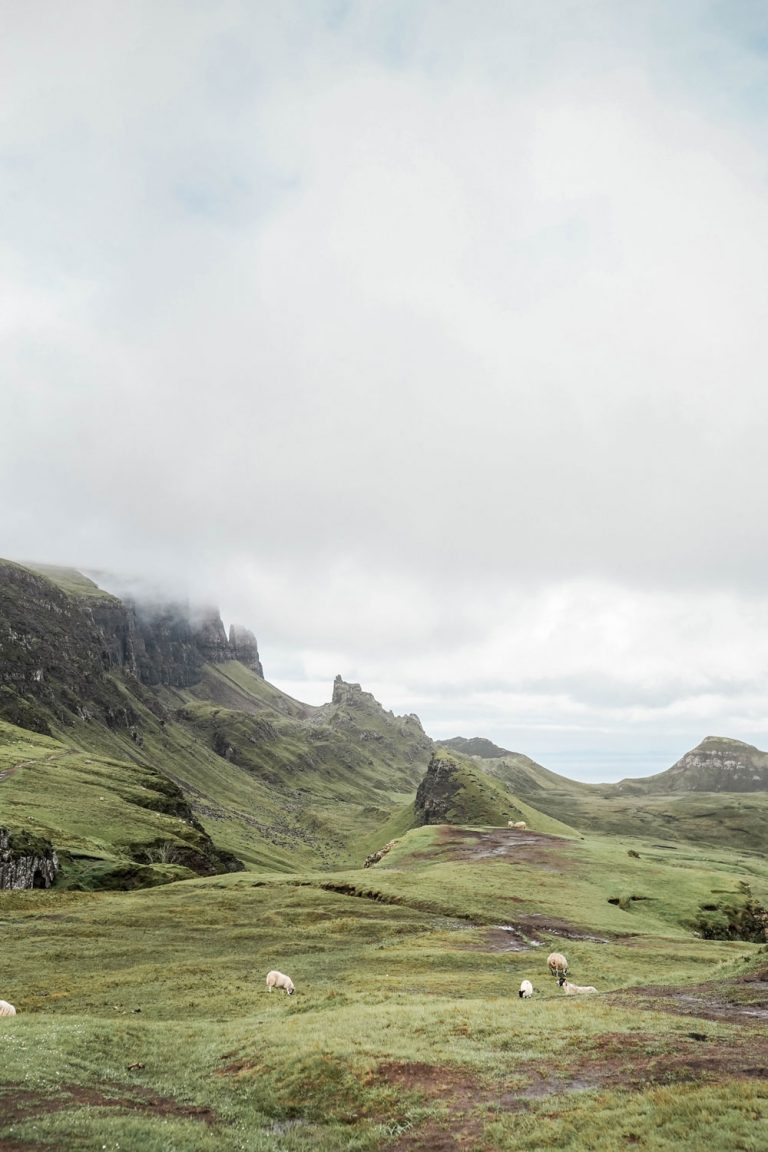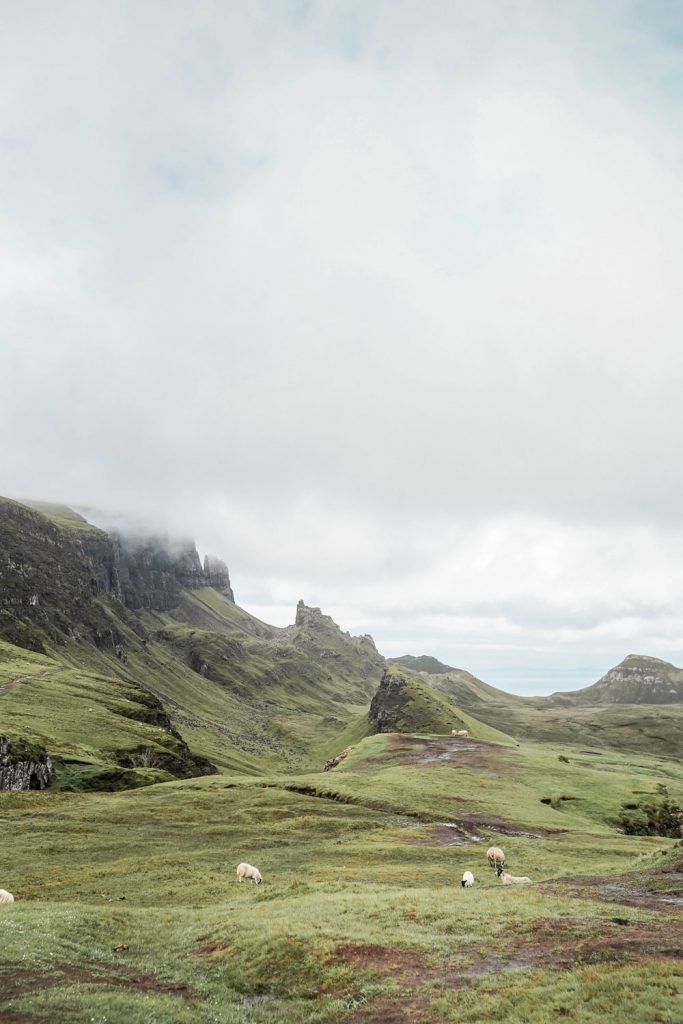 Make sure you pin the snaps below for future reference! I'm so excited hearing so many of you either going to Scotland this fall or planning for it in 2020 – please feel free to email or DM me when you're there, nothing makes me happier than seeing you guys on your travels! I also have all my current Scotland posts below for easy reference in planning your trip!
MY SCOTLAND GUIDES

My UK & Ireland Carry-On Packing List

Tips For Driving in the UK & Ireland

My British Isles Lightroom Preset

Scotland | What You Need to Know
All the photos from this post were edited with the Landscape Preset from The TVOB Presets Classic Collection.
---
PIN ME