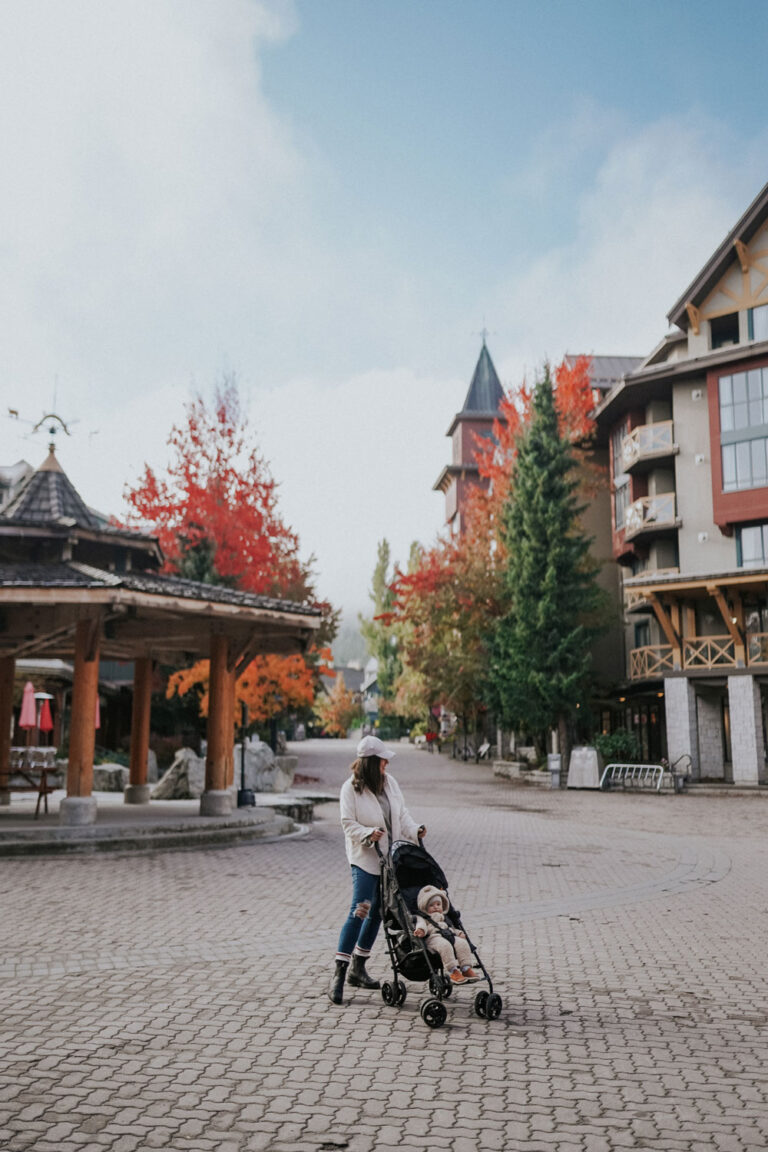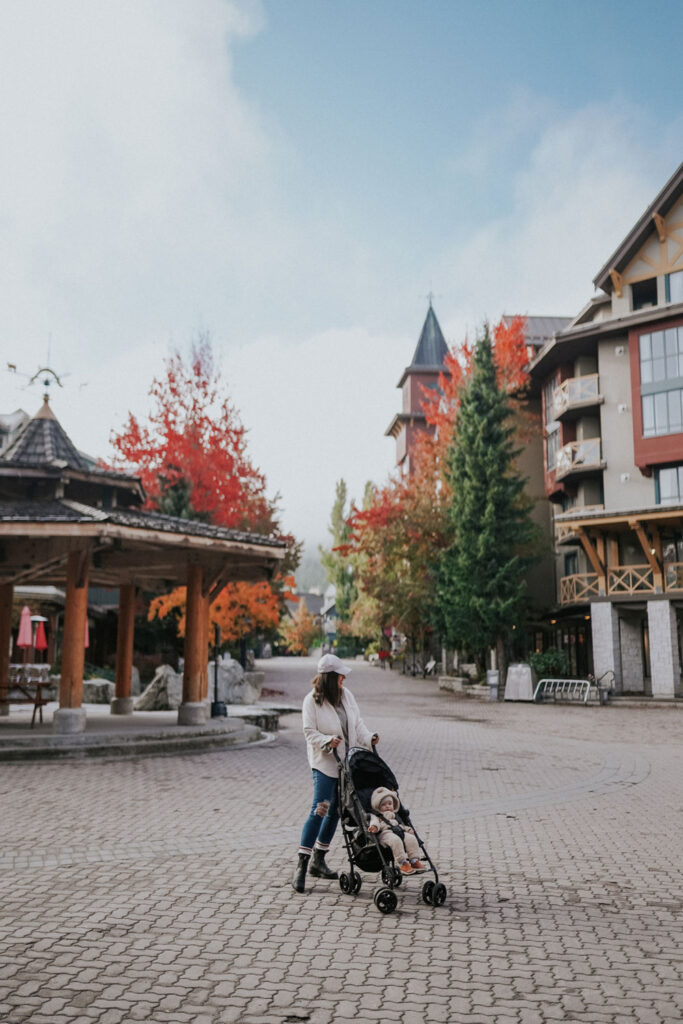 I don't want to jinx it, but does anyone else feel this growing & hopeful sense that things are starting to change for the better? Lately, I just get this sense that we're slowly but steadily shifting from a pandemic to an endemic and honestly, nothing could make me happier. Having a baby during the last two years has been challenging in so many different ways, but one thing that actually really affected me (more than I was anticipating) was just not being able to travel as extensively as I wanted with him.
At the end of the day, we've made it through this pandemic thus far safe and sound (which is all that matters) and we also got lucky enough to sneak in a trip during one of the lulls in variants and whatnot, but I really am so looking forward to taking him on so many adventures moving forward (and before I have to start paying for his own plane ticket), so wanted to share everything we learned from our first trip on the best tips for travel with baby!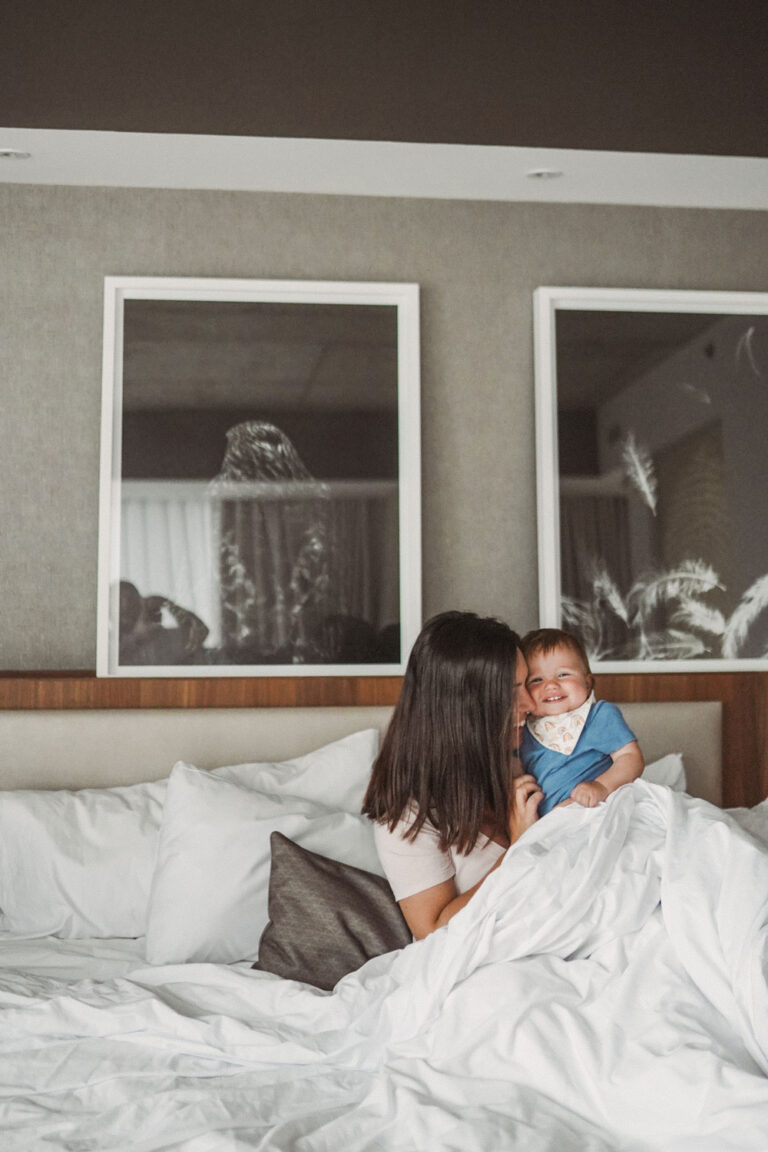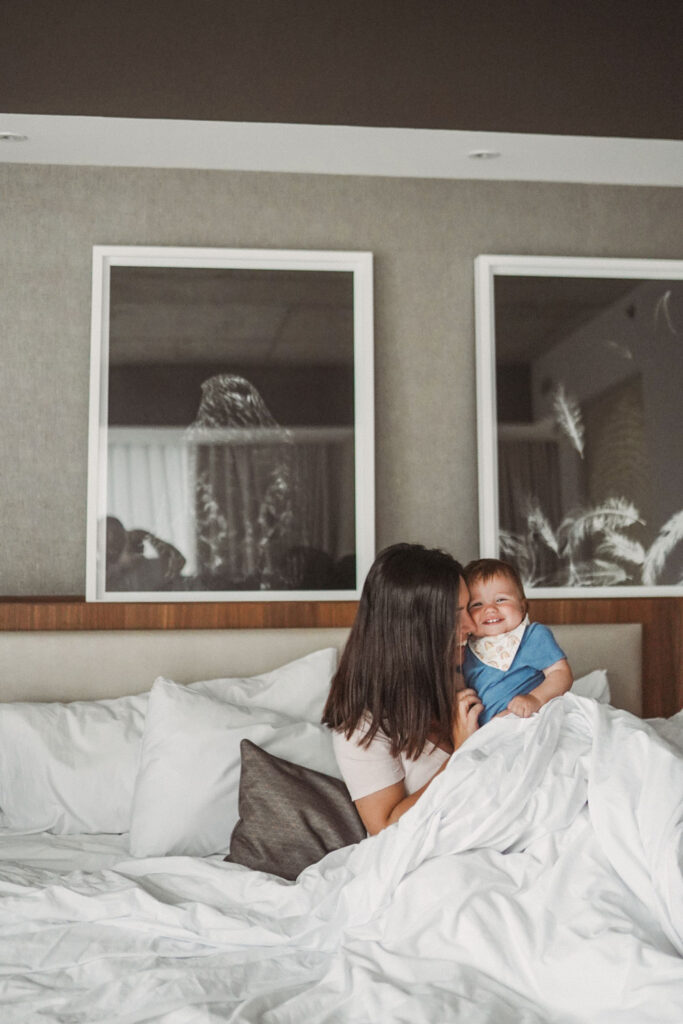 I'll be honest, I was really nervous before we took off last fall to Québec with Cal…he'd started walking a month or two beforehand and I was worried he'd freak out on the plane about being held or run around the entire time. But in the end, he honestly blew us away. He loved flying, got so much out of the trip in general and just all in all seemed like he thrived from the experience.
It really reinforced my belief that while some people see travel with baby as just for the parents, it's actually just as much for the baby too…while they may not have memories of their travels, I could see him developing and growing and engaging on the trip so much. He definitely benefited from it as much as we did, and it was so special to experience it all alongside him.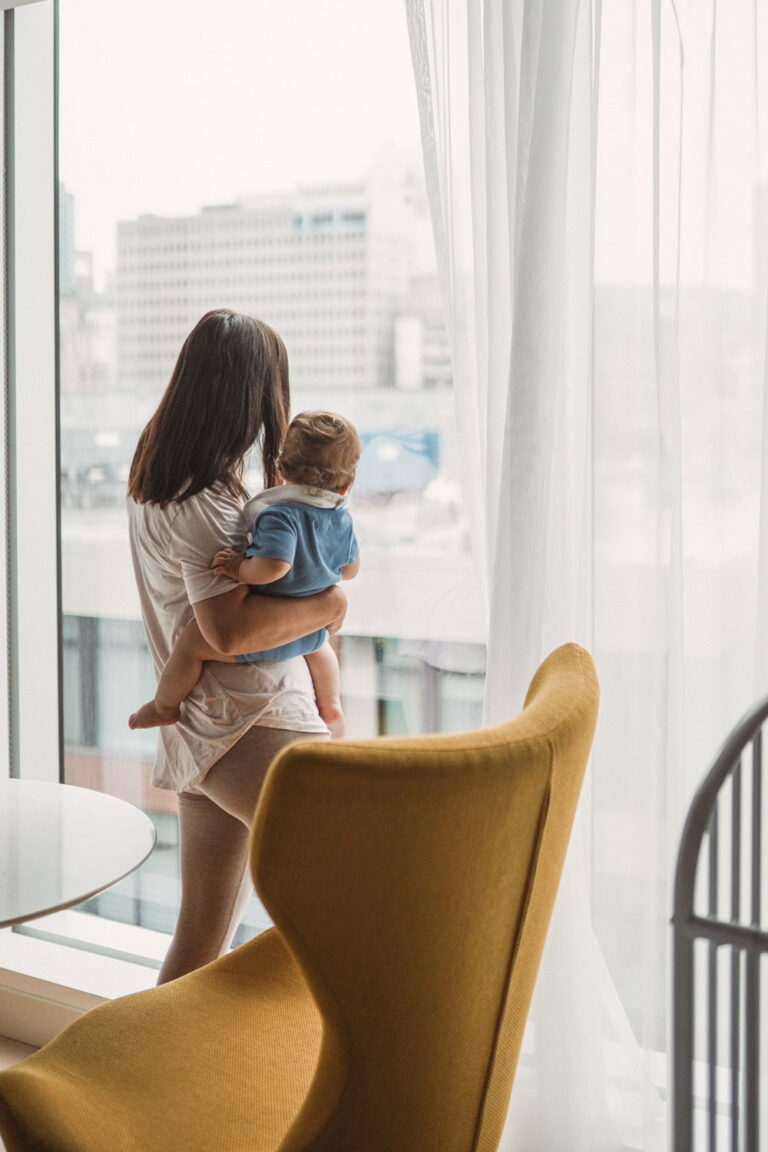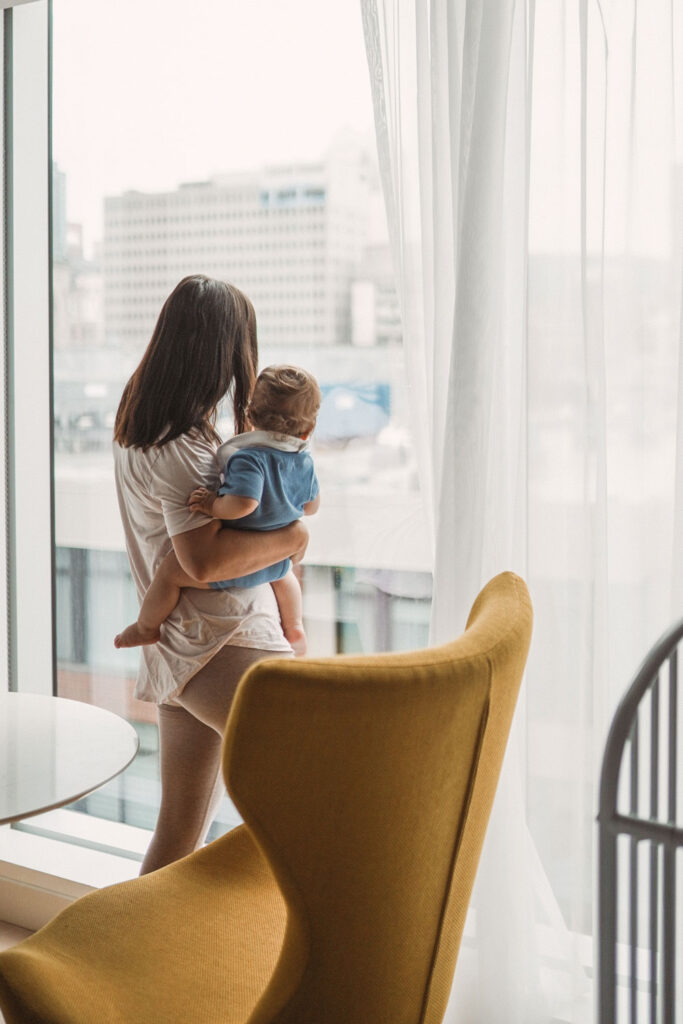 While we're lucky that he is in general an exceptionally happy baby and it's usually pretty easy to keep him in a good mood (so like all things baby-related, a huge part of any experience is not only temperament-based, but also what stage they're at developmentally or if they're going through anything), we also did a lot of prep work and research to try to keep things running as smoothly as possible and it all really helped loads. Honestly, this trip was so confidence-building and if you're nervous, I can't stress enough how positive of an experience this was so don't let the extra work or the nerves deter you! With that said, let's dive in!
---
General Tips for Travel With a Baby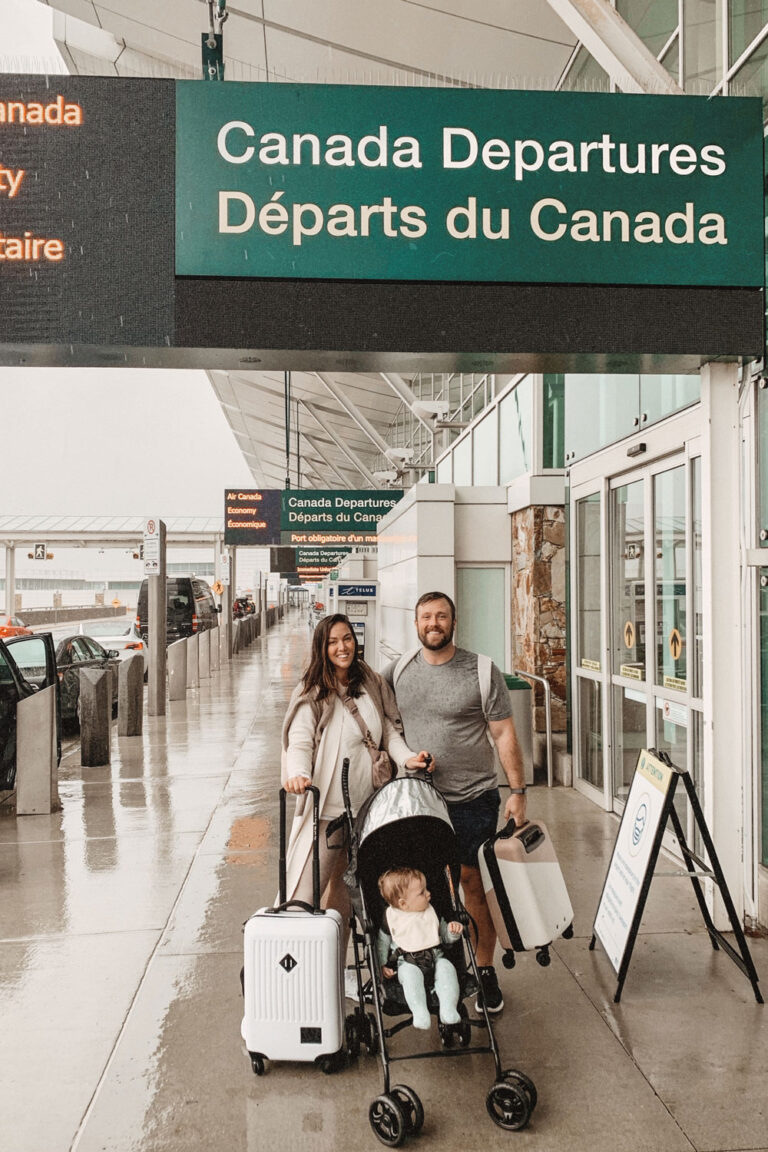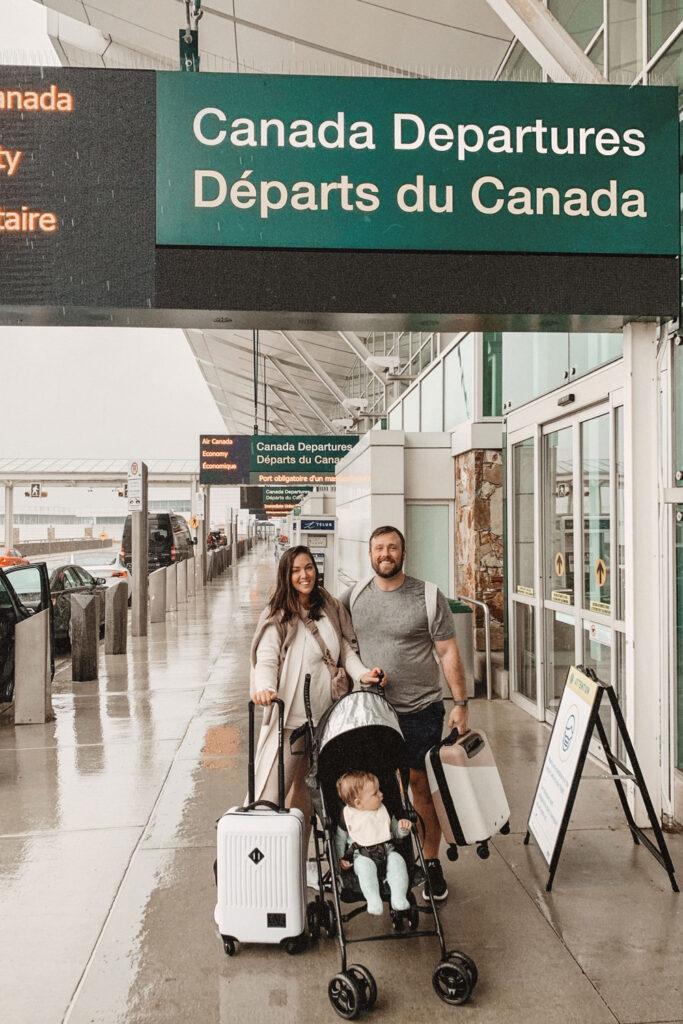 Be flexible (but have a plan)
I'd say this is a general travel tip that's always served me well, but this is especially important with a baby. Maybe some people can wing it and their babies are fine, but I definitely would try to look at our days and get a sense of some structure (nap times, when to eat, when to play, etc) and factor in all our fun things around it so that we weren't sacrificing our fun, but Cal didn't have to sacrifice too much of his basic comforts (proper sleep, food, playtime, etc).
Being a travel blogger, travel is usually a mix of work and play (usually heavier on the work front historically, honestly), so it was actually really special to basically be forced to slow down. We still saw & did pretty much everything we wanted, but getting to hit pause more often and letting Cal do his running around or resting helped us really soak in the experience more!
If you're worried if it's going to be a different or worse travel experience with a baby, from my personal experience, yes it's different but it's actually more fun and richer in so many ways!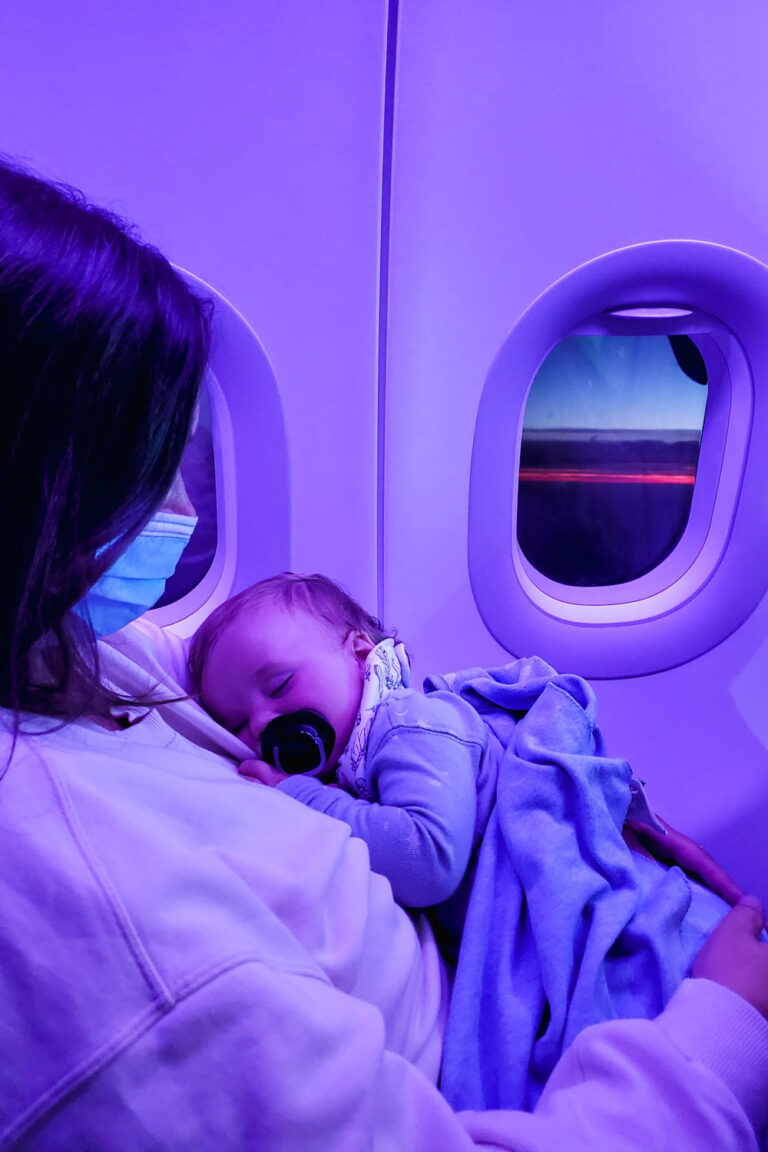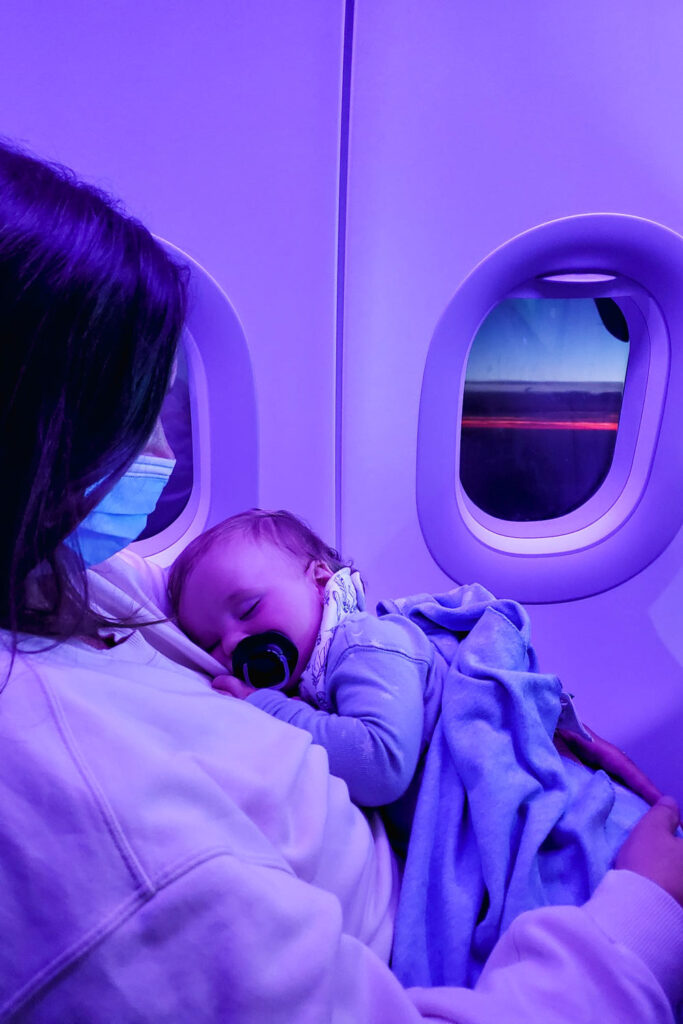 Try to time travel legs with sleep
As mentioned above, this was kind of our general strategy that helped us structure our days. I was expecting this to be more of a 50/50 kind of success rate, but it actually really worked for the most part. For instance, we drove from Ottawa to Québec City, then from QC to Montréal, with both drives clocking in at a few hours. Cal somehow slept the entire time on both drives which was so lucky. 
A red eye is actually a great thing with a baby because you can hopefully get them to sleep through just about the whole thing. While we didn't take a red eye for either flight, he managed to sleep on both flights and got longer naps in (I think the ambient cabin sounds actually made for some great white noise for him).
While out exploring, we'd also try to time up our breakfast, lunch, coffee breaks, etc around his nap time so that we could do a big long walk or something else that would keep us moving (since Cal wakes up the second we stop moving, whether that's in a stroller or a car) to give him some solid naps on the go.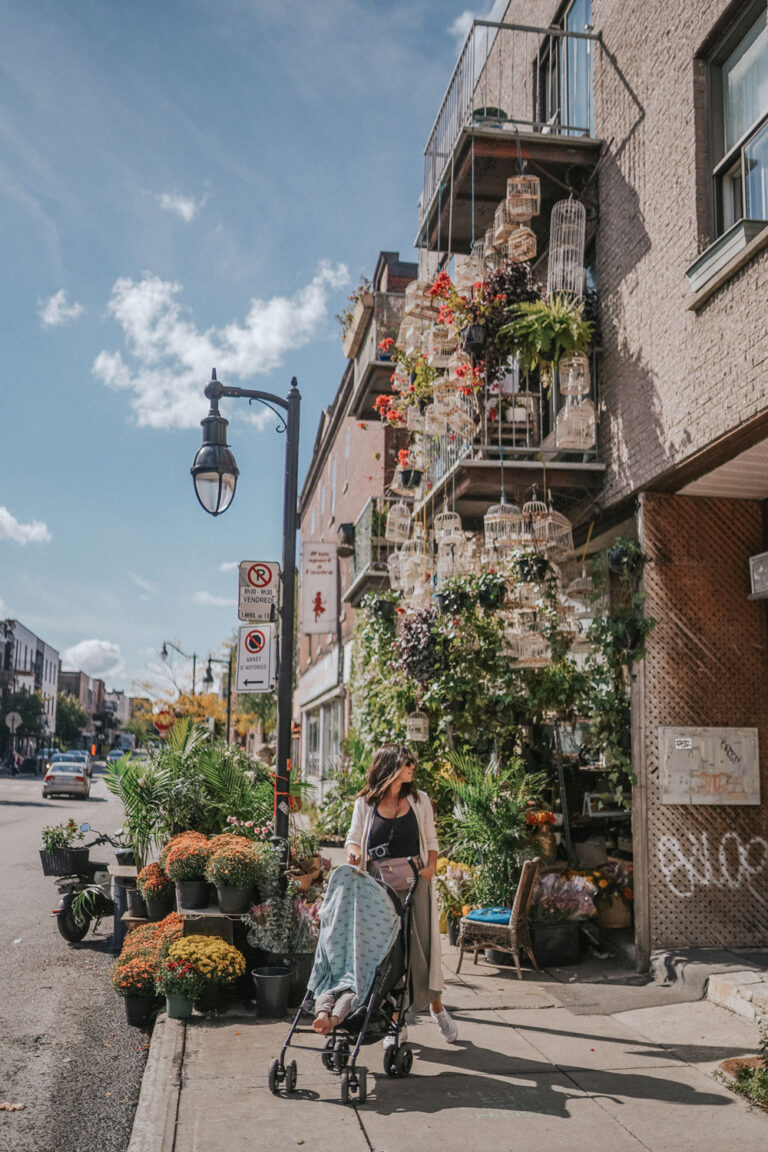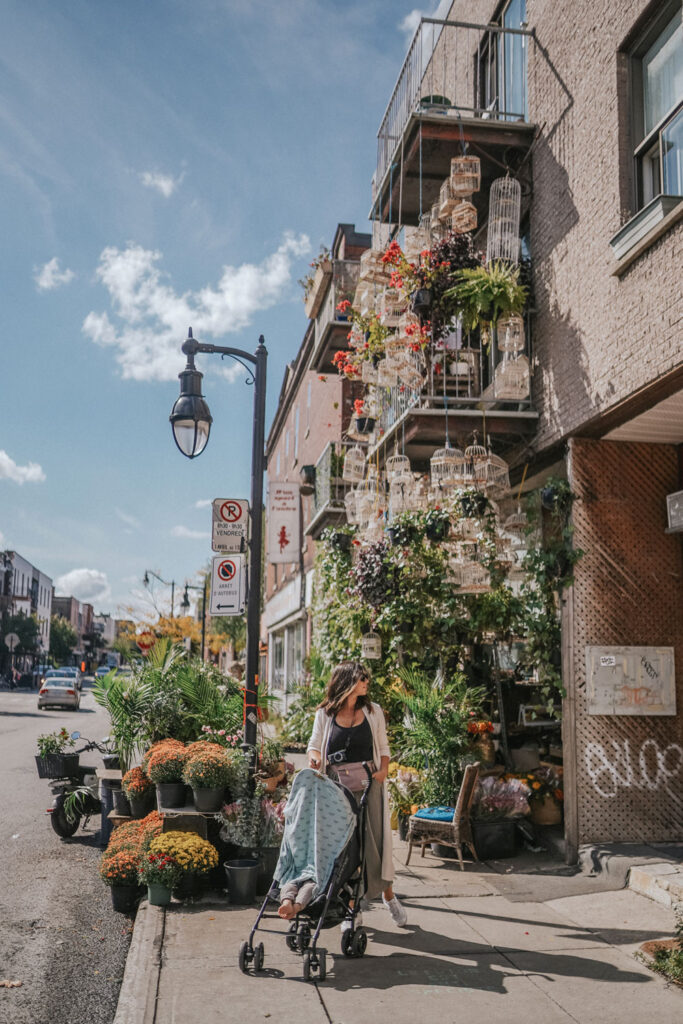 Find a time zone pocket that works for you
Obviously, the time difference will make a big impact on your baby's initial adjustment. With Cal, we decided to never try to adjust him…since we were 3 hours ahead on EST while in Québec, we decided to just go with it. We'd sleep in in the morning and we'd all go to bed at the same time at night. It worked beautifully…it was so nice to not have to stress about dinnertime and having to rush back for him, he's just come out partying with us everywhere we went!
Obviously, if you're doing a big time zone change, factor in a few days of it being all over the place as your little one gets thrown off and readjusts, but the same principle applies…you don't have to go back to their usual clock schedule (i.e. awake at 6:30, asleep at 7 or whatever you do at home). Set it up so that your travel flow works with their schedule, but also remember that babies are resilient and also smarter than we give them credit for sometimes…you obviously don't want an overtired cranky mess, but I find with Cal he's pretty good about catching up on sleep if he loses a few hours (like on those drives when he slept for like 3 hours straight in the middle of the day, with me checking his breathing in the back constantly!).
Cruise in the back seat
I graduated to front seat status when Cal was about 4 months old (up until then I'd always sit in the back with him because I'm clingy like that [actually, it's the other way around but I was more than happy to]) but for these longer trips and especially when you're kind of pressed for time, if your baby can be hit or miss sometimes in their car seats as most babies are, whoever's not driving should just hang out in the back and be able to keep replenishing their little one with different toys, books, songs, etc. I ended up not needing to on either long drive because he somehow slept so long, but even when we're going to the cabin here in BC, I usually pop in the back for the longer drive to keep him company and avoid any en route meltdowns.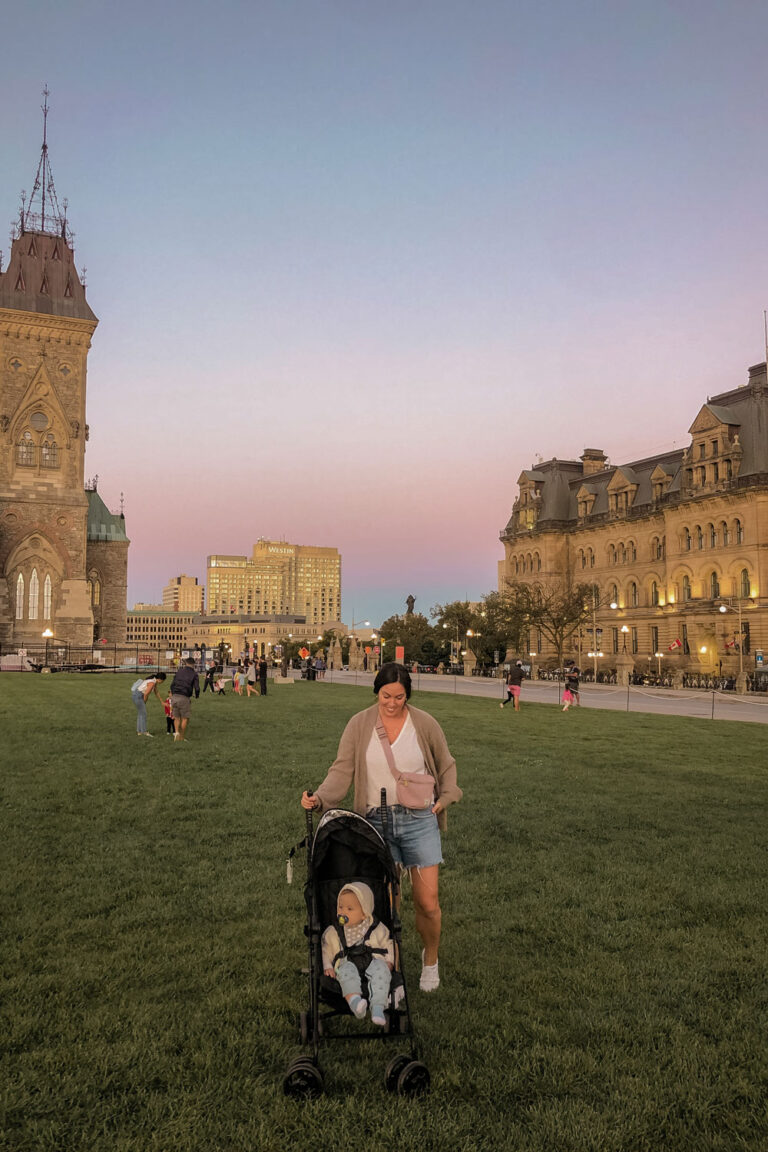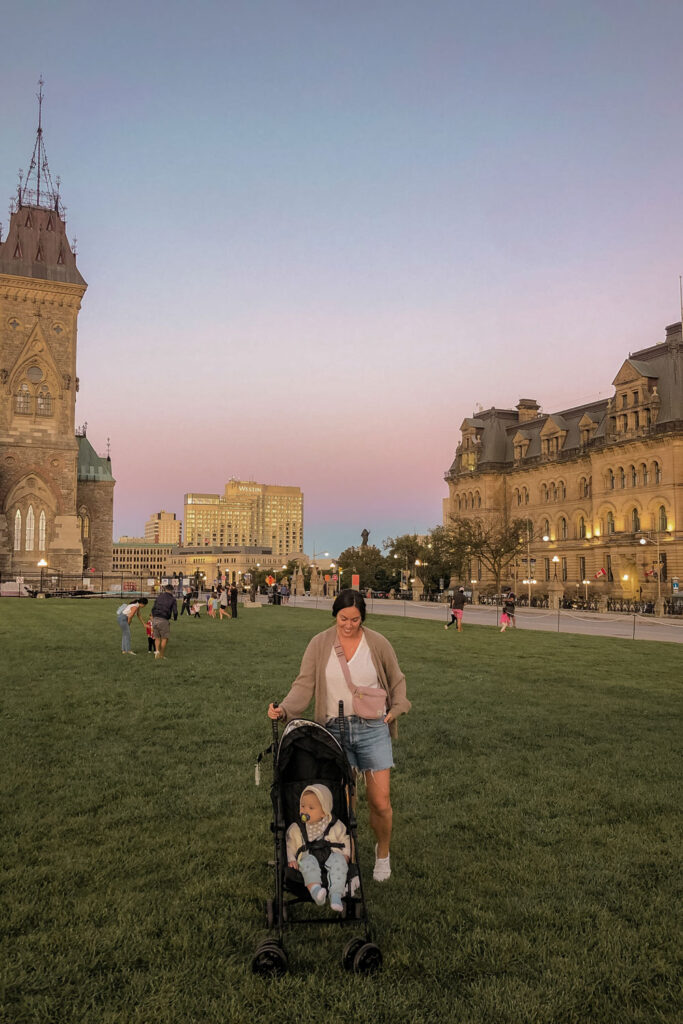 Travel light
This is more of a personal philosophy and it might not work for you, but honestly, we did carry-on only for the trip and it made things so much easier. I love the ease of being able to just pick up and go and hate having to stick around for luggage or stressing about losing stuff. I was very intentional about what we packed for him (and for us), noted things to pick up once we got in and only packed what we absolutely needed, decided to be flexible as far as sleeping arrangements and to just add in additional (but small) costs as far as car seats in our rental cars, etc while we were gone. It worked amazingly for us and especially if you have a really active baby too, it just makes life a lot easier to not have 500 bags to have to look after in addition to your little tornado too. I'll share our full packing list for him in a separate post so that you have an easy reference!
Buy bulky things at your destination
I do this for myself too, but this is especially key and easy for a baby. As it is, you're constantly having to buy new diapers, new pouches, etc, so just pack what you absolutely need for that first leg of the trip (factoring in a couple extra things in case travel plans get derailed) and buy more when you land.
Find an organization system that works for you
Some people swear by cubes, while I swear by mesh or vinyl bags. I find they just pack down to nothing and work just as well when you're actually at your destination (i.e. in a handbag or something like that) as they do in luggage, they allow you to maximize space more in your bags or luggage and if you colour code them, really easy to do a quick scan and spot what you need ASAP. For Cal, I'd categorize and bag up his food needs (bibs, spoons, etc), toys, soothers, any textiles (burp cloths, wash cloths, etc), toiletries or first aid (thermometer, Tylenol, cream, etc). When we'd get to our destination, I'd just pop the bags out and open them up so that I could grab things out easily, but kept everything in the bags still so that when it was time to pack up, I'd just zip up, toss them back in their respective luggage and go!
Tips for Flying With a Baby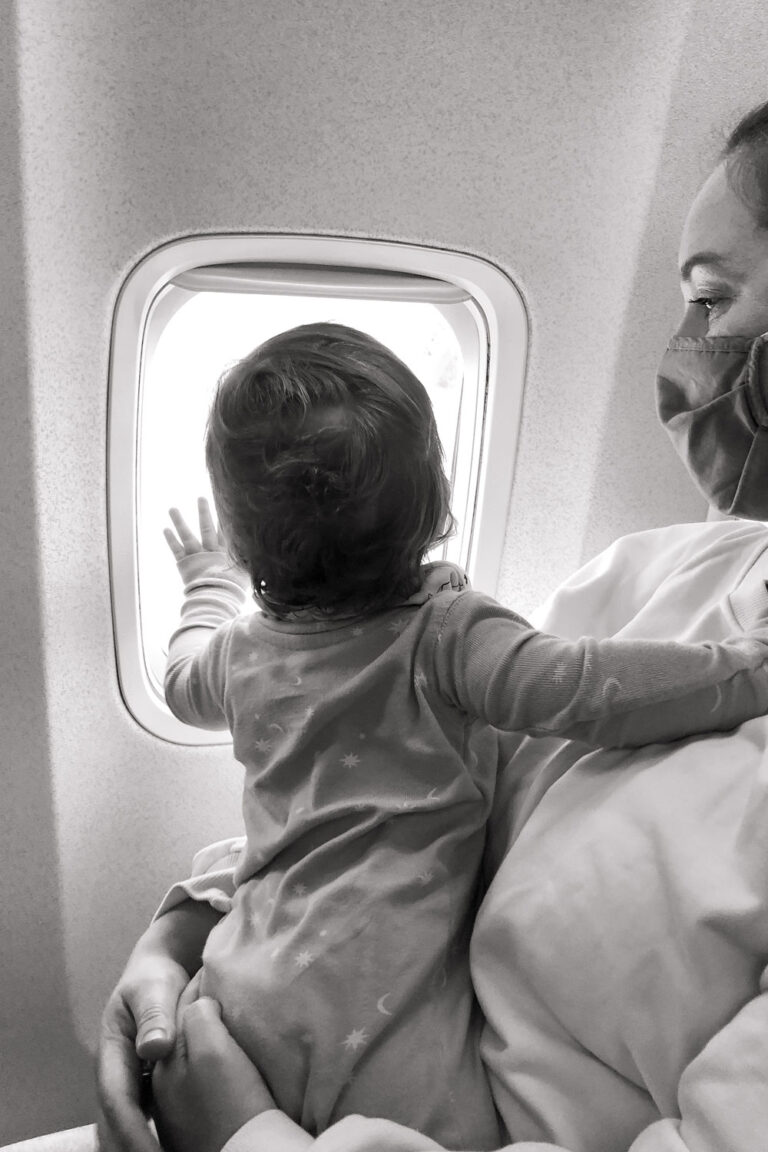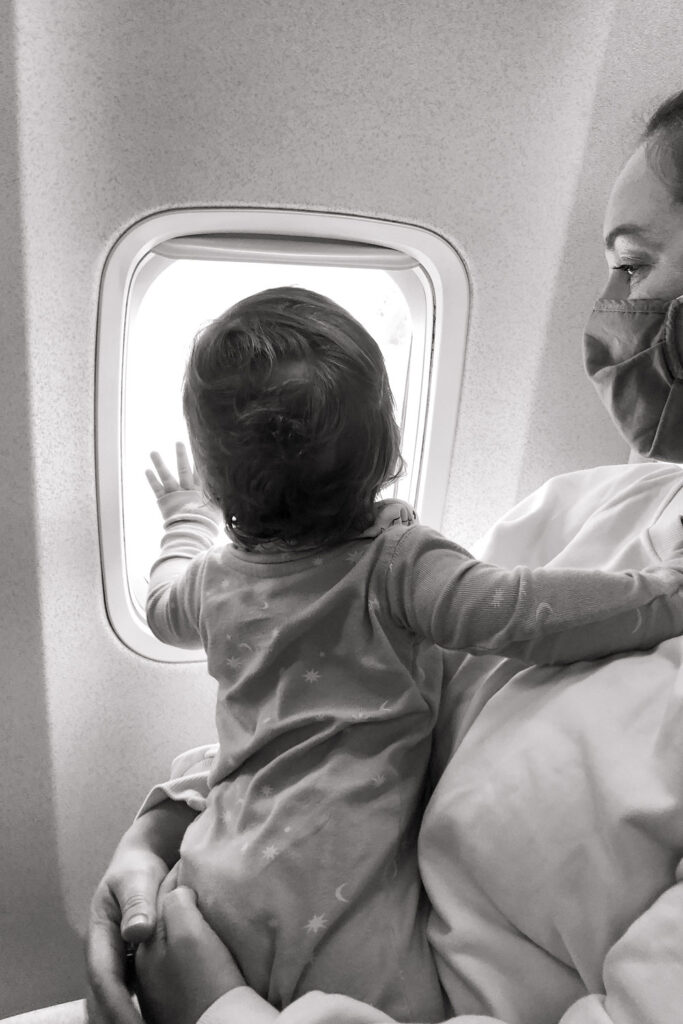 Nurse on takeoff & landing
And/or give a bottle, let them drink some water, give them a soother to suck, etc. Their little ears have a hard time with the pressure change, so not only does this help offset that, but it's also comforting and distracts them as the noises build and you have to stay still. 
Pack lots of little puzzles & toys
Anything crinkly is always a win, or anything that requires some concentration like plastic links he has to use coordination for. In the end, Cal was mostly obsessed with the safety sheet in the backseat pocket so we sanitized that and let him play with it forever. 
Make friends with your cabin buddies
I mean, not everyone's going to like babies and that's totally fine, but if you see that someone seems to be a baby person or if your baby is really intrigued by the people behind them, let them have at it (without being annoying, obviously)! Cal is a very friendly and outgoing little guy so we kind of played to that…if someone seemed really excited to chat or interact with him, we really just let that happen because it kept him and these baby people happy, a win-win! People also know that travel with a baby is hard and know playing with or talking to your baby helps, we definitely felt like we had some really generous and sweet cabin mates who really went above and beyond to interact with him.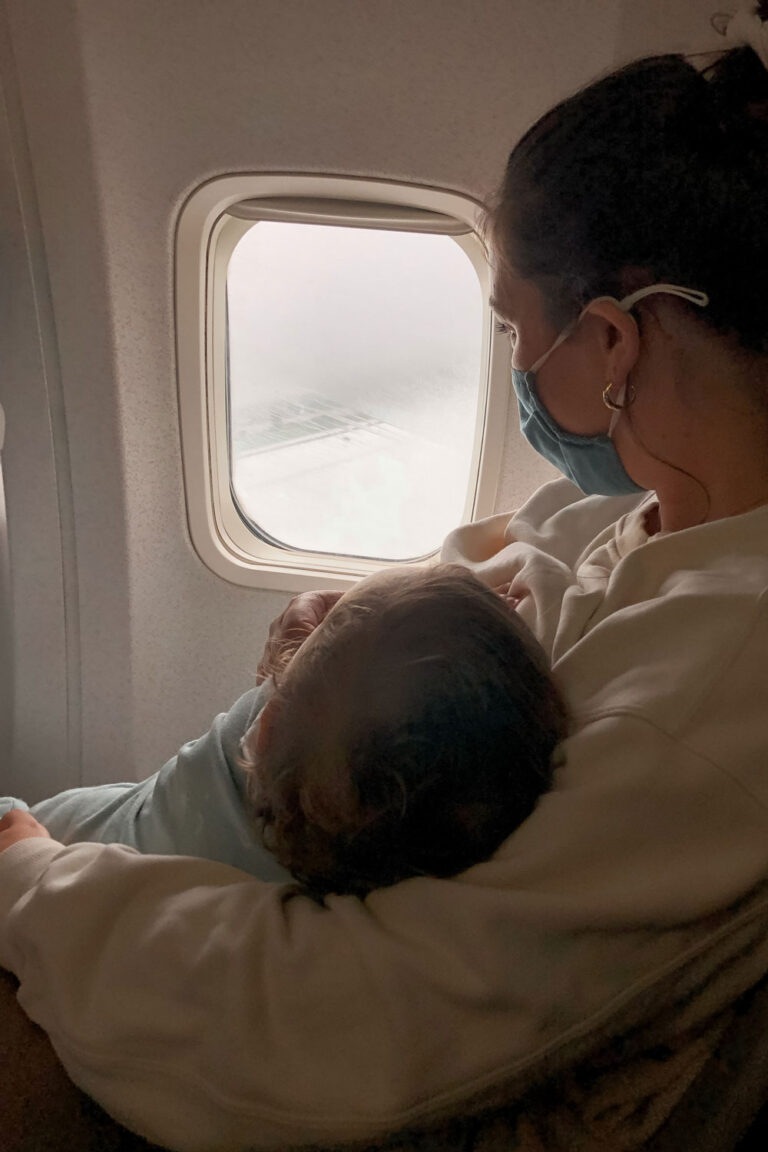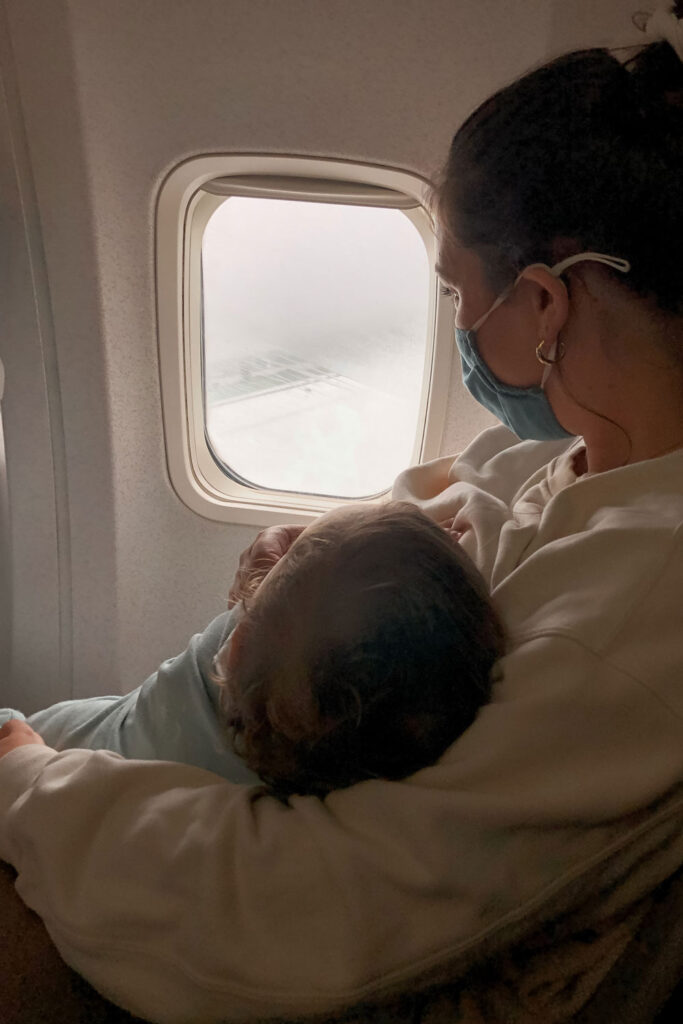 Try to nap them as long as possible
We always travel with a swaddle (I swear by Parade blankets, they're such a good year-round weight and size!) because it has so many amazing uses…an impromptu towel if they have a mess, a blanket, a curtain, etc. I ended up getting Cal to fall asleep pretty early on and it was a daytime flight so the cabin lights were all still on (and it was bright outside) so I knotted the swaddle around my bra strap and tented it over him, creating a perfect little dark space. I also got Matt to dig out our portable white noise machine (highly recommend the Yogasleep Hushh) and played it very quietly near his head so that it'd drown out even more of the noise. Get a rolled up sweater or pillow under your arm and you're golden! He slept a pretty long stretch both times this way and particularly if you're on a longer flight, make sure both they and you are as comfy as can be.
A note for a longer or international flight…depending on your baby's age/size and the airline, check in about whether they have a travel bassinet that you can sleep them in! We were flying domestic and Cal was way past that point age/size-wise as it is, but if you're doing a trip when they're younger, this will save your muscles a bit and give them their own dedicated space.
Check your airline's extra baggage allowances
We flew WestJet and they allowed you to check in a car seat or a stroller at no extra cost, or you could substitute a playpen for either a car seat or stroller. Other airlines will either allow for more or less, so check in and see what you can bring with you! We were wavering on either getting a really good travel system (we were thinking of the Doona) or going minimal and just getting a little umbrella stroller that we'll use exclusively for travel. We ended up getting a really affordable (but comfortable and easy-to-use) travel stroller that folded down to absolutely nothing and decided to forego the car seat…for us it was the right move for sure. We've got a great set up at home for strollers and car seats and given how much travel (both in-air and on the road) can mess up equipment, we didn't want to invest too much in a really high-end system (in the end, on that first flight over our stroller's canopy got totally misshapen in the cabin storage, so case in point). This Summer 3DLite+ stroller worked beautifully for us and Cal seemed super happy in it! We just checked that at the gate and otherwise, carried on everything else. 
Tips For Staying In a Hotel/Airbnb With a Baby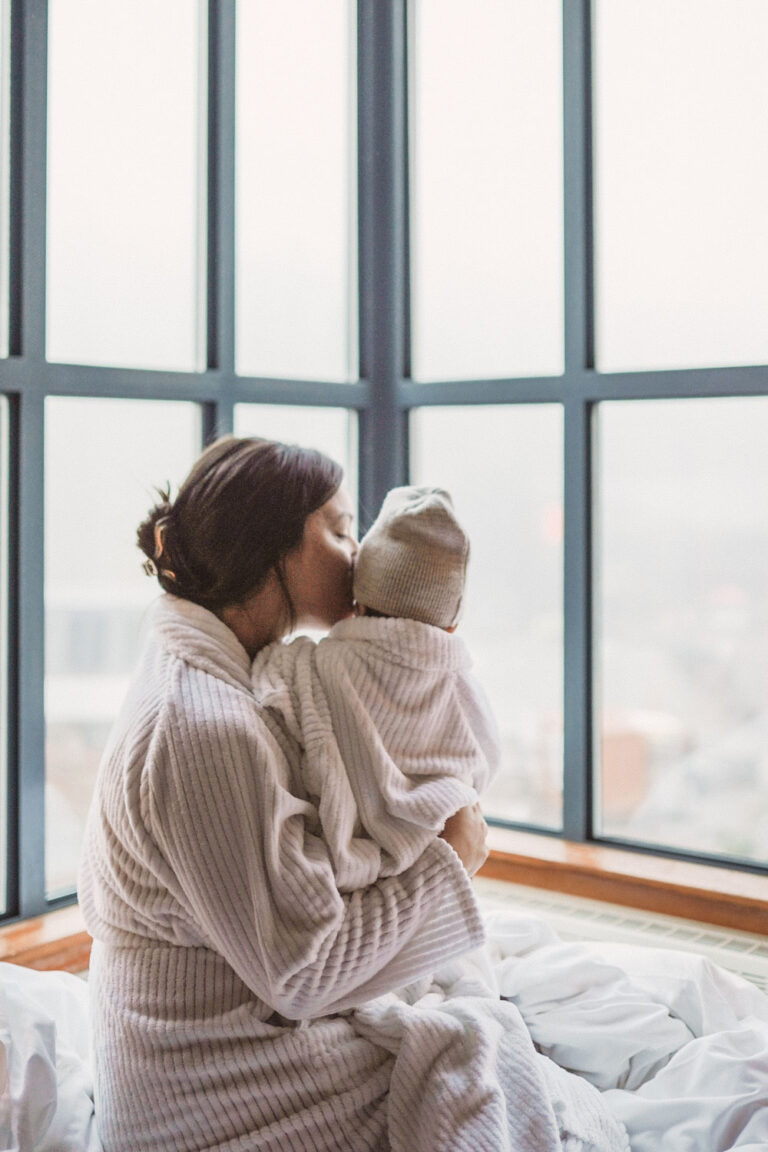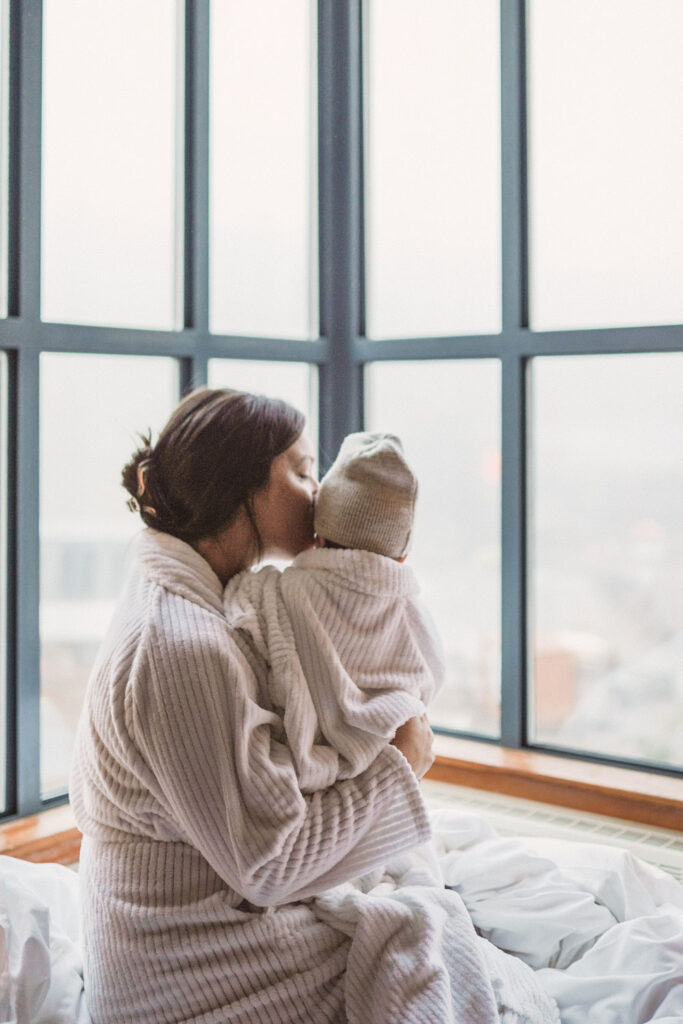 Book Hotel Cribs/Playards Well In Advance
Did you know some hotels (even a nice 4- or 5-star) will only have a few cribs or playards on hand? And some will have none! Do your research and if you want to travel light and not bring your own cot or playard, put in the request for one in your booking ASAP. We requested them but because Cal is crazy and loves to climb and then throw himself from high spots, he actually needs to be in a playard because he cracks his head on conventional cribs (RIP our nice wooden crib we got for him, packed away for potentially a less bouncy baby in the future). We still made use of the cribs for naps (and we lucked out in Québec City because our hotel there had a playard which works best for Cal as it is!), but more often than not we just brought him into bed since we co-sleep with him when he needs it. It didn't really seem to impact his sleep back home and since we were all going to sleep at the same time anyway, it made it really easy to all just go to bed together (and really sweet too since we don't always do this at home!). Having said that, if your baby really needs to sleep in their own space, just book ahead! And if you want to bring your own, I really recommend the Graco Pack 'n Play, it's what we've used for a long time now.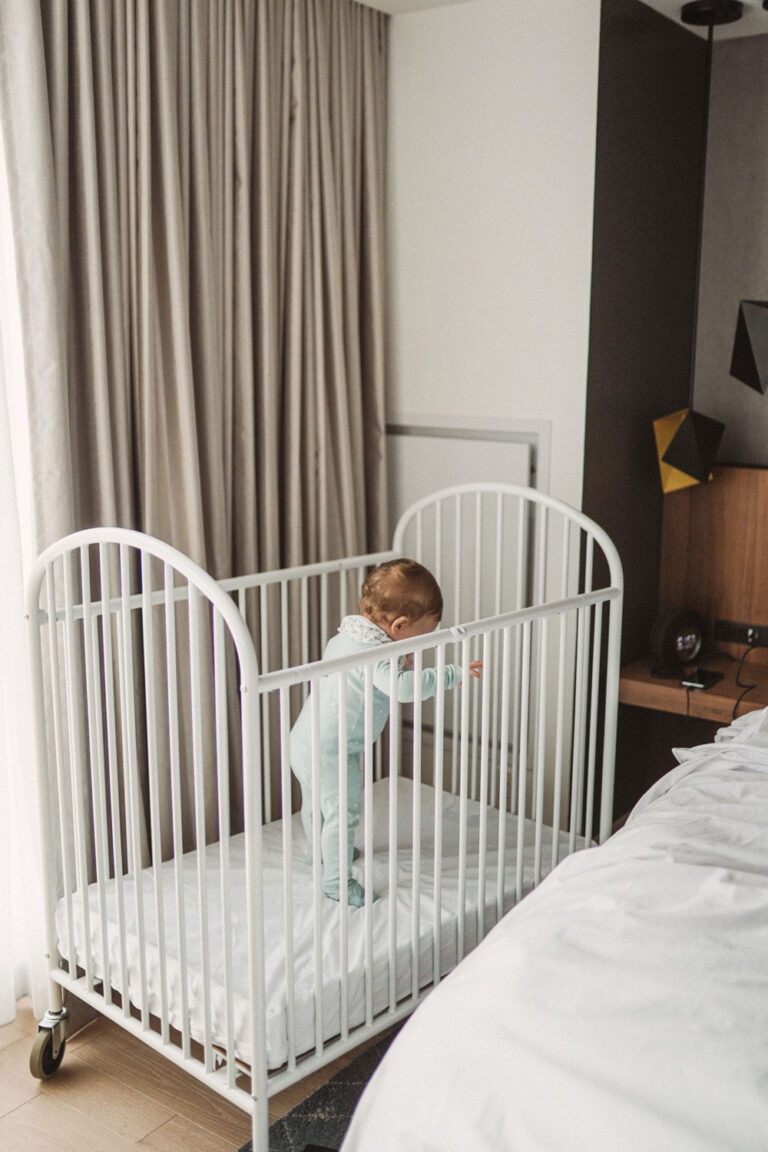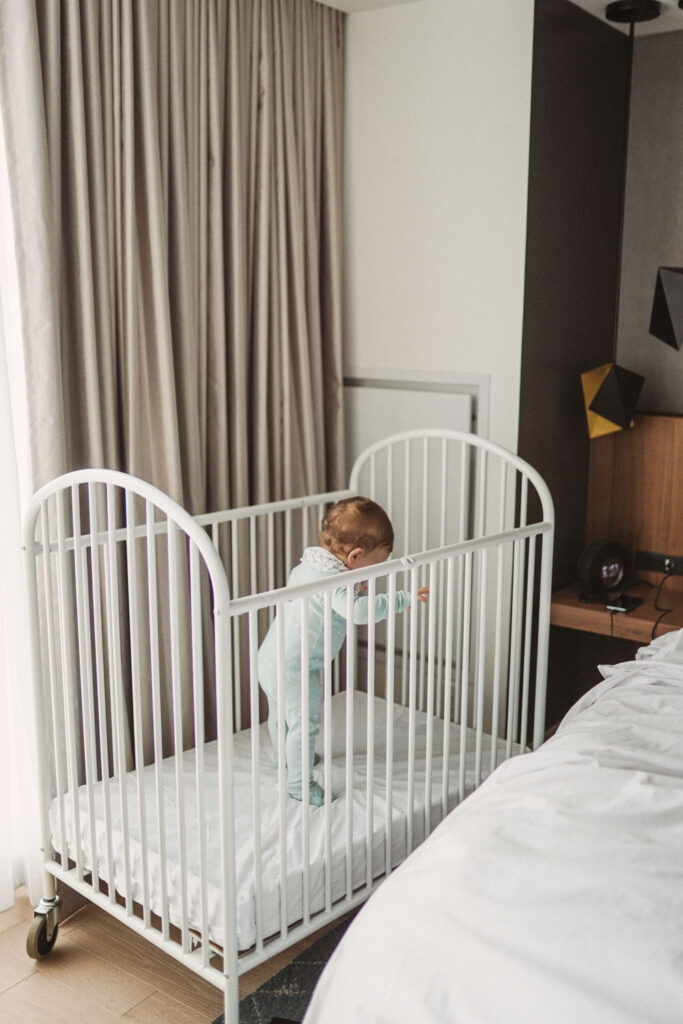 Pack a few folded garbage bags
We have some travel black out curtains that work amazingly but they're actually a bit bulky to pack for air travel (we keep them mostly for road trips locally), so while most hotels have black out curtains as it is, if for whatever reason they didn't or there were some missing spots, garbage bags work in a pinch, just tape them up! They're also good if your baby is very light sensitive for a quick black out situation in the back of a car, plane, etc, but Cal generally isn't too bothered by light so we didn't bother with it. Worst case, if you're settled in somewhere and the hotel's black out game is strong, just end up using the garbage bags for the inevitable pile of laundry you'll have or garbage collection (i.e. stinky diapers!).
Another note about darkness for sleep…most bathrooms will be a bit darker too if you really need a super dark space for your baby!
Shower with baby (if you don't have a bath tub)
Cal's bath time is one of his favourite times of day and we do bathe him every night as a critical part of his bedtime routine, so we were a bit nervous about how we'd integrate this still at nighttime without a little bath insert (or a hotel room that doesn't have a bath tub). Our solution? Shower with him! I need to have a shower before bed when I'm traveling so usually Matt would just pass him to me and we'd cuddle up under the shower head while Matt would lather up Cal's hair and wash him quickly. It would take all of two minutes and he thought it was a riot, and best of all it maintained his little routine he loves!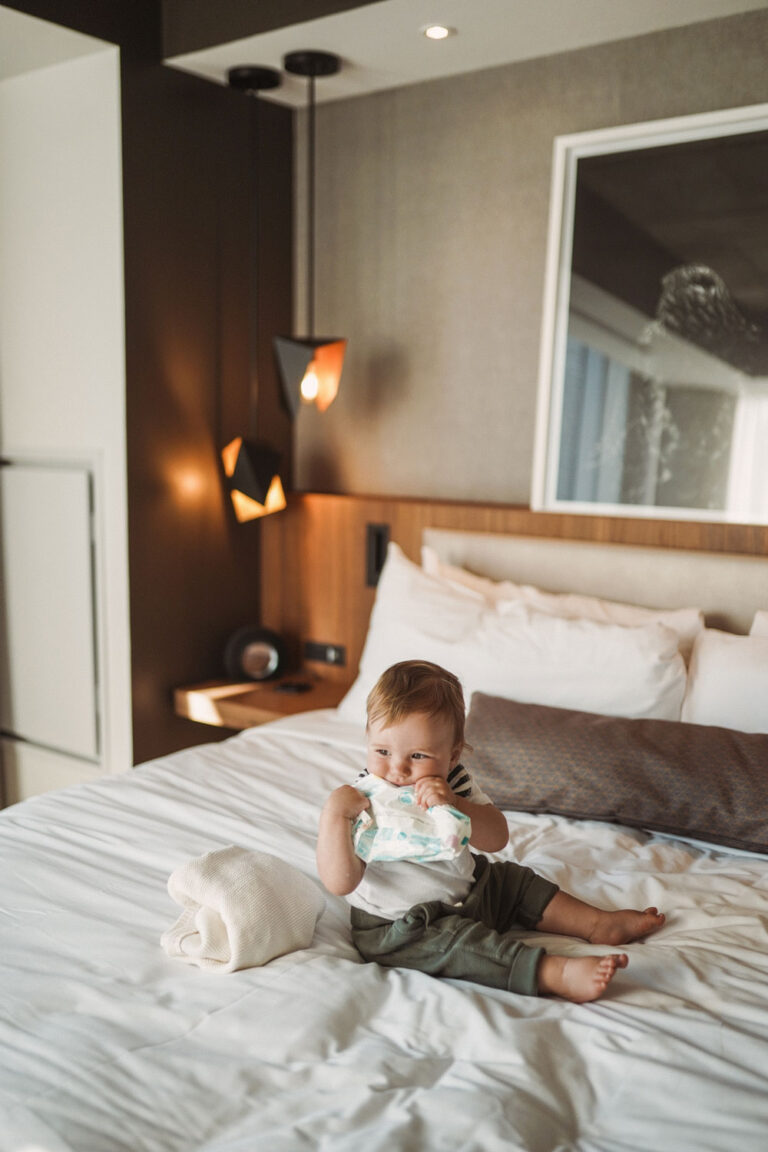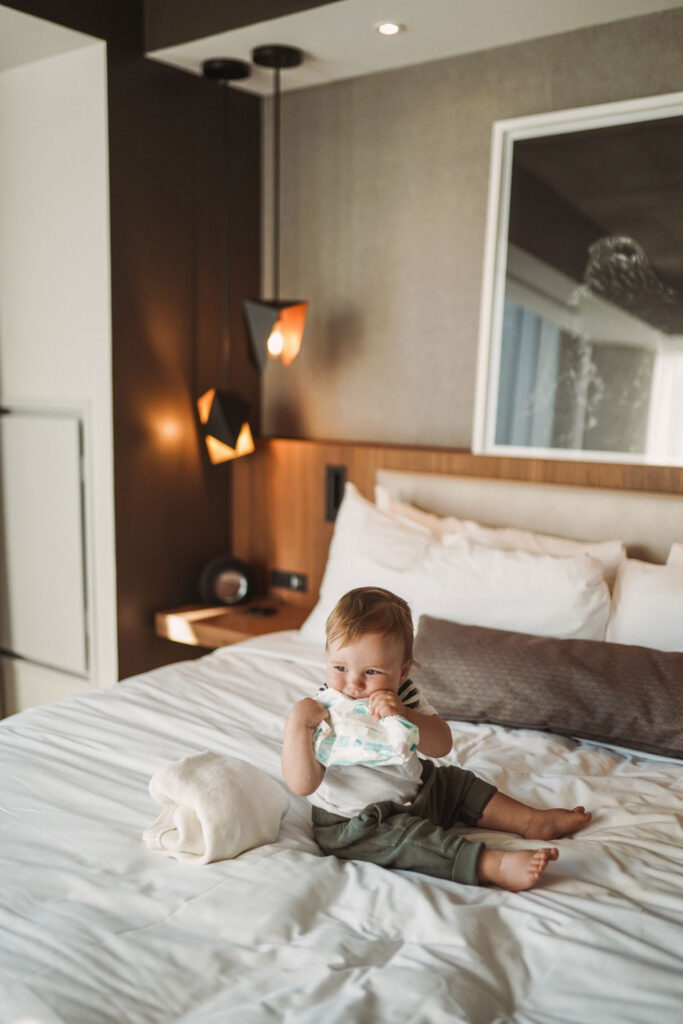 Unpack + organize
I feel like you're either the type of person who lives out of a suitcase while travelling or the type of person who needs to unpack and put away their things. I'm the latter…it just is such a short little extra step that makes all the difference for me even when I'm just travelling solo, but I gotta say, with a baby I feel like this one's almost crucial. On a good day at home I'm already running around trying to find his stuff, so I feel like that could get really amplified if you were in and out of your hotel room and just throwing stuff out of your suitcase. Take two seconds to put away their things at least (even if you don't do yours) and have a designated spot for everything (a little change area, their food things, etc) so that you know where everything is.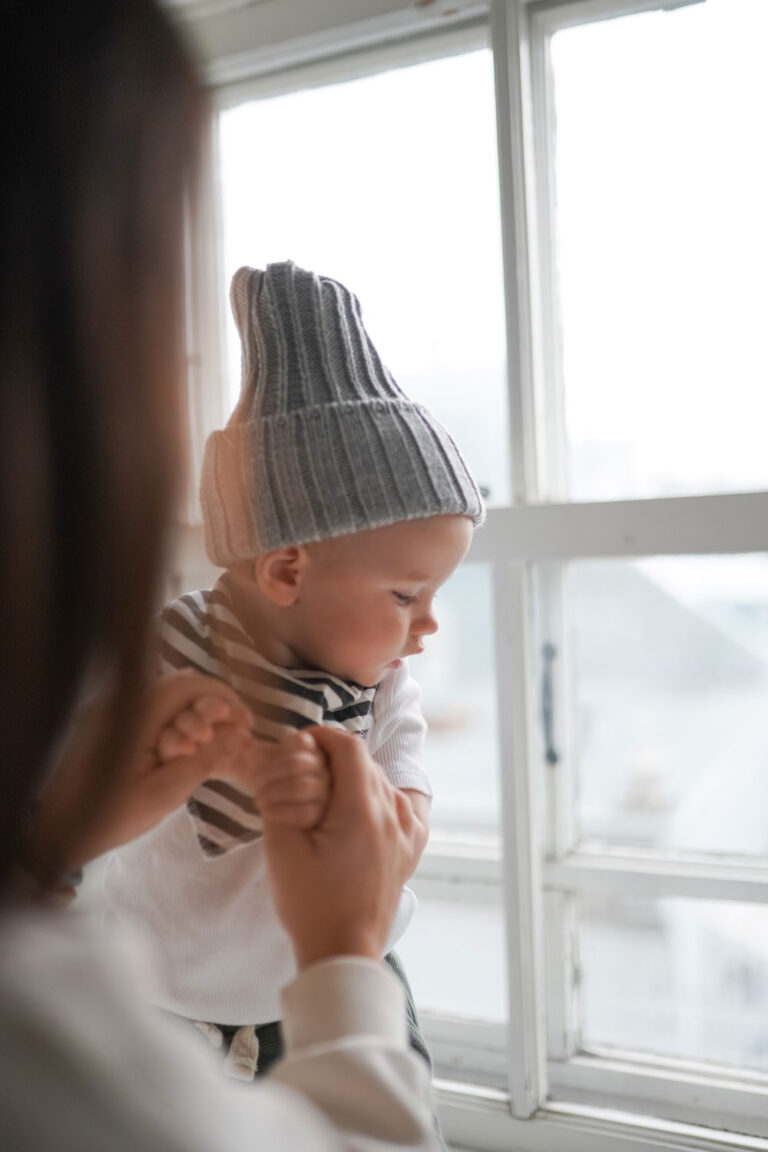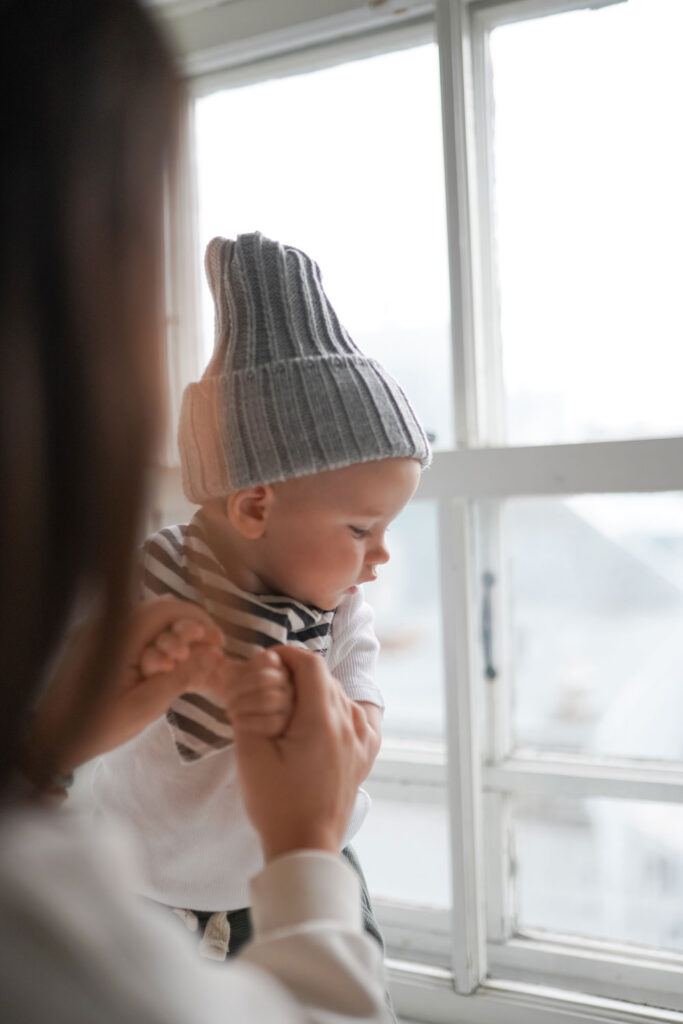 As promised, I also will have a full packing list coming soon! I hope this helps—honestly, I value travel and adventure so much and knowing that I have some general best practices to help me do this now with my favourite person in the world makes life just feel that much sweeter. It is a bit more work and there is a bit more stress involved, but the payoff is so worth it. Above all else, just remember that even if parts of the trip are harder (whether that's a non-stop cry session on the plane or struggling with sleep once you're at a destination), it will just be one small part of what could be overall an unbelievable experience.
Go easy on yourself and baby, remember that they (and you!) are resilient and that these experiences are not only so amazing for you, but really enriching for them, even at such a young age! My mantra for this trip was prepare for the worst, hope for the best…it helped!
Pin the snaps below for easy reference—happy travels (hopefully a lot more moving forward), guys!
---
pin me