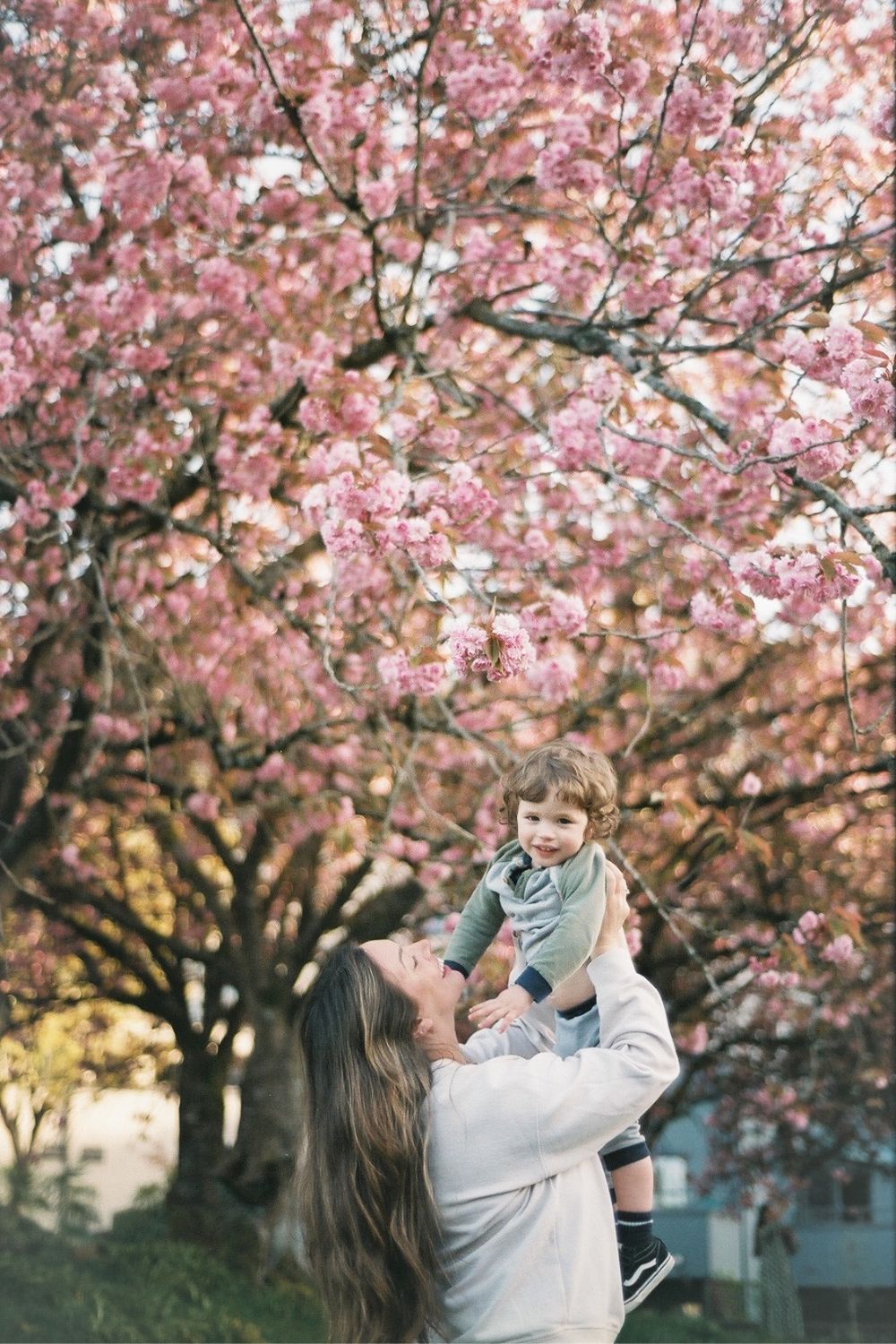 I know this is going to sound dramatic, but to say I've been dreeeeaming about the day that I can finally type in that title to a blog post draft would be a huge understatement. But yes, today is the day!!! And I can finally share that after over a year searching, of spending almost every weekend towing our toddler around to open house after open house and shedding quite a few tears over various upsets, misses or general frustration with the Vancouver market in general, I can at long last say…we bought our first home!!!
We have bought a townhouse in North Vancouver near the Lower Lonsdale area and we are literally counting down the days until we get to move in.
We actually bought an assignment of contract on a presale (which is just real estate lingo for buying out the original buyer's contract for a prebuild), so our new home will be ready later this summer and until then, I creepily hang out in front of the construction site at least once a week, scoping out what I can from the outside and wandering around the beautiful neighbourhood that will soon be our home.
I want to share a little storytime about getting the place itself, but first, a little quick historical rundown on our living situation and the house hunt we've been in over the last year and a bit! If you've been a reader or following along for a bit, it's probably pretty obvious I live in Fairview…it shows up in a lot of my content! I love it here. Honestly, I think the hardest part about moving later this year will be leaving our neighbourhood…I'm very attached to it and to my daily walk to Granville Island along the Seawall, specifically. I'm really an ocean person so this proximity to the water is super important to me, and I just love the laid back vibes here,  and how close we are to Kits (my other favourite hood, and where I'd live in the city proper if I wasn't in Fairview).
We've been renting our little one-bed here for 10 years, and while we talked about investing in our first place well ahead of Cal being born and then definitely with greater urgency after he was born, I honestly think we just got really spoiled from a location perspective, from a very reasonable rent perspective and just overall quality of life. Up until Cal, we felt like we had lots of room (it's quite a big apartment for a one-bed and we also have a really big rooftop patio, so it never felt too crowded), the Seawall is literally a few minutes away and it was hard to want to ditch such low rent as well since we got in so long ago and thanks to rent control increases, it's only gone up minimally over the years (I mean, lower for what it is Vancouver standards…still in the thousands, but all things relative to the insanity of Vancouver, we felt very lucky). The only thing that wore on us over the years and definitely after Cal was born was that the apartment itself could use a lot of love (we did what we could as tenants but didn't want to flip the place necessarily since it wouldn't be profiting us at all) and the building is from the '80s, so it's starting to really show its age.
After Cal was born, at first things were okay with him here but increasingly, this place has just been harder and harder to live in (not to mention we were really keen to get into the market too). So much was up in the air during COVID (I was pregnant the entire time and a ton of my travel campaigns got cancelled at the time because I was doing full-time travel blogging, etc) and we just didn't want to uproot ourselves during such a crazy time, so we decided to revisit getting our first place once our feet were underneath us a bit after Cal was born. Terrible timing knowing what I know now, but obviously we had no idea at the time. Interest rates dropped to nearly nothing over 2020 and demand was at an all-time high. Then postpartum, I ended up really struggling mental health wise and the thought of moving on top of that in the first year really overwhelmed me, so we stayed with the devil we knew a bit longer, though this started to really affect us too in so many different ways. Cal was (and is) usually a great sleeper, but by the time he was 1 he wised up to the fact that Mummy & Daddy could easily be swayed by his crying and he'd get to sleep in bed with us so we've been co-sleeping since, which I love in some ways, but I also really struggle with (and I really need sleep).
I also made a big life change and went back into a 9-to-5 environment – as mentioned, my mental health really took a hit postpartum and I found when I worked for myself exclusively, I just couldn't create those boundaries between work and Cal time. While I treasure my full-time blogging days and there's an entirely real possibility I'll return to them one day, I knew I needed some kind of structure and I followed a very odd but strong instinct I had to go into a corporate environment again, and it's proved to be the right one. I feel like it's given me me back if that makes any sense…when I'm with Cal, I'm fully on parent duty, and when I'm doing content creation or photography, I really pour a lot more of myself into it because my time is more limited. But one side effect of working a more demanding corporate job and doing it in a hybrid model means Matt and I were all of a sudden competing for treasured work space, and specifically call space. I'm in office two days a week, but the other days of the week is like a complex dance of who's in which room, trying to coordinate presentations if possible to make sure there's no chatter in the background, etc. 
Anyway, all that to say that by the time the dust settled and we got into the market around April 2022, we were getting into the hottest sellers' market (again, knowing what I know now, not the greatest timing). We'd see something we barely even liked but at this point, the pressure felt like it was on and things were selling off-market, day-of, etc. So we'd have to make an offer on the same day as a viewing only to be outbid, or we'd go to a viewing and contact the realtor about offering only to find out it already had an accepted offer and they were still just showing until subjects lifted. An emotional rollercoaster, seriously. We were hoping to look intensely for 3-6 months before finding our place, but then something interesting happened – not only did interest rates go up, but inventory came to a screeching halt. We went from a few months of feeling like we couldn't even pull a bid together fast enough to offer, to not even having a chance to bid on anything because nothing was coming to market.
There was this one assignment of contract though that I had been watching. Not only was nothing coming to market, but nothing was moving, so it actually gave us a bit of a chance to pause and appraise things at least. We both really liked this assignment, but since it's not as easy to sell a product that's not complete, the assignment was kind of sitting on the market for some time (as most product was actually, complete or not…it's like there was this collective hesitancy on seller and buyers' parts to move on anything for months there). It had the perfect floorplan for us…a big workspace for Matt who works from home full-time, a great workspace for me, beautiful outdoor areas and a great big room for Cal. There'd be the little stairway to the entrance I always dreamed about (we're very big on Christmas, so I've always dreamt about having a really elaborate outdoor bannister decor situation). We'd also really struggled to fall in love with any area in North Van since as mentioned, we've been so spoiled living in Fairview, but this area literally is the North Shore equivalent. It's near the water, it has great pathways, it's near all the breweries and coffee shops we've grown to love over our many months now of open houses on the Shore. It was perfect really, but I think we were both lulled into a bit of a false sense of security by the slower pace of the market and after being burned so much earlier in our journey, were wanting to take our time (maybe too much time) to make a decision since this would be a bit more of an investment (new builds require GST payments).
So…it got relisted and before we had a chance to offer, poof…gone. I was honestly beyond devastated. I don't think Matt will mind me saying that I really was pushing for it and advocating for it for some time before he finally caught up to me, and by then it was too late. Also not great for a relationship haha. And during that time, nothing else was coming to market and it felt like we'd somehow (and so needlessly, at that) let this unicorn of a place go. 
But both of us being equally devastated and I think Matt really realizing in that upset how perfect this place was really primed us to move very fast when miraculously, our wonderful realtor Molly Lowe let us know that off-market, another realtor (who happened to be the seller of the unit) had contacted her and mentioned he was considering going back to market. Molly has been an unbelievable support and asset to us throughout this entire journey, and I think she picked up quite quickly how upset I was about missing out on that first townhouse that I fell for. She reached out to expired or terminated listings in this development (basically people who took their listings off the market) to see if there'd be any interest in selling again…one was but their price was ridiculous, another planned on moving in, and then there was this one, the only other listing that was the exact same floorplan as the one we missed out on. A few weeks later, it was this listing that decided to come back to market and in giving Molly a heads up a few days ahead of relisting, it gave us the kick in the pants we needed to formalize an offer the second the listing went up.
I always find when things work out (especially things that are really important), I somehow always go into a weird state of detachment. It's like when I want something too badly, and hold onto it too tightly, it ends up not working. It's how I felt about the original listing we missed out on. When this one came up, it felt right. And because it felt right, I think I felt a certain level of release from it. We went in fairly aggressively on the listed price and I remember feeling this very freeing level of detachment after we submitted our formal (much lower) offer on the Saturday. We had plans on the North Shore on Sunday, so found ourselves at the Quay a short walk away from the townhouse site Molly called us and lo and behold…they'd accepted it!!! Tears in our eyes, Cal being creeped out by our emotional outburst, a celebratory drink and then we decided to walk over to the site and the sun came out. It just felt so right. There were beautiful flowers blooming all along us and I could see the ocean from the path we were on and it just felt like yes…this is our neighbourhood. This is our place. This is what has made the wait so worth it. And part of it too was both of us equally wanting it as badly…before it felt like I was really pushing, but this time we got to experience the same level of elation, of reward, of relief.
The week that followed was pretty intense as we had to dive into disclosure agreements, contract after contract after addendum after addendum, etc. There were renegotiations had, especially a fairly aggressive manoeuvre on our end literally 30 minutes before our subjects lifted, but by the time the dust had settled and we'd officially come to an agreement and signed off on everything, I think everyone was happy with where things had settled. With negotiations, both parties always have to give a little and it felt like that really played out for us in this instance, but we're ultimately so happy with everything.
We had the wonderful Pilot team (thanks to Molly for the reco!) help us with our mortgage, we signed off on everything very unceremoniously over our respective work days (I just ducked into the washroom hahaha) and all of a sudden, it was done…we'd bought our first home! We randomly both had the most insane work weeks that week so barely had a chance to see one another, let alone celebrate, but about a week later we went and did a little family date at the one place we've never visited on Granville Island in all our years of living there (which is why we started joking a year ago that it would be our farewell send-off to the Island)…The Keg! And you know what? The Keg delivers. Epic kids meals, free warm bread to start with, martinis shaken at the tableside. 
Presales and particularly assignments of contract are tricky for a few different reasons (which is why I'd highly recommend having a lawyer if you go down that route), but one distinct tricky bit is the moving target of completion. The place looks pretty near finished (thanks to my weekly creepy visits I can really see the progress week-to-week) and they have a really robust crew working on it whenever I'm by, but we're currently penciled in for July August. The thing is, we don't actually have to be notified until 10 days before final completion about the exact move-in date, so we're not rushing to give notice on our tenancy. We'll give an added buffer in addition to what we're required to give regardless because we're a couple of sweethearts, but as much as it sucks to have to pay for a place we may only be in for half a month, the thought of having to move twice and squeeze our way into one of our parents' places for a couple weeks sounds even more unappealing so that's really just our next big step, and then of course the packing, the moving, etc that follows once we get at least a bit of a better sense of general move-in dates.
If you have movers, cleaners, or any other tips or recommendations for these next few big steps, please let me know! I'd also say lots of decor tips, but the thing is, while we have a floorplan since it's an active construction site, we won't really know exact dimensions until we're in there so we don't want to invest in anything until we're settled. But when the time comes, we'll be hitting you up! In the meantime, we're just waiting for our final move-in date and anxiously pinning and saving everything we envision and dream of in our new place until then!
Before officially getting in as well, I really want to dedicate some time to sharing as many resources or tips in this very intense and somewhat emotionally volatile industry – I know firsthand how stressful it can be, and when you add multipliers to stress like a truly unprecedented and insane market, it just messes with you. I want to empower anyone else in a similar position to not only know everything they need to know, but to also know how to pace themselves, how to trust gut instincts, etc. More to come! I am so unbelievably excited to share this next journey and as mentioned above, couldn't welcome more any tips, tricks, recommendations or just general advice so please share!