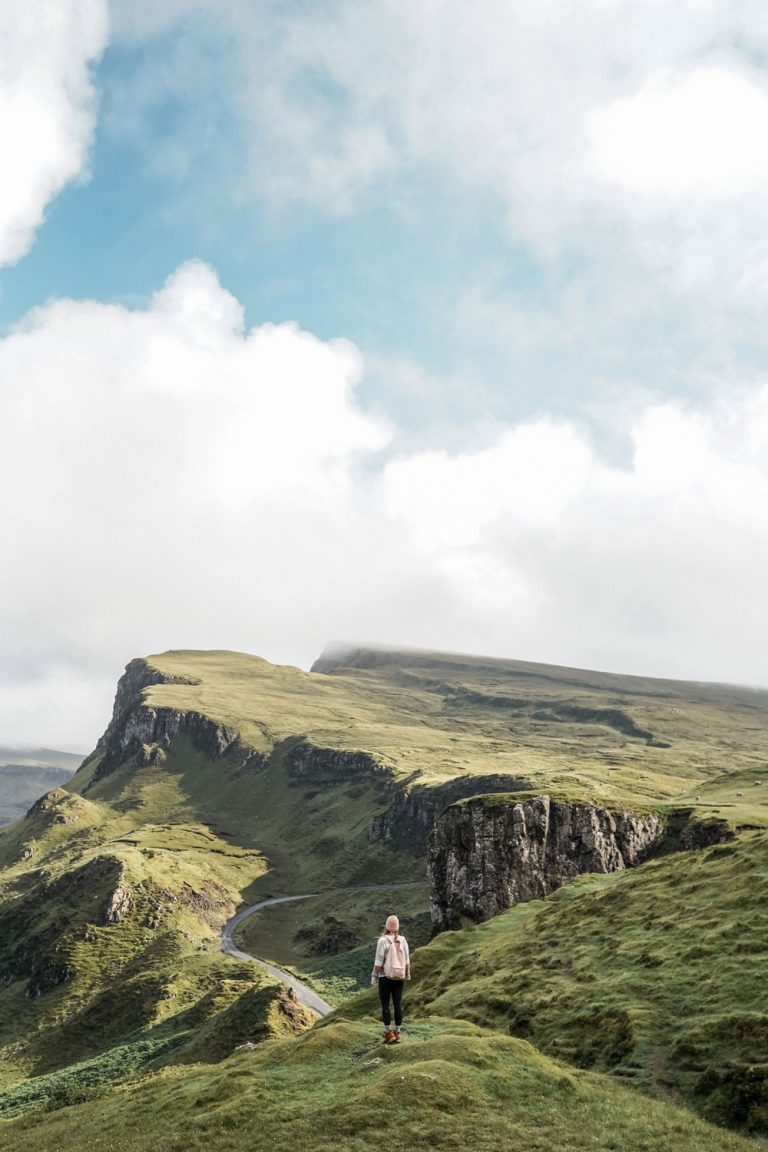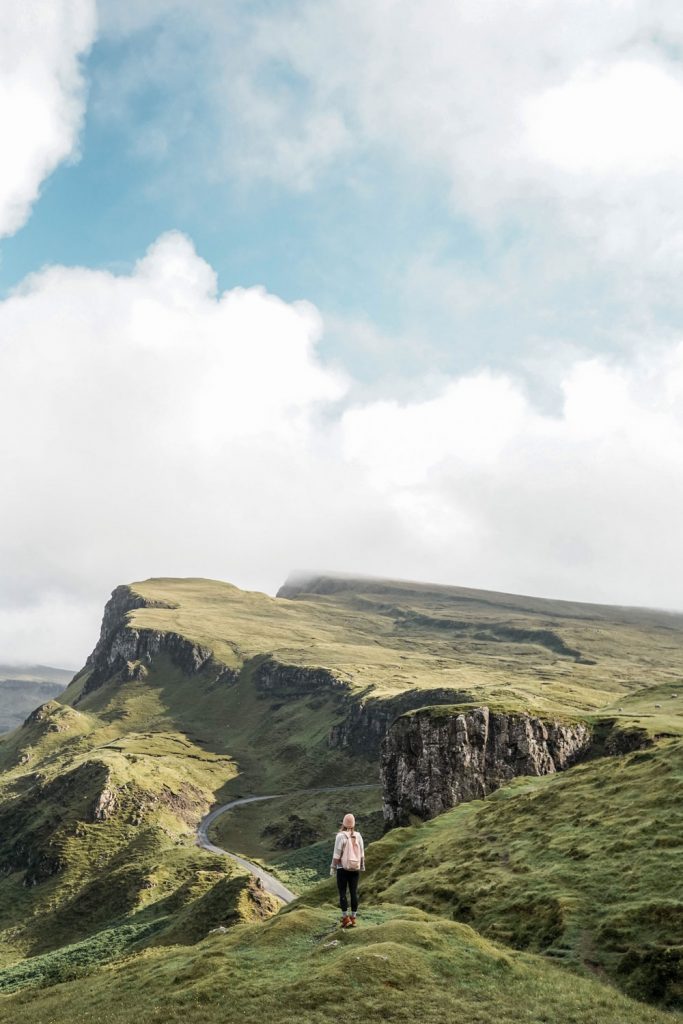 This epic guide took me some time to pull together because not only is it pretty dense, but this was such a special experience and trip for me I really wanted to take the time to relive what it was like heading through all of Scotland for the first time and capture all the magic properly!
Because that's really the one word I'd use to describe our Scottish adventures: magic.
From the people to the history to the landscapes to the cities and most importantly, to that indescribable sense of magic you'd get from standing in some of the more mythically steeped places (like the fairy glen in Isle of Skye), I definitely left a big piece of my heart back in Scotland. I'm breaking down our whole road trip itinerary below so buckle up, because it is truly one of my most solidly packed guides yet! I also will be sharing accommodation musts, top sights, my favourite restaurants and more very soon!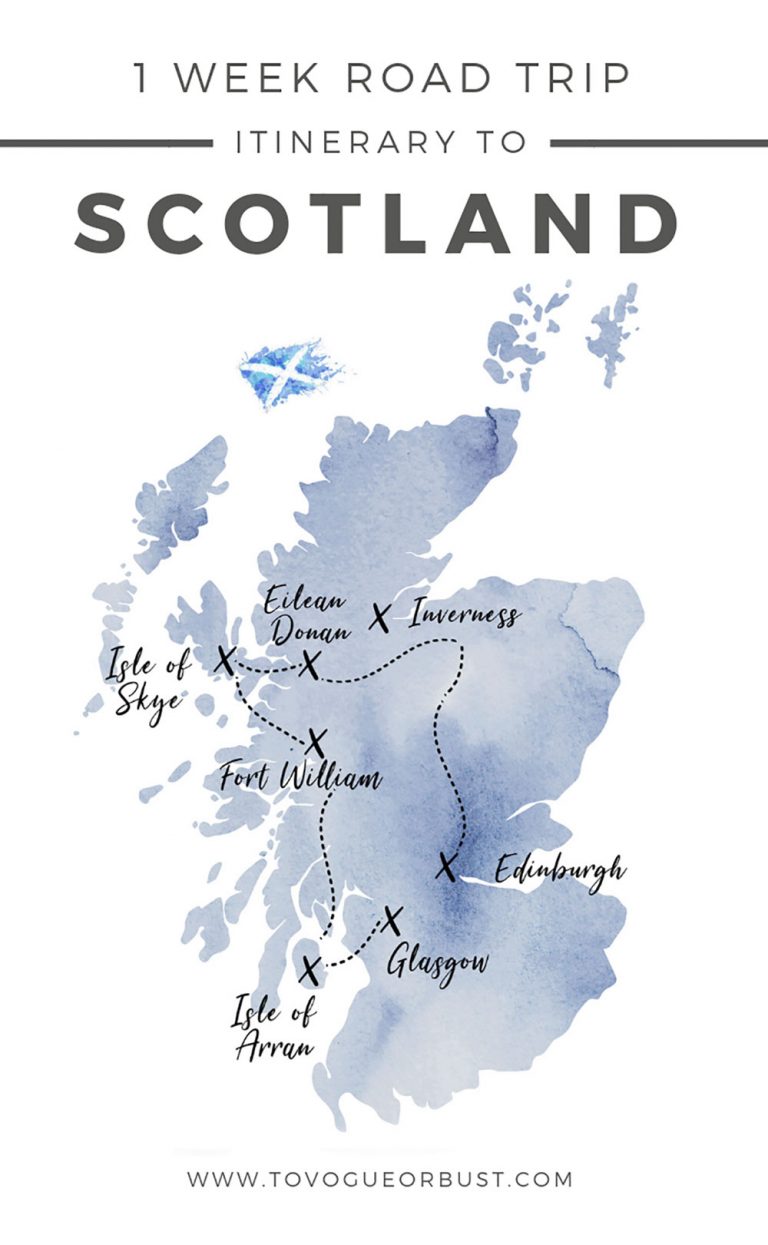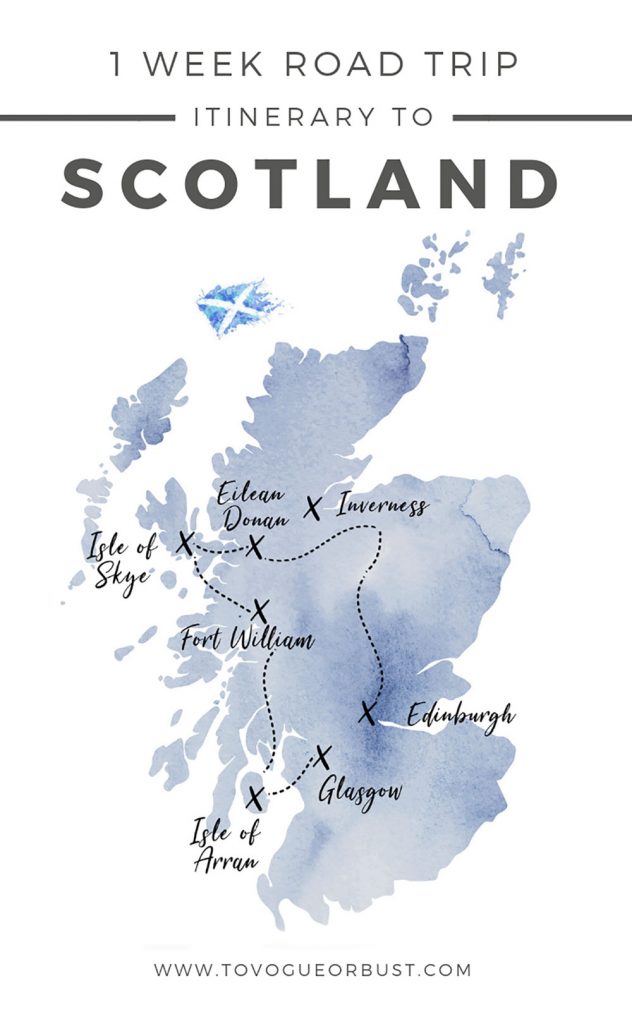 1 WEEK SCOTLAND ROAD TRIP ITINERARY

Day 1 to 3 Edinburgh

Day 3 Highlands

Day 4 Highlands to Isle of Skye

Day 5 Isle of Skye

Day 6 Highlands & Glasgow

Day 7 Glasgow & Isle of Arran
---
Day 1-3—Edinburgh
We had wedding festivities for part of this first day still in Ireland so we dragged our exhausted selves onto the plane in Dublin in the mid-afternoon and took off to Edinburgh. By the time we got into Edinburgh, I was having a full-blown hungover freak out about finding food (I sincerely hope none of you ever experience me in a hangry state, it is terrifying). After Matt finally fed me, this cranky baby was in need of a serious sleep so as much as I was already being dazzled by the beauty of the city, it seemed like the best play to go back and really rest up before we took in the city over the next day and a wee bit of the next morning! Just a note that this part was all done on foot since we were in the city but we had a car after Edinburgh and road tripped the rest of it!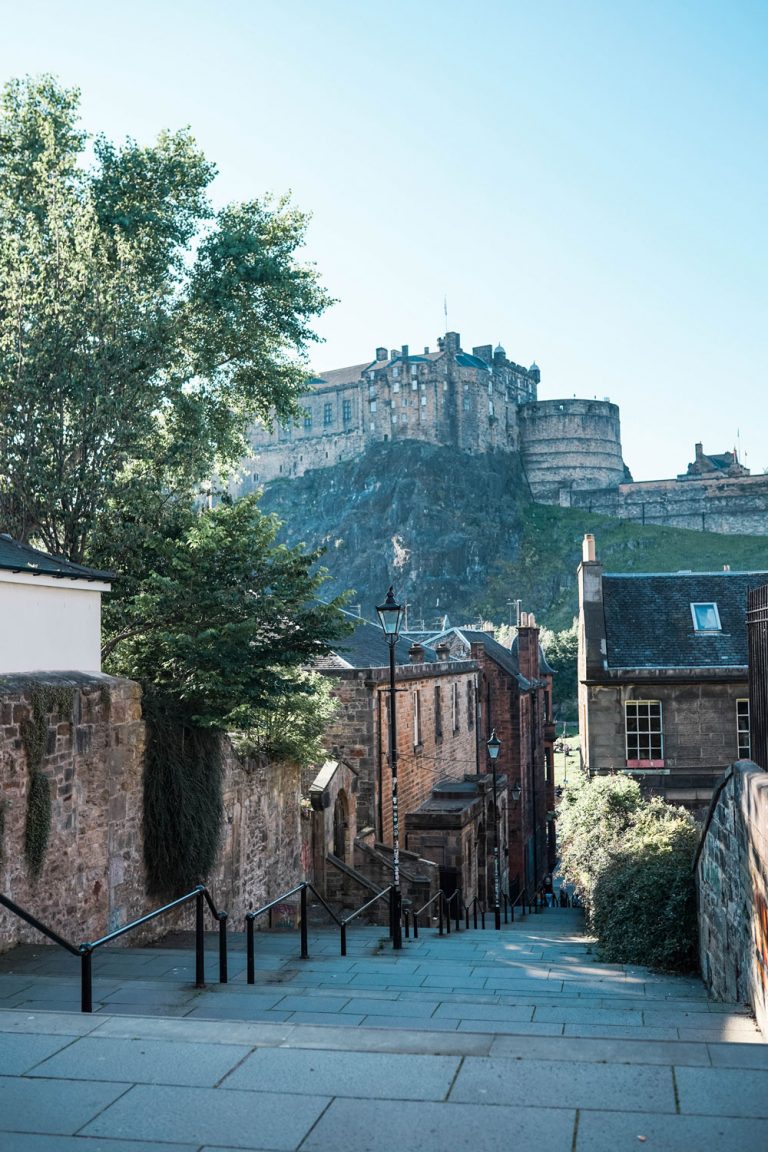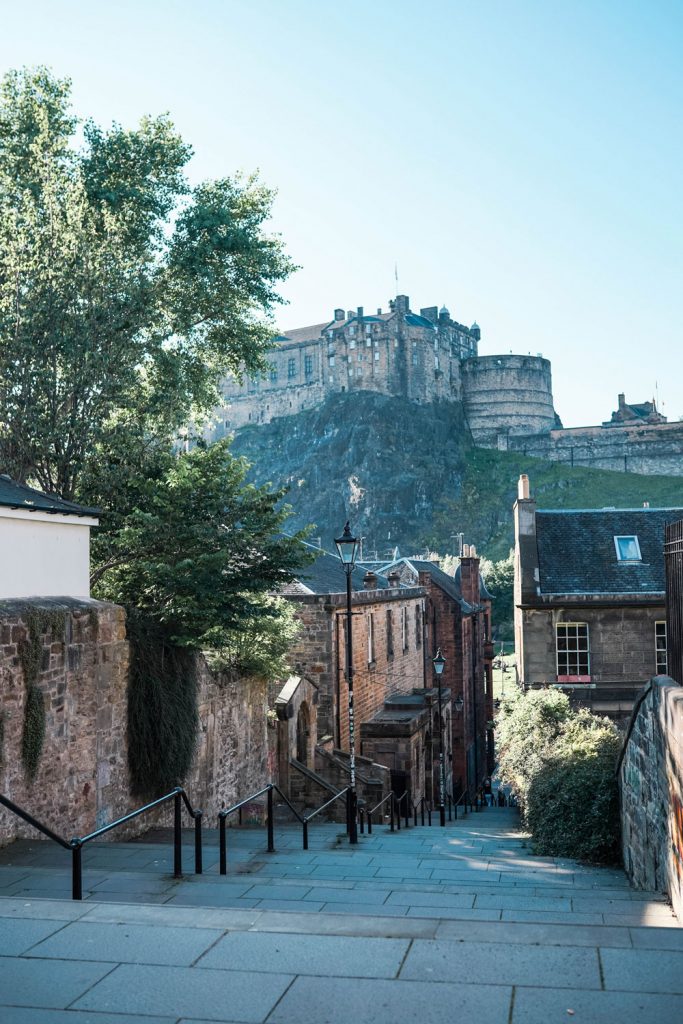 Anyway, next morning we got up bright and early, had breakfast at our amazing hotel (The Dustane Houses, can't wait to share more in my accommodation guide coming soon!) and then took off to go explore the city! We meandered through the gorgeous streets of Coates and the West End (the neighbourhoods in Edinburgh would be worth just wandering through on their own, they're so picturesque) before making it to beautiful Dean Village.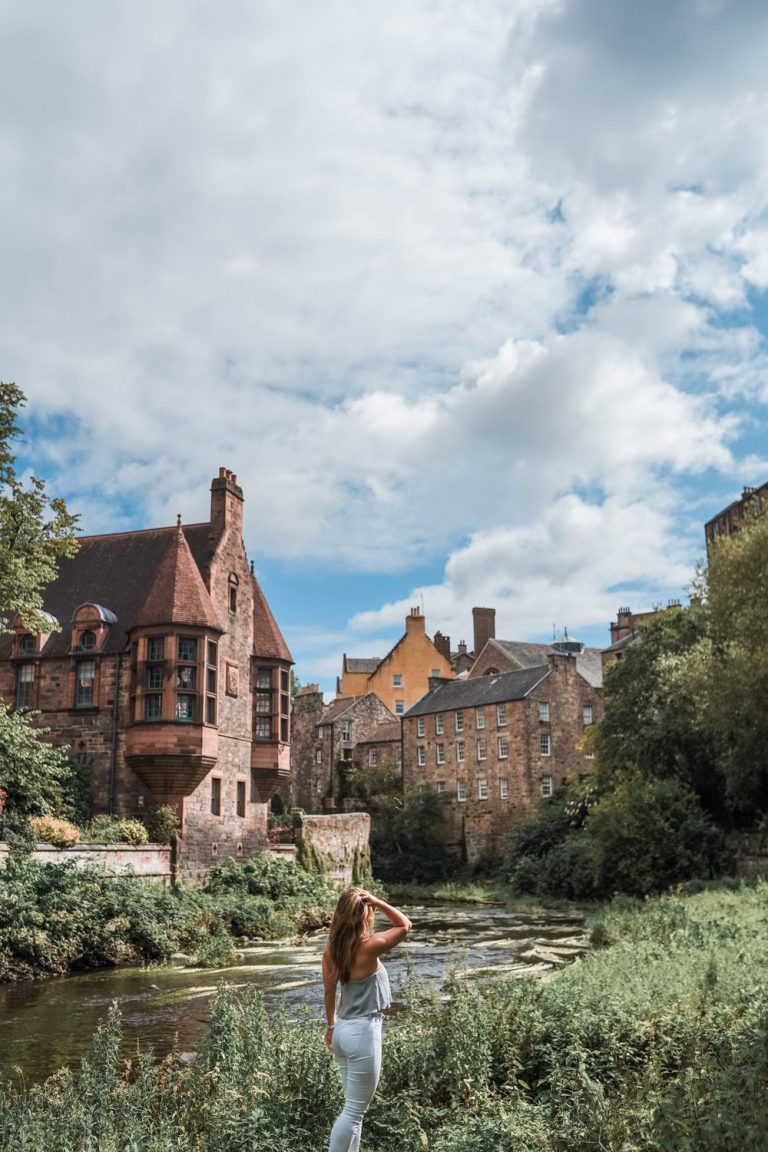 Dean Village was originally known as the "Water of Leith Village" and was a grain milling area for more than 800 years—this is where the workers for the mills would live! At one point there were 11 working mills here that were driven by the Water of Leith (the river that runs through it). It's been beautifully maintained after it initially fell into disrepair and poverty after the mills stopped running, being restored to what its original glory would've been like and with a lot of its original buildings and stonework. It is beyond gorgeous, but I'd really suggest coming earlier in the day since it is getting very touristy here!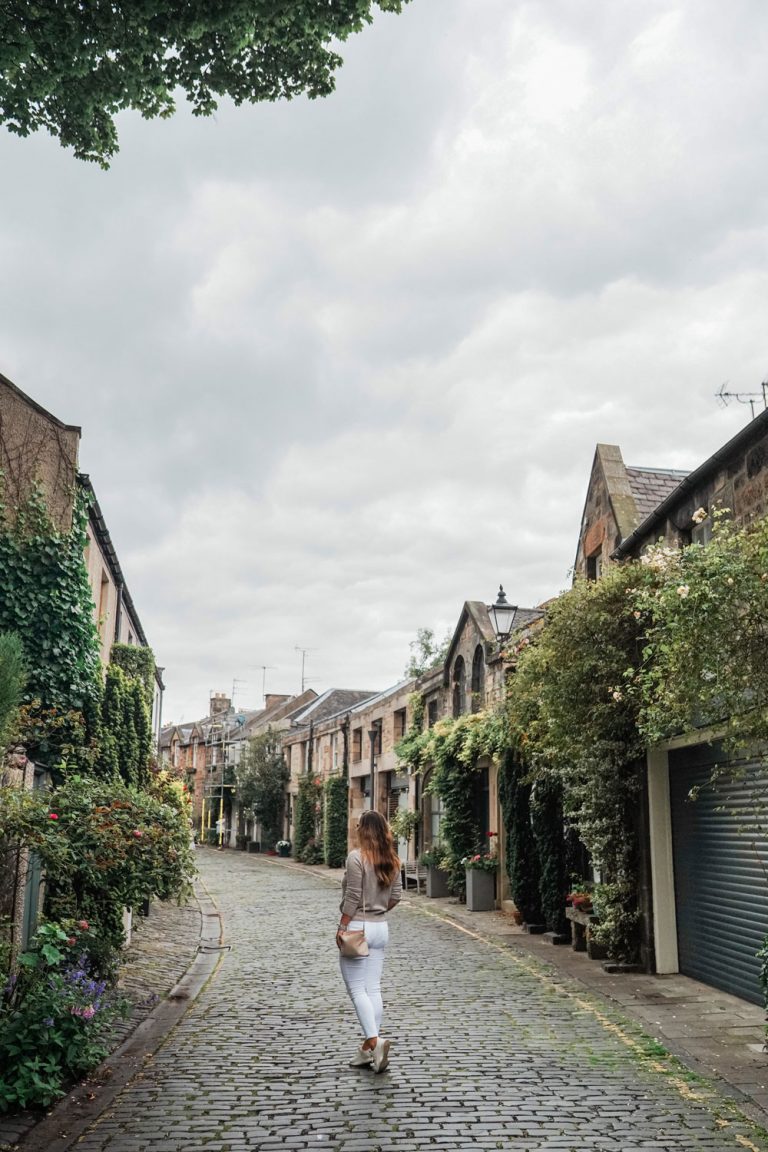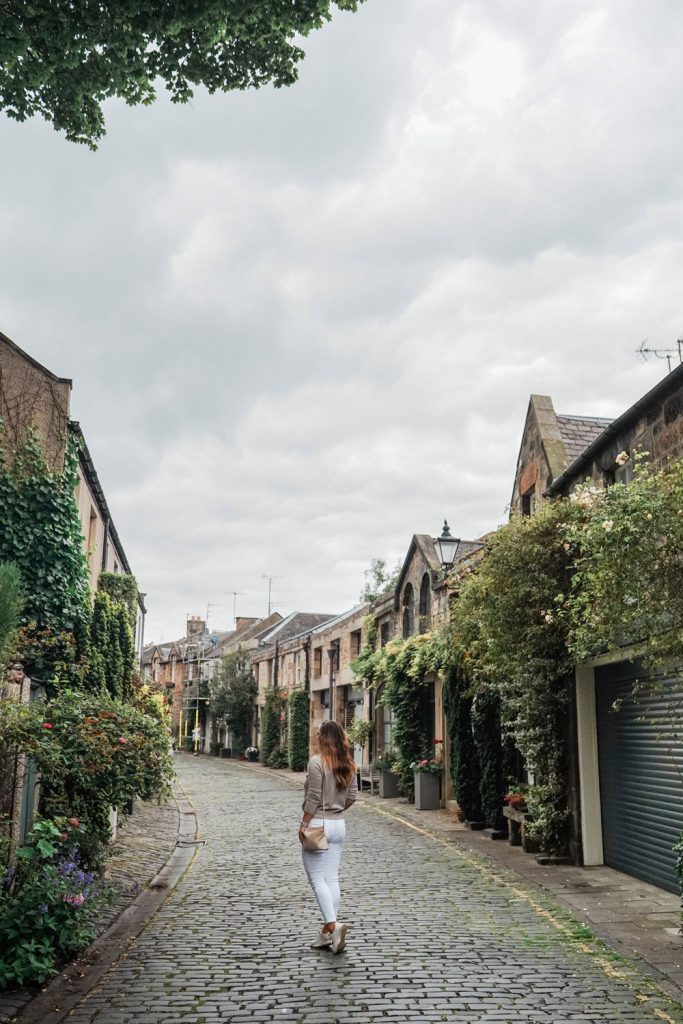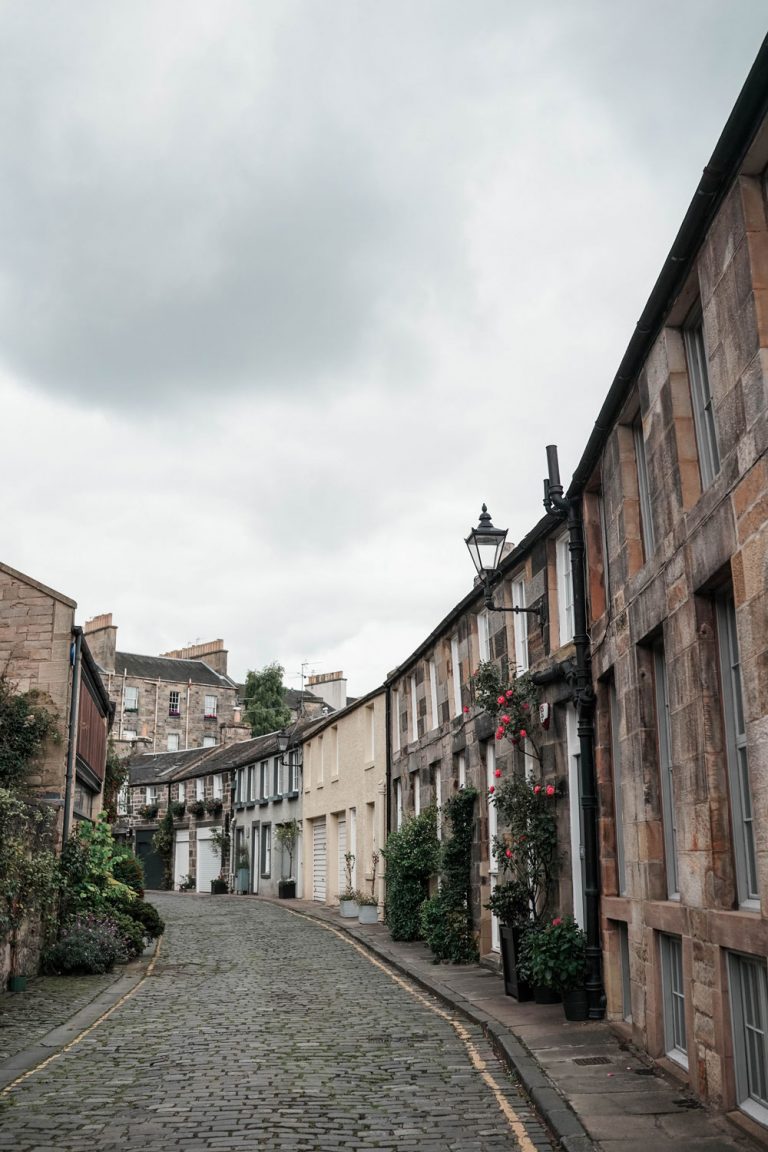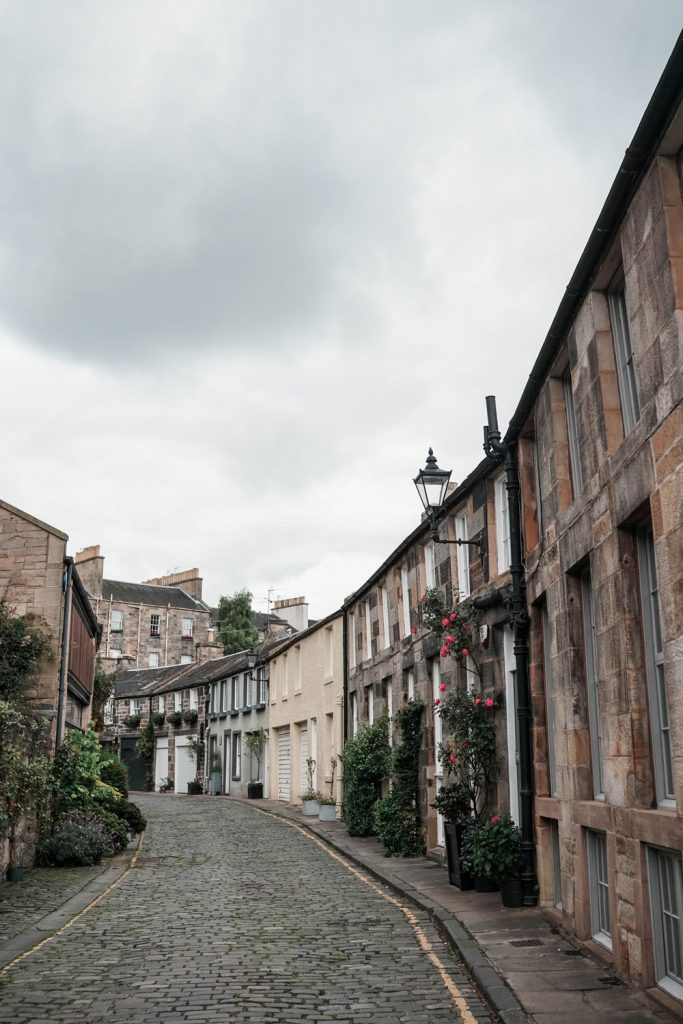 We walked along the river and popped up in Stockbridge, a really beautiful Victorian and Georgian part of town with a ton of great food, watering holes and coffee stops. We toured through Stockbridge Market, which was luckily in full effect since we were visiting on a Sunday when it's open! It had such an amazing buzz and we would've lingered here and gotten more but being pretty full from breakfast, just poked around the market before carrying on. We then found Circus Lane, arguably one of the prettiest streets in the whole city (which is saying a lot because Edinburgh is one of the most beautiful cities I've ever been to). We kept wandering along the base of the hill that Edinburgh Castle sits atop before finding Vennel Street, where some of the most amazing views of the castle can be found.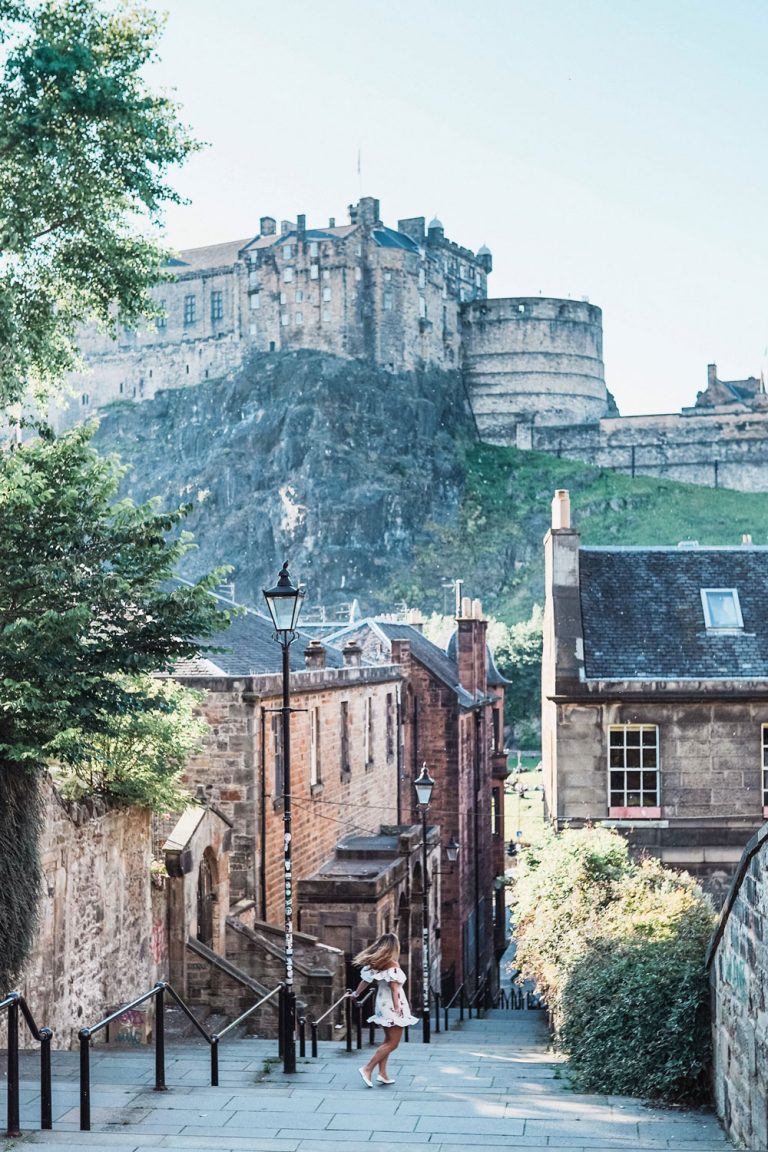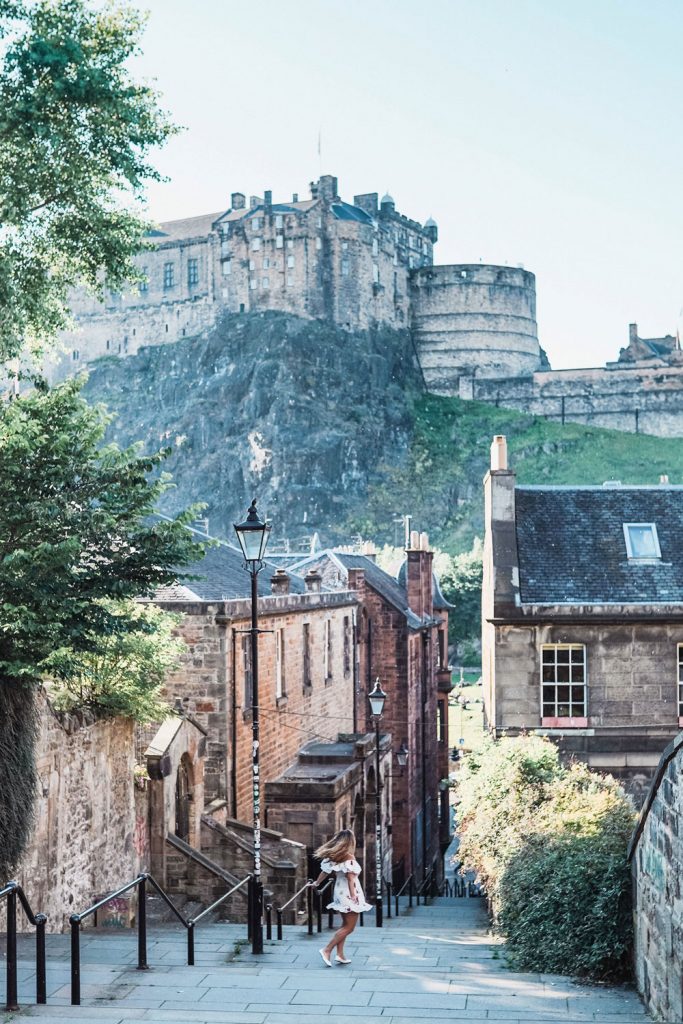 We then passed by The Elephant House, where J.K. Rowling spent a lot of her time writing Harry Potter and the Philosopher's Stone while staring out at Edinburgh Castle in the distance but we didn't bother going inside—it's insane the amount of tourists that are in Edinburgh for Harry Potter tours alone, and this place was beyond packed. I'd rather just take in the view that she saw form the George IV Bridge that the cafe is situated on, because that's what really inspired her, not the cafe itself!
Speaking of bridges, Edinburgh is really built on a series of hills, so these bridges will basically bridge two high points in a veritable valley, and many streets are built on major hills (you can sometimes luck out and find stairs from major streets like The Royal Mile that will take you down to lower streets). Long story short, wear good shoes here—this isn't a place where you want to test out a new pair of shoes!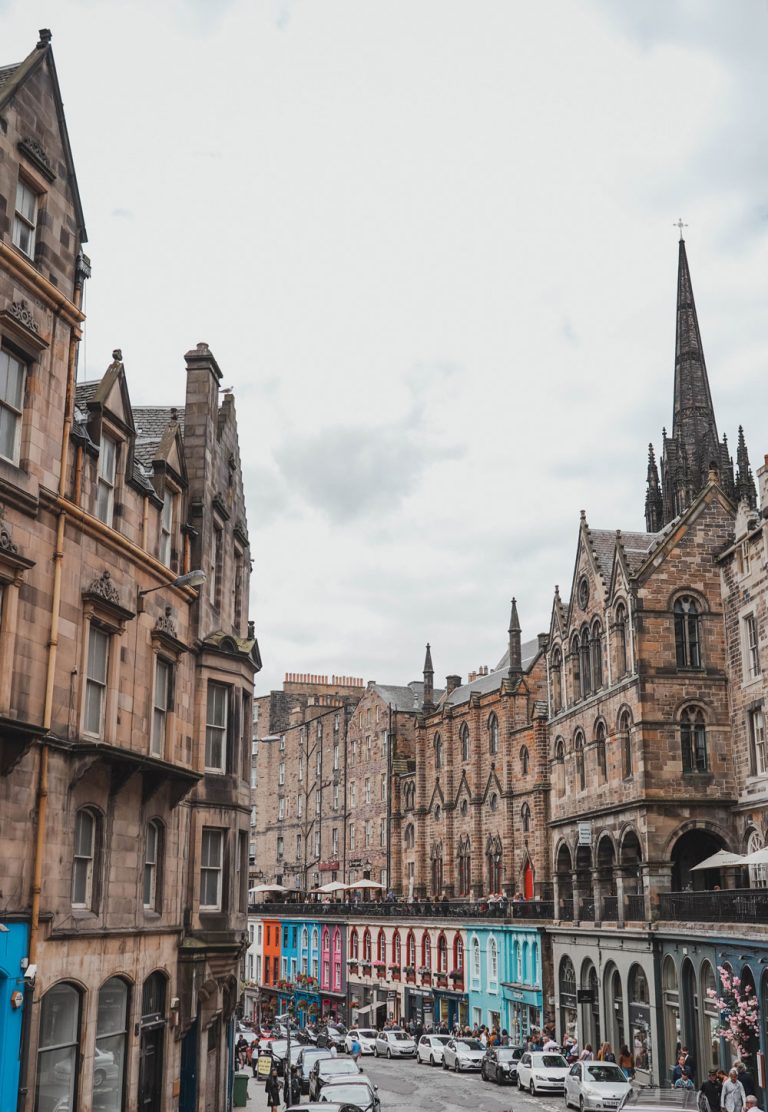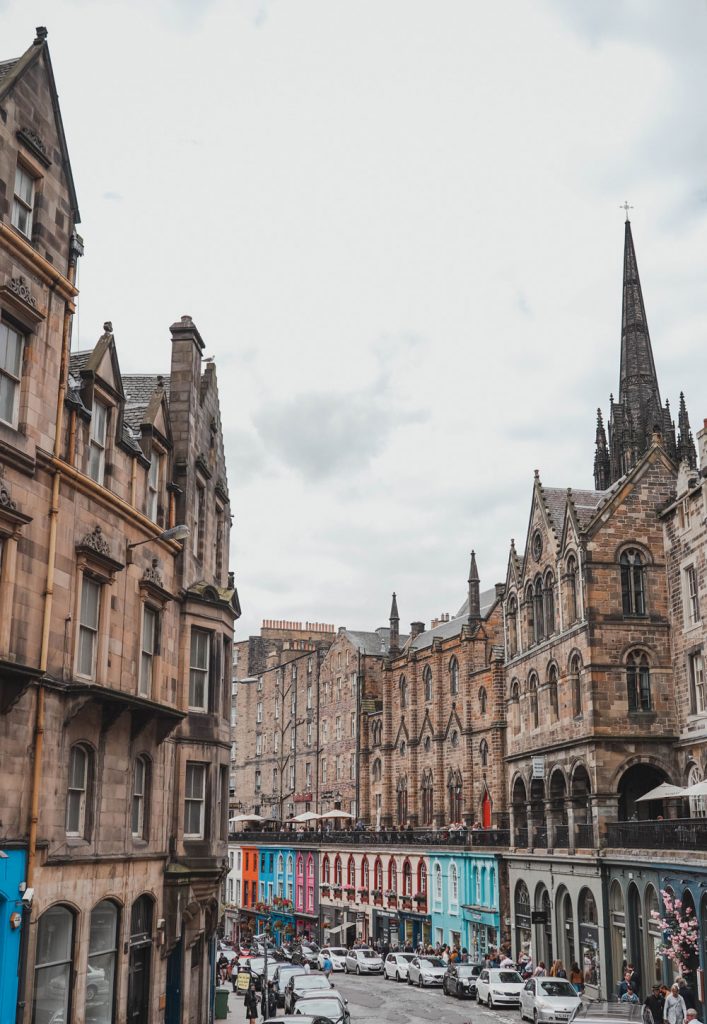 We didn't have time to go into the Castle itself but I'd suggest going first thing in the morning because Edinburgh is very busy with tourists, and I'd imagine even on a shoulder season Edinburgh Castle would still be busy. I found it was magical enough just seeing it off in the distance but would've obviously liked to have visited it—when we checked on Google just to see how much a wait time would be presently, the wait was at 2-3 hours so we had to cut it from our itinerary sadly! Just a heads up as far as planning for your Edinburgh adventures.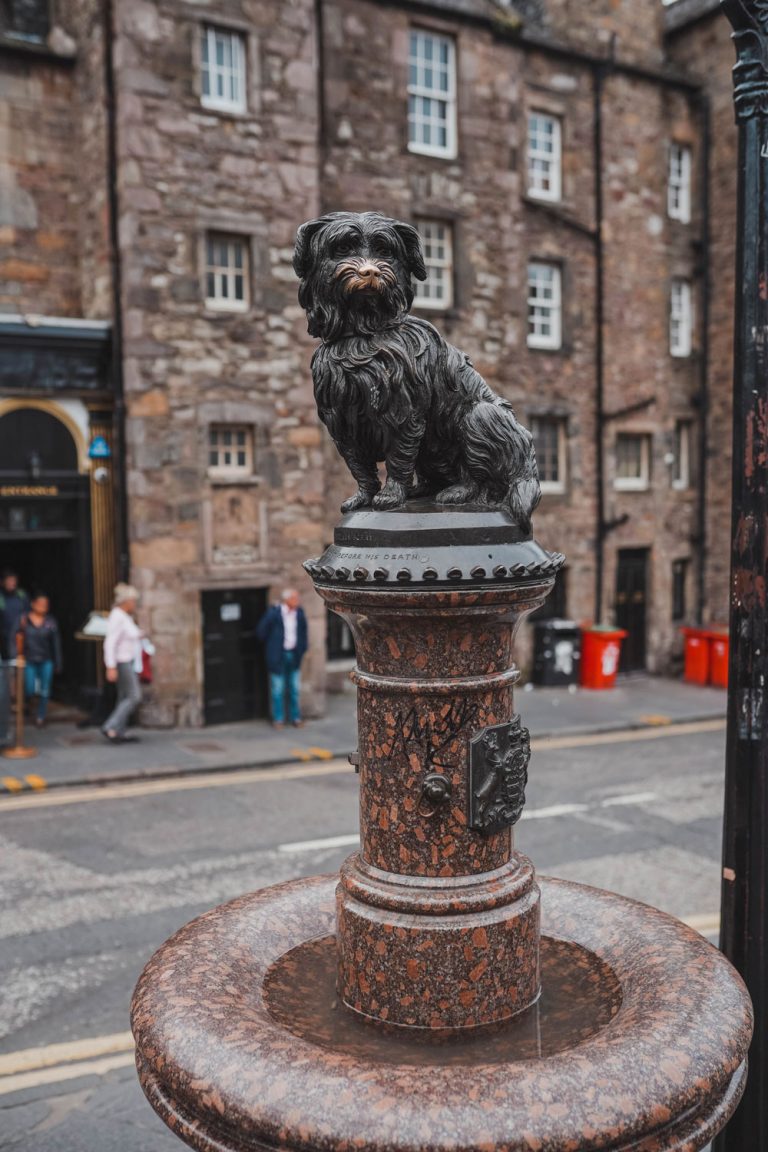 The Castle not being an option for us, we wandered along Victoria Street and got pics of this gorgeous street from above, saw Greyfriars Bobby (a statue of a Skye Terrier who was said to have stood guard at his owner's grave for 14 years until his own death) and then walked the gorgeous steep streets over to the Scott Monument, this spirelike monument honouring Sir Walter Scott (you can climb up it to the top, all 287 steps up!). We'd heard Calton Hill had gorgeous views of the city so we trekked up there and took in all the amazing different views. It's totally free and there's no wait to get up there (it's just an open park, effectively) and seemed a lot less busy than some of the other attractions in the city—we were totally blown away by all that you can take in up there and it was definitely well worth the trek!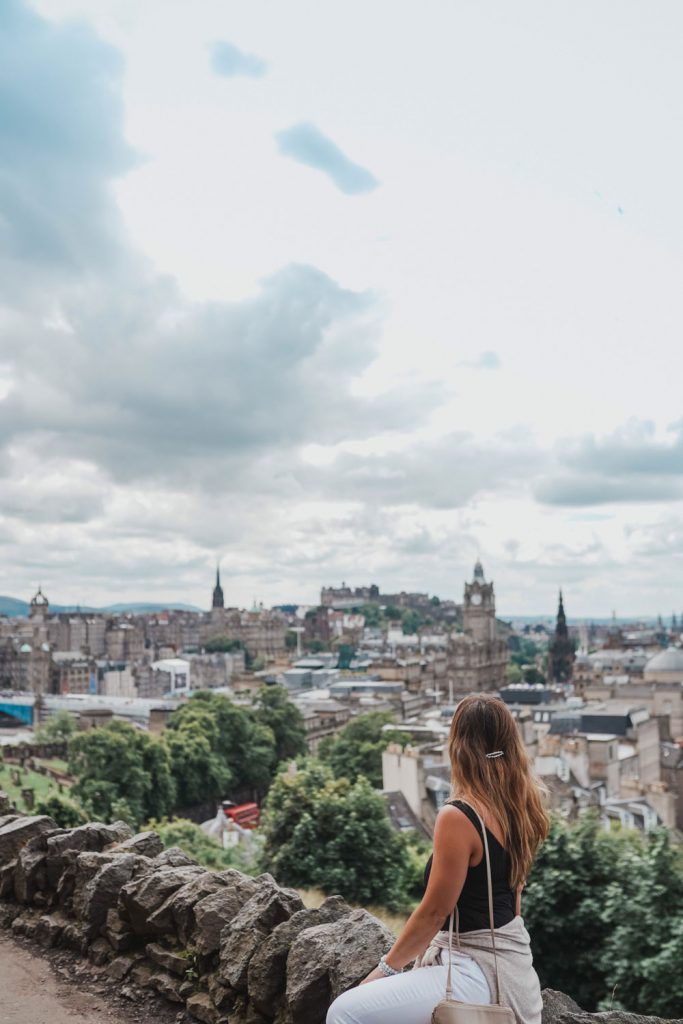 A quick little reset at our hotel later since my back was starting to go out (I'd fallen down a flight of stairs really terribly not too long before and messed up the tissue pretty badly around my pelvis/low back, so a week and a half of road tripping in Ireland beforehand was starting to catch up with me!) and we headed back in to the city for dinner and then to take the hike up to Arthur's Seat—we were so lucky that the sun broke through later in the day because the sunset was truly magical. This was something I'd 100% suggest doing for either sunrise or sunset because you not only get amazing views of the city, but I found the walk up to be gorgeous—all the tall grass and heather and thistle switchbacking up the hill! So beautiful.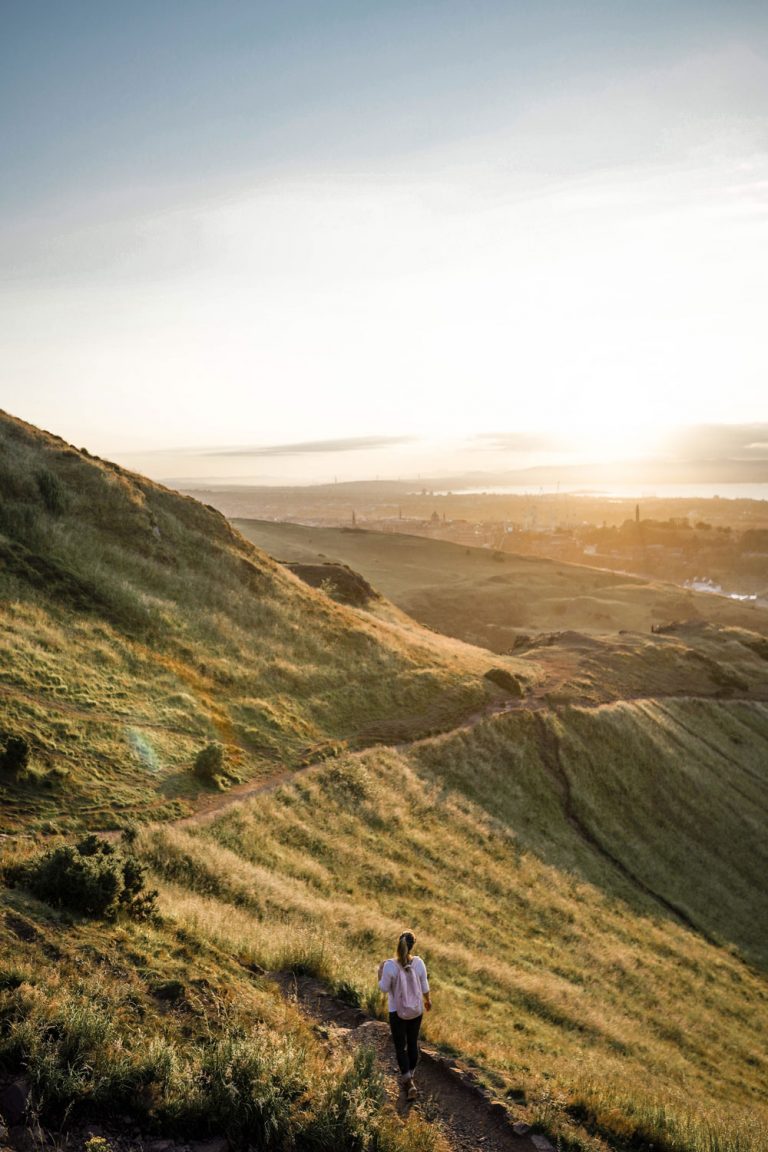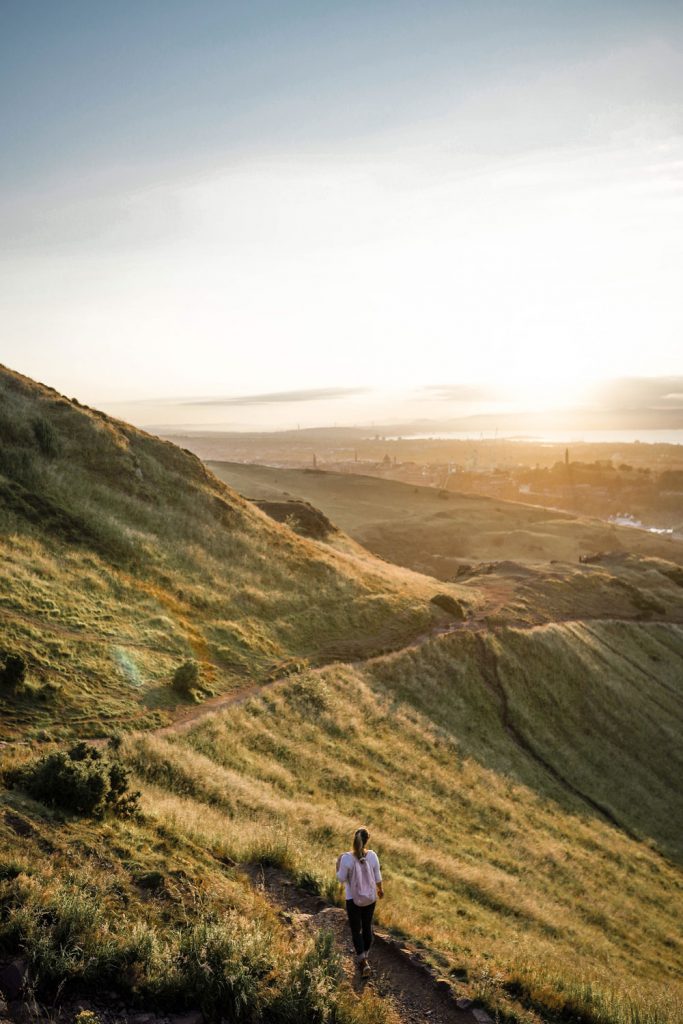 We woke up the next day, had breakfast at The Dustane again and then headed on over to the airport to pick up our car!
---
Day 3—The Highlands
We were so relieved that the process of renting our car was sooooo much easier than in Ireland (see my guide for car rental and driving on the other side of the road in the UK & Ireland here) so a quick 20 minutes later, we were on the road in this gorge SUV they upgraded us to. Our first stop was just getting out of dodge—being Vancouverites who always have to deal with awful traffic, we thought this would be a doozy given that it was a Monday but we breezed right out of the city and immediately our landscape started changing. With Gerry Diamond blasting and the windows down as the sun broke through the clouds, the grassy hills and lush valleys dotted with little silvery lochs felt like they were straight out of a dream. It didn't take long for us to reach our first town of Dunkeld, which is considered one of the prettiest villages in Scotland.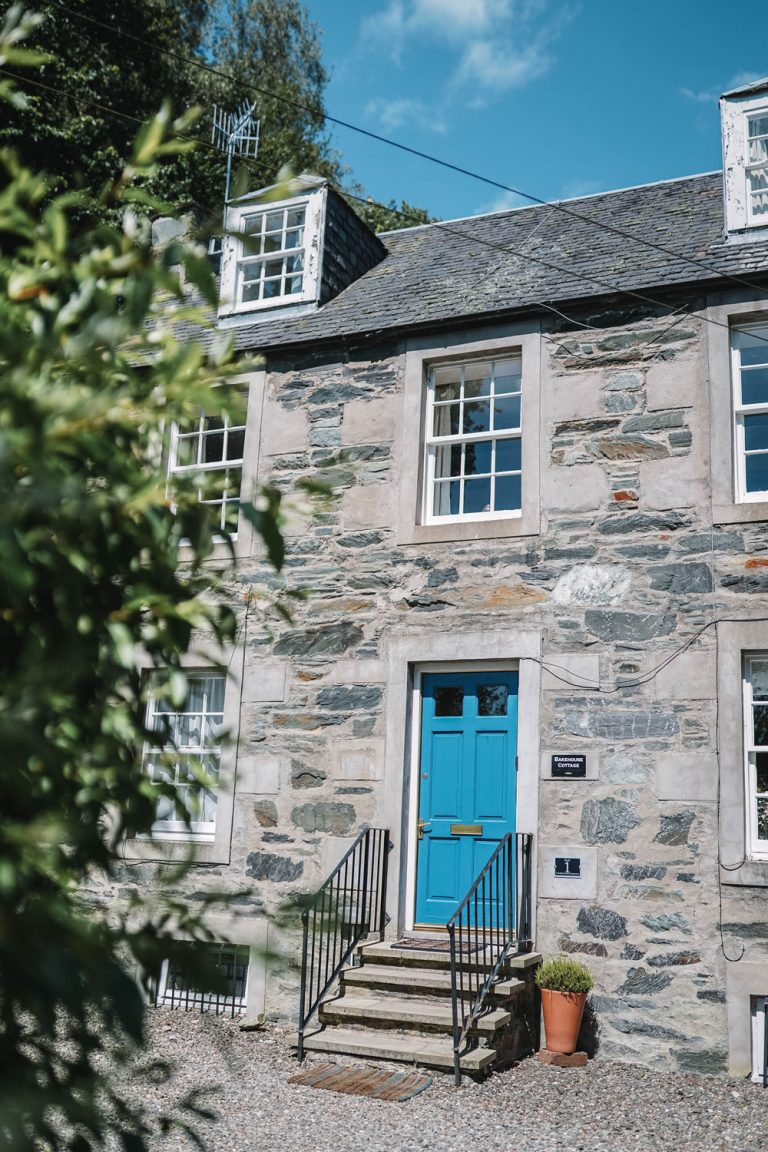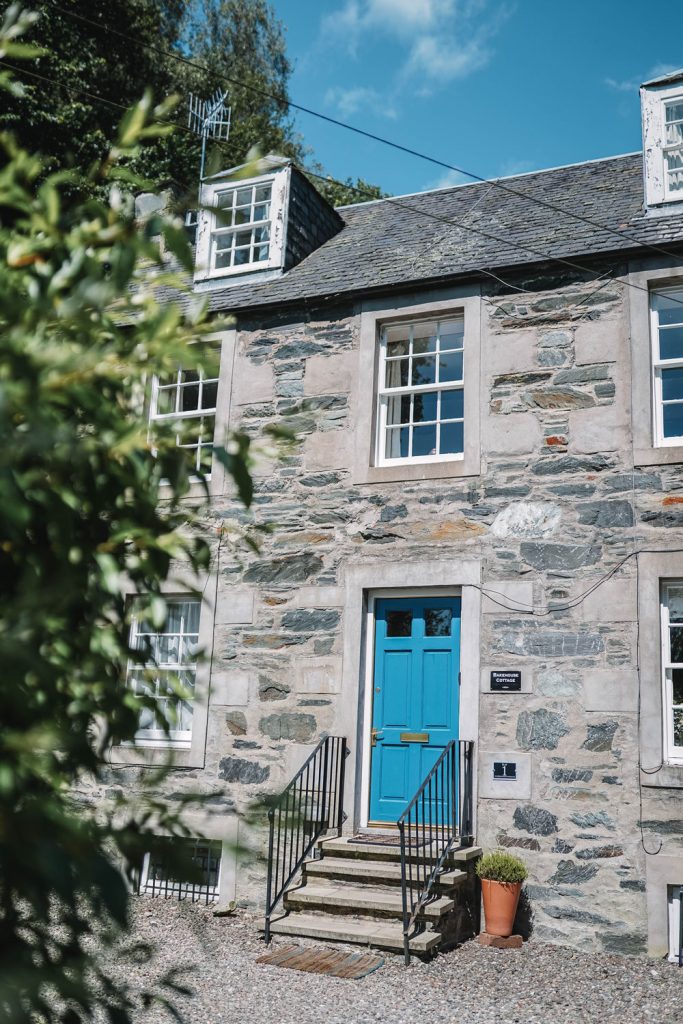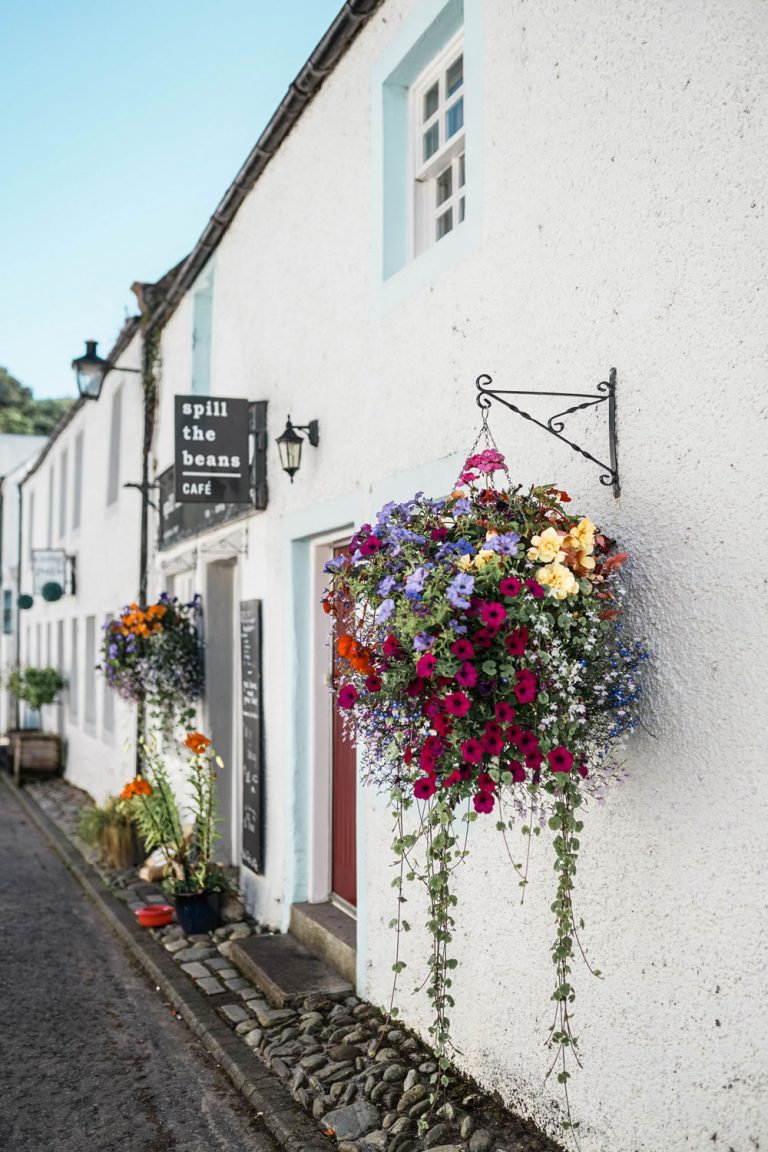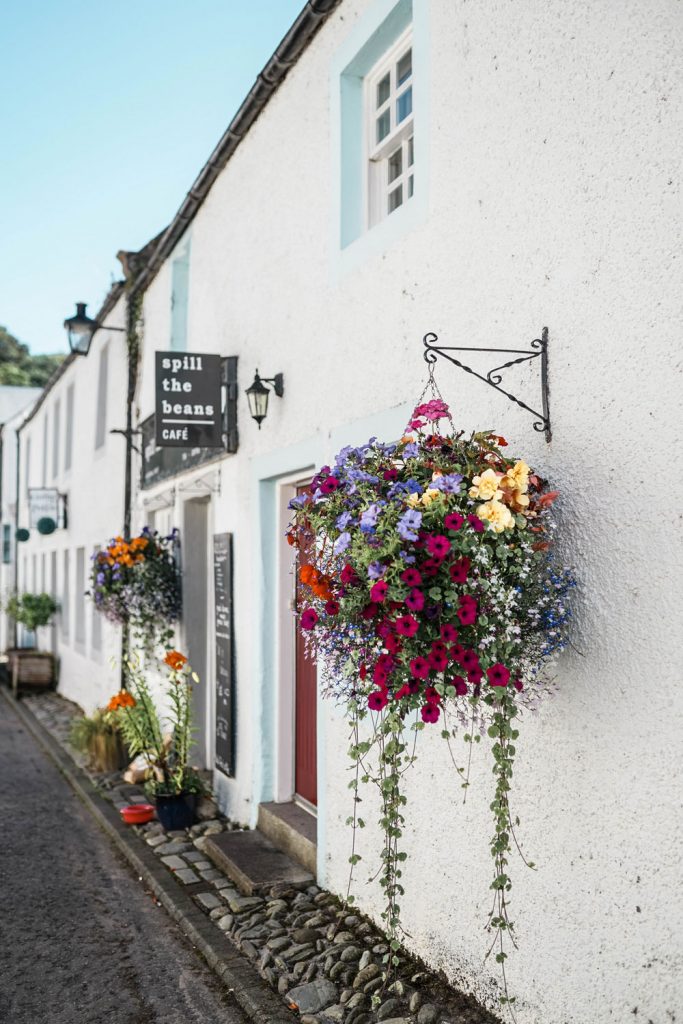 I'd picked Dunkeld as a stop for us pretty arbitrarily just because I figured we'd need a snack at this point (about an hour and a half out of Edinburgh), but I ended up being blown away by the history and charm of this village. From Robert Burns frequenting this town to the battles from the Jacobite Uprisings that took place in front of the Dunkeld Cathedral, the town had done such a good job of putting up plaques everywhere to really give you a sense of its history, while the village in present day still retained a lot of its gorgeous historical charm and was so clean and beautiful. We sat by the River Tay and had some cake (if there's one thing you do in Scotland food-wise, it would be to eat a lot of their incredible baking) and then decided on an early lunch here since we wanted to get some more driving done.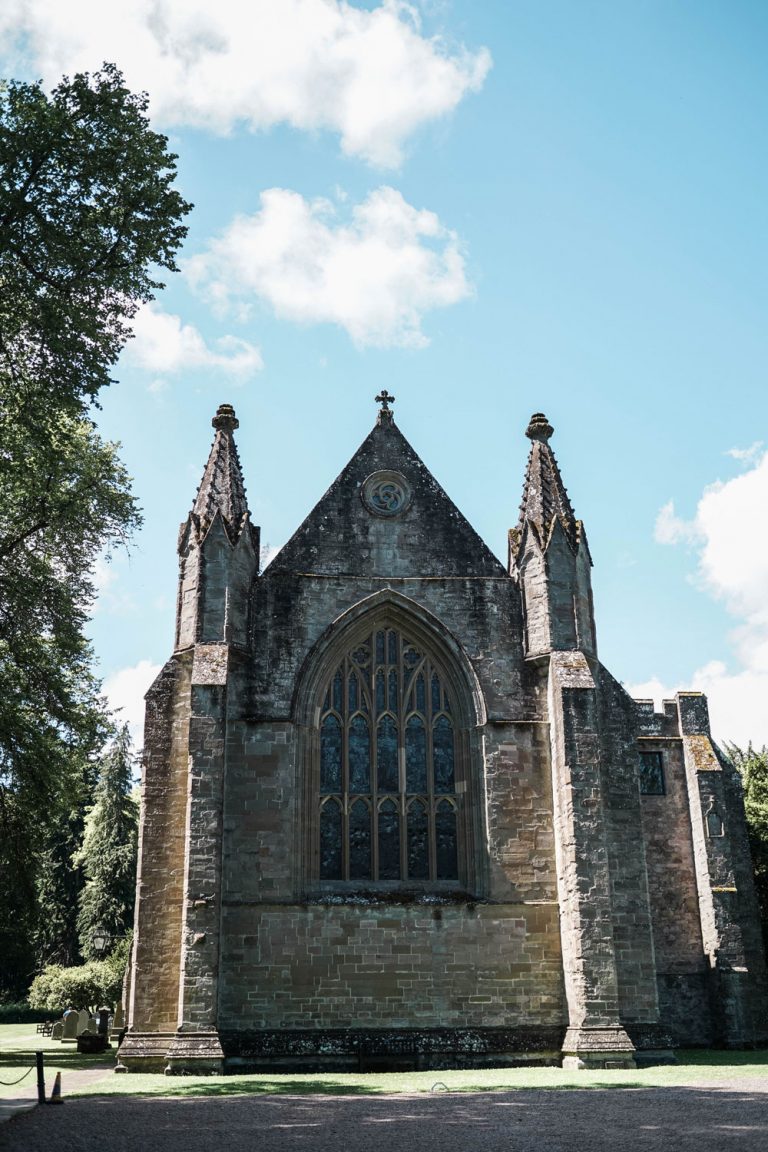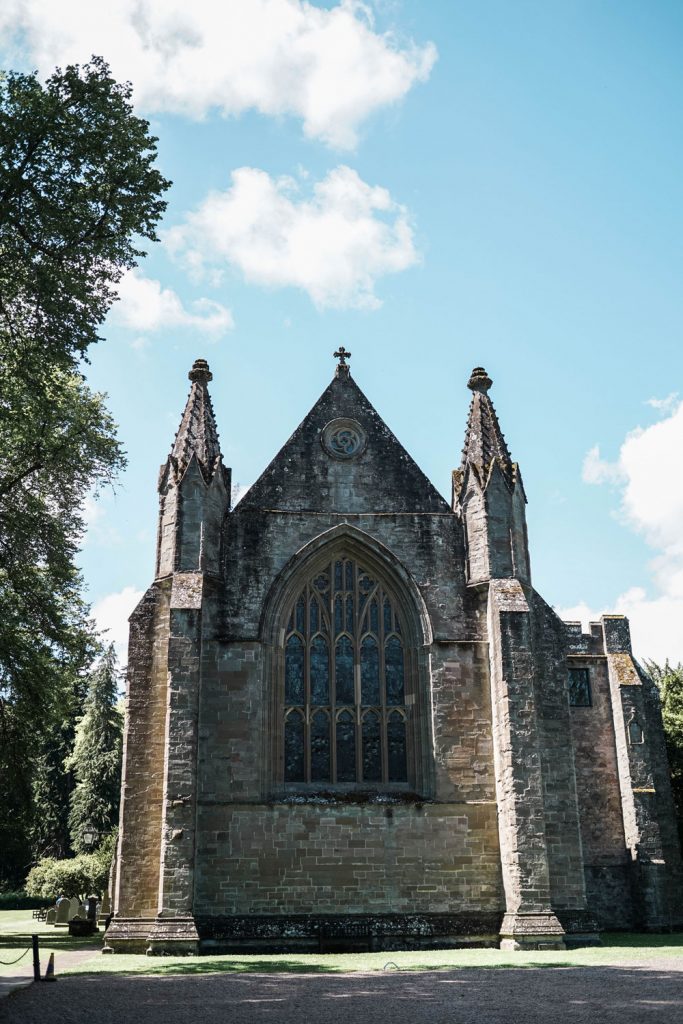 We passed Blair Athol Distillery (if you're a whiskey drinker, this would be a must though Matt was driving so wanted to save any drinks for when we got into Inverness later in the day) and then pulled into Pitlochry for an ice cream fix. Pitlochry is also considered a gorgeous town but I found it to be much more heavily touristy and busy than Dunkeld—if you had to pick one or the other, I'd suggest stopping in Dunkeld and enjoying its tranquility and unspoiled beauty!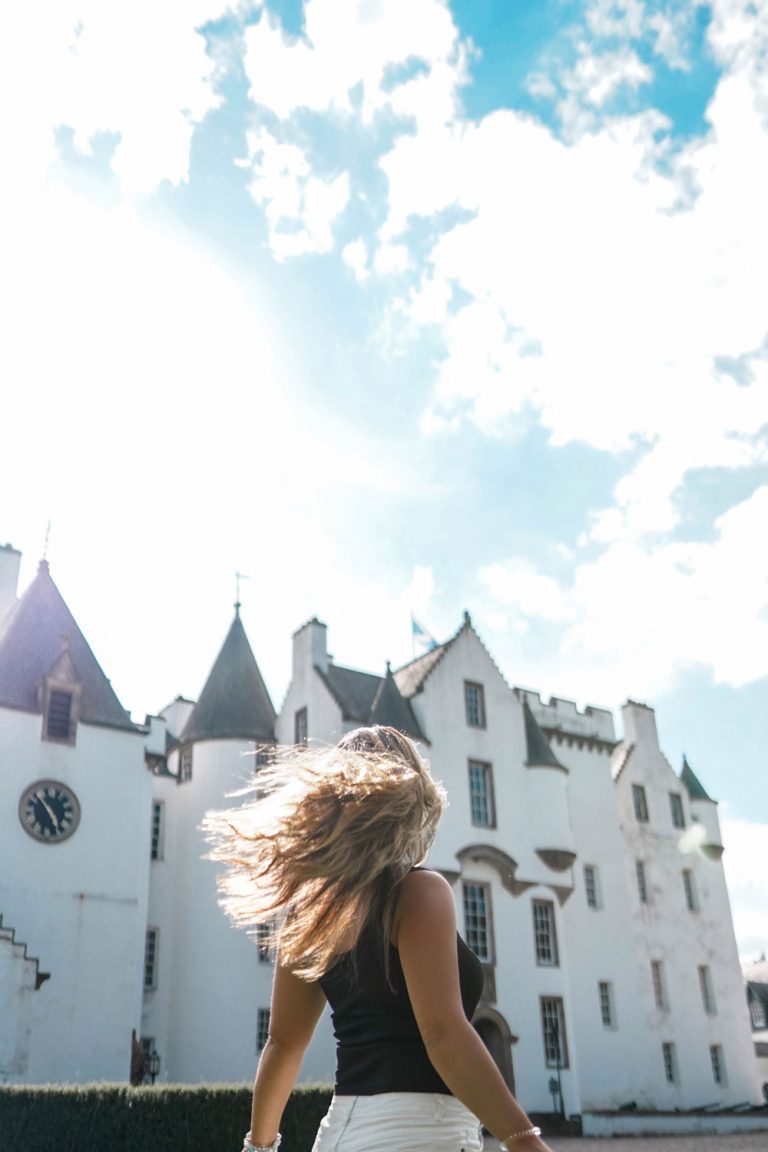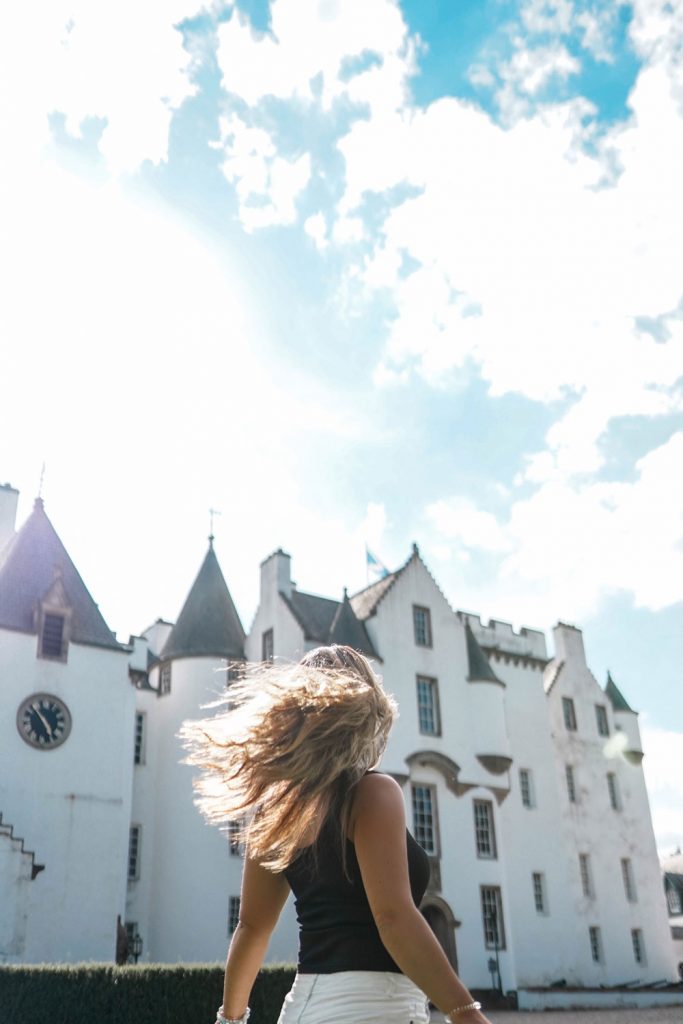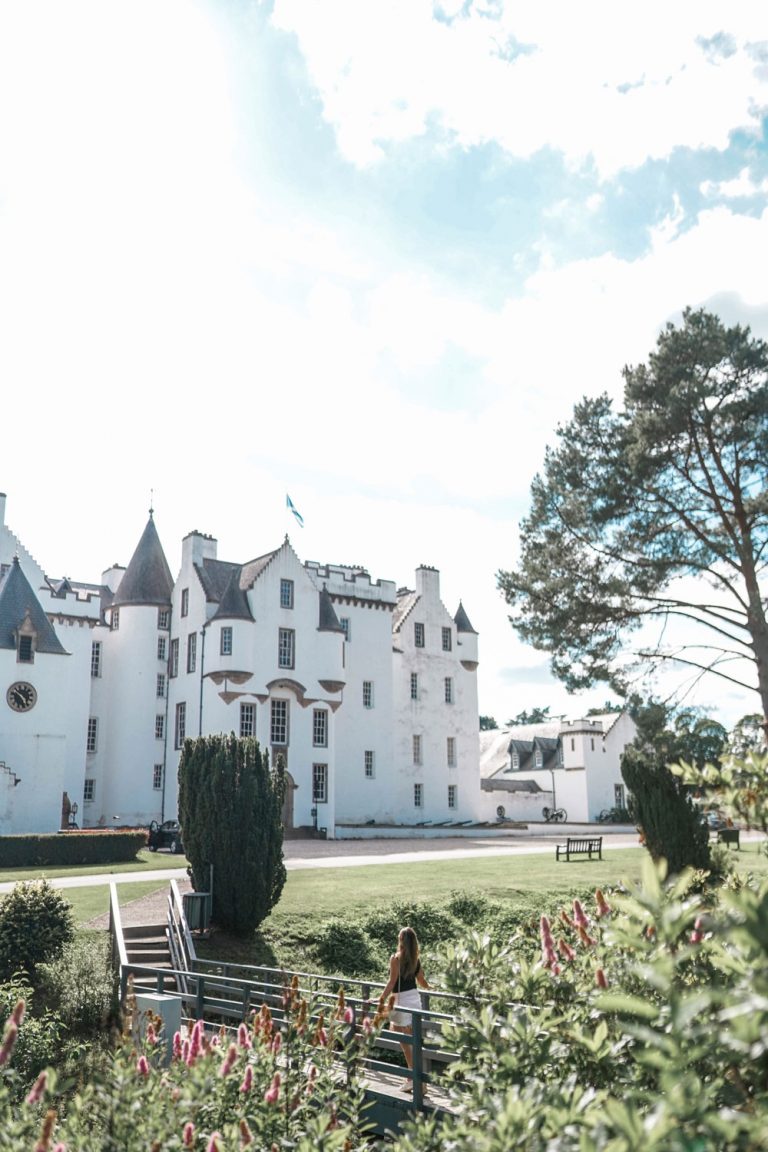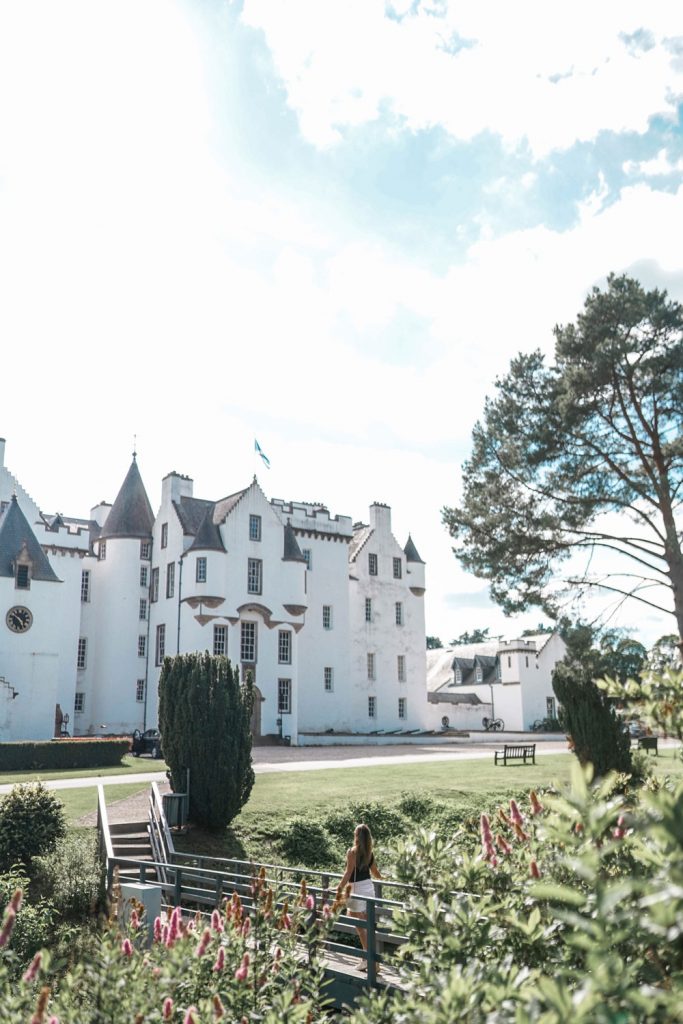 We then stopped at Blair Castle and toured the gardens and perimeter of the castle—I'm not one for big huge tours inside castles/manors myself, but always love to visit and see the exteriors and gardens. I find the gardens are often the most magical parts and do research ahead of time to see if they're worth taking in—Blair Castle's ended up having a really interesting history and had been redone to match its original splendour so we really ended up loving it.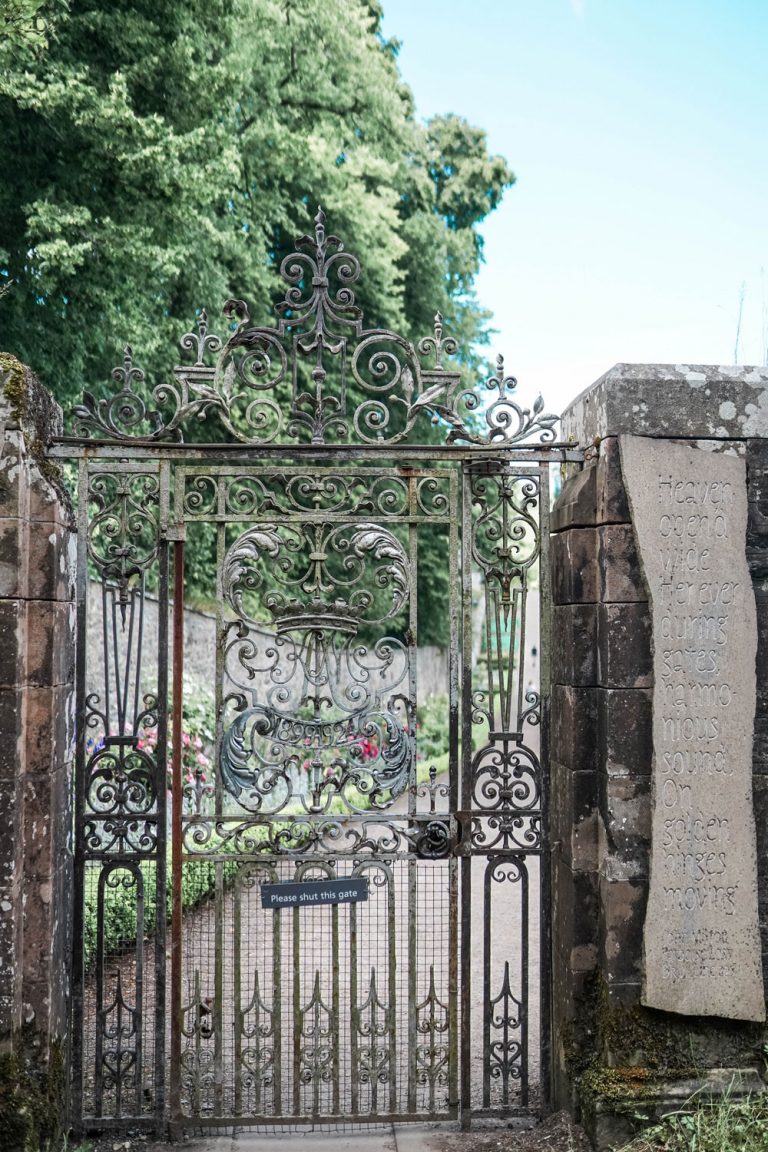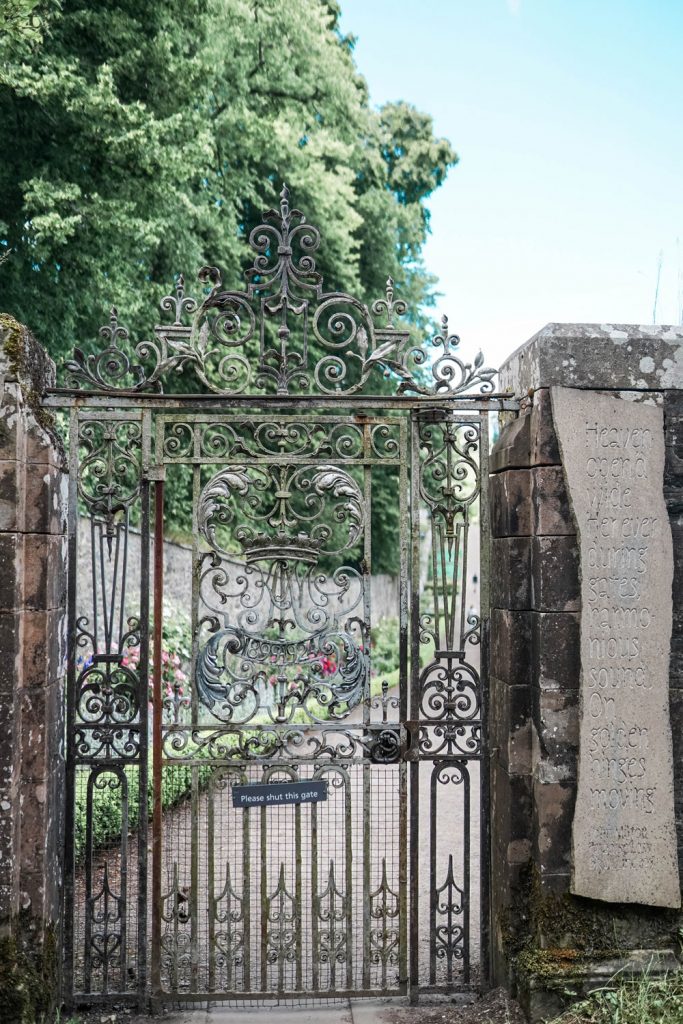 We then passed through Cairngorms National Park until we got to Inverness, where we checked into our lovely Airbnb for the evening and finally got to do some laundry (we'd been at it for over a week and a half and had both done carry-on only so were desperate to do a quick load!). Nearby is the Culloden Battlefield which I'd wished we had time for but because of my back at this point, we had to pick and choose our stops—if you have time though, I'd really suggest stopping here. This was the site of the last battle of the Jacobite Rising, and from what we heard it's very sobering and moving to be here as a lot of lives were lost in a battle for freedom.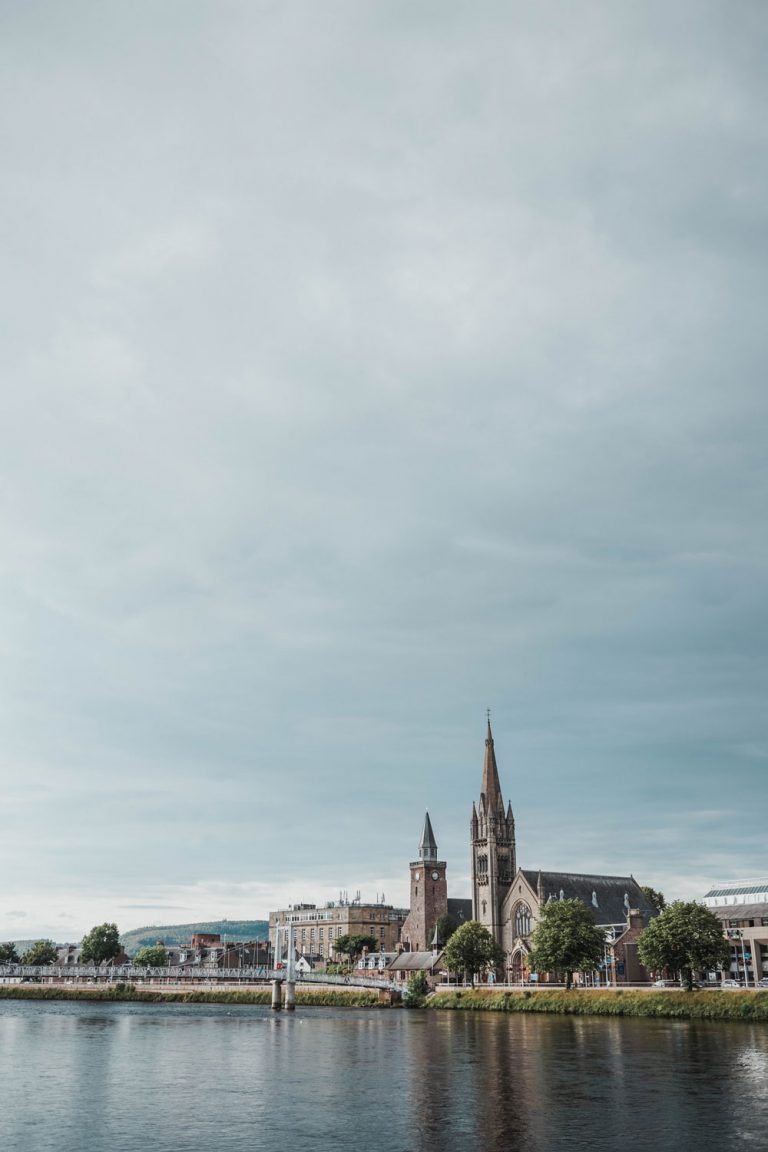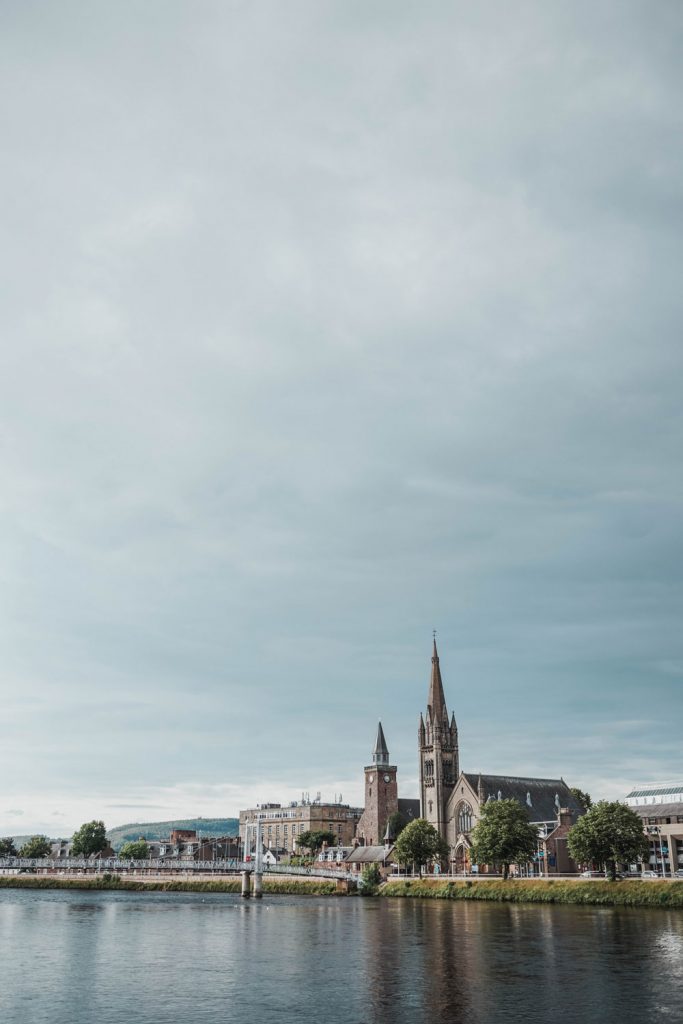 Given that we'd had to take it a bit more slowly though this day, it was dinner time by the time we got in and I wanted to walk off some of my aches so we wandered along the River Ness that cuts through the city (the river that runs into Loch Ness!), took in St Andrew's Cathedral, snapped some pics of Inverness Castle and peeked into Leakey's Bookshop, a really famous bookstore that is home to thousands of ancient and modern books! We ended up doing a really delicious pub meal (more on where to eat in Scotland in an upcoming guide) and hit the hay for a really full day the next day!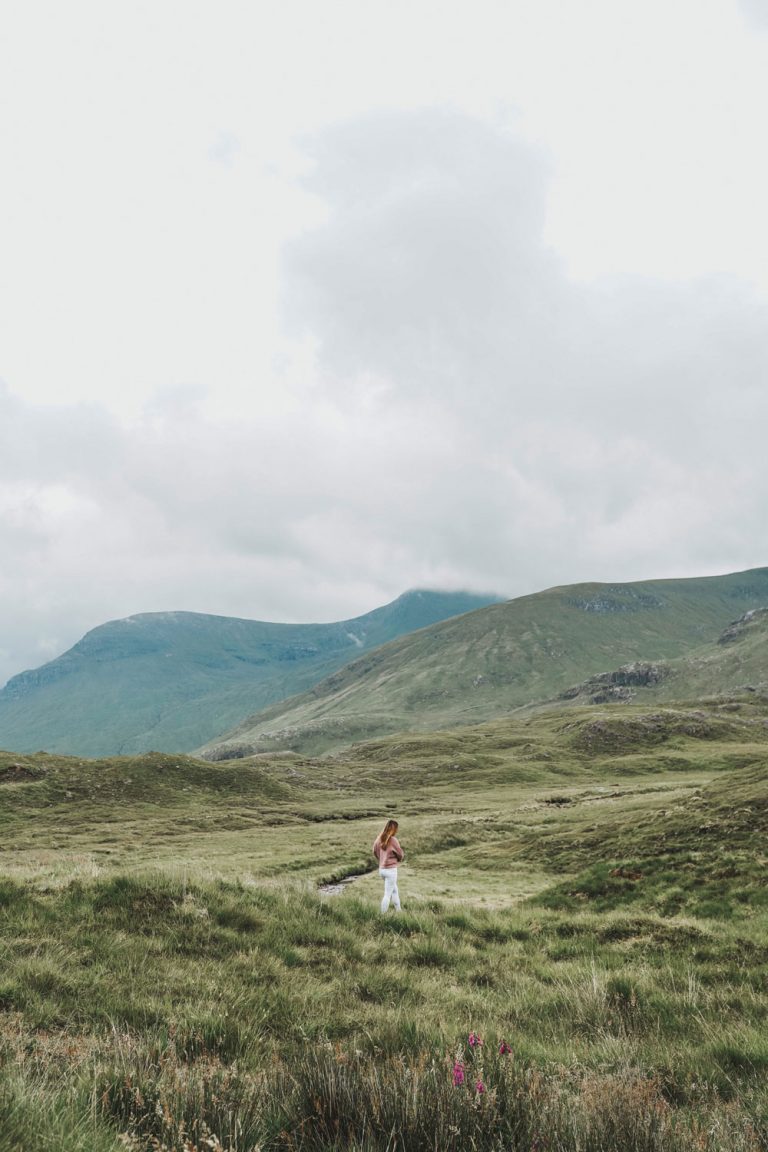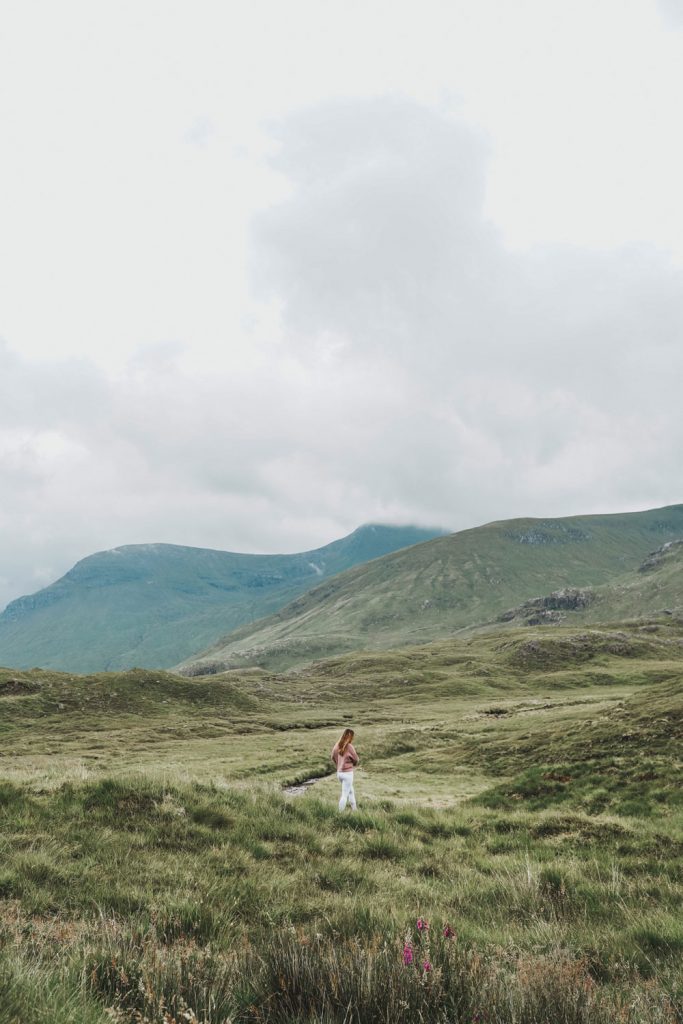 ---
Day 4—The Highlands to Isle of Skye
We got up super early this day because not only did we have a lot of driving ahead of us, but a lot of stops to make too! We grabbed a quick bite in town and then drove the gorgeous route to Loch Ness. Something that you might not know about me is that not only am I insanely superstitious, but I'm also obsessed with anything to do with mythology or supernatural legends. Needless to say, I'm a big Nessie fan and have read just about everything I can get my hands on related to the history around the Nessie legend, the studies and research expeditions that have been done to find her, etc. I was honestly so excited to head to Loch Ness by way of Urquhart Castle and neither disappointed.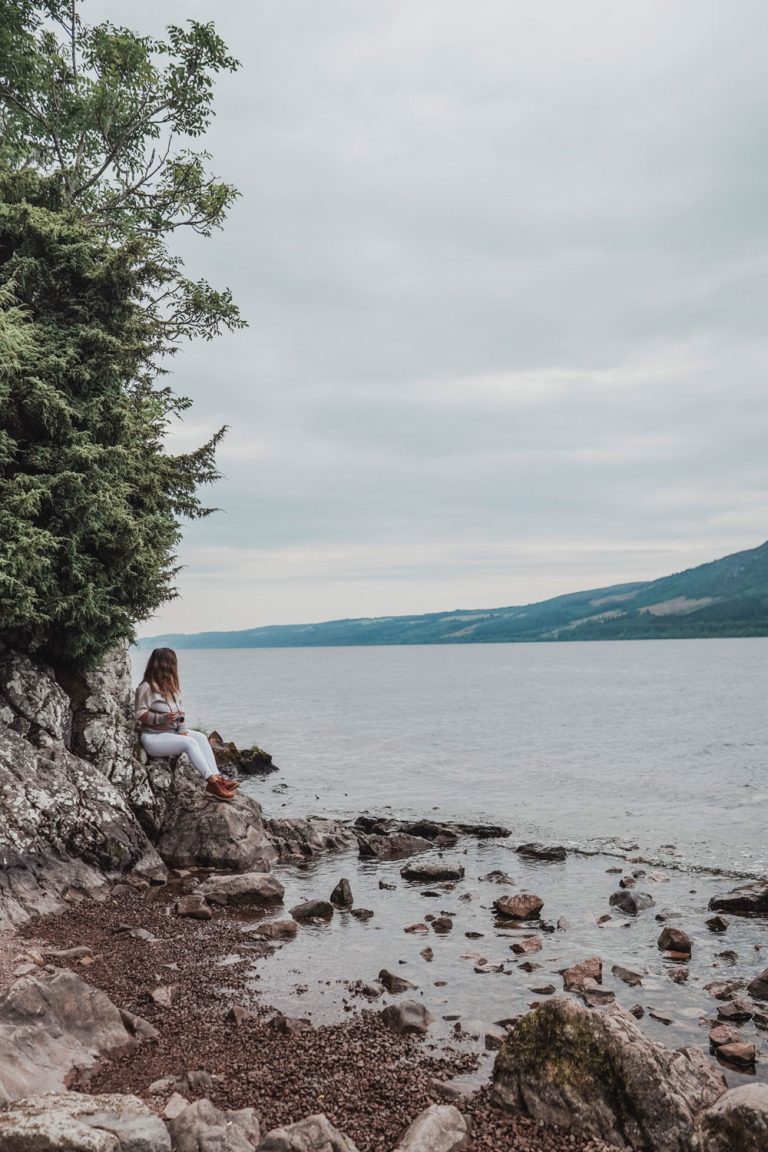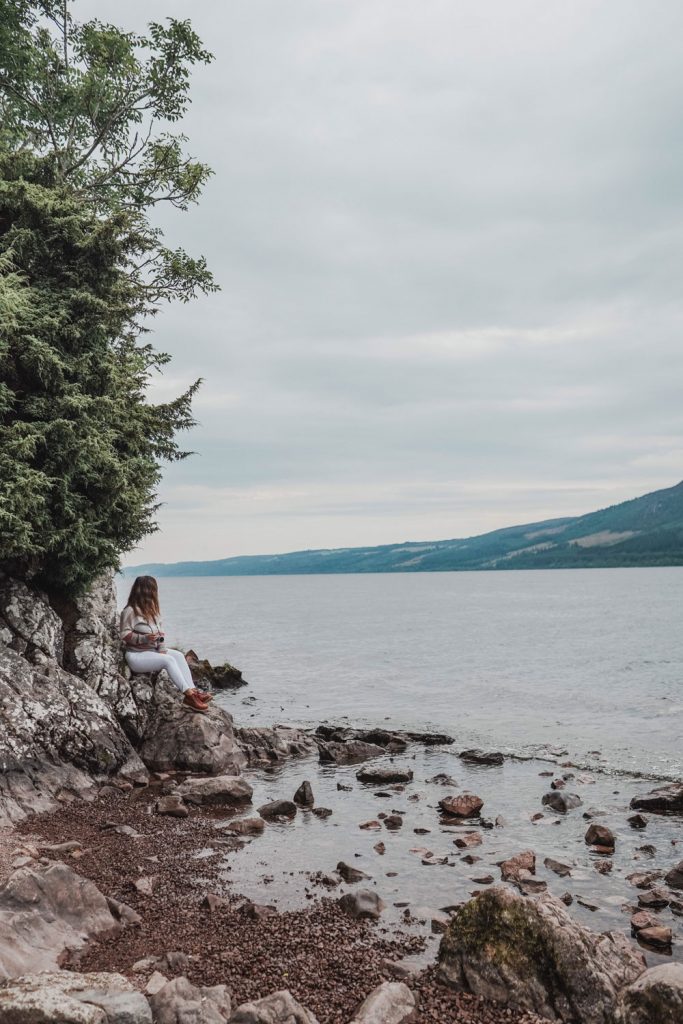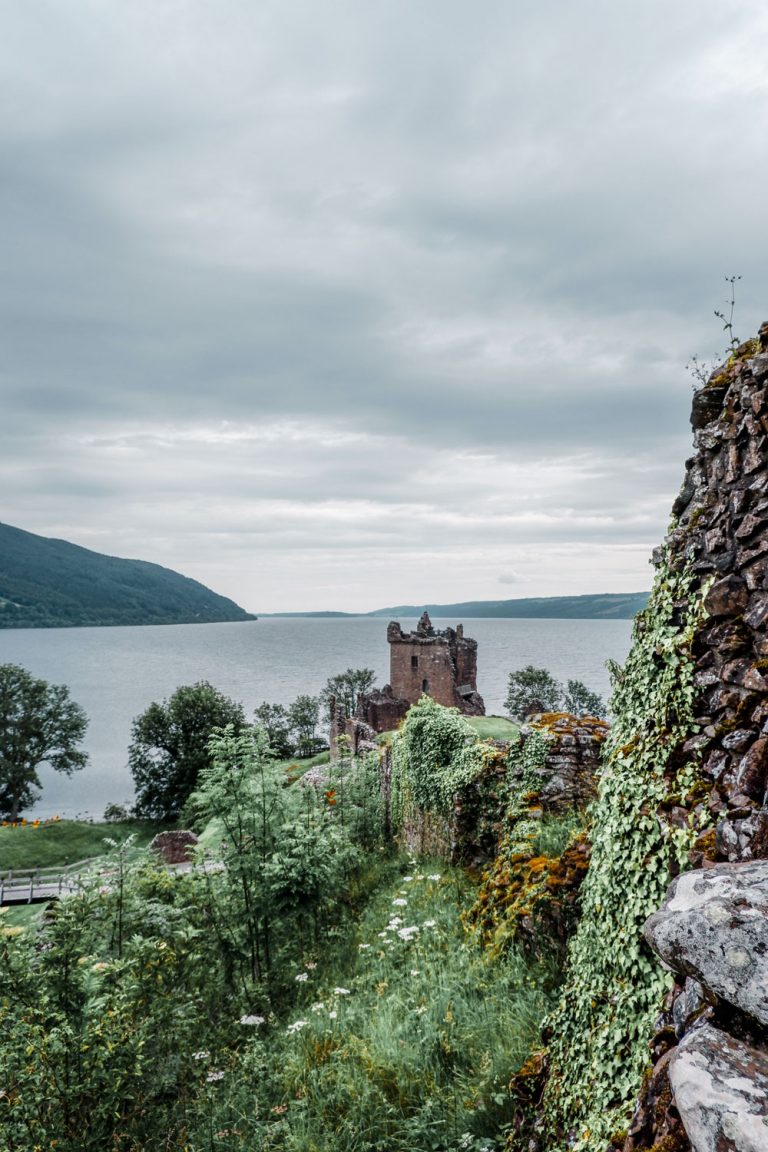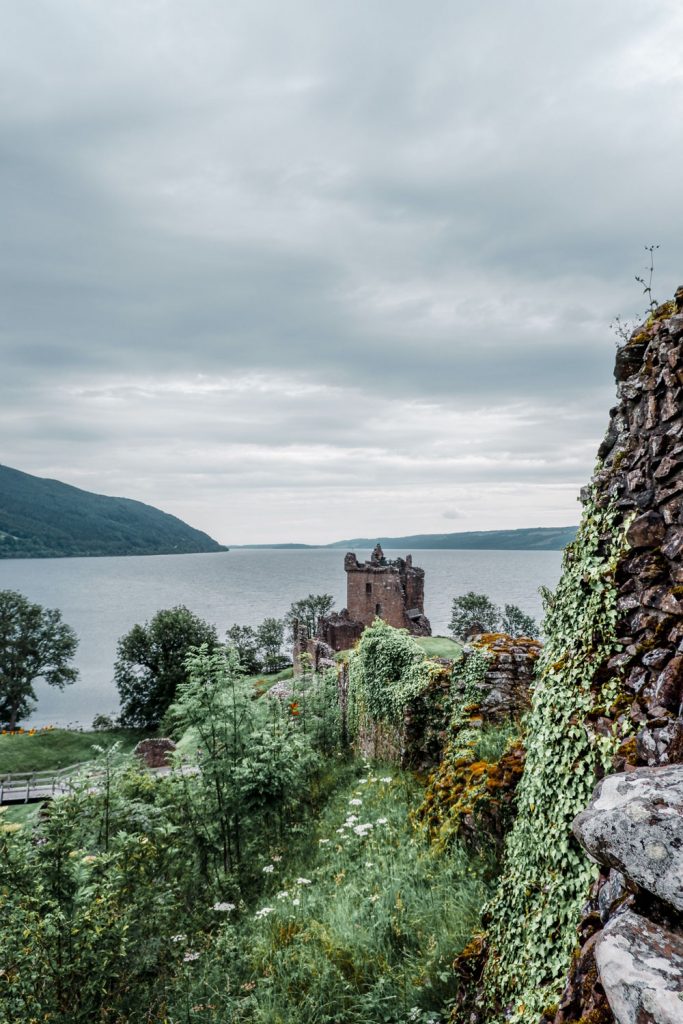 Urquhart Castle gets insanely busy so we literally pulled up 20 minutes before it opened and it seems like a lot of other people had the same strategy. Once it opened, even with the hoards of early go-getters it was totally fine because there's quite a lot of space to explore and poke around in, but as we were leaving about 45 minutes later we saw that it was getting really, really packed (and that's not even an hour into the opening) so long story short (and I feel like I'm starting to sound like a broken record here!) but get here as early as you can, ideally before opening. The castle was amazing though and what I appreciate is you could walk towards the water entrance (as that used to be the only way to access the castle) and touch the water of Loch Ness and get some views of the lake itself.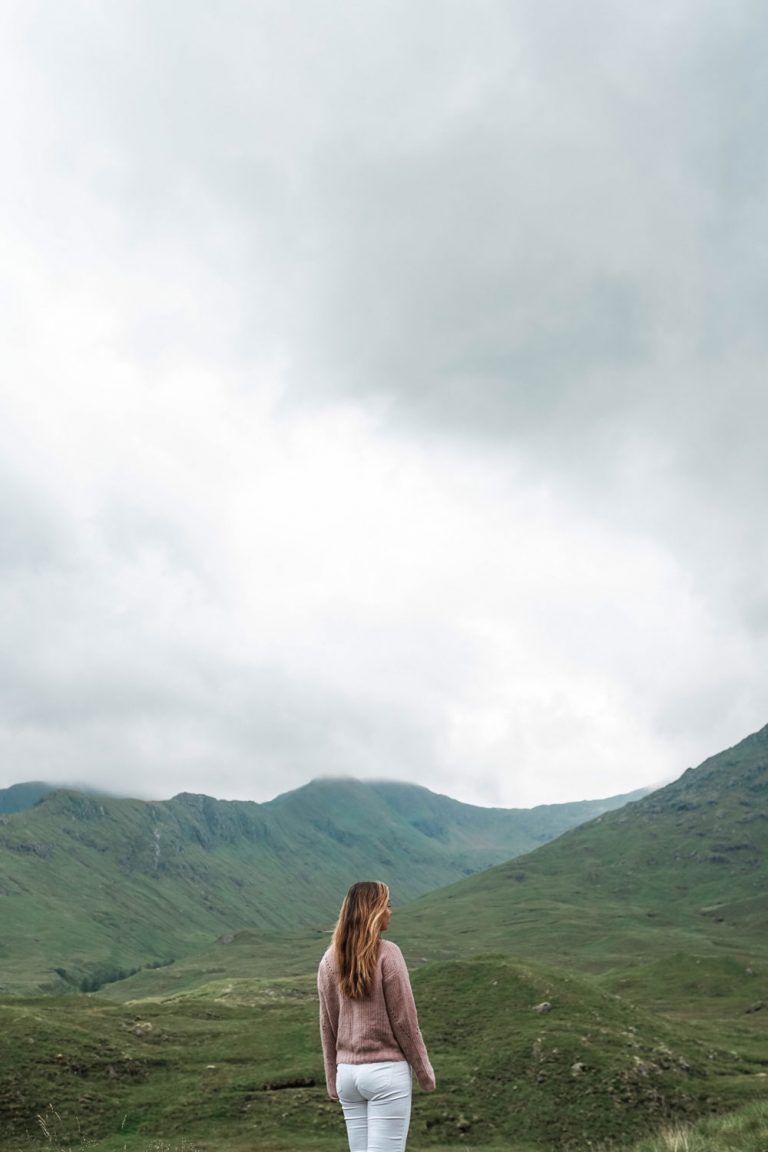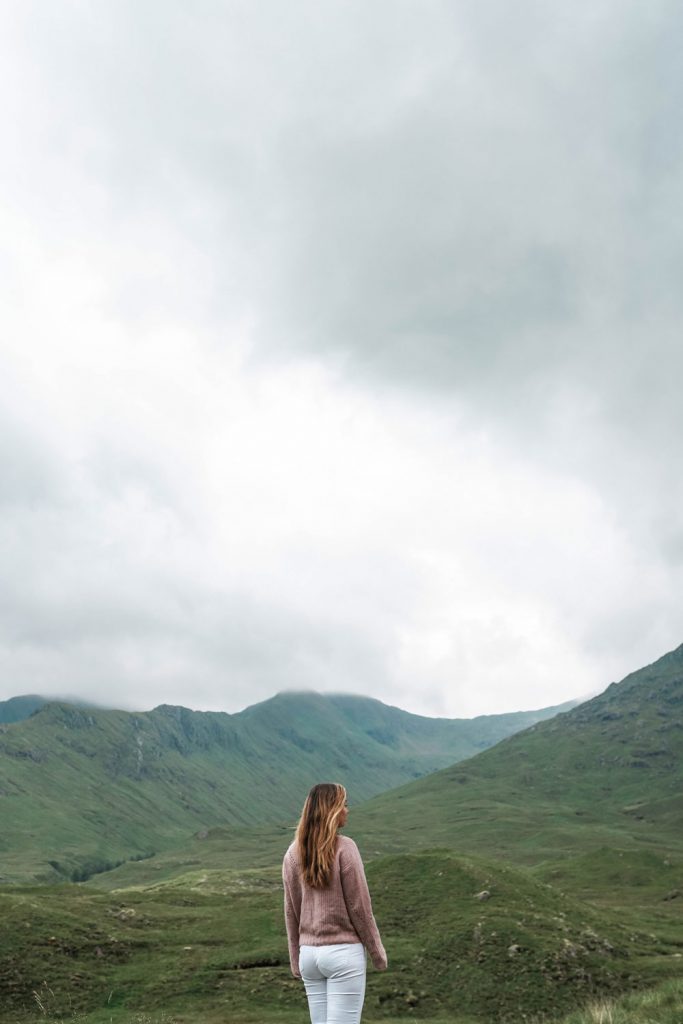 We carried on from there and stopped here and there for gorgeous views of the rugged, wild hills of the Highlands. There's something so raw and beautiful about this type of landscape that always just really gets me at an emotional level—we'd both just be standing there taking it all in with our mouths agape, totally in wonder of the beauty and energy of the place. It must've been in one of those states that I decided to go for a little jaunty jog down the hill only to sprain my ankle in a hidden hole (PSA—there are a lot of these holes in the Highlands, so don't jog through like an idiot like I did) so in addition to my back, I also decided to sprain my ankle. My physio (who I love by the way, Dara at Myodetox) joked that I like to keep her on her toes when I came back after yet another accident.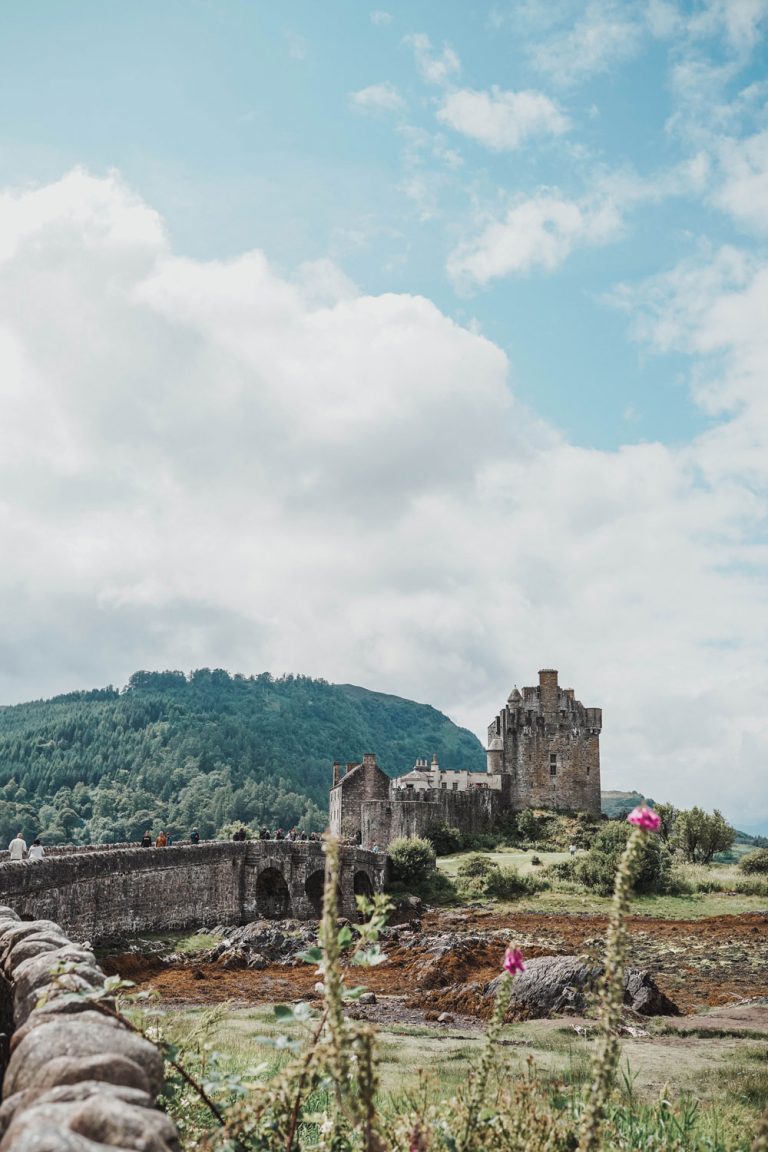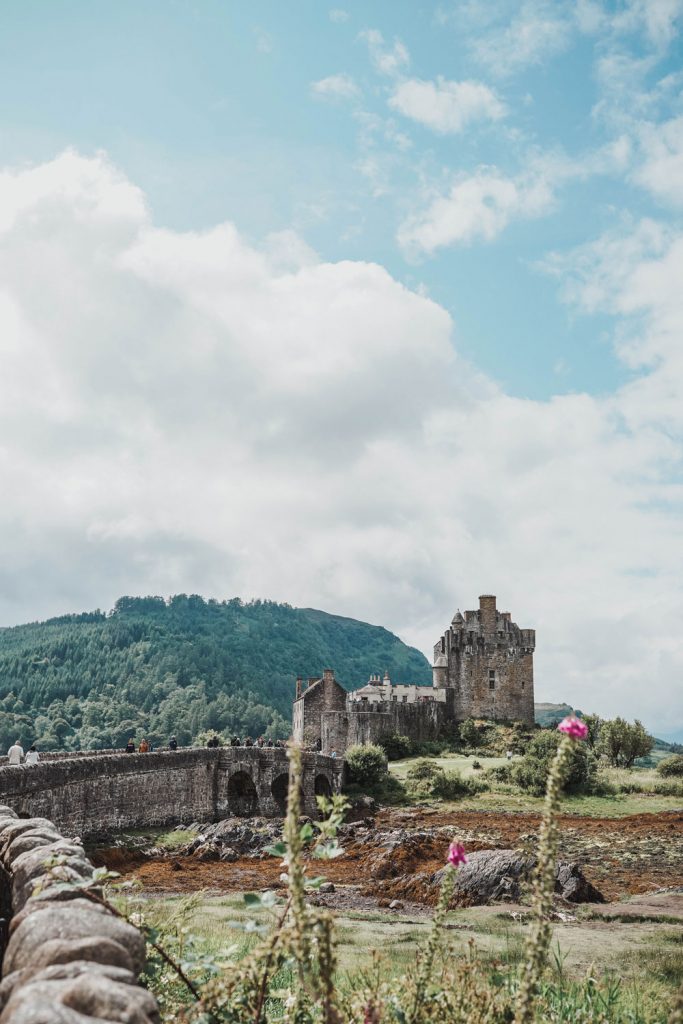 Anyway, walking gingerly now we made it to Eilean Donan Castle which both Matt and I agreed was our favourite castle. For the sake of time, we didn't actually enter the castle but you can get incredible views of this famous castle from the outside (unlike some of the other castles, like Urquhart or Blair where you have to pay to get closer). You might recognize it from TV shows or movies like Highlander or the James Bond movie The World Is Not Enough—it wasn't hard to see why this gorgeous place would be featured heavily on TV & film as it was really and truly so breathtaking.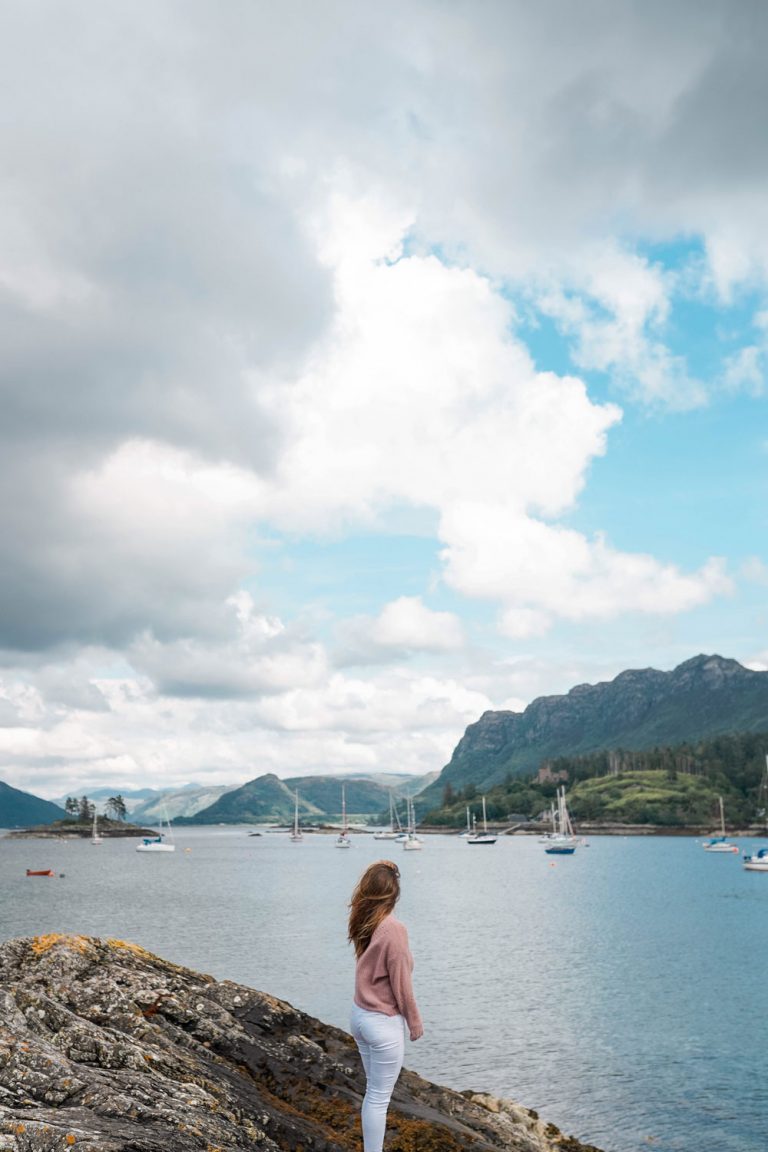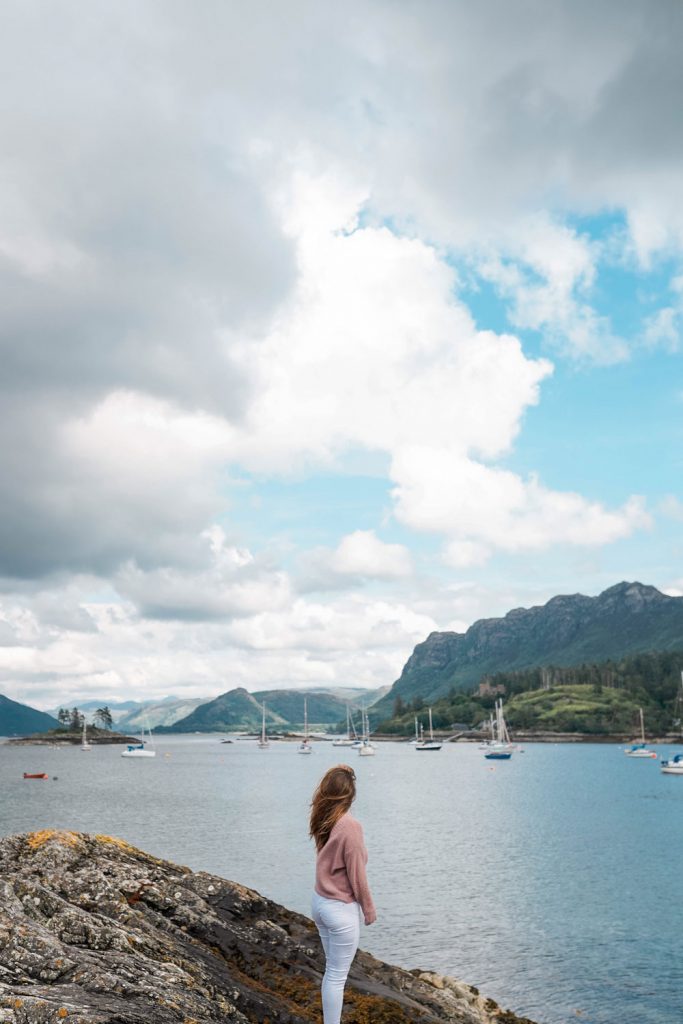 We were in desperate need of a good lunch at this point so we headed into beautiful Plockton, where you can actually find palm trees! Living in a seaside place, I love finding another gorgeous seaside town and Plockton was really special. There's a little island not too far from the beach so with the tide out, we were able to walk there and explore around, gathering little bits of sea glass on the way and taking in this beautiful village. Definitely worth a stop!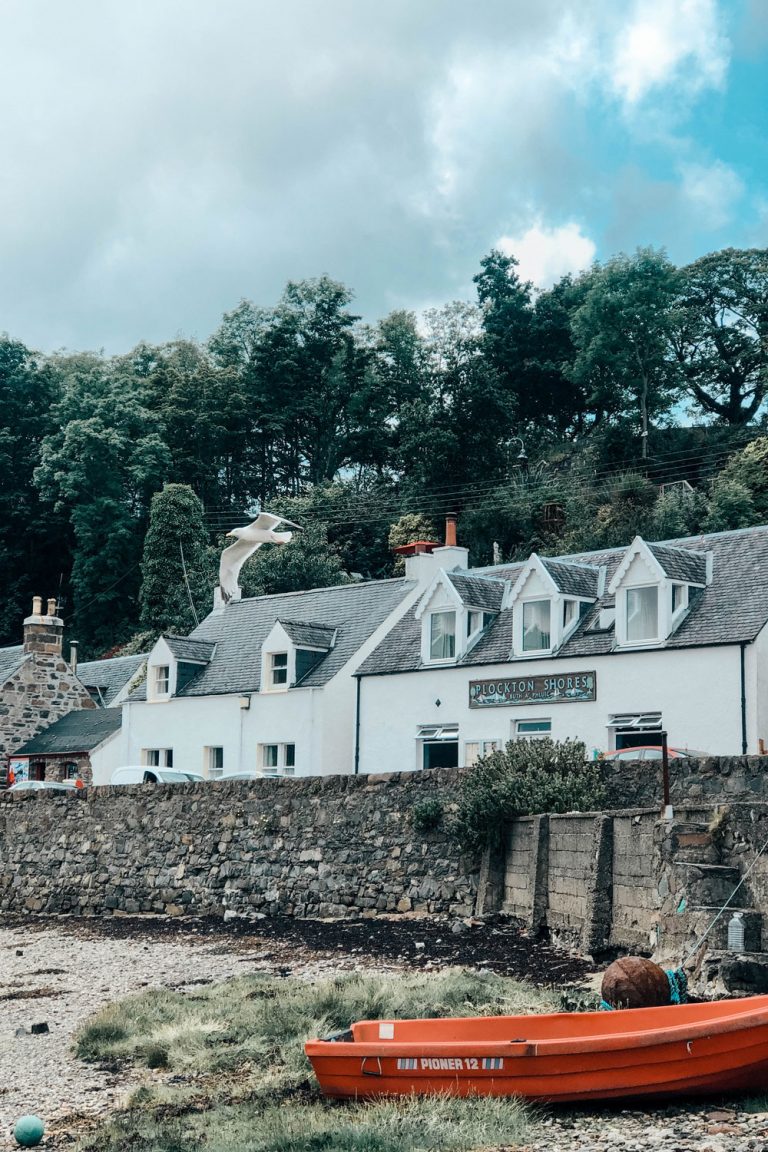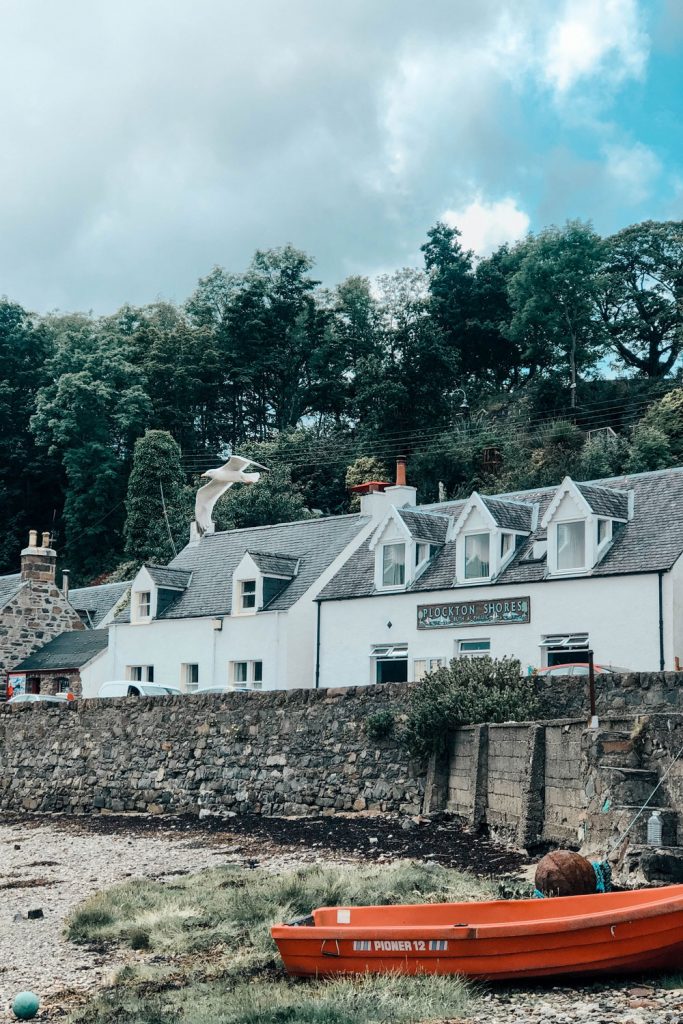 It was then officially time to begin our Isle of Skye adventure and I'll just preface it now by saying that as amazing as everything had already been, this was not only one of my favourite parts of the trip but one of my favourite places I've been to ever. I only wish we'd spent more time here—I could've happily spent 5 days here, though 2 days will give you enough to at least see it quickly. My overall suggestion though would be to budget as much time as you can to Isle of Skye if it's part of your itinerary because it is just so special.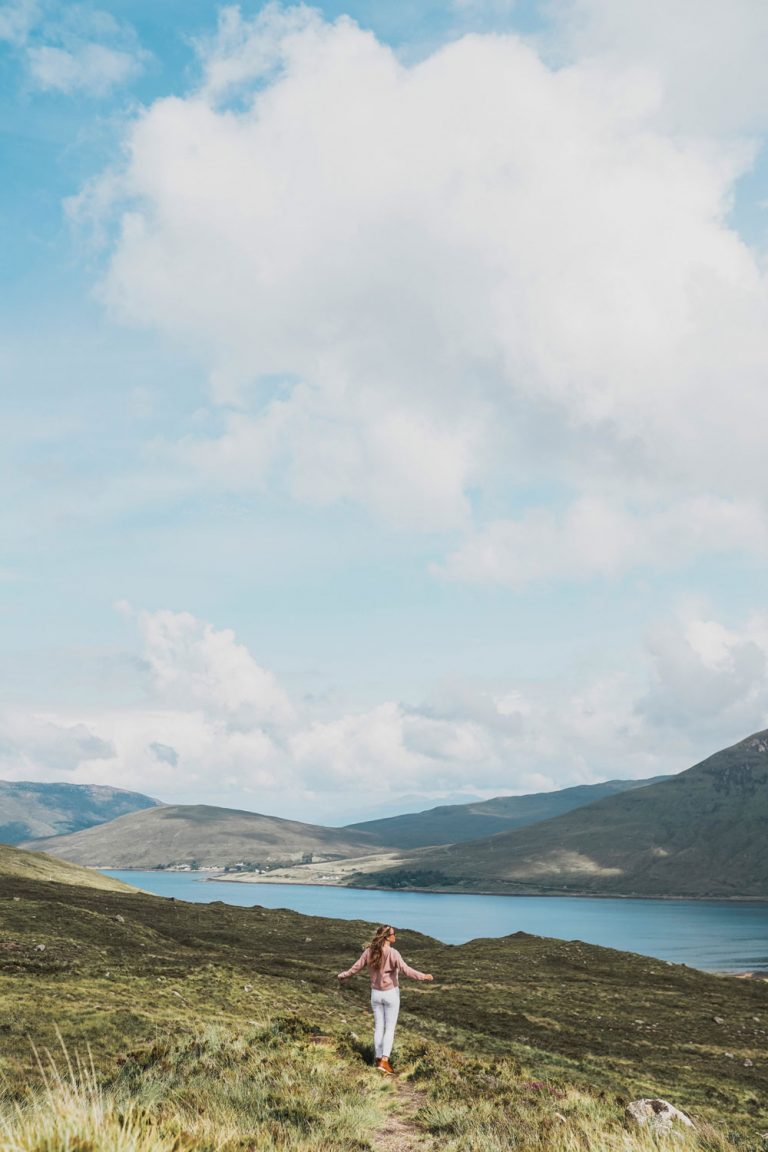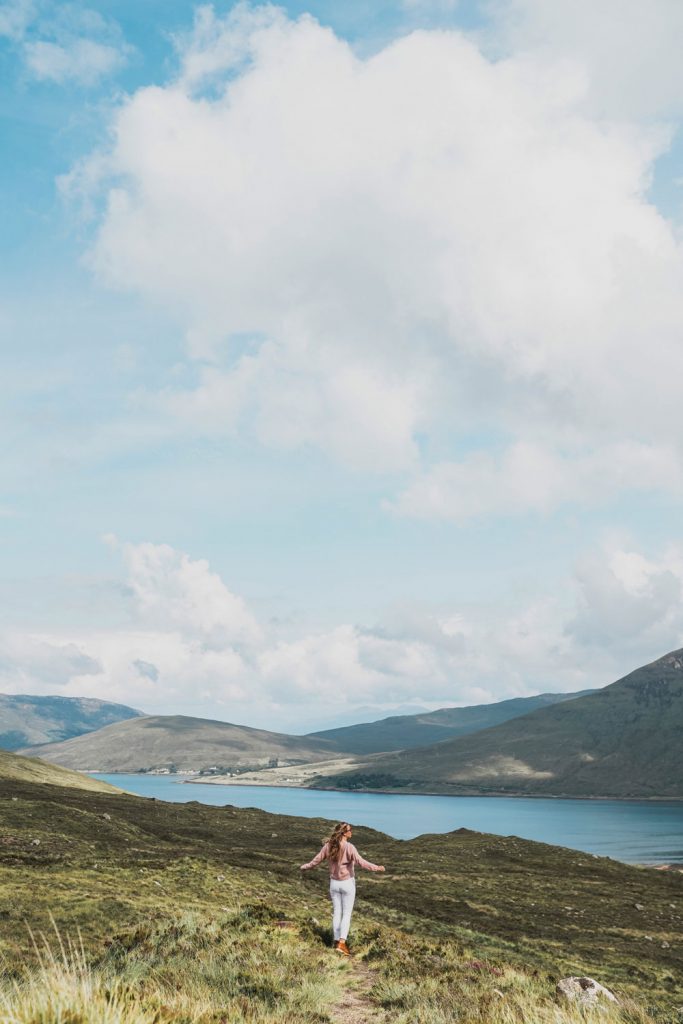 We crossed from the mainland over to the Isle on Skye Bridge and gassed up as soon as we could (there is a limit to how many gas stations you'll find in the more rural parts of Isle of Skye so always good to keep an eye on your gas tank). We then took the hour-ish drive to our Airbnb on the west side of the island, near Fiscavaig. Well, it would've been an hour if we hadn't had to stop so much for pictures—we were already blown away by the ocean, the hills, the waterfalls, etc. If you are a nature person, Isle of Skye is just replete with some of the most magical sights and views.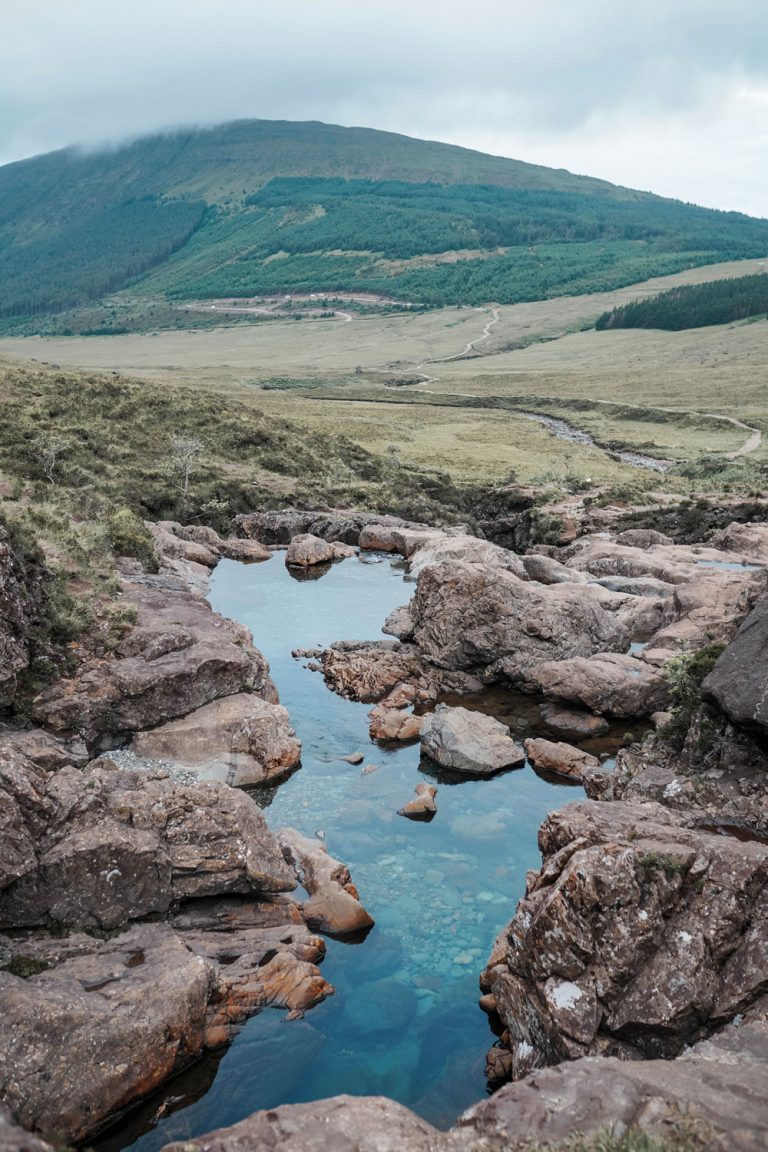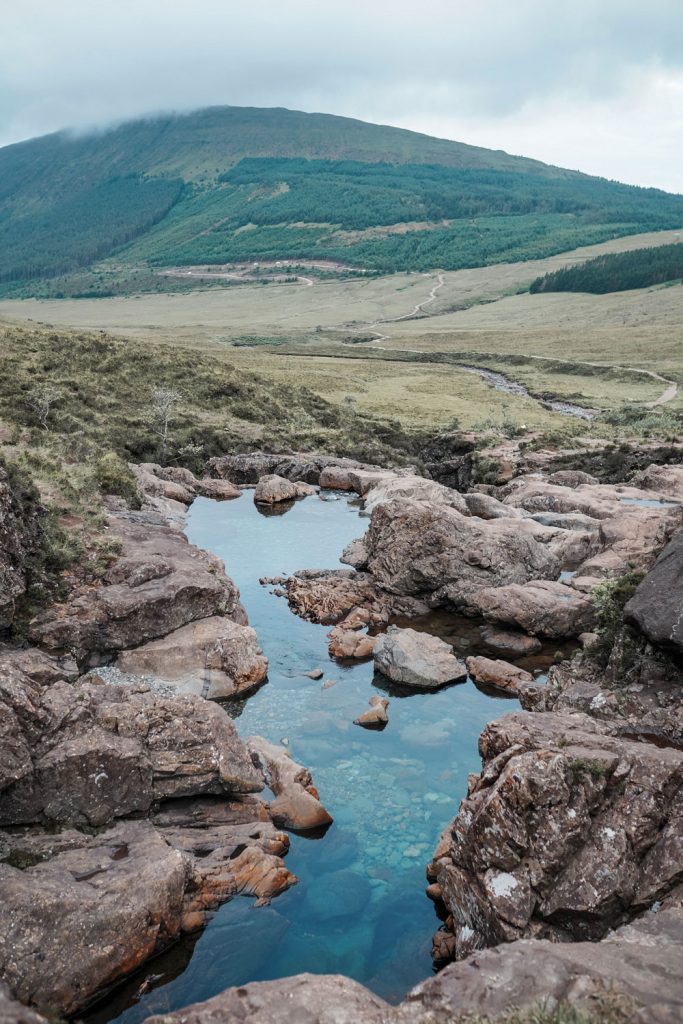 We drove by Talisker Distillery, a famous distillery that's on the island and known throughout Scotland, which happened to be en route to our place so we drove by it like 10 times on our trip in Isle of Skye. You have to make a reservation to tour it here so don't expect to just drop in if this is a must for you! Anyway, we got into our amazing Airbnb (can't wait to share more about it very soon, if you want to see what we booked in Ireland I have our whole Airbnb guide to Ireland here) and at this point, the clouds started rolling in so our Airbnb host John (who we loved) suggested getting a quick bite at the local pub and then checking out the Fairy Pools as our one task to do for the day since we had such a full day the next day.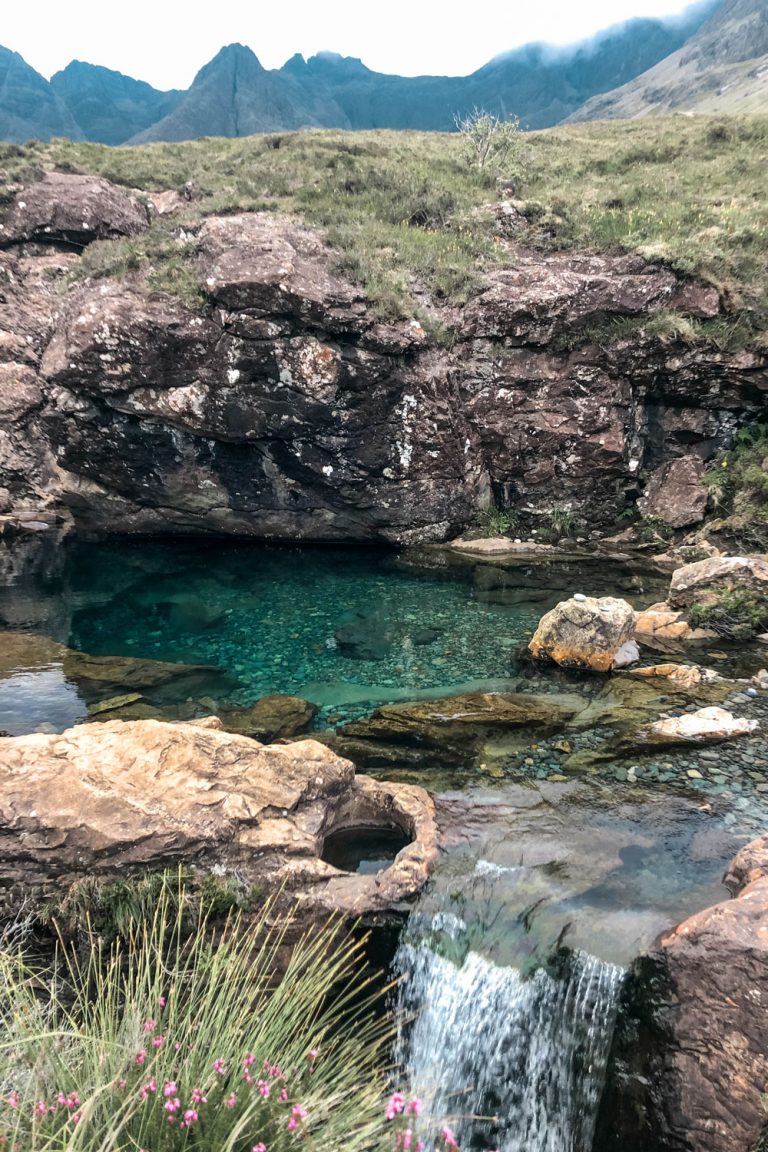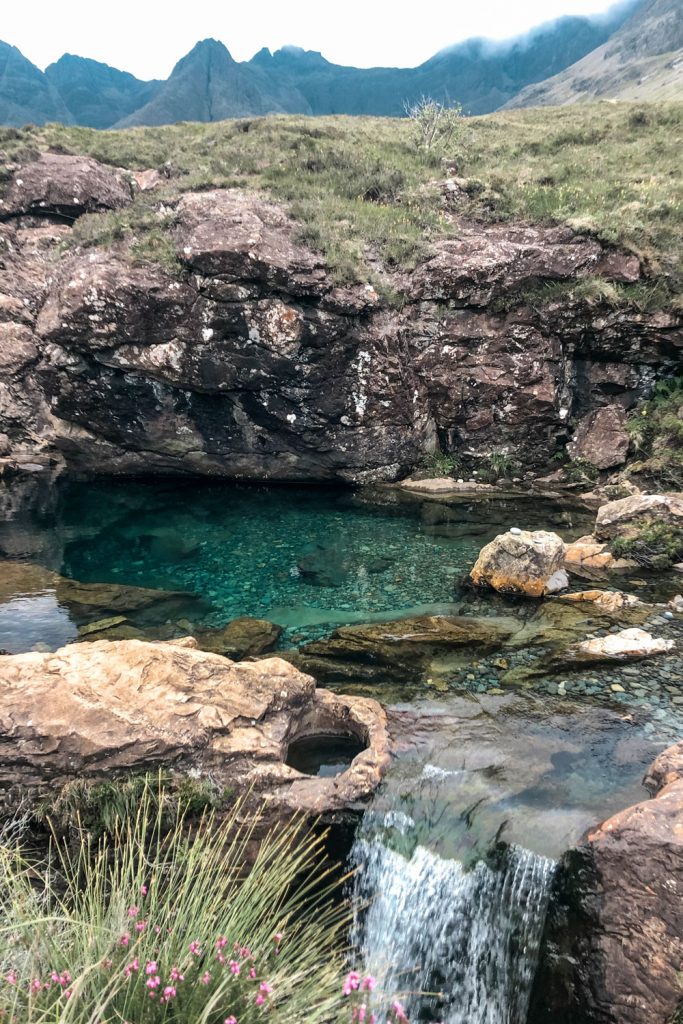 Our bellies full of local seafood, we headed over to the Fairy Pools just as it started getting a bit dark out, a combination of the clouds getting really thick, rain on its way and the day ending. You have to budget a decent amount of time because the walk is quite a ways as you trace uphill the layers of waterfalls and pools, so I'd say we spent about an hour and a half or so here but you could easily spend more. If it had been nicer and not so cold (I was literally in three layers and a scarf), I would've gone for a little dip here but it was still so beautiful to see just from above. Apparently, the water level gets lower around July so if you happen to go earlier in the season or after some rain has fallen in the fall, you can expect a more dramatic flow of water!
---
Day 5—Isle of Skye
There's no point in even getting choked about rain in Scotland or Ireland because there's just always a high likelihood it will rain, but that didn't stop me from being, like, very upset when I woke up the next day to see thick fog, clouds and rain outside the window. We had the most epic day planned and the though of not seeing anything properly was pretty heartbreaking to me. While this was the case for part of the day, what I didn't know was that the clouds would break for easily the most special part of the day—wish I'd known that from the onset!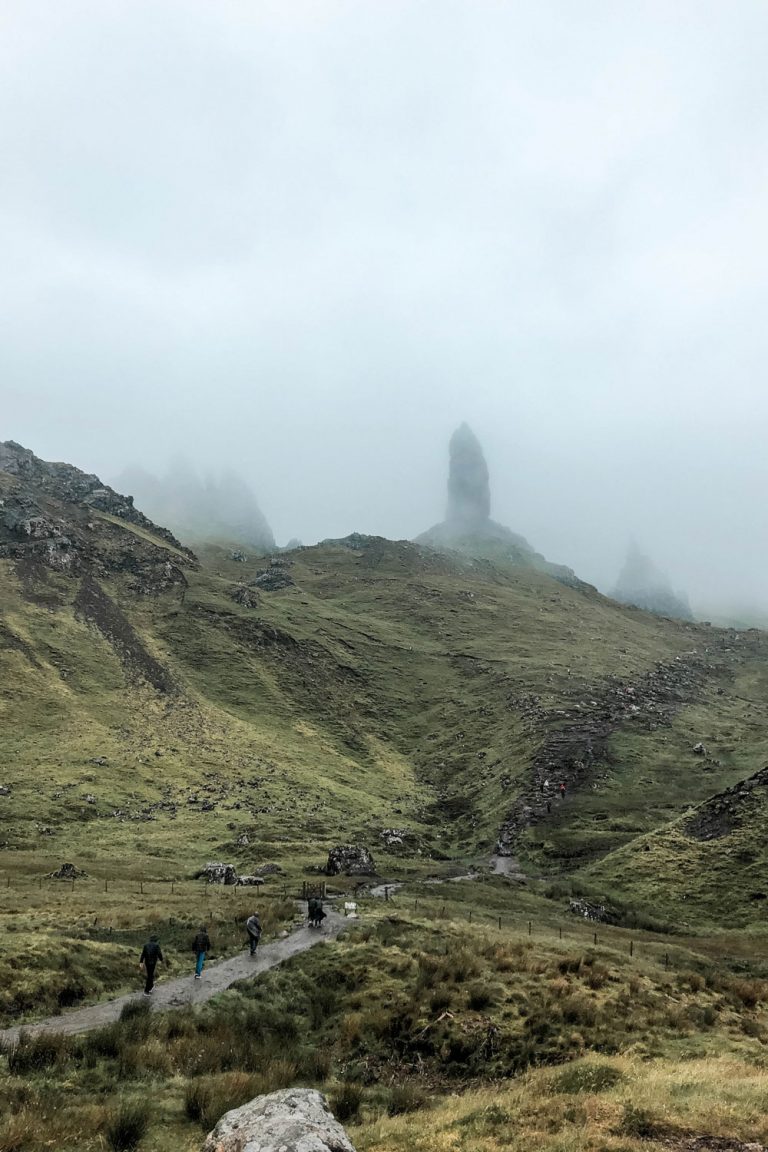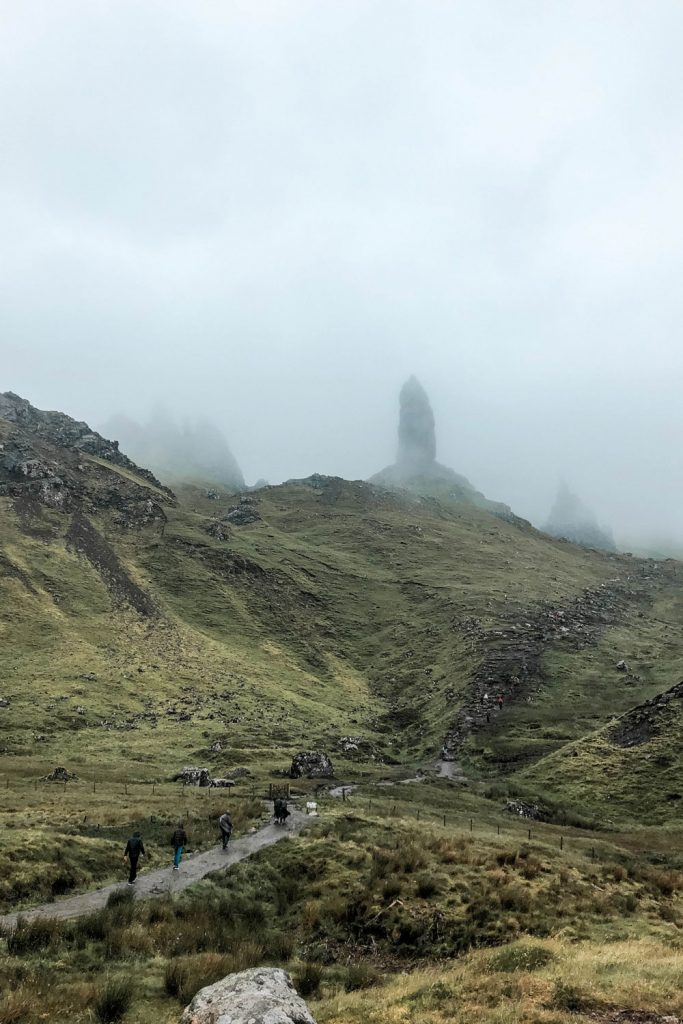 Anyway, we packed every layer we had (and all our waterproof gear, obviously) and headed to our first stop on the Trotternish Loop (the northern part of the island that has its most famous stops): the Old Man of Storr. We wanted to get there early to avoid the crowds, but as we started our hike up (definitely wear hiking boots here), we saw a lot of really disgruntled, soaking wet and miserable people passing us as we headed up. This was surprising because it was literally 9AM so we just assumed these people headed up really early (since the hike takes some time to do), but it became super clear soon enough that they had bailed halfway up as the rain was only intensifying as we made our ascent.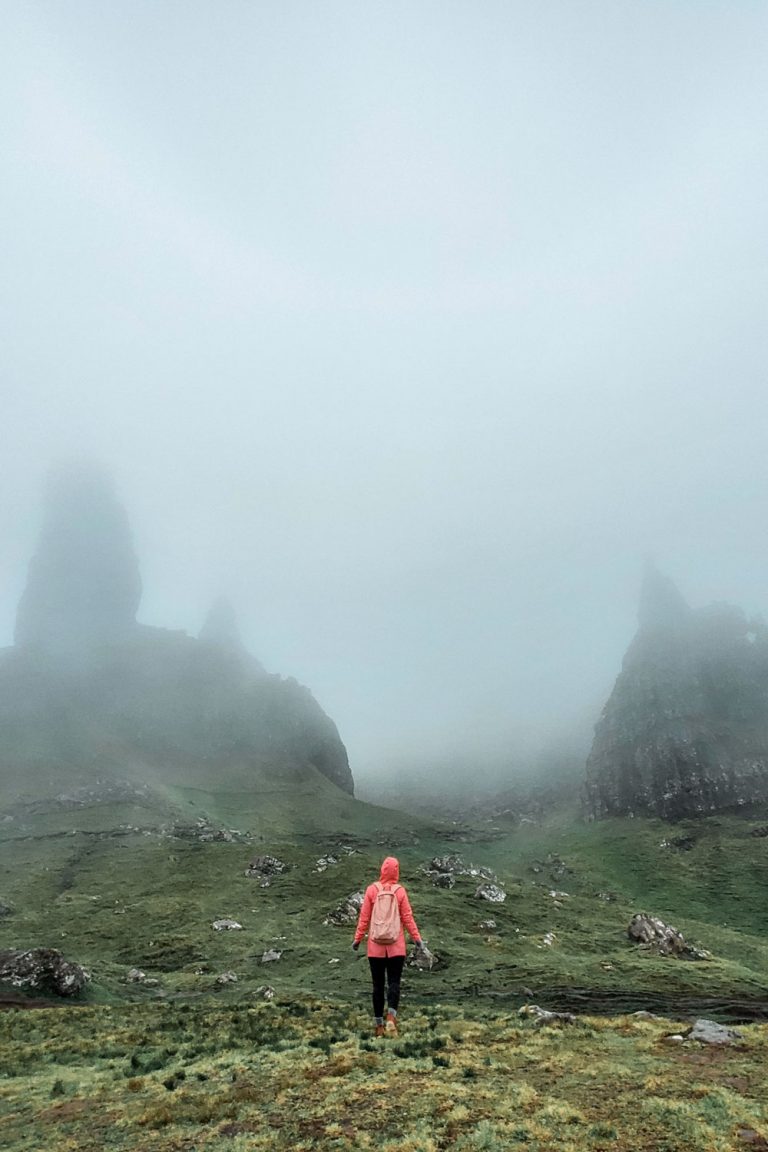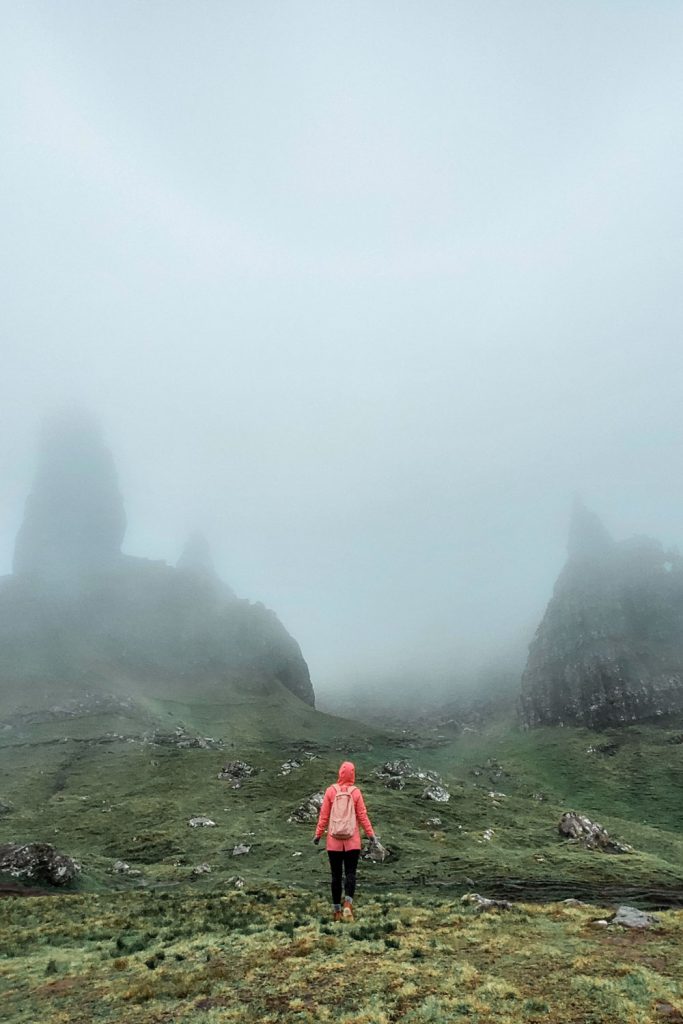 The thick fog surrounding the Storr (a large pinnacle of otherworldly looking rock created from landslides) was whipping by so quickly that we held out hope that it would just blow the whole storm right out. But by the time we got up there, it was raining so badly we cuddled up under a big slab of rock waiting for the worst to pass, but it seems as if the worst was still just building up to its big crescendo. We waited a good 30 minutes but when I started shaking, we had to call it. I was disappointed because we only really got fleeting glances at the Storr and it looks so glorious in the pics I'd seen, but it kind of made it a funny adventure and it felt like the rain and wind really couldn't get any worse so it almost made me more hopeful for the rest of the day. We slipped and slid our way down (it's a decent hike so again, especially if it's wet like this you need hiking boots or really good shoes—my Eddie Bauer K-6's were lifesavers) and then decided we'd make a couple more stops while we were there before taking some time to warm up.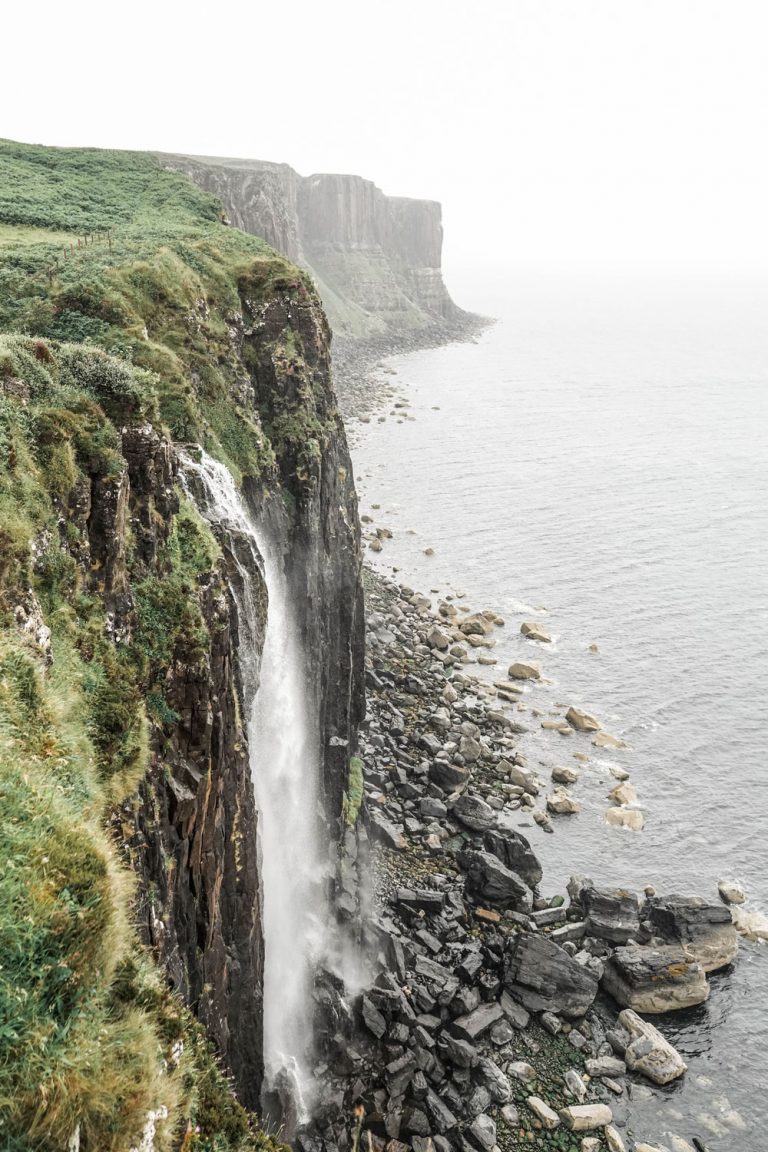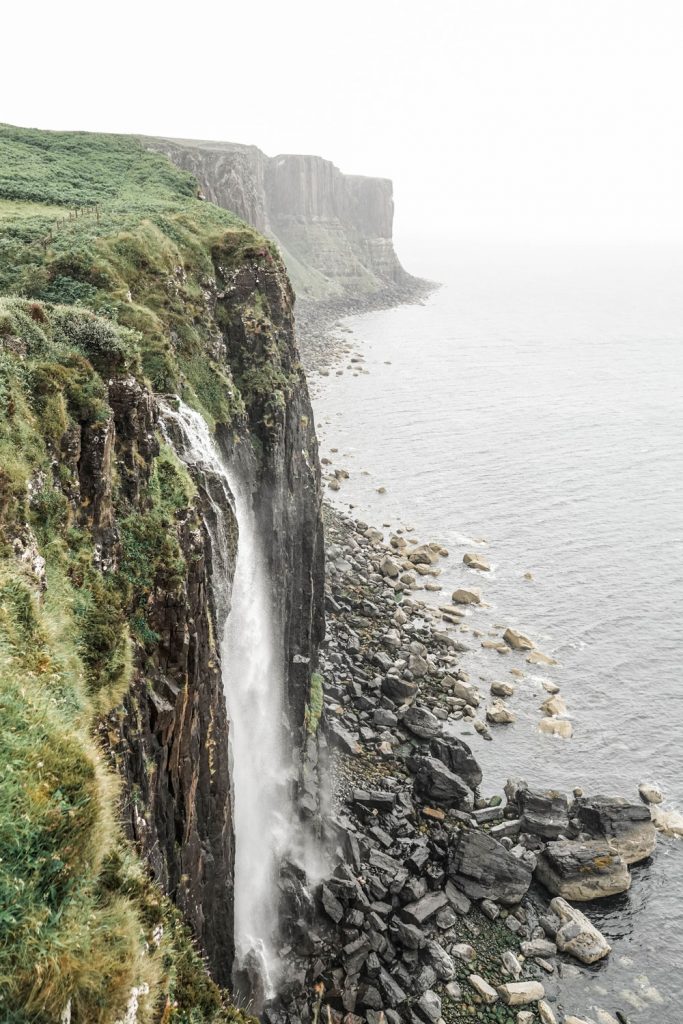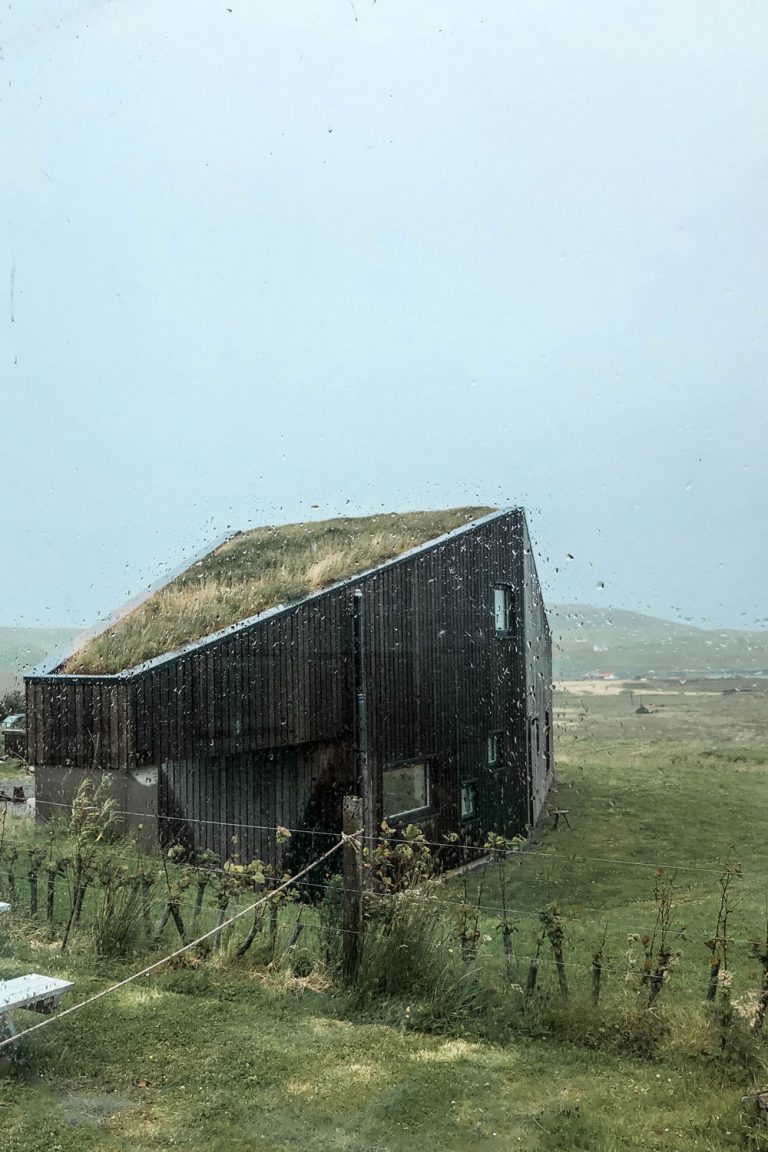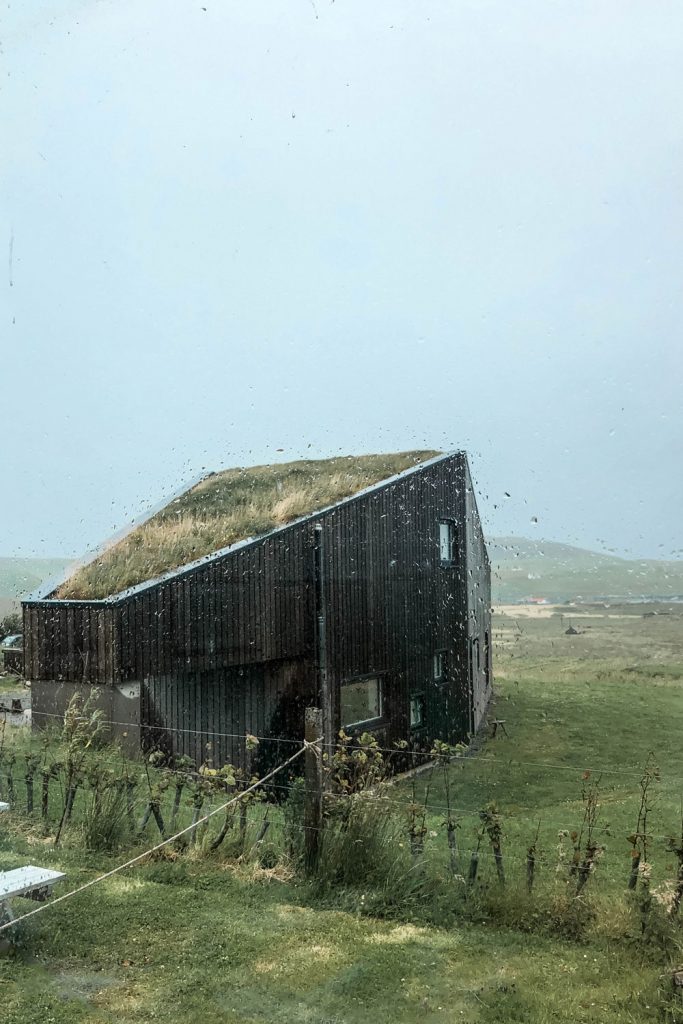 We quickly stopped at Kilt Rock and Mealt Falls but I had gotten so chilled at this point (in July, mind you – wasn't joking in my carry-on packing list guide about all those layers!) and shaking uncontrollably that we beelined it afterwards (with all our clothes stripped and drying on heat vents) to the most amazing little cafe I've ever been to: Single Track Art Gallery & Cafe. It was literally exactly what we needed—a good flat white, delicious cake and a place to warm up while we watched the storm whip around outside. I have a snap of it above too because the place itself was like a little outcropping of the landscape surrounding it—so beautiful and unique! The owners were also super lovely.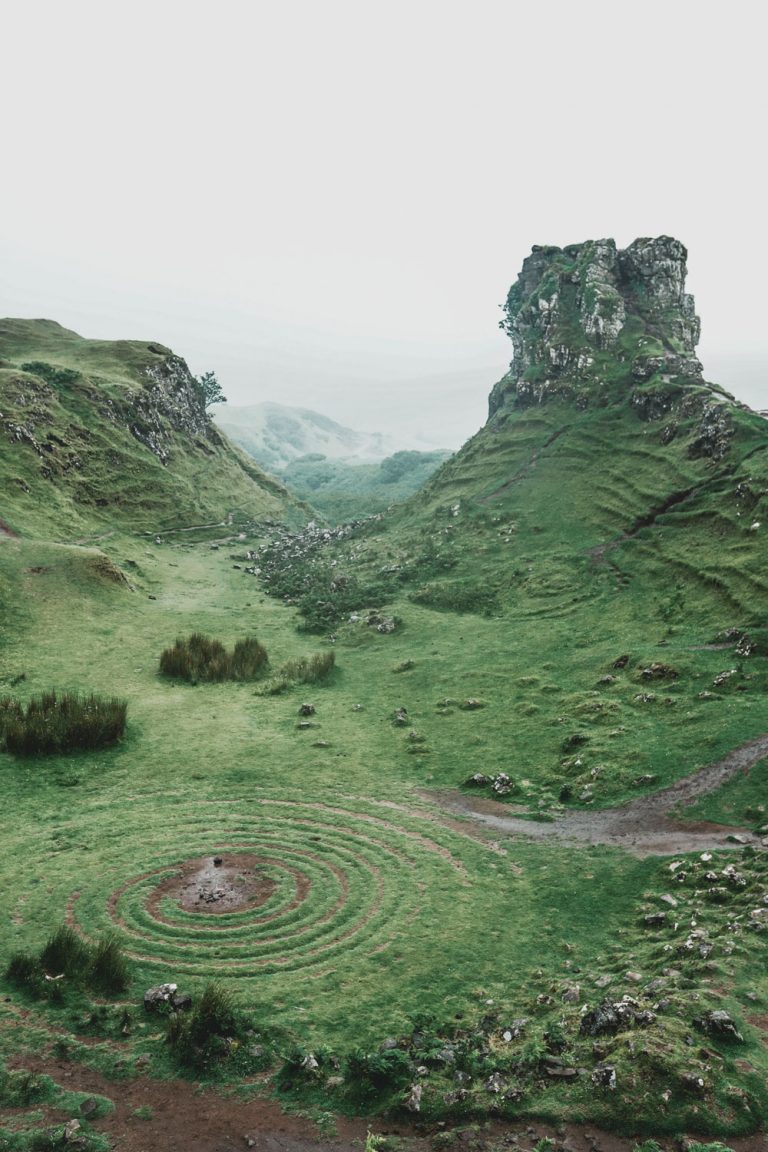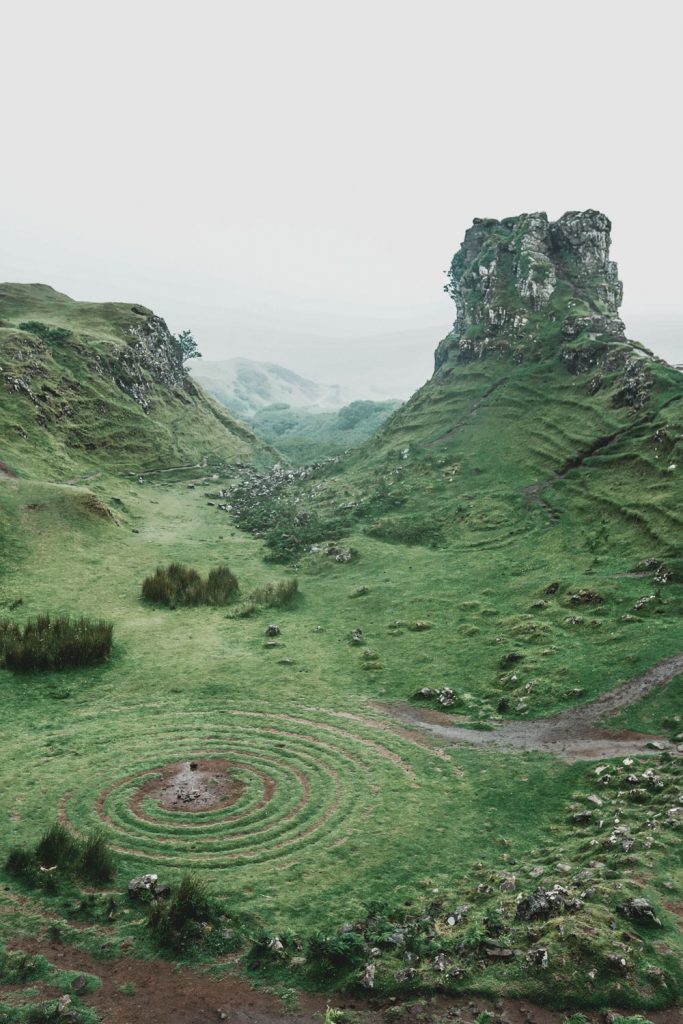 We'd warmed up a bit but our clothes were still soaking wet so while I'd usually suggest doing everything on a counter-clockwise circuit and doing each thing as it comes, we actually decided to go to our furthest destination first and then backtrack because we really needed time to dry our clothes or I would've straight up gotten hypothermia. We decided to head all the way to the Fairy Glen in the hopes that our clothes would dry off by then—backtracking is never ideal obviously but the Fairy Glen was only 30 minutes away so at least it wasn't a major drive. Our clothes did indeed dry out by the time we got there and the rain started to fall very softly, so not only was I finally warm, but the soft rain made for the most magical weather for this special otherworldly place.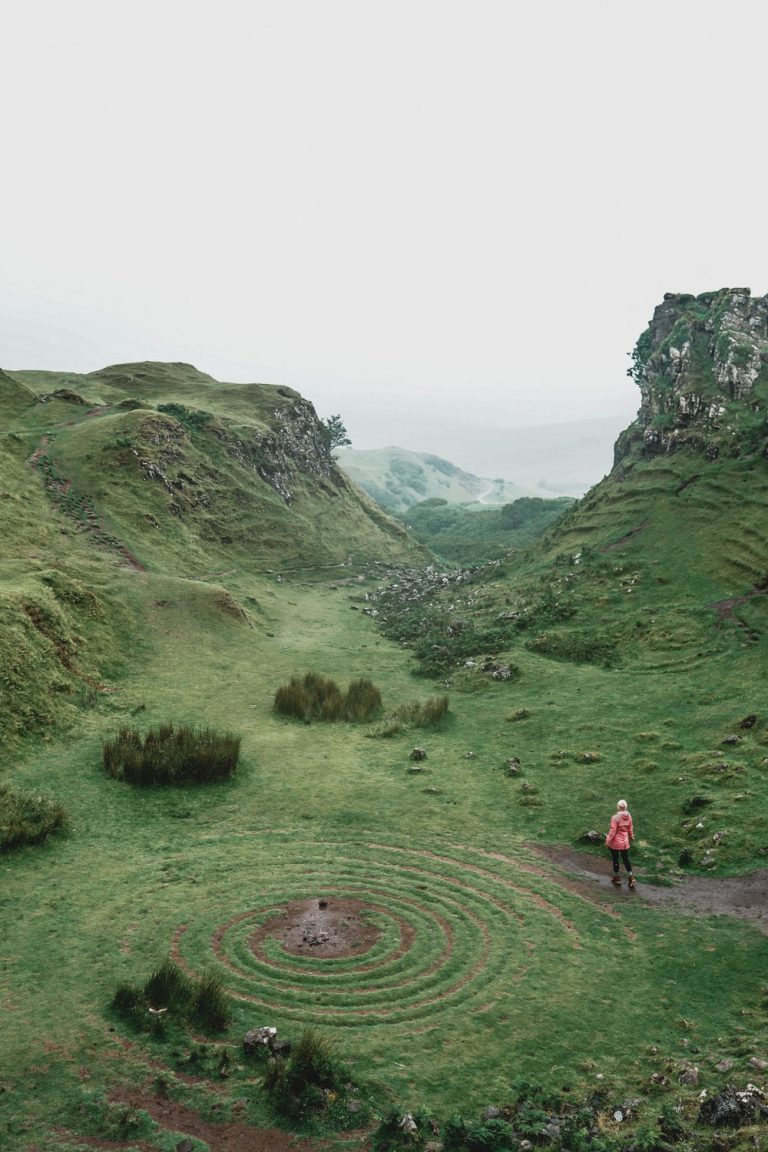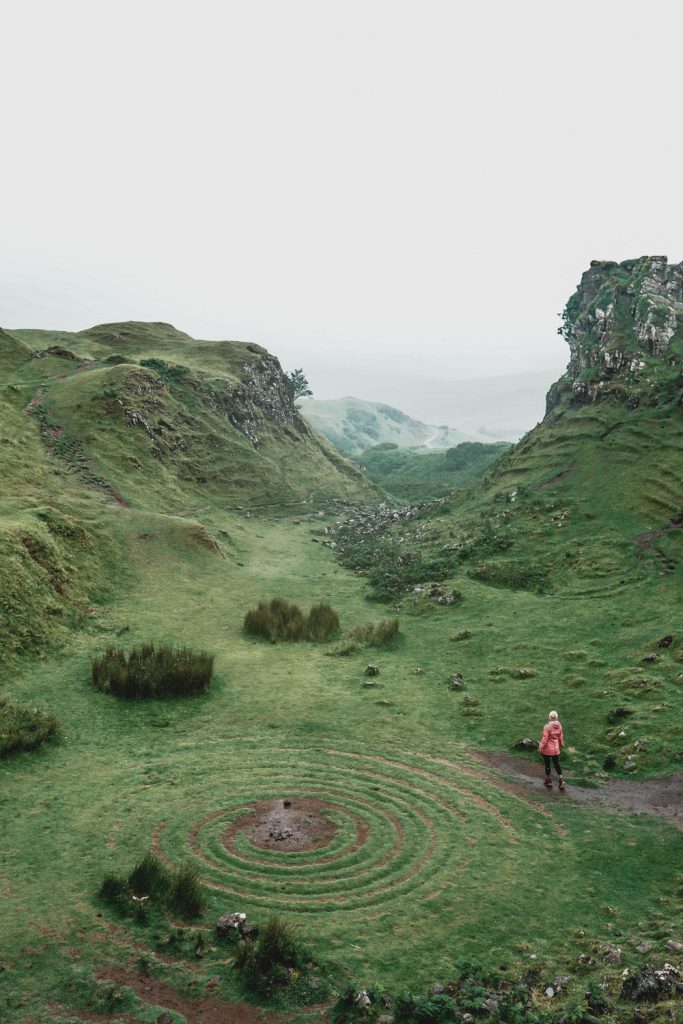 The glen was formed from landslides so there are these interesting, Shire-like hills everywhere with Castle Ewen (which isn't a real castle but just a rock prominence) with a formation of fairy circles at the base of it all. It was pure magic. Please don't touch or place any rocks here as it disturbs the integrity of the space! Locals have had to volunteer to come in and fix it so please don't touch anything. Be careful on a wet day too with getting up to Castle Ewen, it was slippery! One of the most amazing, mysterious little places though—I honestly think I preferred it in the rain because it just made it so quiet and serene.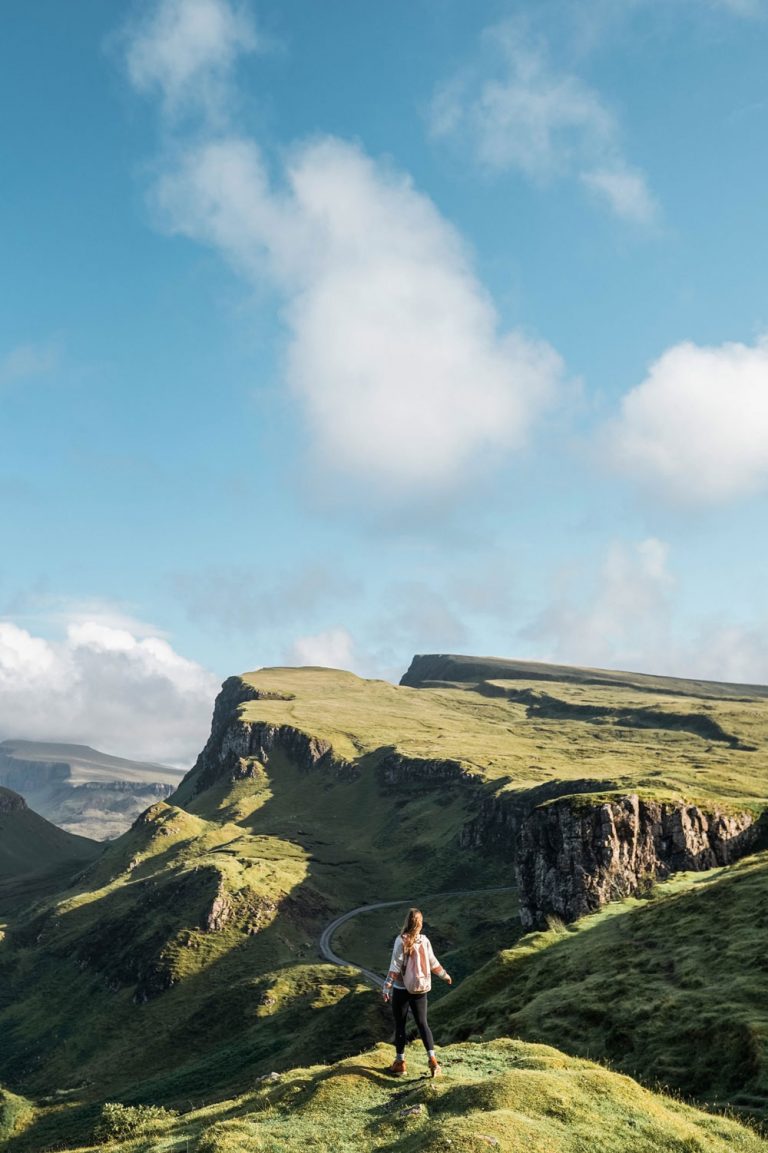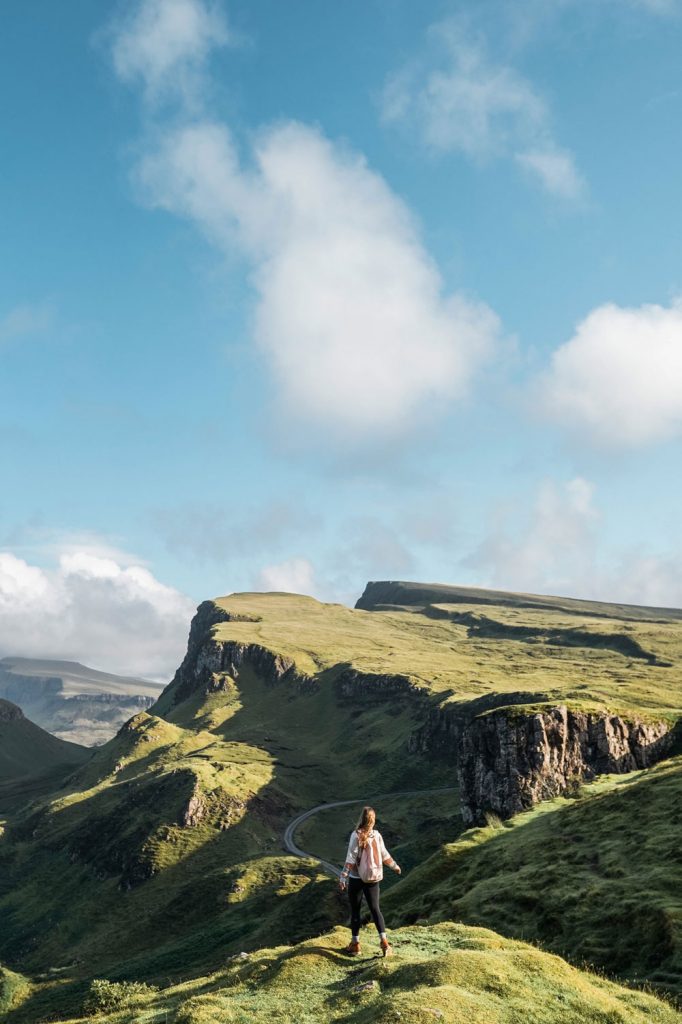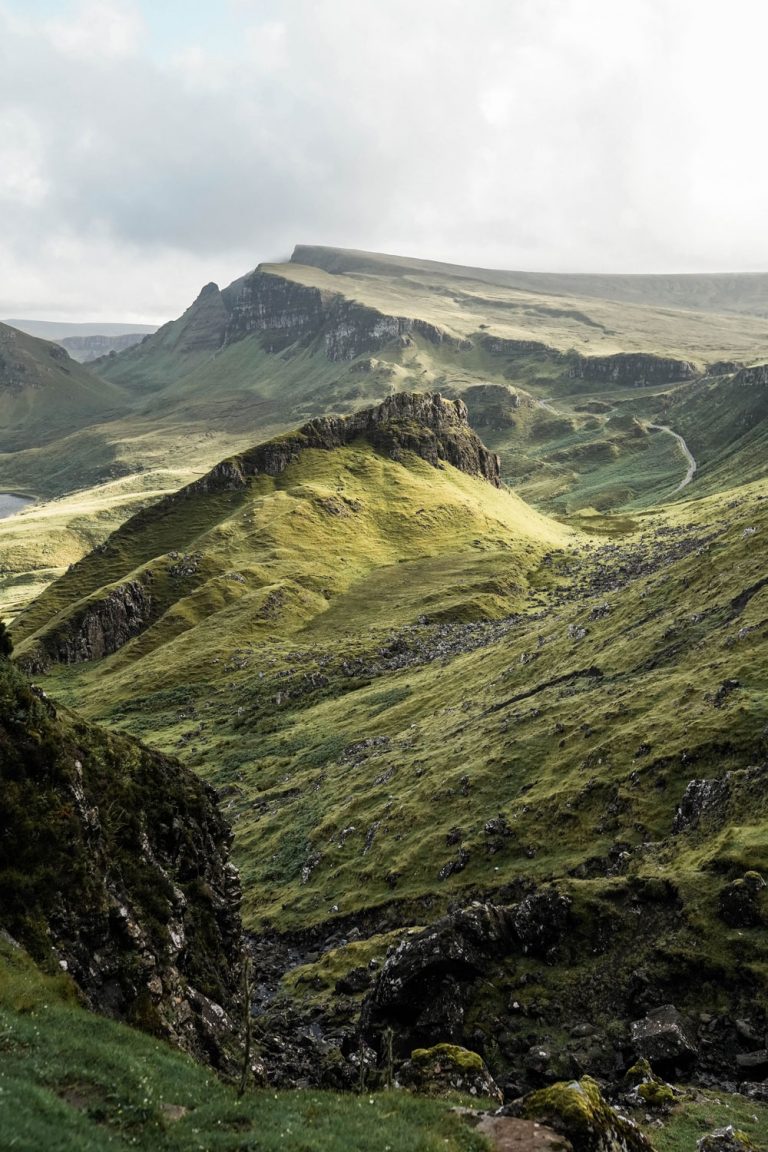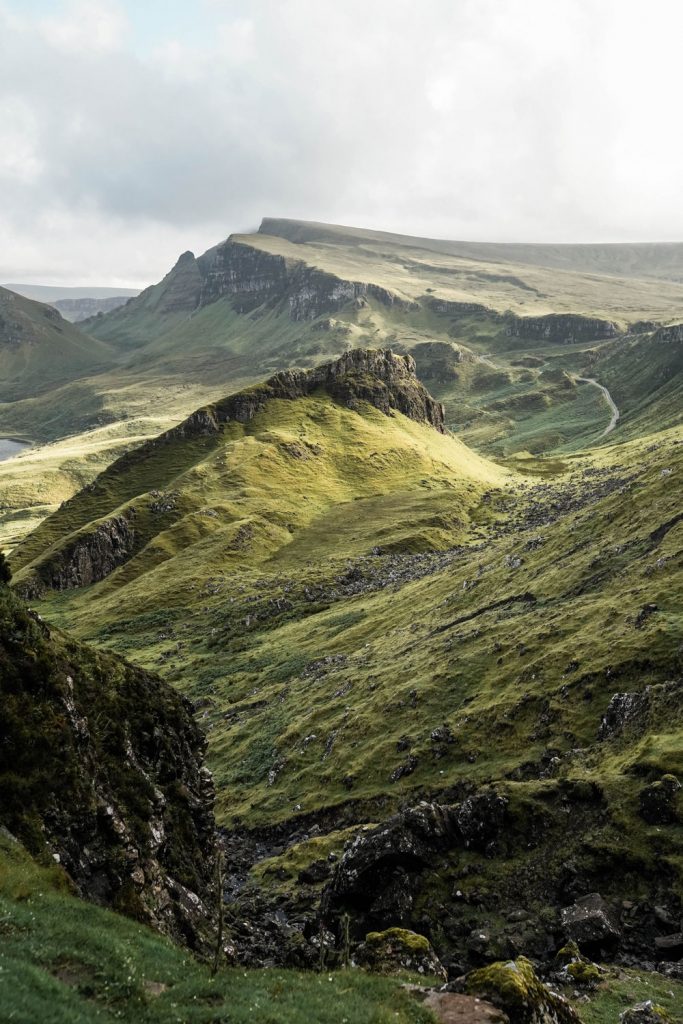 At this point, the sun was finally burning off the rain, and the clouds started dissipating right as we pulled up to the base of the Quiraing after driving the winding road up. We proceeded to experience literally the most magical hike I've ever been on for an hour and a half or so—I've never seen views like this (and that's coming from a Canadian who lives in the mountains!) and we honestly were both just speechless the entire time. The Old Man of Storr seems to get more of the glory when it comes to Isle of Skye must-do's, but we were just so blown away by our Quiraing experience, not to mention it was incredibly quiet. We only passed 5 people the whole time, and they were local Scots going for jogs along the path.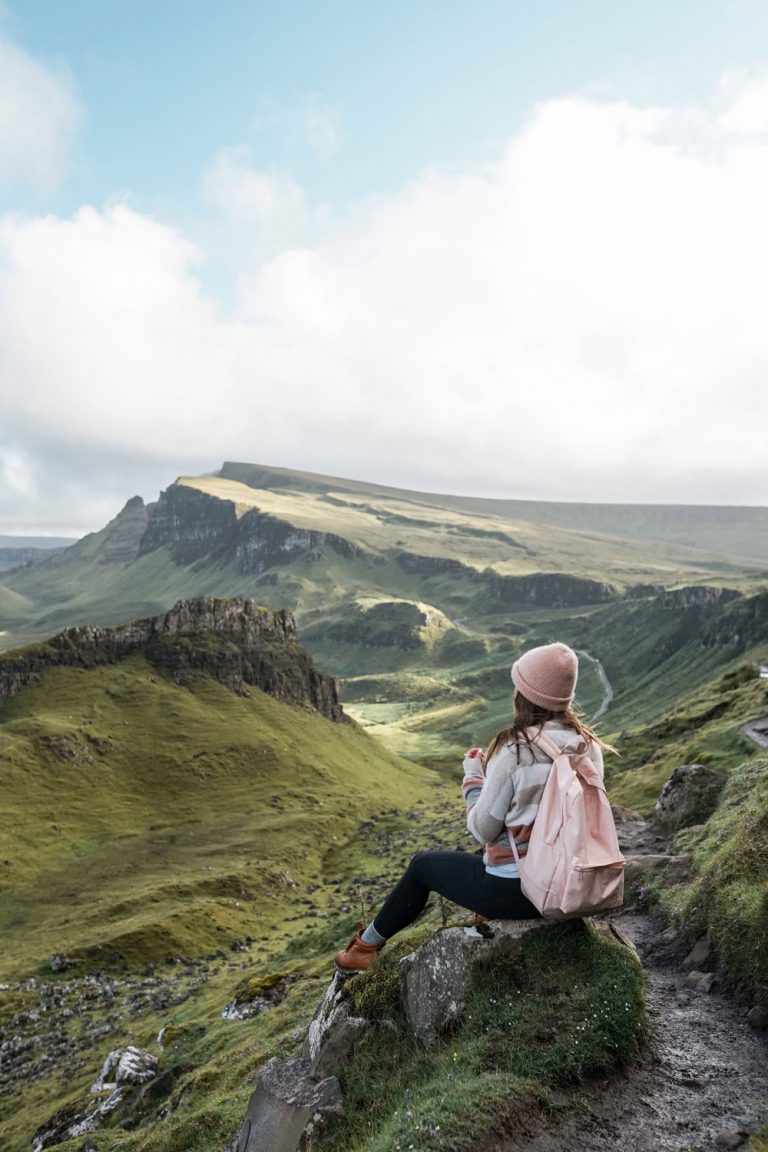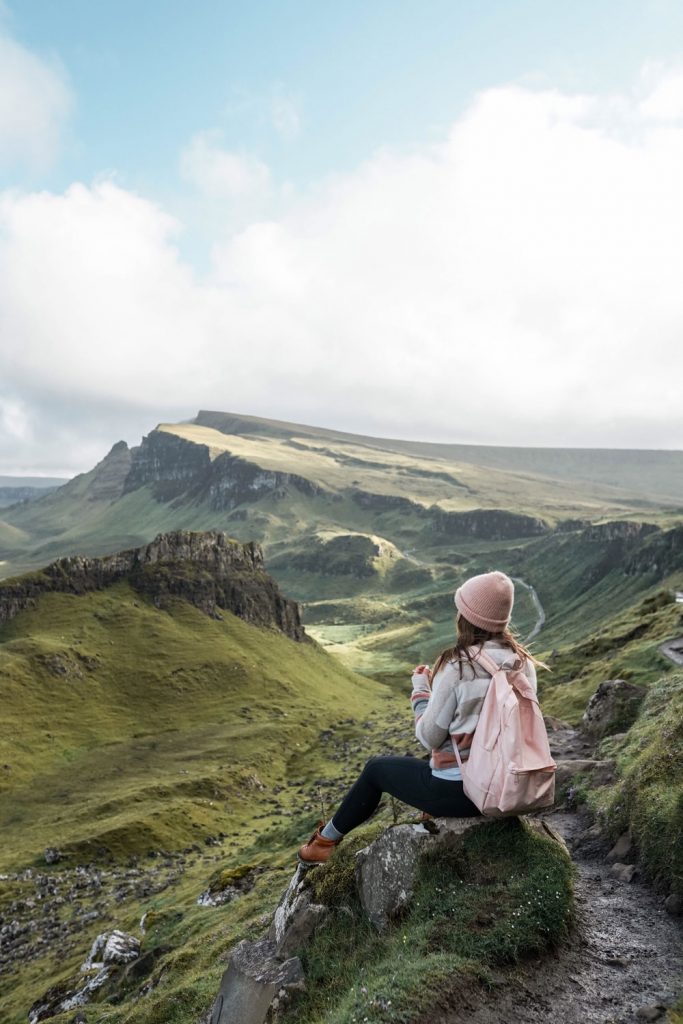 A note on the path: if you get bad vertigo or have a bad fear of heights, you might want to just start from the base (where you can still get incredible views) and see how you feel as you carry on with the trail. Neither of us have a fear of heights but it does kinda feel like a bit of a huge drop if you took the wrong step (though that would be unlikely since the trail is quite wide). Just a heads up so that you come prepared! Right as we finished up our hike, the clouds started rolling back in and rain picked up again, so whether it was the spirits of Isle of Skye or the fairies or just pure luck, thank you to whatever or whoever made this sunny hike possible because it made up for a whole day of rain and really was something we'll always remember.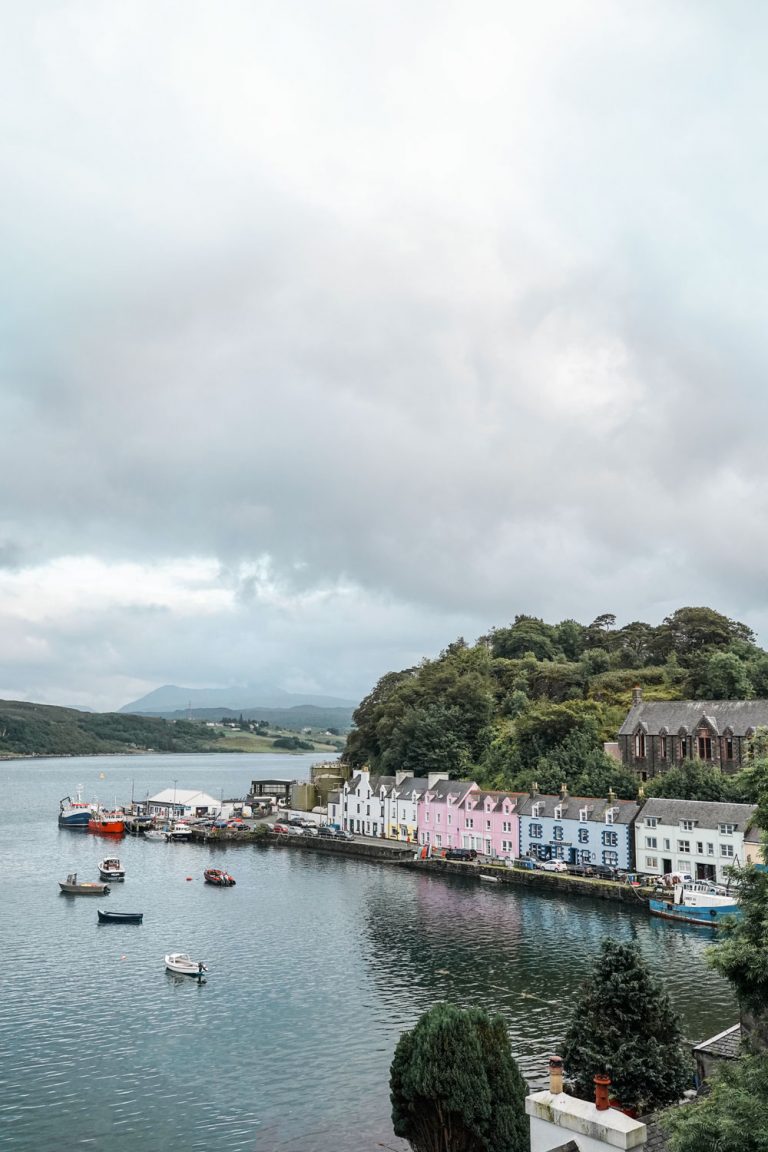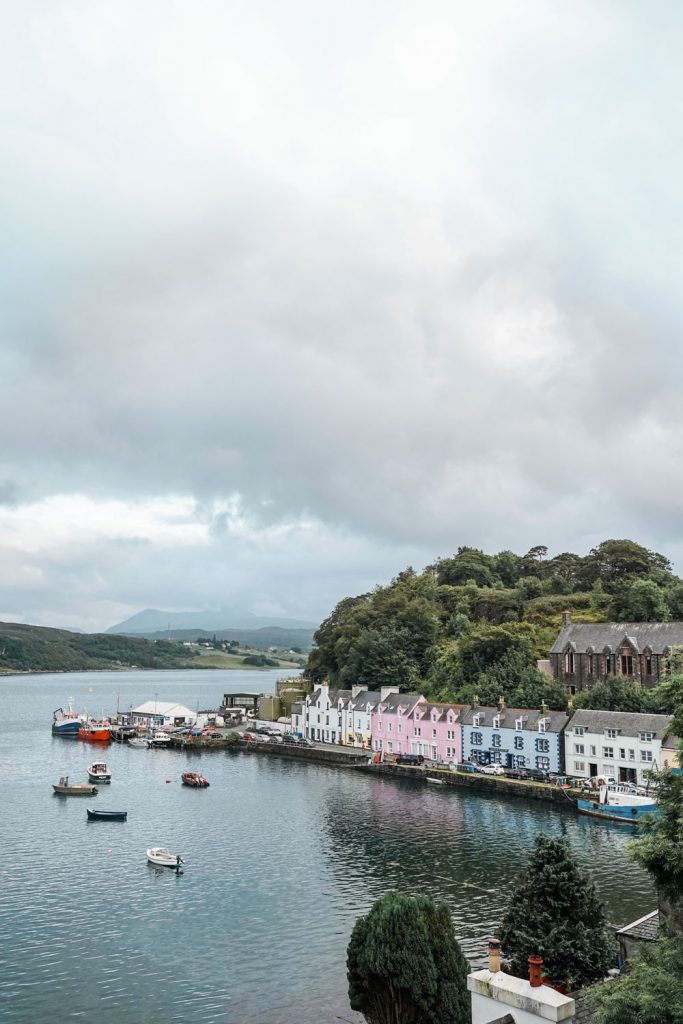 We stopped in lovely Portree (the biggest town in Isle of Skye) for dinner and took in the views but then that was it for our Isle of Skye exploration! Even with crazy wind and rain for most of the day, it was still honestly one of the most amazing experiences of my life. If the weather had worked out in our favour a bit more or if we'd had more time, these were a few more of the things I would've done: Neist Point Lighthouse wasn't too far from our Airbnb and John mentioned the views here at sunset are out of this world (I really, really wanted to do this but the weather just wasn't working with us), Coral Beach is up the peninsula from there and as its name suggests is a gorgeous beach filled with coral and finally, Dunvegan Castle (also not too far from us) is supposed to be lovely and on that general stretch.
---
Day 6—The Highlands to Glasgow
We caught an early sailing out of Armadale, a southern town on the Isle, and headed back to the mainland. I'd personally suggest coming in by the bridge if you're following the same circuit we are and then back out on the ferry because a) the bridge is free and b) it allows you to take a different route in and out and to head off into a new direction afterwards, which was south for us. Make sure to reserve your ferry well in advance because they do fill up in the summer!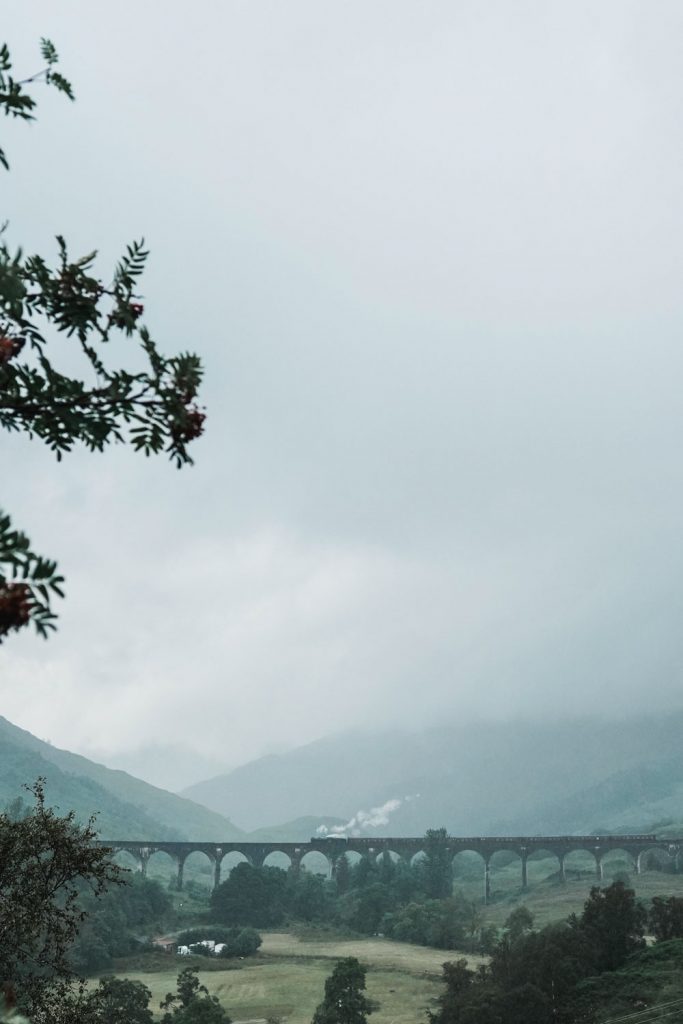 Anyway, I am a Harry Potter nut and wanted so badly to see the Jacobite Steam Train (that the Hogwarts Express is based off, and whose line is featured heavily in the movie particularly at Glenfinnan Viaduct). Part of the reason I got us to catch an earlier sailing was so that we could time up with the train as it passes through the viaduct. Problem is, hundreds of people have the same idea and especially because we were in high season, the parking lots were packed. We parked some ways down the highway, schlepped as quickly as we could to one of the nearest lookout points since we didn't have time to make it to the closer spot and then of course, the rain started. Scotland is one of the rare places where it's as beautiful in the rain as it is in the sun though, and it just added to the mystery and energy as the train finally pulled in. Not gonna lie, I cried a bit—when you grow up reading the books and still reread them every year, getting to see something so iconic to them is seriously a bit emotional!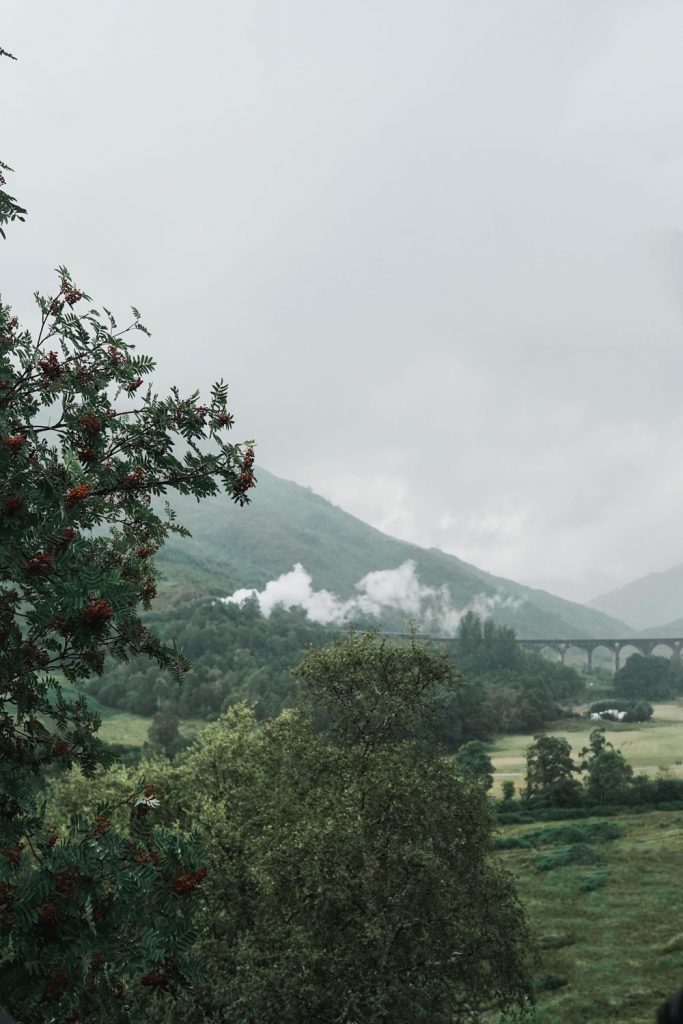 We took advantage of the rain to cozy up for a nice pub lunch once we were in Fort Williams, seeing Ben Nevis (one of the famous mountains of Scotland) off in the distance! I'd imagine if you were a big hiker this area would be amazing for you—it's really known for its amazing hiking (though I feel like Isle of Skye was like that as well) and if we'd had a chance to hang out here longer, getting to explore Ben Nevis a bit would be unreal.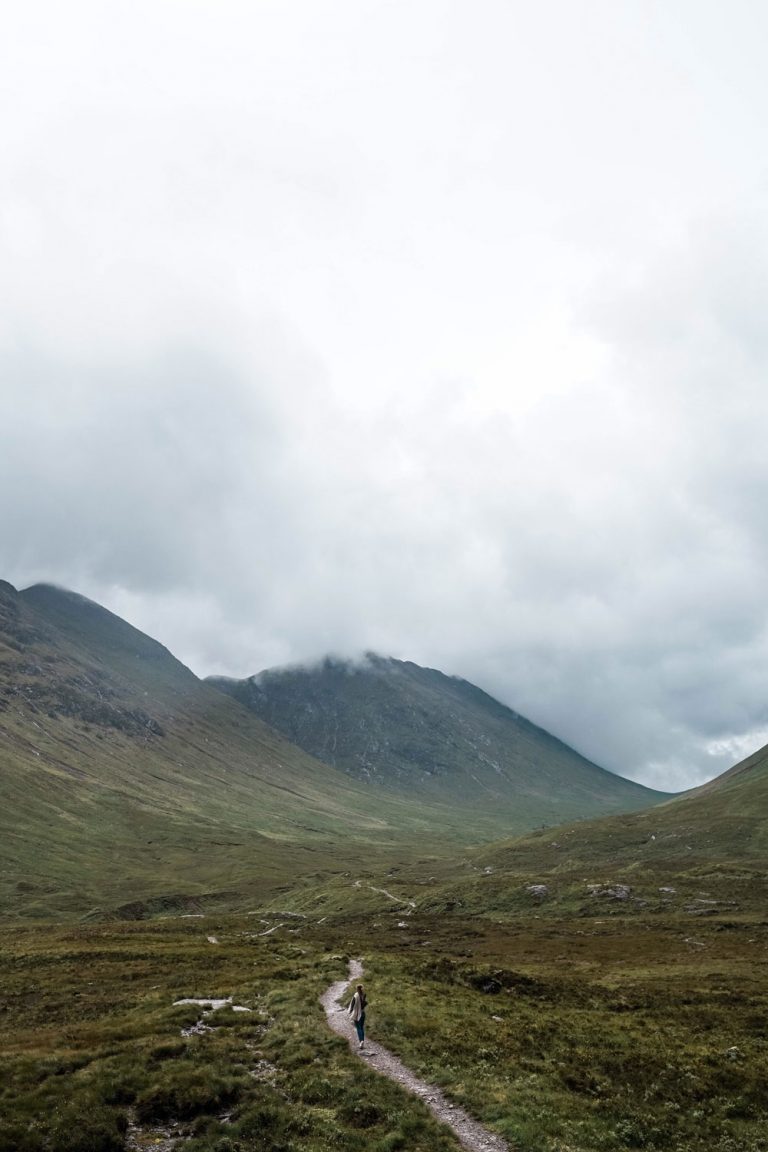 We then drove another hour or so to Glen Coe, where you can discover gorgeous waterfalls and unreal valley views. This is where Hagrid's cabin is filmed by the way during Prisoner of Azkaban, with those big sweeping valley vistas! It was still raining so we just got out to stretch our legs (each of these drives were about 40 minutes to an hour in between one another) and carried on to Loch Lomond.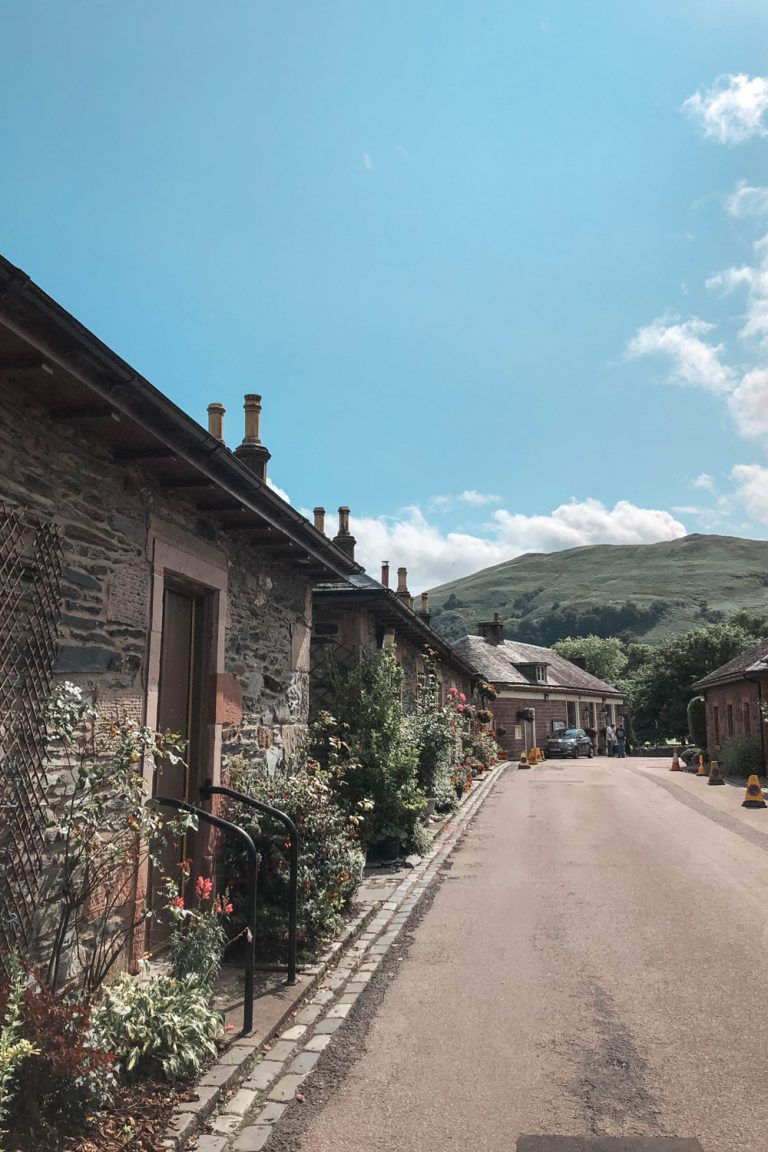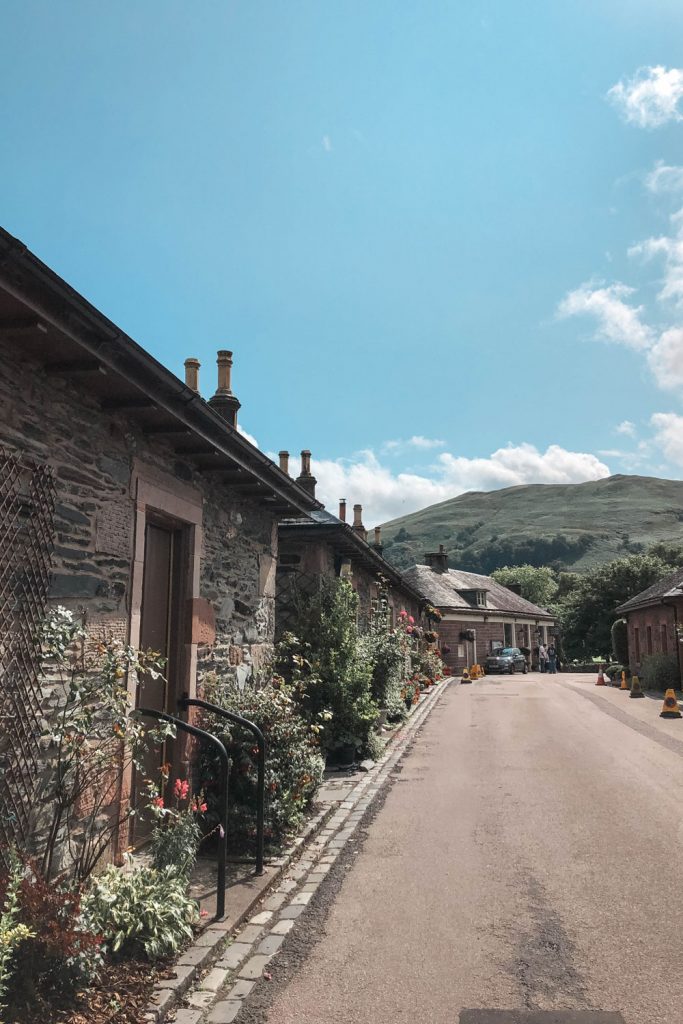 Loch Lomond is arguably one of the most famous lakes in all of Scotland—it is massive and filled with gorgeous little beaches, villages and parkland around it. My original intention was for us to just stop by the water and walk around a bit, but right as the sun came out Matt said he needed a coffee so I ended up finding a good coffee shop (and ice cream shop for me) in Luss. It's like the gods conspired to send us straight to the cutest village I've ever been to—Luss has actually won a bunch of awards for its beauty and charm and it completely stole my heart. Lined with gorgeous flower planters and pots, the little village by the lake is worth a long stop at. We got so lucky that it got sunny here too so we really took our time soaking it in!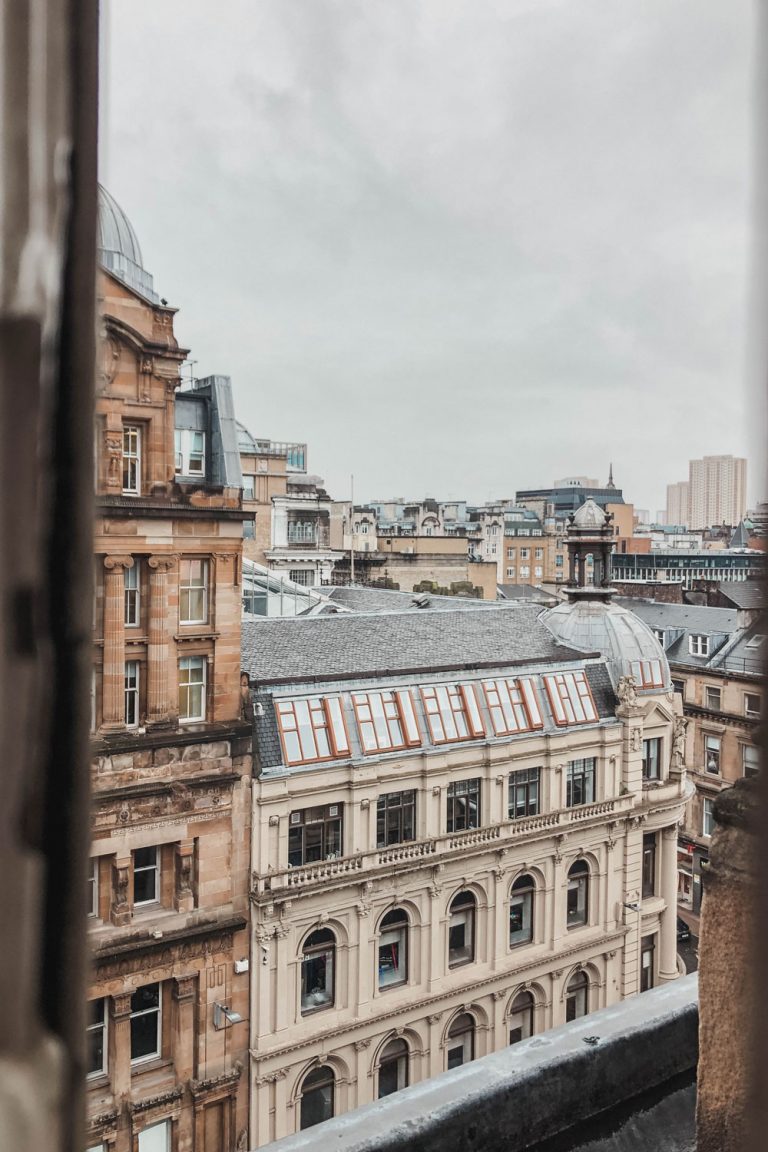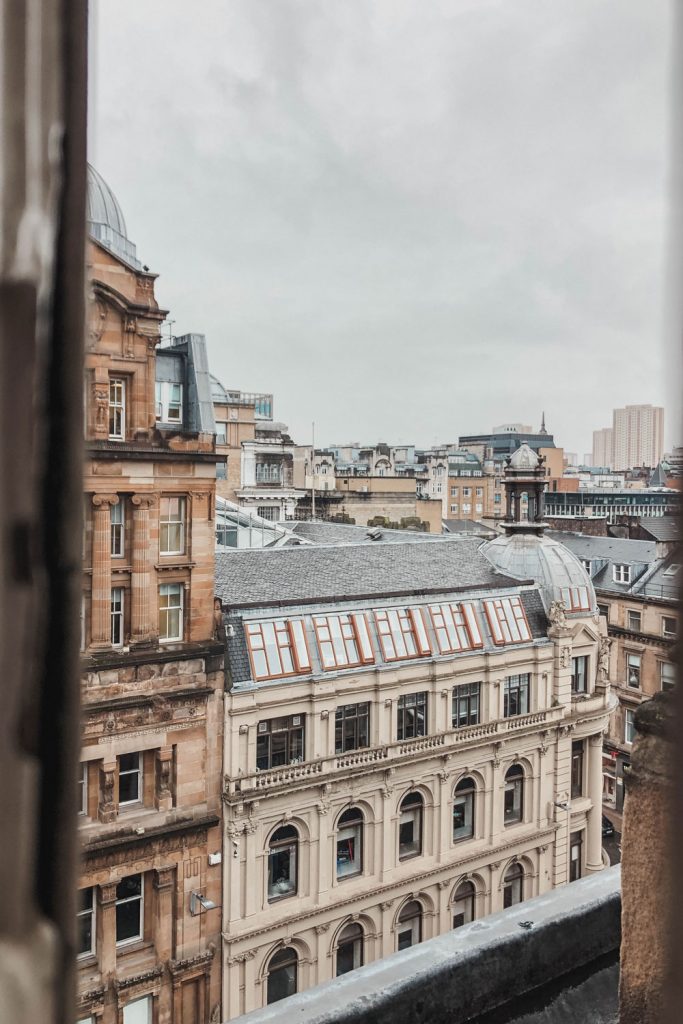 We then headed on down to vibrant Glasgow, getting in just before dinner time. We took in the city quickly before grabbing some Indian (something the Scottish do so well) and went to do a whiskey tasting at the Pot Still before turning in early since it'd been such a long day!
---
Day 7—Isle of Arran & Glasgow
We got up early to get a morning ferry reservation to Isle of Arran—it's only an hour or so drive down to the shore from Glasgow, and we were lucky that the day started off so sunny! The ferry ride itself was so beautiful with gorgeous views of the ocean around us, and within an hour or so we landed at Isle of Arran.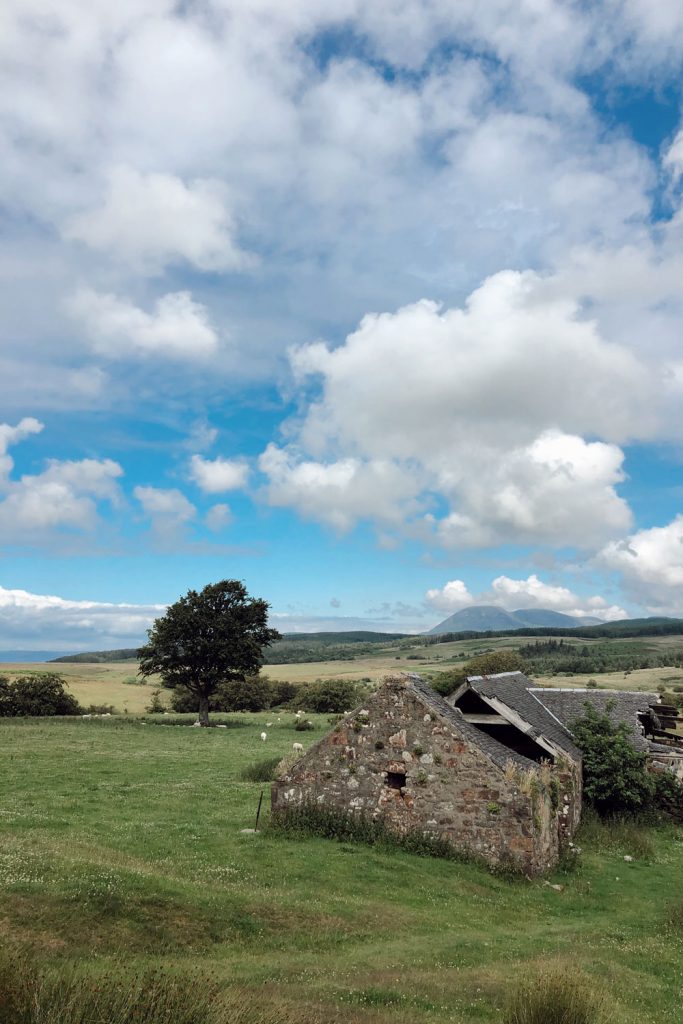 Matt's family has ties with Isle of Arran which is why we added it into our itinerary instead of spending our time in Glasgow, and as much as I wish I'd had more time in Glasgow I was so in love with Isle of Arran by the end of our time there that I'm so glad we went. If you have time, please do go—it's called "Scotland In Miniature" because it apparently has everything in Scotland packed into one tiny island. It even has the Highland line running through it! Oh, and famous Isle of Arran cheese and ice cream—long story short, I can't think of any reasons not to go visit.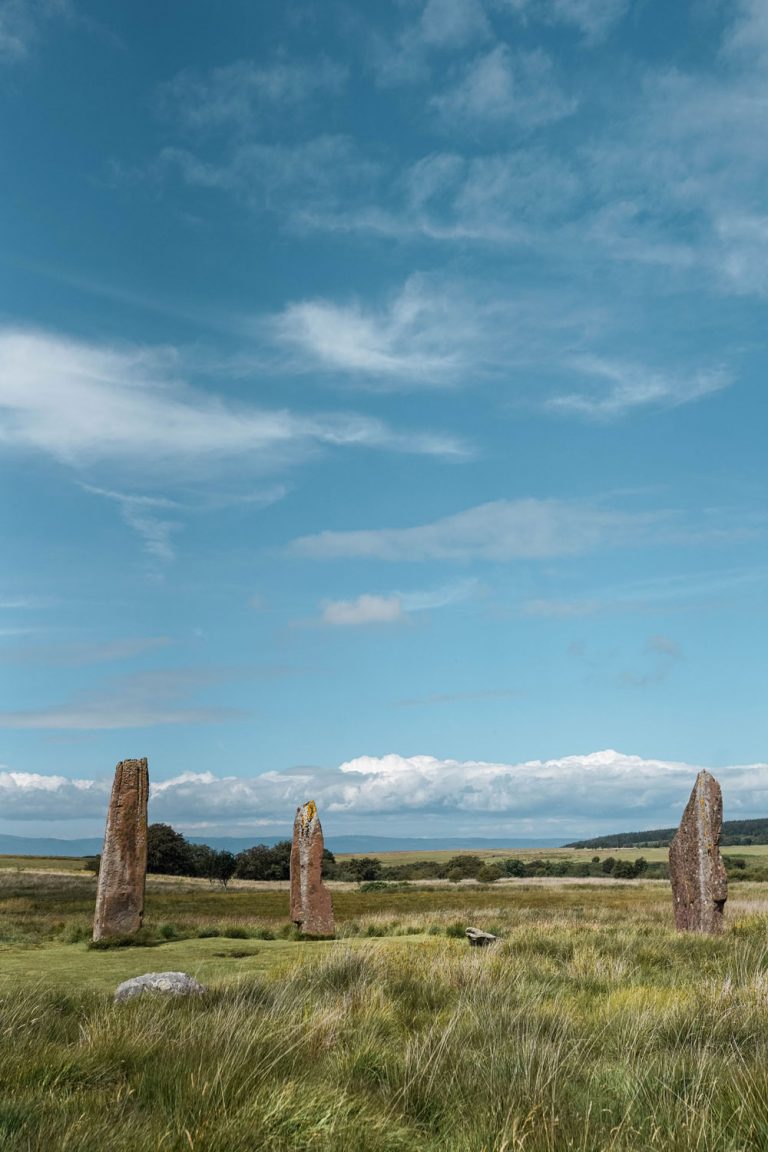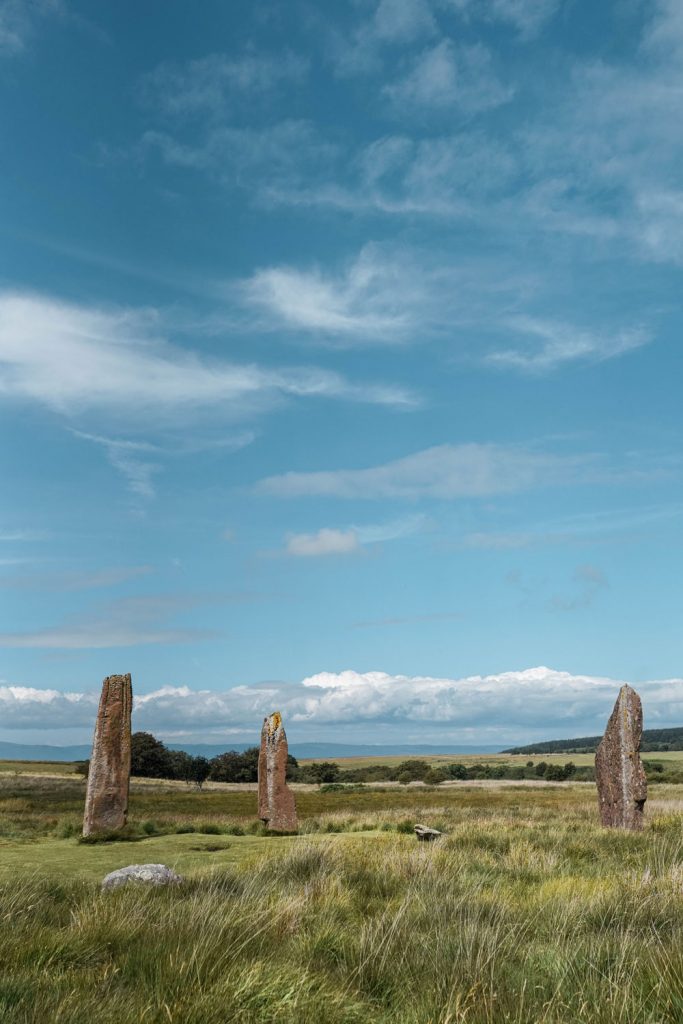 We went first to the Island Cheese Co and tried some of their delicious cheese before starting our circuit of the island counterclockwise. We only had part of one day to explore so there's a lot we couldn't do, but I do think we saw some really amazing highlights from the Isle of Arran (and both agreed that if we came back to Scotland any time soon, we'd try to at least spend one night here). With the weather agreeing with us and knowing it was a bit of a walk to find them, we decided we'd do the Machrie Moor Stone Circle ASAP in case the rain set in later.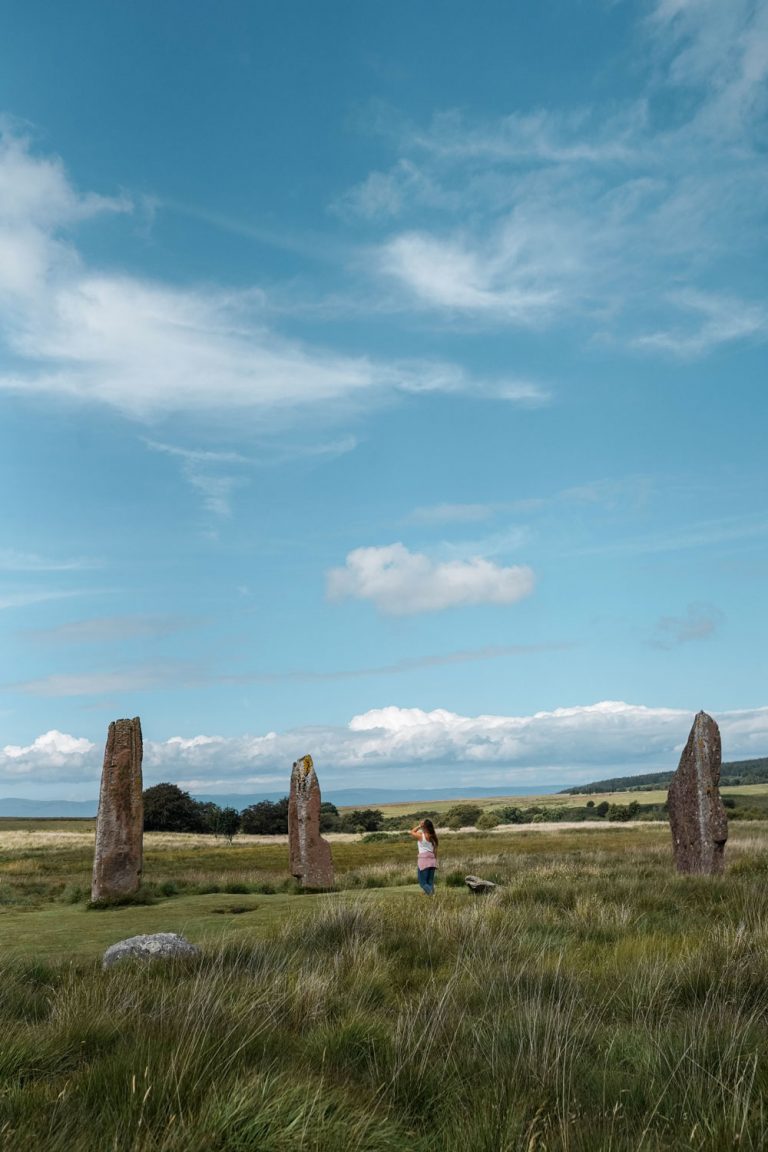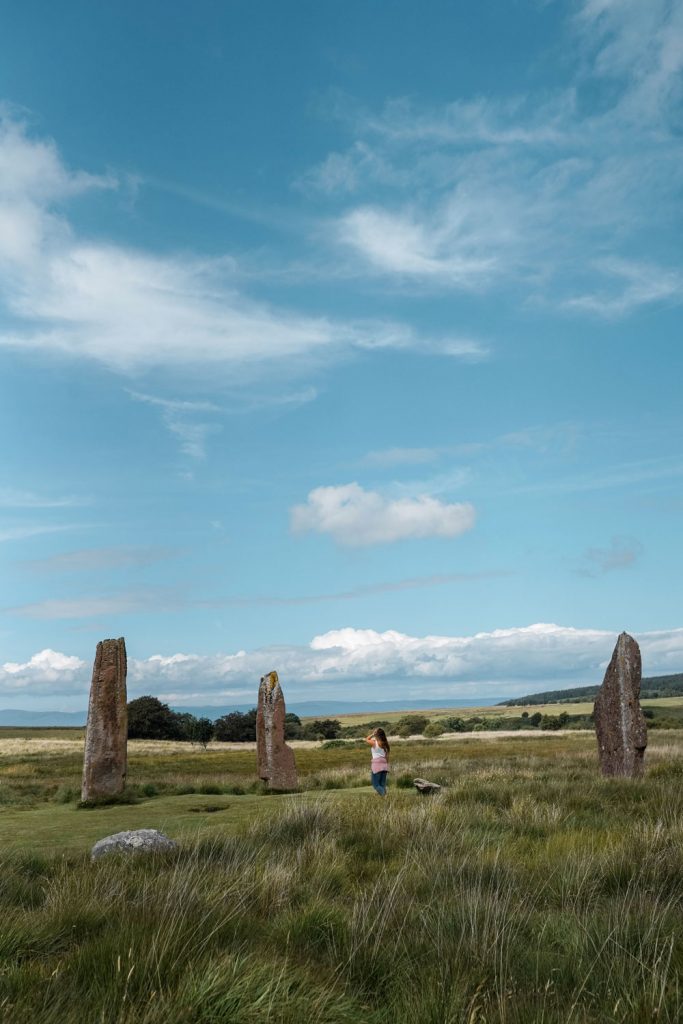 It was not only the most gorgeous walk in near seclusion through these beautiful Scottish fields with the ocean off in the distance and rolling hills surrounding you, but once you got to the stones, they had so much mystery and magic it literally felt like that critical scene in Outlander. These stones were created by a Neolithic settlement that lived here thousands of years ago, and how the stones were erected and what their exact significance and purpose/symbolism was is still unknown, though it seems as if they were used to mark burial sites in some places. This one stop would've been worth the visit to Isle of Arran alone (though it's filled with sooooo many other amazing places) because there were literally no other people there and the feeling you got when you were there was just undeniable. Definitely a must-do!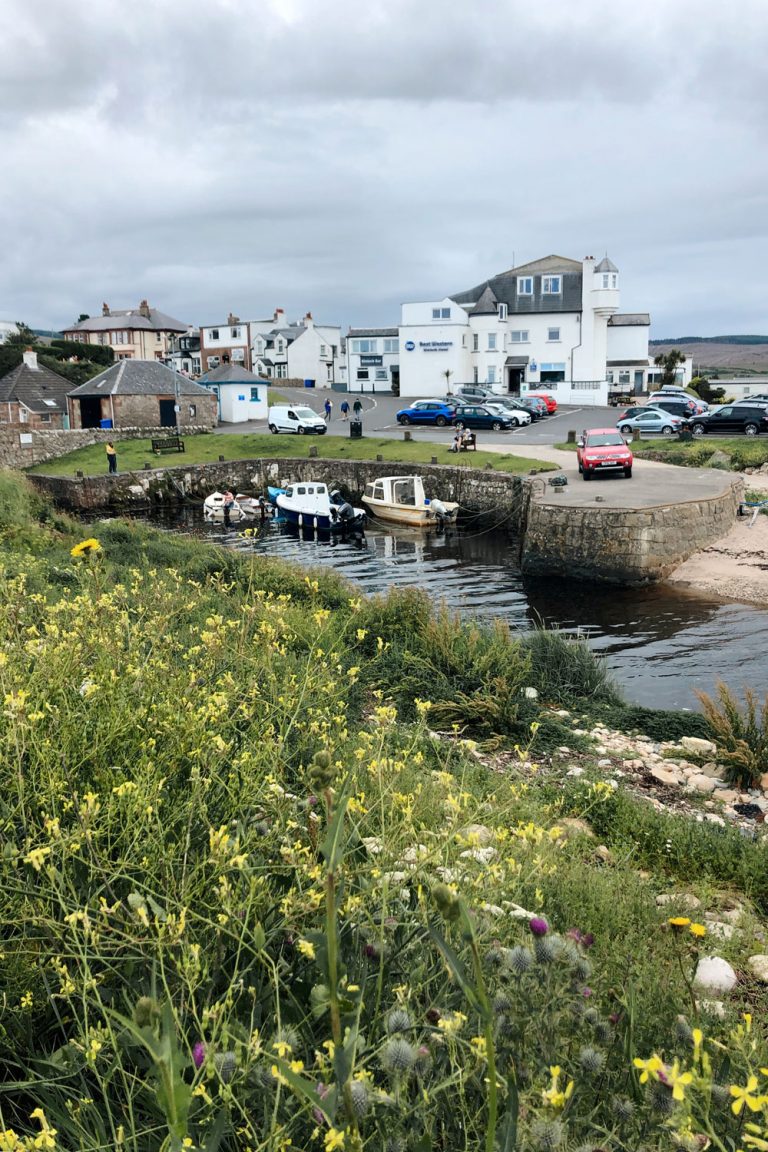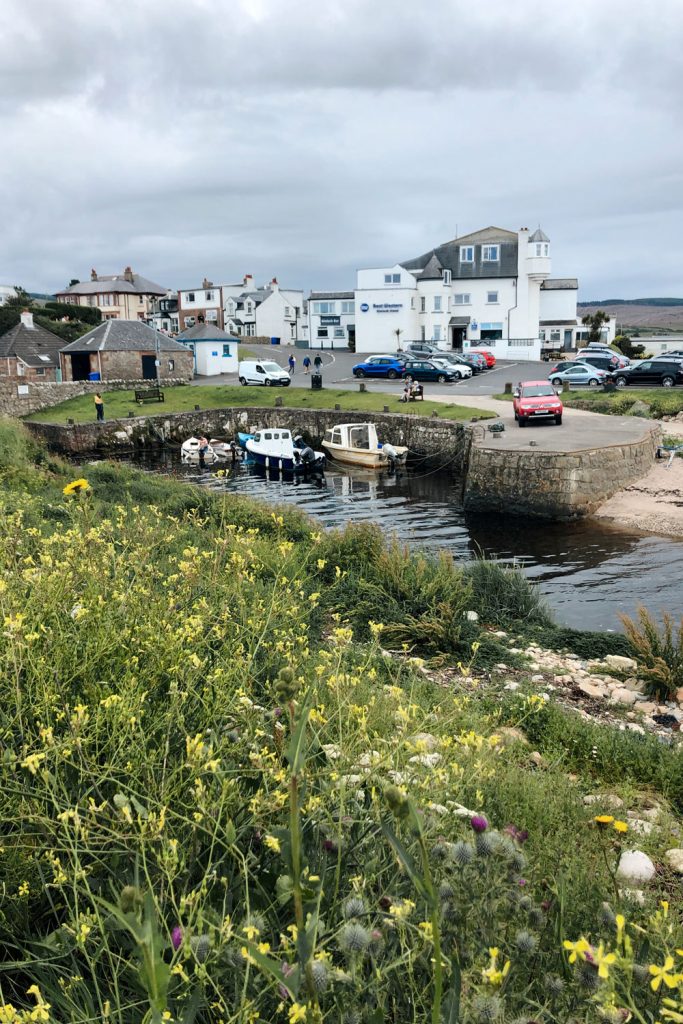 We stopped in the lovely town of Blackwaterfoot for a walk on the beach as the sun was still out, but this being Scotland, the clouds started really rolling in about 30 minutes into our walk. Fortunately, the rain that did fall down was very soft so after grabbing a quick bite, we stopped at Kildonan to take in their gorgeous beach, with the softest white sand ever. Even in the rain, it was beyond beautiful and a great little place for beachcombing. We didn't bother swimming since I was in a rain jacket and layers at this point, but the water was so turquoise and this would be such a lovely little spot to spend some time swimming. We then stopped in Lamlash Bay for another little walk around but at this point the rain was really coming down and we were already needing to go catch our ferry out of Brodick so set off to head back to Glasgow!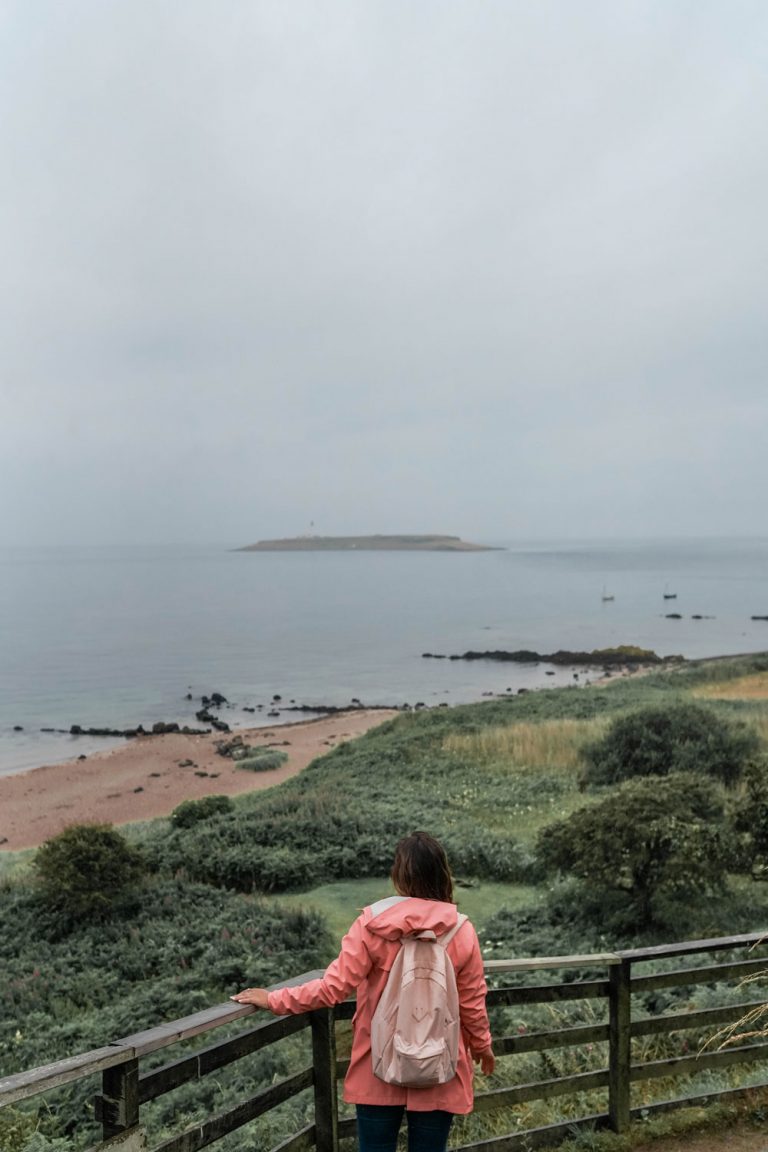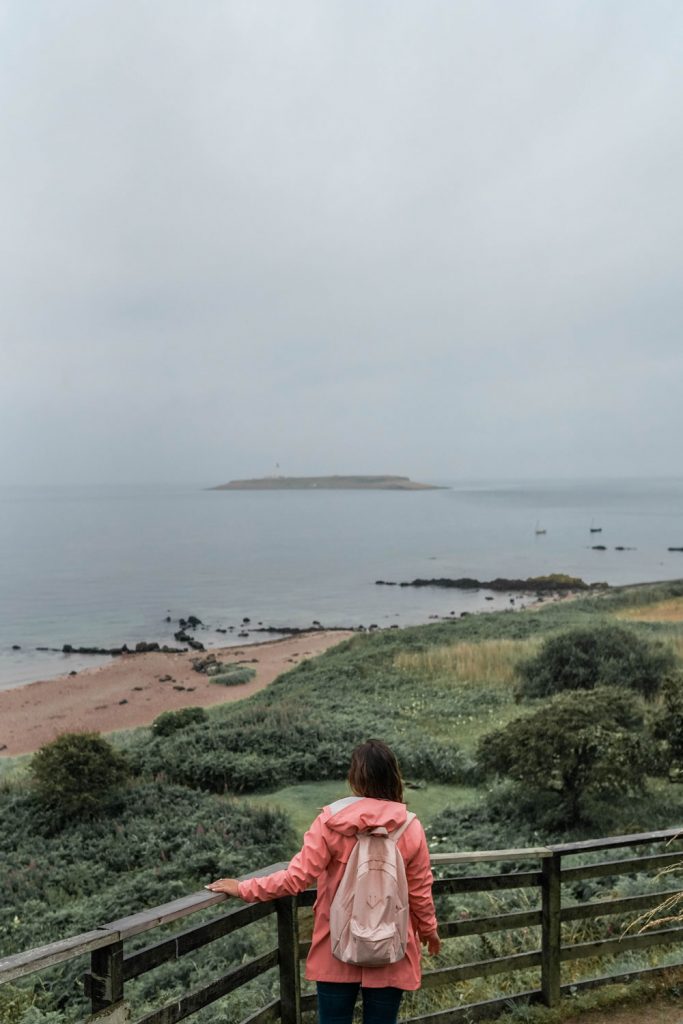 For Isle of Arran, a couple other stops if the weather agrees with you or you have time on your side: Eas a' Chrannaig is a gorgeous waterfall a bit inland, Glenashdale Burn is another nearby waterfall area, King's Caves are oceanfront caves that have early Christian carvings, Lochranza is a tiny village in the north west that's supposed to be gorgeous and is home to the Isle of Arran Distillery, Goatfell is supposed to be the most amazing hiking if you have more time on Arran, and Glen Rosa is supposed to be the most gorgeous river and waterfall in a valley formed by a glacier and finally, Brodick Castle is supposed to have amazing gardens and grounds to walk around!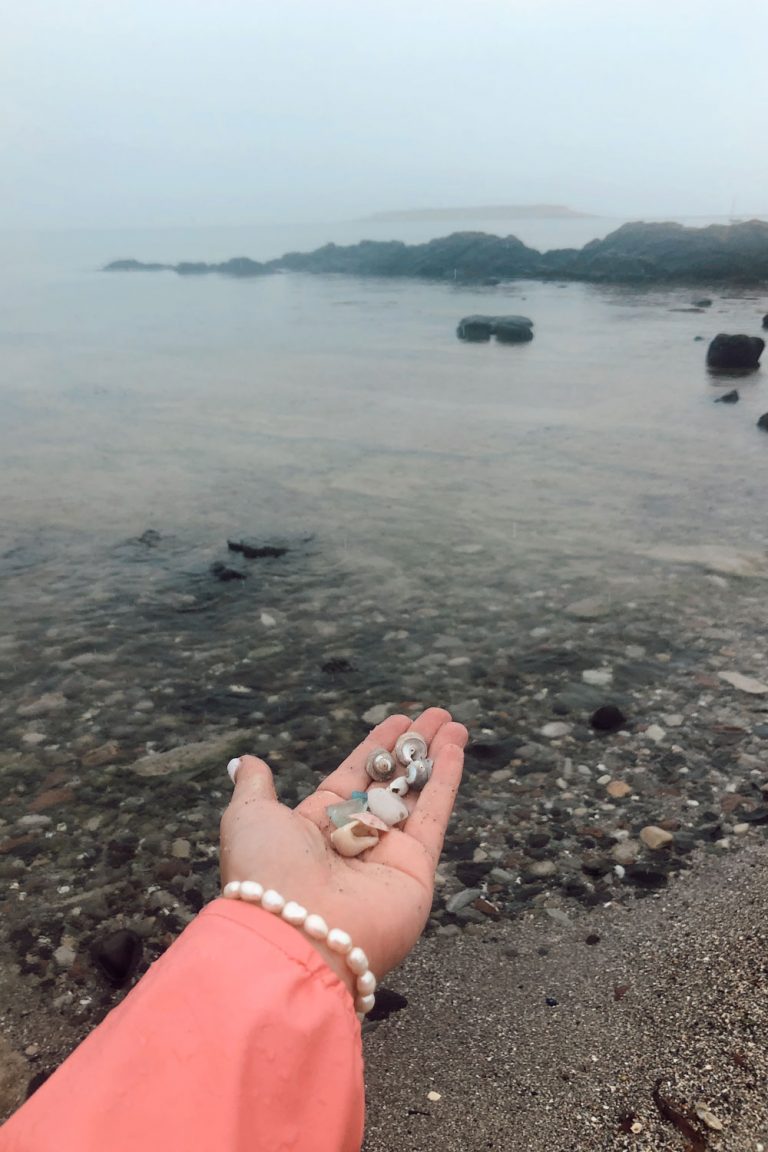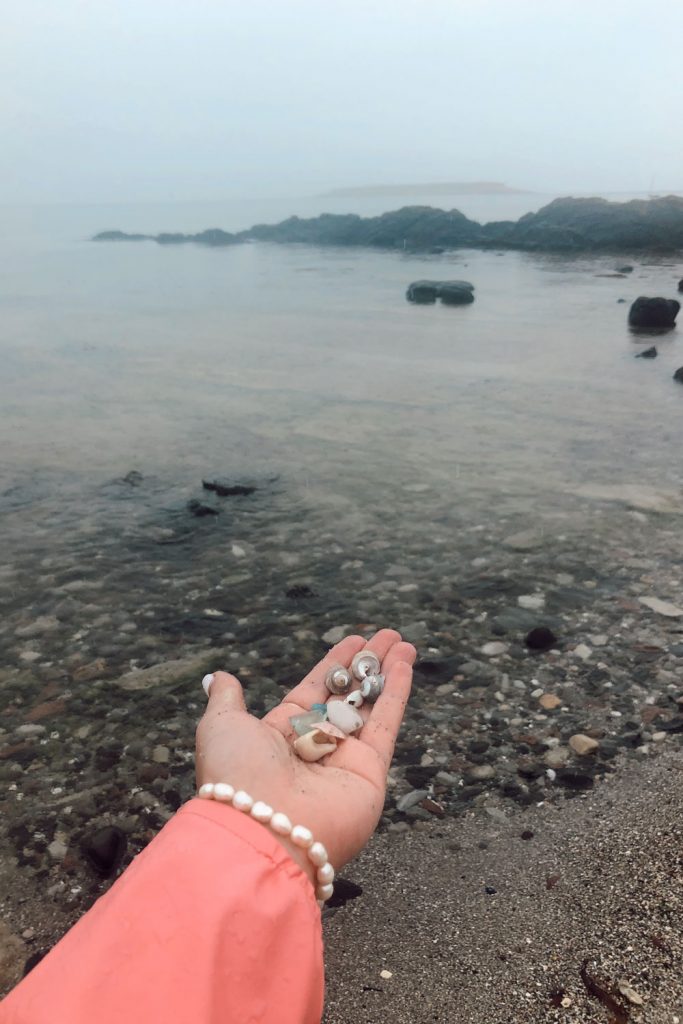 We did much the same as we did the night before in Glasgow (checked out a brewery and the same whiskey bar as the night before which I'll get into more on the food/drink guide, it was really special there!) before heading to bed early since we were up early the next morning to head to London!
And that concludes literally the most epic road trip guide I've ever written! This has taken me more than a few days to complete, not just because it's so dense (and long, thank you for still being with me if you're reading this!) but because it was so special that I really wanted to make sure I did it all justice. Feel free to pin the graphic below to keep for easy reference when you're planning your next Scottish adventure!
All the photos in this post were edited with my Landscape Preset from the TVOB Presets Classic Collection.
---
PIN ME