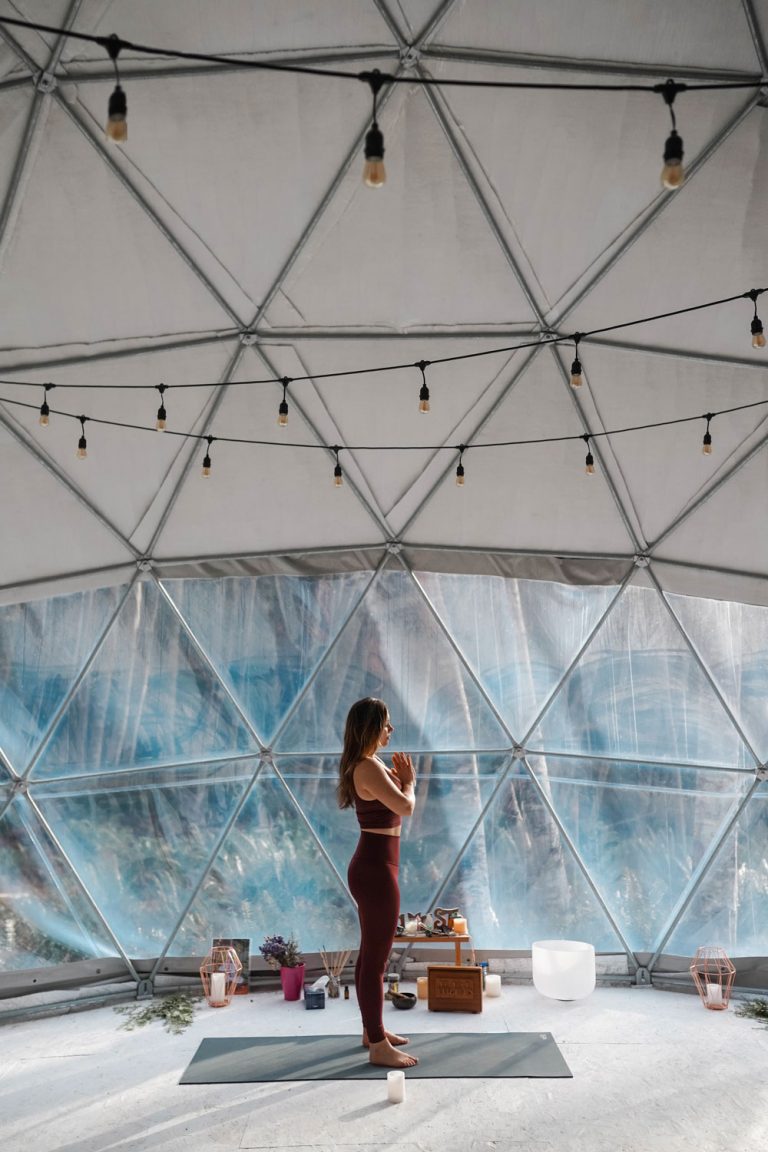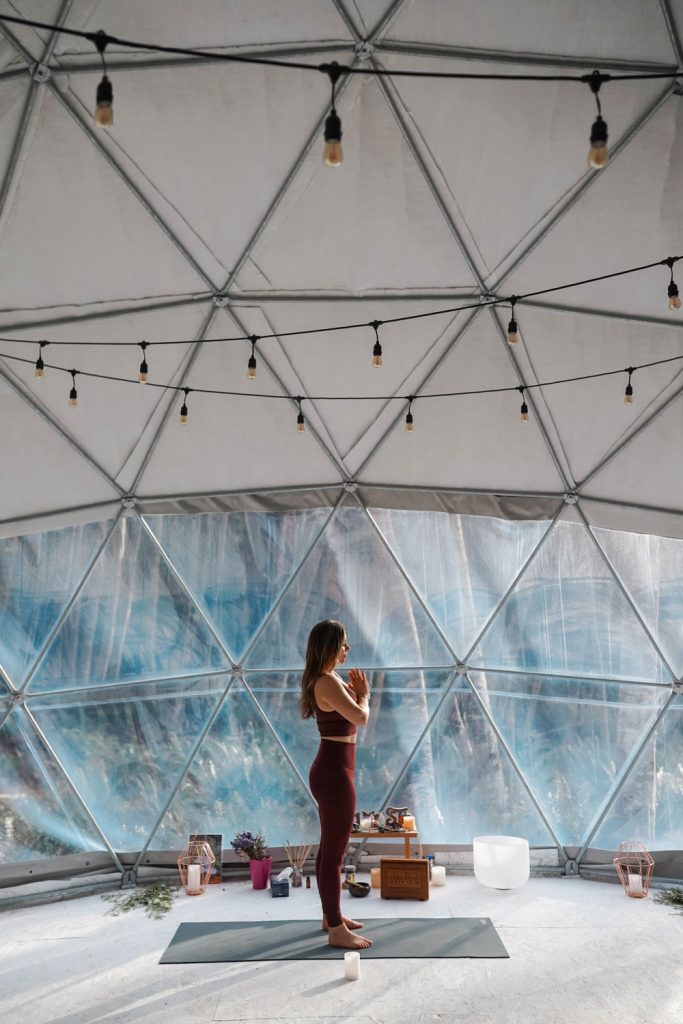 A couple weeks ago I took off to Nectar Yoga with my lovely pal Alicia of Alicia Fashionista for a 2-night yoga retreat—I got to experience the magic of Nectar at their former location about 4 years ago so was so excited for it, especially knowing they'd moved to a much larger and spacious plot of land on Bowen Island (just a 15 minute ferry ride away from the mainland going from Horseshoe Bay). What I didn't expect was how amazing the new Nectar Yoga 2.0 would be—from unbelievable new cabins to this incredible massive lodge that is a design and architecture lover's dream come true to vegan breakfasts that I still dream about.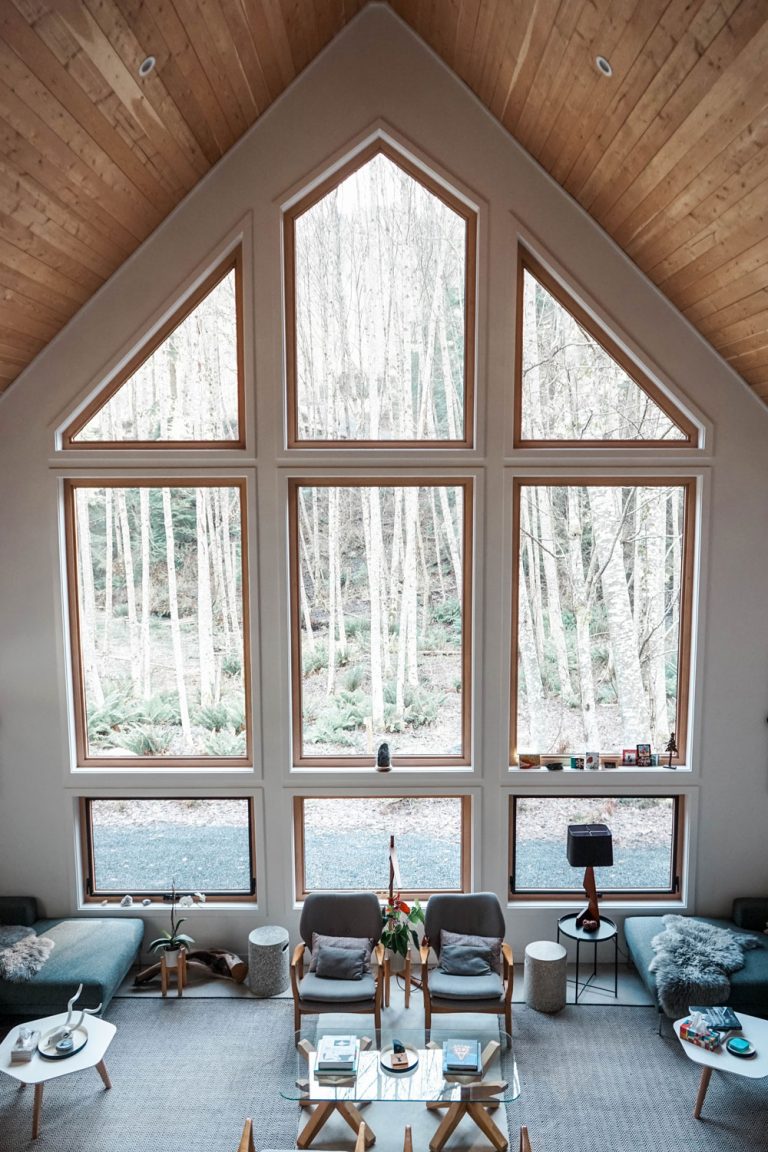 Alicia and I are hosting a joint giveaway with them (you can find my giveaway here, where Alicia's is linked up as well!) to give away a 2-night retreat for one of you to experience before February 28, 2020 (you can choose from either a Monday-Wednesday or Wednesday-Friday stay) and it's been amazing to see the response that's already pouring in since posting it last night. Just a quick note that you can see what the itinerary for those 2 days looks like here if you want a specific idea of what it will entail! I also wanted to share more about our experience and what this new and improved Nectar Yoga retreat experience is like in today's post, plus I wouldn't mind doing a little reliving of it myself as I only wish I could've stayed up for a few extra days! It was so revitalizing and restorative, and has really reinforced some of the practices I wanted to strengthen for 2020. Let's dive in!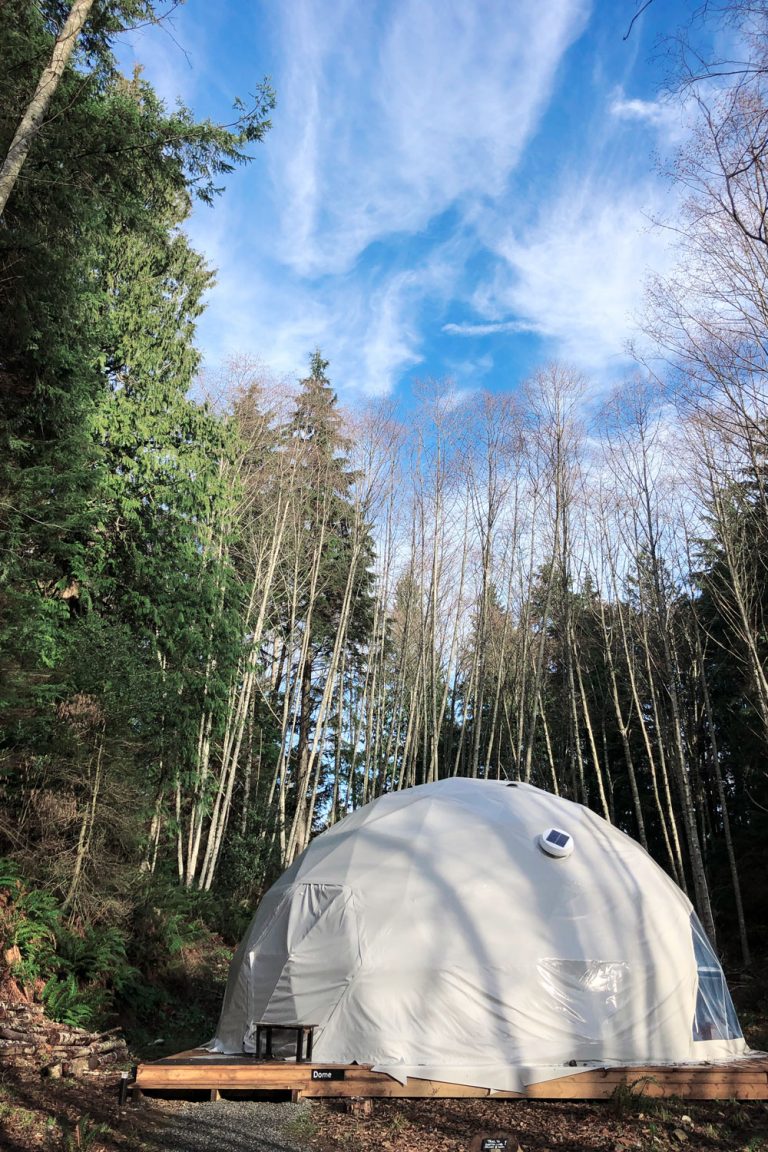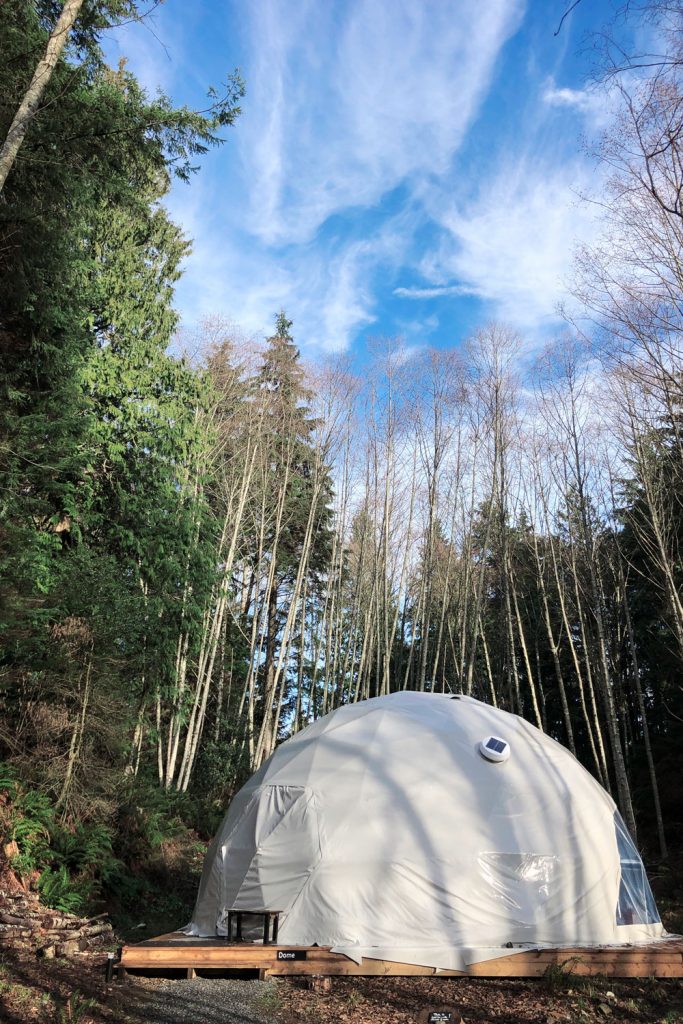 After a seriously whirlwind holiday season (that poured into the new year with a couple quick trips out of the city), I was feeling pretty exhausted and ready for a bit of R&R. Alicia and I have also had so many amazing trips together over the years and she's literally, like, one month away from welcoming her little girl to this world, so I was also really looking forward to us having one last little blogger BFF getaway with the two of us! The weather was dismal and grey and we were both so ready for some yoga, meditation, good food and cozy times spent reading and watching Gilmore Girls in our beds.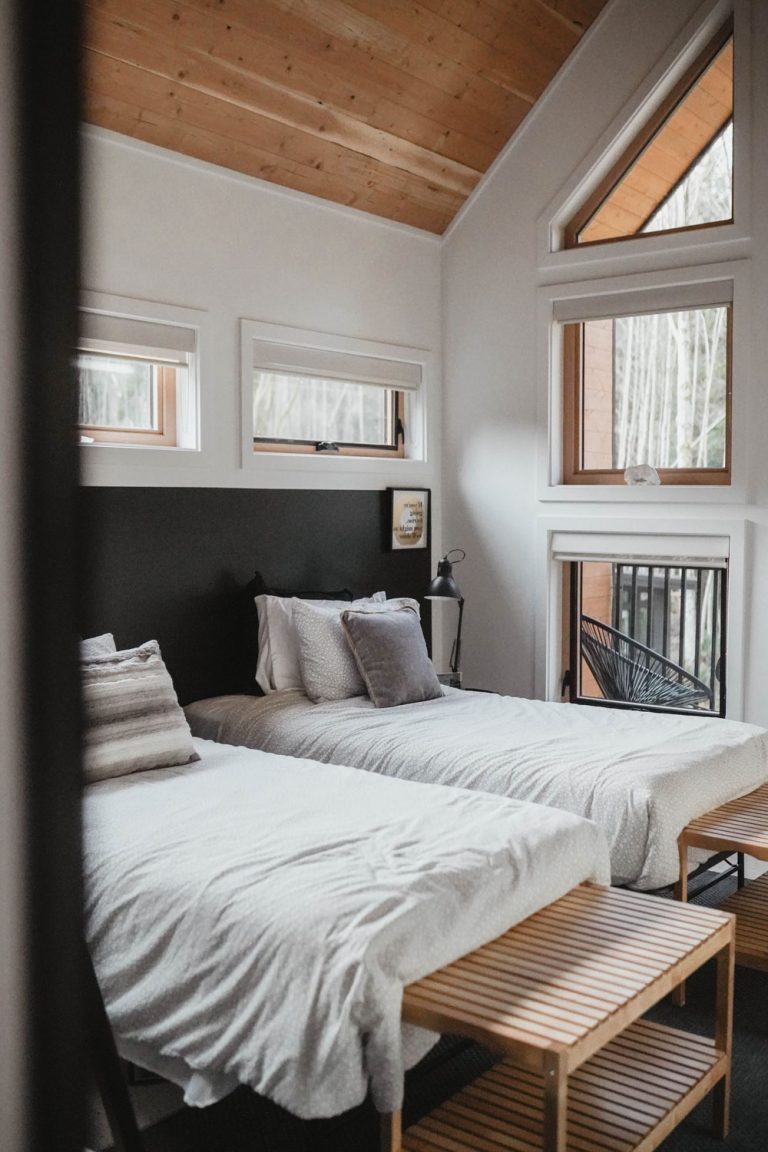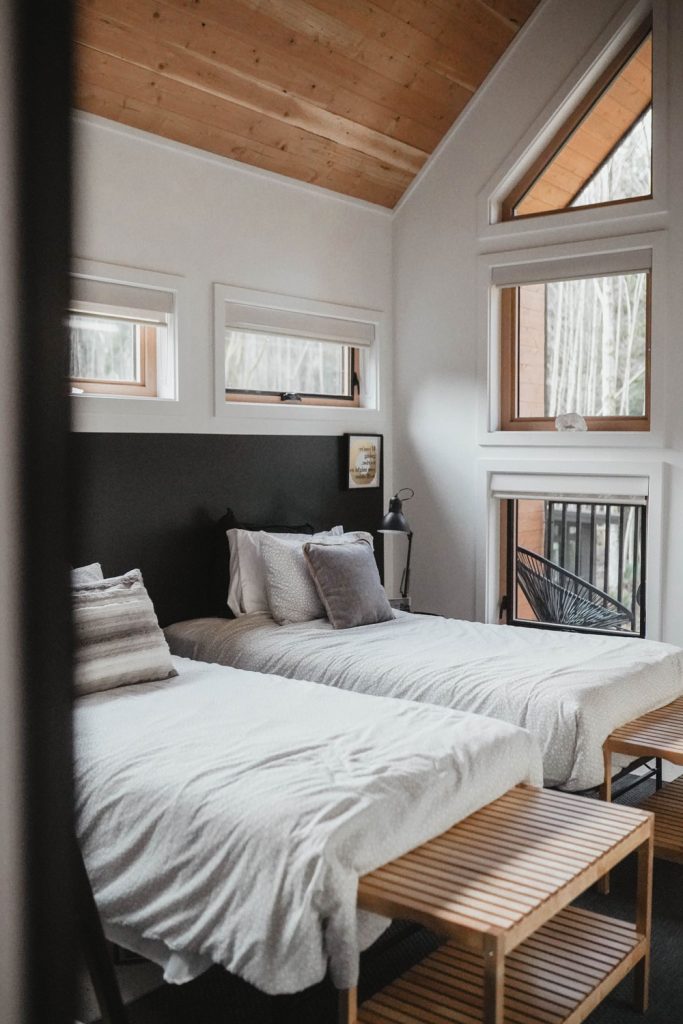 We pulled up to the new property which is literally just 5ish minutes away from the main cove you enter Bowen Island in and we both were immediately speechless—a gorgeous stream cuts through the property, with the lodge towering above it, all glass from floor to ceiling to take in the beautiful view of the stream and forest in front of it. Surrounding the lodge are a collection of A-frame cabins (that are just begging for a 'gram) and larger cabins towards flanking the yoga dome (which is heated in the winter to make for a cozy & warm experience without detracting from that immersive experience with the forest surrounding).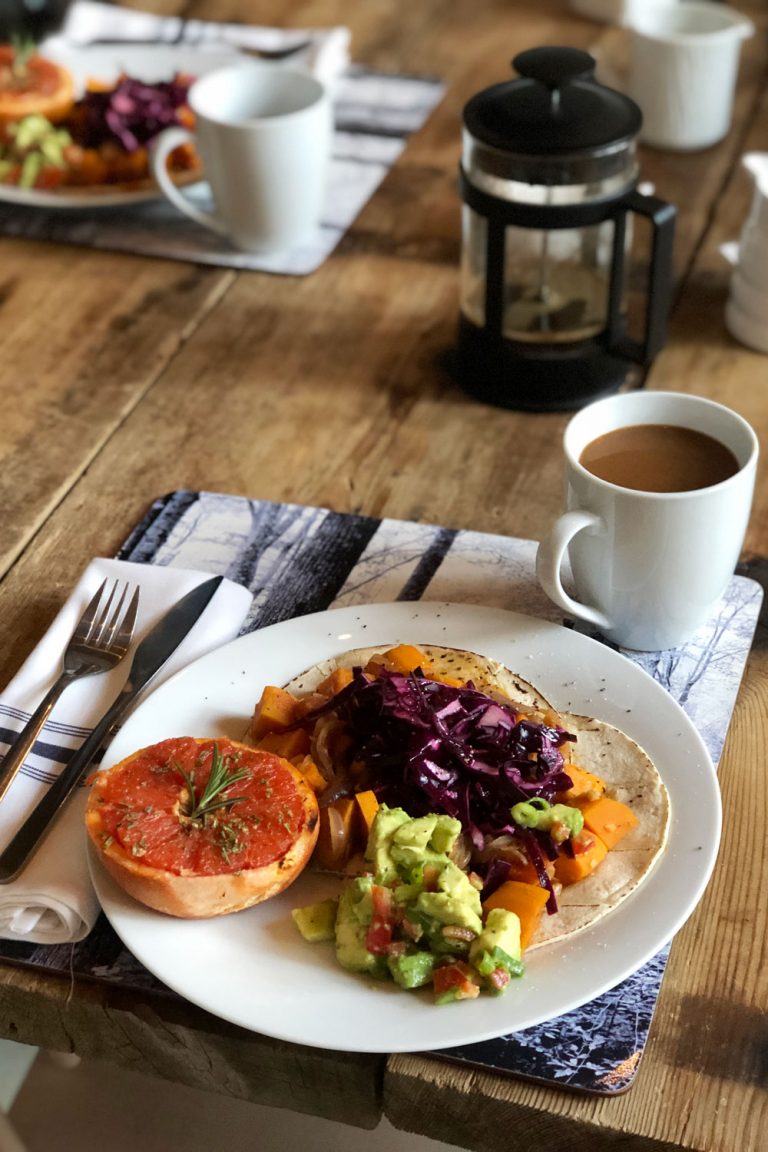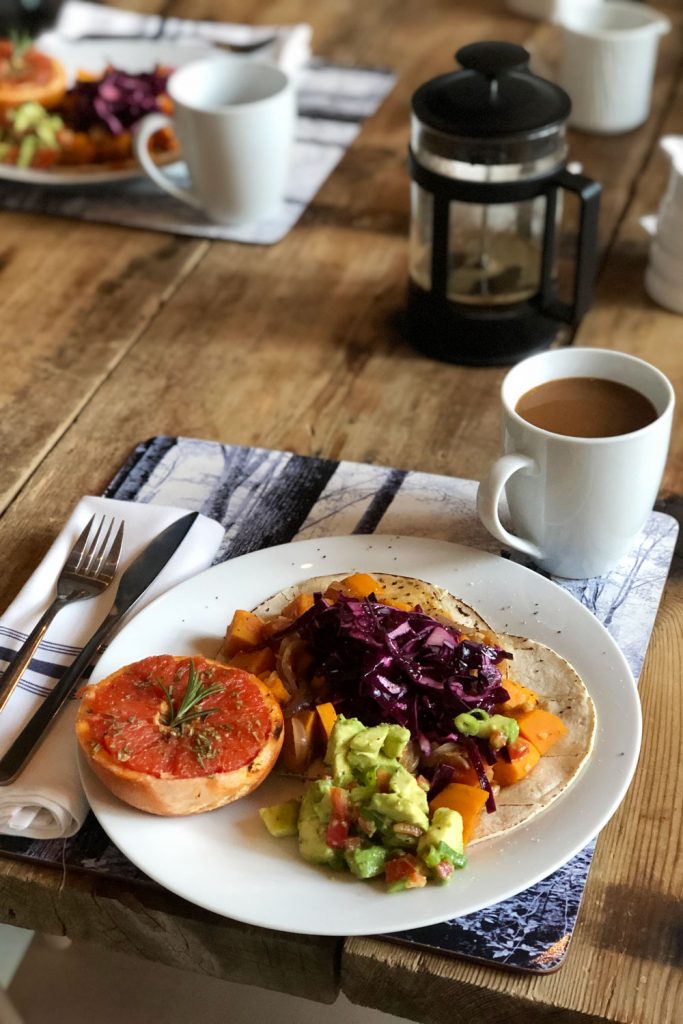 It was so good to connect with Andrea, the owner of Nectar Yoga, again—she is such a heart-centred and warm person. She is truly my favourite yoga instructor I've ever experienced and she's literally a miracle worker—if you mention you're dealing with a sticky place or injury, the practice she takes you through and poses she eases you through work magic. She also leads the meditations, which are maybe some of the most calming and serene experiences ever!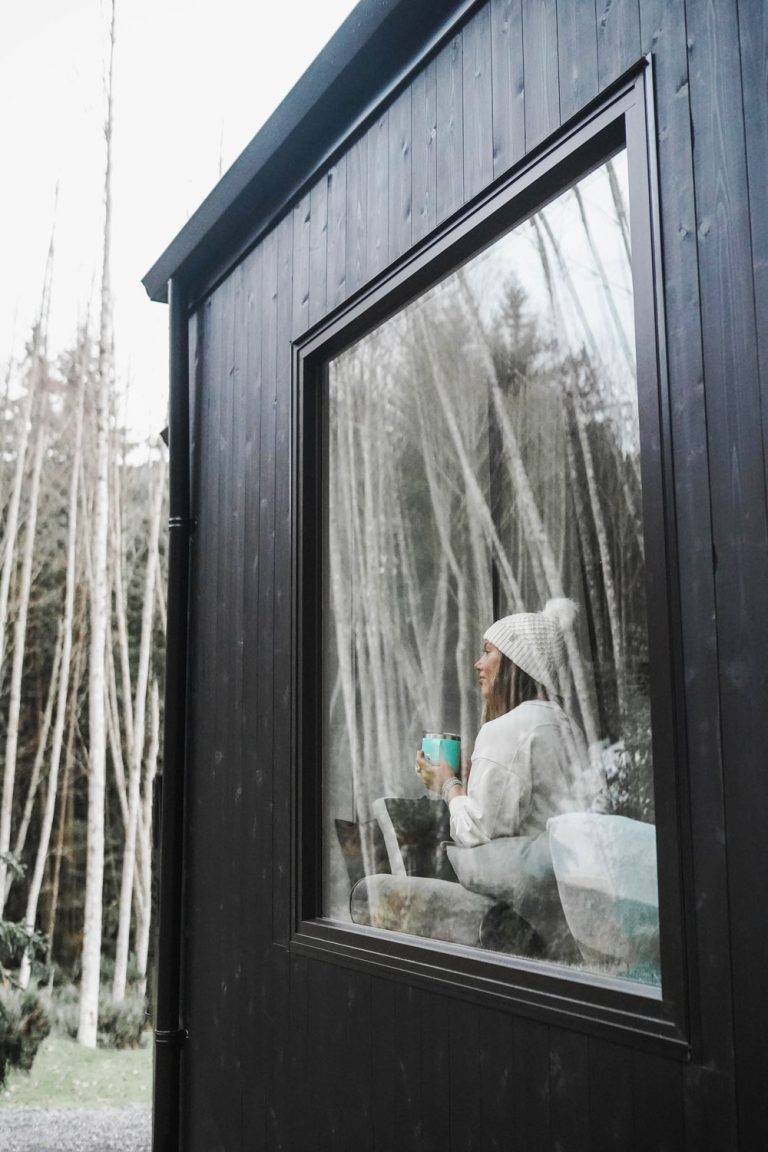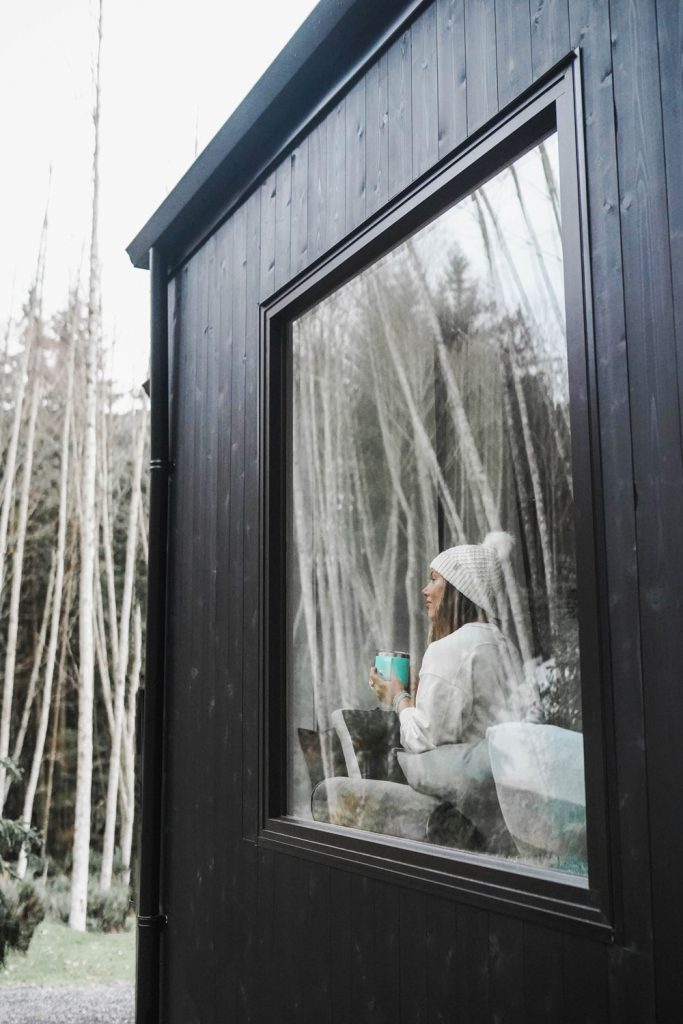 We settled into our gorgeous Quartz Cottage, with views of the dome right from our picture window. The cottage itself is so stunning, with thoughtful design throughout, the coziest beds, everything you need for a comfy and restful experience (from tea to hot water bottles to extra blankets and pillows to slippers) and my personal fave, the outdoor shower!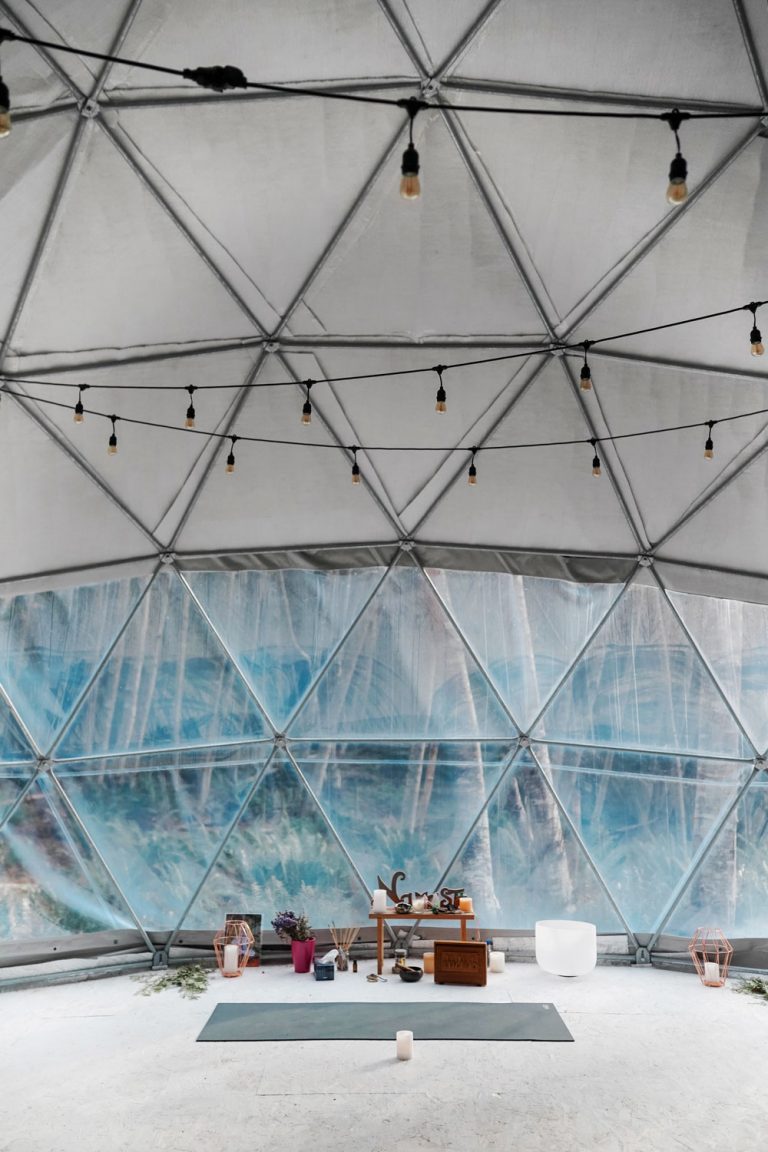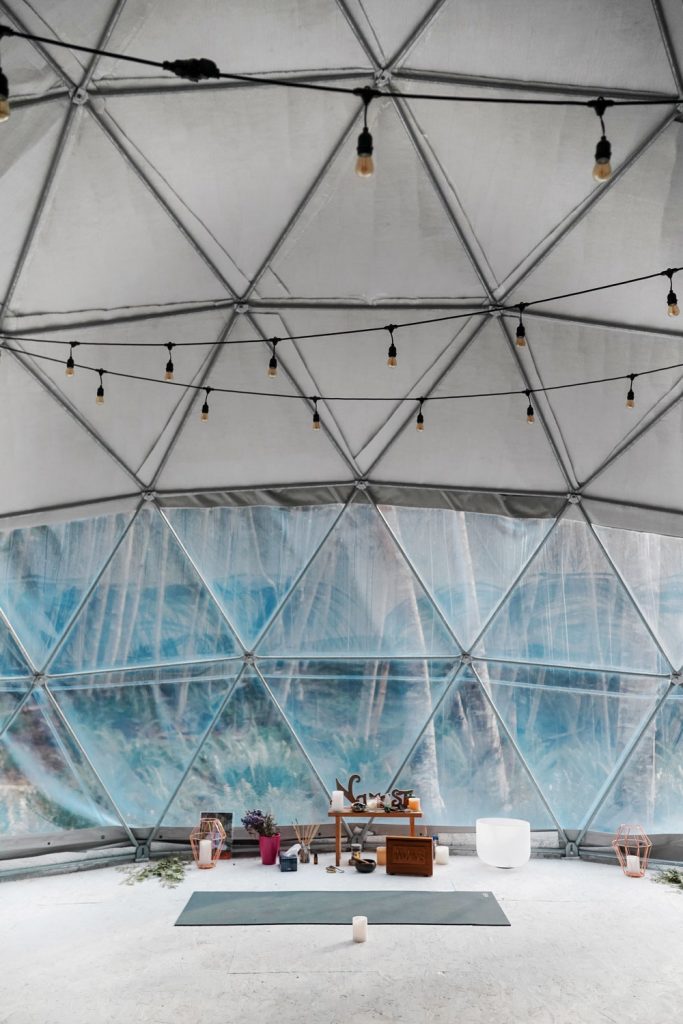 We headed over to the dome for our evening yoga class followed by a 20 minute relaxation period. It was honestly pure magic—a deer watched us as it munched on vegetation in the forest, and Alicia and I both completely fell asleep during the relaxation following our yoga practice. I left feeling calmer, more rested and more open than I have in awhile, especially after the insanity of the holidays. The next morning began much the same way, with a 30 minute led meditation followed by an amazing yoga practice. I've been doing weight training about 3-4x a week for the last couple of years and it's been great for me (I have a lot of misalignment from scoliosis so it's really important for me to be really strong), but I have been really neglecting stretching and just opening up and lengthening my muscles as well. I could literally feel my body get looser over the few yoga classes we had at Nectar, it was incredible.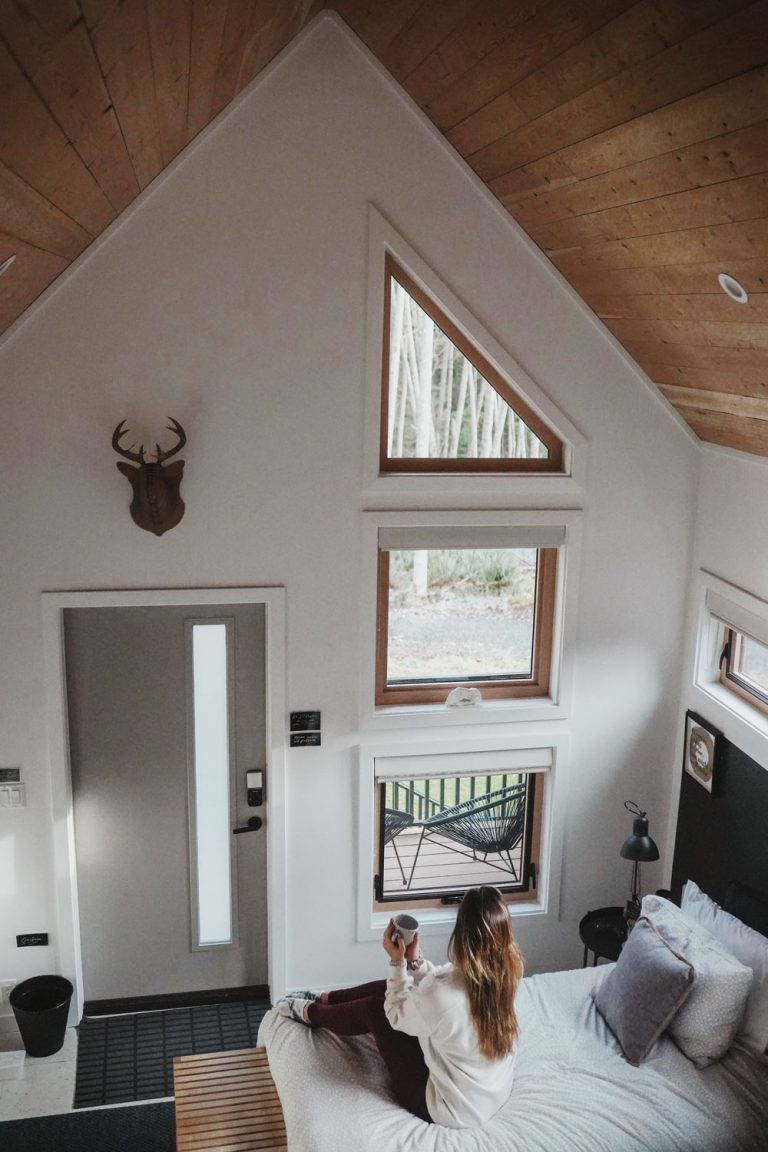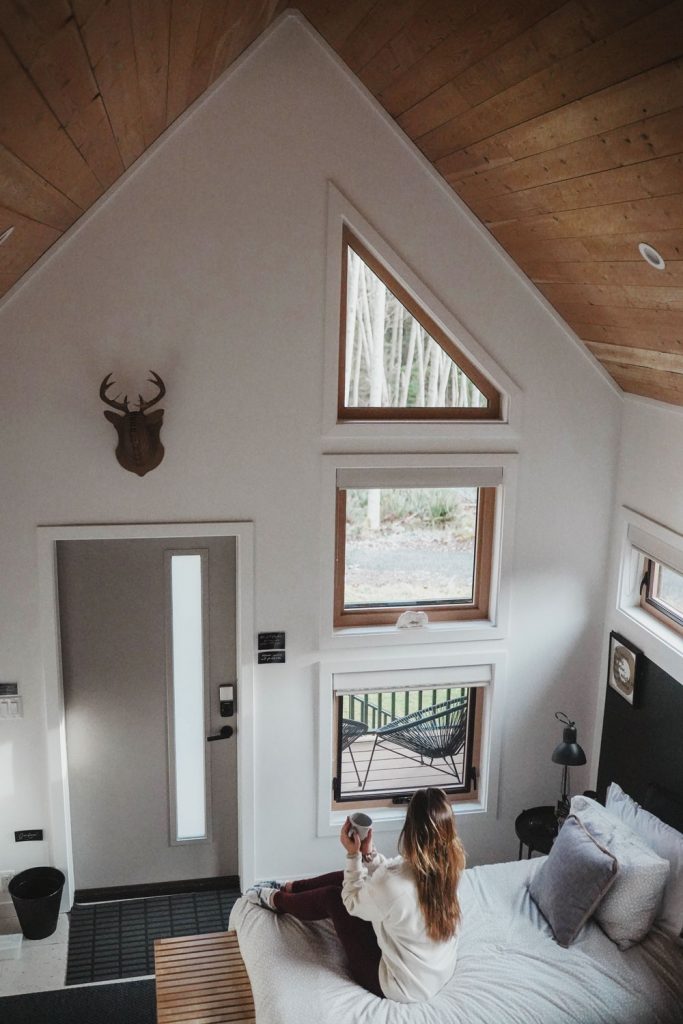 During the day, we had the opportunity to explore Bowen Island (which is amazing and such a great day trip from Vancouver, with amazing hikes, beaches, shops and restaurants to check out) but we wanted to take advantage of the cozy, cabin vibes and just stay locally, so we spent our time catching up with each other and the other guest in the lodge, which is the main meeting point for breakfast, followed by some serious relaxation. It's so important to take that guilt-free time off to just reset and it really helped so much.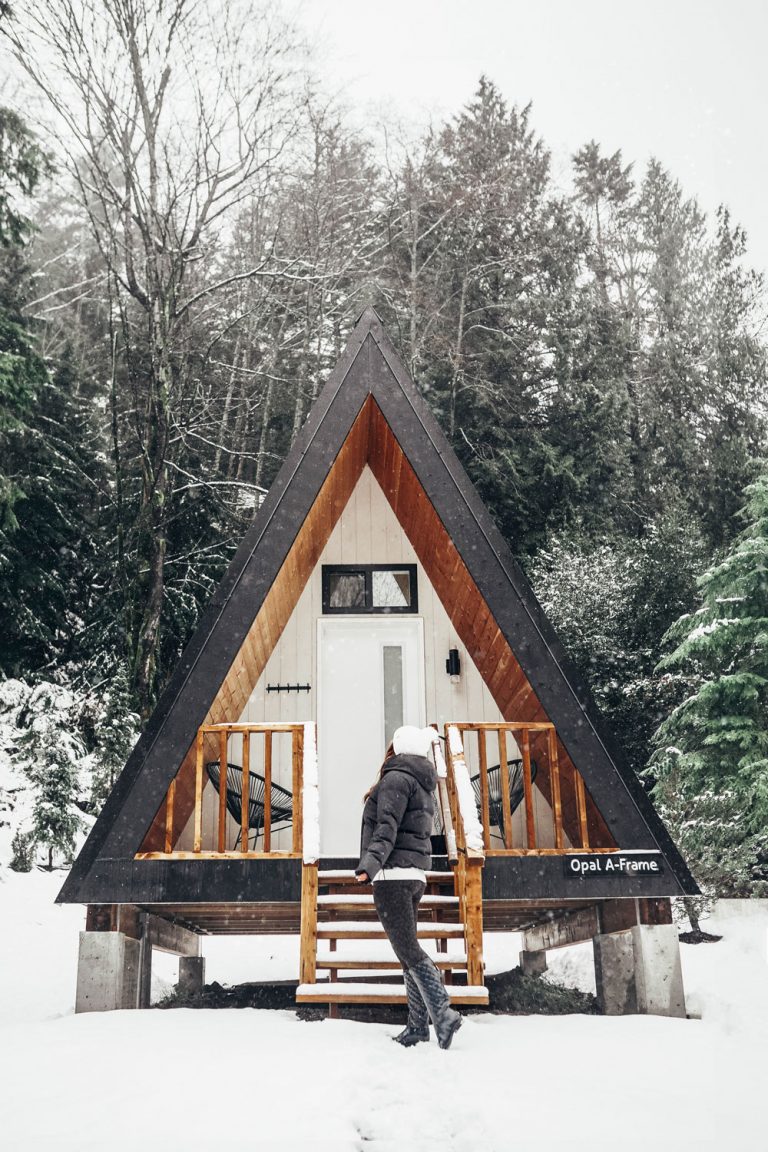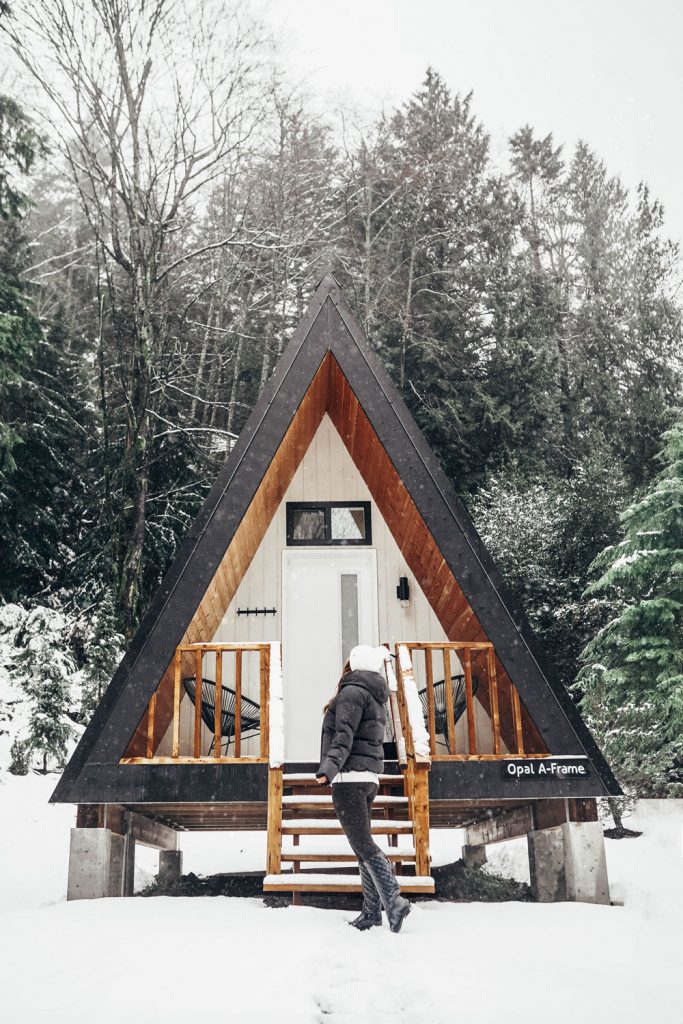 If you saw my stories, then you likely saw that we woke up to snow the next morning—so magic! We made our goodbye's but promised we'd be back again sometime later in the new year because we just can't get enough of Nectar. I loved the experience so much 4 years ago but with the new location and new amenities that Nectar has moved to recently, it's just hit a new level that I couldn't have dreamt of. Again, make sure you enter our giveaway but in the meantime, learn more about what it's like to experience Nectar over on their site here! A big thanks to Andrea, Sat and Khia from Nectar for this special stay!
All the photos from this post were edited with the Snow or Decor Presets from The TVOB Presets Classic Collection.