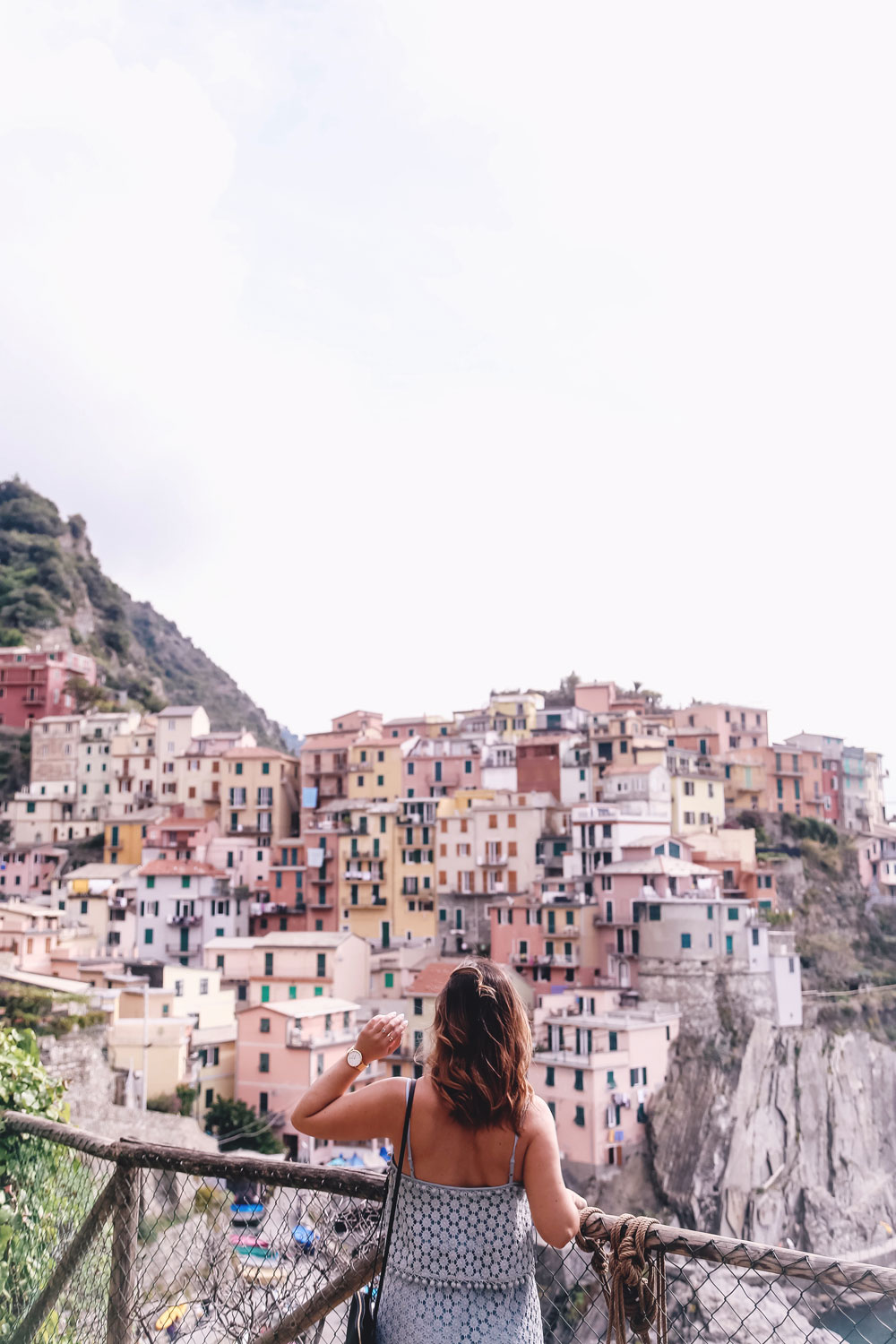 Welcome to officially my absolute favourite part of Italy: Cinque Terre! While I absolutely loved Rome, loved Tuscany and after this incredible coastal experience, would fall head over heels for Florence, Verona and Venice, Cinque Terre undoubtedly has my heart. Even though it's become so much more touristy over the years, it still gives you a real feel of what a beautiful, slow life in these tiny coastal towns must've been like.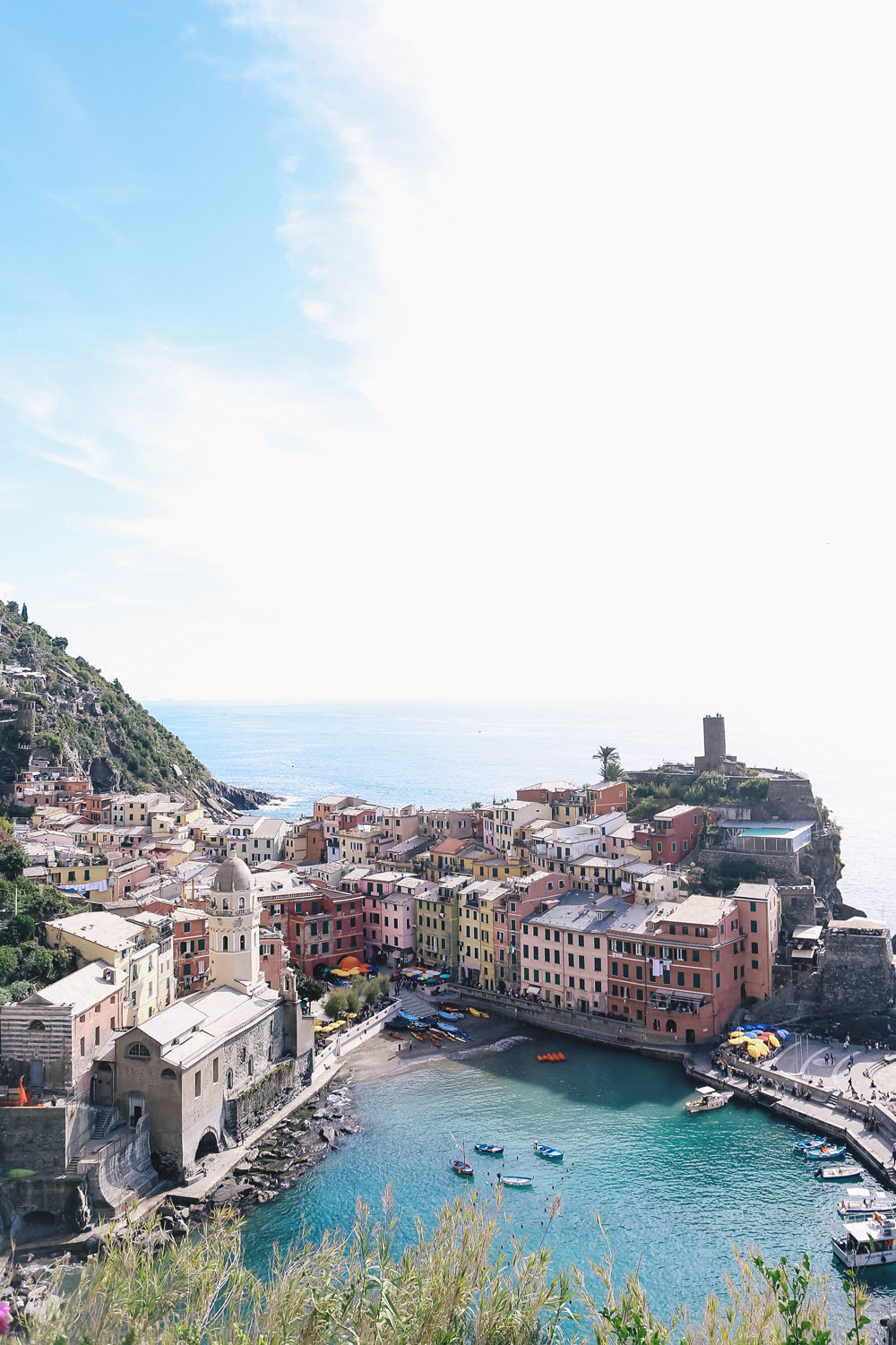 Cinque Terre translates to Five Lands, including the five villages (from east to west) of Riomaggiore, Manarola, Corniglia, Vernazza and Monterosso al Mare. It's located in the Liguria region of Italy just outside of La Spezia (where you'll likely transfer to by train to then get into the Cinque Terre since cars can't access the towns, hence part of the reason it feels so protected from modern intrusions).
---
where to stay
The first question we had when we got here was what village we wanted to stay in—honestly, you could stay at any but the general rule is that Monterosso al Mare is the more resorty area and Corniglia is probably the least touristy of them all. We opted for Riomaggiore (you can read my Airbnb guide here which lists our spot!) and couldn't have been happier with our choice—it was so easy to get around (you can get packaged tickets for the train if you're planning on taking the train to and from the villages to visit the other 4!) and Riomaggiore was a happy medium of being the most easily accessible while still retaining a sense of authenticity, especially if you climbed up the hill to the higher regions of the town. It is a bit more touristy-heavy than somewhere like Corniglia, but we still really enjoyed it. Moving on to the good stuff now: all the essential must-see's of Cinque Terre! Scroll down to read it all.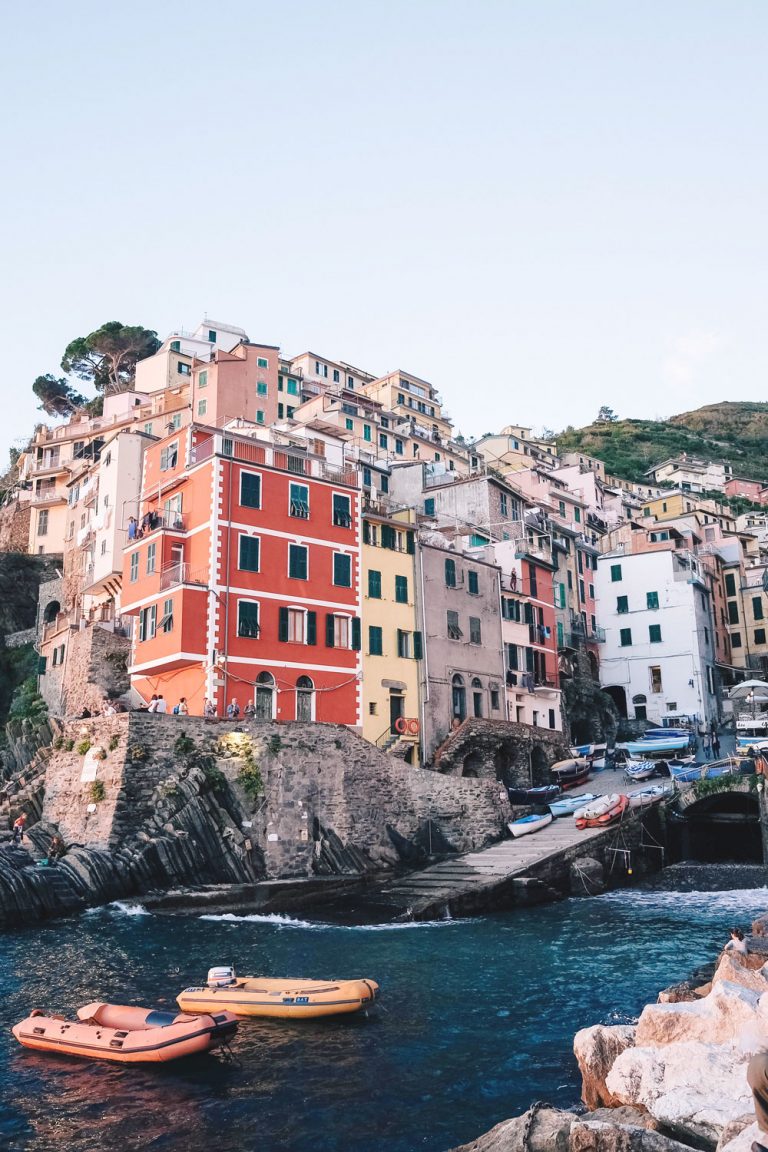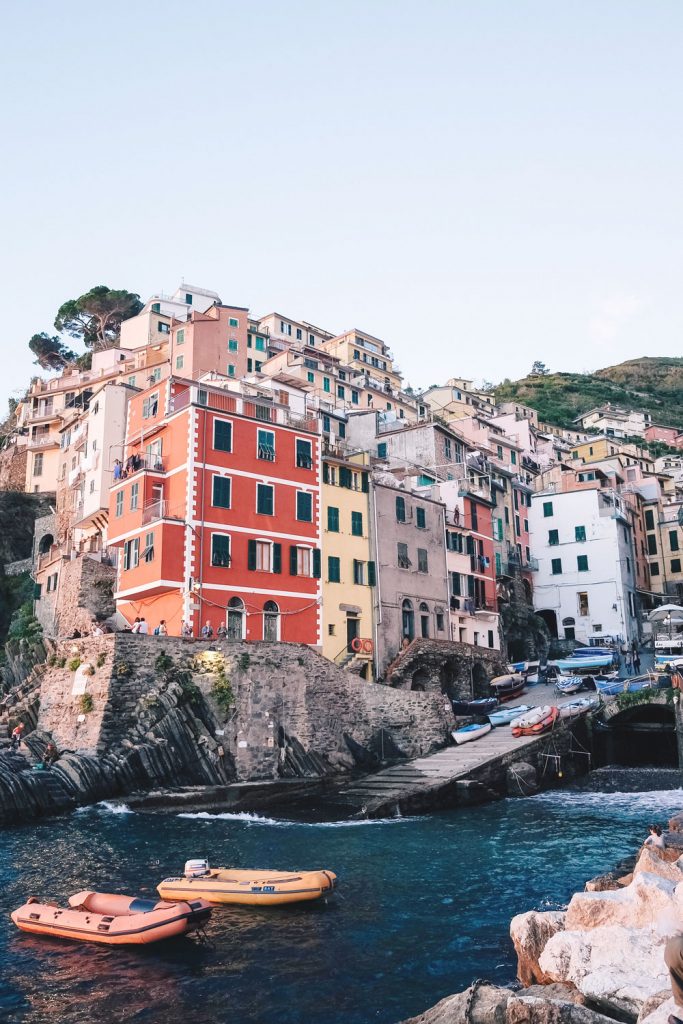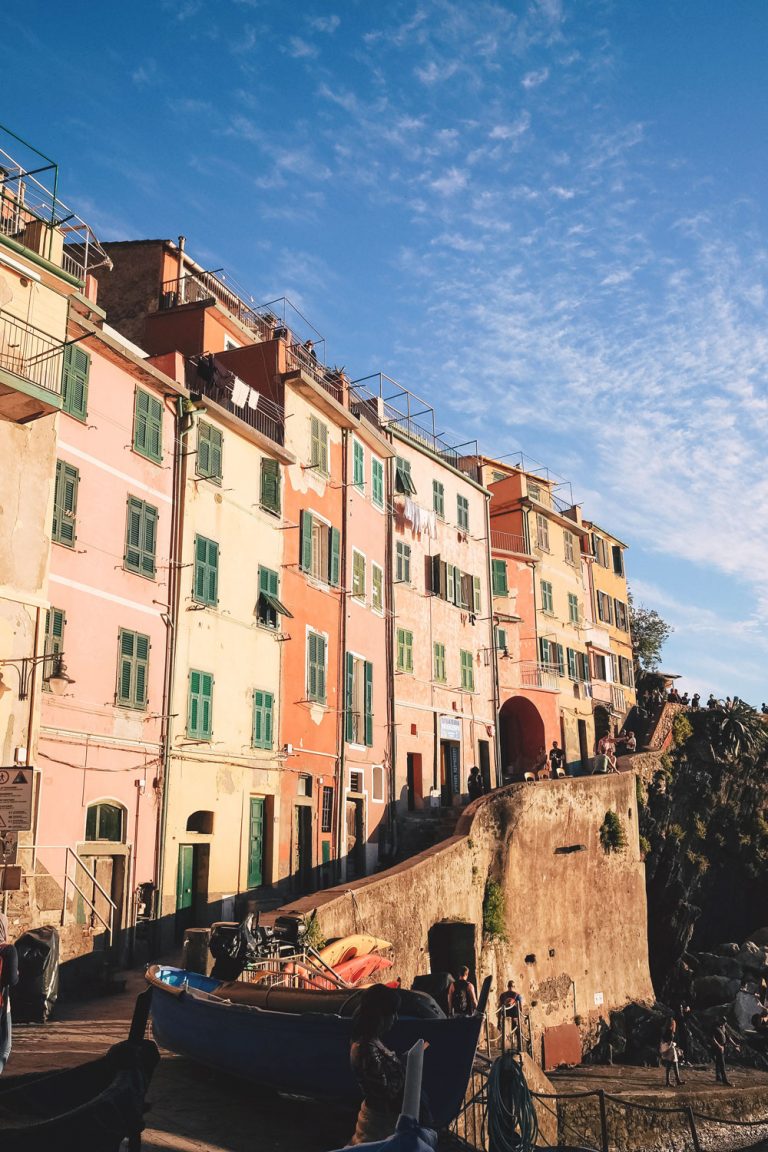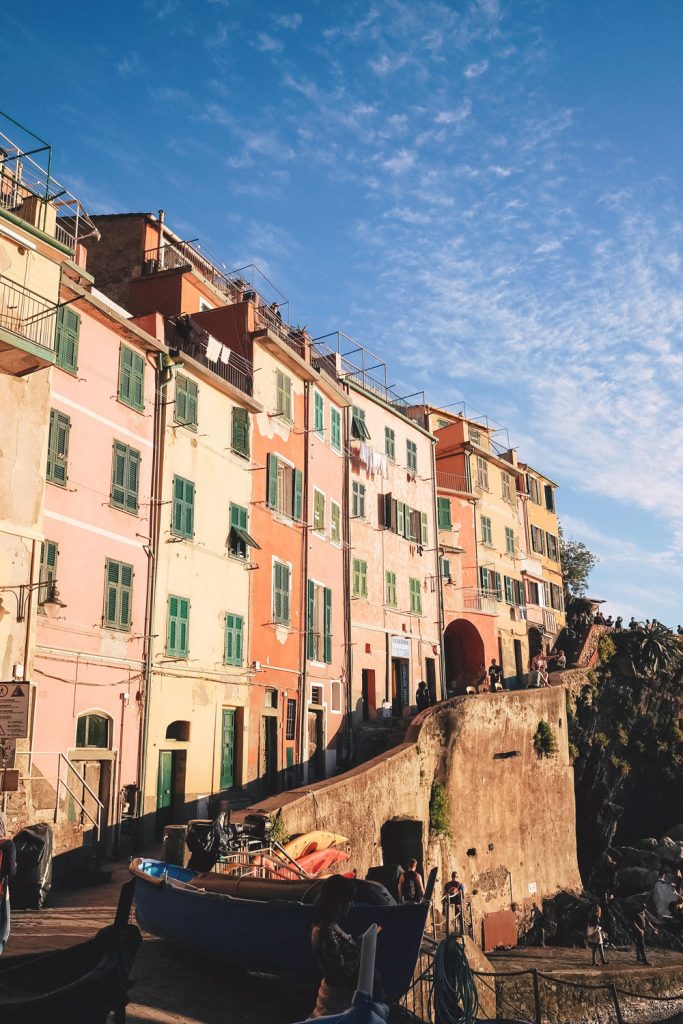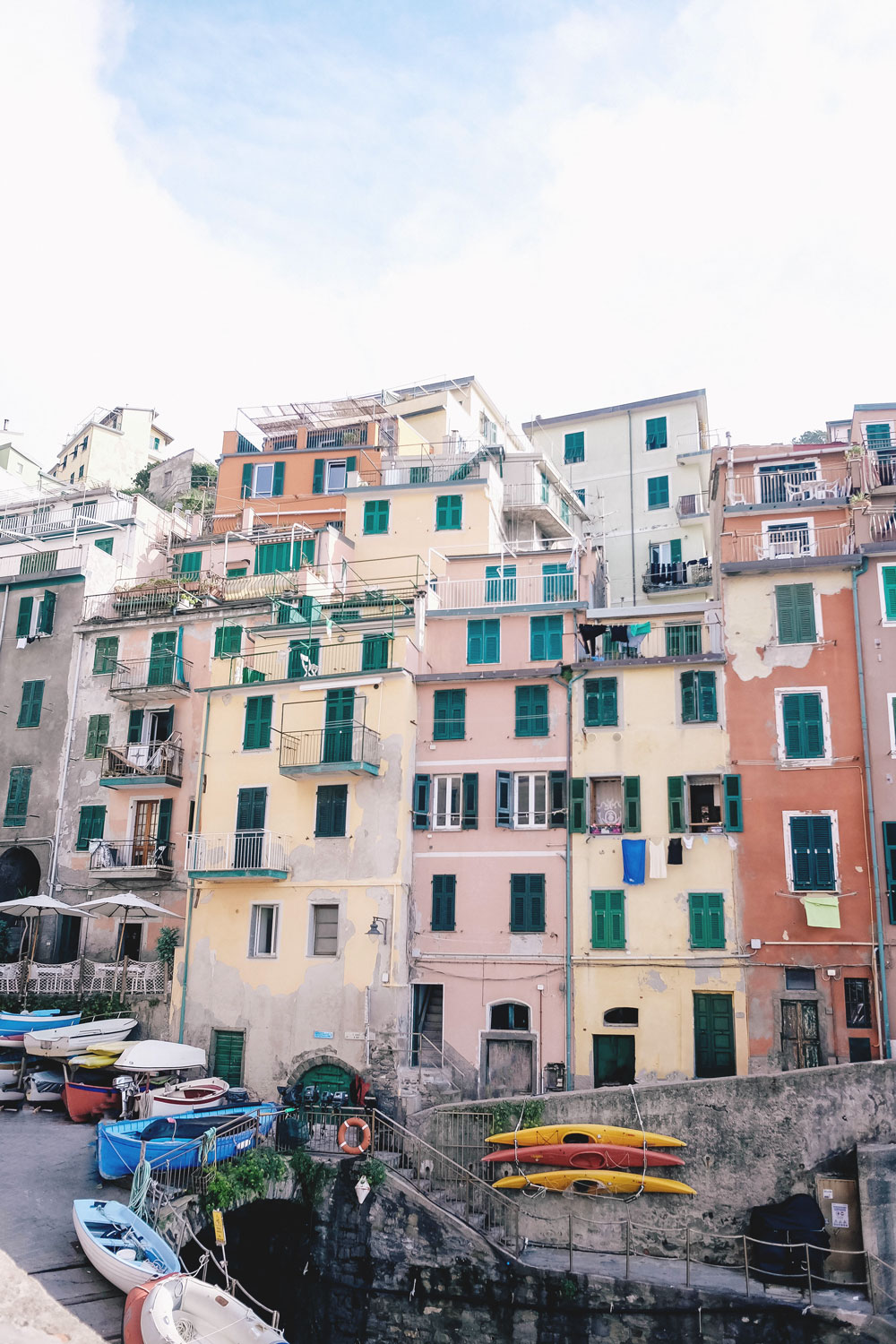 ---
Sunset at Riomaggiore
So let's start with Riomaggiore! I feel like sunsets in this part of the world are just so special—similar to those famed Oia sunsets (and if you need to remember what they're like, see my Santorini posts!). You have to grab a snack and a drink and relax in the harbour to watch sunset—it's so beautiful from here and against all the vivid tones of the houses surrounding the harbour, it's just a really special experience to see the colours change.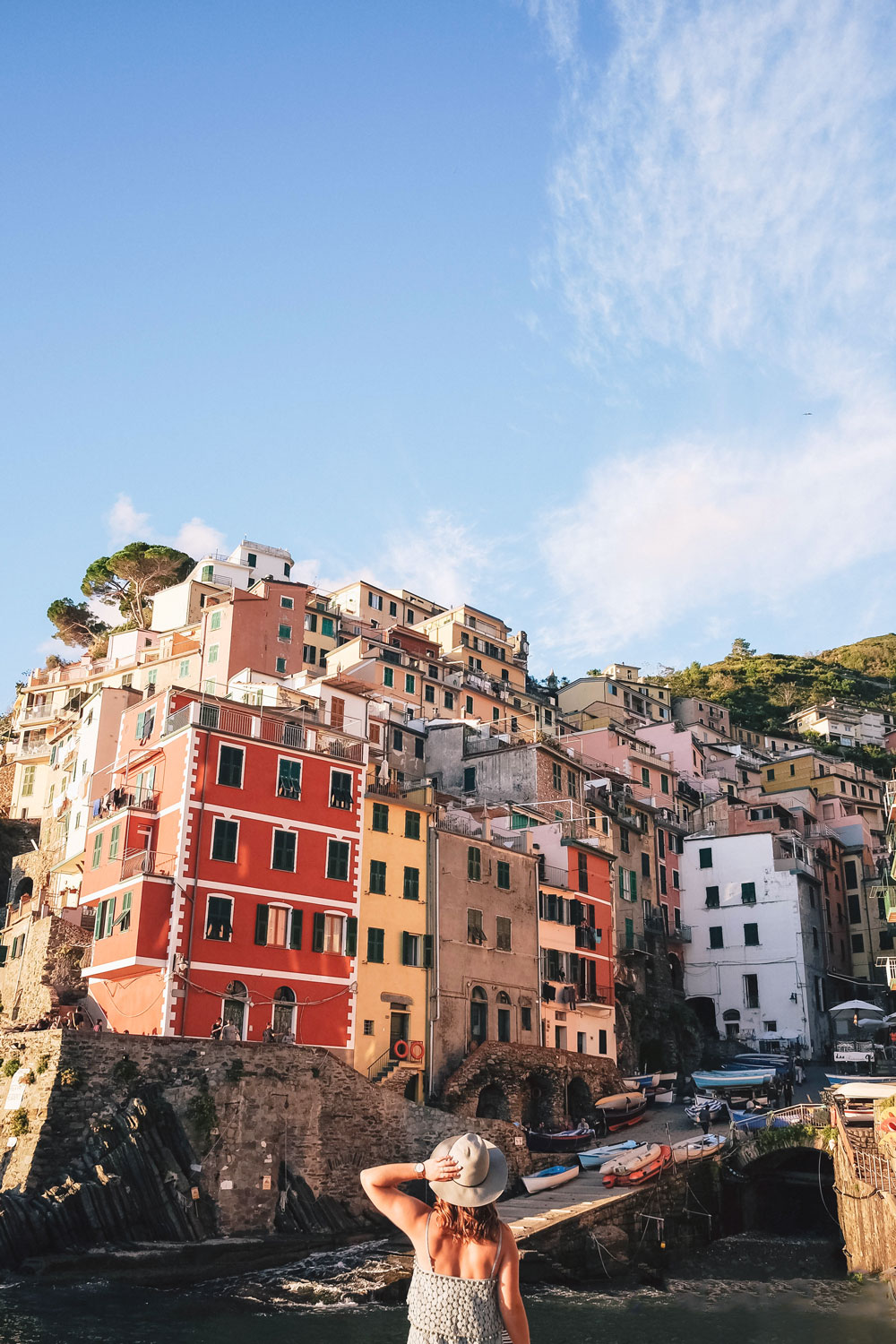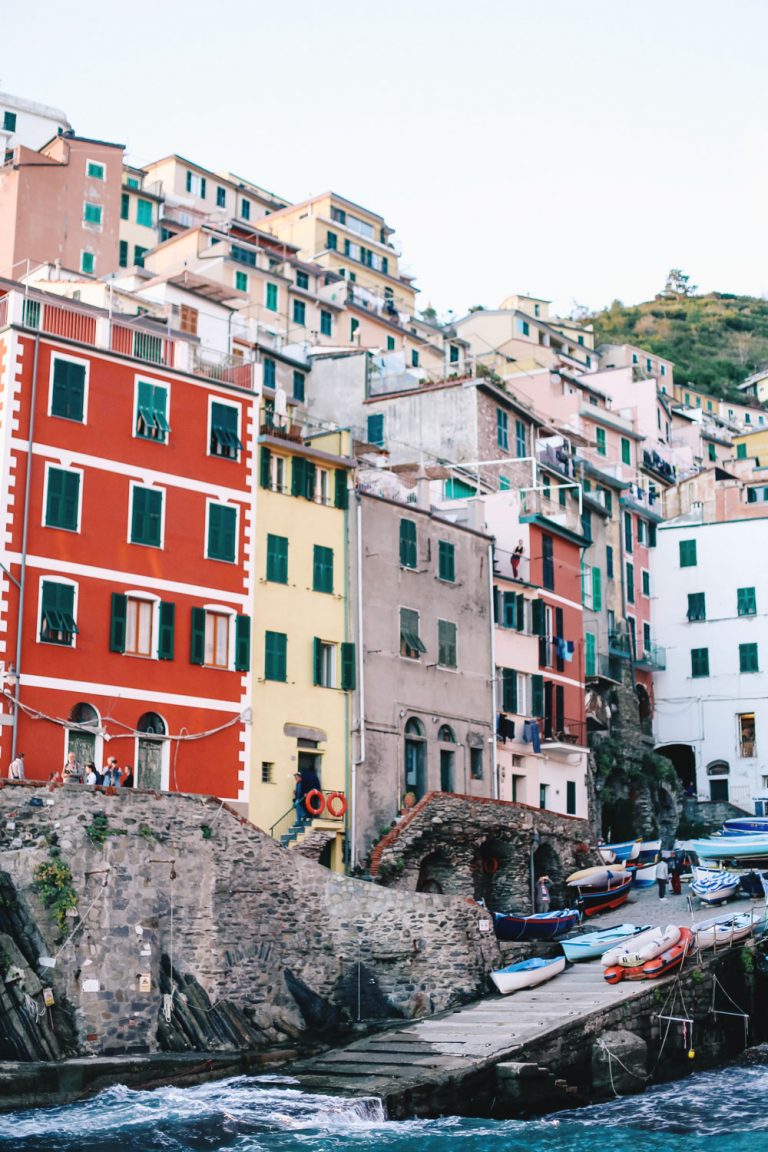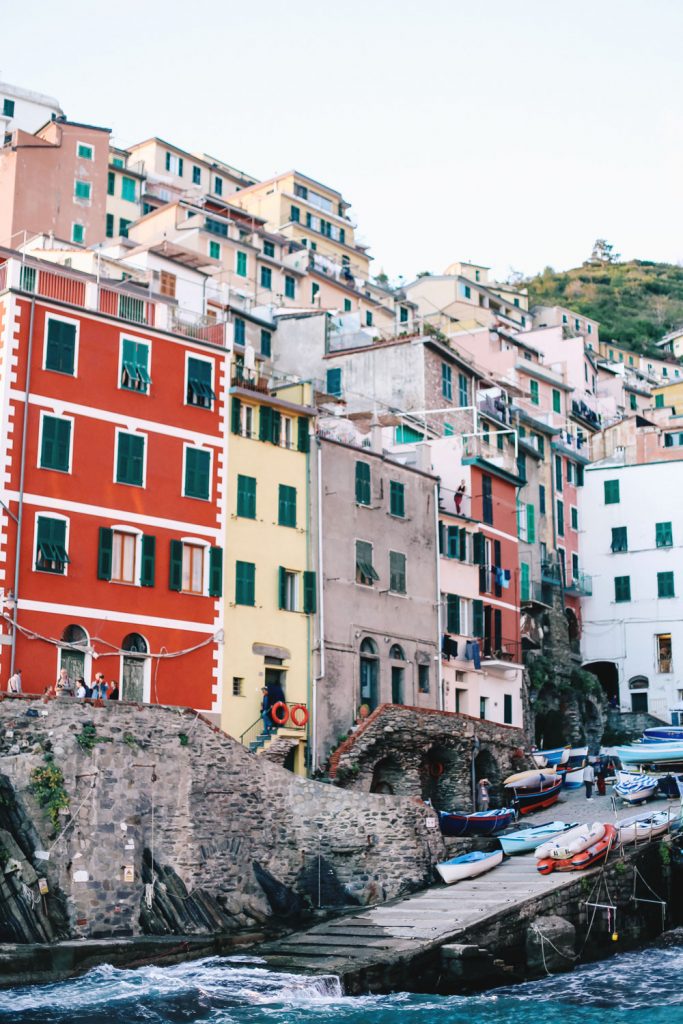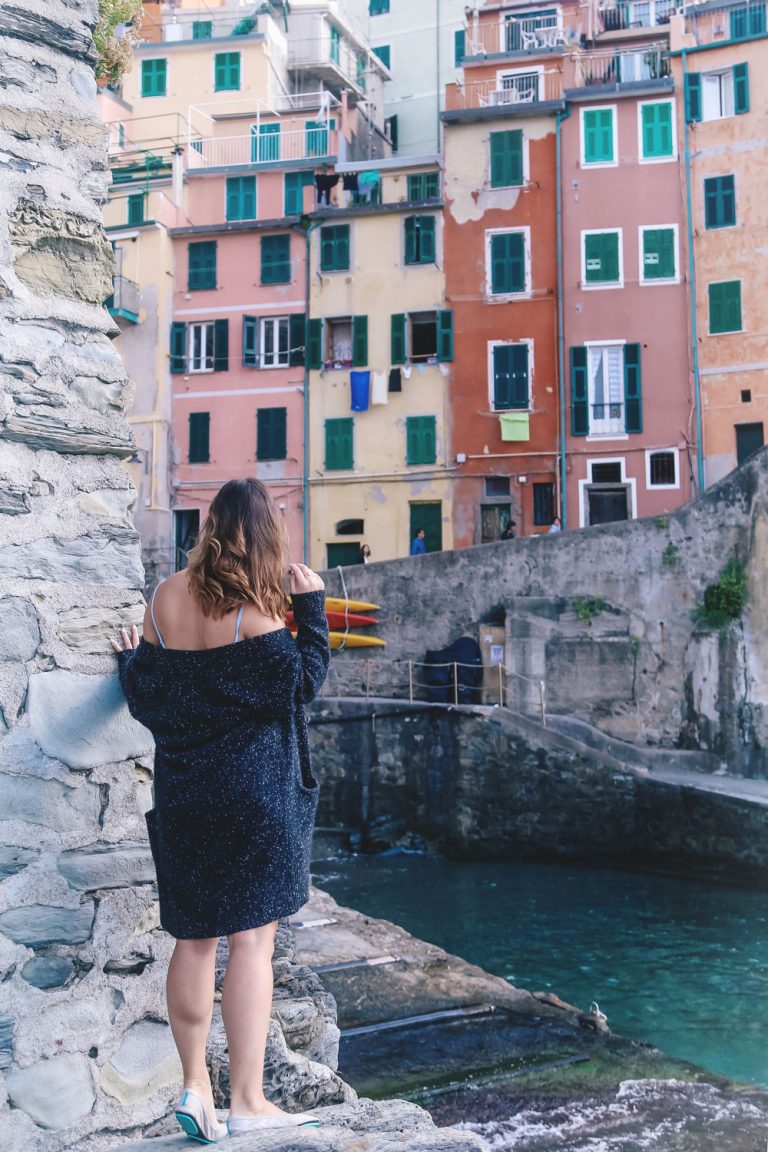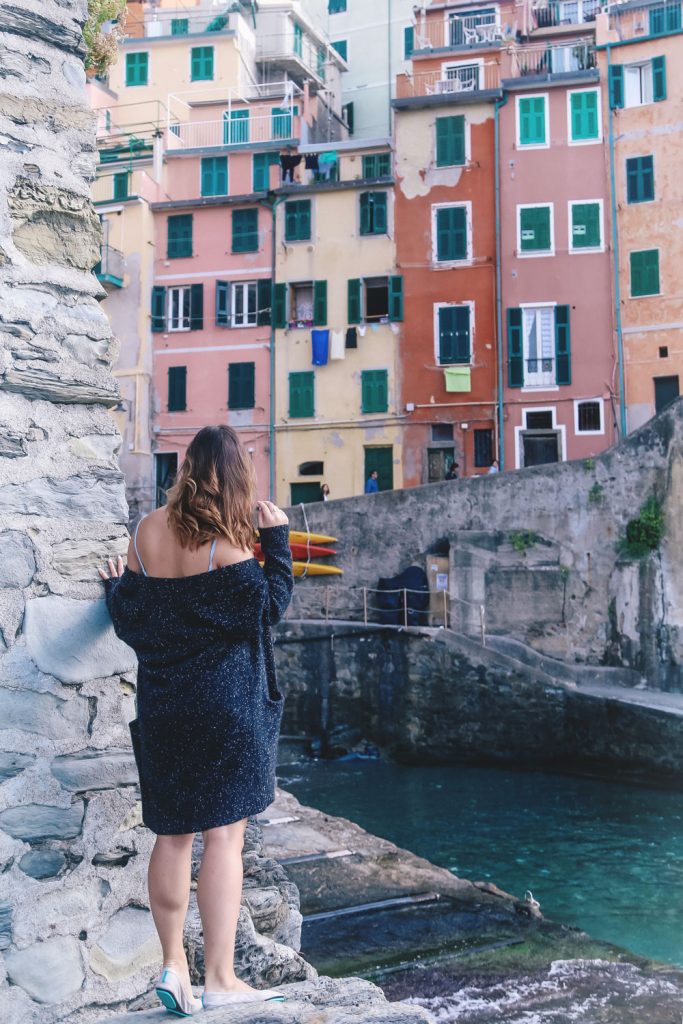 You also have to walk up to the top of town and get views of the whole town from above—it's always the harbour that everyone stays in but from above, it's so beautiful and so much more quiet and serene. While the famous Via dell'Amore has been mostly shut down for some time now (rock slides in 2012 shut down a huge part of the walk), you can still walk a touch of it—it's so beautiful. There's also this fantastic little bar at the end of it with this amazing view of the turquoise waters below—definitely a must! The walk usually links Riomaggiore and Manarola, overlooking the ocean the whole way and saving you from the rugged hilly walk you'd have to make otherwise!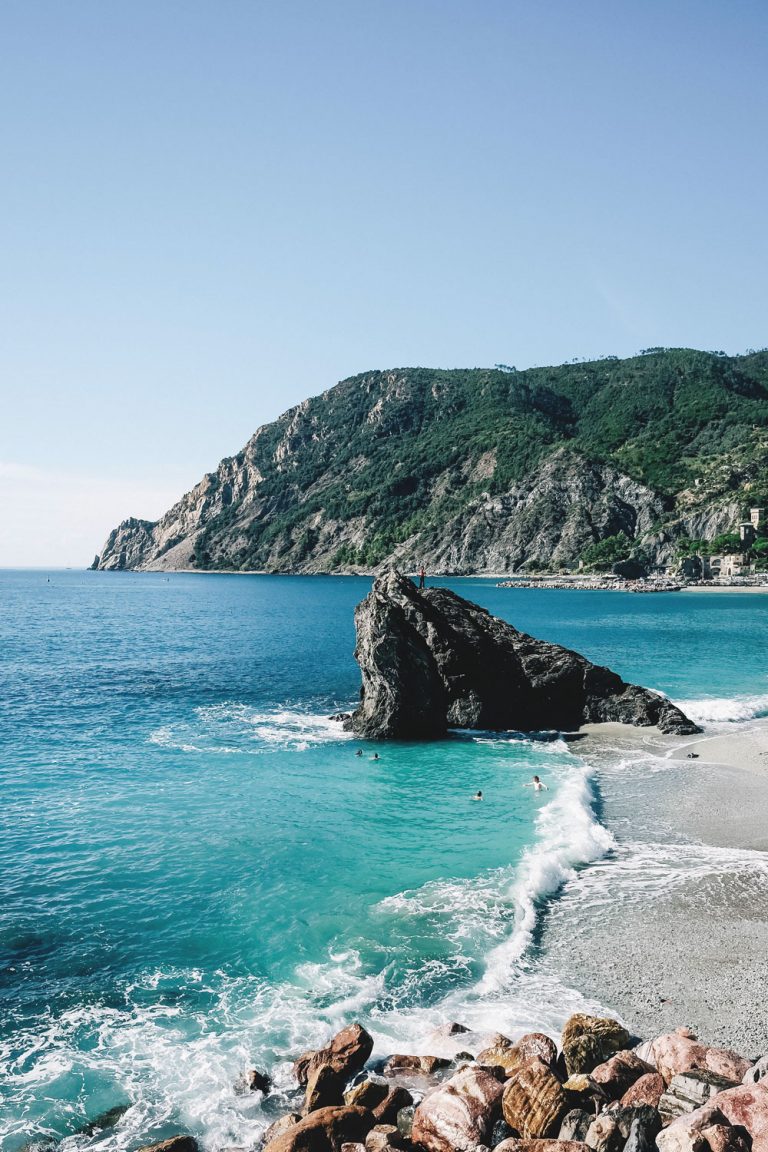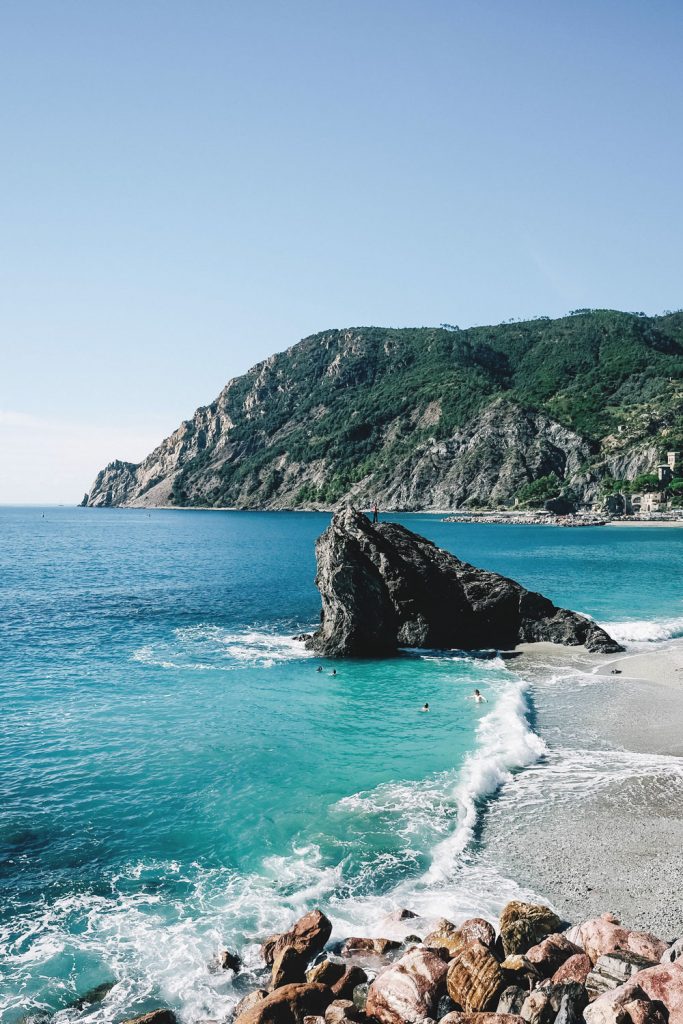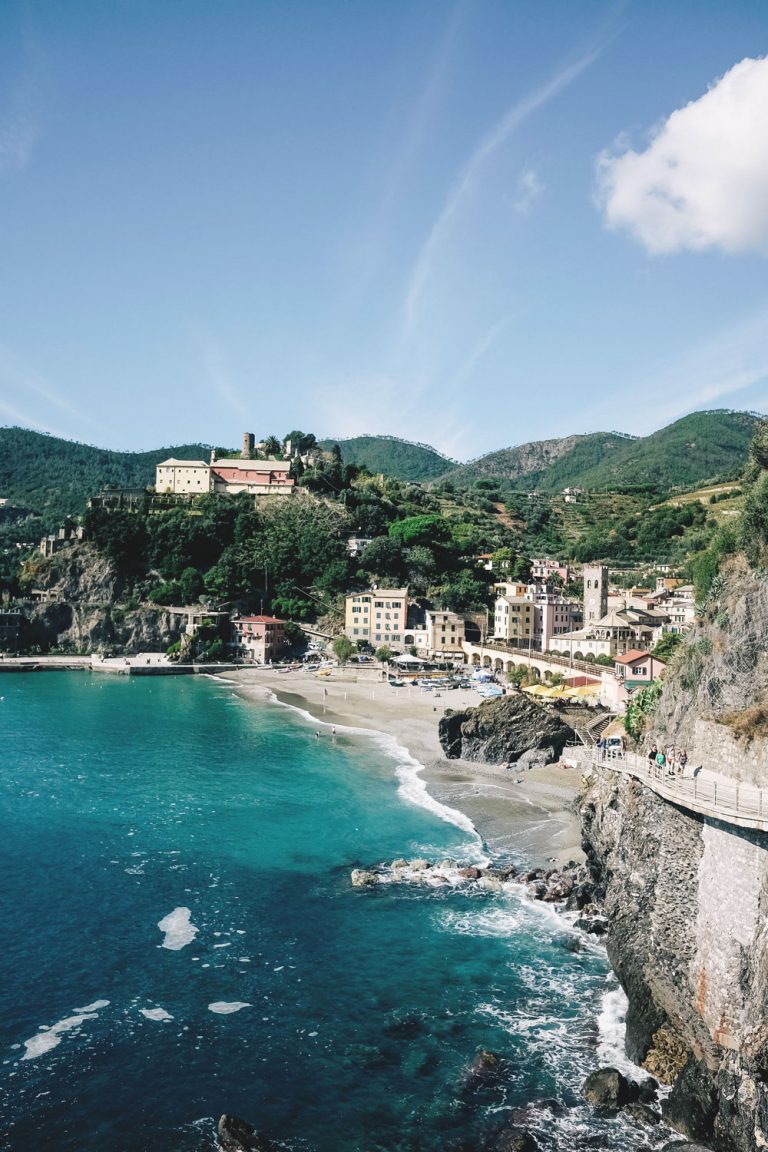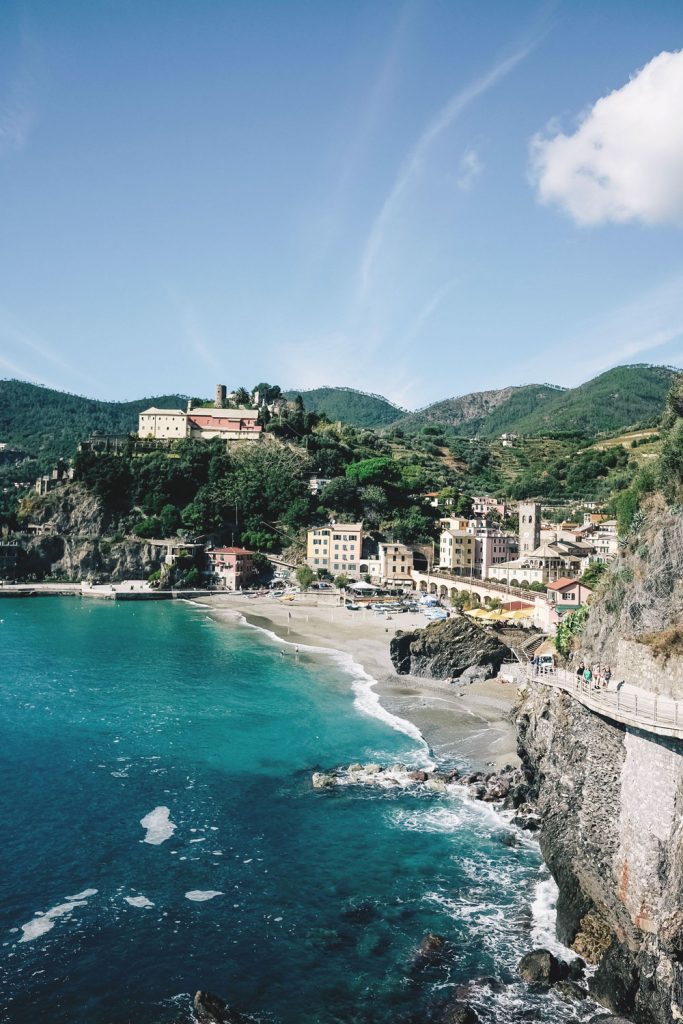 ---
hiking cinque terre
But speaking of rugged, hilly walks, there is a fantastic hike you must do, at least in part. It was seriously muddy through certain regions so we were told not to do anything between Corniglia, Manarola and Riomaggiore (the three most easterly towns), but what I'd advise doing is starting on one end (we started at Monterosso al Mare) early in the day and then calling it quits either by doing it all (if weather permits) and wrapping it up with an Aperol Spritz (or a glass of amazing Ligurian white, more on what to eat and drink soon!) or picking a spot a few villages later like we did with Corniglia! Just catch a train back to wherever you're staying after!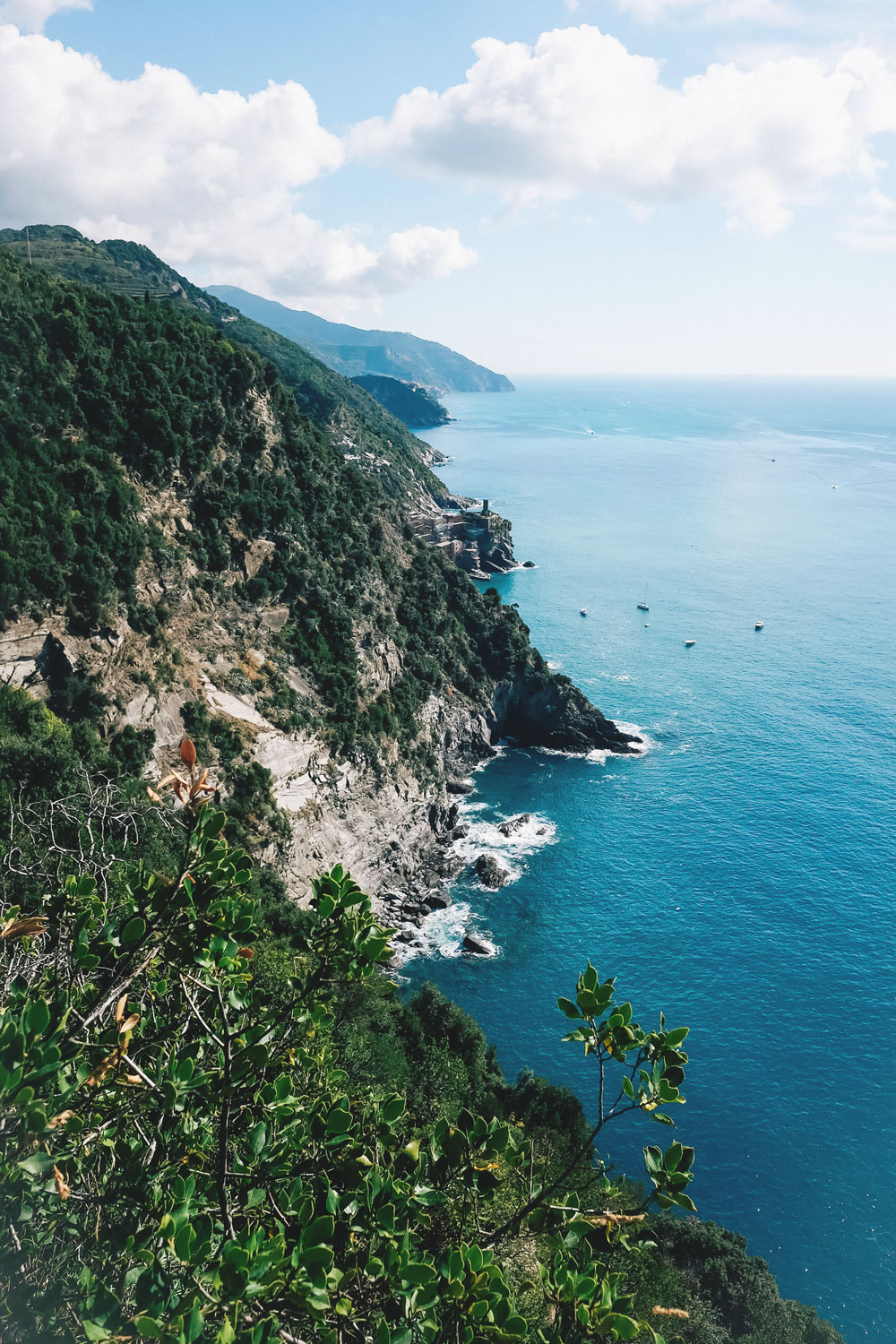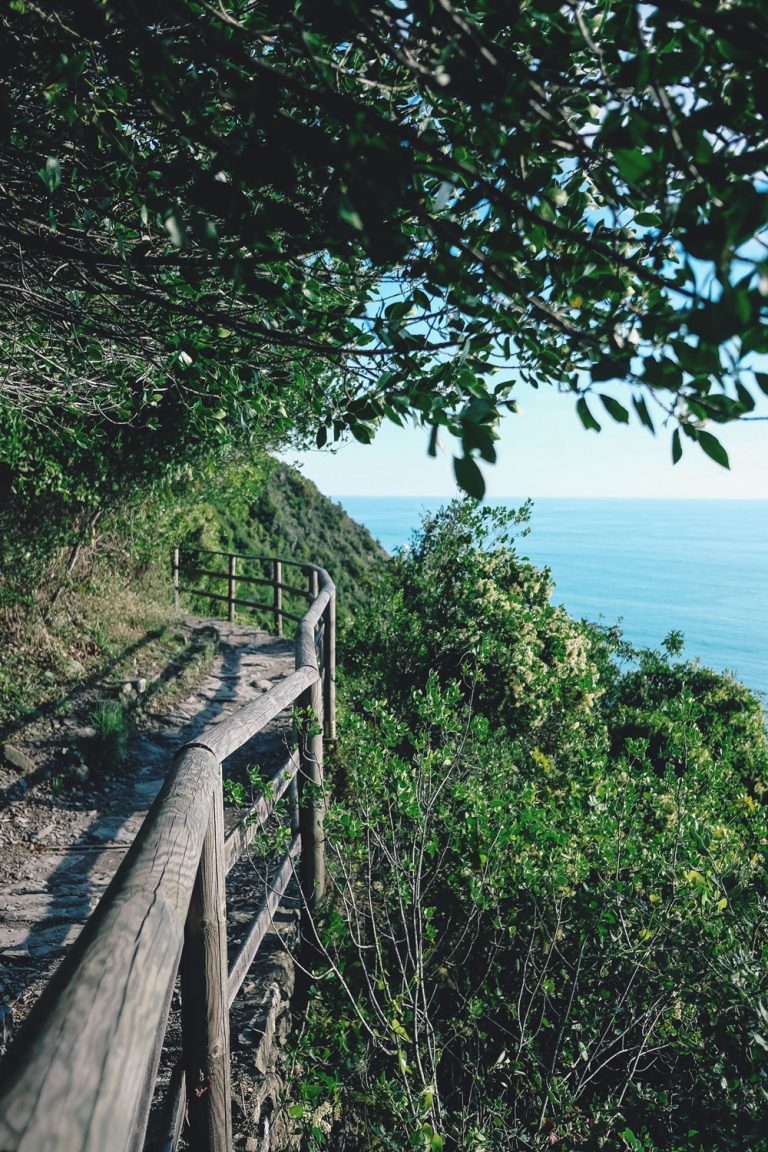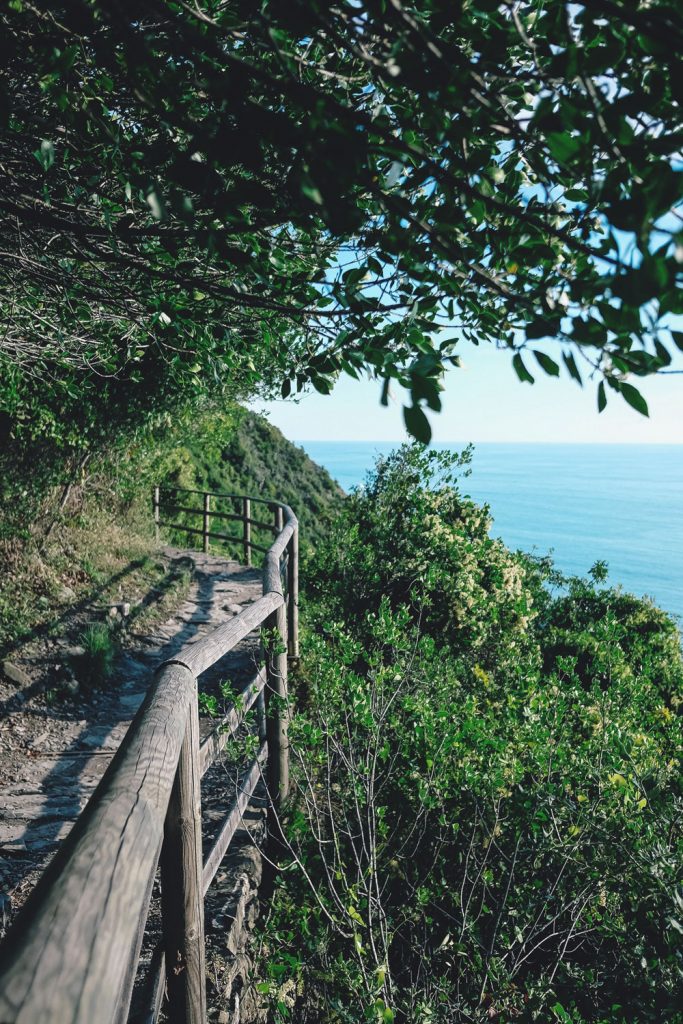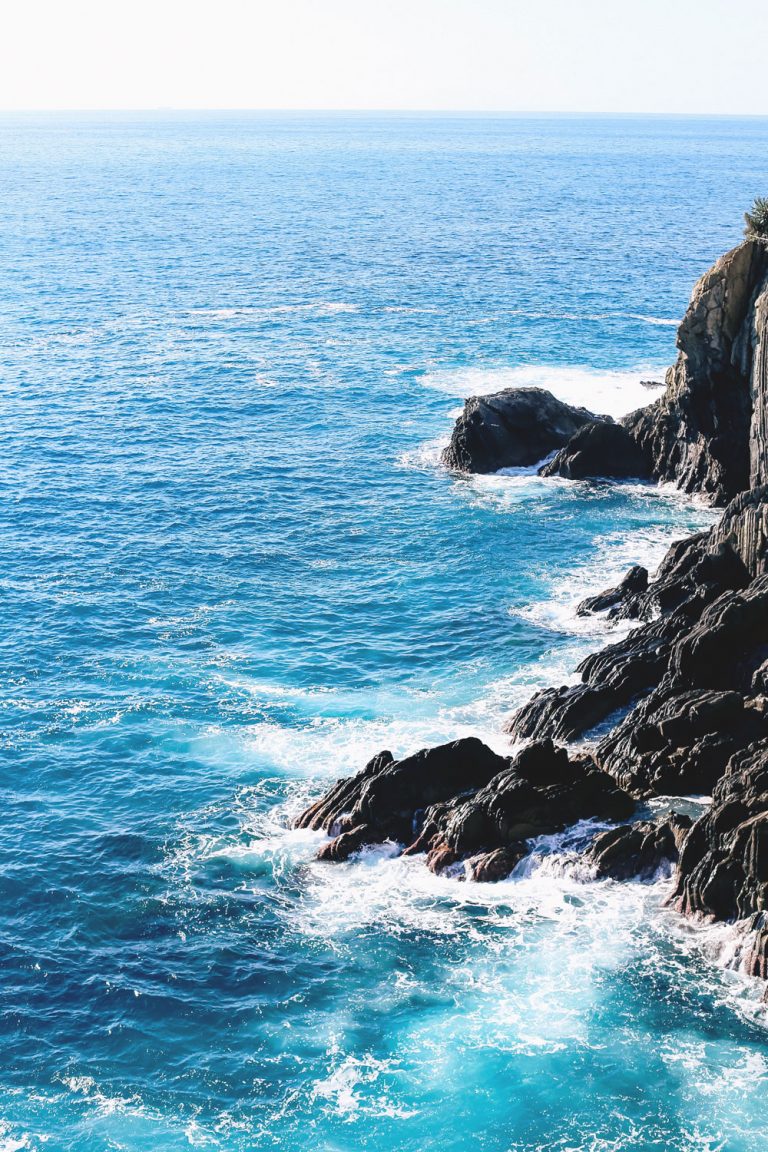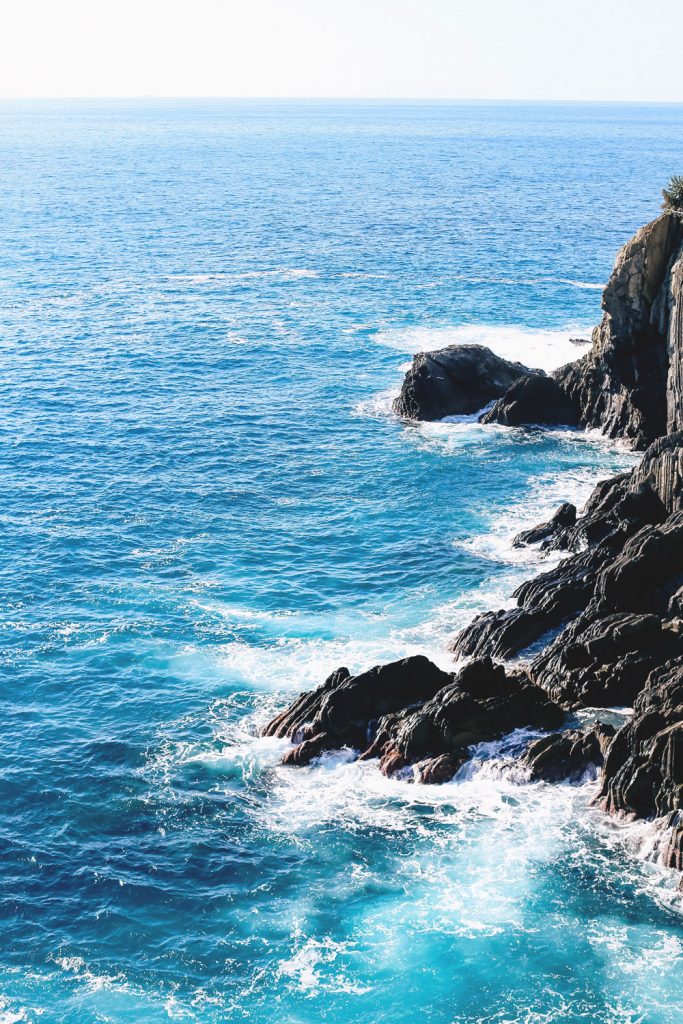 Not only is it a great call to see the villages this way if for anything else than to burn some calories off after weeks of pasta binging (at least for me, major carbophile over here), but you just can't get these amazing views otherwise. It's honestly breathtaking view after breathtaking view, plus you get a chance to see some of the region's famed vineyards at work, the farms, etc. I think because I come from a seaside town I always feel such a serious affinity for anything on the coast—I honestly felt my heart skip a beat every time we turned a corner and saw these insane views.
---
Catch the view(s) of Vernazza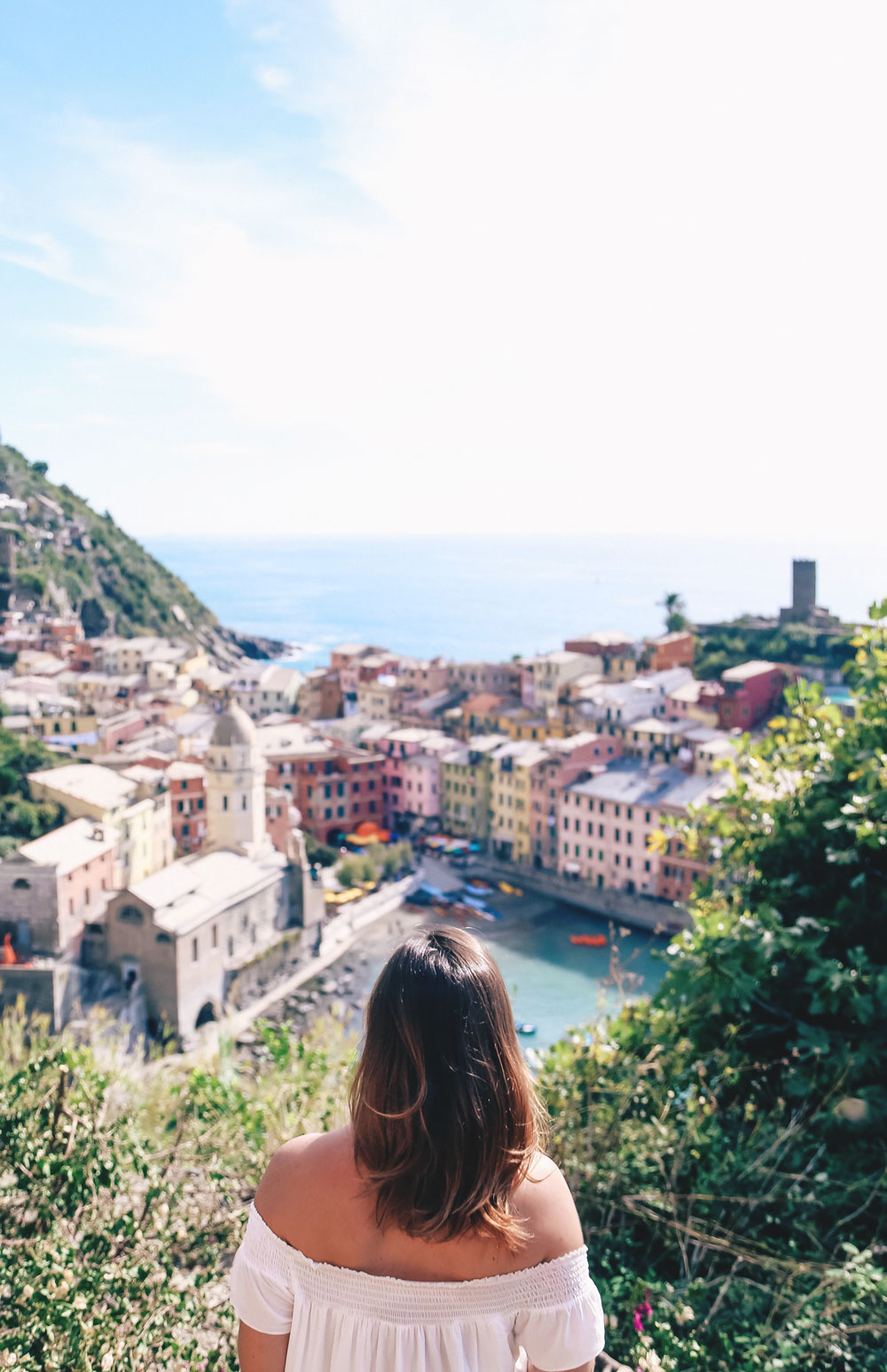 Now another reason why you must do the hike is so that you get this iconic view of Vernazza—the trick here is to keep a look out for where a haphazardly placed wooden fence was placed up blocking this amazing view right before you'd take this downhill turn to Vernazza. Hop on down for the shot and then get up and play it cool! Just obviously be respectful and don't hang around too long—I didn't venture too far past the fence but it is super obstructive so if you're hungry for the gram (as we all are), there's this one spot where you can quickly nab a great shot!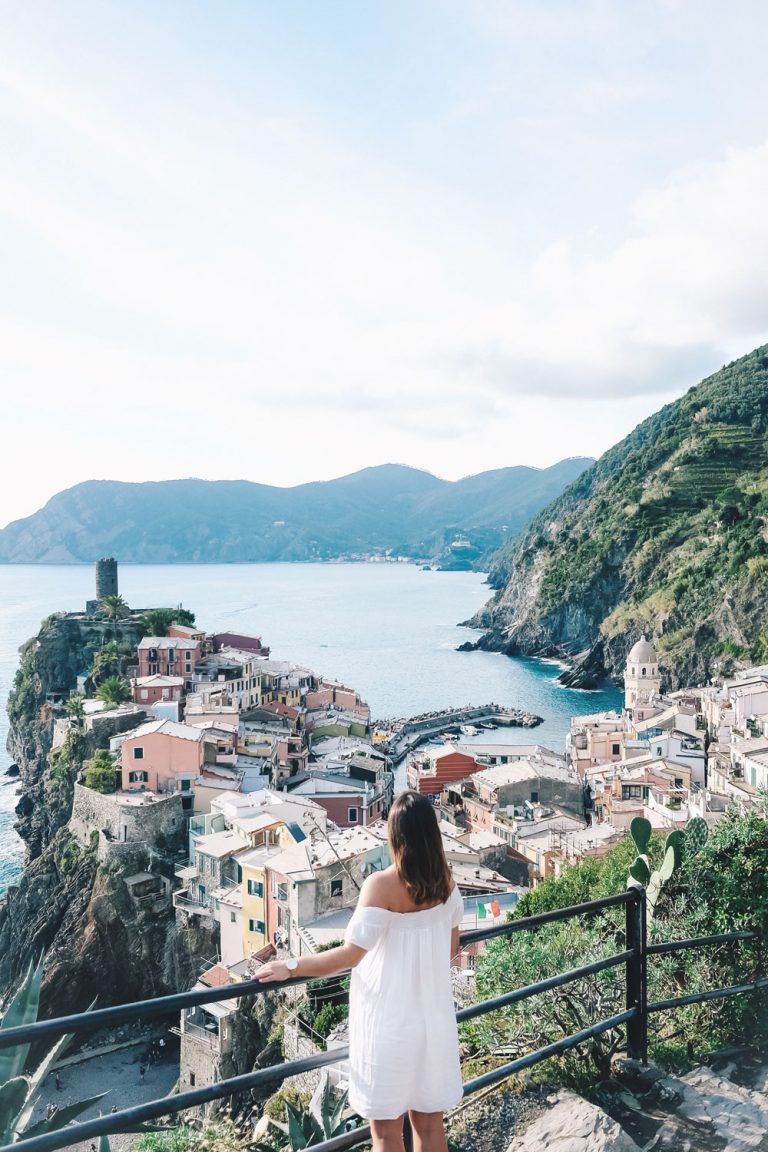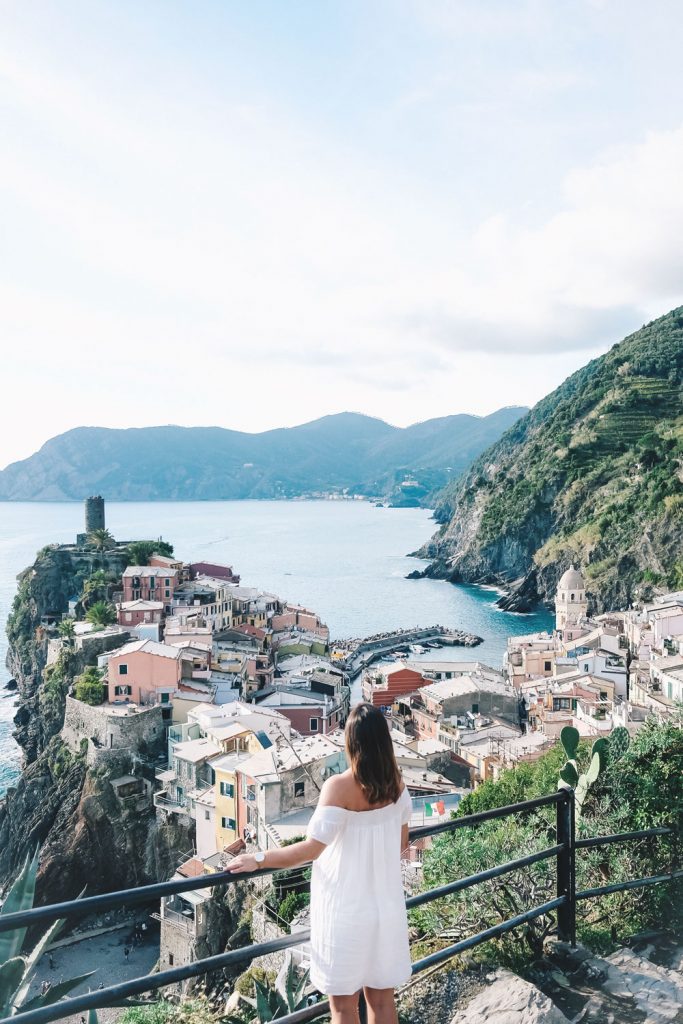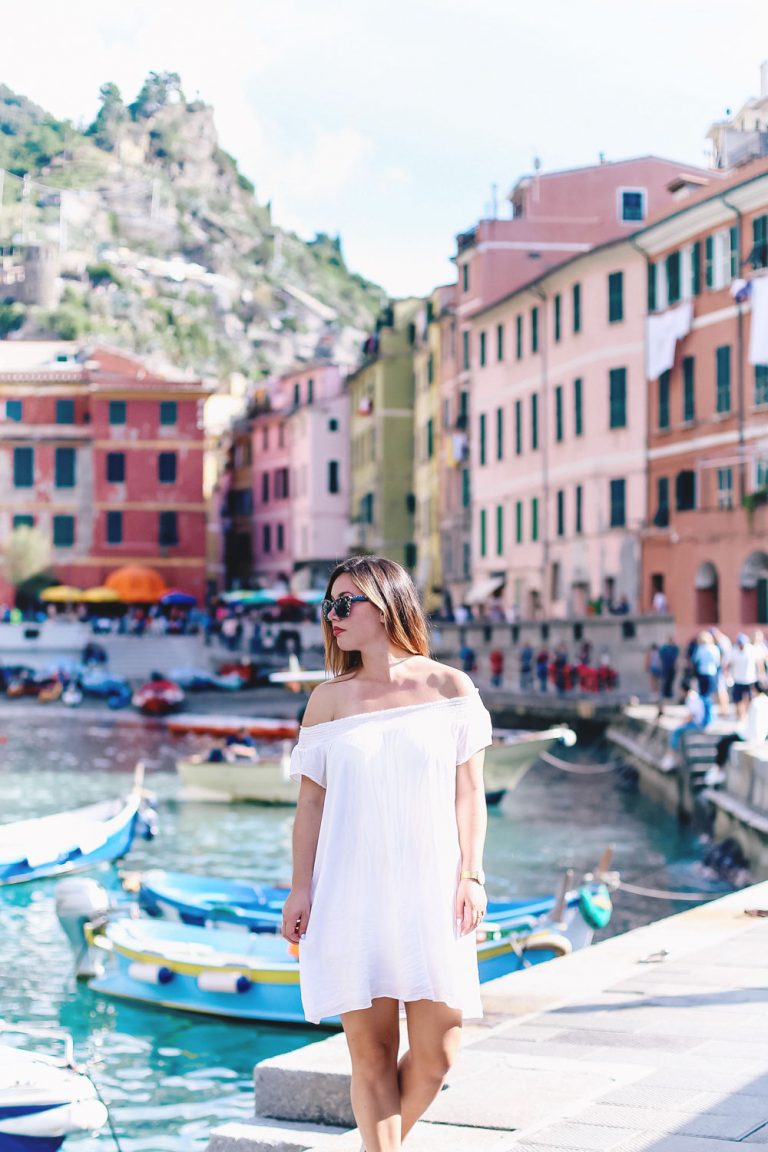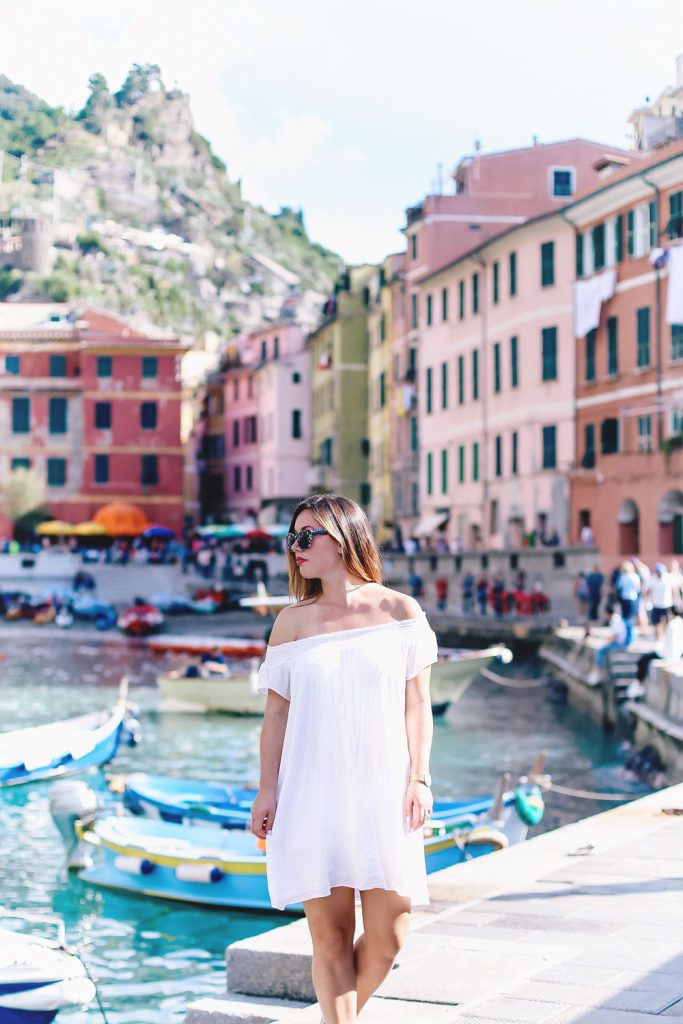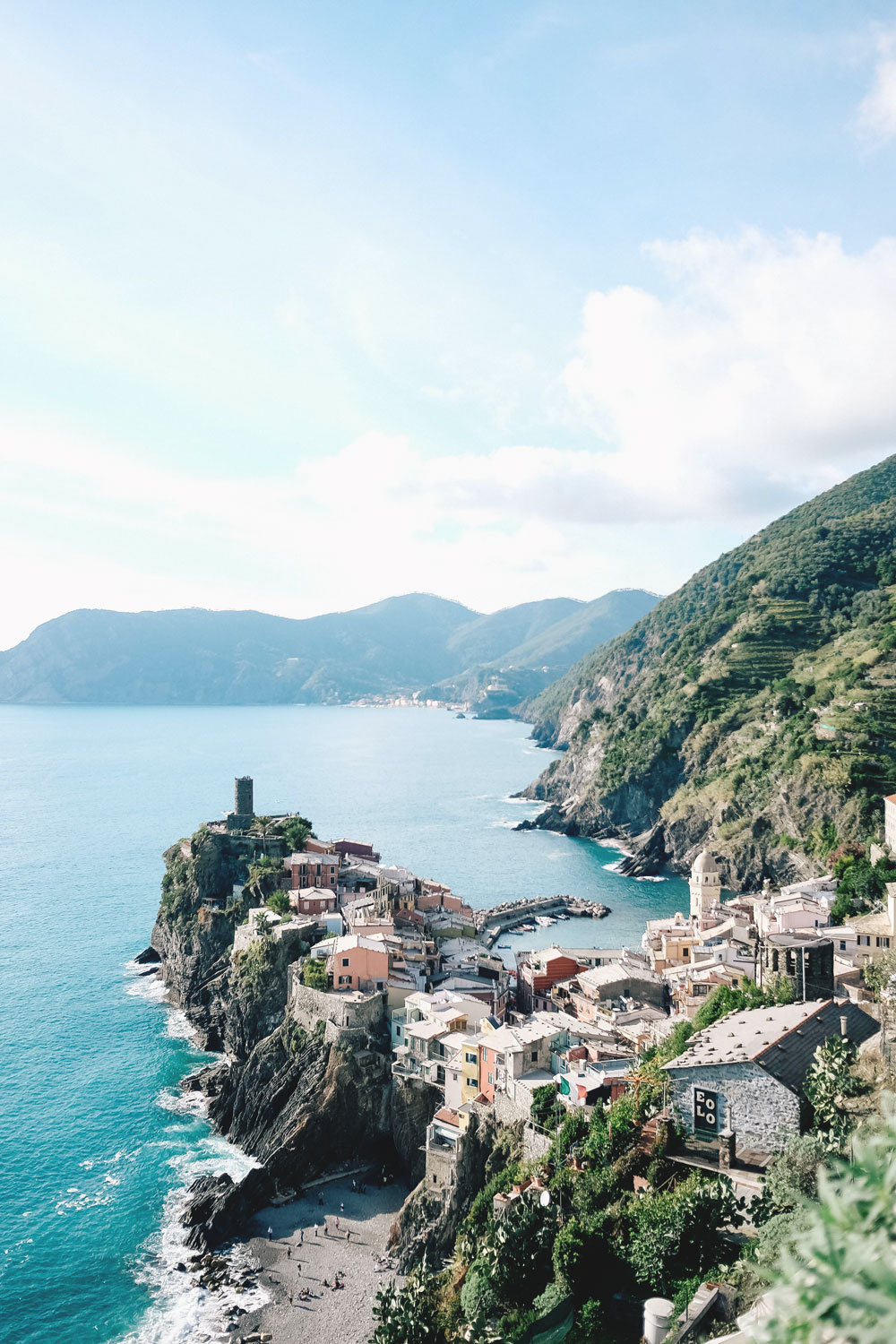 ---
Enjoy the quiet of Corniglia
If you carry on past here though, you'll get not only some of the most beautiful views from the hike, but you'll stumble upon Corniglia, a quieter hilltop town that ended up being a really special experience for Matt and I. We're both pretty fit so were surprised by how happy we were for those mud slides past Corniglia—we were definitely ready for an Aperol Spritz at this point and to take in the sunset before taking the train two stops east to our place in Riomaggiore.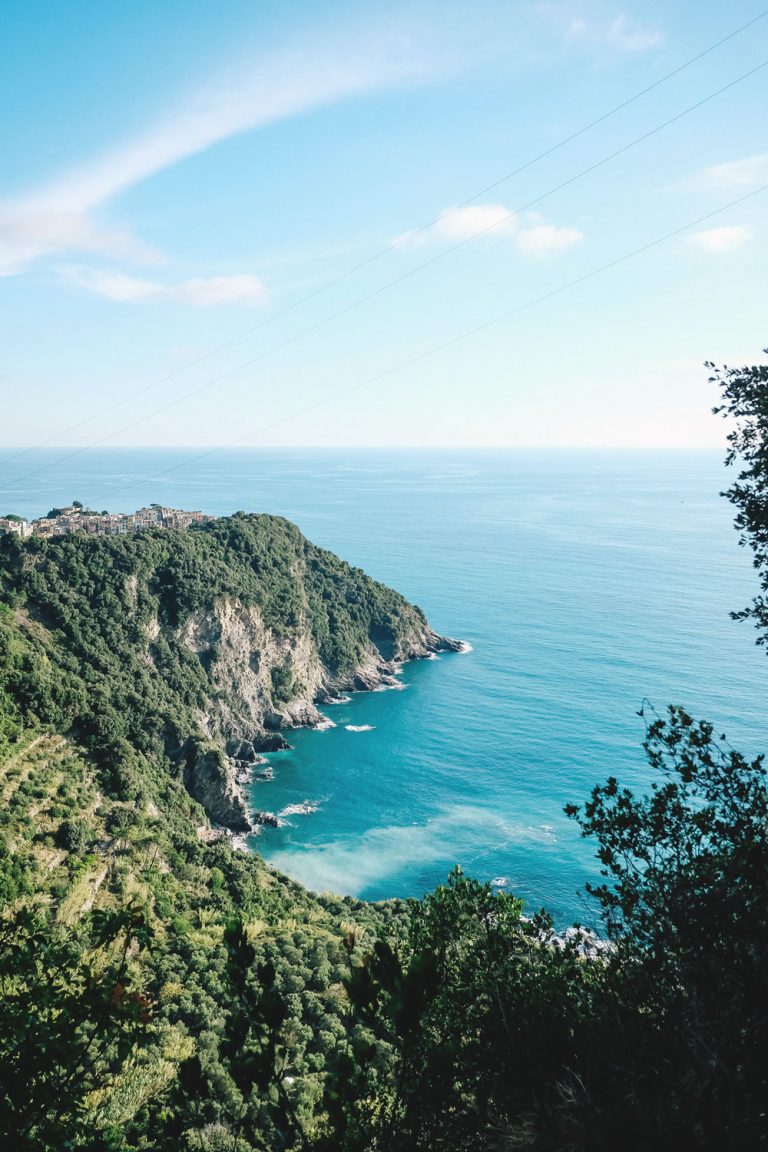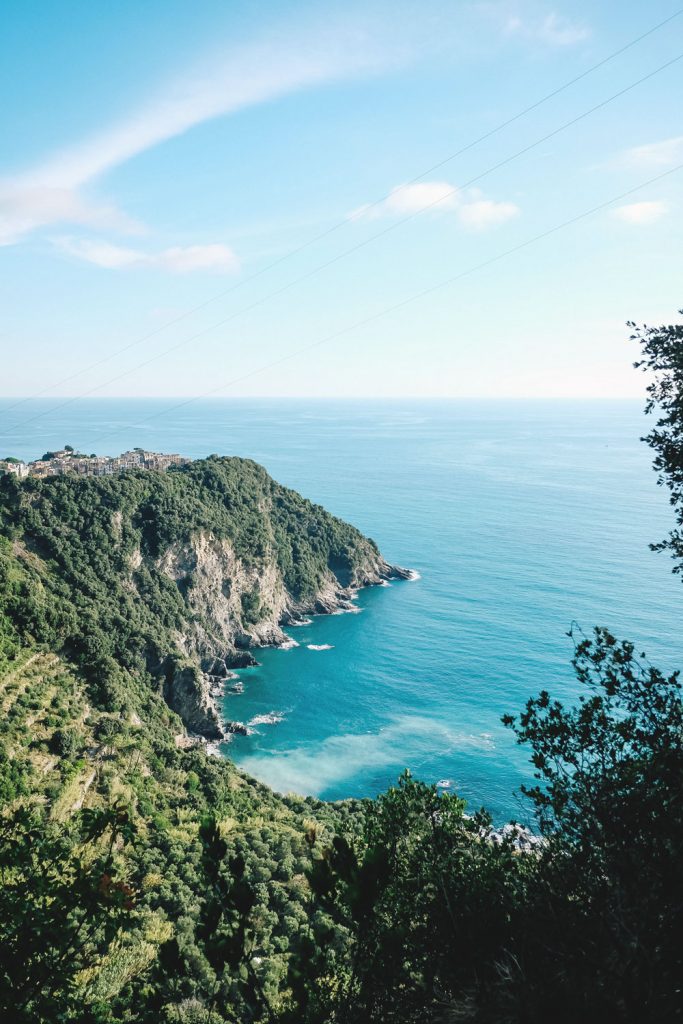 Because we'd been in more tourist-heavy areas, we were expecting to have to wait it out for a table somewhere, but Corniglia was surprisingly so peaceful and quiet. We took some time to wander in and out of the beautiful streets (be careful stepping here though because stairs appear out of nowhere!) and then found this beautiful little restaurant right at the tip of the town to watch the sunset go down, with views of the two western villages to the right, the two eastern villages to the east. It wasn't until I got home and chatted with my parents that I found out that they stayed here, so while I personally would still recommend Riomaggiore for ease, I would really suggest Corniglia too—such a charming, beautiful, wonderful place. One word of warning though: the steps to the train station are so long so only pick this spot if you don't mind trekking up and down a seriously lengthy set of stairs! Might not be a bad call though as a bit more of an active break in your Italy tour, and Corniglia typically has better prices than the rest of the villages (though because there isn't much in the way of hotels/resorts, pricing is pretty reasonable across the board for accommodation if you book well in advance).
---
Take in Manarola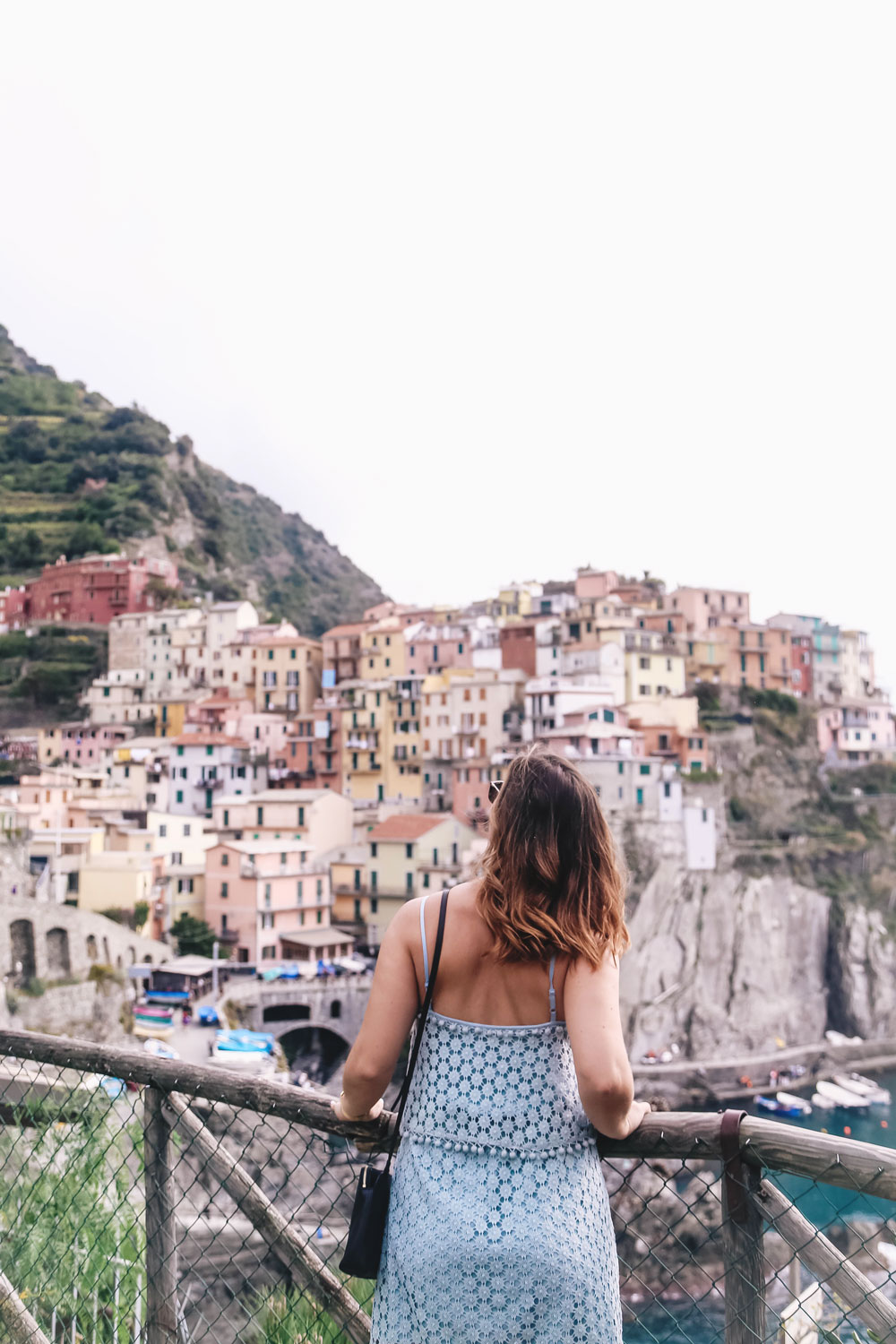 So one dreamy post-hike sleep later we took the train to Manarola to tick off our last village and while I loved all of the villages, this was definitely a favourite. So, so, so beautiful, with beautiful views of all the stunning houses from all different angles. An absolute must is walking past the centre of town towards Nessun Dorma (where we enjoyed one of our fave meals on the trip, more on that in the next Cinque Terre post) to see all the different views and then, of course, to eat at Nessun Dorma.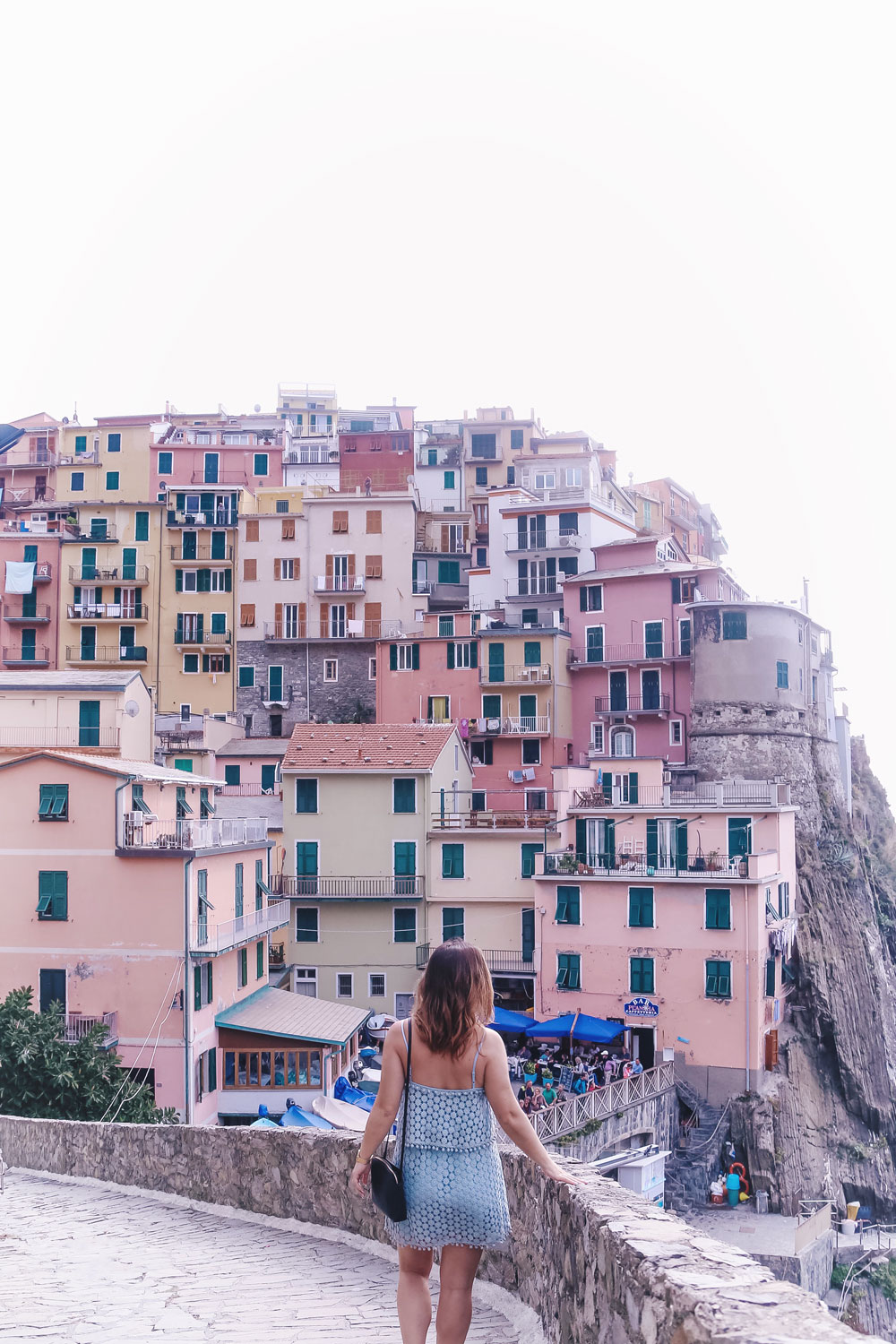 Now one note about all of this is that I haven't really mentioned beaches (but speaking of which, there are many, with especially popular ones in Monterosso al Mare). We were there in October so we were there in off season, with all the umbrellas taken down, etc. While we still totally got lots of sun, I will say if it's important to you to get lots of swimming in (which it typically is to me), try to plan appropriately timing-wise because I hear that's one of the really amazing parts of this region. Having said that, I didn't get to swim in the ocean (i.e. one of my greatest passions and joys in life) and still, Cinque Terre was my absolute favourite of the whole trip.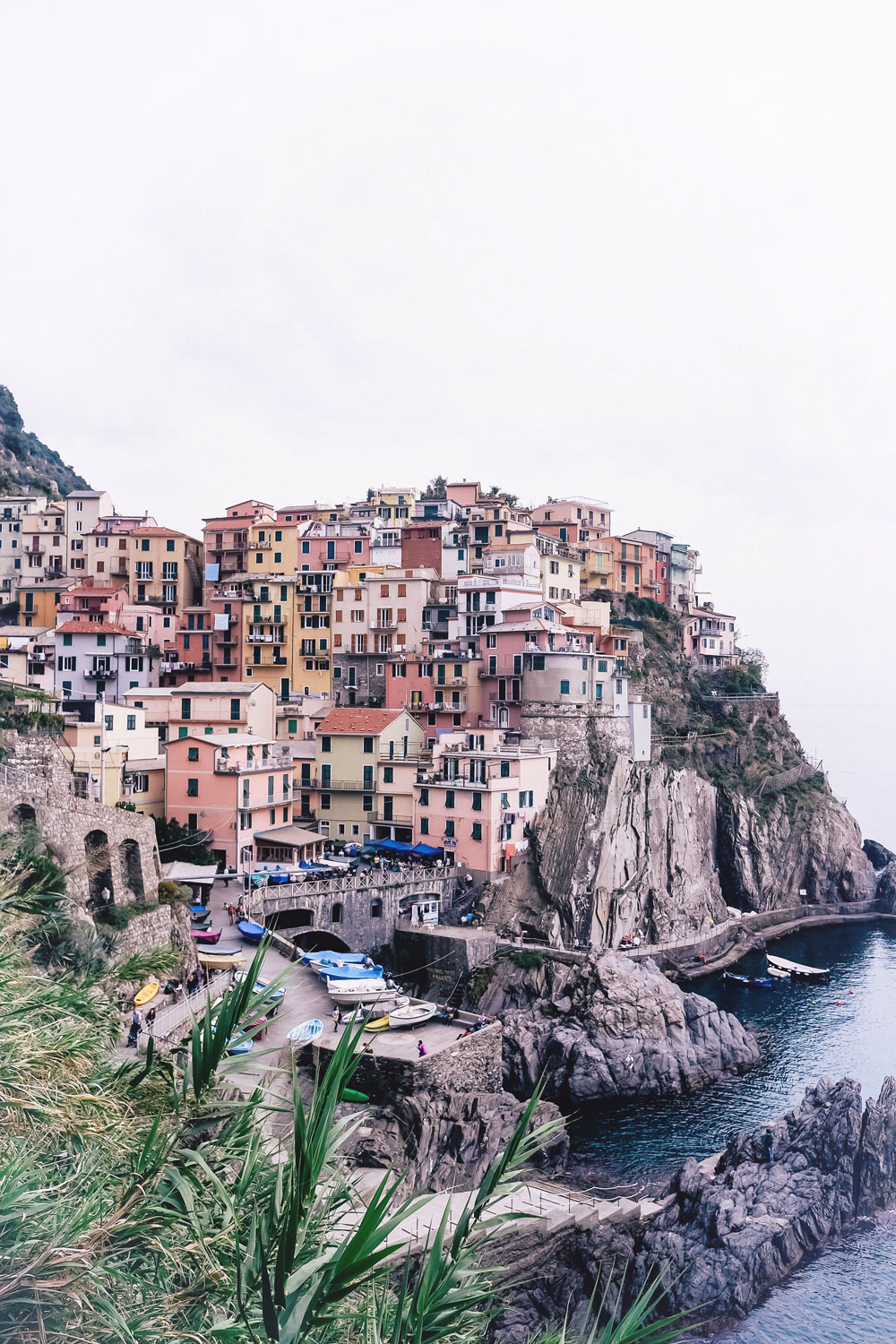 A word of advice as well before I wind down this epic post is that especially since a lot of the bigger towns involve a lot of sightseeing and can feel very go-go-go, it's really nice to plan for places like Cinque Terre where you can slooooow down. I can't wait to come back here one day and can honestly say it really touched my heart—there's a reason this area's become so famous and it's because it's truly special.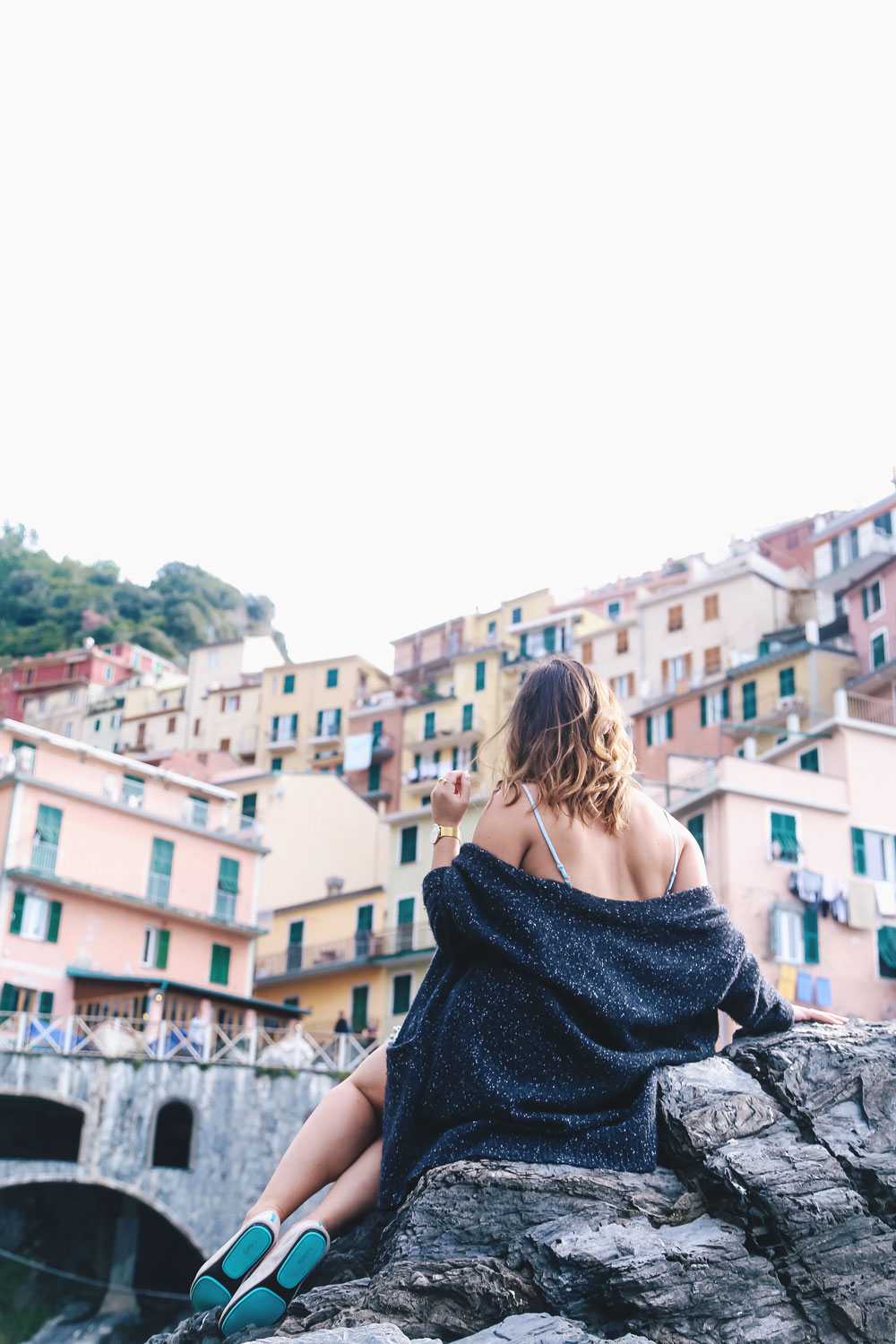 And now I'm off!!! Headed off to Whistler for a pre-birthday weekend celebration with Matty for the Whistler Ski & Snowboard Festival so follow along on all the fun on Insta! I'll be back in on Monday for some birthday giveaway news you won't want to miss—seriously, this is a giveaway many of you have asked me for and I'm so excited to share it, especially on a special day for me! Happy Friday lovelies!
---
PIN ME