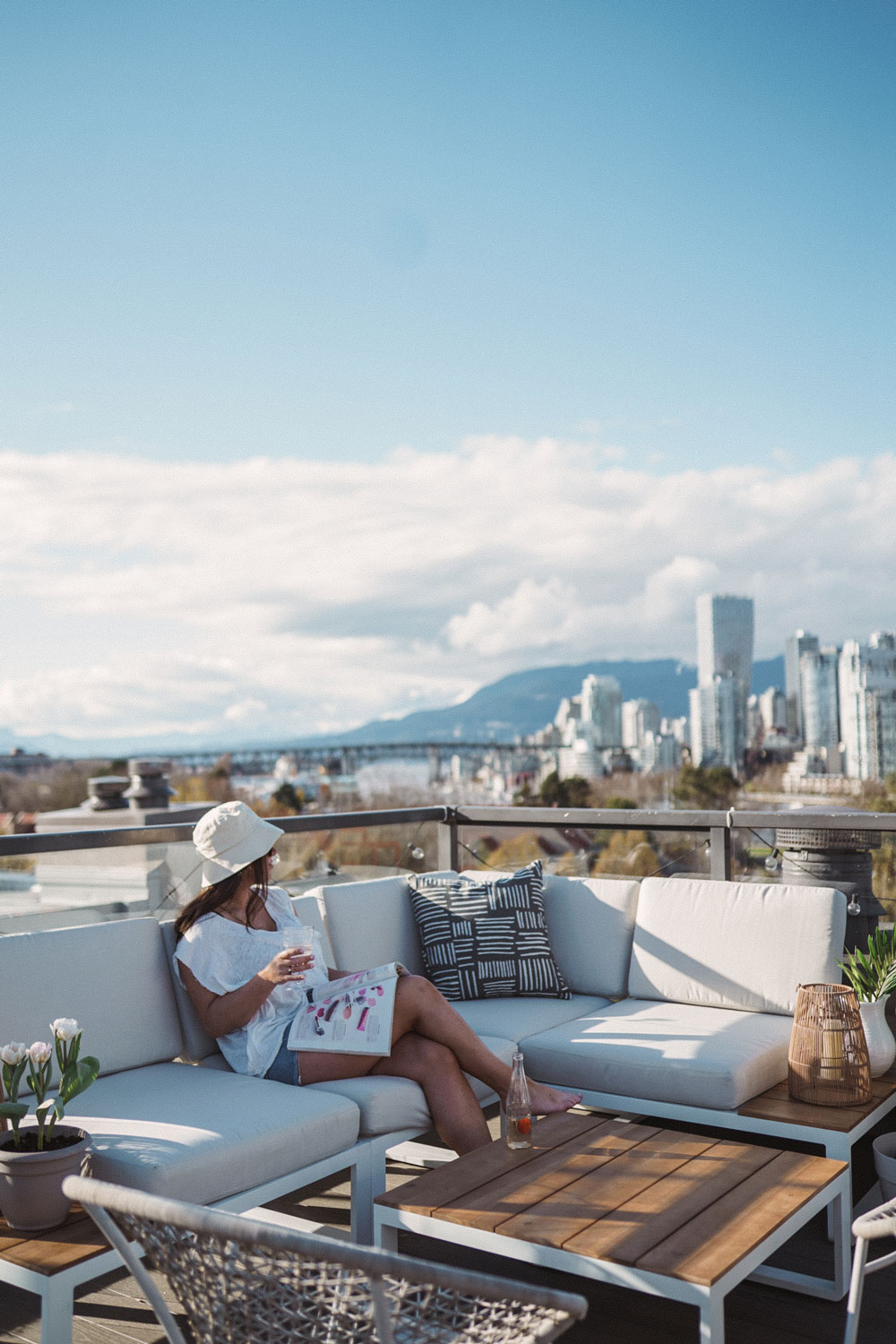 If you've followed me for any length of time, it's probably pretty obvious…I'm a summer girl. I've found a way to love winter, I love the special beauty of both fall and spring, but I come alive the most in summer. The space and time that the long days give us to do all our hearts desire (whether that's reading a whole book in a day or biking home from a late dinner out with friends with the sun still setting), the warm temps and breezy wardrobe, the ocean dips and general feeling that it's time to let go and relax…it's just when I feel the most whole, happy and myself.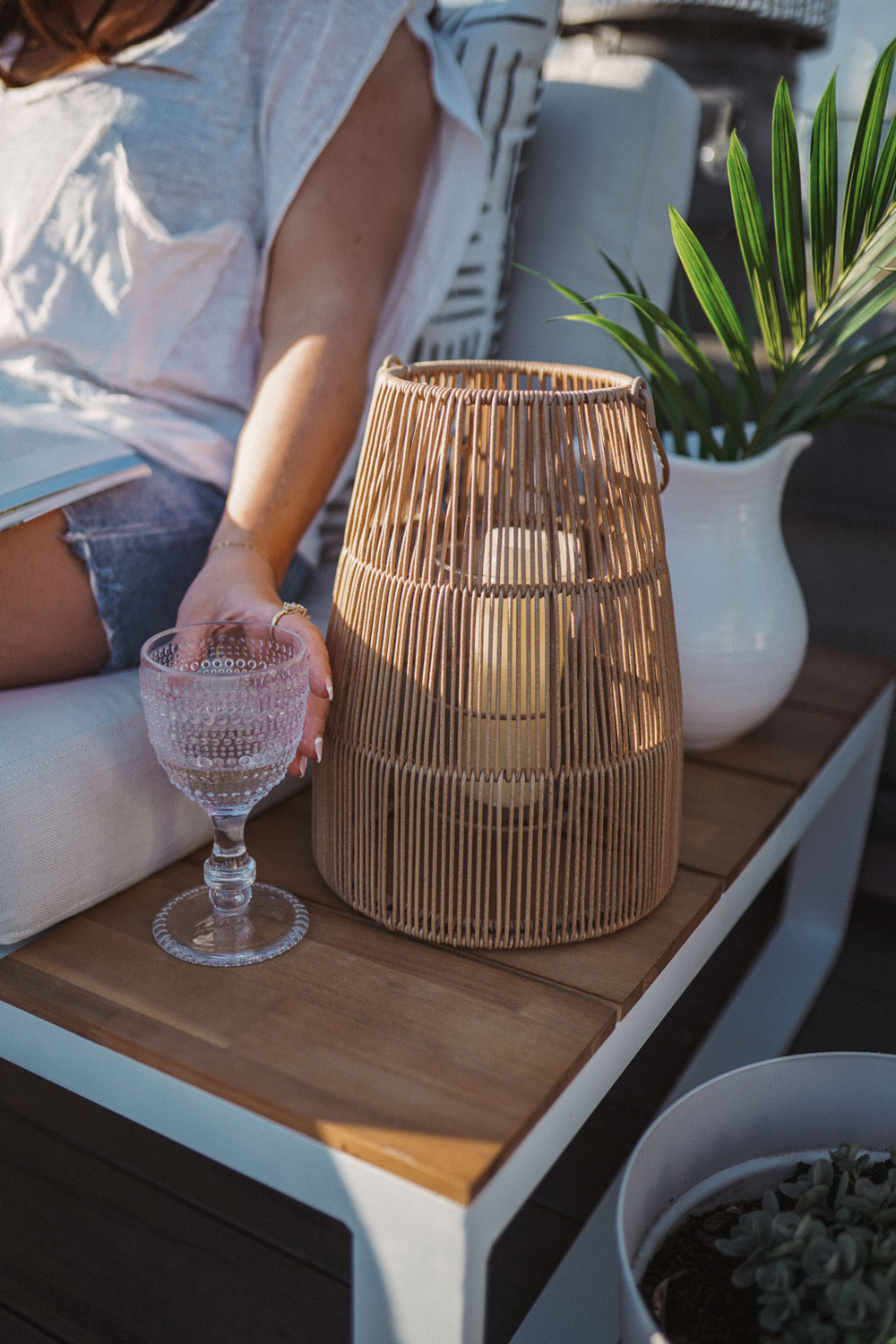 Naturally, I try to optimize my whole life in the summertime so that I can really get the most out of my favourite time of the year. It's part of the reason we were so drawn to our apartment in the first place (even if our days here are numbered…the market has been tough but know it's only a matter of time before we move).
The rooftop patio is so special and we've gotten so much use out of it over the years, but getting a chance to elevate the space this year with Article has made it more special than it's ever been.
While our patio was a great entertaining space before, being new parents and truly needing a place to relax (while still wanting to entertain too), these new pieces that I'll share more about before have truly transformed the patio into the most relaxing and luxe space of my dreams.
As you can quickly see in these snaps, the star of the show is the Kezia Modular Sectional in Lily White. It is truly sleep-worthy…we have had some fairly serious conversations about camping up up there with the baby monitor turned up loud, it is that comfortable. It is so sleek and beautiful, the perfect mix of industrial meets luxury. One unbelievable feature that we're loving in particular are the acacia side tables, which make this an entertaining (or just lounging) dream. You can rest your drink, book, etc right next to you, ensuring your relaxation or convo is uninterrupted.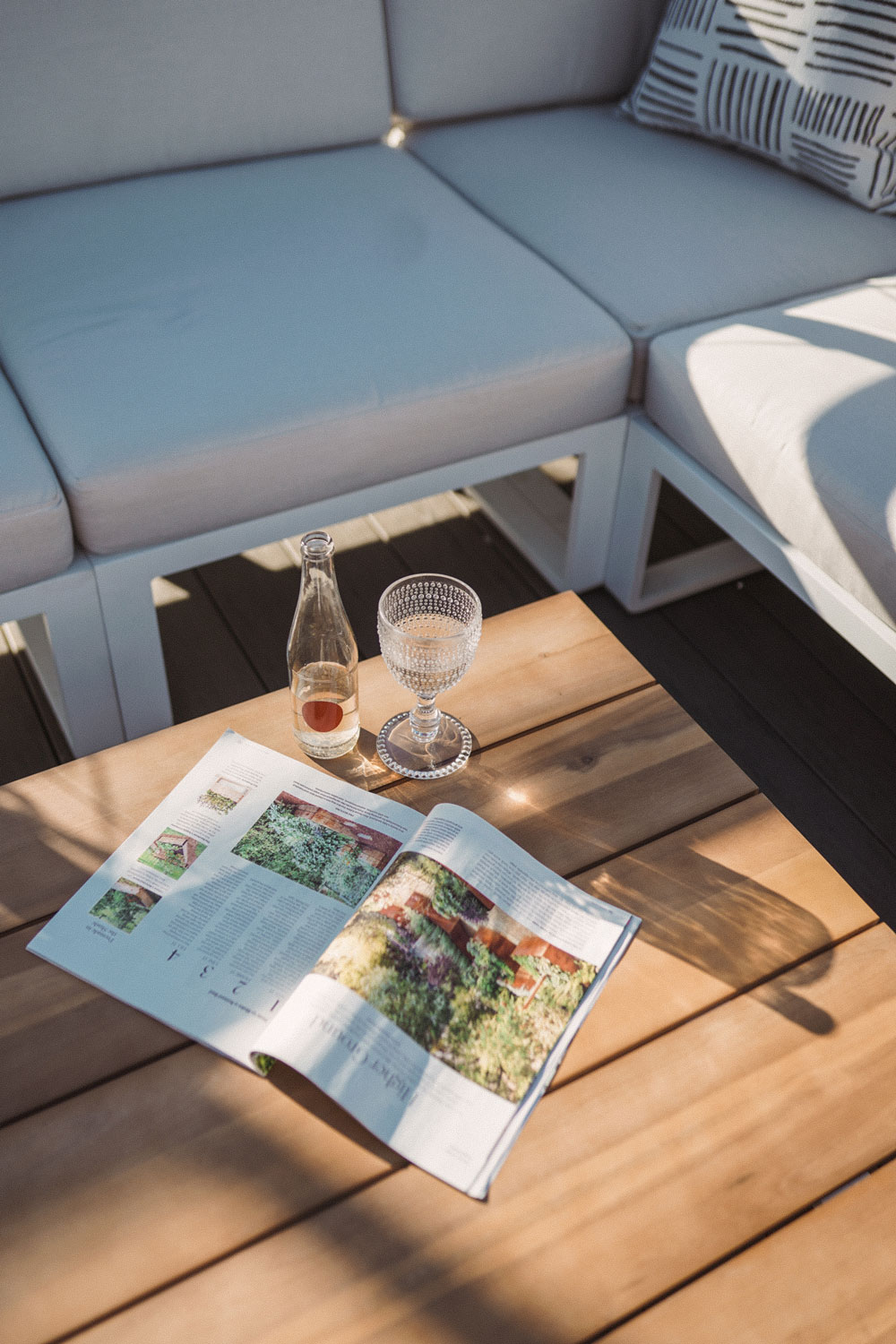 But naturally, Article always ensures their products are not only effortlessly stylish so that they can mix-and-match with various Article collections, but they also often create seamless coordinating collections (cue in the Kezia Coffee Table). This acacia table is so chic and timeless, I know this is going to be one of our "legacy pieces" (so to speak) that will stay with us forever. It goes perfectly with the sectional as it's intended to, but is also such a classic and beautifully constructed piece (I mean, acacia wood is always so special) that we'll be able to use it no matter what it's paired with.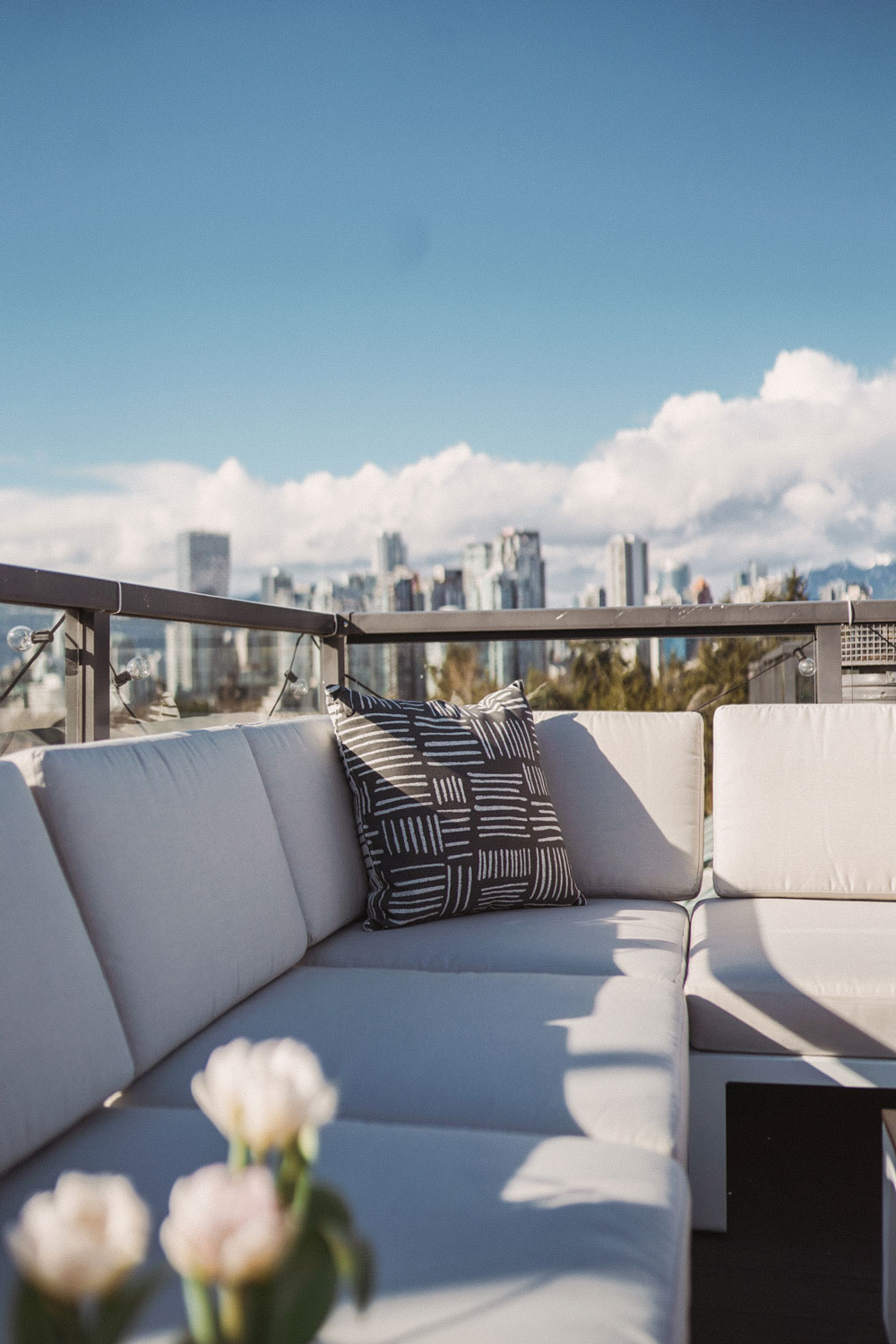 If you remember from my side patio makeover a few years ago, the Bene Lounge Chairs and Toba Side Table completely elevated our side patio…those chairs are literally the comfiest things (except for the Kezia Sectional now). But since we still want our upstairs patio to be an entertainment space in addition to our new relaxation oasis, we moved it all upstairs so that we could truly create a go-to hub up there. We literally end every night up here now as soon as Cal is down, fluffing our Rooth Jacquard Pillow and placing some candles in the Vezda Lanterns (here's the small, and here's the large) to create the ultimate cozy, magical atmosphere while we have some wine and generally decompress for the sometimes harried post-work/bedtime/dinner/errand rush that always seems to take it out of us at the end of the day. All the more reason to have a haven like this…it's truly our restorative safe space!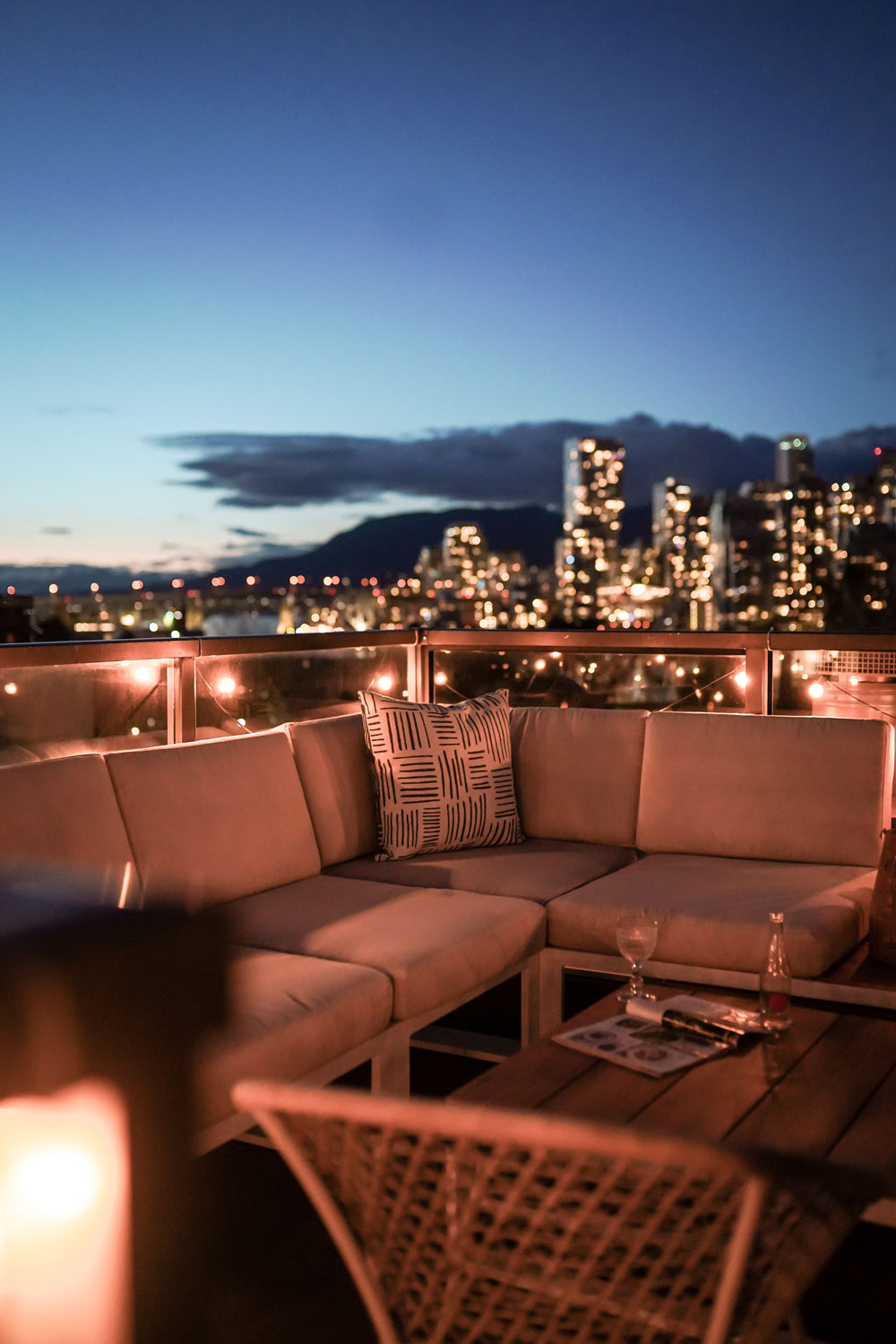 See all my former Article makeovers here—it goes without saying, I am a forever customer. I am being extremely selective and choosy with any brands I partner with these days, and Article is one that I would shop, support or work with any time, any place. They provide such exceptional customer service and their pieces truly stand the test of time, all while delivering on style, functionality and timelessness. They truly put their money where their mouth is when it comes to putting the customer first—by cutting out the middleman of a showroom, they keep their prices down compared to exorbitant retail prices. They also ensure delivery is as seamless as possible, whether that's contactless delivery at a flat rate or assembly in-room.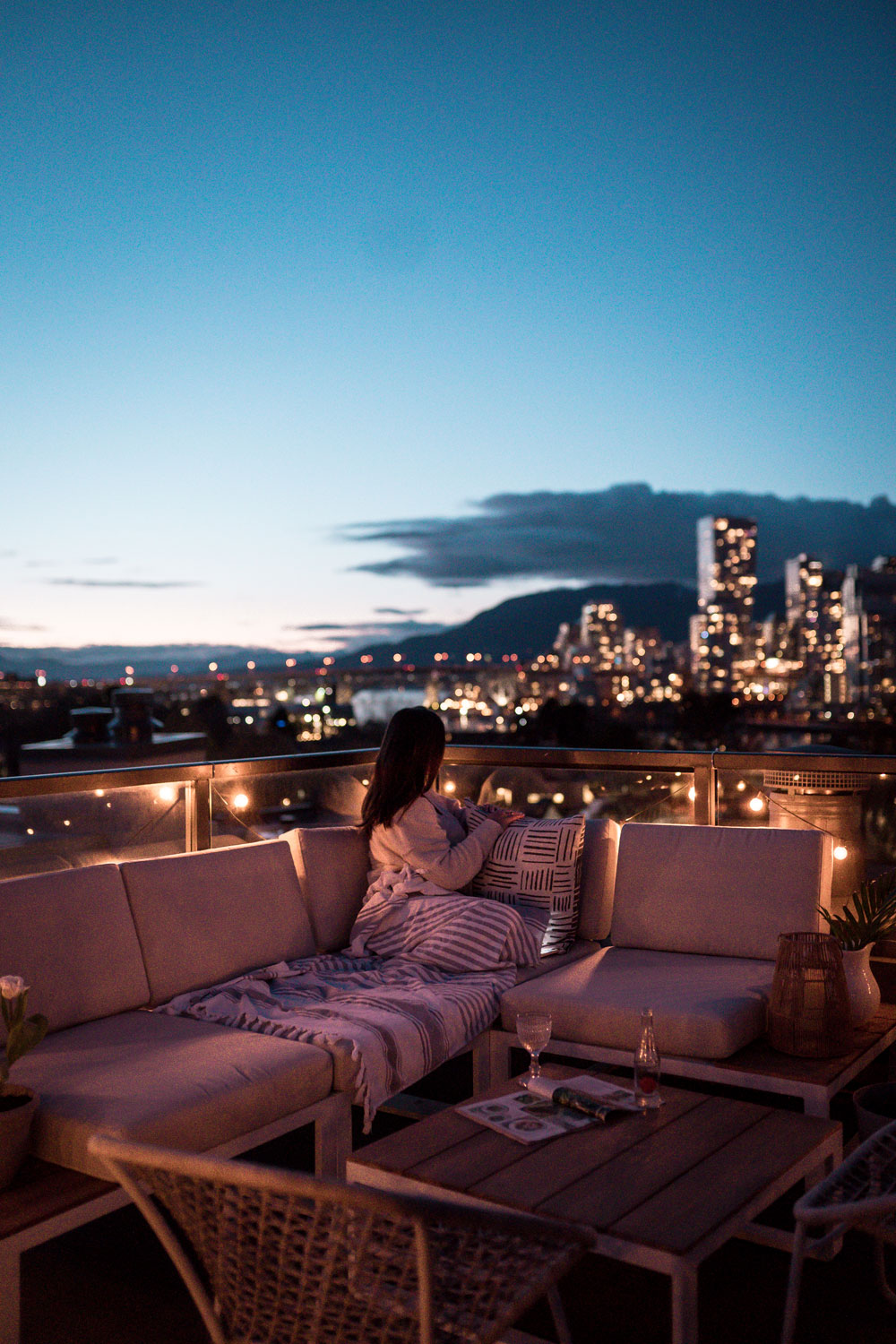 As we look ahead to hopefully finally landing our dream place soon enough (just got outbid on the one that I thought would definitely be ours recently, but know our place is out there still!), I honestly just dream of the ways my current Article pieces and new ones that I bookmark will make our new place a beautiful home, filled with ease and style. If you're in the market for outdoor furniture or any other decor needs, know that Article will not only provide exceptional quality, but the most unbelievable customer service too.
Thank you to Article for partnering with me for this post. All opinions are my own.