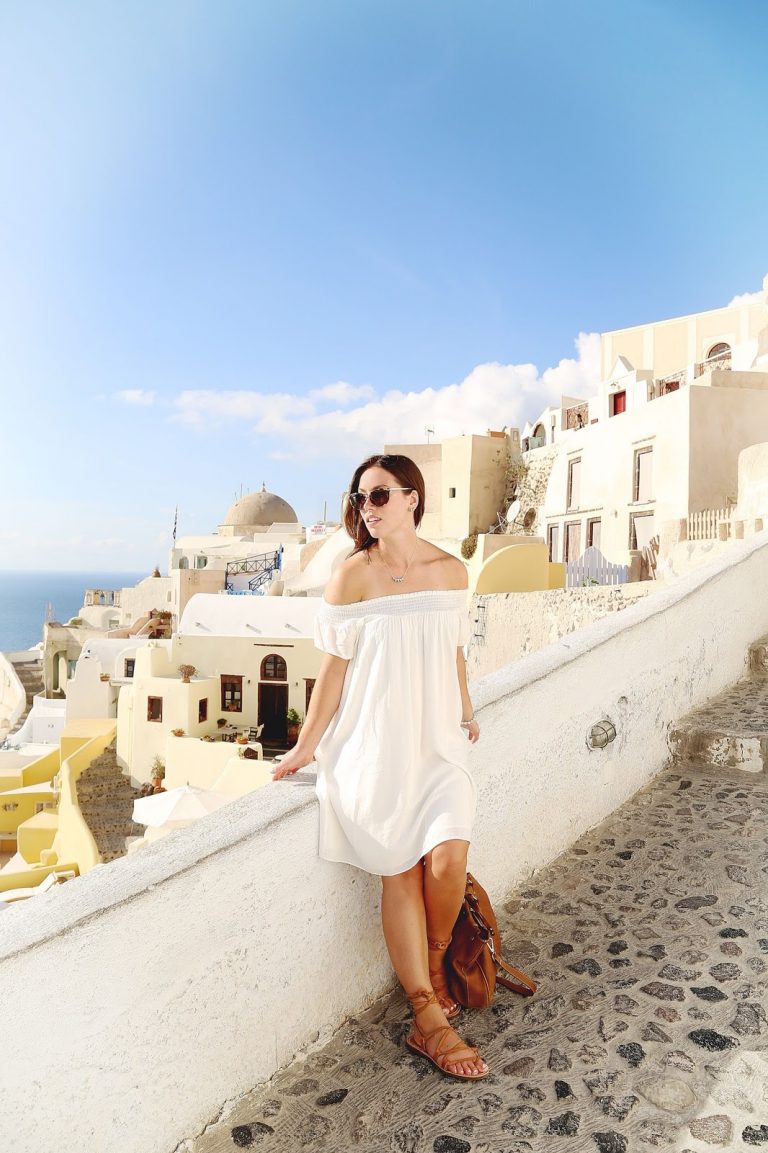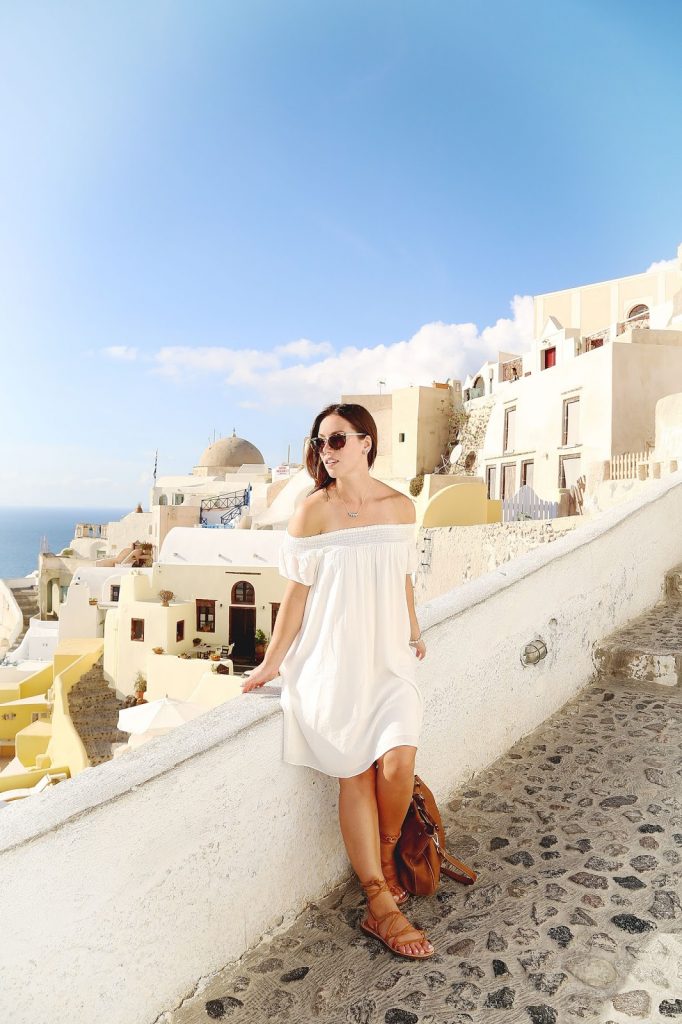 Once you click through, it will be little wonder why this post took me so long to get to. So. Many. Pictures! I always try to kind of put a cap on how many images I post even if I'm really loving a shoot or guide, but for this Santorini itinerary, I'm sorry, I just simply can not limit myself.
Santorini is undoubtedly one of the most beautiful places I've ever been to, and there's so much more to it than just its beauty.
While everyone knows about its famous sunsets (more on that shortly!) I for one hardly knew about its super interesting history, all the amazing things to do and see on the island and really, just how desperately I'd love it even after my time in Crete, which is one of my favourite places in the world. But as a blogger, despite my photo-happy ways today, I'm here to make life easy on you and to break down what I would call the definitive Santorini travel itinerary to get the most out of the island. Just a note that this is a Santorini itinerary for 4 days or so…you can obviously add more things if you stay longer, or just focus on the top highlights if you're there for a shorter spell!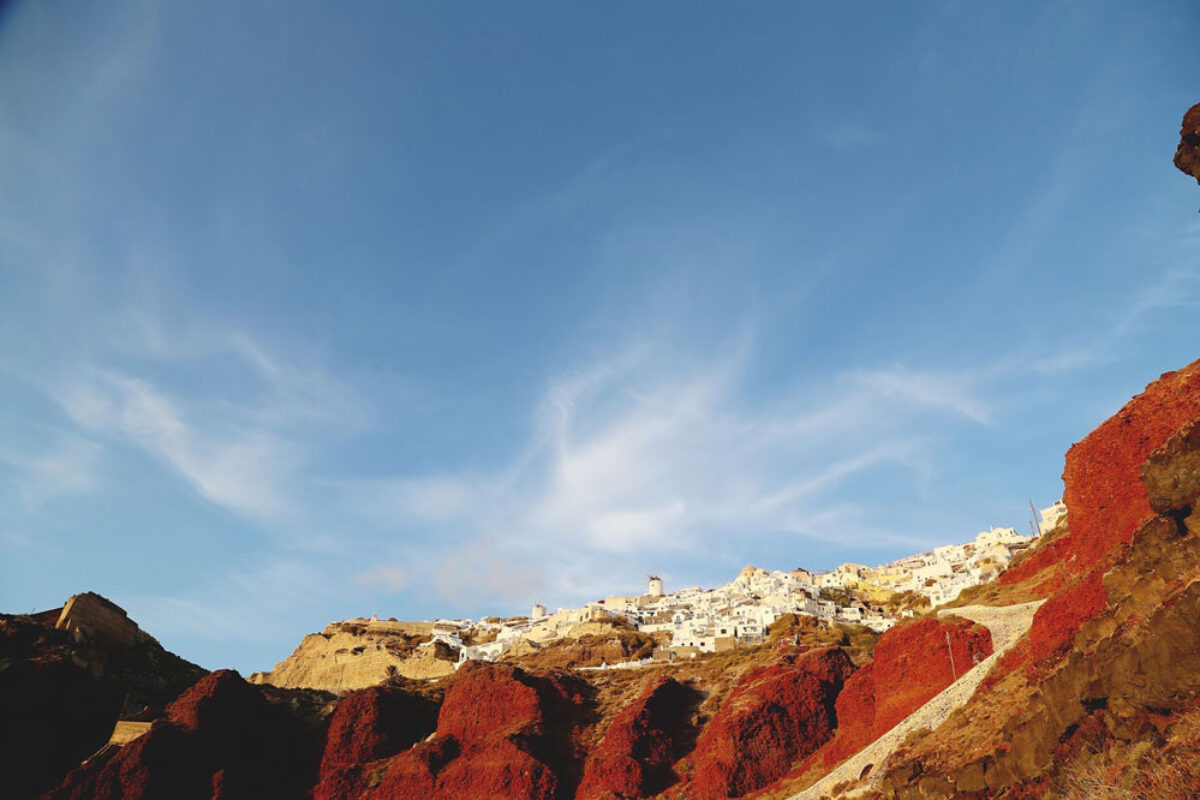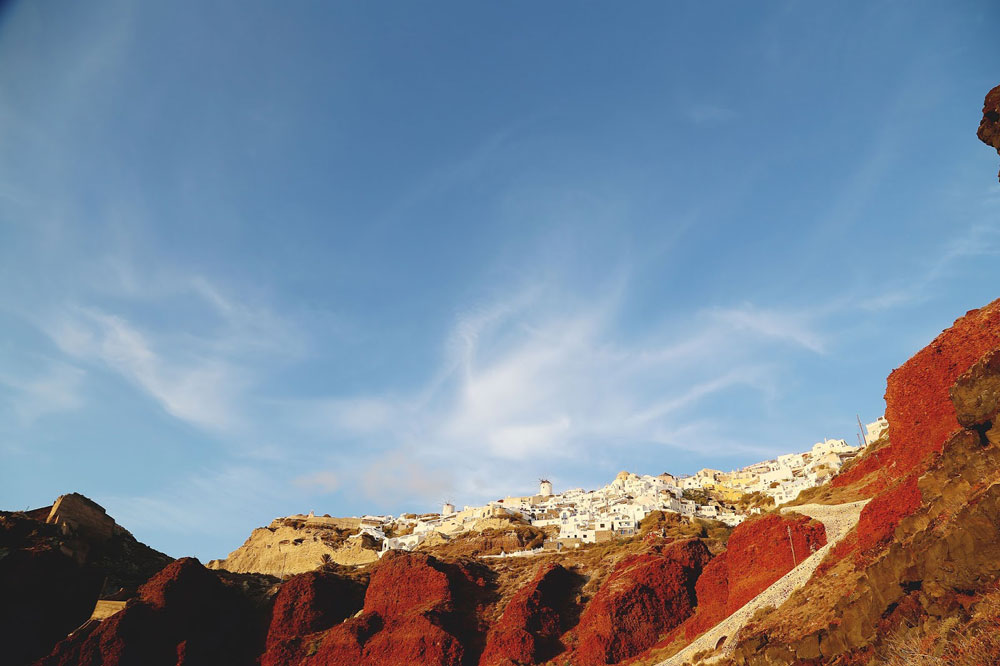 Before we start on the itinerary breakdown, a little bit of history as told to me by Tara from Ifestio Villas. Santorini was once a unified, more typically circular-ish island known as Thera that had very close ties to Crete (both being seafaring islands with active ports). You see a lot of that Cretan influence when you visit Thira (which is how it's stylized now), the ancient village that was uncovered at the seaside southern point of the island.
Unfortunately, Thera is smack dab in the middle of a volcano. What is known as the Minoan eruption sometime between 1540-1640 BCE completely obliterated the island, resulting in a caldera formation that looks something like a crescent moon. The Therans came back and resettled and over the years, created an extremely prosperous trading island.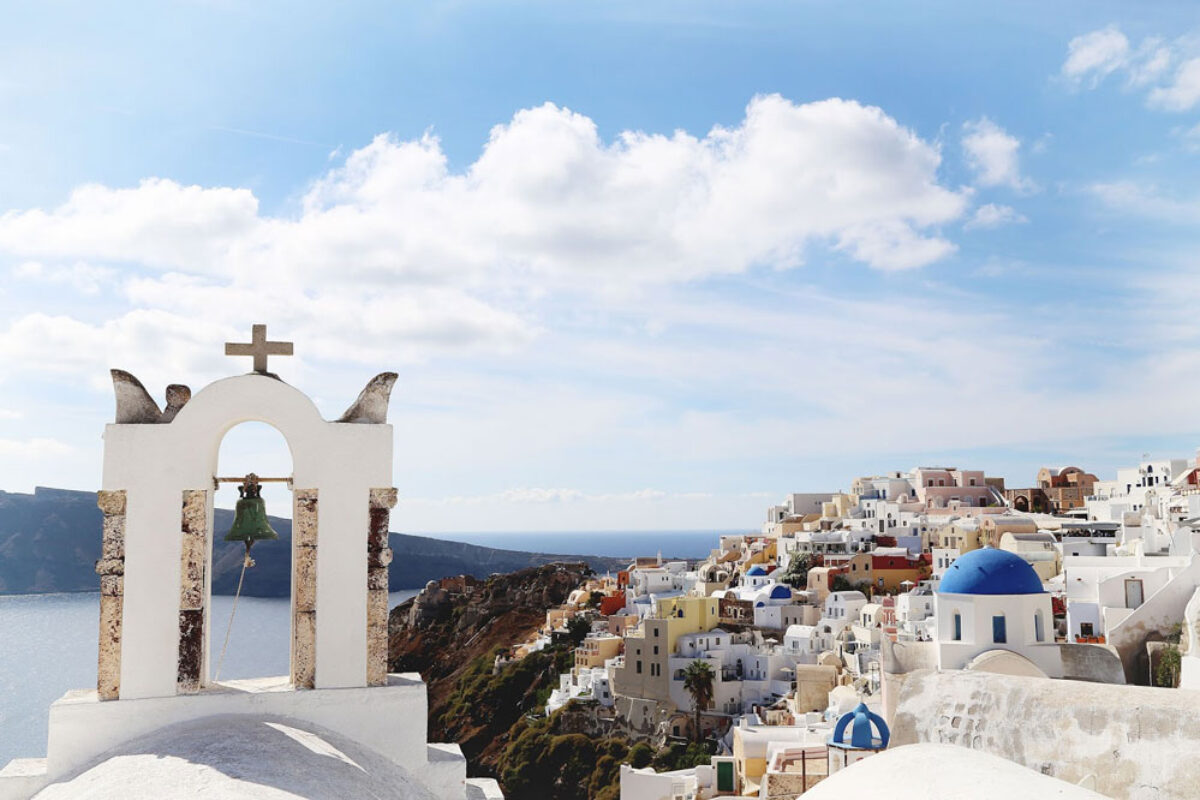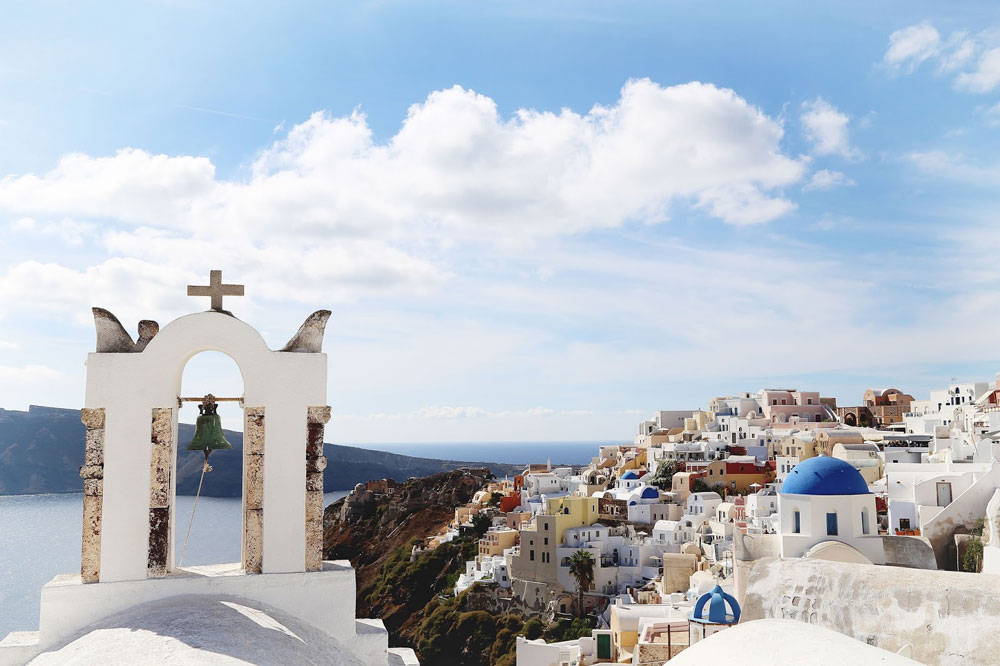 The upper crust typically lived in Venetian-style houses built in more traditional "house" styles while the working class created these cave-like dwellings in the side of the caldera. When another eruption in the 1950's sent the population running again, they returned to find all the ritzy houses completely wiped out except for a couple (you can actually still see one in Oia) whereas the dwellings were still largely intact. That's how the tradition of these beautiful dome-roofed, stone homes that now make Santorini famous came to be. The working class were on to something too because the homes are really unique in their ability to maintain perfect room temperature regardless of the weather outside, and obviously, they're very resistant to wear and tear from environmental pressures.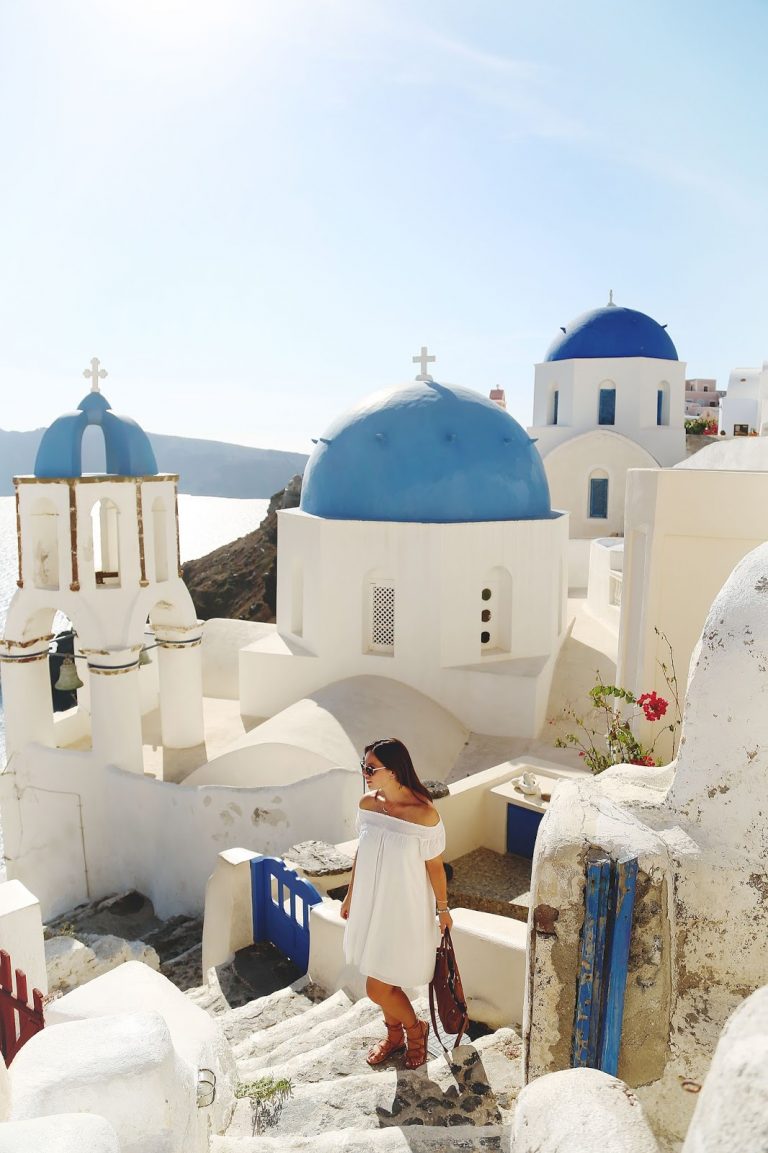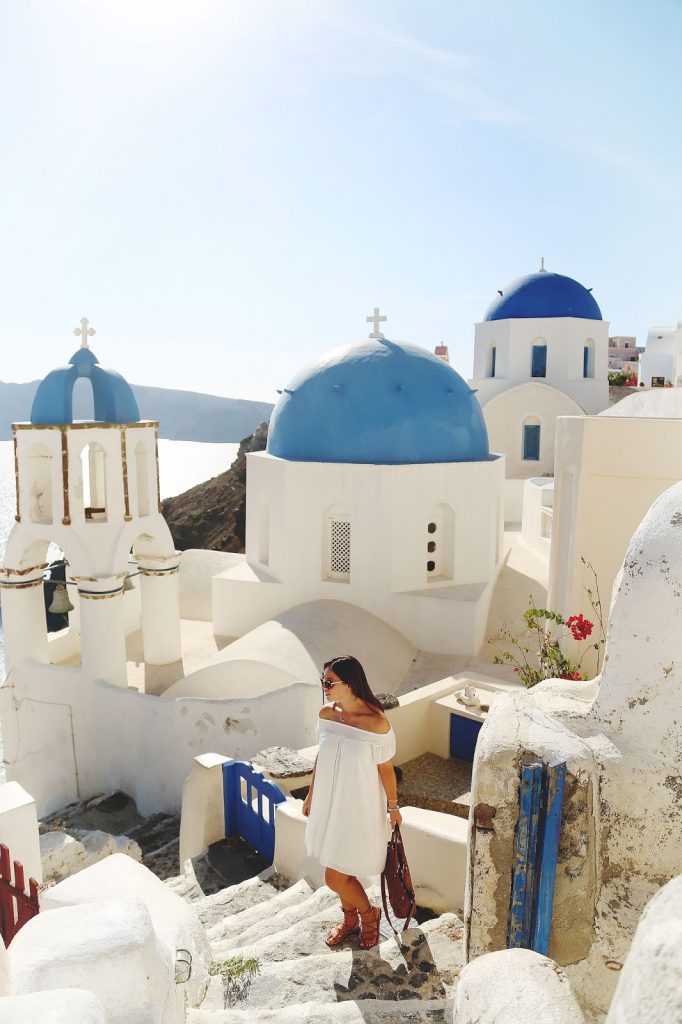 Also good to know when you visit that the caldera basically functions as a speakerphone—anything you say will be magnified much louder, so when you're having a chat with someone within the caldera, best to leave any salacious or gossipy details to when you're out of the caldera and make sure you speak at a low tone!
Finally, stop by my Greece: What You Need to Know general guide to get briefed on all things Greek if you haven't been to the country at all yet. Okay now that I've satisfied my major history nerd, the itinerary! There are so many things to do in Santorini, but these are the ones I'd absolutely suggest for the most amazing 4 day Santorini trip ever!
---
The Ultimate Santorini Itinerary
OIA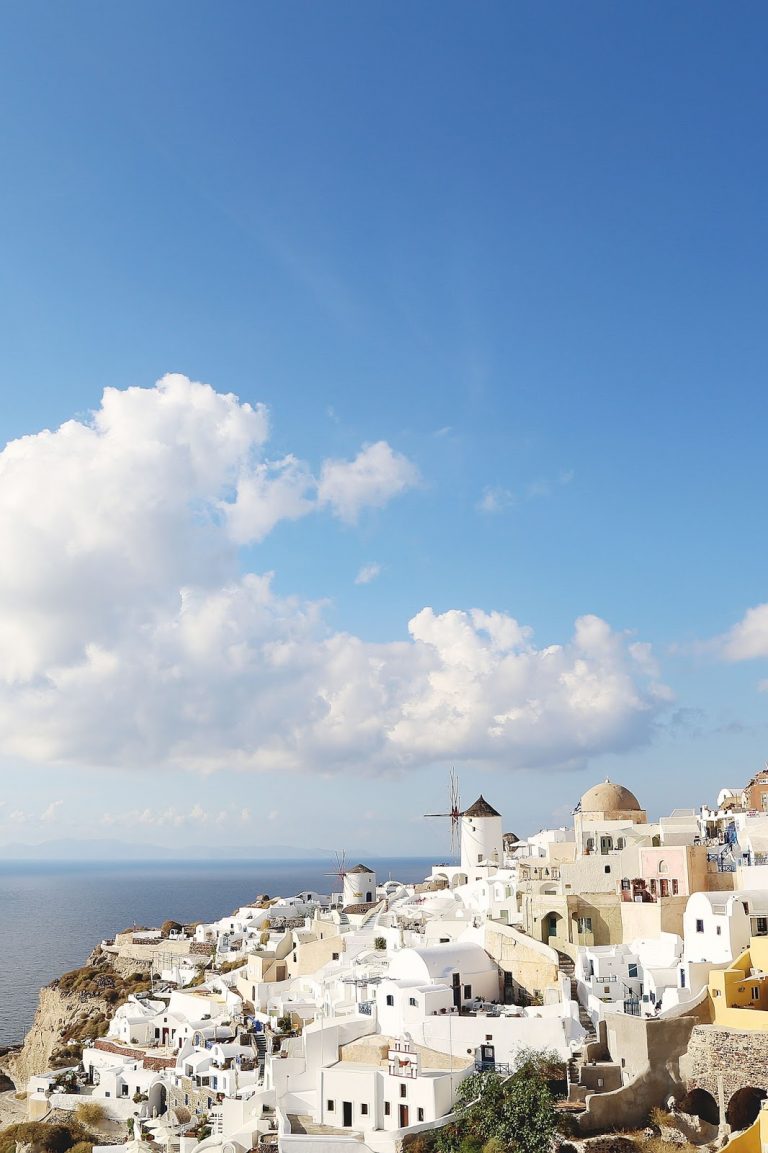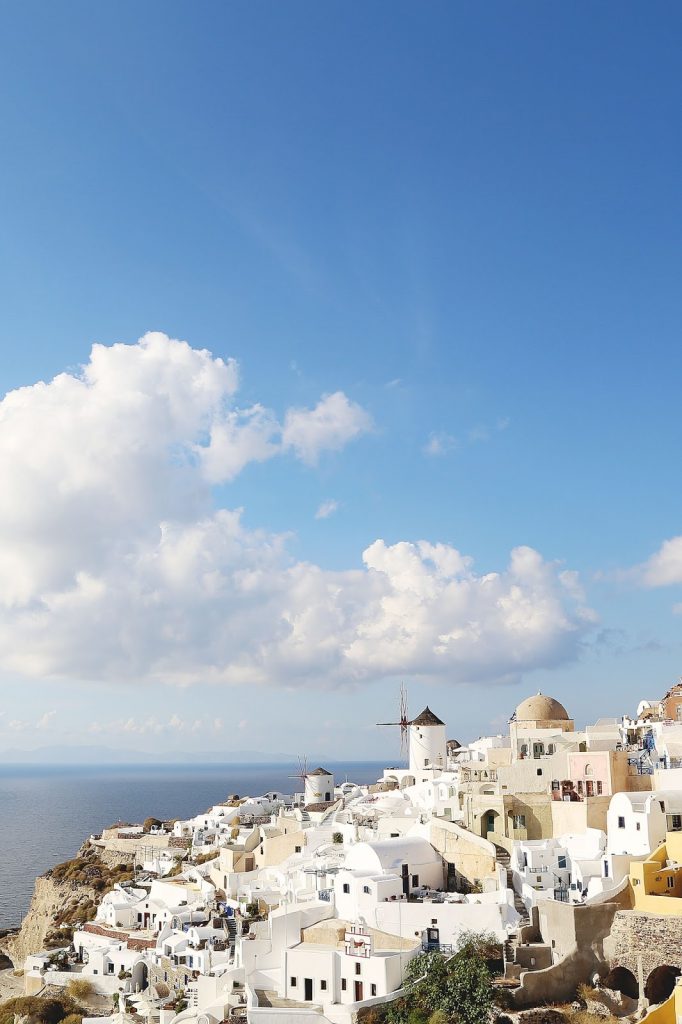 So yes, you need to see the sunset at Oia. A lot of people might say otherwise but since we were fortunate enough to be right in Oia (more about our amazing experience at Ifestio Villas literally steps away from the prime sunset location here), the whole "it's crazy you need to get there hours early" thing is a bit overblown.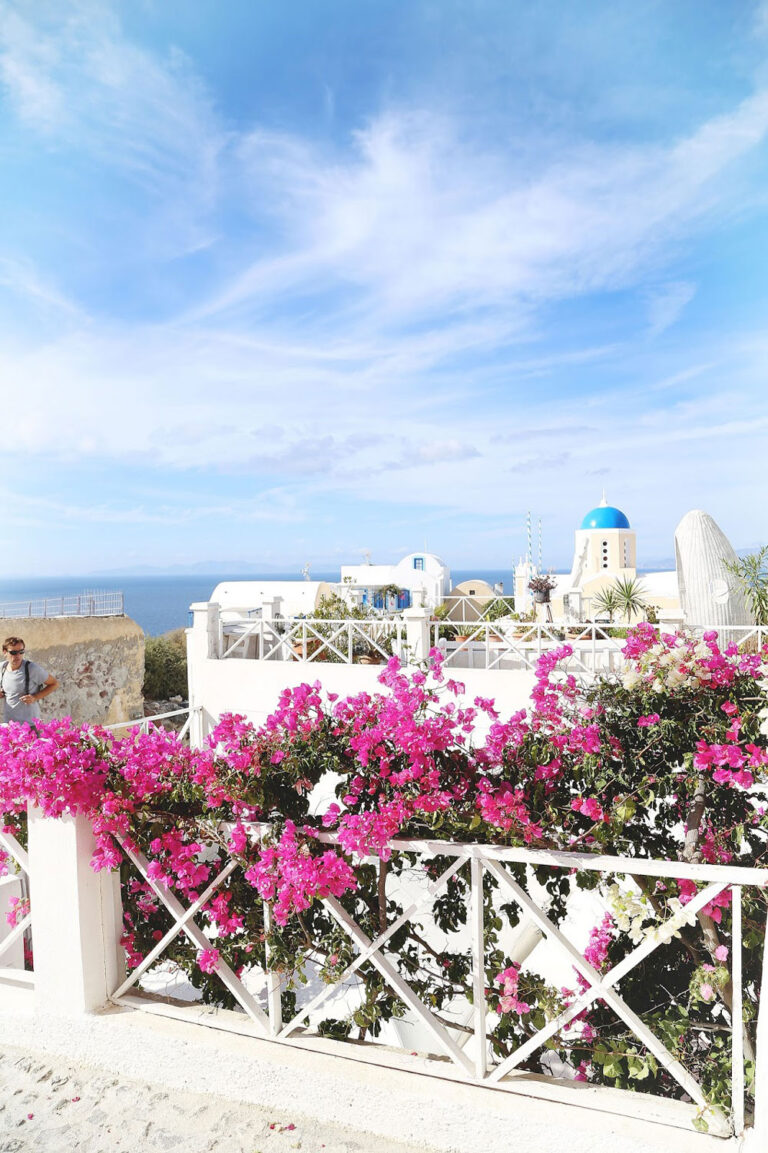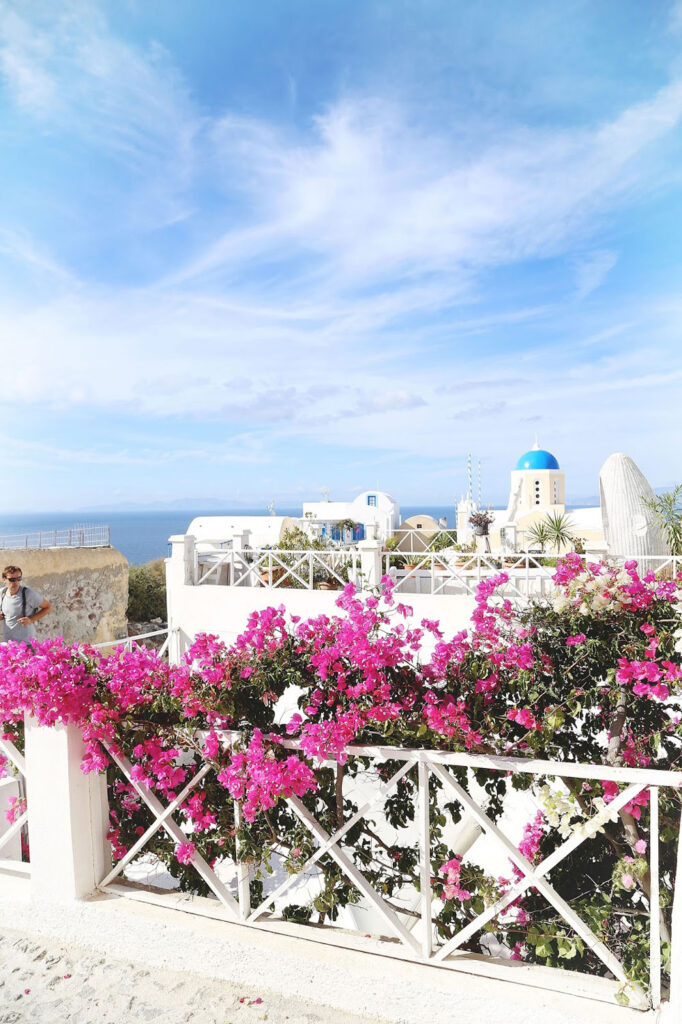 First of all, a little bit about the area: Oia's port Armeni Port (made famous in such wondrous films such as Sisterhood of the Travelling Pants) is a fisherman hubbub, and you can definitely experience some amazing food (albeit in a touristy location) here. The only problem with the port is that it's waaaaaay down below. Please don't take the donkeys—locals know they're usually not treated well by their owners and Tara urged us not to take them (not that we were that tempted anyway). Get a workout in like we did to get a unique perspective of the sunset against the buildings below, or if you need to, get a cab down. The walk is not so bad though if you take it slowly and it's really cool to see the port and the perspective of Oia from below!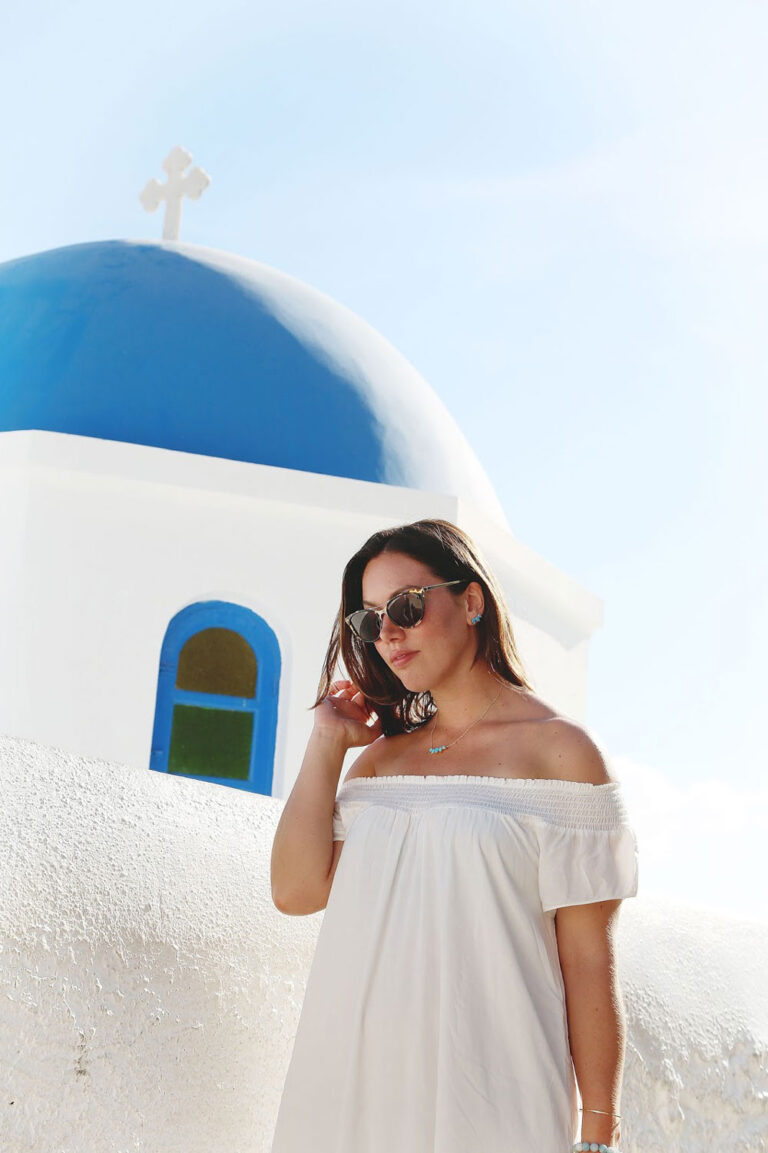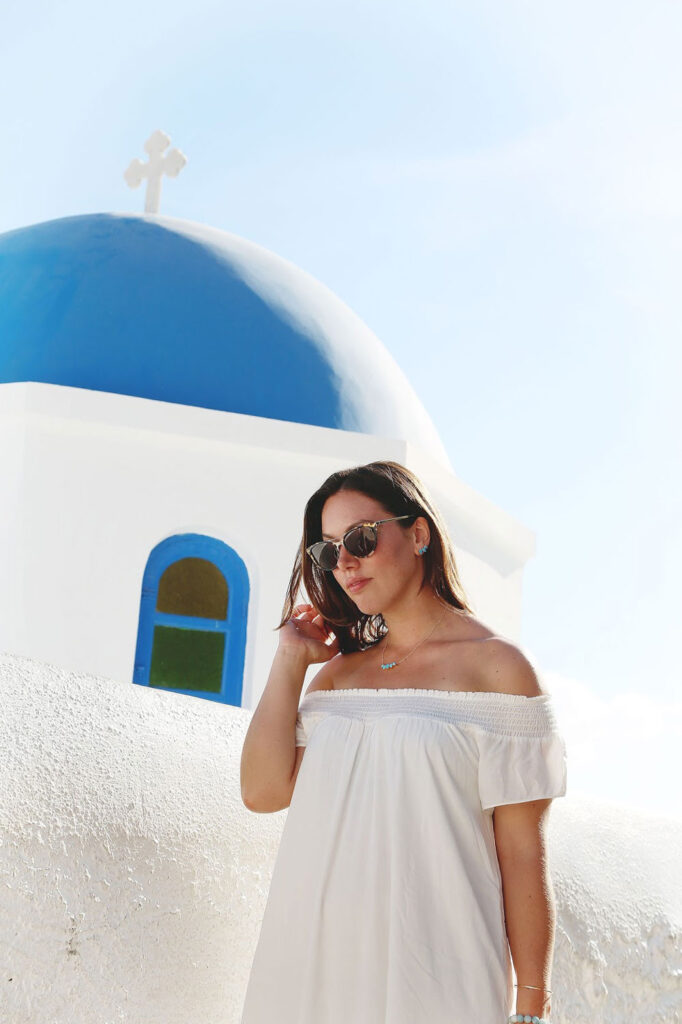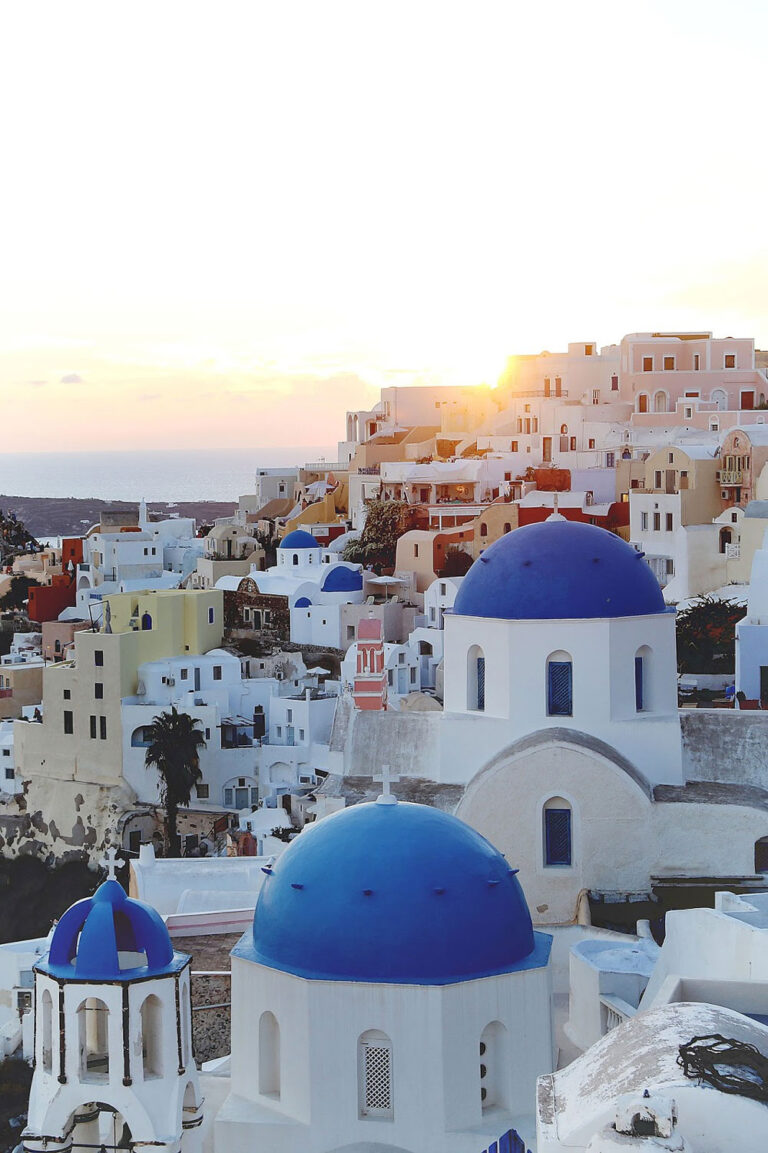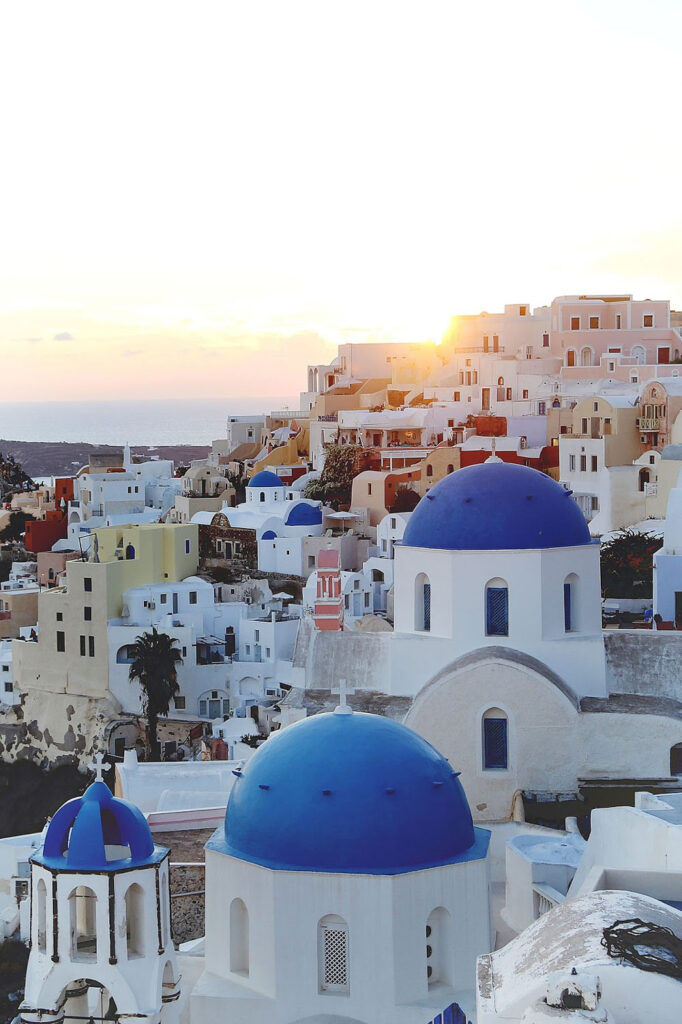 Now if you want to see the sunset from above, there is a perfect spot that's basically the highest point right after the main drag past the bus terminal. If you leave the bus terminal, turn right and keep walking. There will be a point to branch off and this is where you turn left and just keep walking until you get there. During the high season, it probably does get pretty busy, but since we were there in October we found it totally fine. Just plant yourself somewhere, maybe bring a snack, some water and some wine (I'd conceal it in a little bottle though, I always feel bad for the locals who have to put up with the tourists all around all the time so best to not just look like a total DB) and wait it out for an hour or so. The sunset is literally something that is now ingrained in my memory—so beautiful, so special and definitely a worthwhile experience.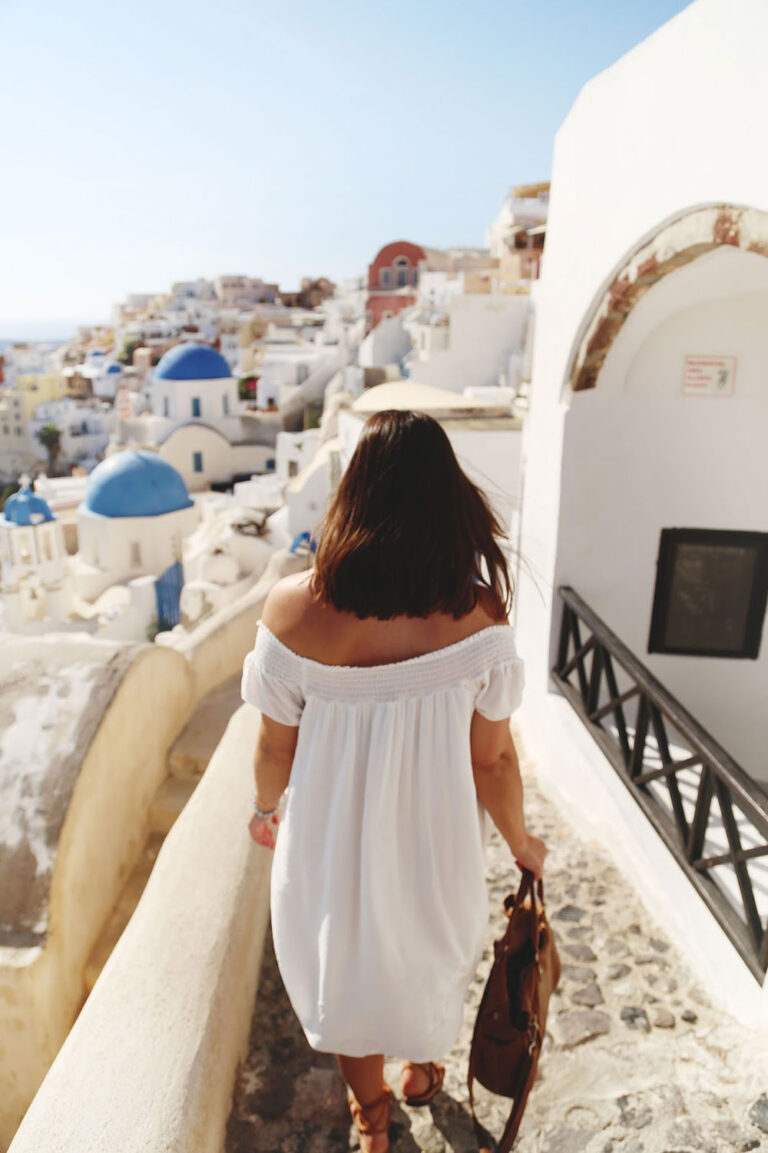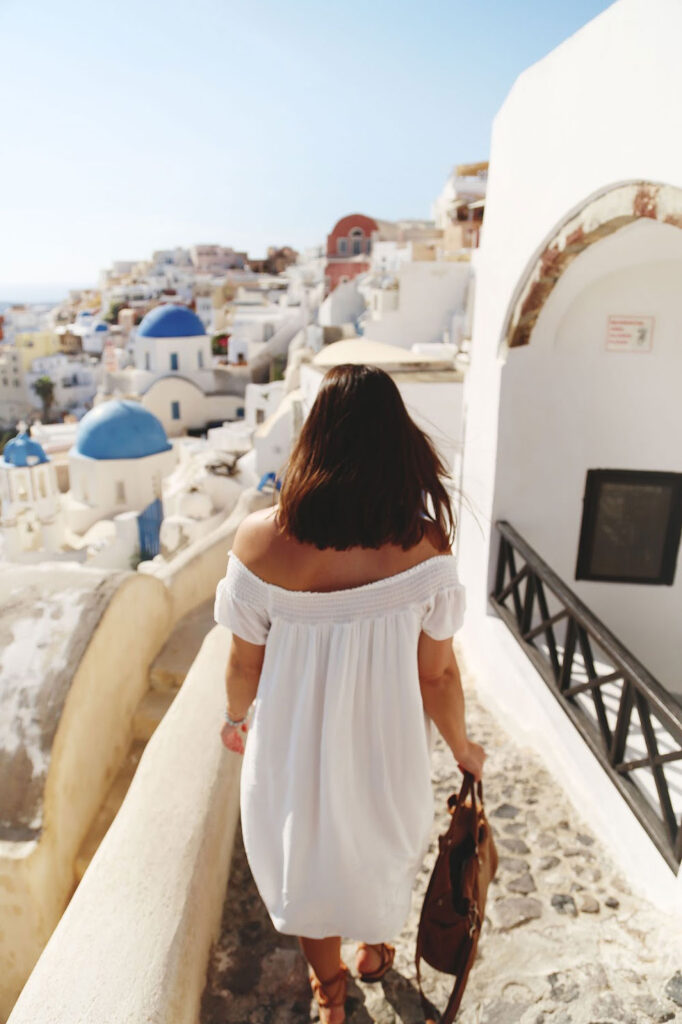 In Oia, you'll also see one of the captain's houses that I spoke about before that still stands. Also some overpriced shopping if that's your kind of thing but we mostly just went photo-crazy and then kept going to the same amazing souvlaki place right next to the bus depot. It's honestly amazing, and quite frankly, after all the amazing and super inexpensive food we had in Crete, we just didn't feel like spending all of our money on the prices there—the one problem with going Crete to Santorini is that the value for food (and quite frankly, better food) is just such a stark difference. Eat souvlaki and treat yourself to a really great meal if you're watching a budget. If you're not, then go crazy! Lots of great food but definitely more expensive here since it's so touristy.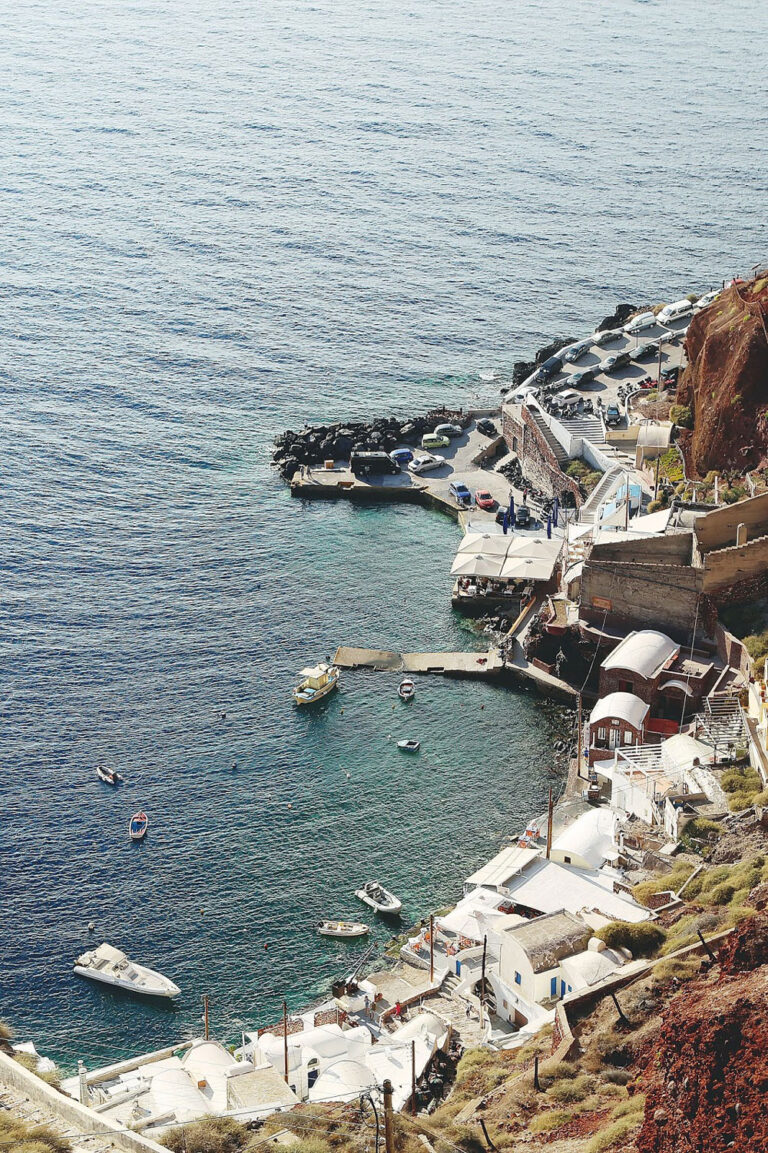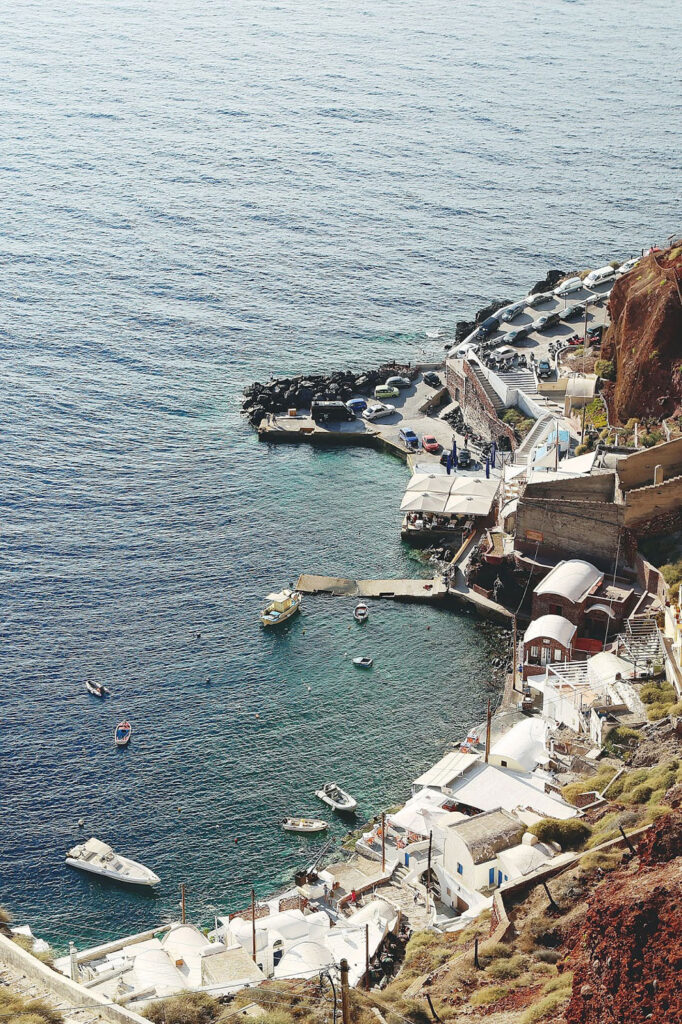 ---
SANTORINI YACHTING CLUB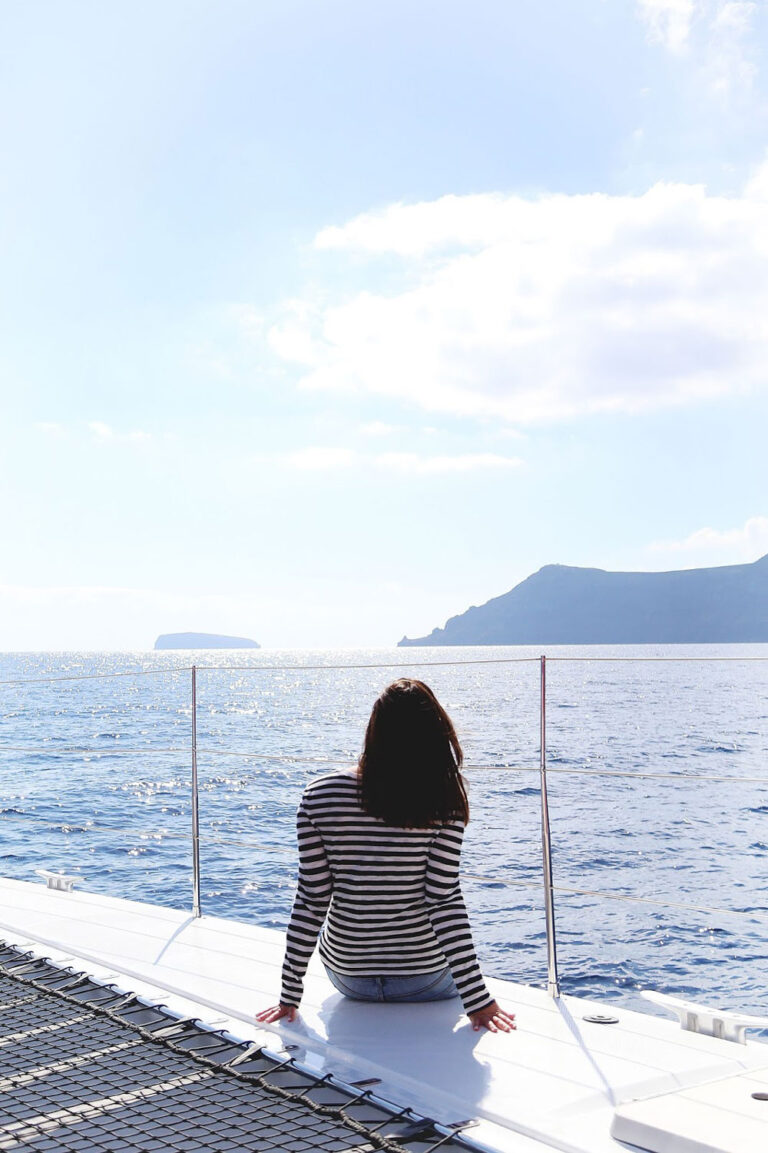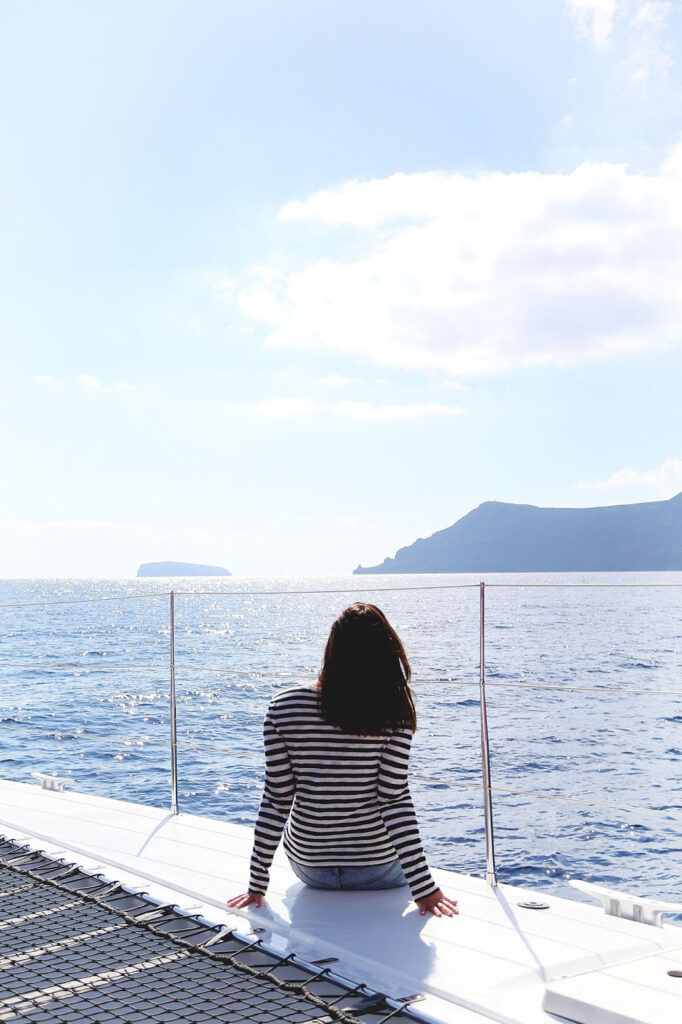 It's funny because initially, we weren't really sold on the idea of a sailing tour of the island. I don't know why but we just had it in mind that it wouldn't be that cool, but fortunately for us, our guardian angel Tara insisted we do it and put us in touch with her friends at Santorini Yachting Club.
Well, it turned out to be literally the best experience out of our whole time in Santorini, and one of the highlights of our trip overall. I don't know what I was thinking—when do I not love sitting in a bikini on a boat, swimming all day, learning tons of cool history (again, 'cause I'm a nerd), drinking beer and eating a ton of Greek food (which was really surprisingly very good)? The answer is….NEVER!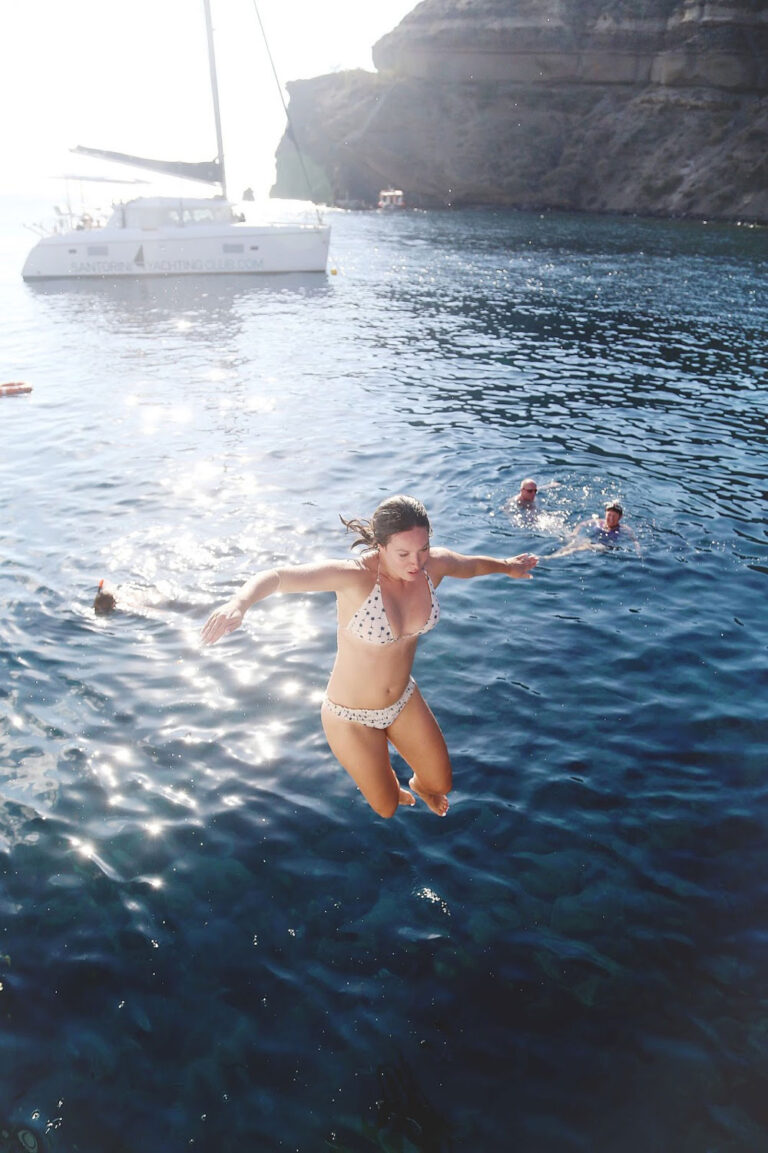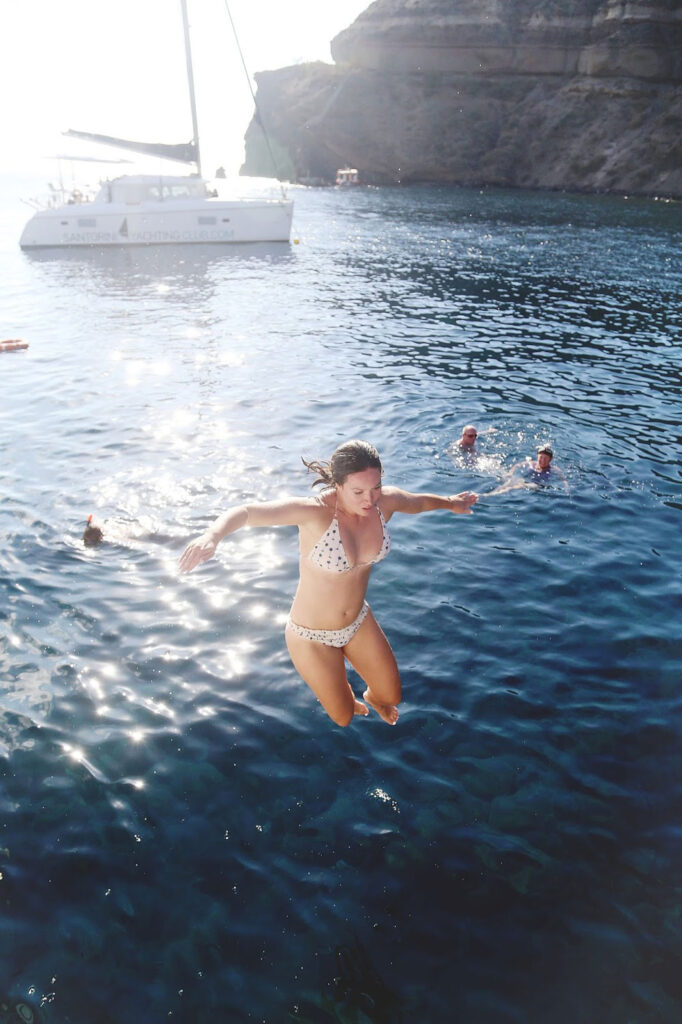 We went out of Armeni Port and got a shuttle from the Santorini Yachting Club people down, who right off the bat were super awesome. We got a quick briefing, cracked open a drink pretty much right away (morning drinking—wonderful!) and then made our way to the (now dormant) volcano to swim in the hot springs.
A tip here: there is a lot of sulfur in the water here which is GREAT for your skin, hair and apparently lymphatic system, but not so much for your suit. I now have a white suit that will never be white again. Wear a suit you don't mind tossing or wash it at least as soon as you get home with some lemon and water to try to lift out the stains. Dark colours are great too. Just…not white. Not white.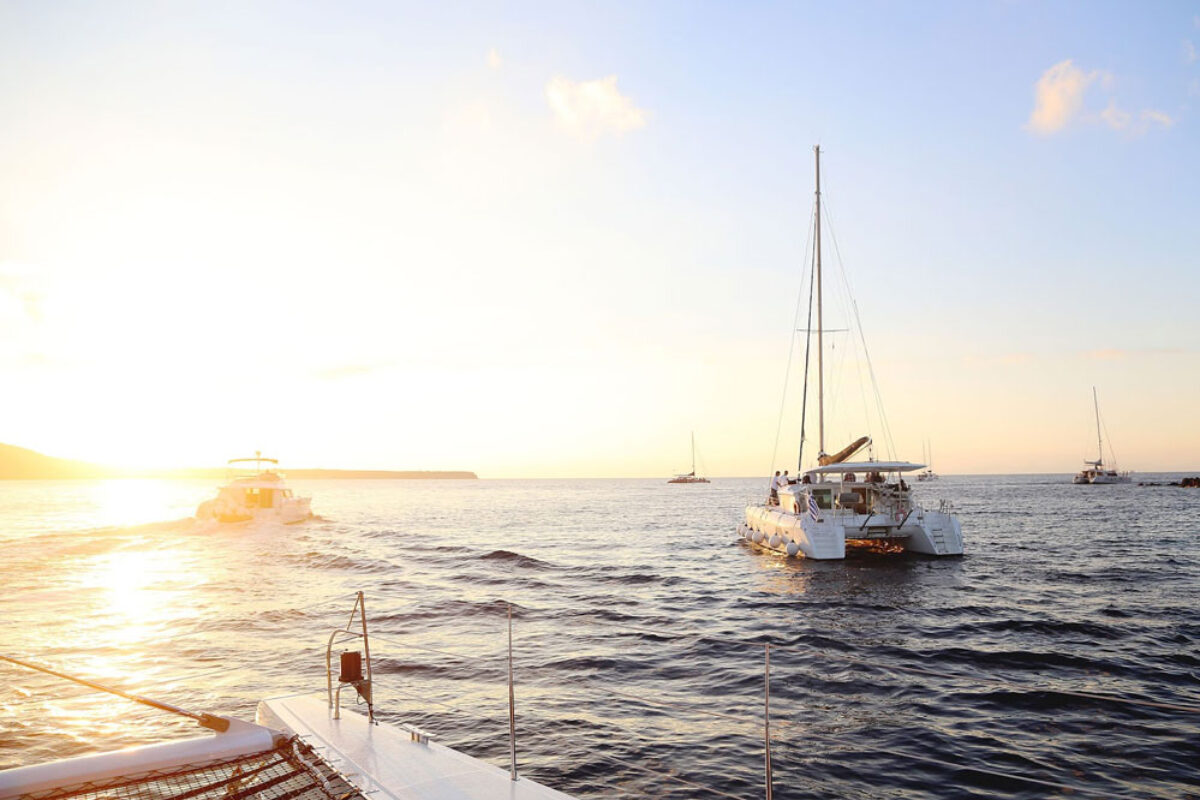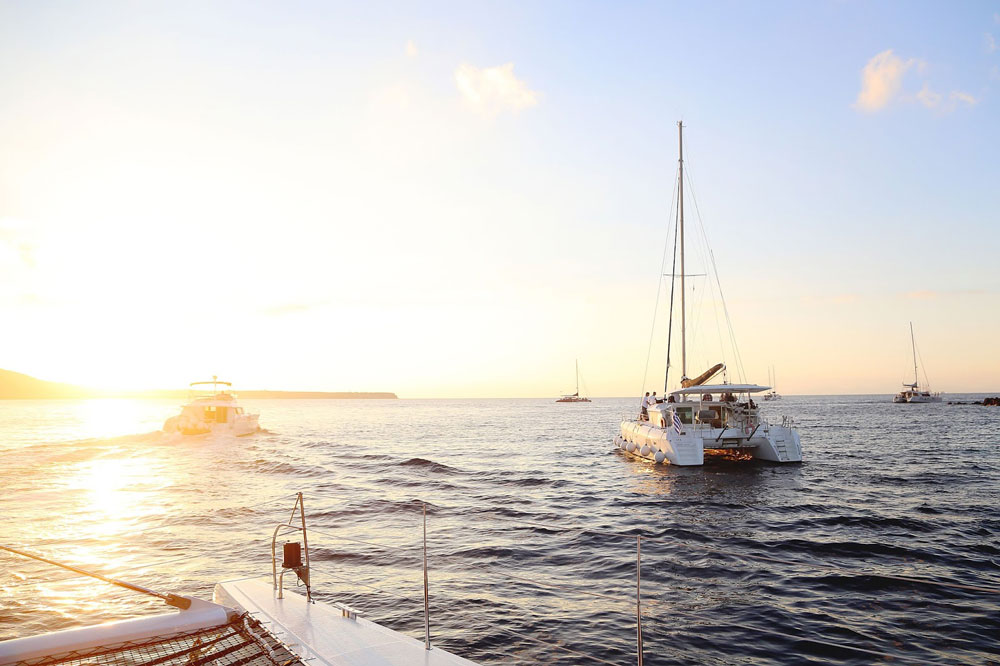 Anyway, we then carried on and did a tour of the white sand beach, the red sand beach and the black sand beach. While you don't go straight up to the beaches, we were able to swim at each point and as a serious coastal girl/mermaid type, this was my favourite part.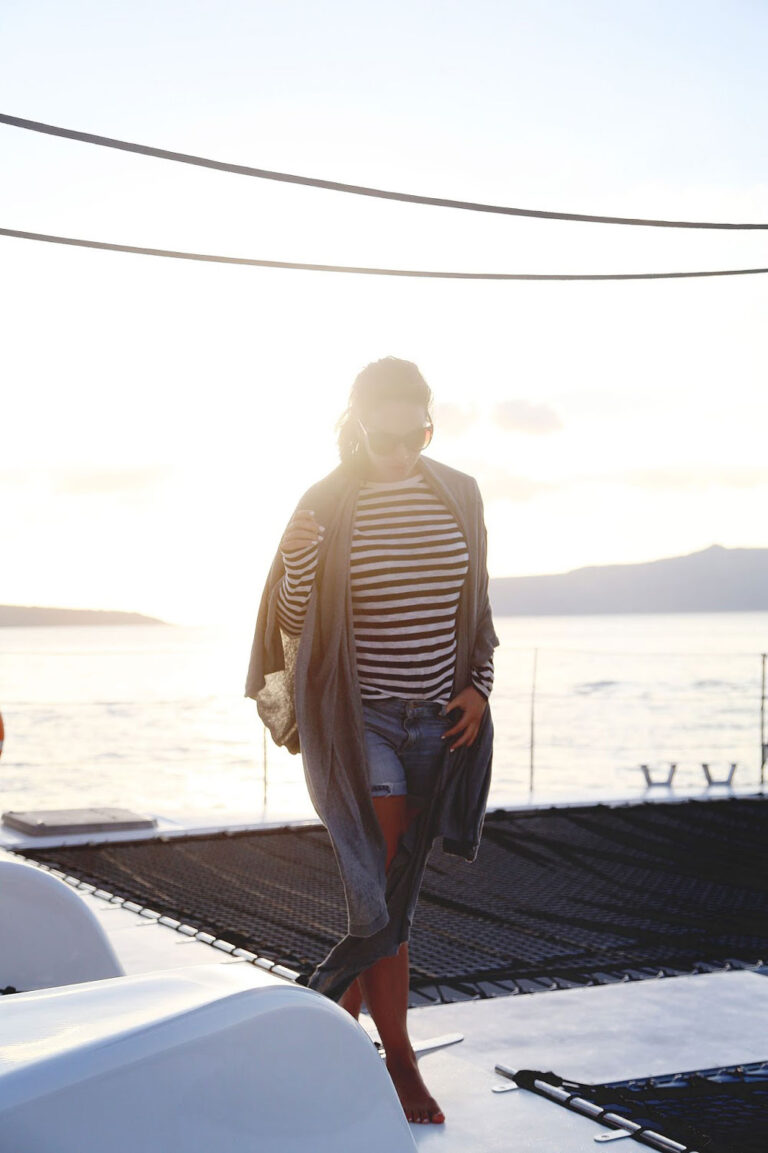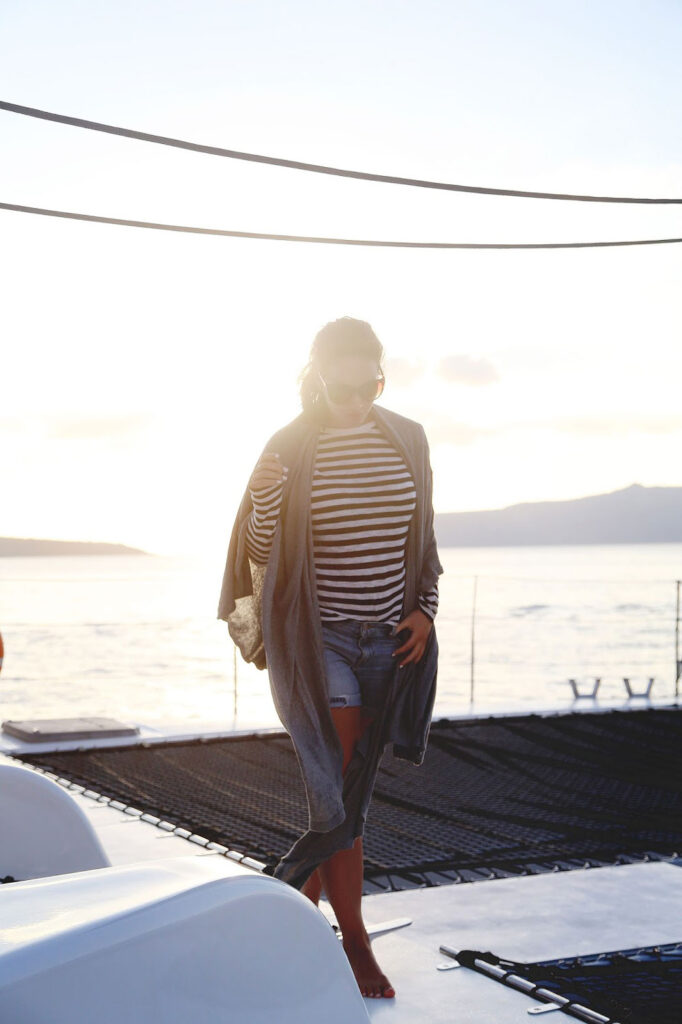 I have never seen water this clear in my life except for maybe at Molokini in Maui (which is a protected site). Matt and I were that obnoxious couple repeatedly jumping off the boat and having to be called back in because we both were having too much fun diving down to swim with all the fishies in the sea. I honestly have such crystal clear memories of our time swimming there despite the 2 beers I had then consumed and it's honestly one of my favourite memories ever. It helped that this was all followed by some amazing food after we had worked up an appetite being buffoons.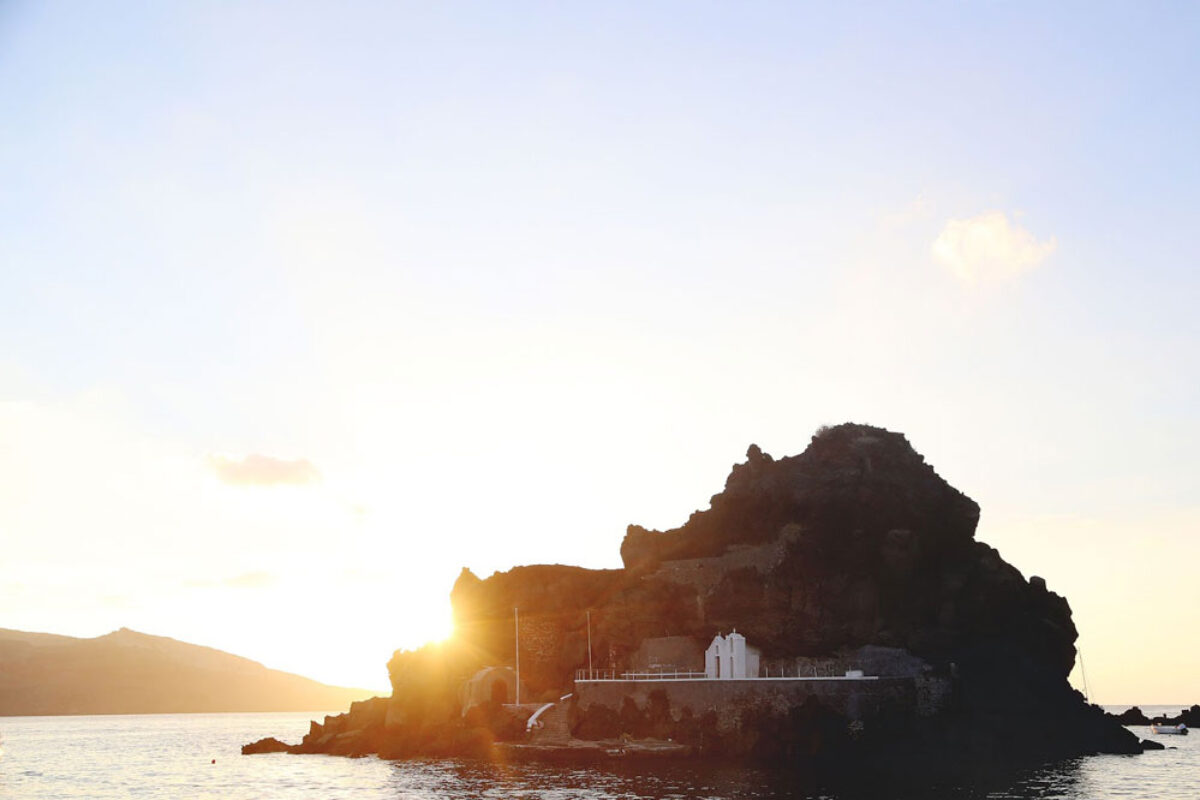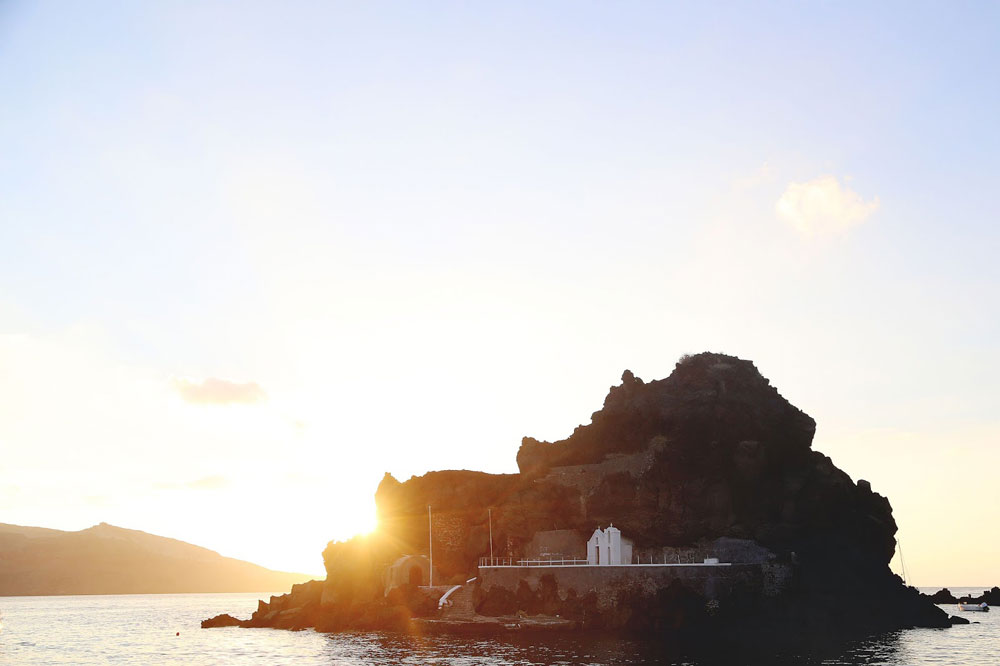 We also made our tour by the Venetian Lighthouse, by Fira (THIS is the touristy hub where all the cruise ships go—if you see the cruise ships at the bottom there, do not go because it will be overrun by tourists) and then started back to Armeni Port just in time for the sunset, which was again beyond magical.
A big thank you to the Santorini Yachting Club for a truly unforgettable experience. If you're going to Santorini, please, please, please take my advice and book a tour with them! You will not be disappointed!
---
HIKE TO FIRA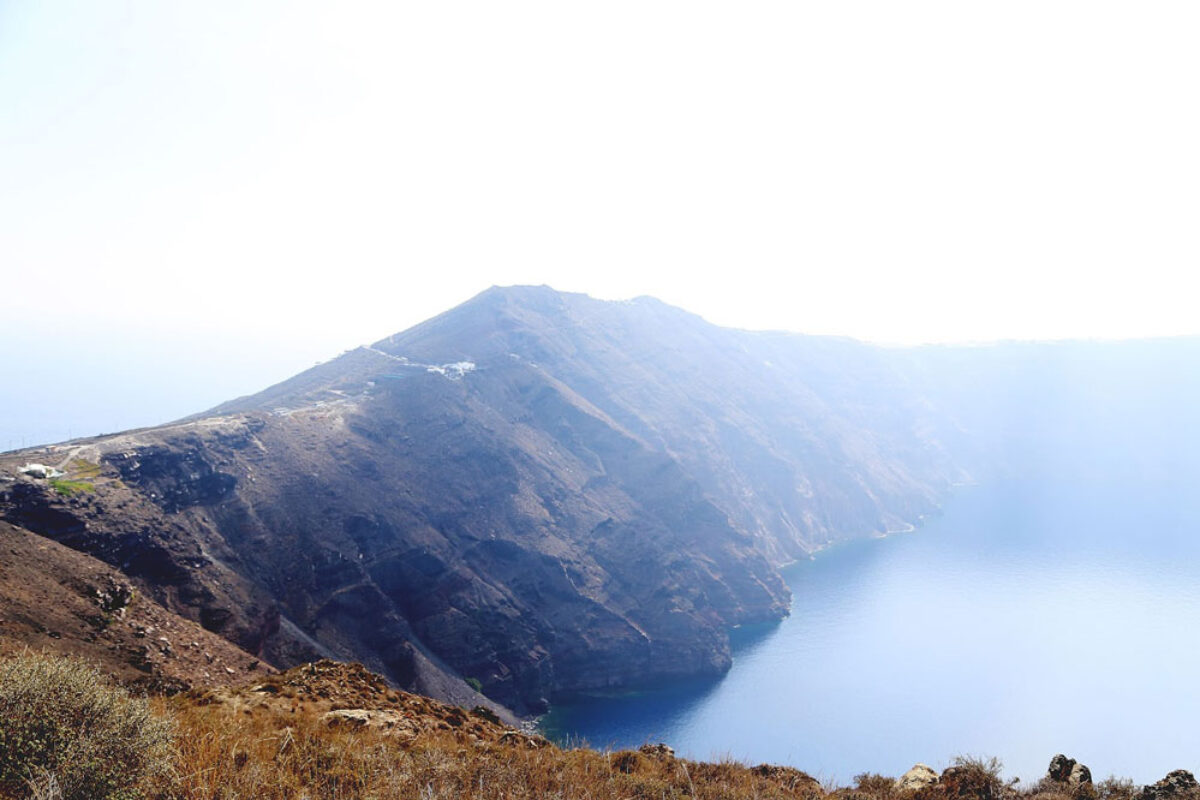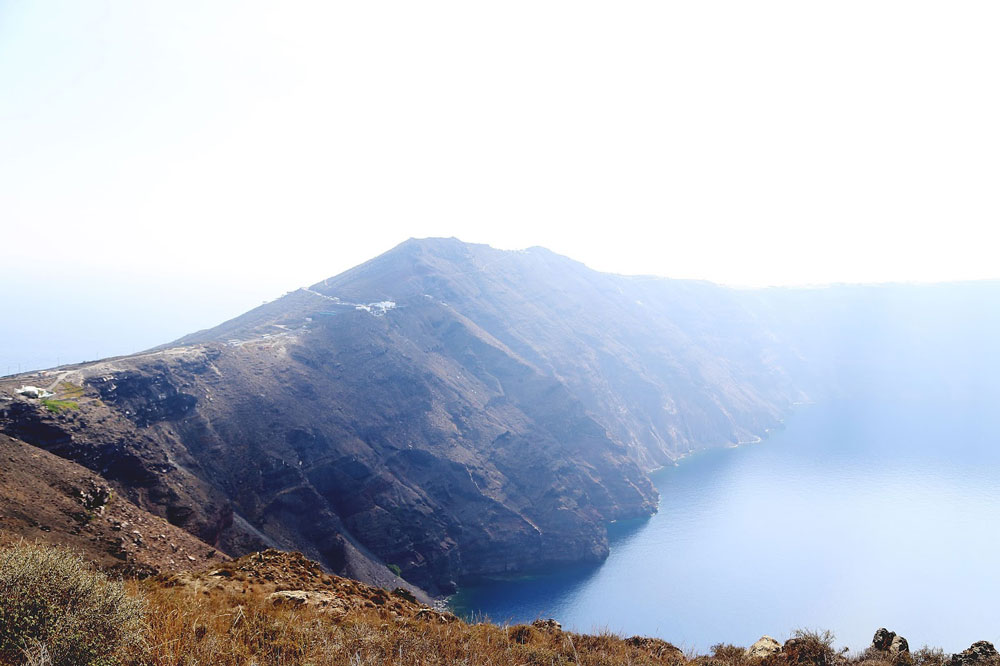 This is a full-day thing so make sure you pack some water, a snack and sunscreen. The hike is not what I would describe as short but it's also I think doable for most anyone. It's not particularly steep or strenuous, it's just damn hot for the most part (again…water).
Having said that, it was honestly well worth it because other than the sailing tour, you don't get to really understand the shape and structure of the island as intimately as you do on the hike. It's so cool to see how the island literally just sunk straight down, and while you're hiking you get all kinds of cool perspectives on it.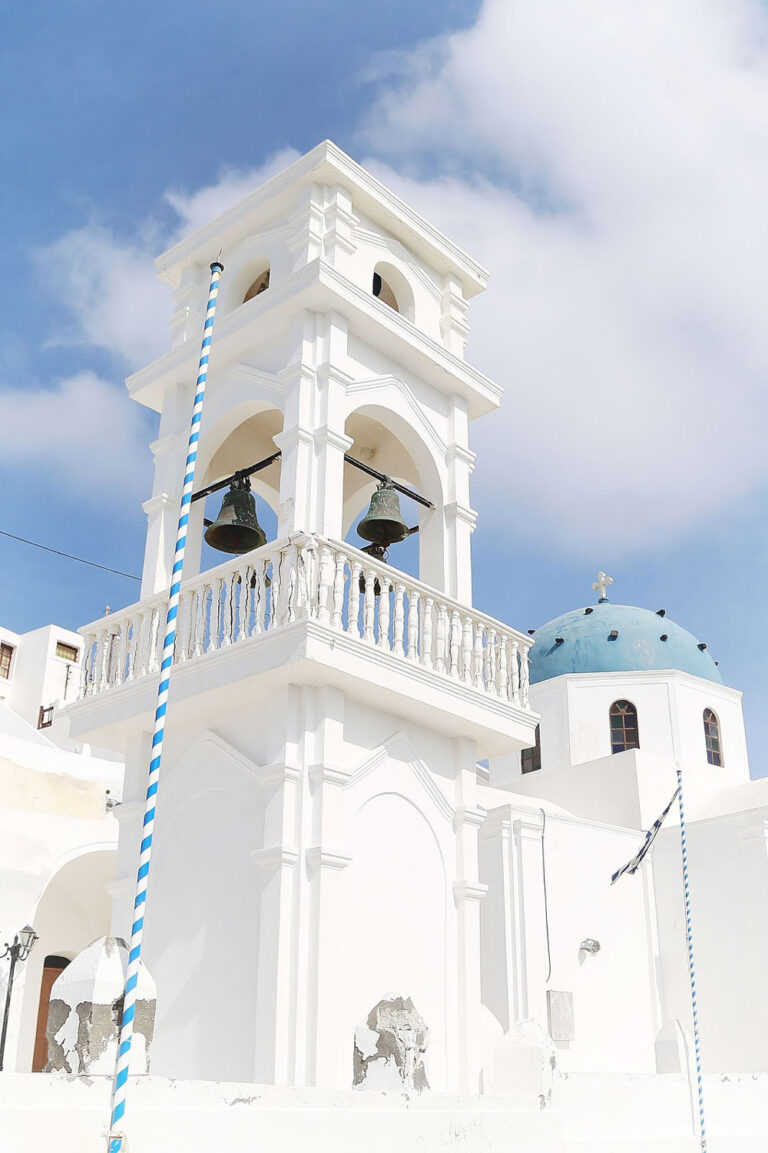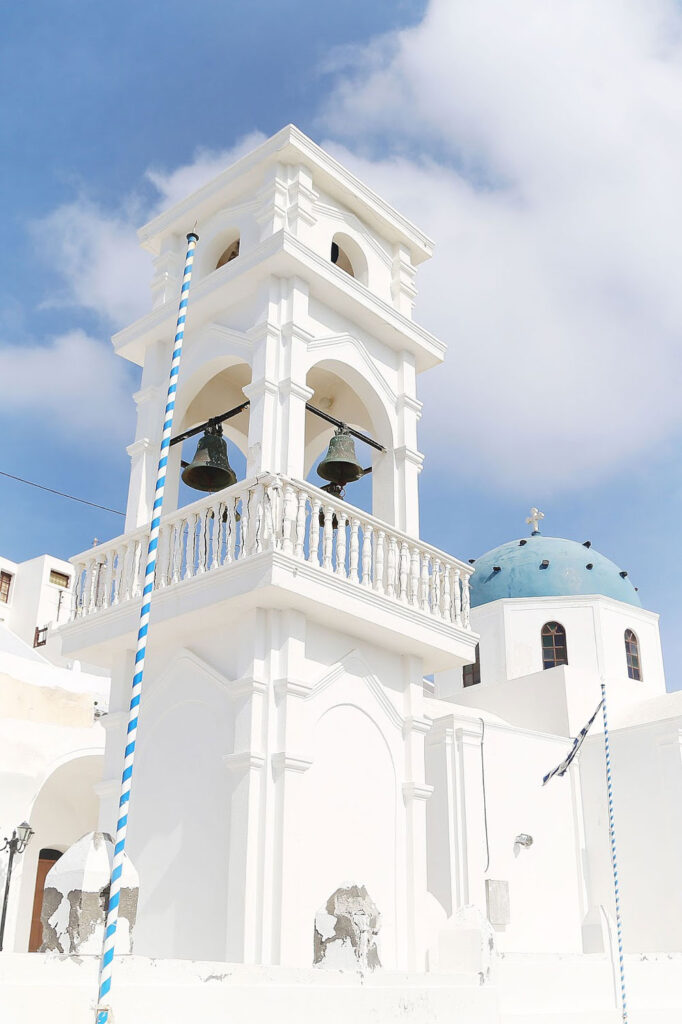 The hike from Oia to Fira took us a few hours I believe with lots and lots of stopping, caffe frappe stops on the way and picture taking.
Once we were in Fira, we beelined it straight to the Museum of Prehistoric Thera (make sure you call ahead to find times because hours are inconsistent at most museums, especially in the off season in which case some might be closed altogether). It was so worth doing this because we knew we wanted to go to the Thera site the next day, and as mentioned now repeatedly, I'm a major nerd when it comes to history and really wanted some background. You got to see the frescoes, the pottery, etc—it was honestly so cool.
We then did a quick tour of Fira and snapped some pics but honestly, it wasn't my favourite spot out of the whole island. It's the capital city and just a bit overrun in my opinion. Having said that, well worth visiting to do a tour and to see the museum.
We caught a cab home (I would strongly urge you not to do the ATV's—they roll and are a major pain in the ass for the locals here, who already have to deal with enough!). We headed back to Ifestio and had a really relaxed night, which was perfect because we knew we would have a majorly busy day the next day!
---
RENT A CAR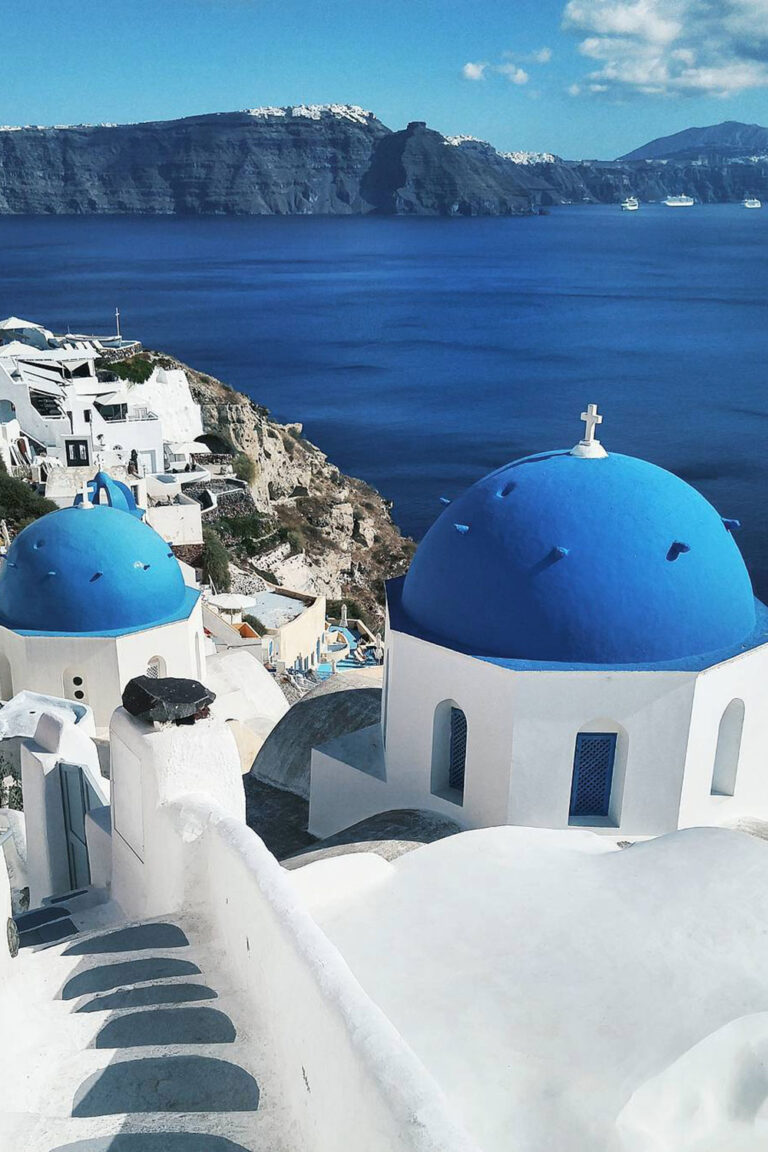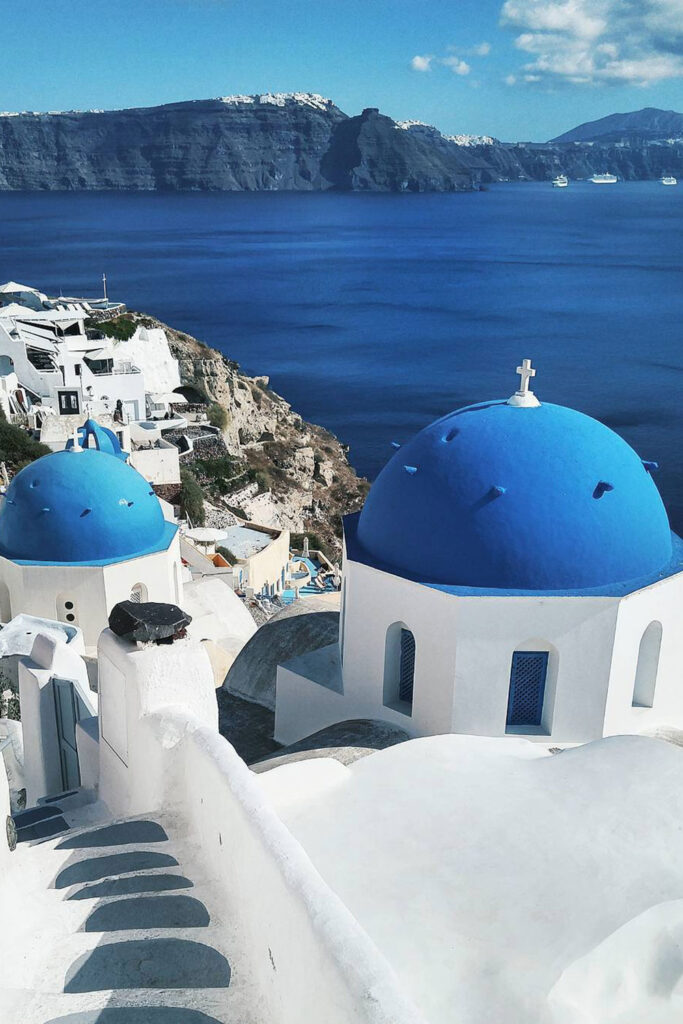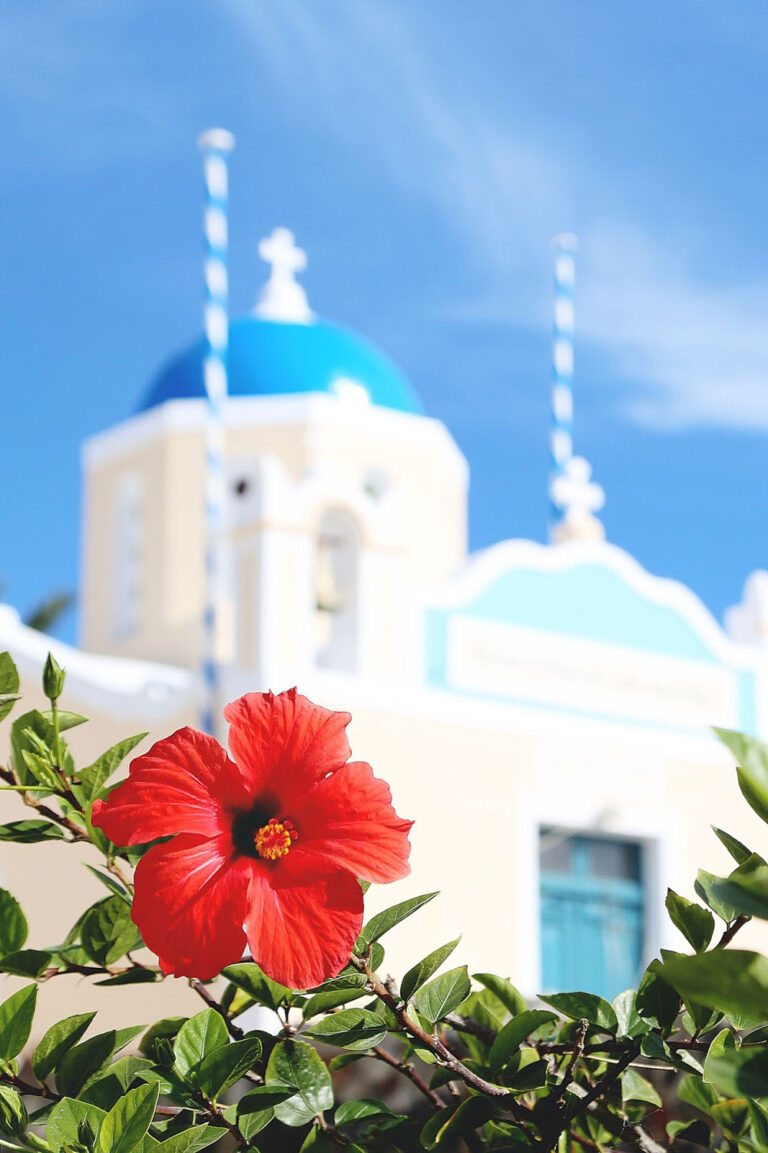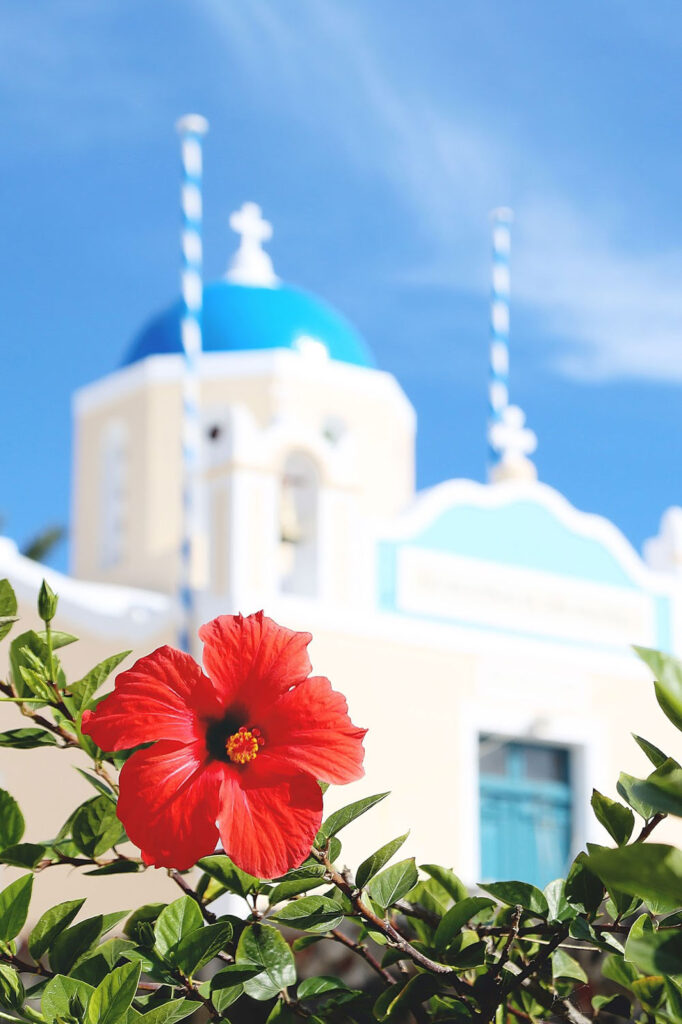 So what we both agreed was a really good strategy/travel hack was to book your ferry to your next island or destination so that you leave in the late afternoon or evening—rent a car for that last day and do a big tour of all the last things (more on that below) that you'd want to do. You can then drop off the car at the ferry port for the car rental agency to pick up and go off on your merry way without having to worry about booking transportation yet again to get down to the ferry! It honestly worked like a gem for us and we're so happy we booked a car for just a day too because we literally saw so much. PS we went with Vazeos to rent and they were great!
---
VENETIAN LIGHTHOUSE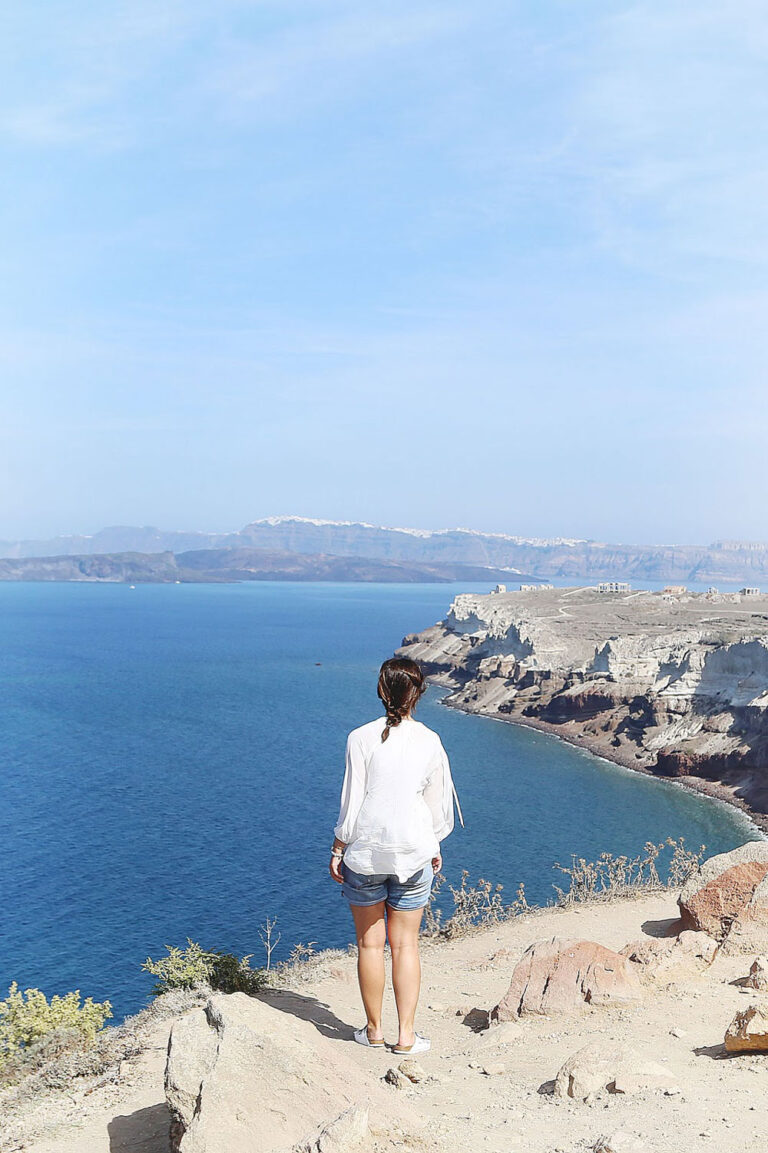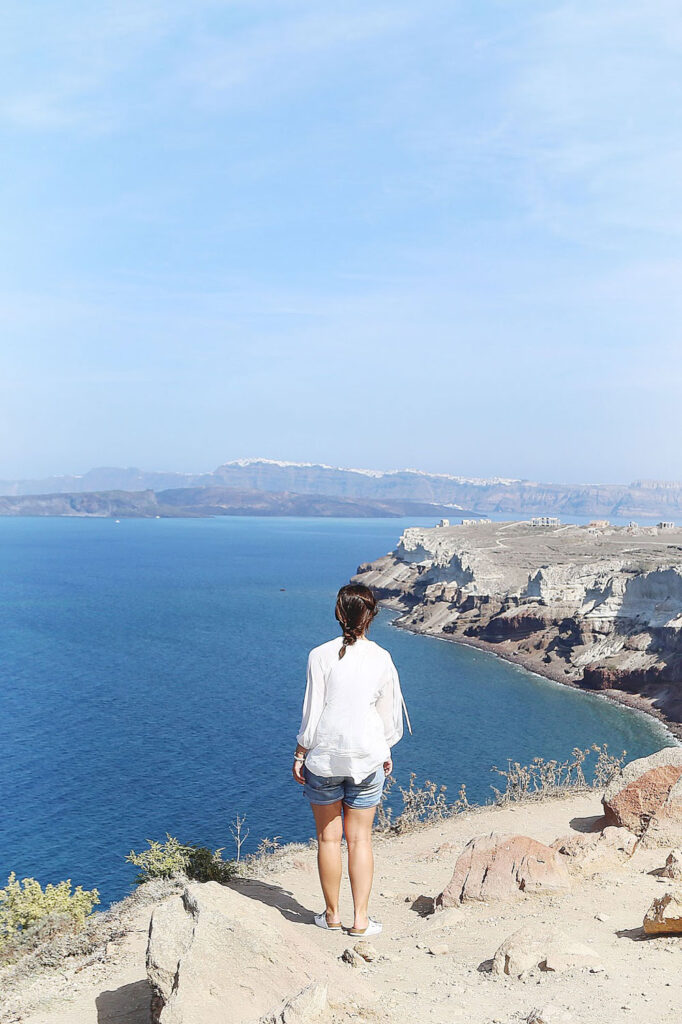 We started really early in the day and headed up to the lighthouse (by the way, the trip here is stunning—lots of beautiful villages to go through). The lighthouse is cool but really it's the view of the caldera that really makes the trip worth it.
---
AKROTIRI (ANCIENT THERA)
We then headed to the Akrotiri site which honestly is so well-done and SO cool. They've set it up so that you walk on boardwalks above the excavated site. There are signs set up everywhere so you can spend a couple hours walking through and discovering what each part of the site was. I'm kind of a romantic when it comes to history if you haven't noticed and just imagining all the life that happened in that place, the sophisticated houses and systems they had, etc—it was seriously so awesome. I would 100% recommend going.
---
PYRGOS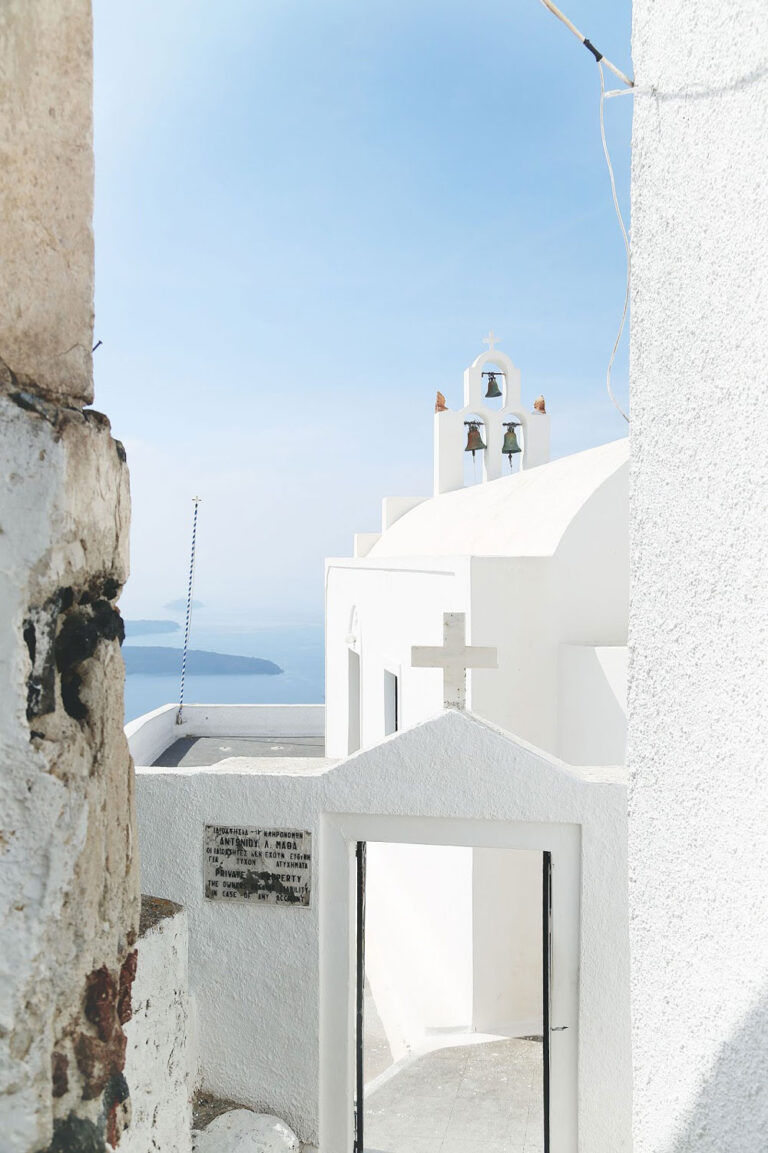 We then went to the highest point in Santorini—Pyrgos! Park at the base and take some time walking up. The village is a lot quieter and really super lovely. It's actually an underrated photographer's dream—lots of shots of the rest of the island below peeking through an alleyway, stunning churches, etc. We stopped at Franco's Cafe for a truly delicious platter of appetizers and (of course) caffe frappe and cappuccino freddos.
---
SANTORINI BREWING COMPANY + KOUTSOYANNOPOULOS WINE MUSEUM
A quick stop at the brewery just to sample some really delicious beer and then we stopped at the wine museum. Sure, some of the moving displays seriously creeped me out, but they legitimately did a really great job. I didn't realize Santorini had such an interesting winemaking culture—because of the harsh conditions, winemakers trained the vines to grow in bushels almost to protect the grapes, resulting in almost sun-dried grapes that produce some delicious sweet wine. Definitely worth a visit if you have time!
And then that was it! We drove down to the ferry, parked the car, made friends with a dog there, stopped into a cafe while we were waiting for our ferry and then all of a sudden we were off to Mykonos!
I know a lot of people say Santorini is overrated and I agree that I could spend a lot more time in Crete over either of the more touristy islands we visited (and I can not wait to do all the islands on the west side and to make our way north to different groupings). But I have to say at the end of it all, and with the right information, Santorini goes down as one of my favourite places ever visited. I definitely would spend max 4 days there but if you are interested in history, love photography and like swimming (the beaches weren't ideal when we went to visit but usually they're incredible), you will absolutely love it.
Essential Santorini Places or Experiences

Sunset at Oia, Sailing The Island at Sunset, The Hike From Oia to Fira, Renting a Car, Venetian Lighthouse, Pyrgos, Akrotiri (Ancient Thera)
I have a visual below that's got a condensed version of the itinerary laid out so that you can refer back to this on your next trip! Hope you guys loved this Santorini itinerary – now get booking!
---
PIN ME