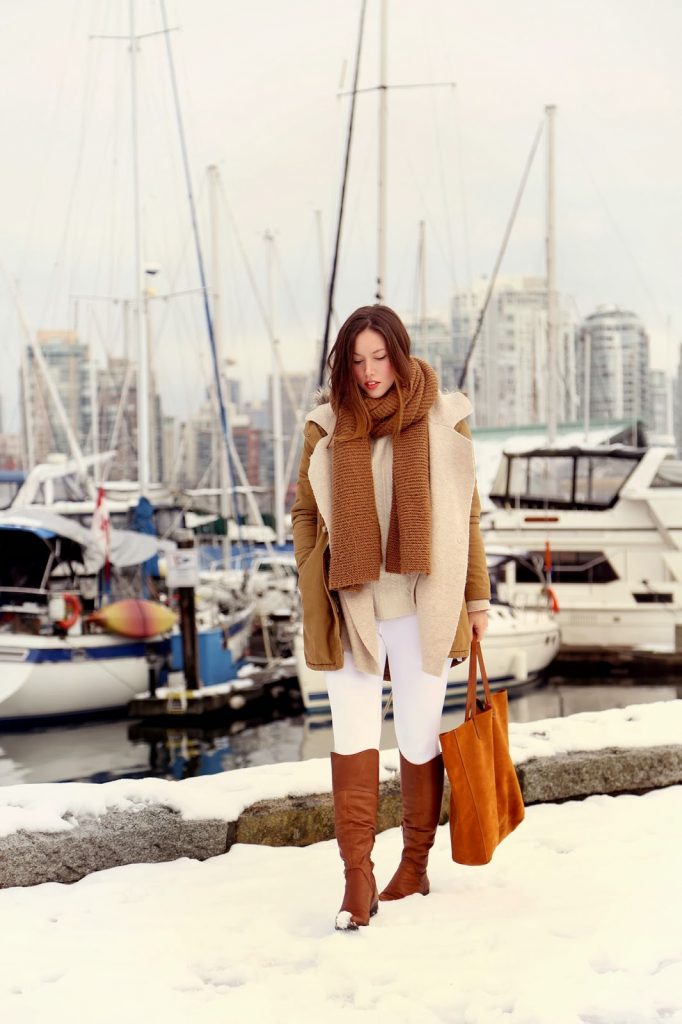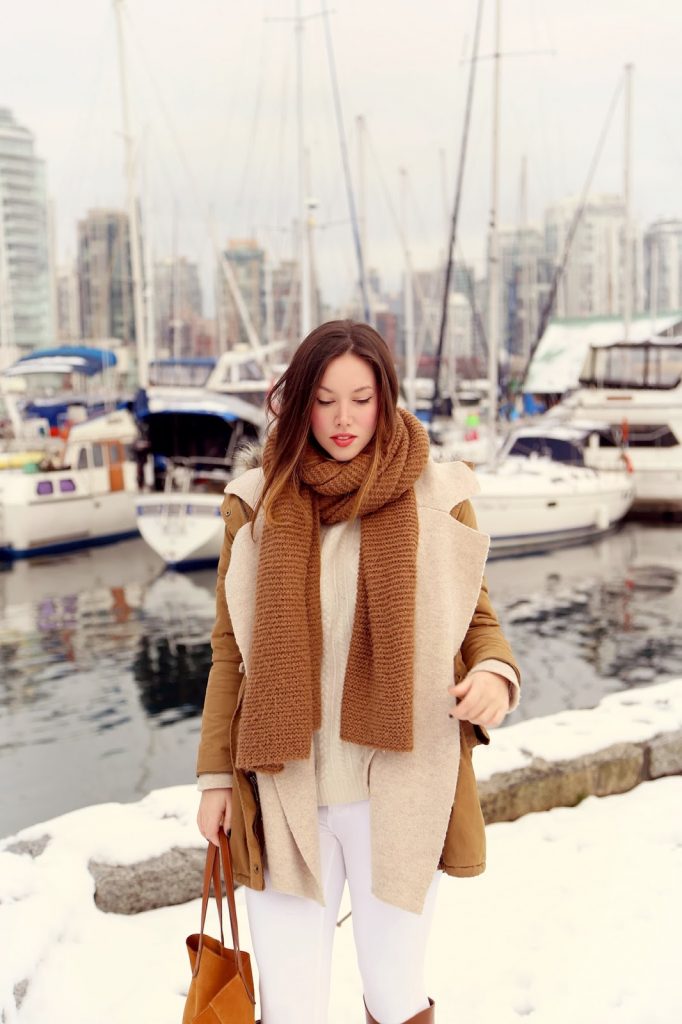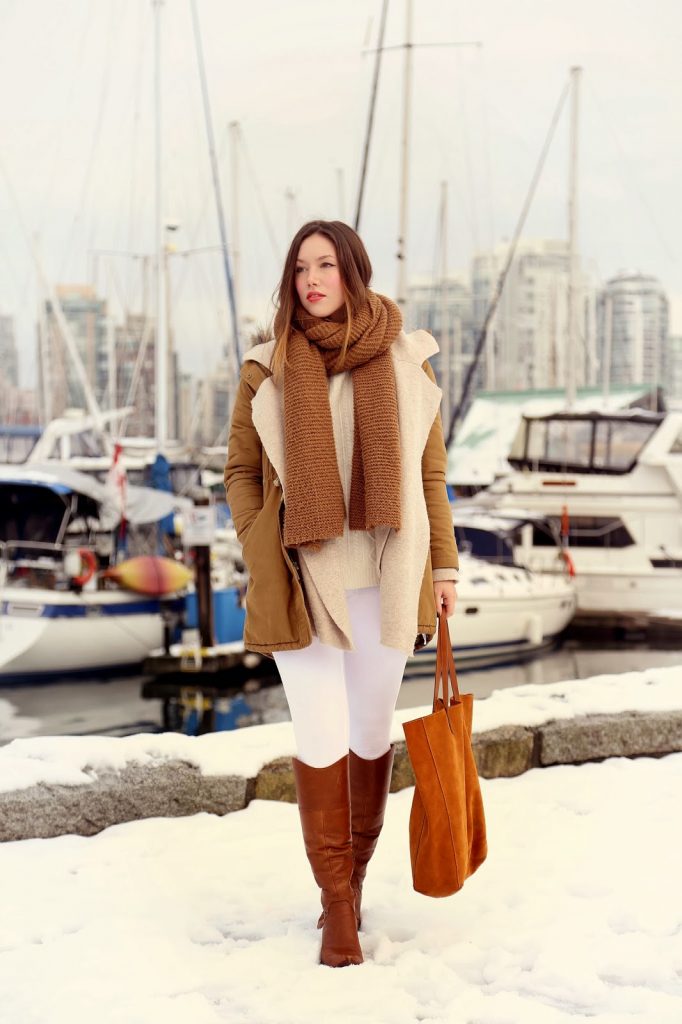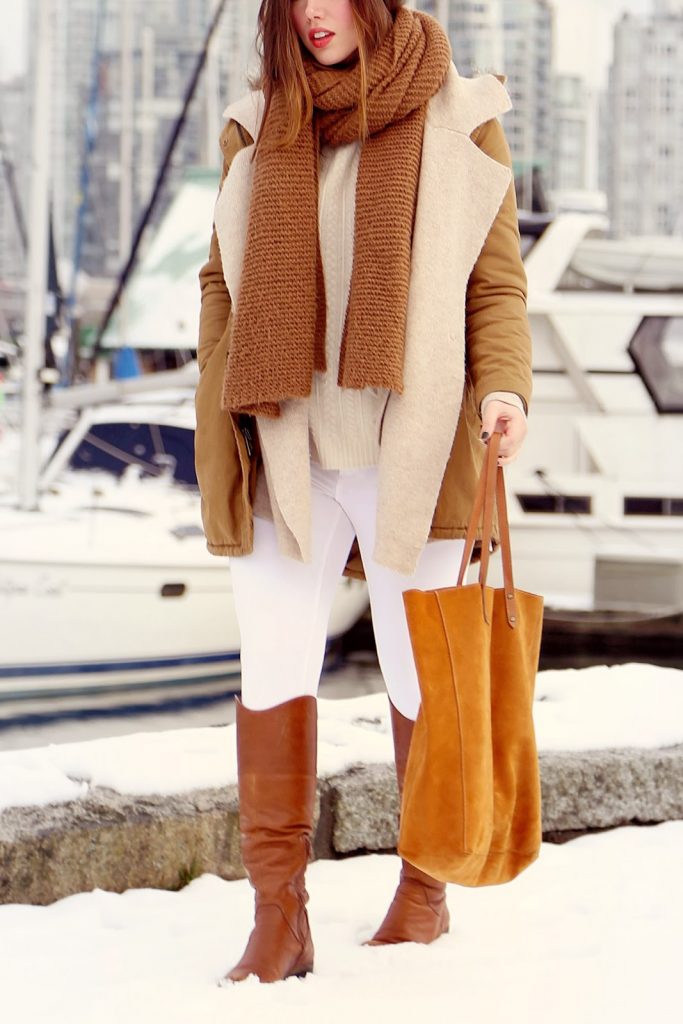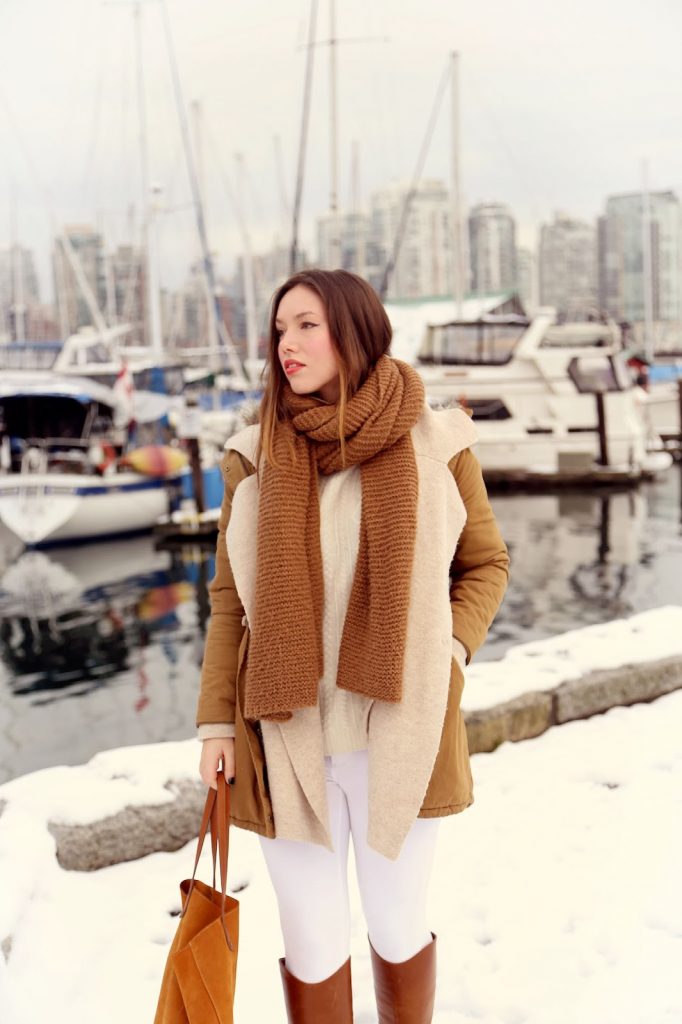 Boots c/o Sole Society, parka c/o Old Navy, Joe Fresh skinnies,
bag c/o Massimo Dutti, jacket c/o Free People, Club Monaco sweater
It's hard to believe these pictures were taken only a short little while ago – in typical Vancouver fashion, the little snow we did get this winter got quickly washed away by our West Coast rain and this snow covering on the Sea Wall already feels like a distant memory! Fortunately, it did stick around long enough to serve as the perfect backdrop for one of my favourite cold season trends: winter whites!
There are a couple tricks to keep in mind with winter whites. Like a denim-on-denim look, unless you've got a supermodel's height and frame, you'll likely want to vary the tones on top and bottom slightly so that the look is intentionally neutral, rather than Michelin Man-esque. Also try punctuating the icier white tones with touches of warm brown or another brighter tone, which helps ground the whole look and breaks up the expanse of white. And like any other monochromatic or neutral toned look, playing up texture is key for keeping the outfit from looking too flat. I've thrown together faux fur, fuzzy wool, cable knit cashmere, a chunky knit, leather and suede here, all in slightly varying shades of brown, khaki or white. Et voilà – winter whites made easy!
Speaking of winter, it already feels like January's speeding by – can't believe it's already the 3rd today! I spent a good long time working through
Lara Casey's amazing 2014 goal-setting series
and it felt so good to really hone in on my vision for the year. I already had a couple general goals but making the vision that much more clear makes everything so much more exciting – can't wait to start carrying out the beginnings of my annual goals this month!
The only part about Lara's series that I have to get back to is what my song for 2014 is – lately, all I've been listening to is
Weezer's "No One Else"
on constant repeat and thanks to my obsessive nature, I can't get into any other song until this streak is done. Which is kind of shitty because this song is apparently just about a girlfriend of River Cuomo's who kept cheating on him, so…not really something I want to set my whole year to, whether it's my current musical obsession or not. Give me some musical recommendations please and thank you, and if you haven't checked out Lara's series yet,
do so here
!