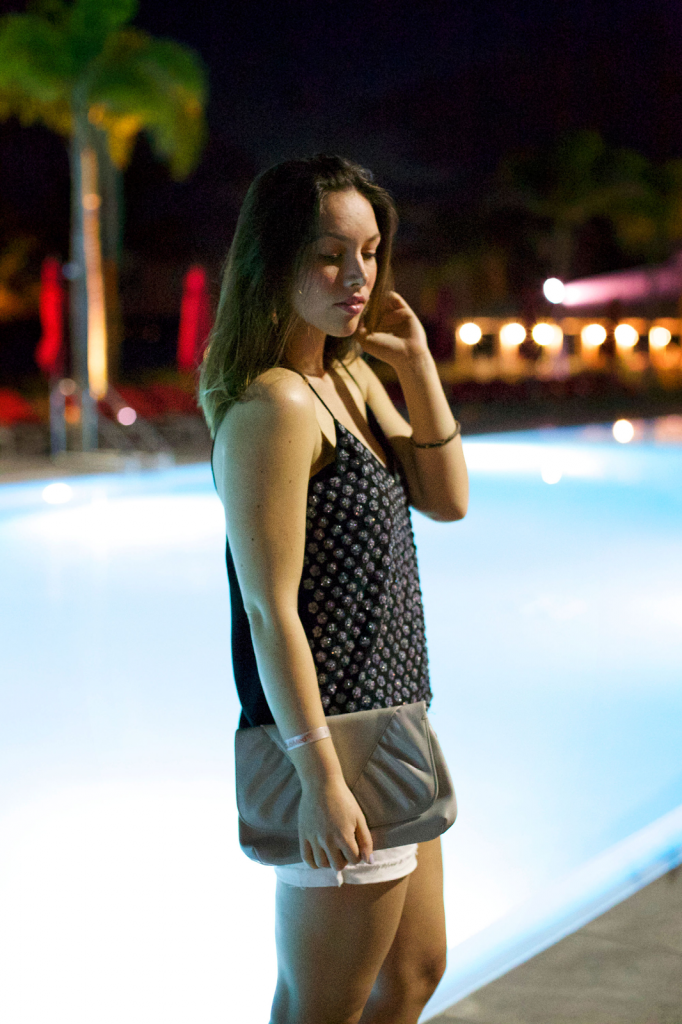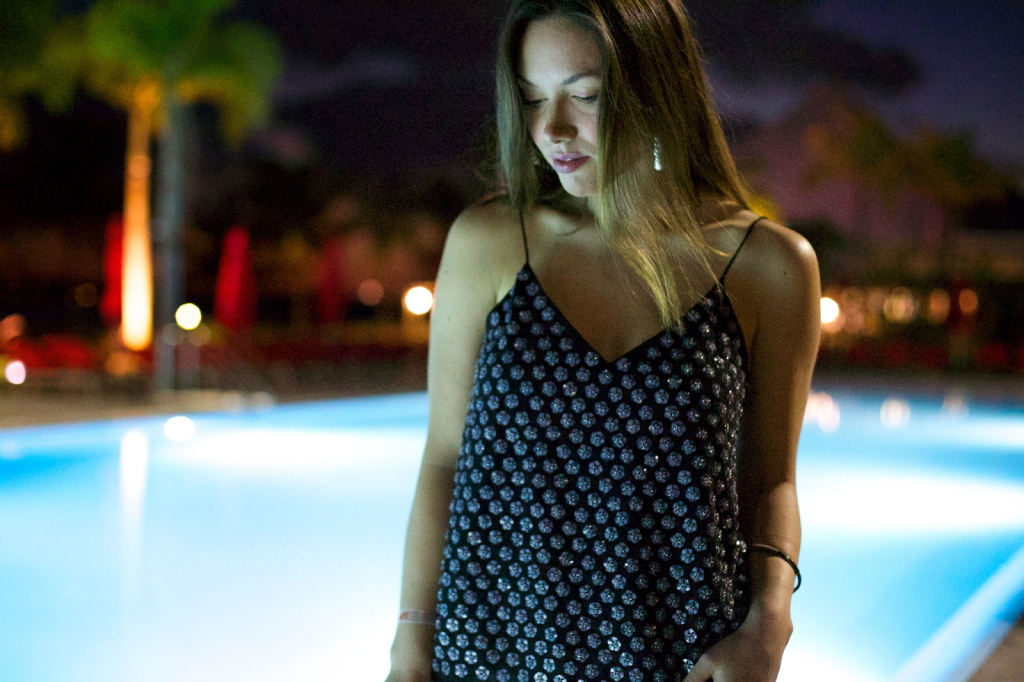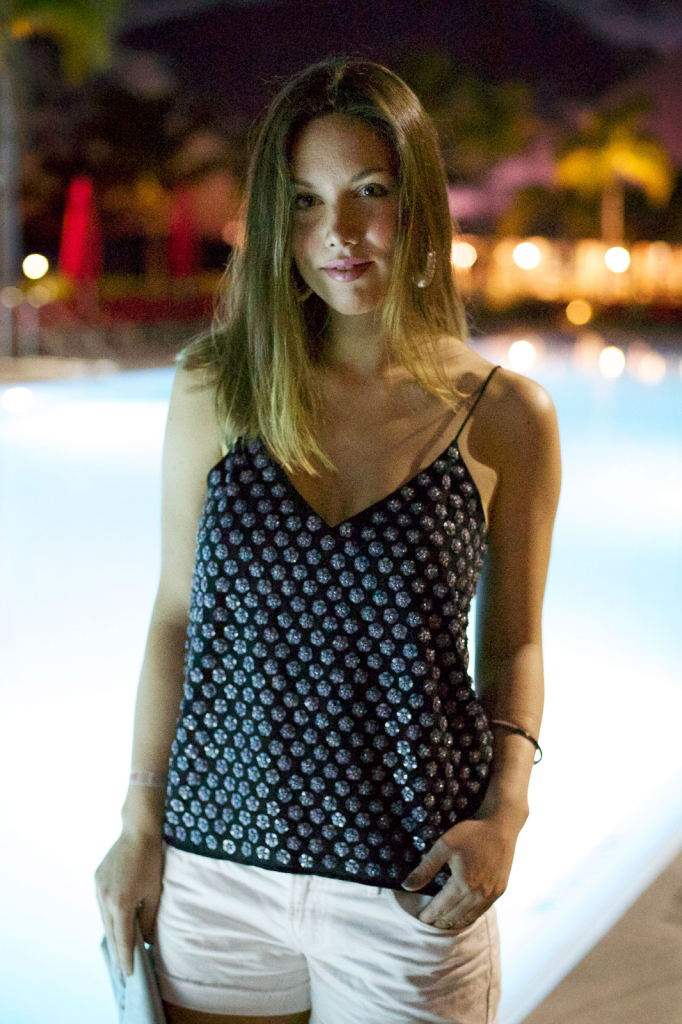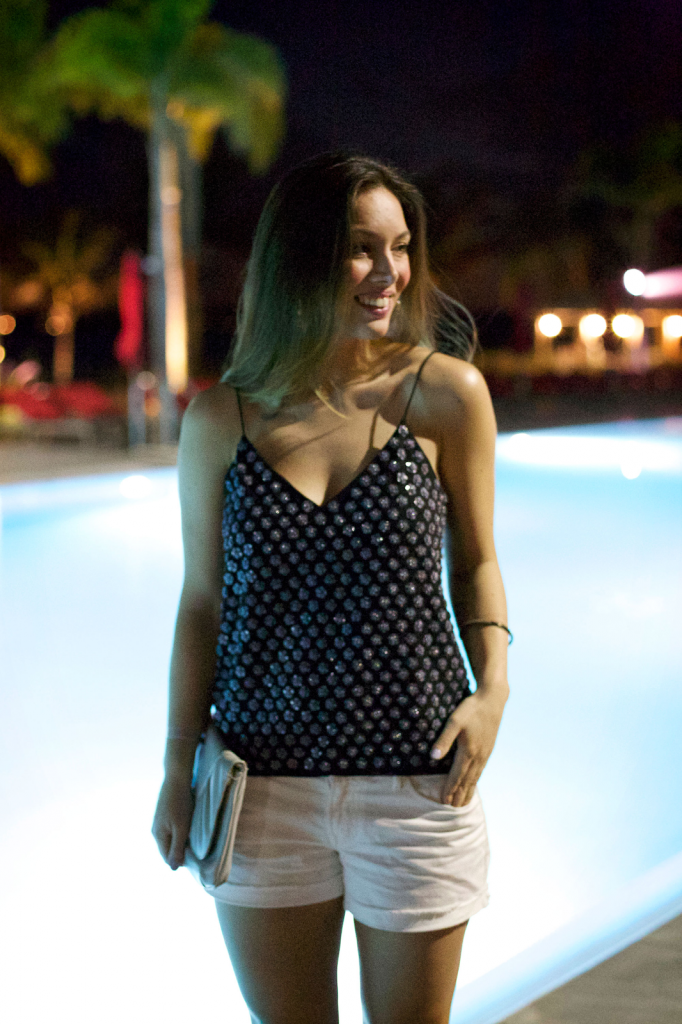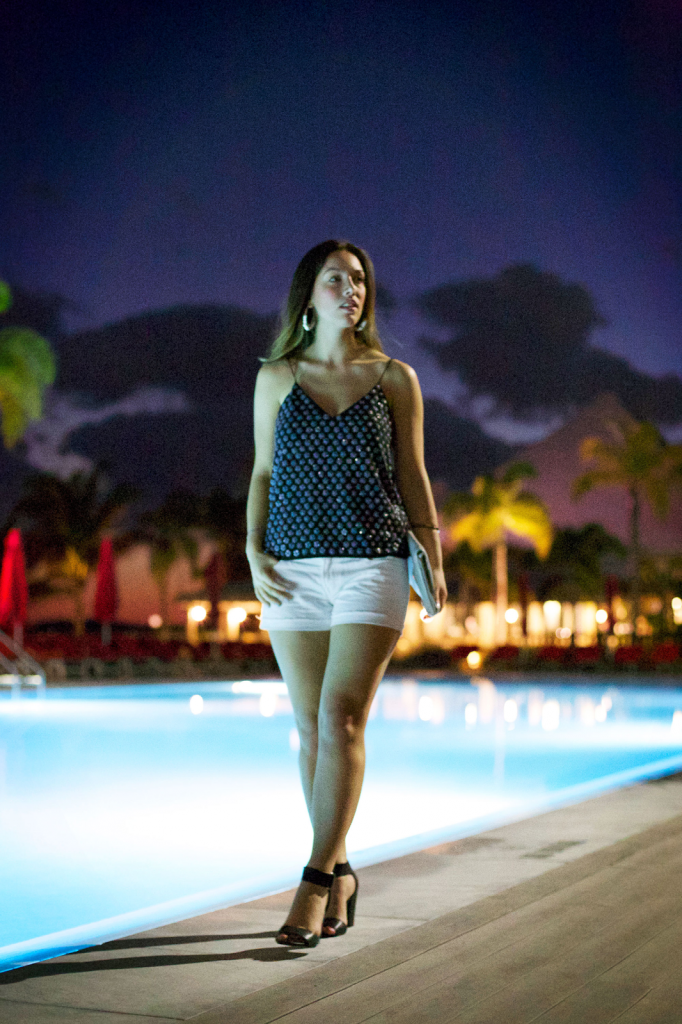 H&M tank & heels, vintage bag,
shorts c/o Old Navy, Club Monaco earrings
This is how this shoot came to be.
Alicia
: "Wow…this would be
so
cool to shoot here. Look at the sunset behind us! Plus the pool, the colour coming off of it. So pretty. Wanna try it out?"
Alex: blank stare
Alex again: "Um…no? It's pitch black. Time to get cocktails."
Alicia
: "Just give me your camera."
Two seconds later, she shows off the display screen. WOMP THERE IT IS. The coolest, ethereal blue light cast by the pool, acting as the perfect foundation for the deep tropical sunset hues developing behind us. Lesson here is that first of all, I'm extremely impatient when I'm hungry and/or needing a cocktail (it was the latter, which is worrisome) and can't be trusted with any assessments when that happens, and secondly,
Alicia
has an eye.
While it was impossible to get the pics to focus sharply (it really and truly was pitch black out), I'm so happy we captured such a cool side of Florida, particularly because the days were a bit of a blur anyway as it is. Our trip to Sandpiper Bay with
Lise Watier
was honestly unbelievable.
Lise Watier
is a company I've always loved (you just have to check out
my beauty category
to see how often I feature their products, which have become some of my most-loved staples). Now that I've gotten the opportunity to learn from David Vincent (their lead artist, and all-around amazing/hilarious person) alongside the rest of the media who went on the trip, I'm all the more excited to highlight some of my favourite products by them with some brand new techniques! More on that soon 🙂
Another Smart Alicia Moment (S.A.M. for short) was to film little bits of the trip so we could better remember it all. I threw all the clips together into this little video on the flight home (fortunately, we actually got a
lot
of work done on that flight!). It's short but sweet and really captures this whirlwind, wonderful trip in
just
over a minute. It also gave me the opportunity to do more video editing, something which I may not be much good at but really love doing! Be sure to check out yesterday's
Glitter Guide behind the scenes video
too!
And with that, I'm off for the weekend! As I'm sure you heard me whine repeatedly throughout the week, it wasn't the easiest week for some reason; however, I got some much needed me time last night, wrote in my diary, had a bath, took some notes, etc. It honestly made a world of difference. Happy to kick off the weekend with a bit of a load off! Have the most amazing weekend everyone!