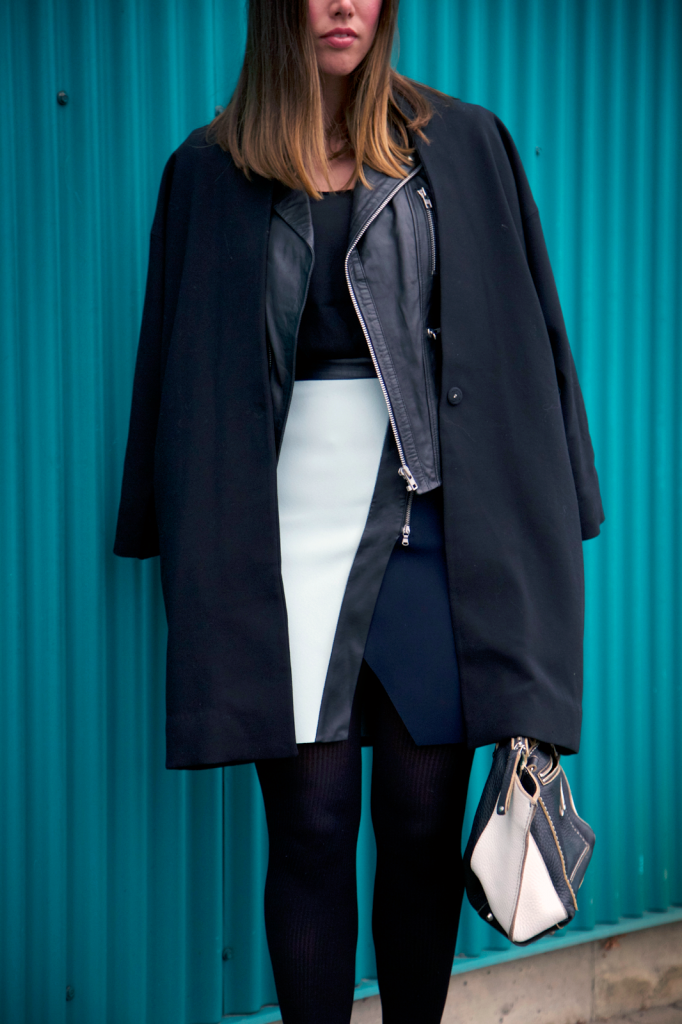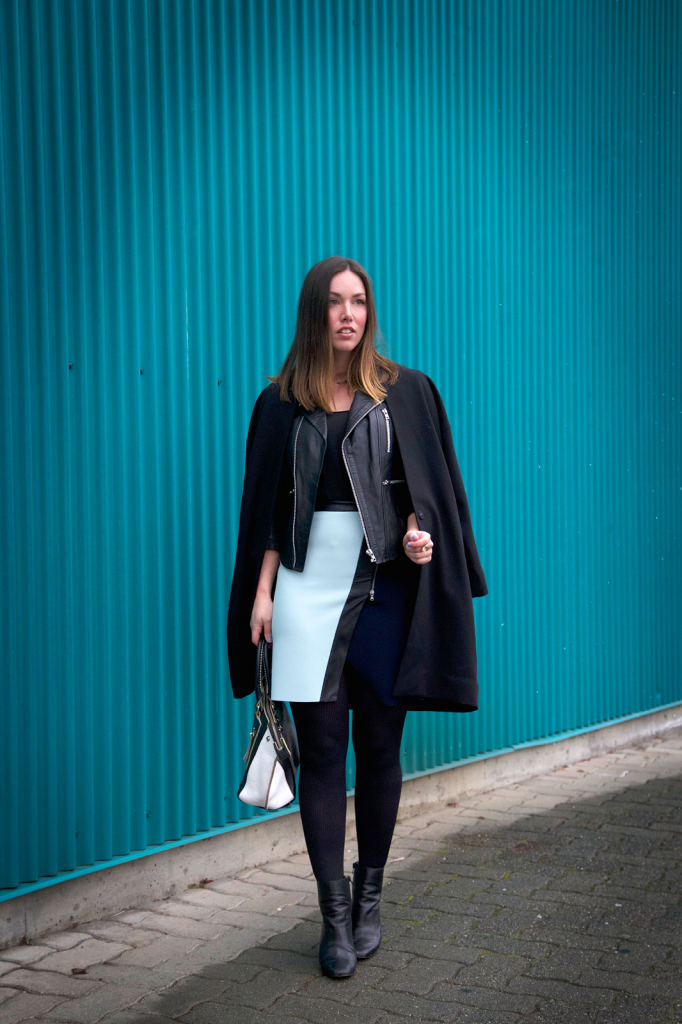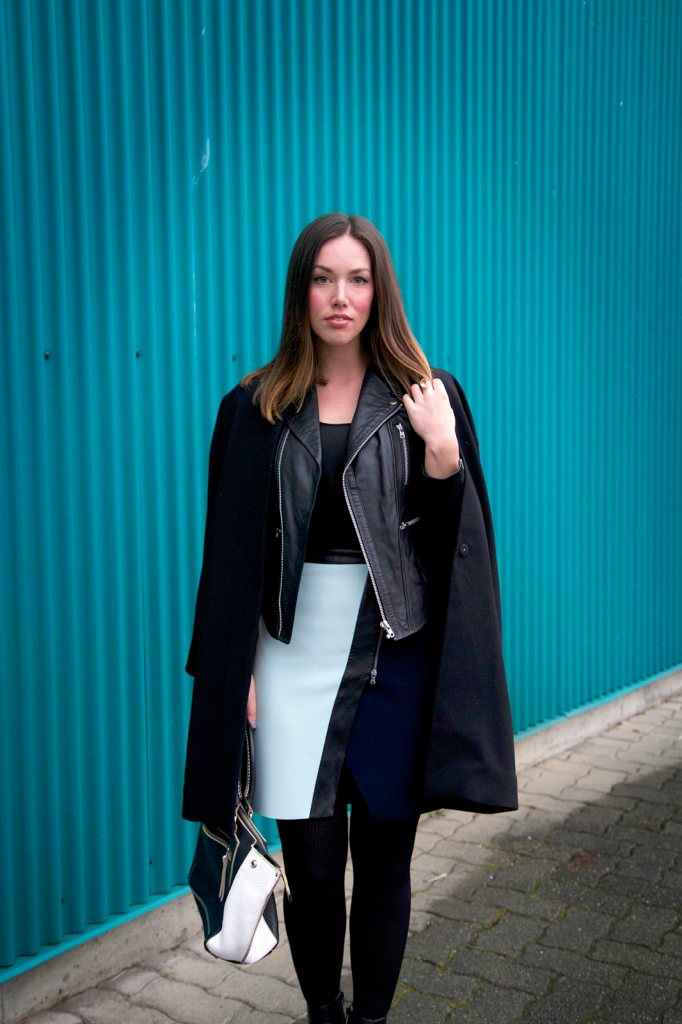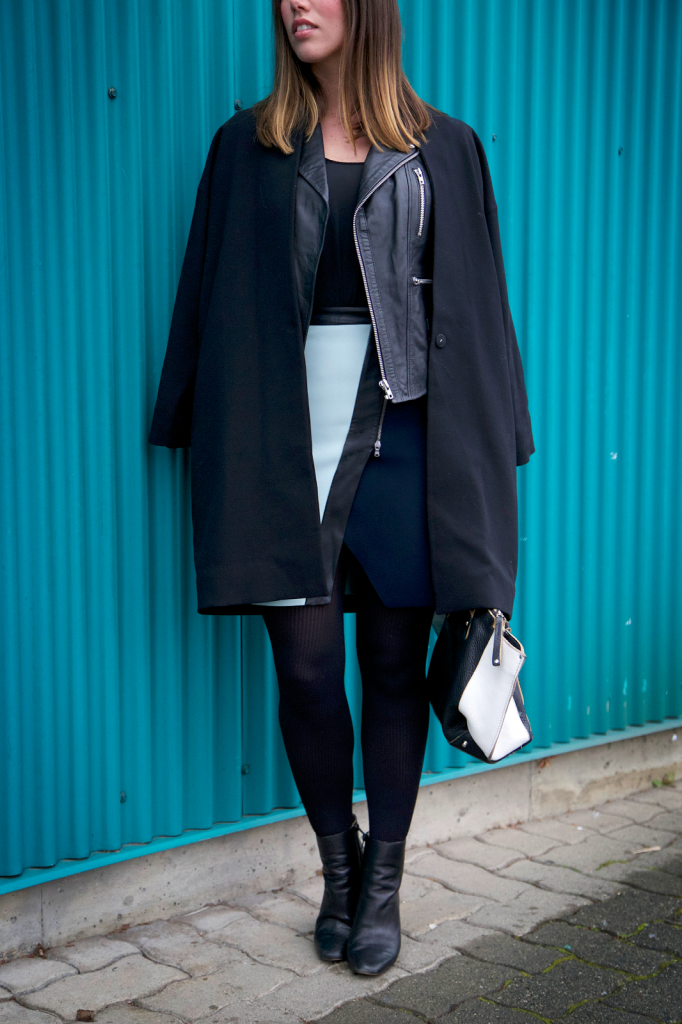 Club Monaco skirt, Zara booties, bag c/o Roots, Joe Fresh tank,
Walter Baker jacket, Oak and Fort coat
Did you hear the news? Mercury retrograde is ending!!! Whether I really believe in this messy cosmic transition or not, I could not be happier with the fact that I finally feel like I'm emerging from a general phase of feeling "off." All in all, this past month has seen me just feeling a bit more tired than usual lately, my patterns aren't sticking the way they normally do, I've felt scatterbrained and more than anything, I've just been having a really hard time with missing my dog. I know that might seem a bit weird to some of you…he did pass away months ago after all, and by everyone else's account (and mine, for that matter) I was getting through the whole grieving process well and doing much better.
Whatever the reason though, February weighed really heavily on my heart in that regard. I'd start crying uncontrollably whenever I saw a lab that looked like Bailey. I've been compulsively researching labrador retriever breeders around me but then shutting the browsers down seconds later because I know I'm not ready for another dog yet. I've been going over old pictures of my furry baby and feeling miserable. It's been really sad/weird, really, and of course, I didn't really want to disclose any of this as it was happening because I was really rather concerned by this random crop up of sadness and didn't want anyone else concerned as well. But at the same time, this has been my first real experience of losing someone I love so much (which just goes to show how lucky I've been so far, really). I guess it just takes time (more time than I thought) and that the severity of it lessens and worsens, right? Have any of you who've lost a pet experienced the same thing?
Fortunately, I have been feeling a lot better this past week, and a lot of that is to do with the fact that it finally feels like spring is on the horizon. Though it snowed over the weekend, the sun was back in full force yesterday, the buds have breaking through the dirt and the days are getting longer and brighter. It's always a time of the year that gets me excited – not only am I more in my element (I always say I was born in the wrong country because I am not a winter girl), but I finally get to work some new spring pieces into my wardrobe.
This neoprene Club Monaco skirt was the first warm-weather piece I've brought into my wardrobe this season and I can't wait to style it all spring and summer. Not to wholly claim a piece that was definitely not made for me, but I really feel like this piece could not be more "me." It's got everything I love: a nod to the ocean, a summery vibe, unique proportions and my favourite colour palette.
Though it's not at all warm enough to really wear it in a spring-apropos way, worn with thick knit tights, layered outerwear and booties, it's the perfect transition piece during this unpredictable in-between season. Any spring pieces you're dying to break out?