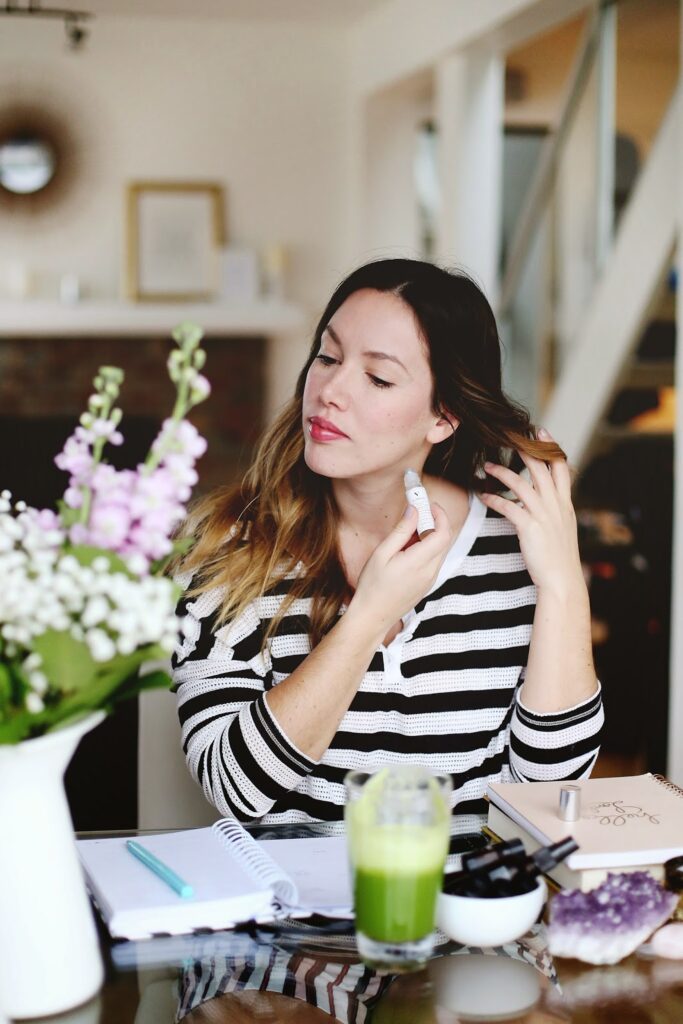 If you've been reading this blog for awhile, you might already know that my greatest challenge (and aspiration) in life has been to become a morning person. There's something so wonderful about the thought of waking up bright and early as the sun rises, having a peaceful hour or two to yourself before the rest of the world wakes up to set a positive tone for the day. Unfortunately, all my life, I've quite literally been hardwired to be the exact opposite – I'm a hardcore night owl through and through. Having said that, I've never given up the dream of somehow rerouting my wiring, and thanks to some incredible rituals including the use of my amazing
Still aromatherapy oil
by local love
Vitruvi
, I've started automating my mornings in such a way that I actually am very slowly but surely evolving more and more into a morning person. I love
Vitruvi
's stylish and authentic interpretation of ancient rituals for a thoroughly modern life, and the sense of scent has become a big player in my mornings now.
Click through to see my full morning routine!
Hot water with lemon
Quite literally the second I wake up, I do a couple quick stretches sitting in bed then beeline to the kitchen, filling up and then flicking on the kettle. Once the water boils, I fill up a big mug with hot water and half a lemon – not only are lemon's alkalinizing properties once inside your body the perfect foundation for the rest of the day, but the citrus scent helps wake me up gently too!
Fresh-pressed juice
As I'm slowly waking up and sipping on my hot water, I take time to quickly chop up my veggies and fruit for my morning juice, which is usually a green or orange one. Similar to the hot water and lemon, the juices are very alkalinizing, particularly the green juices rich with nutrients (see one recipe to try out below!). Important note here: I always wait about a half hour to eat breakfast after slowly sipping on my juice. This allows your empty stomach to absorb the nutrients in the juice more easily, something which would be hindered by a belly full of food since your digestive system would be focused on breaking down your food and its insoluble fibre rather than the juice.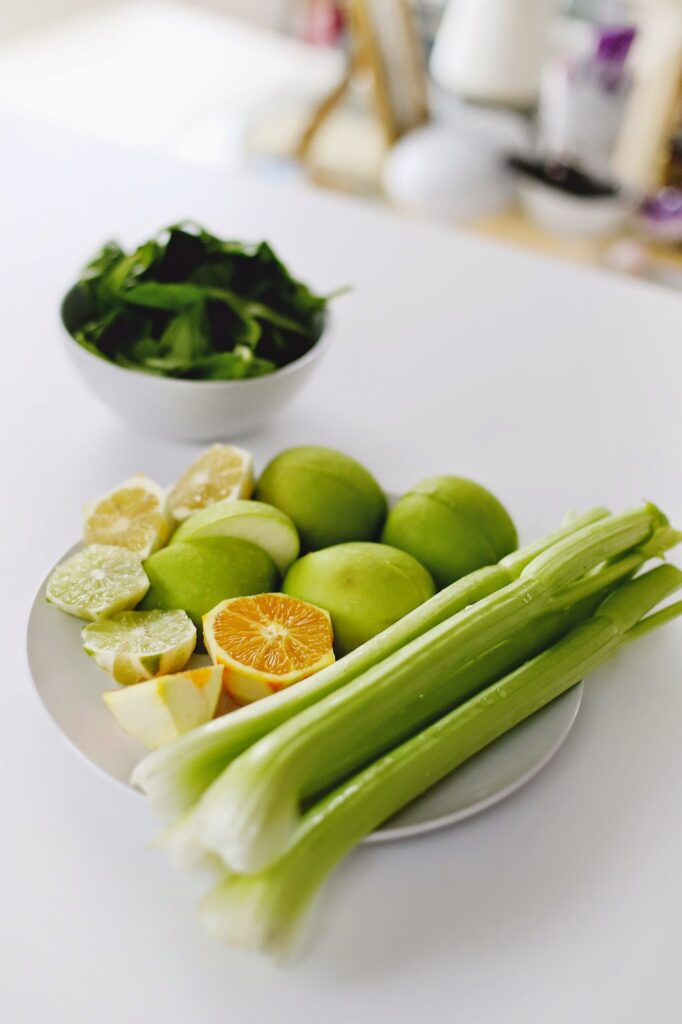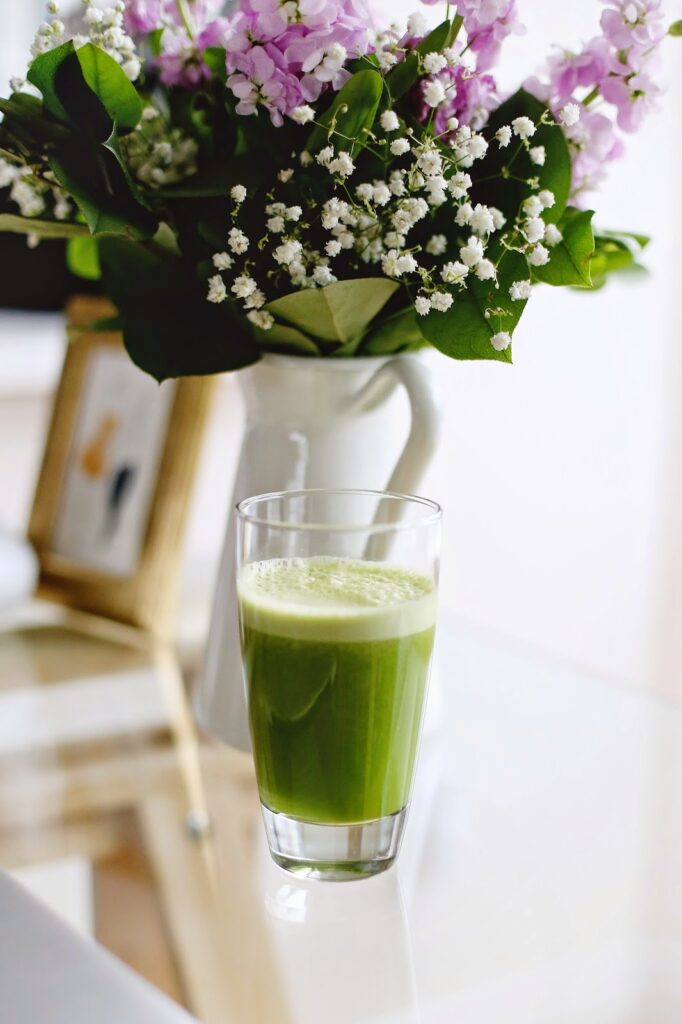 Bright Green Juice
3 handfuls of spinach
1 lemon (peeled)
1 lime (peeled)
1 orange (peeled)
2 green apples
4 celery sticks
Juice all ingredients into a glass and stir. Makes approx. 2 servings.
Dry brush
As I sip on my 1st glass of juice slowly, I hop into the bathroom and quickly dry brush my entire body, moving from the feet up, always brushing towards the heart (I'll share a dry brushing post too so you can get more details!). Dry brushing is amazing for lymphatic drainage, promoting toxin flushing and the discharge of metabolic waste – it's also a super invigorating way to start the day! After dry brushing, I jump into a lukewarm shower and quickly suds up and wash my face (I almost always wash my hair the night before so that it can air dry), finishing off with a quick stream of cold water (I hate it in the winter months but something about it actually helps me warm up after the fact, must wake up the blood!). I usually use almond oil (love the scent and super cheap to find at most health stores) afterwards to replenish moisture, slip into my outfit for the day, put on some lip balm and tone + moisturize and then in the space of about 5 minutes, my body finally feels completely awake!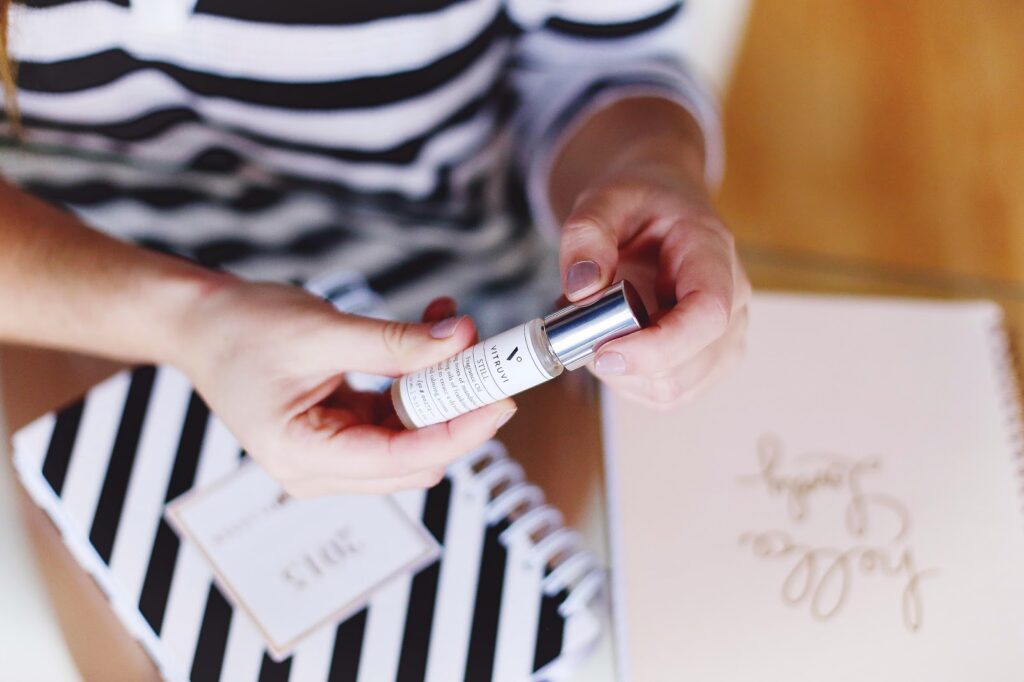 Meditate
The one thing I love to use
Vitruvi's Still aromatherapy oil
for (and its primary intended function) is to help centre me for 10-15 minutes of meditation. The scent of frankincense and mandarin are both calming and comforting somehow, which is much-needed for me as my meditation practice is only a year in the making and I still struggle with it sometimes (I'm a naturally frenzied thinker so as beneficial as meditation is for me, it's also something I need to really work on). To that end, I'm usually happiest just focusing on my breathing
but
have really enjoyed some mediation apps when I first began meditating.
Great article here
on some great apps to try out!
Mapping out my day
Once I've meditated, I do a couple more quick stretches and then sit down to my desk to start mapping out my day with my 2nd serving of juice. I like to reapply
my Still oil
around this time to get a sense of calm before using my
Design Love Planner
to jot down all my to-do's and review how the day's going to play out.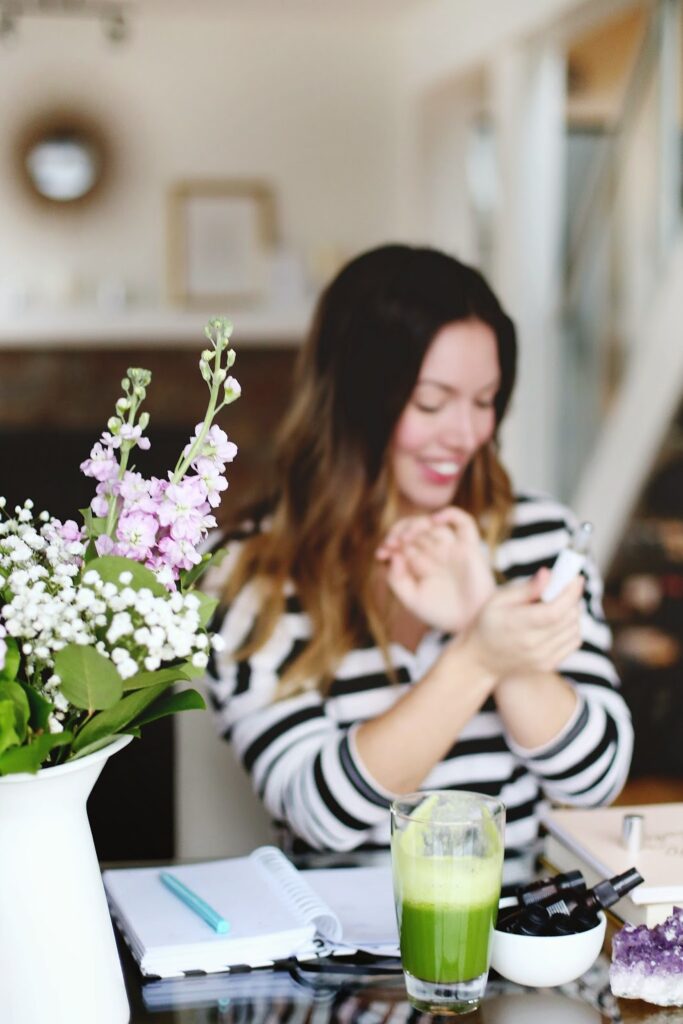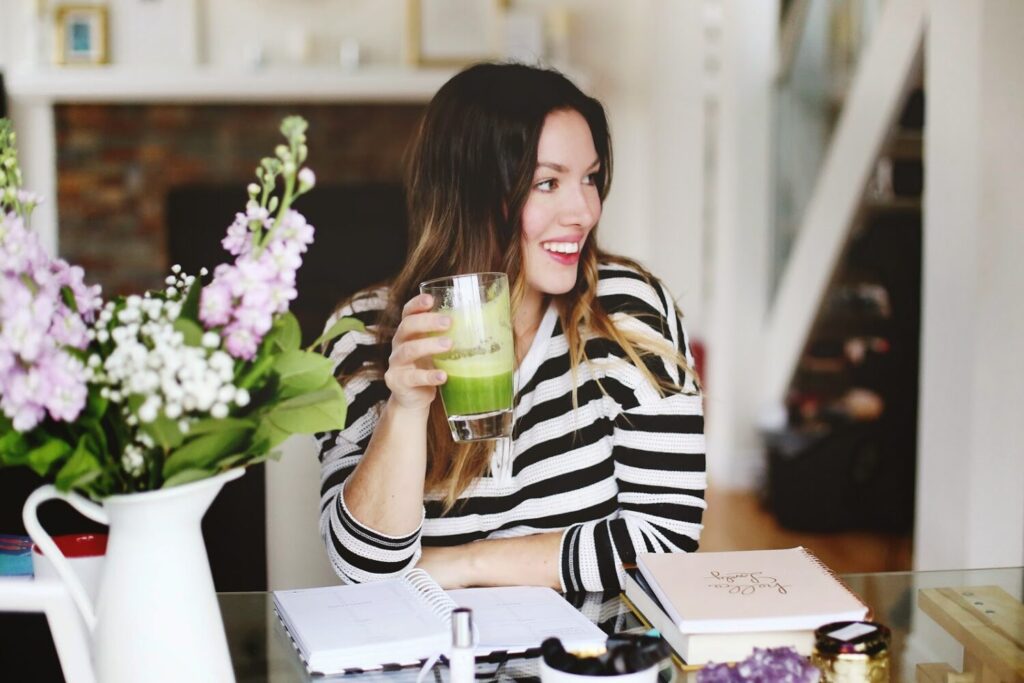 Breakfast
Usually around this time it's about 8AM (everything earlier takes an hour usually max and I'm usually up around 7ish), so I quickly whip up a healthy breakfast for my boyfriend and I before he heads off to his office. Two of my favourites below, even if one of them was quite literally just made today for the first time! It was that good that I'm confidently including it in my favourites. The other is a great one for when you're pressed for time in the mornings since there's zero prep time once the AM rolls around, plus if you're truly rushed you can take it with you to work.
Overnight Raspberry Oats (1 serving)
1 cup gluten-free oats
2 tablespoons chia seeds
1 cup almond milk
1 cup frozen raspberries
1 tablespoon maple syrup
Combine all ingredients in a mason jar and shake very well (push contents back down to bottom afterwards with spatula to ensure oats and chia seeds absorb moisture). Store in the fridge overnight – in the morning, take it out and give a quick stir. Eat the oats cold as is (my personal preference!) or warm up quickly over the stove or in the microwave. Makes 1 serving (simply double everything for another mason jar of oats).
Zucchini Fritter + Poached Egg (2 servings)
Fritters Ingredients
2 eggs
2 zucchinis
1/2 yellow onion minced
1/2 cup almond flour
2 tsp salt
Ground pepper to taste
Poached Eggs + Toppings
2 eggs
4 mushrooms
1 clove of garlic
2 tbsp of goat cheese
1/2 cup arugula
Grate zucchinis and toss with 2 tsp of salt. Place zucchini in colander and let drain for 10 minutes.
While zucchini is draining, wipe mushrooms down with lightly dampened paper towel, mince garlic and then sauté garlic and mushrooms in a pan over medium heat with olive oil or coconut oil. Remove mushrooms from heat once softened. Roughly chop arugula, combining with goat cheese so that the cheese takes on a crumbly consistency. Put a small pot of water on on high – once small bubbles begin forming, drop heat down to low-medium.
After 10 minutes are up, drain liquid in zucchini (either by hand or place in cheesecloth and squeeze). Combine zucchini with 2 whisked eggs, minced yellow onion, almond flour and pepper. Over medium heat with olive oil or coconut oil, begin frying fritters (should make two big ones, though you can make them into smaller portions if you're so inclined!) until they're golden brown on both sides (approx. 3 minutes per side).
While fritters are frying, crack 1 egg into a sieve (best egg poaching trick ever -gets rid of all those stringy, cloudy bits!). Slowly let it slide from the sieve into the pot of simmering water. Quickly do the same with the other egg and set the timer for 3 minutes.
In this time, fritters should be all done. Place them on a plate, top with sautéed mushrooms, crumble goat cheese & arugula mixture on top and finally, top off with a poached egg! Break open egg to let yolk ooze out and grind some pepper on top.
Sounds complex but really is super simple and quick, just a tad of multi-tasking! Honestly one of the best breakfasts I've had in a long time!
Eeeeet voilà! That is my morning routine these days, and I've got to say, automating my mornings this way and really letting myself do things that ground and nourish me (both mentally and physically) first thing in the day has made such a difference to me. My naturopath recently pointed out that as much as I crave adventure and change, my sensitive system in particular really needs routine – when I'm home, I'm usually pretty good about sticking to my usual shtick, but I'm trying to ensure going forward that no matter where I am or what I'm doing, I try to keep my mornings as intact as possible. The added benefit of a nice morning routine is that it also makes me look forward to the mornings rather than dreading them – a big win for this night owl!
I'm sharing more about my health routine, how I stay active
and
my life saying over on
Vitruvi's incredible editorial space
, so stop by
here
to check it all out! A big thank you to Vitruvi (a company I am so obsessed with!) for including me today!