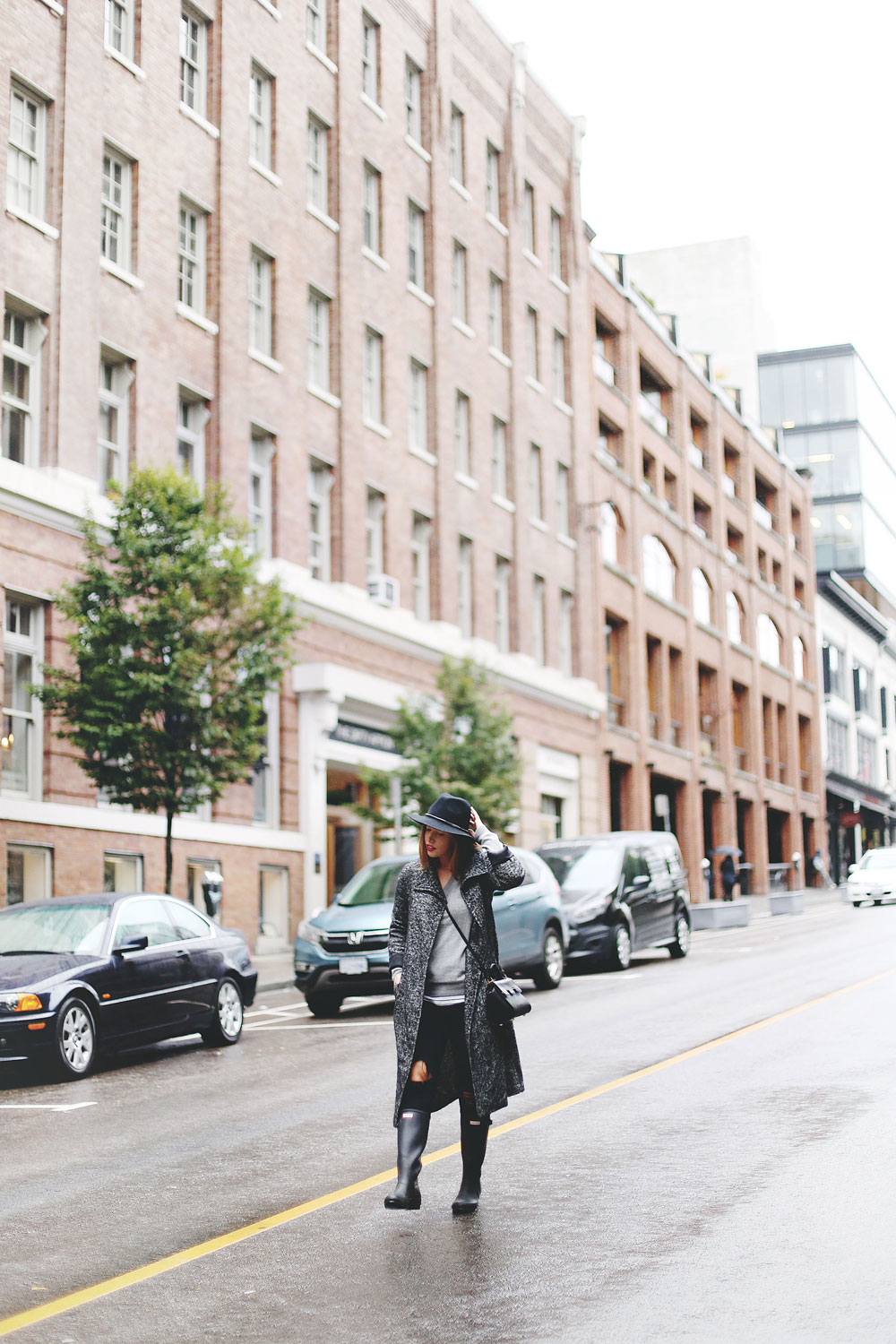 I had the most wonderfully boring weekend of all time and it was exactly what I needed. Organizing, laundry, food prep, relaxing, trip planning, the works. Oh and binge watching Luther! While I love the get-outside-and-play quality of the summer, there's something about rainy, inclement weather that makes me so happy too. You don't really want to linger around outside (or maybe you do, some rainy walks can be so lovely), and the chance to cozy up inside and indulge in all things fall is right there. Of course, we've still got to get outside (for baking supplies, coffee runs, mulled wine makings, etc – the essentials, obviously) and the challenge then really lies in looking stylish while battling the elements. Cue in the rainy day style formula!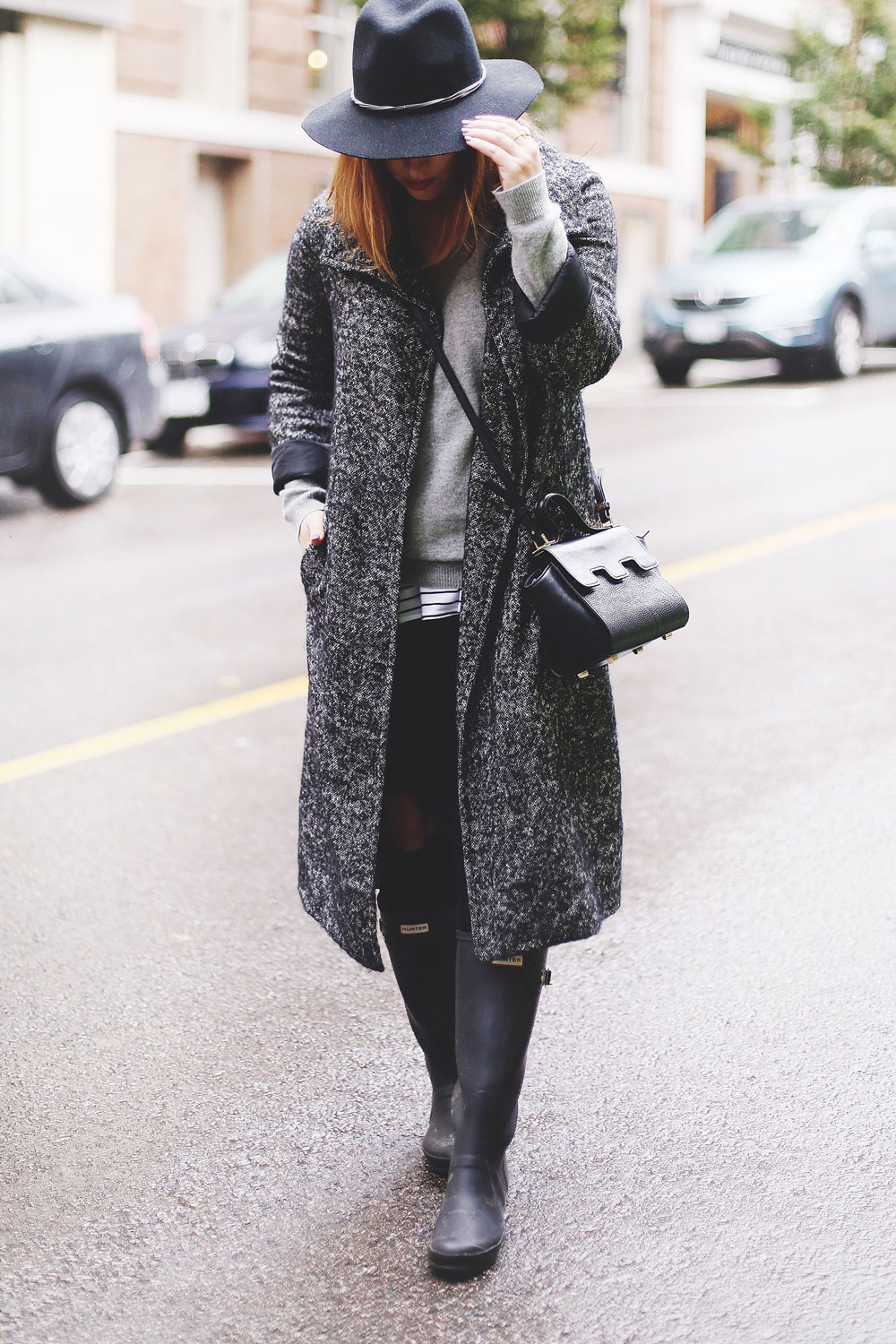 First things first, footwear is so key – obviously! Especially those of us on the Pacific Northwest know how awful it is to sit in wet, sopping shoes all day (elementary school throwbacks post-recess happening now) – rain is such a part of our lives, you need to learn how to style around practical footwear. Hunter Boots are of course a perennial fave, but I'm really a fan of any equestrian style boots, and especially the new waterproof ankle boots we're seeing lately!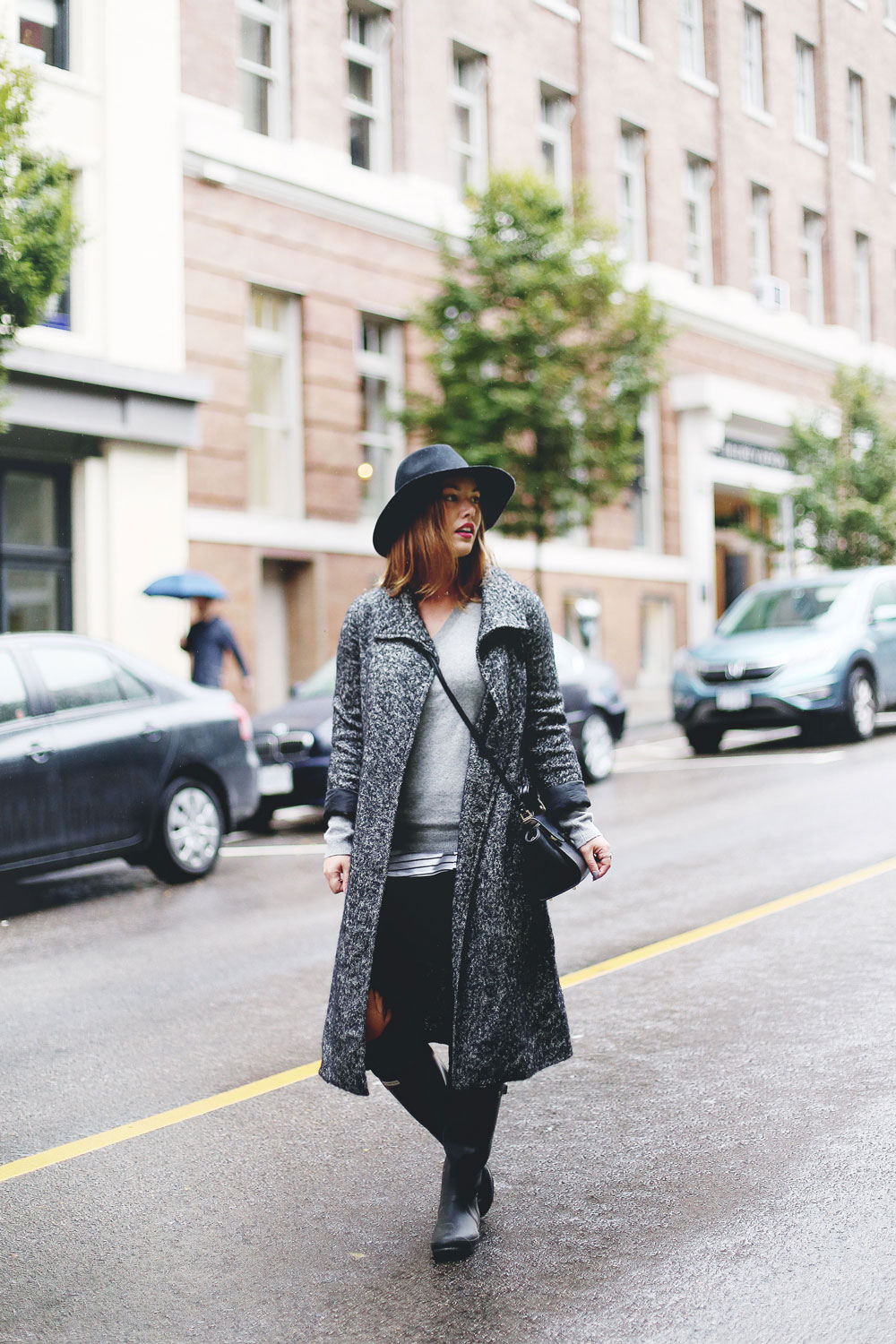 The trick then lies in the layers. While I love a good tuck usually, on rainy days I love to really let my layers shine – a longer thin tank top or T-shirt as the base (bonus points if it features a great print or accent tone), a cozy cashmere or wool sweater like this luxe White + Warren V-neck (I always opt for natural water-repellent fabrics on rainy days, though these are my fave any day as it is!) then just a light but still decently warm topper, like this wool Aritzia trench. For me, length is key – a dramatic piece not only brings the whole look together, but it also protects you from the rain as much as possible!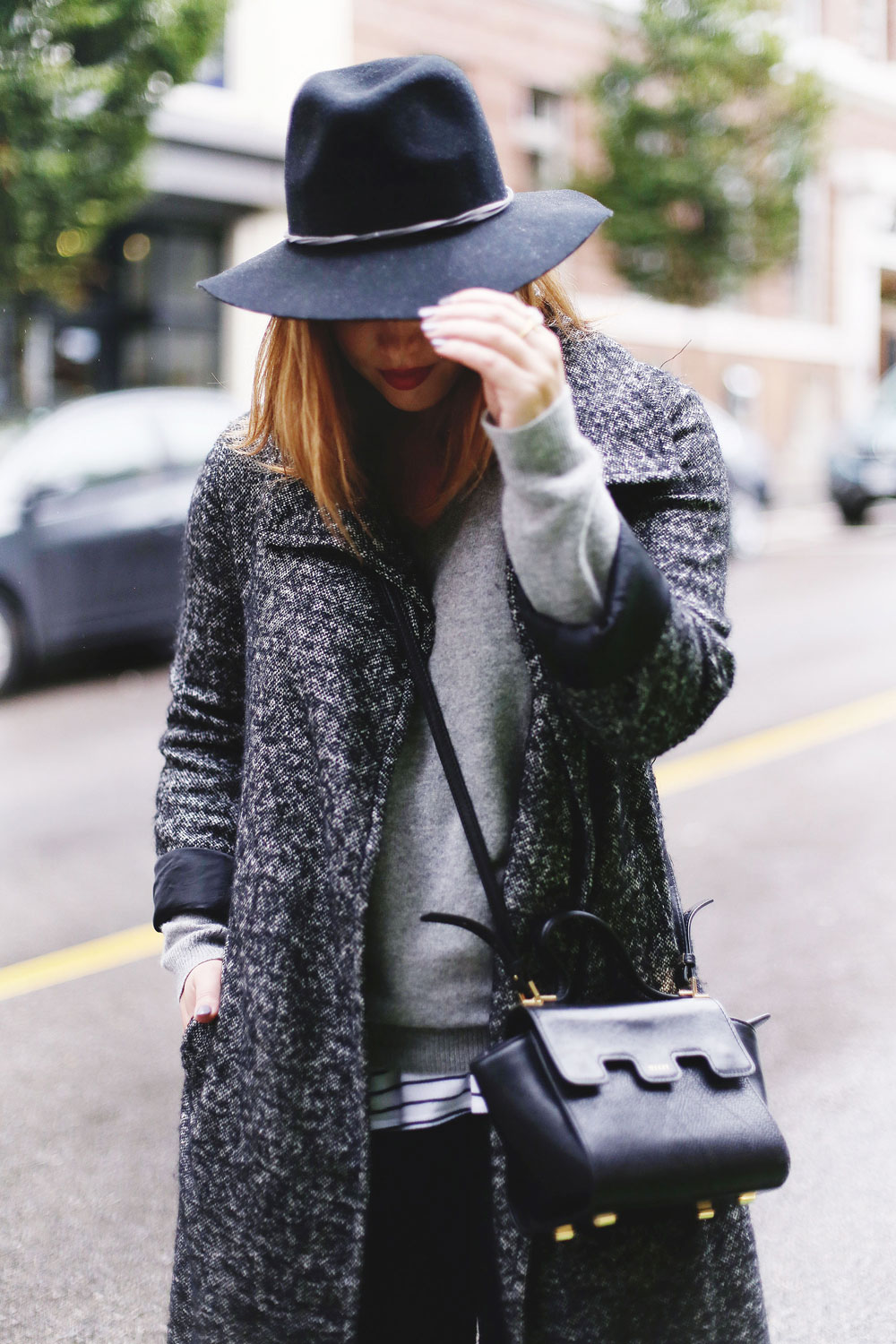 If you're grappling with an umbrella, definitely opt for an easy cross-body bag. I've made the mistake before of bringing a tote bag or shoulder bag and struggling all day with it slipping off my shoulder as I try to juggle my umbrella. Keep it simple and go the cross-body route!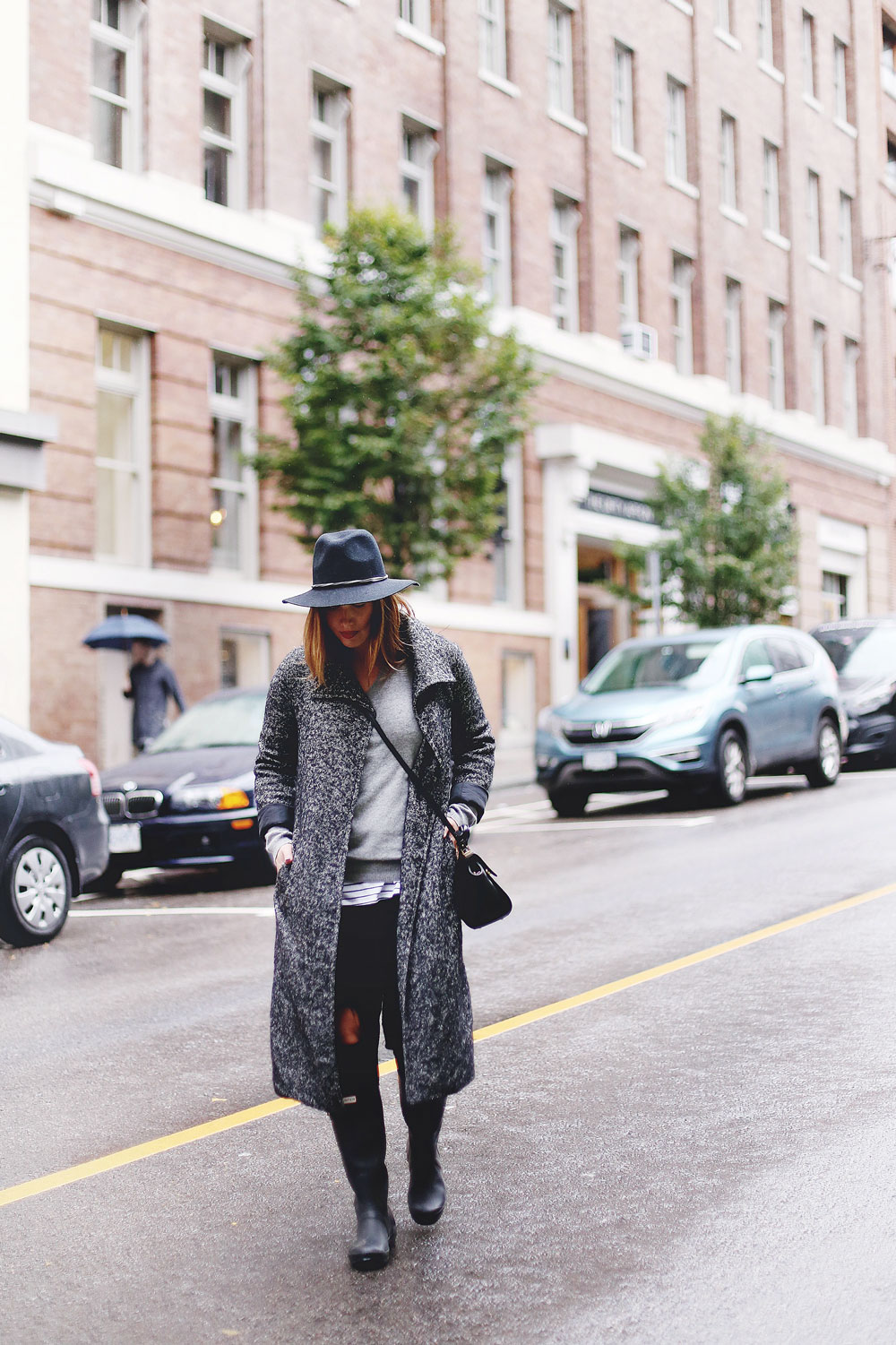 Finally, black skinnies will keep you warm while also not getting any splash stains if you happen to get caught in the rain or splashed on. That might sound excessive but seriously, I've had the whole two-tone jeans situation (aka soaking wet on the front, dry on the back) happen far too many times. It looks as dumb as it is uncomfortable.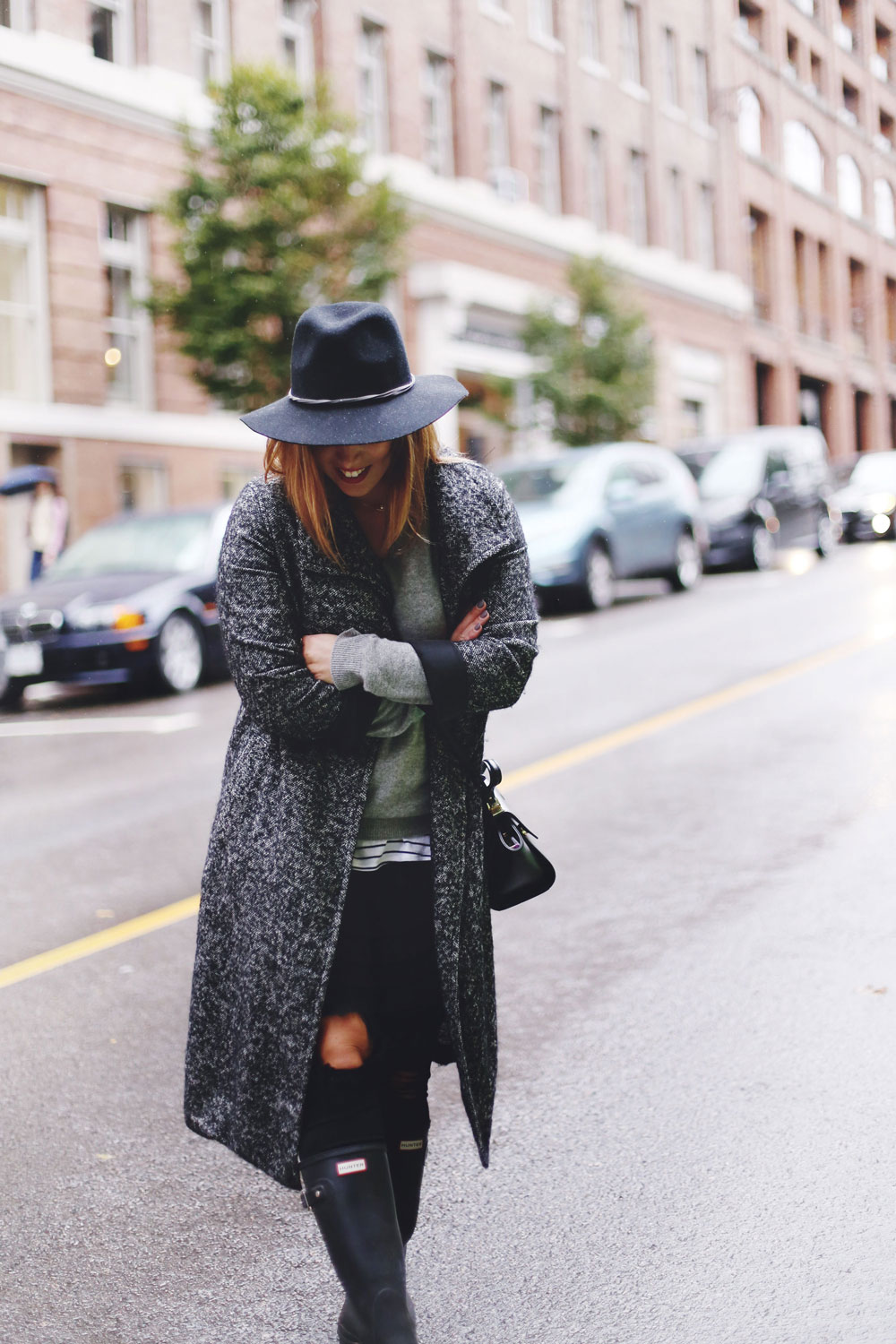 And last but definitely not least – the wool fedora! Even if I'm toting an umbrella that day (seriously, sometimes I'm too lazy to pack one), this will keep my tresses dry (especially if I tuck the rest of my hair into my coat) and as long as I don't have a ton of walking to do, I'm always surprised by how much it keeps my whole person dry.
We're lucky enough here in Vancouver to get some sunshine again this week but this coming weekend is supposed to be rainy – not only am I fully planning on taking advantage of some more cozy time doing last-minute prepping for our Italy trip in just over a week (eeeee!), I'll also be majorly hitting up this formula!
Hope you all have the most amazing start to your week! Happy Monday lovelies!
Photos by Alicia Fashionista