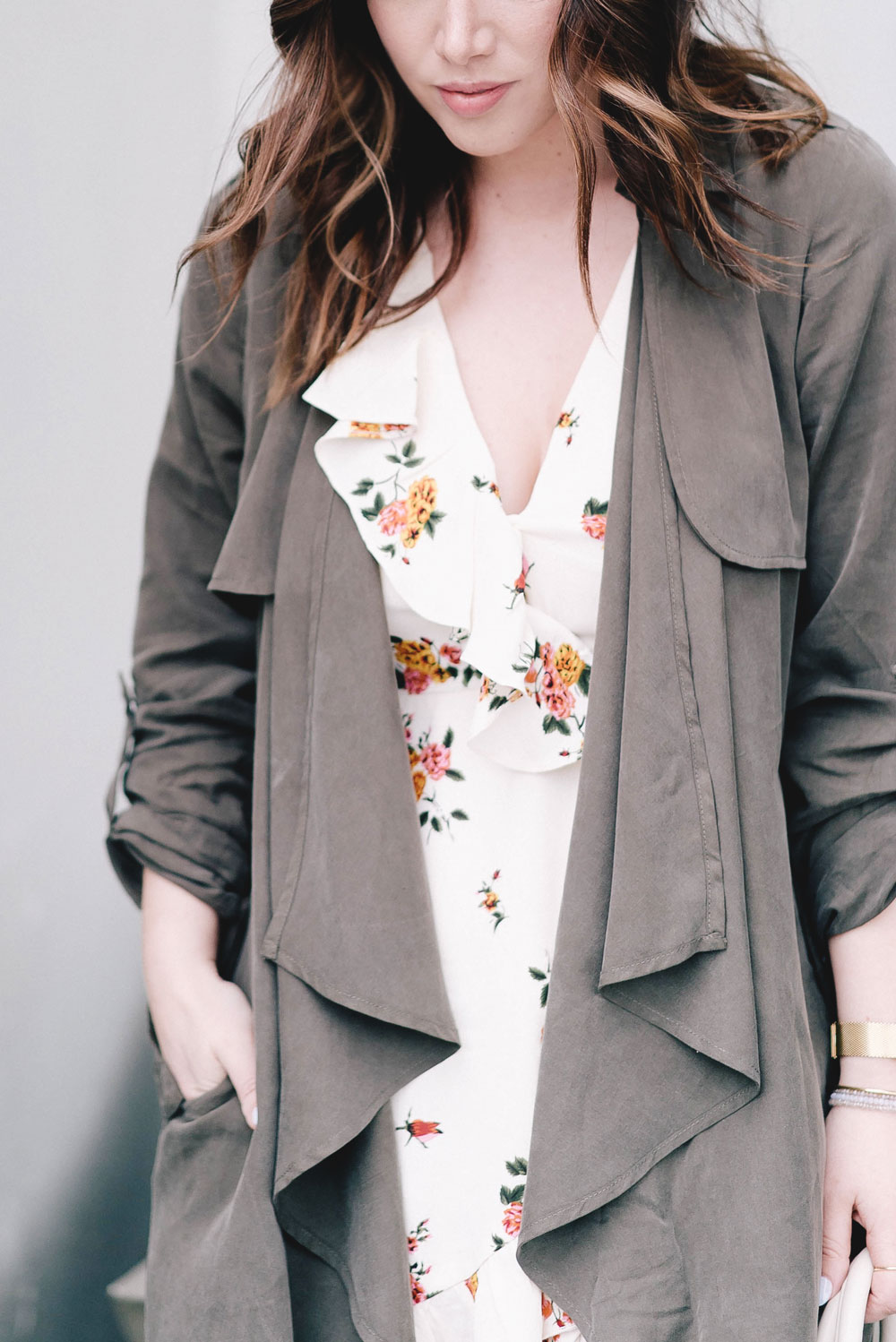 Happy Wednesday! I can't believe how quickly time has been flying by these days—I honestly feel like I blinked and all of a sudden, we're off to Spain next Saturday! It felt like that was months away and now we're taking off in a matter of days. It's so typical for this time of year for me, though—every year, it feels like time speeds up ten fold. Whenever I'm in the thick of winter, I start to inevitably agonize over how slow everything seems to be trucking along and crave my busy days of sunshine, beach hopping and the typically heavier workload that spring/summer presents, but in typical grass-is-greener-on-the-other-side, as much as I love the business of this time of year, I always feel like I'm struggling to catch my breath a bit and see the value in the quiet of winter.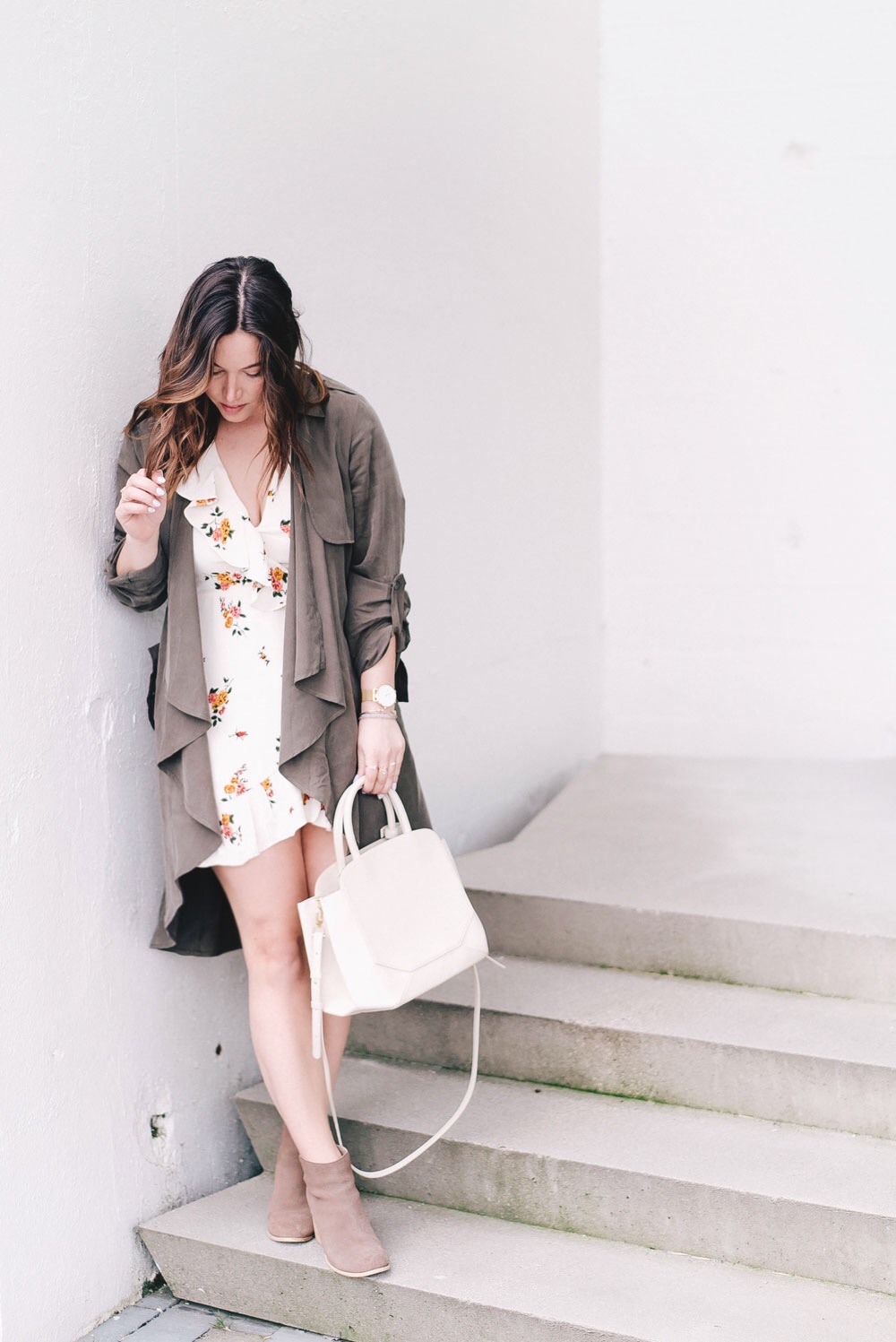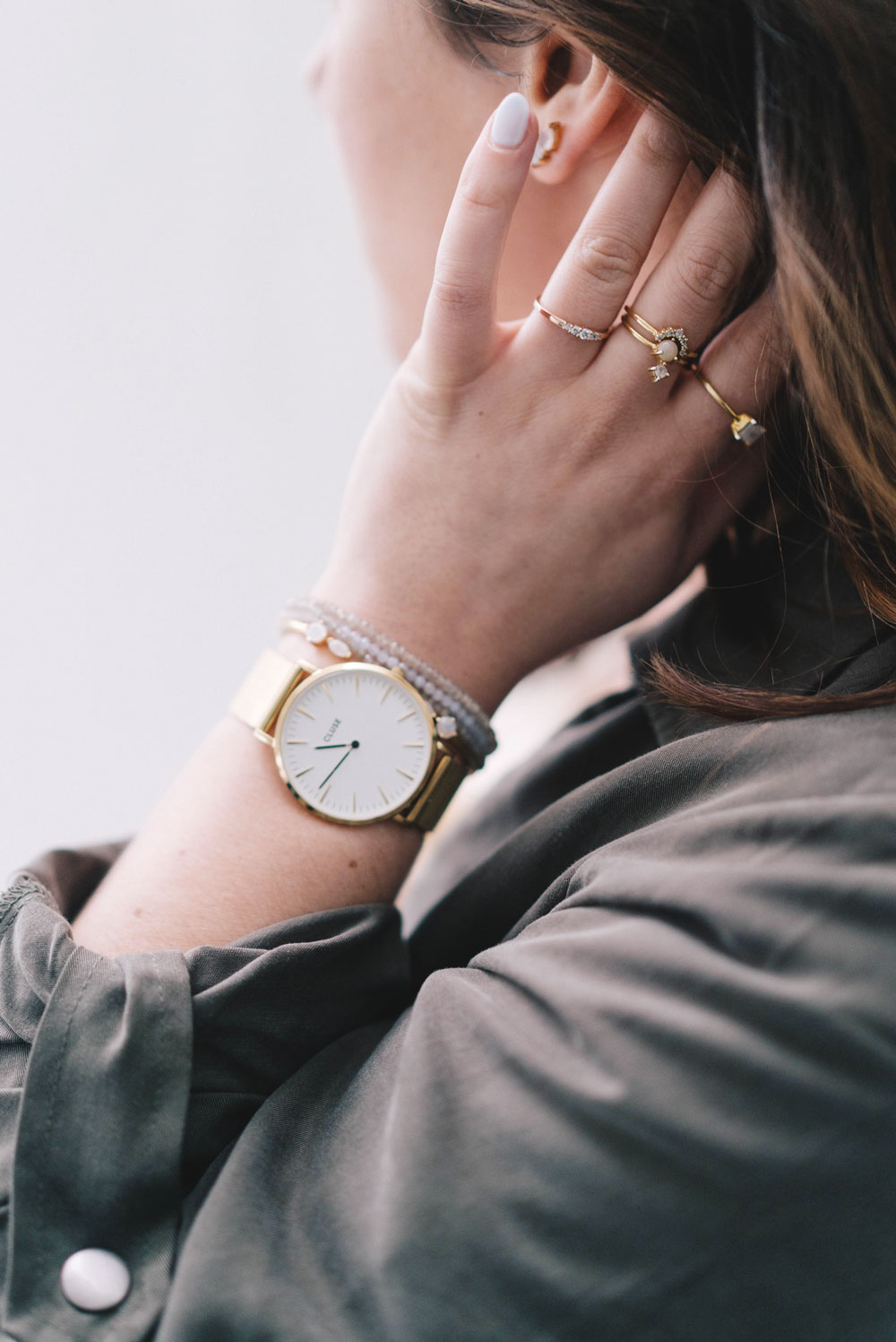 One thing that I tend to have more time for in the winter versus summer is reflection, strategy, planning, etc. Lately, I've been so go-go-go that as much as I feel like I'm out experiencing and loving life, I feel like I'm not taking as much time to plot out my steps as I usually do (anyone else feel this way around this time of year?). In particular, this fall/winter I was so lucky to really get to talk with a lot of you either here or via email or on Insta about what you'd like to see more of and what you'd like me to create that isn't there yet!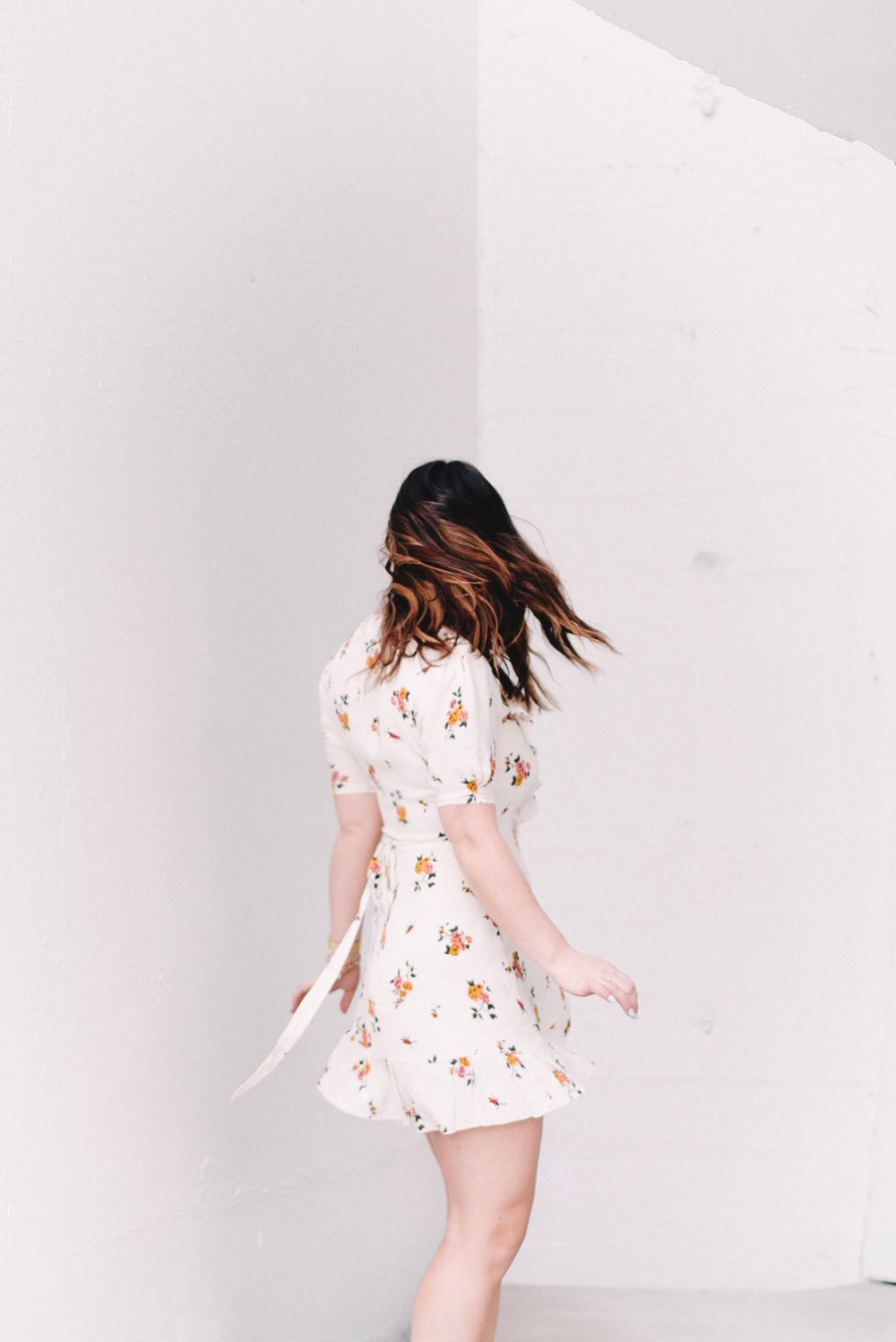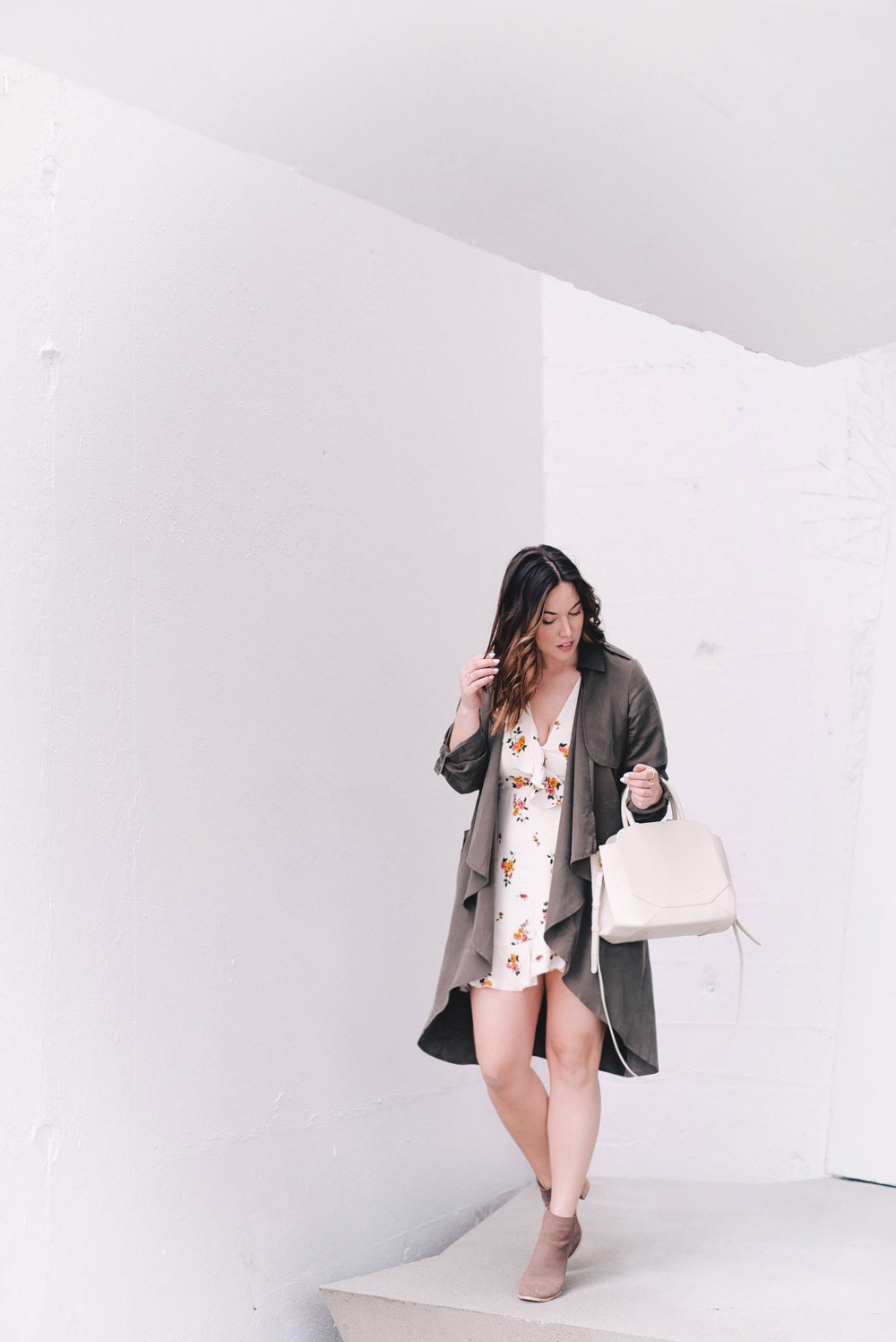 Before I launch headfirst into my travels and the general craziness of summer, I wanted to take a note from this winter and hit pause for a second so that I can ask you guys if there's anything you'd like me to work on! I've got more Italy content coming your way, some serious packing tips for Spain and some general travel tips, plus a killer summer tone-up guide and styling tips for weddings but but but…what do you guys want?! Seriously, anything & everything, I'd love to hear it!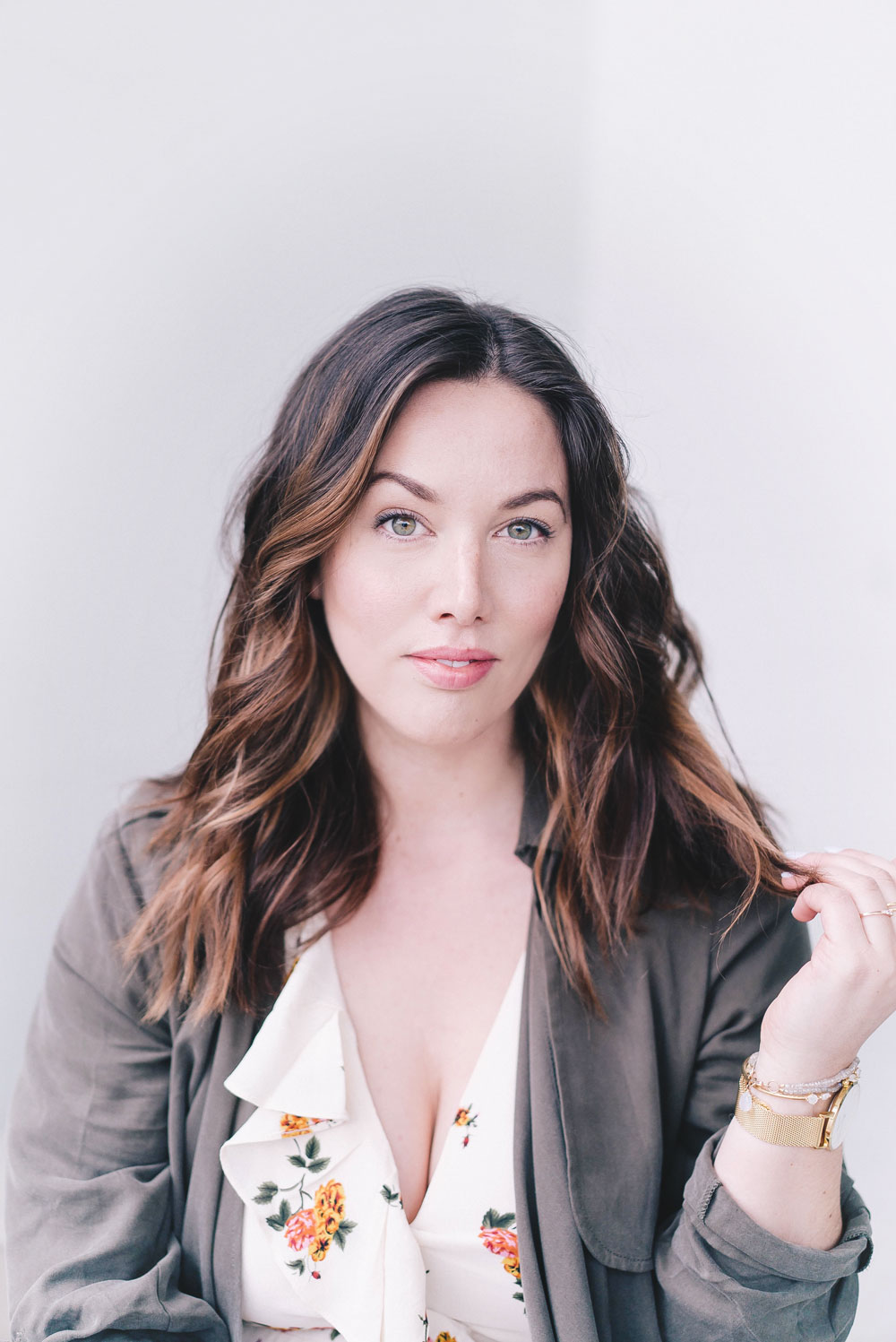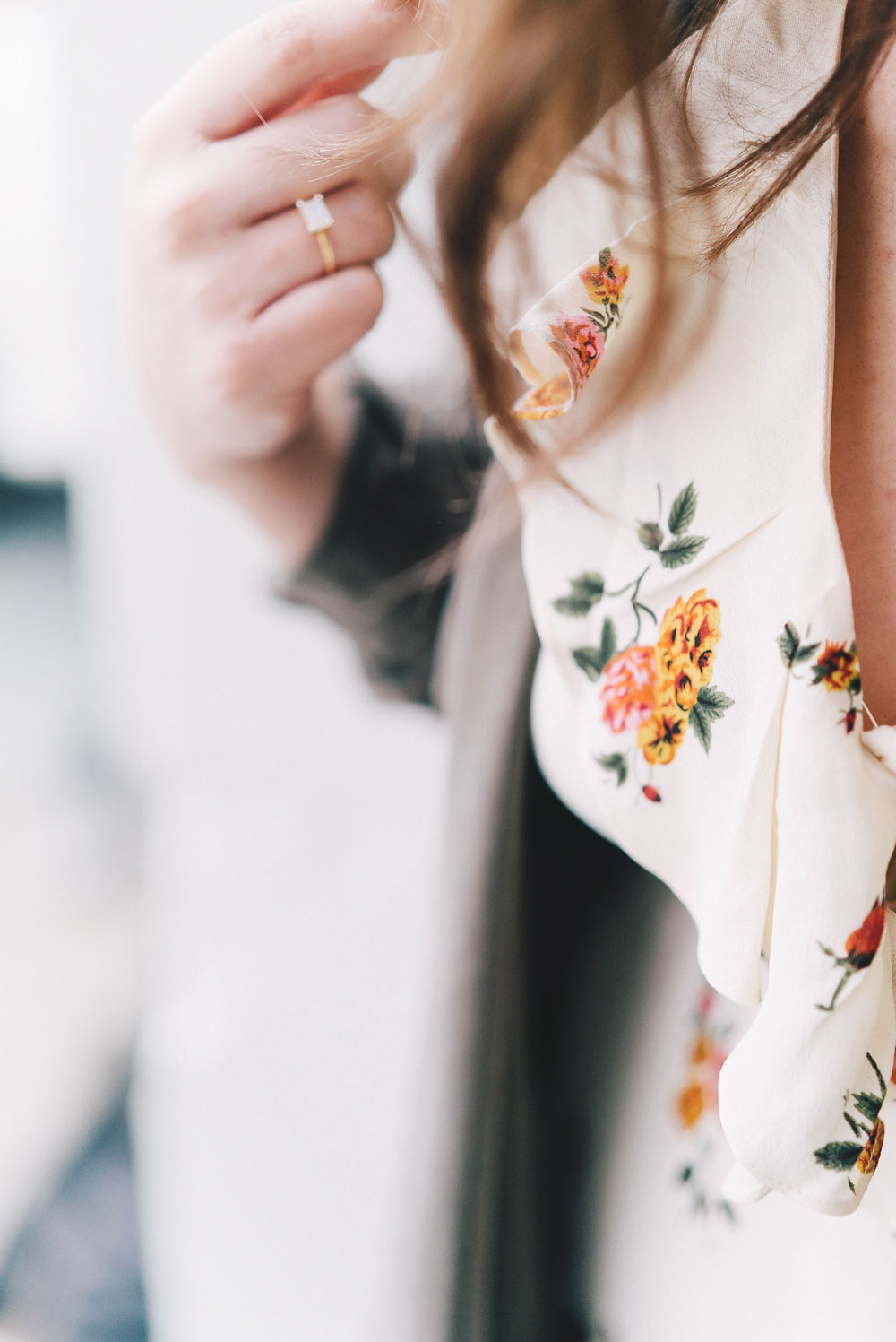 It's no secret that the blogging industry can sometimes get a little bit crazy and as someone who blogs full-time but is also a big blog and general content consumer, I can kind of see both sides—it's easy to get caught up in "the game" but at the end of the day, my content and all my efforts here are always aimed at making life that much more fun, empowered, full and beautiful for you guys (and in general, while I don't judge anyone else's strategy I think putting readers first is never a bad goal). So please, never hesitate to reach out! It honestly makes my day getting your great ideas or requests via Insta or in my inbox.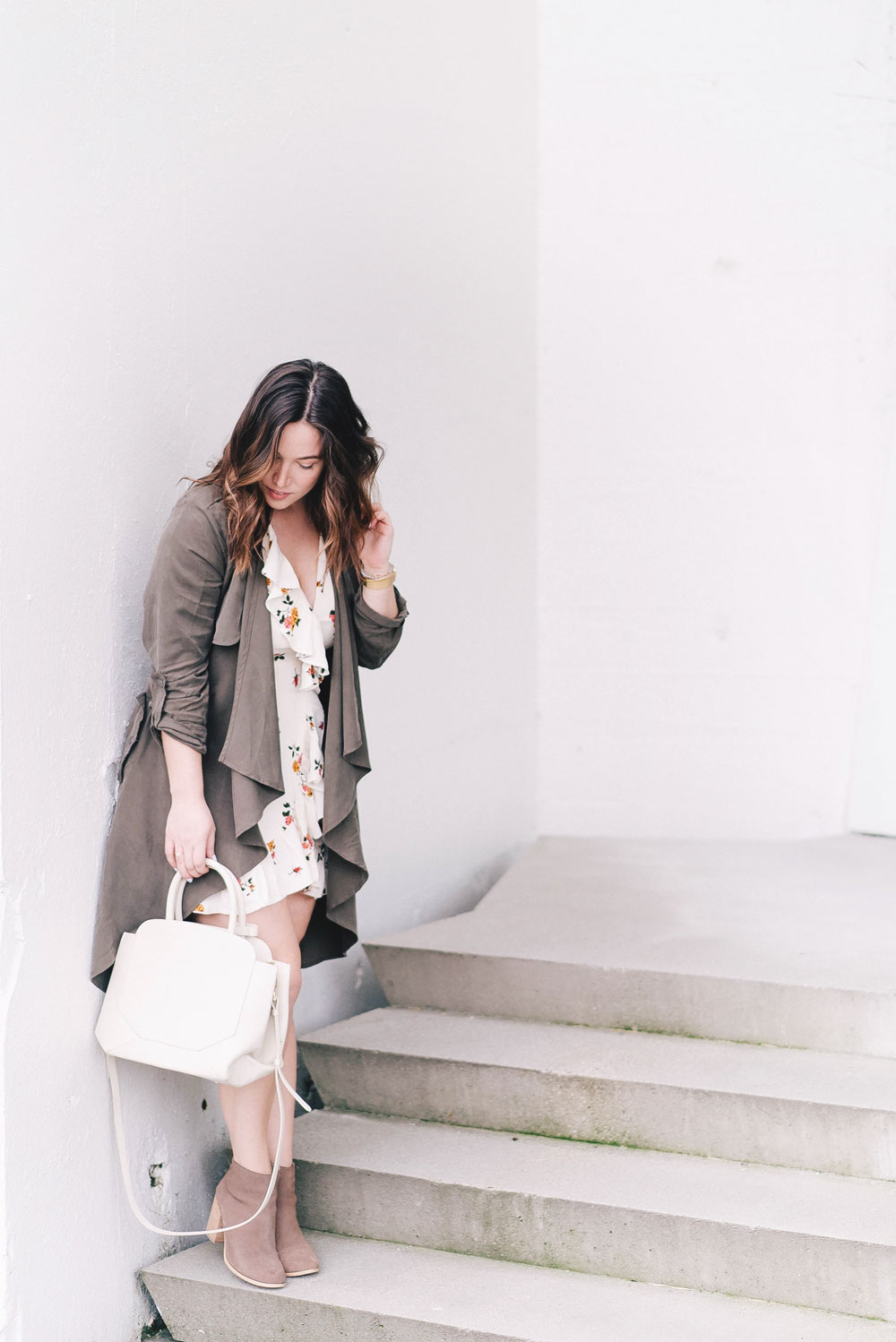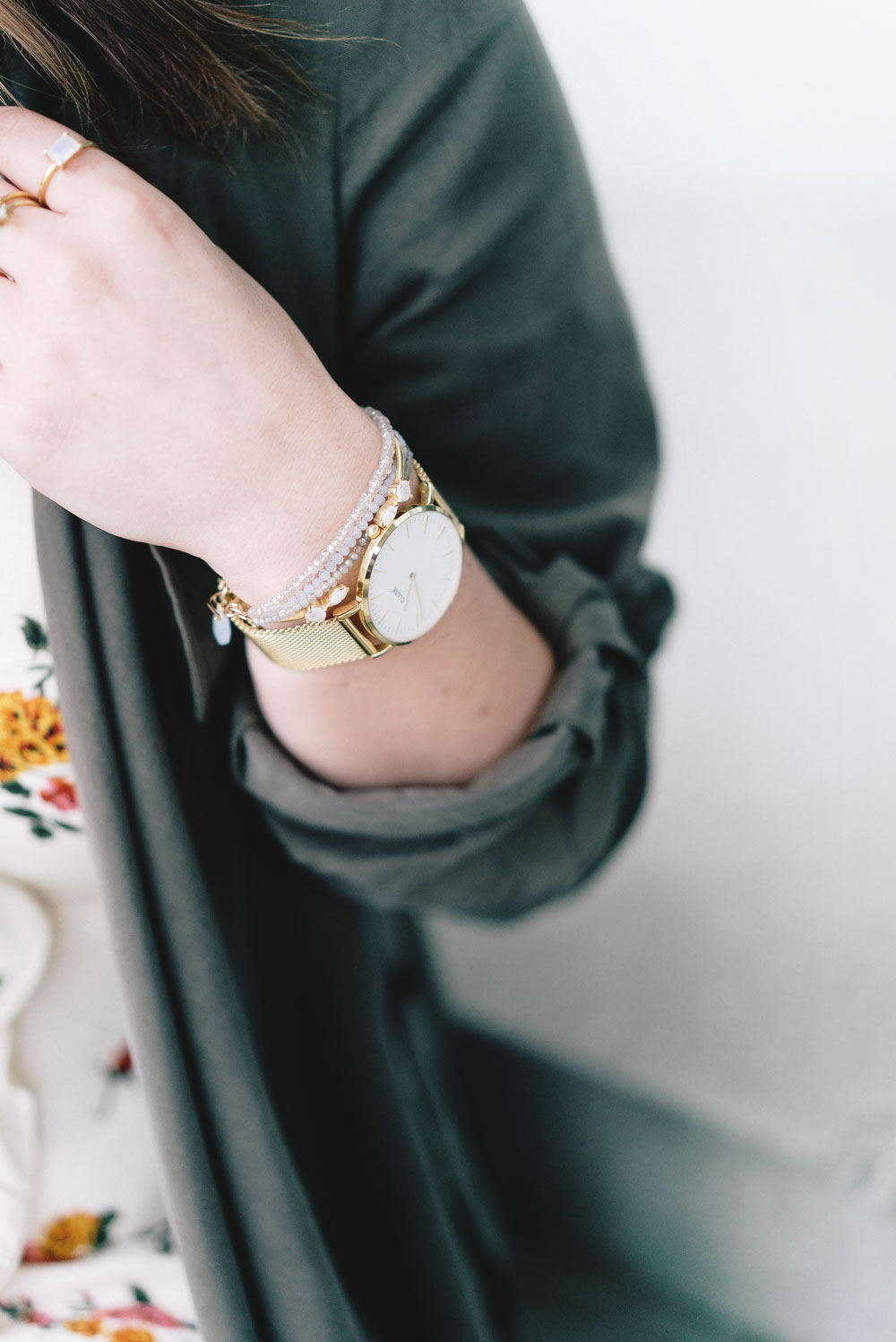 On another note (and in keeping with the make-life-beautiful goal), this floral beauty from REVOLVE's label Privacy Please has been just the dose of summery style I've needed (though sizing tip, I found it fit quite snugly across my chest, so if you're similarly chesty size up since it's a wrap dress and you can cinch in at the waist!). Here in Vancouver, we don't really get true summer until July (it really actually kind of hits its peak in September) so unless it's truly sunny out, I still need to layer in the shade or on cooler days. I've said it before and I'll say it again—any olive tone is made for florals. This amazing trench not only helps temper the sweetness of the floral print, but its flowing silhouette also mimics the ruffles of the dress making it a really cohesive look without squashing the delicate quality of the dress. It's sadly sold out now but this beauty is on sale (like a third of its original price) and really similar!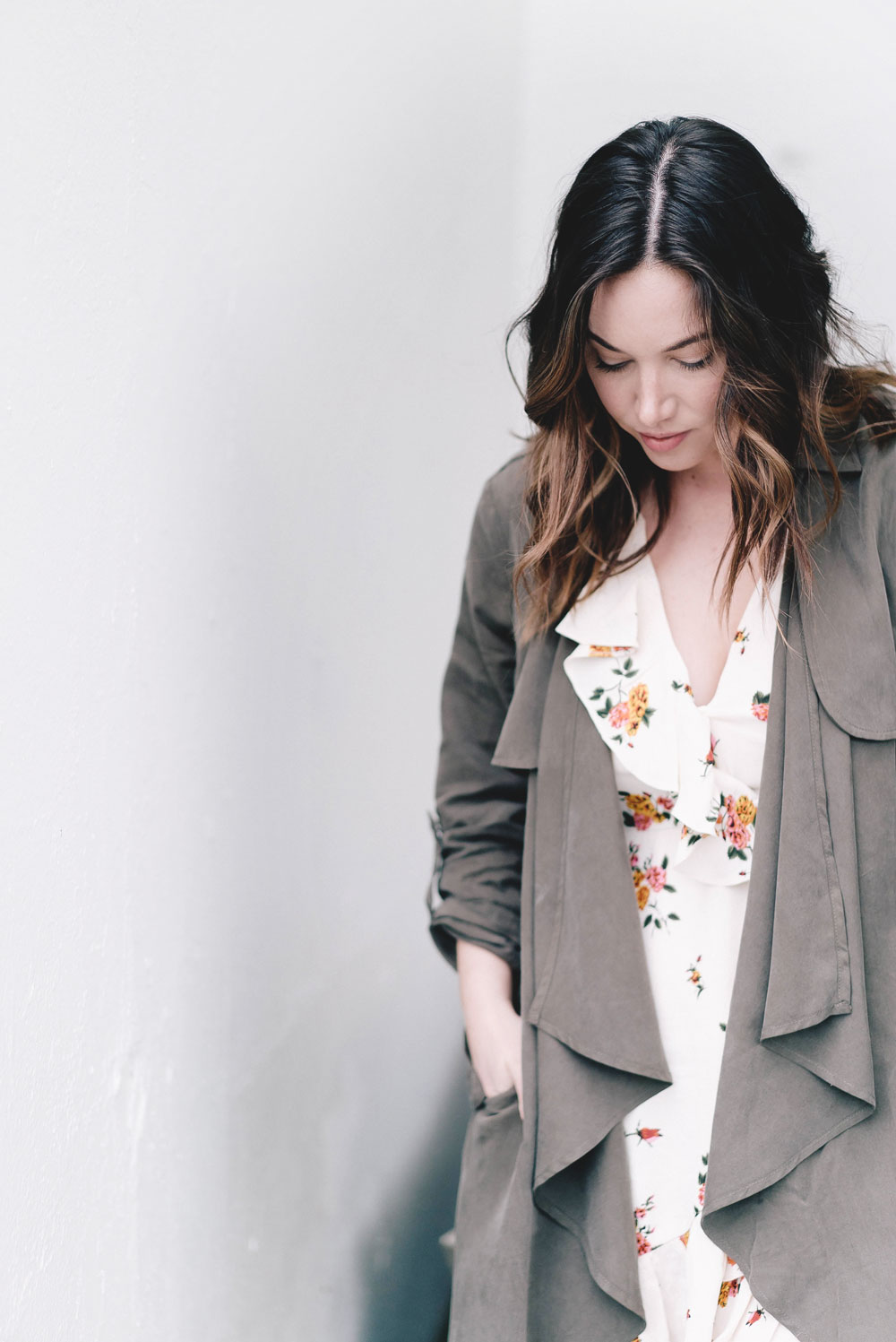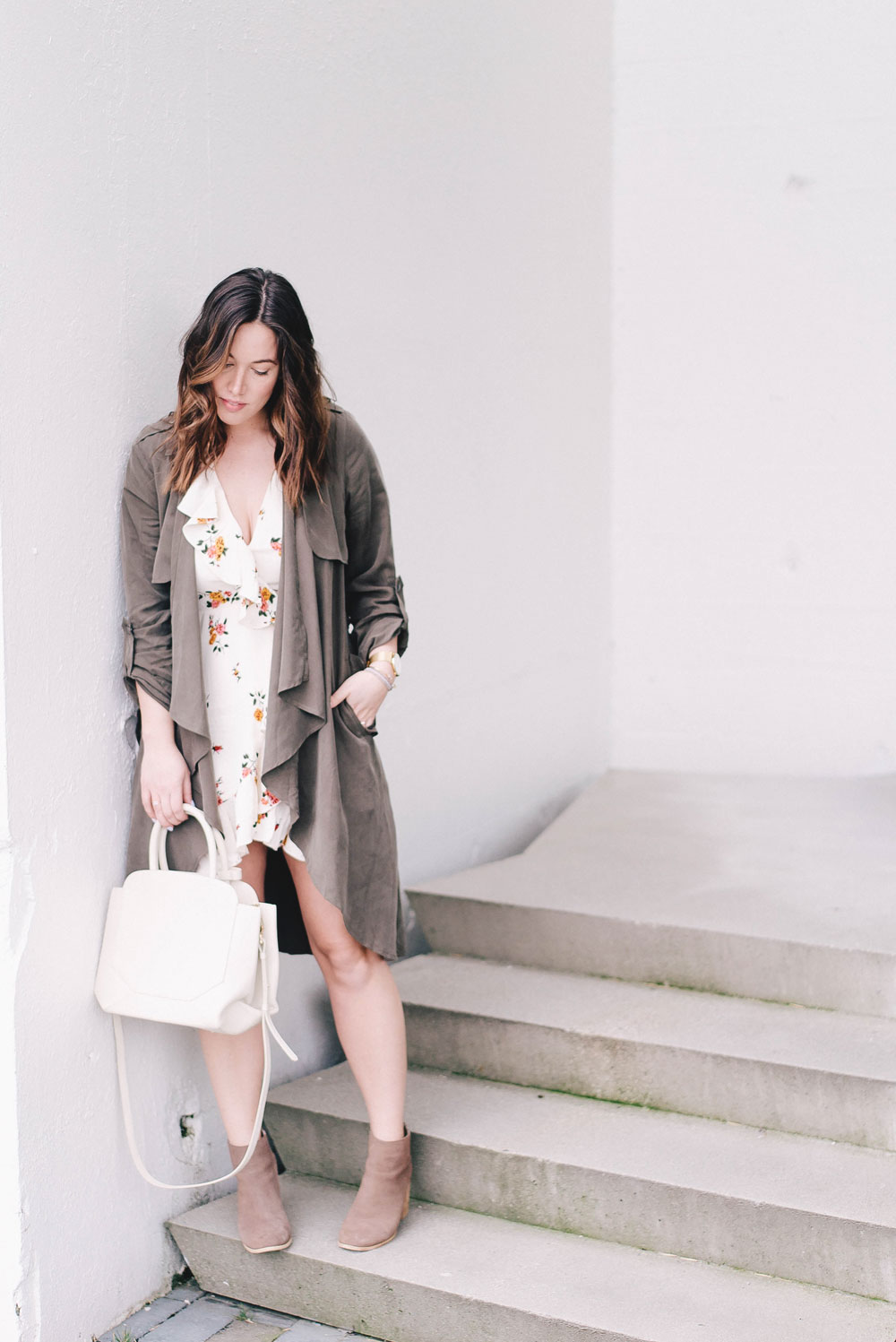 Side note: if you're ever struggling to see if the fall and fabric of a piece goes with another, my main tip is to physically take it out of the closet and hang it up somewhere else (I have rods installed on the sides our closet so I can do just this—poor Matt!). Style the pieces together and you'll immediately see how it all falls together—sometimes I love the juxtaposition of a stiffer leather jacket or blazer with a really flouncy dress but love when you can create a really seasonally perfect pairing that feels light and easy.
Hope you're all having a beautiful week!
Photos by Ainsley Rose