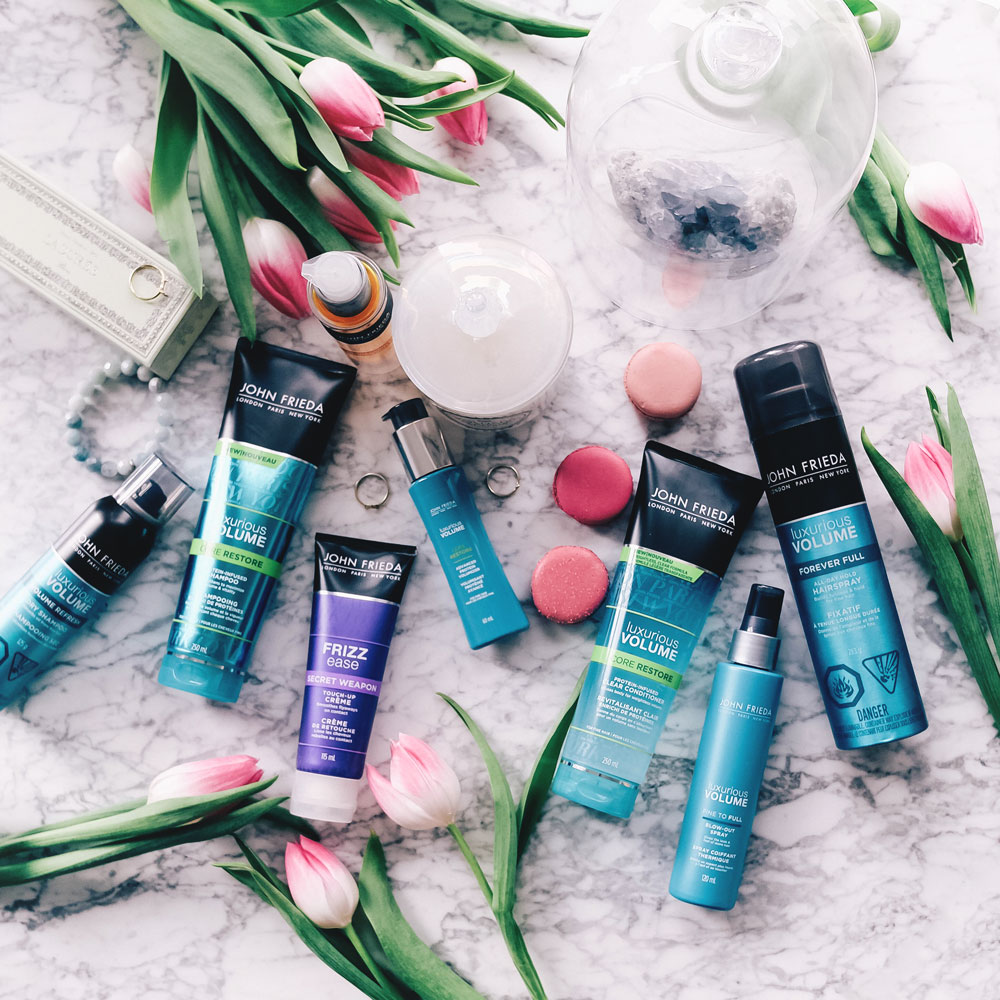 My hair is admittedly pretty easy for everyday, wash-and-go looks since it's naturally straight and air dries really easily, but my biggest challenge in the past has been doing something special with it when the occasion calls for it, and there's never a better opportunity to do something special than for a wedding! We went to so many weddings last year and I feel like my hair was often an afterthought—after heat proofing my beauty and style I usually just went for loose waves, but this year wanted to really challenge myself to try some heat tool free looks that my fine hair could really shine in while also really accenting my whole look!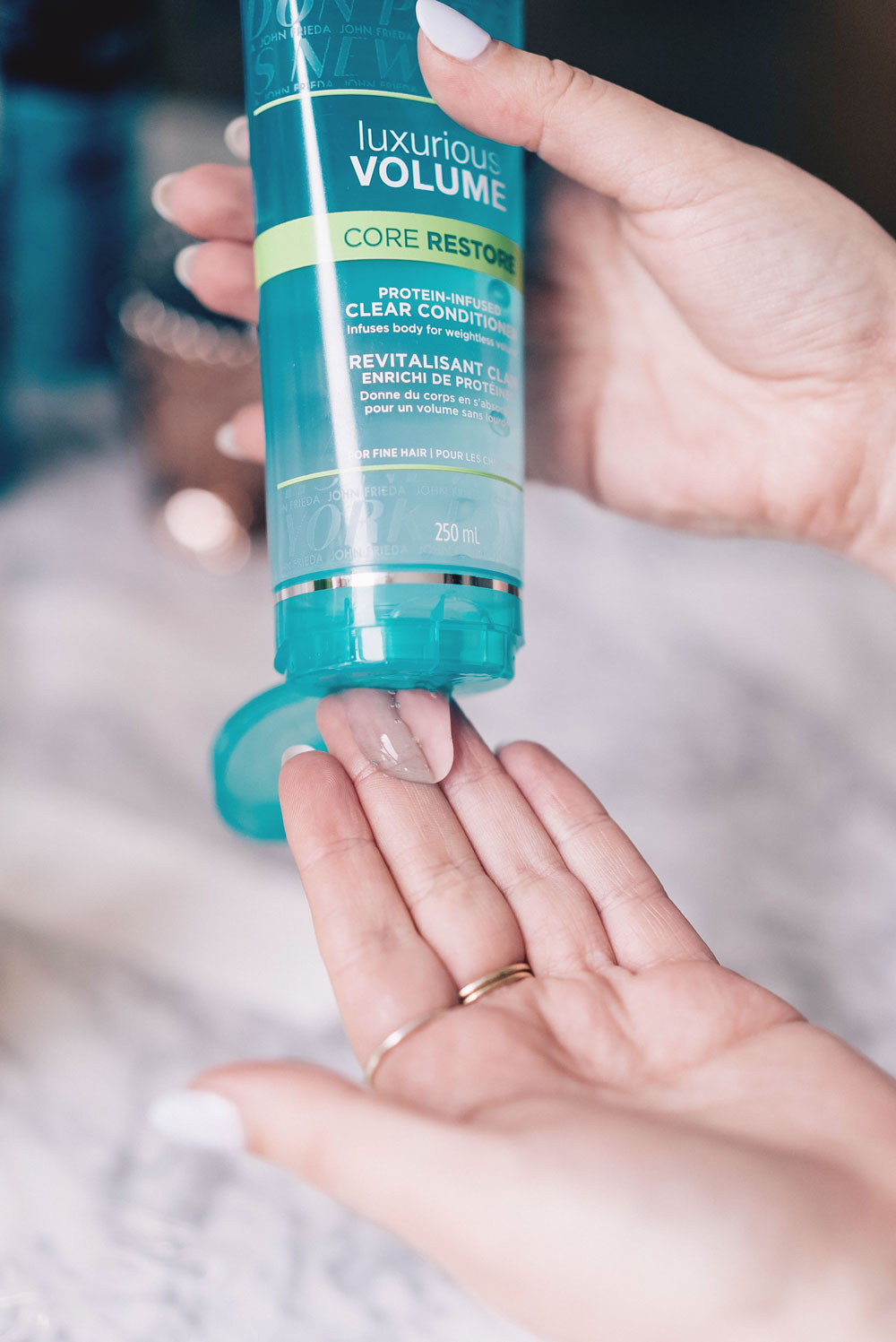 You guys already know from my second day hair series earlier this year that I'm such a fan of John Frieda® haircare. Their products just work so well for me, and I mentioned in that series how I've been a loyalist for years to their Luxurious Volume® line. The entire line is available at London Drugs stores across Western Canada and online, which I love because their product selection is incredible! So naturally, to do all these 3 heat tool free looks we've got to build some body and volume, and these key products do exactly that! The only heat used in any of these looks is that first blow out, so follow the steps below for a perfect blow out to get your hair prepped!
This post was created in partnership with the John Frieda® hair care team and London Drugs but all opinions are my own.
Steps to a Perfect Blow Out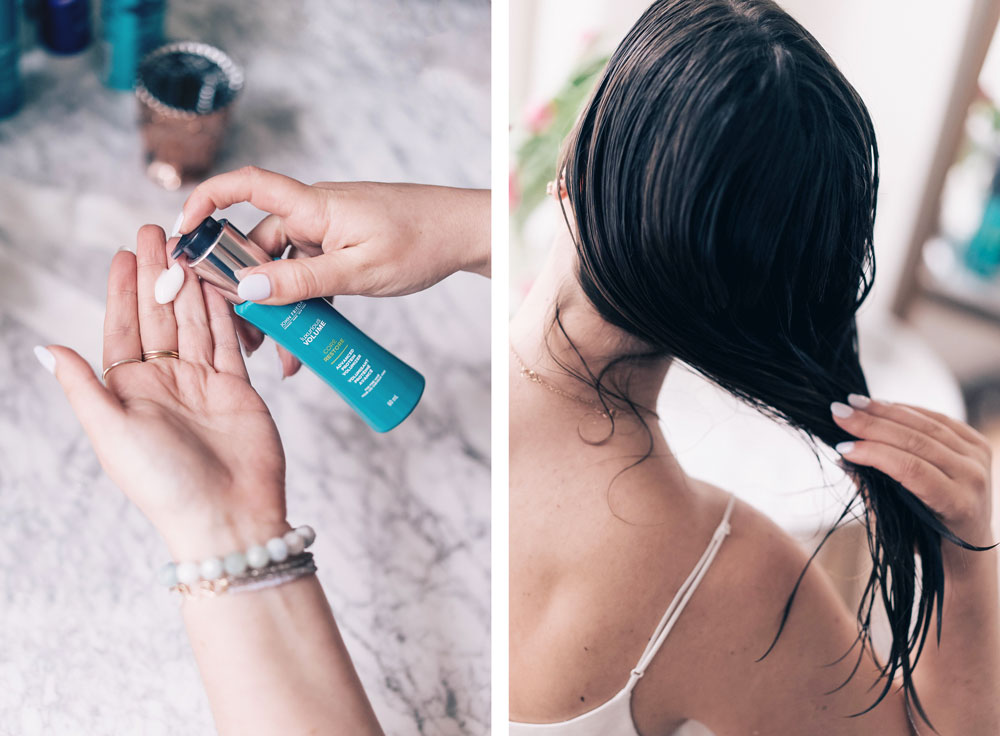 1. I use the Luxurious Volume® Core Restore® Protein-Infused Shampoo & Clear Conditioner in the shower—love the amazing, lightweight texture of the conditioner so that my hair doesn't get weighed down but actually feels thicker and healthier!
2. I then use the Luxurious Volume® Core Restore® Advanced Protein Volumizer, which is really my key product in all of this. It helps infuse fine hair with proteins that really bring volume, body and strength—love that this product is focused on building healthy-looking hair nstead of weighing down hair!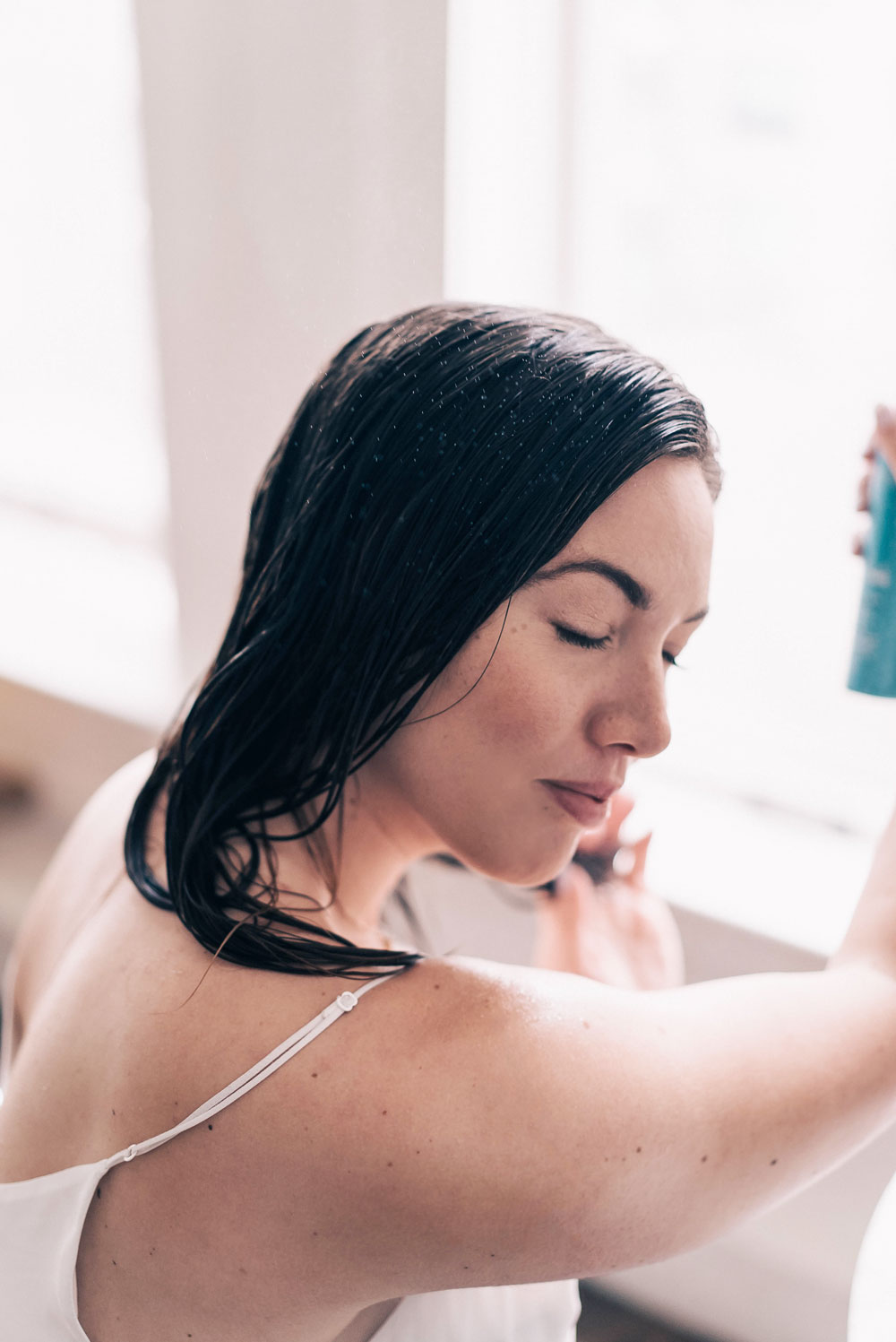 3. I spritz the Luxurious Volume® Fine to Full spray all over—been using this product for years and love it. This just helps my blowout feel that much more luxe without weighing down (notice a common trend here?).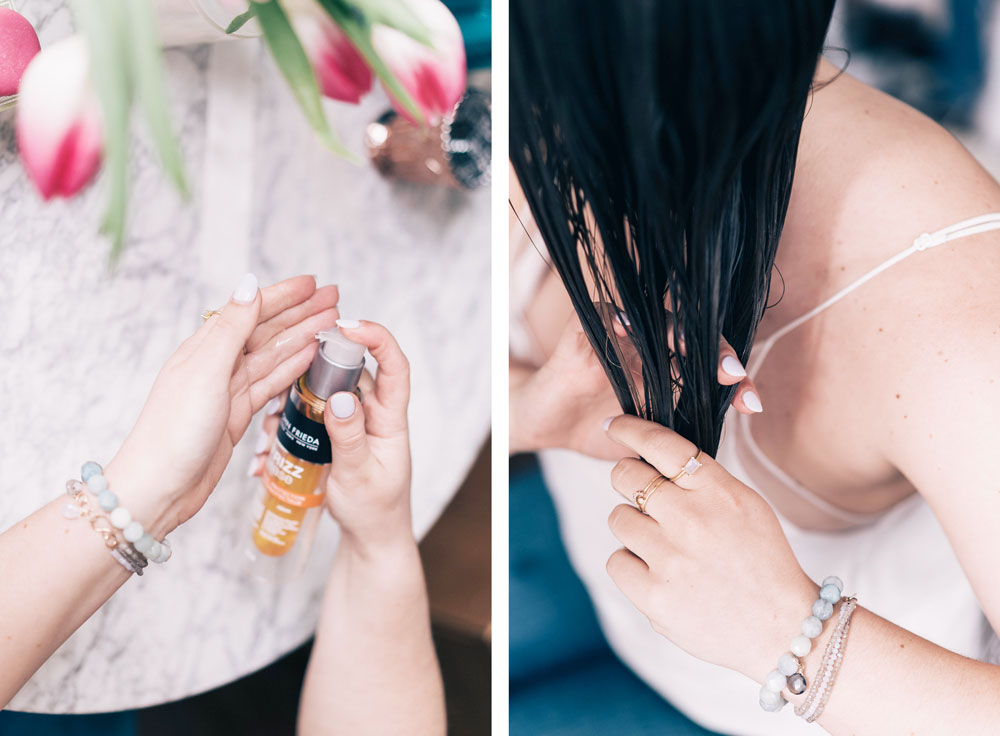 4. I'm really focused on hair health so I make sure I use a thermal protectant, especially on my ends. From about mid-shaft down to my ends, I work in the Frizz Ease® Thermal Protection Serum.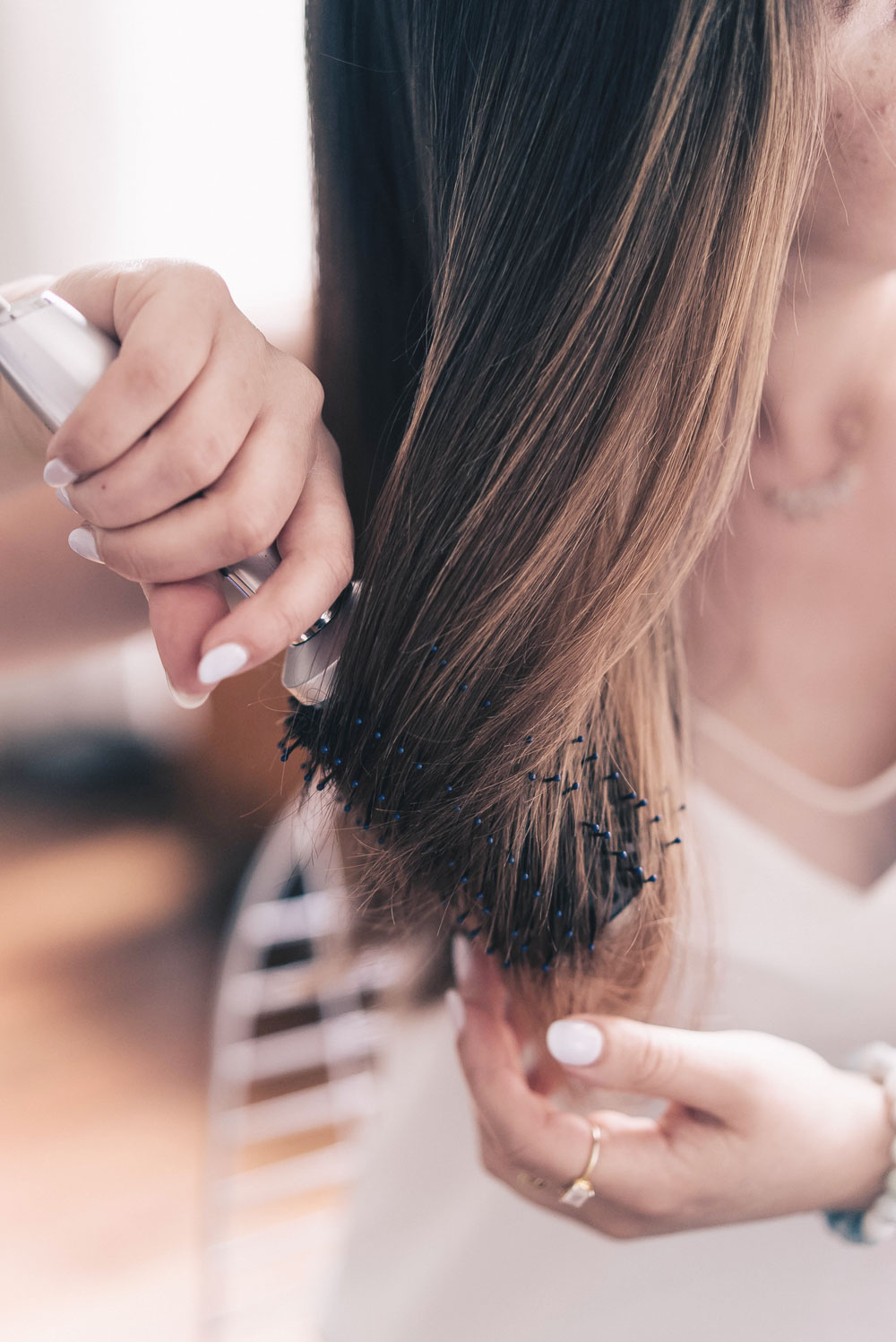 5. I do one more comb through of all products and then do a rough dry until my hair is about 80% dry.
6. I then take a round brush and use it to focus on building volume at my roots and to add some movement to my hair until my hair is entirely dry!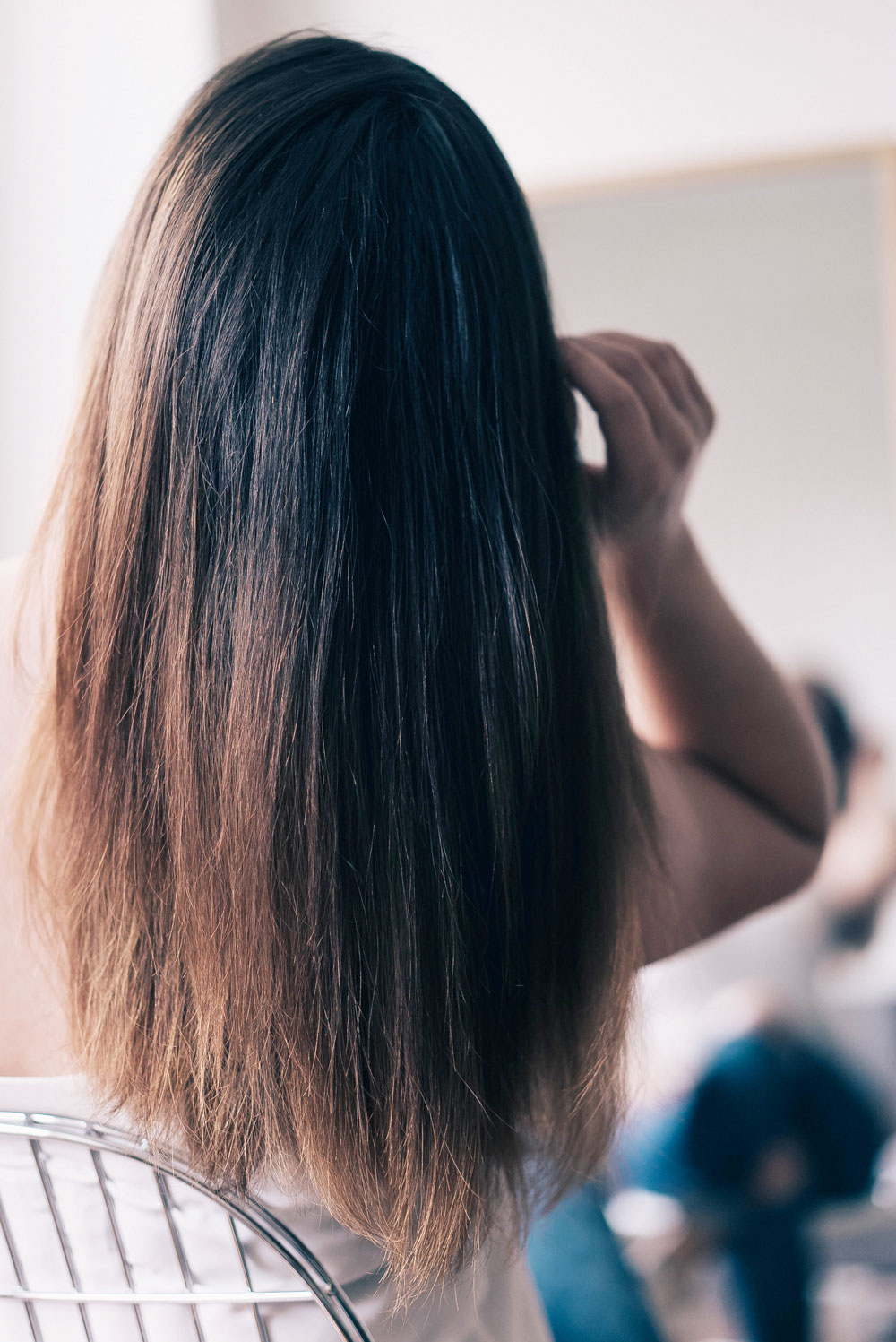 Style #1 – Braided Ponytail
This is the perfect slightly boho, slightly edgy look for a beachy or laid-back wedding (think a farm, seaside, etc). It's so easy to do and what I love the most about this is that you can really dance the night away without worrying about mussing it up! In fact, the more undone it is, the better!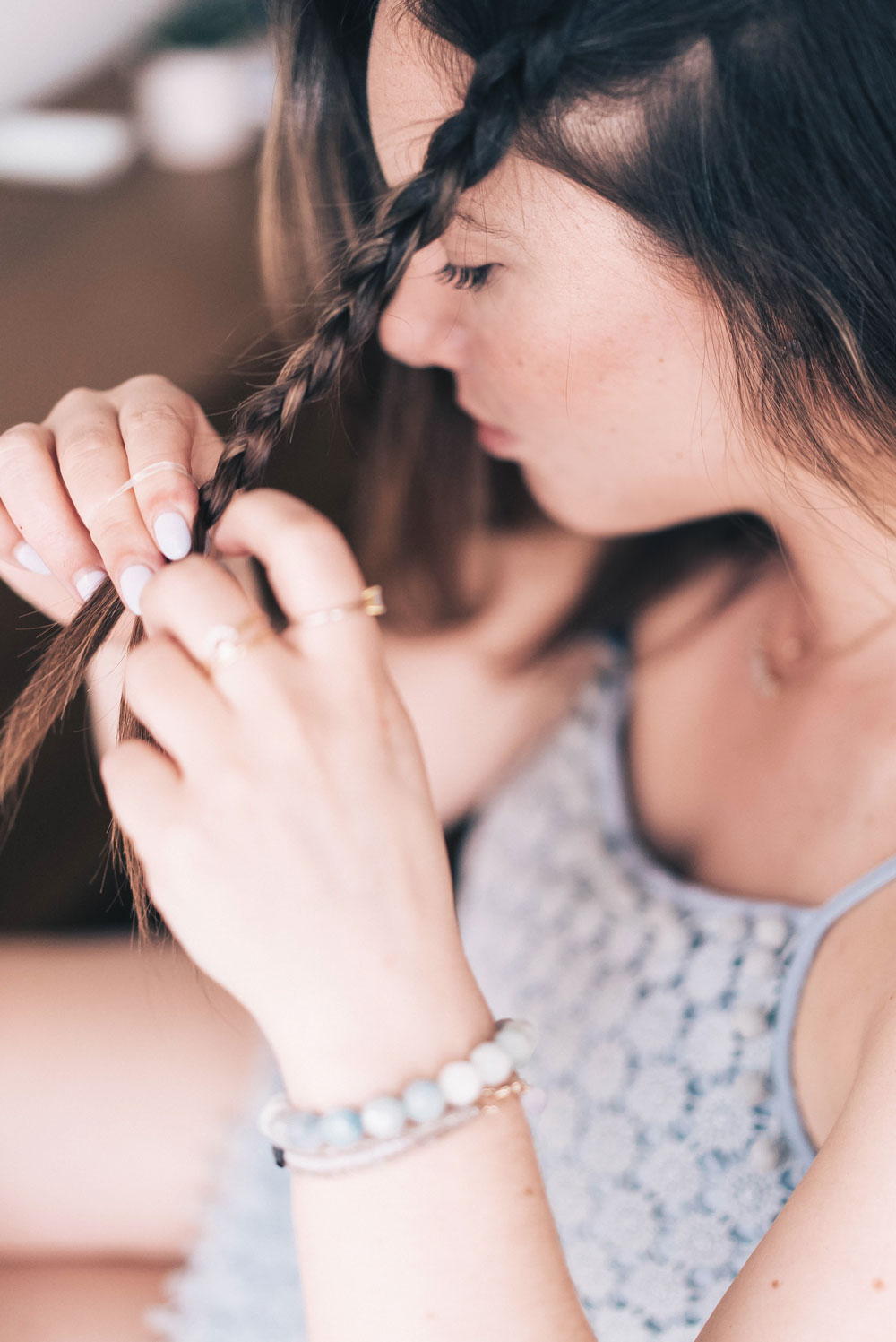 1. Blow out using the steps above and then create a small braid using about 1-2 inches of hair at one of your temples. French braid about an inch of hair then braid normally down the rest of the length of hair.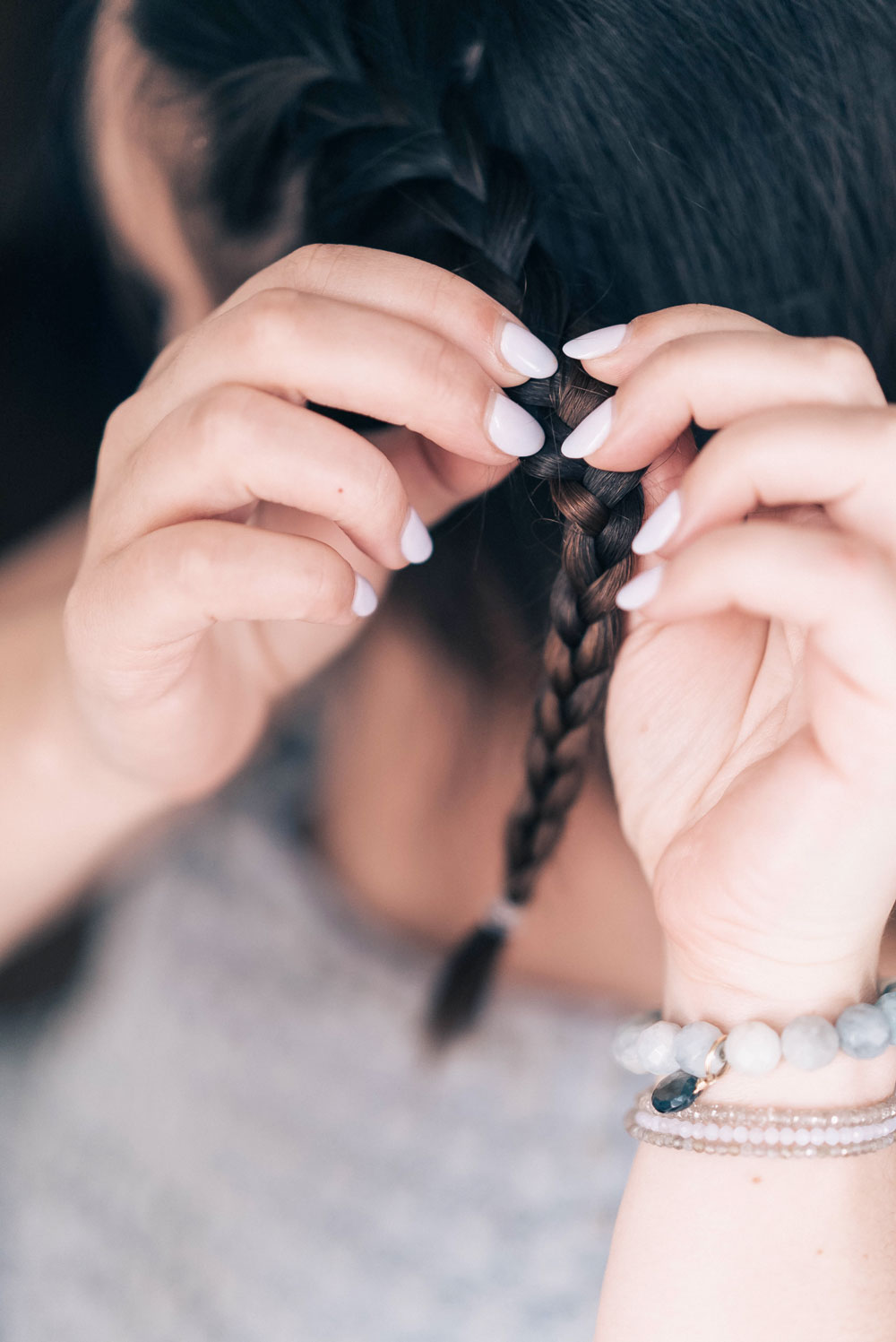 2. Loosen up your braid by pulling on its sides.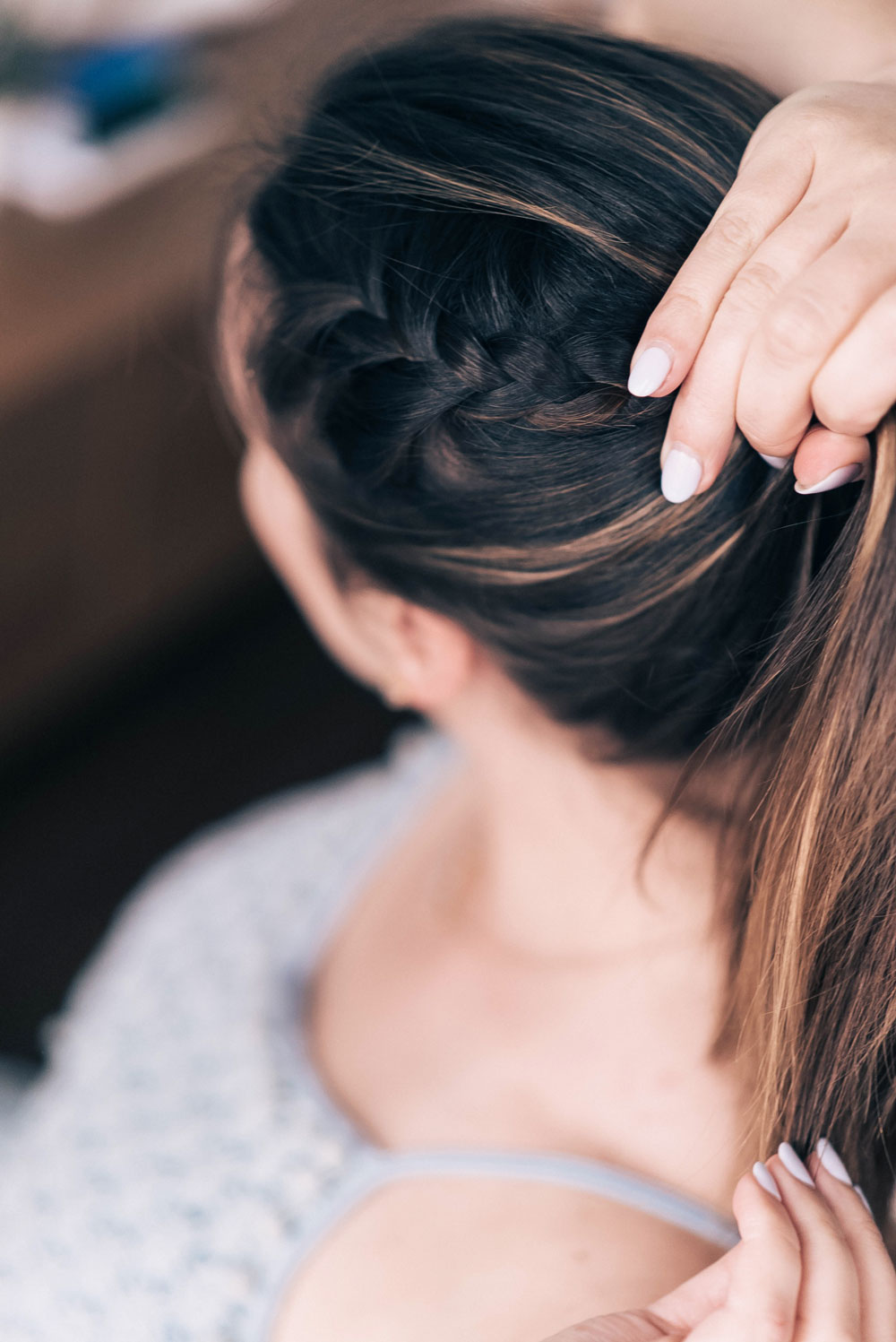 3. Pull hair back into a loose pony and use a brush to smooth hair back and blend in with the braid—once you've gathered it all, delicately remove the braided portion and secure the rest of your hair with an elastic band.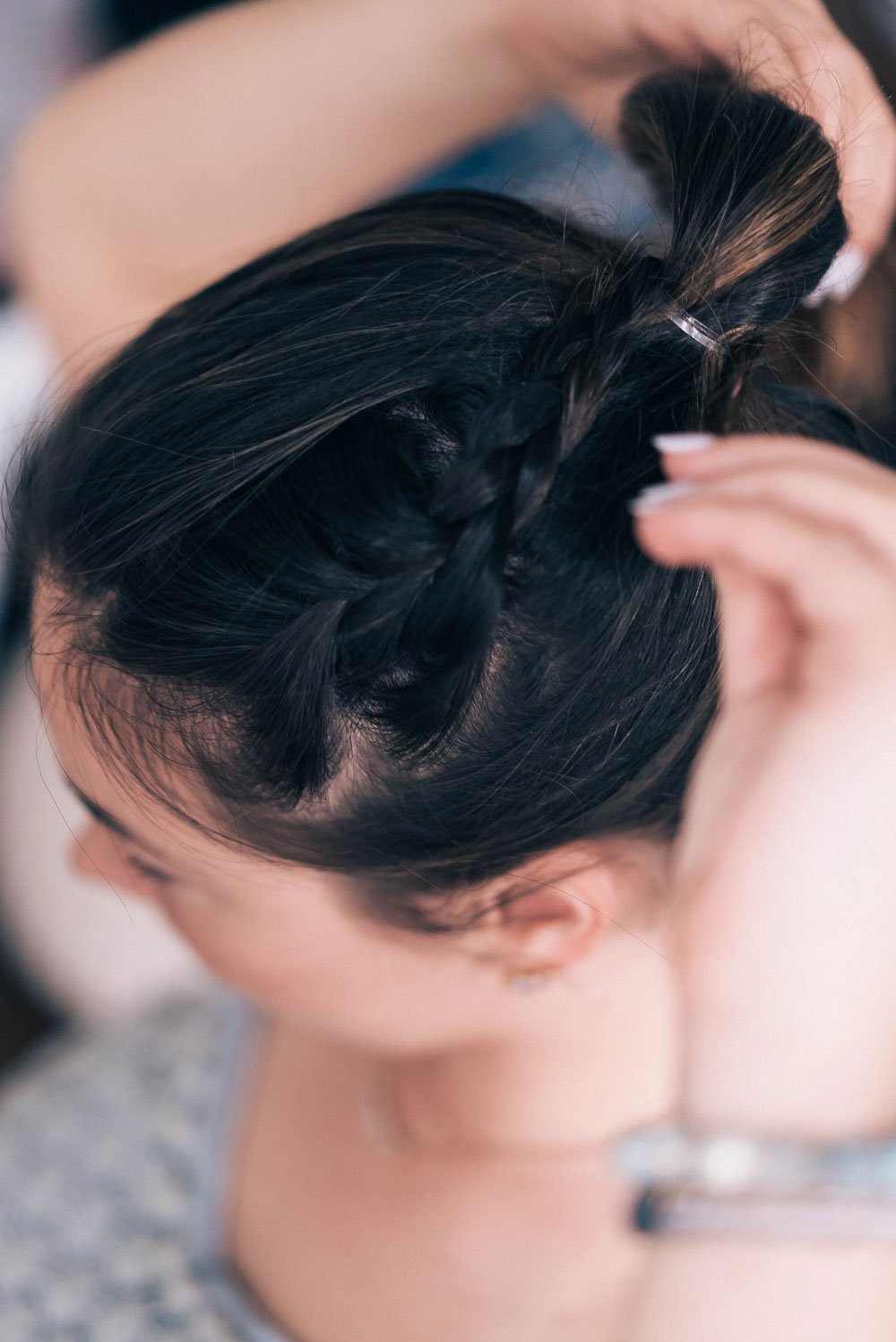 4. Take the braid and loop it around the elastic band, pinning it in place and tucking ends in.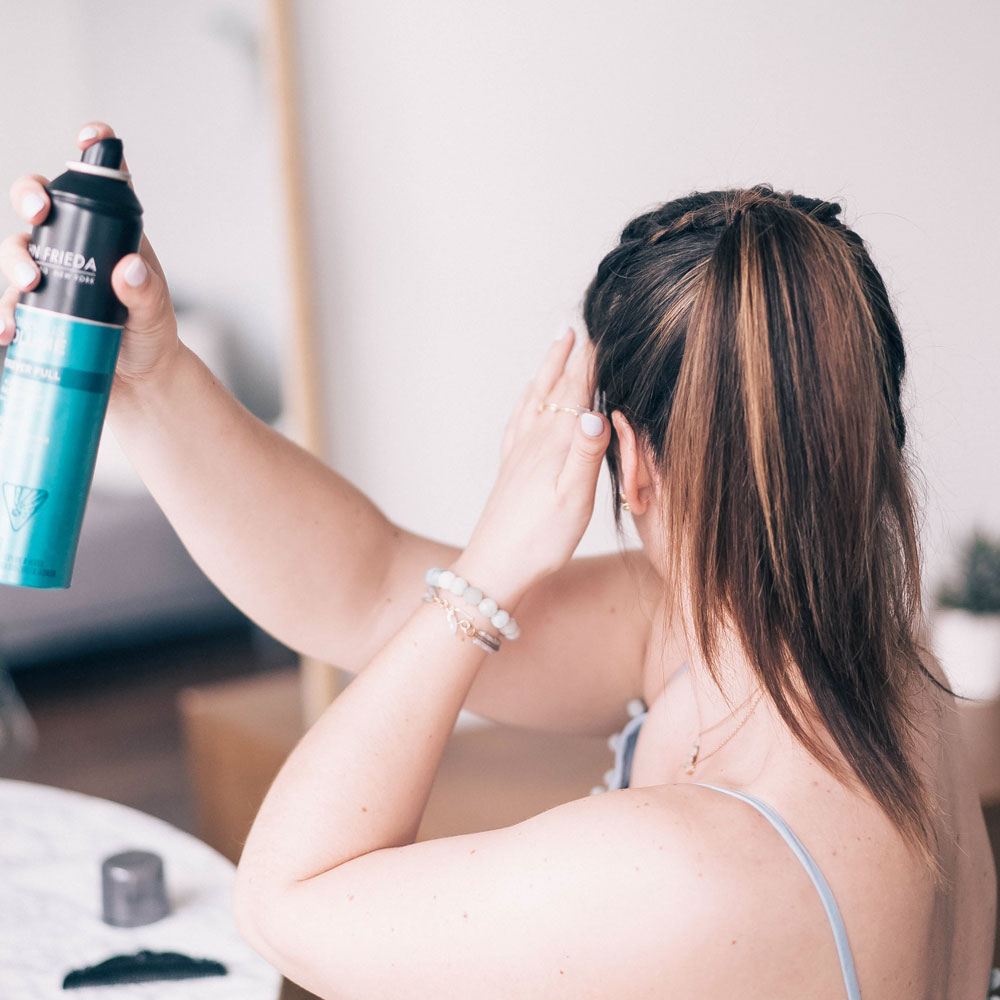 5. Loosen a couple face-framing pieces and then using the Luxurious Volume® Forever Full® All-Day Hold Hairspray, spritz braid in particular to ensure it stays in place all night, as well as your braided band around your ponytail!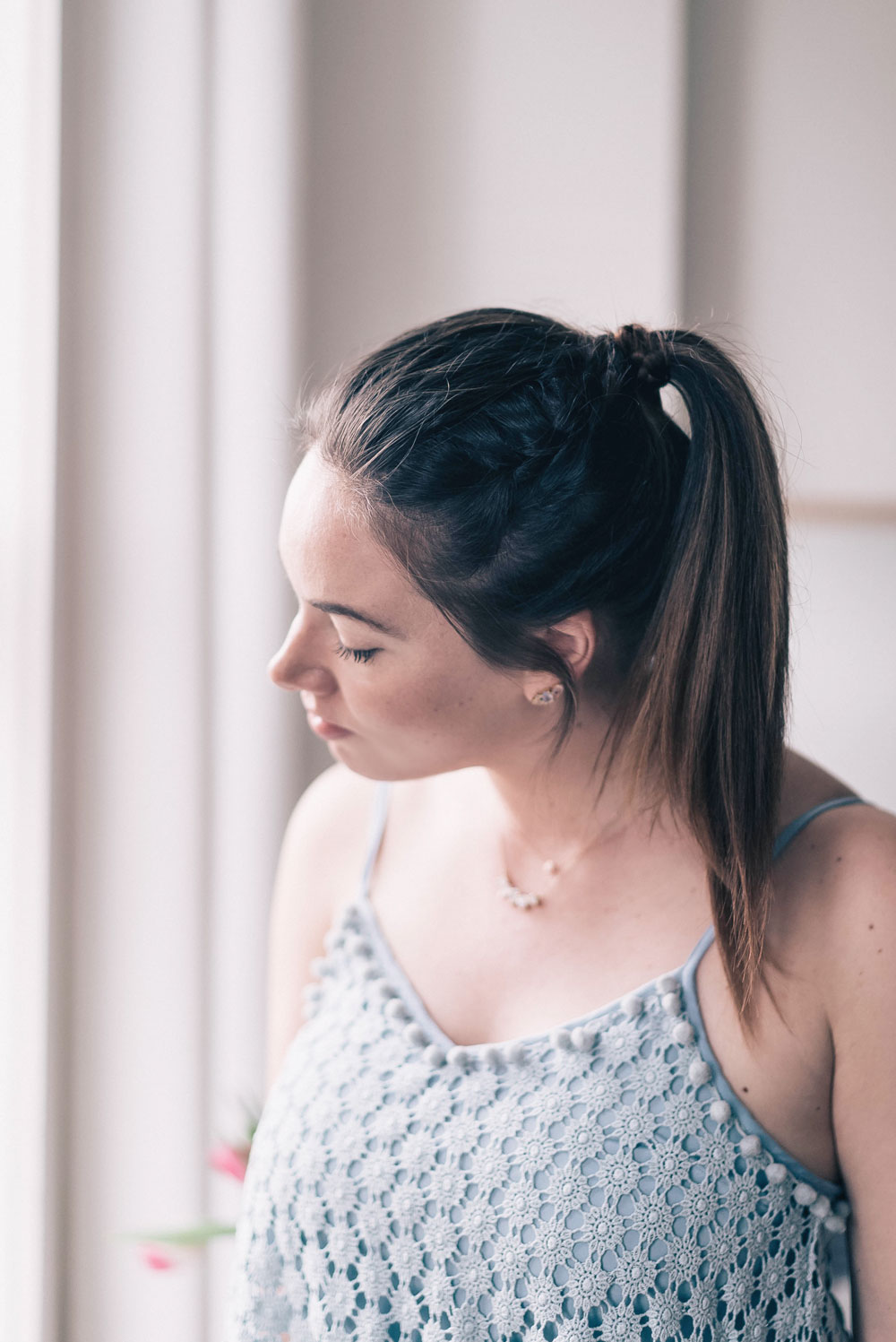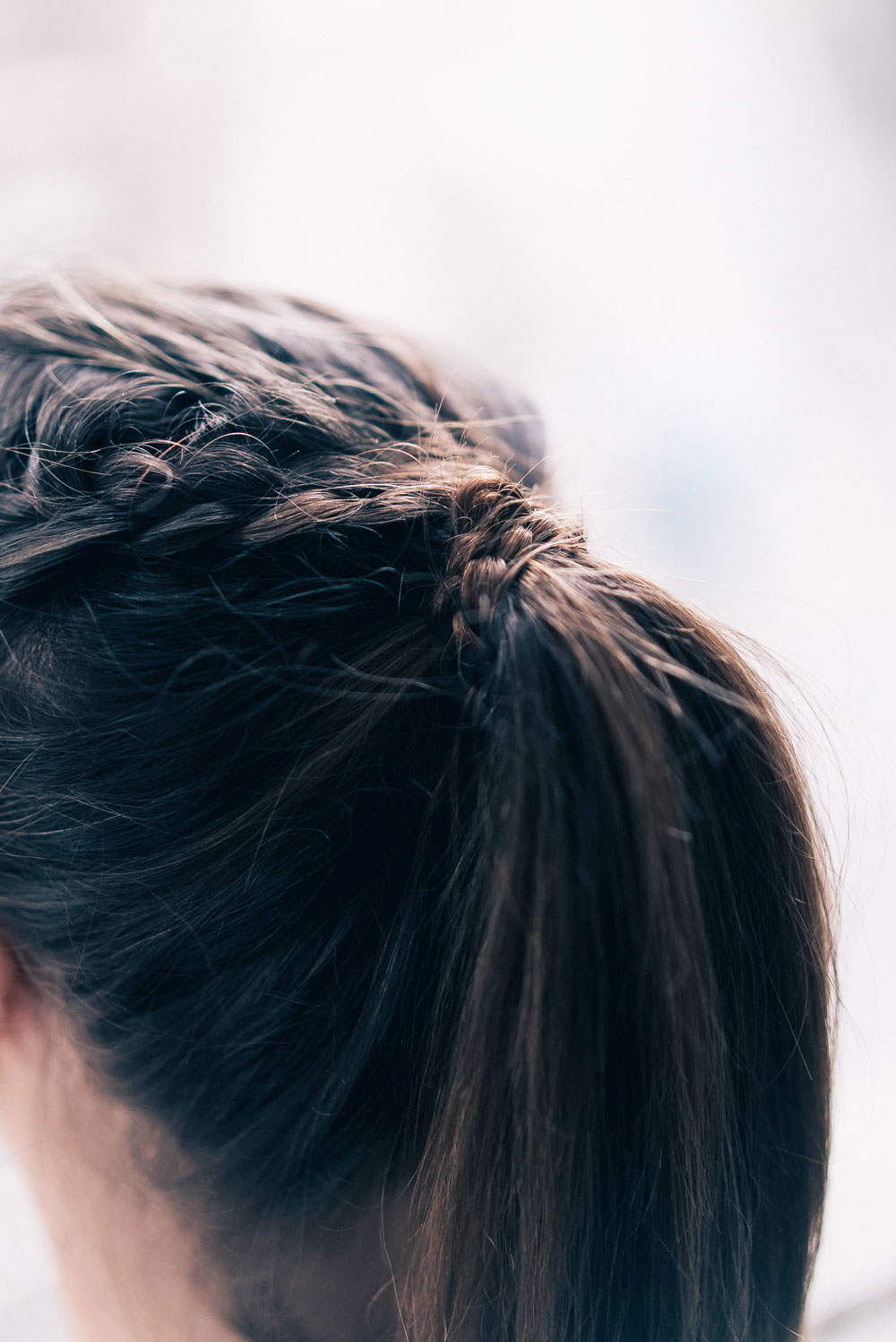 I love a crocheted dress for beachy destinations and either a stacked wooden heel or wedges—works so well with the playfulness of the ponytail!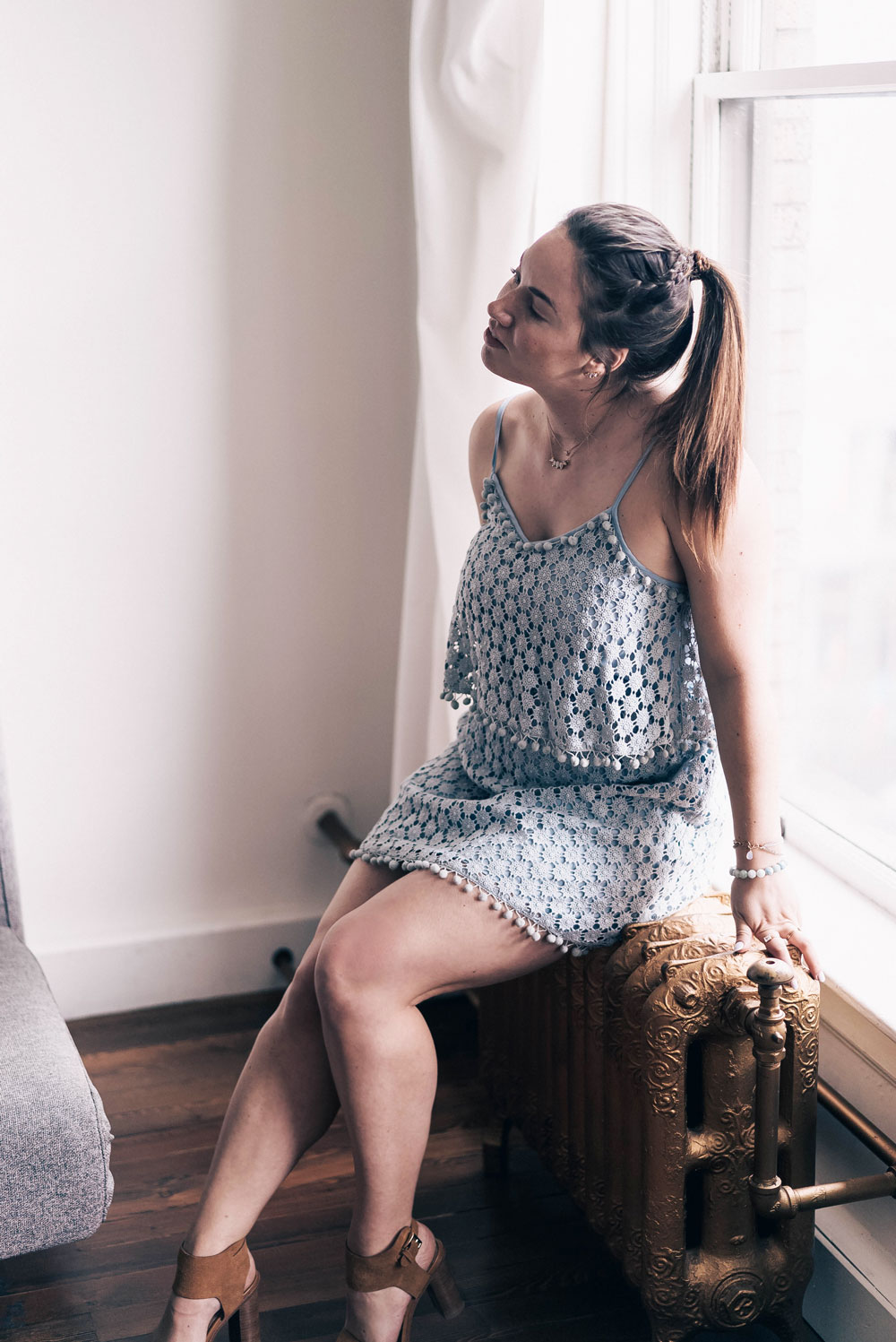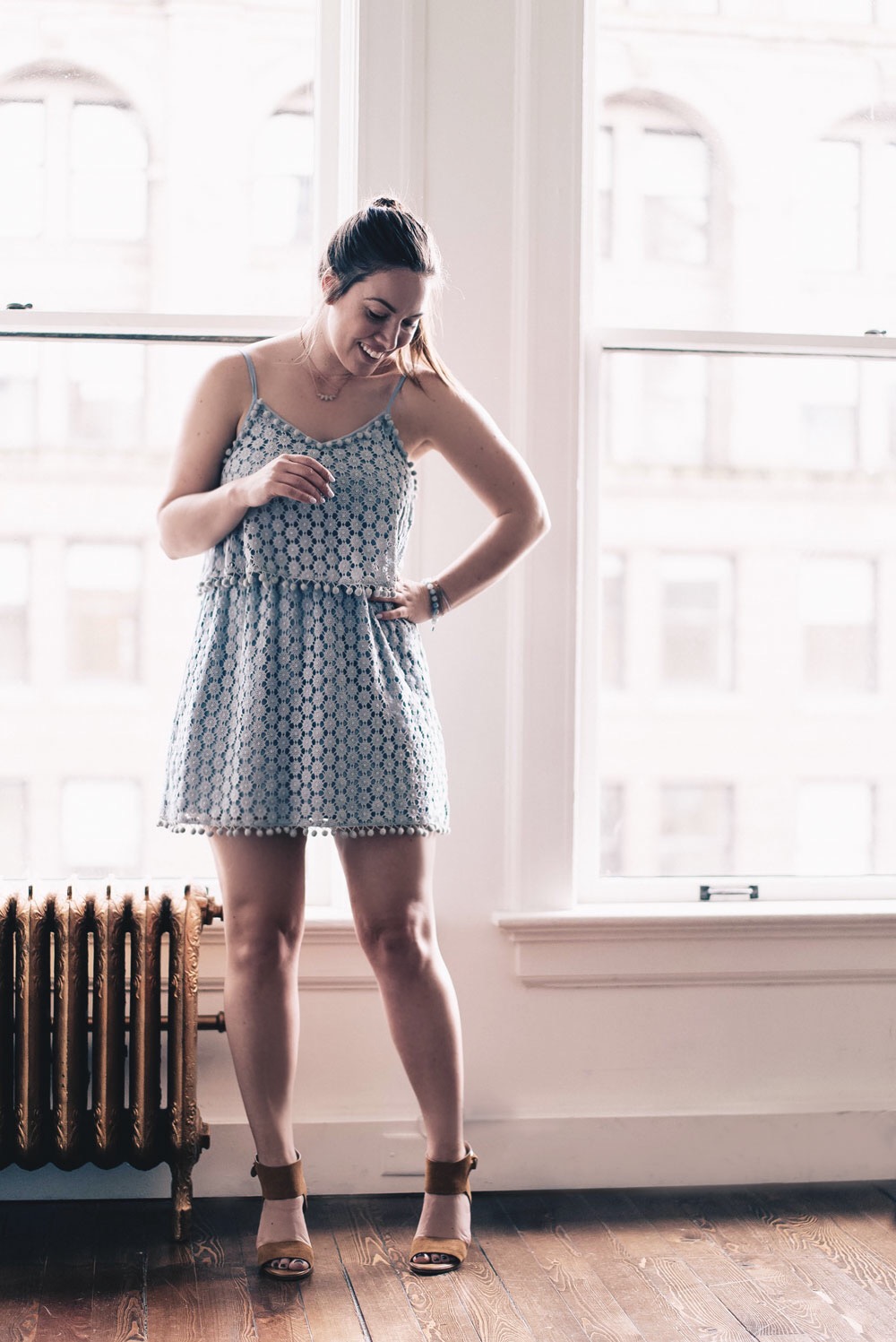 Style #2 – Braided Top Knot
This is the perfect look for a more formal affair—if your hosts are expecting black tie attire, if you're in a religious setting, etc. My biggest fear is offending at a wedding so while I'm much more casual with my hair typically, I love that this still feels really effortless while conveying a way more elegant feel. This is also an especially great, hold-all-day look for a wedding that has different stages—think starting in a church and then moving on to a reception elsewhere!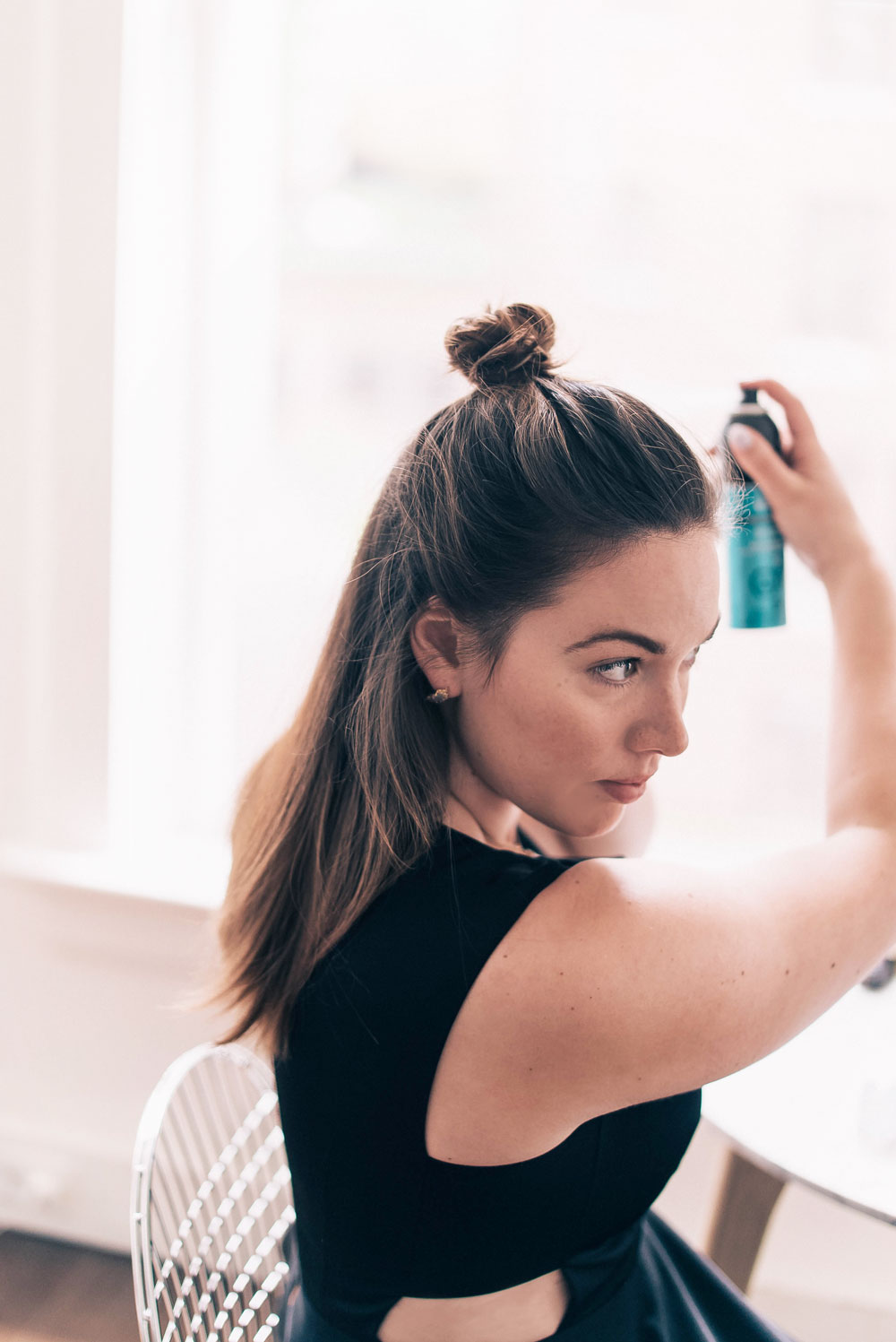 1. Blow out using the steps above and then pull the top half of your hair into a loose bun (this will be taken out later). Using the Volume Refresh Dry Shampoo from the Luxurious Volume® collection, add some dry shampoo to the bottom part of your crown and work it into the roots of your bottom half—this will help give some body to your braid and also keep your hair feeling fresh!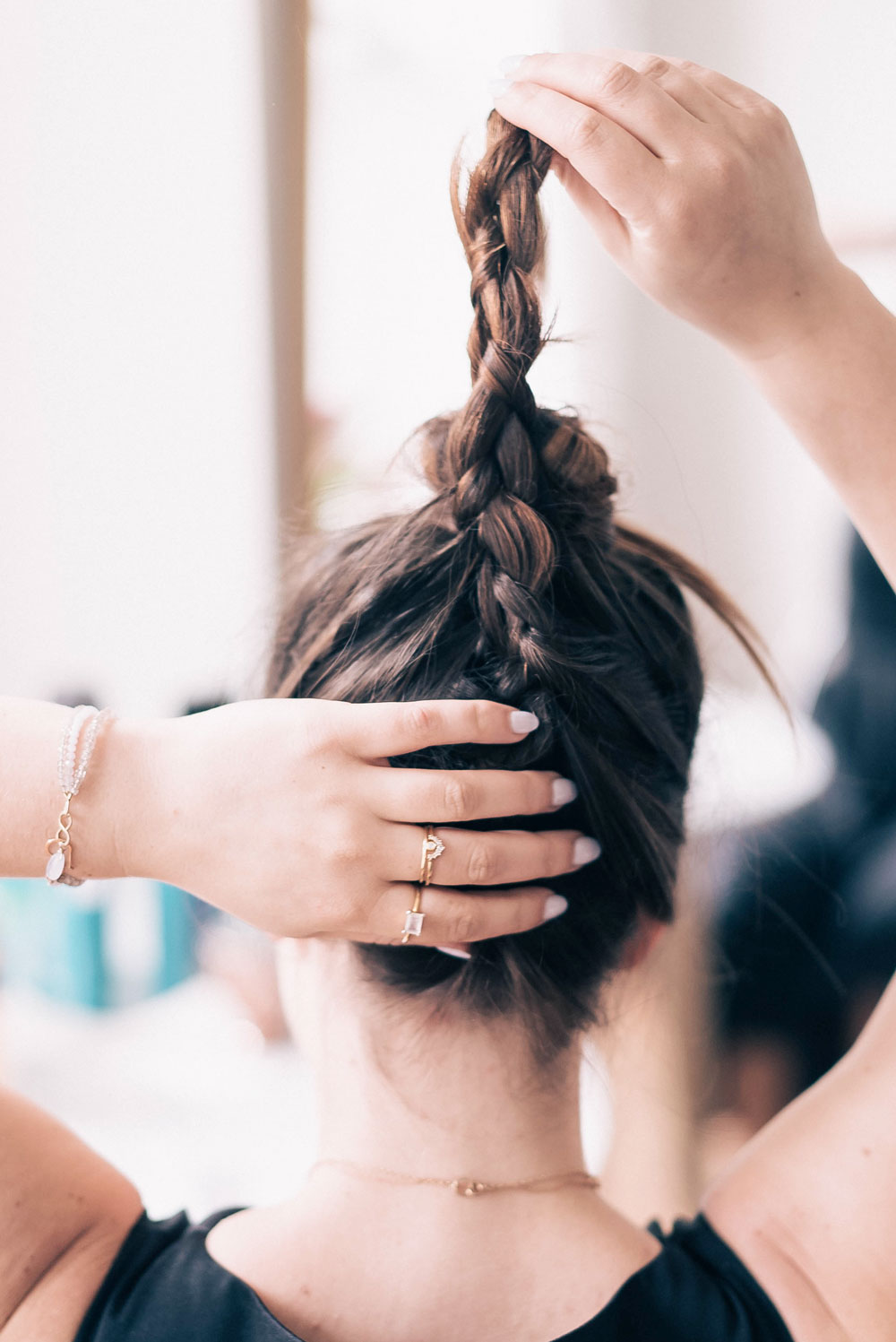 2. Bend right over so that you can access the bottom half of your hair (easier on your arms!) and start braiding, working from the nape of your neck up!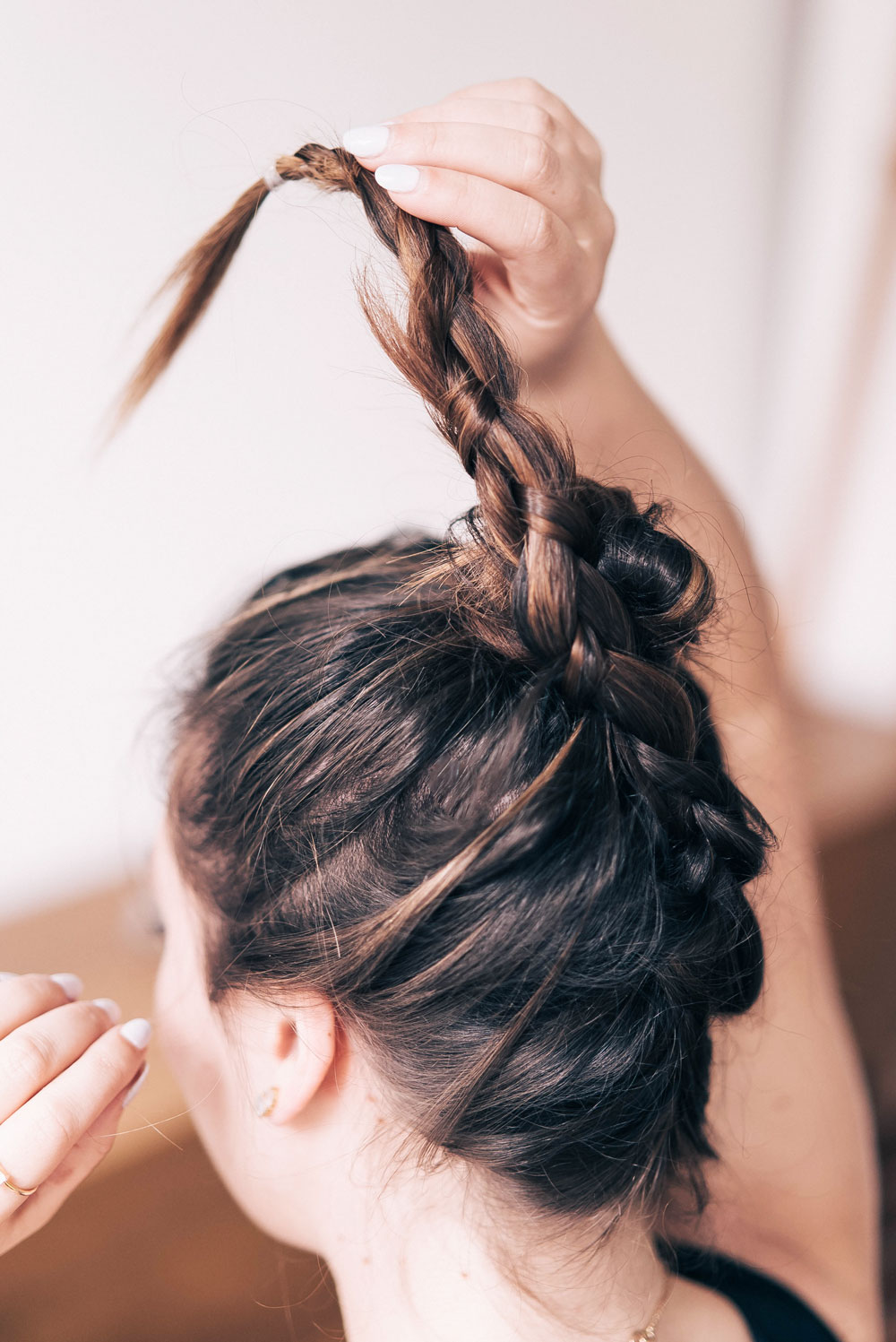 3. Once done, secure with an elastic band to keep the braid in place and then undo the top bun. Pulling the braided part and top half together, secure with an elastic band at the top of your head and undo the braided portion past the elastic band (the ends).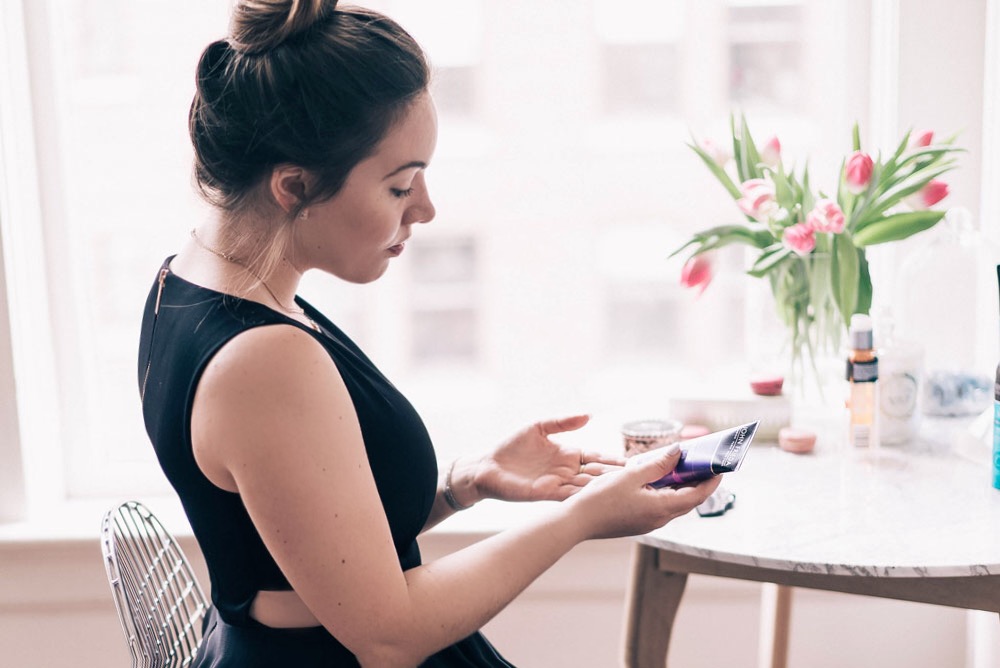 4. Create a loose knot and pin in place, and pull out a few face-framing layers.
5. Use the Frizz Ease® Secret Weapon® Touch-Up Crème to smooth any fly-aways in your braid or around your face.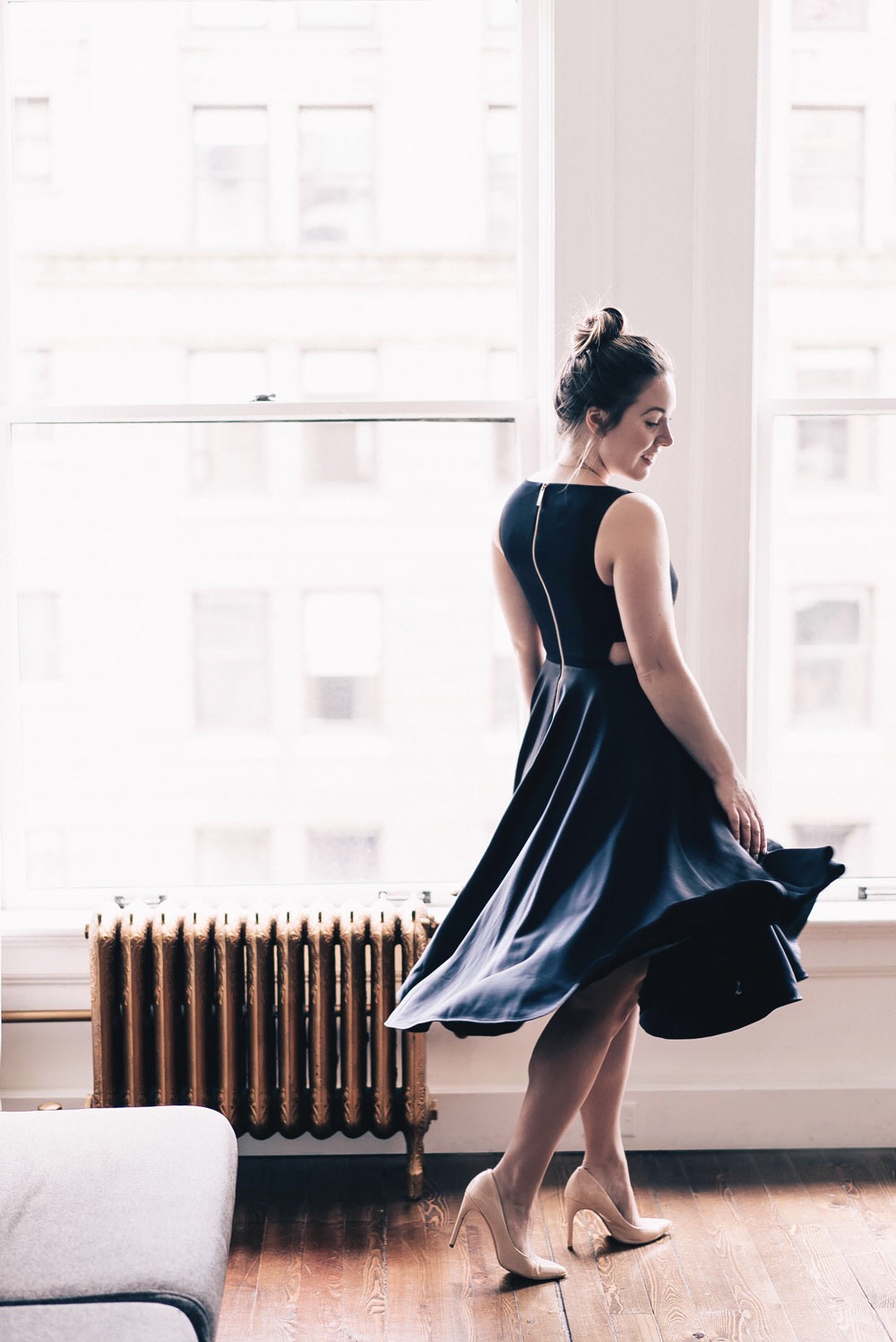 An elegant longer dress like this black number will always be a perfect match with a ladylike hairstyle like this one, but I love anything with unique back detailing (like this rose gold zipper!) to pick up on the unique braided detail of this style!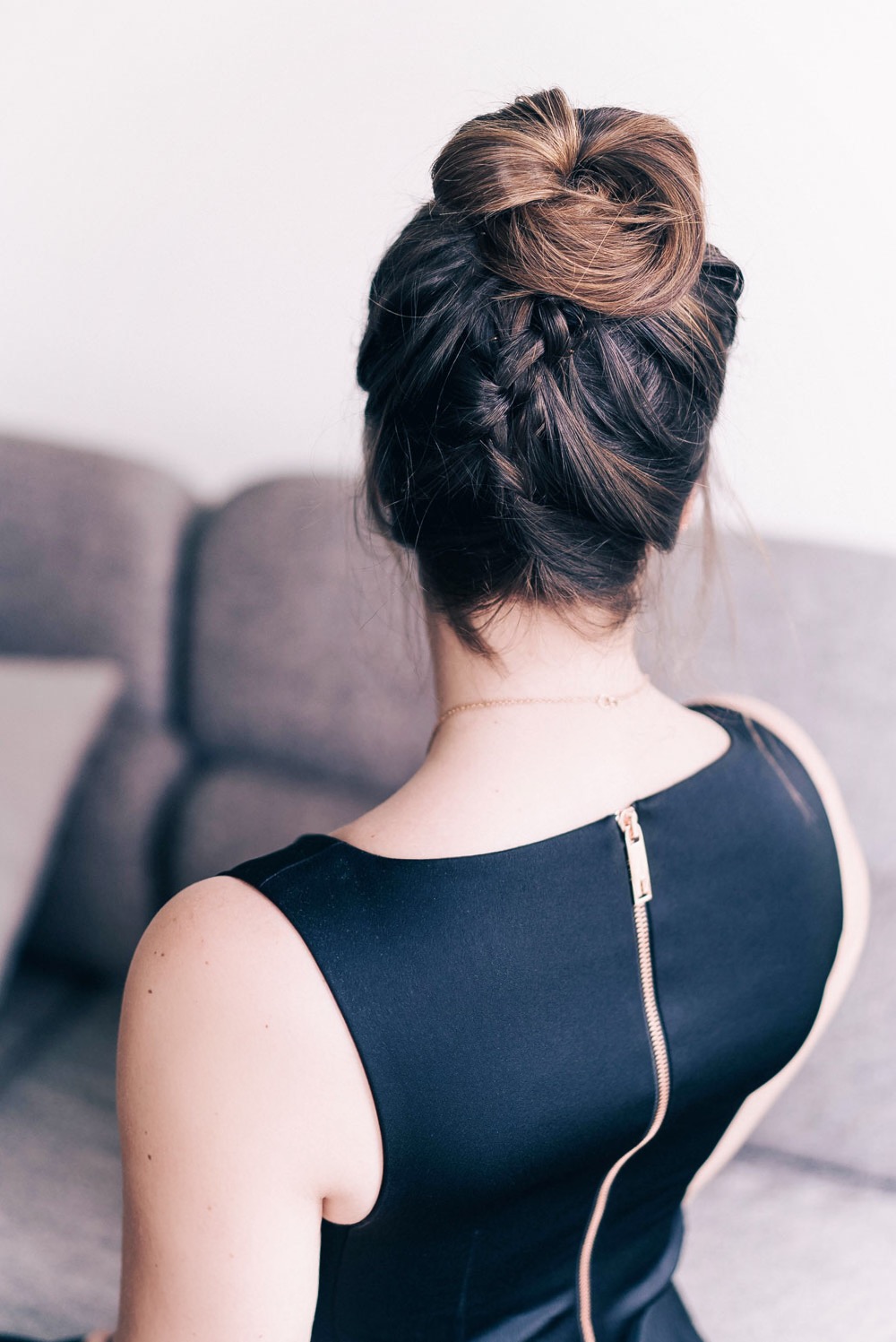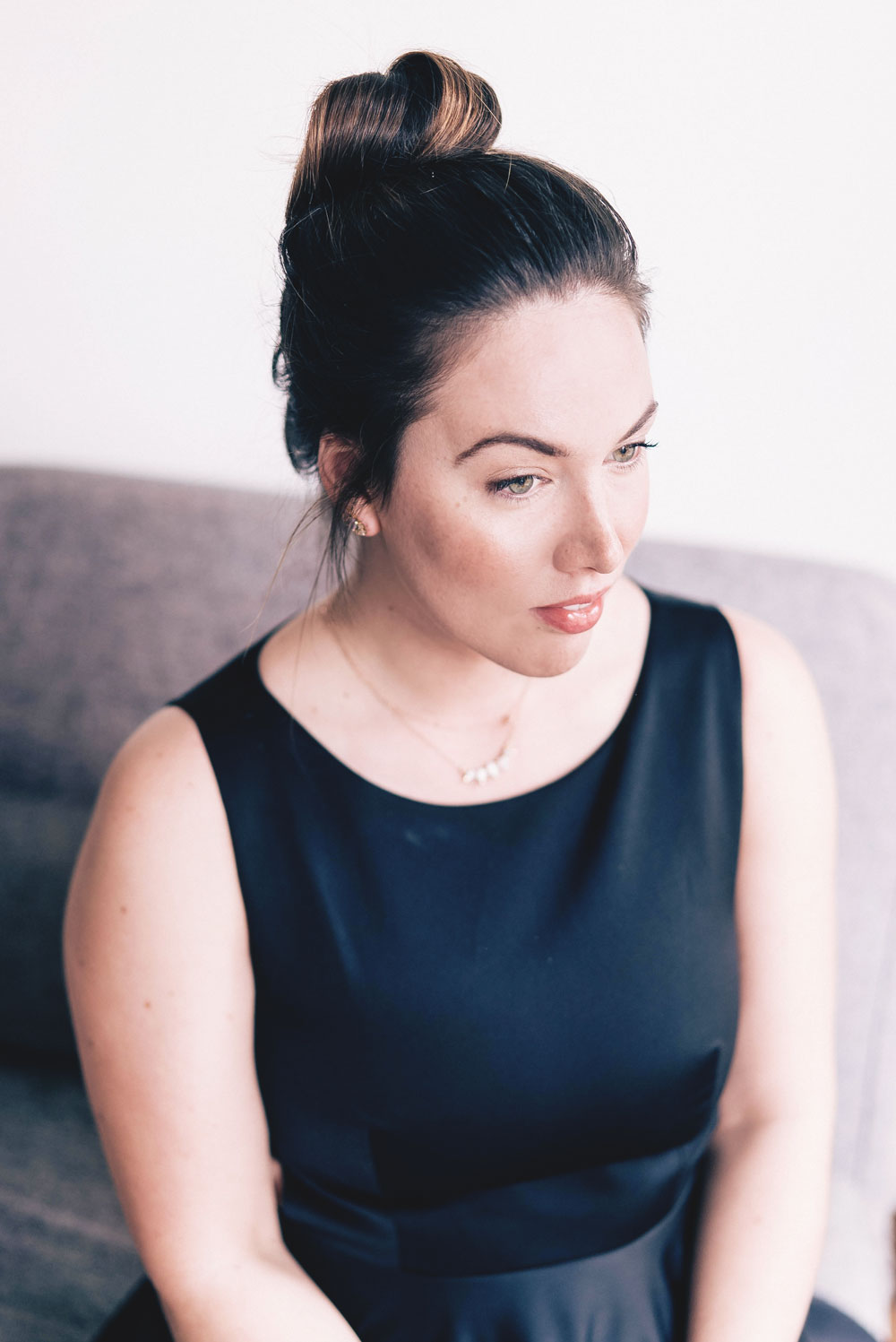 Style #3 – Braided Crown Knot
This is a romantic look that you could honestly wear to any wedding, but I love the idea of it for a wedding set in a garden or meadow (or even a farm!). It's deceptively easy and also really easy to hold all night if you're transitioning into another look for the reception or just planning on dancing all night!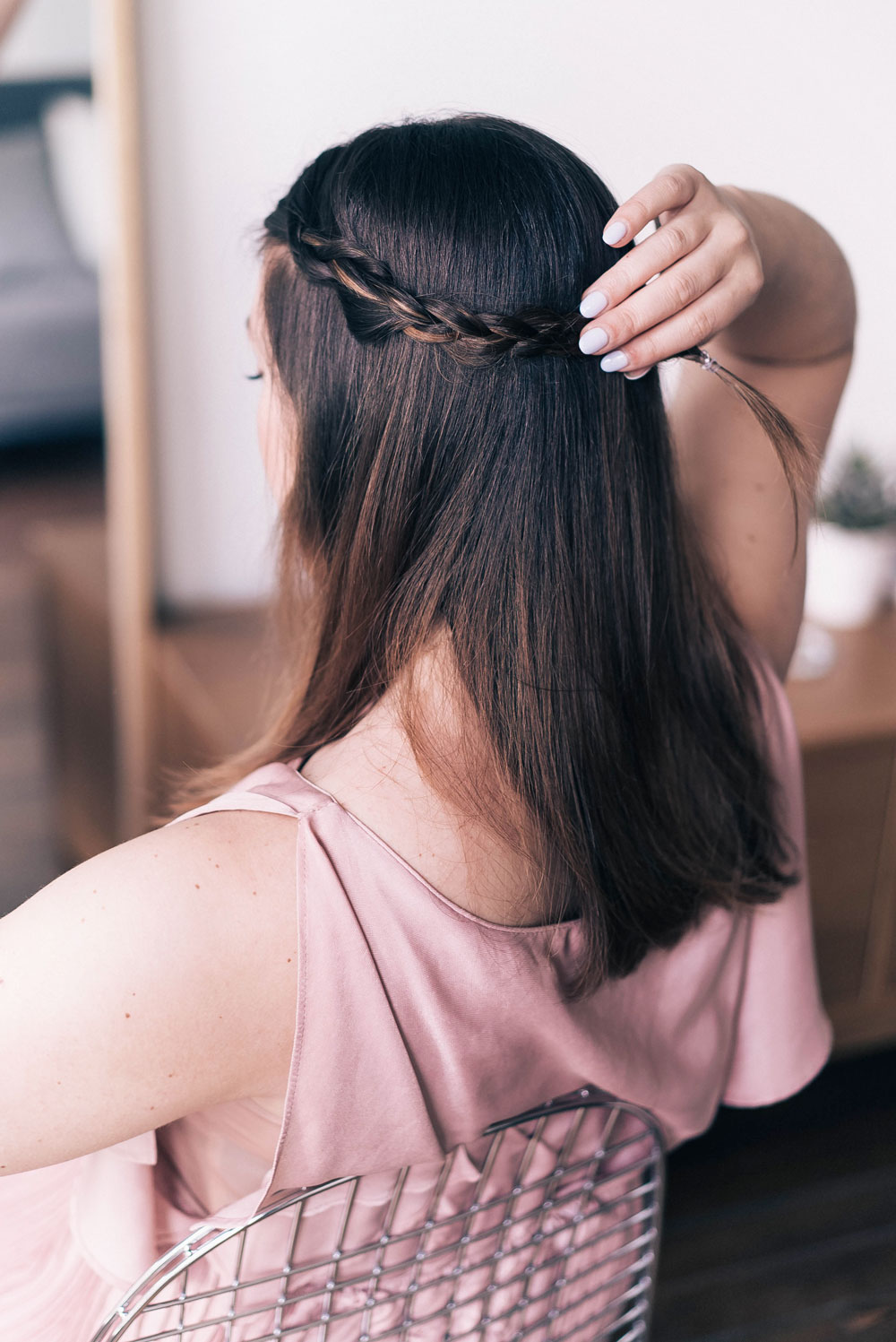 1. Blow out using the steps above, parting your hair down the middle. Create a small braid on one side near your temple and secure in place at the back of your head with a pin.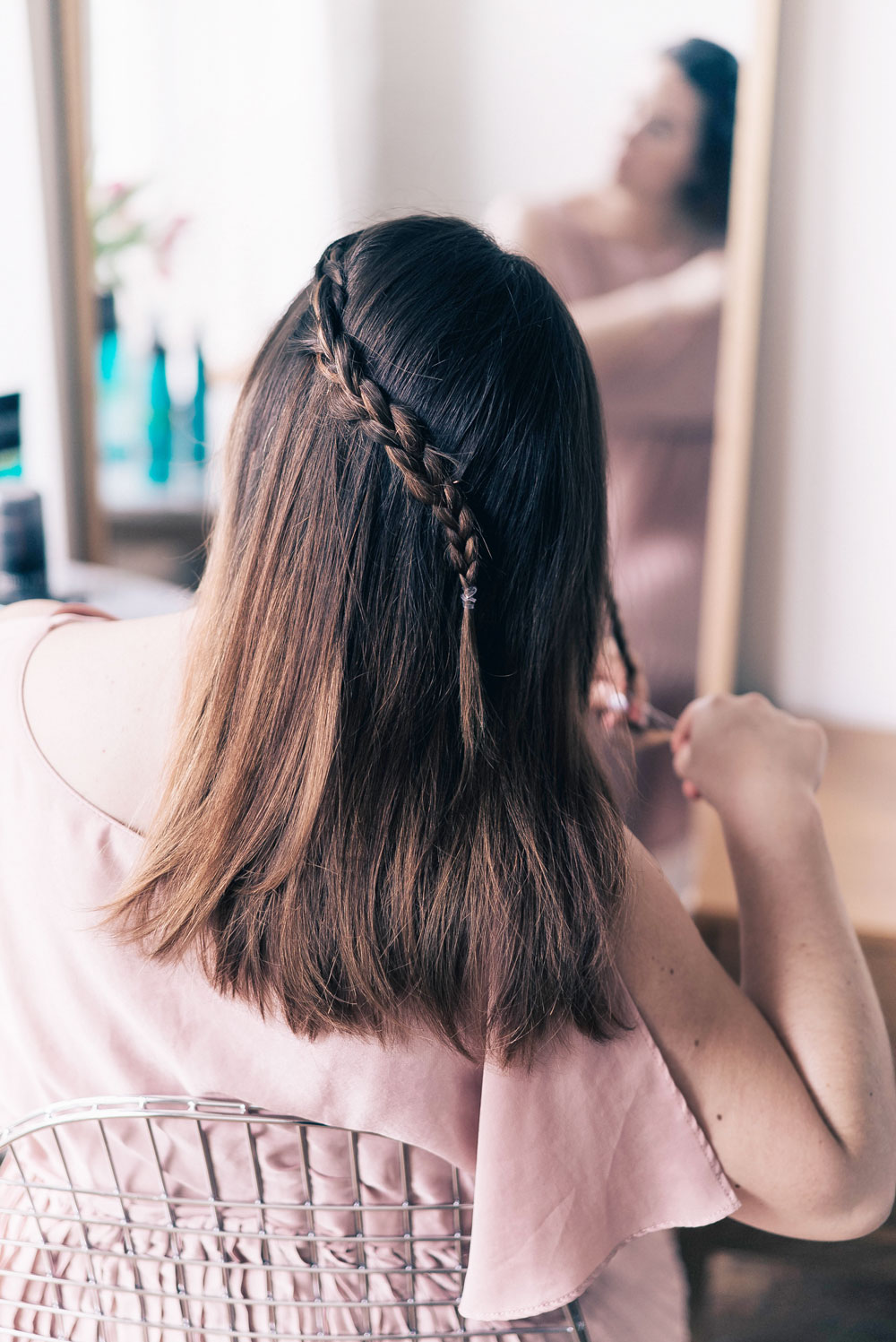 2. Repeat on the other side.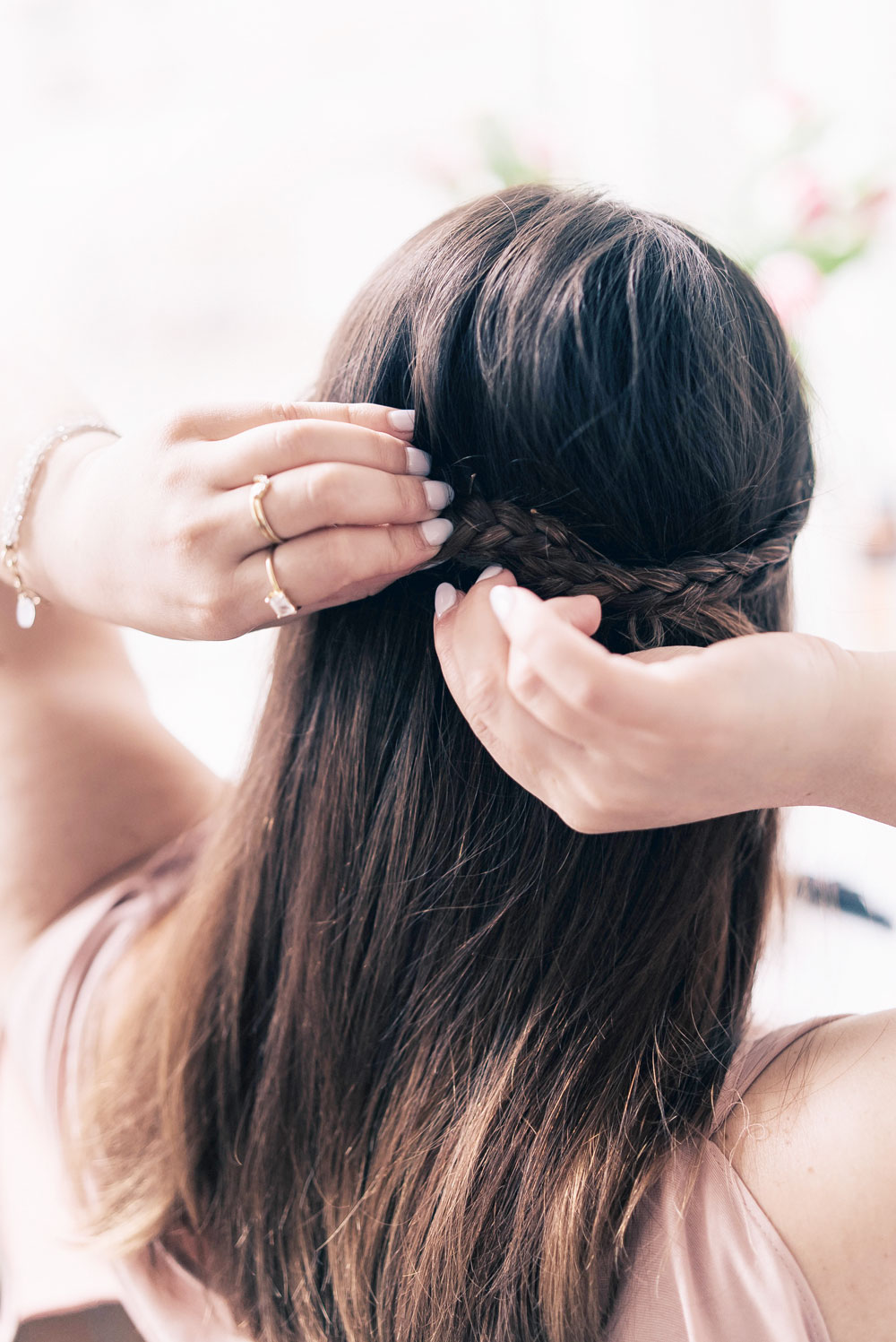 3. Tuck ends under each braid and pin in place.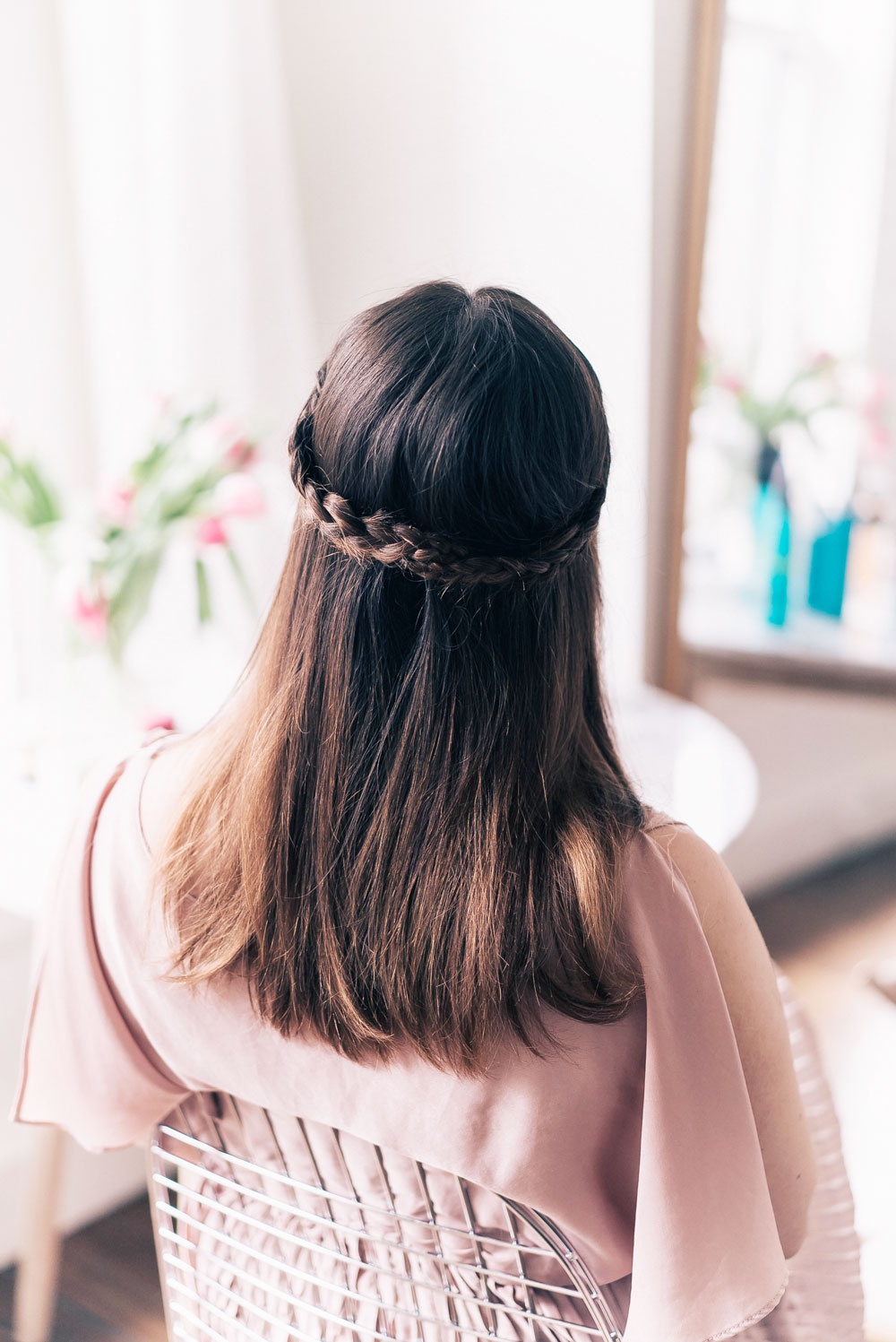 4. You could leave this as is or if you want to get that hair off your neck (and who doesn't when it's so hot out!) simply create a loose knot at the nape of your neck by securing your hair into a low pony and then pinning your knot in place.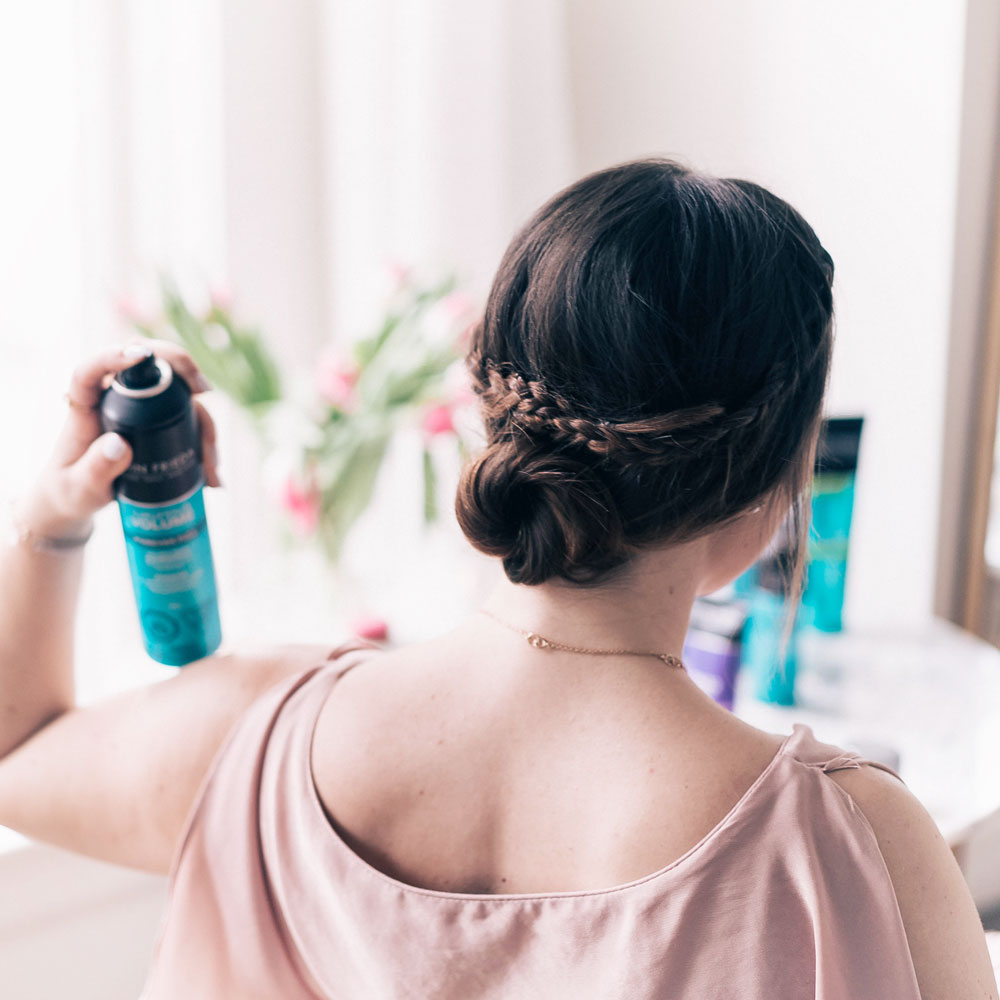 5. Spritz with the Luxurious Volume® Forever Full® All-Day Hold Hairspray and you're set!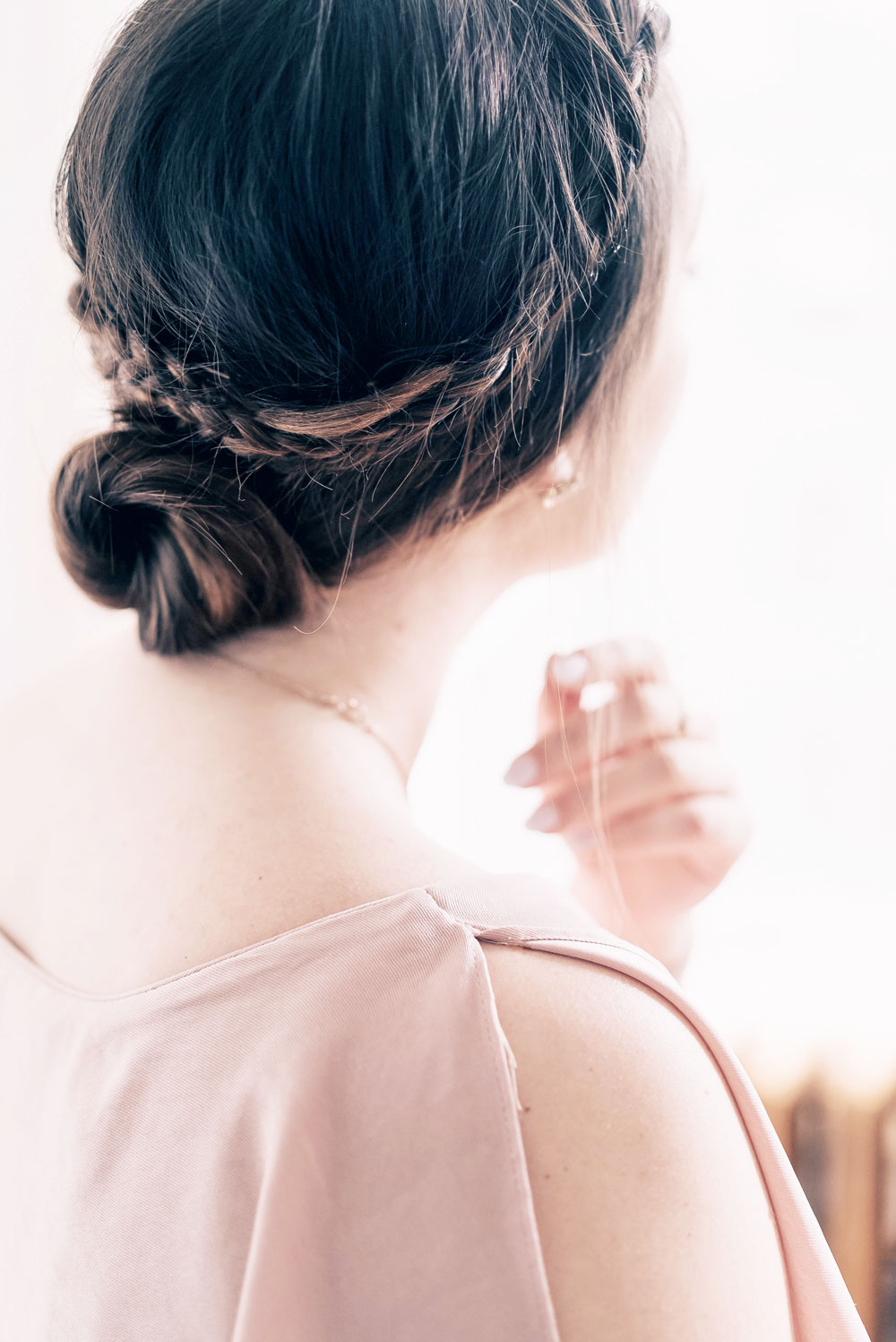 You could wear this ladylike look with just about anything but I love it paired with a romantic piece like this pleated, flutter-sleeved number. This would look especially beautiful with any other pieces that have similarly pretty shoulder elements or femme detailing!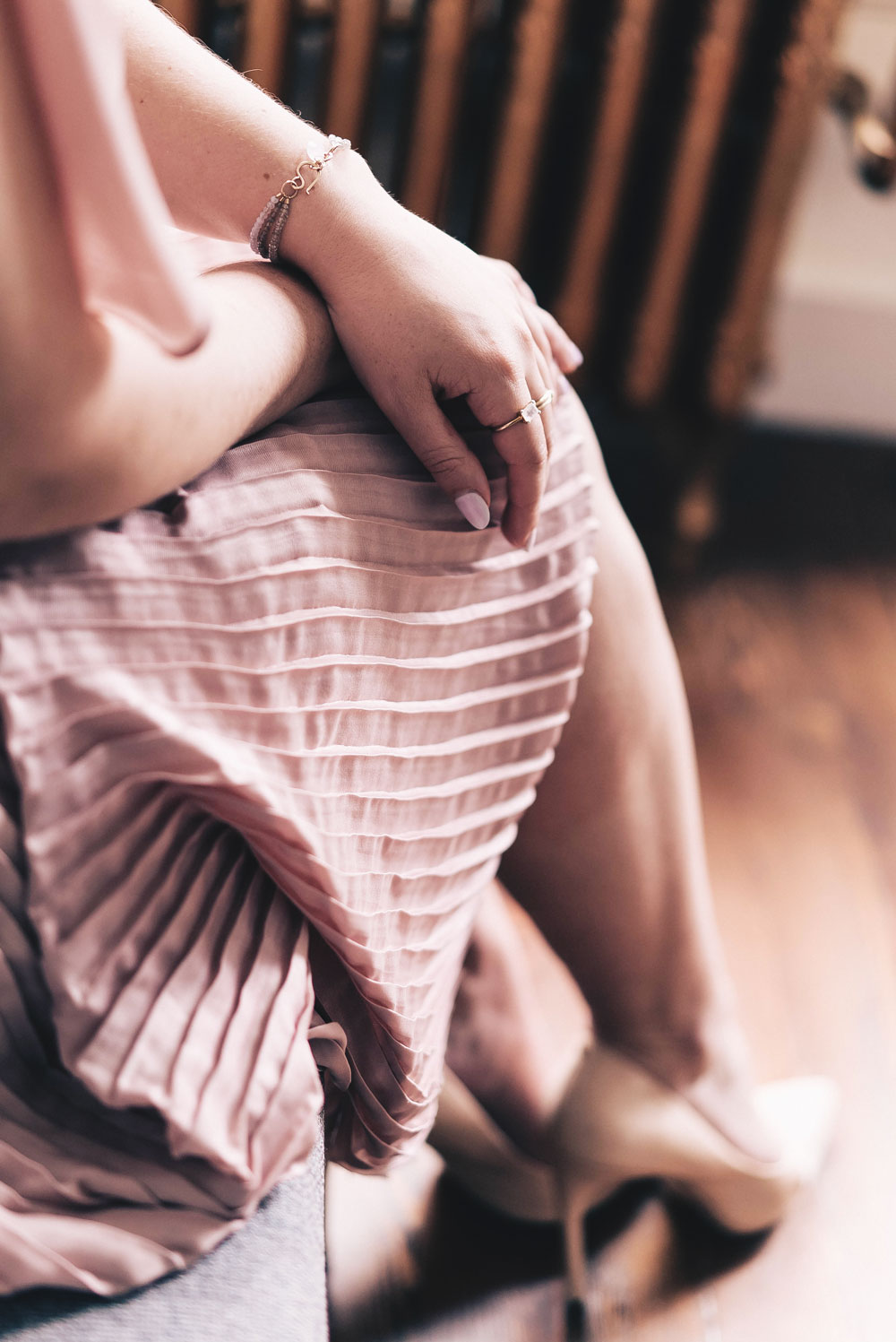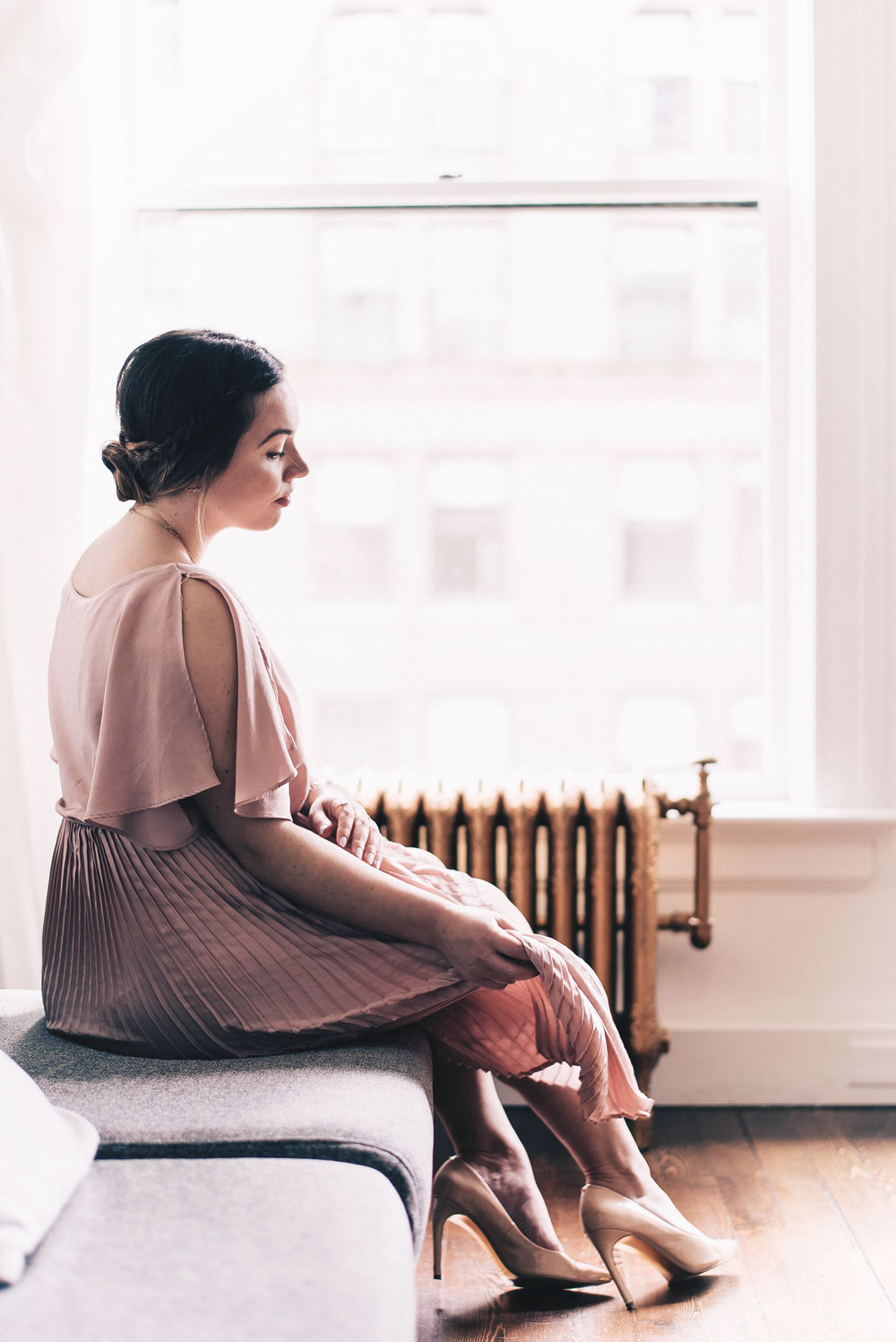 To wrap this all up, I can't talk summer weddings without sharing a few beauty tips of mine! While your hair's all good to go with these styles that keep your neck and shoulders cool (plus no heat tools means a reduction in overall temp, thankfully!), your face can still be in danger of entering the melt zone unless you're careful!
I stick to cream, liquid or balm formulas in the summer but the foundation of my whole look is a mattifying primer. Using cream/balm foundations, concealers, blushes and highlighters keeps my look natural, and I even bring that to my eyeshadow, simply creating a wash of a shimmery pearl tone across my eyes with a cream shadow and then use a brown pencil to smudge in some definition around my lashline, finishing it all off with waterproof mascara. I have also been such a fan of gels/stains these days for my lips too, especially at a wedding when you're sampling food, sipping on cocktails and running longer hours feting the happy couple!
Do you guys have weddings lined up this summer? Tell me in the comments below!
This post was created in partnership with the John Frieda® hair care team and London Drugs but all opinions are my own.
Photos by Ainsley Rose Photography