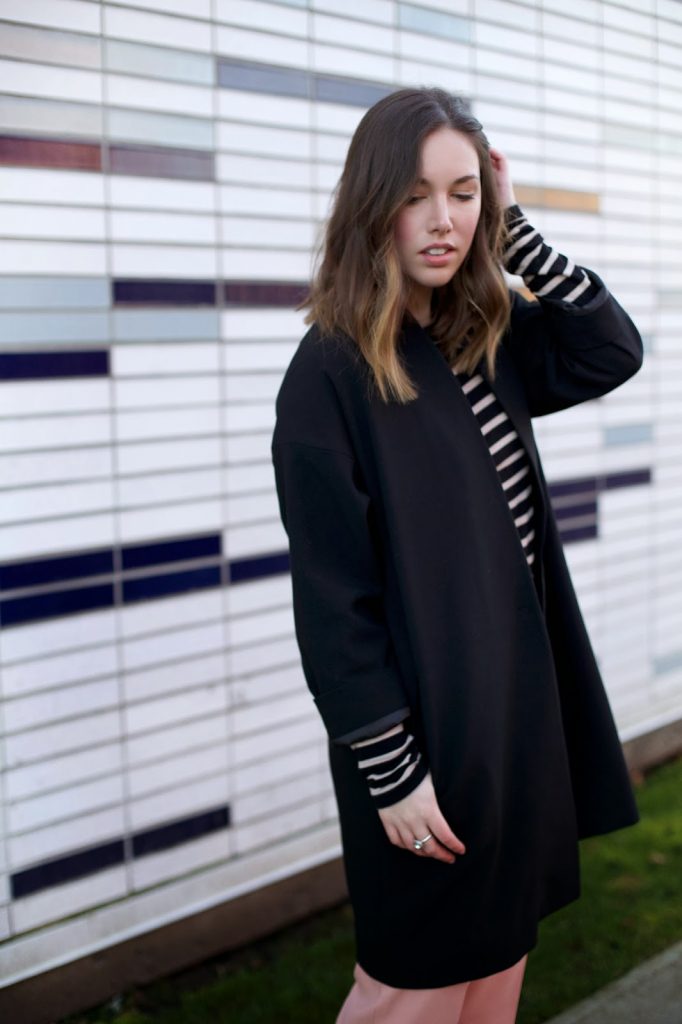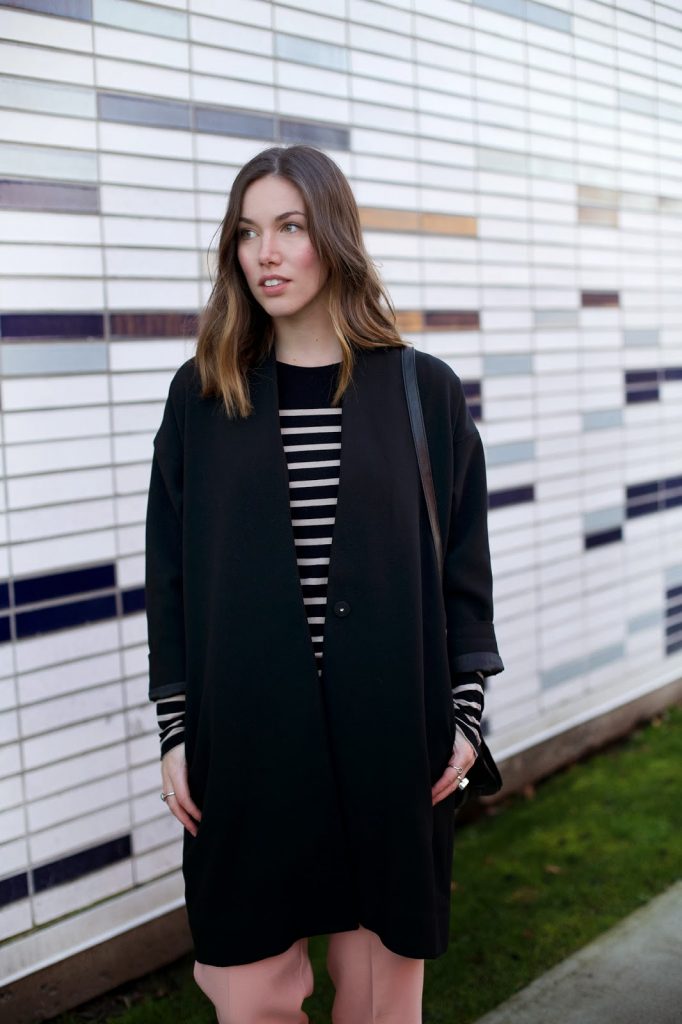 Oak + Fort coat, Forever 21 top, pants c/o Shoppalu, H&M bag,
There's something so irresistible about the combination of powder pink with black and white stripes – to me, it epitomizes retro Parisian chic more than anything (and
as you can tell
, I'm obsessed with all things Parisian-inspired lately). I've been sadly lacking in the blush department as of late though, mostly because all of my clothes are apparently hidden – I used to wear these
Shoppalu
pants all the time (cases
1
,
2
and
3
) but as is often the case in tiny apartments with poorly planned floor/closet plans, I can only ever access about 8% of my clothes, and these pants were only finally uncovered this weekend after a major cleaning haul.
I've decided the only thing to do is either find an apartment with another room or with my boyfriend's go-ahead (slash potentially if I absolutely need to without consent), I may start to convert the living room and dining room into a boutique of sorts. You know, have my favourite heels lined along the bookshelves, some bags as wall accessories, stacked sweaters as bookends…nothing he could possibly object to, right?
But seriously, if anyone has any small apartment wardrobe tips, I'm all ears! I could seriously use the help. In the meantime, I'm trying to steal some tips from my girl Jen, who's been extolling the virtues of buy-less-choose-well wisdom over at
Her Waise Choice
– I'm definitely overdue for a major closet clean out and maybe some more caution as to what I bring into our little space (tear).
On another less stress-inducing note (in fact, it's something that brings about the exact opposite of stress!), if you're in the Greater Vancouver area, be sure to enter my
YYoga giveaway
that launched yesterday! It's only running until this Friday so get your entries in while you can! Happy Tuesday everyone 🙂