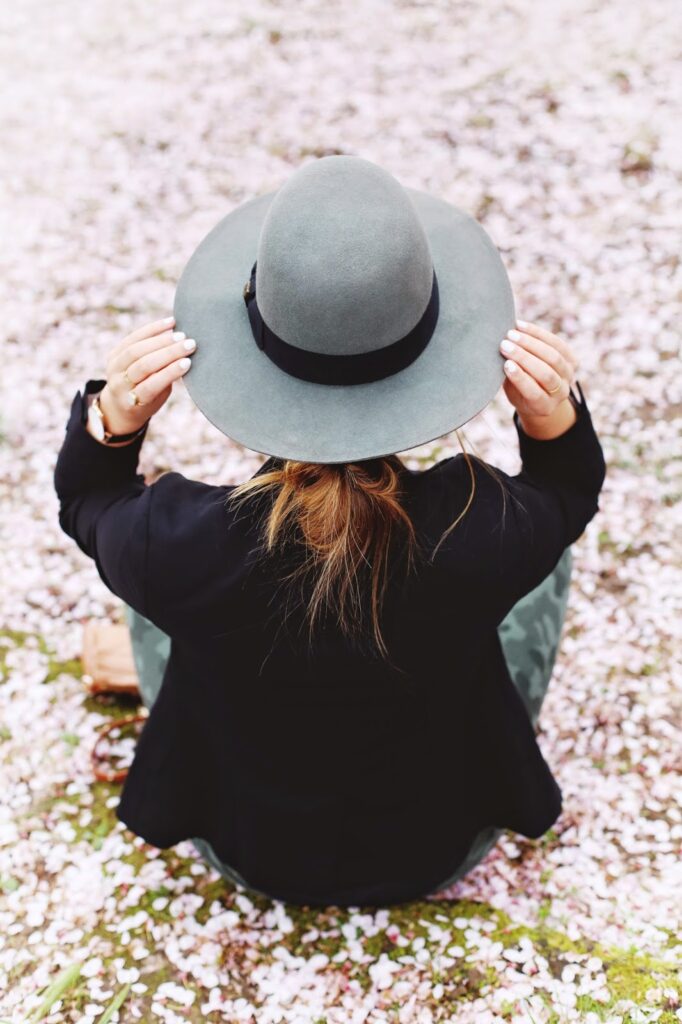 Club Monaco blazer, Brixton hat, top & pants c/o Joe Fresh,
Since I was a kid, I've always had itchy feet (the travel bug variety, not like…actually itchy feet). Whether it was taking off to live in France or escaping to New York with my best friend at the tender age of 16 (how we got into bars with braces is beyond me but
that
was a fun trip) or recently leaving life behind for a few months to travel Europe, I've always had this irresistible urge to get up and go. There are parts of the year though where there is nowhere else I'd rather be than right here at home in Vancouver, and this time of the year is exactly one of those periods. Sitting under a cherry blossom canopy in the heart of Granville Island, with the blossoms gently floating down and the floral fragrance hanging heavily in the warm air – how could you want to exchange that for anything else? Totally accidentally, I just happened to be in a look that played heavily on green tones, a colour wheel match made in heaven for the cherry blossom blanket.
Click through
to see this full look!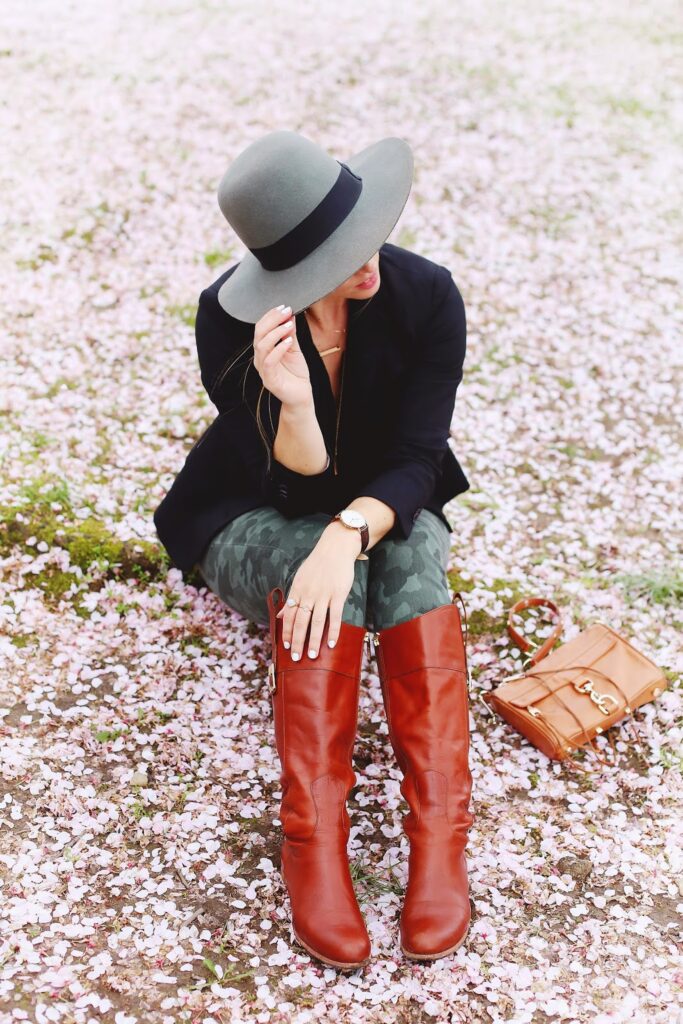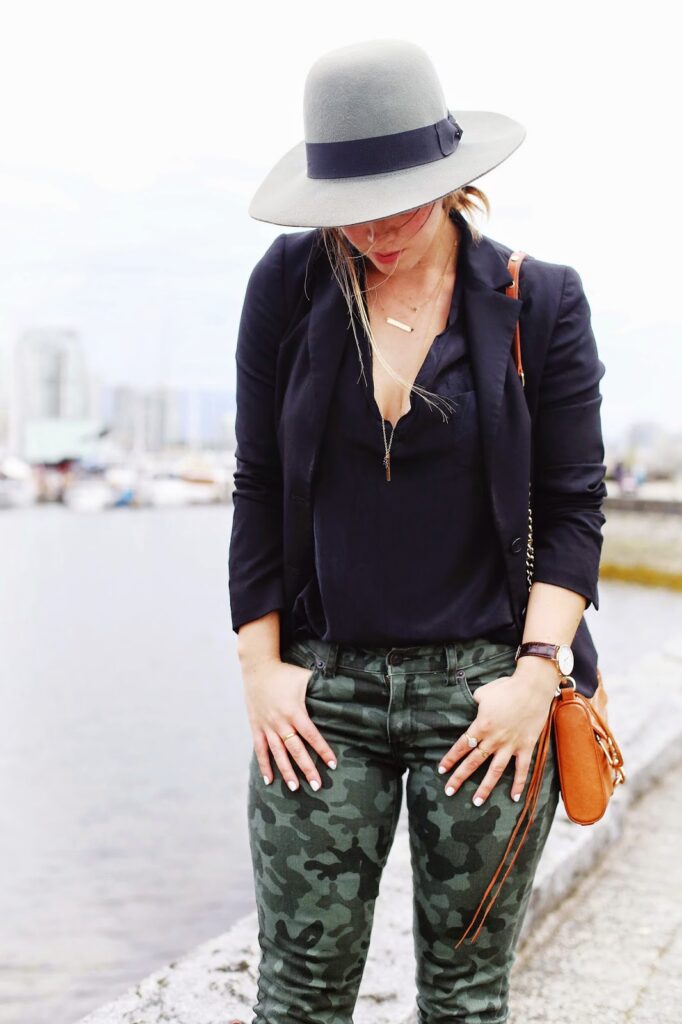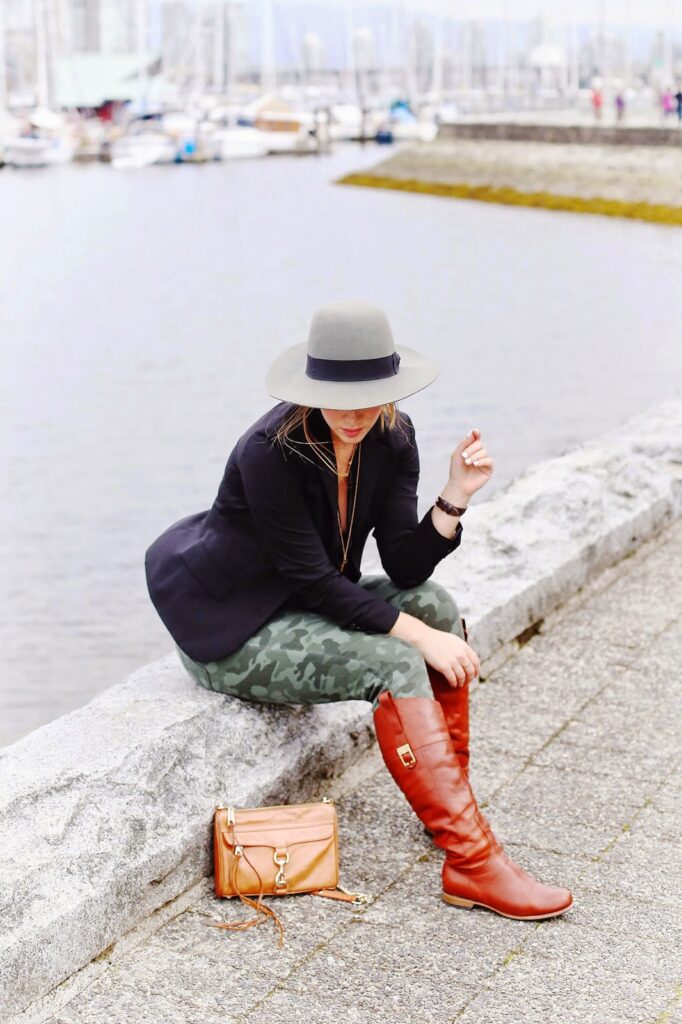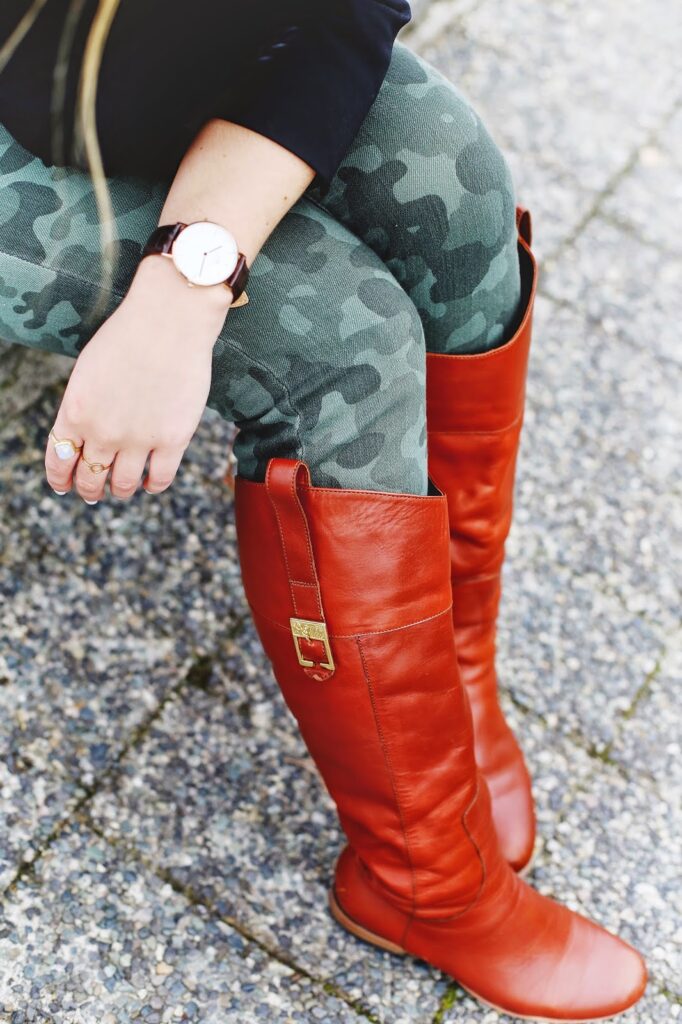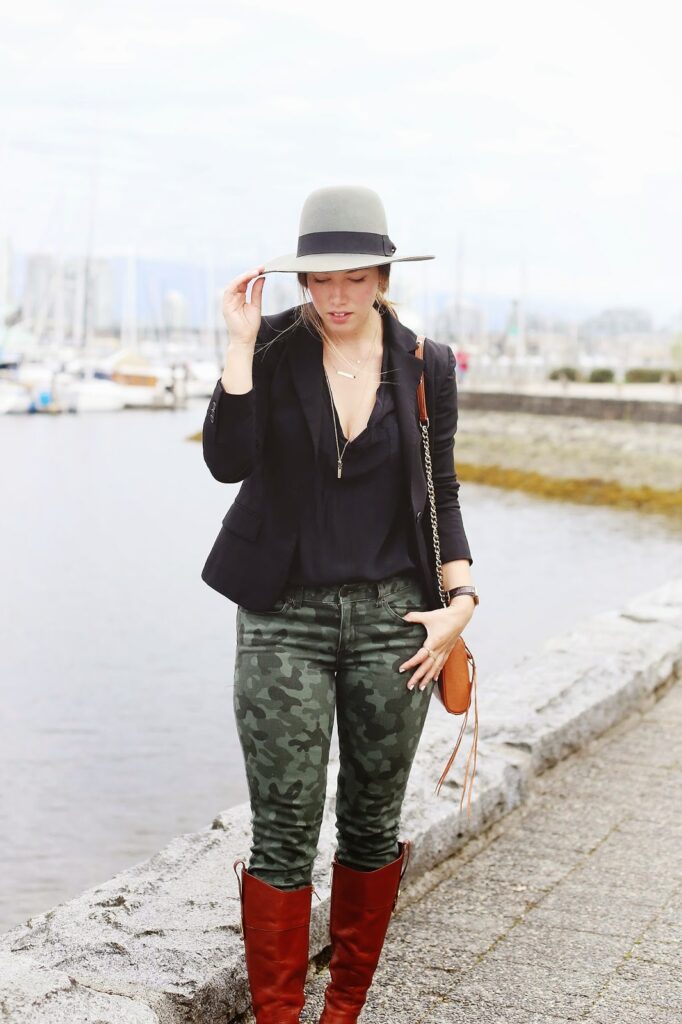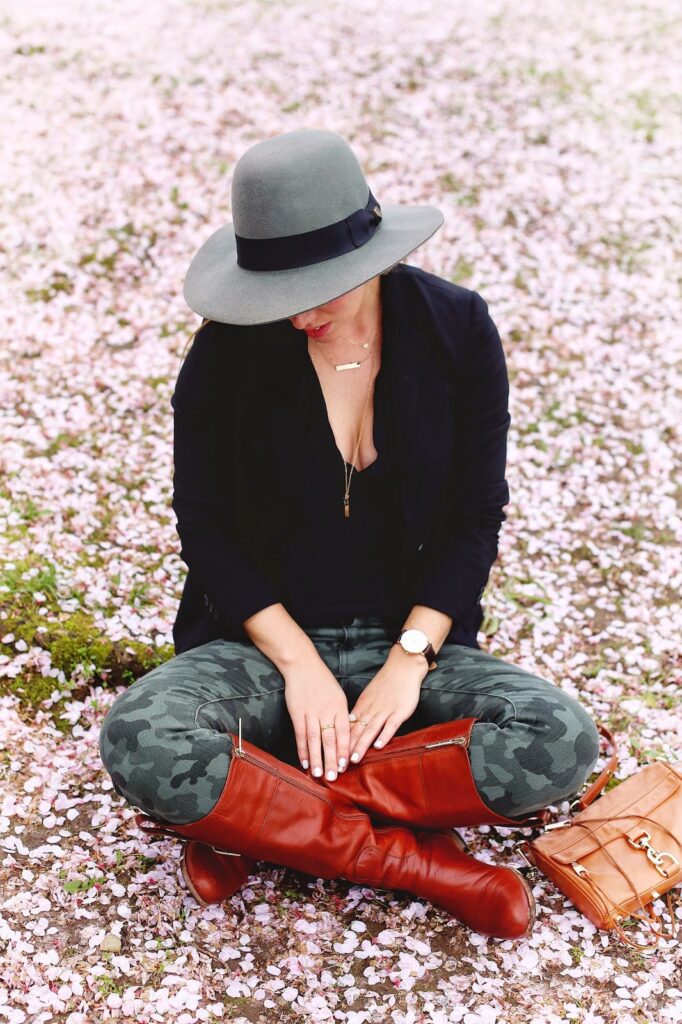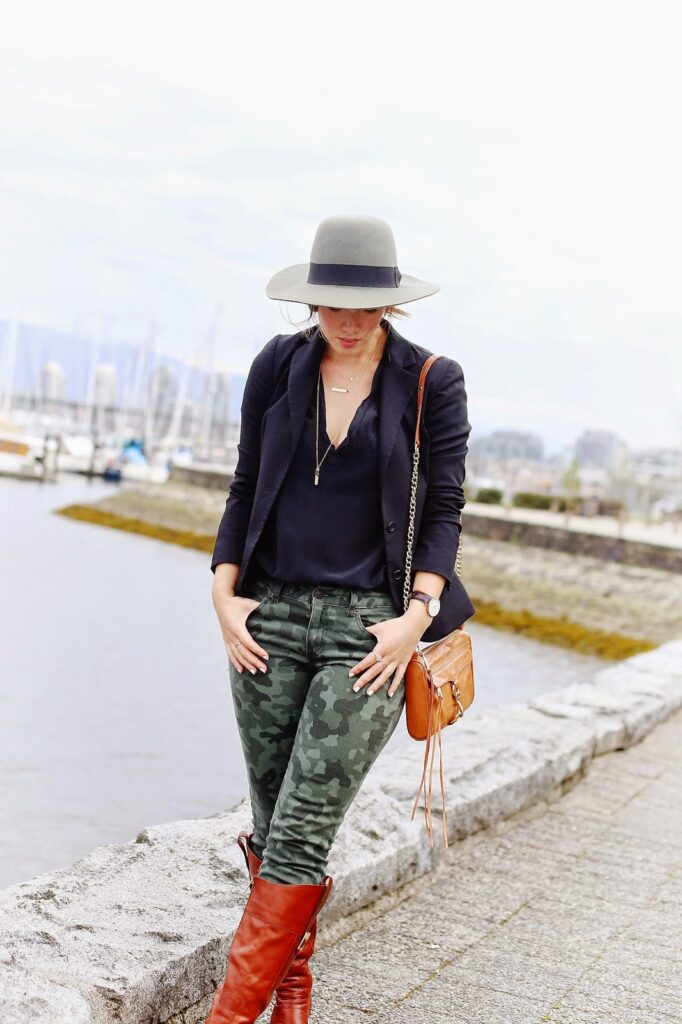 As you guys might know, I actually kind of have a little thing with camo and love finding unexpected ways of wearing it. I love the tone-on-tone pairing with my hat, but you really need to temper the print and colours down with some classic neutrals. One of the hardest working pieces in my winter-to-spring transition arsenal that does the trick with this look are these
Poppy Barley
boots. I am absolutely in love with this Canadian brand, not only because their products are of the highest quality and their designs are all so on point, but because the entire shopping experience with them is customized. From design to fit and sizing, you tailor your footwear choice exactly to your specific tastes and measurements. I have slightly wider feet than normal so I often have to pass on what
would
have been the perfect boot, sandal, pump, etc – thanks to Poppy Barley, I can have any of their stunning selections tailored exactly to my wide little hobbit feet. Also amazing for you ladies out there with particularly strong, defined calves or narrow calves, one of the biggest gripes with picking out boots ordinarily – you can adjust the width
and
the length so that they fit you just so! Learn more about this amazing brand
here
.
And speaking of home-grown love, I fall in and out of love with Vancouver quite a bit over the course of the year (usually out of love during the long stretches of grey rain, back in when the sun is out) but we tend to prettily steadily be in love from this point through to October most years. I'm planning for a lot of travel over the next year and yes, I am still hoping to make a bit of a longer move away next year, but I always feel so blessed to come home to this wonderful city and to get to call it mine during the warm seasons, when the city's really at its best.
The past couple of weeks have really been lovely in the city thanks to some extended sunshine and I've been pretty in love with life here. Cruising home on my bike post-yoga along the Sea Wall (
so
Vancouver),
sunny days
spent hanging out on my favourite little grassy patch by the water in Granville Island and taking more time to
explore Gastown
– it's all been beyond lovely. It's really been all about the simple things these days, which is a nice sentiment to carry into my birthday next week as I start amping up for 28!
But this weekend, it's back to another one of my favourite places: the cabin! I'm headed up with my sister, parents and boyfriend for a fun little Easter weekend away and though I was there so recently, I'd never say no to another weekend filled with beach walks, canoe trips (hoping to see more seals this time around!) and visits to my cinnamon bun heaven aka Nancy's. Follow along on
Instagram
and Snapchat (@tovogueorbust) to see my long weekend away, beginning with quite possibly one of the most beautiful trips up the coast you can take in T-1 hour!