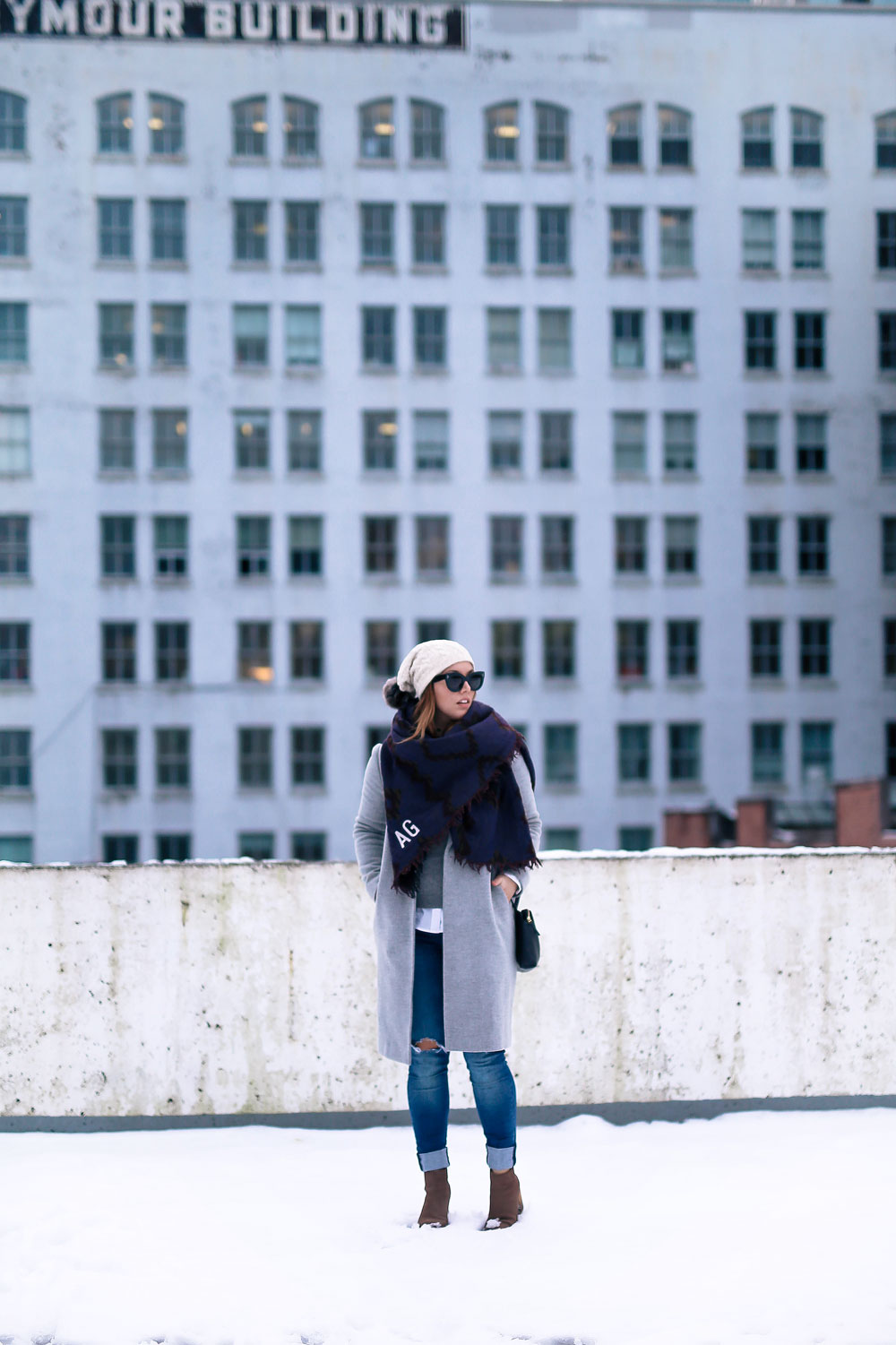 You guys!!! Remember this whole spring transitions series I was doing over the past few weeks (posts here, here, here and here)? The full video I pulled together about transitioning your wardrobe into spring (because quite literally it was beginning to feel like spring was popping up everywhere here in Vancouver)? Well, insert crying emoji. It somehow snowed all weekend long, which is so unusual for the city around this time of the year (seriously, go into my archives and look at any Feb – I'm usually starting to seriously shed layers around now!). I can't say I'm particularly stoked about it but hey, it allowed me a chance to seriously hibernate inside this weekend and prep for the week (make sure you stop by my Insta to check out my meal prep roundup on my stories before it starts disappearing around 3:30PM today!) and I suppose it gives me a chance to share what I can only hope will be my last seriously wintery look of the year!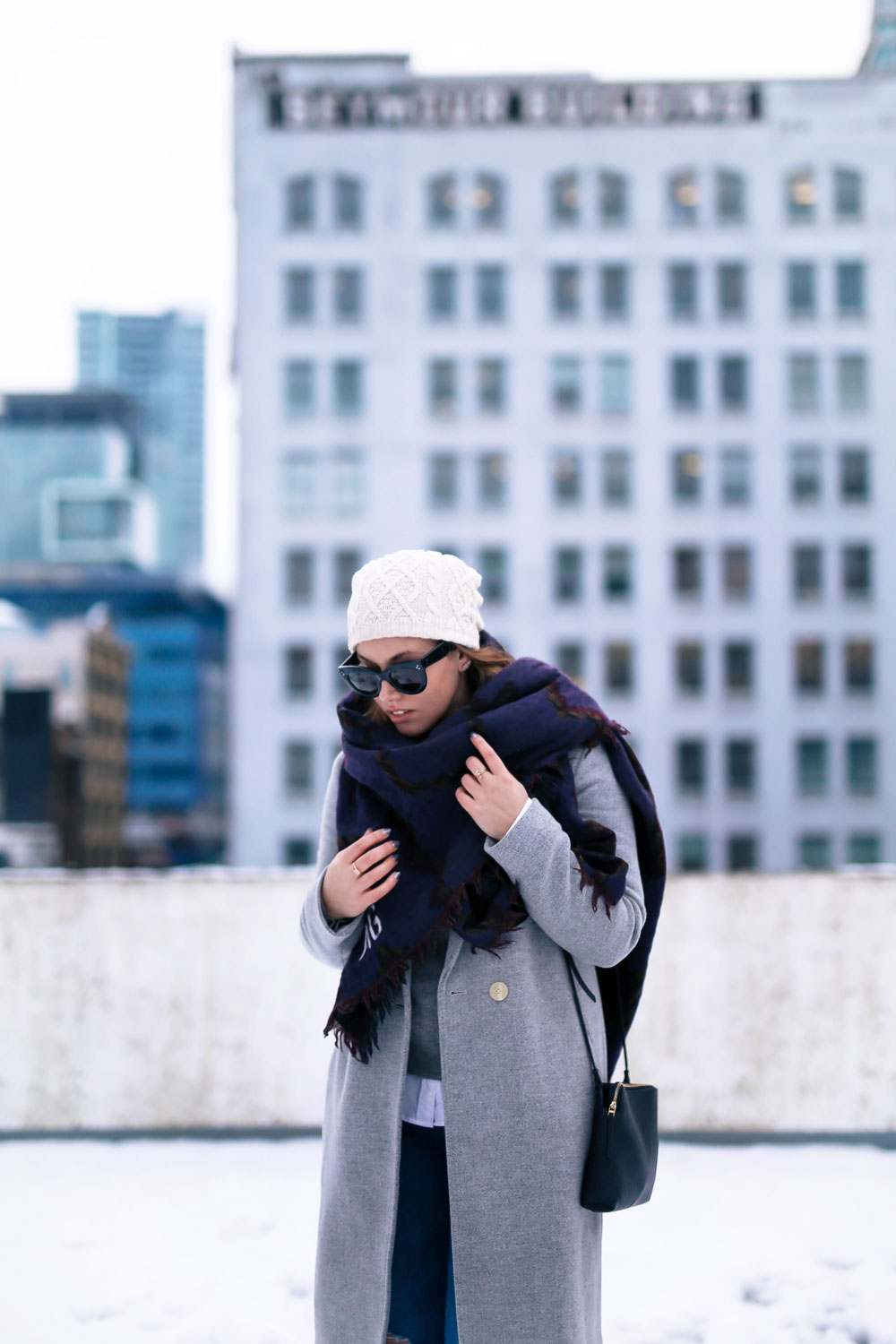 I'm such a wimp when it comes to being cold (typical West Coast) so as soon as the chill and snow hits, on go the beanie and blanket scarf. This Aritzia one is a perennial favourite and if you're curious about how to tie it, I have a little how-to in this post! Also have a video breaking down a few different ways to tie scarves but will be tackling another one soon on my YouTube channel so if you have any specific requests, let me know!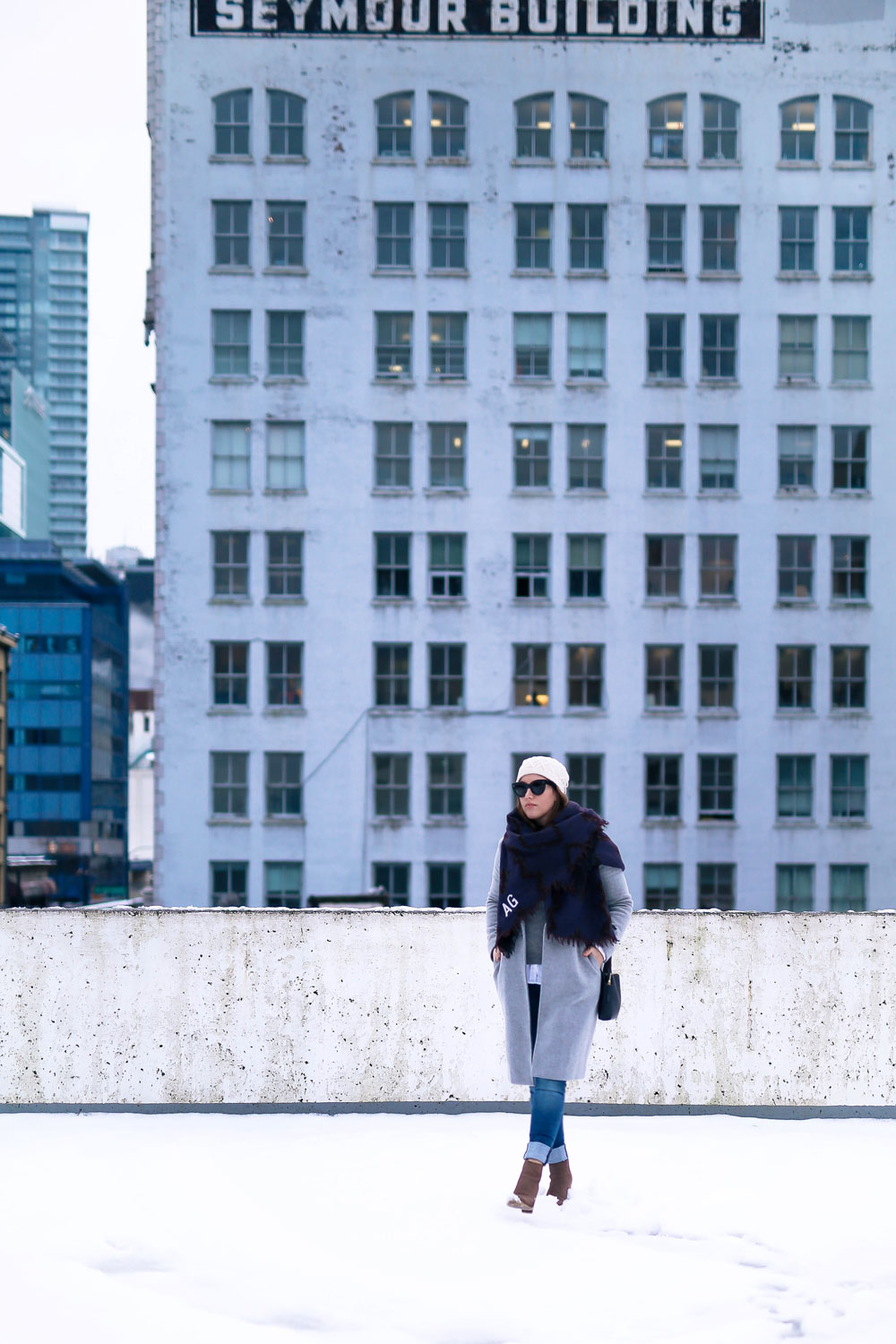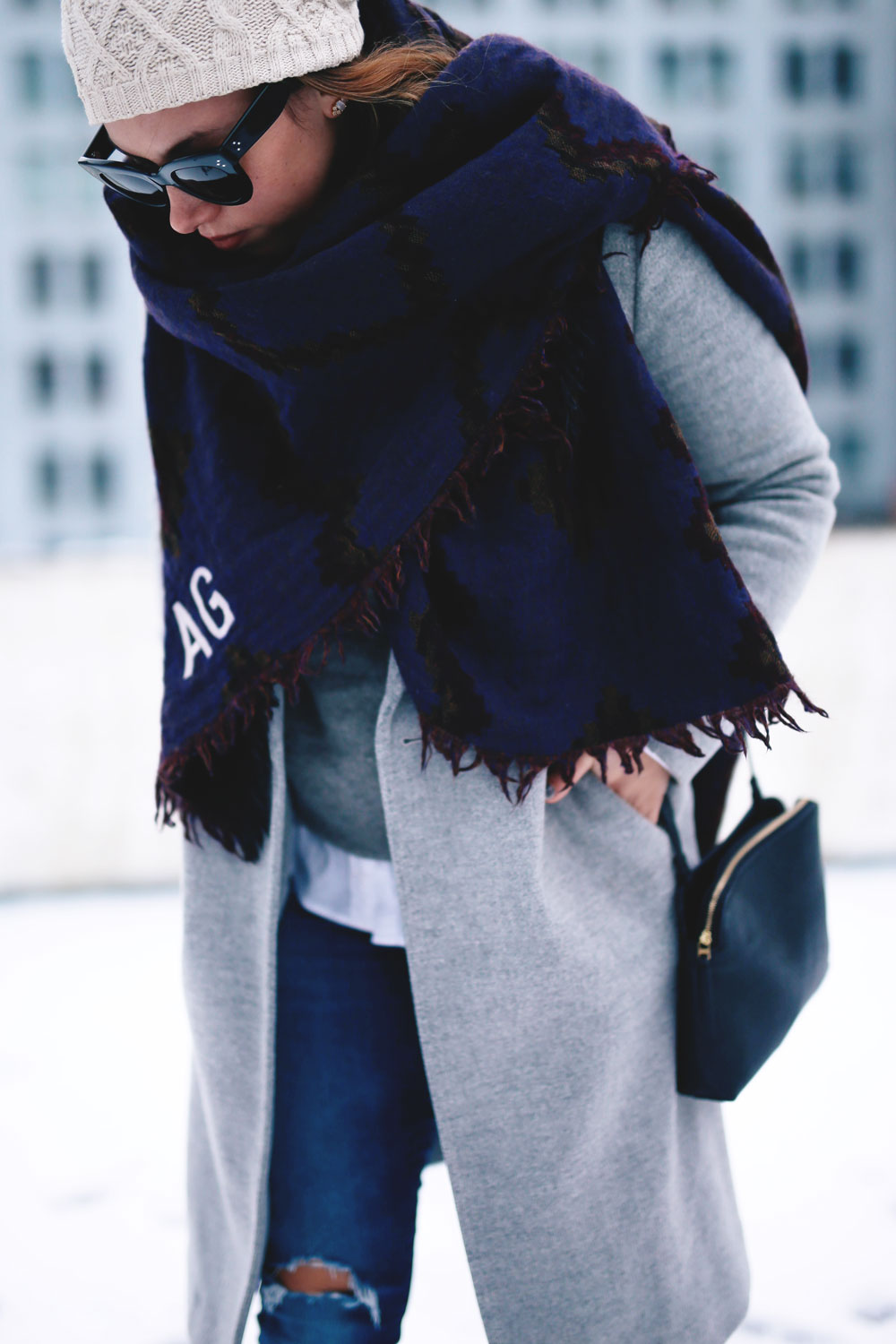 And then, as always, it's layers, layers, layers. Skinny jeans, an oxford shirt and a cozy cashmere sweater (always love my White + Warren cashmere around this time of the year!) keep my core cozy and I love the fact that I can shed down to the shirt and jeans indoors if it's toasty inside.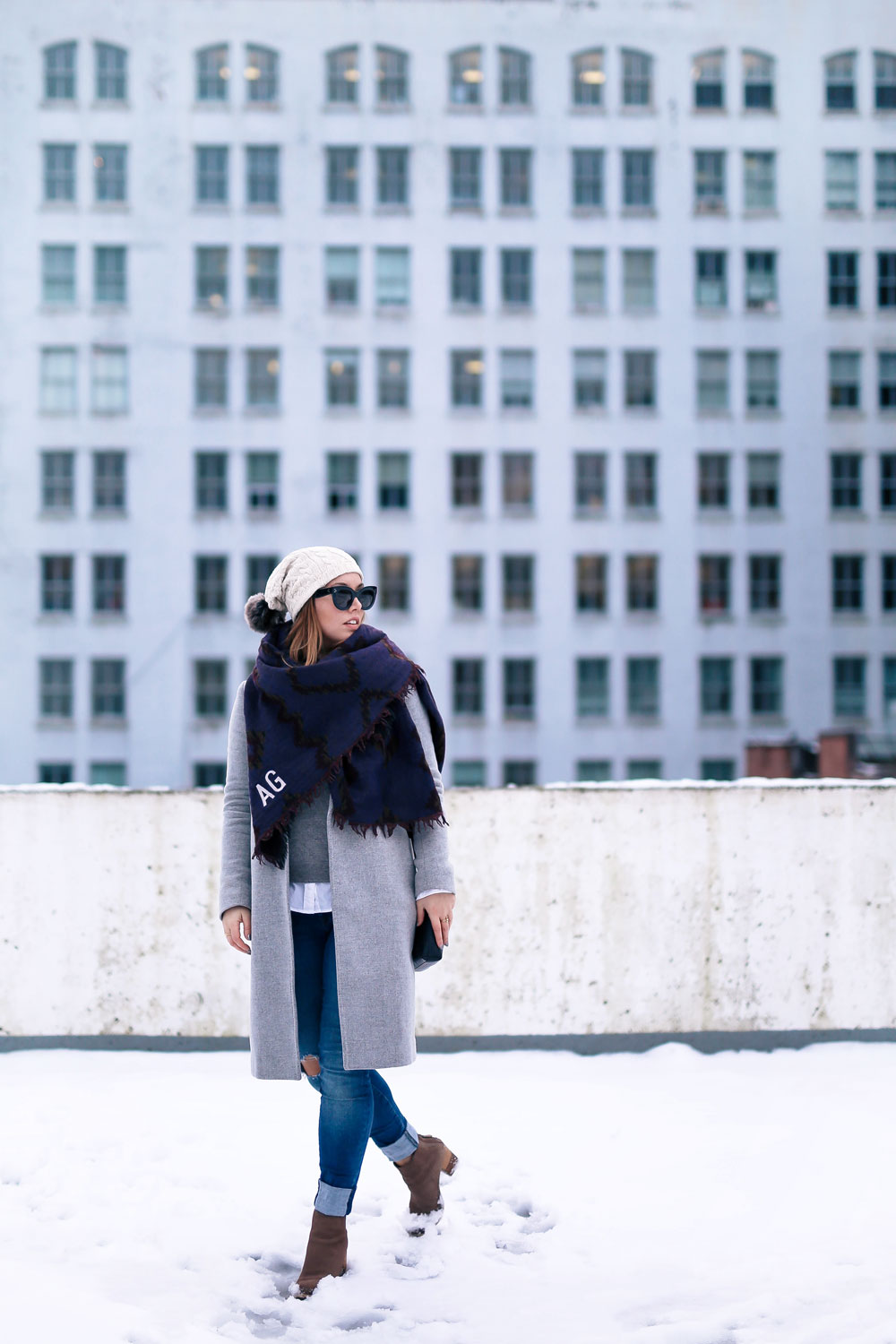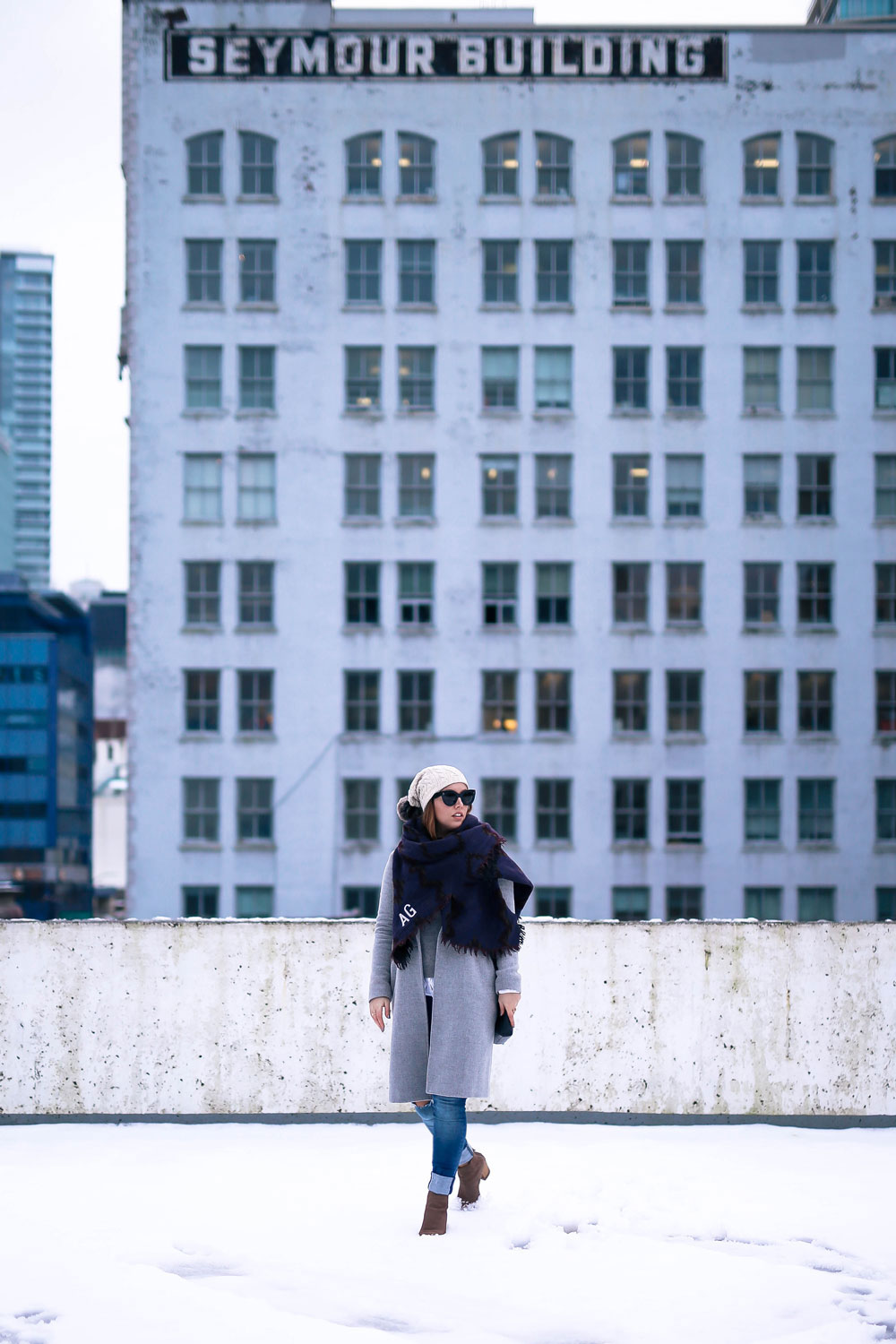 And other than the first serious snowfall day, I just can't anymore with my snow boots – I mean, I love them and they saved my life (or at the very least, my wee feet) this unusually snowy season, but I just have to start tricking myself into thinking it's spring or I'll go nuts (again, so West Coast – we're such babies about the winter unlike our more seasoned friends across Canada!). So in other words, out come the ankle boots – while this is kind of a move more for my mental sanity than anything else, they're also totally doable as long as you have some traction on the bottom of them (definitely don't want to slide around and bail!) and you wear cozy socks underneath. This pair is currently sold out but as I've mentioned repeatedly in this post and this post, this pair by Frye have been my favourite this year (and on sale!), just make sure you treat them and avoid huge snow piles!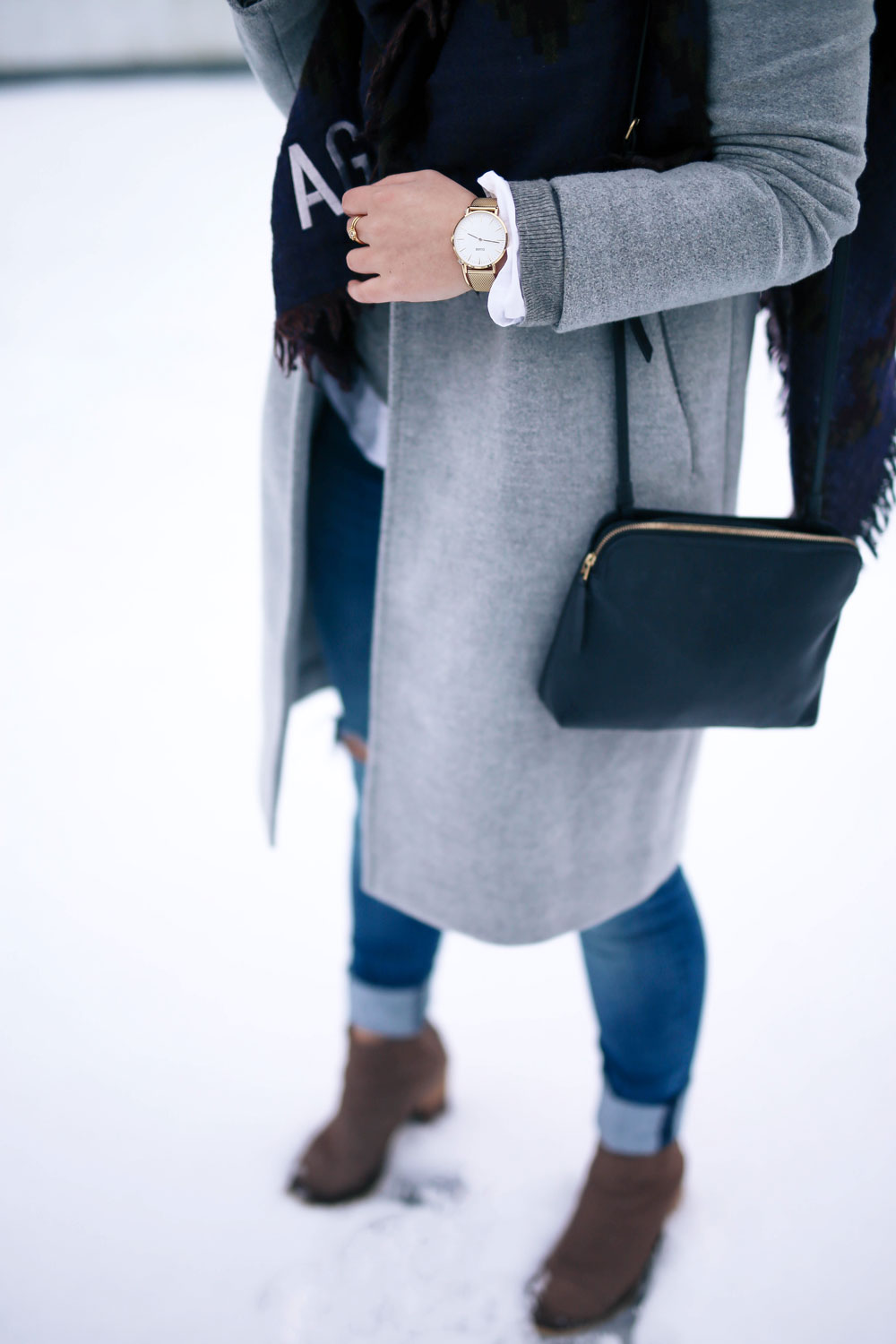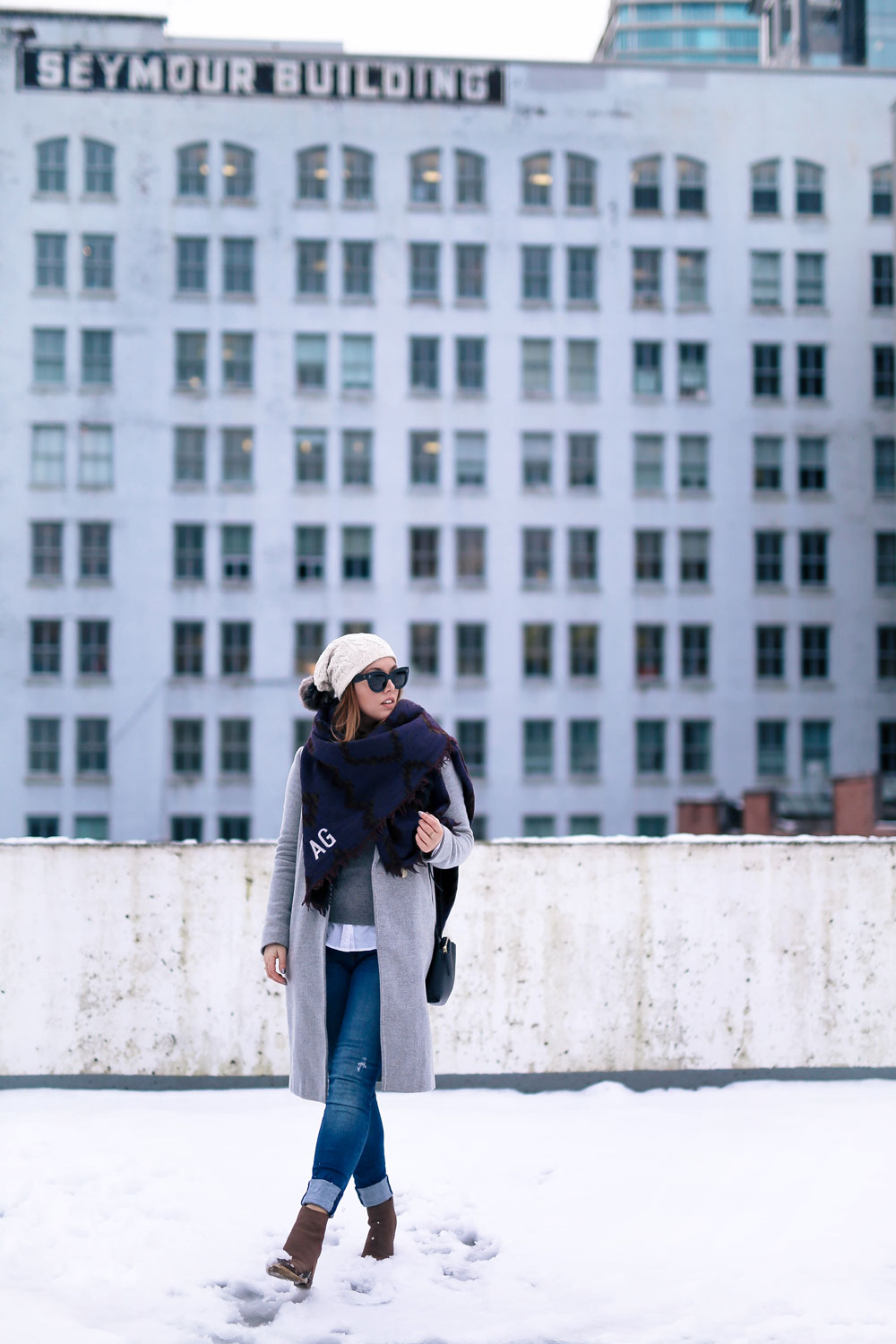 Delicate accessories via my metal mesh watch by CLUSE and favourite dainty baubles by my girl Leah Alexandra help add some softness to an otherwise very wintery, classic look, and gotta protect those eyes too (wish I knew how to quit you, Céline sunnies).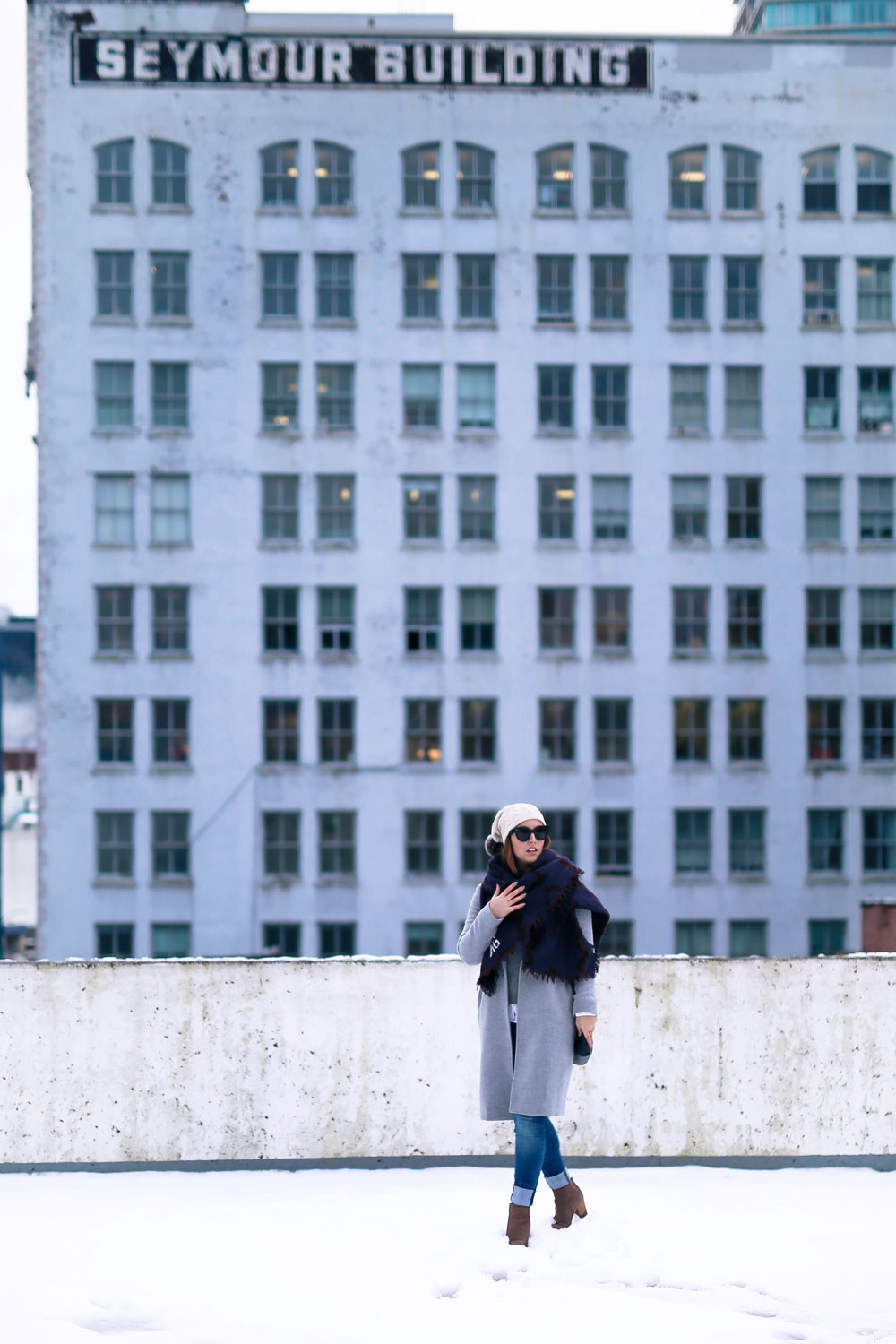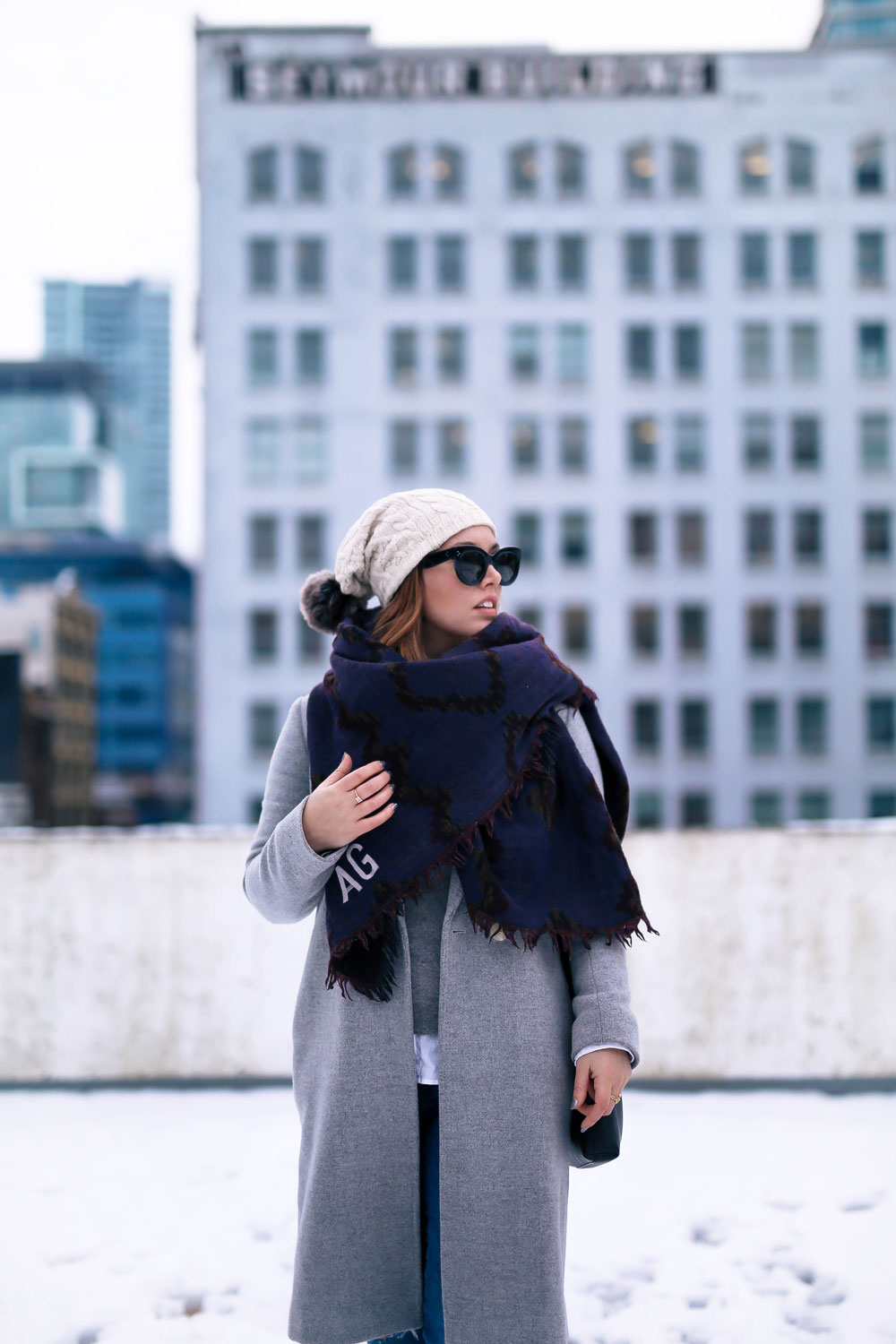 And now, off to continue trekking through the snow for a busy Monday! Also working on some really fun hair and beauty content this week, something I haven't done in awhile and that I'm soon YouTube excited to share with you soon! Will have video components to all of them so make sure you're subscribed and as always, if you ever have any requests, just holla! Especially at the beginning of the week when I can pencil in shoots, always so great to hear what you guys want more of or things I haven't covered that you'd like to see – so appreciate the feedback and love connecting with you guys! Happy Monday lovelies!
Photos by The August Diaries