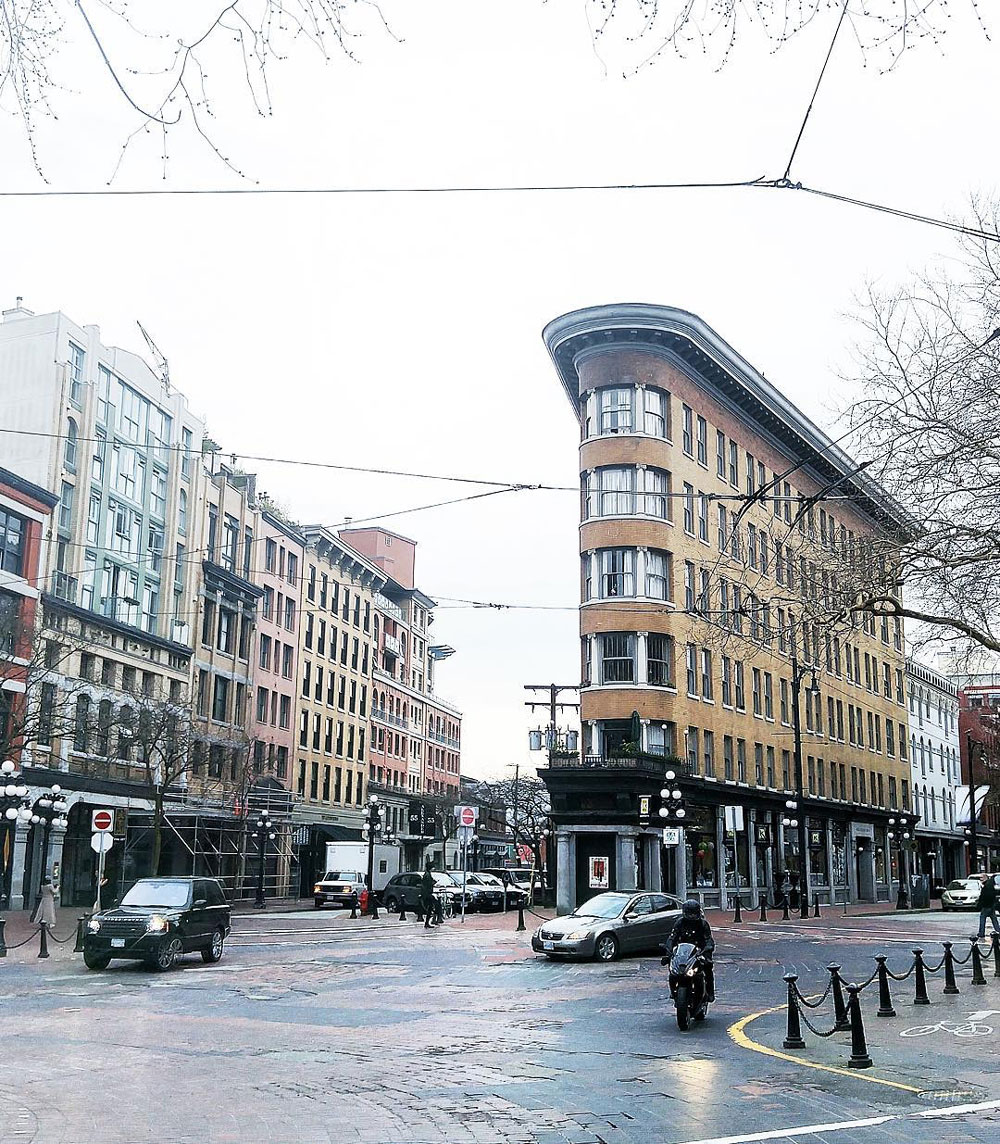 It probably only takes one glance at my Instagram page to quickly understand how much I love my city. I'm such a travel addict but there really is nothing like coming home, and I'm biased but I think that sentiment especially holds true when Vancouver's home. I'm a pretty hardcore West Coast girl through and through so this city (while astronomically expensive) is pretty much tailor-made for me – from my mountaintop upbringings (swimming in glacier lakes with my late doggy Bailey or running through the trails) to living now near Granville Island and biking in the summer to the nearest beach, it's a nature lover's dream. That and the usually mild climate year round (see yesterday's post to read more about recent weird weather developments!) makes Van a truly perfect city for me since I'm a wimp in the cold. Finally, from the mountains to the ocean to the glass city, Vancouver also happens to be outstandingly, breathtakingly, have-to-see-it-to-believe-it beautiful – I always find new places that I fall in love with (or fall back in love with old, well-loved sights and views) but I have a roundup of about 12 locations that are to me the ultimate Instagram op destinations and never fail me! Without further ado, I'm giving you the best Instagram spots in Vancouver today – read on to get the whole city guide! Whether it's an outdoor photo shoot locations or you just want some aesthetic places in Vancouver to fill up your grid, I've got you covered.
GASTOWN
1. Steam Clock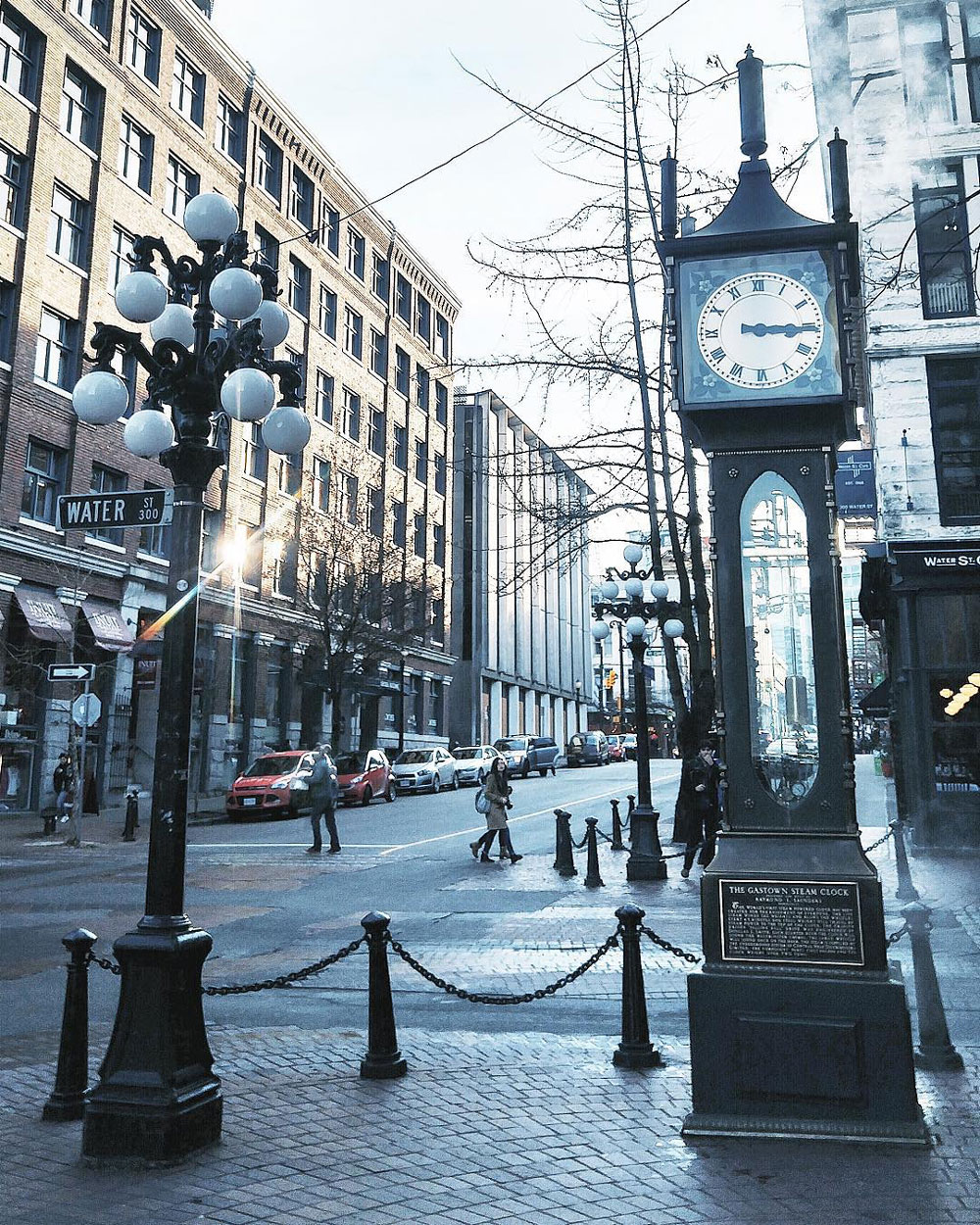 Okay, so the steam clock is not actually that new of an addition and it's a tourist hubbub, but it is something so iconically Vancouver it's worth getting a pic of it and most importantly, getting a solid pic of it. My tip: walk past Water St. north towards the water and stake out a little spot on Cambie St. Inevitably, there will be a gap in the dozens of tourists that stand around it and you can get a great shot, or if you happen to be with someone, get them to snap you striding below it! This is one of my fave corners in the city (with the Lamplighter kitty corner to Water St. Cafe) and the lighting is always on-point.
2. The Flatiron Building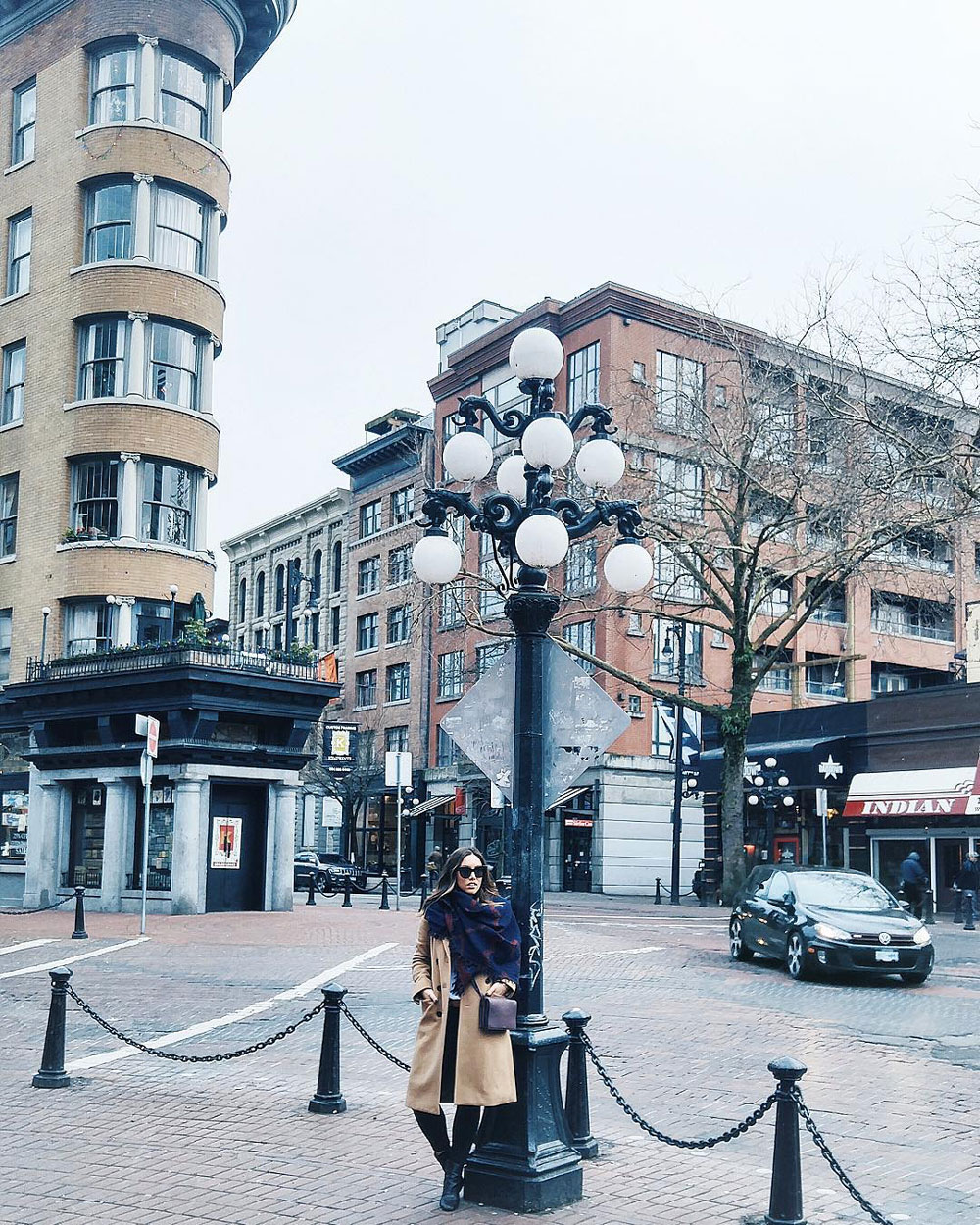 My favourite corner in Gastown for a few reasons. First of all, you can take it at so many different angles and get a really incredible urban shot no matter what angle you shoot from. Head across at Carrall and you'll get this big wide shot at the top of this post, tuck in on Water St. and Alexander and you'll get some cool shots with the lamps (see above), head over to Powell and you'll get a more layered architectural look, etc. This is also one of my favourite places to shoot (and if you've been reading for awhile, I'm sure you recognize it from a lot of my style posts!) because since the flatiron building breaks open the street layout, you get so much light. Even if it's miserable and grey out, you'll always get beautiful light here.
GRANVILLE ISLAND
3. Benches near the parking lot of the market.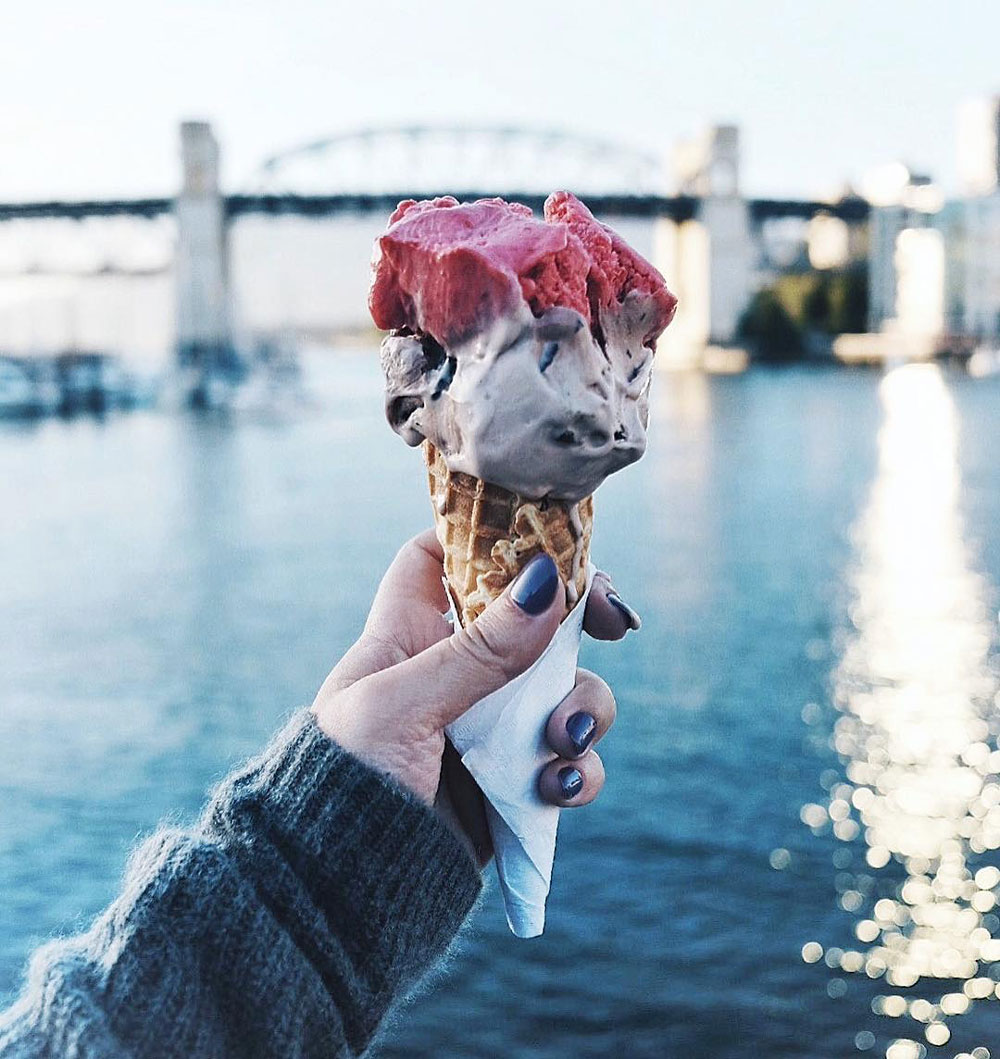 I'm obviously especially partial to Granville Island because I live nearby and happen to do a lot of living in the market and its surrounding area too – people claim it's too touristy but I've lived here for years and am always in and out all week, so as long as you're not there on a sunny Saturday, it's still my favourite part in the whole city (and I'm there a lot so if I were to get sick of it, it would've happened!). This view is really easy to find – between Bridges and the market itself is a big 1 hr parking lot with benches bordering it. Despite cars parking, it's always so peaceful and there are always buskers playing. I love it here just to come and relax, but it also happens to be one of the most versatile Insta locations! I come here to shoot looks all the time but it is also a quintessential West Coast lookout point with beautiful Burrard Street bridge to the west and if you pivot to the right…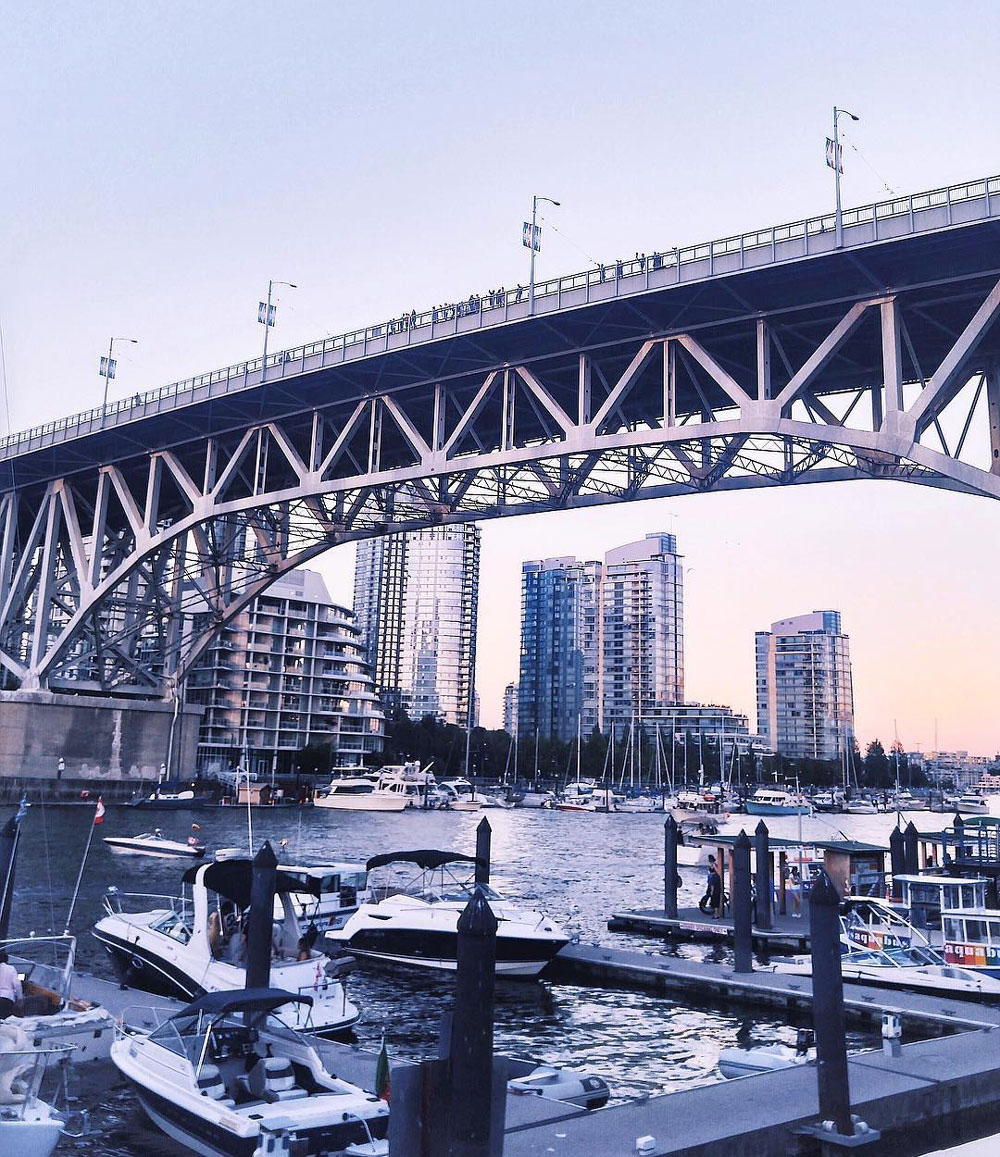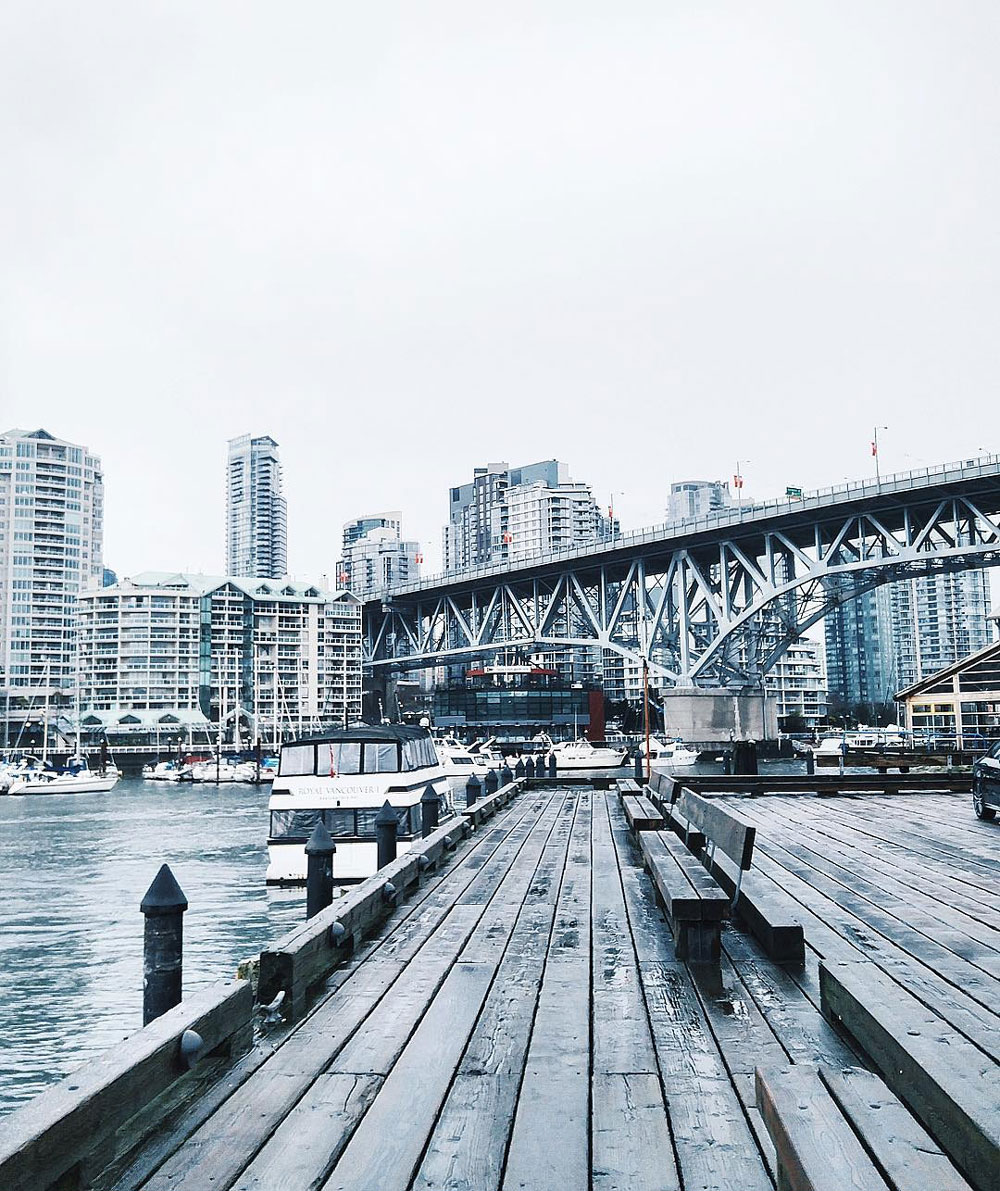 …you get this more linear, structured view of Granville Street Bridge! All 3 shots are taken from literally the same spot (just a bit more cropped in on that sunset shot) and it's such a great spot to watch sunset! You can literally shoot anywhere on Granville Island, it's got such a great mix of industrial leftovers that have been repurposed as arts and crafts school/shops and stunning coastal views surrounding it. It's my favourite spot for good reason, even if the food options are slightly lacking (though Go Fish and Edible are the best options and both great, plus distilleries and breweries to try too!).
NORTH VANCOUVER
4. Grouse Mountain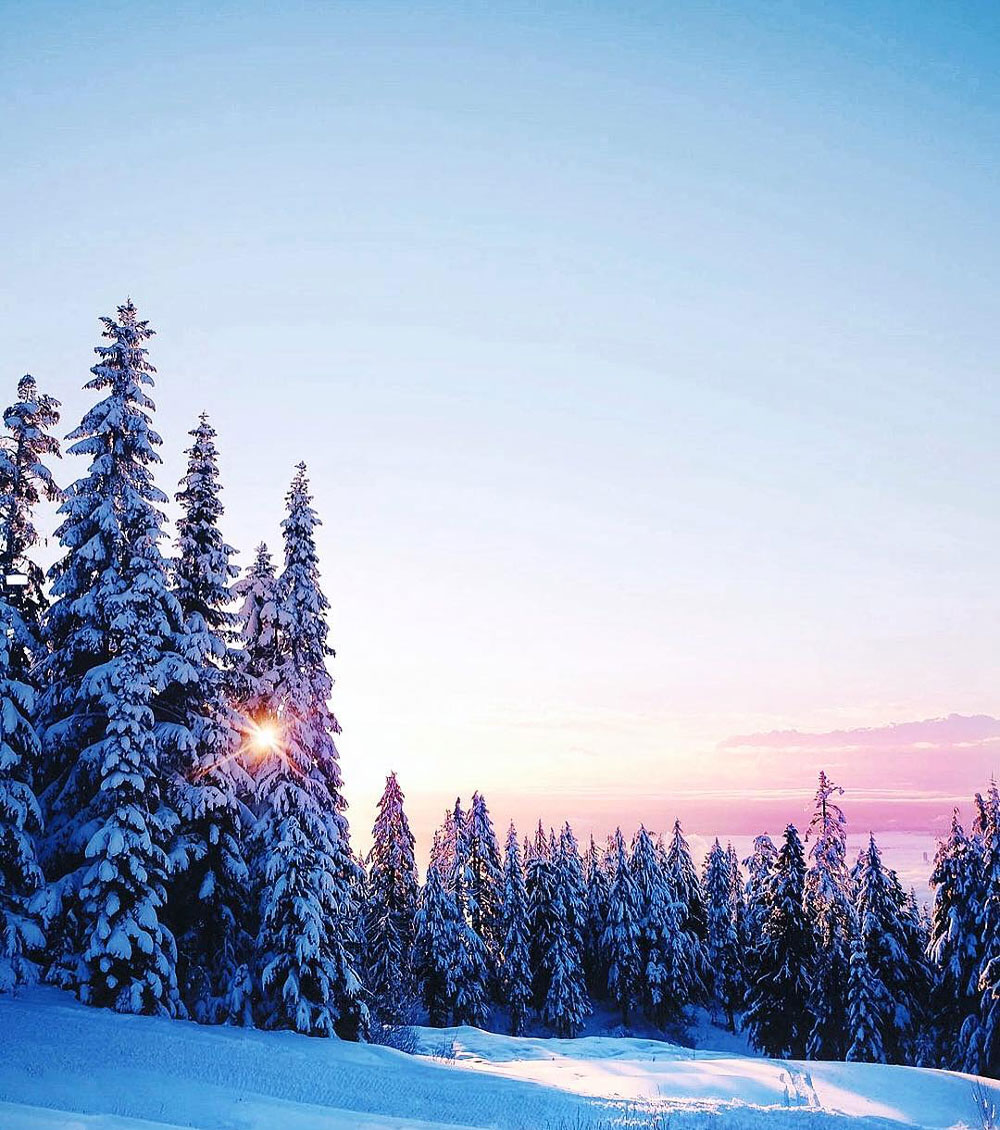 All the mountains on the North Shore are beautiful but I think if you're not looking to trek to a location and hike in the snow (i.e. would rather opt for a gondola ride), you're not going to be able to beat Grouse, both for its city views and the way they've set up photo ops throughout the mountain too, especially around the holidays! Cypress is arguably the better mountain for skiing but these magical views of the city are really most easily accessed (and in my opinion, the prettiest) from Grouse!
5. Lynn Canyon Suspension Bridge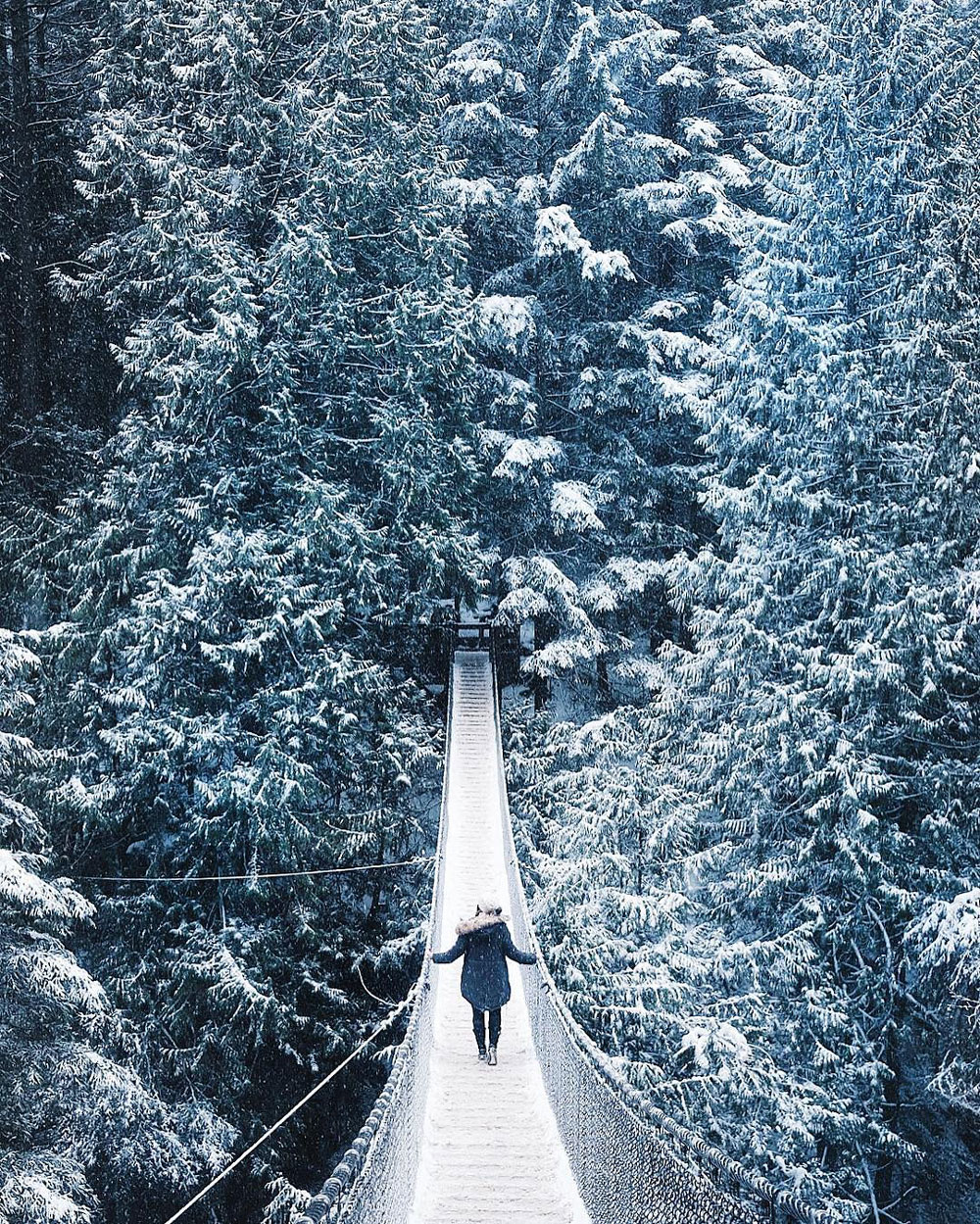 Everyone does Capilano and it is lovely, but I'm from Lynn Valley so clearly my vote goes to Lynn Canyon Suspension Bridge. It's far more undisturbed and I love that it's actually a bridge locals use. I'd drag Bailey across this most days when I was living at home during our runs – he always hated the shakiness, poor puppy! You not only get a beautiful view of the bridge itself but turn to the left (if you're walking across it from the parking lot off Peter's St) and you'll see the canyon in all its glory too with a waterfall. Definitely suggest coming during the week as it does get busy on the weekends!
6. Lynn Canyon Park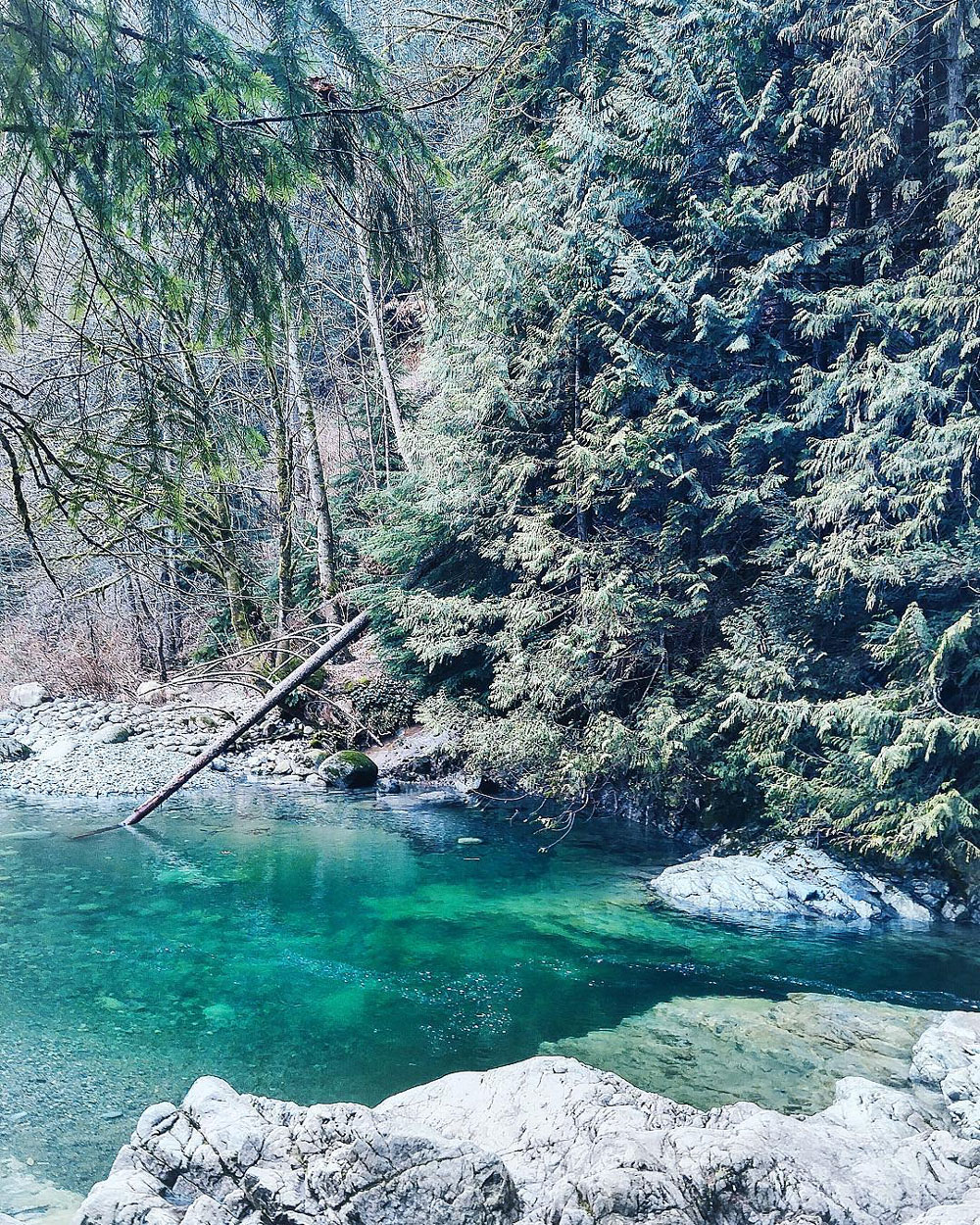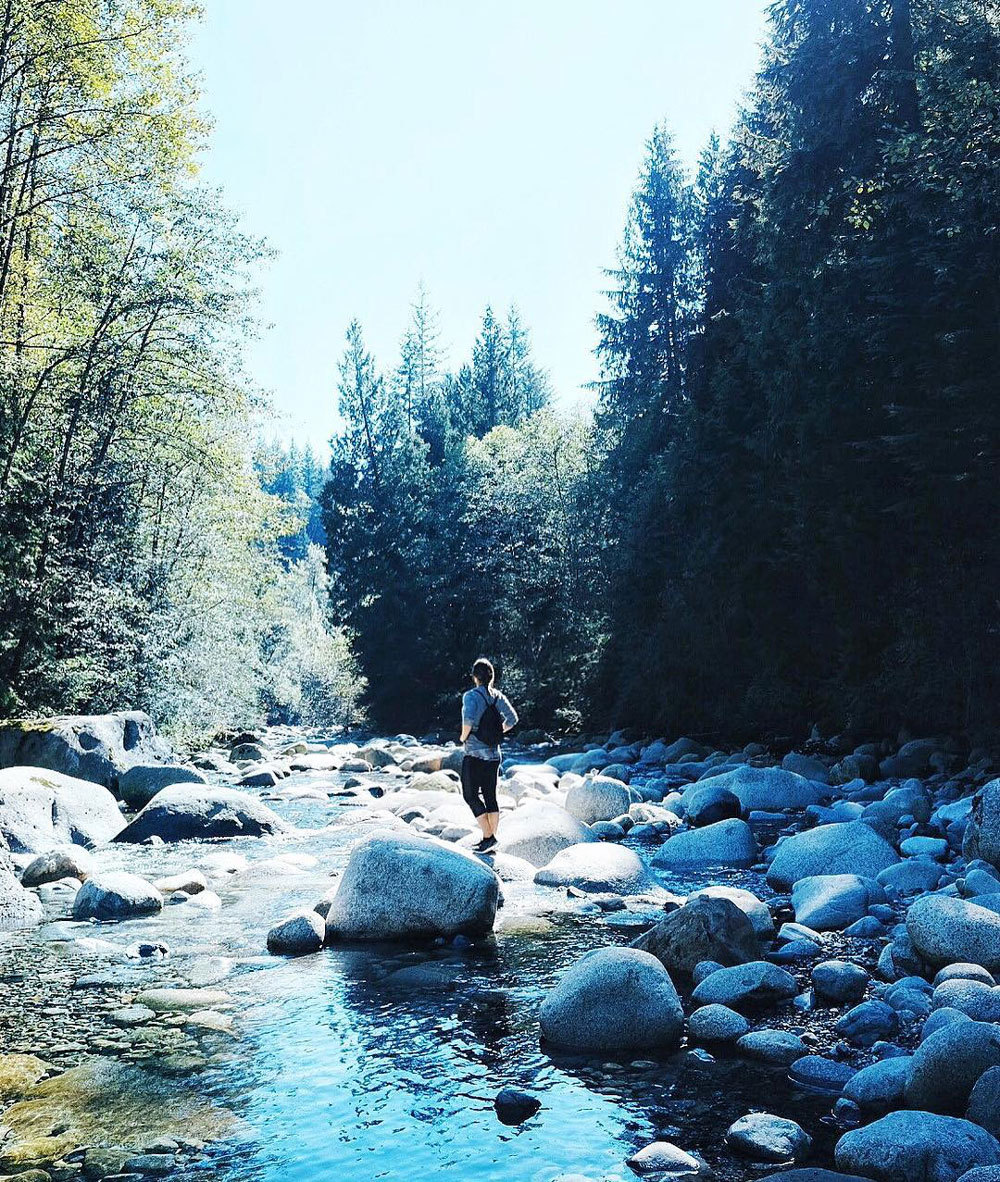 Again, totally biased because these are the trails I know like the back of my hand, but they're so, so, so beautiful and you get a better sense here of true North Vancouver (despite the rise in tourists visiting). Whether you're at 30 Foot Pool, Rice Lake or just taking leisurely stroll along Varley Trail and see a pretty opening to the water, you're going to be rewarded for the trek up to LV with so many great views and a real opportunity to experience nature truly if it's something you don't usually get a chance to do. Just be careful and use caution around cliff edges, the rapids and please don't go in around dusk! But seriously, so grateful I grew up here and definitely urge you to visit!
7. Quarry Rock
While a bit of an easterly drive, Deep Cove is so beautiful. I had friends here growing up, my dad rows out of here, my pool was nearby for practices and of course, the yearly Penguin Plunge is here so I kind of took it for granted when I was younger and mostly saw it as a pain in the ass to have to drive out. Now that I'm not on the North Shore though, I seriously crave Deep Cove treks, and it's usually so that I can do a quick hike up Quarry Rock for this miraculous view then quickly book it down to reward myself with a Honey's doughnut!
SEA WALL
8. Charleson Park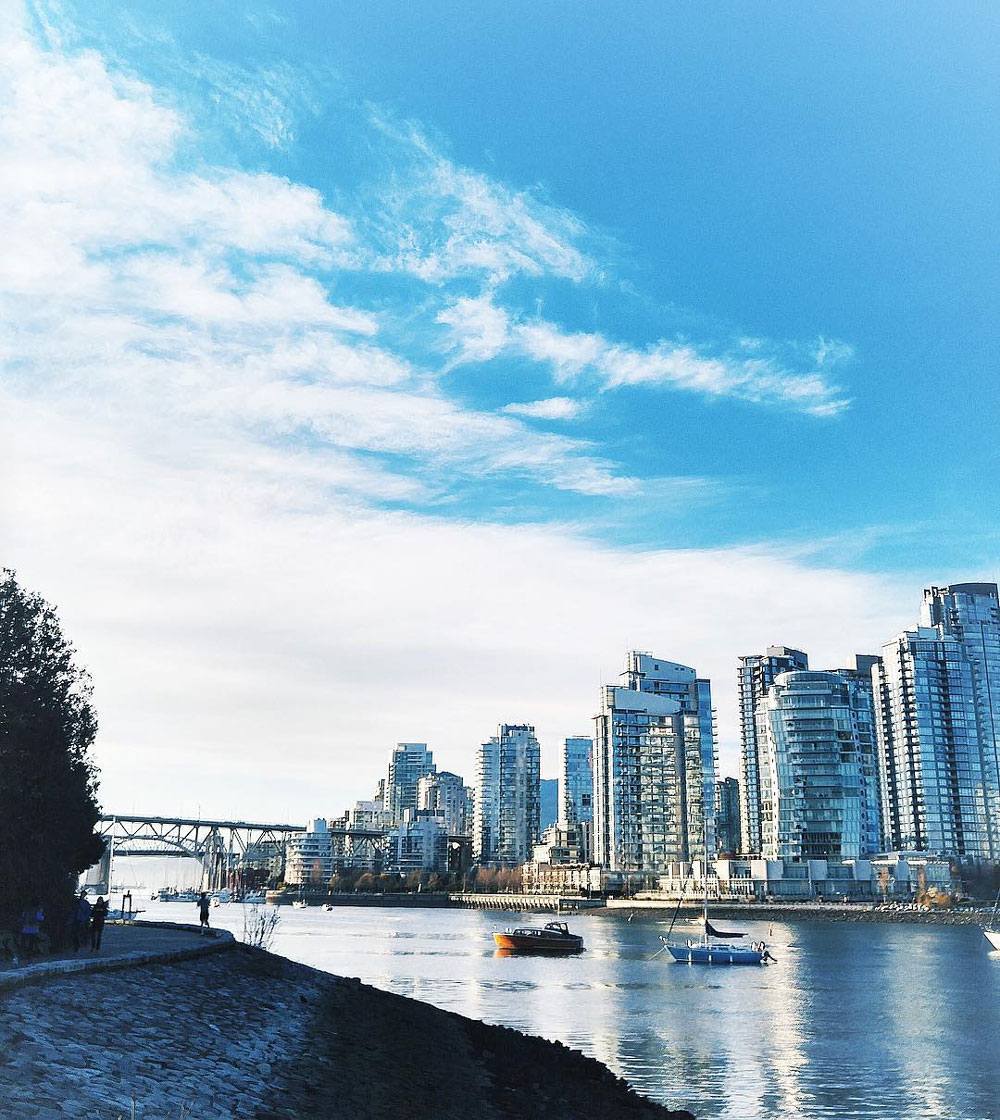 Pretty close to where I live and very quiet – the Sea Wall views here tend to be a bit easier to get because it's less busy around here, there's some really lovely lines thanks to the way the Sea Wall snakes around here and it's also a really easy spot to pivot a few degrees and get a whole other shot! Also, there's a dog park where the beans are so you can play with the puppies.
9. Granville Island Sea Wall (between Go Fish and the island)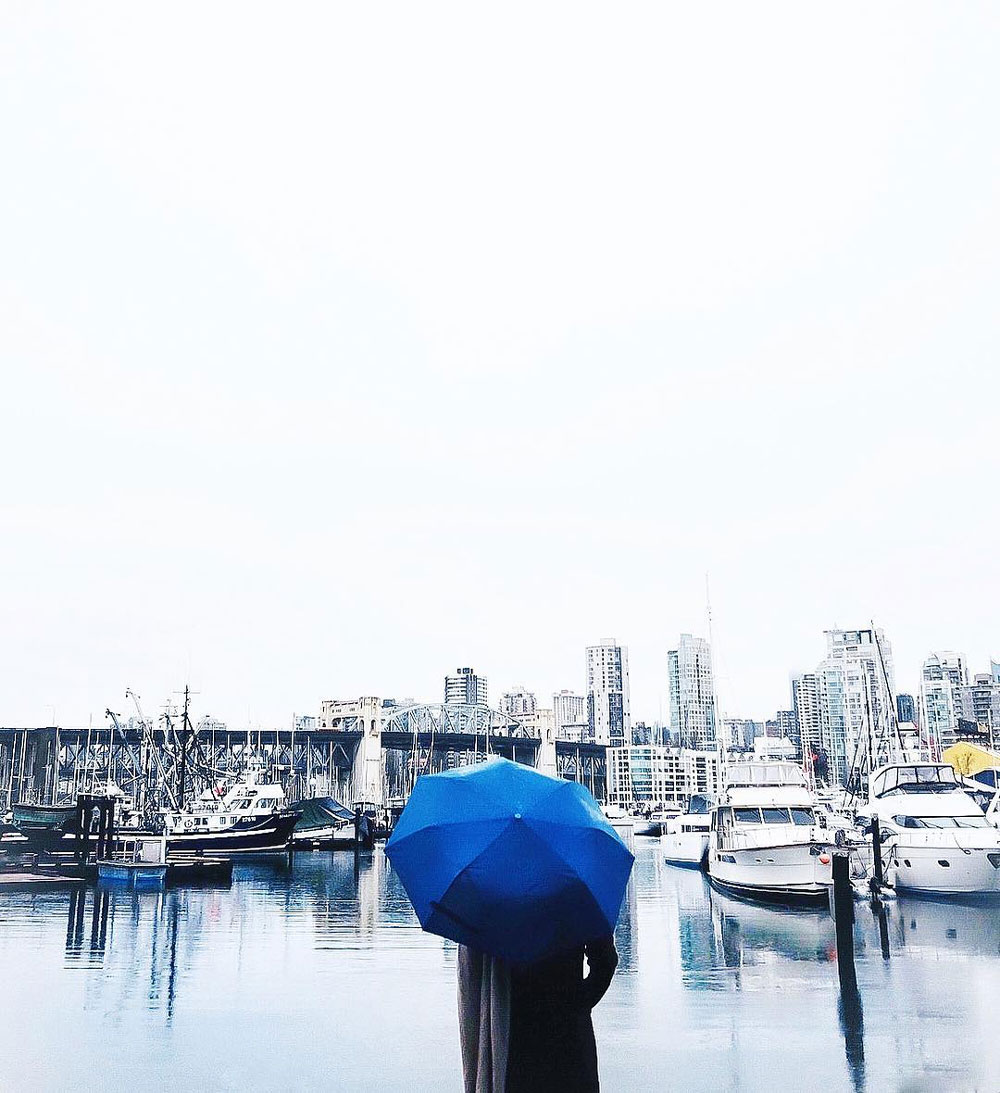 If you head just west of the island along the Sea Wall, you'll get my favourite views of the city. I love the marina here, almost always see a seal and something about the way the bridge is framed here always gets me. Matt gets so annoyed because we walk this stretch home every weekend after brunch and I always stop for pictures at the exact same spots. Rain or shine, it's such a beautiful photo op, and best of all you can just carry on to Go Fish for fish-n-chips!
10. Stanley Park near the totem poles (just past the Vancouver Rowing Club)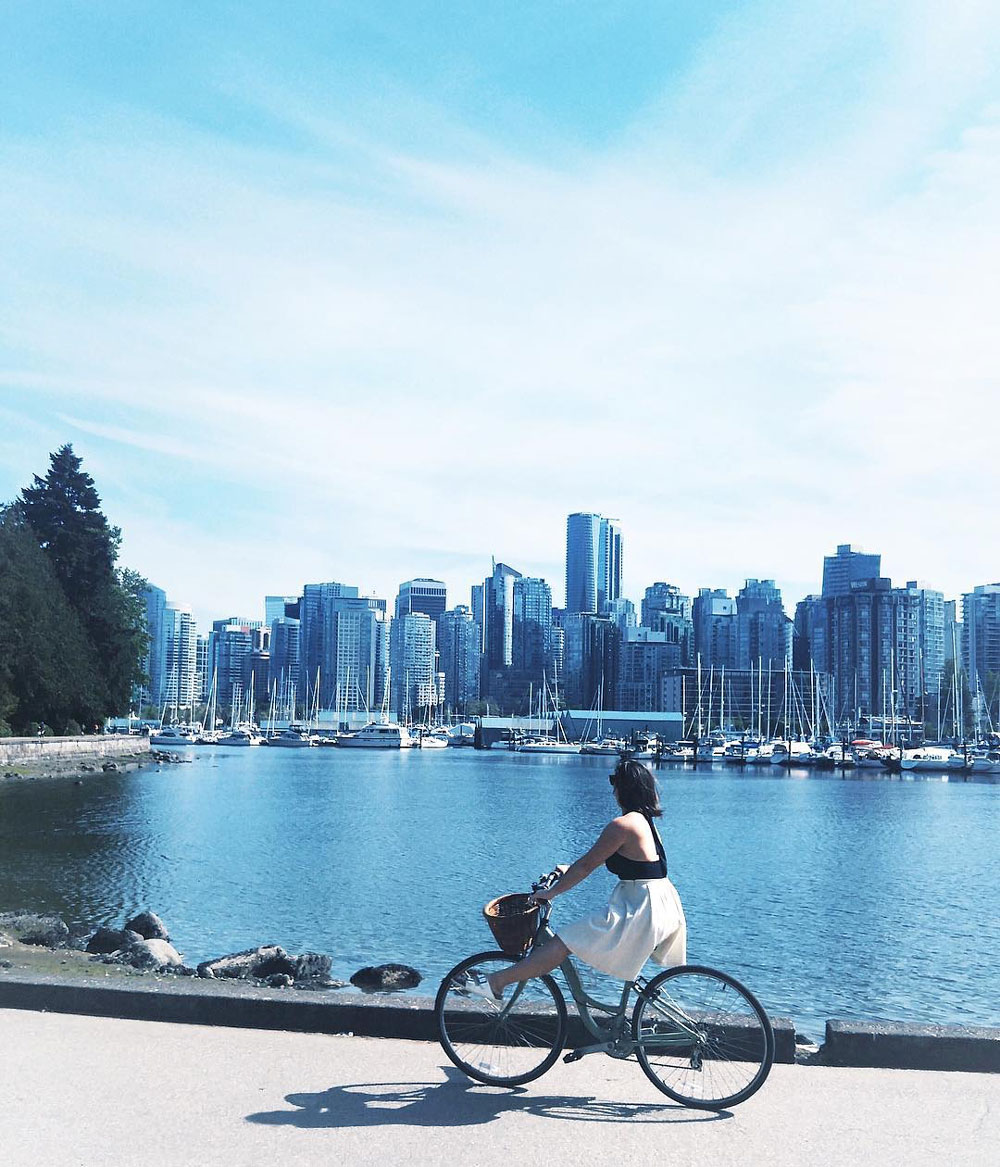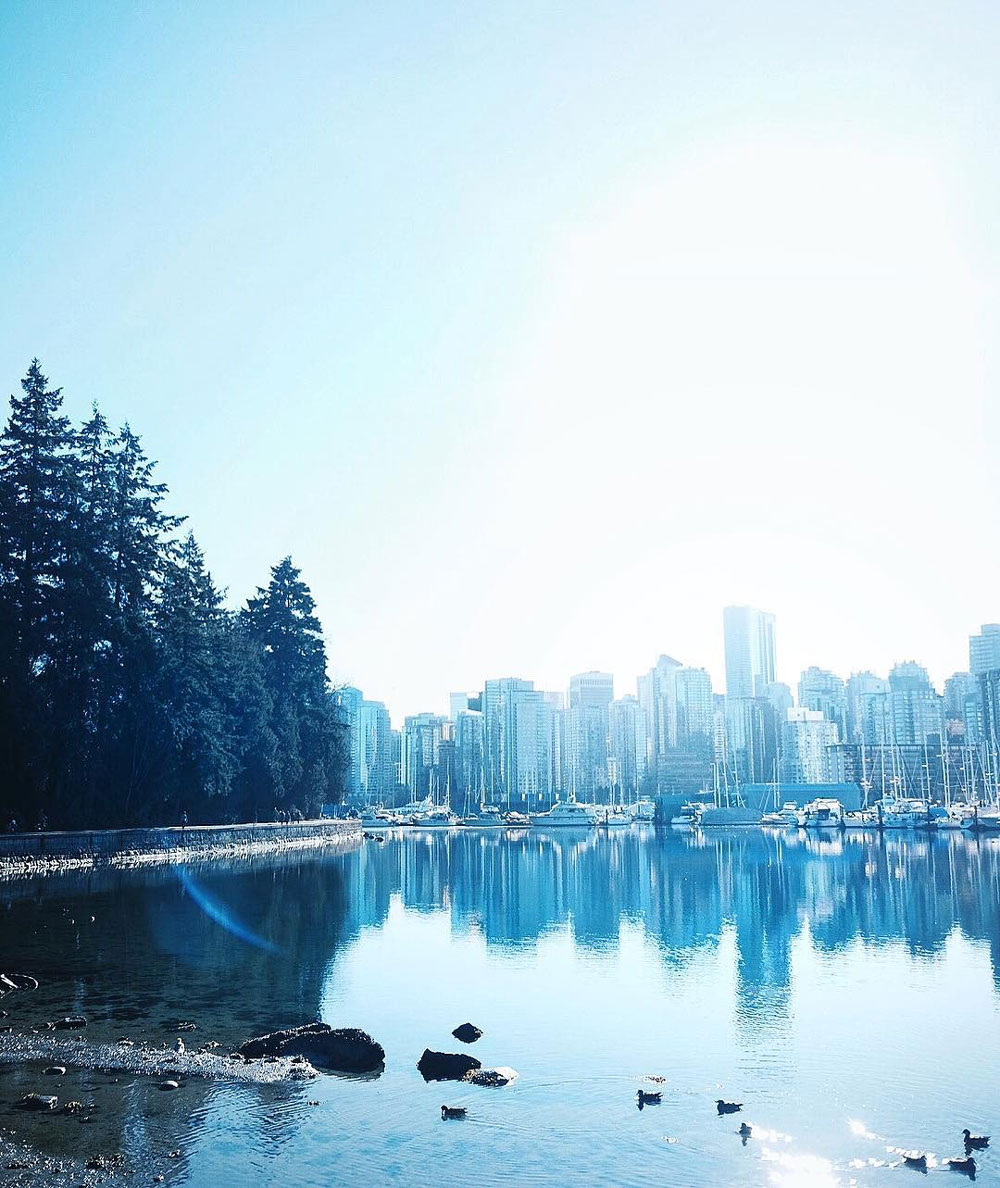 There's something magical about this little spot. I'm usually biking or running past here but if you're driving in, there's a little parking lot just on the left (look for signs for totem poles). Wander down to the Sea Wall here and there's the most perfect view of Coal Harbour. One of my best friends and I have started a tradition every summer of going to Cardero's for a drink and then cruising down here and taking happy bike shots before carrying on to Third Beach (more on that soon!). This place is special because it pretty much has great light all day long – in the morning you get bright light coming through to the left, mid-day some really harsh but still beautiful and fresh light coming dead-centre and in the evening, it moves over from the right. Pretty 24/7!
STANLEY PARK
11. View of the park from Lion's Gate Bridge
Full disclosure, I don't know why but I hate bridges. I have very few genuine fears but this is one of them. If I'm biking/running it's totally okay but I can't say I love walking over them, they just really creep me out and I truly have no idea why! So this walk out Lion's Gate (and you have to walk some way to get this shot) was not my fave thing to do but I mean…so worth it. You'll want to be here at sunset because otherwise the light will be too harsh (if the sun's out, that is) but that view of the snaking Sea Wall is everything!
12. Third Beach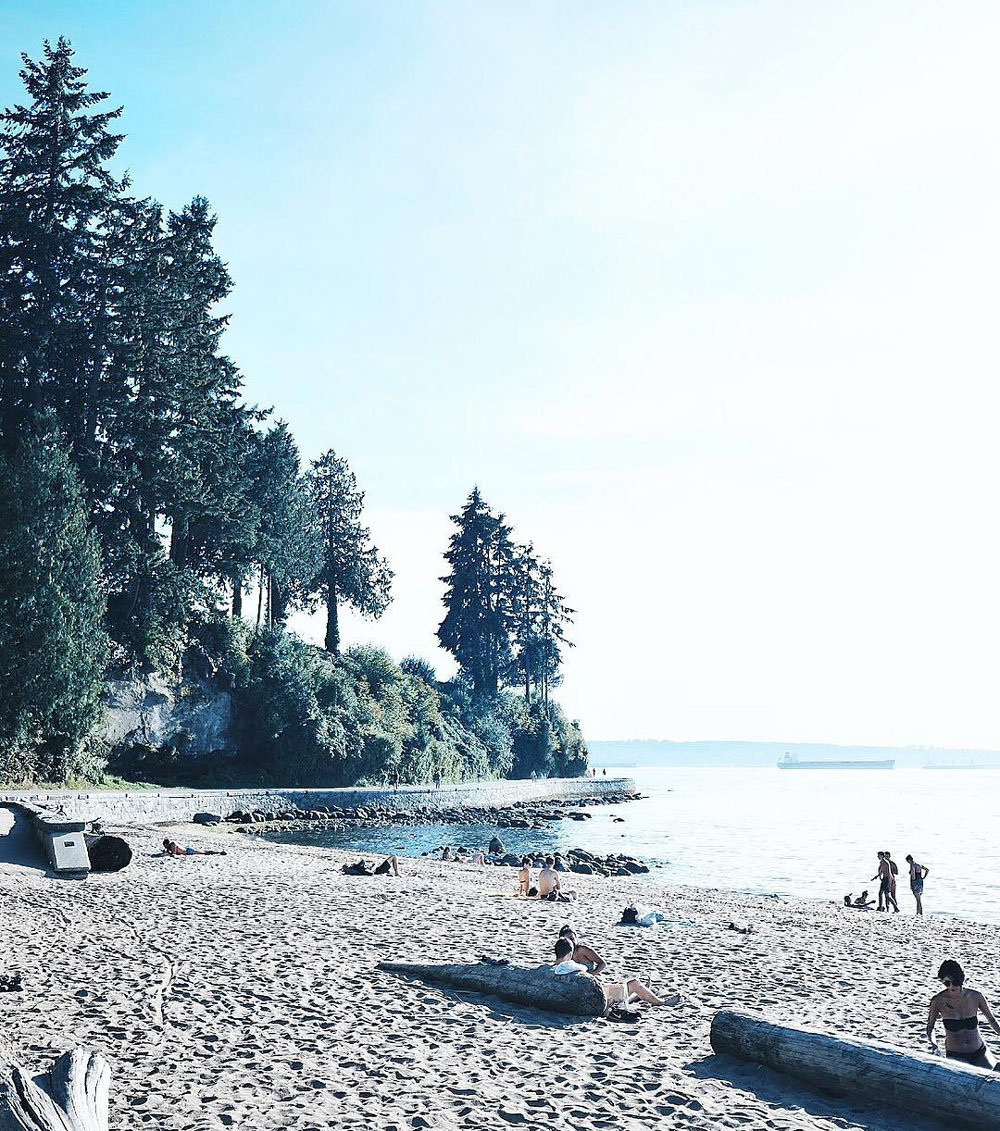 My favourite beach ever. The water's super clean, there aren't as many meatheads here as in Kits during the summer, the lifeguards are usually pretty cool (one of them is a true vet who my dad lifeguarded with when he was in uni so clearly #legit!), you're protected from the wind and best of all, the views are the best. This little shot of the Sea Wall just curling behind that corner there always gets me. You can get a bit higher from the parking lot for another great shot, turn to the right and see West Van, etc. A stunning spot at sunset but really just one of my favourite places period!
If you have any additions you think I should make to this list, please let me know! And if you don't already, would love if you'd give me a follow on Insta – I'll try to make a point of sharing exact location deets more on there too!