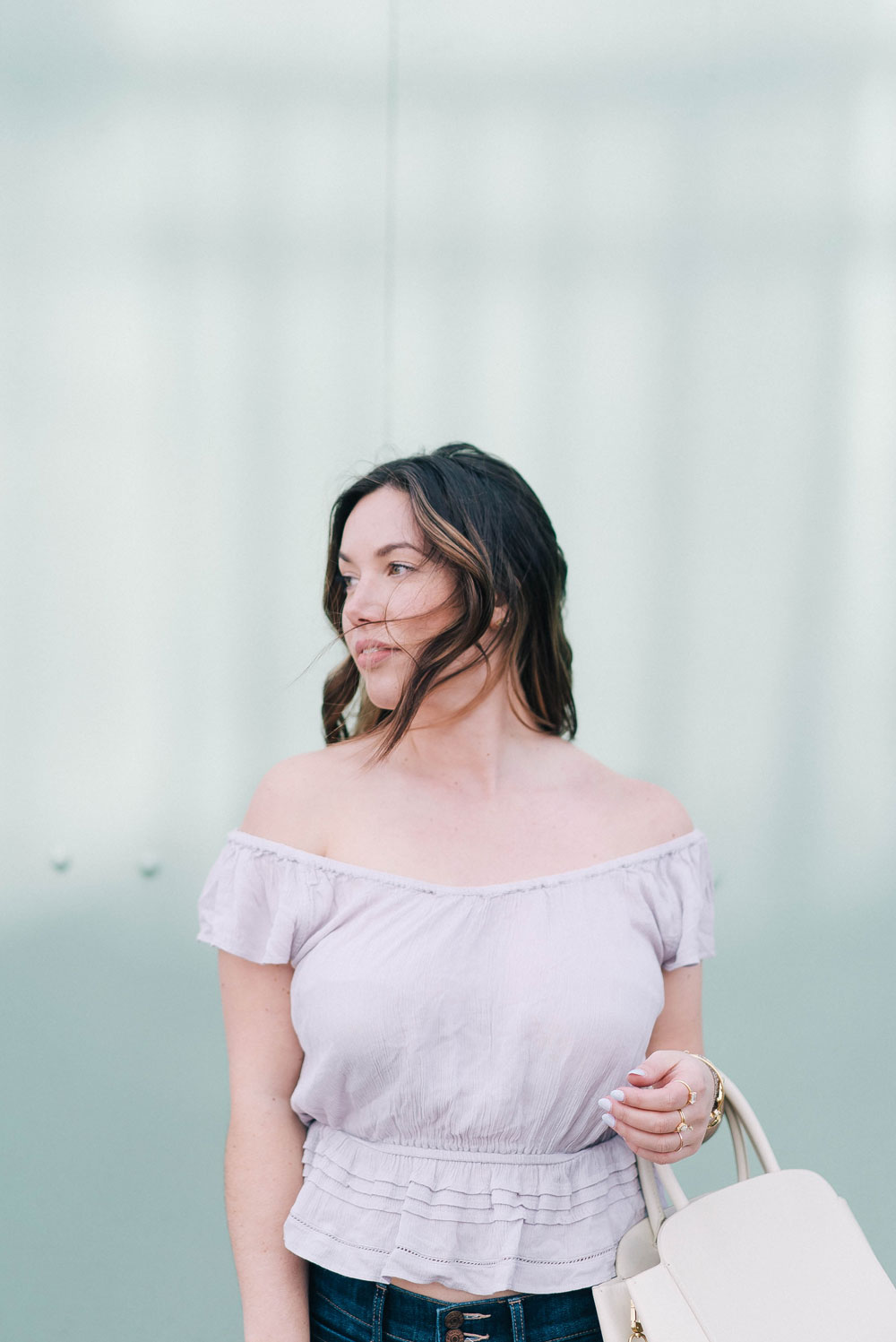 No one really gets the challenges of being busty unless, well…you are busty! Complaining about chest size is often met with eye rolls or just not taken all that seriously but aside from some pretty brutal back, shoulder and neck pain, it can be really hard and demoralizing to dress—while there are the odd pieces that really look great filled out in the bust area, I think any other busty girls can join me in saying just about nothing is geared towards chestier types. My chest size isn't carried most places (no Victoria's Secret shopping for me, sadly) so sometimes, as much as I've always been pretty body-confident, there are plenty of times when I kind of feel like a bit of a freak (between randomly bursting out of my usual size in unforgiving tops or having to hit up my tailor yet again to make more structured pieces work for me). So if you're dealing with the frustrations of styling around a big chest, trust me, I've been there!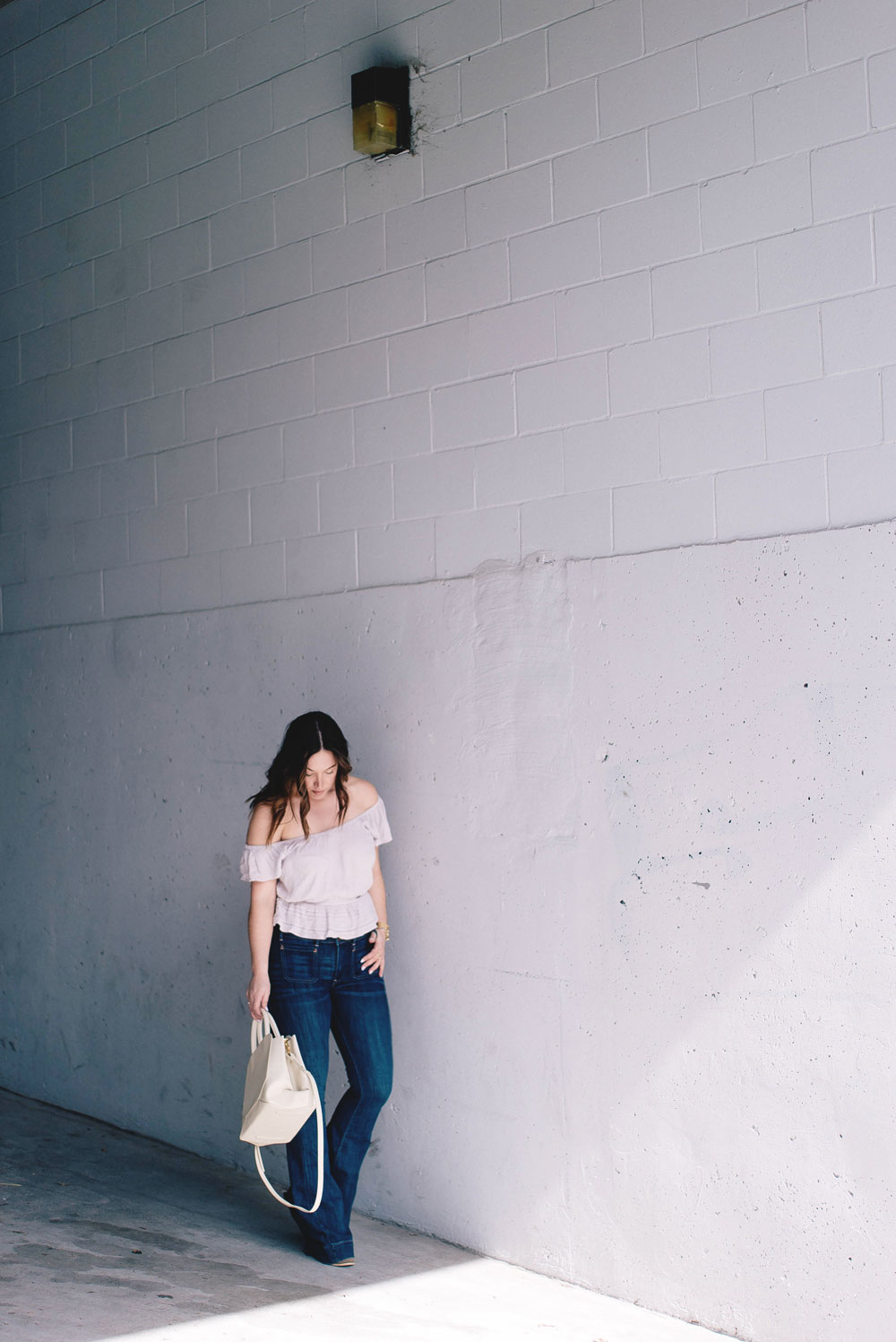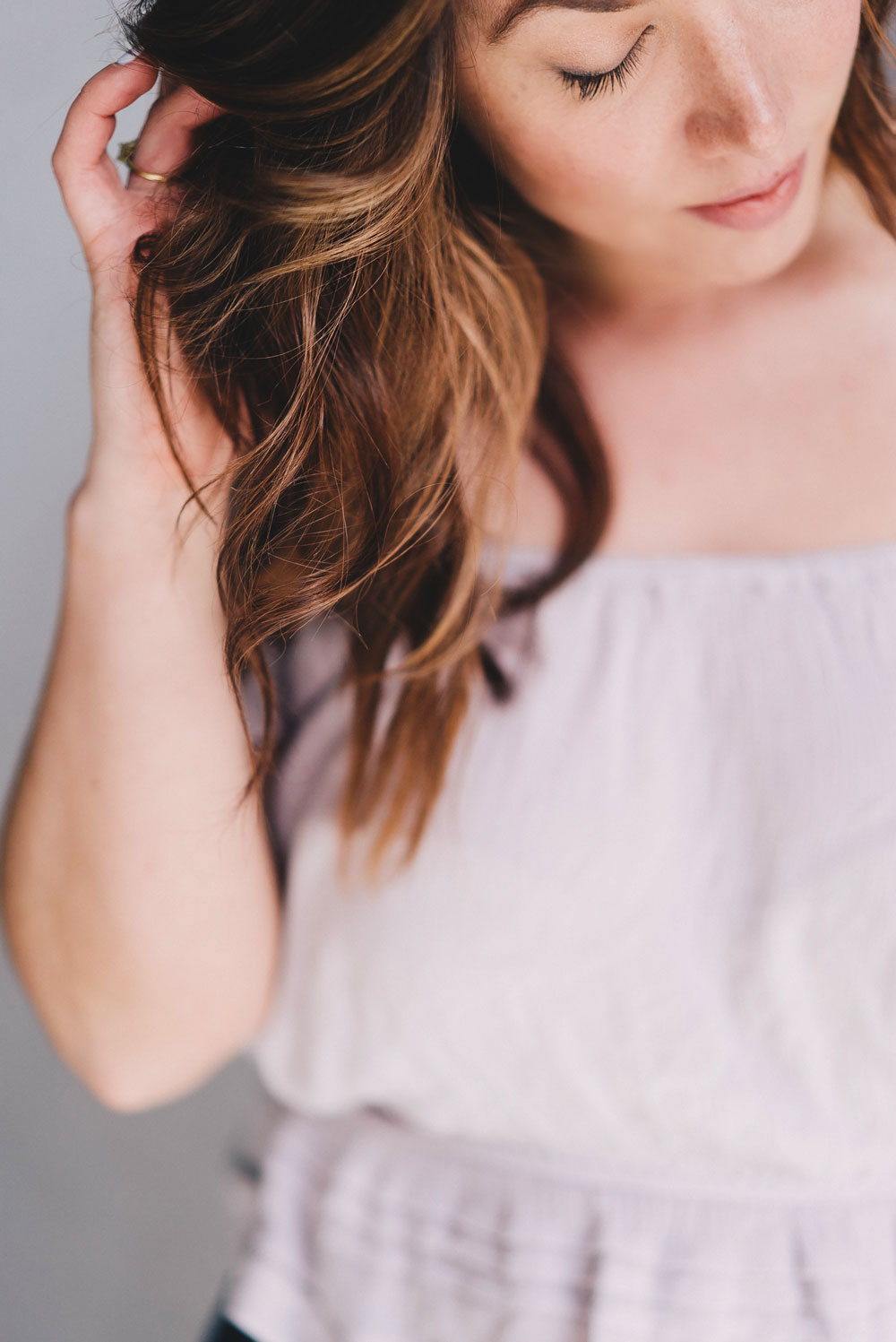 Having said that, while it's definitely something I've had to work around over the years as a 30F cup size, I've found some styling tricks and strategies that allow me to wear just about anything I want (other than backless, sigh). Having a few go-to styling hacks in my back pocket has been really liberating, because as much as I'm still looking to reduce in the future (probably after having babies), it really helps to feel empowered as much as I can for now!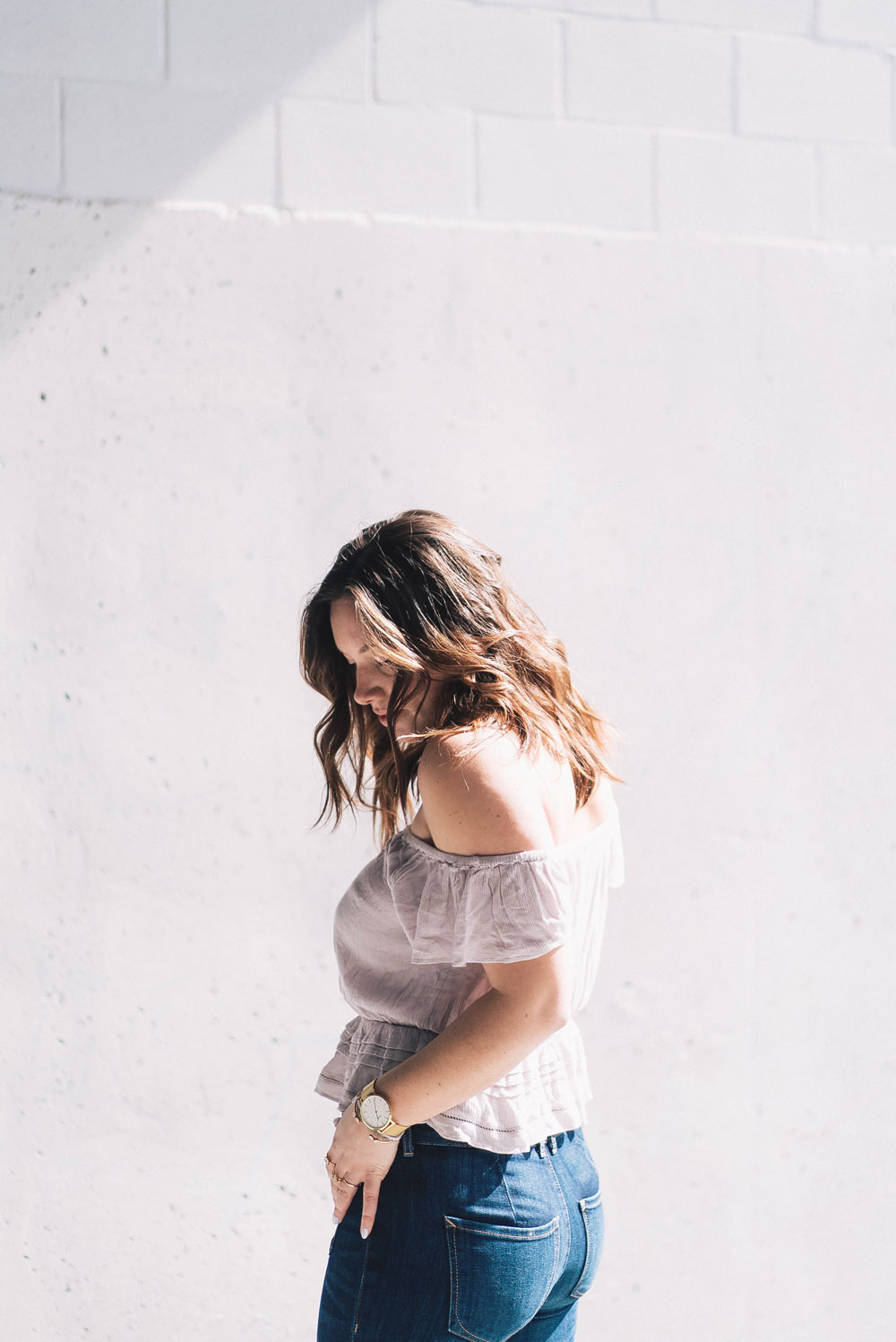 Especially come spring, all these strapless, ruffled and delicate pieces are beckoning to you, and you absolutely can wear them, regardless of shape or "assets"! This spring, ruffles have been having a serious moment, and off-the-shoulder has still been going strong for yet another year. Best of all, they often come paired together in beautiful, flouncy tops and dresses.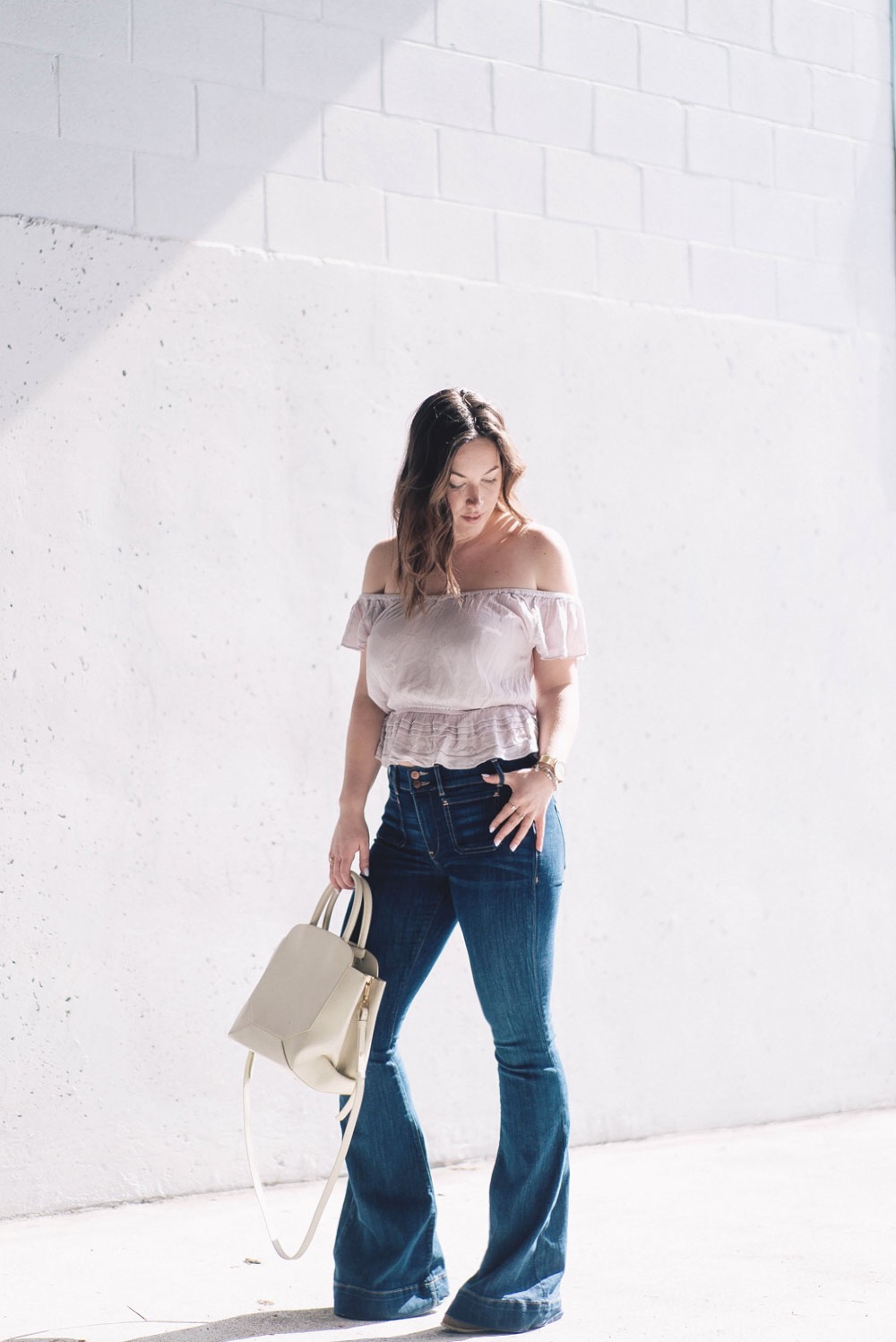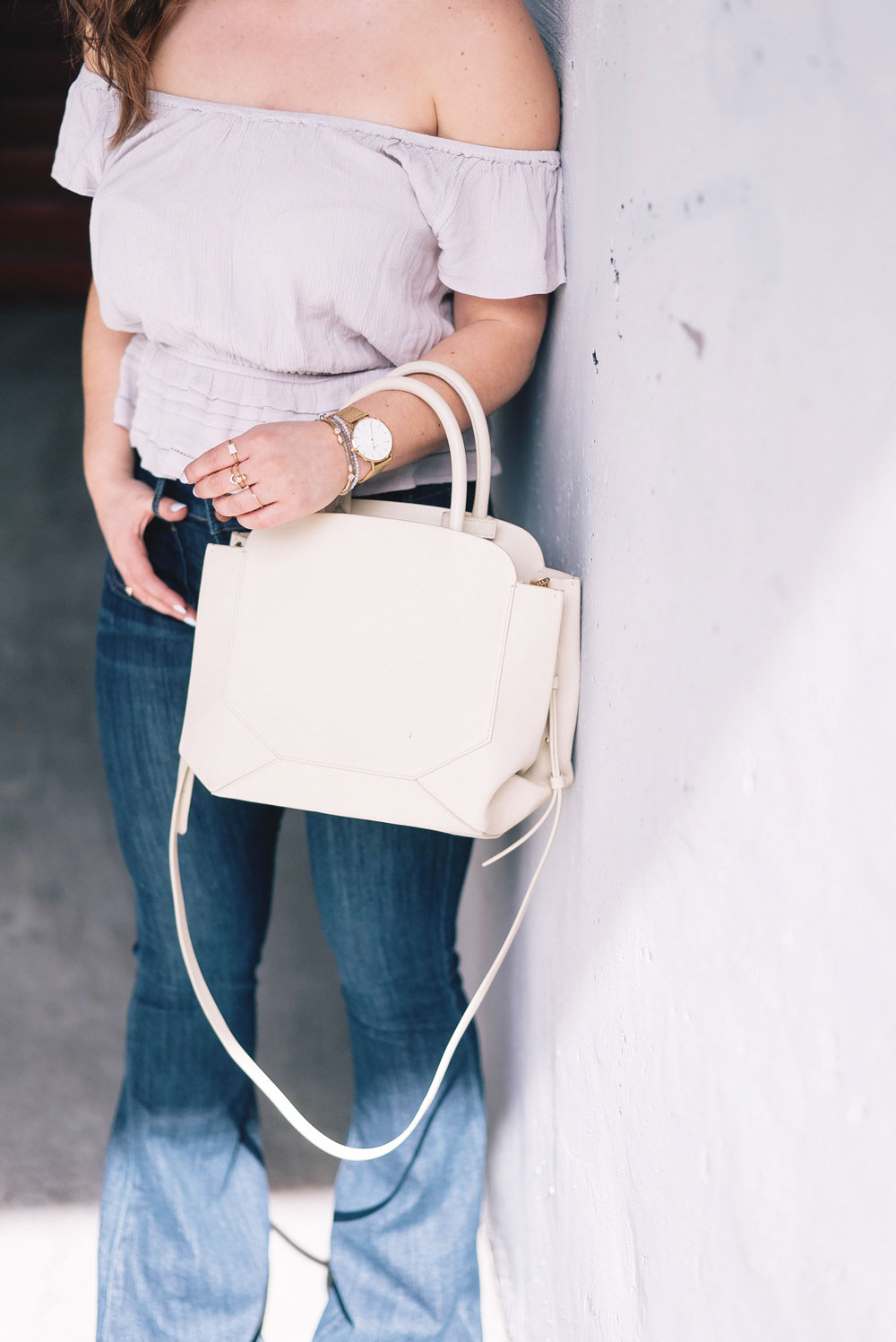 The top thing to do regardless of shape is to make sure you have a solid bra. There are actually a ton of great strapless options (and if you're not especially chesty, the options are opened up even more!) but I've found great options for my size at Change. They're not the sexiest looking bras and they're definitely geared towards minimizing, but their strapless bras really help reduce my cup size and keep everything in place. I have one in nude and in black, because I honestly wear them all the time, especially in the spring/summer.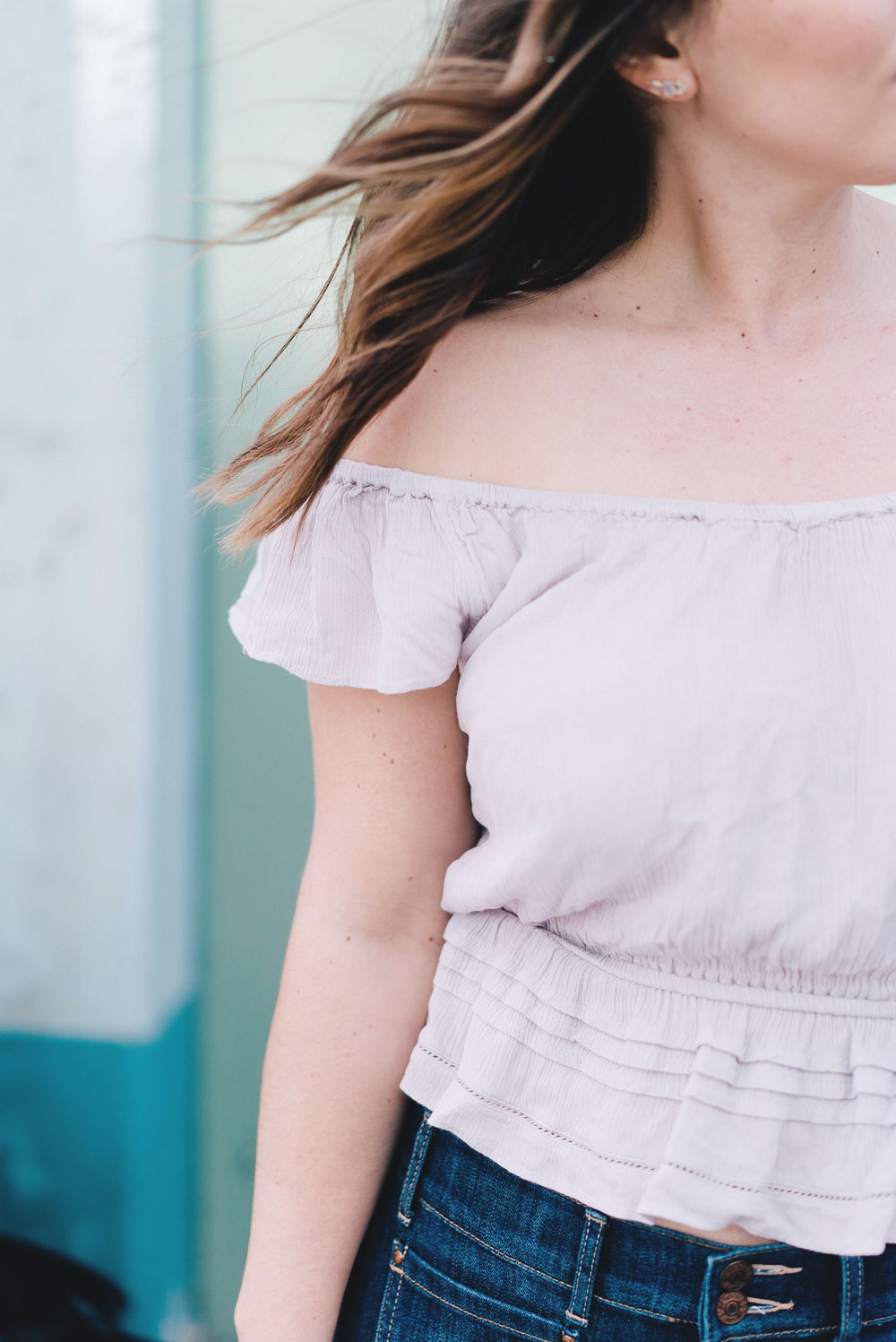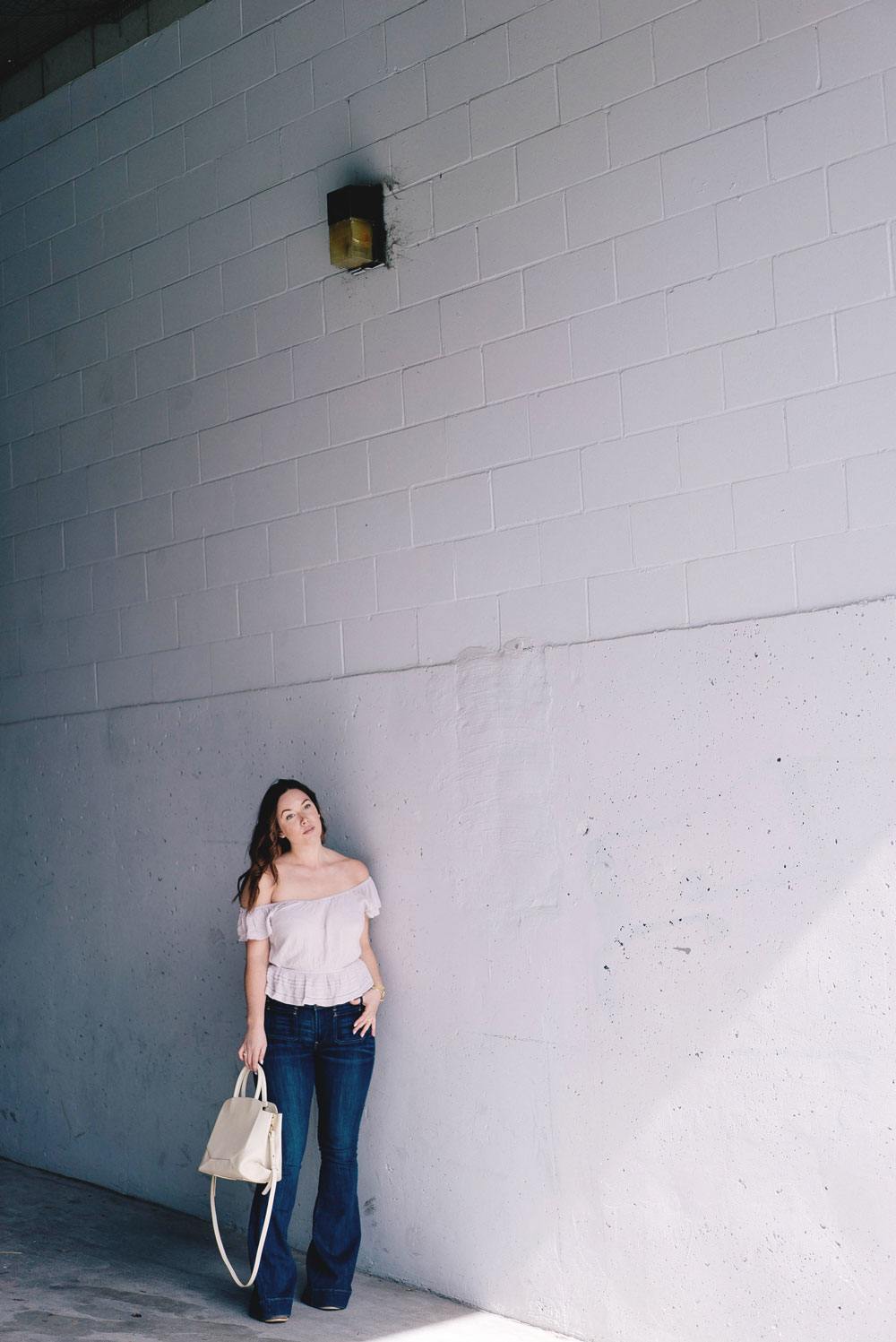 Now this tip is for other hourglass chicas out there—especially if you're more into relaxed fits and casual chic vibes, it can be hard to find pieces that are naturally tailored to your figure. My natural instinct is to grab something oversized because a) I just like being comfortable and b) I think oftentimes, a little oversized actually looks more flattering, but I do think especially if you've got hips and boobs, it's never a bad idea to show off your waist. I love love love this Aritzia top—it has this beautiful gathering at the waist and nips in at my smallest part. Also love that this looks as amazing with jeans (especially flares like these, that really just give a total nod to the '70s vibe of the top) as it would with a skirt thanks to its silhouette.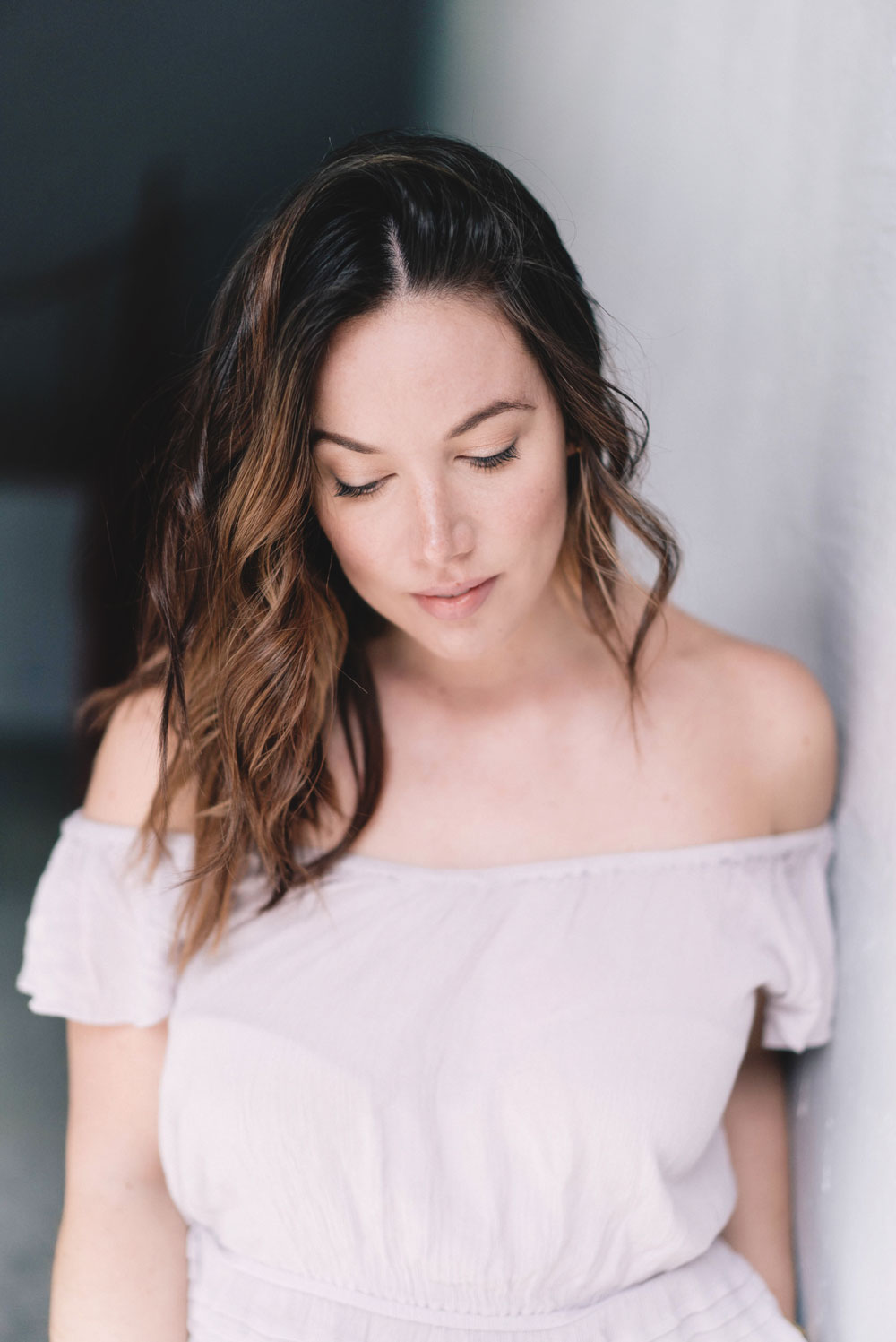 The other thing that's key for hourglass shapes is where detailing or visual statements draw the eye. While I totally have strapless pieces that have ruffle detailing around the neckline (cue in this look from last summer) since I have a solid enough bra to keep everything strapped down, a piece like this top that brings in the ruffle trend around the waist in a more delicate, subtle way really just does my body more favours. Important to note this isn't a full-blown ruffle detail in a literal sense but it's definitely a flattering nod to the ruffle trend, and if I were to go for another hourglass-friendly option, definitely any tops that bring in ruffles around the sleeves would be my first go-to! Statement sleeves have been so big this year so options abound in-store, but I have a few for you to shop in the widget below!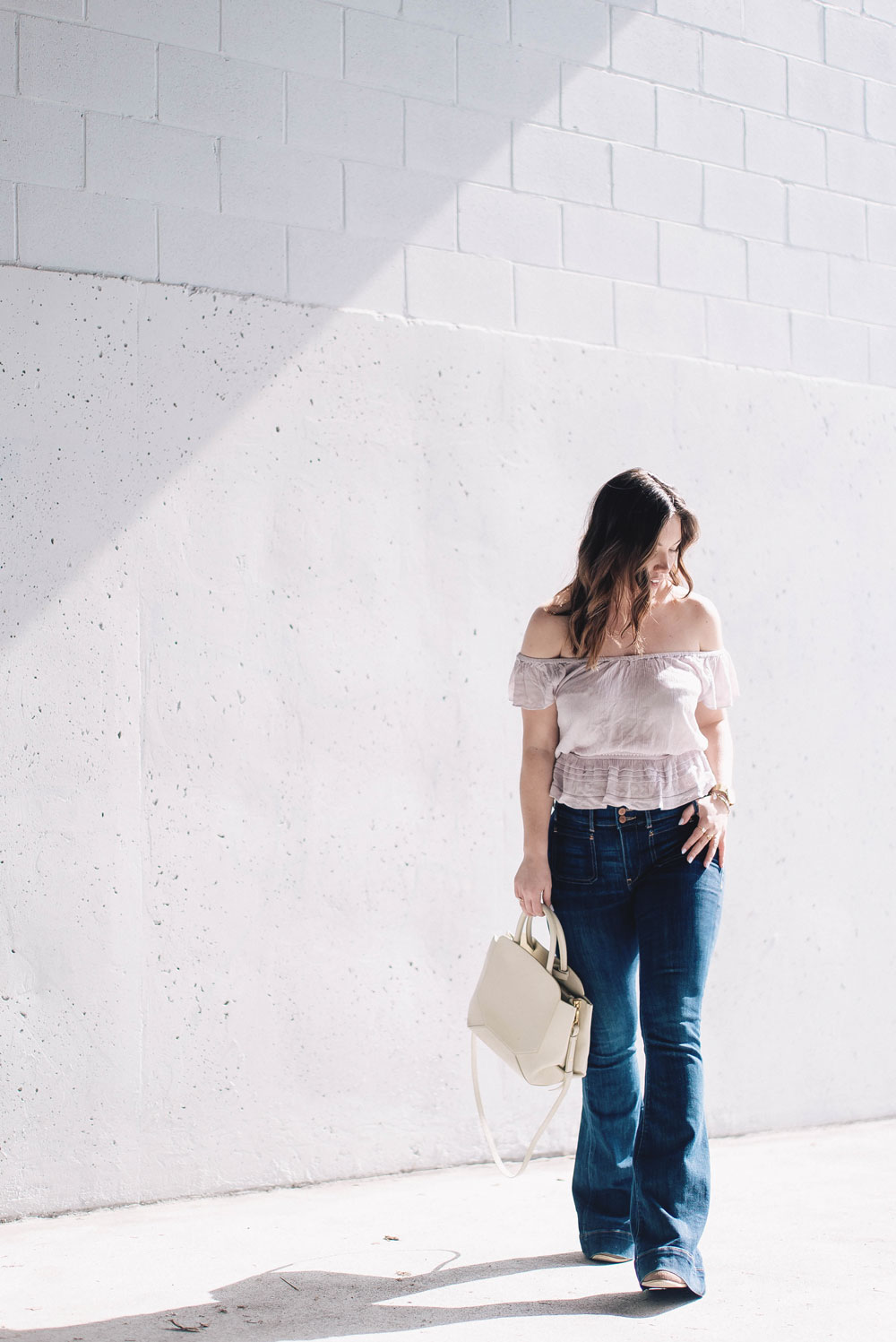 Finally, a few last notes! I do a ton of upper body work to keep my chest and upper back not only looking their best (and keeping everything "up" as much as possible), but to protect my whole body from the weight of a big chest, especially if you have a similarly small rib cage that can get torqued easily (fractured or popped out ribs are lame). Push ups, chest presses and rows will really help, and best of all, it helps your upper body look incredible in strapless pieces!
I also always really focus on exfoliating my shoulders and elbows in particular, dry brush when I can and really do some added moisturizing on days when I'm going strapless. This Charlotte Tilbury Supermodel Body highlighter also really brings the glow out!
If you guys have any other questions, let me know! And if you have other body types that you'd like me to speak to, definitely tell me in the comments below!
Photos by Ainsley Rose Photography