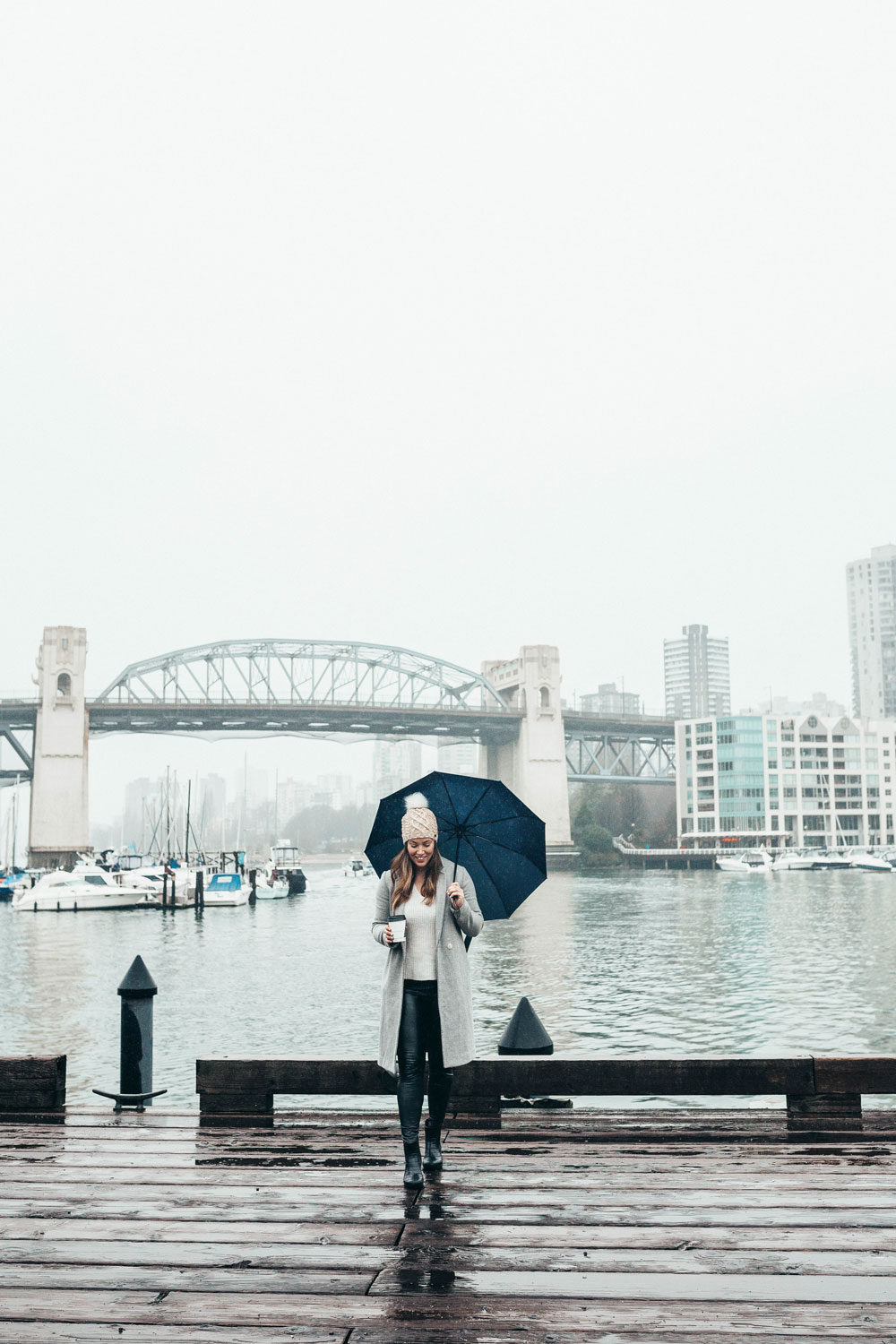 We've had a few sunny days here and there but all in all, Vancouver is having, well…a decidedly "Vancouverish" January. For those of you not from here, Vancouver's nicknames run the gamut from Raincouver to Raincity so it goes without saying we get a lot of rain. While we enjoy really mild temps here (never getting too hot or too cold), it can feel pretty miserable during the winter months. There's a reason why so many of us (myself included) get SAD! To combat that and to just feel more cheerful during this kind of transition into spring (because fortunately, we also usually enjoy an earlier spring here!) I try to get outside as much as possible, even on the yucky, rainy days.
While I spend a ton of time in my workout gear which fortunately lends itself well to getting splashed on, on the days when I'm off to a meeting or just want to look more pulled together, there are 5 things that I rely on to feel pulled together while also guarding myself from the elements.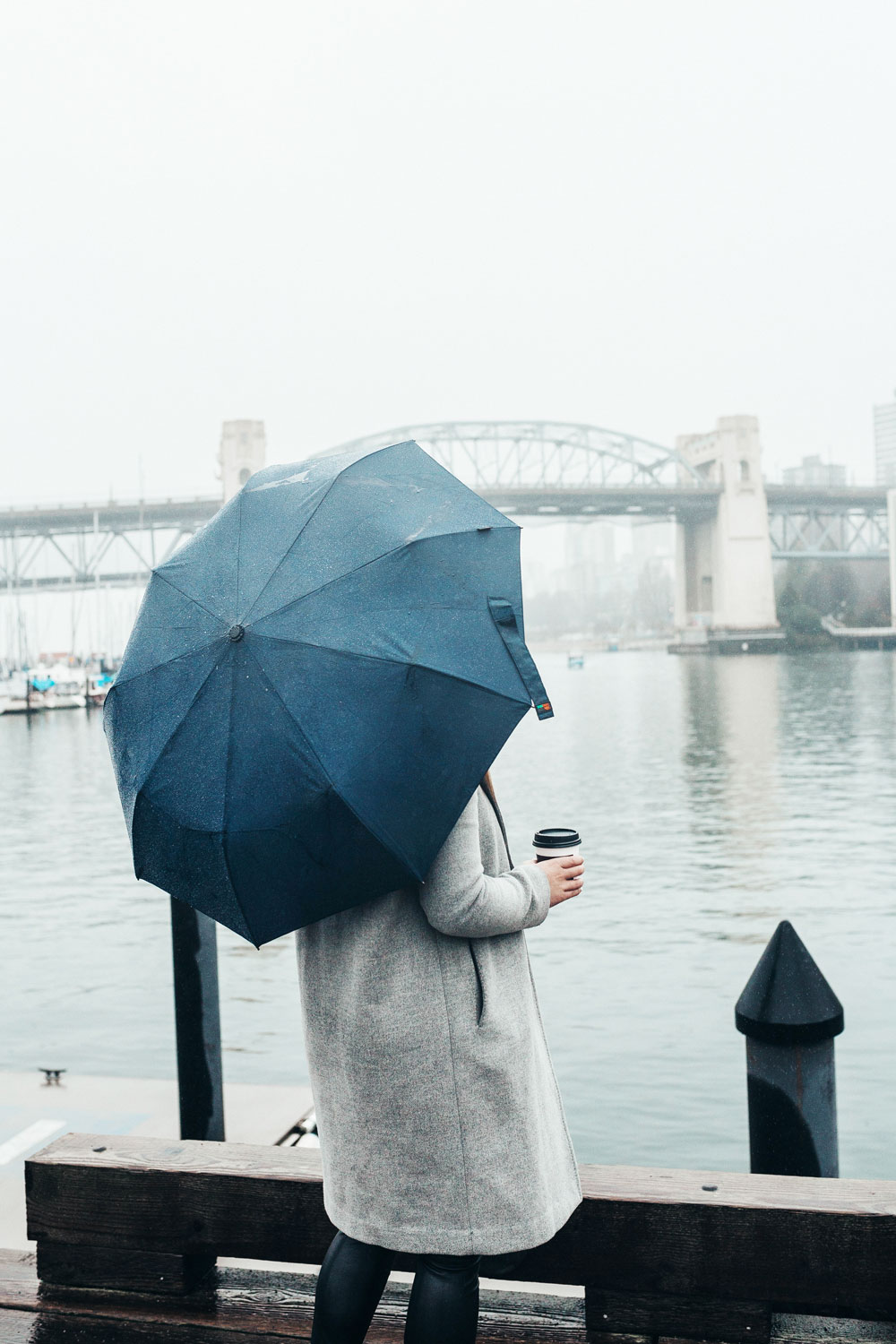 First of all (and this one's the most obvious!) some quality, waterproof footwear. I love these Roma Chelsea boots in this embossed croc print because they donate proceeds to a local charity to give the at-need population waterproof shoes themselves (and they're Canadian!), but of course, Hunter Boots are also a timeless option and I love this pair, while these London Fog beauties are currently on major sale! Moral of the story is that while a classic rain boot is always a great option (see this older post for ideas on styling them!), I'm especially a fan of the ankle boot style (specifically Chelsea boots) because they feel a lot more chic and stylish, and it doesn't hurt that they're usually a lot easier to slip on and off! Go for thick socks too—such a fan of Icebreaker's socks!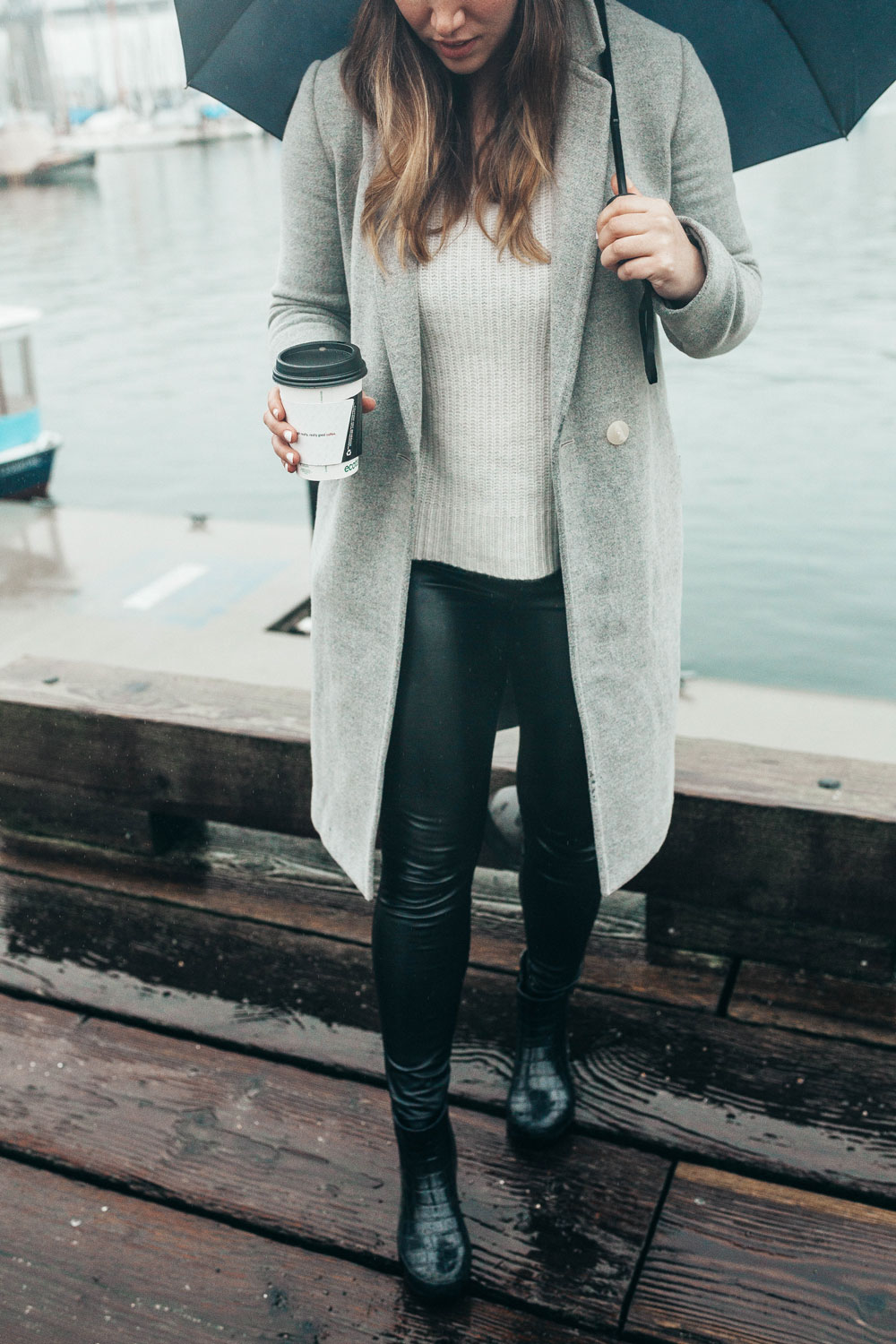 As for bottoms, wearing leather leggings is one of my favourite rainproof hacks. Denim is a great option for lighter rain days (and look great with higher boots), but on a particularly soggy day like this one was (PS why the lighting is inconsistent here, the camera was getting so wet!), getting wet marks all over your jeans is both super uncomfortable (what's worse than wet denim?!) and not the cutest look either. I'm obsessed with these leather leggings from Aritzia, but I'm also loving this moto pair from Express (that literally just went on sale today!) and I'm also a fan of waxed or coated denim for a wet day like these True Religion beauties.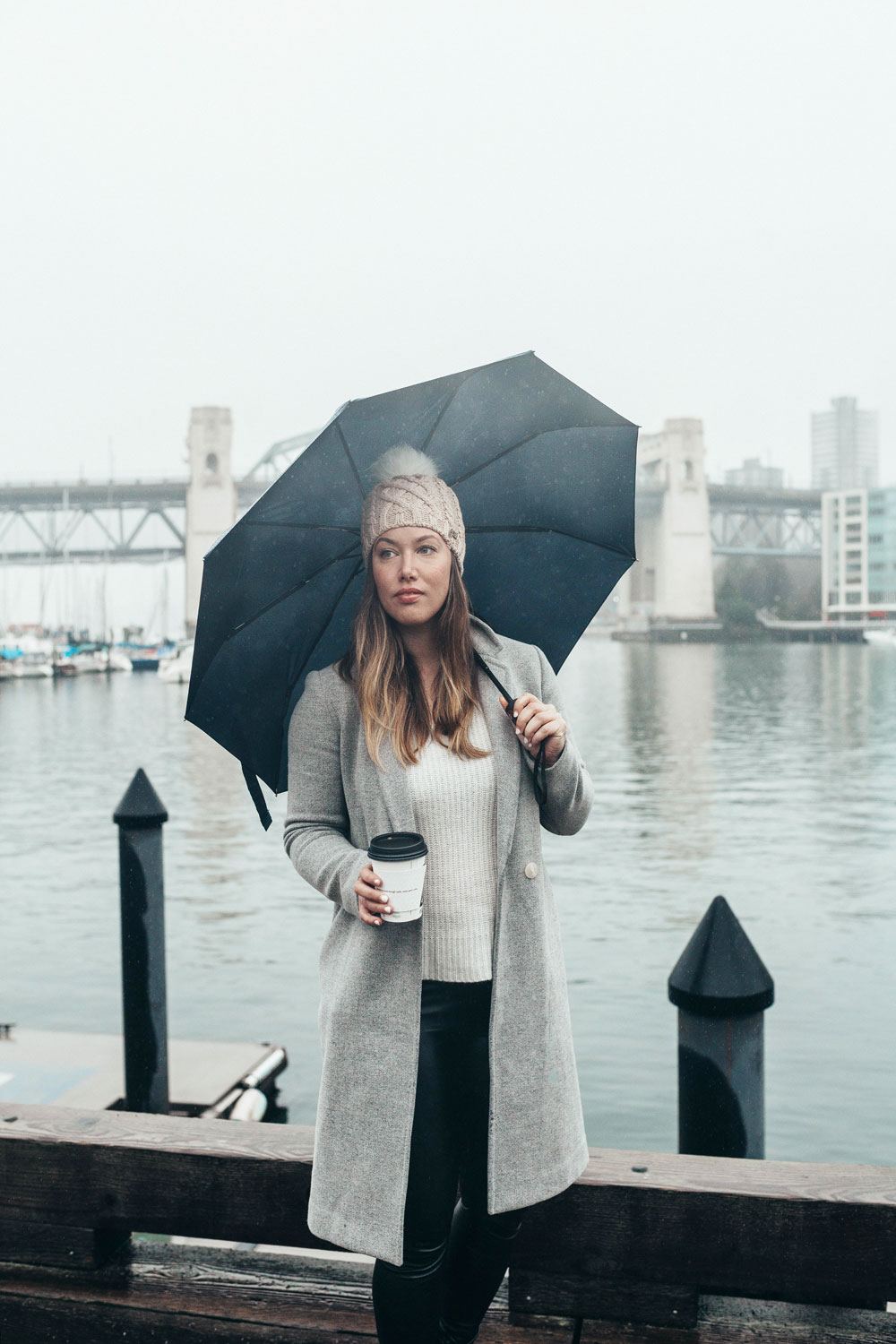 Moving on to tops, I like to layer a thin tank underneath for added warmth (Vancouver may be mild, but the damp cold we have and that other cities like Dublin, Portland and London really gets into your bone) and then like to opt for a fast-drying, natural fibre like cashmere. You guys are probably already well aware of my White + Warren fixation, and this stunning v-neck pullover from them has been one of my favourite pieces of the season, and is currently on sale!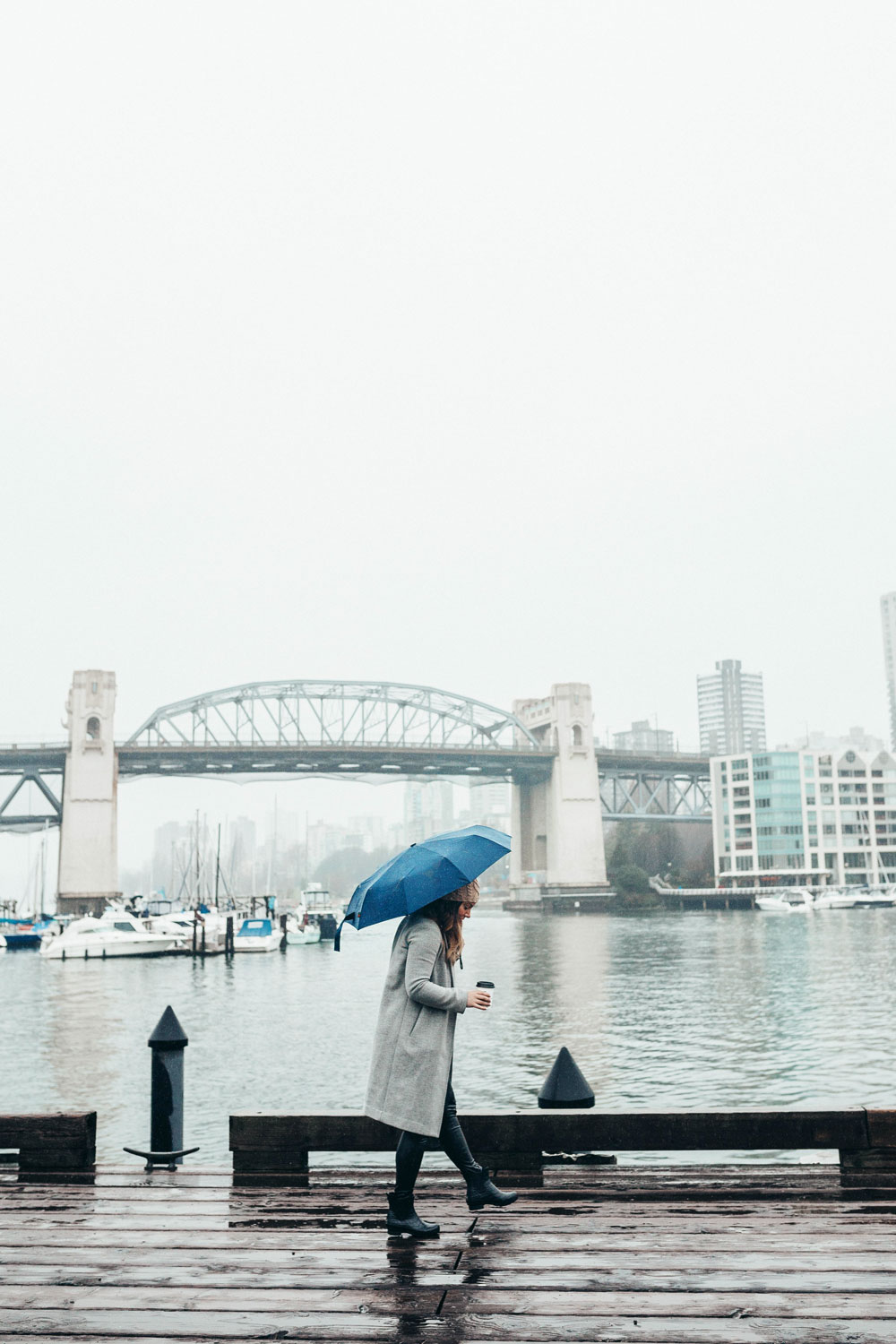 Rainy days aren't really the time for statement teddy or precious leather coats, and you don't want something too delicate that can get stained easily. For me, it's all about a really well-cut, wool coat that can dry off easily and that is streamlined enough to stay under the umbrella. This Aritzia grey wool coat (which is coincidentally on sale) I've had in rotation for the past couple years has been one of my fave pieces ever—the most classic and timeless cut! I'm also a big fan of something with a print so that if you do happen to get splattered, it doesn't show up obviously—this stunning plaid Horses Atelier coat is on major sale at The Bay and its wool fabric will hold up amazingly to the rain, plus obsessed with that stunning 20's cut! Just a note too that for more casual looks, I'm all about the straight up rain coat—this salmon pink one from Herschel is my fave and really helps liven up an otherwise dreary day, and is so easy to layer underneath for warmth too!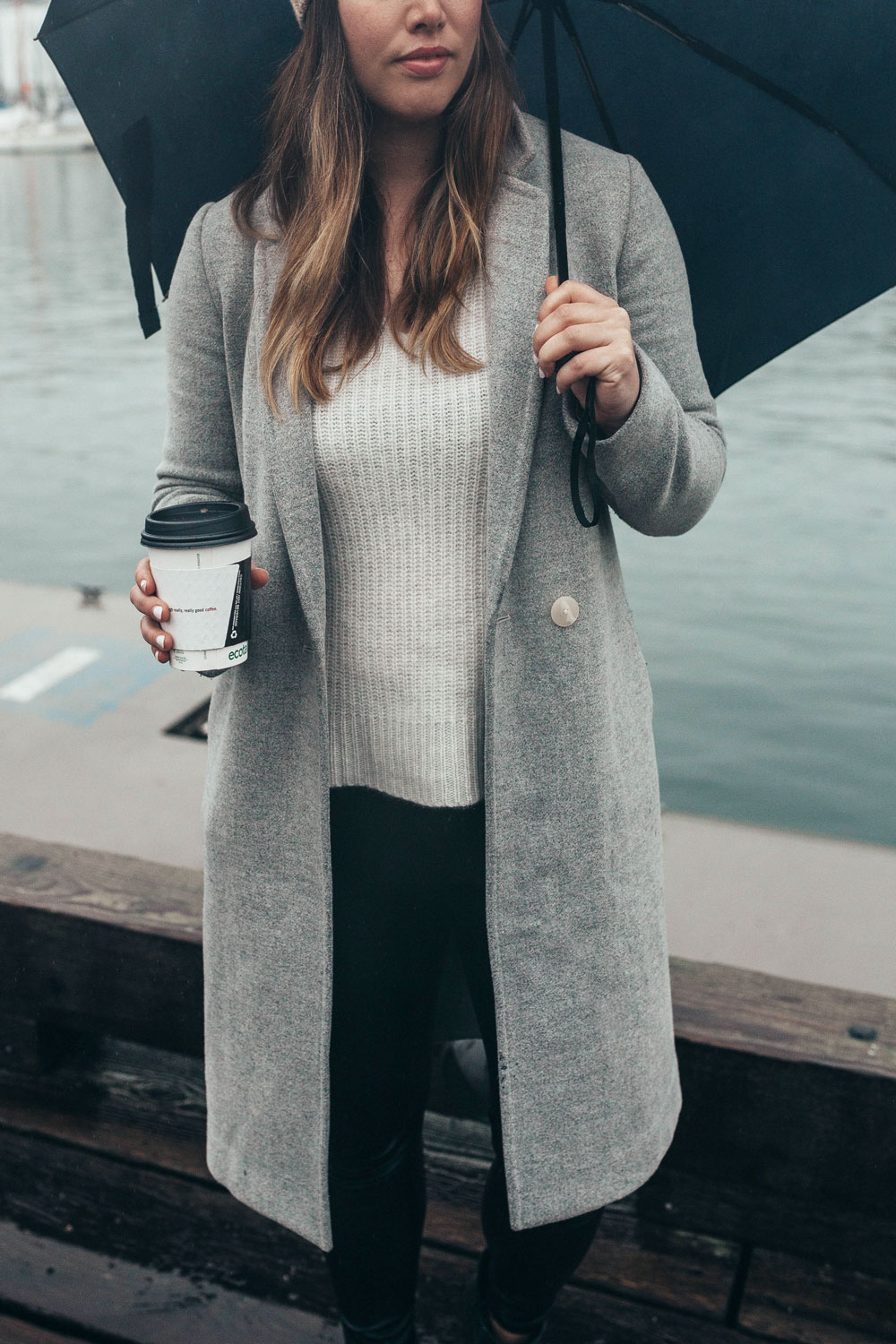 Finally, the head! I'm a big fan of a wide-brimmed hat for giving your hair some protection but during January when it's still really quite cold, I love opting for a toque instead. Matty got me this one as a stocking stuffer (love its warmer tone to break up a cool look and day!) but Herschel makes a lot of my favourite toques (or beanies, for my non-Canadian readers!).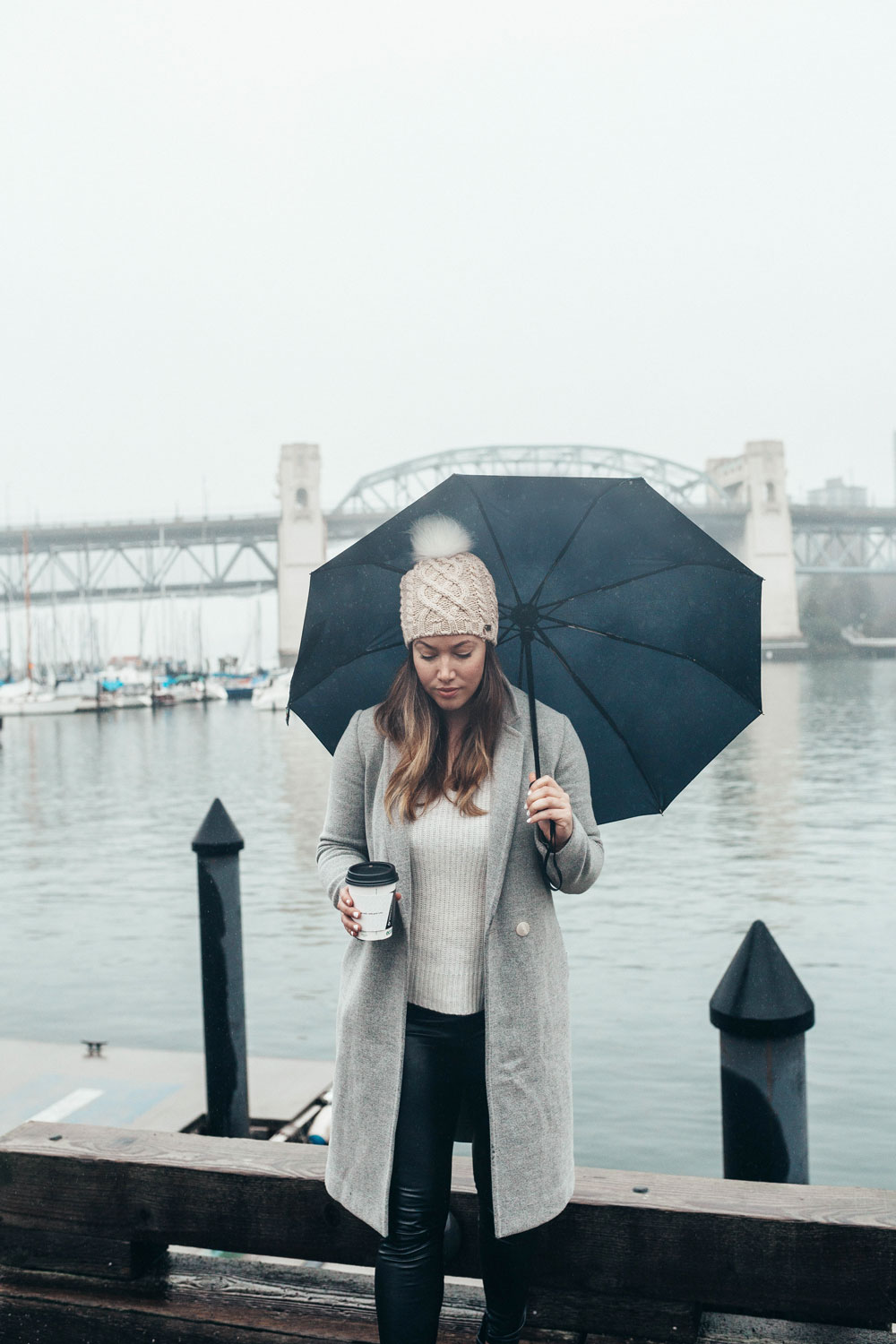 And actually, one more thing—the umbrella! I'm all about classics when it comes to brollies and blue umbrellas have always been my go-to—feel like I might as well blend in with all the wetness happening all around me! Again, Matty came through with a great stocking stuffer find, but I love this one for an affordable, under $20 option—if I went for a fun umbrella though, I'd be all over this clear birdcage beauty!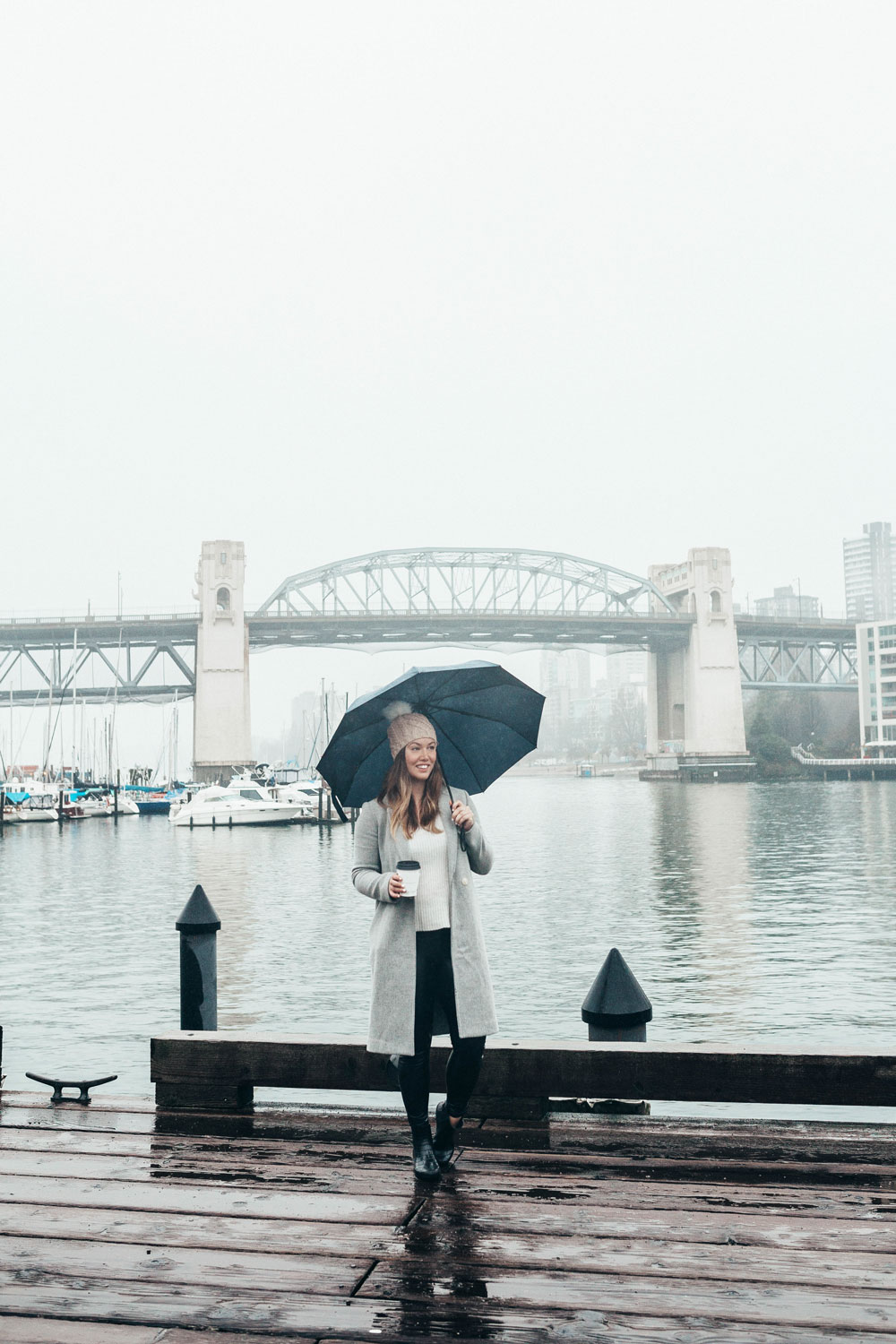 Whether you're a Vancouver local, live in a similarly wet place or are visiting the city any time soon (really, we get pretty consistent rain right up until June, though we fortunately get enough sun too to not make it too depressing), make sure you keep this post referenced so that you don't find yourself wet, uncomfortable and cold! Literally nothing worse, and I've gone through my fair share of it living here! Nothing a couple quick rainy day hacks and a heat blanket can't fix!
Photos by Alicia Fashionista