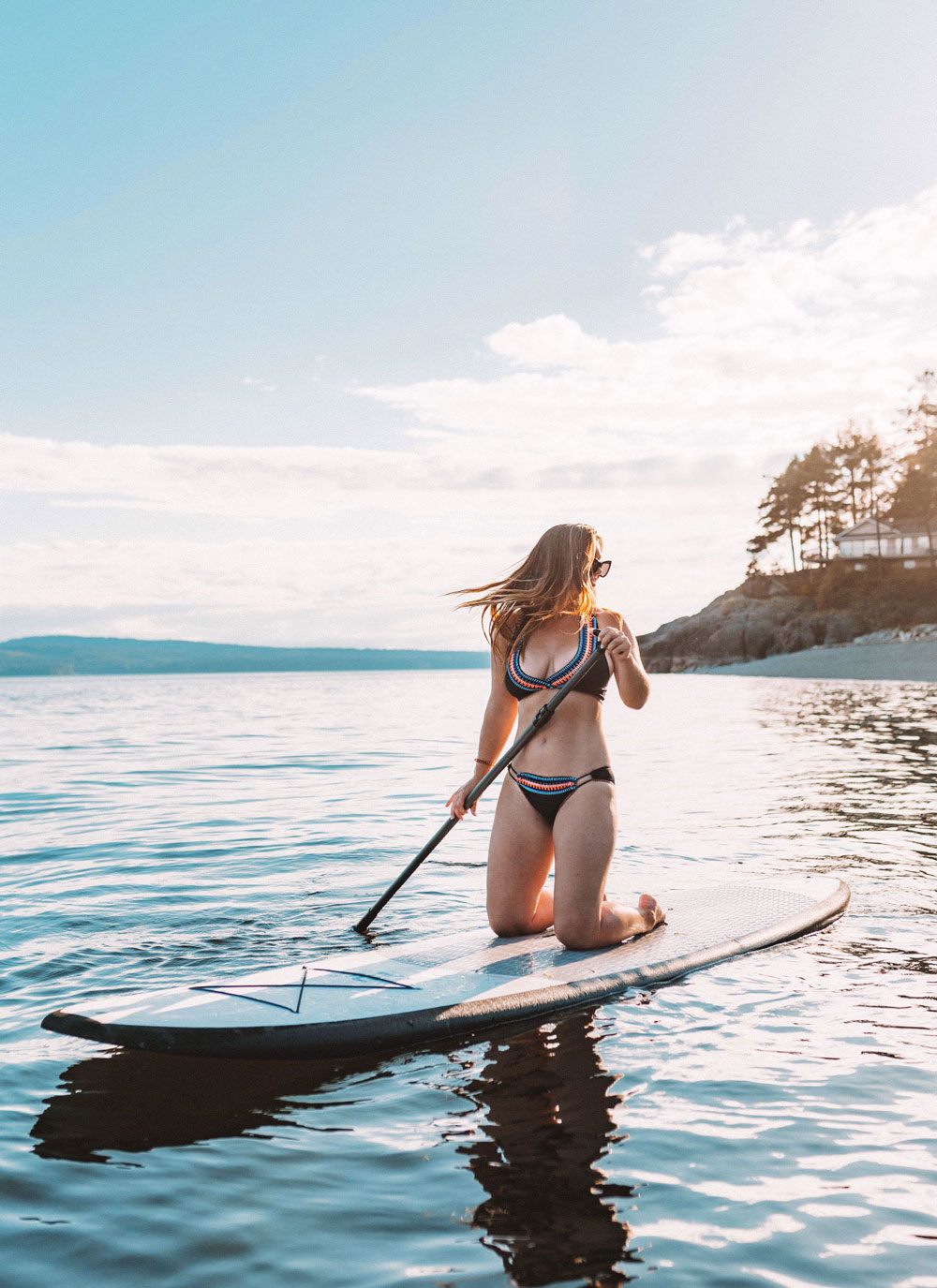 After sharing my fave one-pieces for busty girls, I wanted to share the other factor I often hunt for when I'm getting suits: can I jump off a boat, hit the paddle board or go swimming in it? In other words, is it something I can get active in? I'm rounding up my 7 fave suits along with some of my fave selects for each one (and they all happen to be from Nordstrom's Half-Yearly Sale, so majorly, majorly on sale – this isn't sponsored PS, it's just an amazing sale I want to share!) so that you can have more fun in the sun this summer.
1. The Classic One-Piece
I grew up swimming competitively and still hit the pool all the time so this is a silhouette I'm very comfortable in – I still have a collection of like 10 Speedos I used to wear racing or that I do laps in! I love these two updated, more chic takes on the classic racing suit, this one by Sweaty Betty and this one by Hurley (who are both two brands I trust for active water sports too!).
2. The Cut Out
Still offering all the support of the classic (and most importantly, keeping all your bits in if you're jumping in the water, surfing or hitting the SUP) but with some sexier detailing, I love cut outs and they're actually extremely flattering too – the hourglass silhouette created by this L-Space (one of my fave brands!) one-piece and the one shoulder, one-sided cut out of this BCA suit (which would be an awesome option for small to medium chest sizes) are seriously stunning!
3. Punchy Details
It can get easy to get caught up looking only for classics (though I mean, I'm all about the classics – both the options above will get worn on repeat!) but it's fun to have something that has a bit more detail, colour or print. I am obsessed this Rhythm one-piecewith which has the silhouette of a classic suit but an amazing stripe print in the most summery colour way ever. Also loving the magenta hue of this Profile by Gottex suit, which similarly fuses a more classic silhouette with a more punchy tone.
4. Paneling
One easy way to elevate an otherwise more simple bikini or one-piece is with two-tone paneling – it means you can get away with a very basic cut but have a ton more visual interest. I love the super supportive design of this Sweaty Betty bikini (here's the top, here's the bottom) and how it's elevated style-wise with tonal paneling. You could literally do laps in it! I also am obsessed with this chic and minimalist bikini by Rip Curl (yet another brand I trust for active living) – the top's here and the bottom's here.
5. Retro
I don't know if it's because I have such a fondness for my racing suits or if they're just universally flattering, but I find retro suits look good on everyone, and most of them are in that similar simple one-piece cut that I'm so familiar with. I love Body Glove's throwback neon suits – I saw a girl at the beach yesterday in this and it looked so cute! Also loved how she was running around carefree in the water – definitely an active suit! I also love the scoop cut and quote on this Rhythm suit in the cutest shade of orange. This Tory Burch gingham suit in red is also an amazing retro pick and it's surprisingly supportive!
6. Minimalist Bikinis
I'm actually more of a bikini girl than a one-piece type, so I always seek out really great basic bikinis that I can run around in but that keep my chest in place. Hurley yet again is coming in with the wins – their black quick dry bikini (meant for surfing!) is really the only bikini you need if you're going to be playing in the water this summer – find the top here and the bottom here. This Seafolly bikini also offers a bit more coverage if you're more of a fan of higher waisted bottoms! Find the top here and bottom here.
7. Reversible
I feel like if you're kind of on the fence about really investing in an active-oriented suit if you're newer to paddling, swimming, etc, then opting for a reversible one will give you more bang for your buck! This Maaji bikini comes in the most beautiful shade of mauve but the reverse side is an amazing print – it's also a perfect cut for playing in the water while also being super cute for any occasion really too. Here's the top and here's the bottom!
These are all going fast so make sure you nab them as soon as you can! I have everything shoppable below in a widget in the order they were mentioned.
Also, the suit I'm wearing here is LACE.ca's Mapalé Ride the Wave bikini. You can't get separate sizing for tops and bottoms but I actually opted for the M in this one and it was surprisingly fine for my chest! For those who are newer to the site, for reference I'm a 30F and usually wear the biggest size possible on top (unless it doesn't have a tie closure that I can adjust around my rib cage, than I size down) and a S or M on bottoms. Really really happy with the sizing and fit of this suit though and was perfect for last weekend at the cabin when I paddle boarded, jumped in and out of the ocean and lounge on the raft!