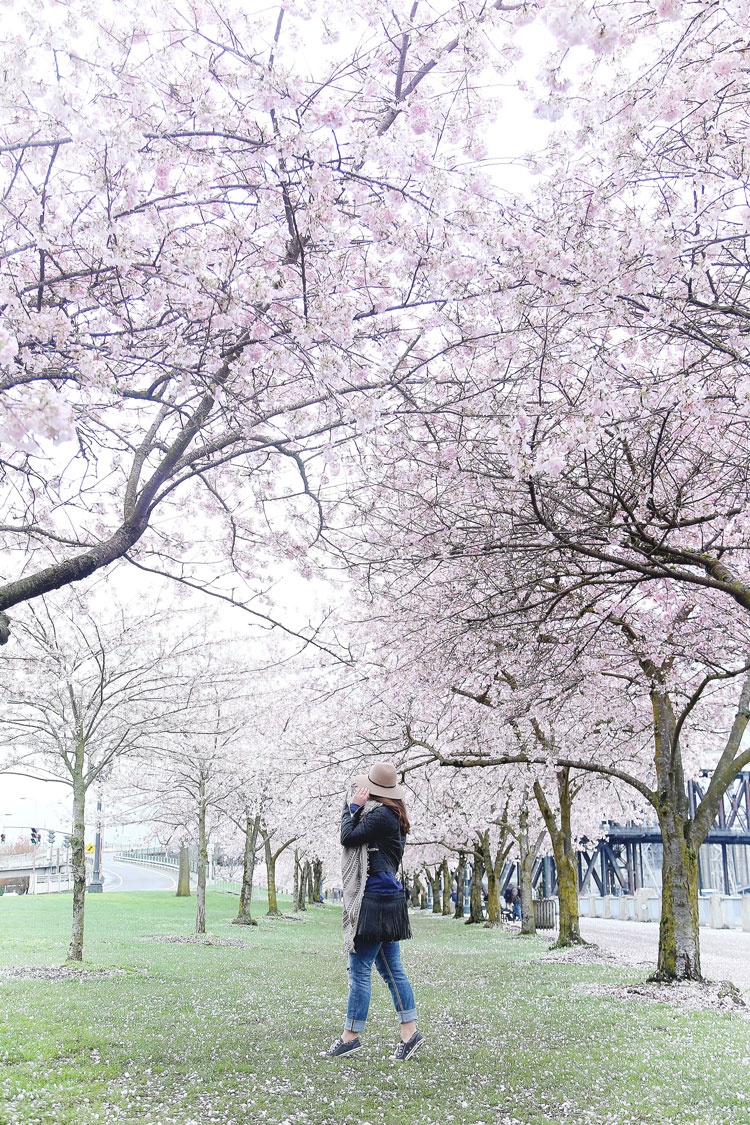 I've been to Portland only twice but it's quickly become one of my favourite places to get away for a quick weekend. Living in Vancouver, we're pretty spoiled with beauty all around us in our province, but every now and then making the drive across the border (or the train ride, as we did with Amtrak!) is a worthy reminder that there's so much to explore, see and do by visiting our neighbours to the south. While Seattle's a bit closer, I'm particularly fond of Portland, especially after our second trip. It's a proudly quirky place that values the things I tend to value the most too (pizza, music, books, beer). So needless to say, I was ecstatic to tour it with Travel Portland earlier this year! Read on to get all my tips!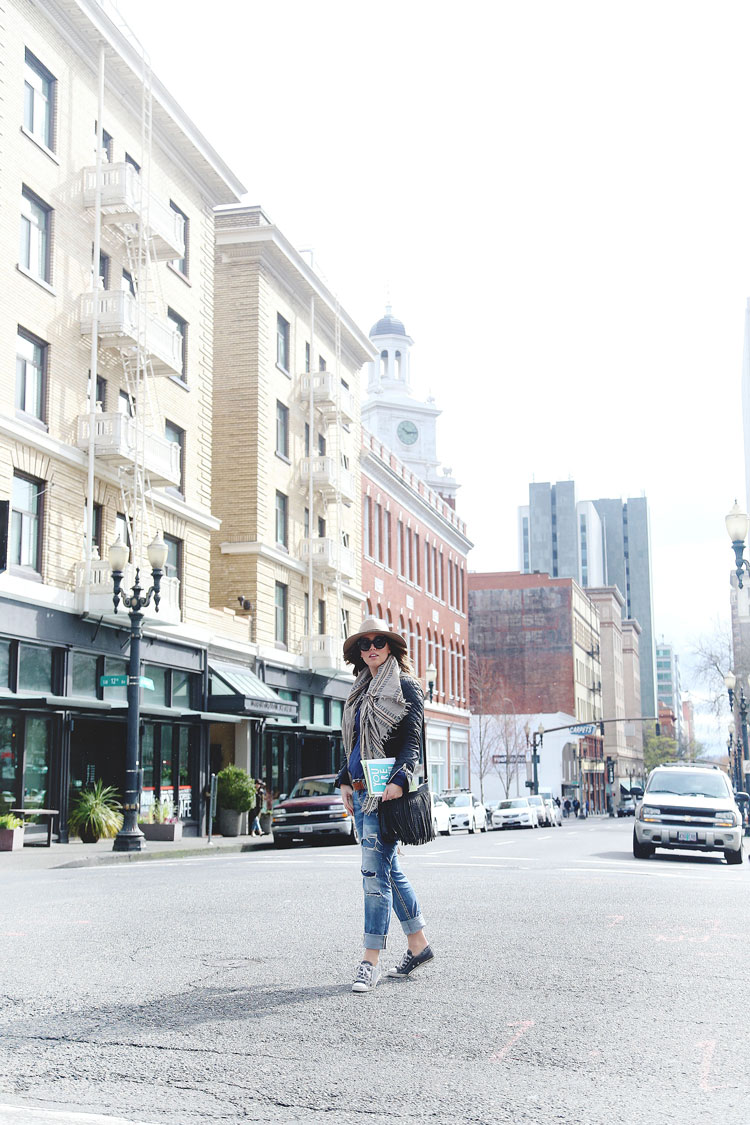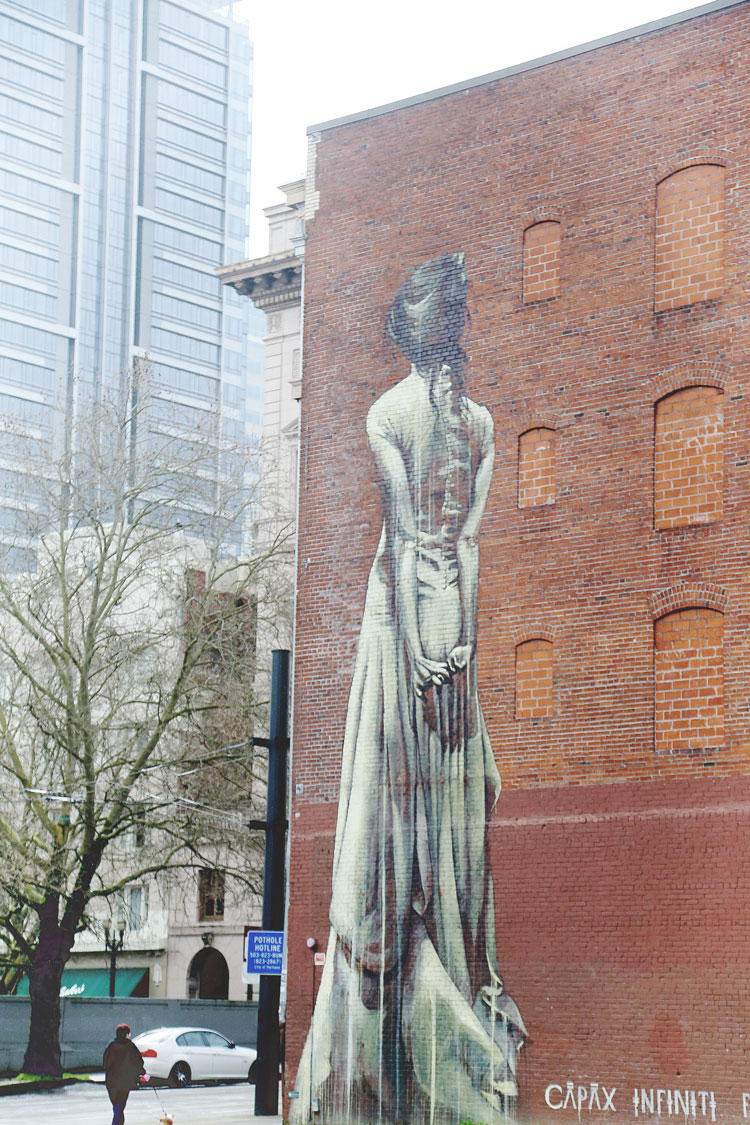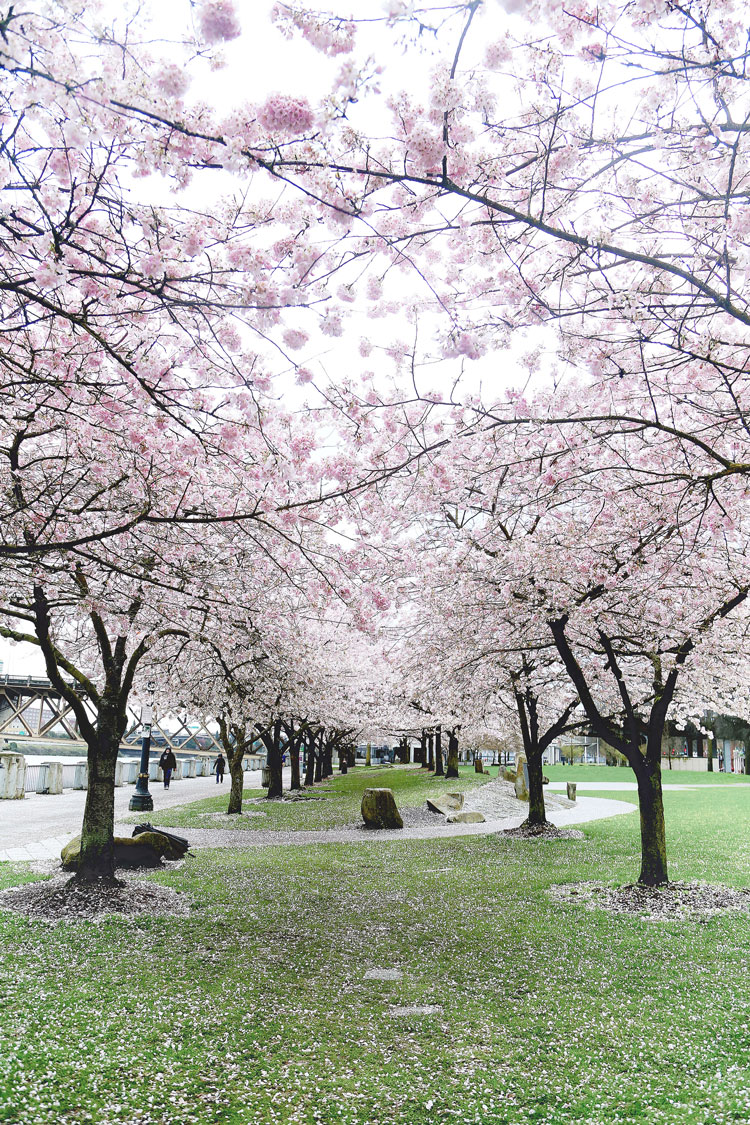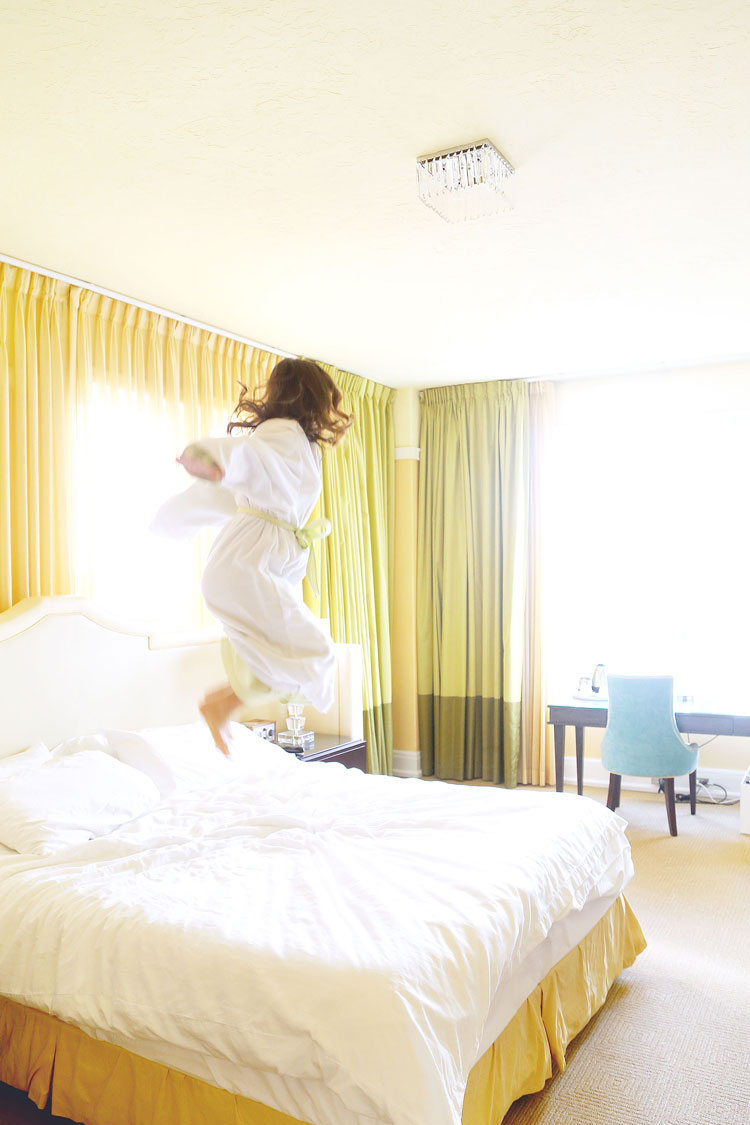 Where to stay
We had the loveliest stay at Hotel DeLuxe while we were there – love the cinematic theme throughout the whole hotel, from the breathtaking lobby to our beautiful room! We felt so well taken care of and at home right off the bat, and it also helps that while Portland's an extremely walkable city, we were really super close to everything on the West side of the river. Could not recommend it enough!
I've also stayed at The Nines and had a great experience there too, and have heard amazing things about Ace Hotel! From what I saw from the Stumpdown tucked below, it's a beautiful space.
What to do
If you manage to go in the spring, you have to head on down to the Tom McCall Waterfront Park for the cherry blossom festival there. It's such an unreal sight and your Instagram feed will thank you. If you're there another time of the year though, there's still so much to do! We were there in the summer once for the Rose Festival which was so much fun.
Speaking of roses, you'll want to go to Ladd's Addition. It's such a beautiful little area (there were a ton of roses when we were there, no shortage of beauty for the floral obsessed in Portland!) and it has some cool history as the first planned residential addition in Oregon.
You'll want to hopefully see a show when you're in Portland – there are tons of great venues and the city has a real tradition of producing some amazing musicians and of being a go-to spot for live music. The Guardian actually has a great round-up of live venues you might want to check out before you roll into the city to see who's playing and where!
Moving on – you'll want to rent a bike at some point because the city's very proud of its bike-friendly status (something I really appreciate as someone who commutes by bike!) and it's especially useful when you're crossing the river. While exploring one side by foot is definitely doable, it's a lot to fit in if you try to cross over both sides and see both east and west well. You can get more biking resources from Travel Portland here!
Powell's Books – you don't have to spend forever here but please do go and at least check it out! It's an institution and well worth the visit. Once you're on the east side (more on that in a moment, I actually have a whole tour planned for you guys!) you need to stop by Mother Foucault's Bookshop. This is definitely my version of a happy place – crammed with books, cozy nooks and friendly people. I forced Matt to pick up an old Steinbeck for me here (my fave!) and it's a really lovely reminder of this special spot.
Also, there are a ton of food markets happening at any given time of the week. There's a great farmer's market near the university (though times change so make sure you check ahead of time) and of course, the food truck square on the west side is well worth a visit!
Where to caffeinate
Obviously, Stumptown is the coffeeshop most people think of when they think Portland. It is definitely amazing and worth the visit! But there is so, so, so much incredible coffee in Portland! As a caffeine addict, it was literally heaven.
Courier Coffee was a favourite and their pour-over was a serious highlight. It's also conveniently located right next to Sizzle Pie and Powell's Books!
Our absolute favourite though was Upper Left Roasters – its clean, stylish interior reminded me a bit of Vancouver joints actually but the coffee and homemade sourdough with jam really blew us away. Also helps that it was right near Ladd's Addition – grab a coffee then meander down to get some lovely floral shots!
Where to get 'za (and other food too)
So Sizzle Pie is an institution and with good reason – so good! We also loved Hotlips (their house made soda is unreal!) and Pream. This Travel Portland zine has a great listing of more places!
We were obsessed with Blue Star Donuts, though Voodoo obviously is a must too. The former is more artisanal, the latter campy, so you can feel safe knowing you had to do both for the sake of research.
Now a word about Santeria – I went with my besties on our first trip on the recommendation of our hotel so dragged Matt there again on our actual 8-year anniversary, remembering how great the food and cocktails were. We experienced the same amazing food and drink all over again, but also got a chance to chat with the owner who is honestly the nicest guy. He ended up taking care of everything for us because we mentioned we were visiting Portland for our anniversary and then I forcibly hugged him as we were leaving. He was just such a heartfelt guy and I loved the vibe of the space. It's got that hole-in-the-wall quality that I feel many authentically great places often have (there's a strip club you can access through the back way as an example, slash bonus if you're into taking in Portland's very robust strip club scene!) and lots of heart. You have to visit! I totally forget the owner's name because I have short term memory issues but if you see him tell him I say hi.
We also had an unreal culinary experience at Andina, a kind of new Peruvian fusion space that was absolutely bopping (would really recommend making a reso).
As for brunch, we loved Tasty n Alder! Really good, homey food and atmosphere.
Brewery Crawl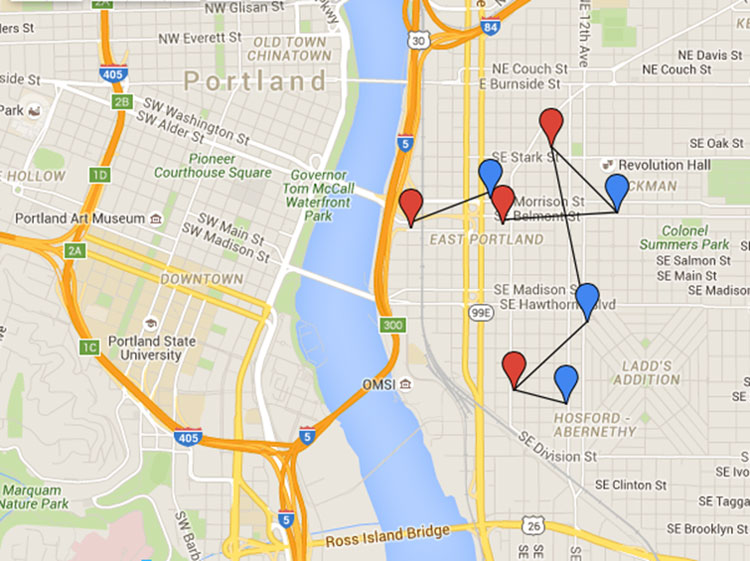 Now you've probably been wondering about Portland's famous beer. Well, I've got you covered! Matt and I are both beer lovers and while we were staying on the west side (where most hotels are), the east side seemed more like our jam as far as the scene, food and breweries stationed there. So I've made a Portland brewery crawl map you can follow along with over here (or click the image above), with all stops listed below! You'll notice we have little breaks in between each brewery – important otherwise you wouldn't get through all of it! So put on some good walking shoes and go exploring!
Breweries (red)
Pit Stops (blue)
Mother Foucault's Bookshop mentioned earlier – definitely worth a stop!
MILK MILK LEMONADE – Matt wouldn't stop singing the song on the way up (because of my French upbringing, I wasn't aware of this lovely childhood song about bodily functions and I'm bummed I was cheated of it). Despite the quirky name, the space is pure style. You'll want to blow some money here (so maybe pace yourself at the two breweries earlier as it can become a slippery slope spending-wise here otherwise), but I'd really suggest picking up some of their house made OLO fragrances. I got a little tube and wear it often – always brings me back to this day!
Upper Left Roasters – because you're three breweries in and you'll likely need some caffeine to make it through the last leg!
Pream  – while you definitely should be grabbing food at all of these amazing breweries along the way, definitely worth stopping by here for a proper dinner (or lunch if you started early, and if that's the case then I like your style). If you manage to make it before the sun sets, enjoy the patio outside!
Again, anything else you need to plan your trip to Portland can be found on Travel Portland's site. They did such a great job of sourcing everything you might need and I especially loved using the zines to pull together my whole trip!
In the spirit of Portland, keep things weird today friends! And if you need to bookmark this, I have a pin below you can add to your travel board. Now get planning your next trip!