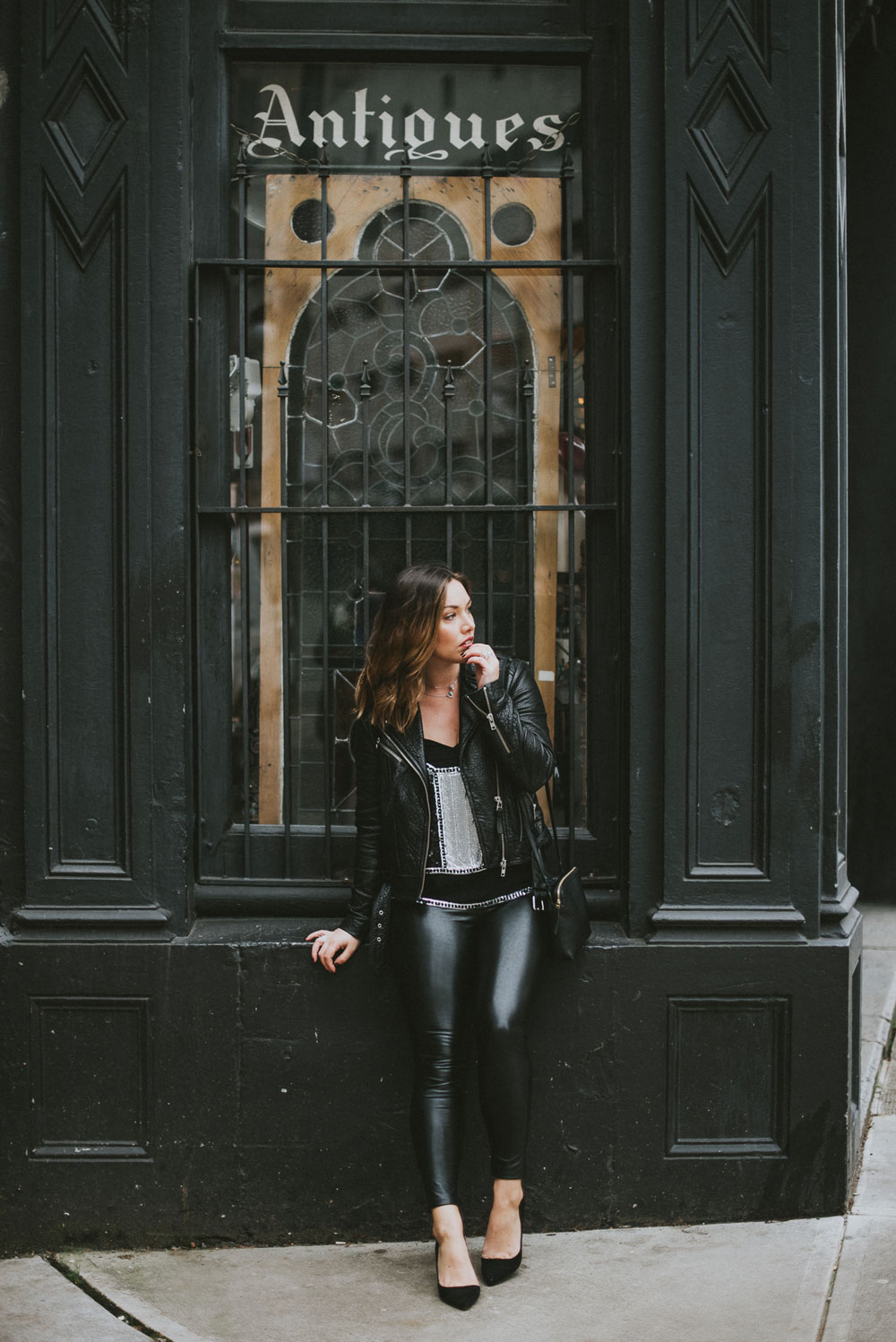 Hello hello! Sorry for the slight radio silence there but after a serious end-of-year hustle leading up to Christmas, I decided to take some time off with my family this week, going from their place in the North Shore to the cabin and trying to disconnect a touch. A lot of people talk about getting post-Christmas blues but as much as I love the big 2-5, I've always been someone who's drawn to new beginnings, new starts and a chance to map out dreams on a clean slate. Whether it's the new year or my birthday, a new season or even a new week, those around me know that I seriously jump at the chance to look to the future and dream big. There will be so much more about that tomorrow (including what I hope will be a seriously helpful tool for you guys to make 2017 your best year yet, you can subscribe to get it here!) but today, I wanted to talk about the last day of the year. That's right…New Year's Eve!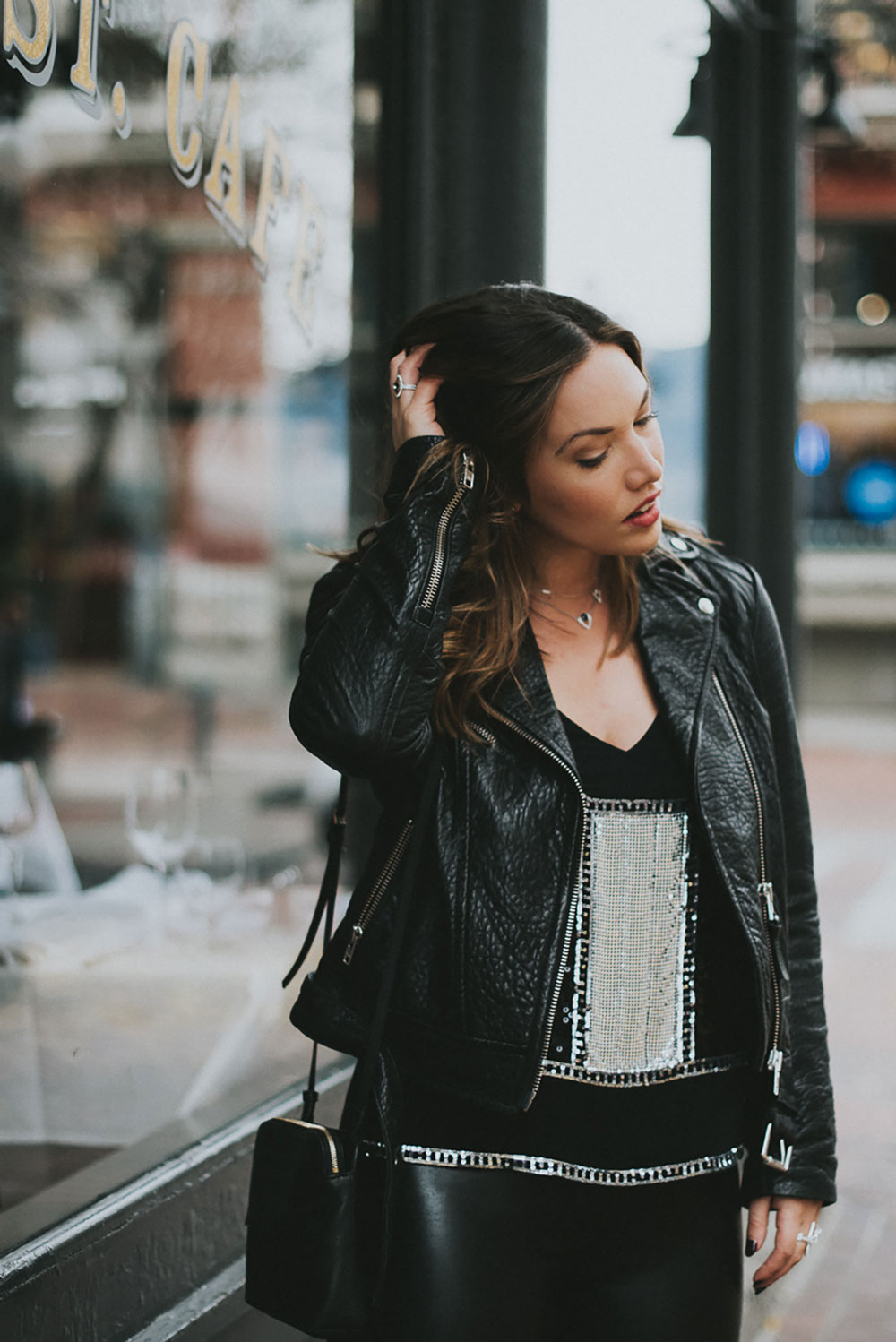 I recently stumbled upon the incredibly lovely and talented Sara Rogers on Instagram and instantly fell in love with her brand of moody yet elegant photography – I shot her a tentative message and crossed my fingers that she'd take me up on my offer to collab, and luckily, she did! We got together one overcast day to capture 3 ways to rock party style with an edge, and the full feature is now live on The Everygirl (though naturally, I'm sharing the extra snaps and tips here!).
Sequins Made Cool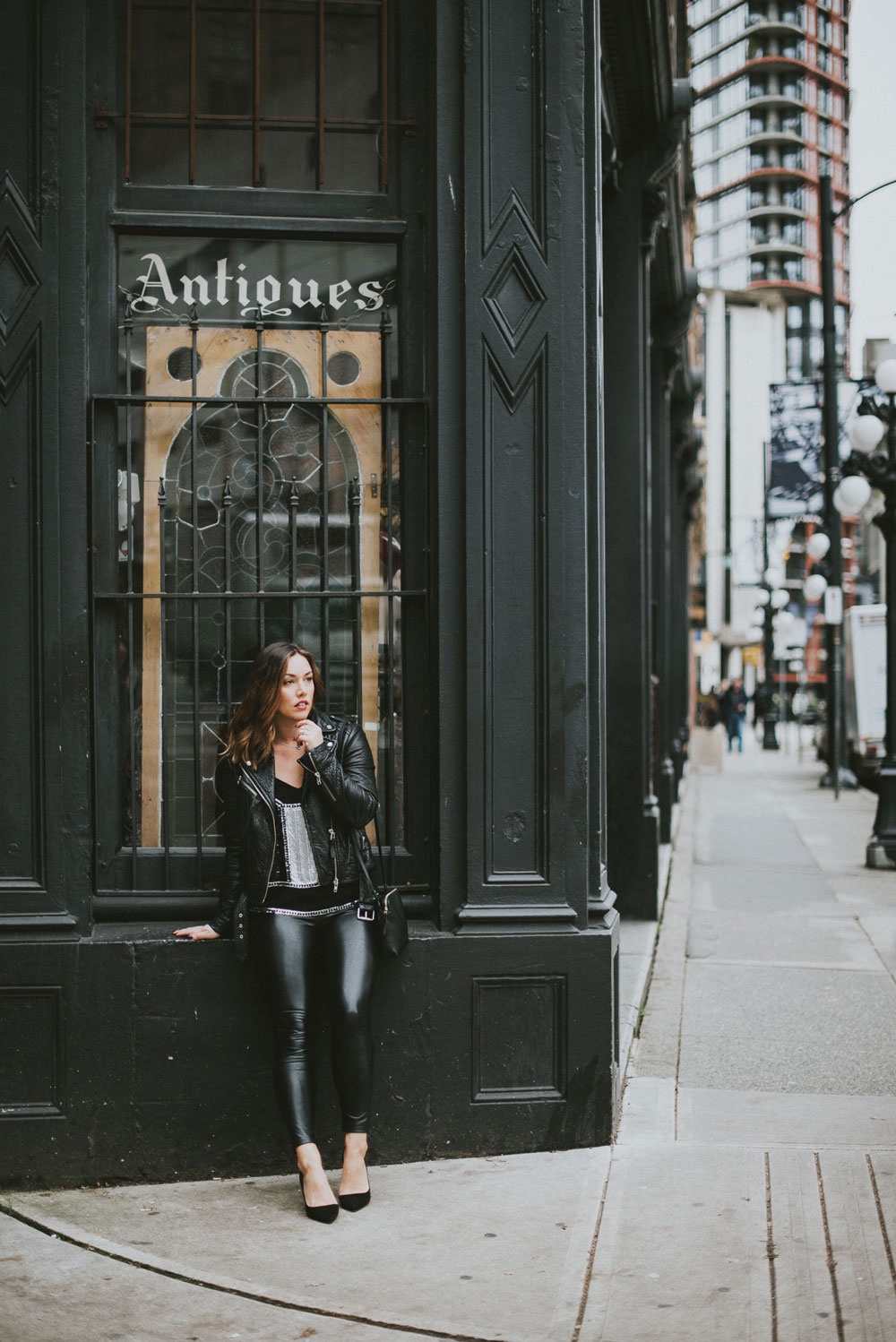 Now as some of you might know, my biggest source of inspiration is music, and most specifically the punk and glam rock scenes of the '70s (think T. Rex [my all-time fave], Velvet Underground, The Clash and so much more!). While my classic, stripped-down day-to-day looks are more basic (just how I like them!), I love that party dressing is a chance to really put this passion on full display. I've done the sequin dress thing a ton in the past (and even worn the same one three ways, here, here and here!) so why not do something different with this holiday staple?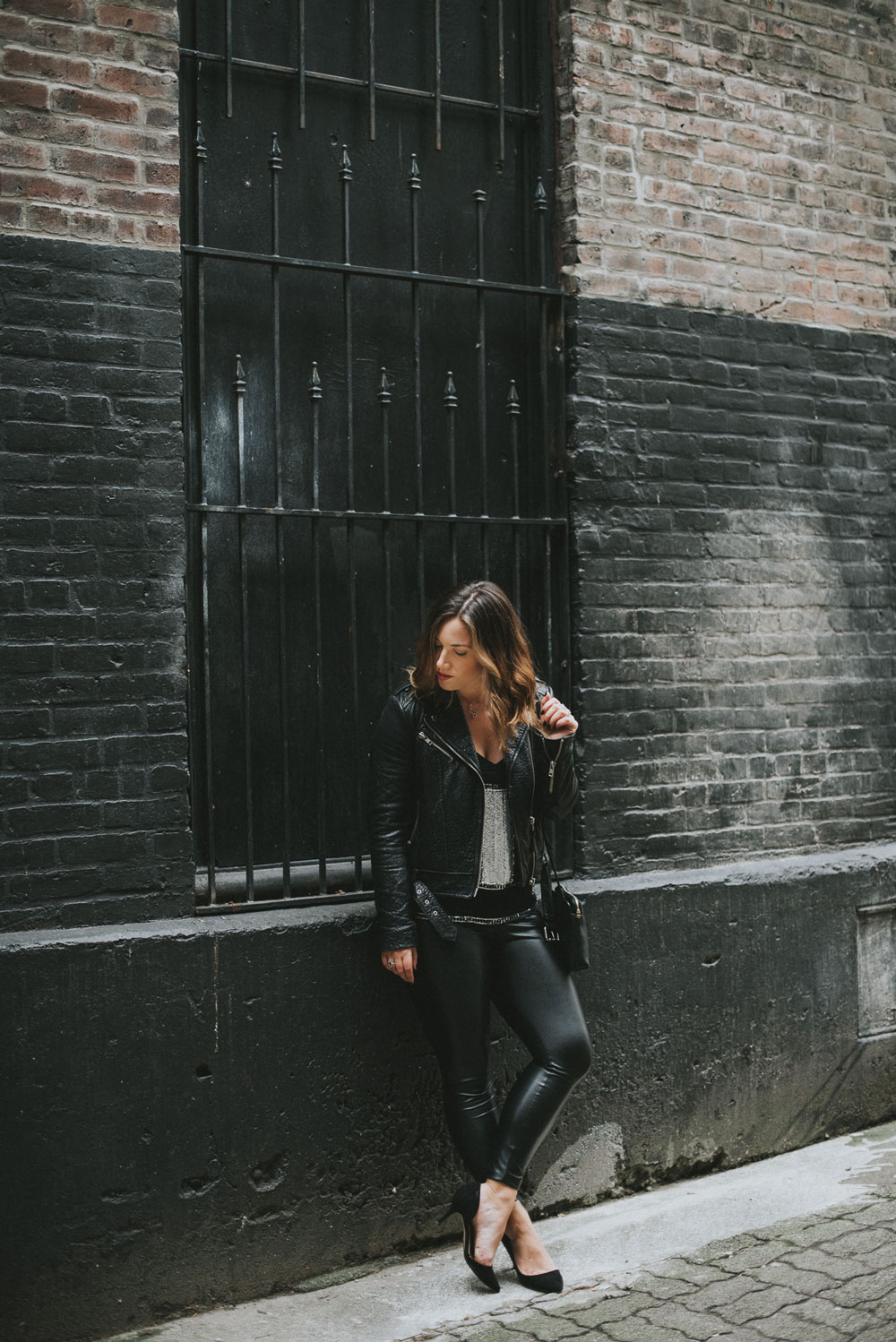 Cue in leather – lots of it! These Aritzia leather leggings have been worn on repeat (here's another vegan option), and while leather-on-leather could be overkill, with an all-black look with just a hint of sparkle, topping this all with my beloved Mackage leather moto jacket totally works.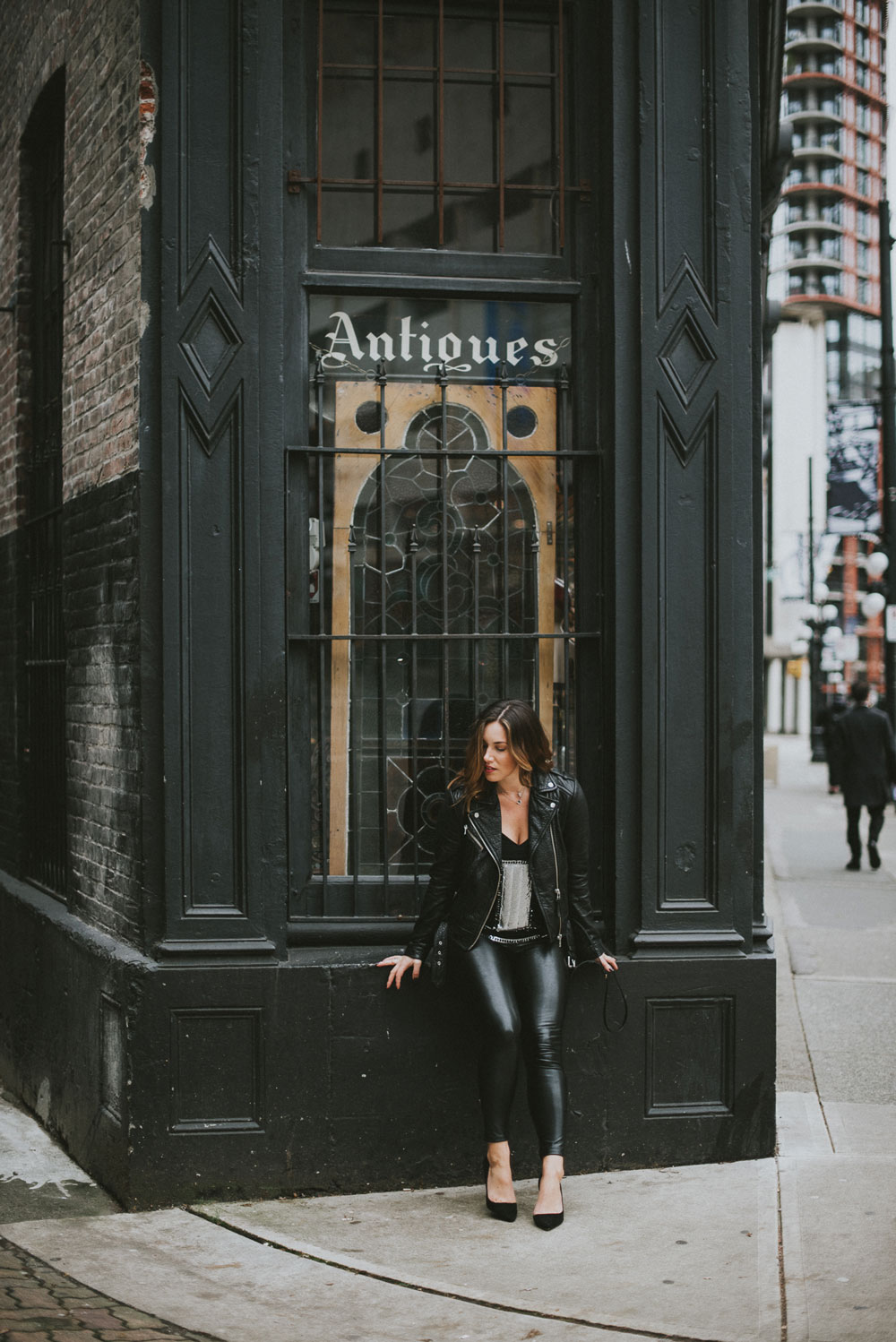 Simple black accessories and some stackable silver jewelry to tie in the sequin camisole (which is from Express on sale here!) and I'm ready to rock a more casual NYE look, or even one that's slightly more dressy – I know the old adage is that it's better to be over than underdressed but I like to take a page out of the French girl playbook and say it all comes down to your confidence and attitude. Feel like you're killing it in this look? Wear it to whatever the shindig is – it'll be a breath of fresh air and you'll feel your best!
Texture Play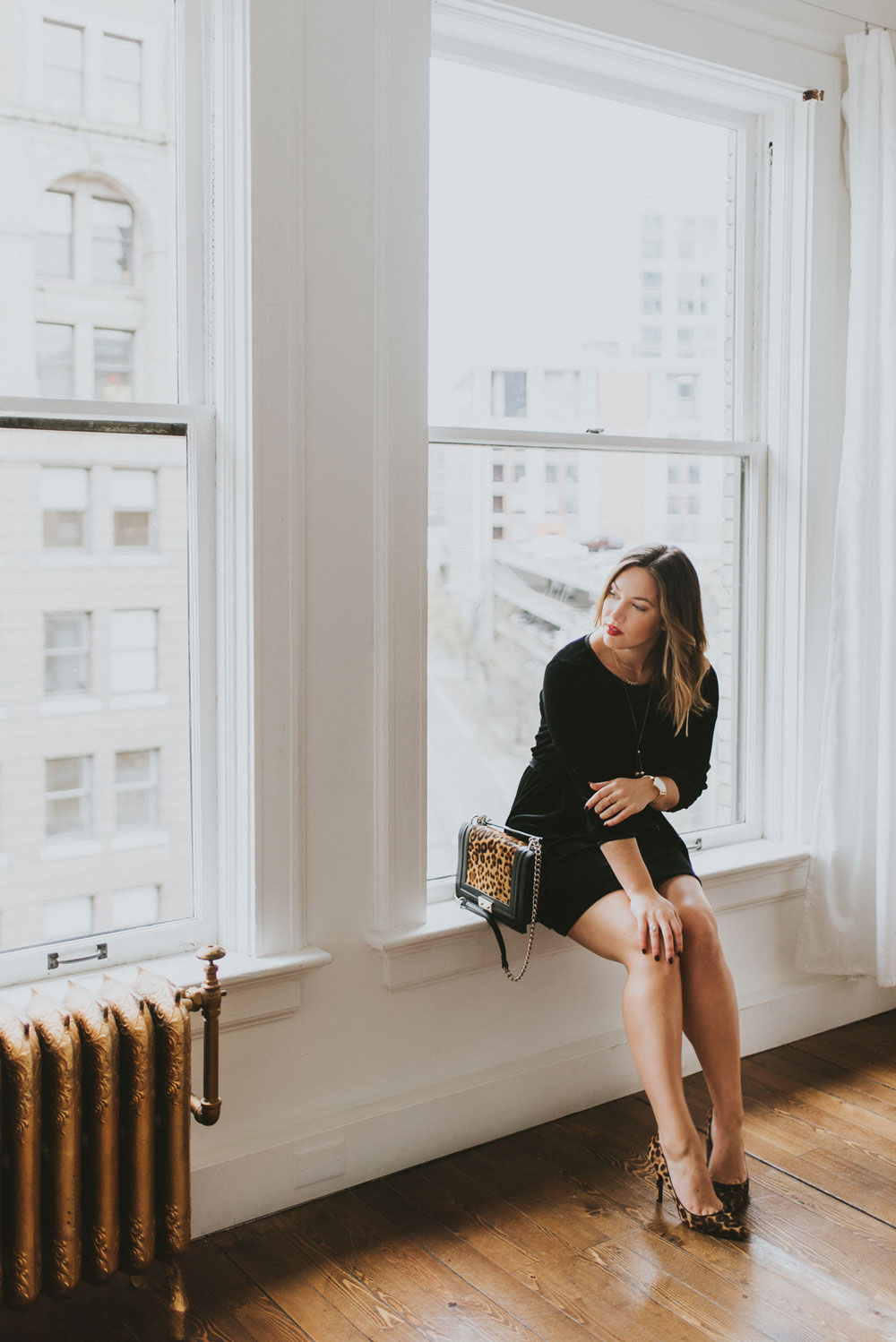 It's easy to go for the more obvious NYE stand-by's: flashy metallics, glittering sequins, etc. But what about the more understated yet equally (if not more) luxe textures, prints and finishes? This Joe Fresh velvet dress is less than twenty dollars and what I love most about this look is that the dress has already been worn a gazillion times – it's so easy to dress up with heels and a clutch for a more glam affair, but with tights, boots and a big wool overcoat thrown over top (this beauty's on sale!), it's a perfect daytime piece too.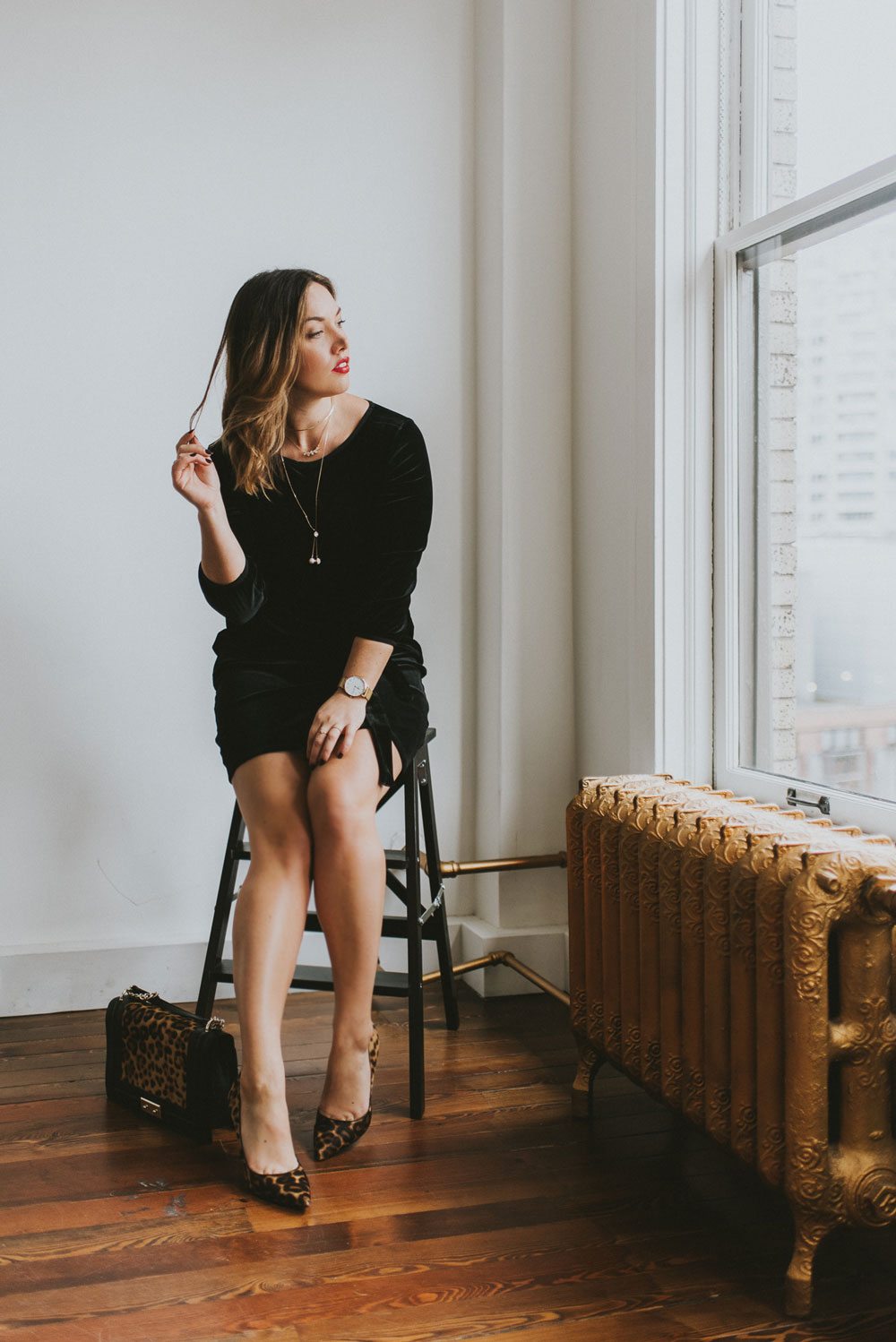 Especially with NYE, it's more instinctive to reach for sequin or metallic accessories, but I love playing with the texture of the velvet dress and opting for a more discretely sexy texture play with animal print on its standard pony hair material. I'm such an old movie buff and this reminds me of the elegant pairings in '40s and '50s films – focus more on the femme glam of a red lip or a slightly smokey eye (see my girl Jill's latest tutorial on Insta, she nails it!) and you've got a seriously killer look that's more sensual than flash!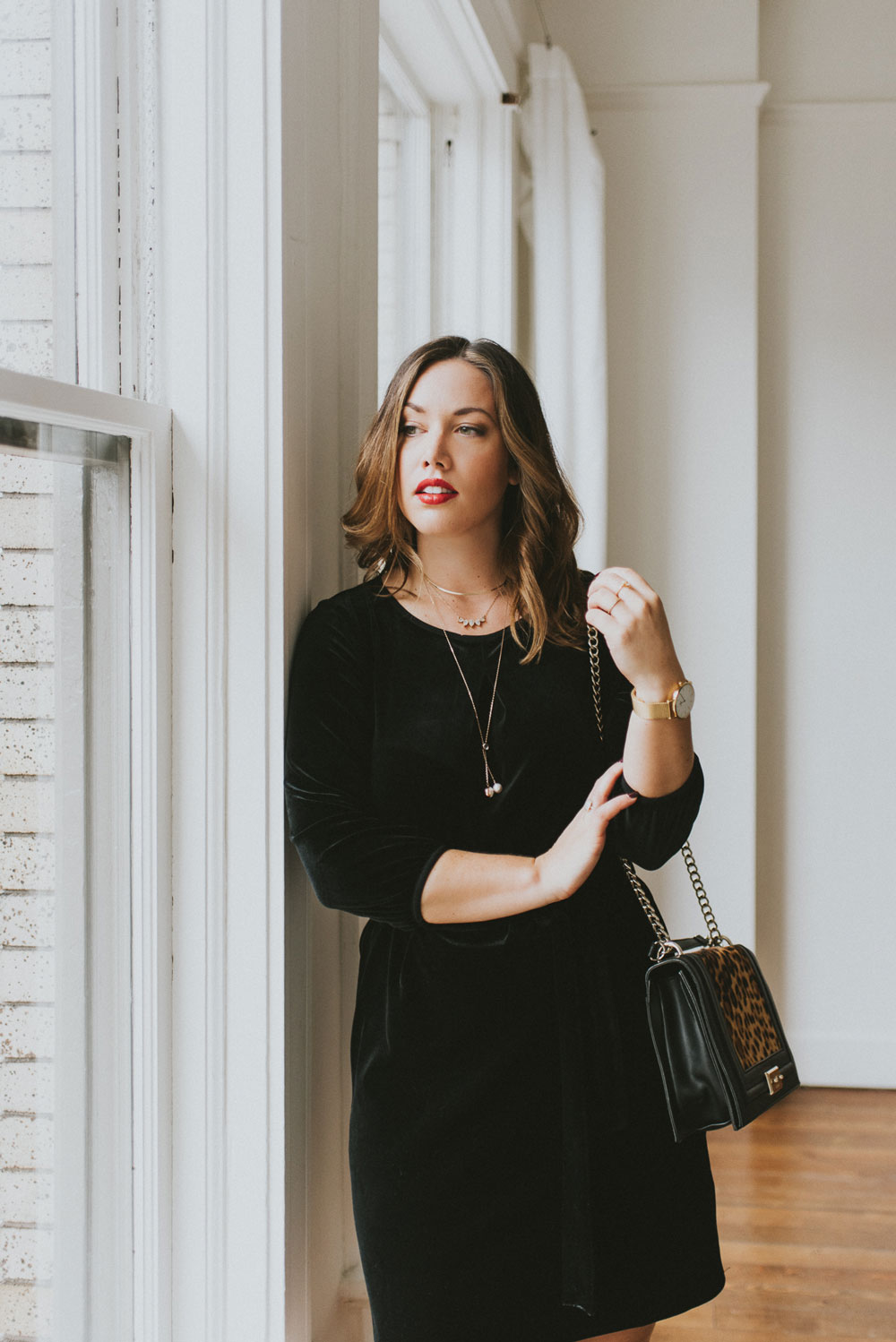 Especially if your accessories have gold details (like my handbag does), then bring in more of the gold with stacked and layered baubles – go for gold with this CLUSE watch, my Leah Alexandra necklace and choker and this longer Swarovski beauty!
Make a Statement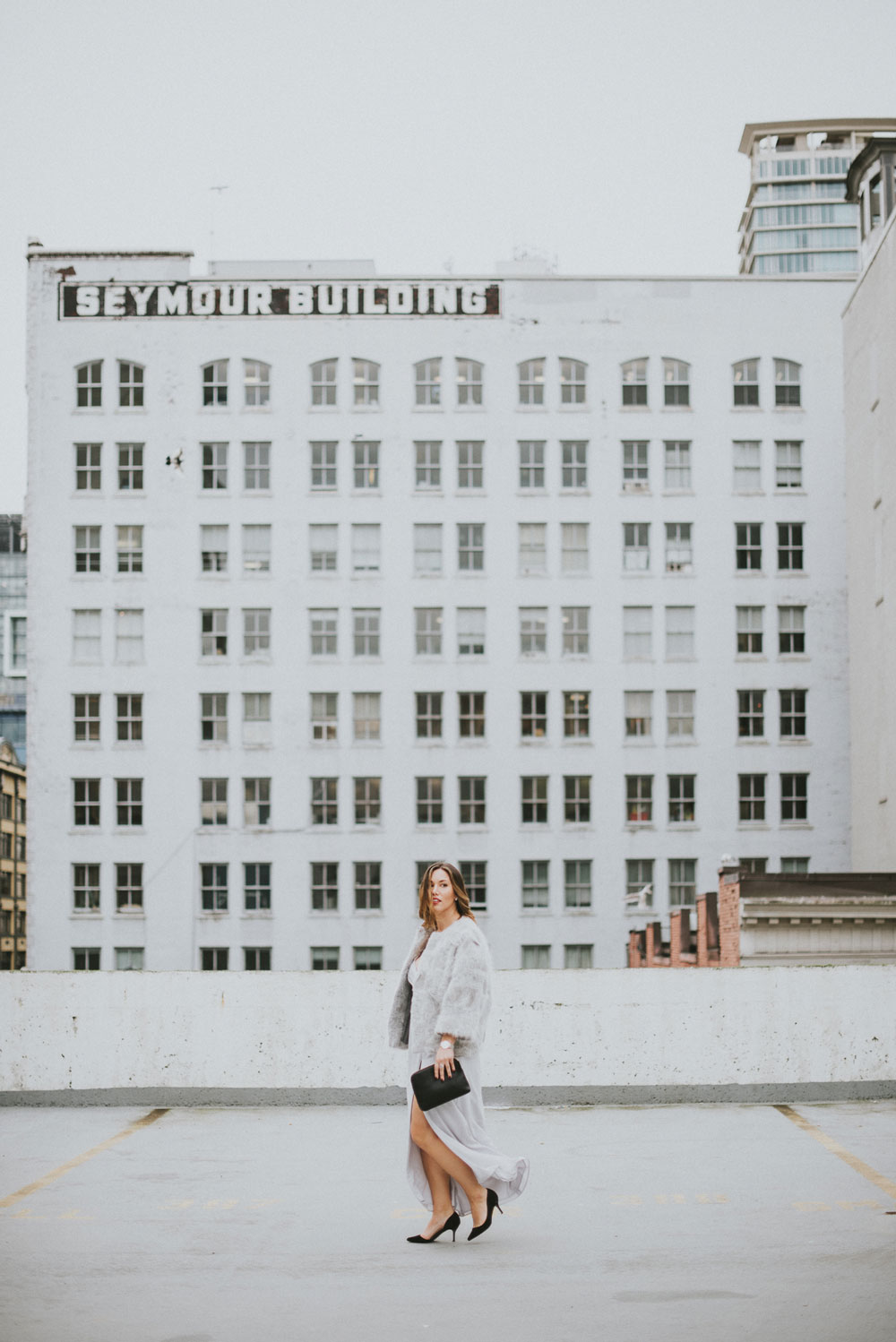 One look at my Insta profile and it's probably pretty obvious I have this thing for icy tones. I think there's never a more fitting time to work this beautiful wintery palette in than (duh) the winter! I'm so obsessed with this Park & Fifth dress this season, and this statement Obakki jacket has been a perennial fave for some time. Together with simple and sleek black accessories, they make for a seriously glam combo while also being temp-apropos for this time of the year. Winter wedding or NYE gala, anyone?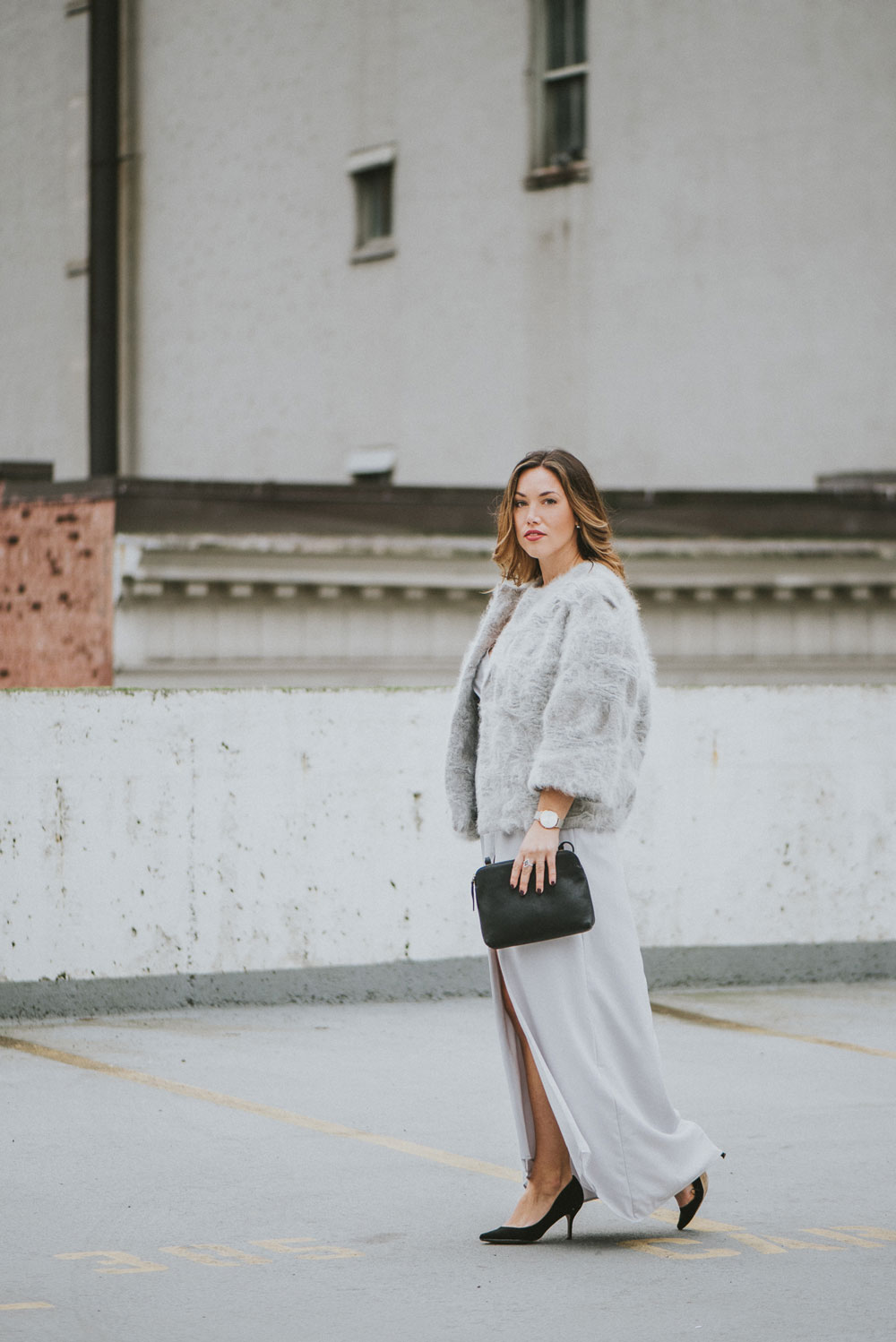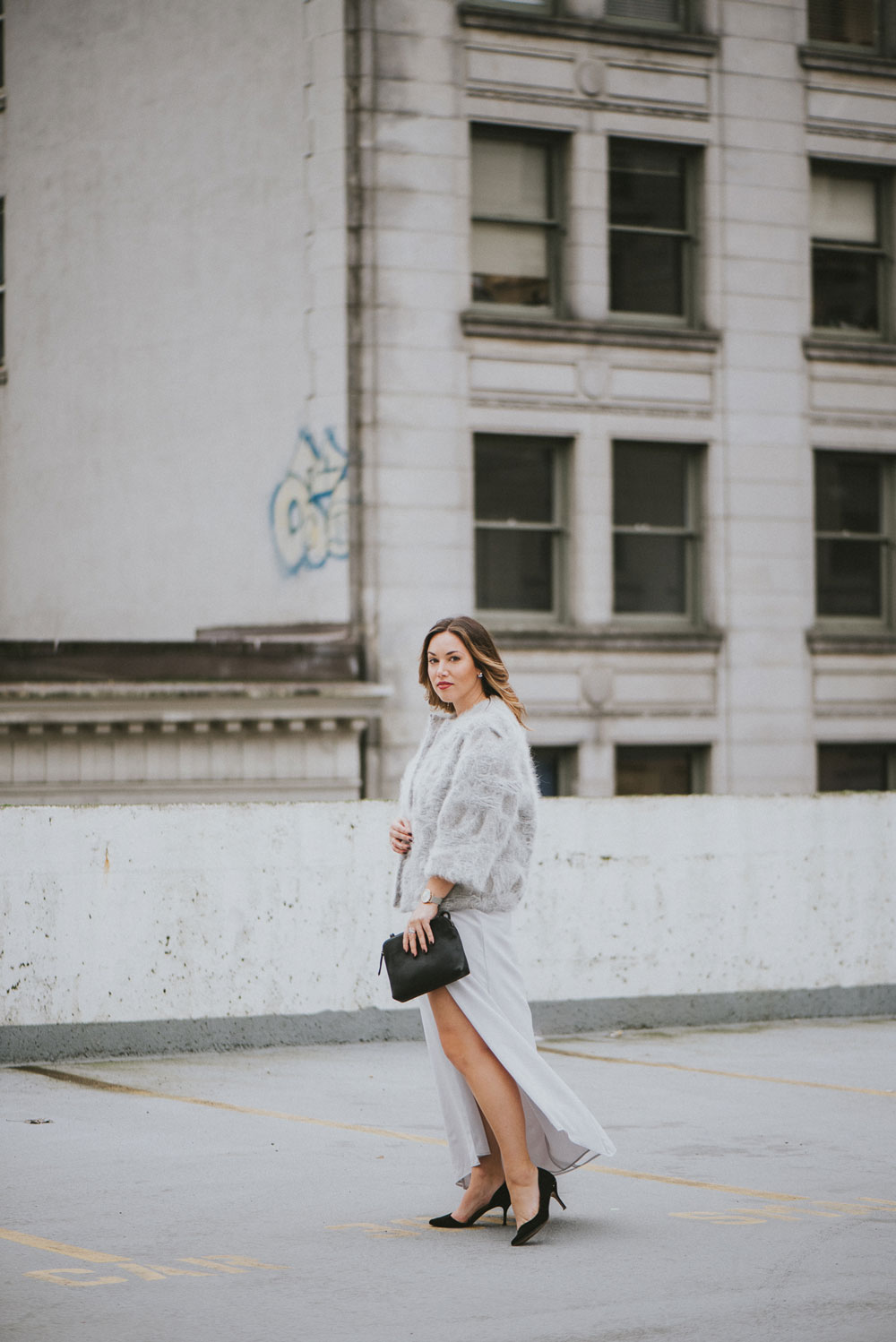 A massive thank you to Sara for her talent, absolutely love these images! Again, if you want to see more, head on over to The Everygirl!
Finally, I have something special planned for tomorrow – both a reflection on 2016, what I'm hoping 2017 will hold for me and also a little downloadable tool for any subscribers. If you want to be one of the first to get it, sign up for my newsletter at the right in my sidebar!