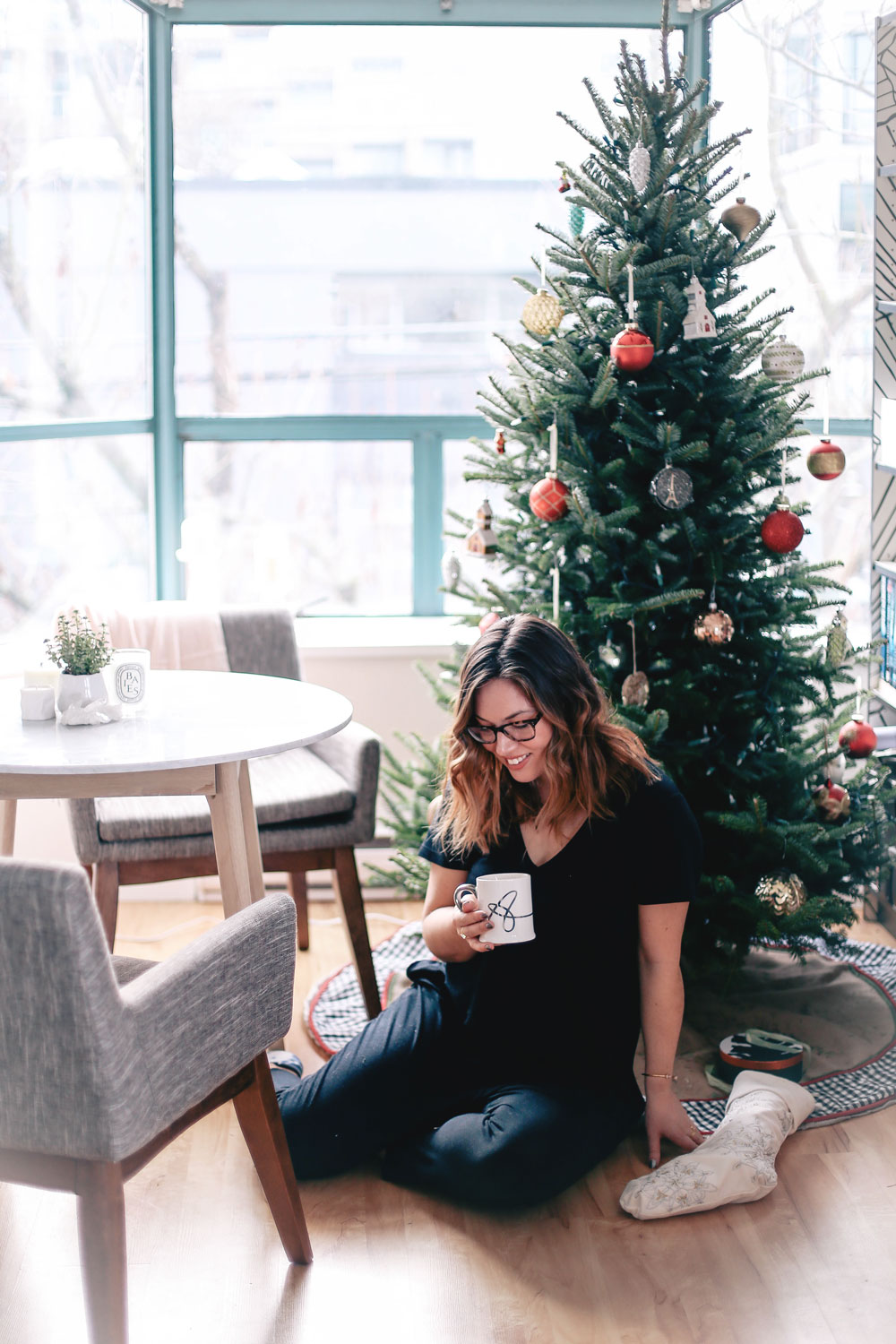 3 days to Christmas!!! I can't believe the big day is almost here. I, very characteristically, am nowhere near ready – in fact, after this I'm racing off to do some last minute Christmas shopping so long as I don't feel too ill (was up late last night feeling quite sick, ugh!). Fortunately though, we got our little teeny tiny space lovely and festive some time ago with the help of Article so at least it's feeling set to go here!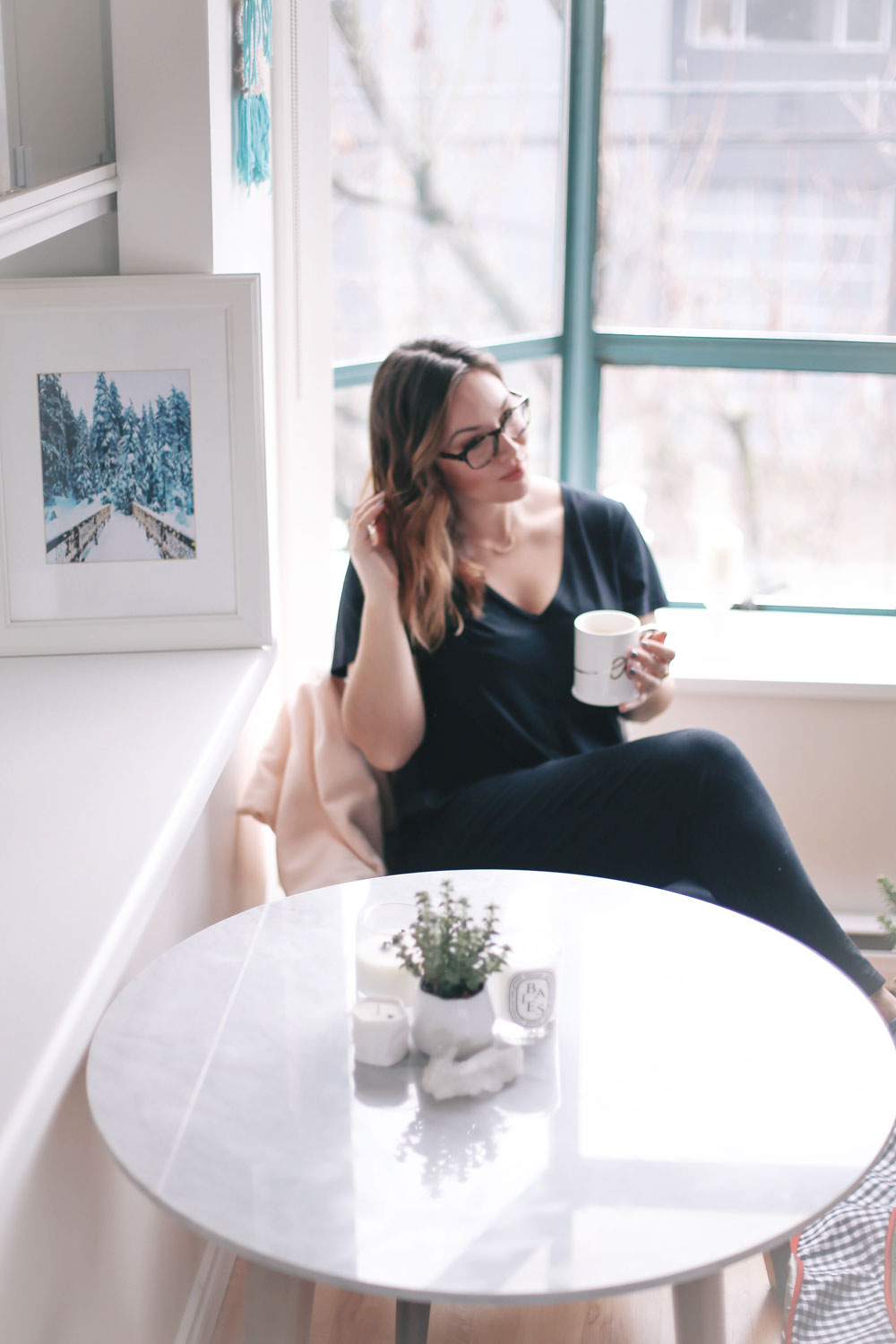 Matt and I have been in this space for 3 or 4 years now (check out this post from way back when!) and love everything about it except for one thing: the layout! We've always loved the location (right on the sea wall and near Granville Island), we love our rooftop patio, we love the airiness of our apartment and we love our neighbourhood. The only thing we've continuously struggled with is the completely inane layout (the upstairs stairs splicing the whole apartment right down the middle, boxy, poorly-thought out kitchen fixtures and patio additions, etc). We're currently renting so never felt much of a pull to do anything to change it since it's not our investment, but because we had such weird space requirements, our furniture always felt so cluttered and we kind of just gave up for awhile there on leaving our mark in this space (figuratively of course, I want my damage deposit back).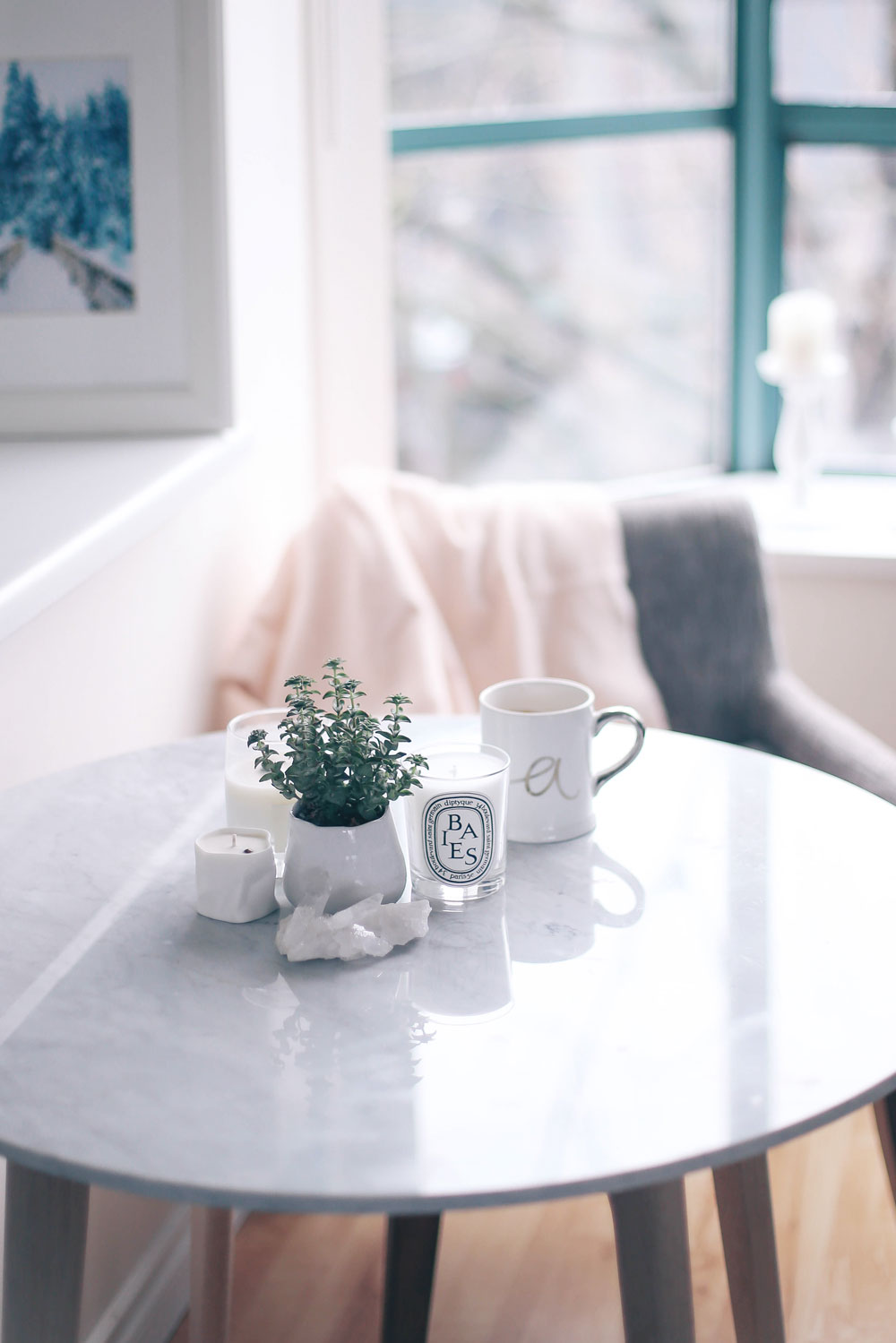 I don't know what came over me but earlier this winter, I just became overwhelmed with a need to change it all…now. As anyone who knows me knows too well, if I decide I want to do something it has to happen right away and I can't really stop until it's done (some people might describe it as a borderline manic state, I refer to it as getting shit done). Out went the big glass table, the big leather chairs that were lovely but made no sense in our apartment, big huge bookcases, side tables, etc. We literally went through the most insane purge ever and it felt amazing.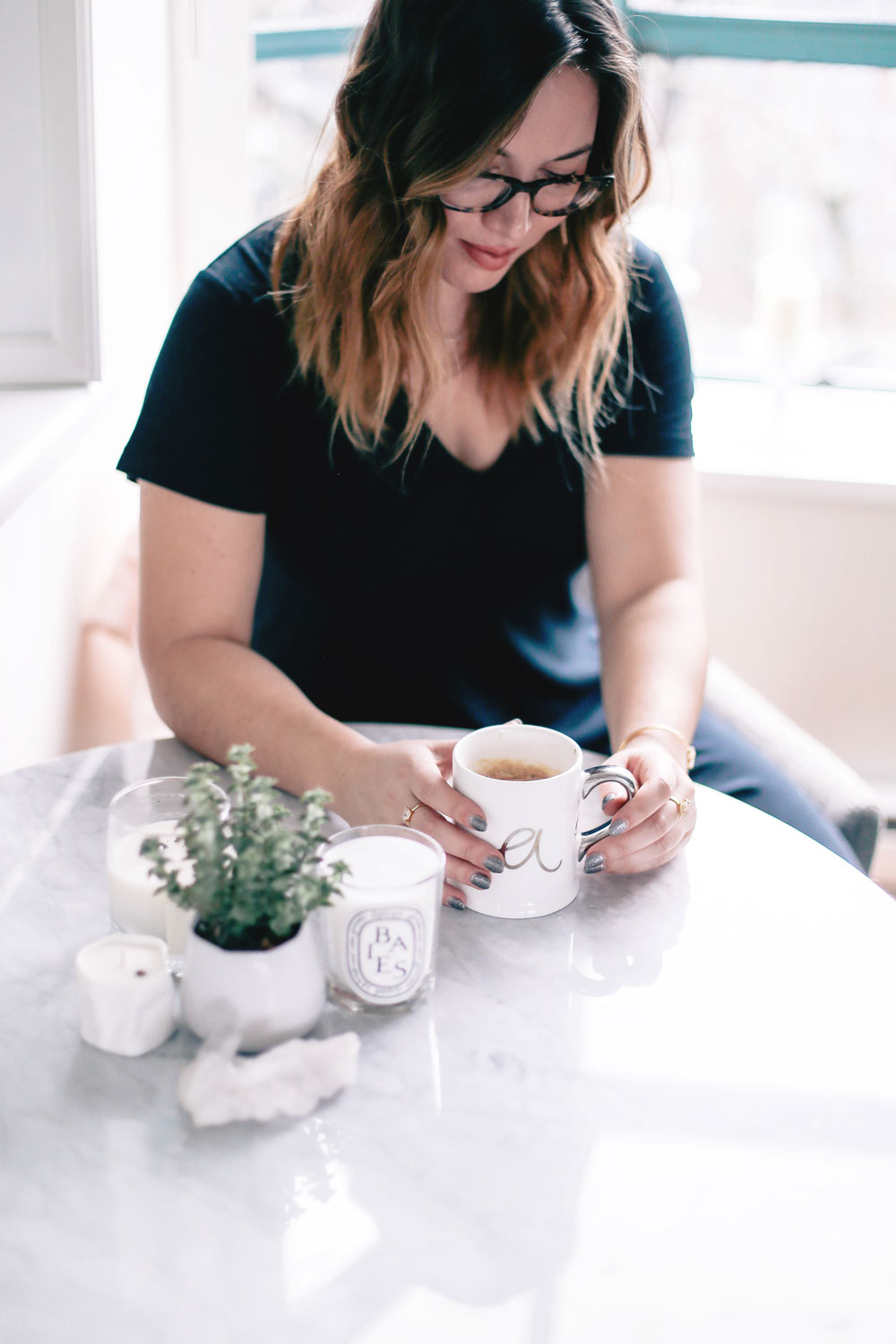 I was finally left with a blank canvas with which to thoughtfully add pieces that would make our space not only look lovely, but function really well. We had to think about what we need the apartment for presently – for me, I work here more often than the studio, so I need a good work space. We also (well, I also) love to cook and bake, and I love having my friends over for dinners. I knew I wanted a proper dining area (something we'd never had), which would have to effectively sit side-by-side with whatever work space I had. I also knew that despite the stupid arrangement of our kitchen island (which literally cuts what could be a lovely open space into two tiny ones), I wanted to create a more open feel to our dining/work/kitchen situation.
 I already have the Mara table from Article in my studio space and it gets used so much and in all different types of ways. It's the perfect size – effectively a cafe table, really. Big enough for even 3 people to eat comfortably around it (actually, 4 if everyone doesn't take up too much room!), small enough to move around easily and of course, beyond stylish – it also doubles as my flat lay station more than anything. We brought it into our space and it was instant love.
 It's where I have my meals, where I move to from my leaning desk I set up at the wall across from it when I need a change of scenery, it's where I'll sip on some wine with a friend gossiping, where the snacks are set during parties, etc. We've only had it for just shy of a few weeks but it's already become such a focal point of our space, and such a lovely one to boot!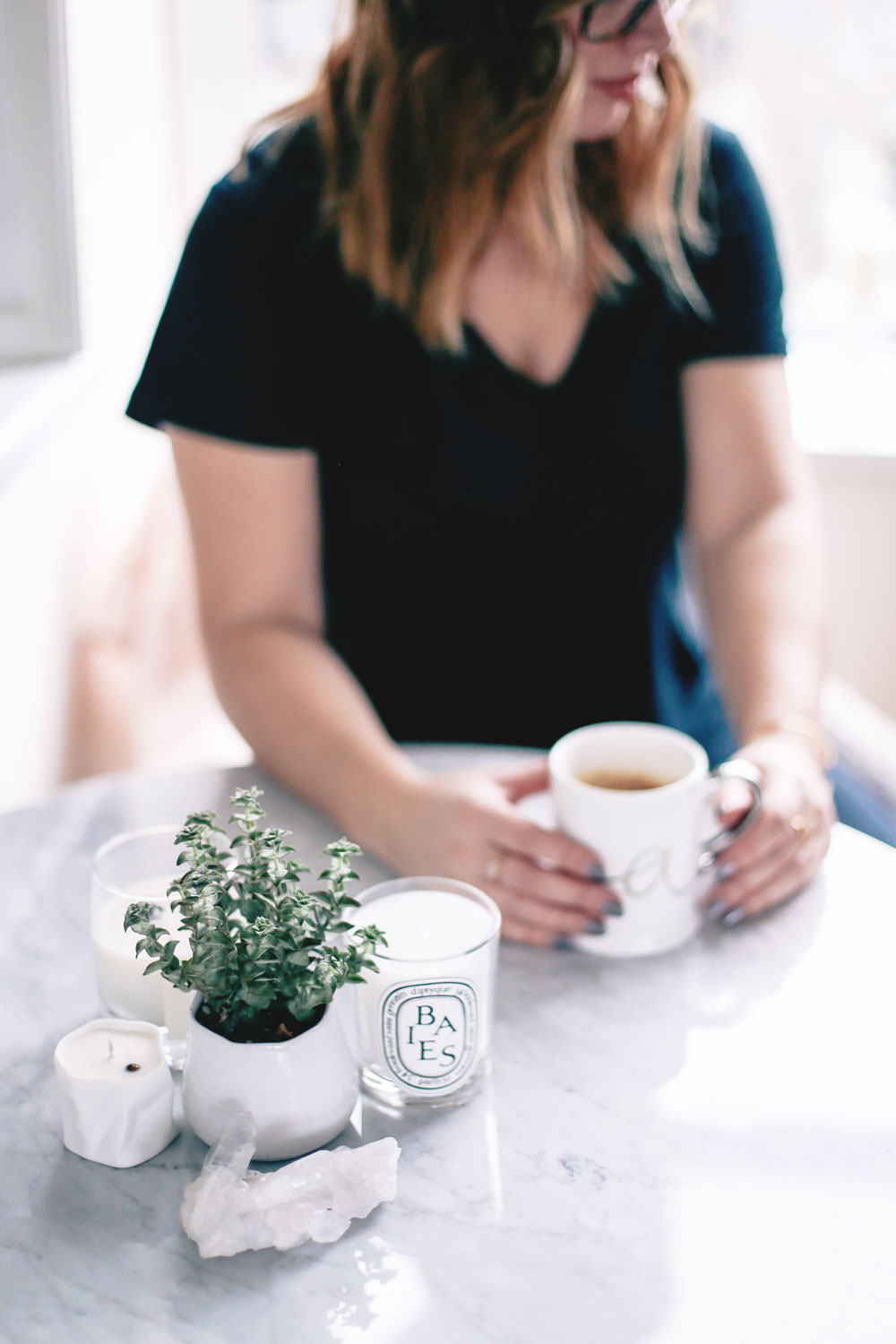 We also got the beautiful Chanel chairs in grey and they are perfect for our space in all their mid-century design charm. They're definitely dining chairs but when we have guests over for a movie night, just add a cozy pillow and throw and by moving them around our sectional couch, we've opened up two more cozy seats! And their tweed like fabric is super durable, which is key when you entertain as much as we do. I really just love how chic they are yet again, they're actually just the most practical option for our space. Around the table they're perfect cozy dining chairs but I've actually found them to be so comfy, I sometimes drag it over to my desk when I'm working there rather than my desk chair!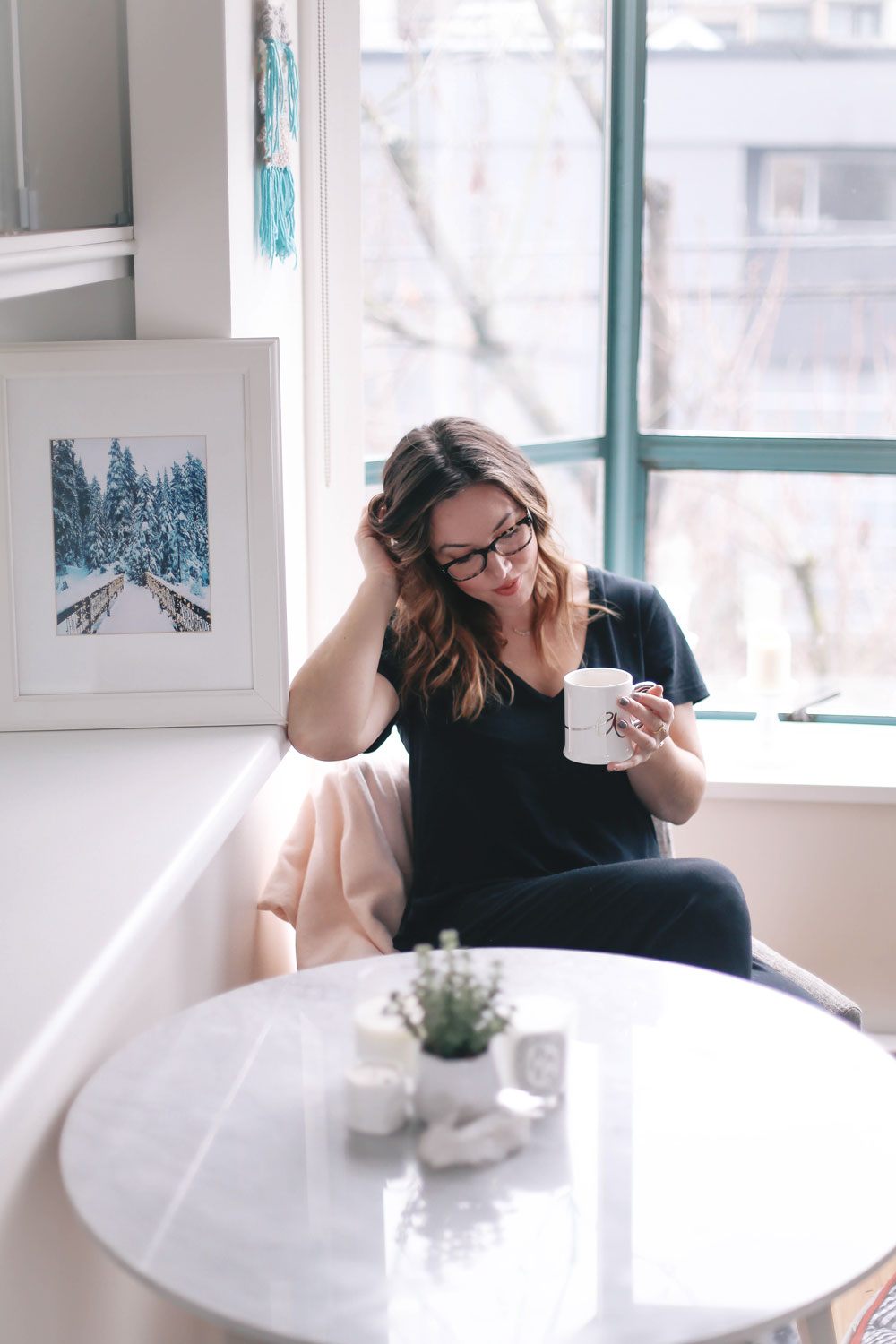 And of course, what I love the most is that by thoughtfully choosing pieces that will work no matter where we are (because when and if we move to a bigger space, these will all still function perfectly!), we're able to maximize and really enjoy our space. We got our biggest and prettiest tree yet and it was such a treat to be able to slide it place of pride in our space this year since we have such a lovely open space now. Getting to sit and work away at the Mara table and see the lights twinkling next to me has been such a special memory this year. I've also got such a special appreciation for Article because if this post isn't adequate proof enough, let me assure you it takes me ages to settle on furniture or decor options usually and I love that Article not only makes everything so easy for you with ample examples of their pieces styled and dimensions right front-and-centre, but they've also lessened the financial impact by removing the middle man (i.e. showrooms) so that you can purchase directly from Article online and save some serious money (like up to 70%…insane!). You've also got a $49 flat delivery fee across the US & Canada, which when you're carless like me is a big deal.
Now I'm going to enjoy our lovely little space for a little while longer in this beyond cozy one-piece from local label Smash + Tess before I take off for shopping and then solid family time until I'm back home on the 28th! But I've got lots of content coming your way still, including a homemade almond milk eggnog (plus two drink options) in the event that you're scrambling over what to make in the next few days for your loved ones – stay tuned!
Photos by Alicia Fashionista