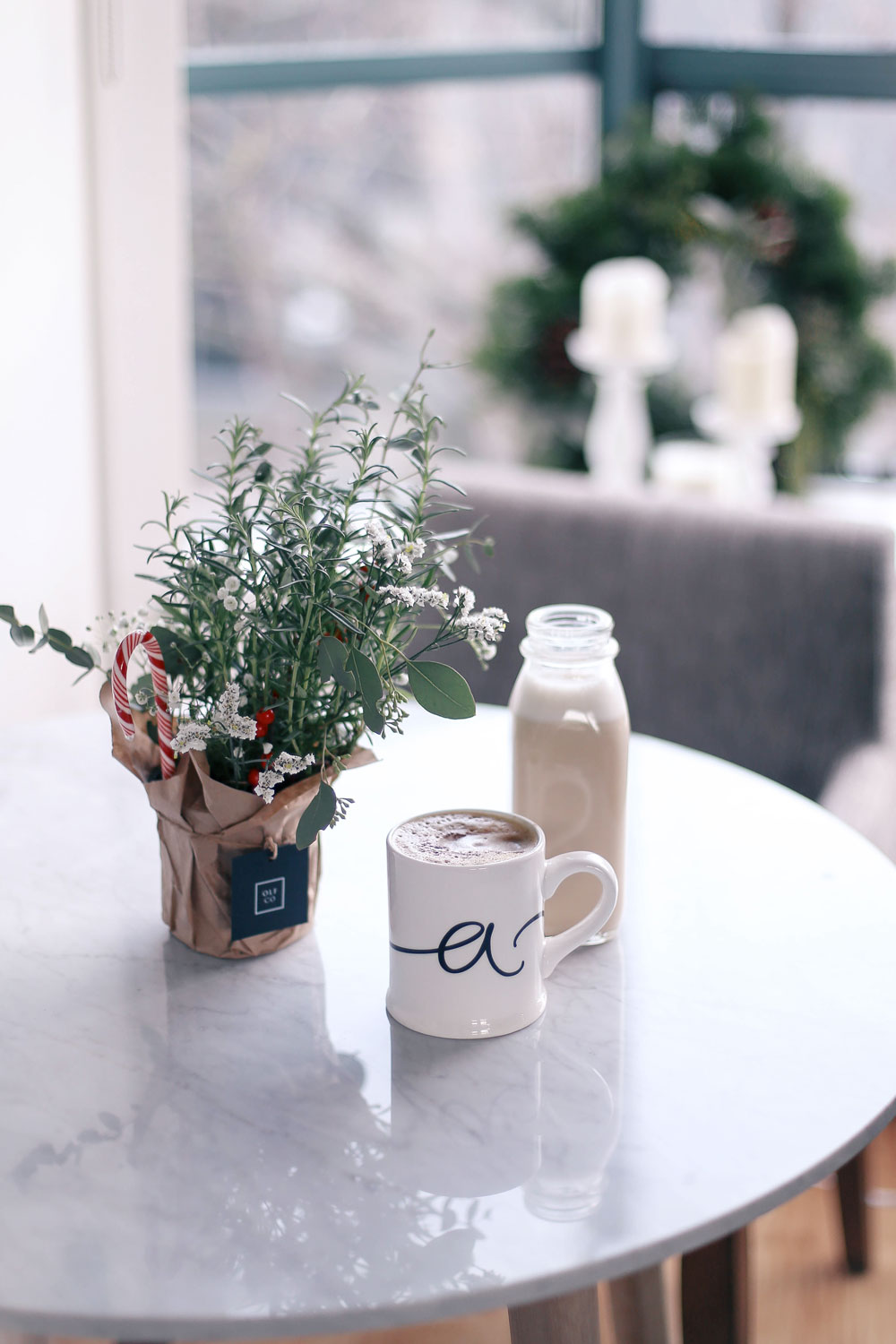 Double hitter today, whoa! I just was in such a holiday spirit this year I kind of went a bit overboard dreaming up holiday content and wanted to make sure this one in particular was shared with the world because my friends, it's a revelation. I'd describe myself as more "veganish" (and for me, that personal definition means I aim my best to eat vegan during the week but let myself have some cheese and the like on weekends). While I care a great deal for the ethical and environmental reasons that cutting down on some meat or animal product consumption has, I was actually initially led to eating like this by food allergies, personal taste and just what feels best in my body. I just feel so much more settled tummy-wise, have way better energy and it also feels good to be a bit more conscious in my eating habits to hopefully help animal welfare/environmental impact in a small way! While I can't say no to some holiday offerings (my mum's butter tarts or Ukrainian perogies, yeeee!) I've been making an effort to make some old favourites vegan to keep my body happy and energy levels up, and to balance everything out!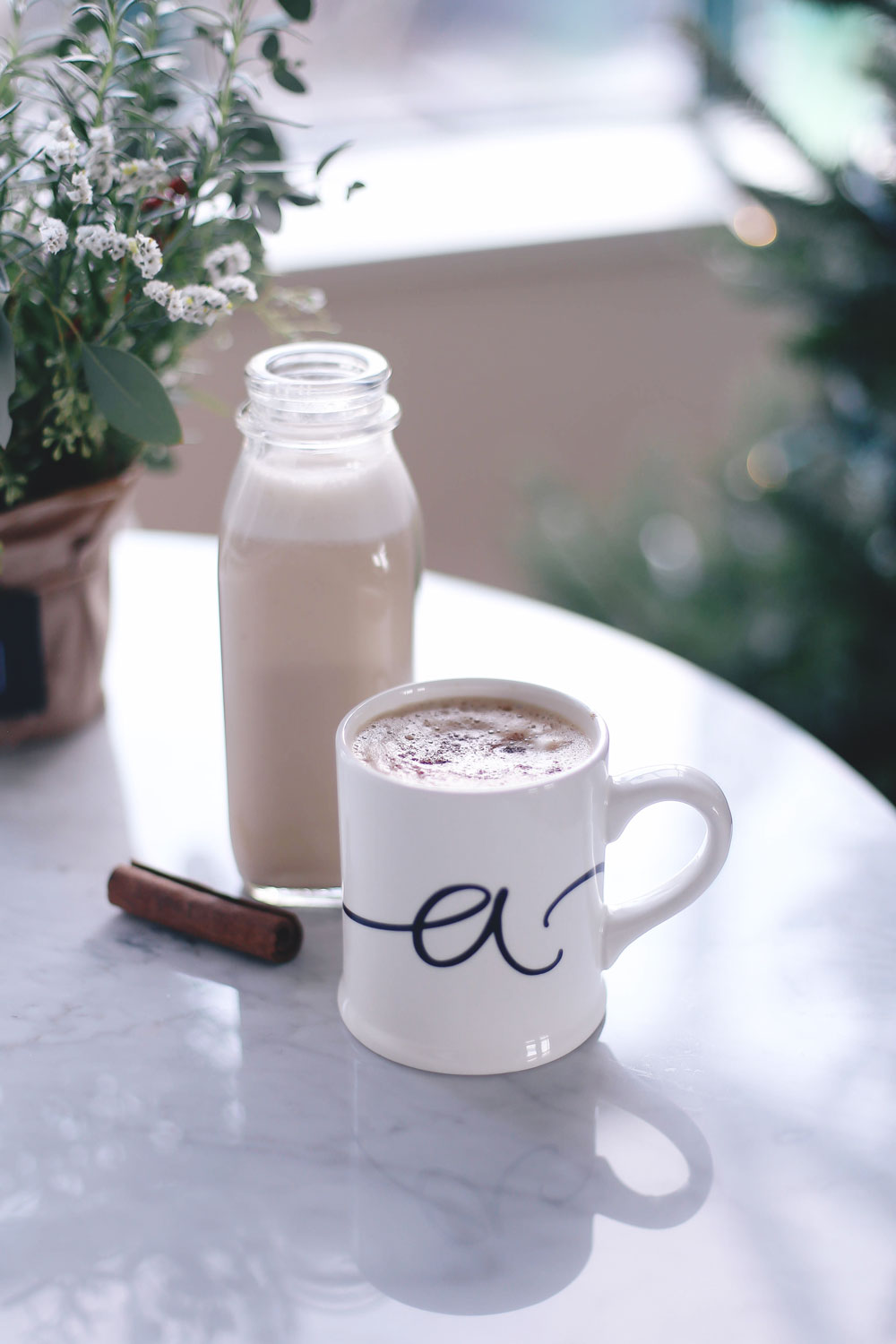 So as you might see on my Insta story or Snapchat, I usually go through a couple rounds of my homemade almond milk in a week. It's a super simple recipe: 3 cups water + 1 cup raw almonds soaked overnight (or over the course of the day – just aim for 8 hours), rinsed and then the soaked almonds + 3 cups of water, a pinch of sea salt and maybe a splash of maple syrup blended and strained through cheesecloth! Easy peasy.
For this recipe though, I wanted to bring in some of those delicious eggnog spices and creaminess. Alicia was visiting a couple weeks ago and I'd already had the makings of almond-cashew milk soaking (I don't usually add cashews but was using up leftover nuts, so all a very happy coincidence) and it dawned on me I could turn my staple into a yummy festive creation…this is the result!
Vegan Eggnog
1 frozen banana
1/2 cup cashes
1 cup almonds
6 cups of water (3 for soaking, 3 for final product)
1 pinch of sea salt
1 tbsp maple syrup
1 tsp vanilla extract
1 pinch ground cloves
1 tsp ground cinnamon
1 pinch ground nutmeg
Soak the nuts and 3 cups of water for about 8 hours. Rinse very well and then combine nuts and all remaining ingredients in a blender – blend very well then strain through cheesecloth or a nut milk bag, storing resulting milk in a glass bottle or mason jar!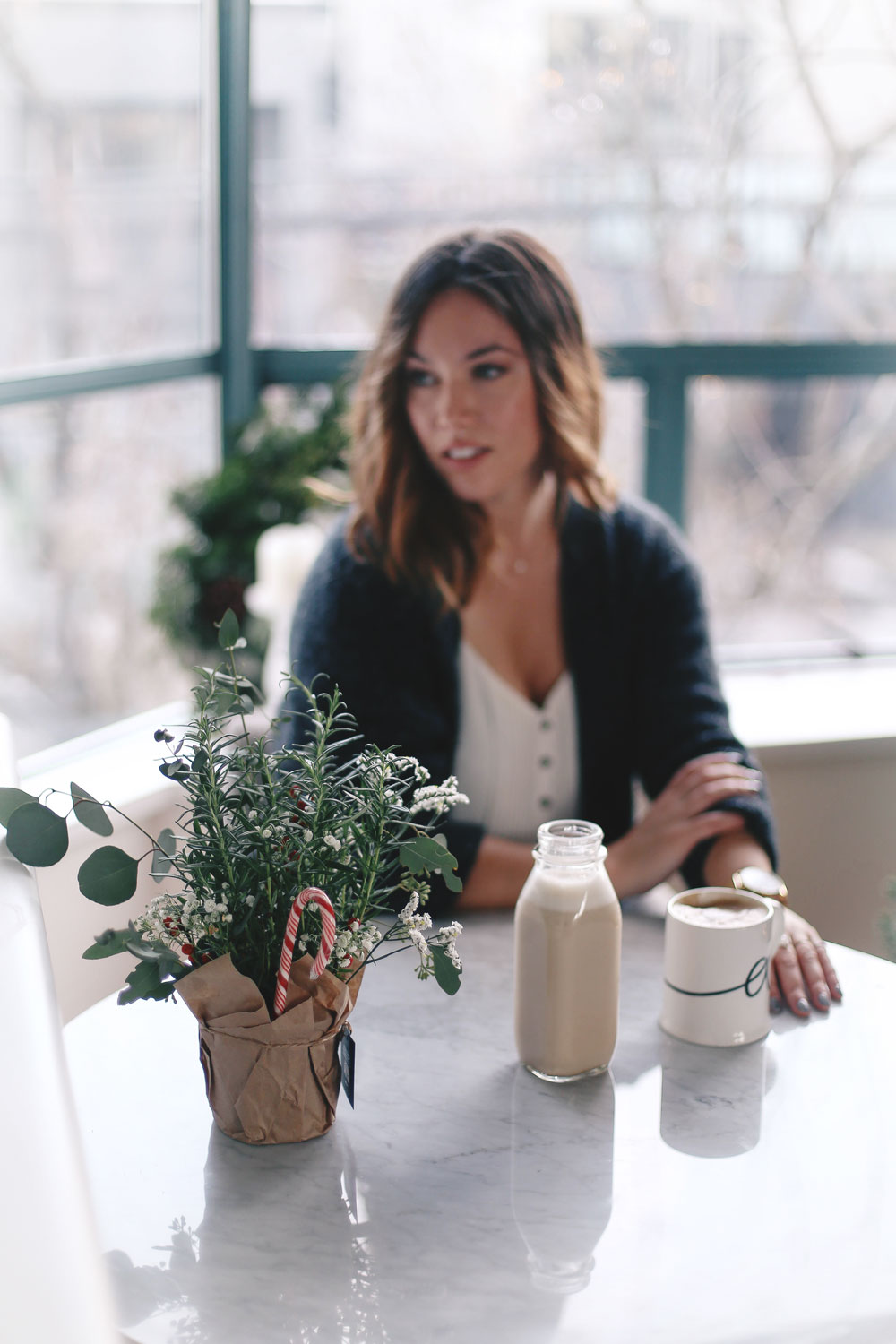 Now, my mum objected to this when I told her the recipe because eggnog is a standardly rich drink with cream and eggs, but if you savour the spices and appreciate the creaminess of the frozen banana and cashews, then you'll be blown away – promise! Ask Alicia, she loved it!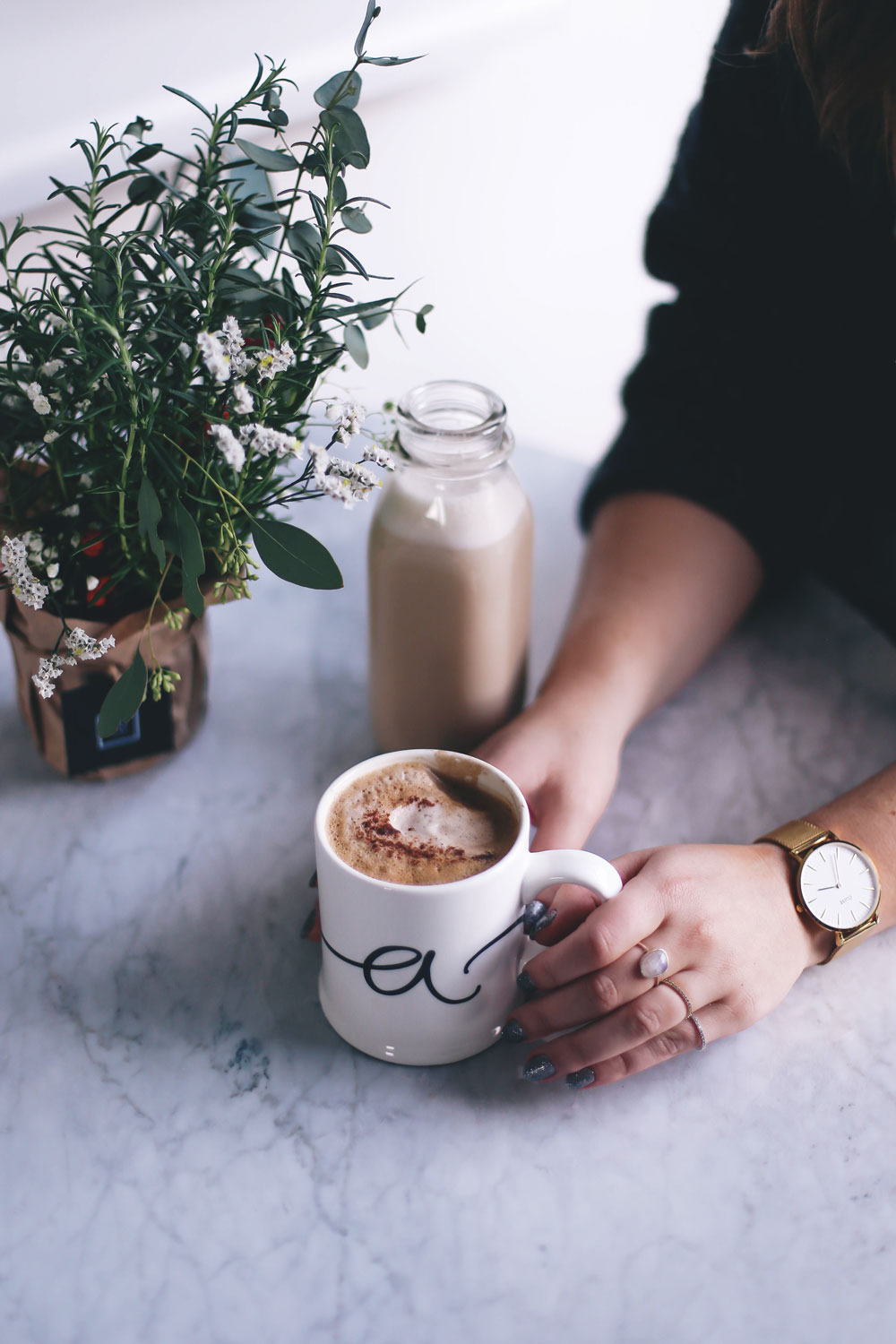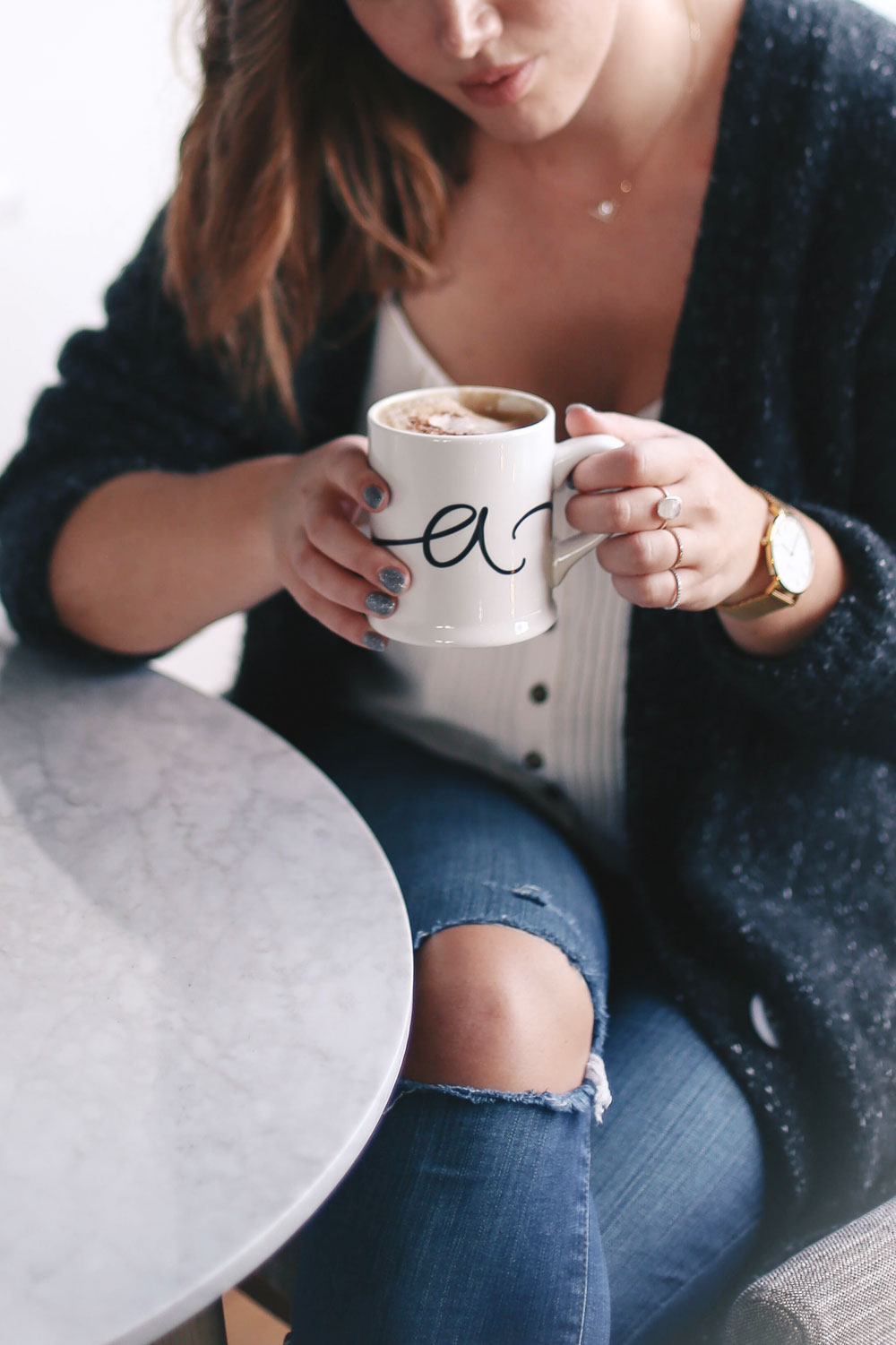 Definitely have it as an eggnog latte with a shot of espresso, steamed milk (if you don't have a steamer, just warm up on low and whisk continuously to form a froth!) and sprinkle some cinnamon on top.
But in the crowd I run with (both family and friends), an appreciation for alcoholic versions of just about everything abounds, especially around this time of the year when we like to kick back with a cocktail and watch our favourite movies.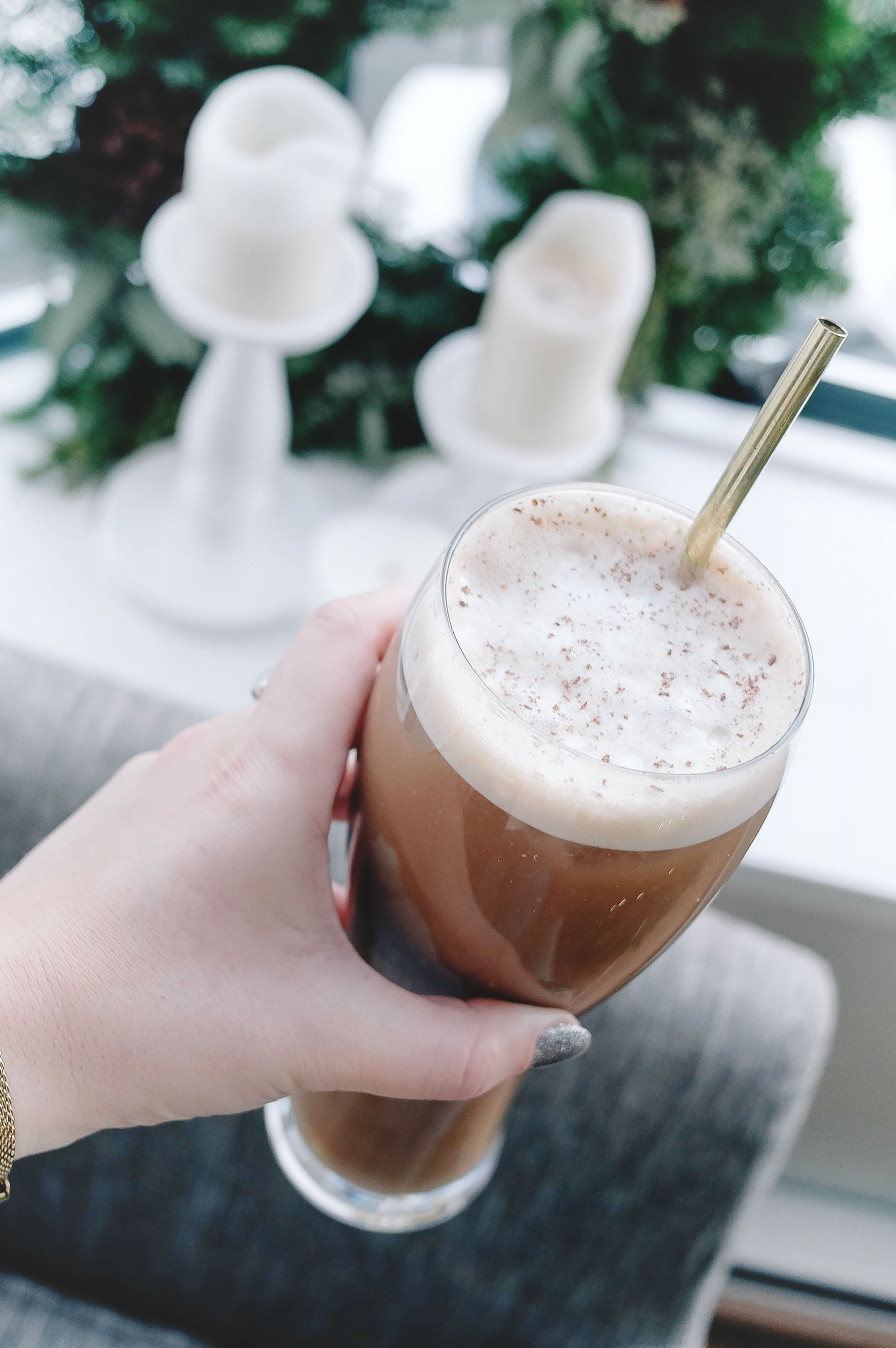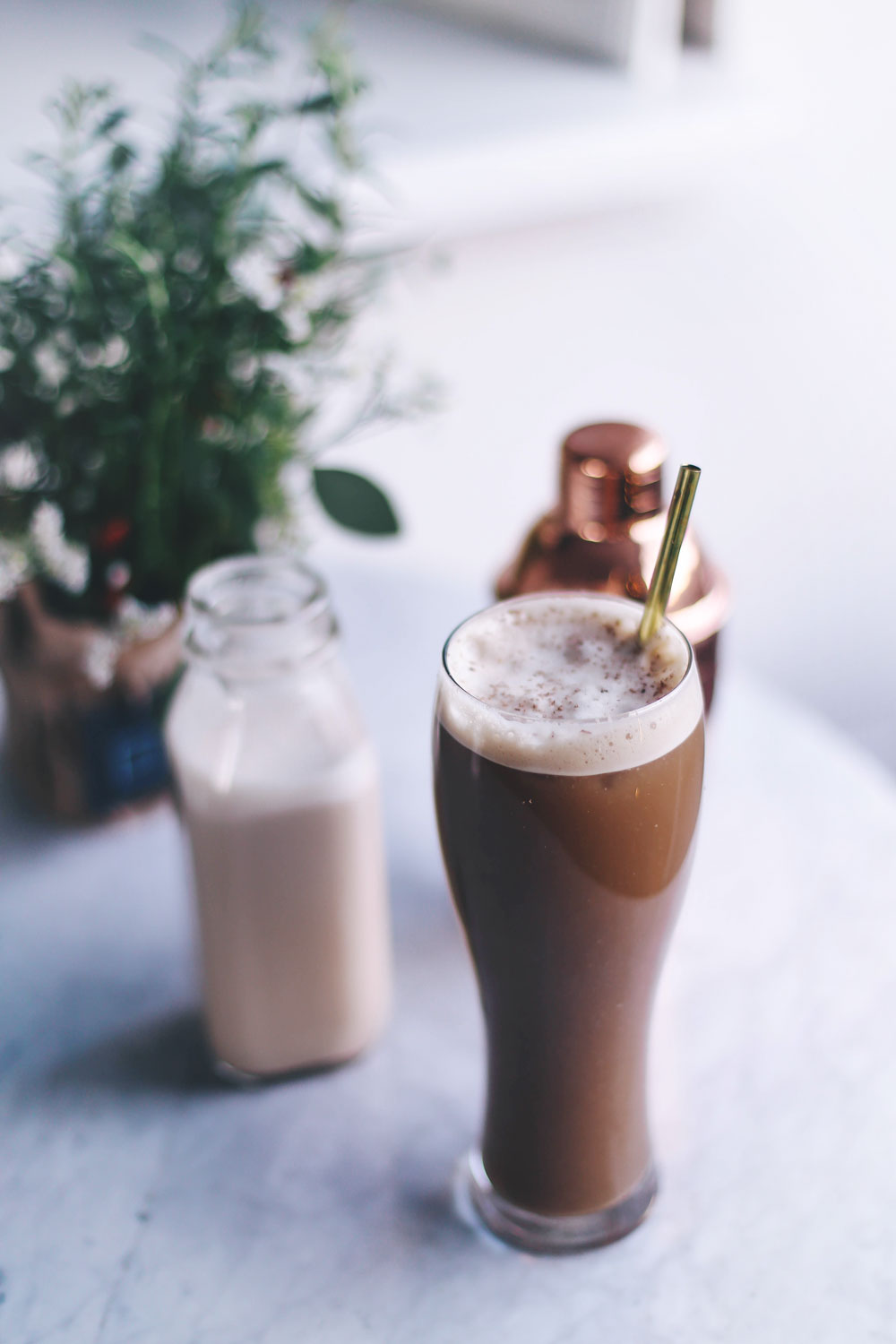 Not to toot my own horn too much, but this was the clincher for me – I was seriously blown away by how yummy this was.
In a cocktail shaker, combine 1/2 cup of almond milk, 1-2 oz. vodka or rum depending on your preference, a shot of espresso and a handful of ice. Shake up vigorously and top with cinnamon, or switch it up and add chocolate shavings!
This is a good lead-up to Christmas so get those nuts soaking (no way of not making that sound dirty, sorry) and make your first batch ASAP!
PS more of the story on our new space (including this Article Mara table pictured here) in today's earlier post!
Photos by Alicia Fashionista