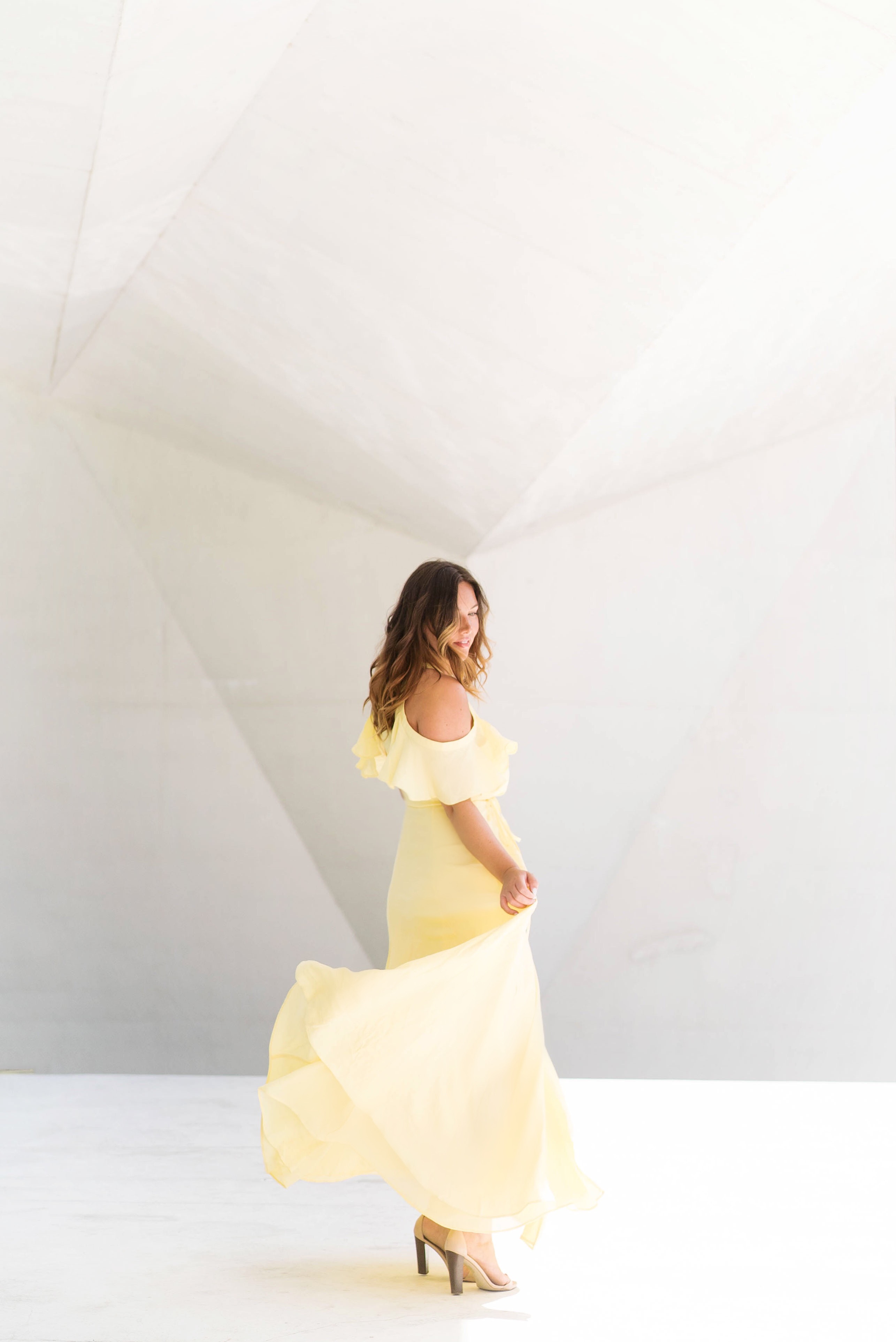 I remember in my early '20s, my older friends gave me the heads up that there would be a time (coming very, very soon) when basically your entire group of friends would get married within a few years of one another. I didn't really believe it for whatever reason at the time but right around my 27th year, it started happening…and it started happening fast. And not only was it my group of girlfriends, but between Matt and I, our big collective group as well—we're talking 6-9 weddings a year! I love weddings (despite not being the marrying kind myself) so I'm not complaining, but the sheer volume does pose a bit of a sartorial challenge. There are only so many occasion-apropos, weather-proof and stunning options to choose from, right? Well…with a few key tricks/strategies, maybe not!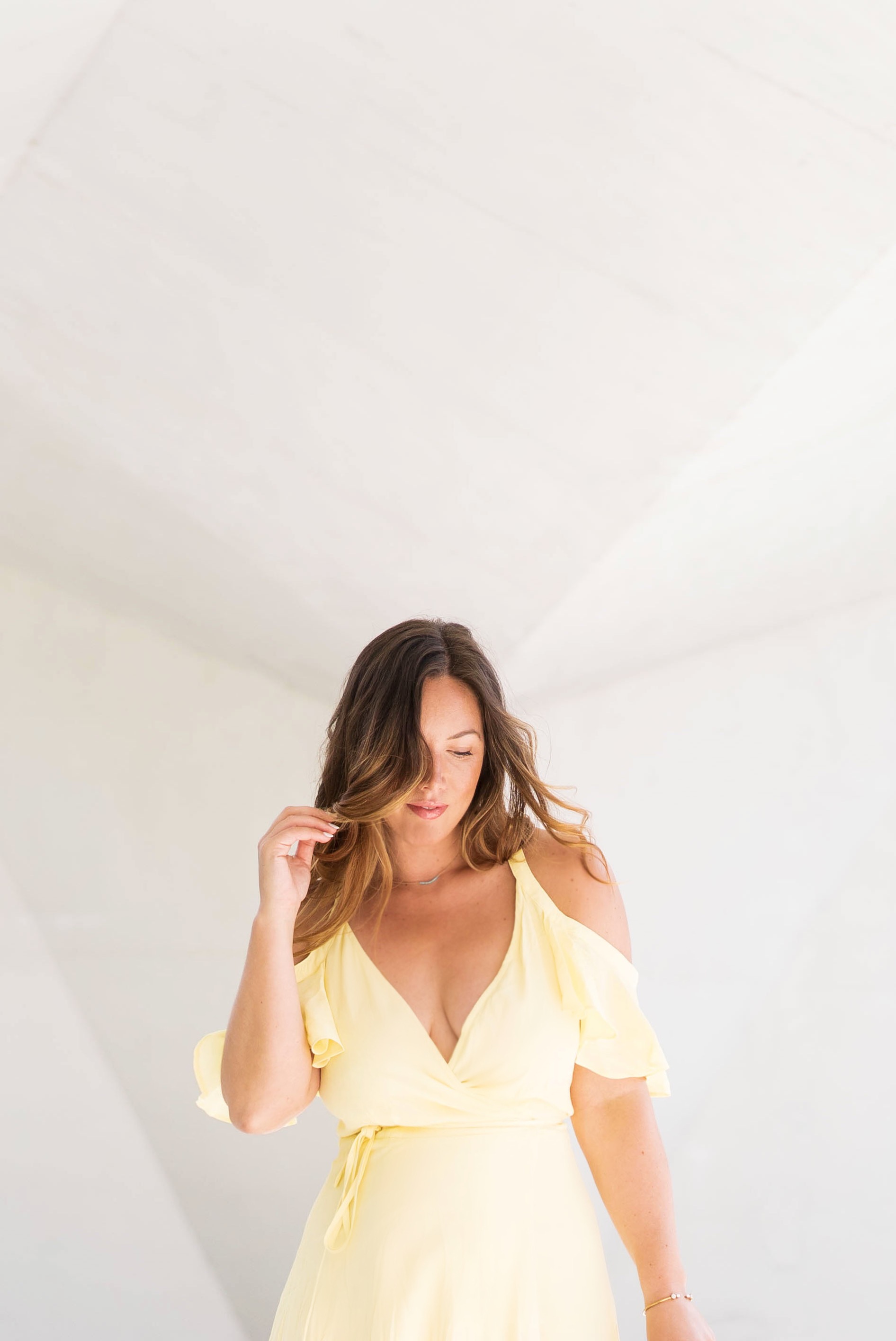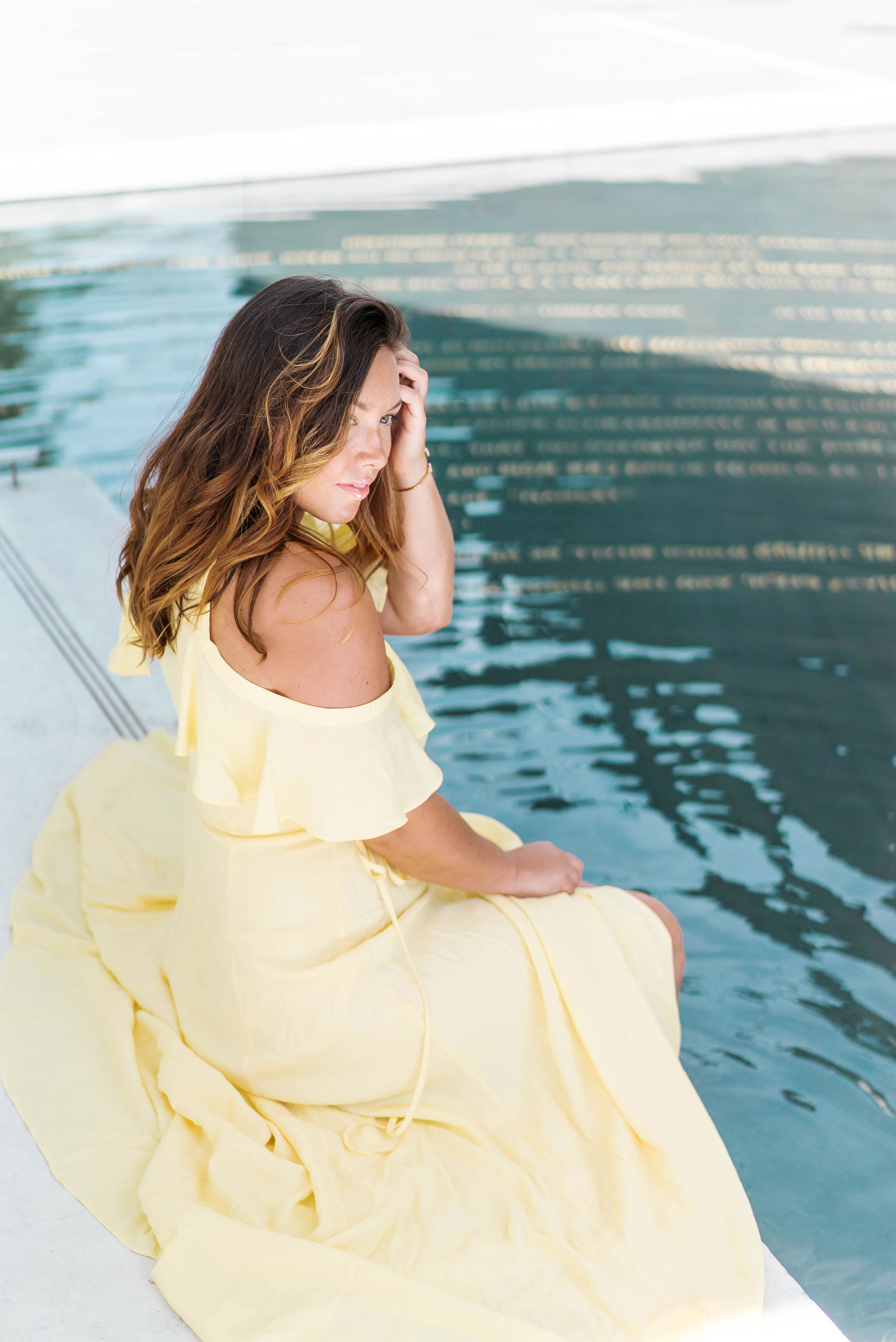 By popular request, I've created a quick 3-part summer wedding style series with my love Ainsley Rose Photography and thought I'd kick things off with perhaps the most challenging one: the elegant, black-tie or religious affair!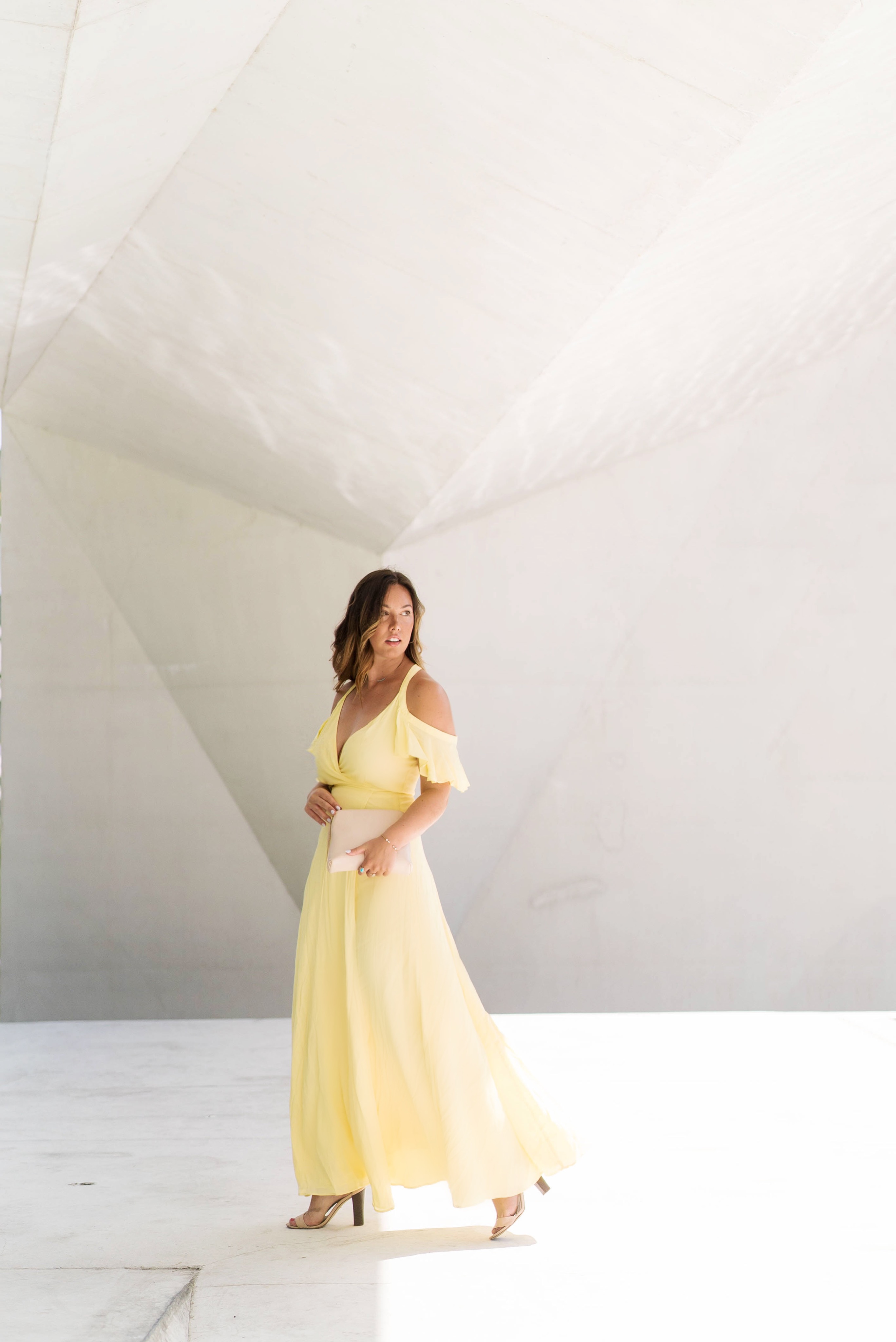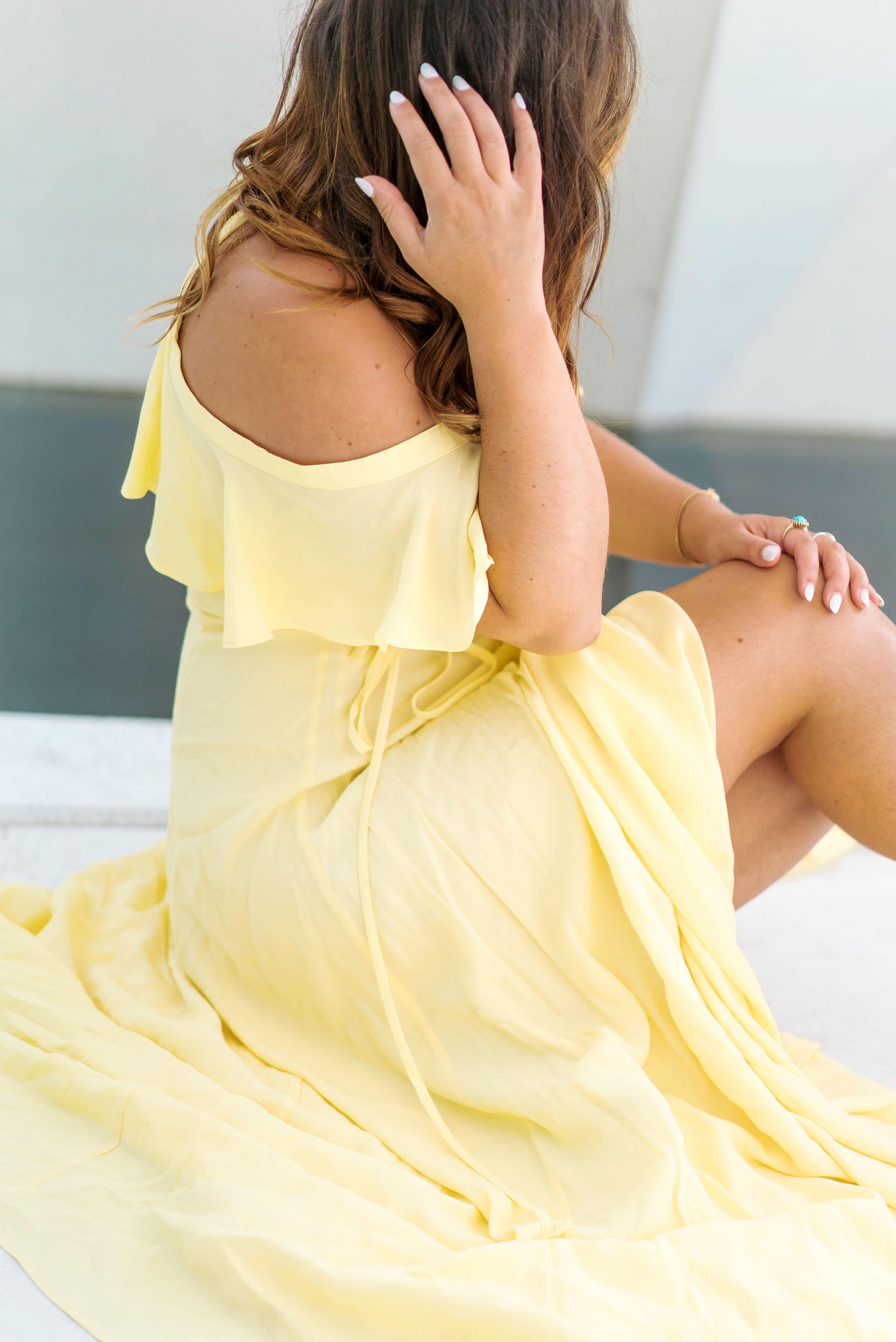 Being a West Coast girl, a lot of our friends have actually opted for stunning forest, beach or farm weddings (more on that soon!) but we have had a few elegant weddings to attend too which is usually the ones I start stressing about. Over the past few years though, I've realized there are a few key strategies for having a serious wow effect, looking appropriate for the occasion and also making sure you don't melt in the heat (the hardest aspect for this style of wedding!).

Go for length
This Privacy Please yellow stunner from REVOLVE (does this remind anyone else of Belle's dress in Beauty & the Beast?) has the perfect long length for an elegant wedding—perfect for twirling the night away in! Length creates some drama so even if you're opting for an airier fabric (I love silk ordinarily but quite frankly, a synthetic blend isn't a bad call in the summer as long as it's got an airy silhouette and is lightweight because sweat marks will show up much more on silk!), you'll have some beautiful flow and movement to your look.

Opt for a summery hue
I never usually wear yellow and I honestly don't know why—I love it! It helps offset the more dramatic length and quite frankly, looks pretty good with this tan I currently have (I can't help packing on colour in the summer, I seriously change colour altogether ugh)! I know neutrals have been having a moment for so long and they're staples of mine, but if there's ever a time to rock a dreamy tone, a summer wedding would be the time!

Look for pieces with romantic details
There's a reason this similarly dreamy piece gets worn all the time—these romantic shoulder details are so beautiful and add a special touch to the look. I feel like you could go more glam in the winter, but in the summer, this lovely detail is such a nice nod to the romantic vibes of a wedding and elevates the whole look. Whether it's a shoulder detail, a special belt, unique sleeves, etc—it will often be the difference between a nice maxi dress and a wedding-worthy gown.

For summer, 
keep the hair/beauty/accessories reined in & natural
So while the dress is the star of the show and it's always important to balance accordingly yearlong, especially in the summer it makes all the difference in not only giving your look a bit of a lovely natural quality, but it will also be a lot more comfortable for you. I have a full no-heat tool hairstyle series coming soon to pull inspo from but as far as beauty goes, go for some highlighting, a bronzed look and a pretty lippie to compliment the colour of your dress and you're set! This note in particular is so critical to me feeling like myself because I hate feeling overdone. PS this older beauty tutorial is perfect for summer weddings! I've also been wearing this Leah Alexandra turquoise ring on repeat and love how it offsets the yellow tone—so summery and pretty!

Be mindful of cut and fabric
I touched on this quickly before but this is really the time to think of a fabric that will last you all day (and likely all night) long. I almost always prefer natural fabrics, but this is the time to look into some lightweight (but not see-through!) fabrics. Not to be gross but I definitely sweat (well, I like to think of it as "intensely glowing") in the summer and it's not worth the stress of having a silk dress ruined by inevitable back sweat from hours sitting during a reception or if you're a fellow big-chested girl, the dread of the horribly but aptly named boob sweat. Pure linen fabric too will often really crease or wrinkle easily—think cotton-synthetic blends, gauzy materials, etc! Finally, while in the winter I'd go for a more fitted silhouette, this is really the time to go for airy silhouettes as much as possible. A-line, trapeze, etc!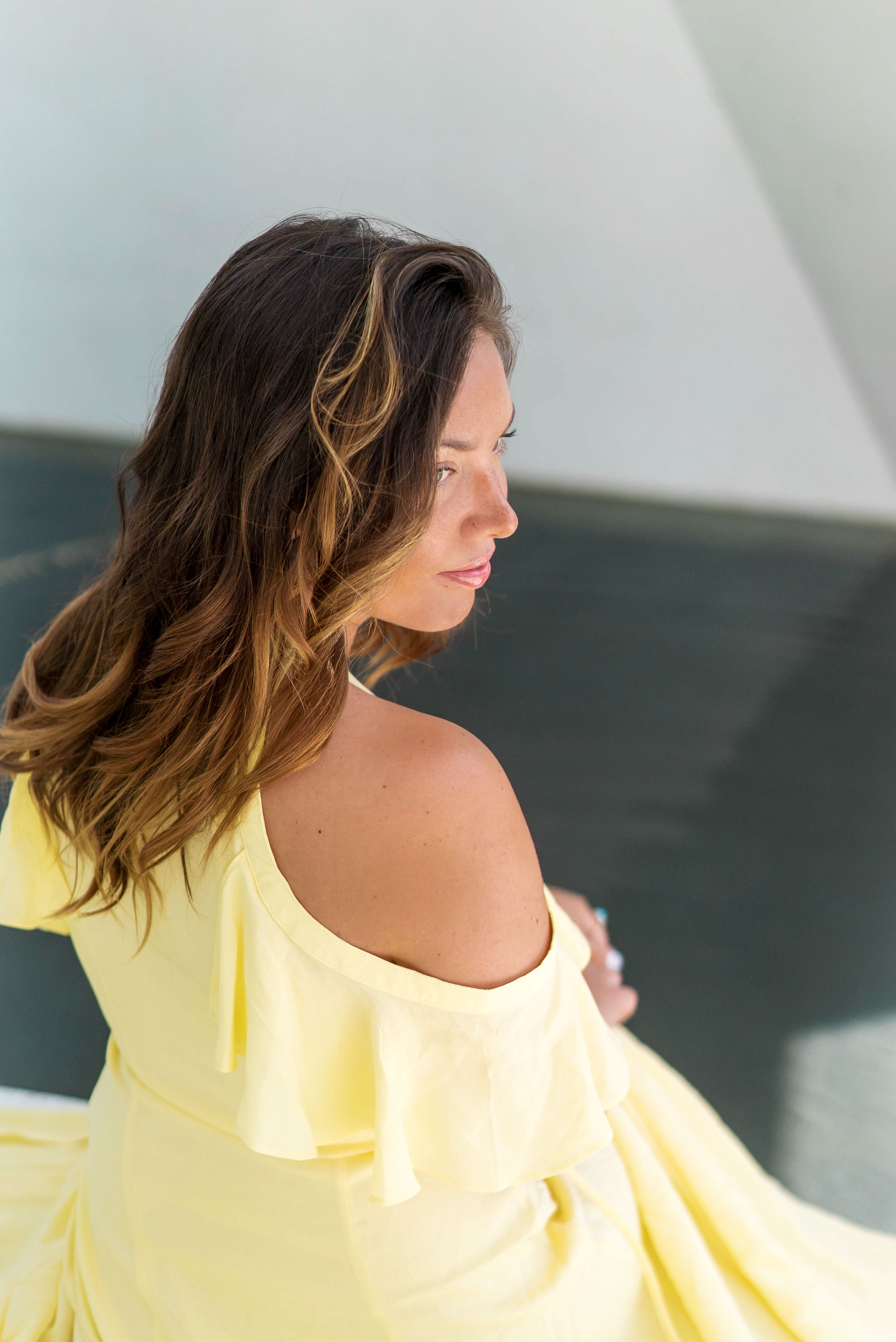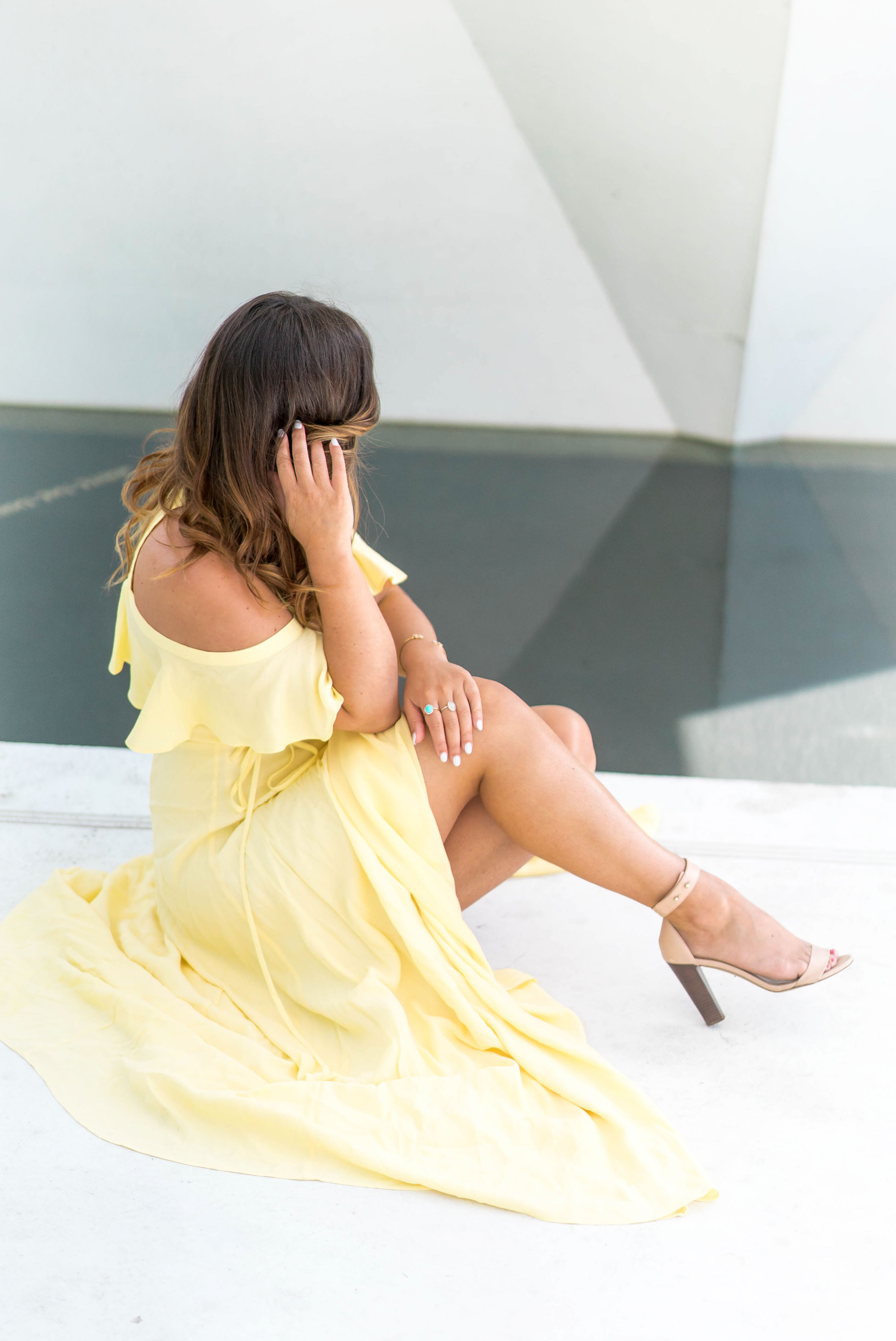 I actually have a wedding a couple weekends from now (Matt's best friend!) and am planning on wearing this sunny beauty. I have it linked below plus a few more options that perfectly fit the bill for another elegant affair! Best of all, these dresses can really work across the board for so many different situations and events—always have a mind for cost-per-wear so love that you can keep wearing these pieces again and again!