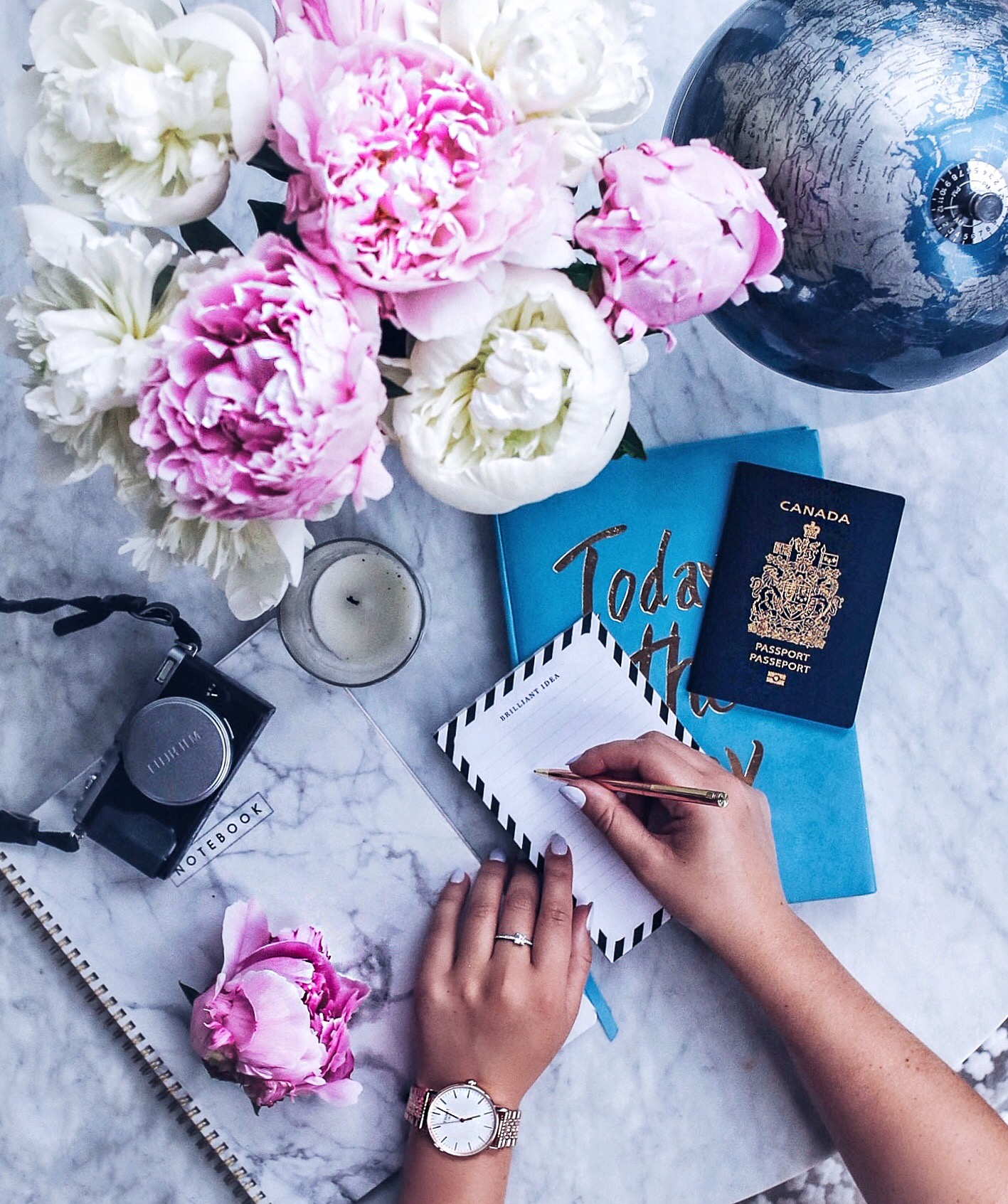 Travel always looks so glamorous from the outside—stunning views, beautiful new destinations, relaxed meals al fresco, etc. But not only are there all the behind-the-scenes that we all go through to pull together our dream trips (and on that note, see some of my shooting in crowded places tips here, my solo female traveller tips here, how to never overpack again and my travel photography tips here), but the planning usually starts months before and doing it strategically can make the difference between a good trip and the best trip ever. I'm sharing my top 10 trip planning tips today so that you can make sure all your trips are the best trip ever! So without further ado…
Travel flow: once you have your main destinations in mind, pencil out the easiest flow so that you're going in the most reasonable way
Case in point: if you caught our itinerary to the south of Spain, we basically worked in a circle back to Barcelona—it made it super apparent that we'd need to fly from Barcelona-Granada, train to Seville and then fly Seville-Barcelona. The opposite of that was my big long Europe trip when I spent so much money zig-zagging all over the place for a few months! That's why even if you want to potentially change a few things along the way, at least you have a general flow set up and you can just work within that.
Flights: your international, across-oceans flights are best booked 6-9 weeks before—book your inter-Europe/Asia/etc flights ASAP
This is kind of tricky obviously because you should pretty much always book your big flight (i.e. Vancouver to Paris) before getting your little ones (think Paris to London, Copenhagen to Dublin, etc). The big distinction I'm trying to make here is to just not wait to book your shorter flights too—if you're still trying to figure out an itinerary, feel free to take a week or so but don't wait too long! It can be seriously surprising how much prices get jacked up when you play it last minute (same goes for ferries in certain parts of the world, especially Greece). The only exception to this is busses or trains—you can book ahead but if you miss your departure time, you're out money. I always book either at the station or a couple days before.
Accommodation: book as soon as possible and if you're going to mix Airbnbs & hotels, there's a right way to do it!
I've done some trips that have been all Airbnbs, others that have been a mix of hotels, Airbnbs and villa rentals. My main trick: do the hotels first. When you're jet lagged and feeling a bit rougher around the edges, this is the time to have a luxe place to check into with more flexible check-in options, shuttles, etc. Long story short, hotels are historically there to cater to your whims while as much as I love staying at Airbnbs and have only ever had amazing experiences, if  you're going to do a bit of both I'd really recommend putting the hotel first. Get wish lists going for both well in advance (I literally have about 15 wish lists for different destinations going for years now) so that you can pull options really quickly that are typically within your budget! A quick tip for Airbnb: filter by Superhost! It will make it really easy to pick a quality place.
Finance: take advantage of your loyalty cards/plans (and if you don't have any, get them!) and make sure your cards are all compatible.
Remember my SPG Amex post? I love staying with them so it's worked so well for me to get loyalty points—I know it's easiest to keep cards to a minimum, but if you're an avid traveller it can seriously work out to be major points for you. If you don't have one set up, the good news is most have signing bonuses too! Also speaking of cards, make sure you have a 4-digit pin (rather than 7-8 that don't work everywhere) on at least one of your cards so that you can easily withdraw money (and the same goes for one of your credit cards too).
Sights, experiences, etc: while it's usually the last thing you think about, so many sell out or get really packed—book them early!
If the general point hasn't been hammered in enough, book as soon as you can! You don't want to plan your days within an inch of your life, but if there's something you really want to see, by all means, book it in and just make sure you have that jotted into your calendar! Take the Alhambra, for instance—we booked two months in advance and got one of the last spots! So pick maybe the 2-3 things you're wanting to visit and book them in! Just a note too that a lot of restaurants are going to get booked up weeks in advance so if you're dying to eat in one place, no harm in emailing (if they can) or making that one long-distance call to get a meal set!
Decide where to save, where to splurge to avoid future budget mishaps.
The fact of the matter is, you can't get stressed about finances once you're on the road because that's such a slippery slope of mental stress—do your research beforehand and decide what you want to splurge on (new bag, a boat tour, a special restaurant, etc) and figure out how you can balance that appropriately. Whether it's bringing budget down on an Airbnb, mapping out transit instead of expensive cabs or deciding how to save on food expenses, you'll have everything set so that you can just enjoy your trip and not dread the bills when you're home!
Travel insurance: the boring but necessary part!
This one has its own category because it's so boring but so important—the good news is, many of us have it without even knowing it. Whether it's a credit card benefit, a homeowner/renter's insurance plan or a health plan, many of them extend some travel coverage as well. Still out of luck? Here in Canada, before I got my plans set, I used to go to London Drugs and just get a cheap plan at their customer service desk—most drugstores and the like offer them. A lot of people don't think about this before leaving but it's one of those things you don't worry about until you really have to worry about it! Trust me, it's an easy addition!
Carry-on or checking in?
If you're doing carry-on, I can help you out with that! Go to my Travel Tips section and there are tons of general and specific carry-on travel tips there. If you are checking in though, make sure you add luggage while doing your online booking, or if you forgot, modify your booking online well before your flight. Prices can be seriously jacked up at the actual terminal!
The nitty gritty: passport expiration, visas, international driver's permits, etc.
So your flights are booked, your accommodation's set, you have a budget game plan and you've got one of your key sights booked in—nothing left to do, right? Wrong! Take one hour and do a quick check on a few things. When does your passport expire? If it's within a certain range, some countries won't allow you in (France I believe requires six months!). The good news is you can expedite renewals! Visas, same thing! If you're going to be driving while you're away, you can get an International Driver's Permit too—not all countries require it (and honestly, no rental agency has ever required them), but they last a couple years and it gives you that peace of mind. And worst case, if you get pulled over for whatever reason, it's not a bad thing to have it! Finally, if you want a rail pass, you have to book those before leaving!
Batch your work!
My last tip! The above might be a bit daunting all together, but if you do a power week of just getting everything set, you'll get so much relief! It'll be intense but then you're done! You'll just have to do all the fun things afterwards: picking out outfits, packing up, browsing Pinterest, etc!
Do you guys have any tips for planning your trips? Tell me in the comments below!