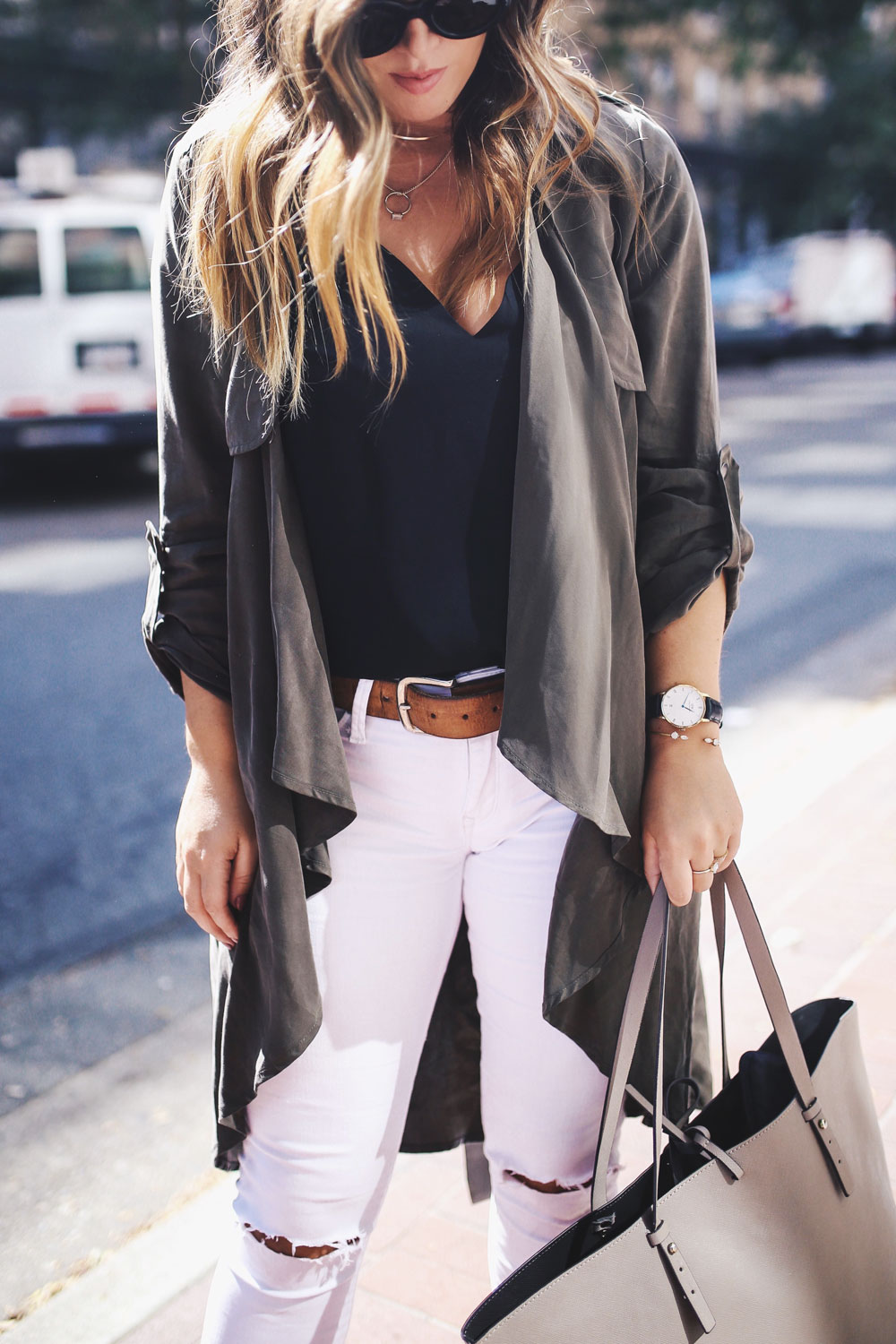 We've been pretty spoiled with beautiful weather here in Vancouver since I've gotten home, but it's definitely starting to feel like fall! And really, while I'm a summer girl, what's better than those crisp fall days with clear sunshine, crunchy leaves underfoot and a little nip in the air? It's a pretty special time of the year but like all seasonal transition periods, it can be a bit tricky to navigate style-wise—not only do we need to psychologically edge out of summer and start embracing fall, but the weather kind of has one foot in the summer and one foot in fall lately. If I dress full fall, I start sweating profusely around noon, but I can't get away with just a little summer look either anymore. Cue in your seasonal transition style essentials! I'll be sharing a few of my favourite pieces that I love modifying around this time of year over the next little while—first up, one of my all-time faves: white denim!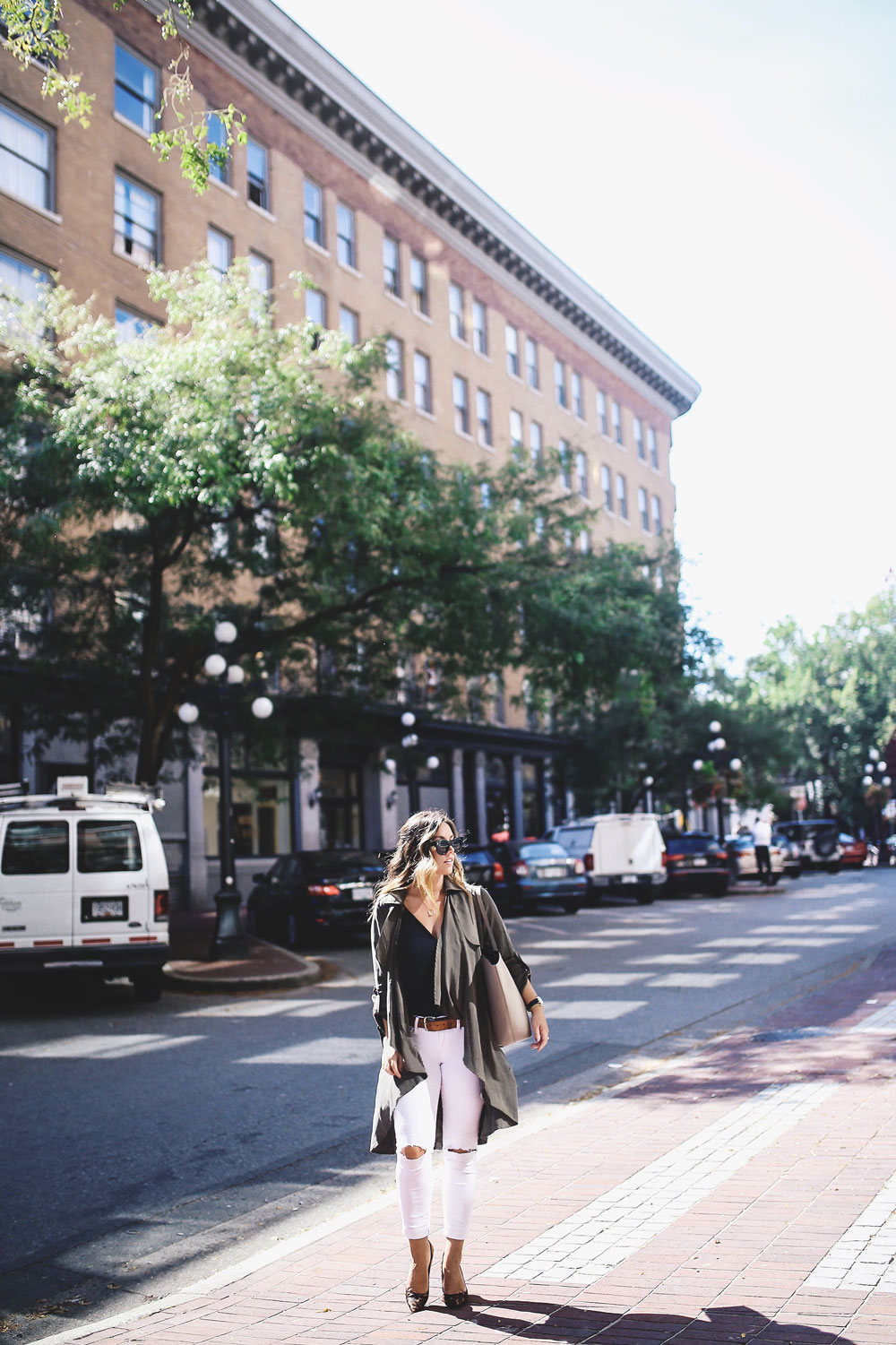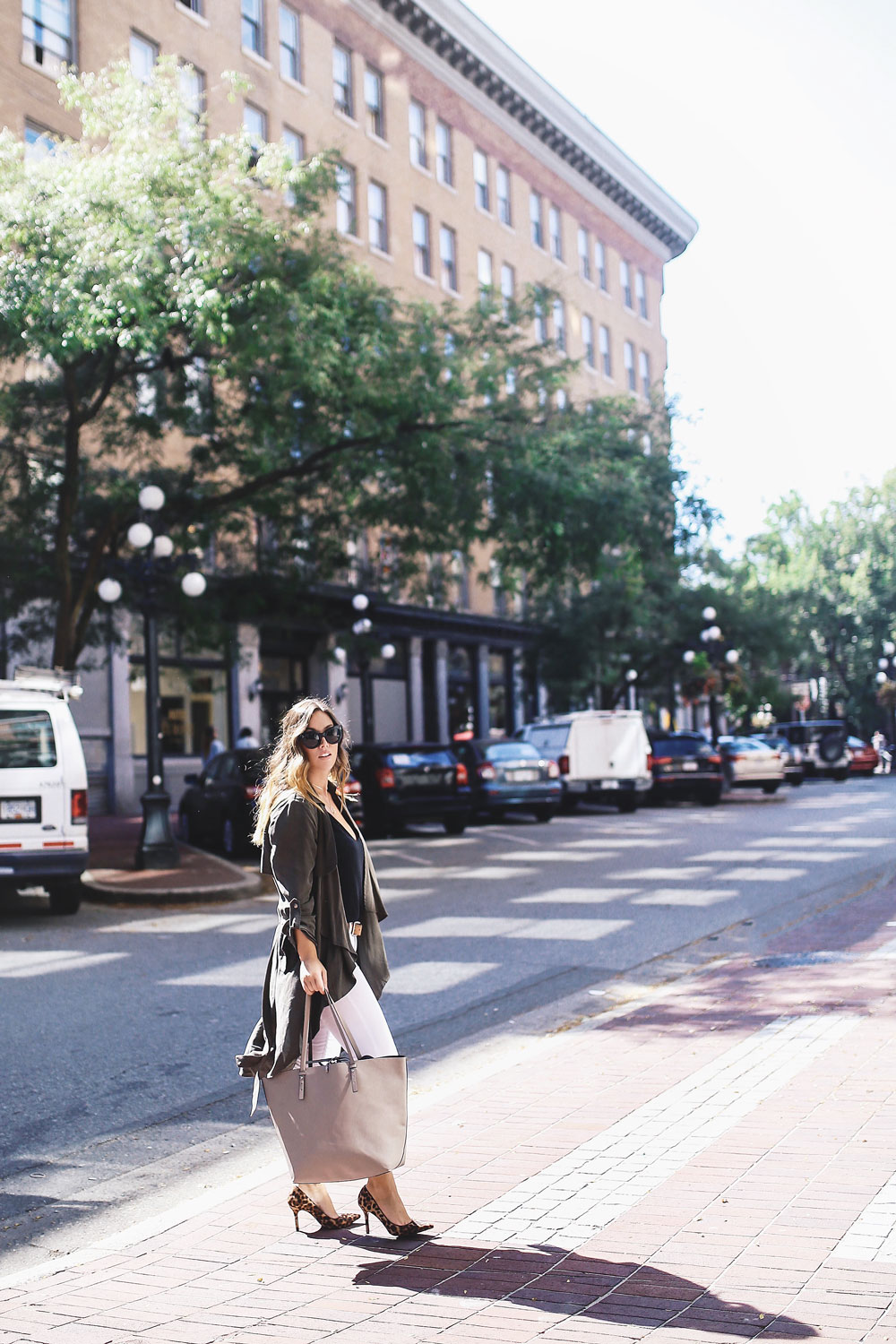 White denim ticks off a lot of boxes that make it a perfect hybrid piece: it's fresh and clean (helping us hold onto those fresh summer vibes), it's neutral so acts as a perfect base to other tones, prints, etc, it actually provides warmth too so you're not freezing your legs off and it's unbelievably easy to dress up and down (for instance, you could've just as easily swapped out the heels in this look for a pair of white Converse sneakers for a fresh look).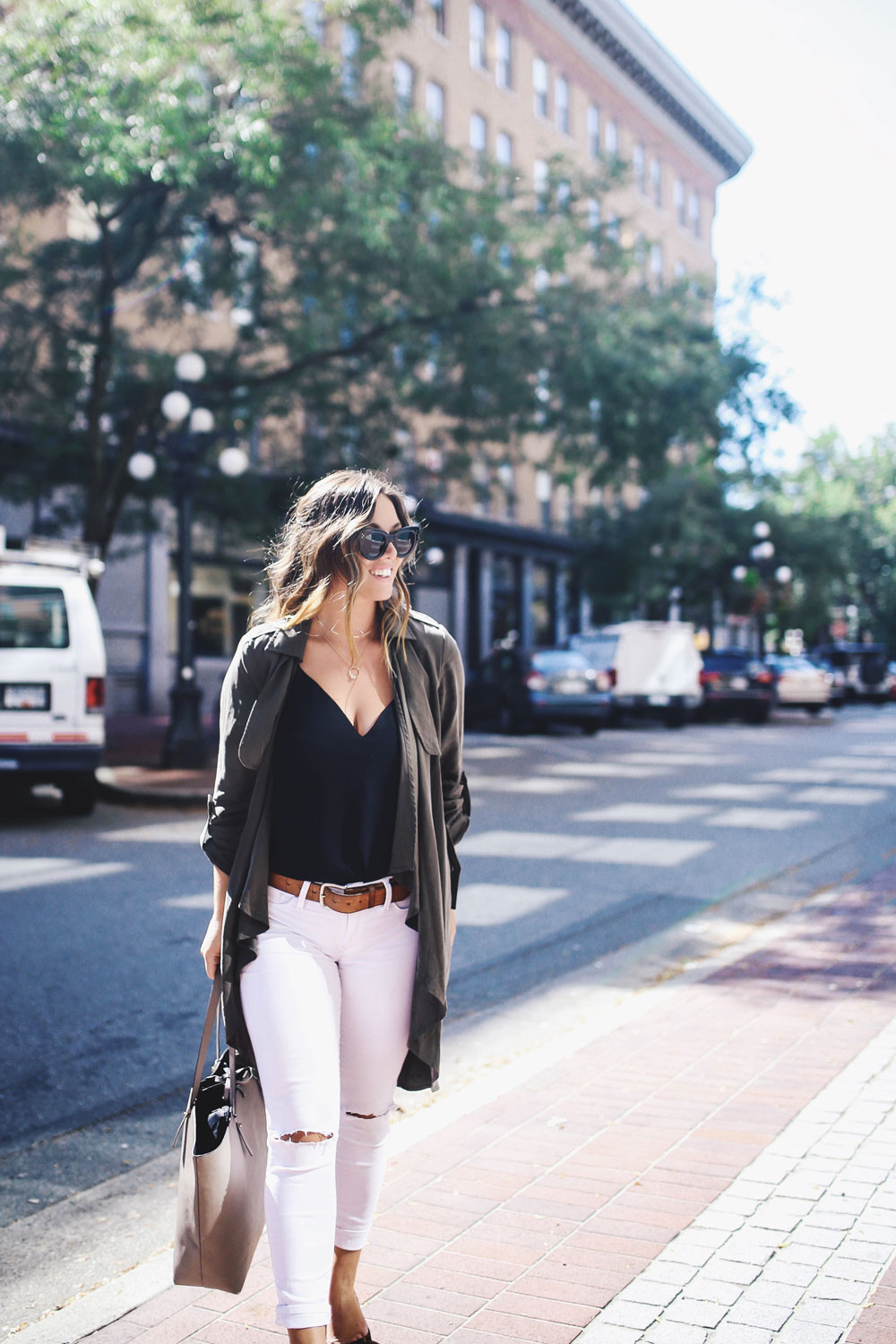 I particularly love this Alexa style by Mavi styled with true autumnal pieces and colours—this Lovers + Friends trench from REVOLVE (sold out sadly but very similar one here also from L+F!) first got intro'd into my closet during the spring (see it worn here and here) and I love its deep olive tone. Serious fall feels! Rather than going for a lighter top, I really love tempering the brightness of the white denim with a black camisole (this perennial fave from Aritzia is a must in your closet, this is another option [on sale] as well if you want some detailing!). An oversized, all-season tote and a dash of autumnal print via these feline heels (something about leopard just screams fall to me) and there you are—an easy, day-to-night look (just pack those flats or sneakers for earlier in the day!) that you can wear just about anywhere! I also love stacking on the gold jewelry (wearing my girl Leah Alexandra's here) because it helps bring out those warm tones of bronzed skin (while it's still bronzed!), but added in my leather Daniel Wellington watch in black to add a bit more depth to the stacking.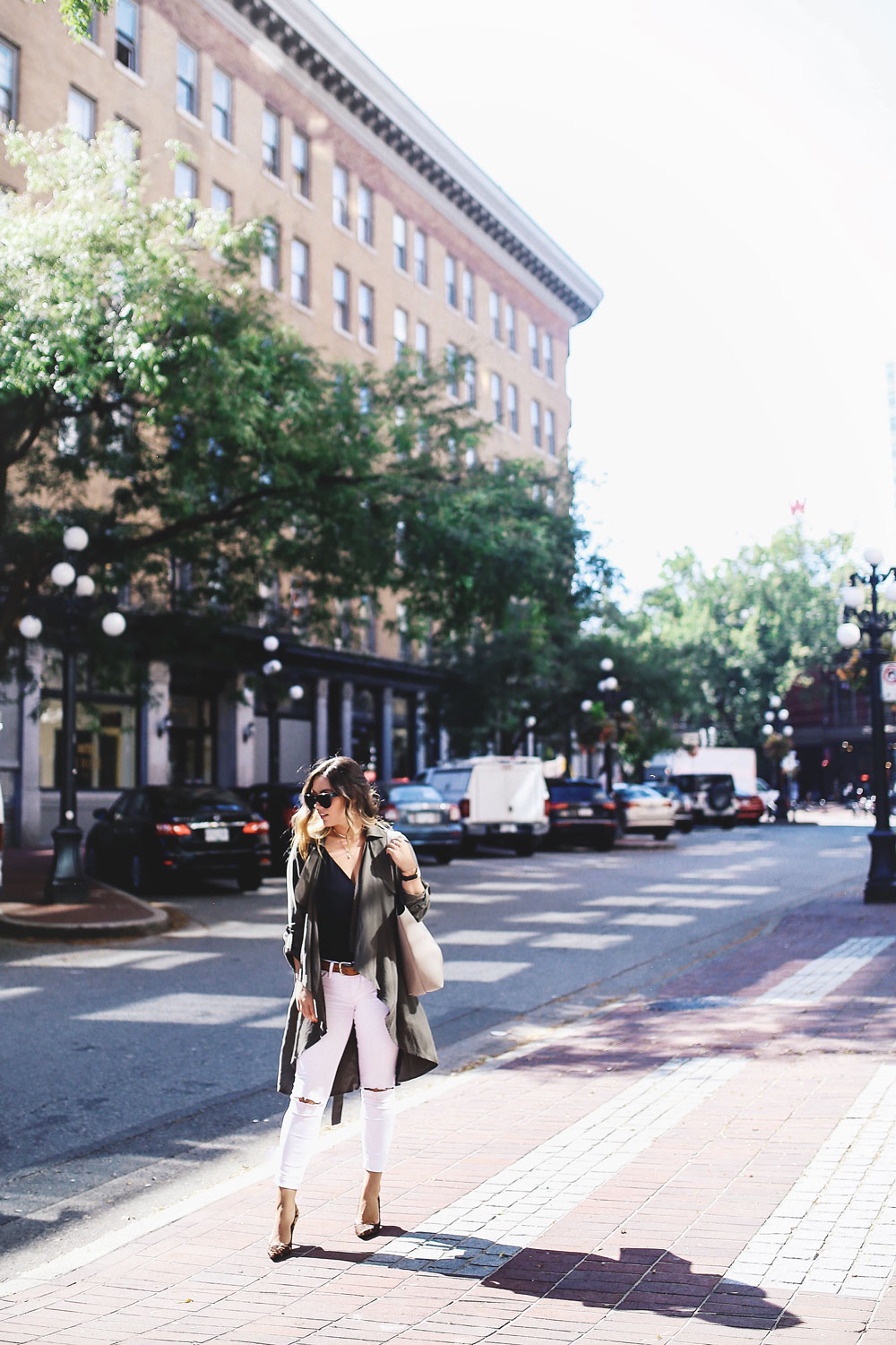 If you're looking for other ways to wear white denim, a few of my faves are: 1) worn with really warm tones like brown, caramel and tan for a break from the moodier tones (play around with texture here, like a thick knit camel sweater and burnished brown ankle boots), 2) in a truly pared-down, clean look with a black-and-white striped top and black leather jacket and 3) layered with rich tones like navy, playing around with layers (think a cardigan layered over a printed blouse) and buttery leather accessories in cognac or tan.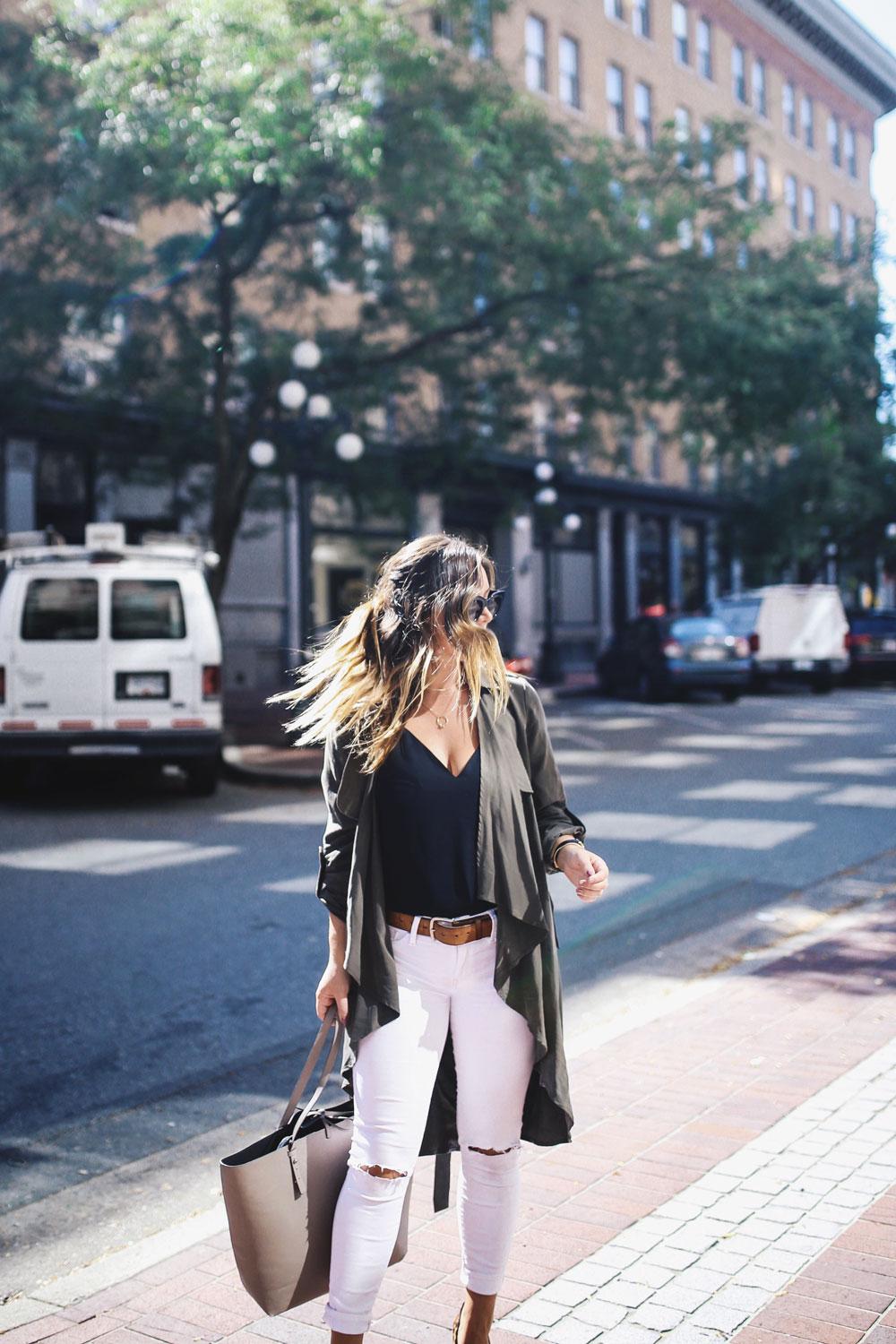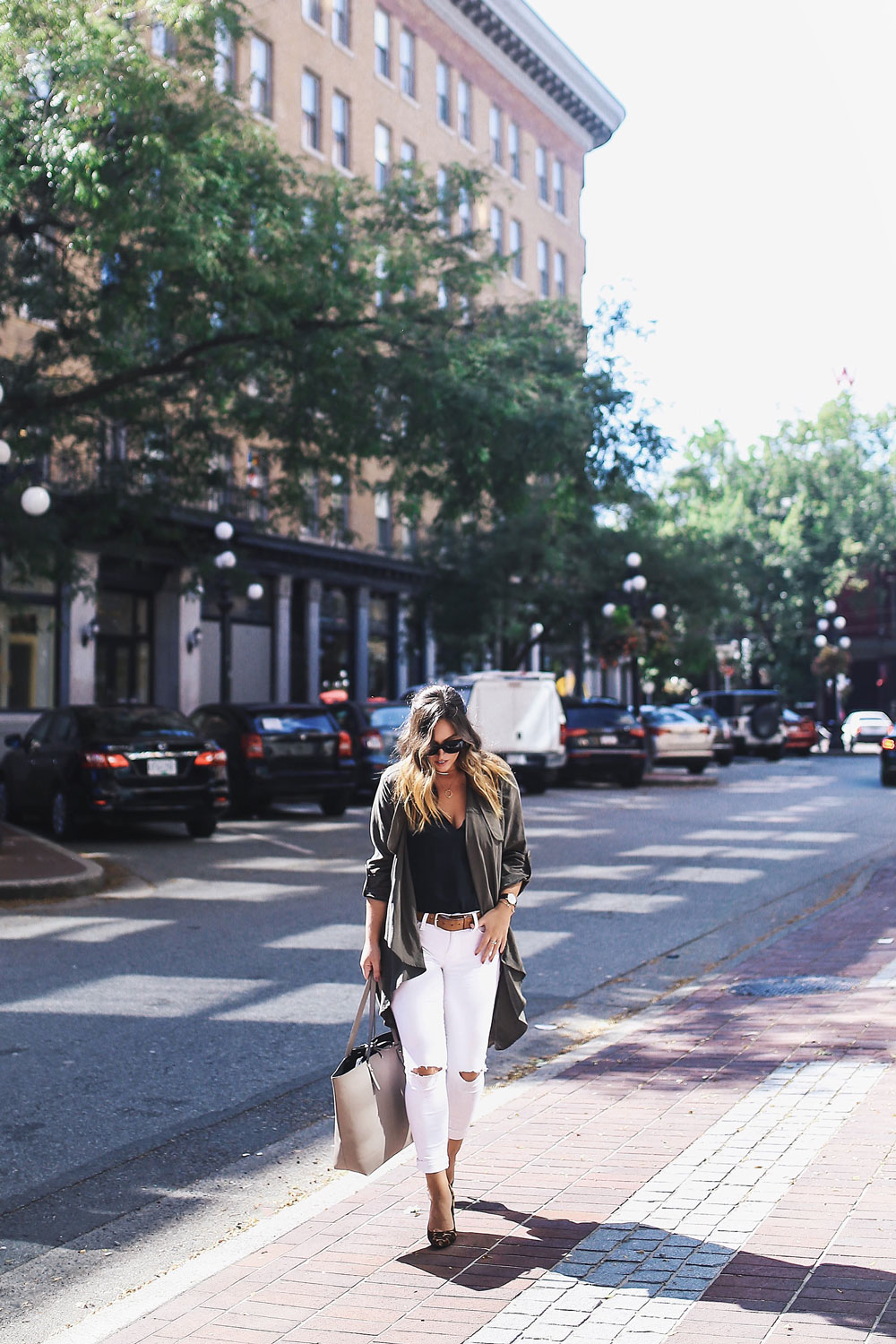 You can shop this whole look below! Stay tuned for the next in this style series—can't wait to break down all my faves because this is actually one of my favourite shoulder seasons style-wise!
Photos by Alicia Fashionista