Fresh off my Thailand trip and then spending a very sunny couple of days up at my cabin has me dreaming about summertime on repeat, and because summer is my favourite season to dress for and suits are my favourite thing to stock up on, also fantasizing about all the new suits I'll get! Growing up as a competitive swimmer, I've always been really comfortable in a swimsuit – I'm a water baby through and through and quite frankly, it's a relief as an hourglass shape to not have clothes because it's not always the easiest body type to dress. Swimsuits are just easy for me, and definitely what I feel most comfortable and confident in.
Having said that, there is one part about swimsuit shopping I struggle with. I've talked about my challenges dressing a large chest before (see this post for more details!) – as a 30F, I literally can't find my size most places and so bra shopping is a pain in my ass to the highest degree. While bikinis are really easy (I just find ones that can tie in the back [i.e. not the clasp types, so annoying] so I can adjust it to my rib cage then usually get the biggest actual cup size possible to cover my tatas), one-pieces have presented a bit of a challenge for me. If it fits the rest of my body, my boobs are usually nearly exploding out of the top of the suit or getting really smushed (super flattering).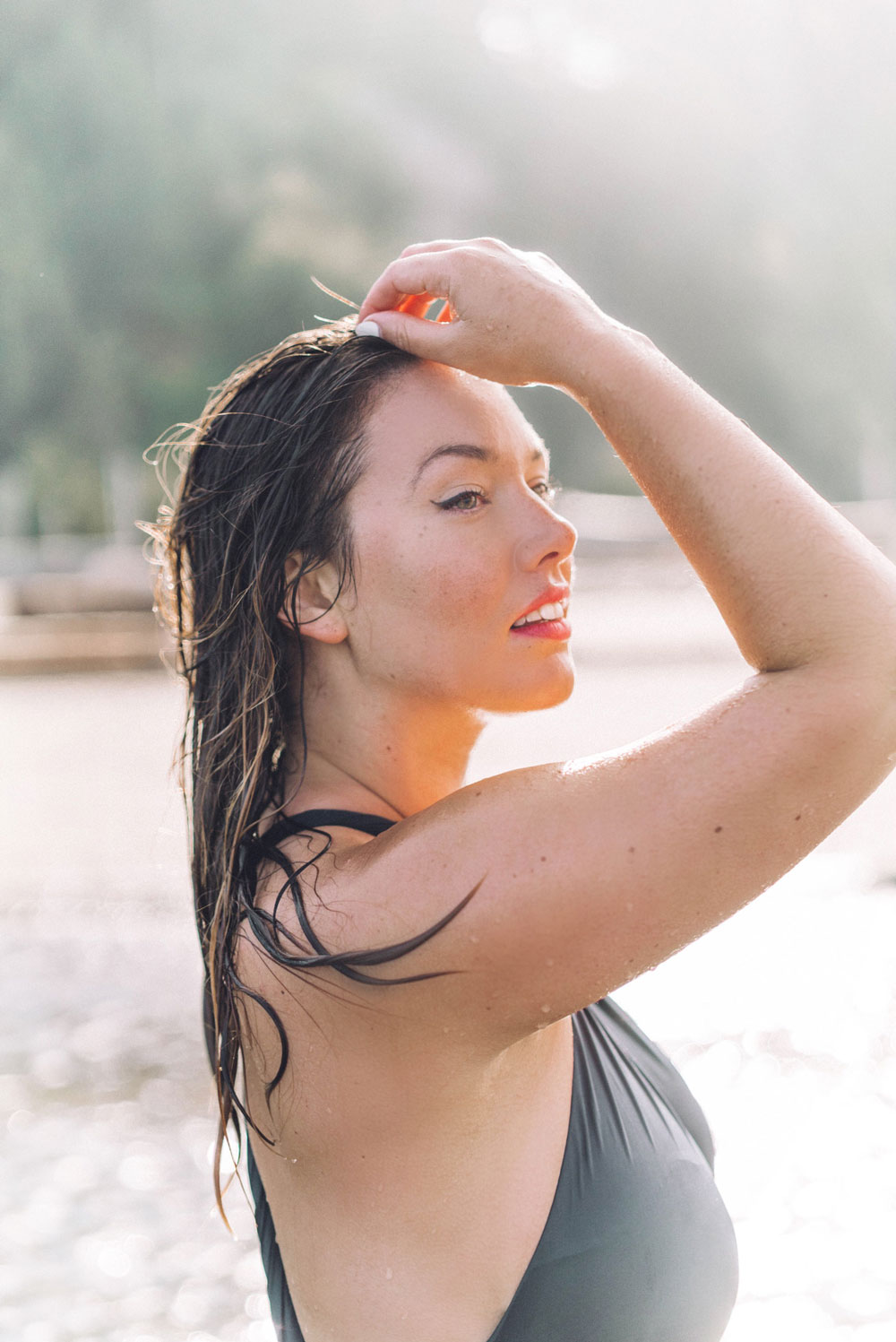 To simplify everything and actually own one-piece suits that not only fit, but that are sexy and stylish, I've learned to trust a few brands over the years that somehow offer lots of support and customization so that even if I'm online shopping, I'm safe! This ViX Indigo Drape Suit, similar here, (which you can actually wear un-crisscrossed in the front, I just find it gives a bit of extra support) was one of my faves all last year – I love how the navy tone looks amazing with all skin tones (i.e. a bit more forgiving earlier on in the summer than a stark white suit with my pale pre-summer skin, and super pretty once I'm bronzed!). Super obsessed with this other solid from ViX too, and just a side note that I swear by their bikinis – they are so comfy and their sizing is so much more accurate than a lot of other brands! This is a snap of one of their bikinis that I love.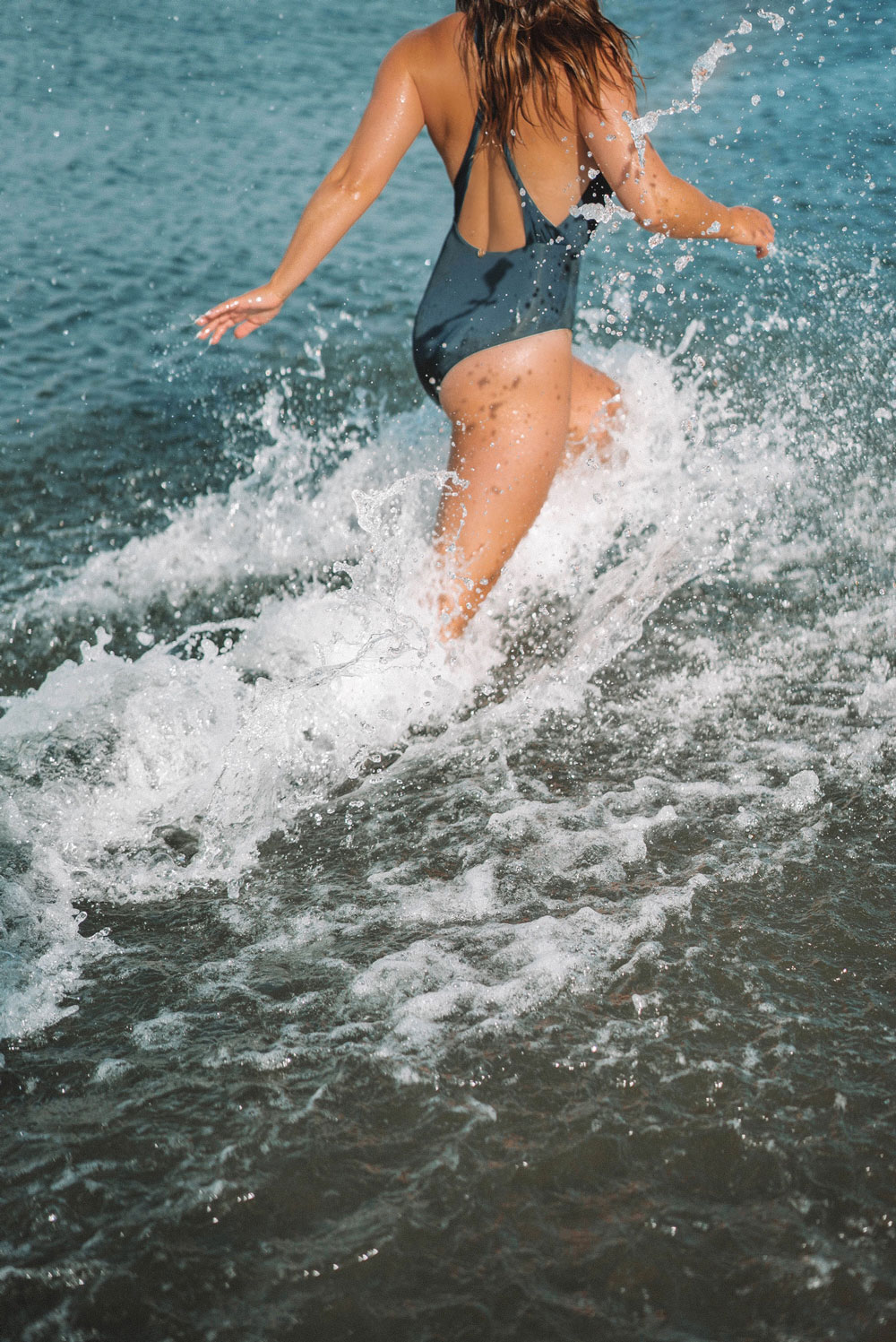 Of course, if you guys have been following me for any length of time then you probably know of my obsession for BECCA Swim too. They're likely my first go-to for all swimwear (I find them at Nordstrom here in Canada!), especially their one-pieces because they almost all come with the thoughtful addition of a strap in the back that you can adjust. For people like me who are proportionally a lot smaller around their waist than their chest, this is a God send! I've worn their Show & Tell one-piece repeatedly – just see it here, here and here! Before taking off to Thailand, I knew I needed another BECCA piece (also have a few of their bikinis, just a touch obsessed) – their Color Splash Off-the-Shoulder one-piece (similar one here) got packed ASAP and I wore it almost every opportunity I could get (you can see it here and here). I could go on and on about how much I love their suits – they're so sexy and chic, but they are seriously supportive! And durable – I put my suits through a lot because I'm always throwing myself off a boat, diving in the water or scaling rocks and these babies last like crazy.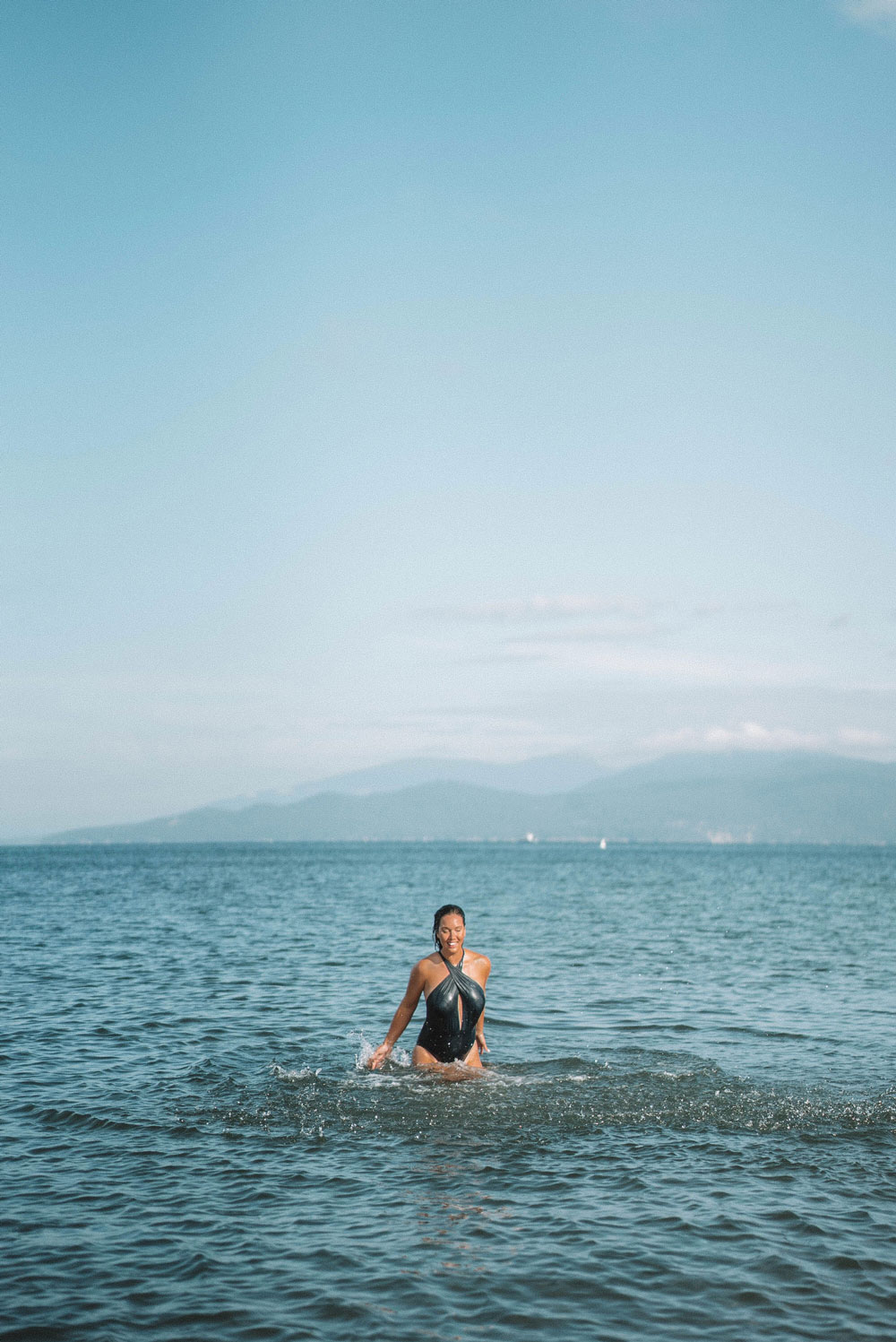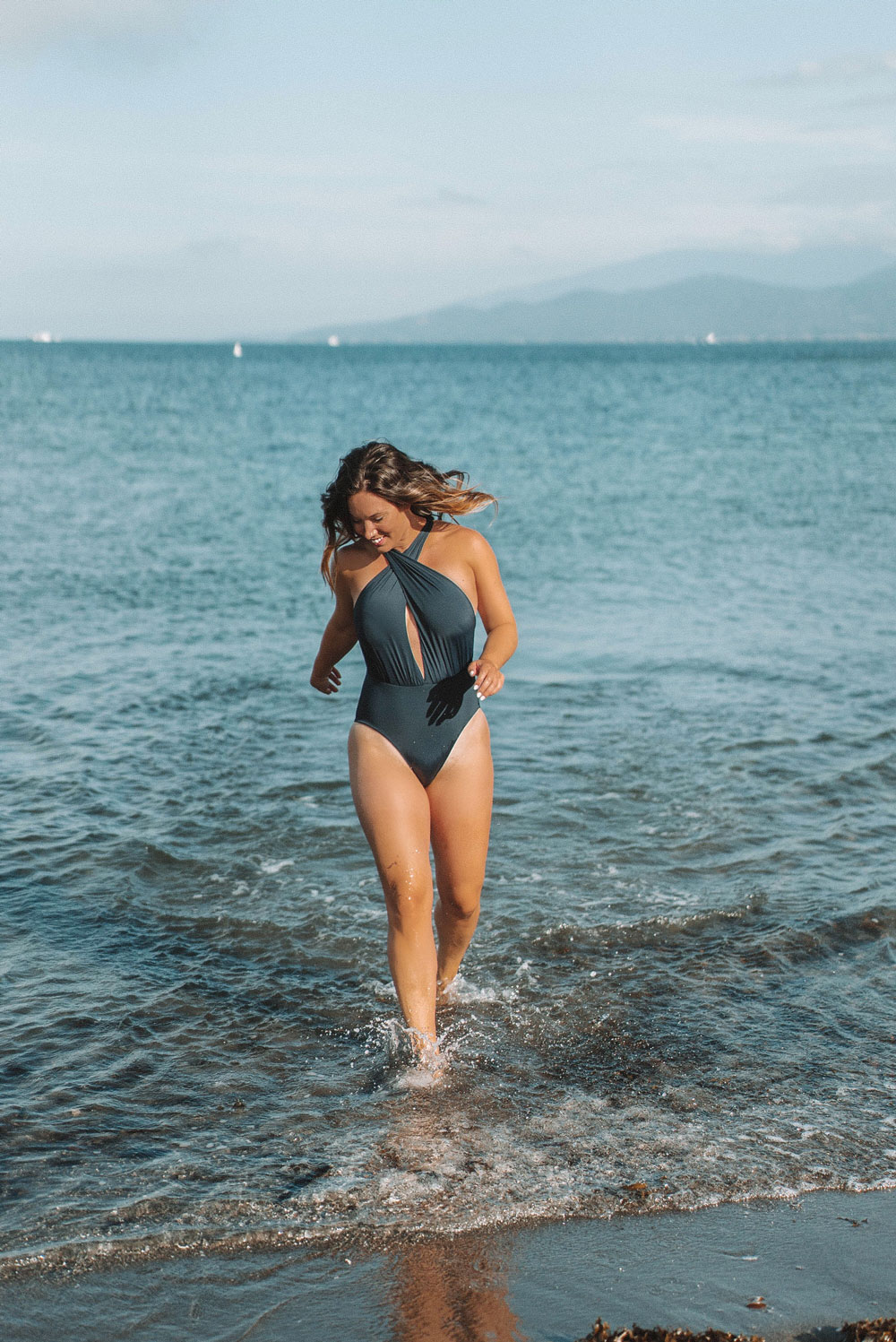 I have so many other BECCA pieces linked below but also need to shout out Monday Swimwear – I love Tash Oakley and Devin Brugman and especially love that Devin has similar proportions to me and manages to kill it in the bathing suit and style area all the time. They recently came out with their new sizing that's specifically designed for busty girls and I am 100% buying one before the summer starts (dying over the ivory tone!).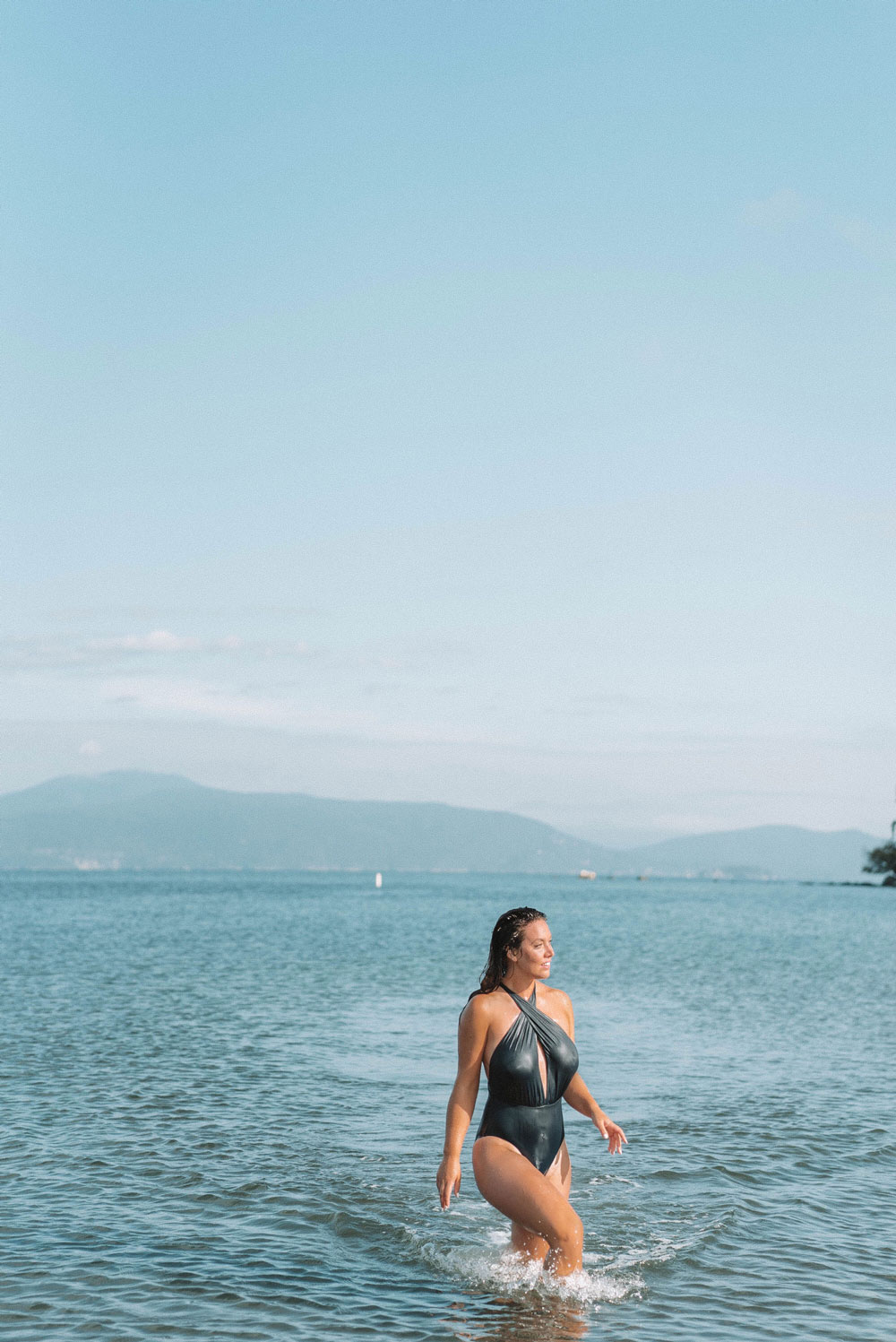 Finally, my lovely friend and photographer Ainsley (who snapped these pics!) has an amazing recycled swimsuit line called Londre Bodywear which is blowing up. You may have seen it on Kaitlyn Bristowe in almost every one of her vacay snaps and you'll be seeing it all over the place over the course of this summer. I have The Multiway and it's so perfect for a sexier piece for bustier ladies (while The Minimalist is amazing for small-medium chest sizes, though The Multiway is amazing for all types).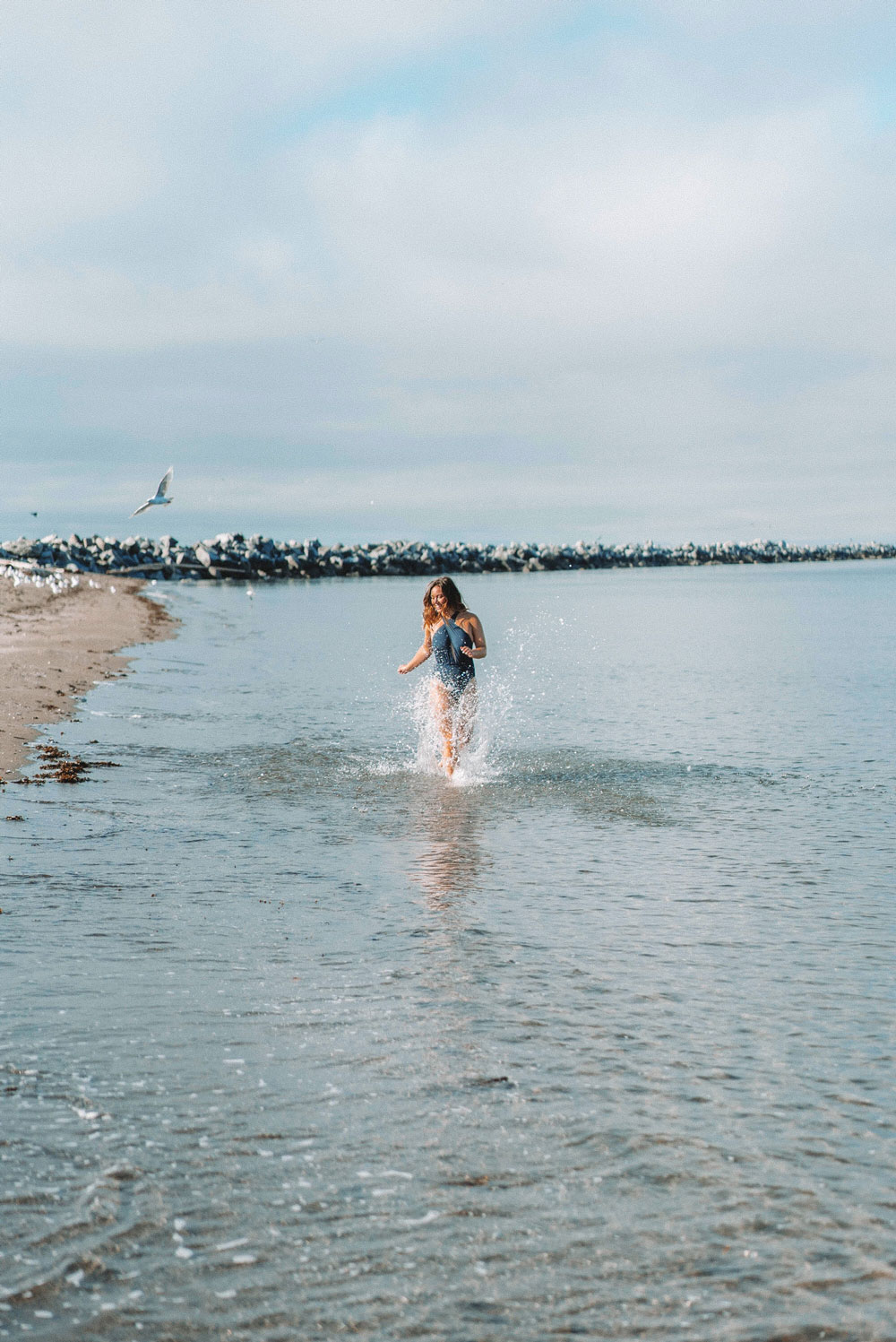 Some last tips/recap points: look for one-pieces that have straps you can tie up in the back, that offer in-suit shelf support, that have durable, thicker compression fabric (like this suit I'm wearing here, which features cups and is compressive) and keep an eye out for one-pieces that have bustier chest sizes (so the you don't have to size the whole suit up and have the rest of the suit bag out on you!). I say this on every chest story (starting to questions why I have so many but you guys have asked for more!): upper body strength training is key for me not only keeping everything "up," but most importantly, for my back health! You'll not only look and feel better but you'll keep that pain at bay and not have to rely on uncomfortable, heavy-duty straps that dig in. I have a really amazing, minimal-equipment workout that has lots of great upper body building that you can do at home, the gym, etc here! Seriously, back pain is no stranger to me and also no joke and keeping your upper body strong will only help your lower back pain and keep that annoying aching in your shoulders at bay (or at least minimize it) too!
Shop more of my picks below! Seriously, these have all been vetted and approved – they'll be your best friends this summer and depending on where you are, will double up as tops too!
Photos by Ainsley Rose Photography