Prague – just saying the name conjures up images of romantic castles and epic battles waged. The capital city of Czech Republic, it's been one of the main centres of European culture and politics for centuries and it is just as beautiful and interesting as you've dreamt of it being.
Saying it has a rich history is an understatement – from the reign of Charles IV in the 14th century (who the famed Charles Bridge is named after) to the tragedy of WWII to Soviet rule to the Velvet Revolution, when the Czech Republic was formed with Prague as its capital, you can not only see the history, but really feel it as you wander around its stunning streets.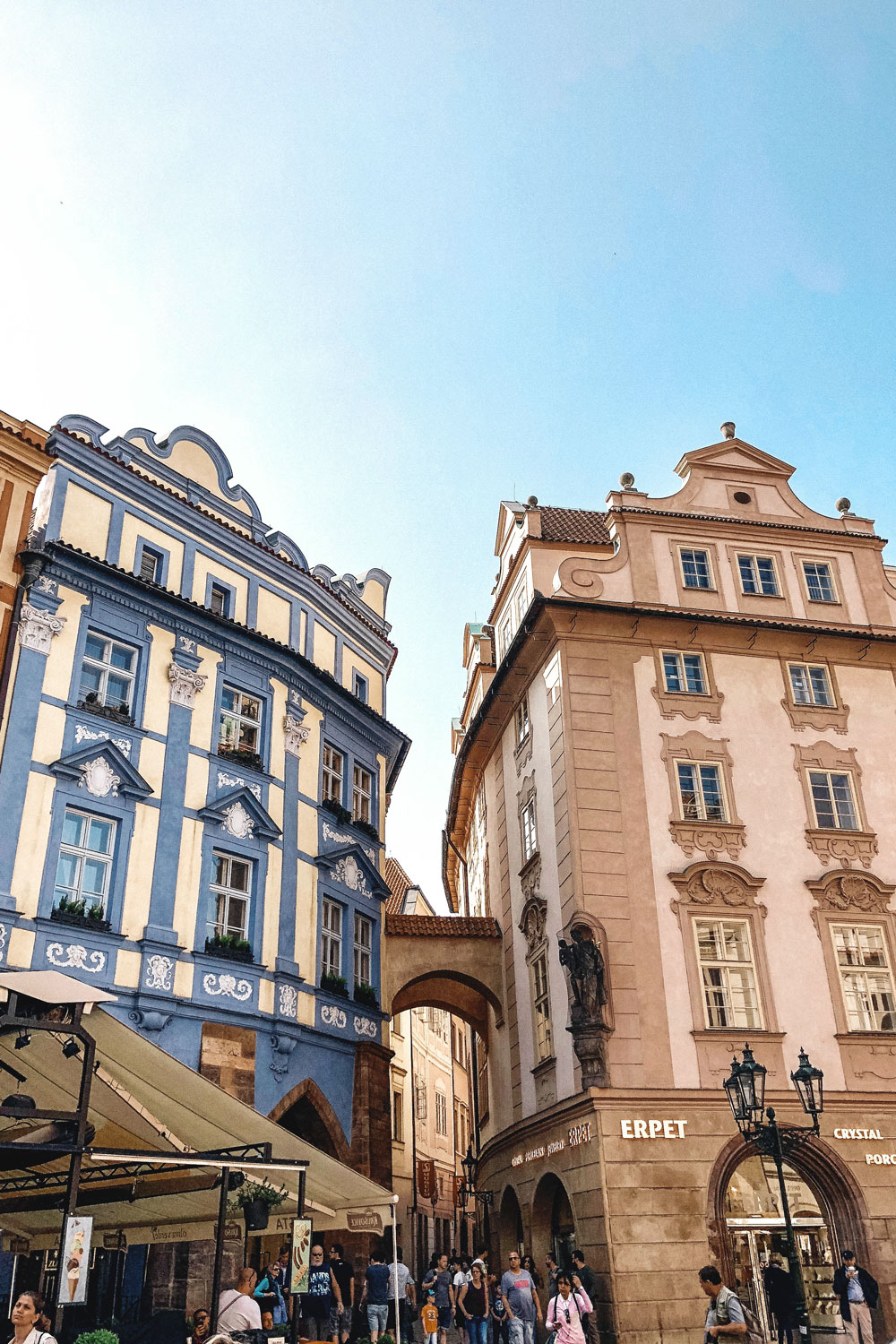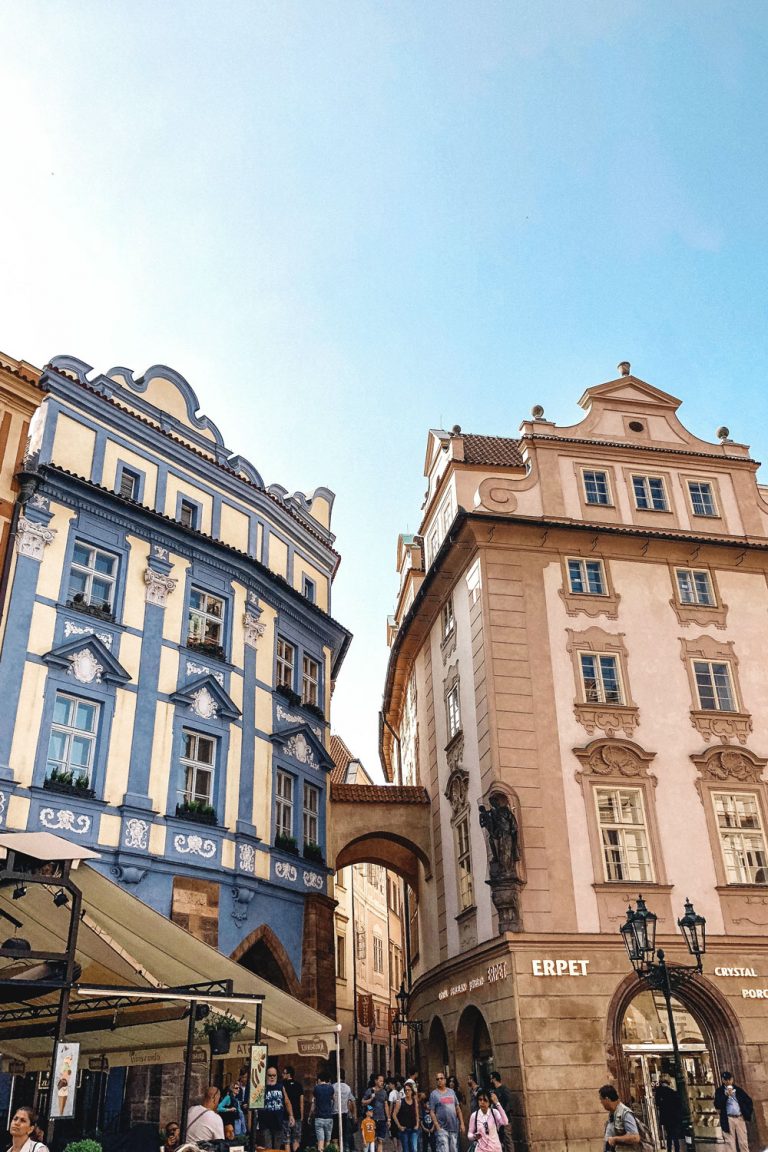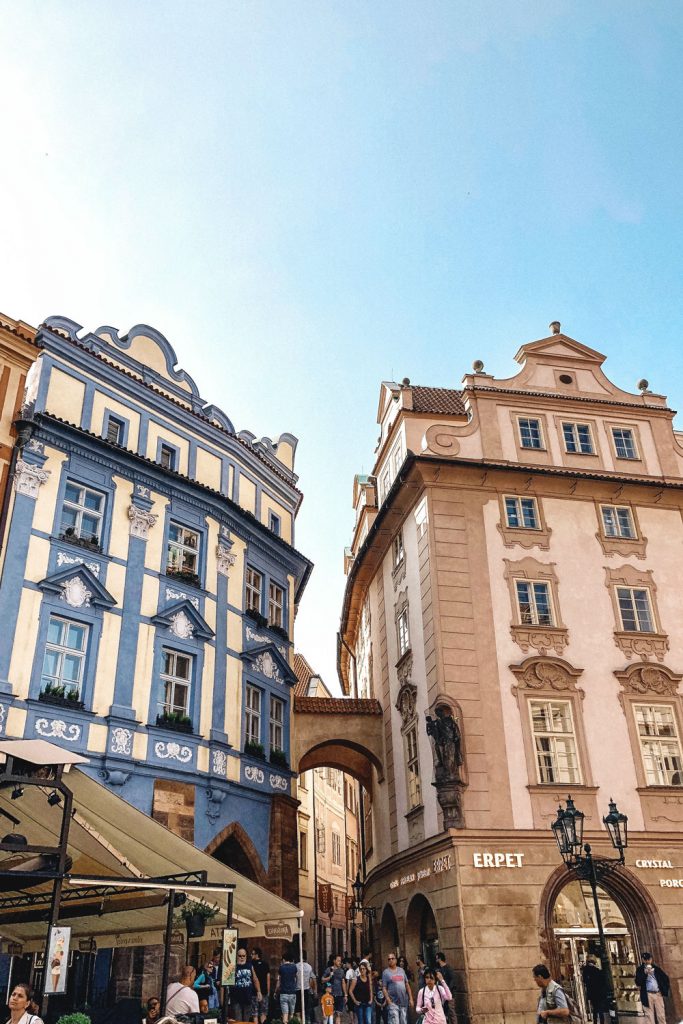 ---
WHAT TO SEE
Split by the Vltava River (which you might remember also creates a horseshoe bend around beautiful Český Krumlov – check out the travel guide to this stunning Czech town here!), Prague has two sides: the "Old Town" and the "Lesser Town" (Staré Město and Malá Strana in Czech, respectively).
Prague was the capital of the kingdom of Bohemia for centuries and its city was built up over Romanesque, Gothic, Renaissance and Baroque periods, resulting in a seriously stunning mix of architecture throughout the city and its nickname of "the City of a Hundred Spires."
Right in Old Town, you can find the suitably named Old Town Square (the pic above was snapped there), which is the heart of the city. There you can find the Astronomical Clock which does a little "performance" on the hour (put in quotation marks because as I found out, the performance is really quite limited!) and the Gothic Church of Our Lady before Týn (which if you look at closely, is built asymmetrically because of the gap in years of its construction!).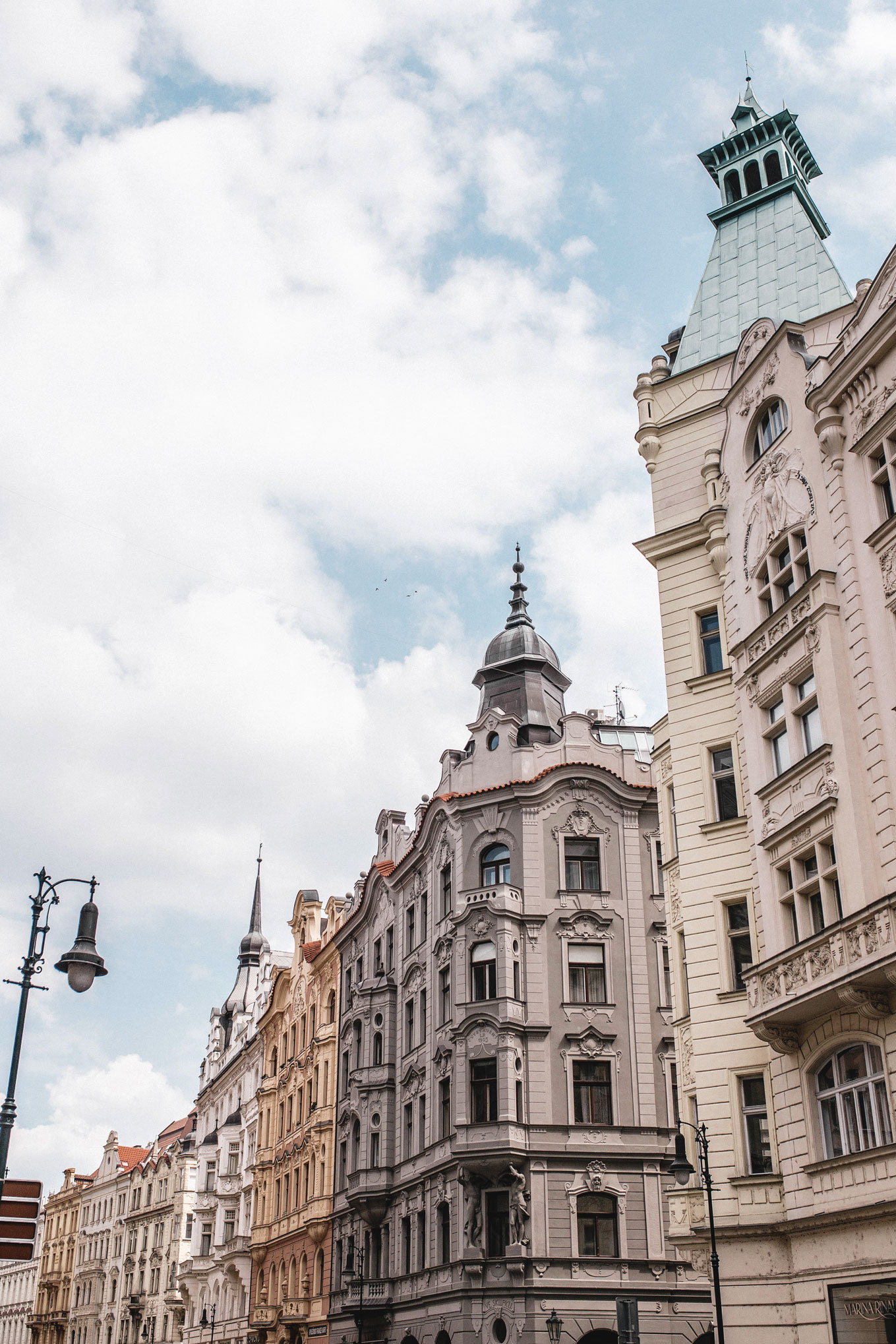 In the Old Town, you can also find the stunning Jewish Quarter, which has the famous Jewish Cemetery and the Old-New Jewish Synagogue. Now dotted with luxury boutiques and a beautiful place to wander around, the Jewish Quarter has an extremely sad history beginning in the 13th century, when Jewish people were forced to vacate their homes and all take up residence in this once-ghetto, banned from living anywhere else. Part of the reason that the area is so well preserved and that so many of the buildings survived the wrath of WWII is because Hitler wanted to keep the area as a "Museum of an Extinct Place." Because Hitler wanted this to be in Prague, Jewish artefacts were actually sent to the city.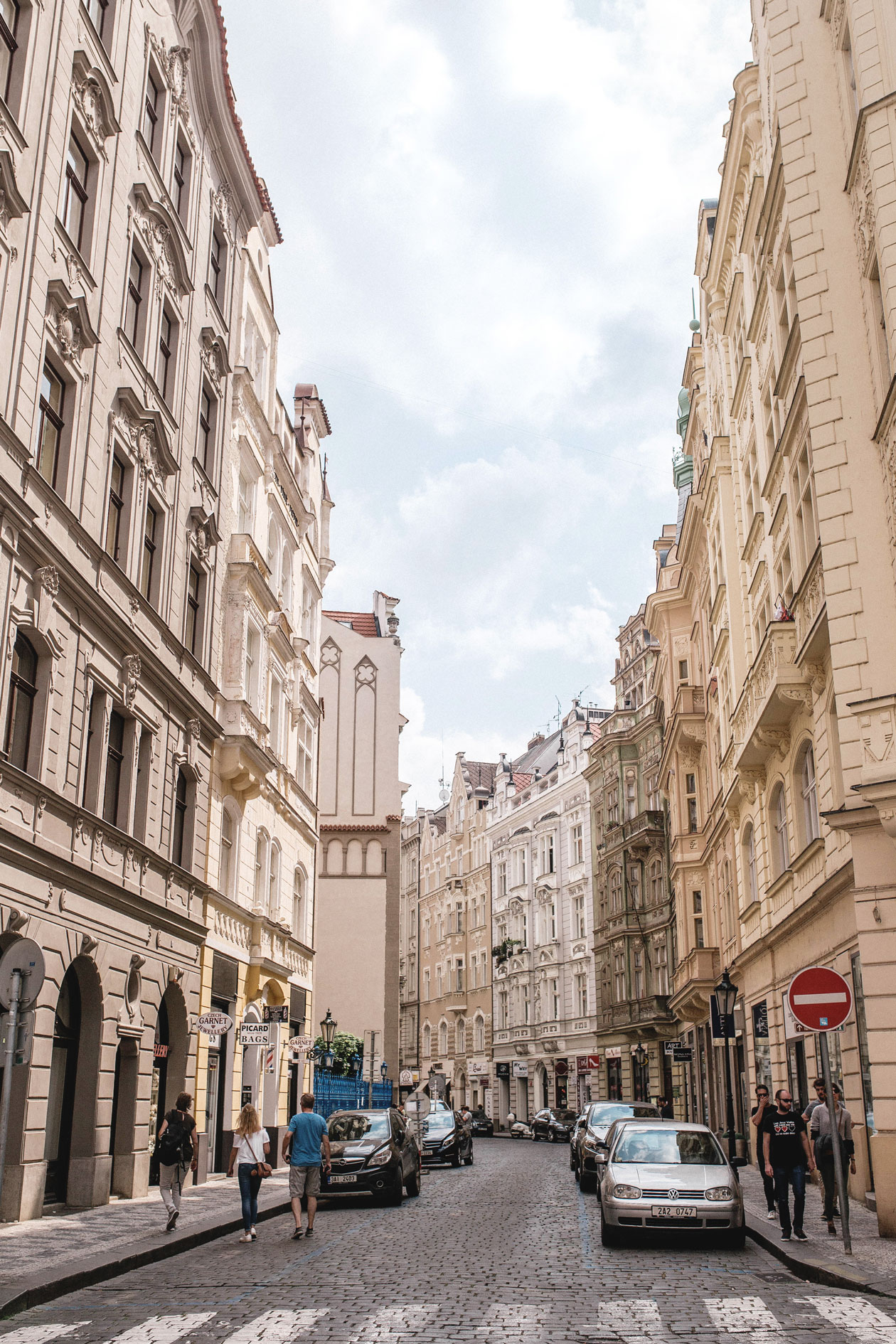 The Jewish Museum is well worth a visit though it is extremely heartbreaking – there are art pieces you can see by children who were encouraged to depict not the life they were living, but the life they remember before the war. The cemetery itself is also hard to see because the graves are literally one on top of another since the local population was banned from burying their dead anywhere else. The gravestones can be traced as far back as the 15th century, so taking in the fact that for centuries upon centuries the Jewish population of Prague was forced to live like this and then confronted with WWII and the deportations to the concentration camps and families being torn apart just makes time spent here all the more profound and heart aching.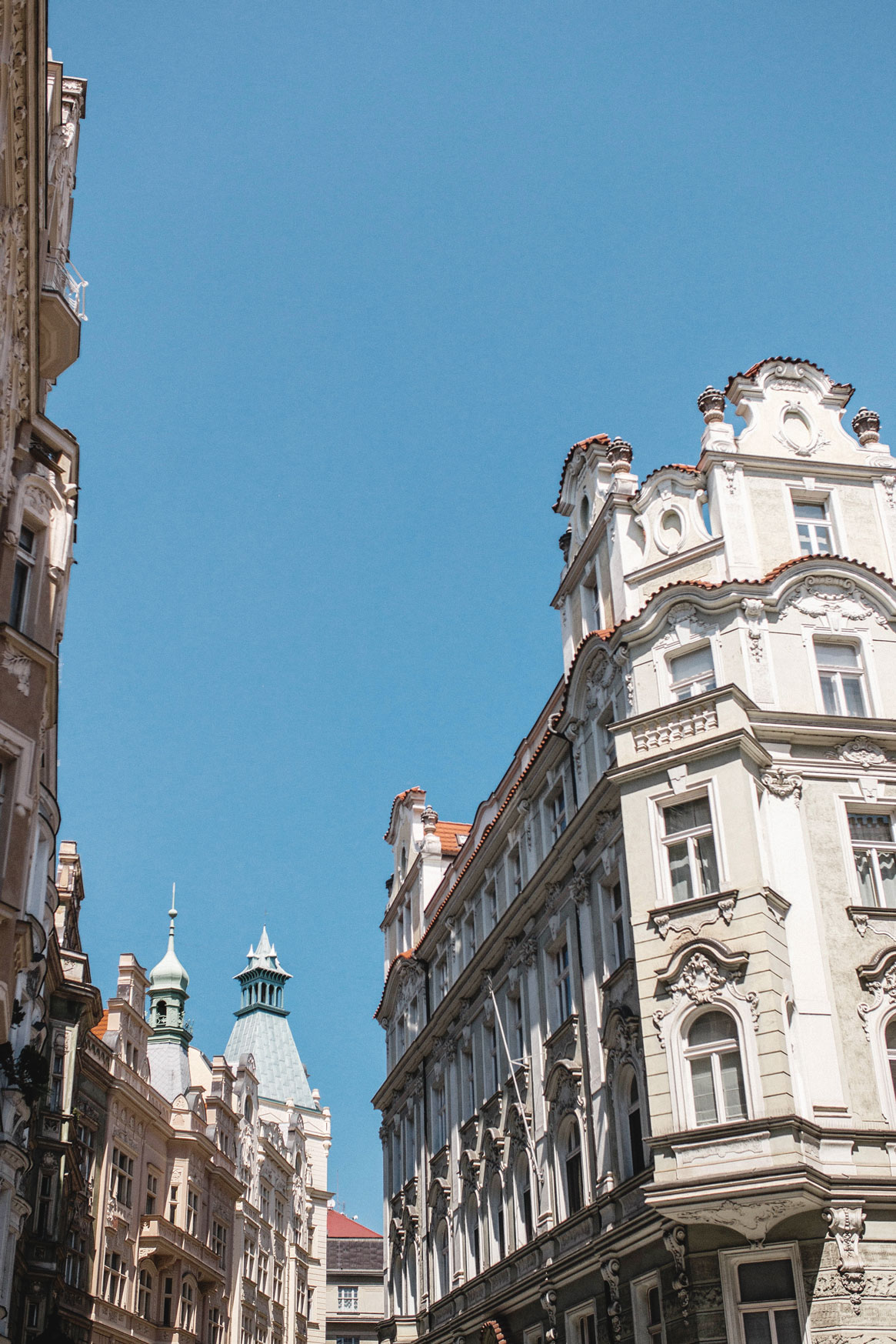 What's more, after WWII and the evacuation of the Nazis, the vacuum left behind was filled by the Soviet Union. You can see the remnants still of Communist rule today – people are super friendly and really kind but in some of the more traditional restaurants, hotels or pubs, service is still a bit more limited than a lot of us are used to (but at least knowing that beforehand means you don't have to take it personally!). If you wander by Wenceslas Square (named after Saint Wenceslas), you can stand in the spot where thousands stood and protested during the Velvet Revolution of 1989, when Czechoslovakia peacefully split and the Czech Repulic was finally formed (Slovakia of course being the second country). It's so insane to me that within my life (I was born in '87), all of this happened. It's definitely interesting because the area has such an insanely long and rich history but the country itself is so new – it makes the visit all the more interesting! We also did a Sandeman's walking tour which I would highly recommend.
Now if you wander across the famous Charles Bridge you'll make your way to my personal favourite part of town: the Lesser Town. Interestingly, the area here is actually older than the "Old Town"! Gotta love the naming systems. But before you get there, a quick couple of words on Charles Bridge: begun in 1357 and finished in the 15th century (which is an insane fact in and of itself to keep in mind as you cross over it), the bridge is decorated with 30 Baroque sculptures along its sides. It was a massively important part of the city, connecting the Old Town to Prague Castle and the site where the executed would be put on display, coronation processions passed and so much more.
I can not stress enough how important it is to get here super early in the morning if you want snaps without a ton of people in it. Prague is one of the most visited cities in the world and honestly, I don't think I've ever seen a more busy site (including the Louvre) than the Charles Bridge on a weekend day. We were there on a weekend that was a holiday for a lot of European countries too but still, I'd imagine it'd be insane always. So do yourself a favour and wake up early to take it in, and what's more, you'll get the most serene walk through the Lesser Town and through Prague Castle (which also gets super busy). Just watch my video over here to see for yourself how quiet it all was!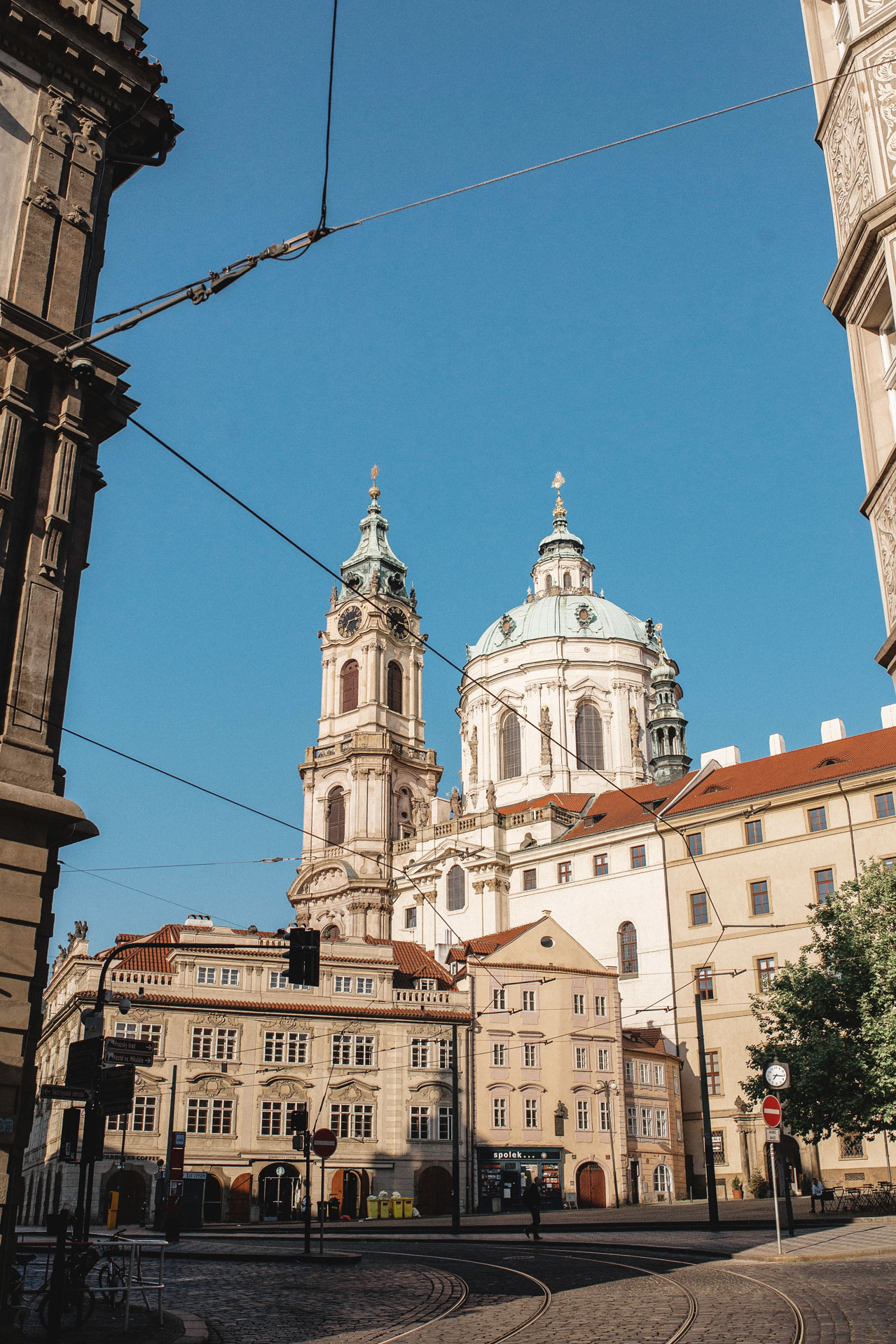 Once you've wandered over, you can take in the quiet charm and beauty of Lesser Town – the only thing to keep in mind is that literally everything from the river up here is an uphill climb, as opposed to the Old Town where everything is just a gentle slope. So pack some decent shoes because you'll want to wander around! From the beautiful and famous domed Baroque St. Nicholas Church (not to be confused with another church of the same name on the Old Town side) to the Wallenstein Palace and its stunning gardens (that I could've honestly spent days just exploring), it is a much more quiet yet still historically rich and stunning part of town. Prague is actually a major stag/stagette hub and the Old Town is where the partying really happens so if you're looking to stay out of the way, I'd really recommend this area!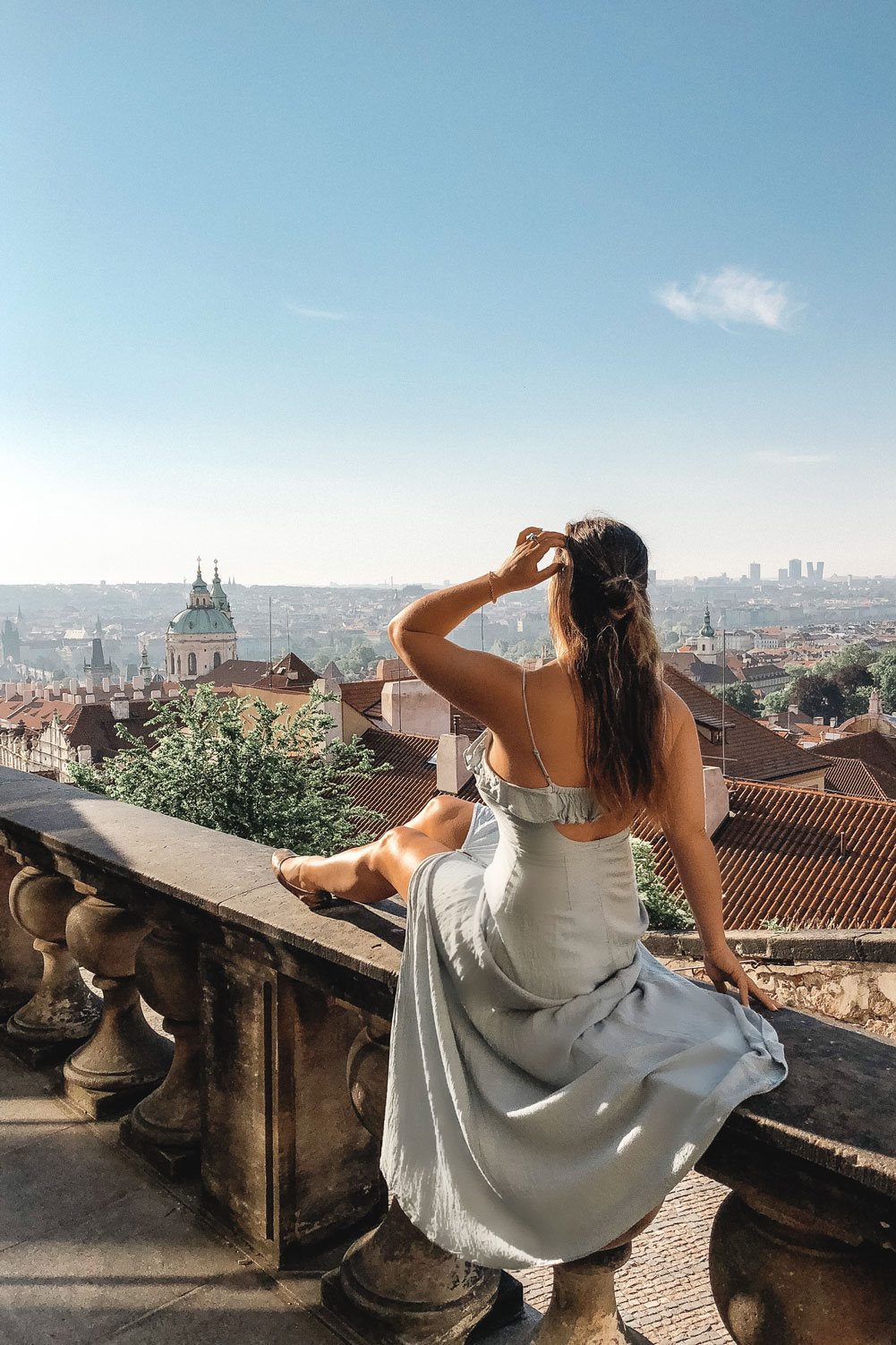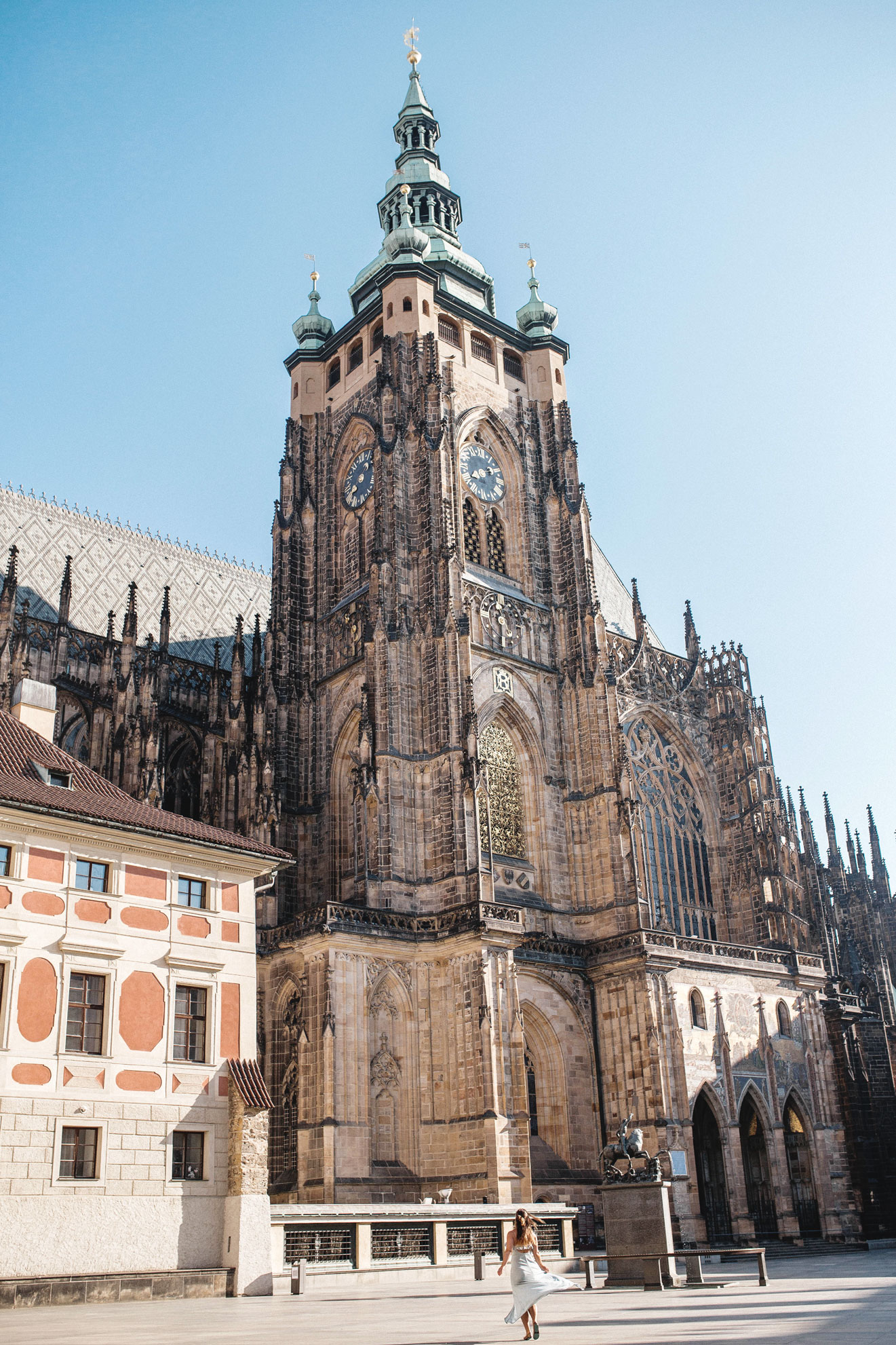 You'll get stunning views as you climb up, especially in early morning light! And of course, then there's Prague Castle – as you can see in these snaps, there was literally no one else other than me and my sister Natasha here. It was honestly a morning I'll always remember – there's something about being in a big city that's totally new to you and exploring it in a serene way that's so special. I don't manage to do it in every place I go (because I seriously, seriously love sleep) but I never regret waking up early for a morning like this.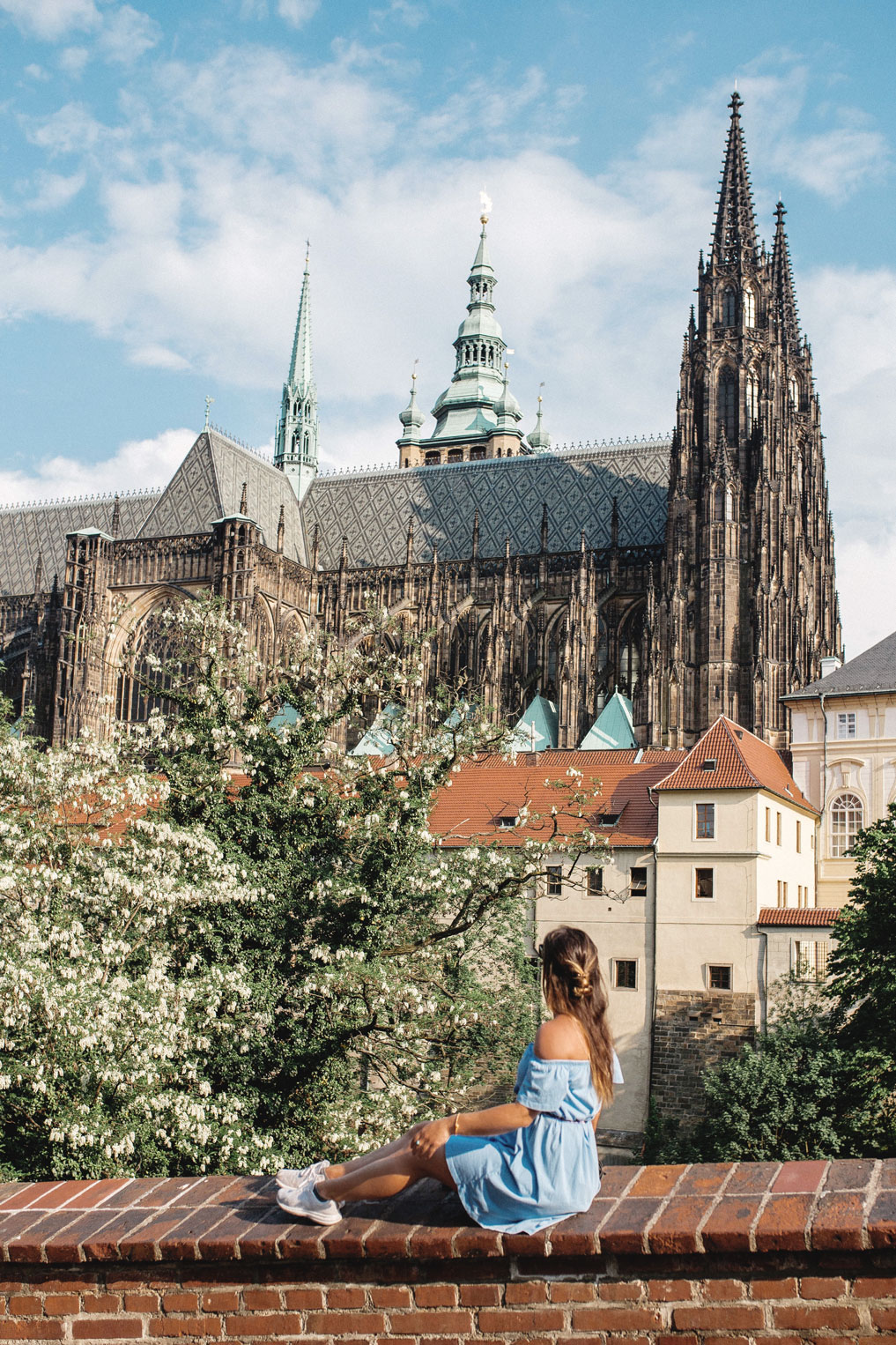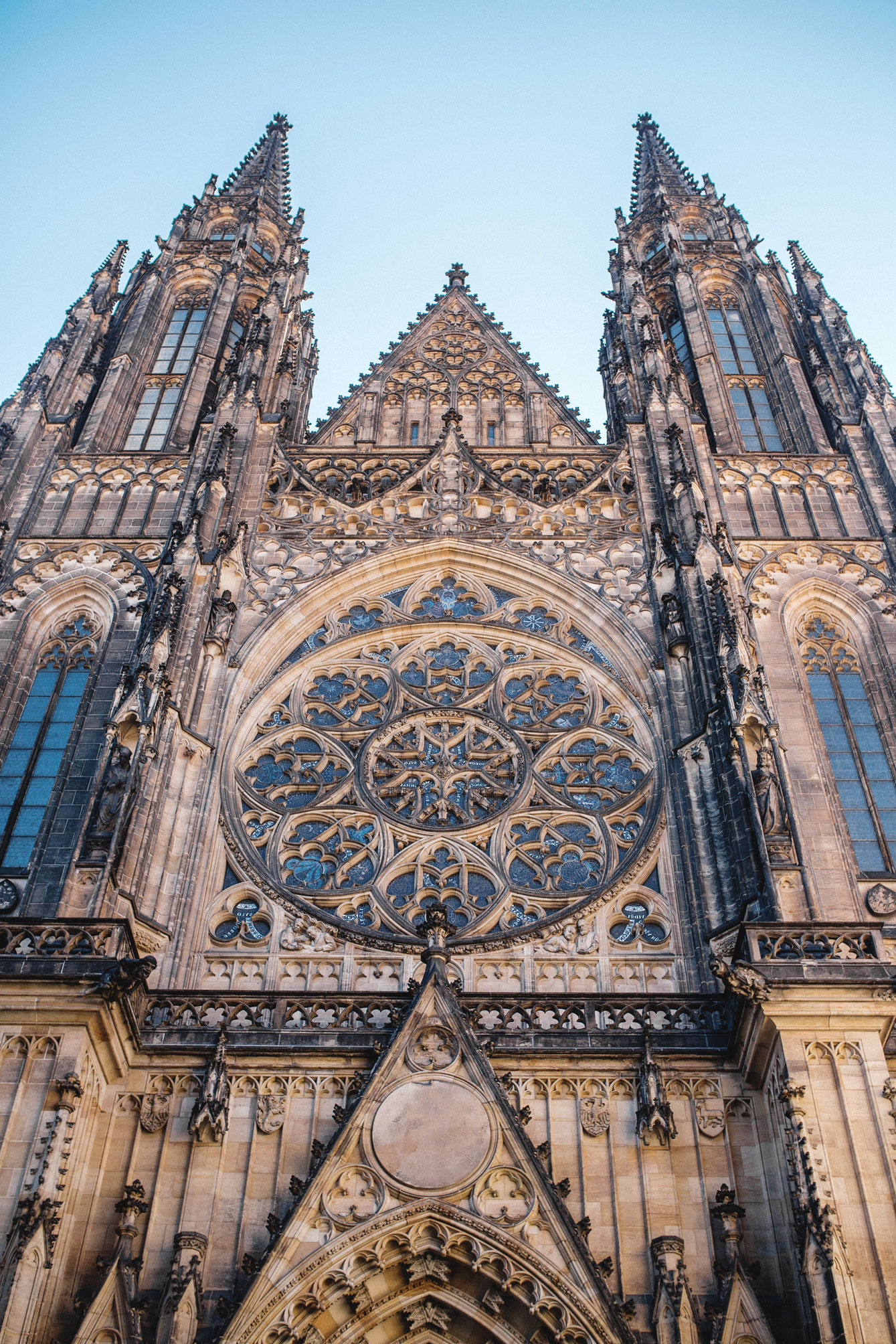 The castle is actually a huge complex so well worth carving out some decent time to come explore here. In addition to the castle, there's the famous and stunning St. Vitus Church (pictured here) along with other basilicas and churches. There are also a ton of other buildings within the complex, which makes sense given that this is where the president's official office is and where the Bohemian Crown Jewels are hidden away. In fact, it is the largest ancient castle in the world, spanning over 70,000 square metres! So give yourself some time to really wander around, not only to see the complex but to also take in the beyond stunning views from the lookout points around it.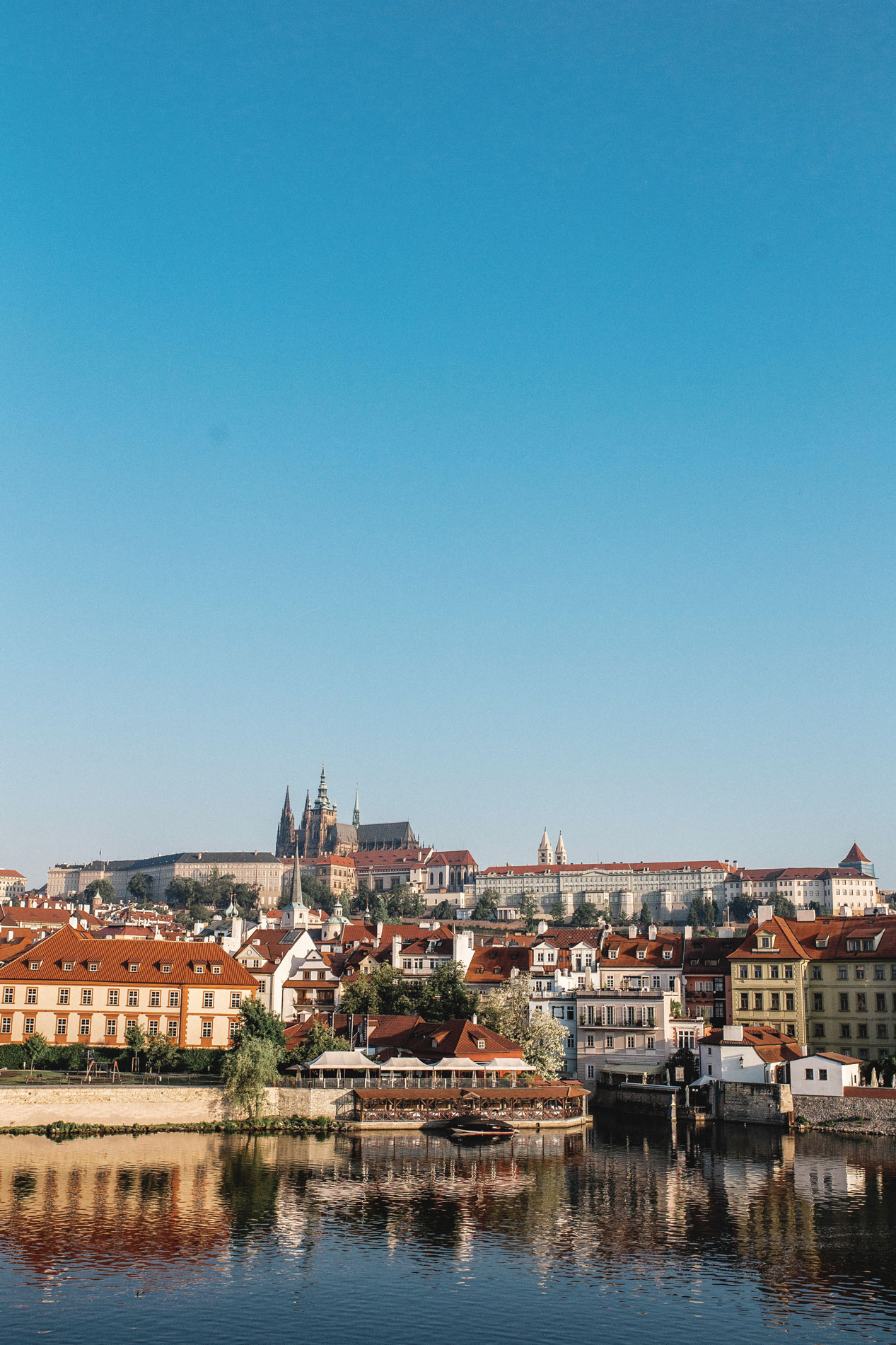 An interesting story about the castle – the president after the Velvet Revolution, Vaclav Havel, invited the Rolling Stones to come perform in Prague to drum up tourism and move the city and county forward after being under Communist rule for so long. They struck up a friendship and as legend goes, were wandering along the river after a night of partying when one of the Stones mentioned to Havel that they should really have lights on the castle at night to highlight it in the skyline. The president explained that with money being so tight, he'd love to but wouldn't be able to do it – apparently, the Stones sent over their own lighting guys and got the castle all lit up so that now when you're wandering across the river at night, you can see it beautifully lit up atop the hill. We came into Prague at night and I can definitely tell you it is beyond breathtaking, so thank you to the Rolling Stones and Vaclav Havel!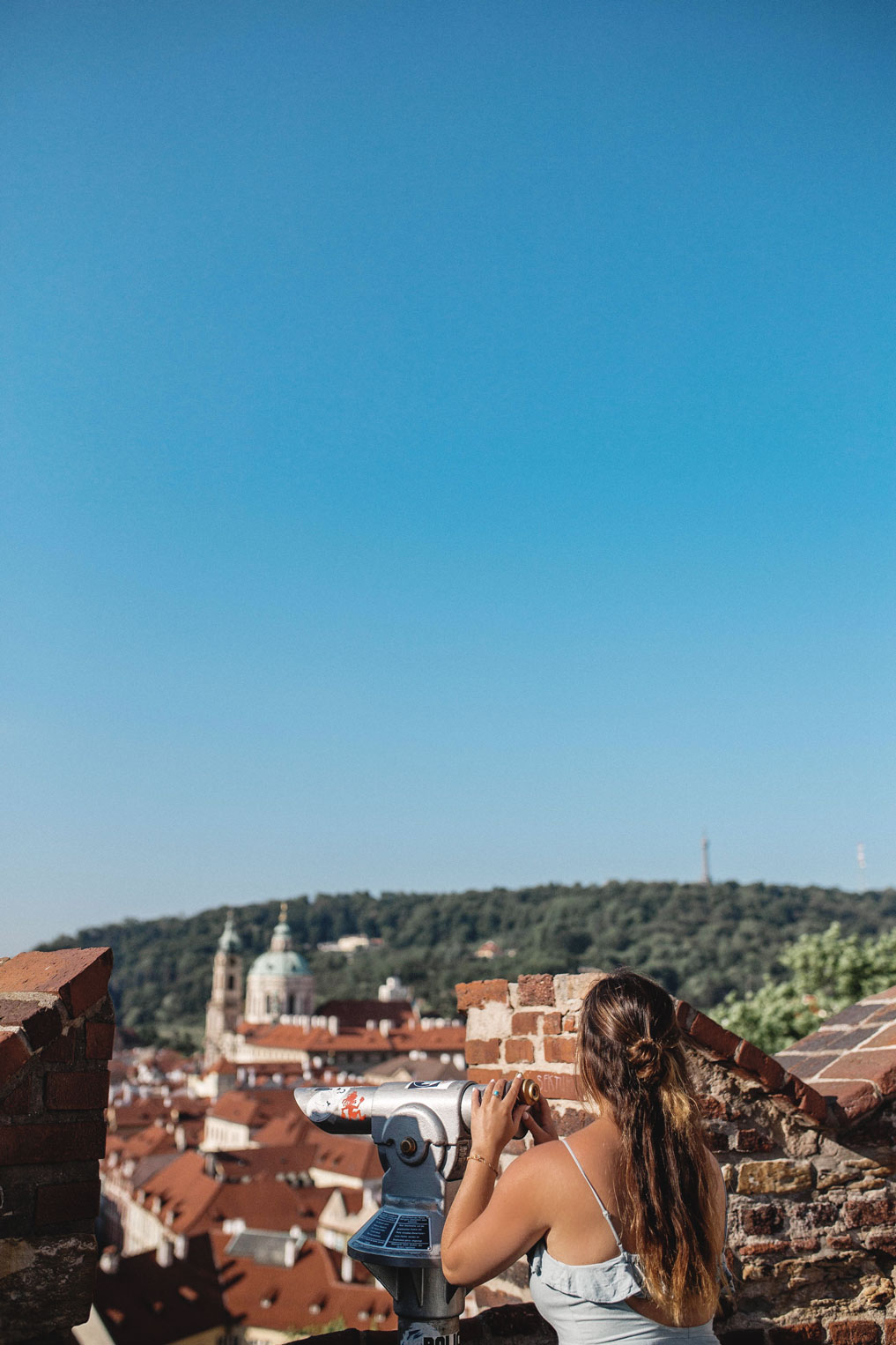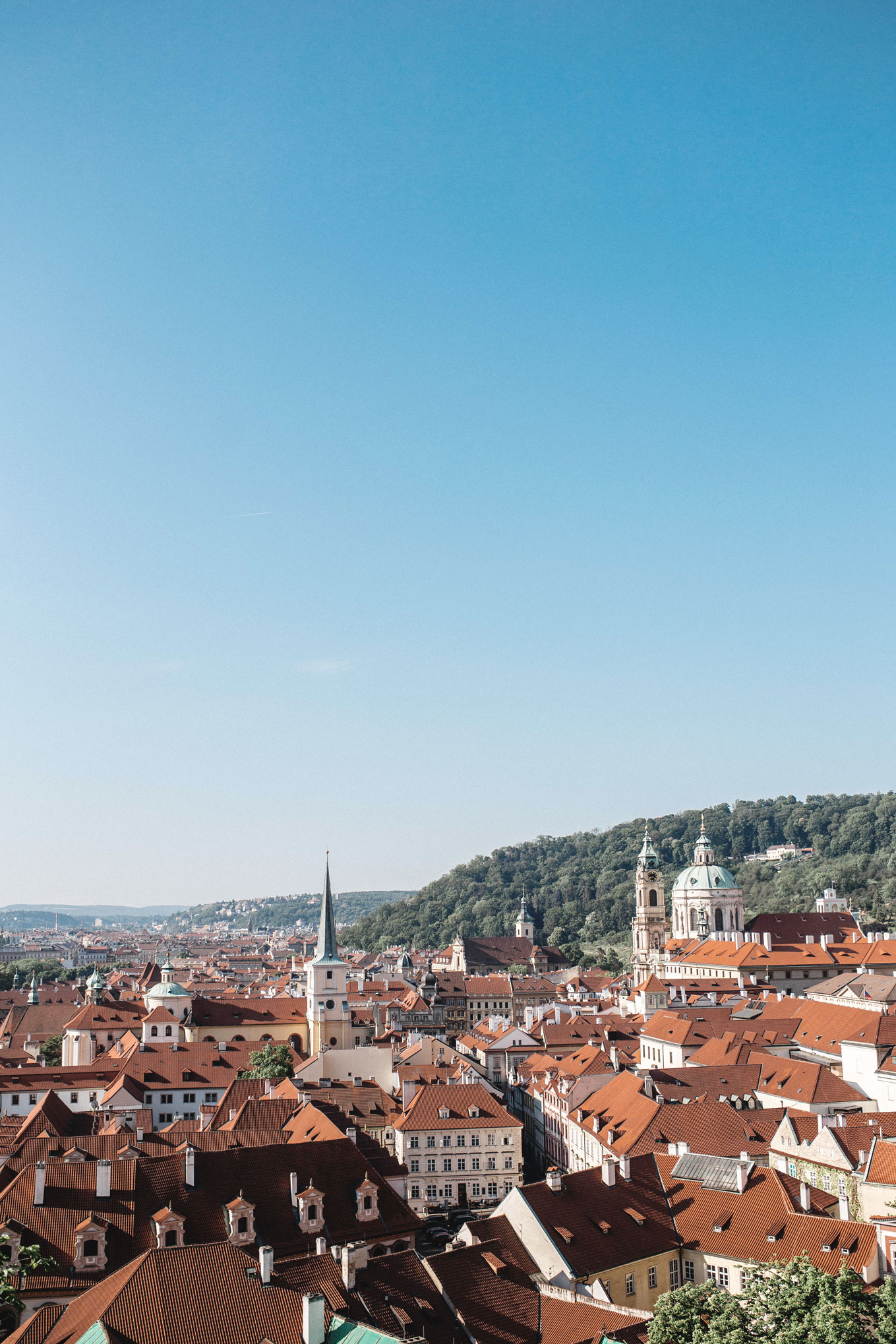 Moving on, I'll touch more on the Letna Gardens in a section below but I could honestly have wandered through here for days upon days and been perfectly happy – they are such a beautiful area and super easy to wander over to either before or after the castle. But for now, beer!!! Because beer (pilsner specifically) is as Czech as it gets.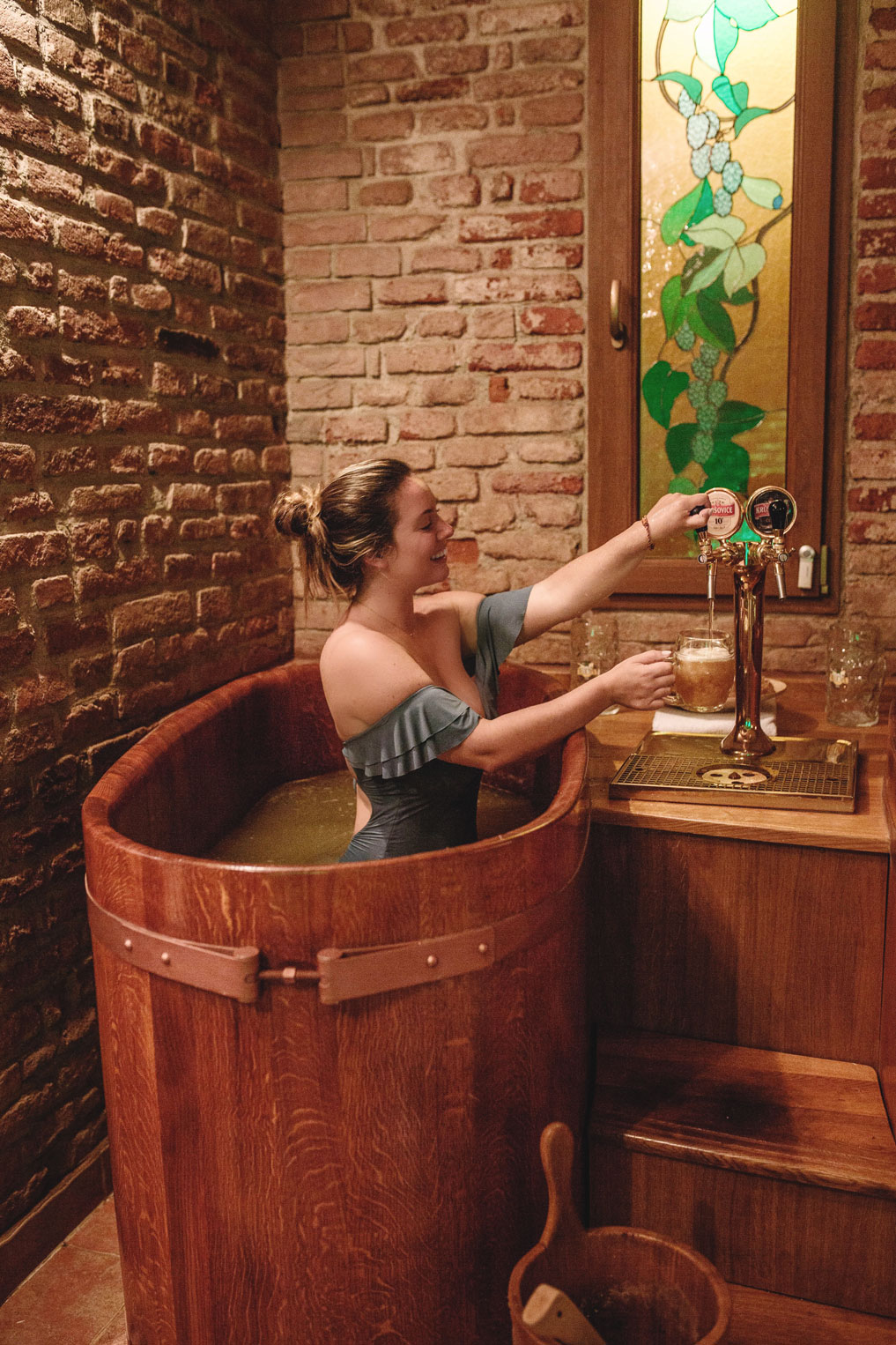 We were in the airport about to take off from Amsterdam when I was looking up some Prague to-do's on my phone and stumbled upon Spa Beerland – upon doing some more digging, I went from lightly joking about doing it to being dead set on it. I didn't realize until we were literally about to take off how cool this experience actually is based off of the reviews. The moment we landed, I sent through an email and booked us the beer spa for the next morning (their only spot available, hence the beer at 10AM thing but whatever we were on vacation).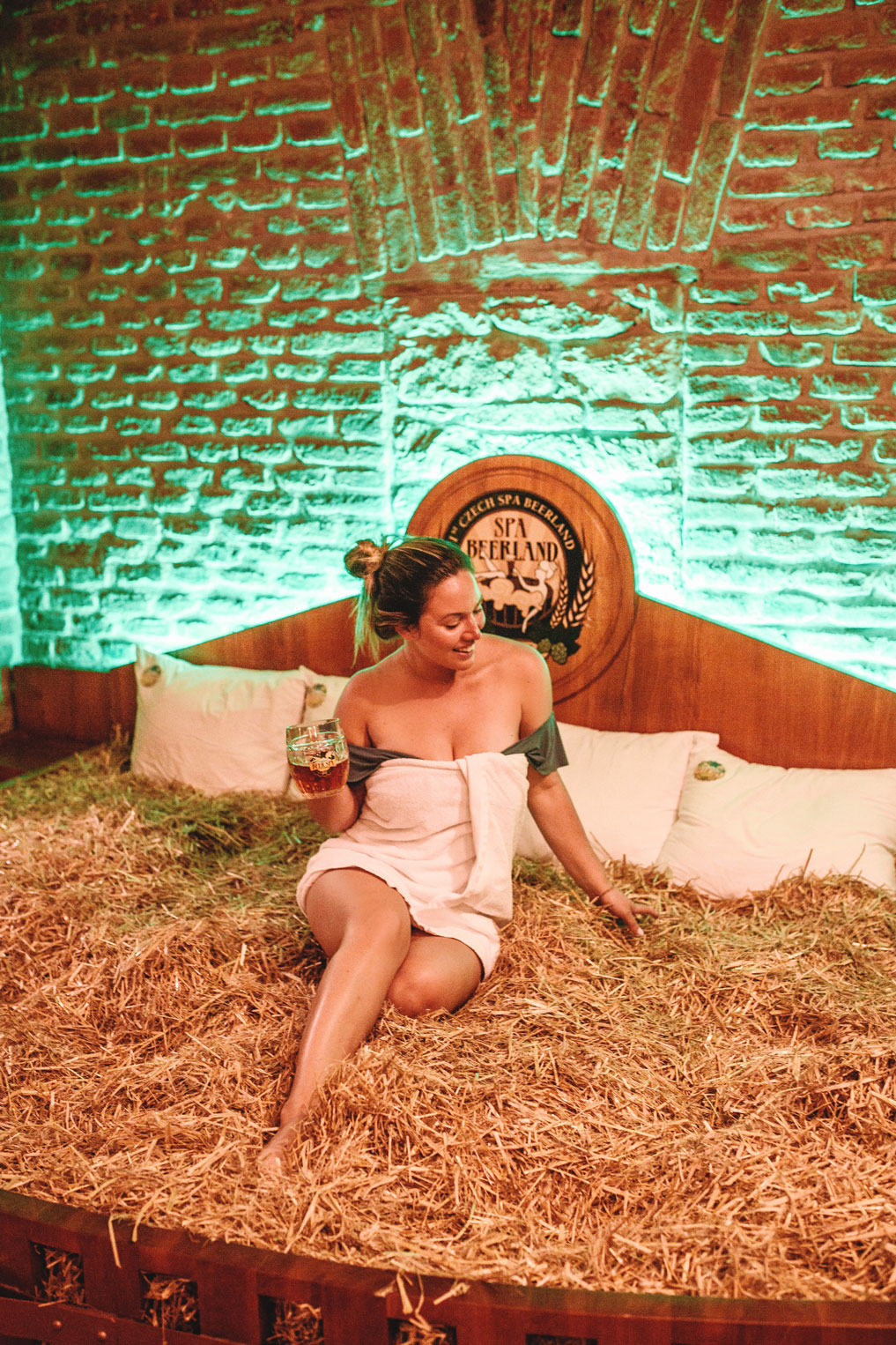 It was honestly so cool – not only can you drink and eat unlimited beer and beer bread (which is already good times to me), you soak in tubs with skin-softening hops (ever tried that beer in your hair trick?), sit in a sauna and yes, even lay in hay and take a nap. IT WAS THE BEST and so much fun. I can't stress enough that you should 100% book this because where else in the world will you get this experience?! And now that we're on to beer, a quick few notes on some of my favourite places to eat and drink!
---
WHERE TO EAT & DRINK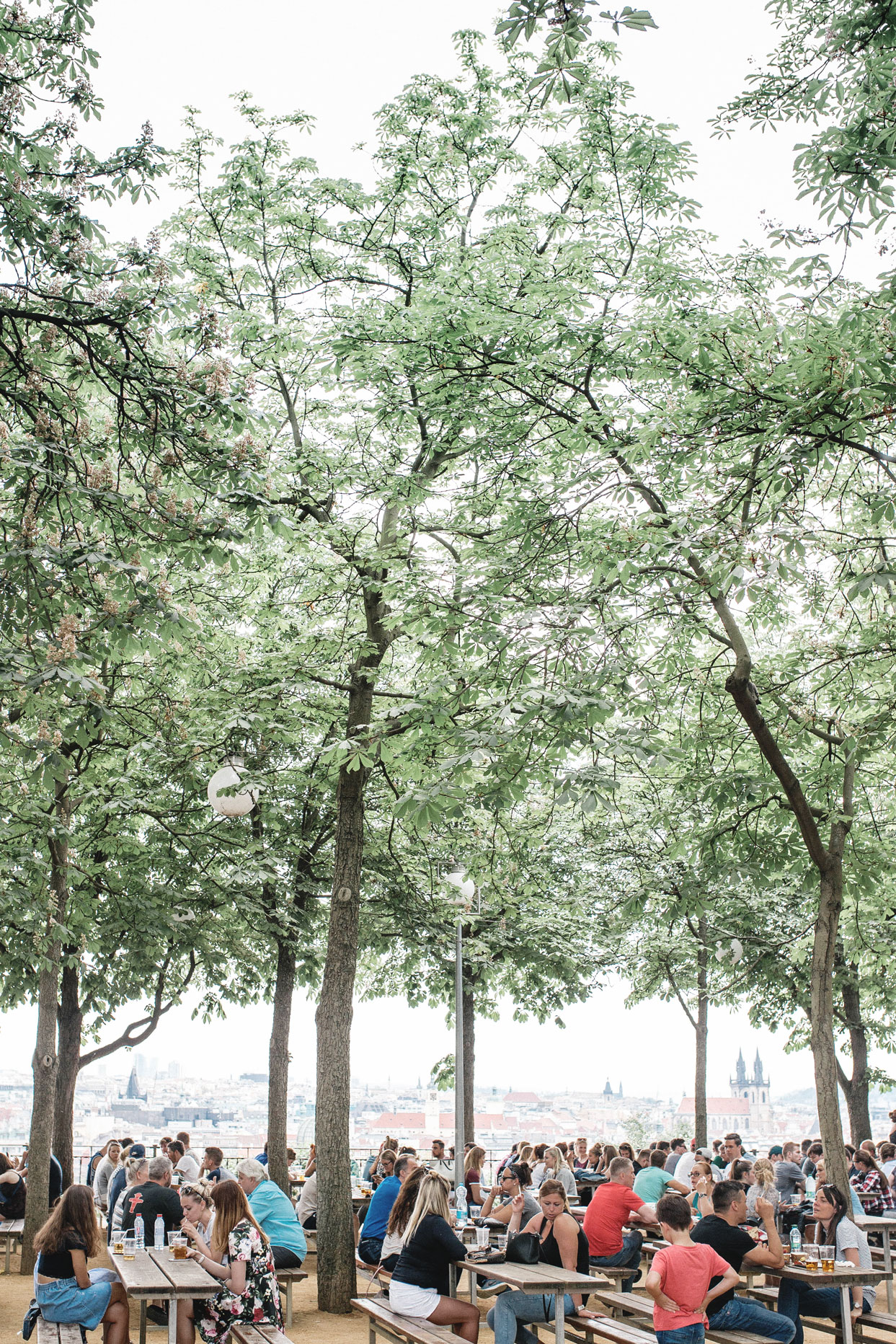 So if you wander along the Letna Gardens you'll eventually get to the famous Letna Beer Garden, which as you can see is a really fun place to be. Not only do you get the distinctly Czech experience of sipping on some pilsner after a well-deserved trek up the gardens, but you get the most stunning sweeping views of the city across the river. We went here twice in our short visit we loved it so much! Before that you should stop at the Lennon Wall too, where politically-geared messages and Beatles lyrics have been written since the Communist days.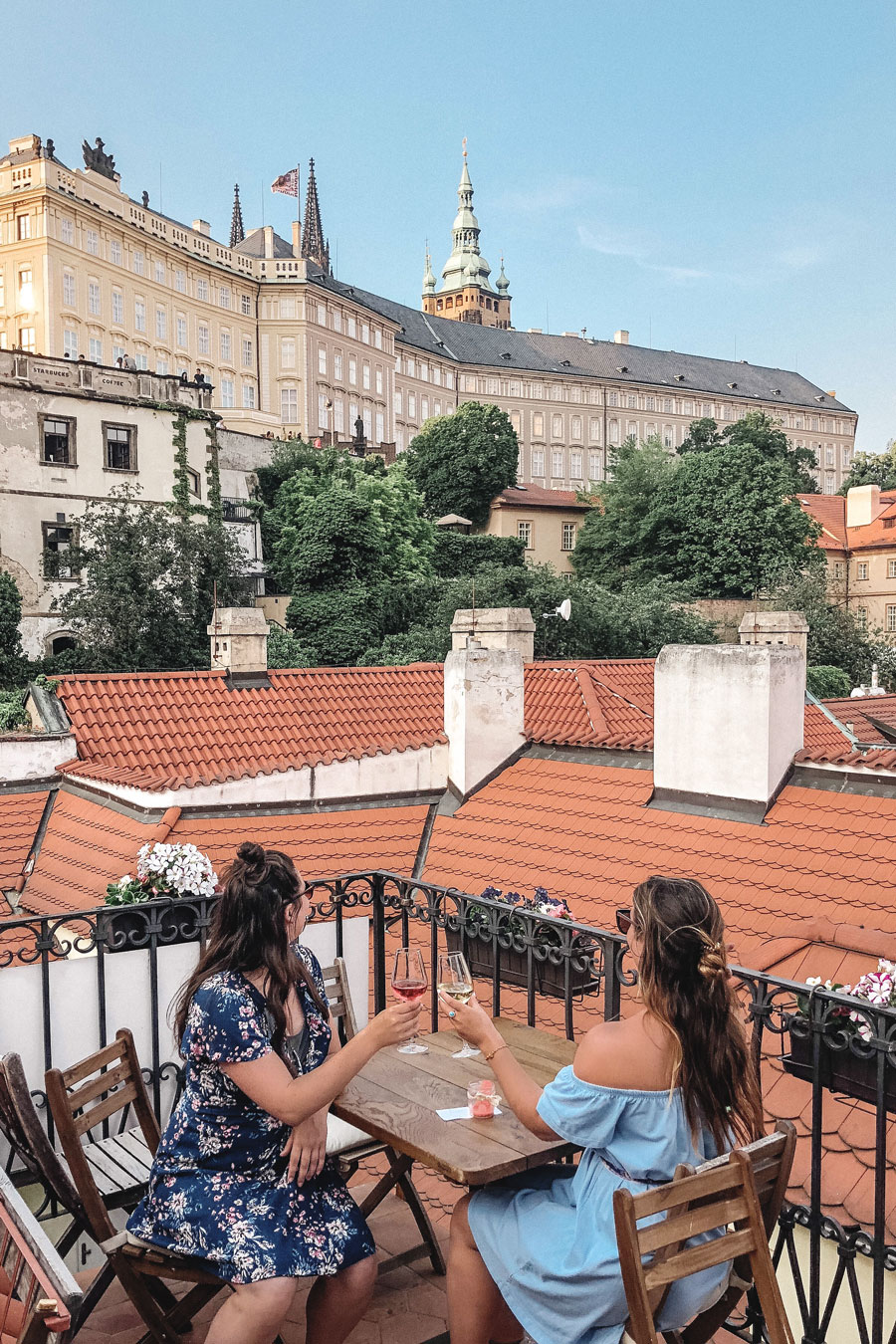 Now on to our absolute favourite place: Vegan's Prague! My older sister is a lifelong veggie and recent vegan, and even though I wasn't at the time, I've eliminated most meat from my diet too (just something I'm trying out for now though, not sure if I'll do it forever). I'm always down to try a veggie place out and knew I'd be sampling more local food in my Český Krumlov adventures so I was happy to do mostly vegan with her anyway. What I didn't expect was how amazing this place would be – so good that we went there twice (hilariously, we'd had a really nice chat with a British couple our first night there and saw them for lunch again the next day there as well – worth noting that both of them weren't veggies in the least!). My tip is to make a reservation for the patio because it does get busy here and as you can see, the patio has absolutely insane views of the castle.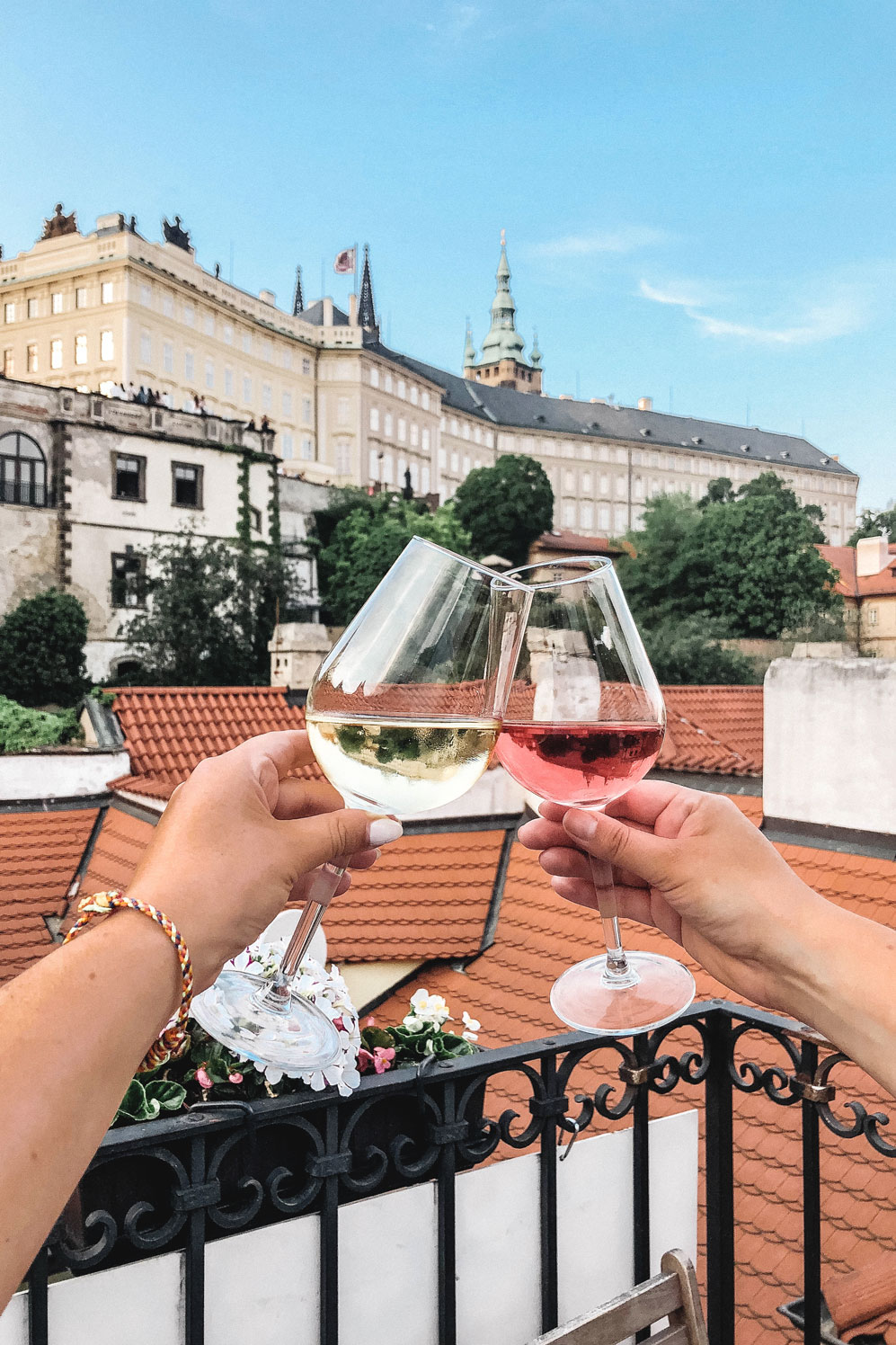 Estrella Restaurant is another great veggie option, and then for more traditional spots, U modré kachničky II is supposed to be amazing, along with Coda, Hergetova Cihelna and CAFÉ CLUB MÍŠEŇSKÁ is supposed to be an incredible cafe.
---
WHERE TO STAY
We stayed at Iron Cross which was really nice but wouldn't have been my first pick – we needed to book something in last minute since the trip came together a bit later for us but it was still a lovely place, 5-stars and all just a bit more old fashioned and a bit lacking in the wow factor, though that could've just been our room. As far as hotels go, Pod Vezi looked like a beautiful option and was in the Lesser Town/Mala Strana area I liked, as well as Aria Hotel which also looks stunning.
As far as Airbnb's, I honestly would opt for them since there are some seriously stunning ones right in the Lesser Town area that are also super reasonable (averaging $100/night if not less). I love this one, this one, this one (at only $60/night!) and this one.
---
WHEN TO GO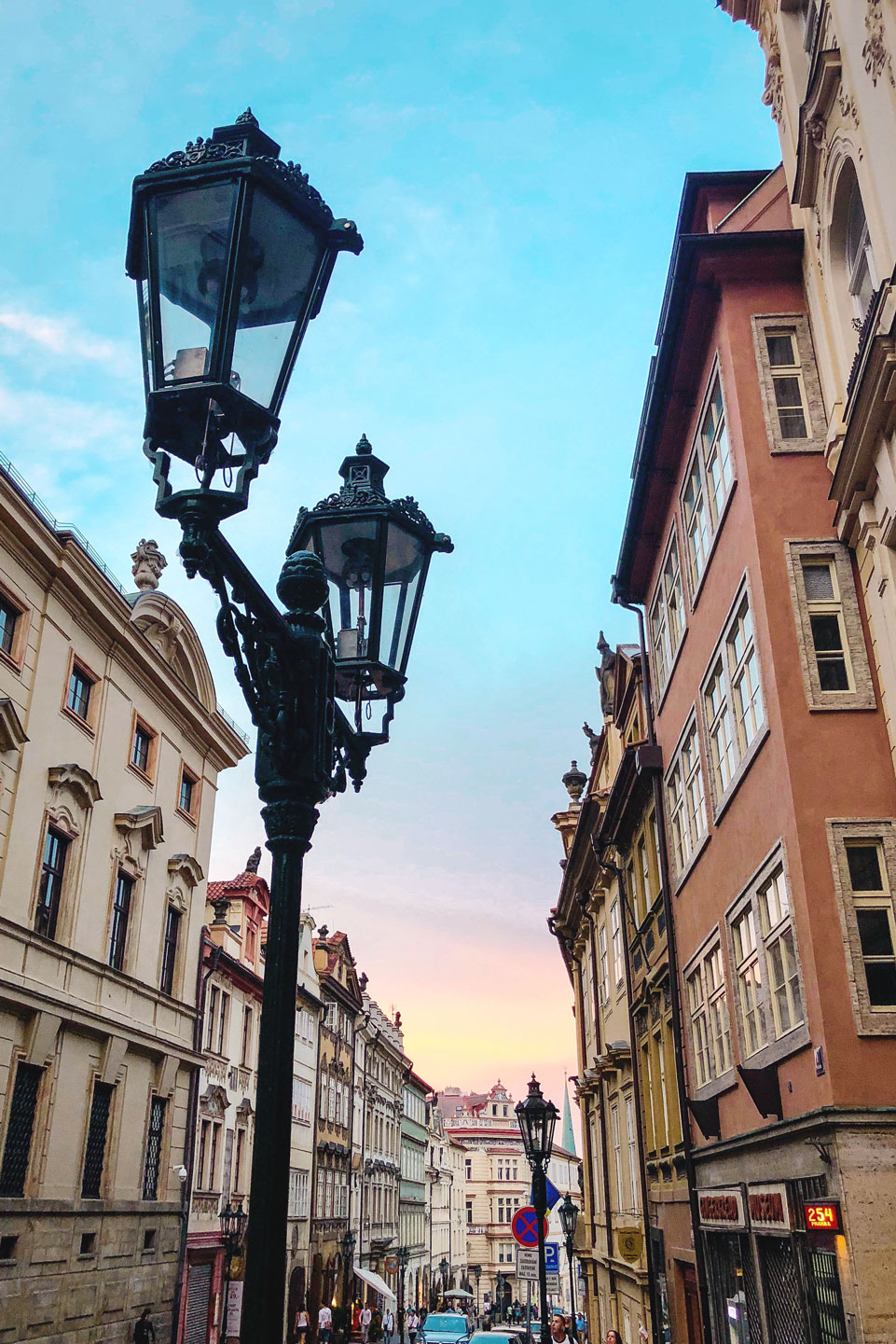 Prague was definitely very warm when we were there in May and the temperatures only climb in the summer, with winter being really chilly. Summer is also the most popular tourist season here so if I could pick a time, I'd want fall or spring for sure. Having said that, I feel like it'd really be something to see the city in snow – it usually snows December through to March but is kind of similar to Vancouver in that it doesn't always snow or it might be very light (or, as has been the case for us Vancouverites, it might be a bit heavier). Best bet would probably be April, early May, later September or October if I had to pick a specific few months.
---
THINGS TO KEEP IN MIND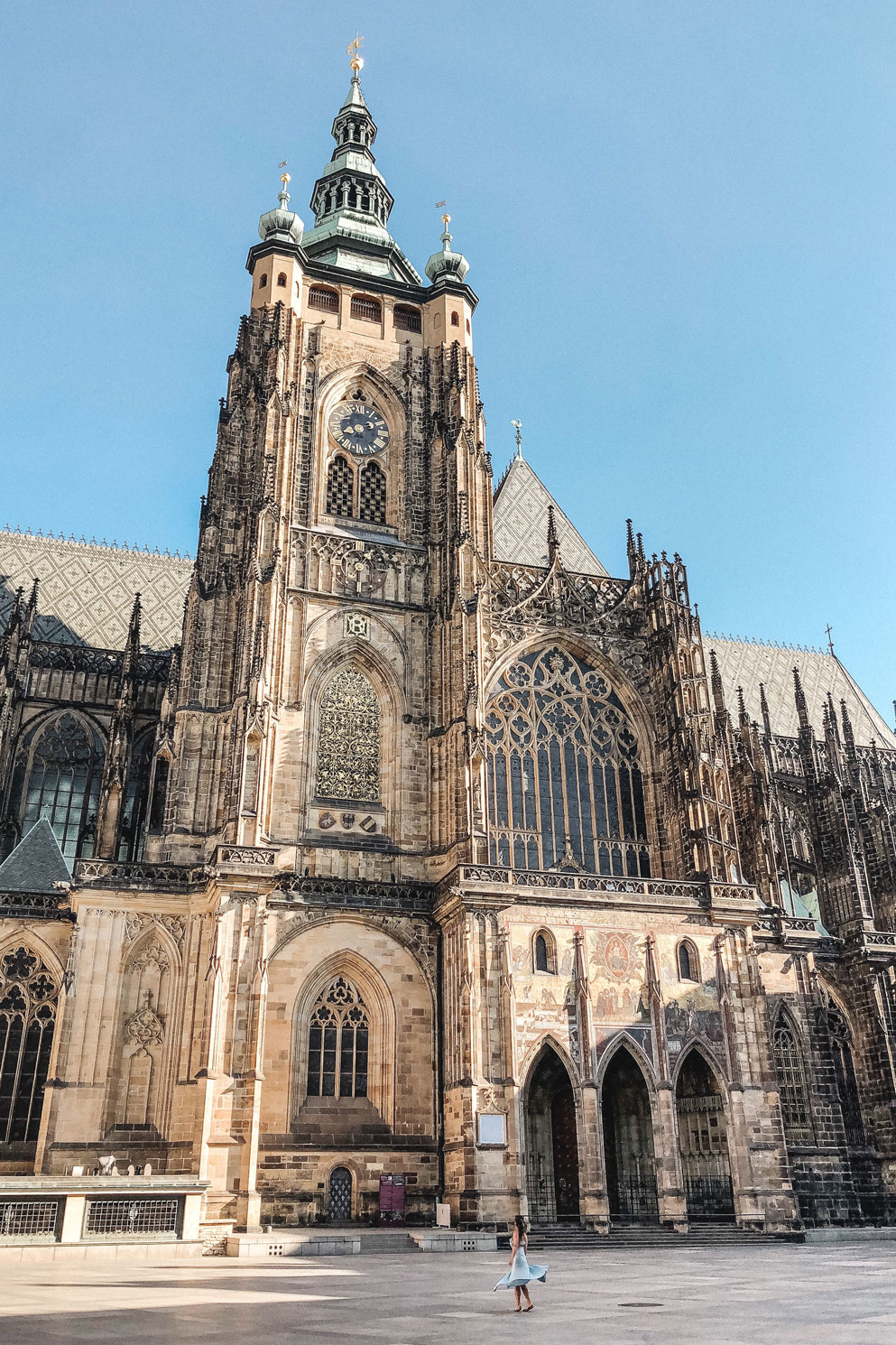 The currency is Czech crowns and for the most part, while prices aren't inexpensive they're not insanely expensive either – it isn't a London or Copenhagen situation, to say the least. You can find good food, good accommodation, etc on a budget but you can also find a ton of luxury so it really is a city that suits every budget. You should tip at least 10% on each bill, but ideally 15% and more for good service.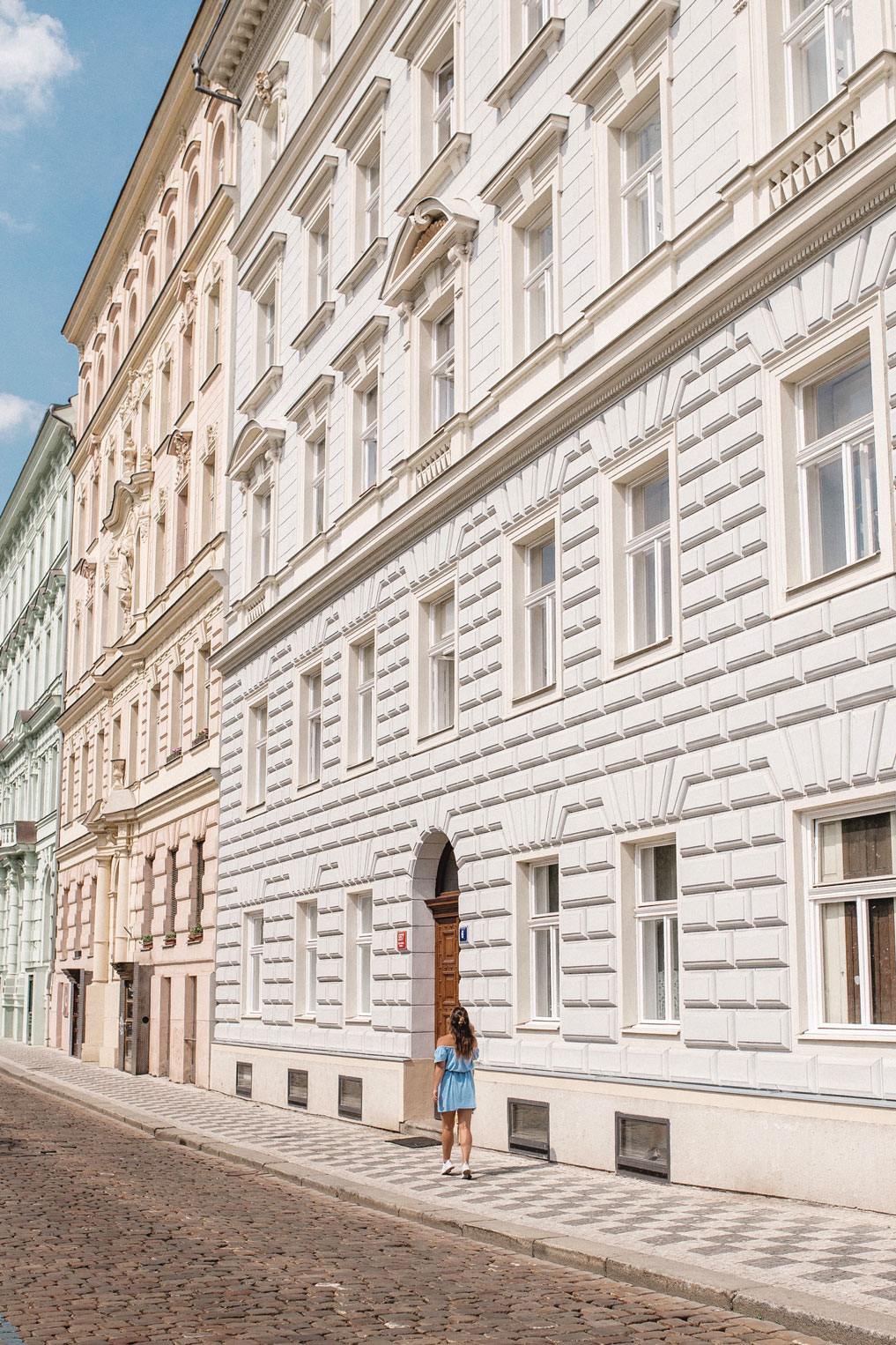 I pretty much had great experiences with all kinds of staff in restaurants, bars, etc, but I did find our hotel service a bit brisk – not unfriendly, just not the effusive "every customer leaves happy" approach we're so used to. It apparently is just something to expect or prepare for and definitely not something you should take personally – we were told if anything to expect it more and for the most part, had only really lovely interactions with everyone. But just wanted to note it in case you experience it and feel offended because it is absolutely just a remnant of the Communist period and not something to take personally!
It's super easy to get around the city – it's very walkable but there are also Ubers and cabs. The airport is only a 20-30 minute drive from town and I just took an Uber there and back, was super easy. If you choose to go to Český Krumlov (and you should), you can just grab an Uber to the bus depot which is a 10 minute drive from city centre and easy peasy.
Safety-wise, I felt very safe here but obviously exercise basics – don't walk around late at night, be careful with drinks, etc. We didn't party here but if you choose to go out, just know that it is a big party scene especially in Old Town so just exercise your usual caution. And that's it! You are geared up for the most amazing Prague visit ever – make sure you pin the snap below to keep this guide handy and be prepared to have your eyes, heart and mind opened by this special place!