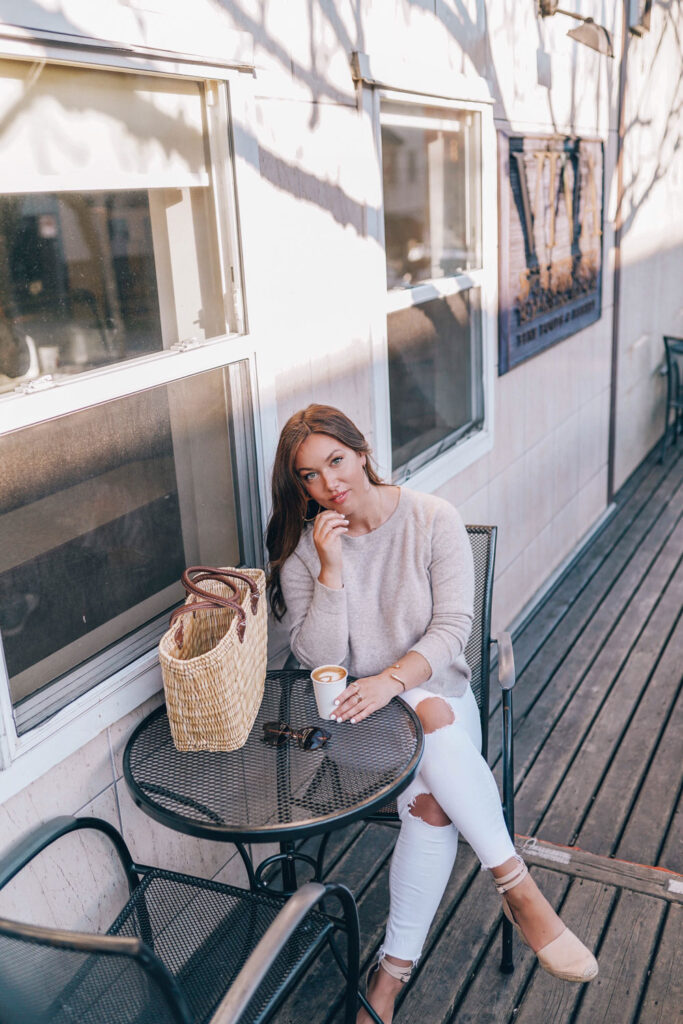 While I may be born in the spring, I'm really a summer baby through and through—I live for summertime every year and find any excuse to bring in summery vibes as early as possible to my life, whether that's diving into the ocean a bit earlier than most (why you've gotta build up that cold tolerance) or adding in doses of summer style come spring!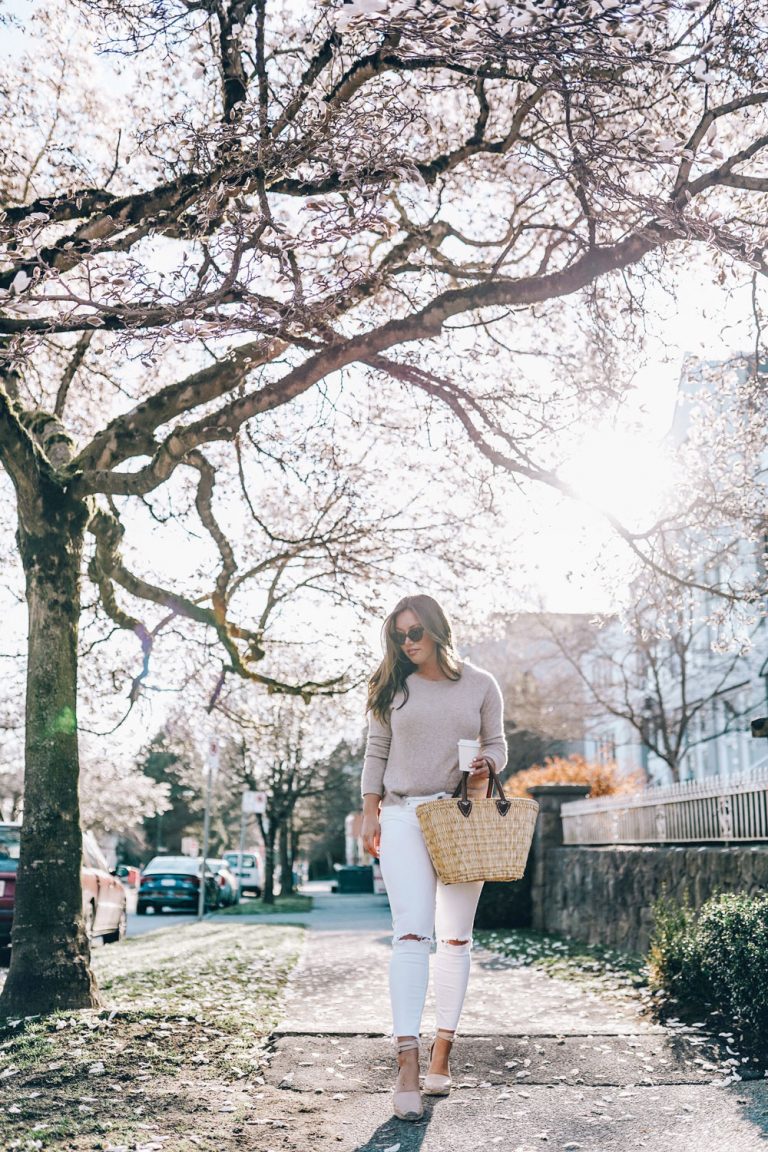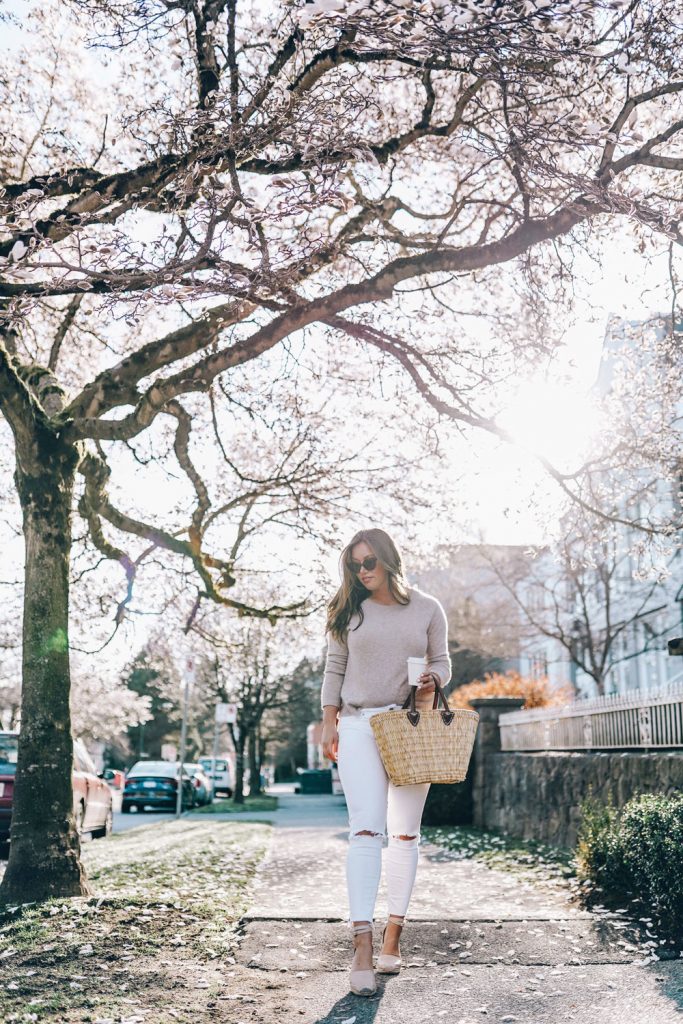 Fortunately, there are two accessories in particular that not only look totally natural with spring style , but really elevate a look giving it a bit of a boho edge. Exhibit 1: the basket bag. I've written whole posts dedicated fully to basket bags, so needless to say, I'm obsessed. They add that summery element to a look but they also go with just about everything. This one's from a recent travel—I picked it up in a market this last October and it instantly became my go-to for the rest of the trip (and clearly, beyond that trip too!). While this one was one-of-a-kind, I love something similarly more structured like this beauty (which is only $50!) for spring-summer transition style in particular. Those cute cross-over or slouchy options are amazing in summer but I find the structure helps add a more refined look for spring layers!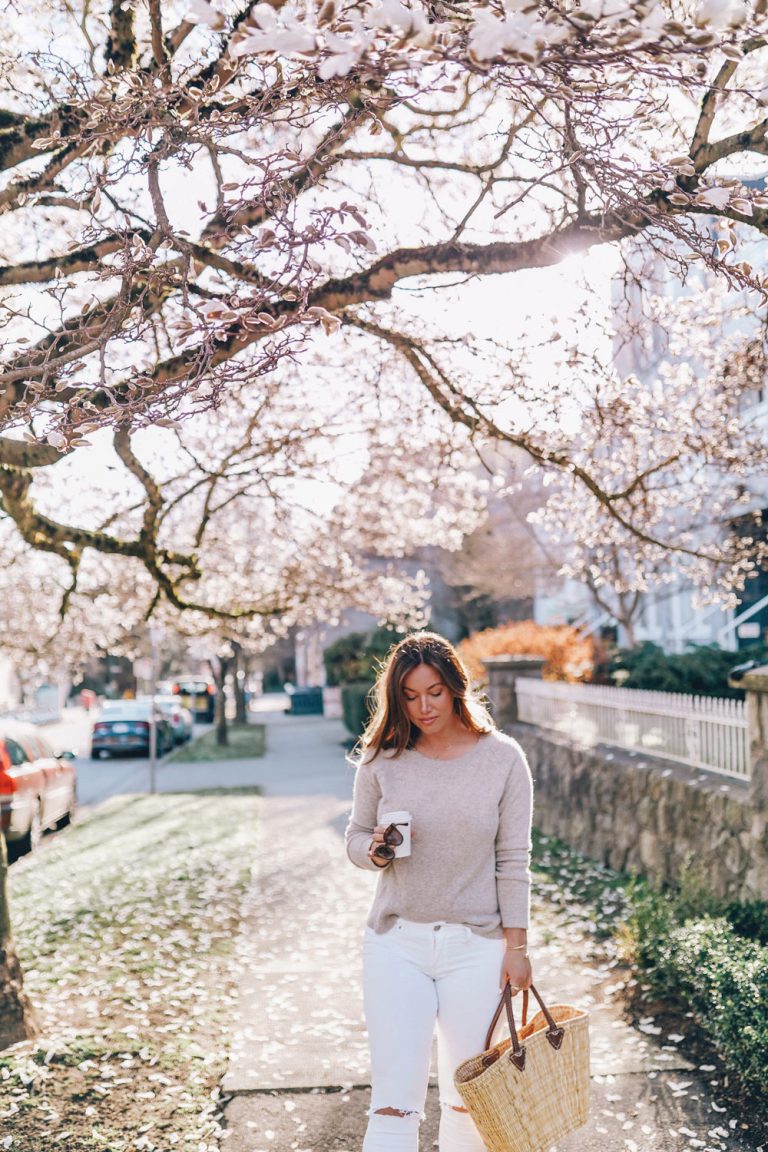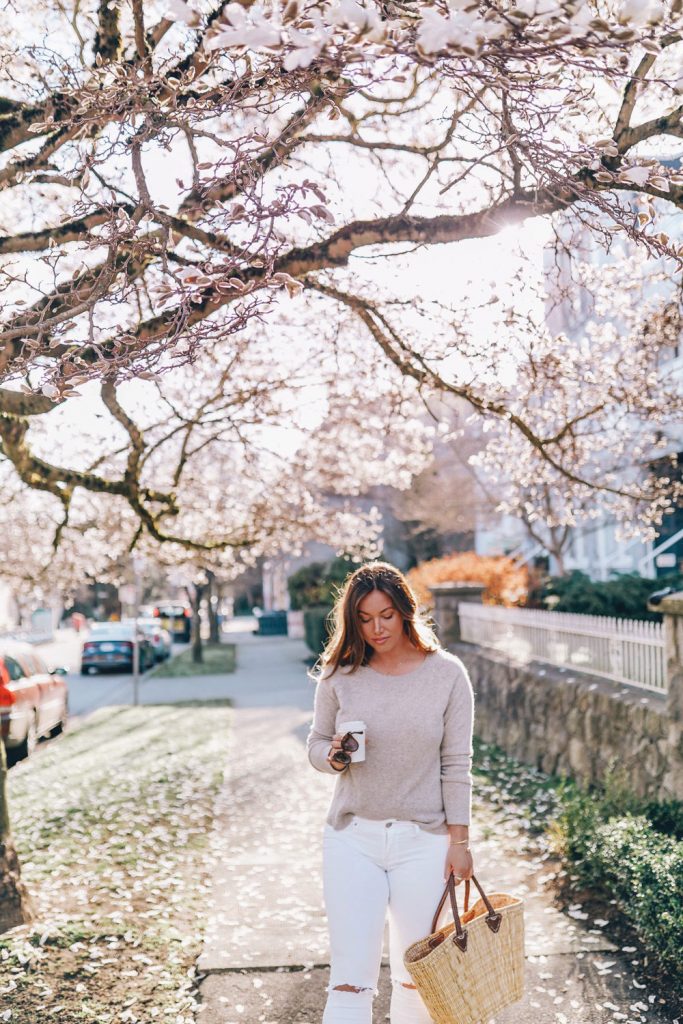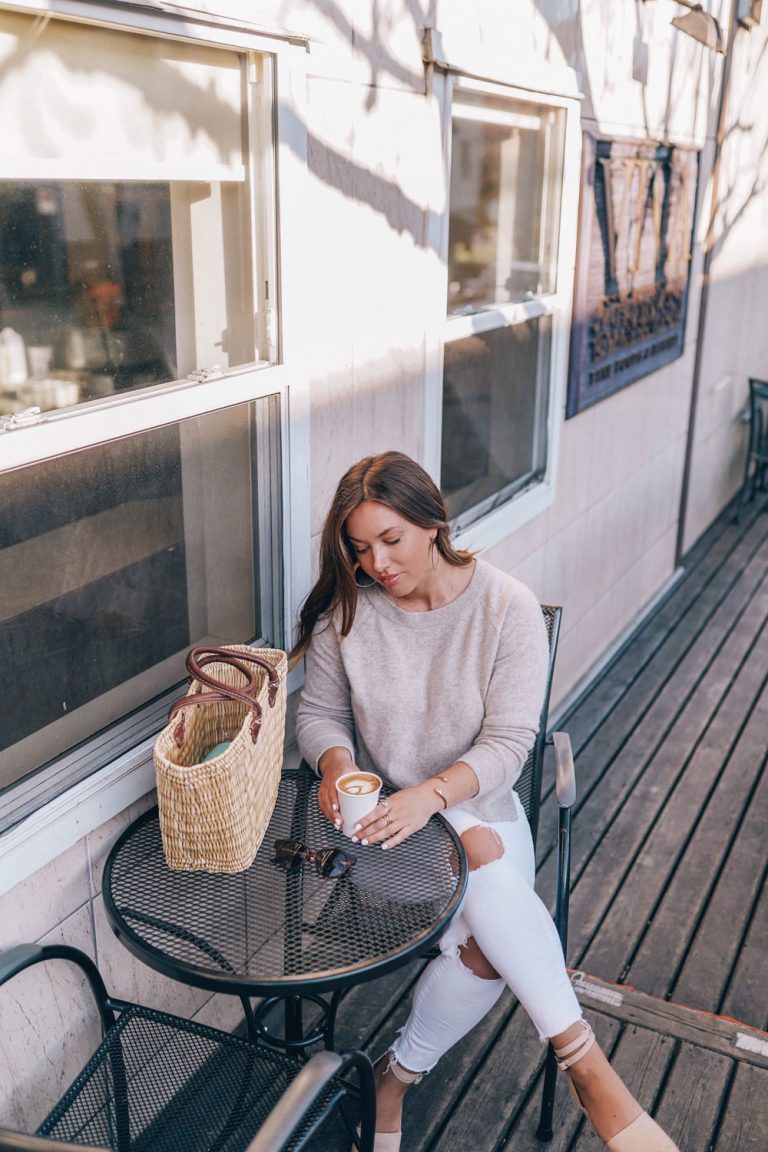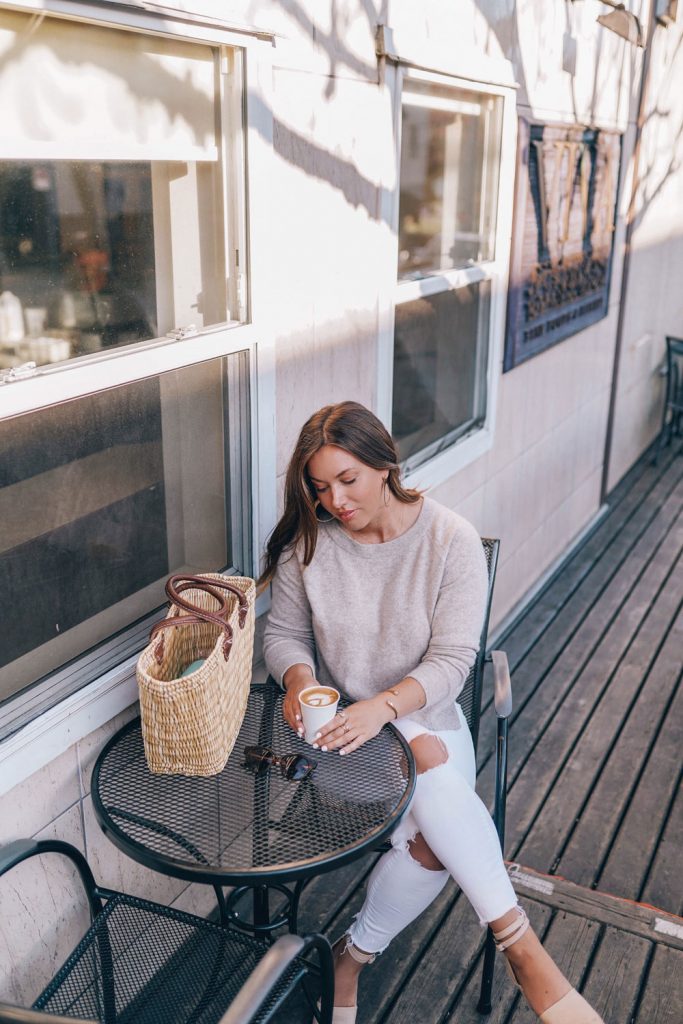 I especially love the juxtaposition of a beachy basket bag with something that's still a bit chillier weather apropos, like this luxe and cozy crewneck cashmere sweater from White + Warren, or even with a leather or suede jacket, olive trench or nubby teddy jackets. This sweater has been a key transition piece for me for the last couple years and it is as classic as they get—seriously, if you don't have a cashmere crewneck in your wardrobe, definitely invest in one soon because you will get the most unbelievable amount of wear out of it! Also, this crewneck of White + Warren's in some colours is currently on sale for under $200—it's a piece you'll have forever so this sale is amazing! White + Warren is always a cashmere go-to because their quality is unbeatable—seriously, I have pieces from them that I picked up years ago and they still look and feel amazing.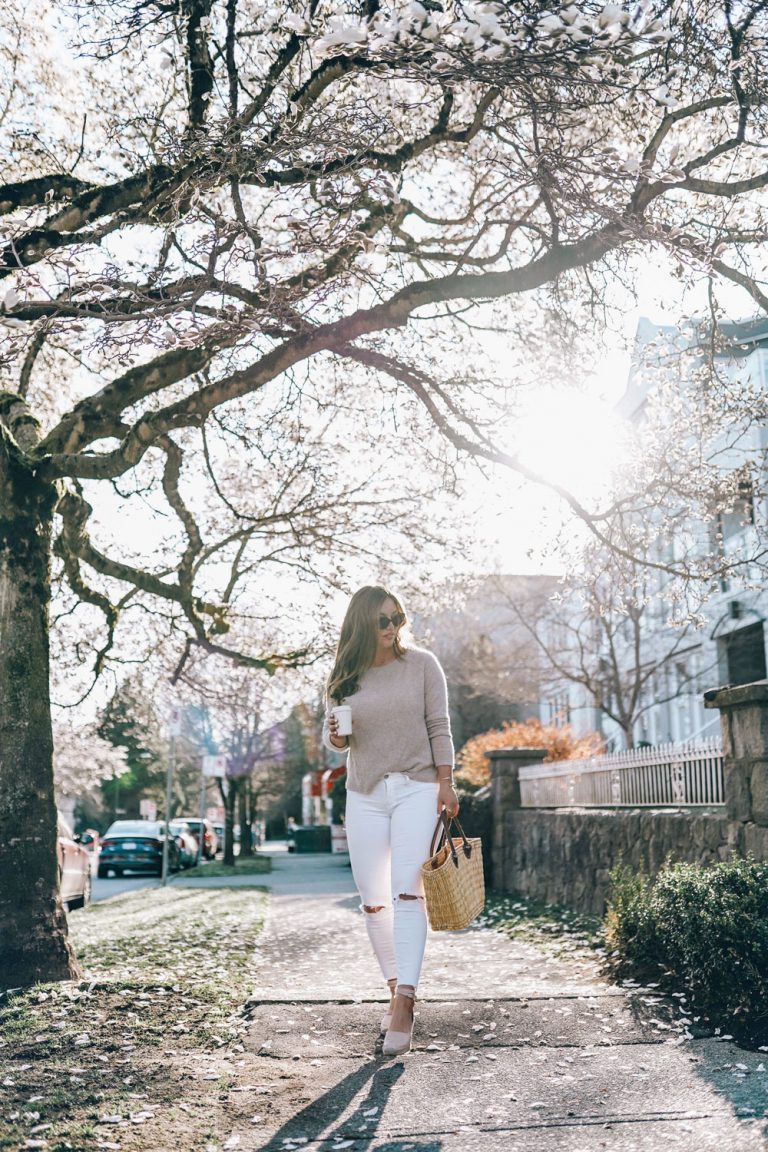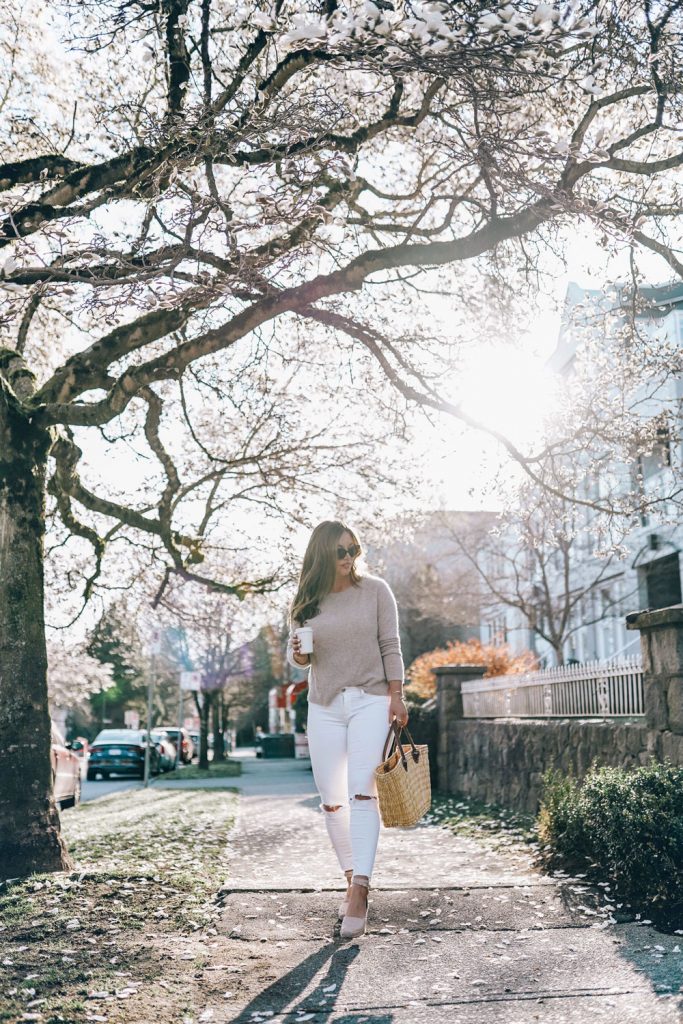 Exhibit 2 in the summer accessory case are the perennially chic espadrilles. Brigitte Bardot's '60s and '70s style was pretty much the best thing ever and has seriously stood the test of time, and along with curtain bangs, winged liner and stripes, espadrilles were one of her signature pieces. They bring that instant coquettish French style to an outfit and again, I especially love these when worn with spring pieces!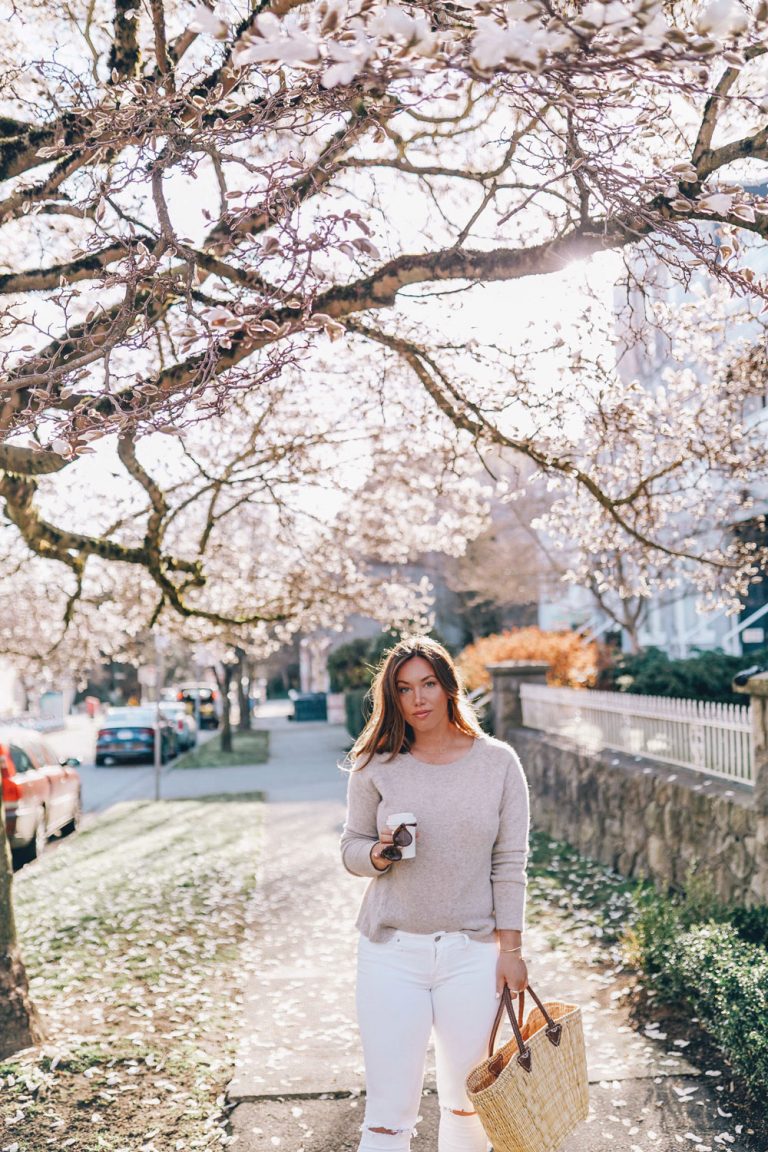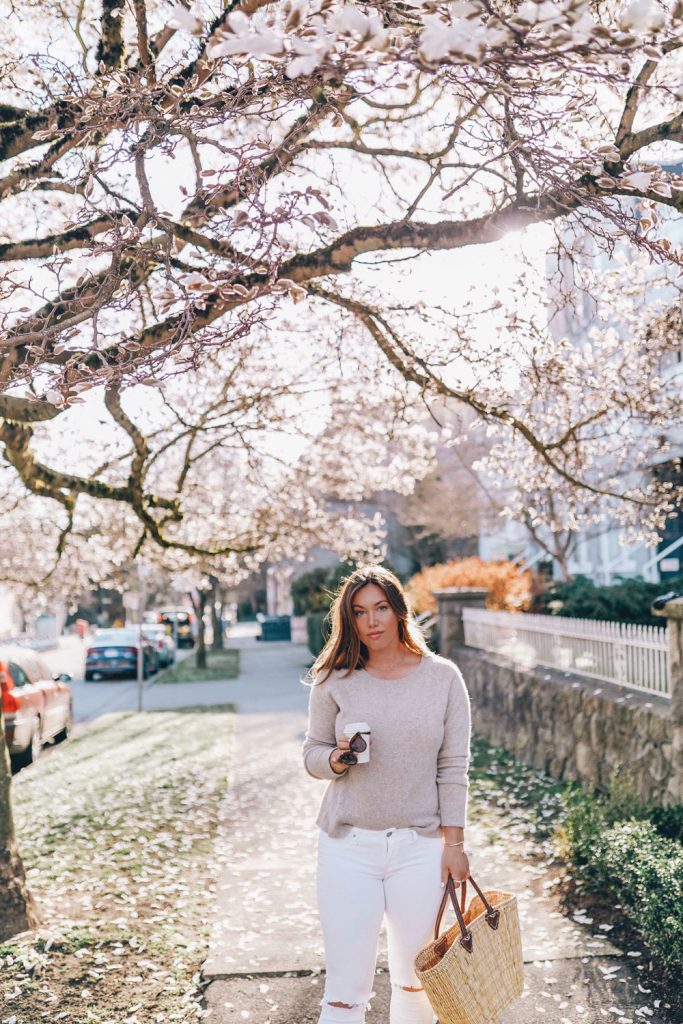 I also find espadrilles to be some of the most comfy footwear out there too, something I'm always looking for! I get around mostly by bike (see this bike style from last year featuring this same pair) and they are literally the best kind of footwear for chic bike style—they help you kick off and are flat so don't get caught in the pedals! They also make for super easy walking, meaning I don't have to wonder if I have to change out of my heels and into flats because these will literally take me through the whole day. This nude pair is sold out but I'm also obsessed with this striped pair from Soludos, currently on sale!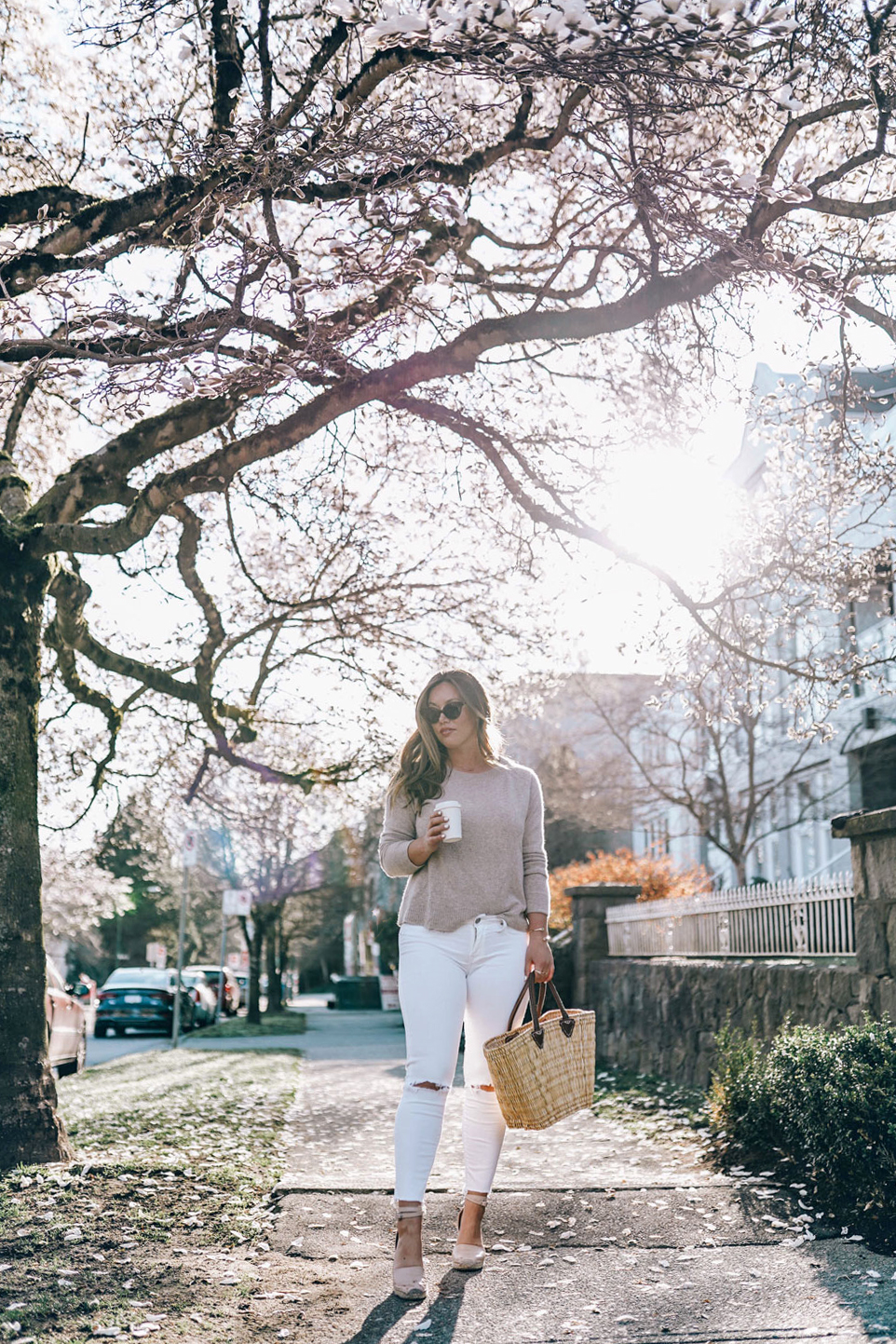 White denim is something I reach for right around this time of year every single year, or for any summer transitions for that matter (whether that's spring-summer or summer-fall)—it's just so fresh and instantly adds lightness and brightness to an outfit. These Mavi skinnies are some of my faves (I DIY'd them a touch with the slit knees PS)—they're so comfy and unlike a lot of other white denim, actually have some thickness to them so you don't run into some seethrough faux pas. Even if you still can't go full summer dress, you can make an outfit super summery by sticking to a fresher and lighter colour palette—think white, blush, pale blue denim, etc.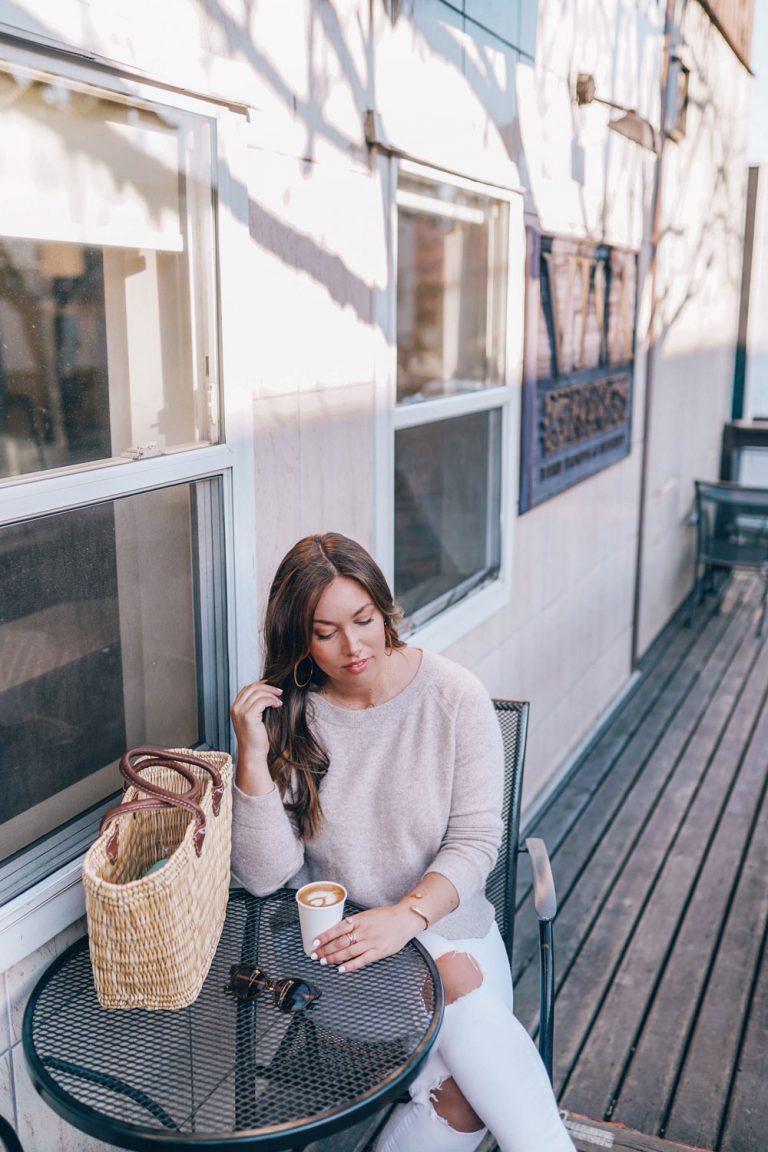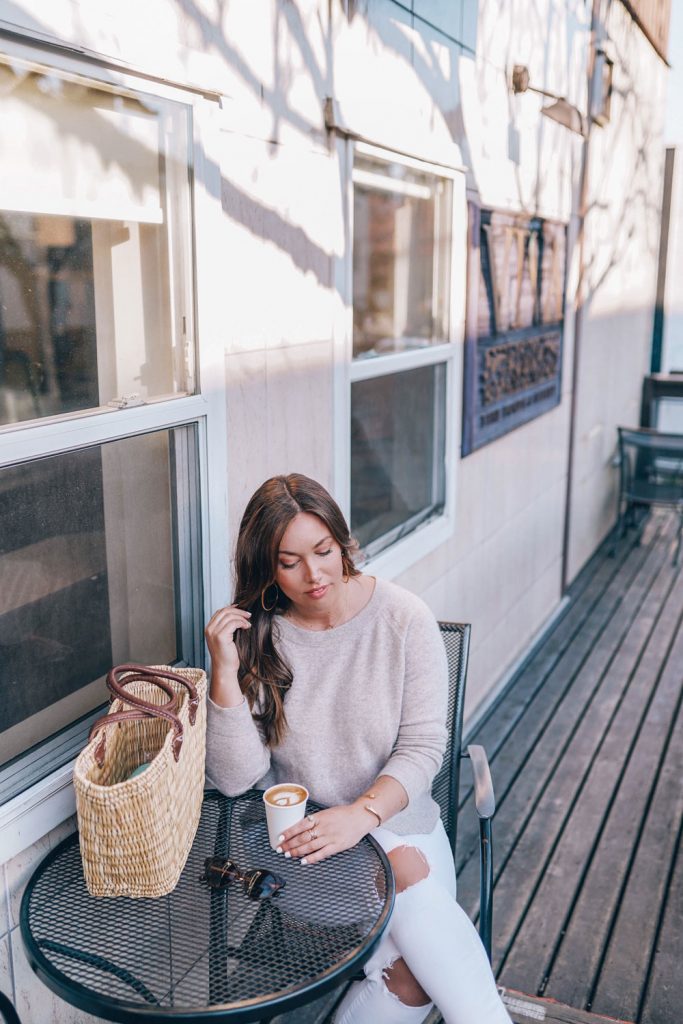 I'm sharing a full jewelry story soon (specifically about layering, stay tuned!) but wanted to quickly point out these gorge pieces from Vancouver designer Sarah Mulder—I've been wearing her pieces non-stop lately and the combo of luxe gold and airy aquamarine really has been working so well with all my spring pieces this year. Stay tuned for the whole story coming soon!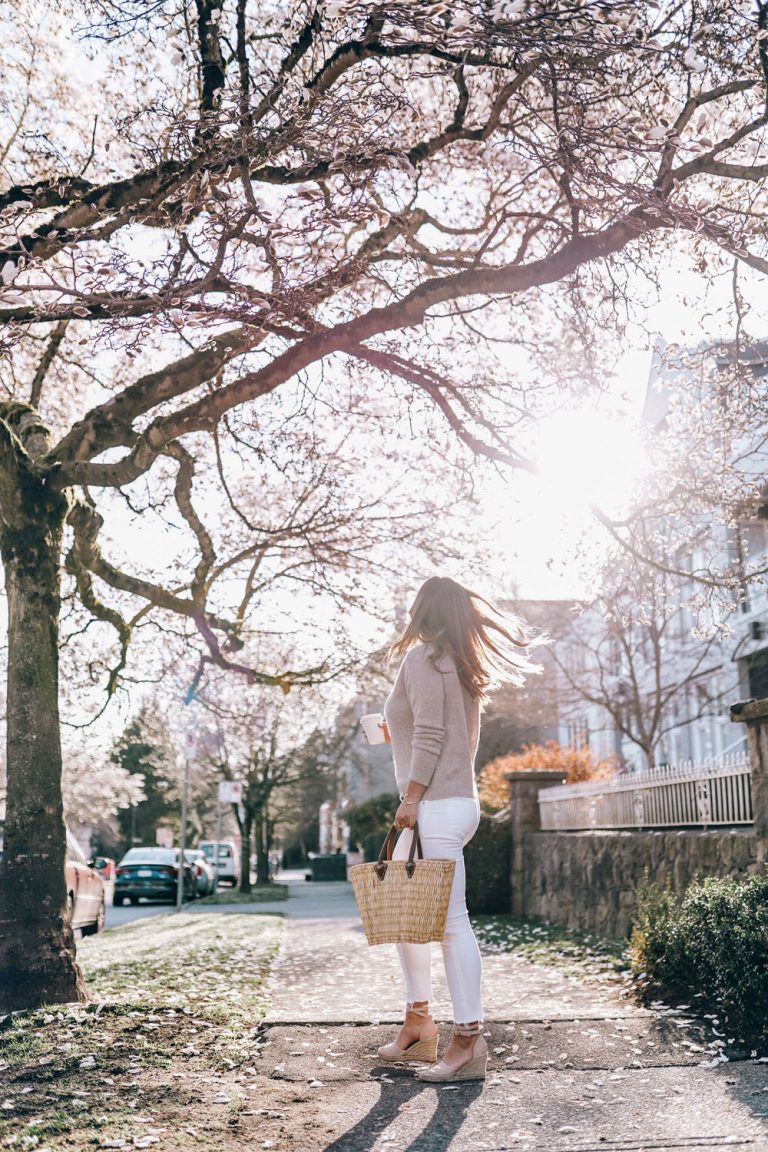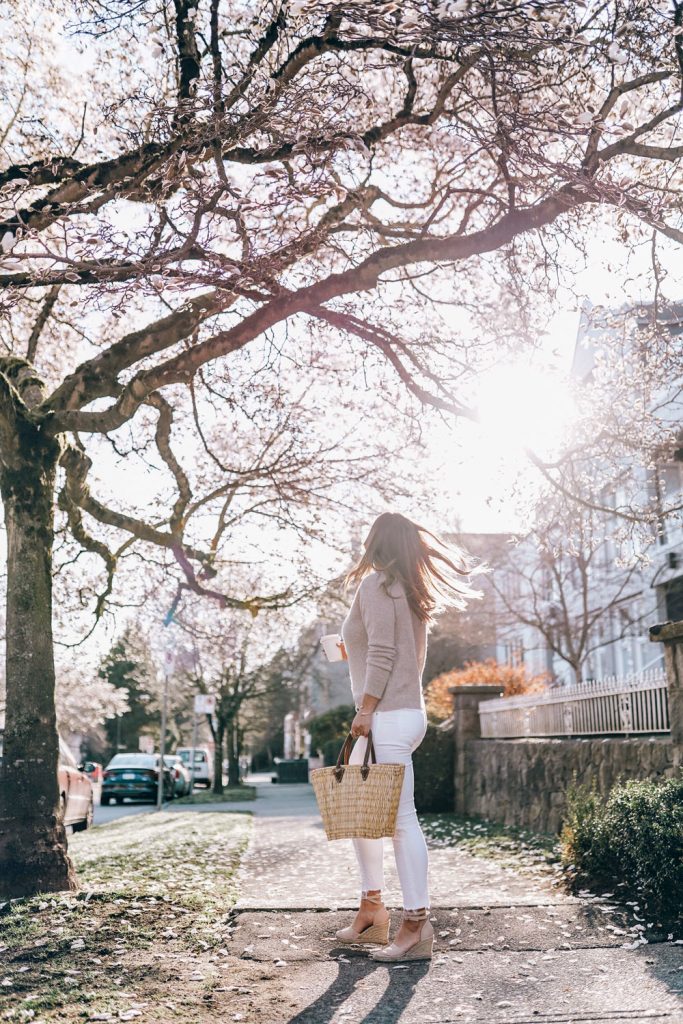 I'm taking off somewhere warm at the end of this week so I'll undoubtedly be throwing in these two main accessories for effortless beachy style—love focusing on super wearable classics like this that I can get a ton of use out of both here at home now in spring and during my travels, particularly for beachy vacations when you sometimes feel obligated to shop specifically for the trip. Can't wait to share more about packing for that trip too!
SHOP THE LOOK