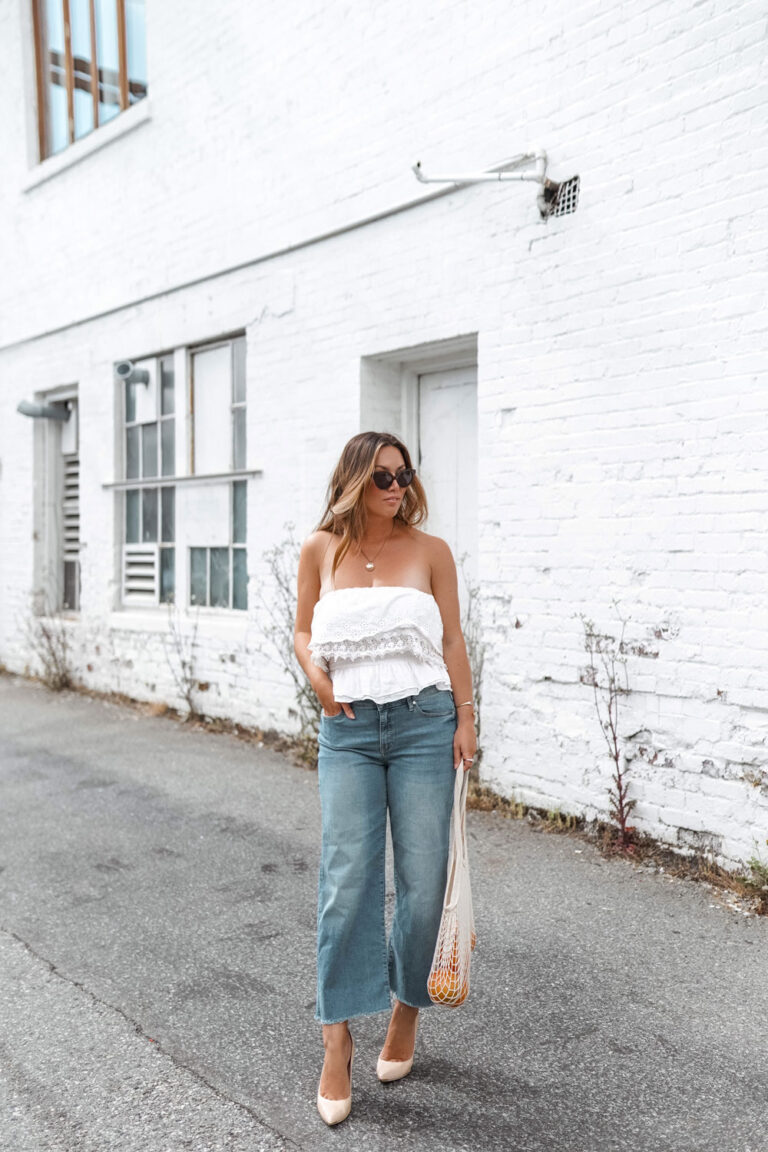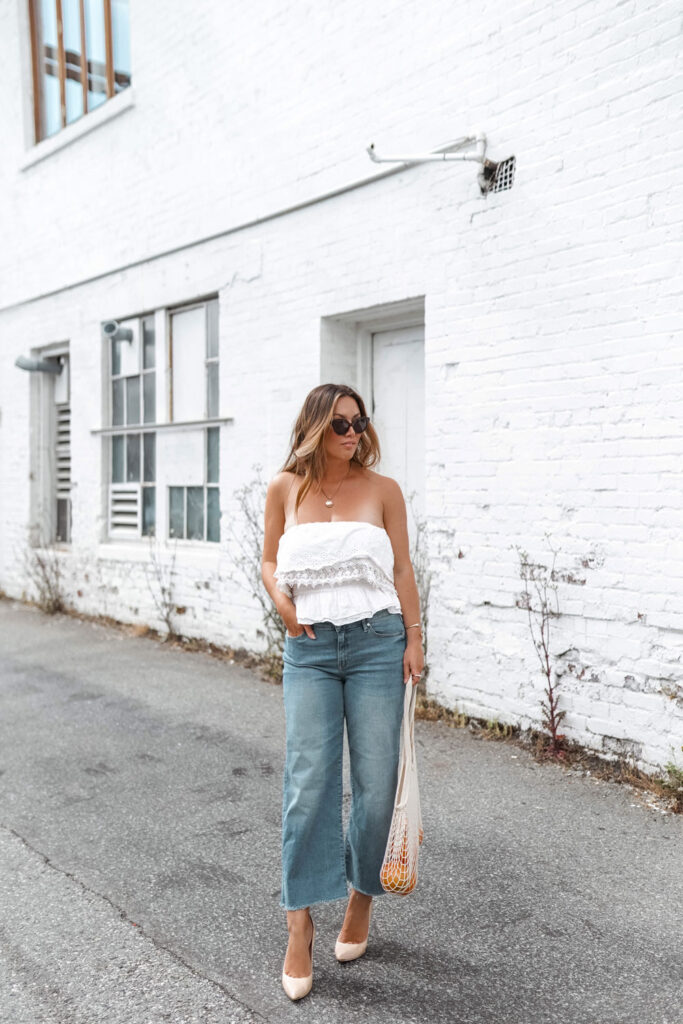 I like to think my general sense of self-confidence doesn't come from any particular willpower or positive self-talk—I really think it about 100% stems from the fact that as far as awkward high school periods go, mine was so tremendously awkward that by the time I started to grow out of it around 19, I was so delighted that I just was really grateful for every new turn of events, whether it was my eyebrows finally taking a shape that wasn't caterpillar-like or finally shedding my baby fat. So long story short, all in all from 20 years old onwards I've always been pretty happy with how I look—it's one of the perks of having such a rough go of it in high school that everything's just a positive after that (and if you don't believe me, take a look at this picture of me masterfully but sadly crushing expert-level minesweeper—it's a real mood).
The one thing I do still grapple with a bit that's kind of left over from high school days (or okay, two since I also struggle a bit with my chest, but less about how it looks and just how insanely hard it is to dress which I chat a bit about here) are my legs. I love my legs for many reasons: they're muscular, they've carried me through all the things I love to do (swimming, running, weight lifting, volleyball, hiking, and ALL the water sports) and I honestly like the way they look too—they're not and never will be stick thin, but they are strong and I like strong. But being called "thunder thighs" literally on repeat all through high school has a bit of an indelible effect on your perspective on muscular legs, even if strong legs are in now (thanks Beyonce!) which is something that cracks me up because it's what I was taunted for most (along with my butt, which is another thing that makes me laugh now as I walk by a "booty builder" machine at the gym).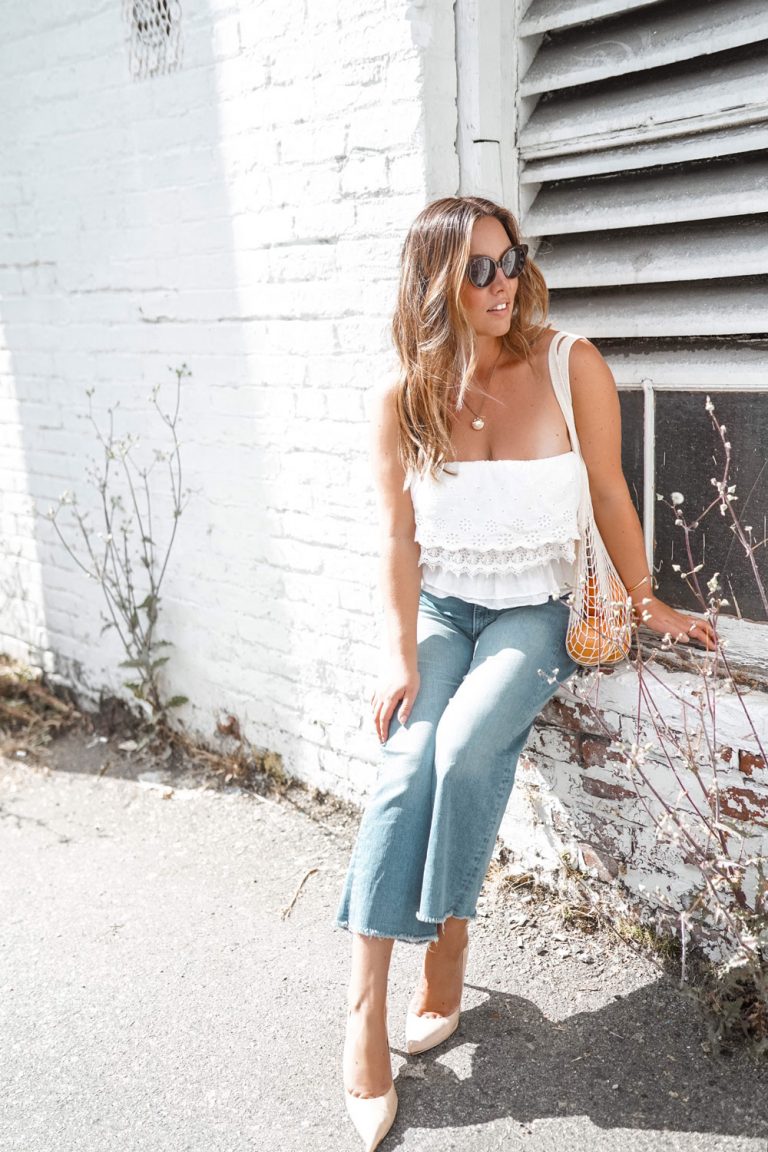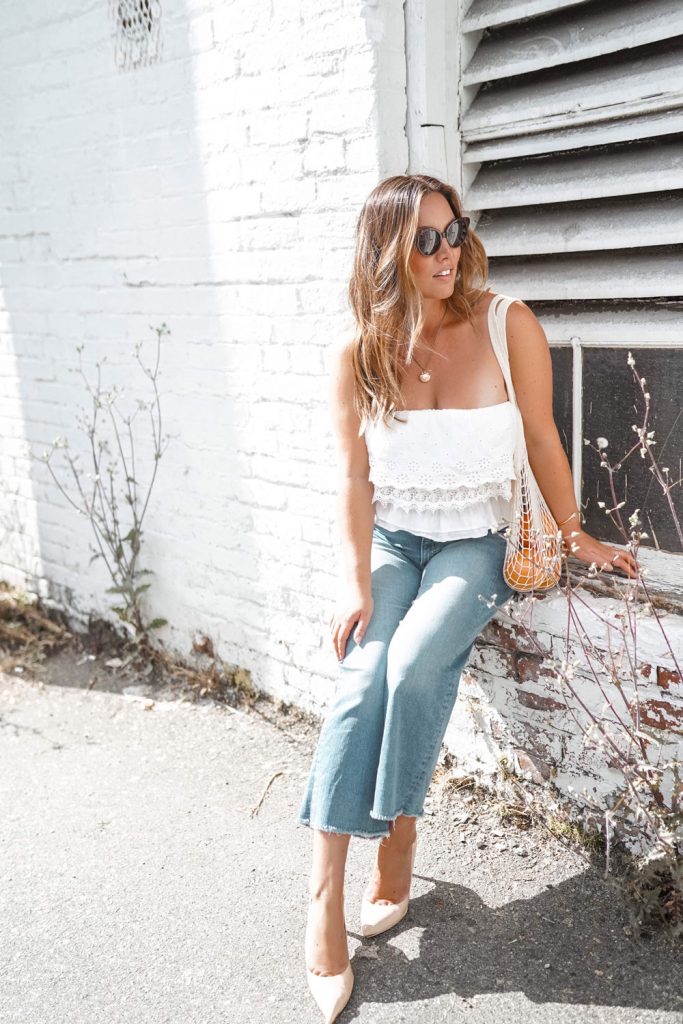 So again, while I made peace with my body years ago, accept my shape and am really and truly quite happy with not only how it looks, but how it allows me to move through life, I do still find myself coming up against some mental blocks here and there. Take, for instance, cropped jeans—this is one trend I've been obsessed with but every time I think about actually wearing cropped, wide-legged jeans, I immediately talked myself out of it. Between having muscular and short legs, I just decided it wasn't worth even trying to style these up as they'd clearly add a bunch of bulk and shorten my legs in one go.
Finally, though, I decided to give them a go and all I can say is…what was I thinking?! Not only is this an insanely comfy style to wear, but I, for one, think they look awesome! I did play with them a bit by styling them up at home and found a couple of tricks that for me, helped me just feel that much more confident in them. I feel like these would translate for any body shape or body type though, so read on for a few of my go-to tips to make cropped jeans your new signature look.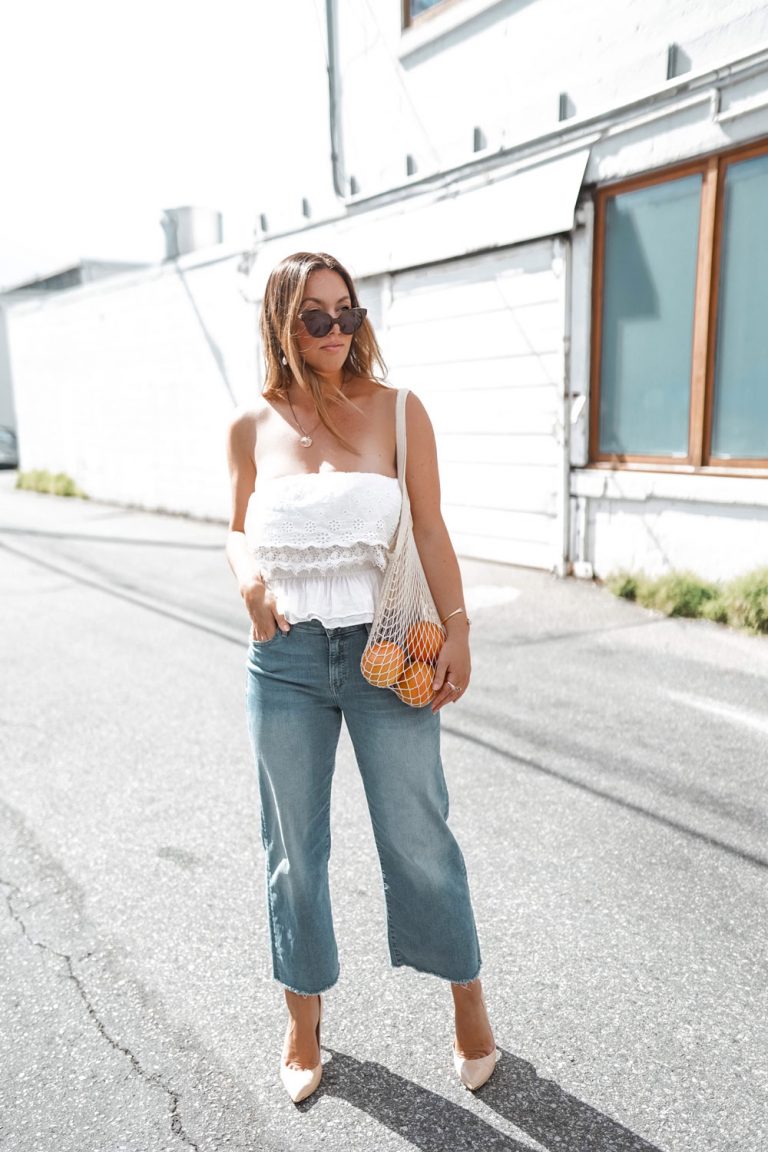 Size Up
So this first tip is the only one that might be more specific body shape wise as this is more for hourglass or pear shapes—I usually wear a size 27 in my jeans but took these Mavi Romee Wide Cropped Jeans (which are on sale now!) in a size 28, and the reason for this is that I didn't want these clinging to my butt or legs. The waist is a bit big (if I was wearing anything more cropped I'd probably cinch in with a belt because you can kind of see the gaping otherwise) but it just made that breezy, loose look that much easier and it's always easier to either cinch in with a belt or tailor them to take in the waist a bit than to try to make a tighter pair work. If you're an apple or narrow shape, I'm sure you're fine just opting for your usual size but if something is meant to be loose, it's nice to just adjust the waist and really allow for that looseness through the legs!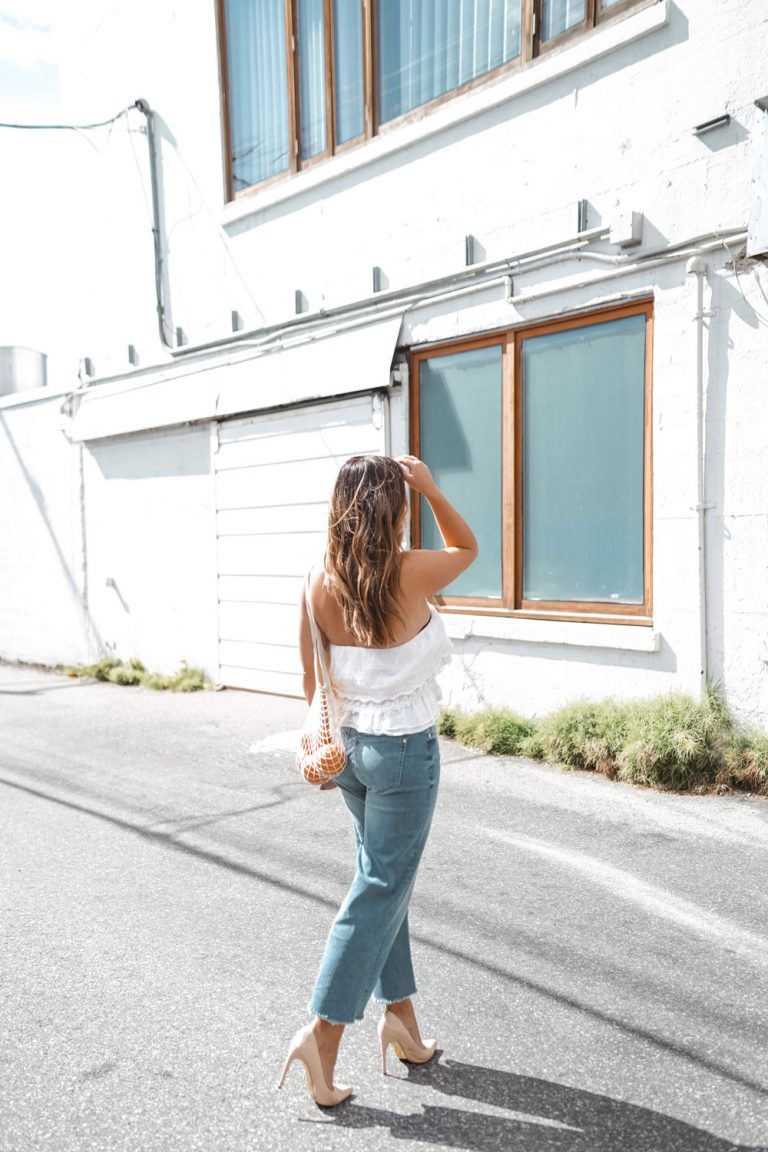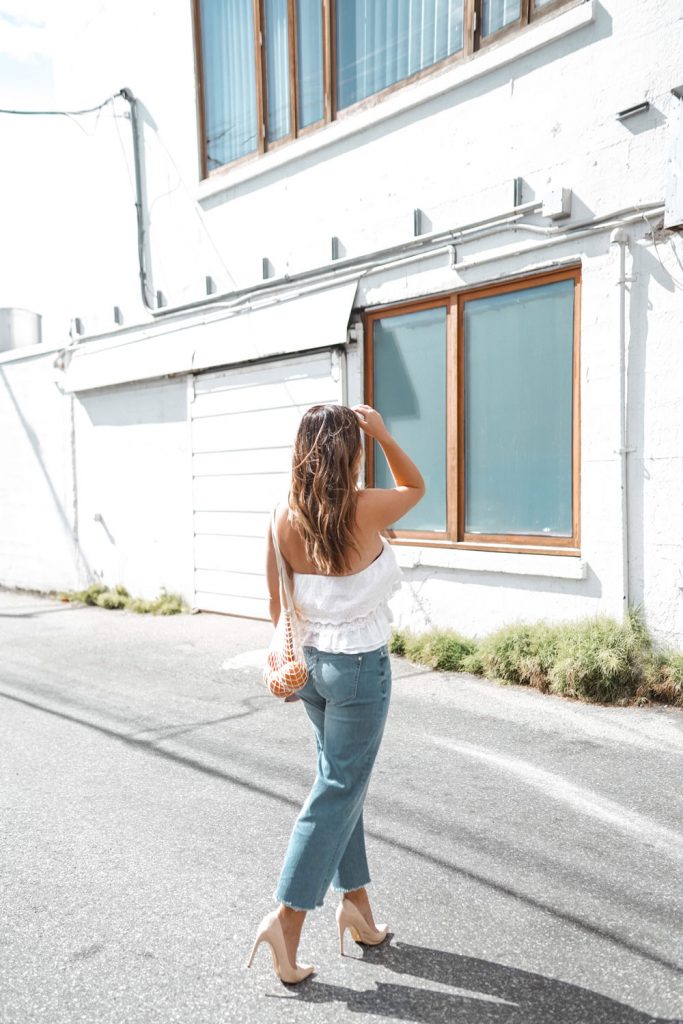 Crop Top
I'm a big fan of cropped tops—paired with a higher waist in jeans or skirts, they're the best look for hourglasses IMO so I honestly have a ton of them in my closet. This little eyelet strapless number I got last year from American Eagle is not quite a crop top but it's got a short enough length that it works really well with these jeans (this similar crochet beauty would also be perfect!). With wide-legged jeans, they just minimize the amount of bulk and balance out proportions beautifully (they're also amazing with culottes, you can see that combo here!).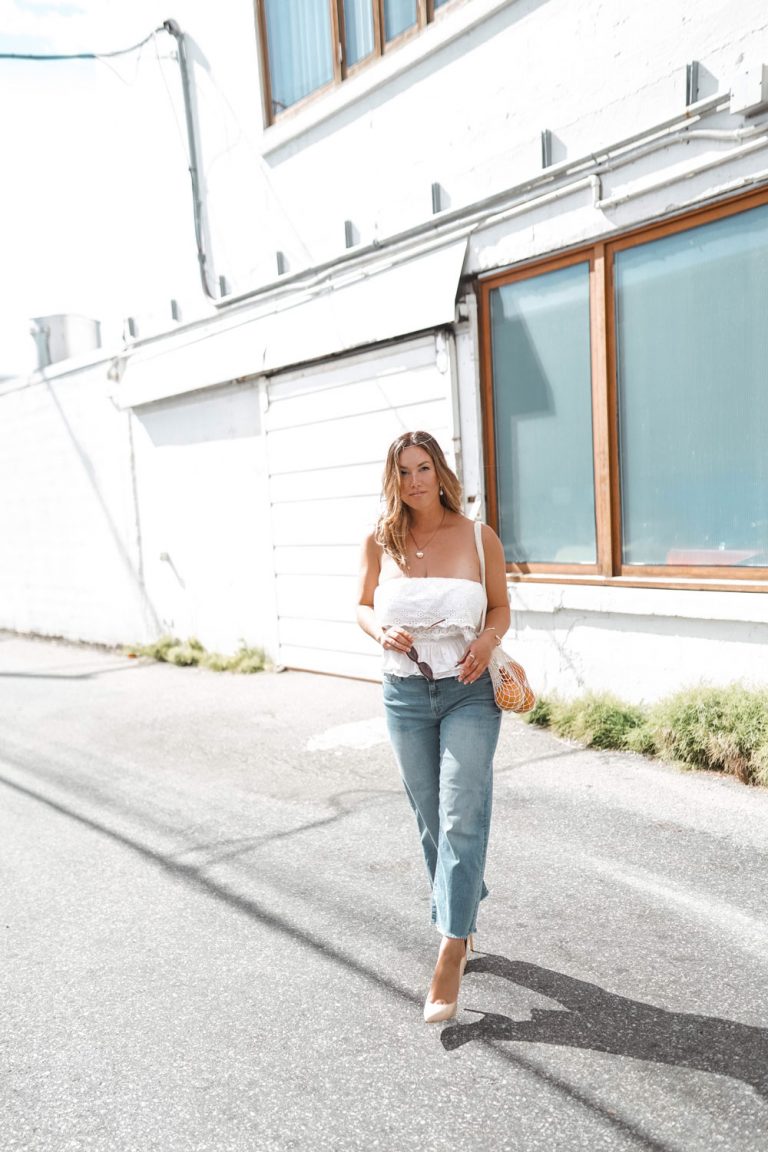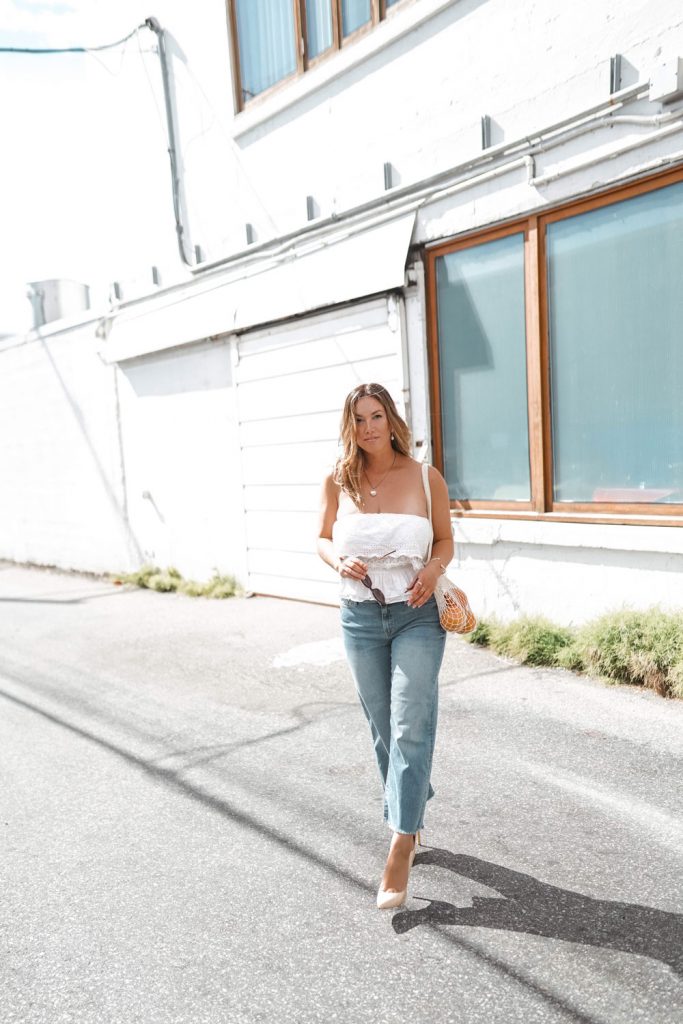 Go Nude
A pair of nude heels is something I rely on so heavily as it is because of my short legs (I get put in the back of the car all the time because of "Alex's tiiiiiny legs" as my friends/family say since I need literally no legroom). Since cropped bottoms can shorten me otherwise, I tried this look with nude heels and then added in some nude flats later in the evening when we had some more walking to do along the Sea Wall and both worked perfectly as far as lengthening my legs. Again, if you're blessed with long legs you won't need this but for anyone who wants to add the illusion of length, getting some killer nude-toned footwear is life changing! I get so much use out of these Ted Baker pumps.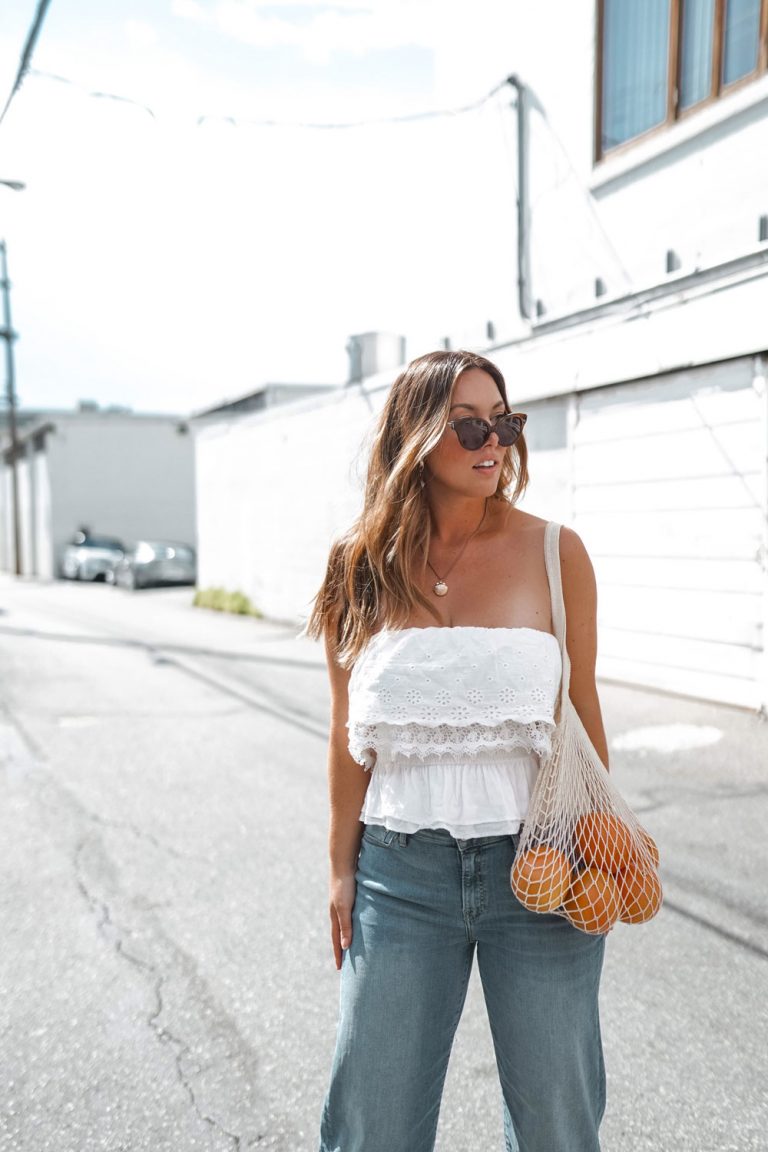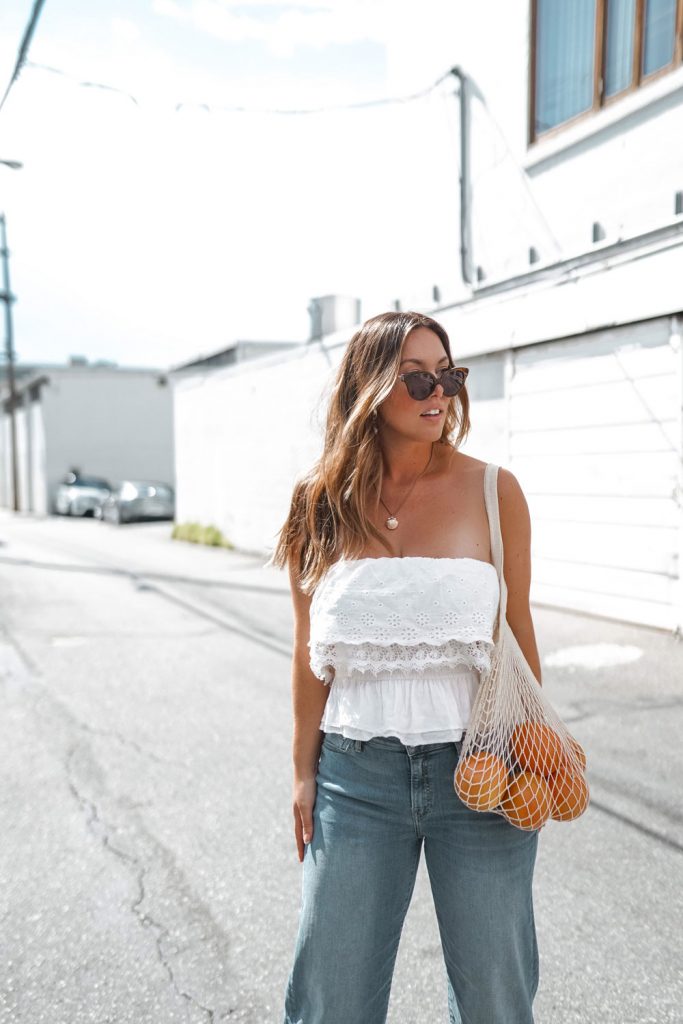 Strategic Fading
Part of the reason I knew these Mavi jeans would be potentially great is because of the fading on them—with a darker rinse on the sides and fading in the middle, they help create a gorgeous silhouette on legs.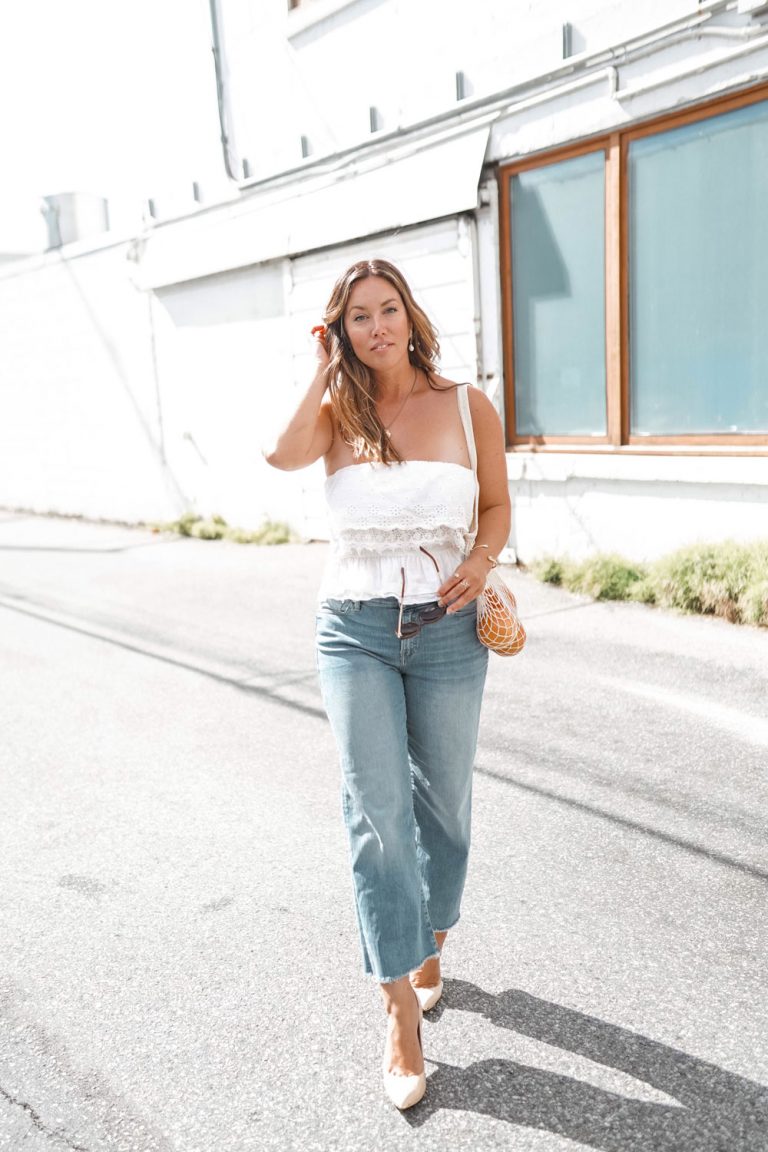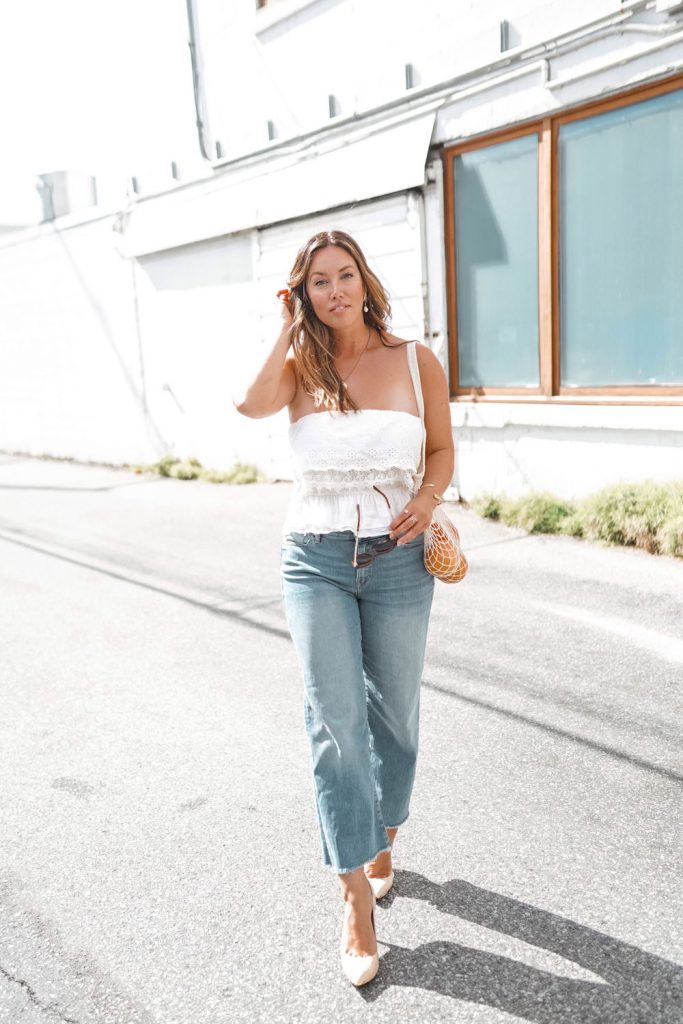 Honestly, these jeans will be worn on repeat all summer because they're super comfy, surprisingly pair really well with my millions of shorter tops and are also really easy to wear! I can't believe I held off on trying this trend for so long. Also totally unrelated to these jeans but how cute is this market bag?! I got it in Vic from the cutest general store, you can see more in yesterday's travel guide! Love a travel find like this.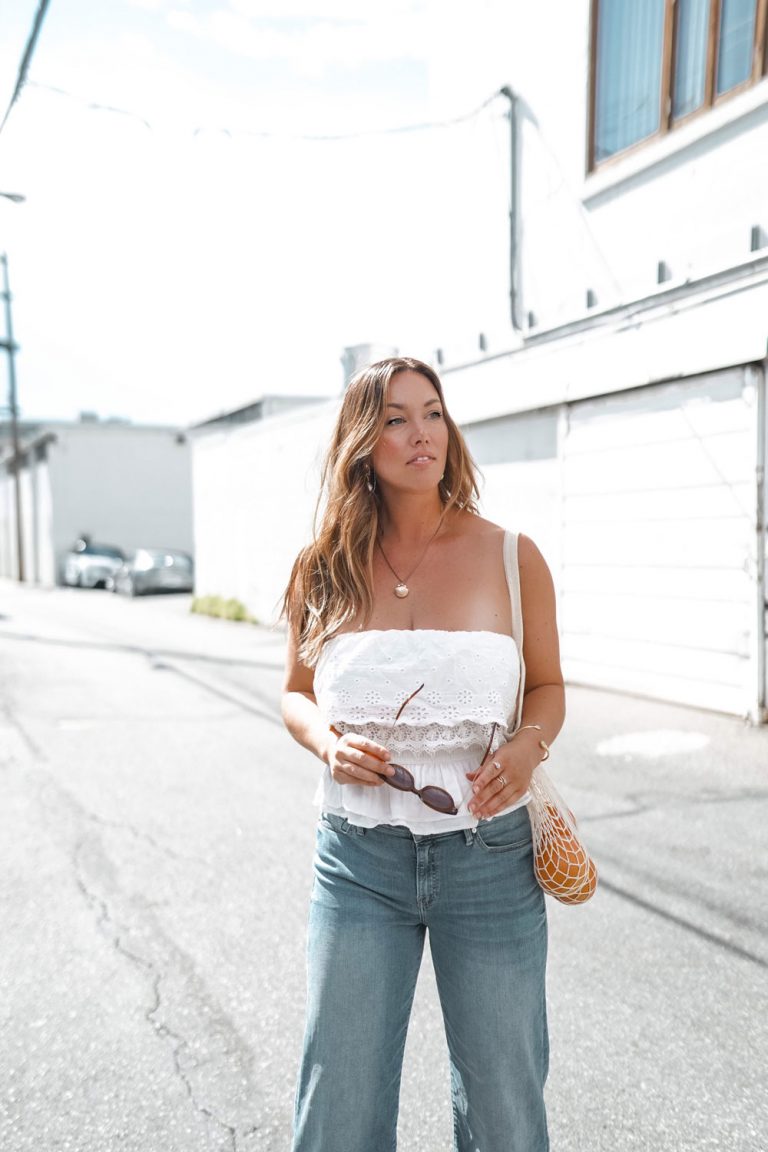 Finally, because I know I'll get questions about this, the gorgeous shell locket is by Melissa Araujo and the bracelets/rings are Sarah Mulder, whose jewelry I talk a bit more about here. Both Vancouver designers and so talented!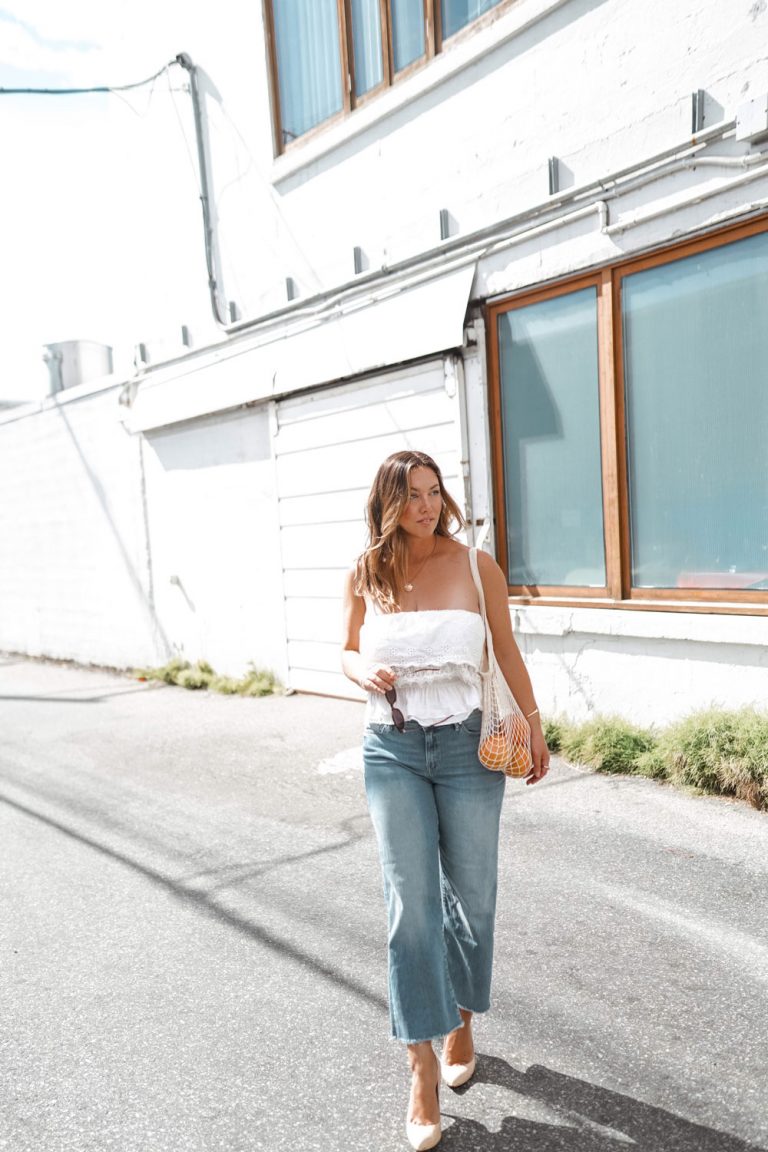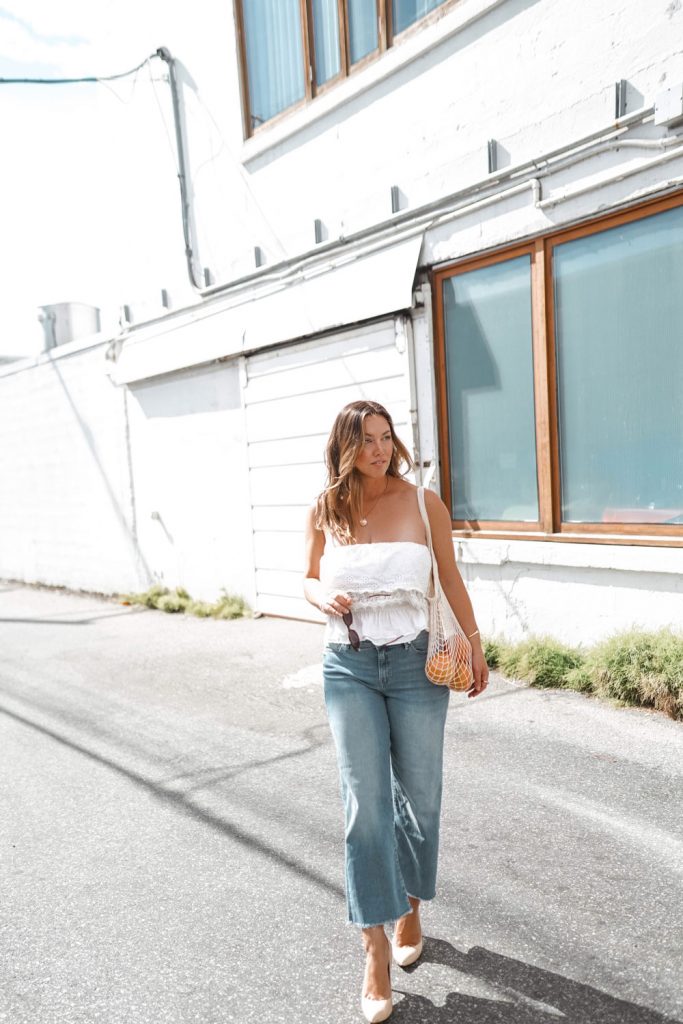 Are you guys fans of cropped jeans, or have you gotten over yourself and ever tried a trend or look you thought wouldn't suit you? Let me know in the comments below!
SHOP THE POST