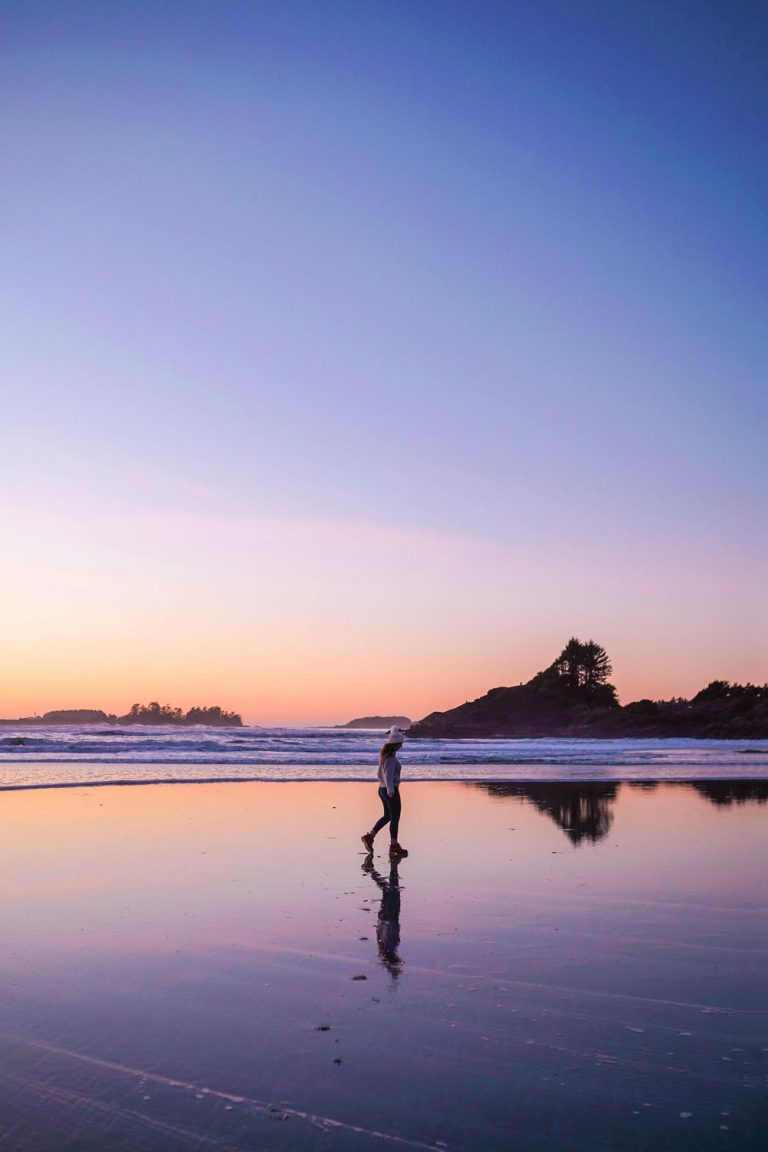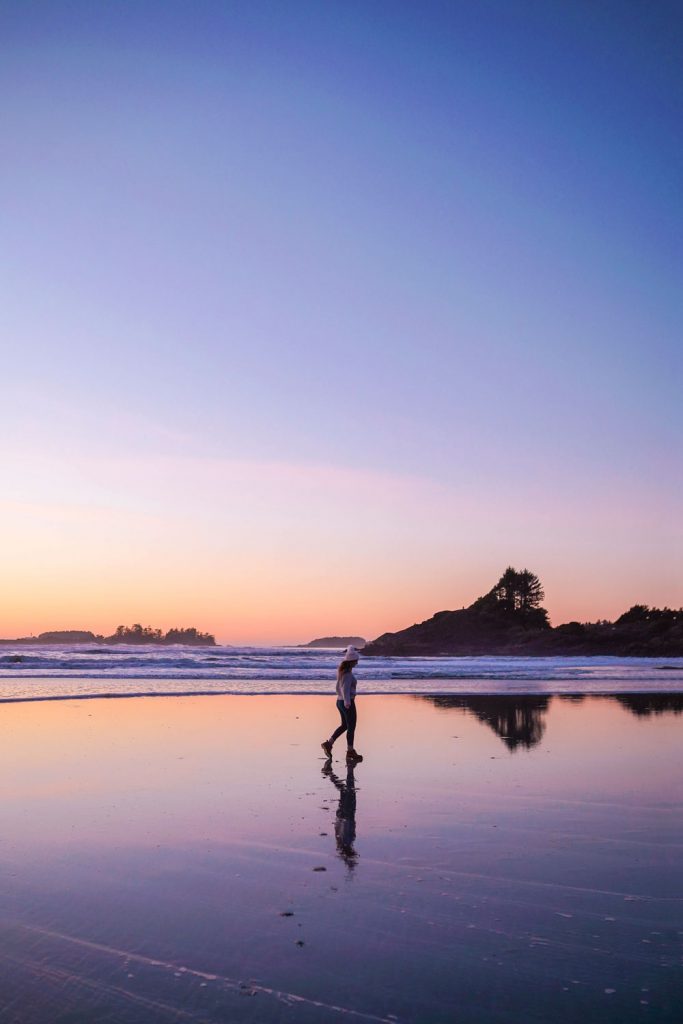 There are some places so special that it only takes a trip or two to make them one of your "happy places."
I have a few places that feel like that, some near, some far. When it comes to Tofino though, I've fallen so desperately in love with it. I used to go up with my family a lot when we were kids, but then I had a bit of a long gap in my Tofino visits until a few years ago when I made the trip up seemingly every year.
This most recent trip up was by far my most special one though, and based off of the responses I was getting in my Instagram DM's, a lot of you felt the same way as well.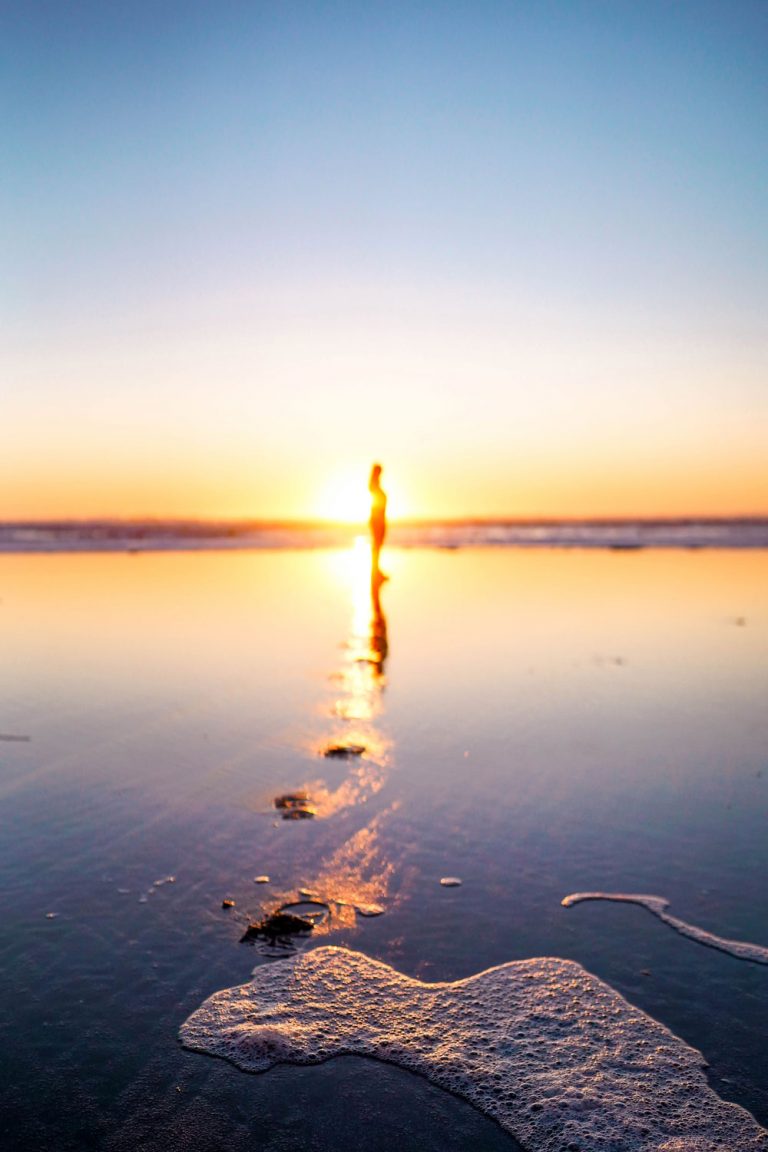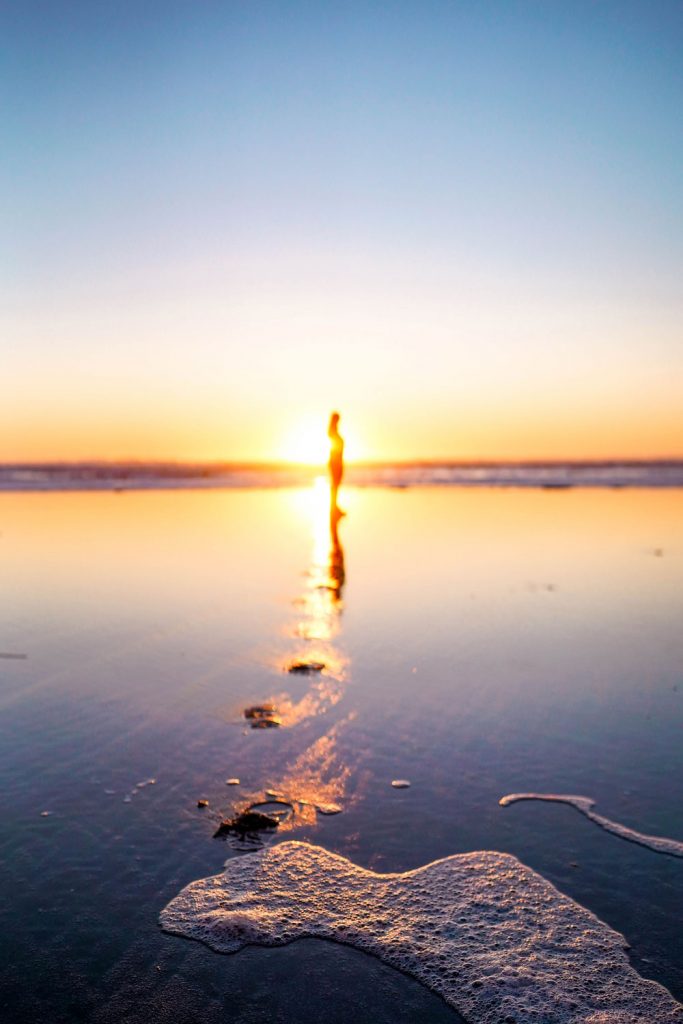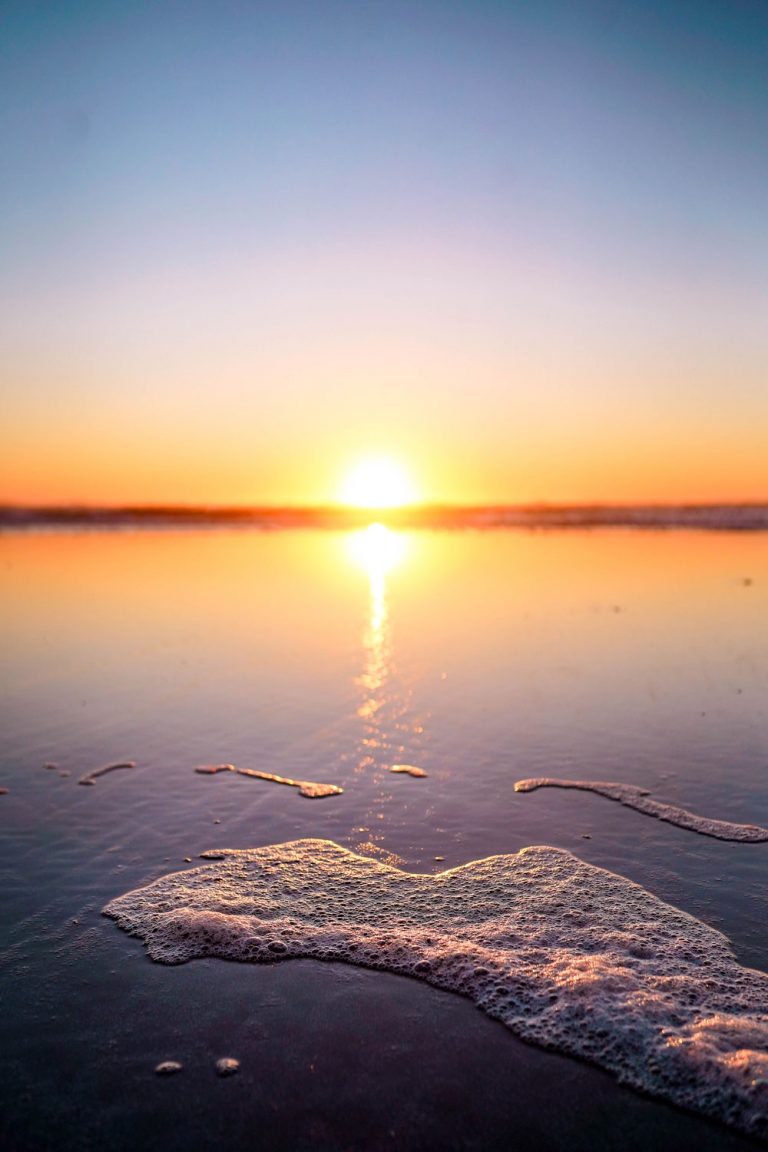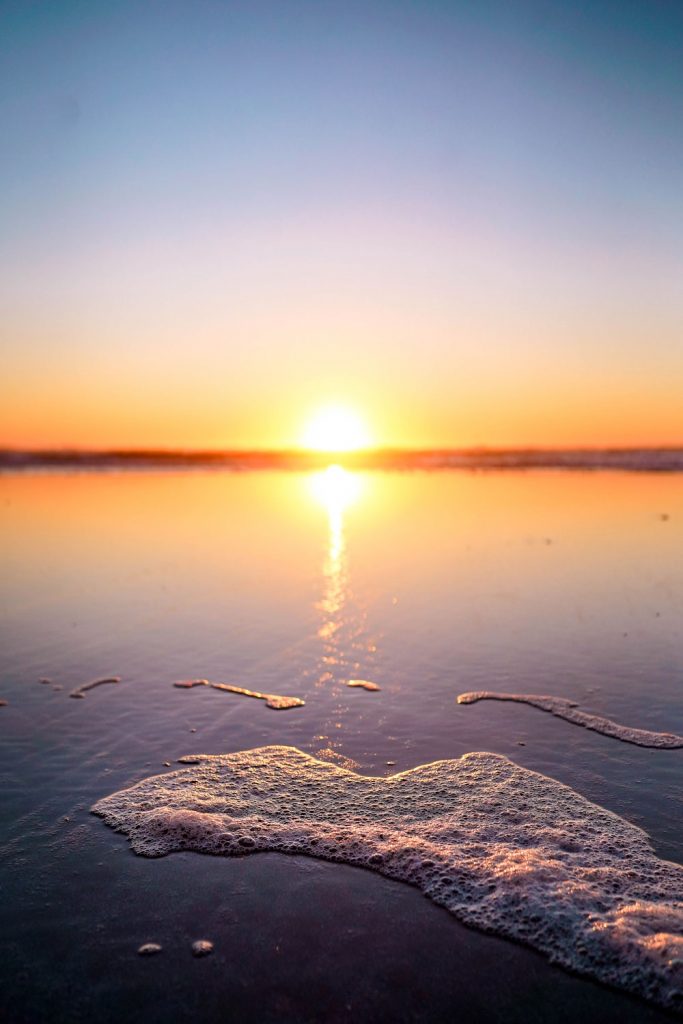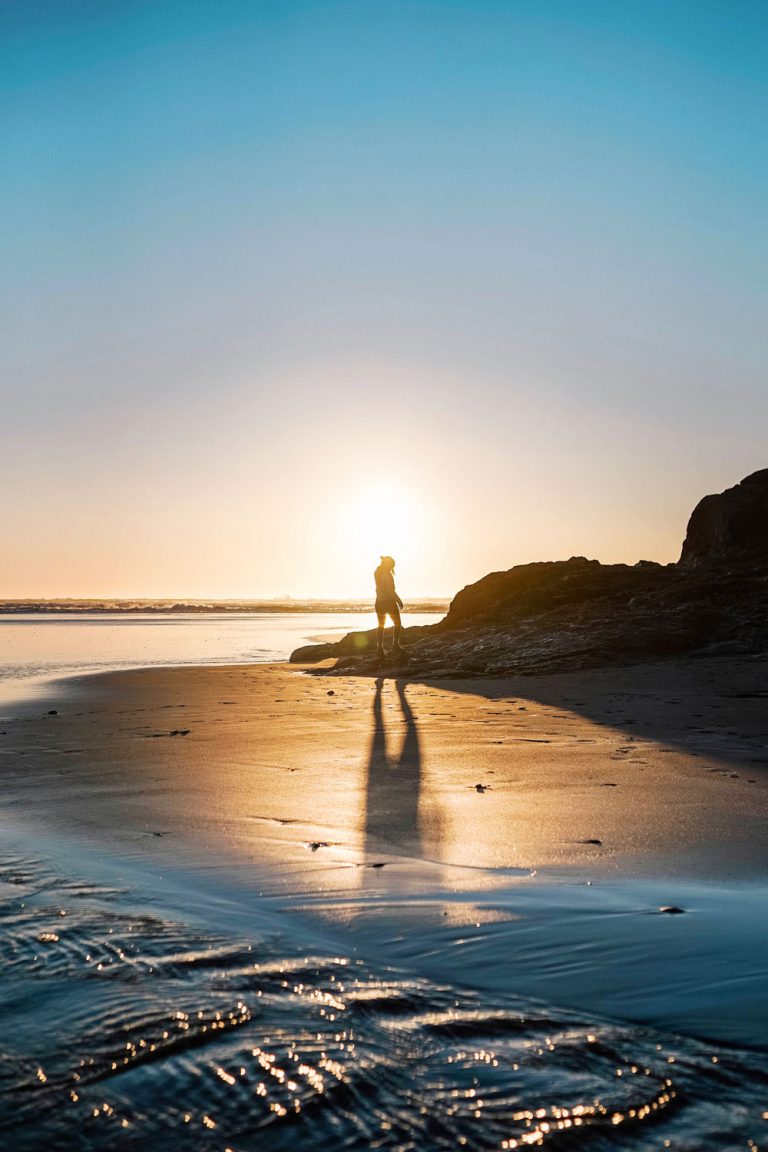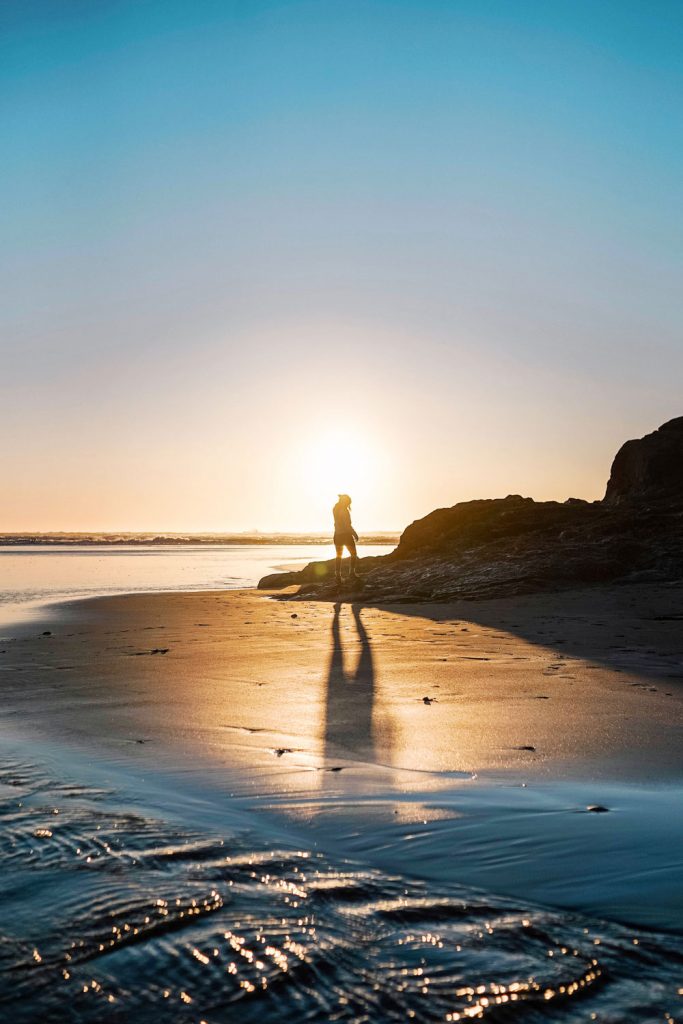 First of all, this is proof that in every bad situation, there's a silver lining: we originally were supposed to go up a few weekends before our trip, but randomly a planned rock blast from a construction crew on the highway resulted in a rock slide that basically cut off Tofino for a few days. Tofino is on the west coast of Vancouver Island and there's really only one road in, so while they were creating a temporary passage through this rock slide for a few hours, by the time we were on the ferry it became pretty clear it wouldn't be wise to go up since food/gas stores and the like were going to be super limited. As it happens, it ended up being a really dark and rainy weekend as it is so while I was super upset to be missing out on our Tofino adventure, we knew we'd get a chance to rebook.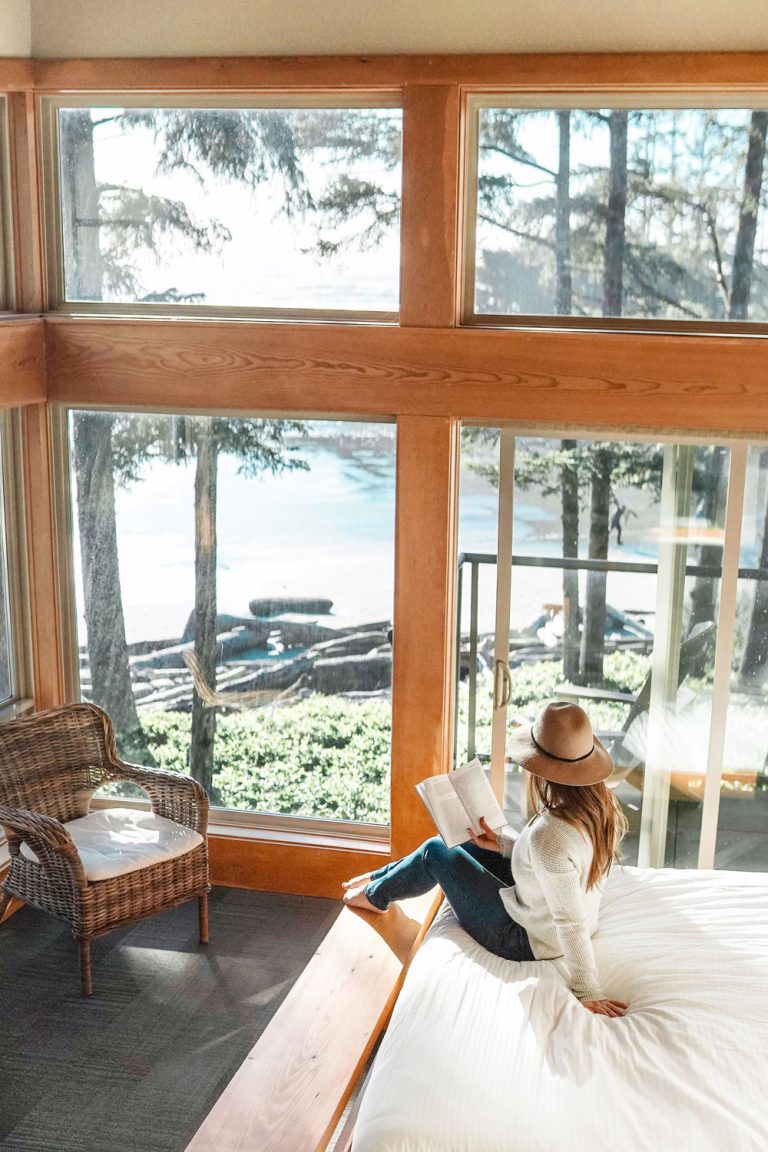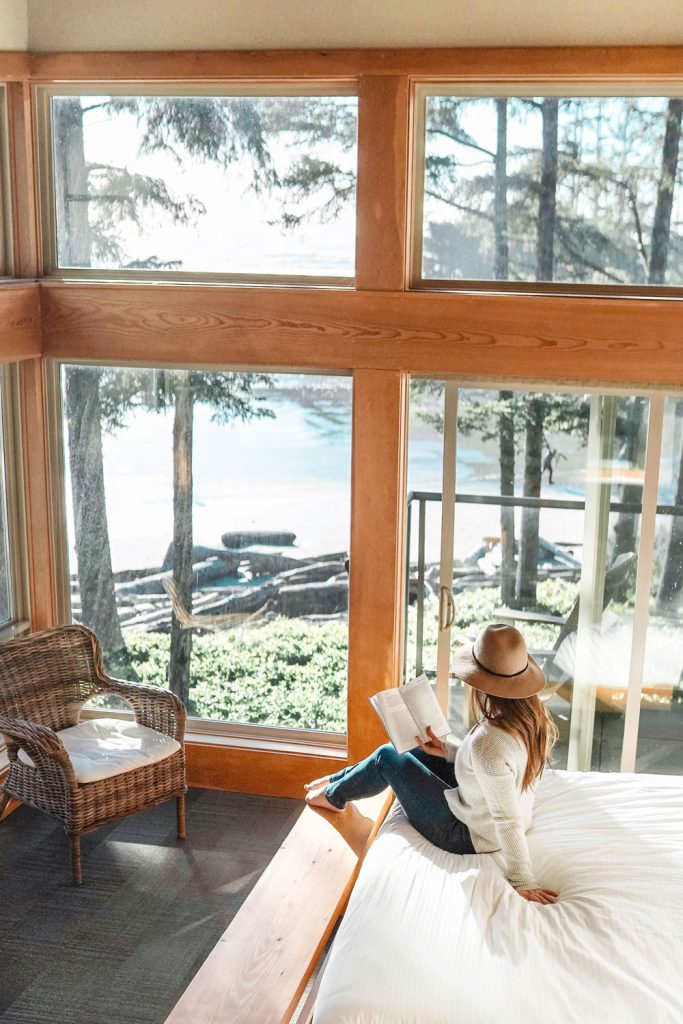 Fast forward to a few weekends later and after a very wet and dark drive up, we woke up to constant, glorious sunshine for our entire stay in Tofino—the most dreamy sunrises and sunsets every day, enjoyed steps away from our insanely gorgeous beach house at Pacific Sands. This was our first time staying with Pacific Sands Beach Resort and it definitely won't be our last. Situated in beautiful Cox Bay, there are ocean views from its wide array of accommodation, from a beach house like the one we stayed at or from suites. Whether you're in Tofino for chilling and storm watching, or hoping to get a lot of surfing in, you couldn't be better located. Speaking of Pacific Sands let's dive into a comprehensive guide of where to stay, what to do and where to eat while in Tofino!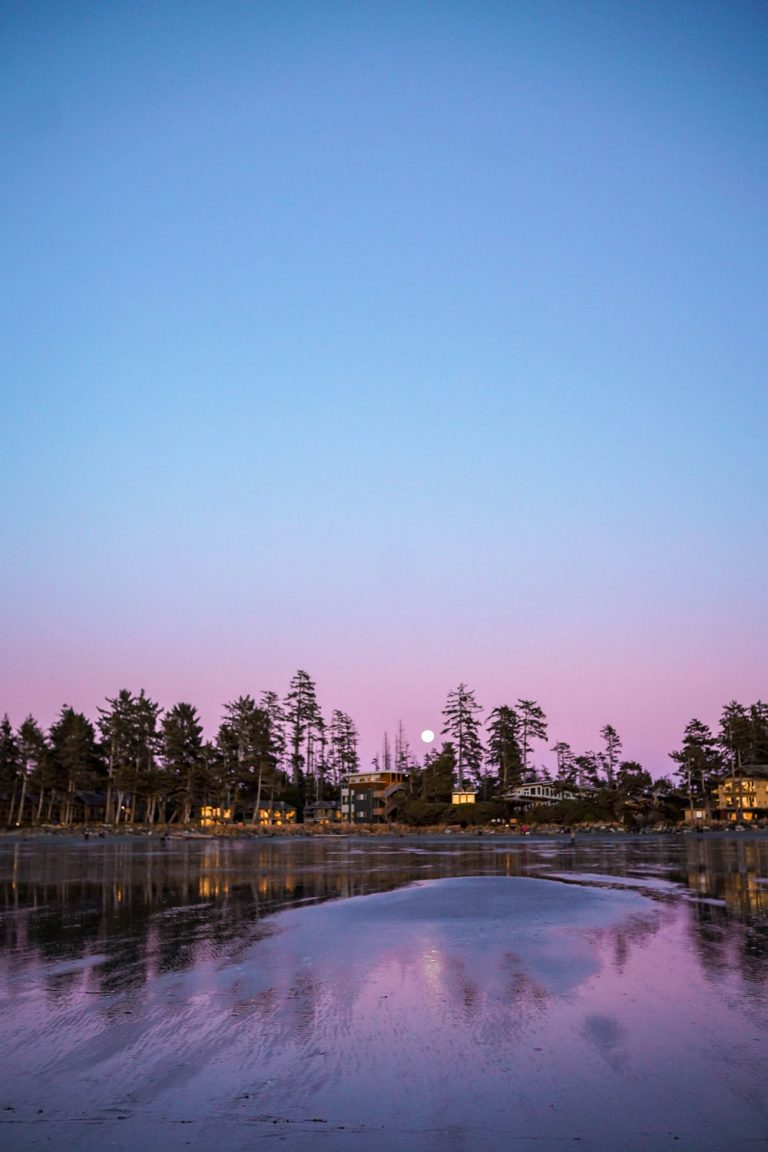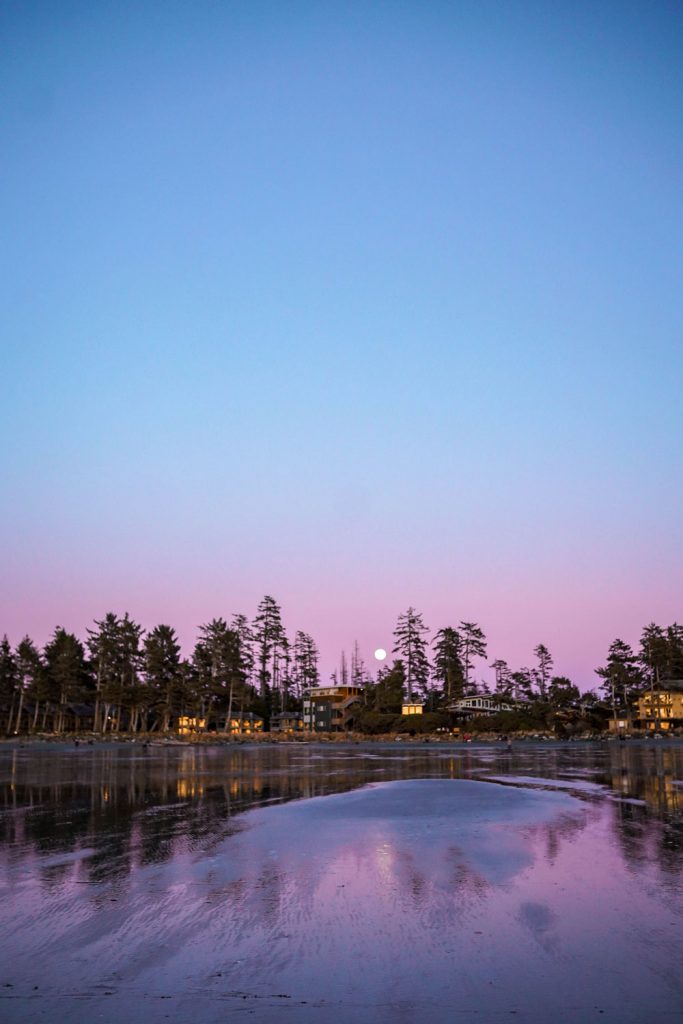 ---
WHERE TO STAY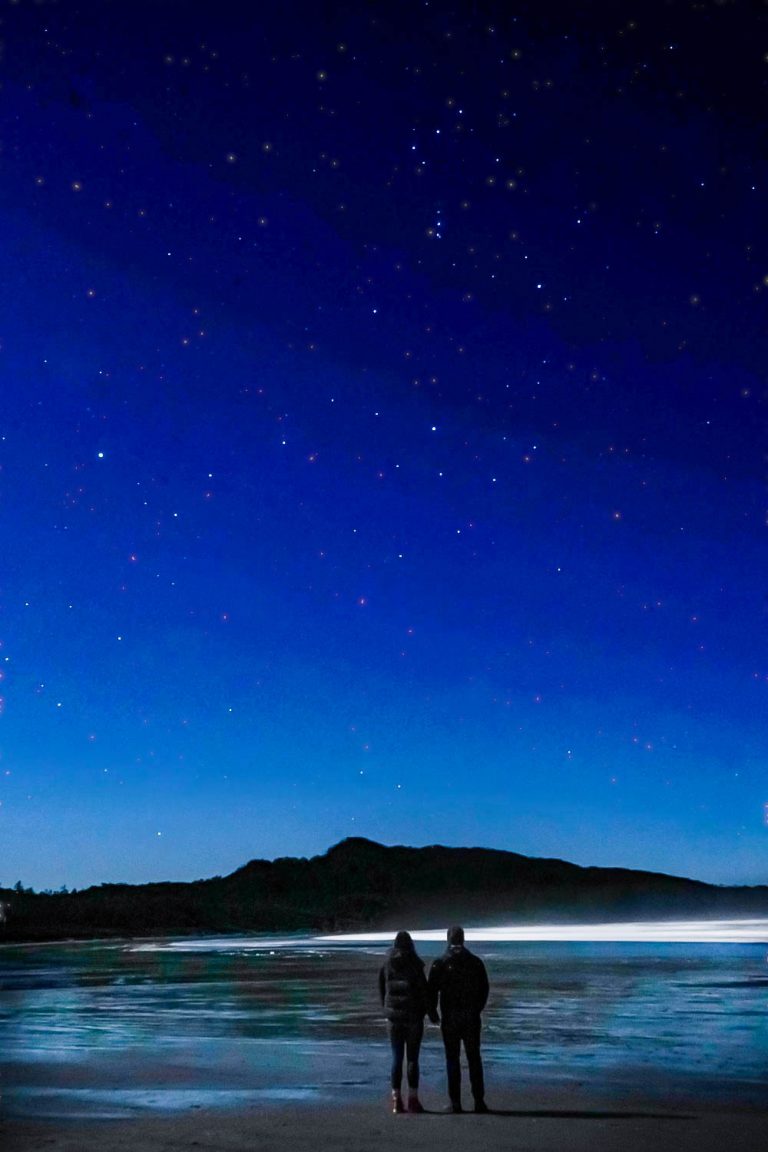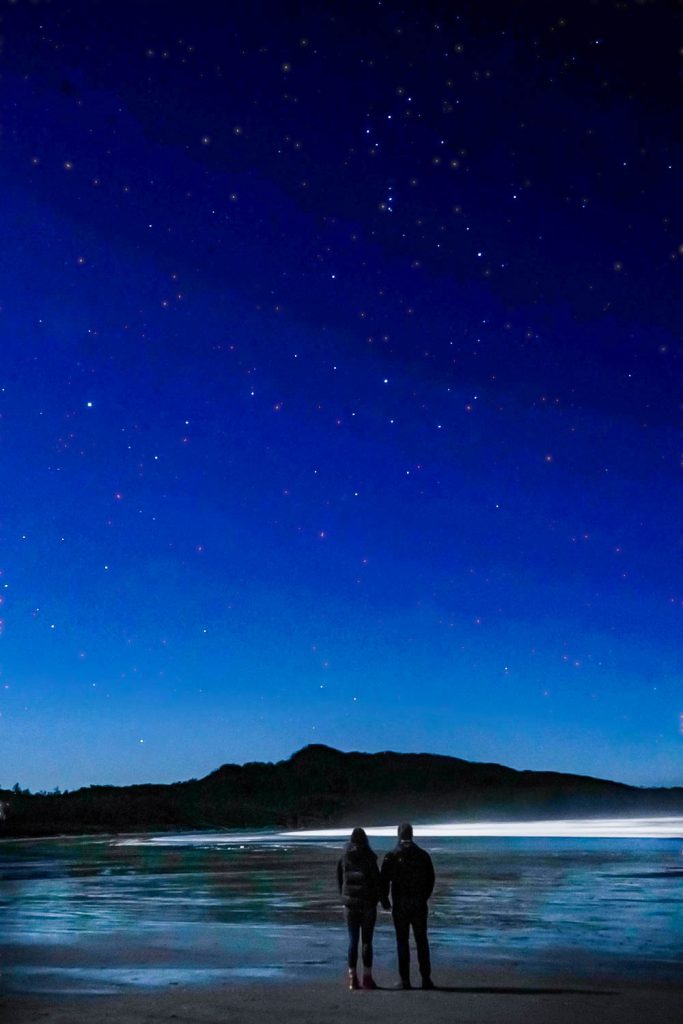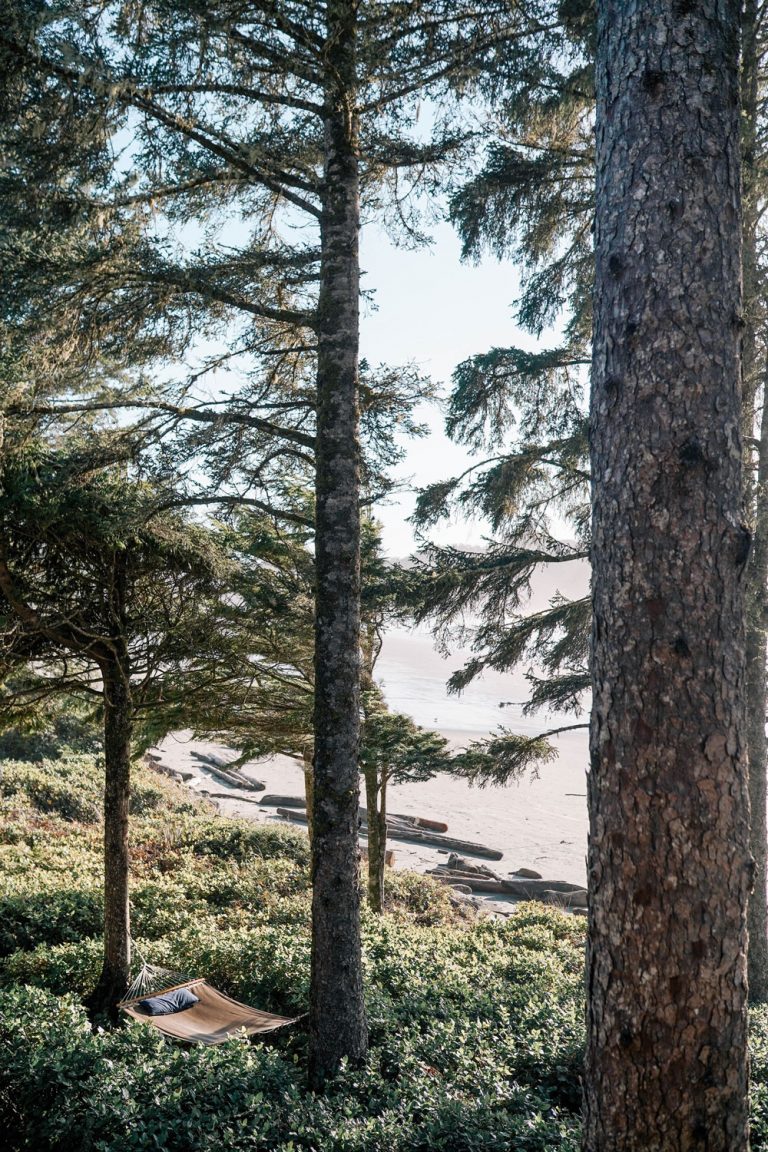 It goes without saying from these pics and from my rhapsodizing above that clearly, Pacific Sands would be my top recommendation. From the location to the views to the suites/houses themselves, everything is set up to allow you to take in the natural beauty around you, to relax and to enjoy the ocean that stretches out right in front of you. The beach house we stayed in had a legit tub set up on a tier right above the master bed, allowing you to soak and relax with a glass of wine or cup of tea while taking in the crashing waves below. Ample patio spaces also allow you to also unwind right outside, while the decor layout on every level was also set up to allow for the natural beauty to come pouring in from every angle.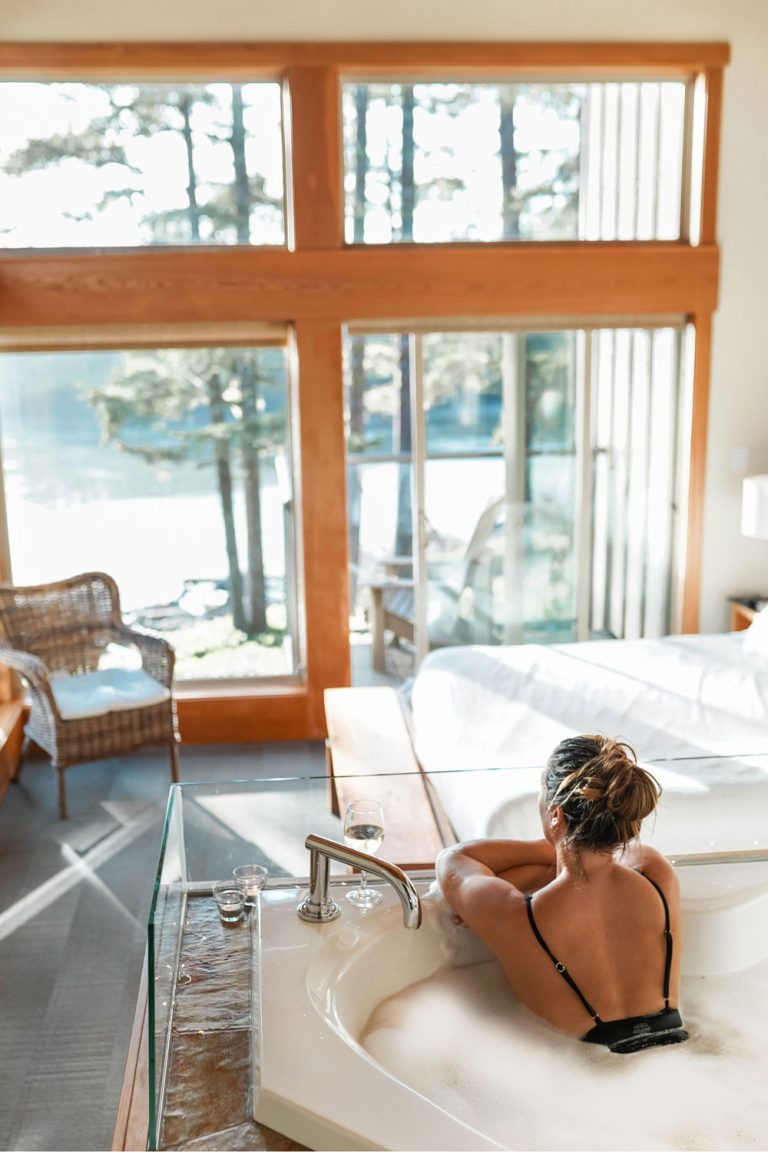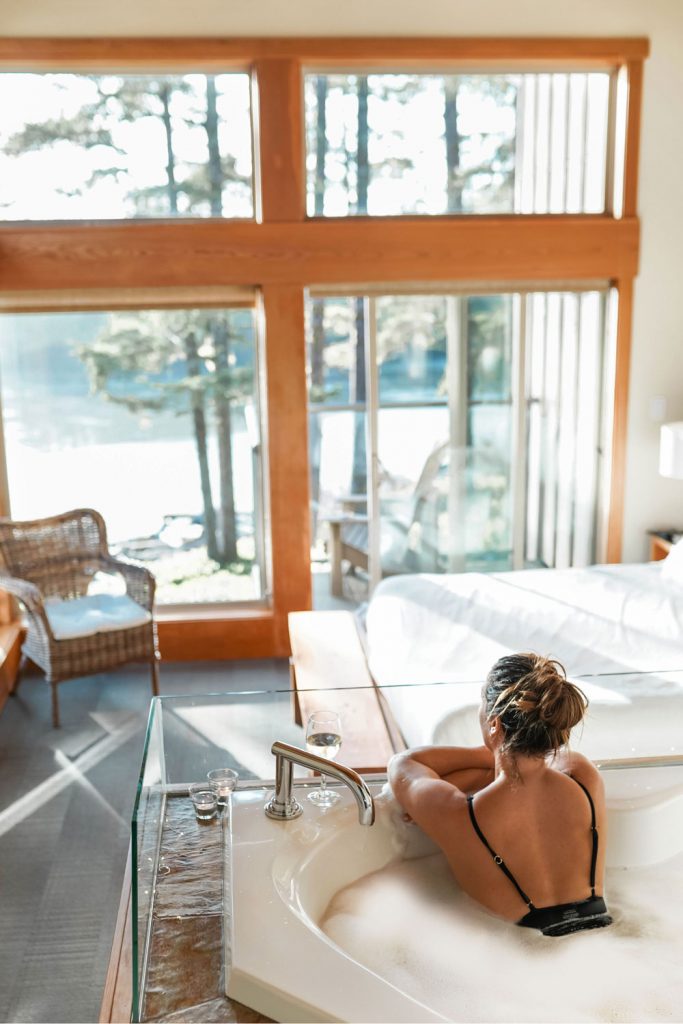 Our favourite little ritual was brewing some of the Rhino Coffee supplied right in our full kitchen and taking a walk along the whole length of the beach with our coffees at sunrise every morning. Seriously, so special. During the warmer months, Pacific Sands also has bikes that you can take along the beach (the beaches in Tofino are so flat and stretch out for so long that the sand is quite firm and easy to bike on). They also have smores every night by the fire pits around Surfside Grill, which apparently has the best breakfast sandwich as well!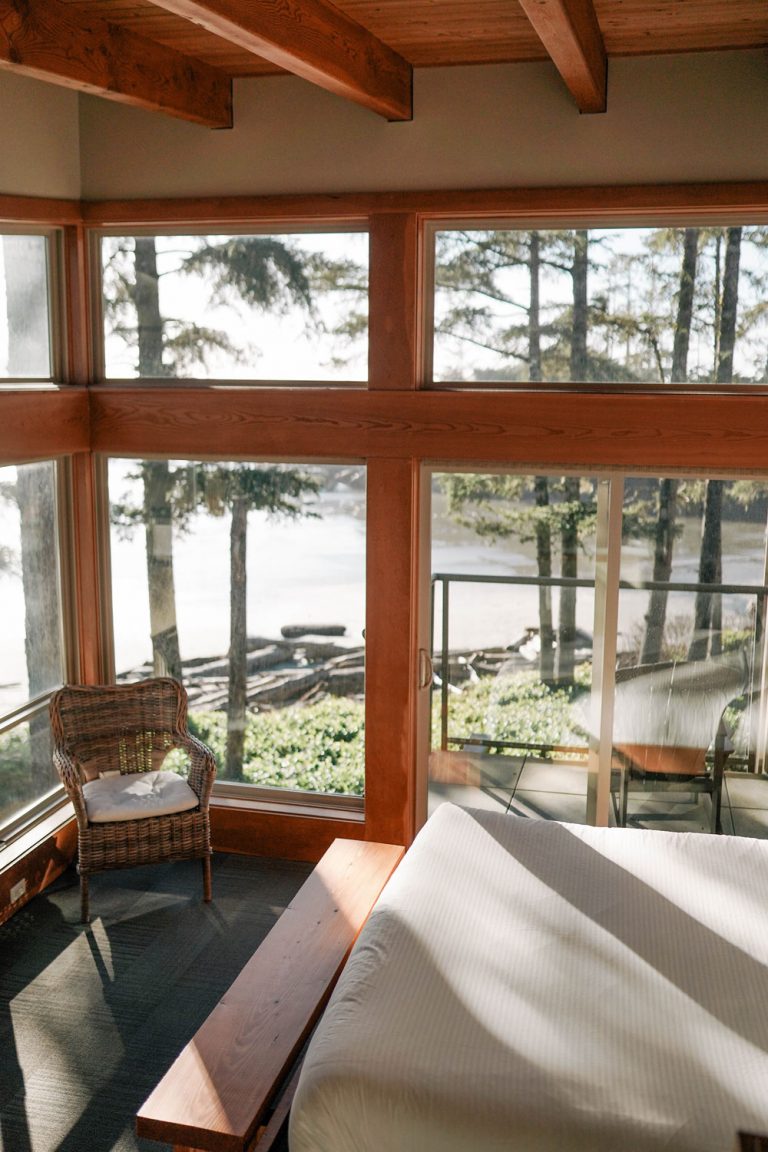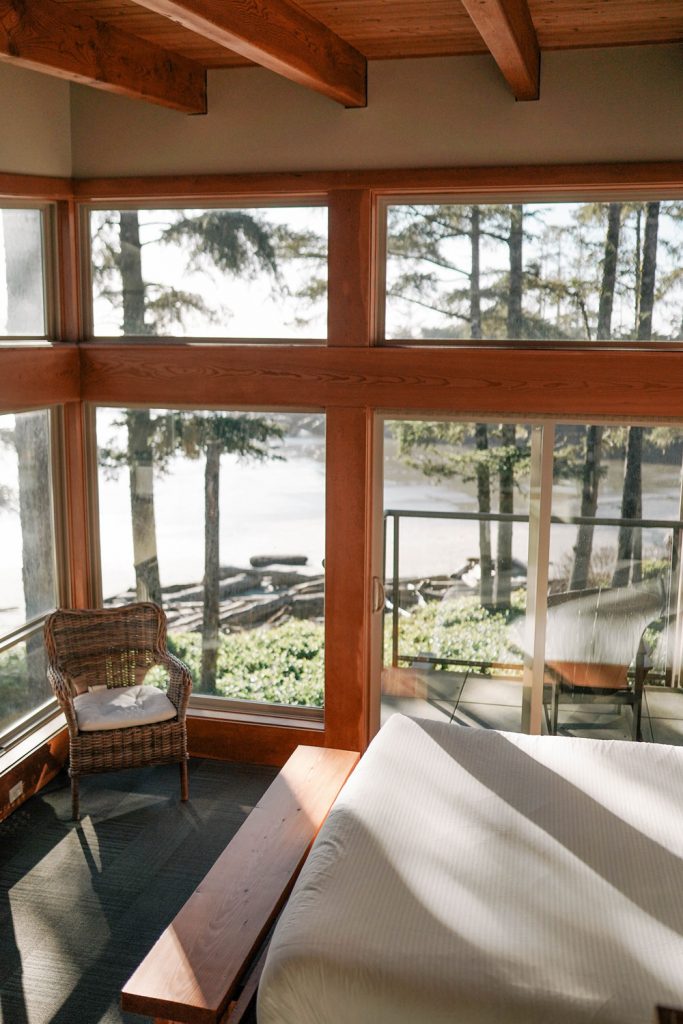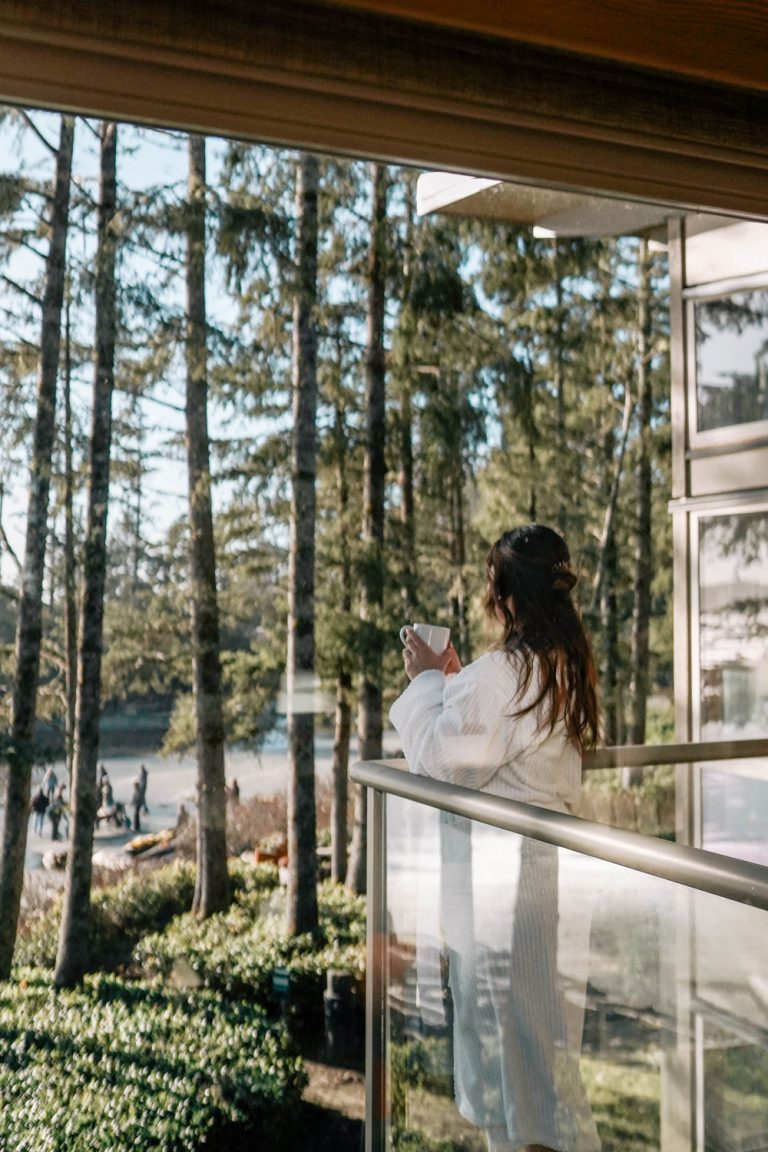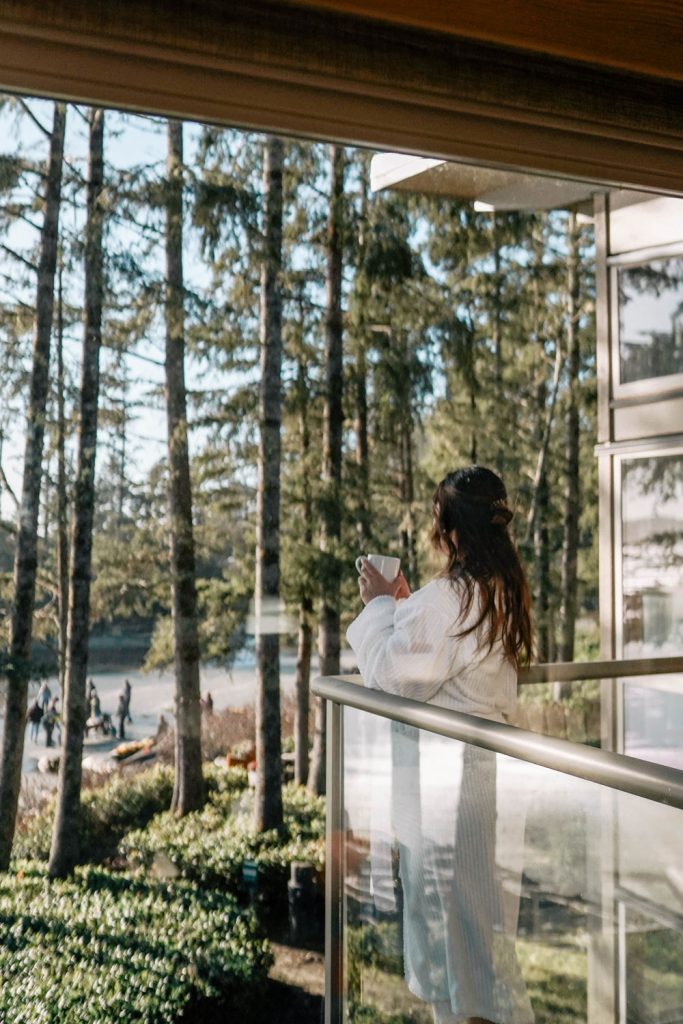 I sadly couldn't surf on this last trip because I'd just had my eyebrows microbladed, but if you wanted to surf they have Surf Sister Surf School rentals set up right on property so that you can rent out a board and wetsuit for your whole trip—there are little surf board notches to keep your board upright near the suites and beach houses! The whole resort is literally set up to allow for the most amazing stay, whether that's surfing your whole trip or even just going for walks and taking in the beauty around you.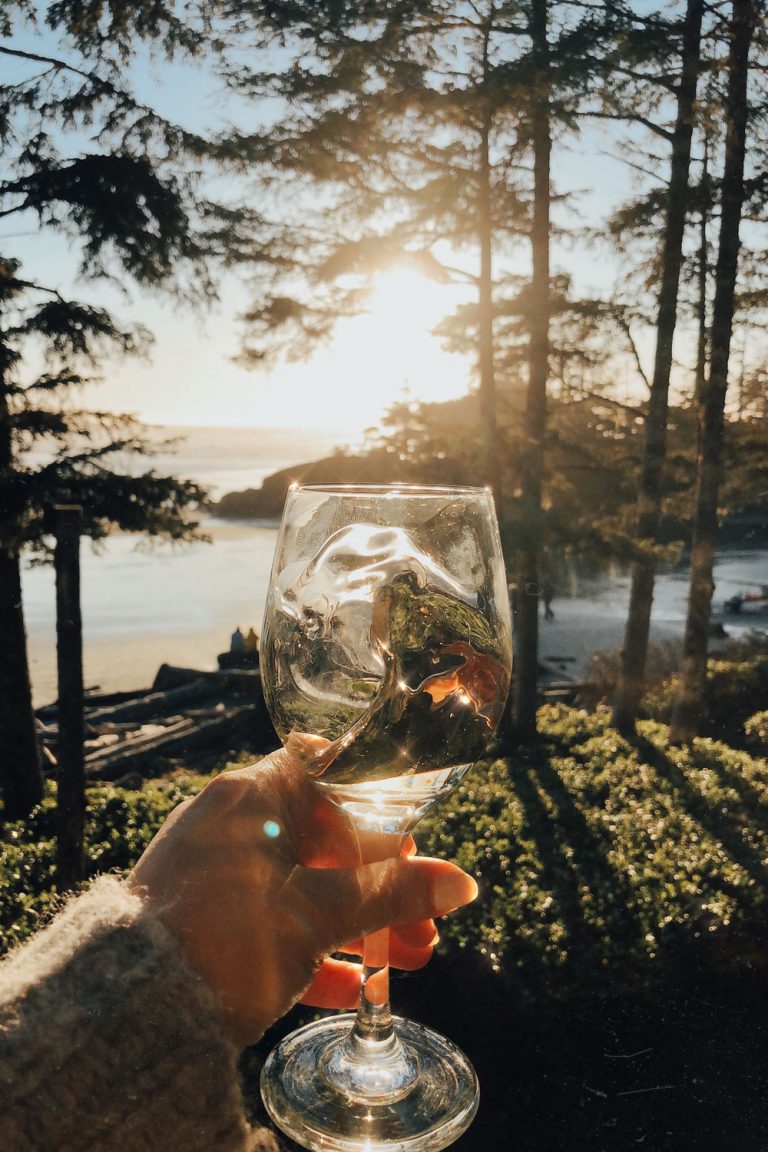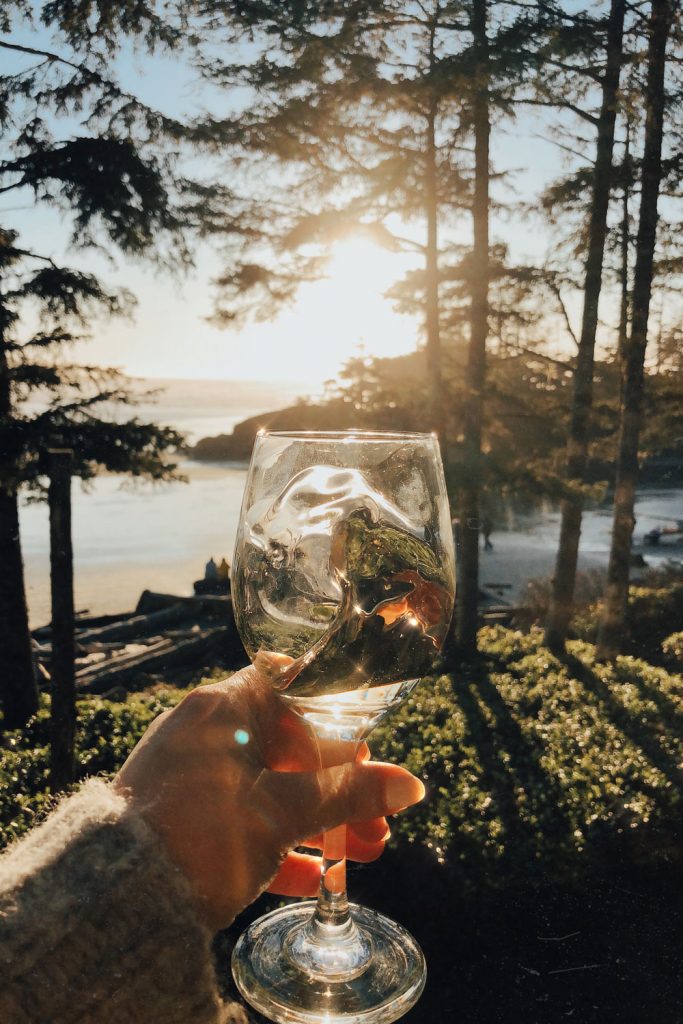 ---
WHAT TO DO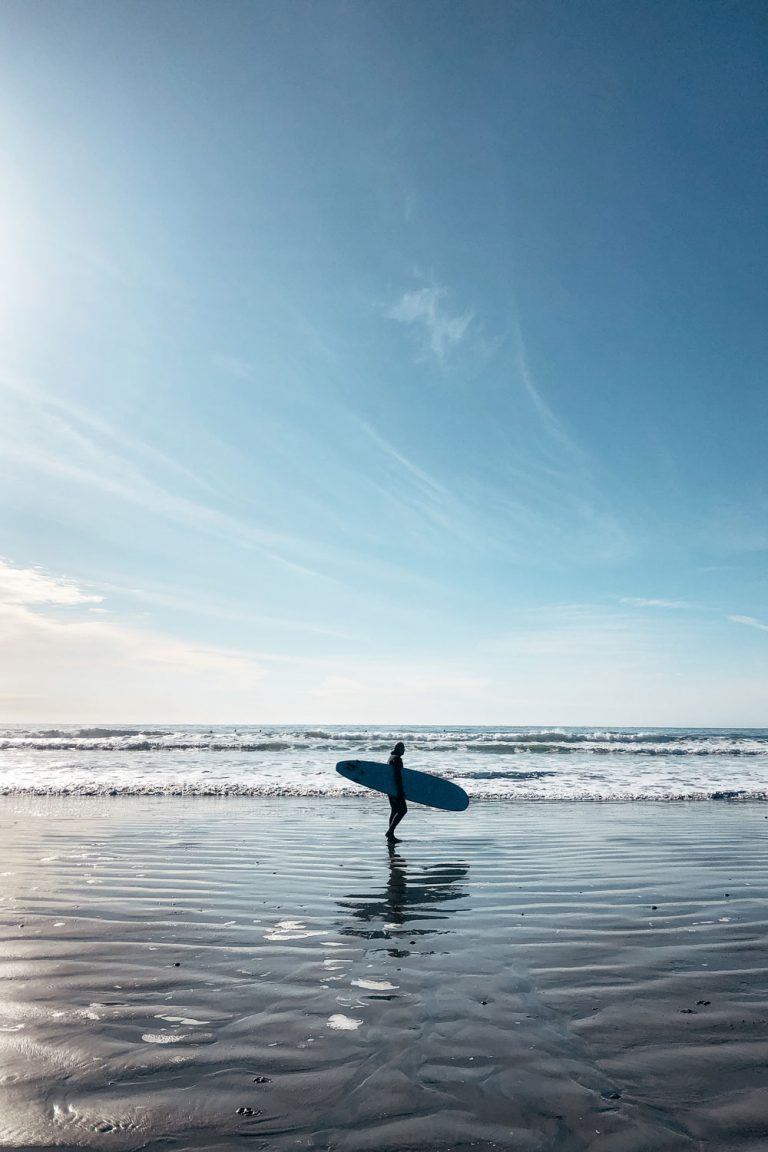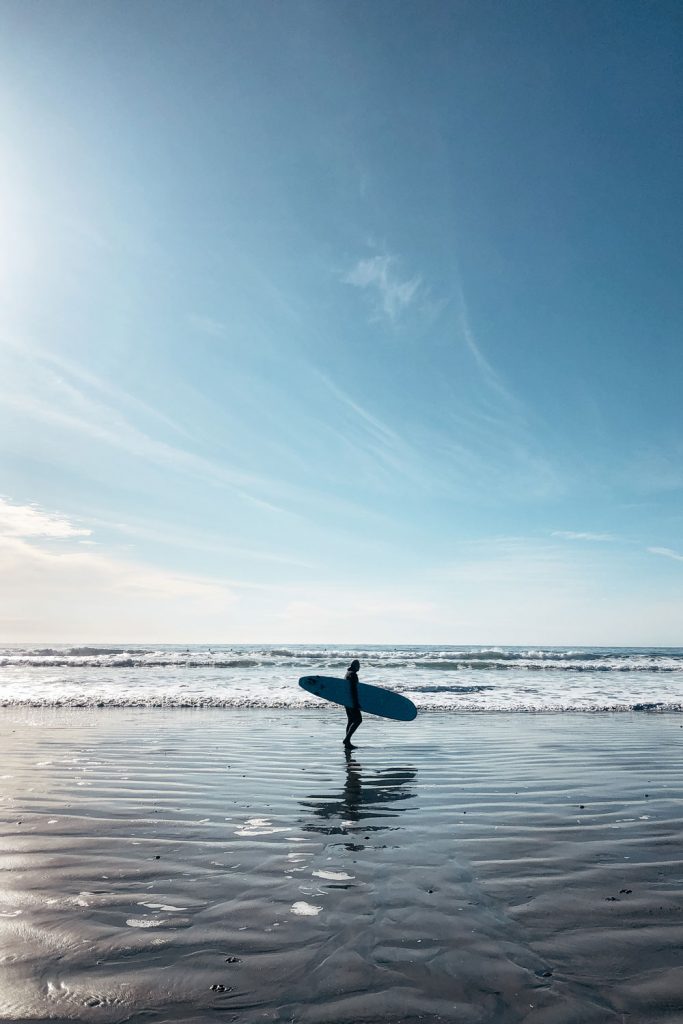 Obviously, surfing would be the first thing I'd recommend. I love surfing and was really bummed my stupid brows were getting in the way of me getting into the water (or exposing my face to sun, really just barring anything fun from happening!) but I really love renting with Surf Sister (who again, you can rent from at Pacific Sands) and they also offer incredible lessons. If you just want to stare wistfully at surfers from the beach like I did or just soak in the beauty around you on a nice long beach walk, you're spoiled with choice: Long Beach, Chesterman Beach, Cox Bay and Wickaninnish Beach are just a few of the beautiful beaches that dot Tofino's coastline.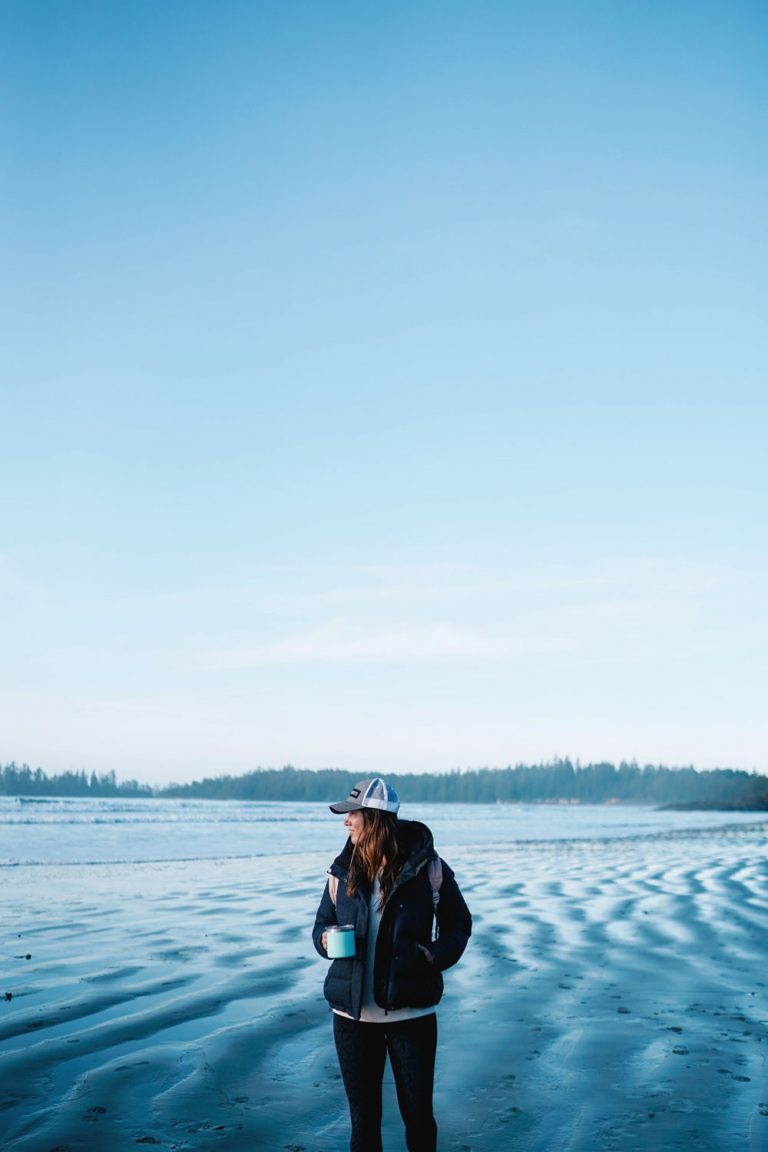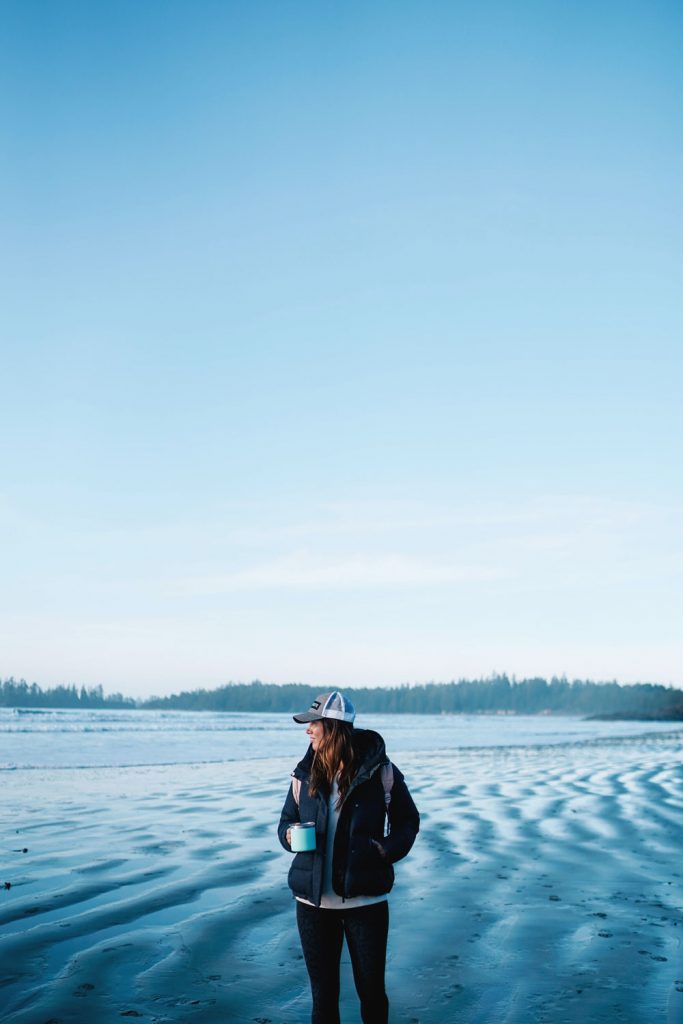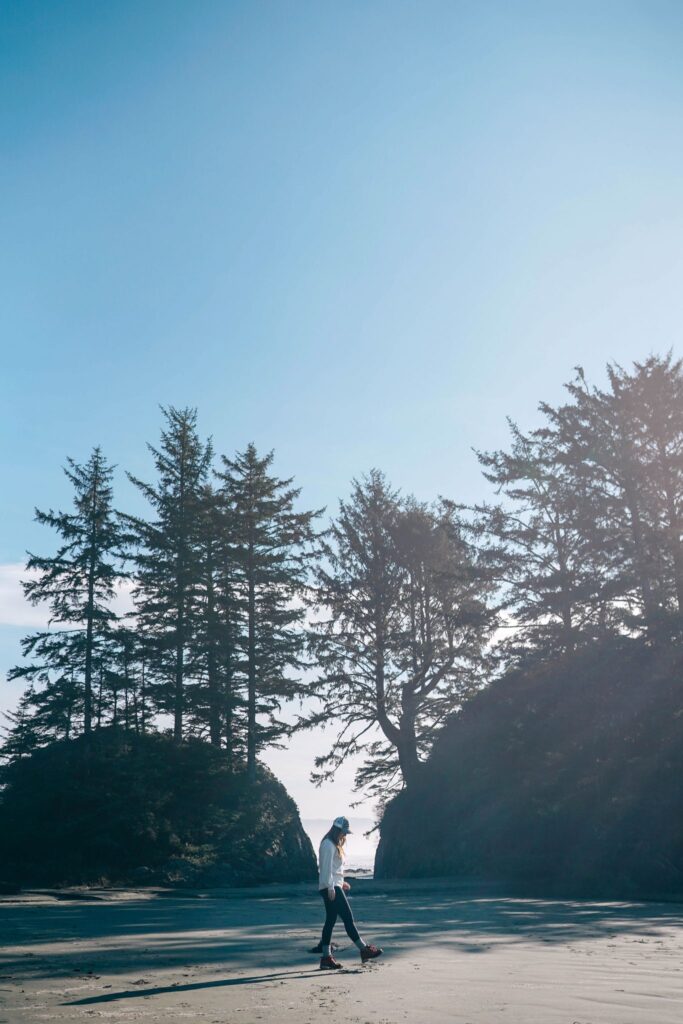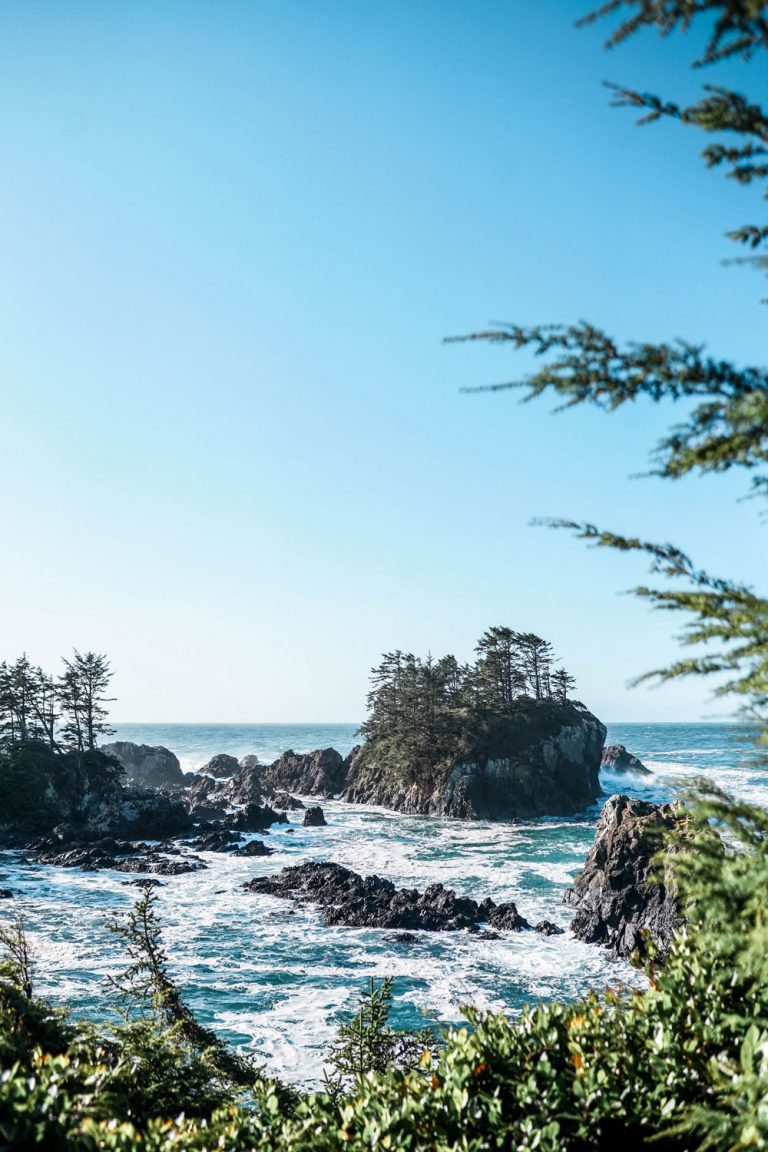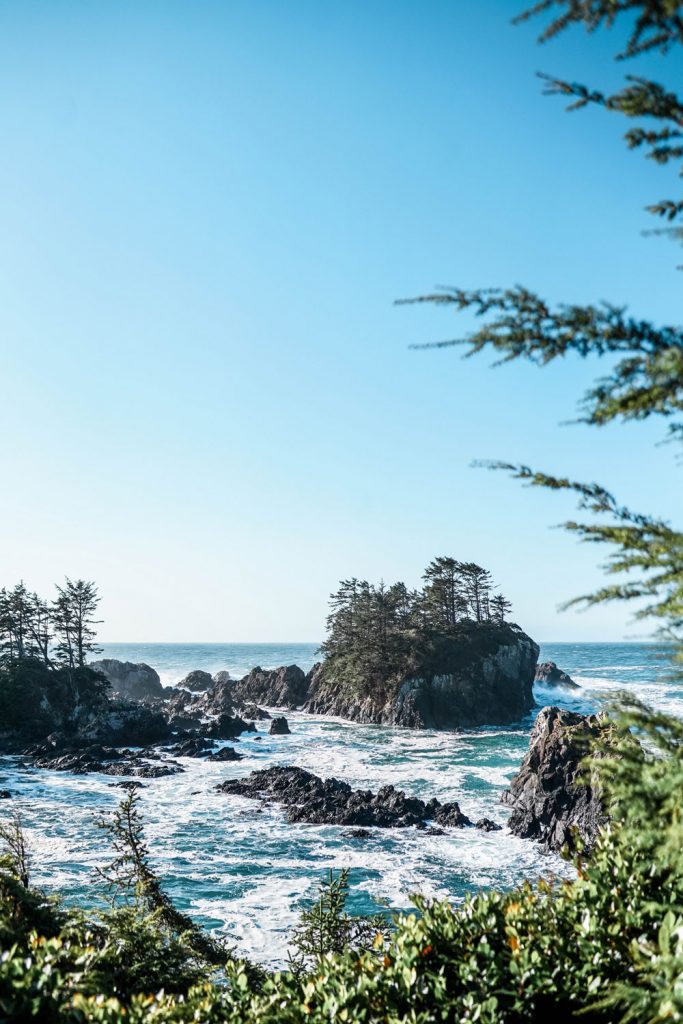 If you're looking to do hikes, Tofino has some of the most incredible hikes around. Heading out to Ucluelet for the Wild Pacific Trail is a must. It is such a gorgeous loop, with the most beautiful views of the ocean around (keep your eyes peeled for any whales off in the distance), while taking you through beautiful knotted and bent trees, something that's really unique to the coast of Vancouver Island.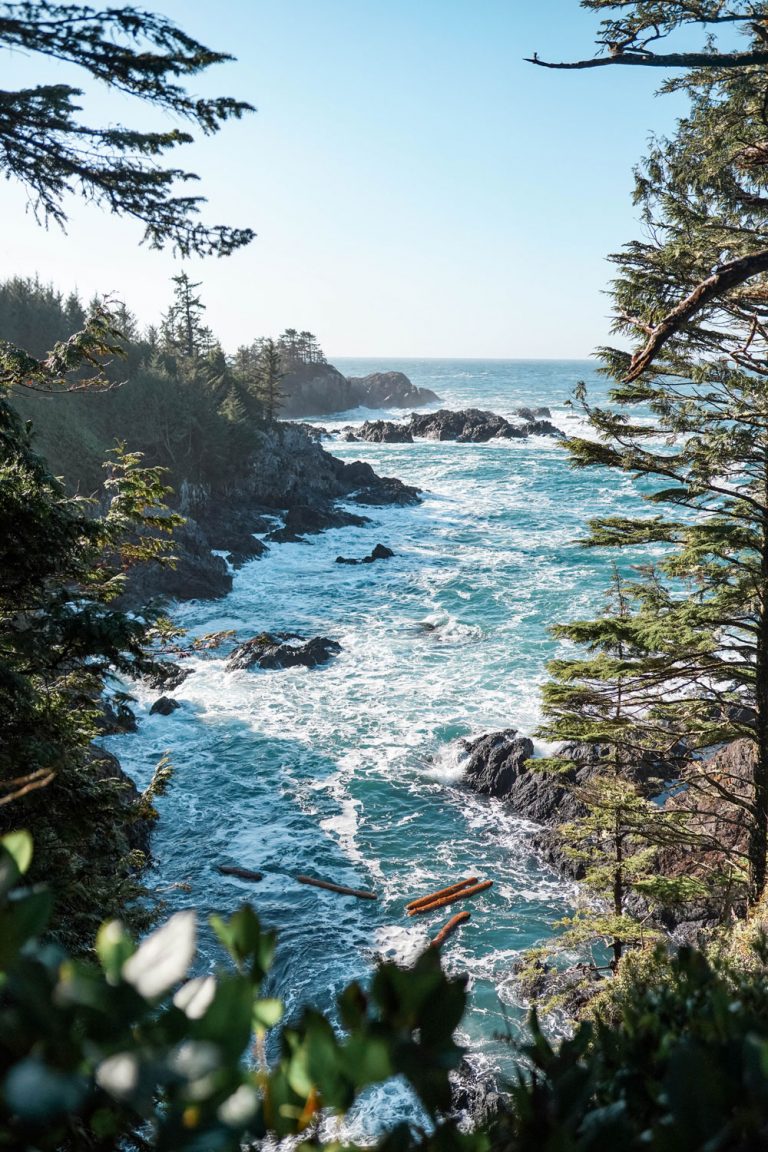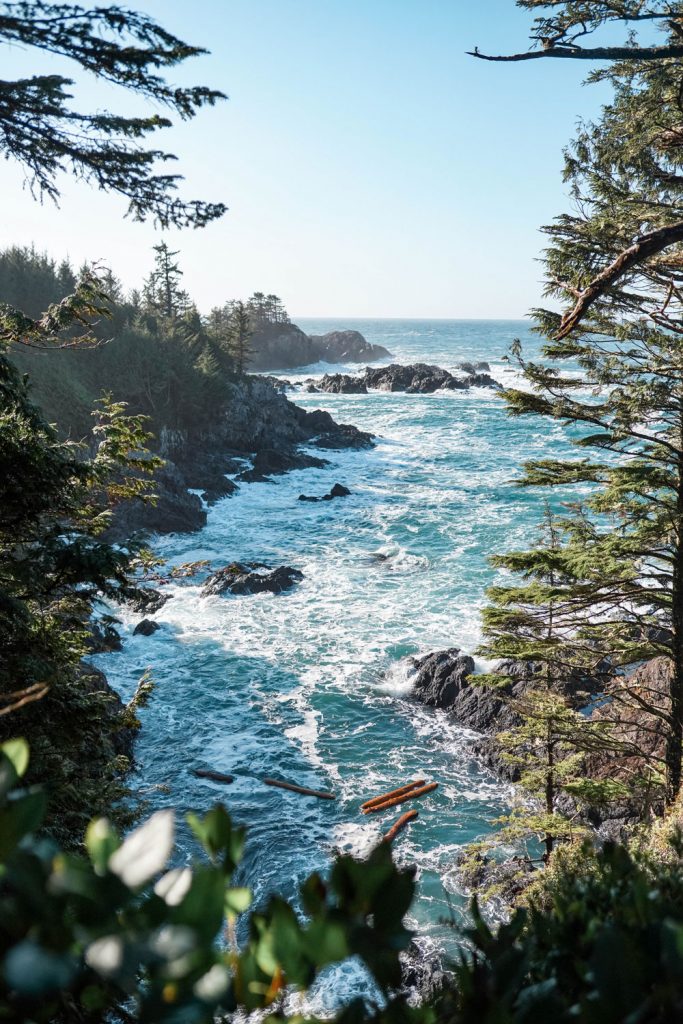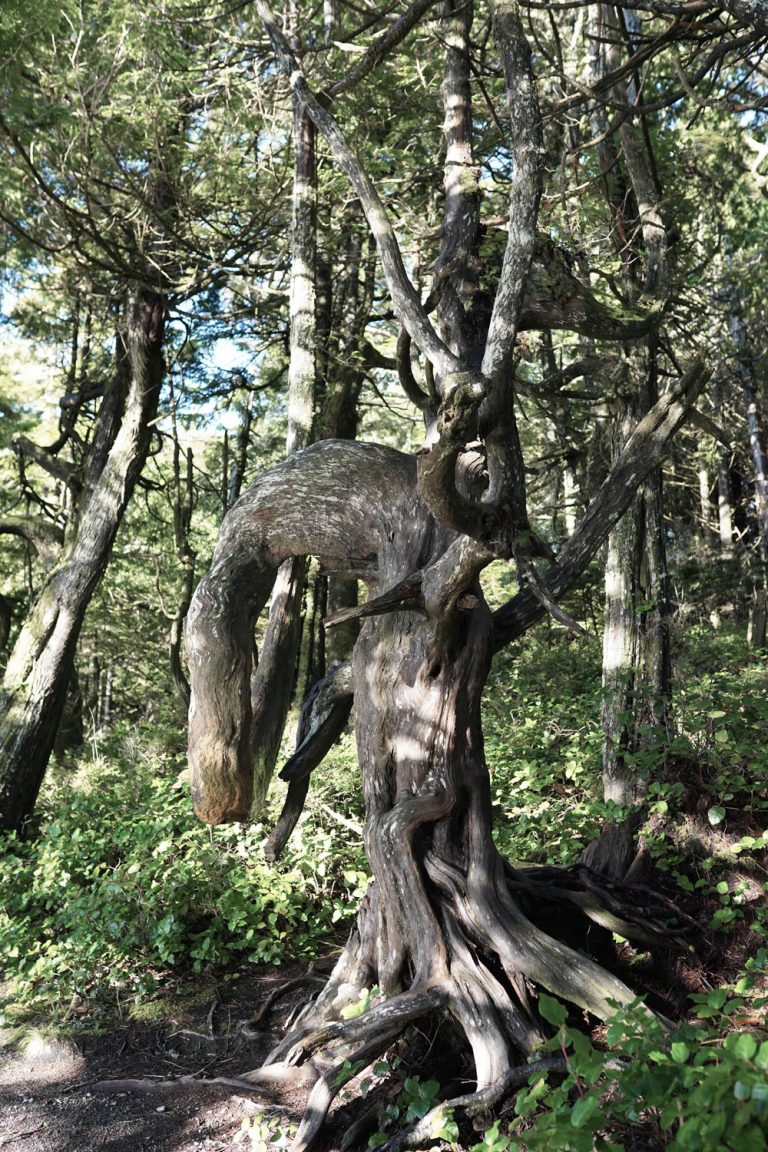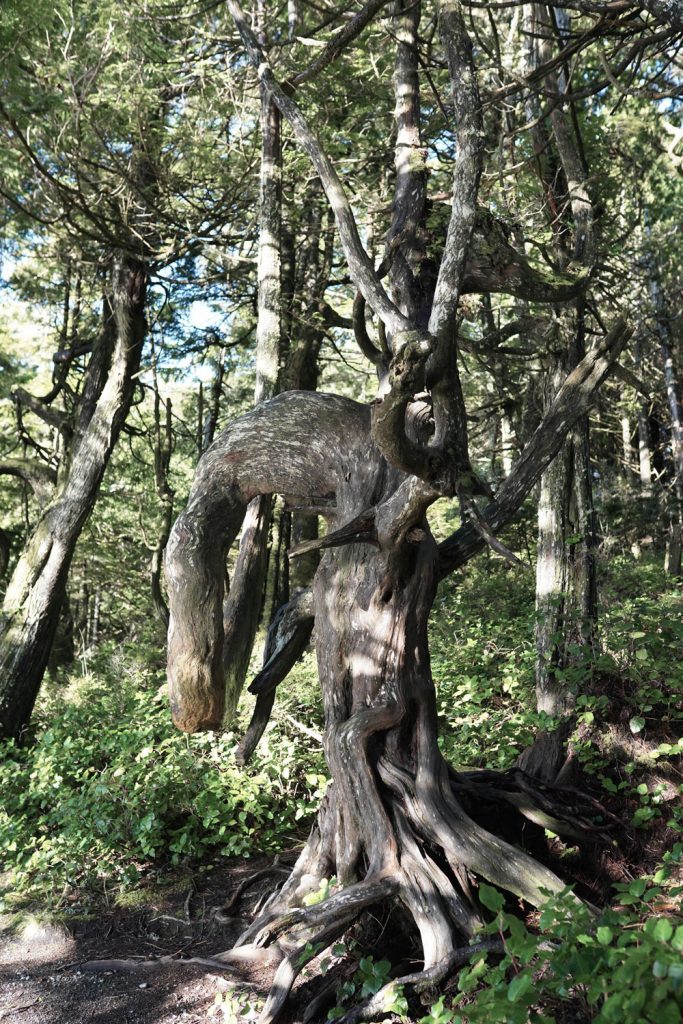 We've done the Wild Pacific Trail before in the rain and I have to say, while it's beautiful rain or shine, you jut can't beat the sunshine! It was such a glorious hike and only takes about a hour or so depending on how many pics you stop for. Would highly recommend, along with a stop at Big Beach on the way back out of Ucluelet.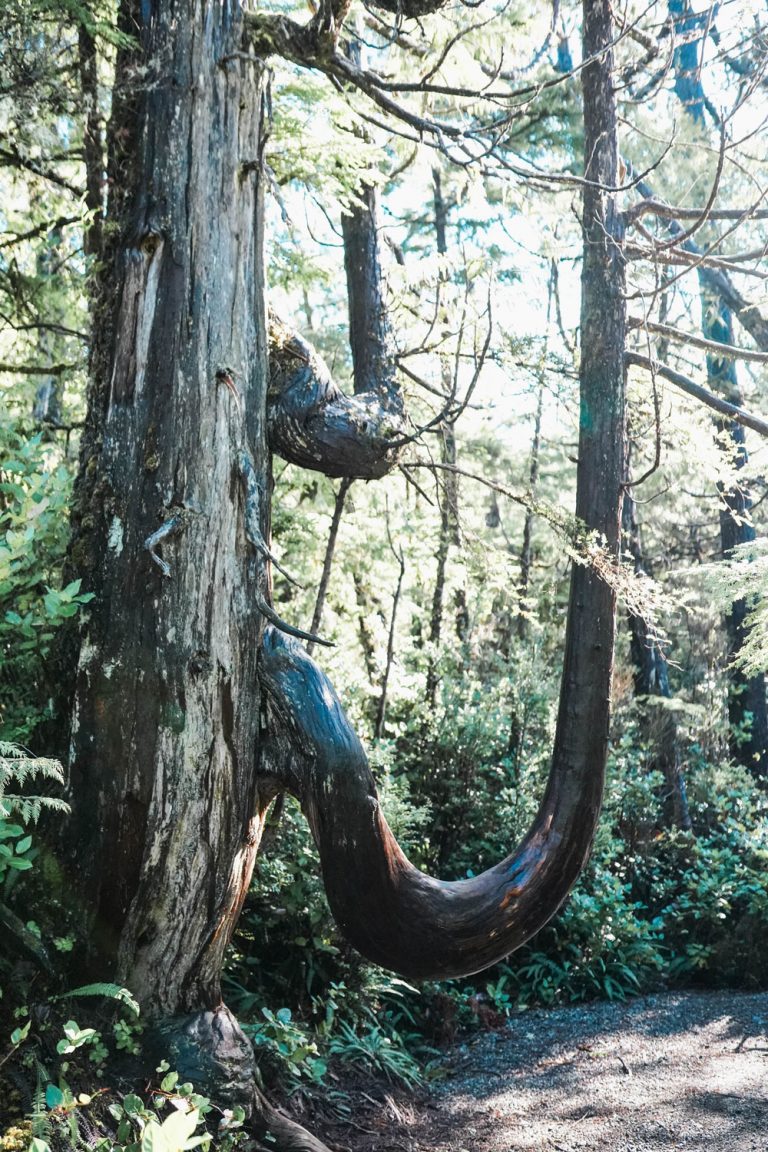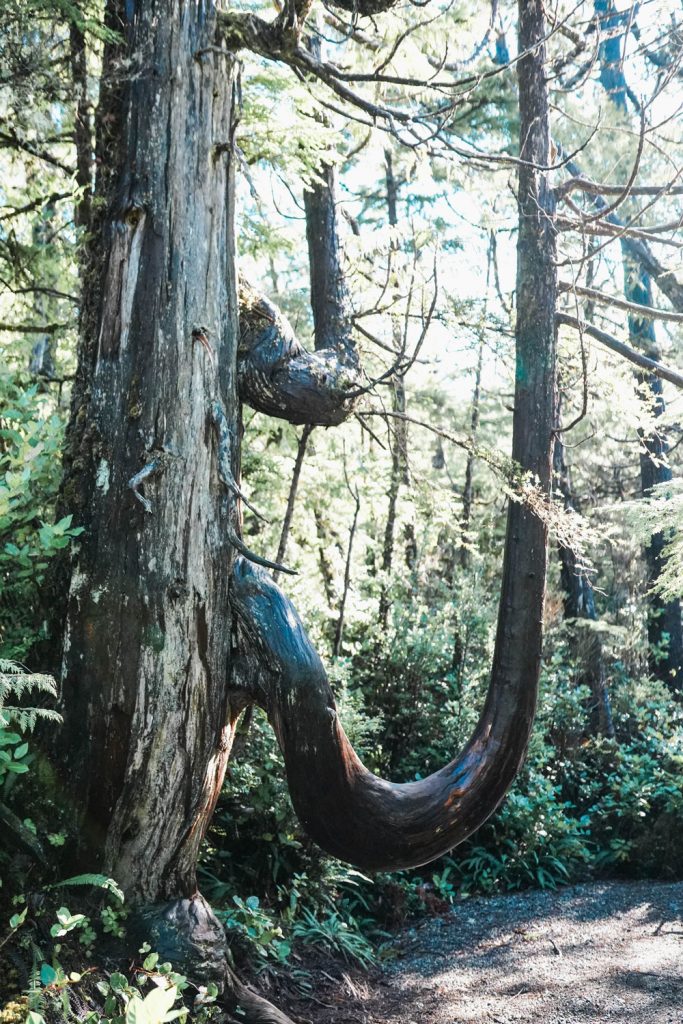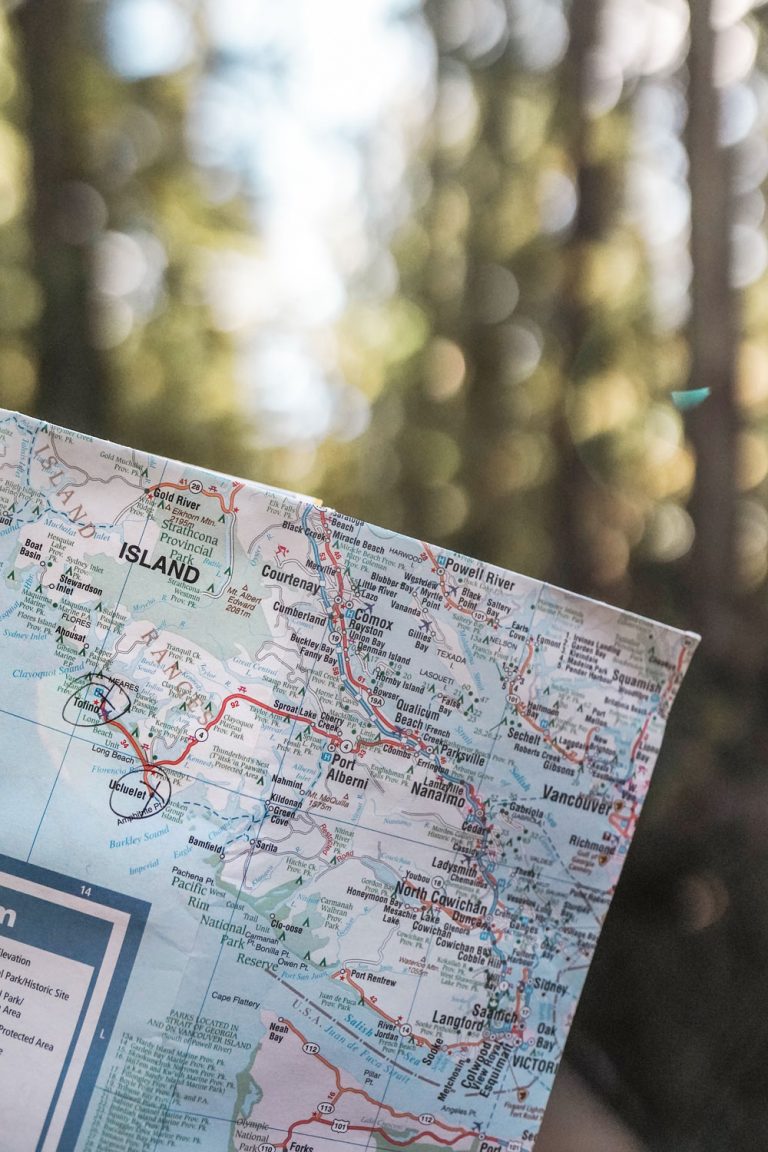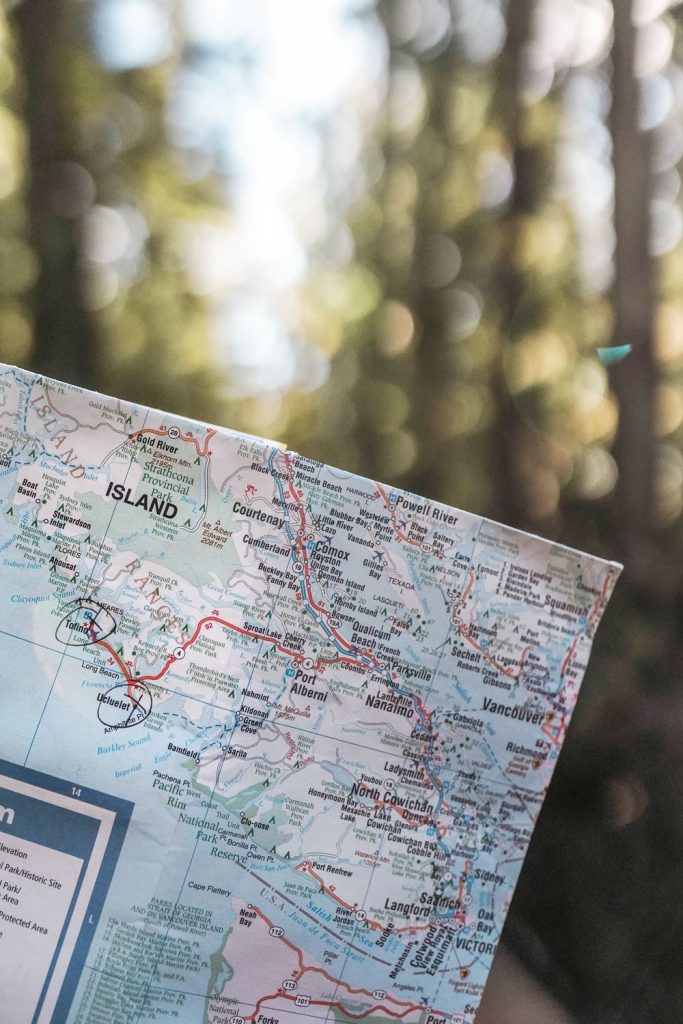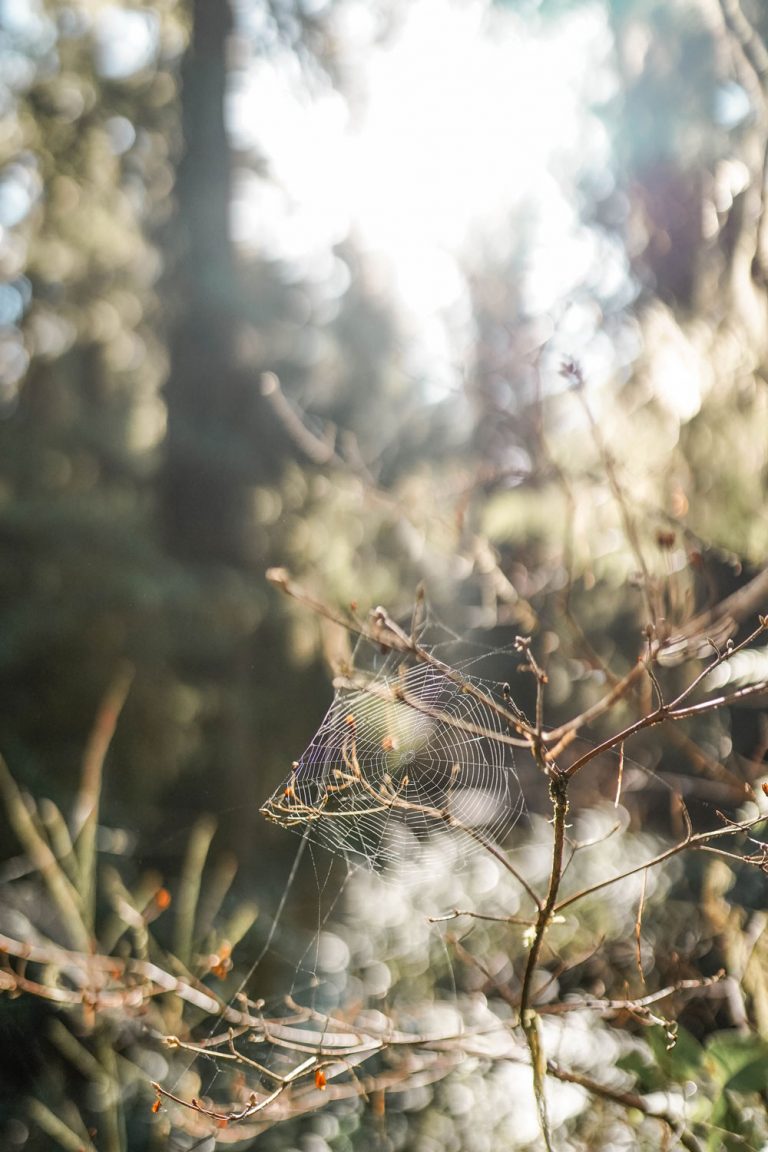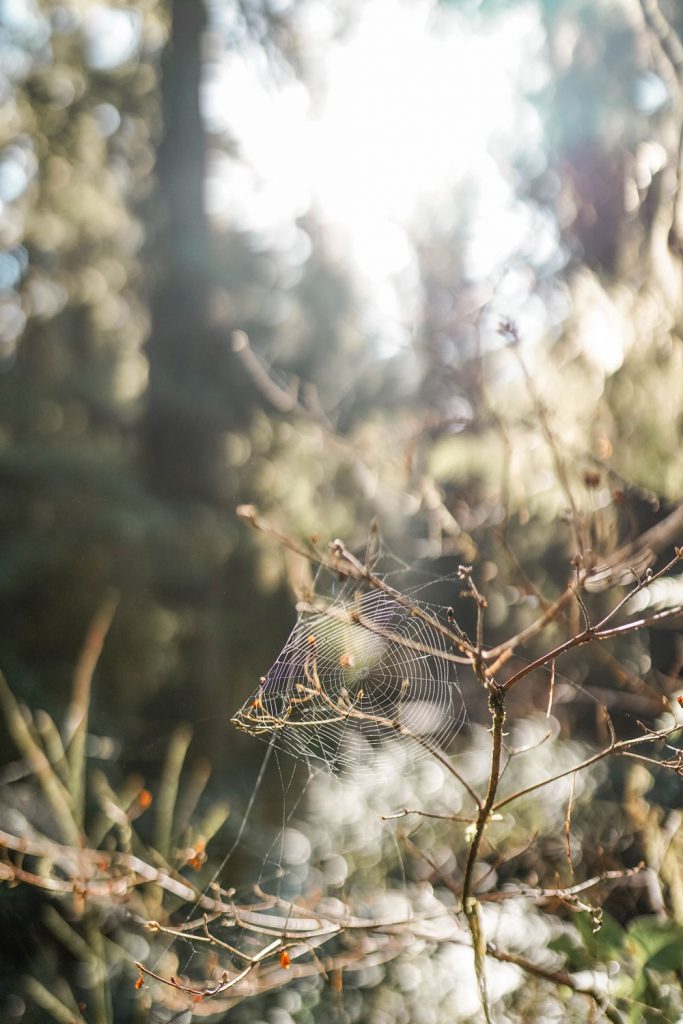 Another beautiful one out that way is the Rainforest Trail—there's 2 loops (Loop A and Loop B). We only did Loop A but it was so, so gorgeous, taking you through old growth forest along a boardwalk, with trees lining the path that are as old as 800 years old. It's an absolute must and also a shorter walk. I've also heard the Radar Beach hike and Schooners Beach hike are both amazing as well.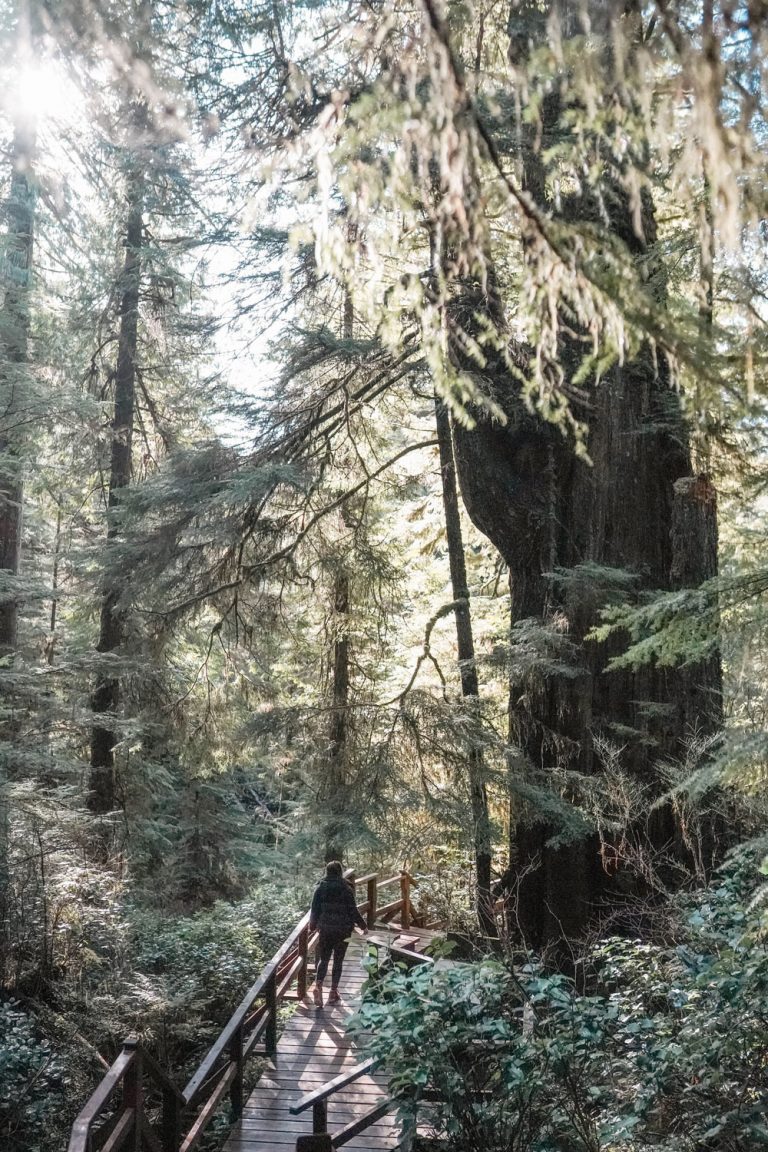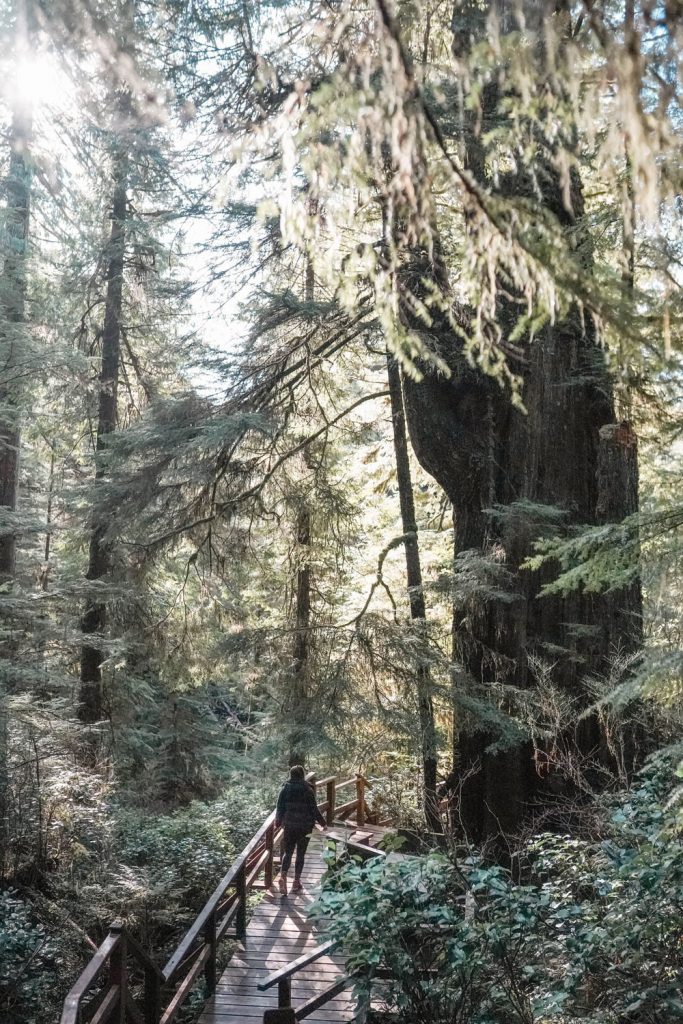 Finally, I haven't experienced it myself yet but have heard amazing things about the Hot Springs Cove tour as well as whale watching!
---
WHERE TO EAT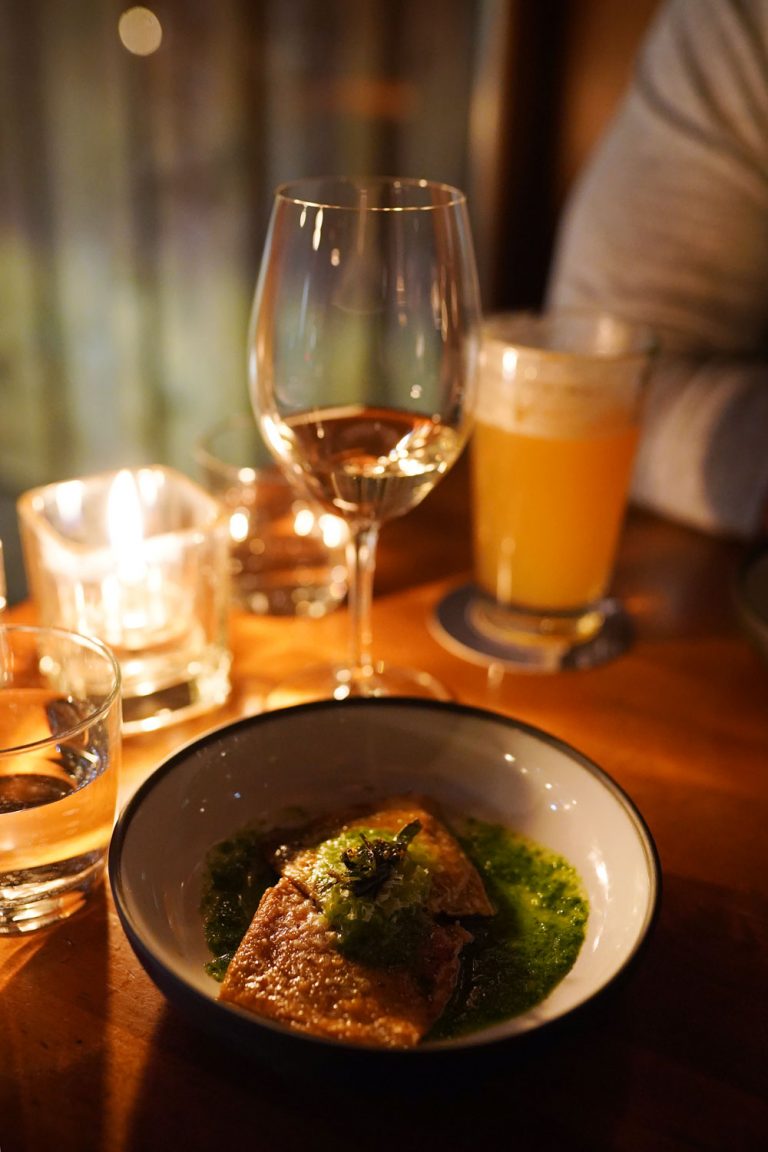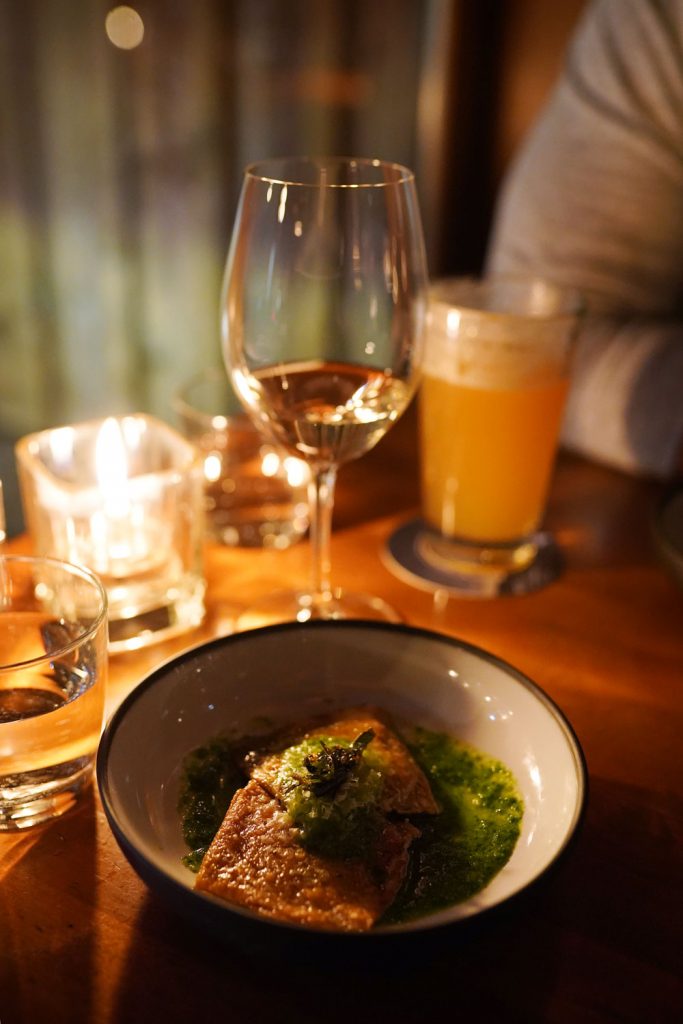 Tofino has no shortage of incredible places to eat—it's literally a foodie's paradise (in addition to being, well, a literal paradise). We had dinner at Shelter Restaurant which is always a must-visit for us and it was so good. From the amazing gin fizz (featuring local gin, which other than tequila is always a fave of mine) to my unreal Surf Bowl, everything was so delicious. Also, the vibe in here is always incredible—from a cozy fireplace to the fact that it's always totally packed with visitors and locals alike, it just has a really awesome, warm feeling to it.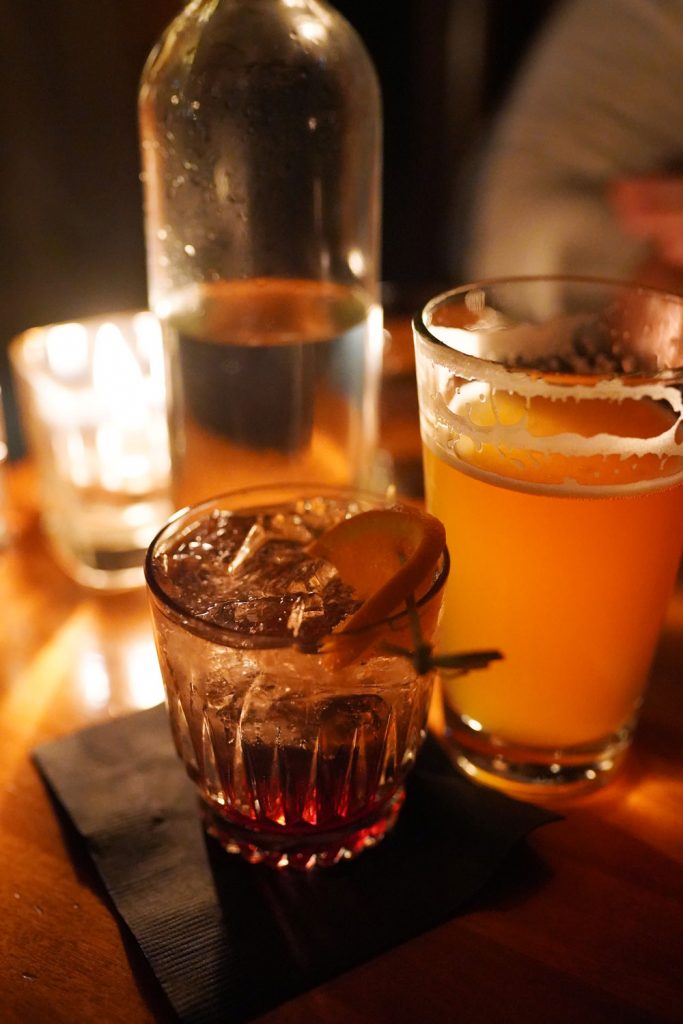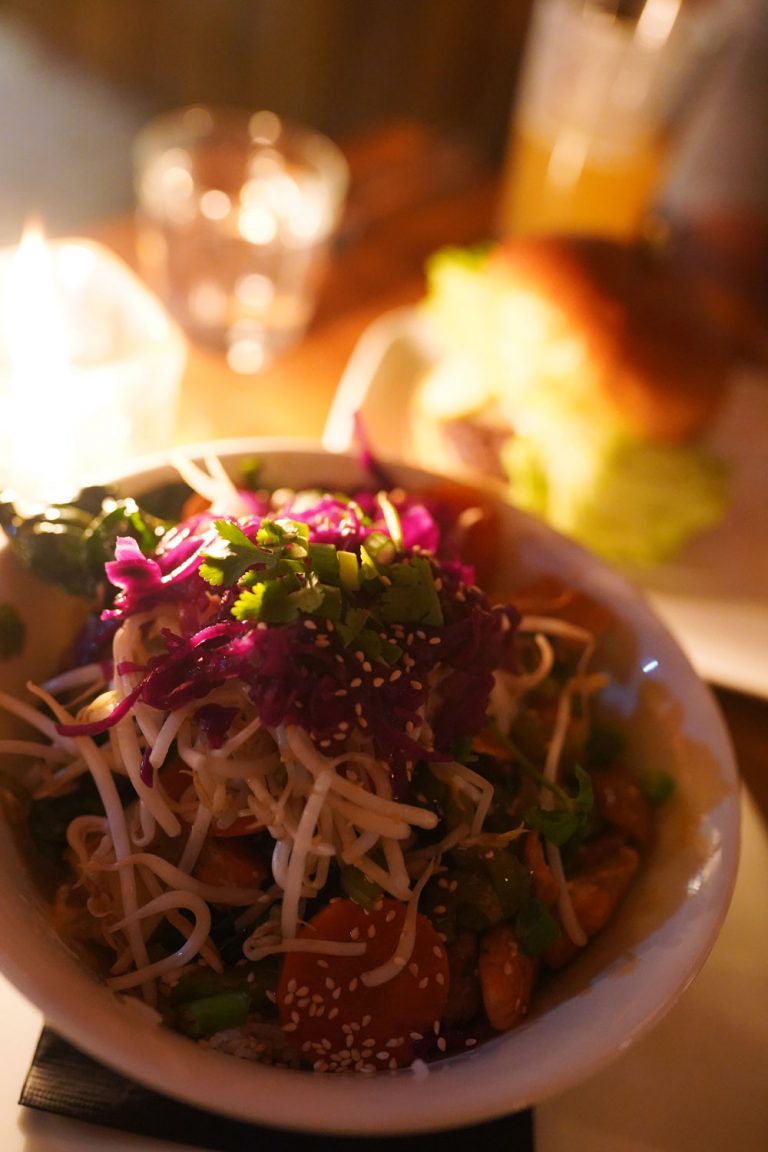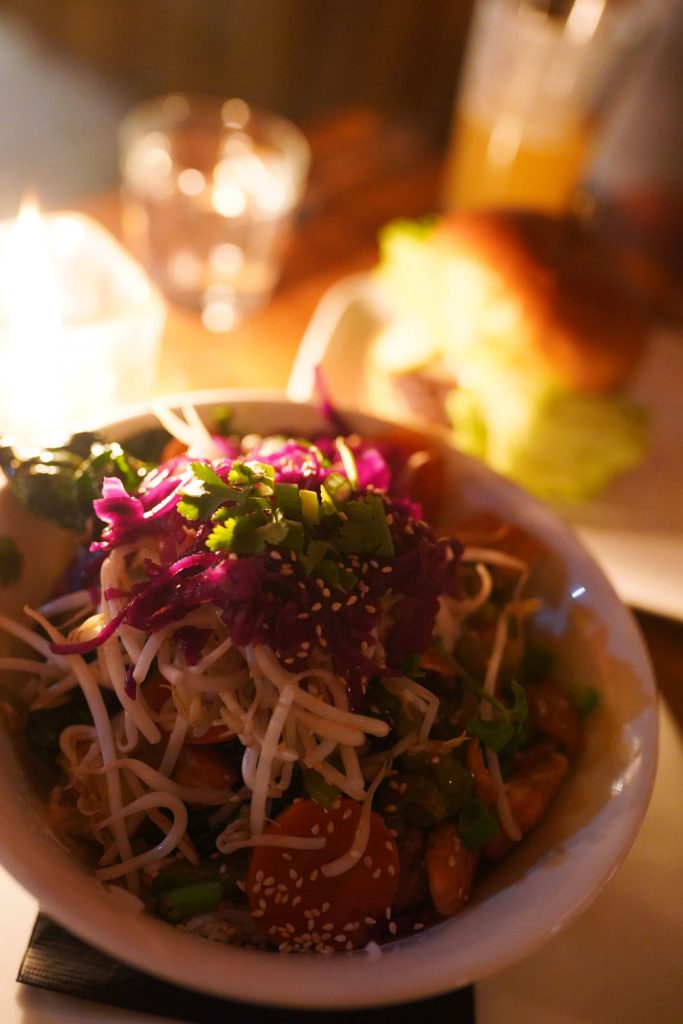 Of course, being coffee fanatics we hit up every cafe as well. Rhino Coffee (their breakfast burrito and doughnuts are so tasty) and Tofitian (literally everything I've had here is amazing) are my two faves. And obviously, we had to hit up Tacofino a couple times—I'm trying not to eat meat really anymore, but their chicken burrito is truly the most amazing thing. We also went to Wolf in the Fog which is unbelievable—their food is so, so tasty (definitely recommend making a reservation though). Finally, 1909 Restaurant is a really tasty brunch too! I've heard really good things about Kuma as well for noodles but haven't had a chance to go yet.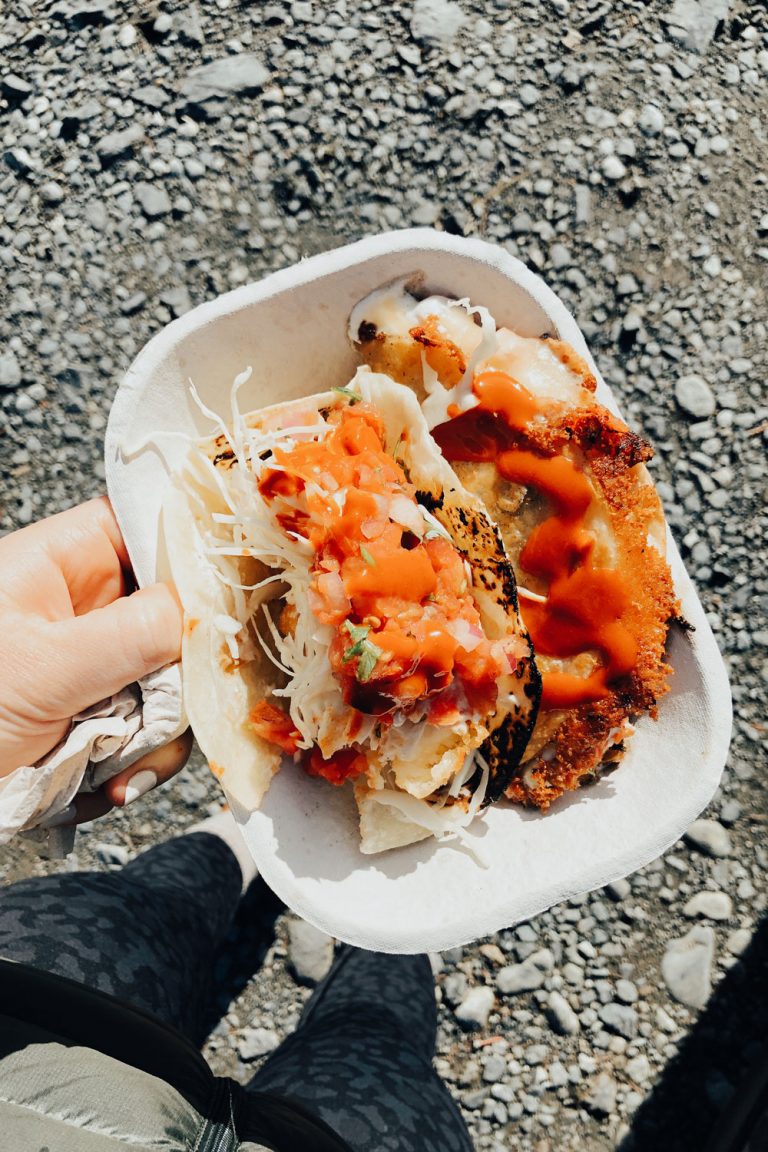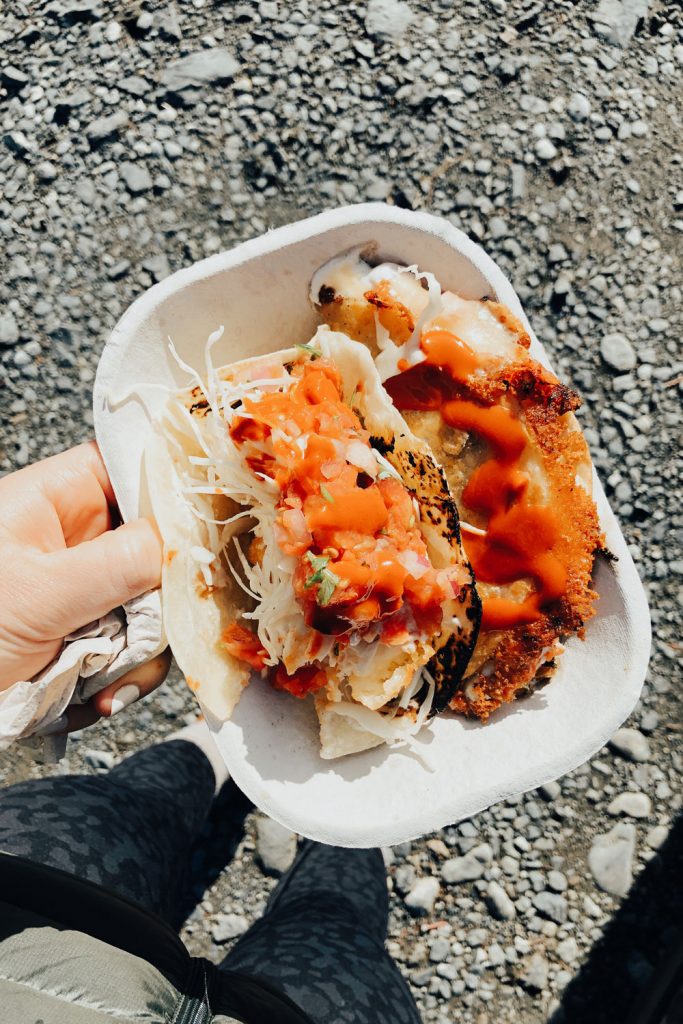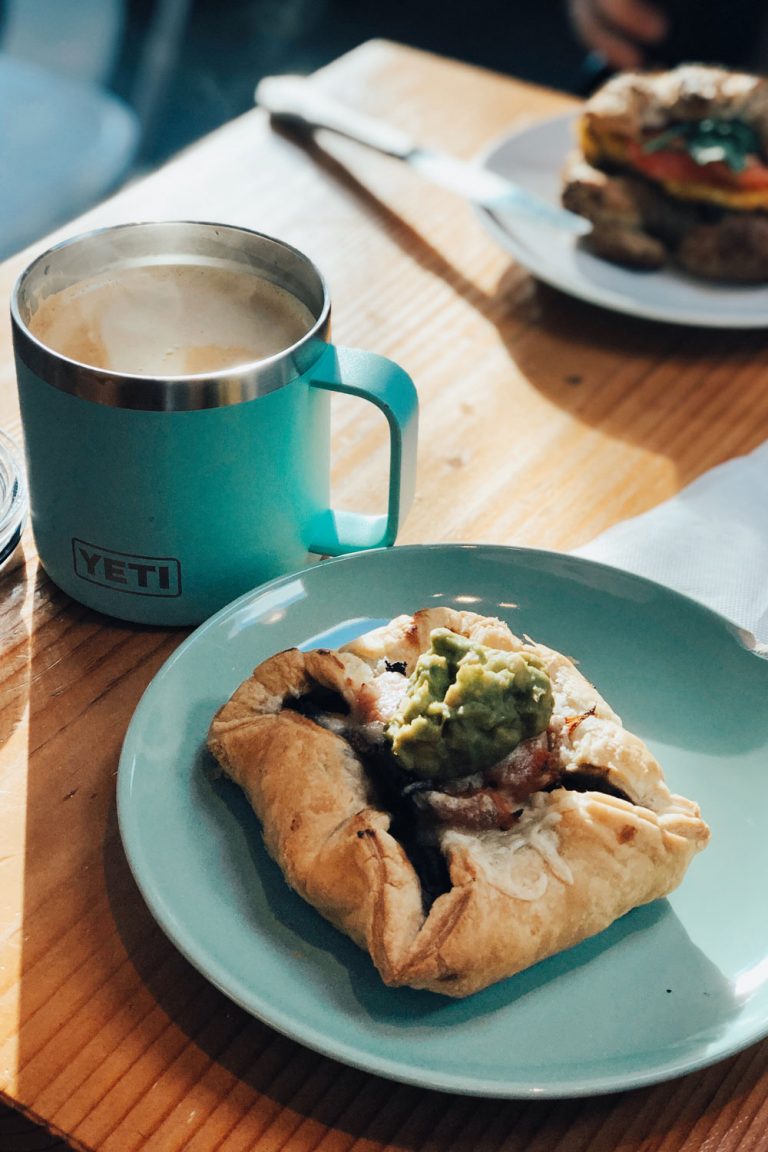 ---
WHERE TO CATCH SUNSET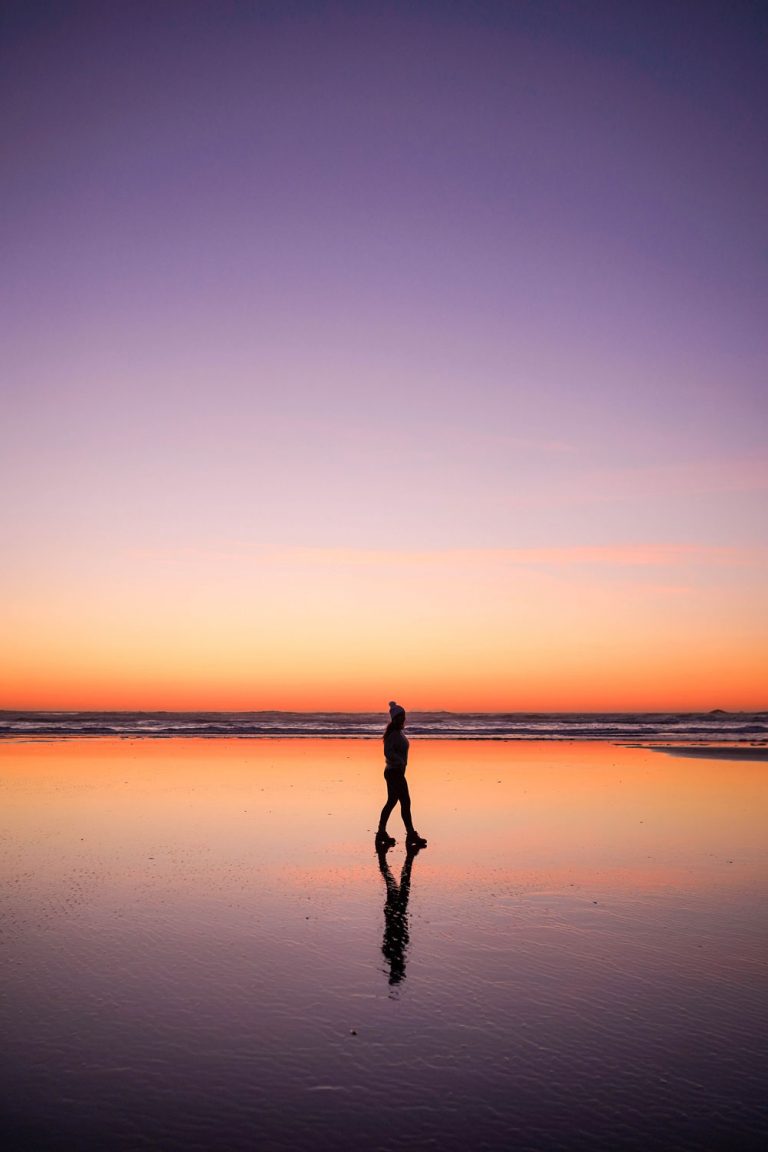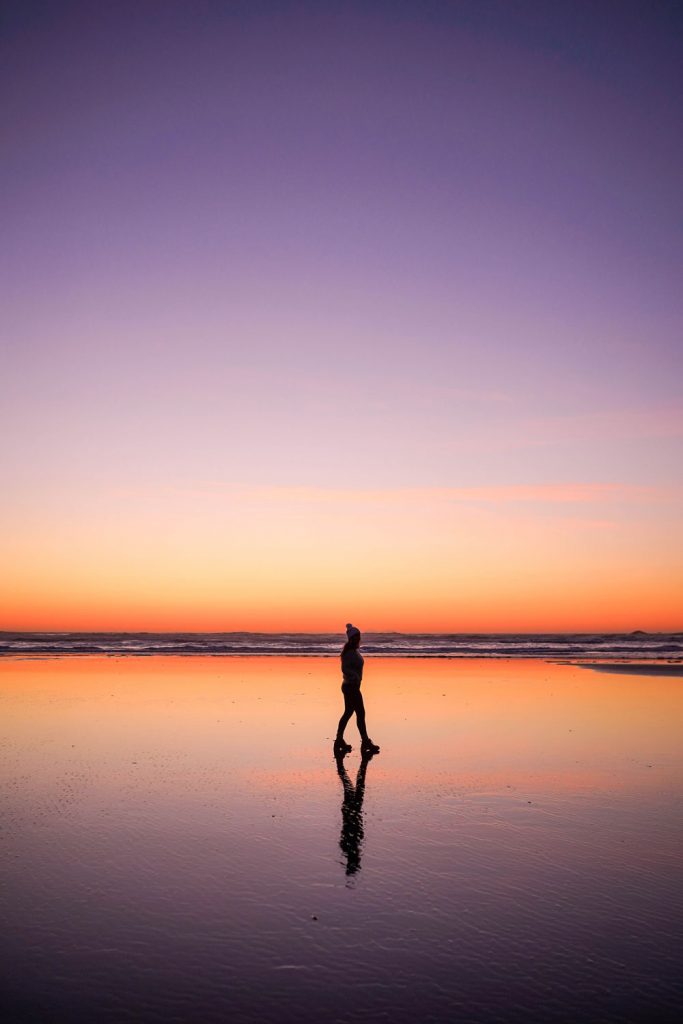 Literally, any of the beaches lining the west coast that I mentioned above though I have to say Cox Bay was especially amazing (and conveniently, is where our beach house at Pacific Sands was). A Tofino sunset is truly a special thing and you've got to soak in as many as you can while you're up there. Something about the reflections on the flat, rippled sand—it's just so magical!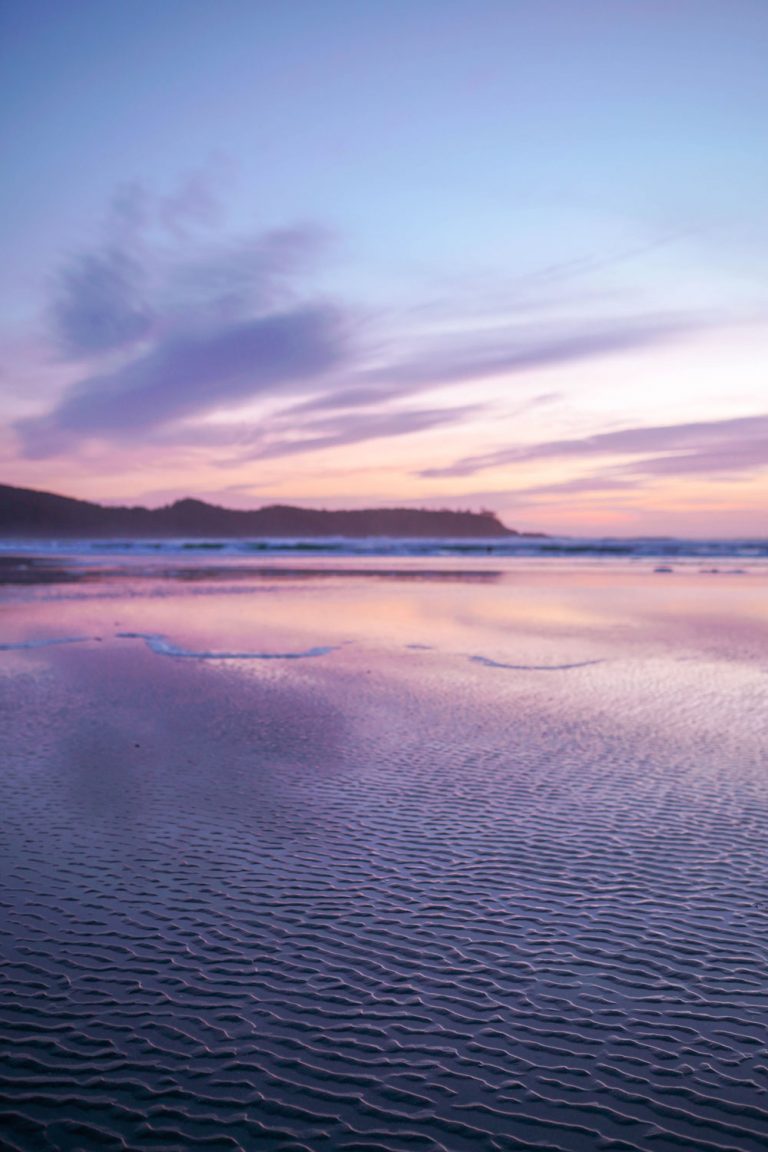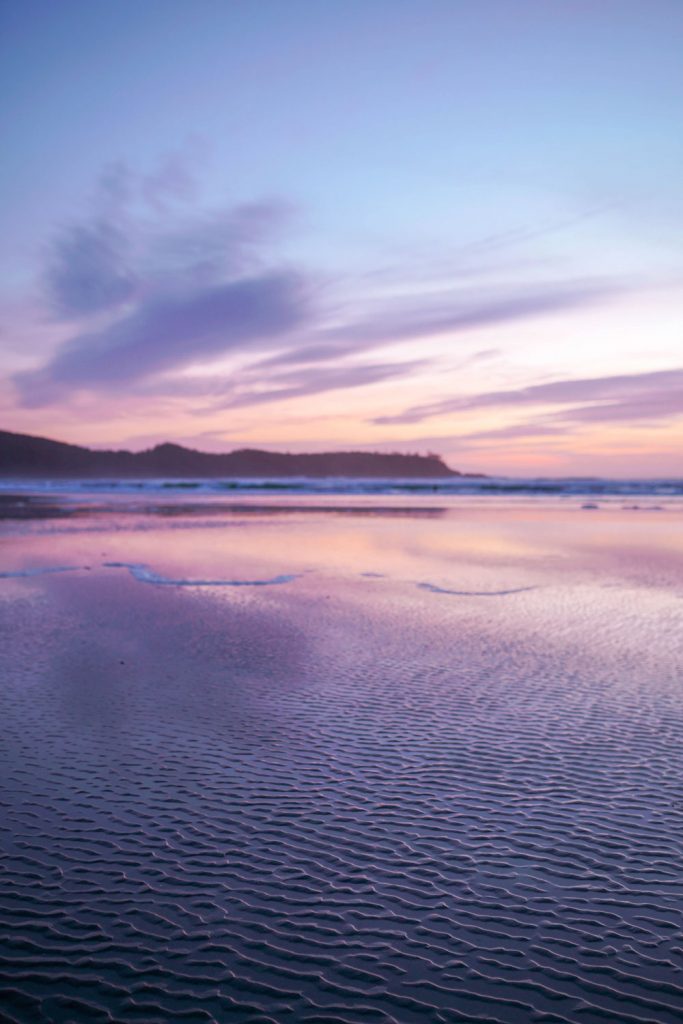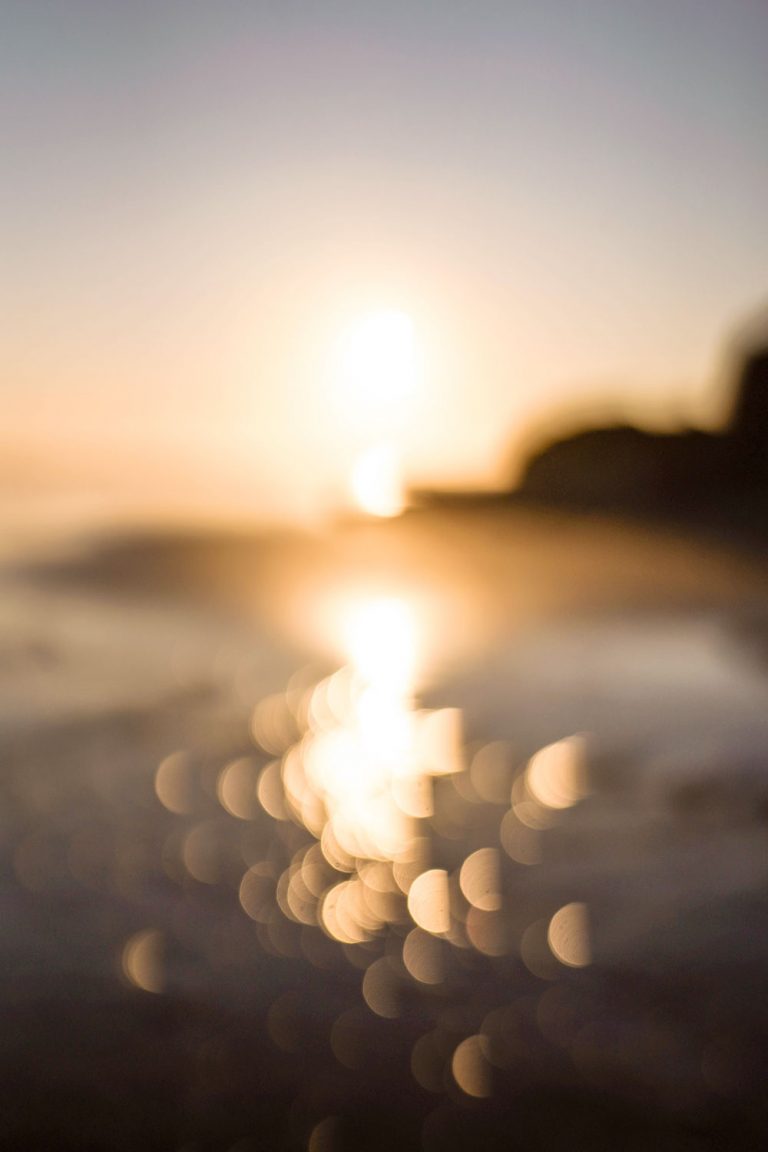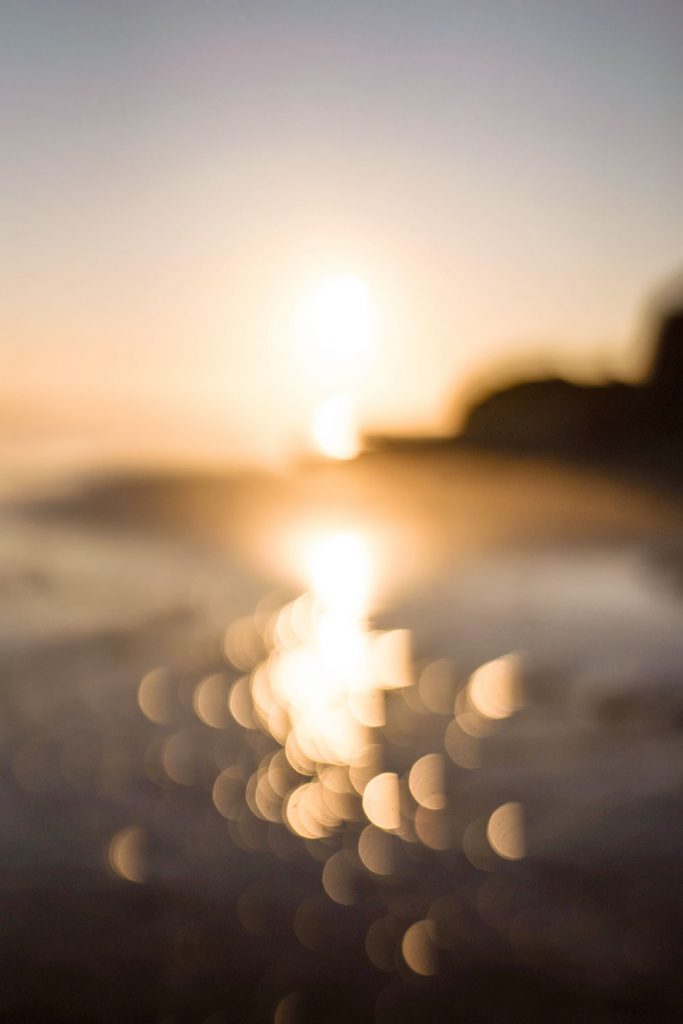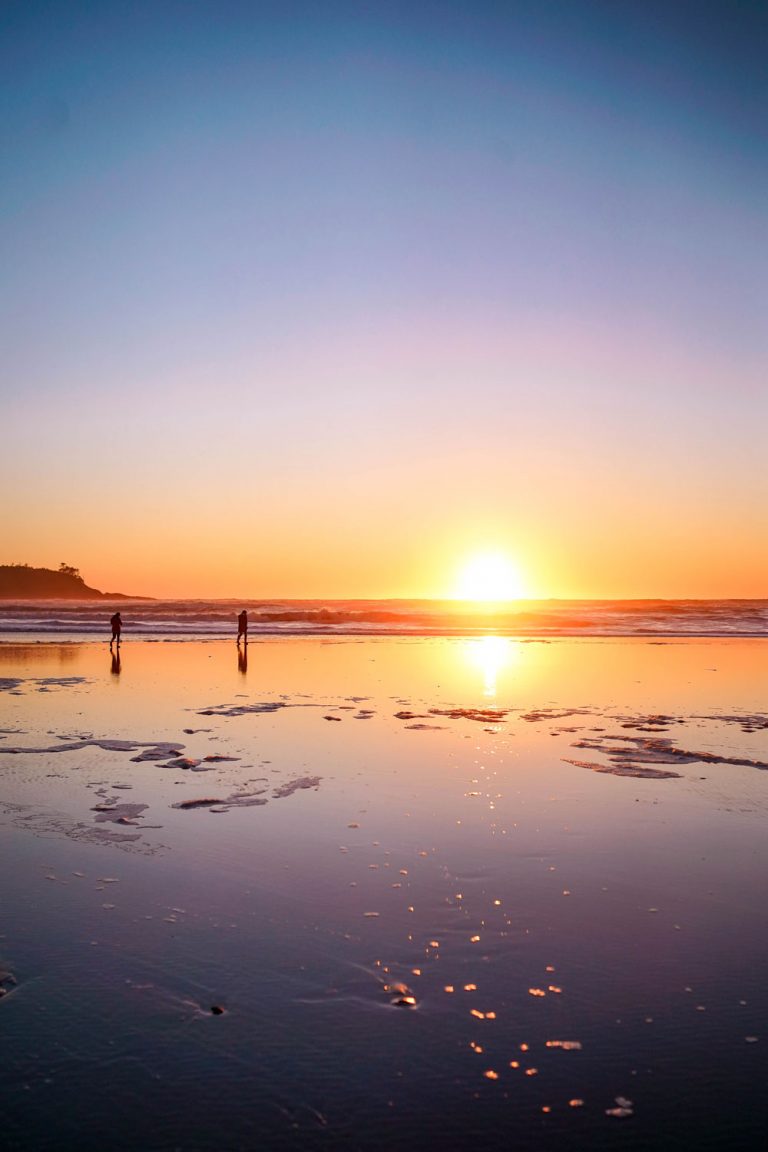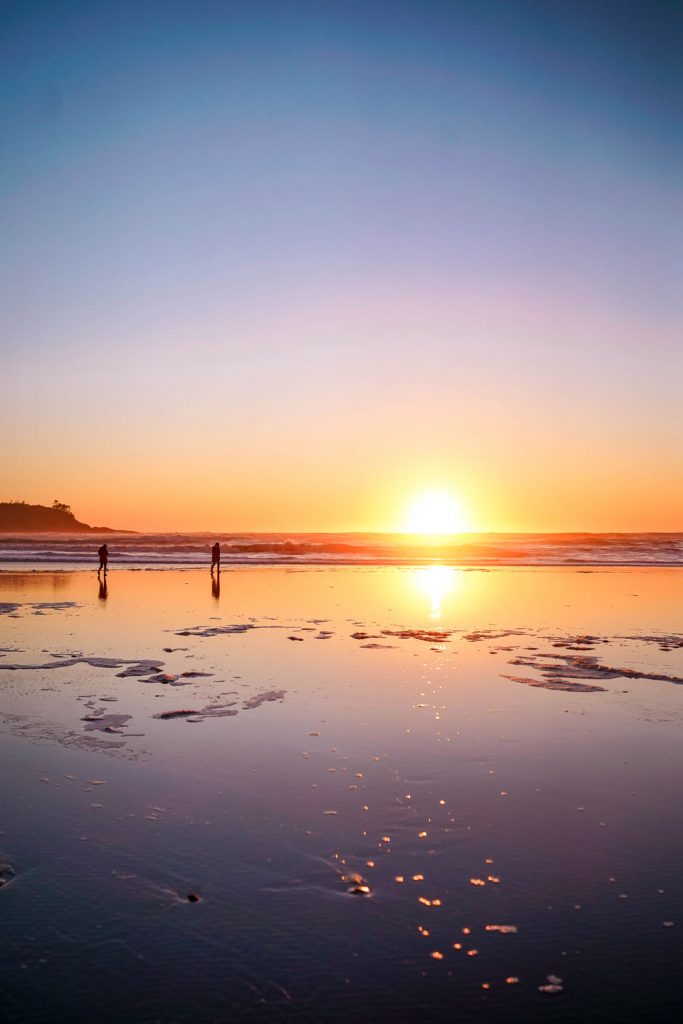 Again, I can't thank Pacific Sands enough for such an unreal stay. Make sure you keep an eye out for their offers, and you can check out all their accommodation options here! Could not recommend them enough!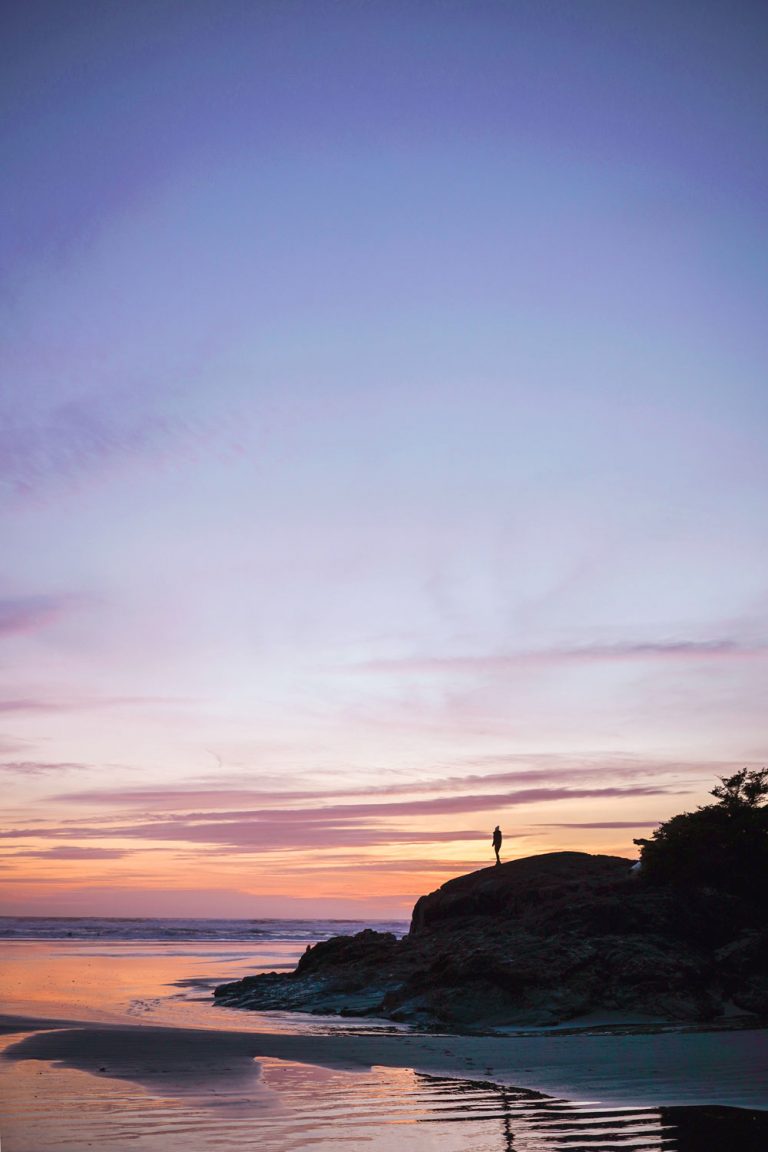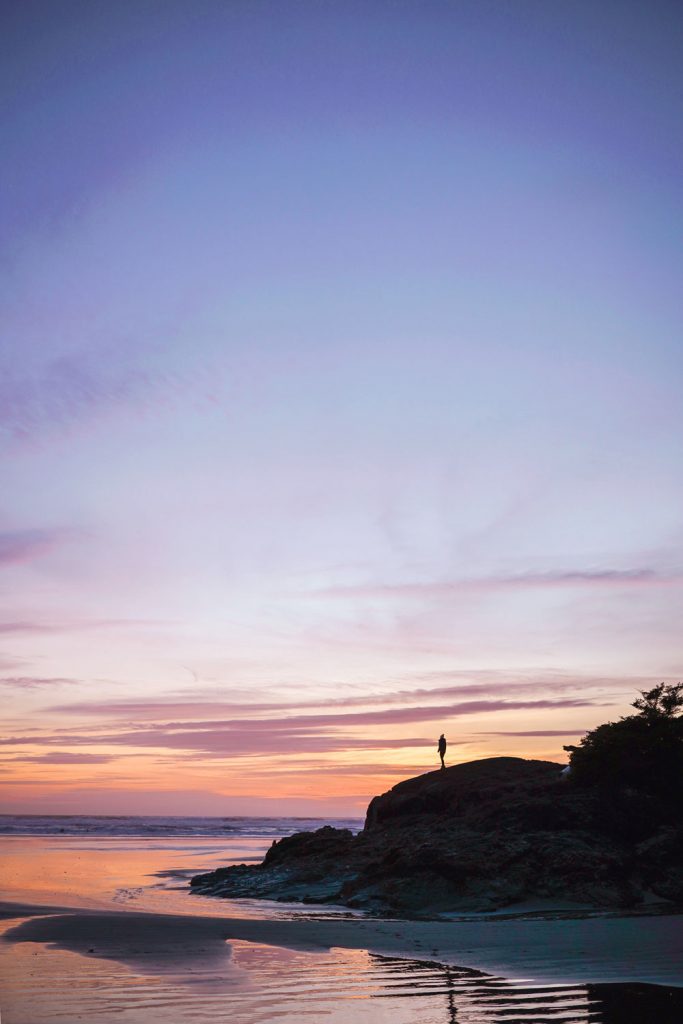 If you want to see even more Tofino content, I have another post from last year (on a much rainier trip) here! Have you guys been to Tofino before?
All the photos from this post were edited with the Sunset, Landscape, Beach or Decor Presets from The TVOB Presets Classic Collection.
---
PIN ME