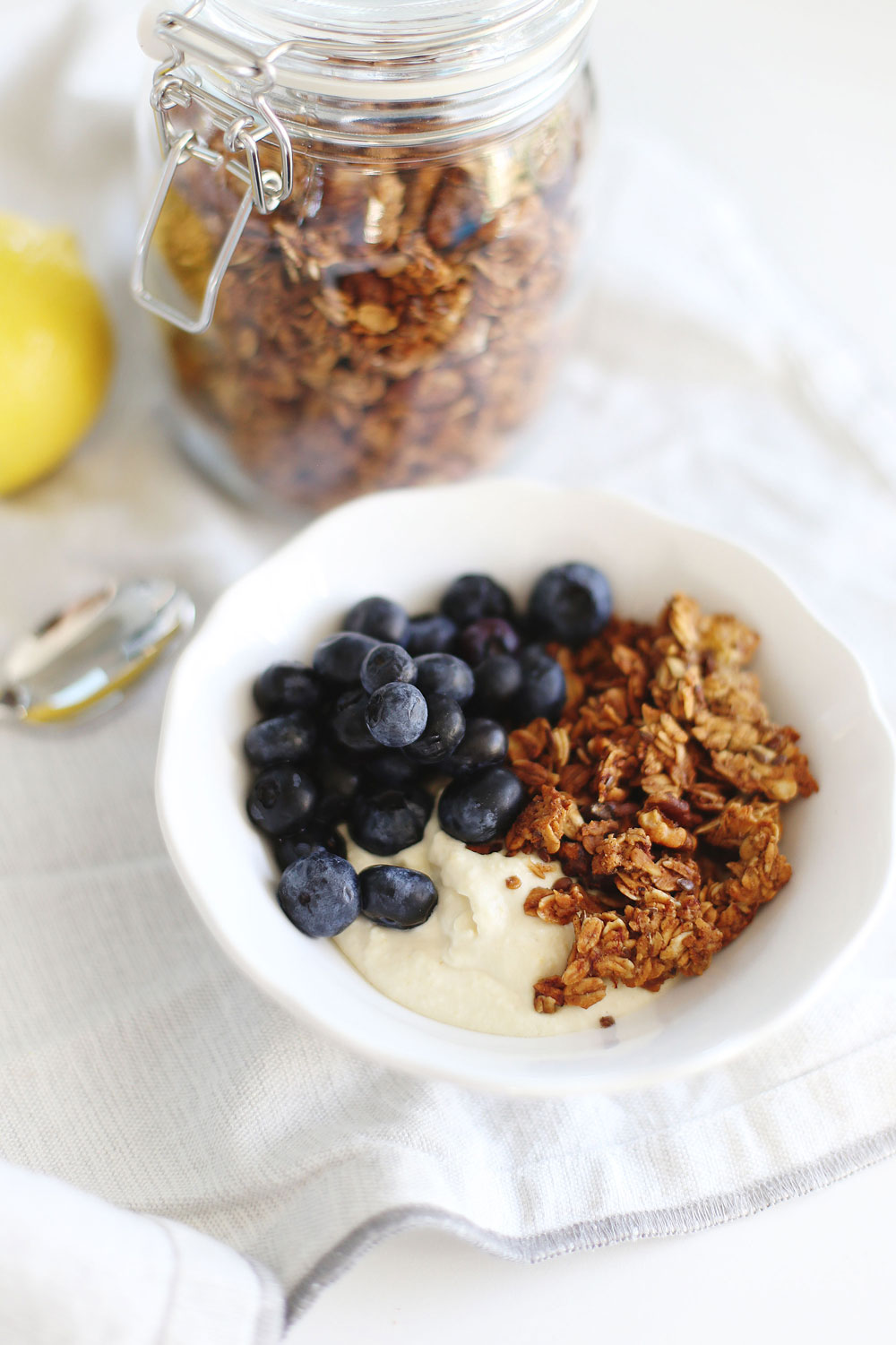 If you guys follow me on Snapchat (tovogueorbust) or Insta Story, it's probably become pretty clear that I love being in the kitchen. It's kind of a family badge of honour, to be totally honest – despite having 4 kids and 2 extremely demanding jobs, my parents were always make-it-from-scratch kind of people, from our pizza dough on our weekly pizza parties to the marinara sauce used on top. I never realized what a blessing that was until I entered adulthood and realized logging in a day of culinary work was not only genuinely fun and rewarding for me, but made me feel connected to my upbringing!
And that brings us to this delicious breakfast. It's one part prep work and one part major convenience. I first found the lemon curd and granola combo on Erin Ireland's awesome food blog To Die For (a must-read for recipes if you don't have it bookmarked already, and such a good resource for local Vancouver dining!). The heavenly smelling banana bread granola from Minimalist Baker and the unbelievably delicious and creamy vegan lemon curd from Dreamy Leaf (this has become such an obsession for me Matt had to start limiting the amount of cashews coming into our place) rapidly went into fast rotation in the kitchen. After trying them together as Erin had them I found I was wanting to bulk it up slightly for my mornings as the granola and curd alone weren't substantial enough from me – that's how this more hearty oats adaptation was formed!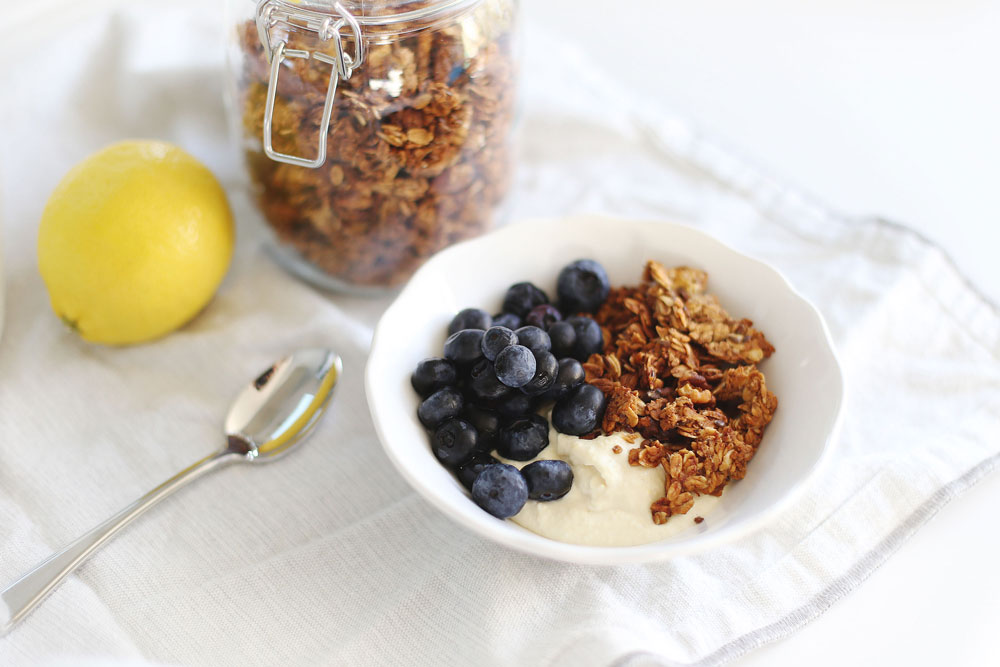 My breakfast has basically been this combo of vegan lemon curd, banana bread granola, seasonal berries and overnight oats as a base every single day for weeks now. It's just so unbelievably good and with just one solid hour in the kitchen pulling together the granola and curd, you're set for the whole week – just assemble your overnight oats each night and you're good to go the next day!
So without further ado, here's everything you need to recreate this delicious, easy and healthy breakfast this week!
Vegan Overnight Oats With Lemon Curd, Granola & Berries
Make the vegan lemon curd and banana bread granola – both shouldn't take you more than an hour!
Overnight Oats
1/2 cup oats
1/2 cup almond mylk
1/2 tbsp maple syrup
1 tbsp chia seeds
Mix all the oats ingredients together and put in a bowl or mason jar overnight (if using a bowl, make sure you cover with plastic wrap or a plate).
In the morning, remove the cover to your overnight oats and top with a heaping spoonful of lemon curd (it's very thick and flavour-packed so you can use it somewhat sparingly!), granola and whatever seasonal berries or fruit you have on hand. Could also top with bee pollen, more chia seeds or cinnamon! Enjoy!
Aaaand last but not least, just wanted to say a big thank you to everyone who took part in my survey last week – really want to make this the best possible space as it can be for all of you and I can't stress enough how meaningful and helpful your feedback was. As for the winner of the $50 Artifact Uprising card, a big congrats to Madi Wood! I'll be in touch shortly! If you didn't win this one, don't worry, I have some seriously awesome giveaways lined up for September so stay tuned!