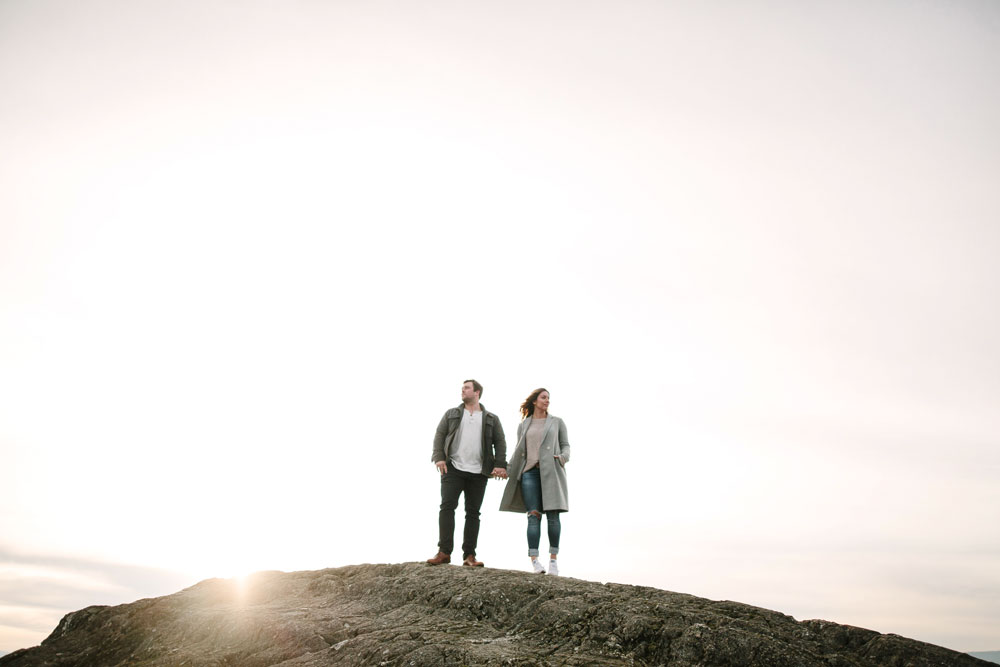 I don't talk a lot about my relationship on here, in part because Matt is not one for oversharing/having a spotlight on himself, in part because I'm not publicly sappy but more than anything, because we've always been pretty protective of us as a couple and like to keep it that way…just for us. But today's our 9 year anniversary and it seems like really the perfect time to share a little bit about us, and especially with this incredibly special photo shoot we got to take part in with Flytographer while in Victoria (see our travel vlog here) with the Tourism Victoria team (did you know Flytographer is based in Vic?!).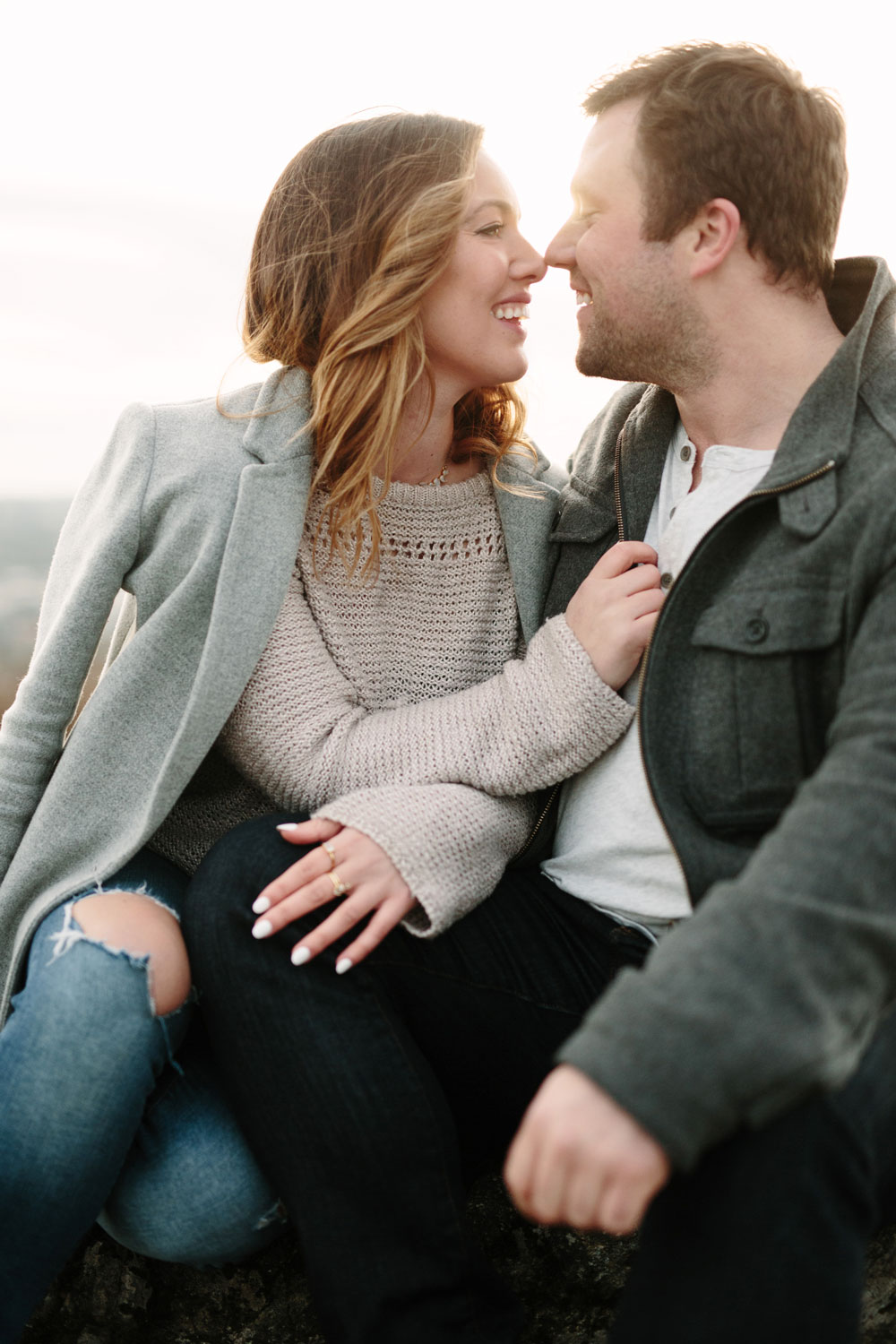 First of all, how Matt & Alex came to be. We were two 20-year old kids playing on the same intramural sports teams because of mutual friends and we were literally at polar opposite ends of likes, interests and lives—I was smoking on the side of the field with this messed up haircut I used to cut myself, Matt was a total bro (kind of still is, really) who wore polo shirts and liked Incubus a whole lot. Call it opposites attracts or just seeing our commonalities despite our punk girl/frat boy facades at the time (though hilariously, we still are into pretty different music—we really only agree on The Smiths, Foo Fighters and a handful of others!), but after some time investment on Matt's part in getting our social circles together, I was inexplicably drawn to this handsome freckly dude who seemed to make everyone laugh and who called himself the Wiz Kitten (don't ask).
Our relationship started off in a less-than-straightforward way (I was actually dating someone and had to go through a break up first, then I freaked out about being in a relationship again right away and stayed in Victoria longer while Matt moved back to Vancouver once exams wrapped for the spring/summer, etc, etc) but once we were in it officially shortly afterwards, it was full-steam ahead and it's been that way ever since.
We spent our first year together in Victoria wrapping up our degrees and that's why this shoot at Mount Tolmie is so meaningful—we used to run up here nearly every day and those runs and this place really just capture this time of our life more than anywhere else could. It was so special to come back here and shoot with Kelly from Flytographer at sunset, cozied up against the cold and taking in the view that we know so well and yet haven't seen in so long. I'll always cherish these pictures and can't recommend booking with Flytographer enough no matter where you are in the world—there's something about capturing these moments while away that makes for so much magic! My girl Alicia wrote about her Flytographer experience with her husband in Italy and even worlds apart and with totally different photographers, Flytographer's amazing set of photographers really always nails the unique love and connection each couple has in such beautiful settings!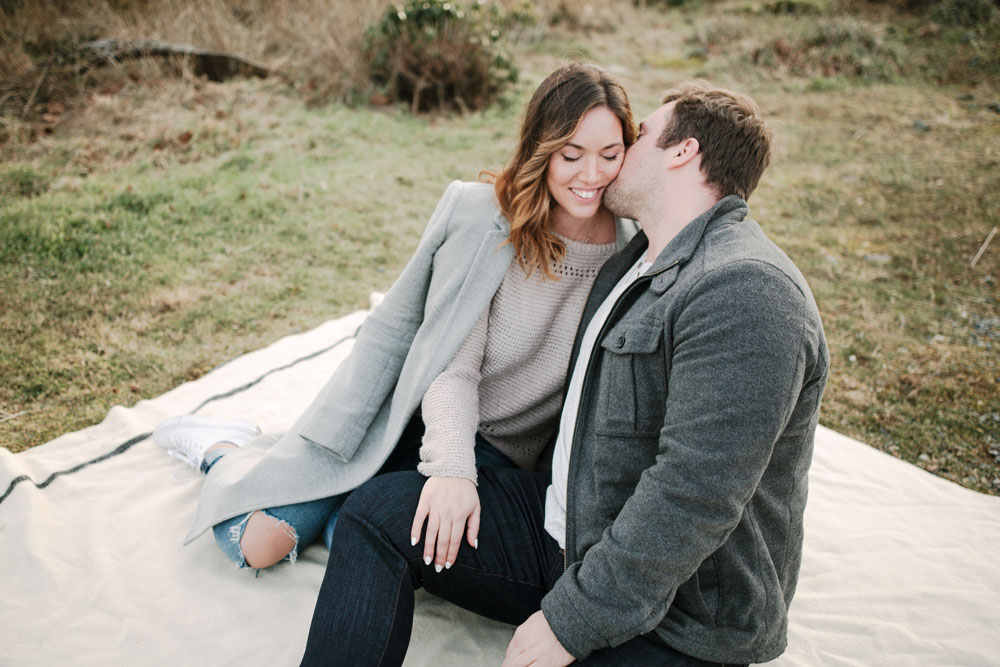 But back to Matty and me, 'cause this whole shoot came together because we wanted to shoot in this space that symbolized the beginning of our relationship—we've experienced nine years since our Vic days of travel, moves, new beginnings and dealing with loss, major career changes, injuries (well, my colossal injury) and further entrenching ourselves in our own little world of inside jokes/dialogue/rituals—all in all, just a lot of happiness, a lot of growth, a lot of support and a lot of love. No matter what we've been through, we've always laughed together, and we've always really loved each other, which is all I could really ask for ultimately. We're both big personalities and while that can boil over sometimes (often) into explosive arguments and squabbles (which quite frankly, as an Aries I kind of enjoy), it also means we have so much fun together, really challenge each other across the board and take on the world with a lot of gusto as a pair. I think it's so cheesy to say but Matt really is my best friend and even from the very beginning (I have diary entries to prove it), I knew we'd be partners for the long haul, which is part of the reason I initially was so scared to date this guy! I'm historically a bit of a commitment phobe (which extends to everything, not just my love life) so it's really Matt and the love that we have that keeps me around because quite frankly, hilariously I'm not really much of a "relationship person."
And speaking of the long haul, might as well address the marriage thing because I get a lot of questions on- and offline about it. People always ask us why we're not married (usually pretty flat out). If it's asked in a general curiosity sense (aka not in a morally superior way from people who don't understand that not being married doesn't mean being any less committed, which happens sadly far too often), I have no problem replying and letting people know it's not for us—our relationship evolved over 9 years from dating to something that resembles marriage an awful lot (a few years ago, without meaning to I just started referring to Matt as my partner instead of my boyfriend because it seemed the only natural thing to call him). We've made a point of checking in over the years to see if anything's changed as far as wanting to sign the papers and get the rings, but since we're not only "effectively" married but also legally bound to one another as common-law on top of the emotional bond we've created (which for me, supersedes everything else), we're both happy just doing us as we always have. We also want to save for more travel, growing our family, getting property, etc…on top of not being particularly motivated to get married, our other values just take so much more precedence for us (always need to make a point of saying this is for our personal values, not my idea of what's right in a general sense!).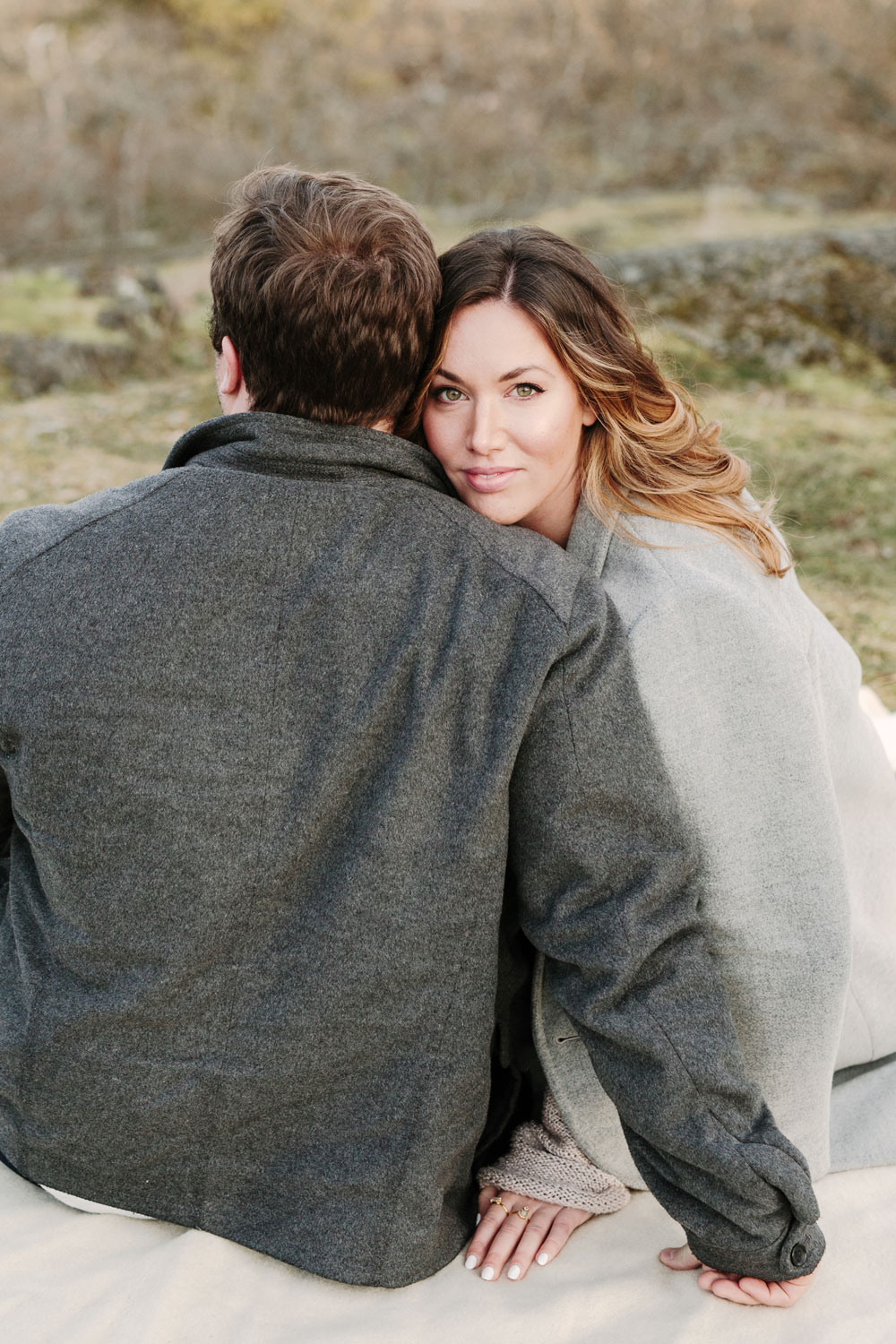 Having said that, I do love marriages, I love weddings, and I think for the right person based off of their specific values and life goals, it's a really beautiful thing. But I also think it's a really beautiful thing to maybe have the self-awareness to see what's right for you, for your partnership and for your life and to not buckle to societal standards. We're both so happy on this path we're on now and it's been so exciting to think of the next few years and beyond, and how our already very longterm relationship can evolve.
And I'll just close off this whole thing by saying that's what I really love about us. I think in relationships, it's so easy to look at what other people are doing, what other people are telling you to do or even see what you grew up with and decide that's that. We definitely are not following any play-by-play for what a typical relationship is. We're two loud people with bad tempers who don't want to get married and who have really creepy nicknames for one another and definitely laugh far too much about things that are truly inappropriate/not cool and are likely far too close with both our families and we message each other too much and are kind of co-dependent when we're in the same city and Matt has Lego all over the house that is 100% our biggest, sustained fight and I'm always taking off for weeks, sometimes even months, at a time. But we've made a relationship that to me at least, is so beautiful in its acceptance of what we are and what we want. We're not playing it by the book, and yet we've managed to create this beautiful, strange little world all our own, to respect each other's goals and to celebrate each other's achievements, personalities and quirks. And I love him oh so much. So happy anniversary to the man, the myth, the legend…the Wiz Kitten! I love you.