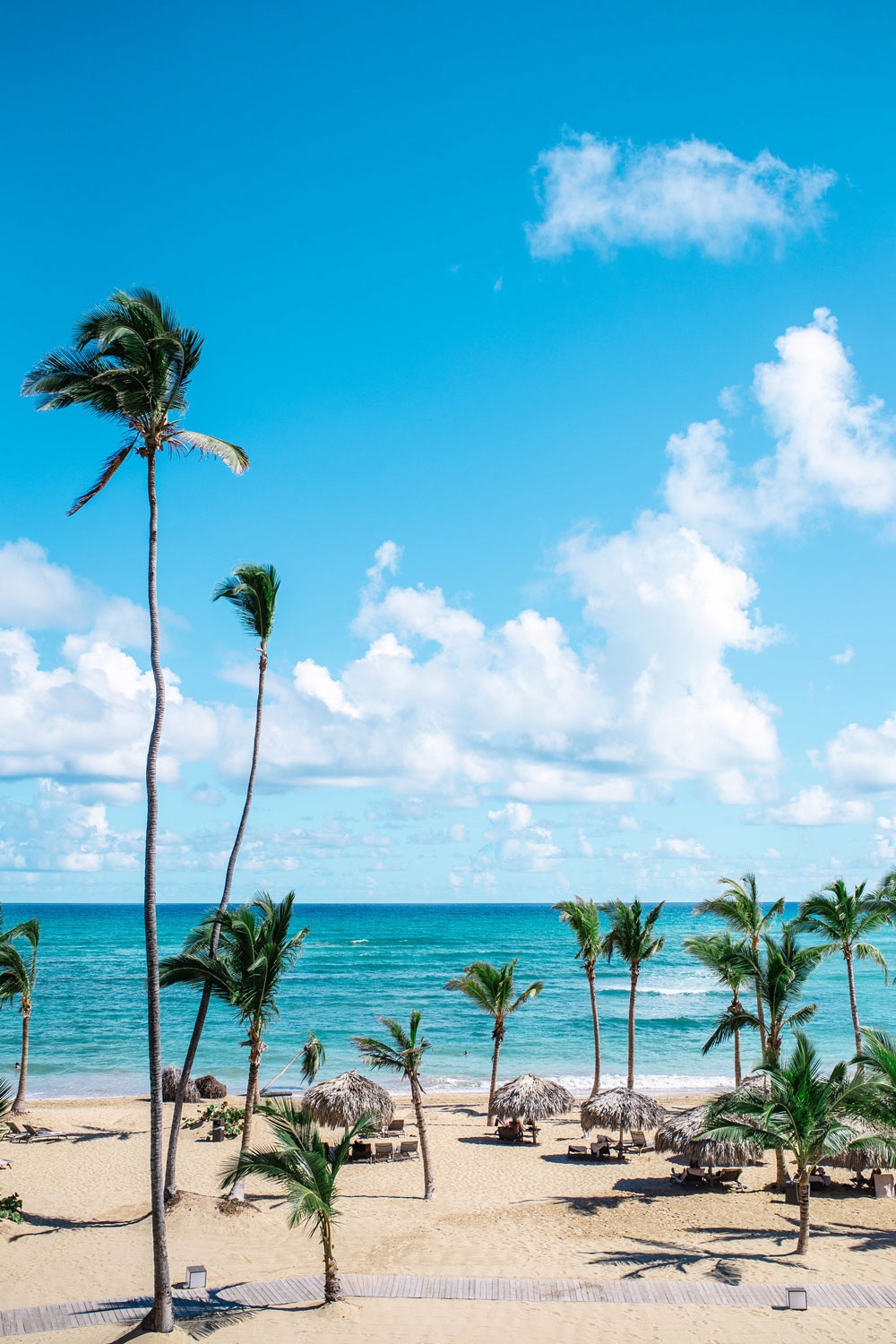 With the sun setting pretty much right after lunch these days (or at least, it feels that way!), looking back on these snaps from my amazing trip to the beautiful Dominican Republic with Air Transat is seriously putting a smile on my face. As you guys likely already know, I'm such a fan of Air Transat—whether it was my trip to the south of Spain or taking advantage of their multi-destination offerings later in the summer (something I've used for years and  years!), I'm the true definition of a lifelong customer and have felt so lucky to share my #experiencetransat moments over the past few years!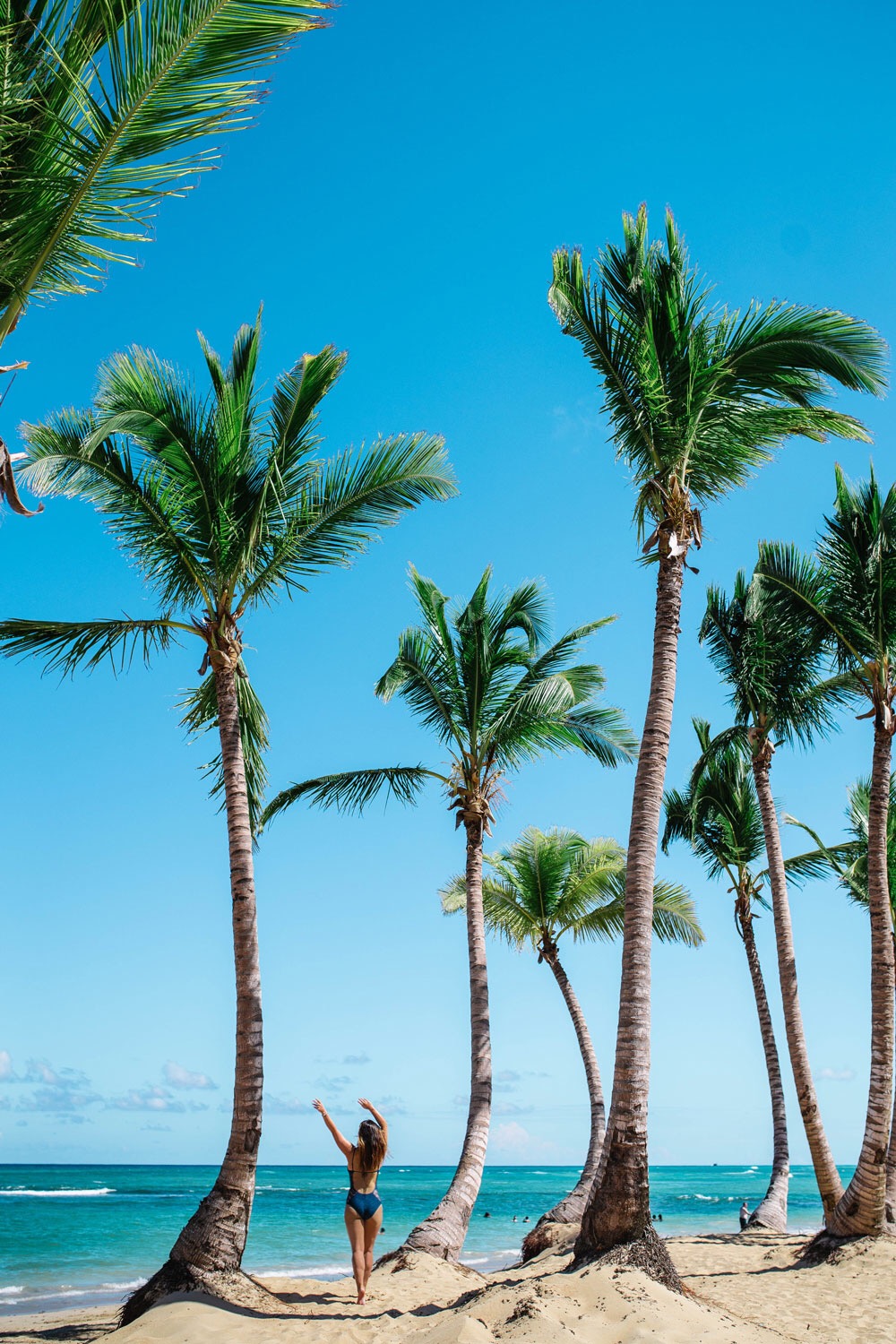 I was so excited to head south with them though because I've only done Europe flights and have never taken south yet! I showed up at the airport expecting the usual breeziness of flying Option Plus (which includes a speedier process checking in and getting through security, a comfort package in the air, etc) and was so excited to fly Club Class down to Punta Cana! The seats are unbelievably comfy and the service is at a whole other level. It's not every flight that basically sets the tone for your whole trip, but this luxurious in-flight experience definitely did. I was set to join a group of other amazing ladies from Toronto and Montreal (I was repping the West Coast solo on this trip!) to uncover some of Transat's key hotel partners from their luxury hotel packages and to also discover beautiful Dominican Republic, somewhere I've never actually been! So without further ado, let's dive into the hotels we got to visit and the trip itself!
---
Excellence el Carmen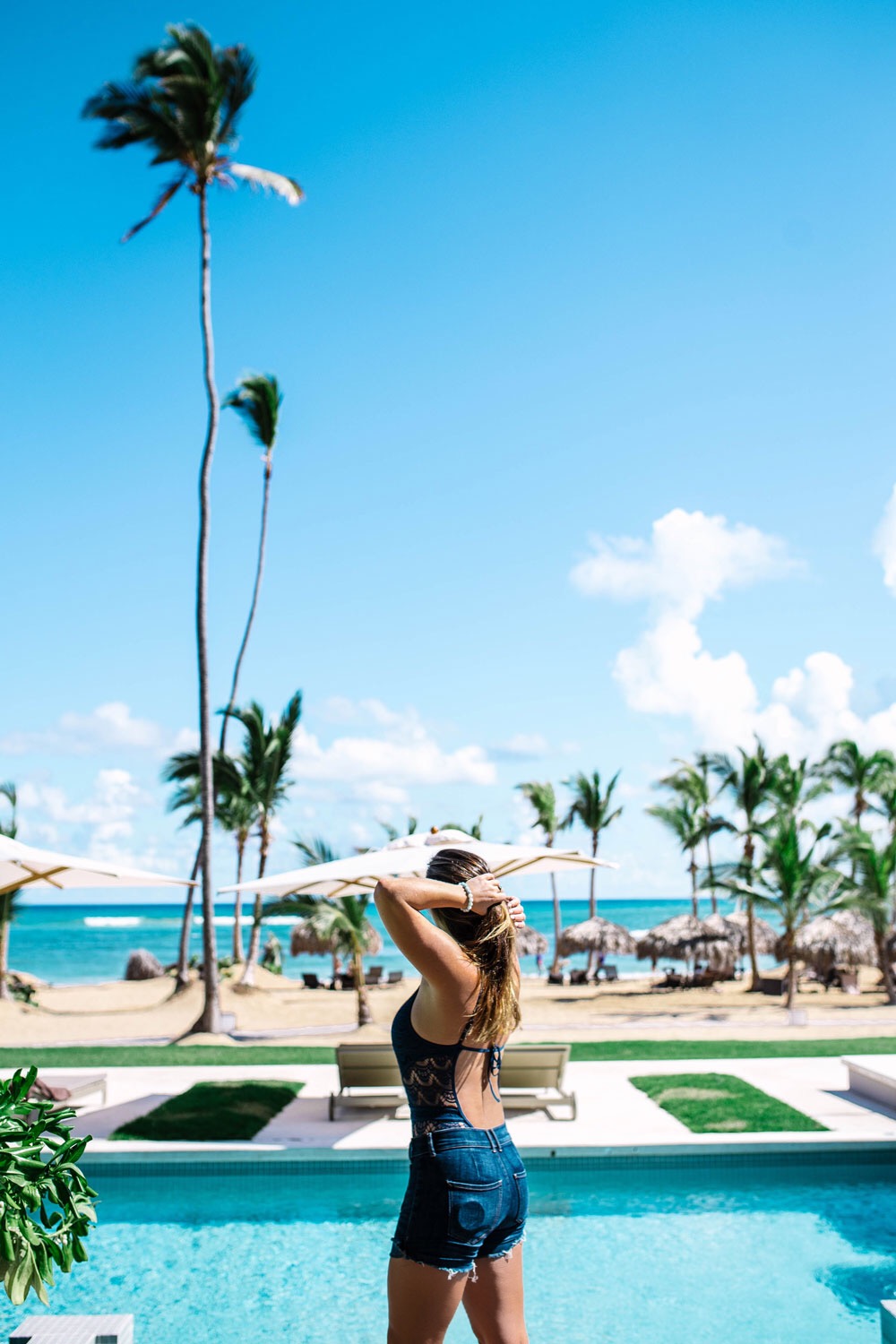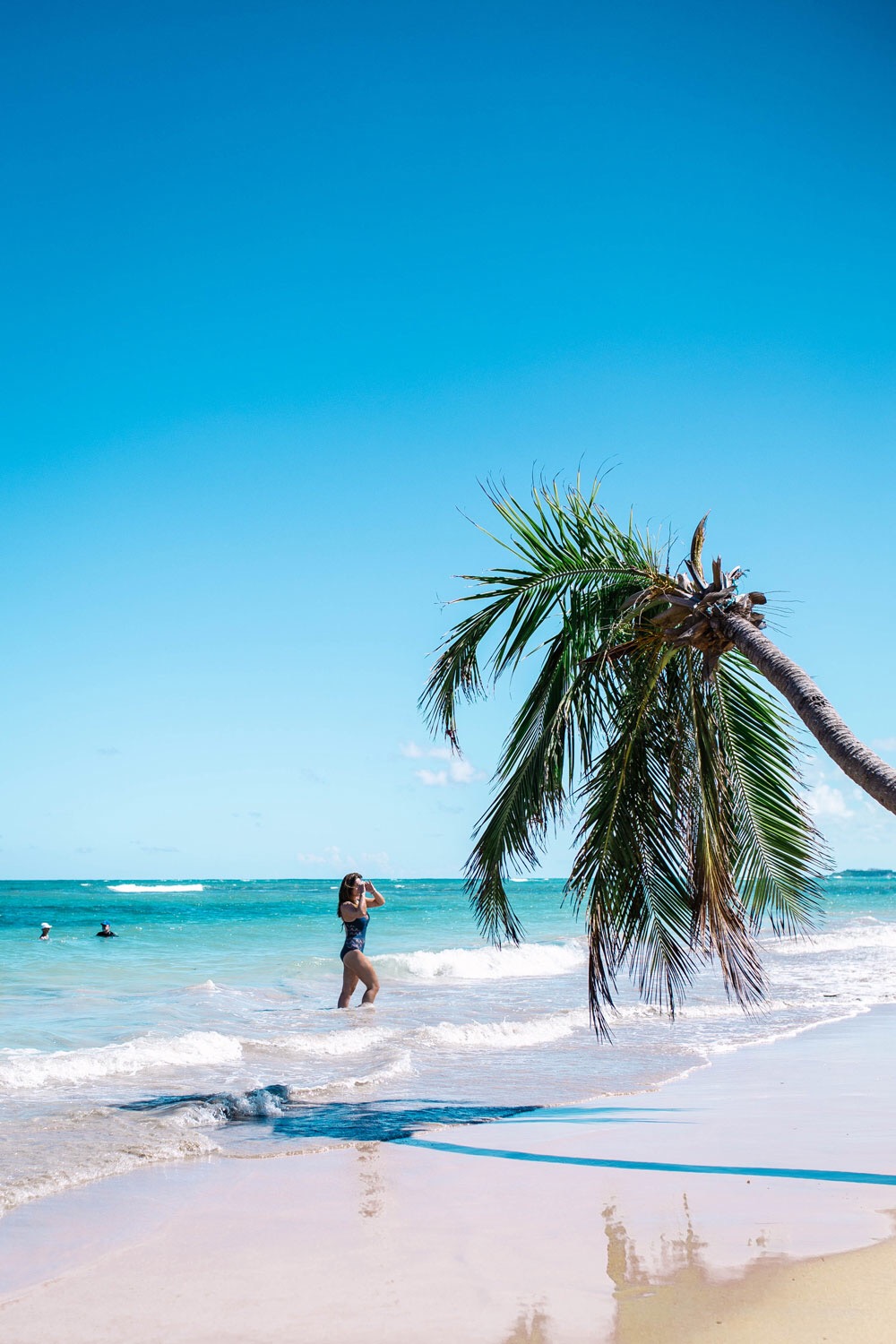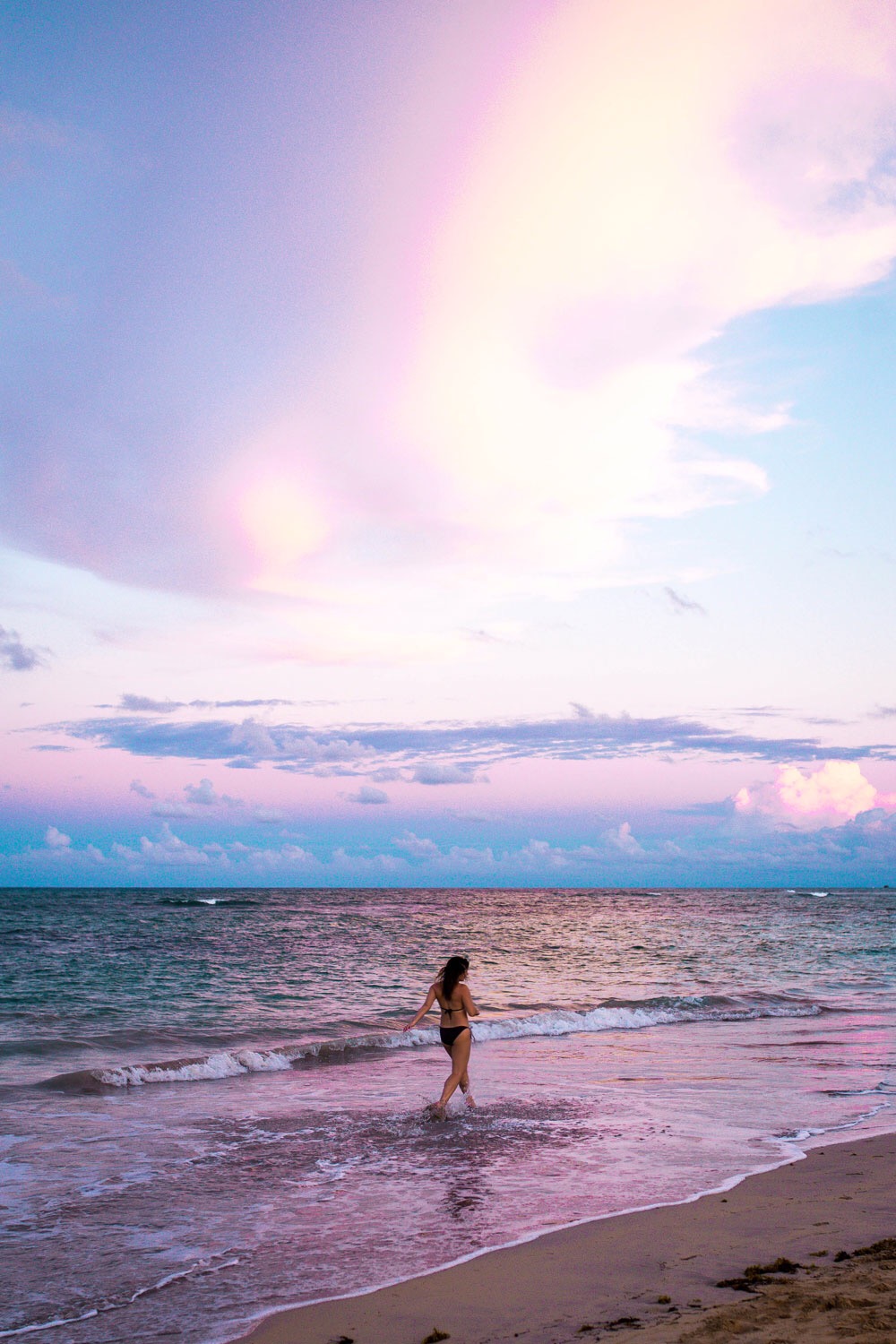 I got in later to Excellence el Carmen than the other ladies but even in the nighttime, the hotel immediately stunned me—modern and grand chandeliers in a massive lobby space, chic restaurants lining both sides of the lobby, a dreamy looking spa I could sneak a peek into off the main entrance. Just as I was taking all of this in, the ladies from the trip happened to walk by en route to a cocktail hour I was very late to and they immediately had me so excited for the whole trip—all of them so warm, lovely and fun!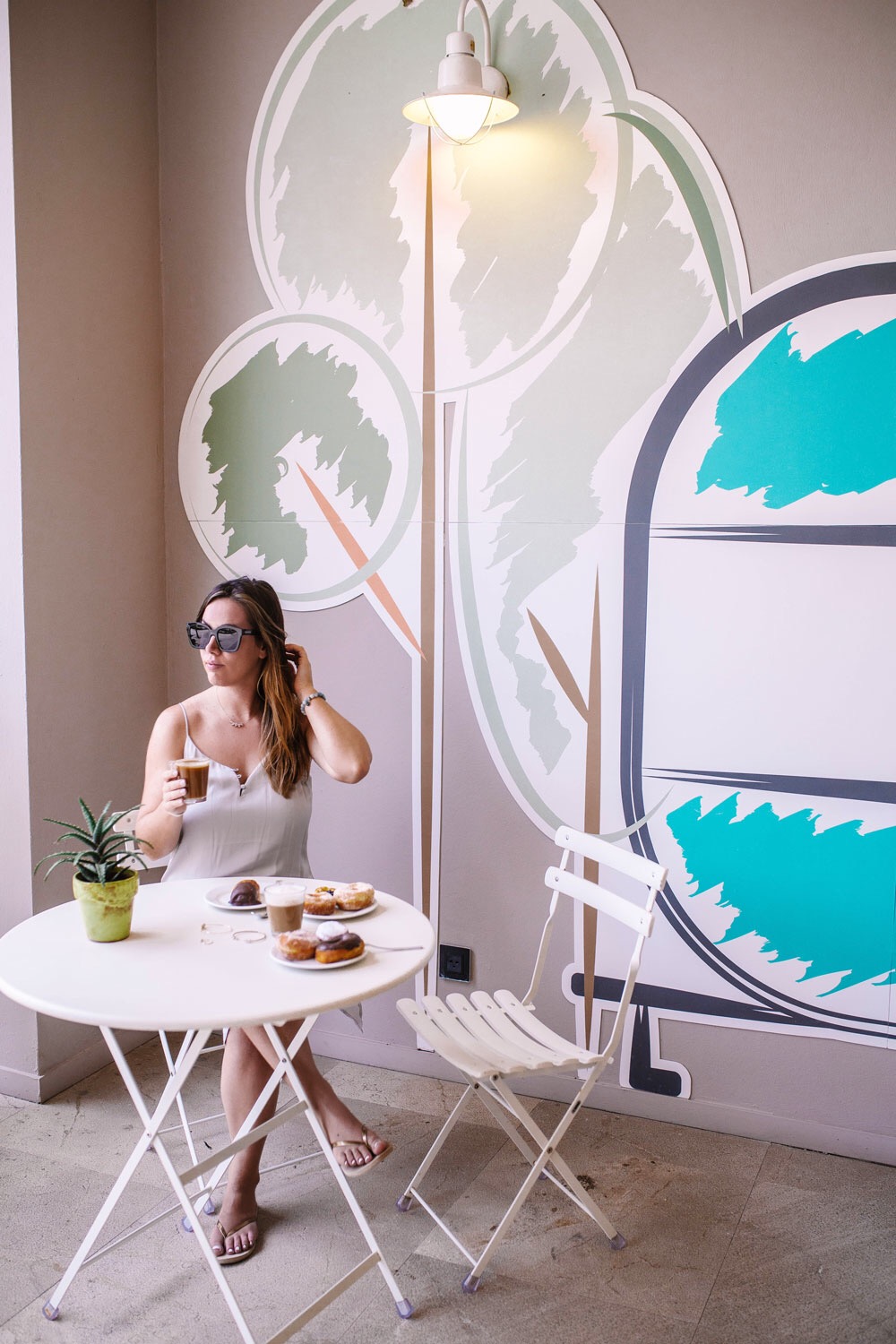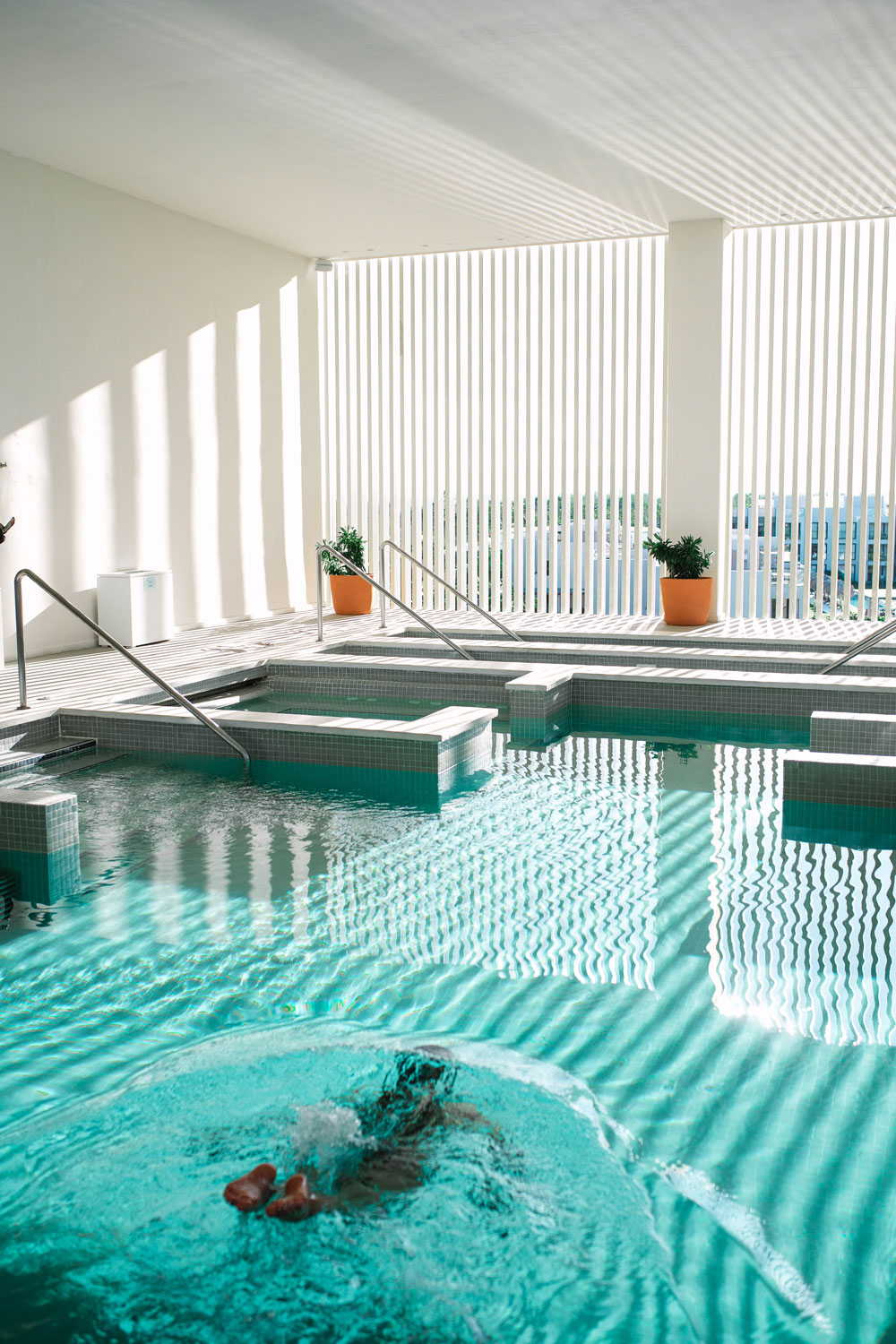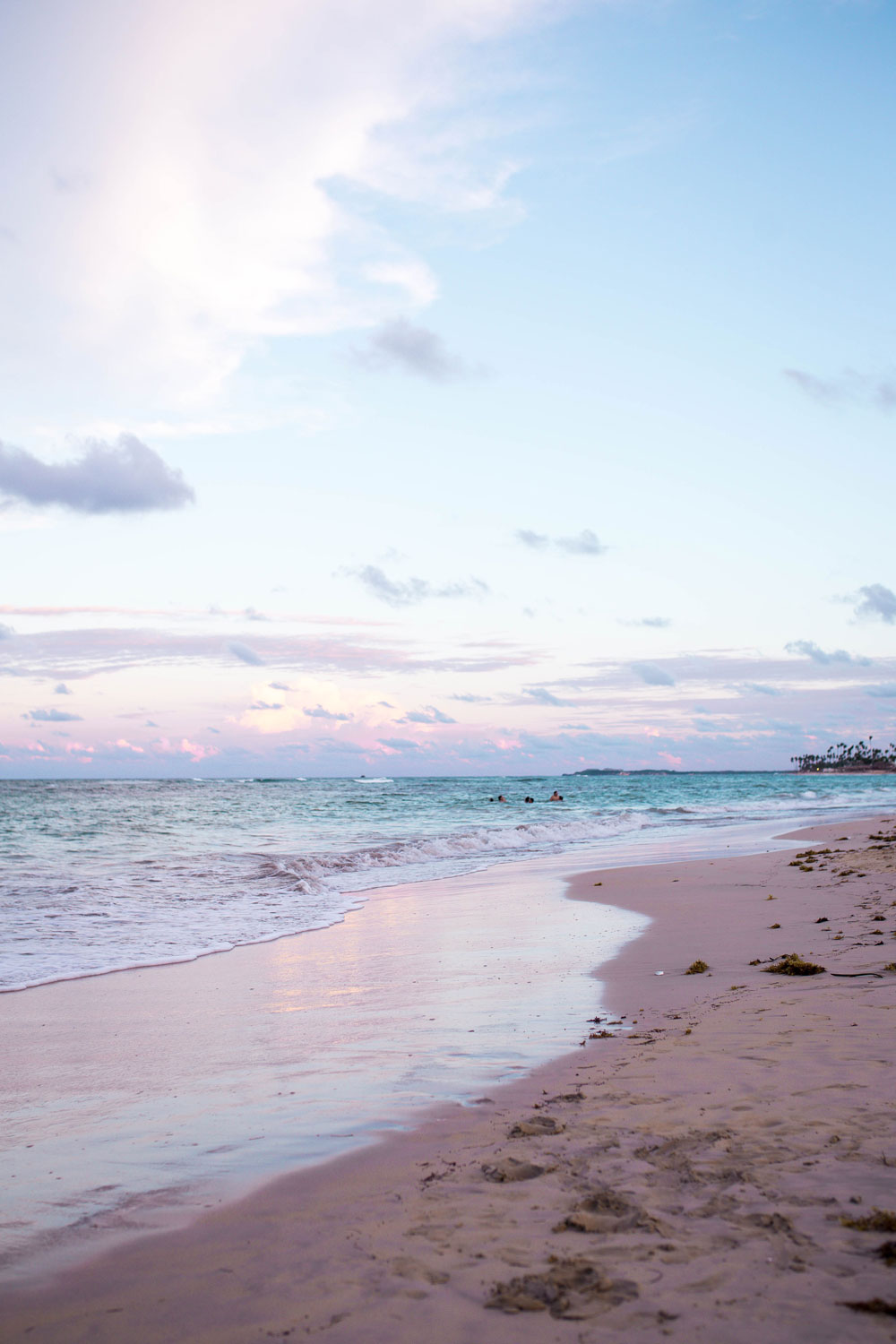 I headed off to bed early but the next few days were such a blur of amazing experiences. Excellence is adults-oriented which means a really great mix of stunning beaches, pristine pools and lots of amazing restaurants, lounges and the suites themselves are so stunning. More than any other property we were at, this resort felt like a proper little city. It would be so easy to spend a whole week here and not bore of it ever, with so many different places to experience and tons of beach and pool space to choose from. They even have an unreal gym I took advantage of—beyond fully equipped, luxe and massive! So rare for a resort gym.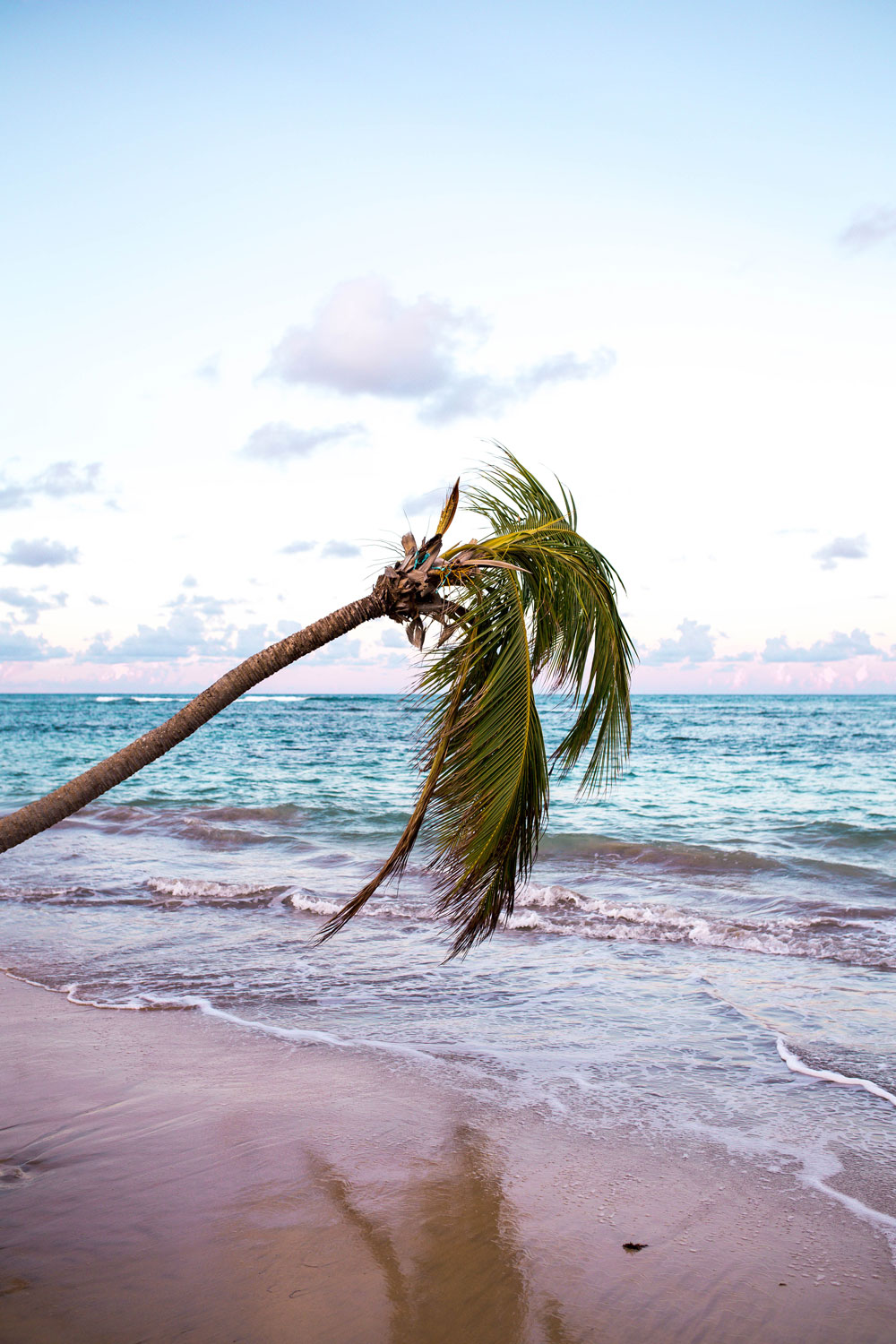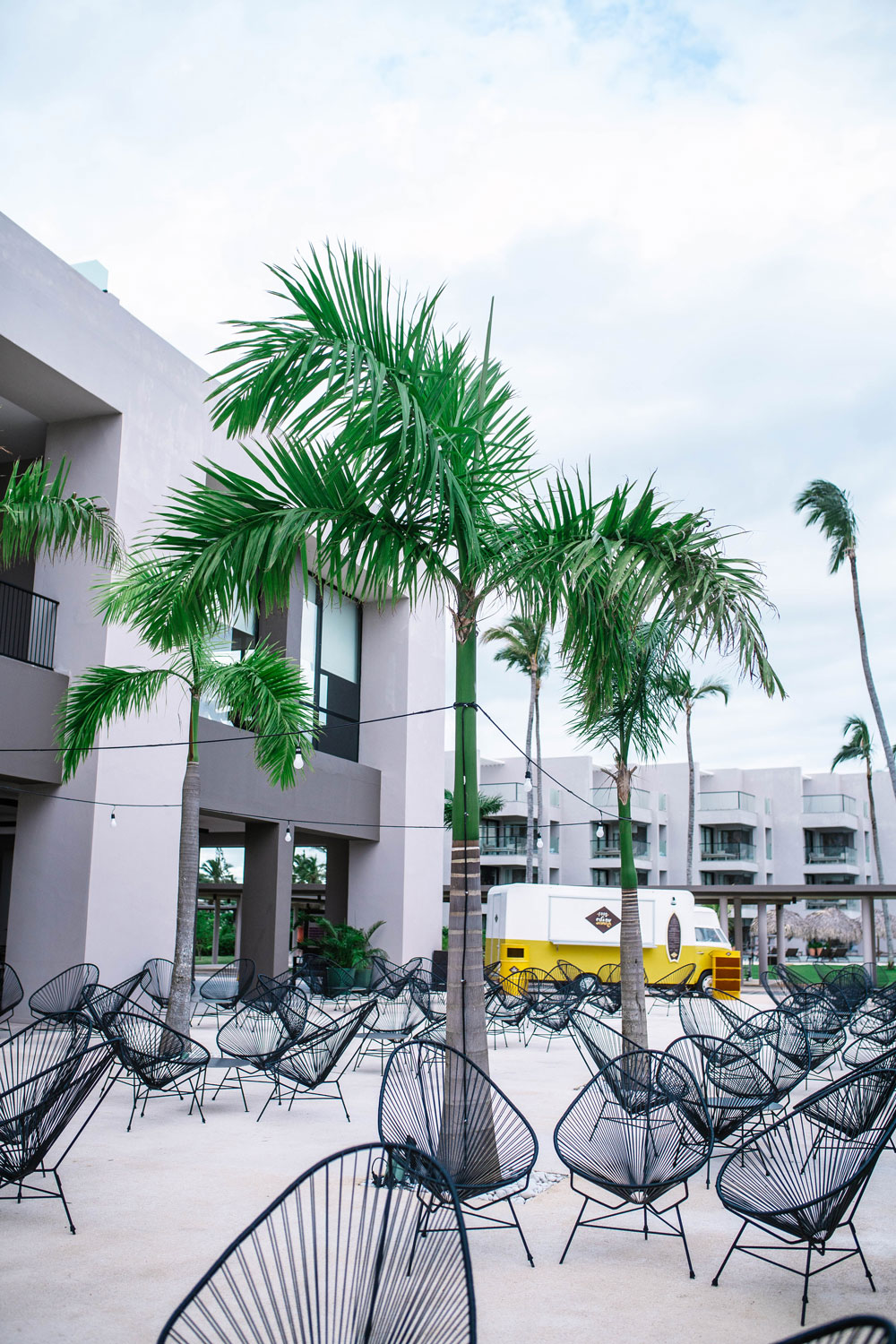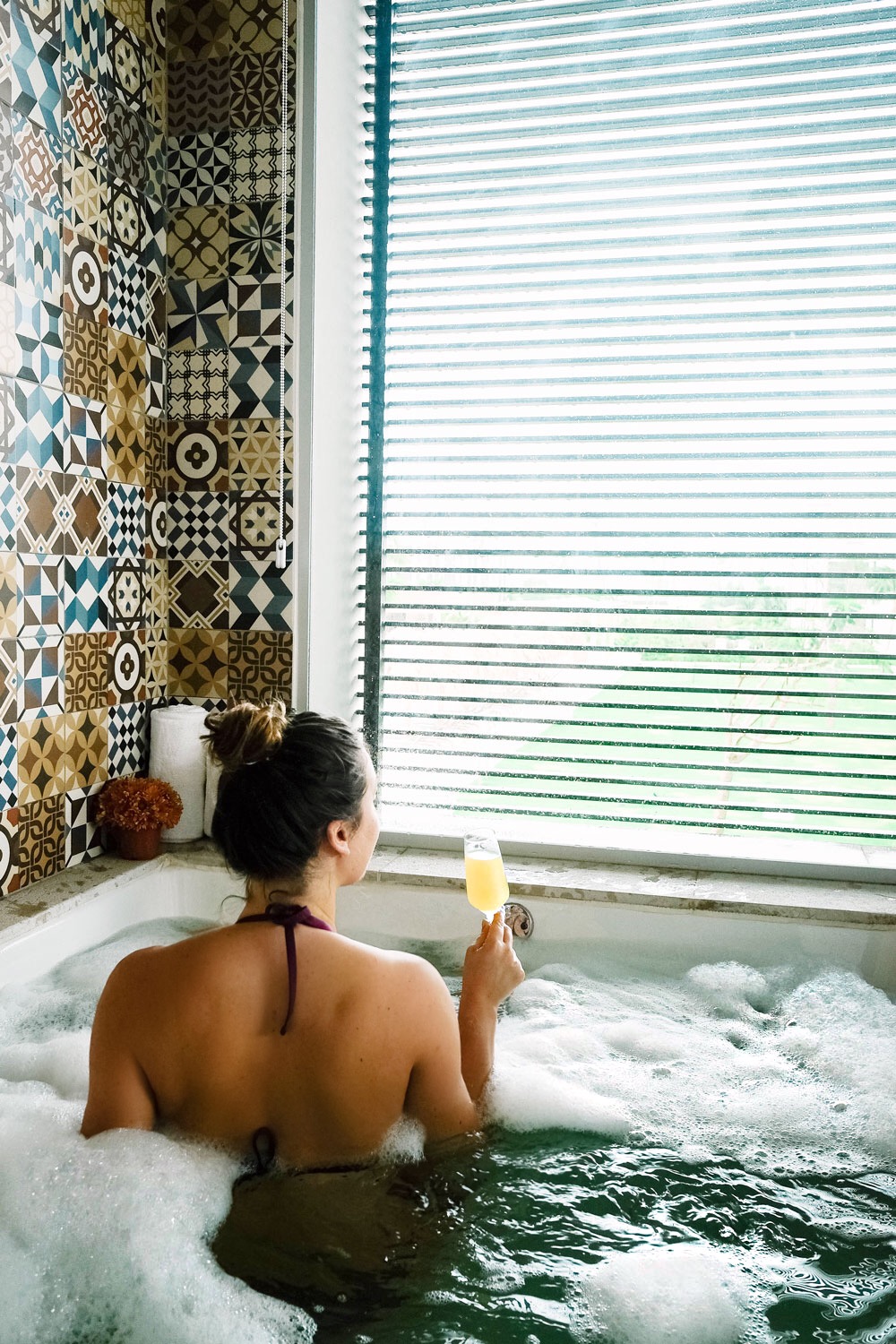 I loved the features in each suite, from a little patio bed to nap on to legitimately amazing room service options (which I took full advantage of regularly). I think the washrooms had to be my favourite feature though—a luxe rain shower head, massive modern space and a bath tub that extended out into the patio. Speaking of hydrotherapy though, you guys know I'm a water baby and any hydrotherapy experience is pretty much my favourite thing. Excellence's Miilé Spa knocked it out of the park. Walking us through experiences like immersed bubble beds to boost circulation to a cool stone walk to a seriously skin-buffing exfoliation post-sauna, I felt like all the tension I had in my body melt away. We had mimosas afterwards as golden hour surrounded the spa—such a special experience I'll always remember (and one I'd really recommend doing if you're there!).
---
Paradisus Palma Real & Punta Cana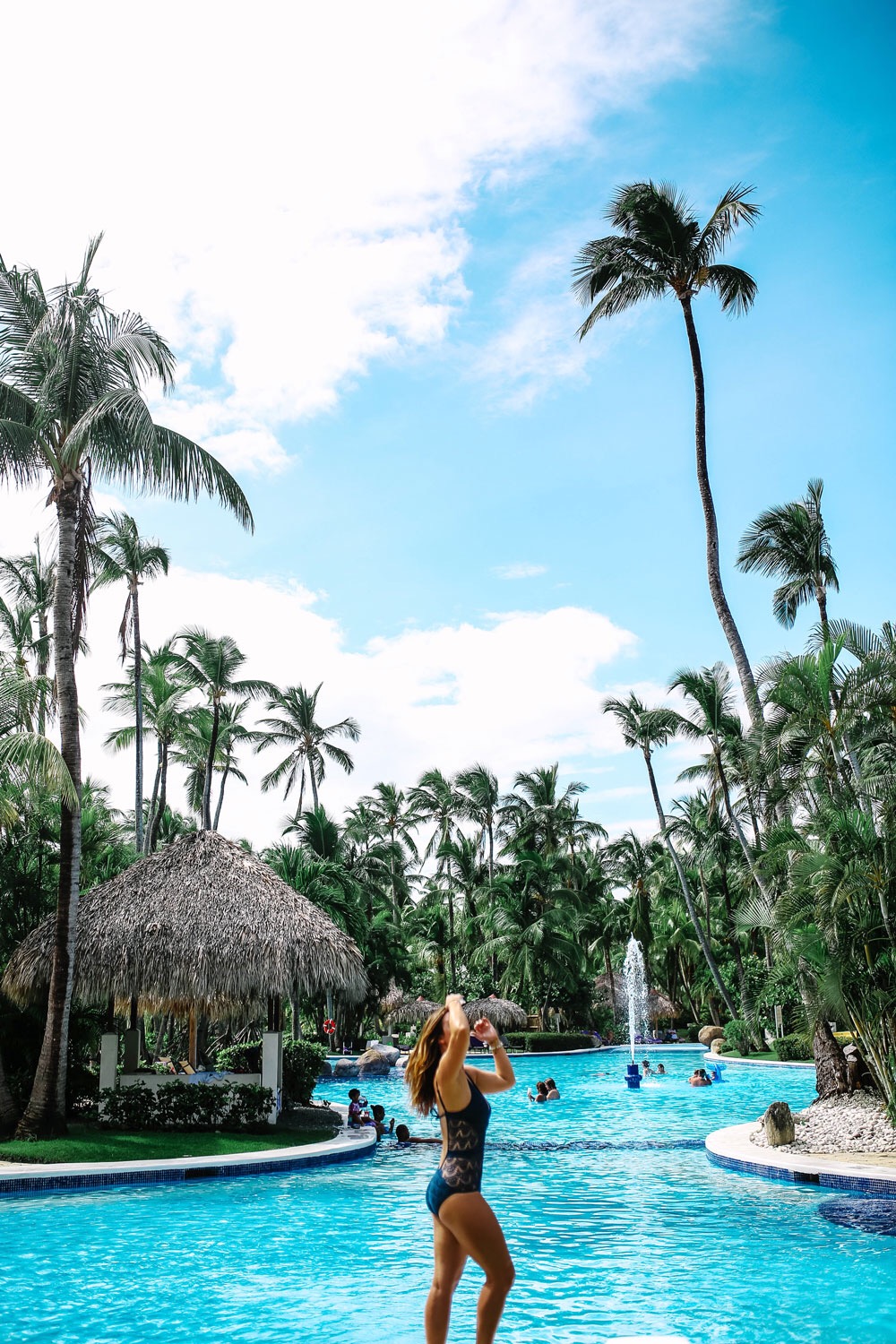 We got to experience not one, but two Paradisus properties during our trip, the Paradisus Palma Real and Paradisus Punta Cana! Each time we stopped in for a daytime adventure and even though we were there for shorter legs of the trip, the staff went above and beyond to make us feel completely at home. Like, greeted us with a flash mob—that kind of warm welcome.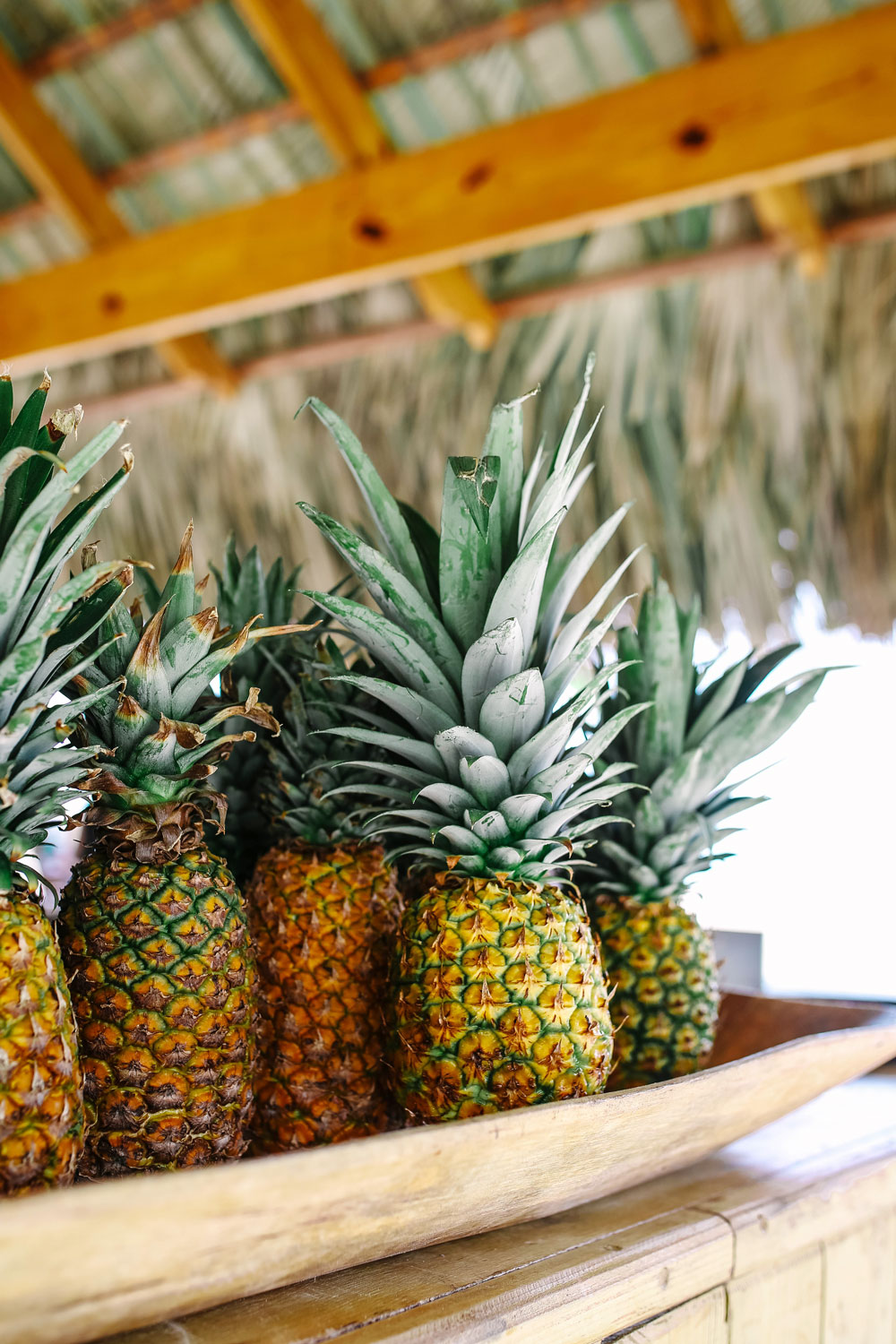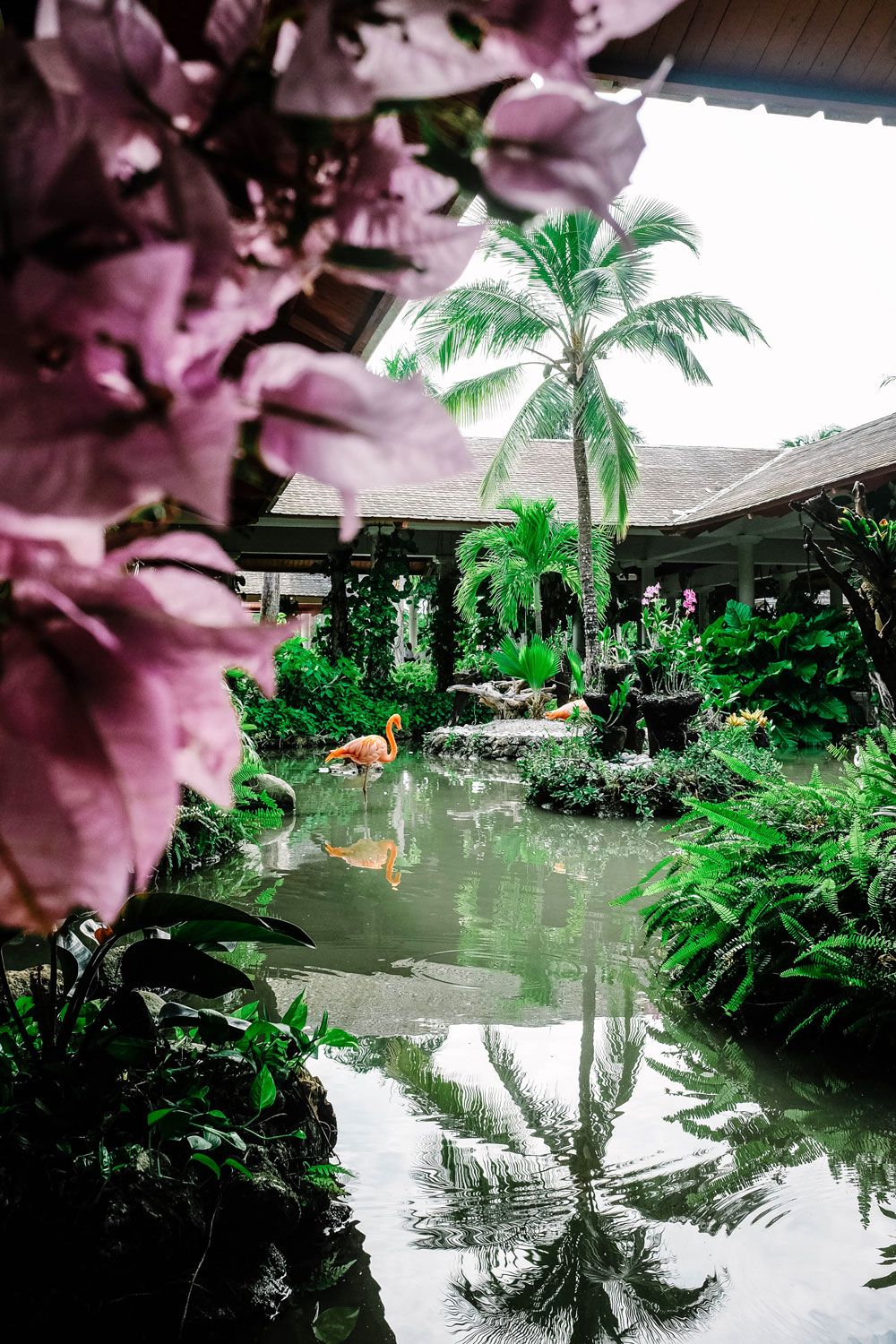 We first got to experience Paradisus Punta Cana which had a distinctly tropical vibe to it which I loved! Flamingos literally wandering through the lobby area and golf carts to take you through its beautiful sprawling property. Each Paradisus has a Royal Service VIP option which we got to enjoy, which involves an exclusive space to check in, get refreshments, etc and access to more private pools and beach areas, all so stunning!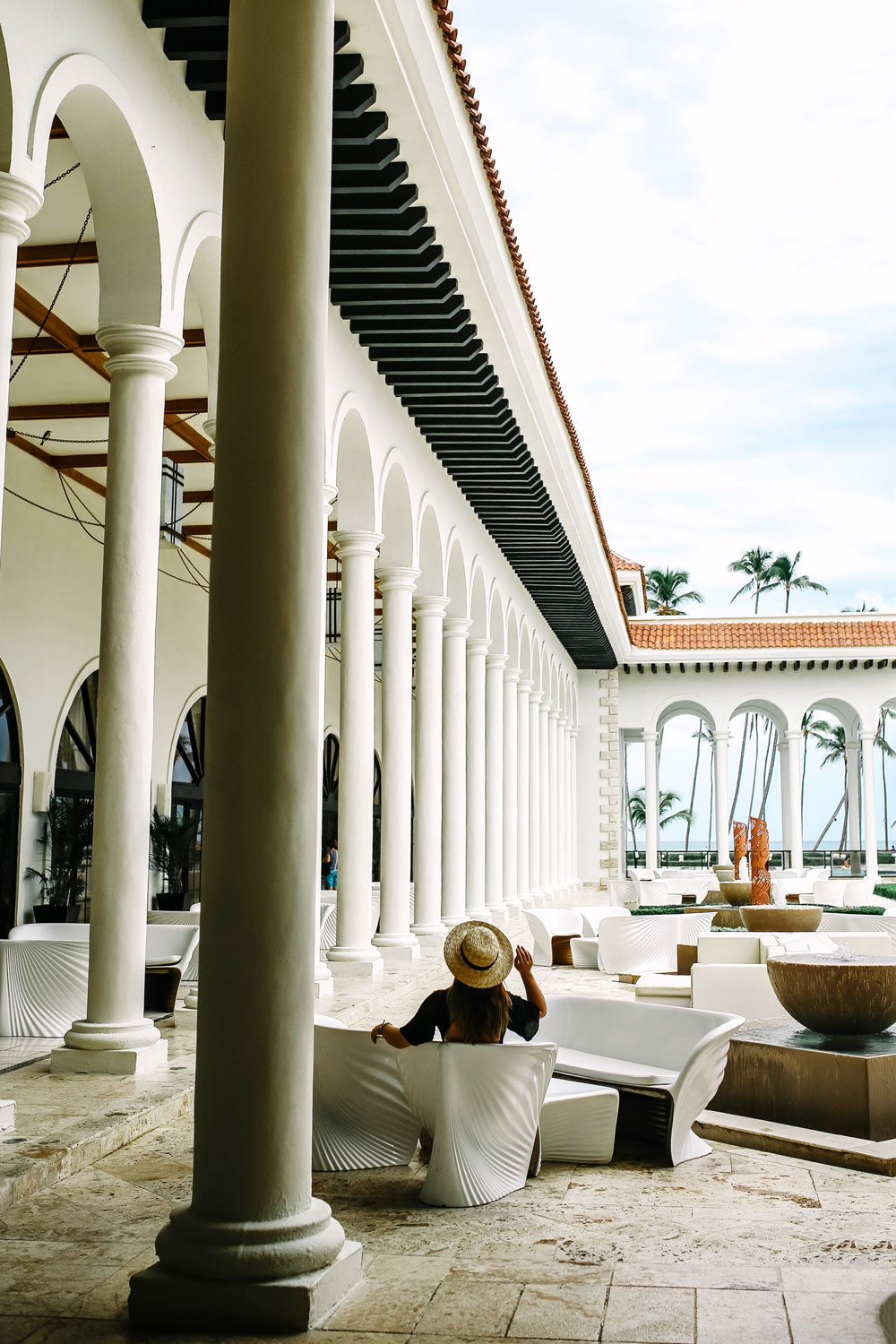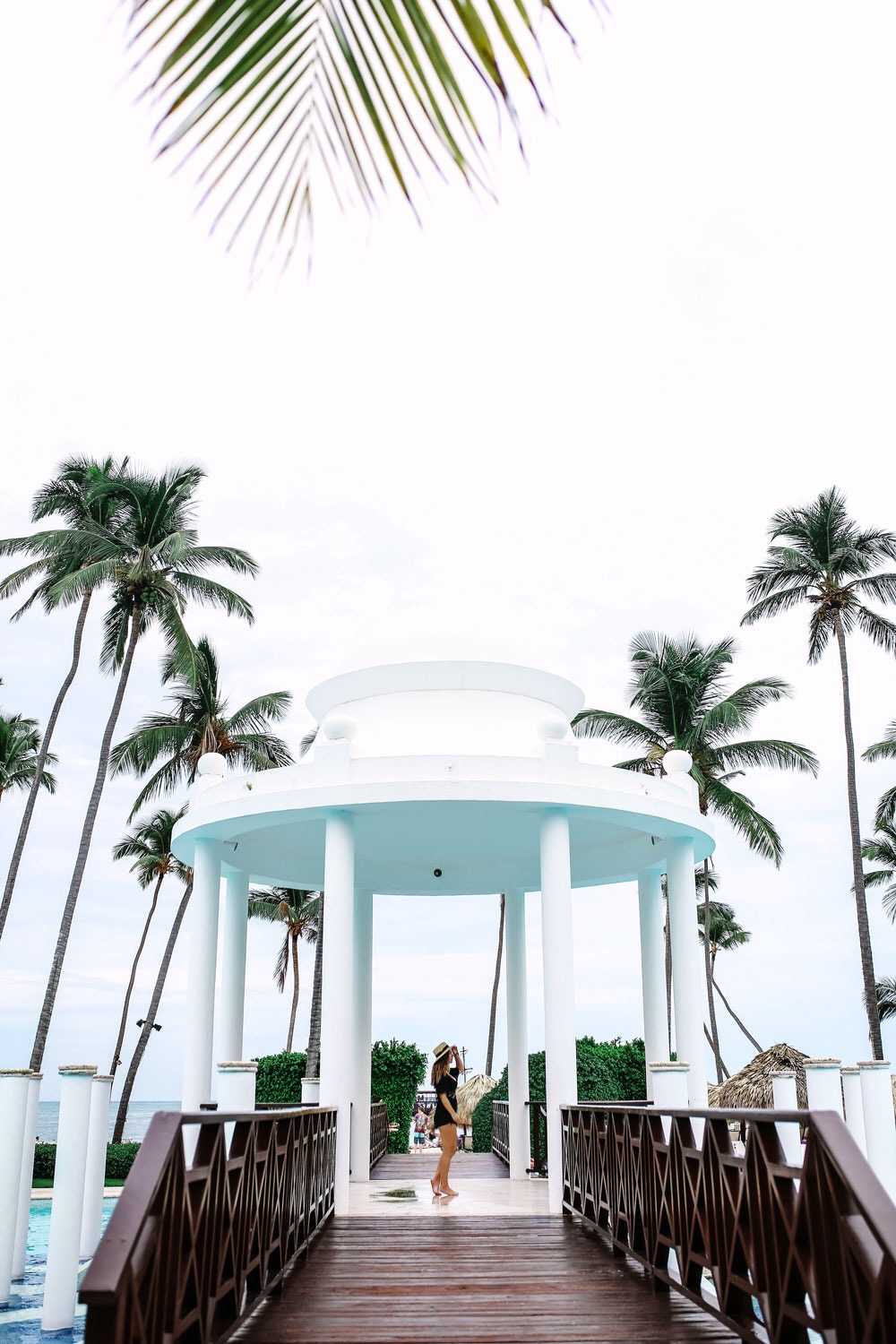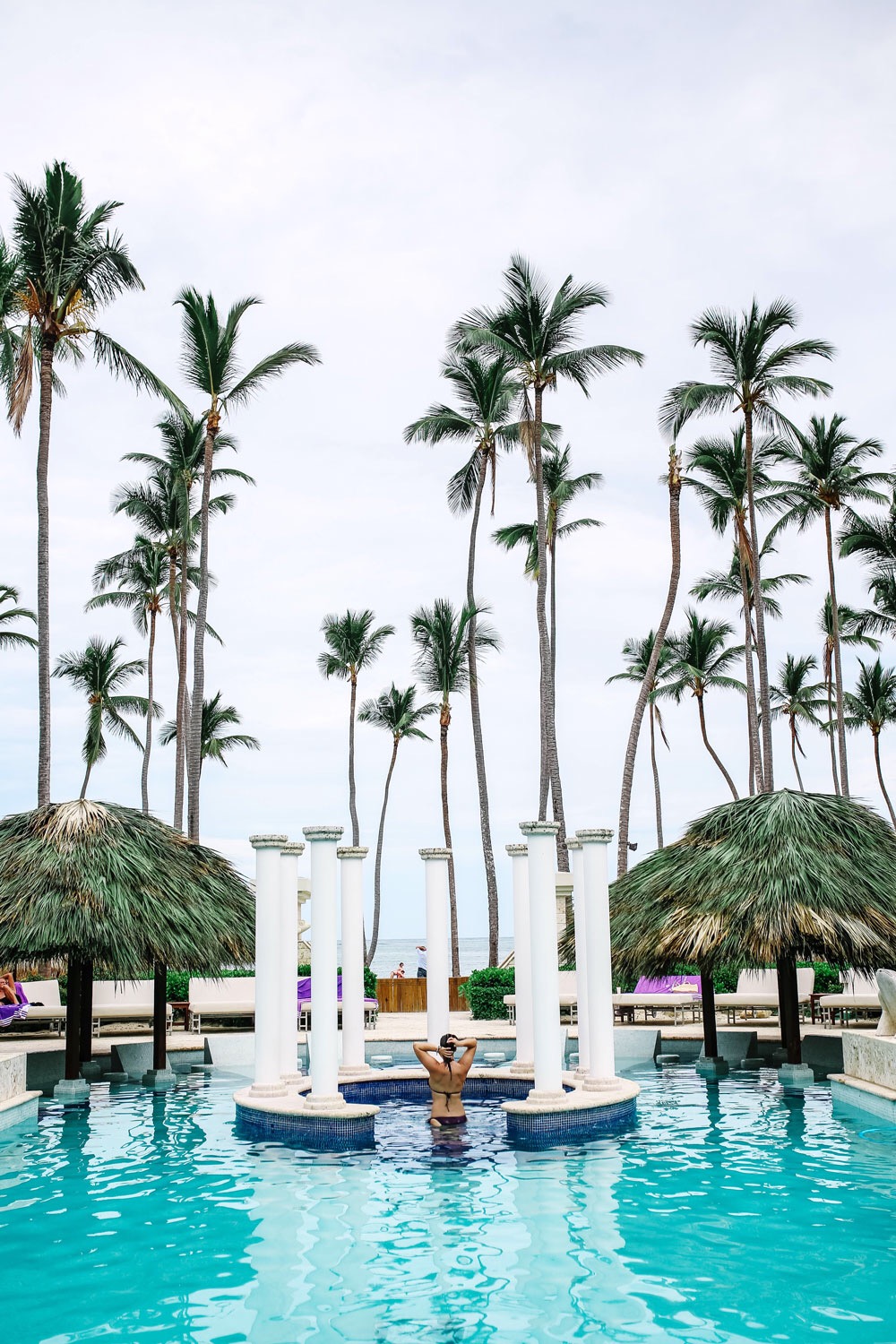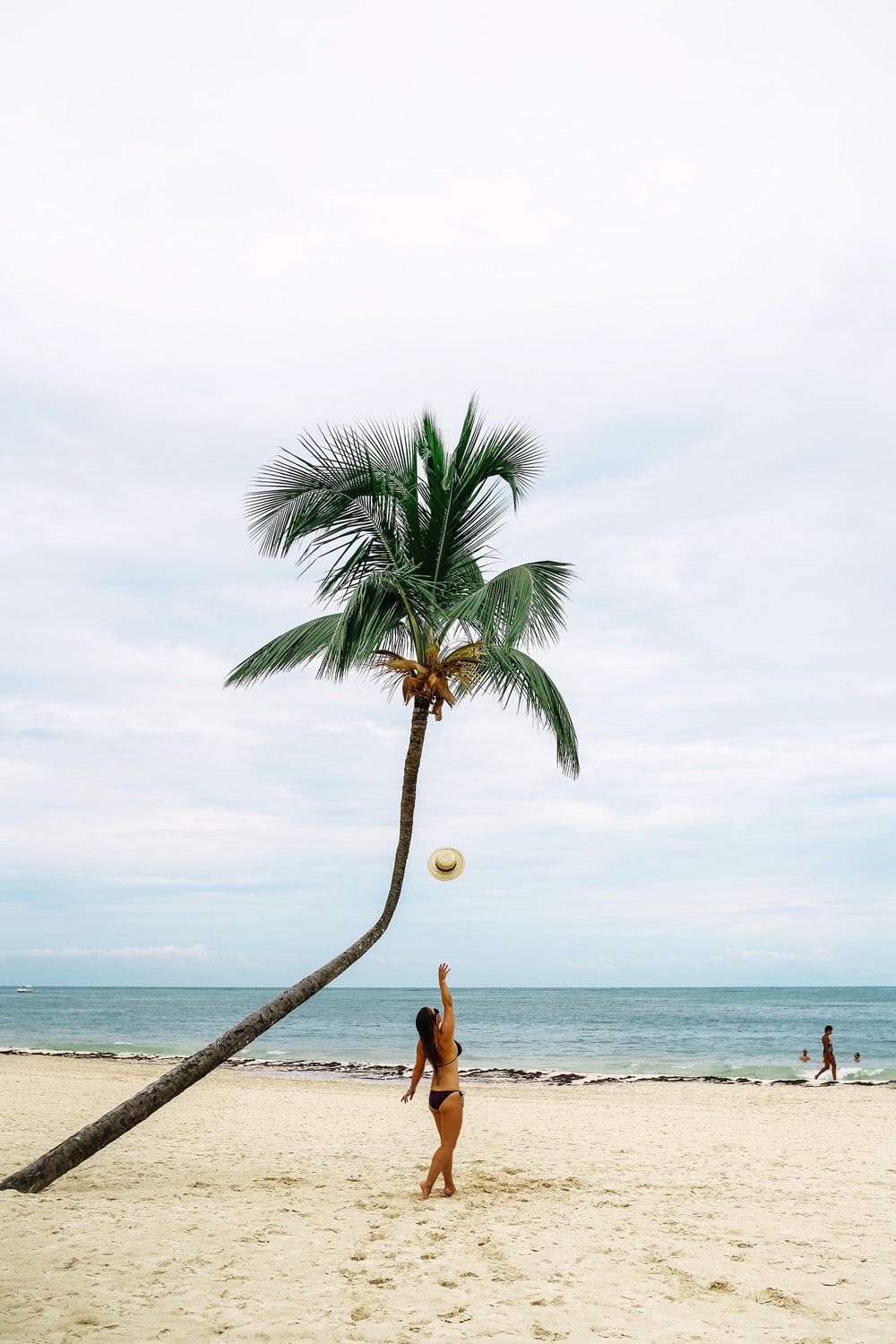 Paradisus Palma Real was equally stunning—love the beautiful Greco-style architecture throughout the property, from the beautiful columns and archways through the main courtyard to gorgeous features in the pools themselves, as someone who's usually a bit of an architecture nerd, I was obsessing over all the beautiful design. The buffet was next level amazing, such an important part of an all-inclusive resort! Think local seafood cooked to perfection, unreal fresh options and so much more! We also got to experience an unbelievable five course dinner at Passion, with Spanish chef Martín Berasategui at the helm (who happens to have 8 Michelin Stars, so needless to say it was a serious experience).
---
Iberostar Grand Hotel Bavaro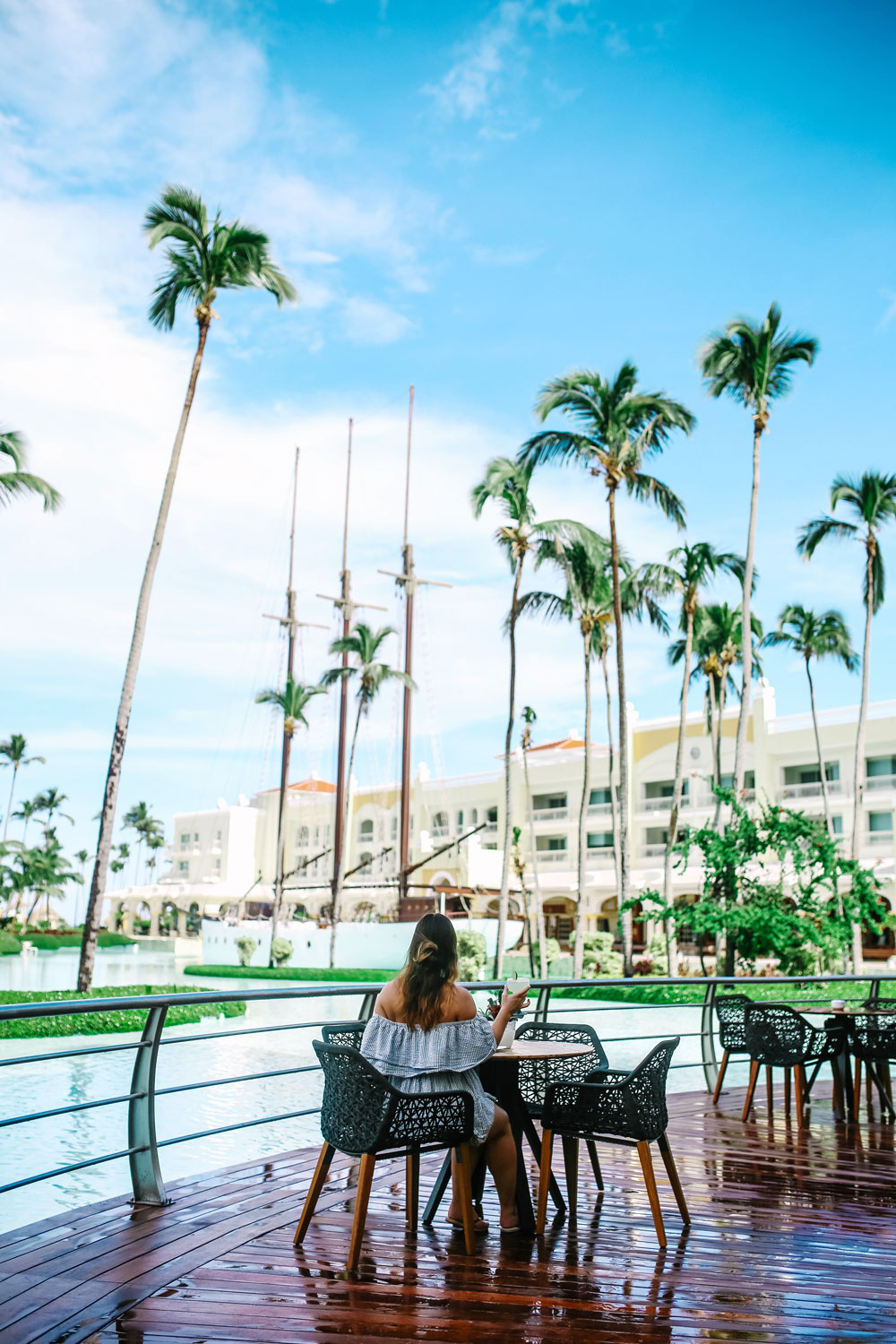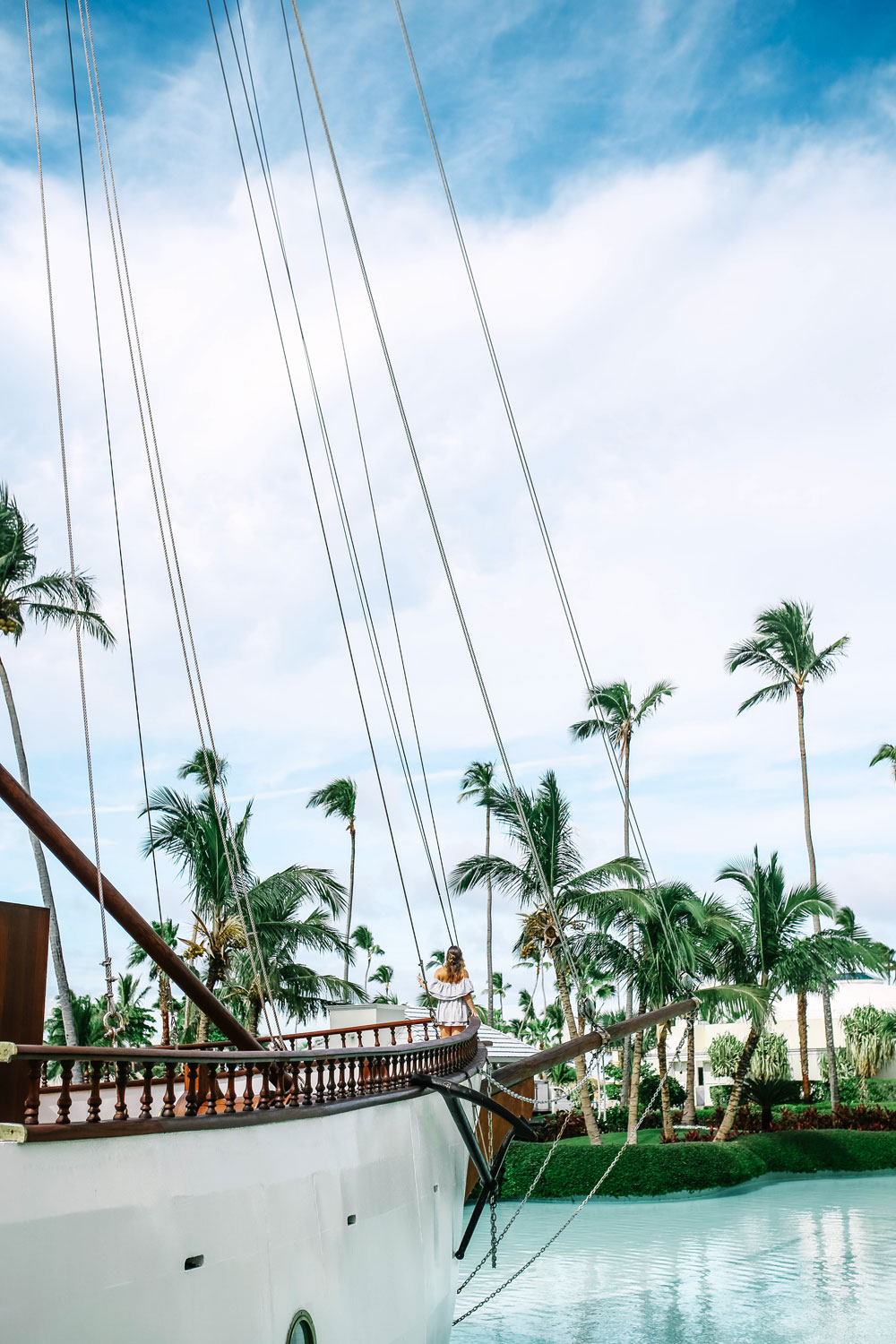 We pretty much all took in a collective gasp when we walked into Iberostar Grand Hotel Bavaro—the airy lobby was already beyond stunning, but as we walked through to the lobby bar, we spotted a massive lagoon (in place of the usual courtyard) that not only had dozens of palm trees dotting its turquoise waters, but an actual pirate boat right in the middle of it! The boat is actually a space to grab cocktails, both above and below deck (and you better believe we did both!).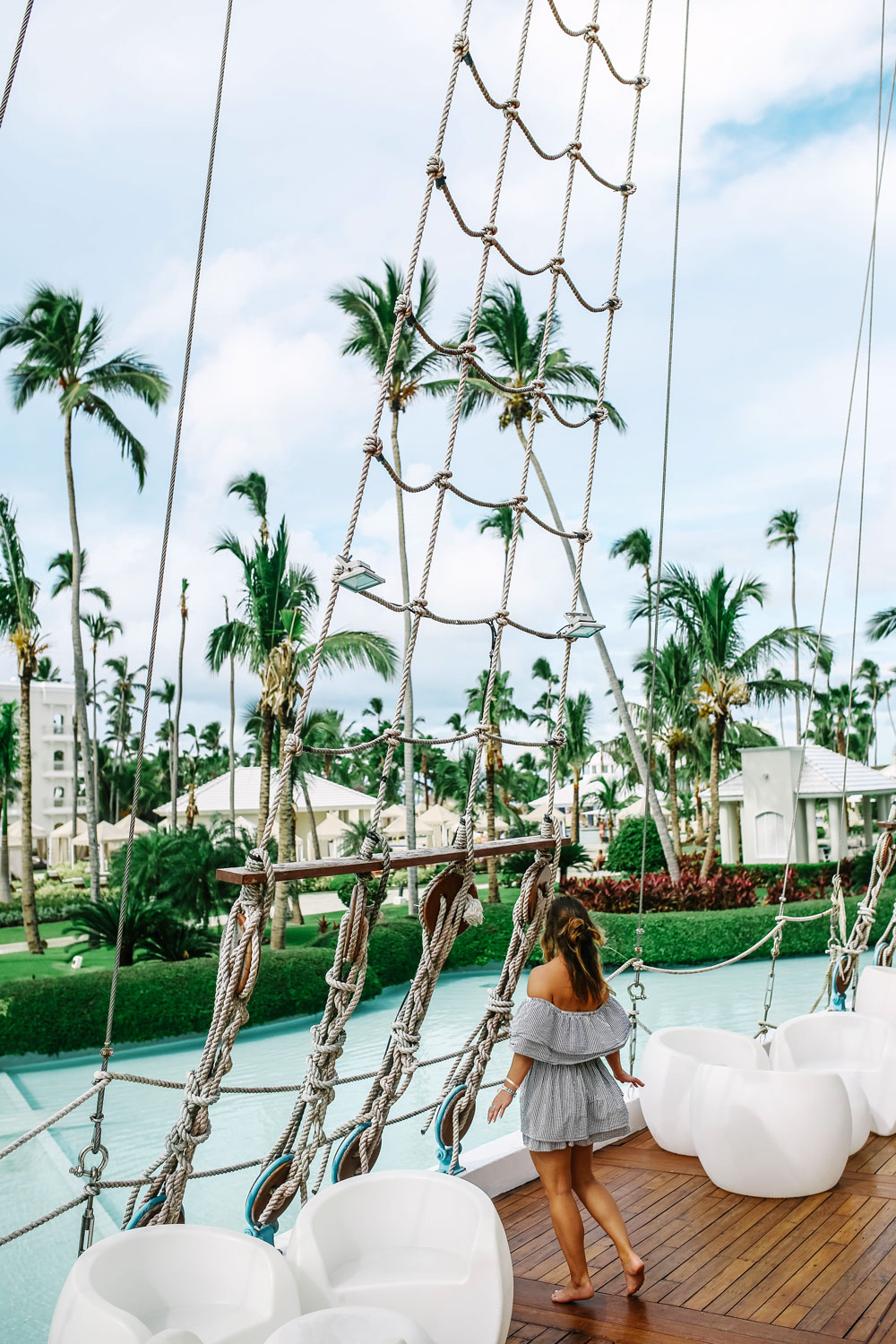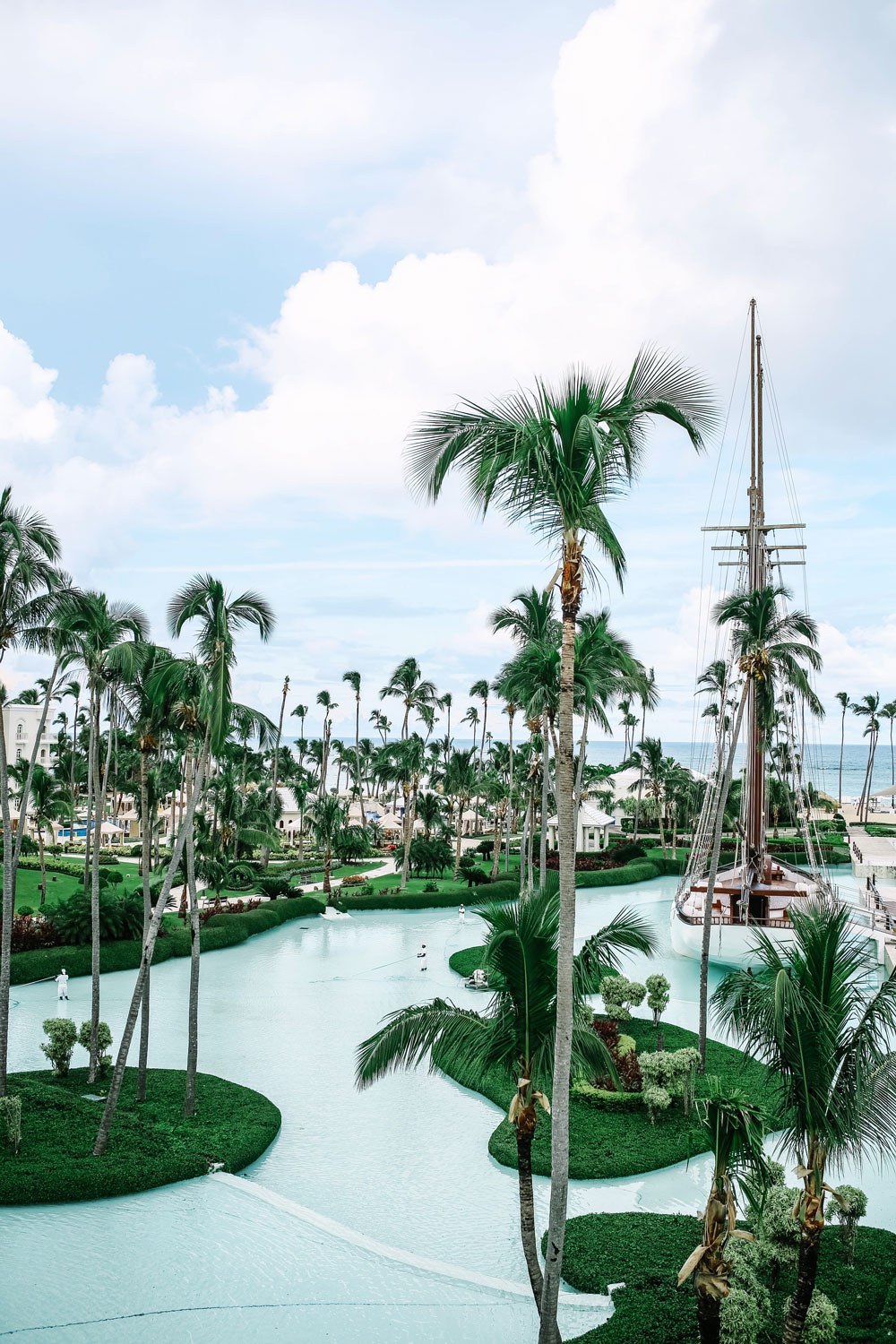 The rooms were unbelievably stunning—luxe creamy white linens and grandiose headboards, big bathtubs perfect for drawing a bubble bath and best of all, we each had a butler! Insane, right? From drawing a bath to remembering your drink preferences, these amazing staff members are seriously skilled at customer service (though I put mine to use finding my missing camera bag I'd misplaced in the lobby—he managed to track it down within minutes, of course, such a sweetheart!).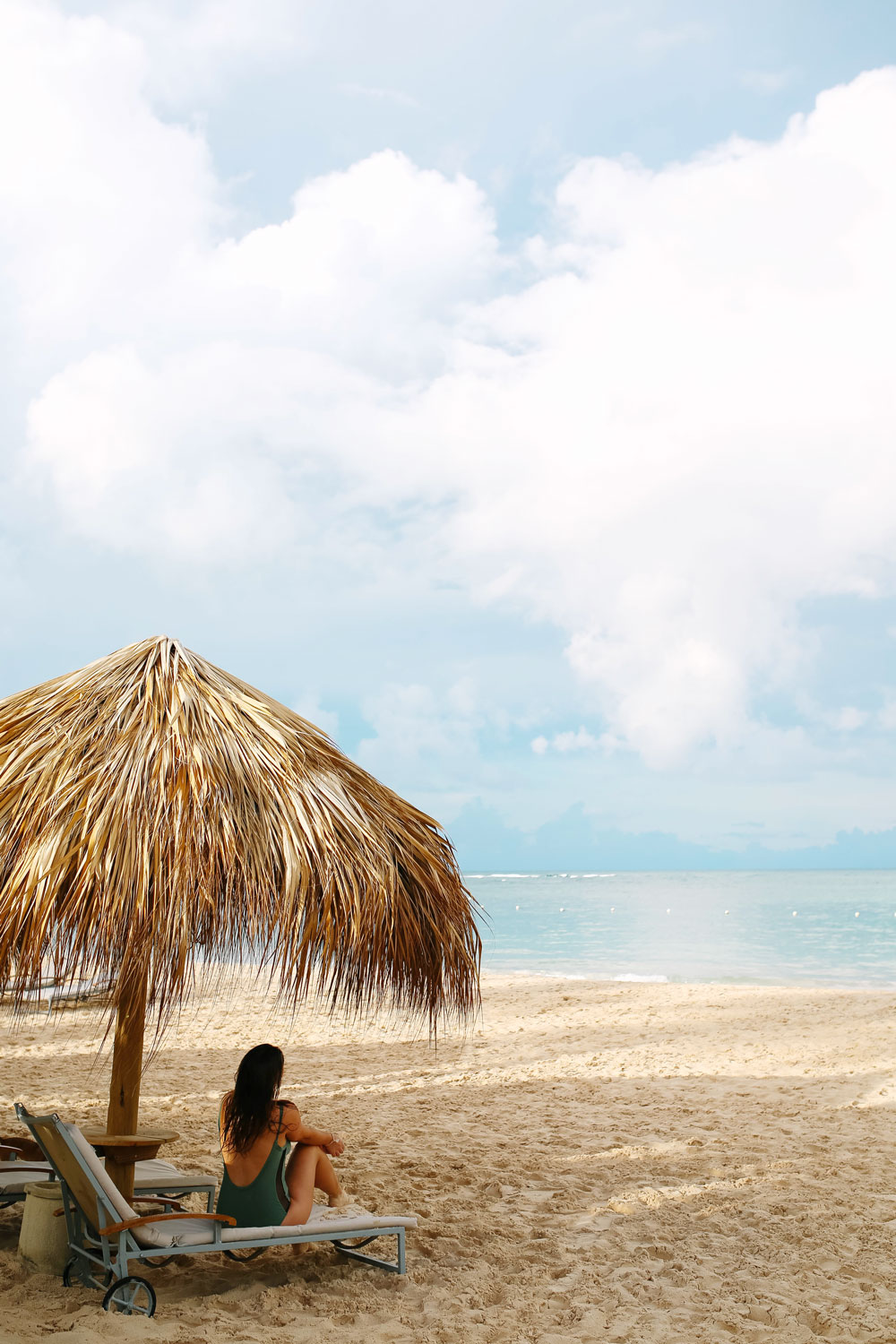 It was also at Iberostar that I experienced what was definitely one of my favourite massages ever. Because of my back problems, most of my massages pretty closely resemble like 9/10 pain level torture. This was a proper full body, relaxing experience I never really get to have—my masseuse Lucy was so talented and sweet. The view from Spa Sensations is beyond beautiful too, and best of all, even if you're not getting a massage there's a hot tub you can chill out in located within the spa to take in the aforementioned view!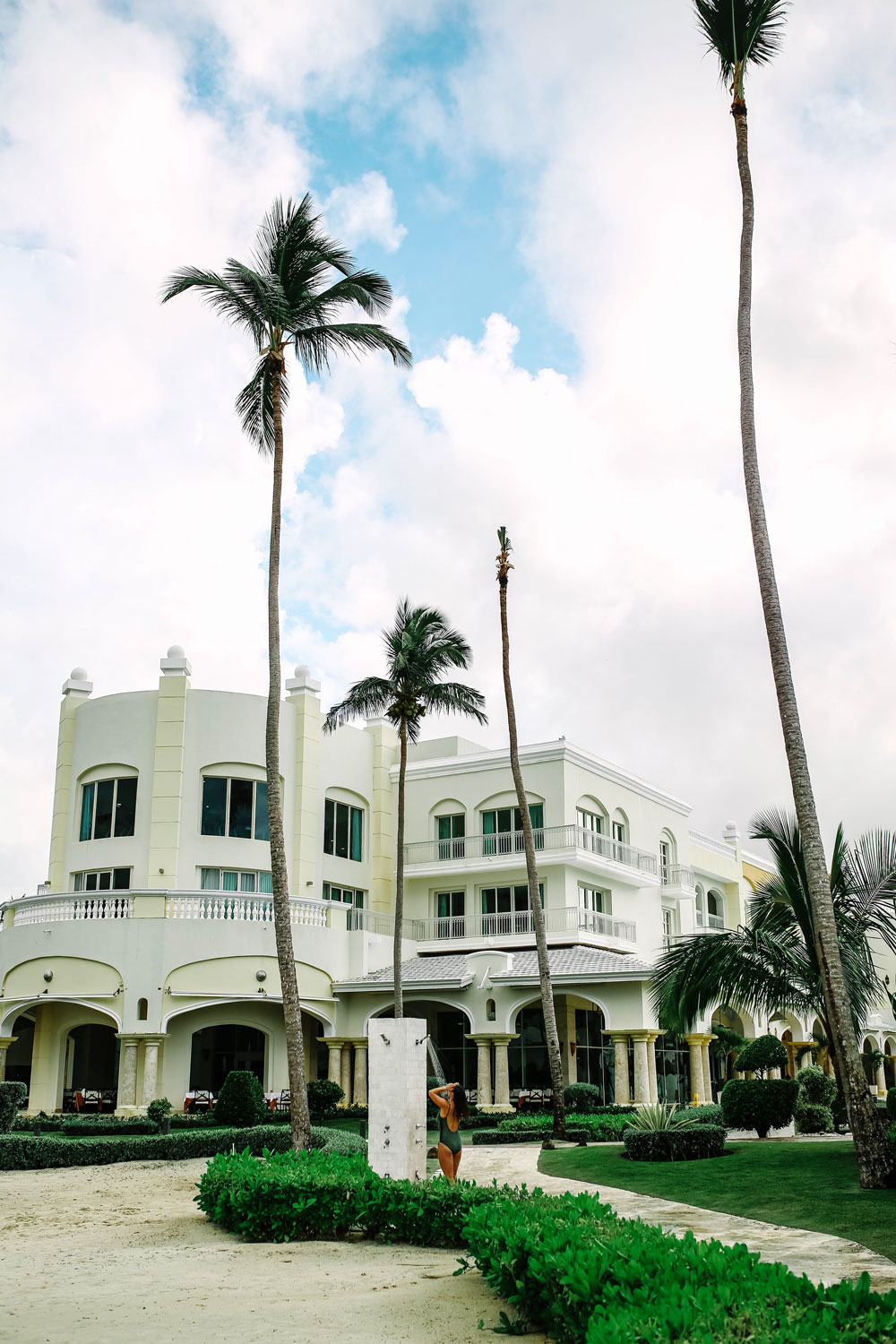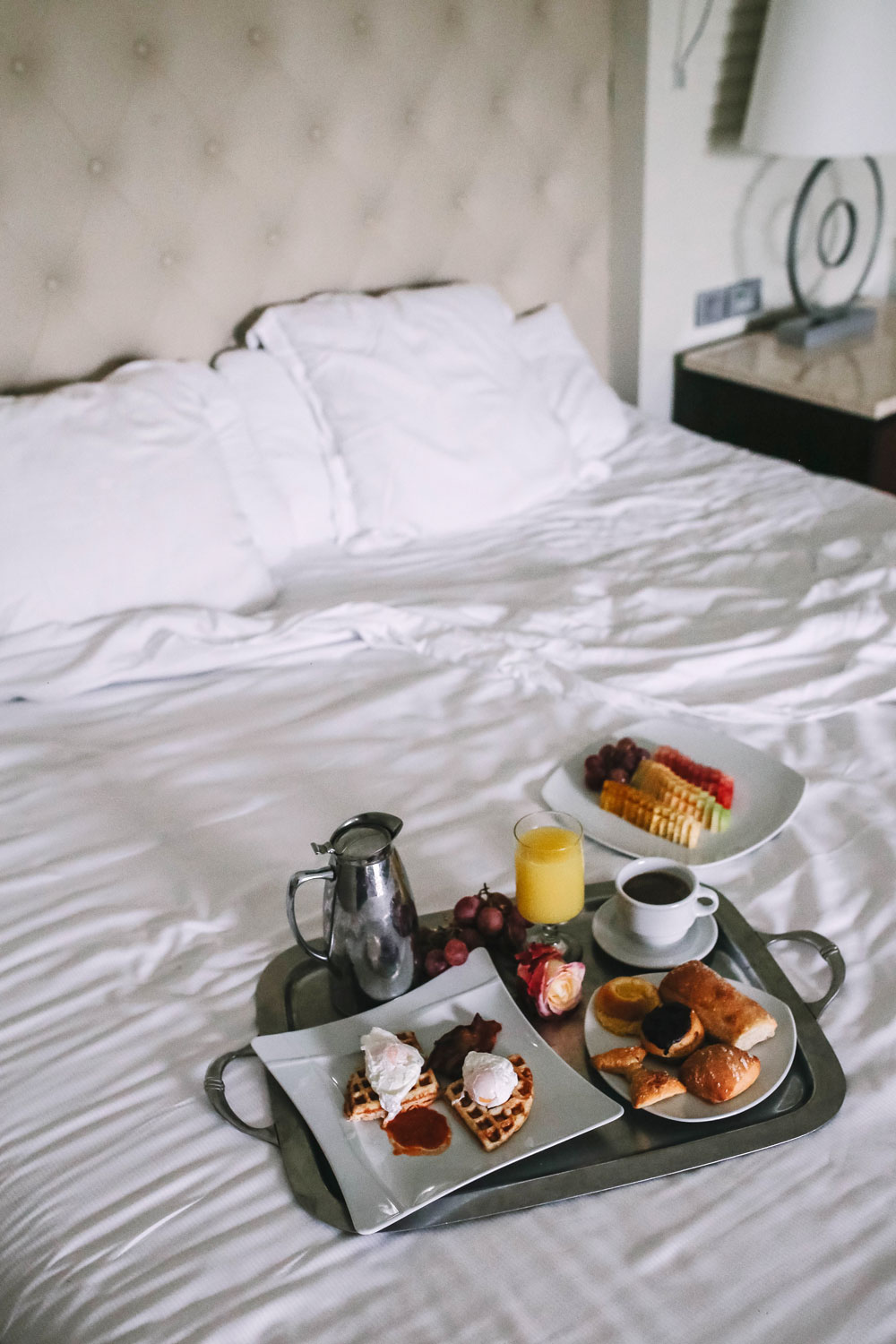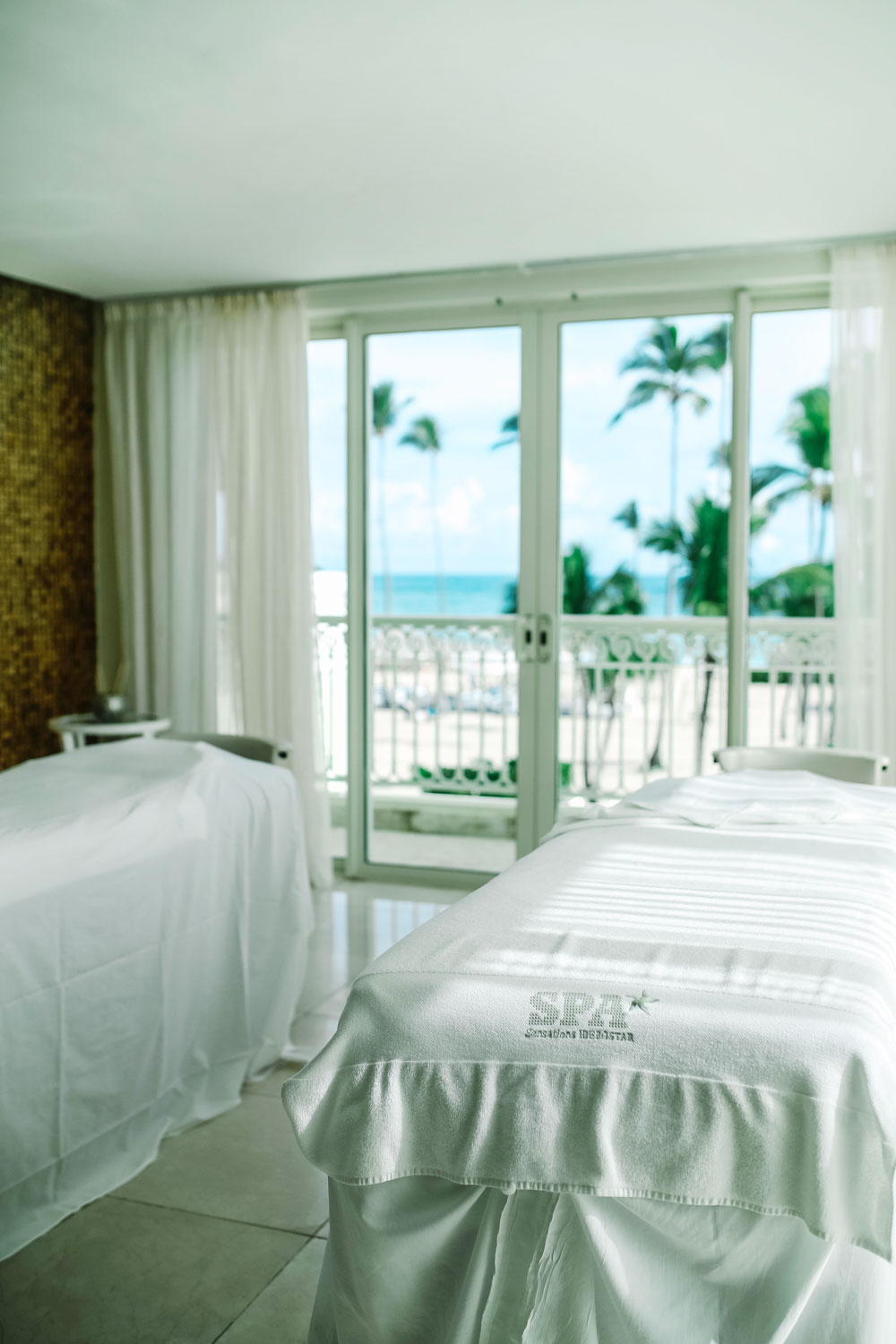 I love love loved the beach here. Gabrielle and I pretty much killed it during a volleyball match (really repping Canada with our Kentucky teammates), unbelievable water to swim in and pristine beaches. I could've relaxed here forever.
---
Secrets Cap Cana Resort & Spa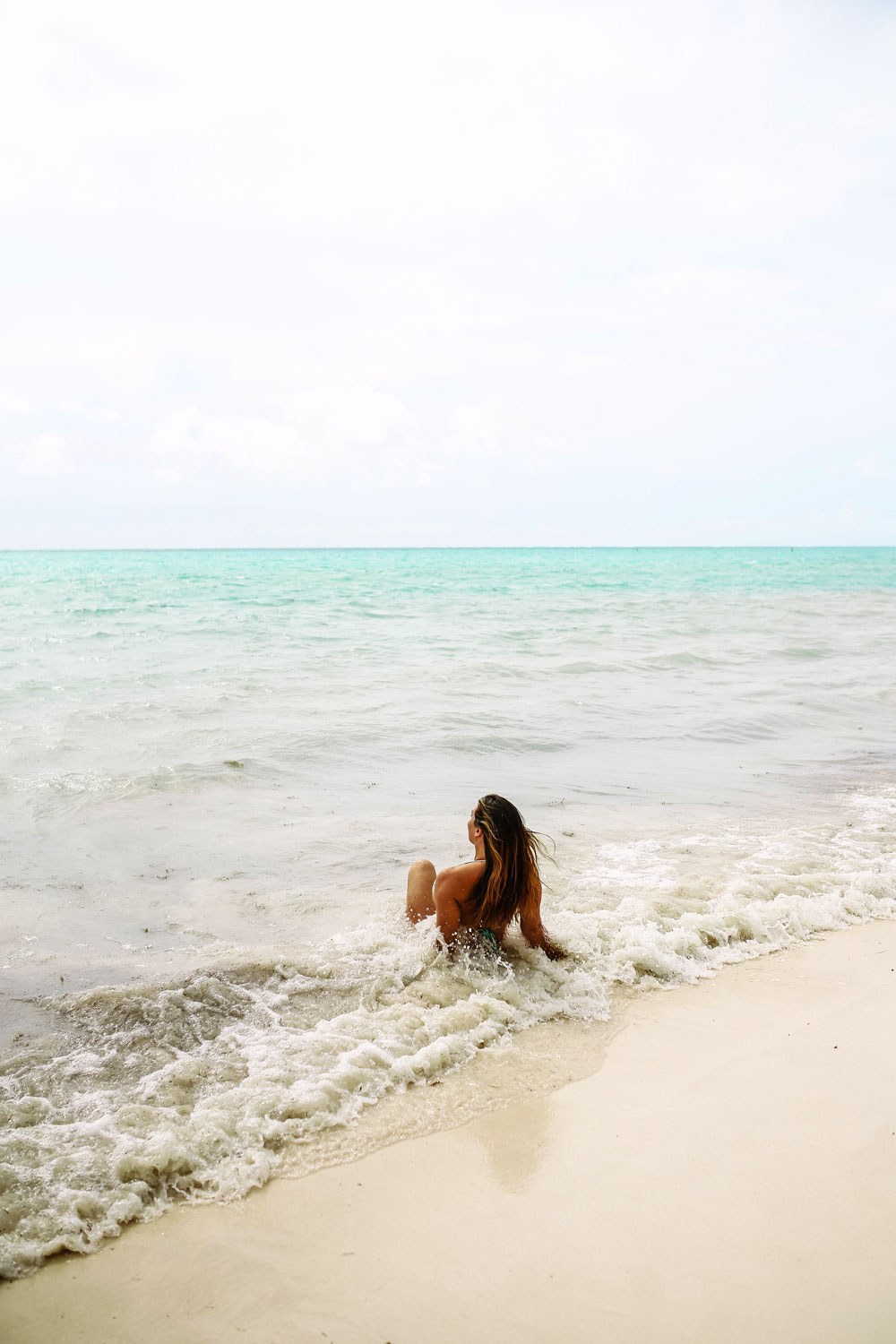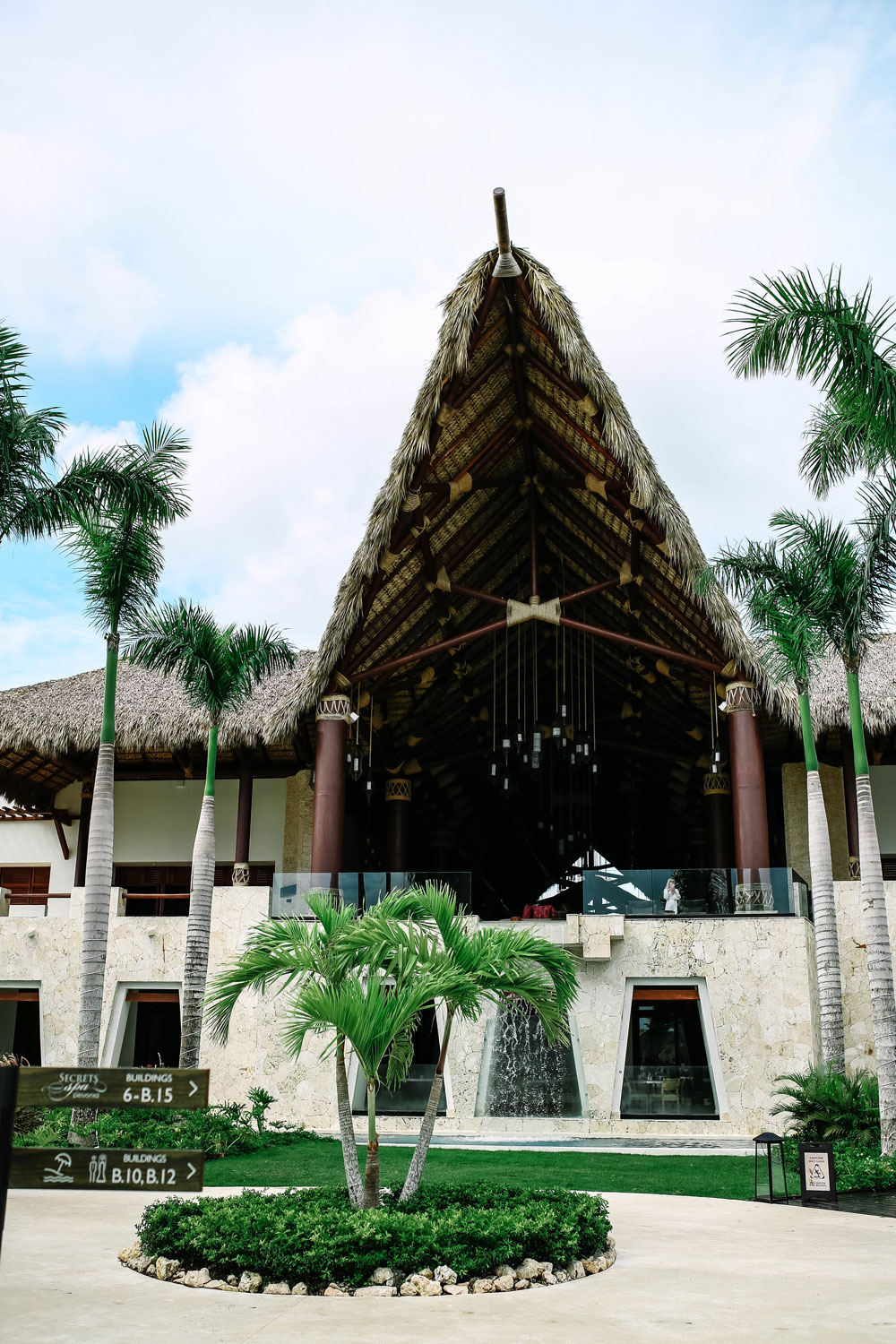 I can't say that I saved the best for last because I honestly loved all the properties equally, but if I had to pick a fave…Secrets Cap Cana Resort & Spa was definitely one that I really connected with! For me, it was a perfect balance of really refined offerings (amazing restaurants, a cafe I hit up way too much, lounges, etc) while also having really stunning natural beaches and laid-back but beautiful pools, including an infinity pool that hangs over the beach!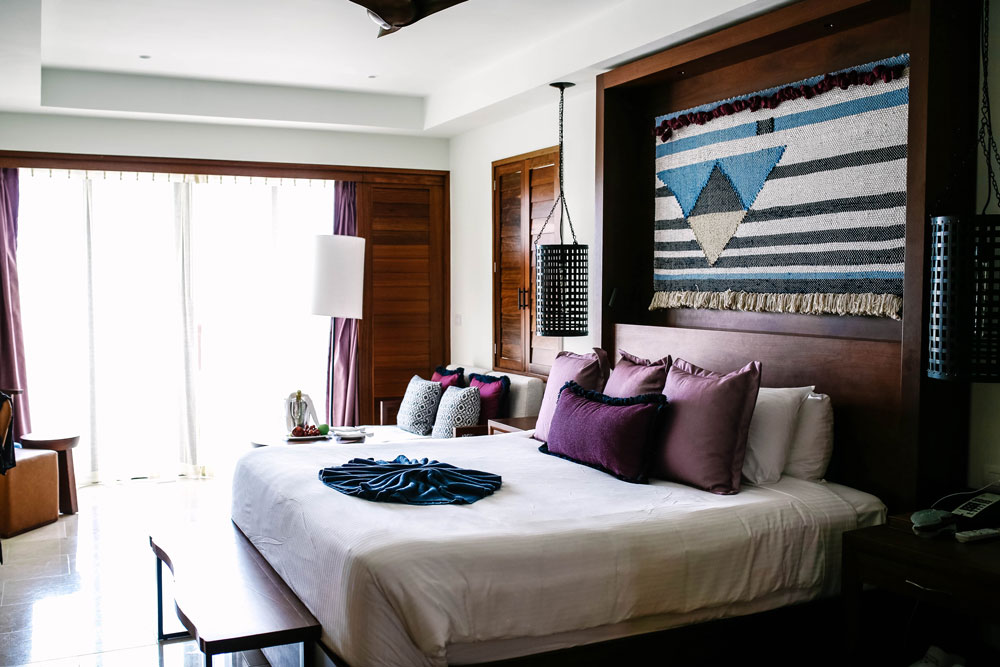 The room was maybe my favourite aspect of the hotel though—the decor was breathtaking, a stunning balance of modern elements with traditional Dominican pieces. Plus, an outdoor bathtub, little lounger and yet again, a stunning bathroom! Clearly have a bathroom fixation. I also loved the gym here—think chlorophyll water on hand, tons of great machines and lots of space! For me, working out while I'm gone isn't an option (with my back things, I have to keep up my strength to support my wonky spine and keep pain at bay) and it's always so massive to me to have an amazing fitness centre!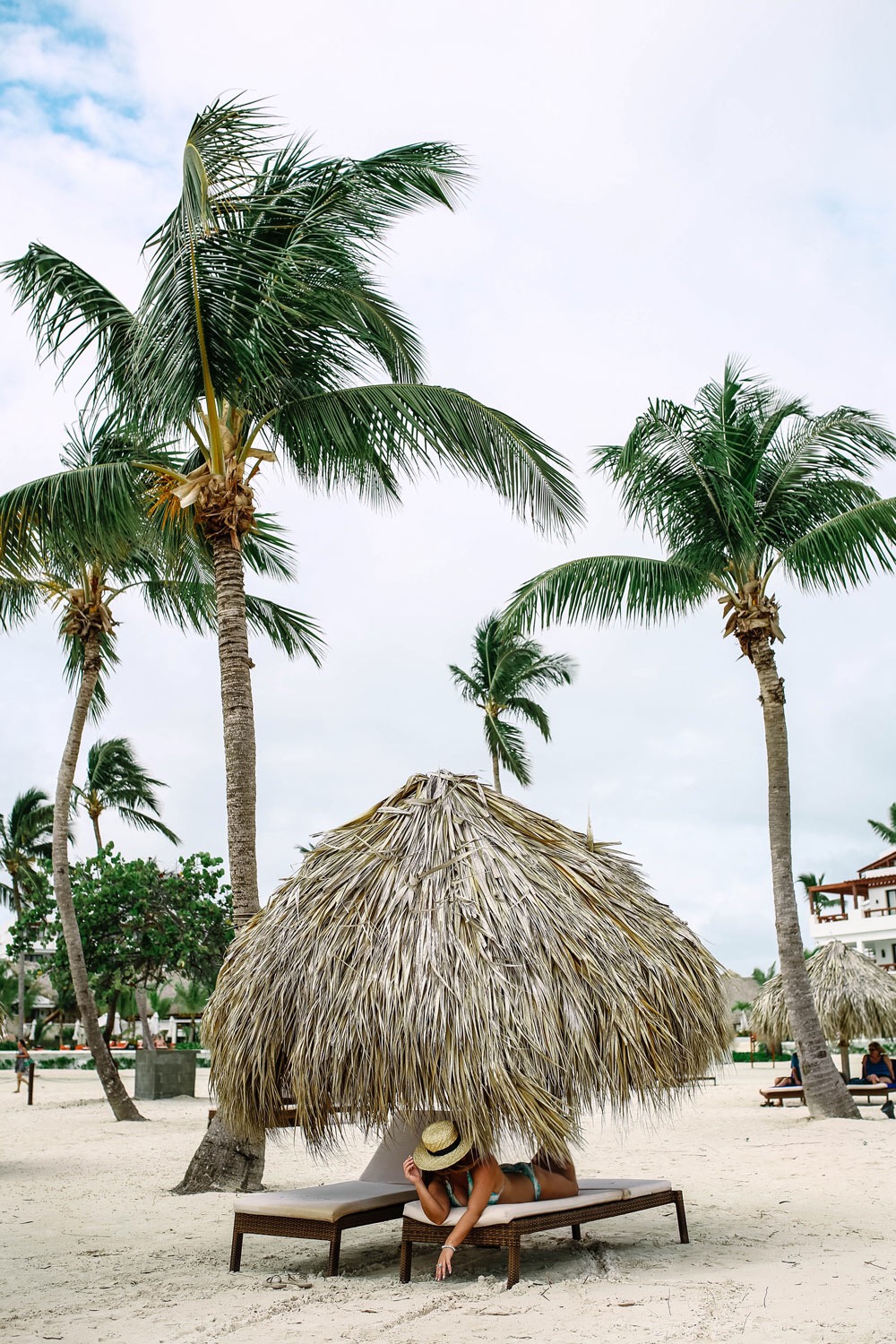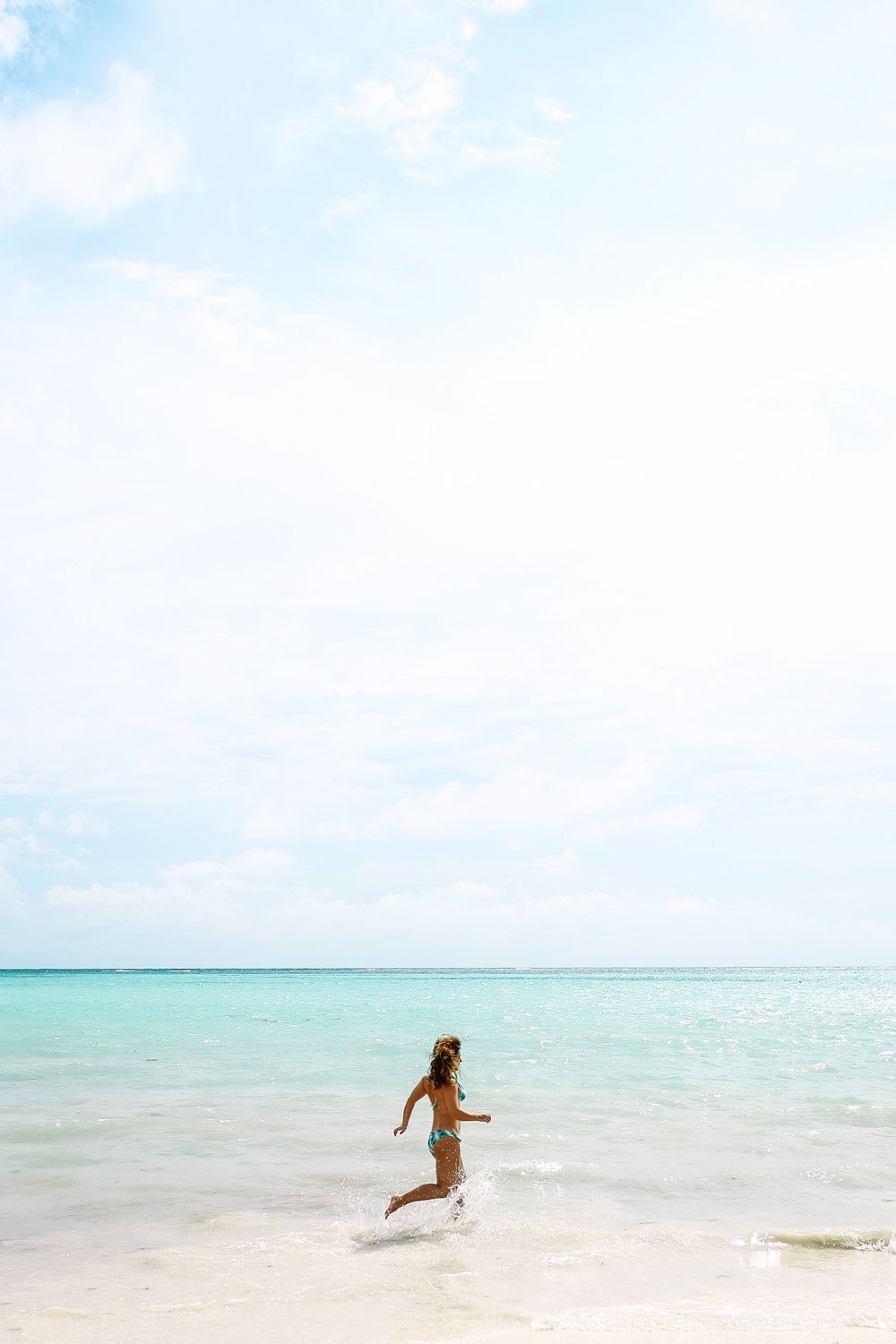 We had such an amazing last couple of days here relaxing on the beach and soaking in the last of our time together—honestly miss all the other bloggers and the Transat ladies so much! Being able to soak in such an amazing place and relax together is definitely the ultimate bonding experience, and I was bookmarking all of these properties for future visits with either Matt or with my girlfriends. All of them actually happened to strike that perfect balance of being totally suitable to a romantic getaway but also each of them had a really fun vibe, perfect for a friends or family trip (especially older families, i.e. my family who are all 24 and older and obsessed with hanging out together pretty much all.the.time).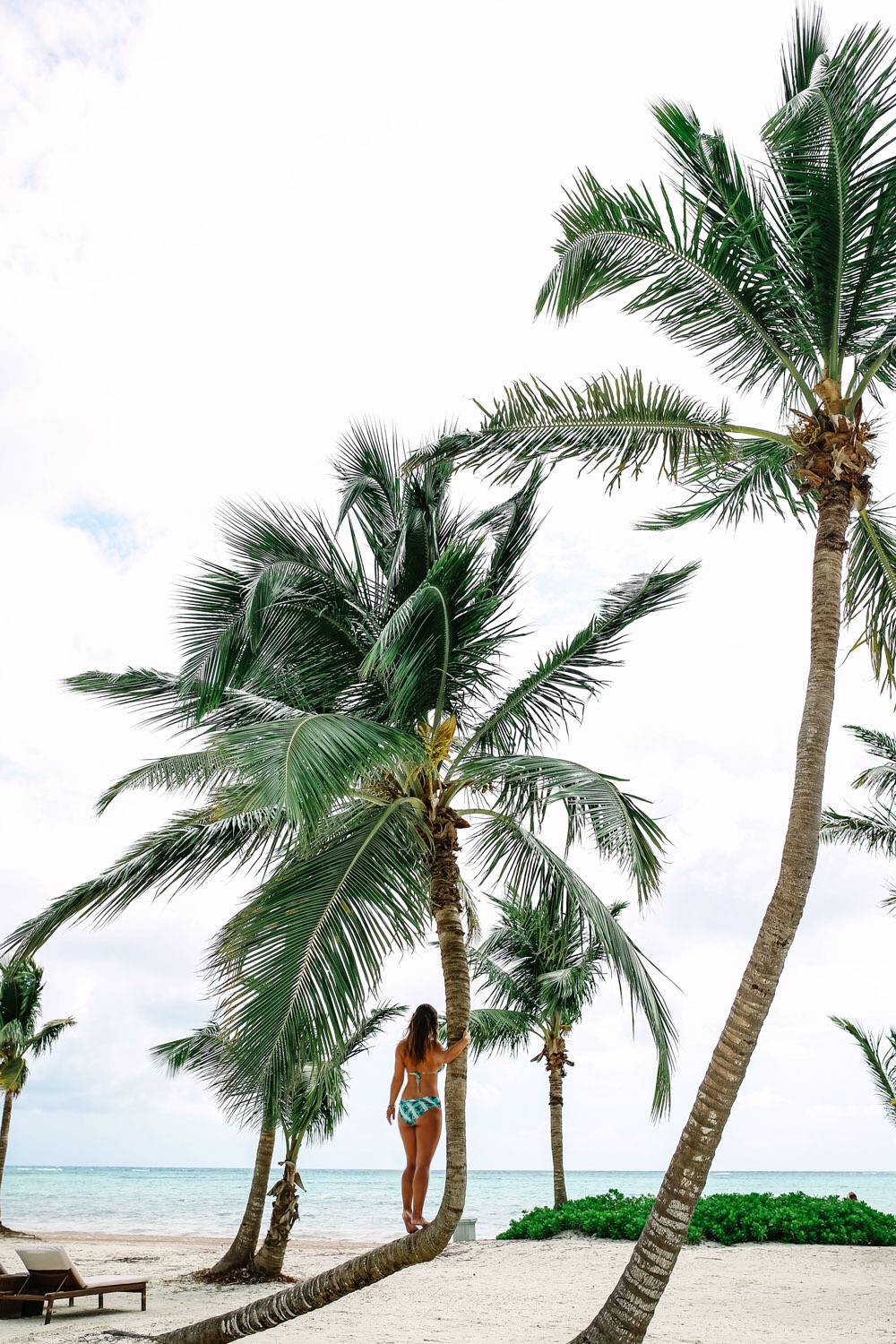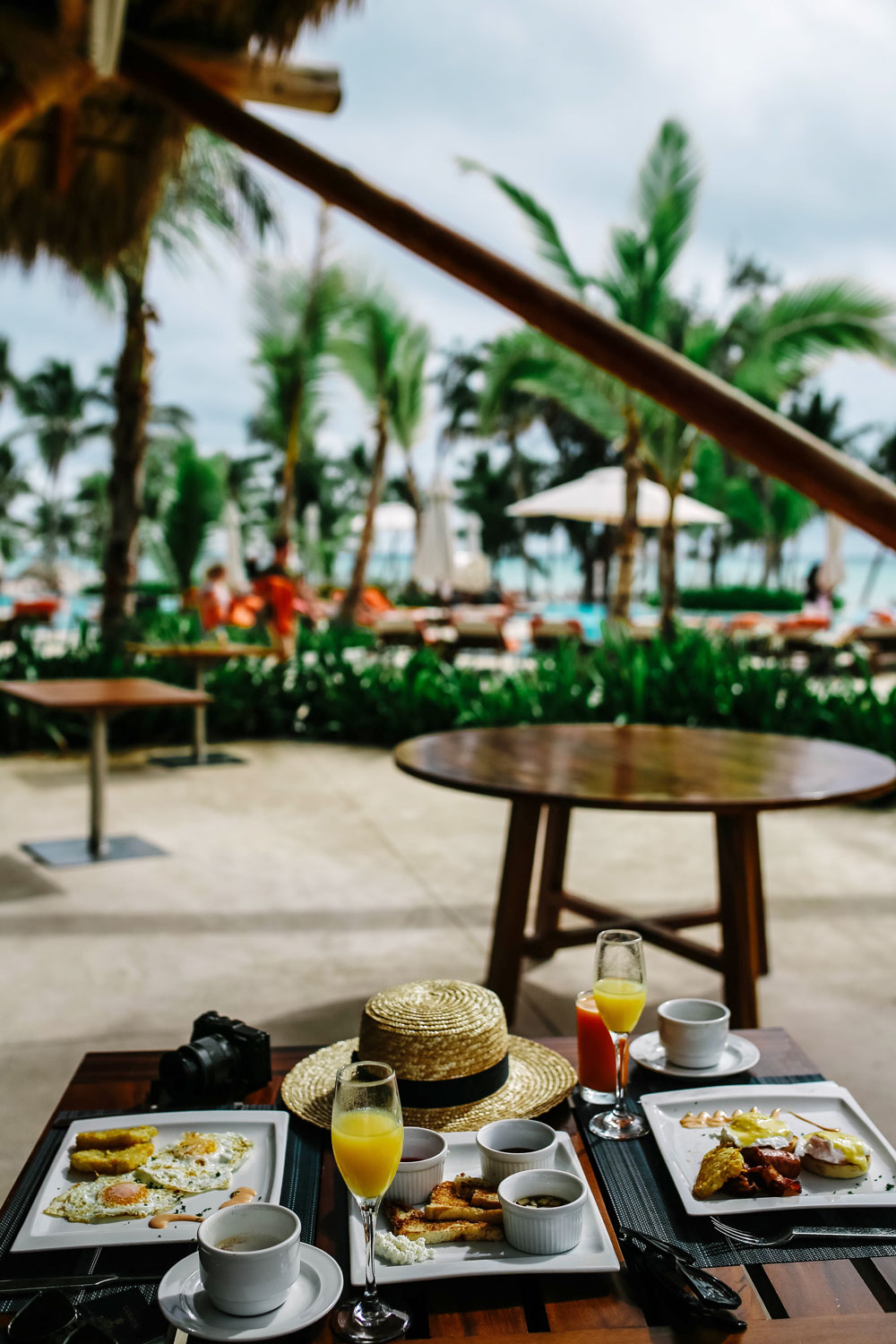 If you book one of these luxury packages with Air Transat, you'll be treated to the same experiences per location and I can't stress enough how amazing it feels to not only get away from the cold, but to be pampered like this—it's just such a great departure from the usual grind of being at home. Especially with the realities of winter really setting in now, this is such a perfect time to get away! Learn more over at airtransat.com!
This post was sponsored by Air Transat but all opinions are my own.