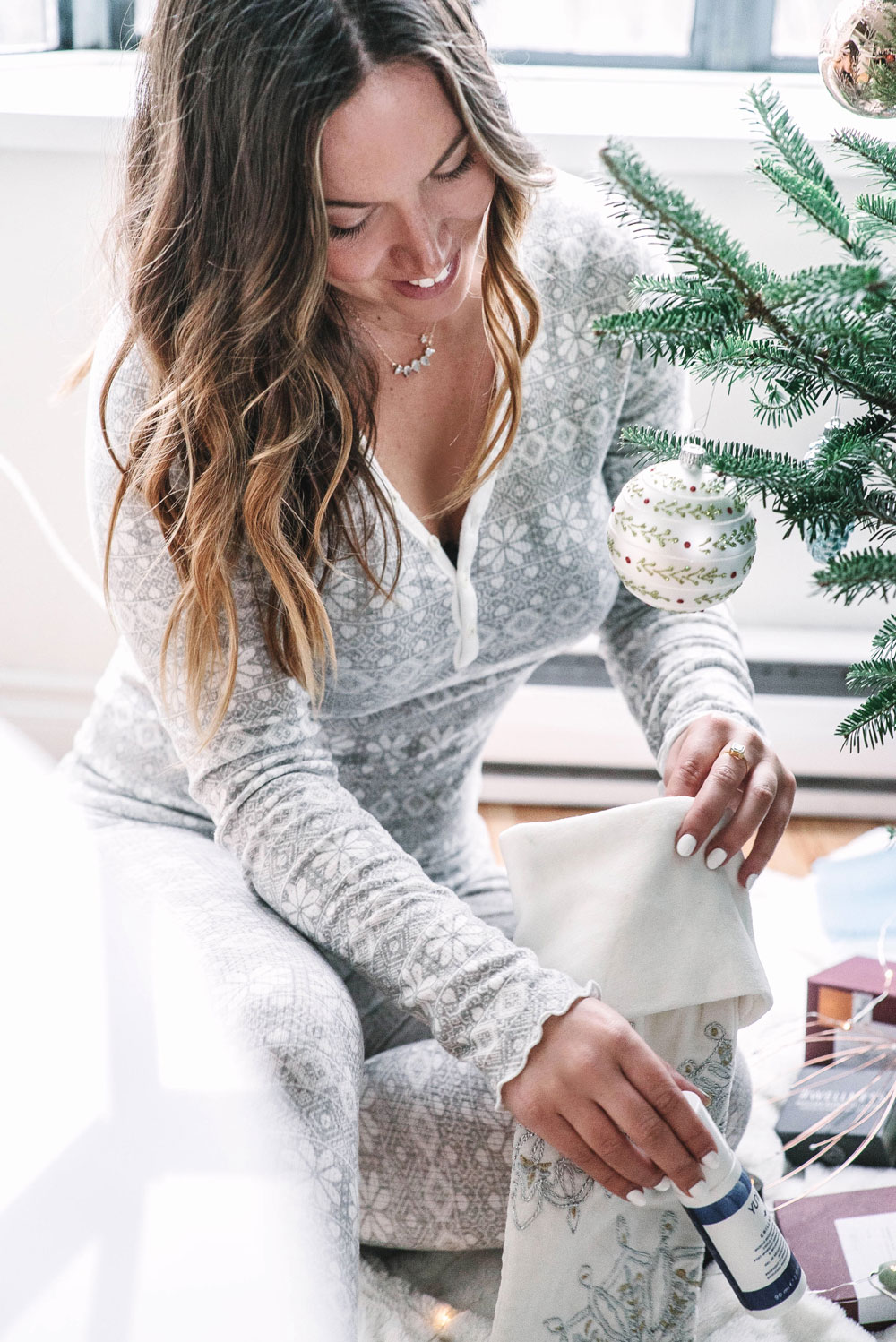 You guys, how is it December 6th already? I feel like December is already flying by—this time of year is always so busy but it feels like it's going even faster this year. Between a heavy work load and an even heavier personal calendar for the remainder of the month, I just keep telling myself January will be my time to catch up a bit and do that reflection I so love. But until then, it's full steam ahead and I honestly wouldn't really have it any other way—this time of year is my favourite and I love just throwing myself fully into it!
One thing that is obviously a huge part of the season is gift giving, whether it's for your family, friends, partner or even a little treat for yourself! I've always been the one to ask for health and wellness gifts for myself (literally for the past ten year, I think it's been some sort of variant of wellness or fitness needs, from a juicer to gym memberships)—I'm just really passionate about taking care of myself as much as possible and I love that leading into the new year, I have something to be excited about that's also really good for me! But this year, I've noticed a real general shift in interest to health and wellness, not only in my inner circle, but even in the response to certain fitness or health posts I've done and in media in general.
Whether it's your friend who's been going all-natural in all her products lately, your mum who's always taken diligent care of their skin, your fitness junkie boyfriend or hardest of all, a Secret Santa or hostess gift situation when you're not quite sure what to get, the following list is all Alex-approved (aka I've tried and tested all of them) but really safe bets in general! So without further ado, here they all are along with a quick descriptor so that you can make sure they're the right fit and pass on the right deets to the lucky recipient this Christmas!

Saje Pocket Farmacy ($60)
The classic Saje essential oil kit, and with good reason—from Peppermint Halo (the most effective tool I have against headaches, and also so good for muscle pain relief!) to my personal fave saviour Pain Release, everyone can use a bit of natural relief in their lives and I have to say, these work better for me than any over-the-counter pill you can get your hands on. One of the safest bets you can get and I love that this gift is as good for men as it is for women! The men in my life are the hardest to shop for and all of them love Saje's oils!
YUNI Chillax Muscle Recovery Gel ($24)
There's so much that I love from YUNI (not to mention the beautiful and thoughtful design they use for their branding) but this one's my fave. I throw it in my gym bag and put this on my back or any other body part I worked out especially hard that day and it helps me so much! Again, such a good female and male friendly gift idea and one that's great for that fitness junkie in your life or someone who's recovering from an injury!

K'Pure Get Closer Deodorant ($14) & Clean Up Dead Sea Mud Masque ($32)
I've literally tried every deodorant out there and K'Pure's Get Closer Deodorant is by far my favourite. I feel like everyone and their mother (literally, my mum said this to me today) are trying to go natural with their deodorants and it's really hard to find the right one—you either are sacrificing longevity for a nice texture or putting your armpits through hell to get a long-lasting scent (or if you're going unscented, scent prevention!). This is the best balance I've found so far, and I personally love a nice scent so am all over their Vanilla & Lavender. The texture is more mousse-like rather than tacky (which really hurts my sensitive skin!), but rather than sprays that don't really last, this one really lasts all day! I also love the idea of pairing it with K'Pure's Clean Up Dead Sea Masque which not only is great in more traditional mask areas (like cleaning up your pores on your face!) but for your armpits as well—it's really important to transition into natural deodorants by detoxing what was a chemical-heavy zone of your body first by balancing out the pH of the skin there and pulling out toxins! If you get them together, tell your lucky recipient to use the mask 1-3 times a week!

Jade Stone Roller ($10-30)
Jade facial rollers have been around for centuries (literally, remains have been found dating back to 7th century China!) but there has been a serious resurgence of their popularity lately. Not only is jade considered to have tremendous healing and protective qualities, but the roller is just straight up the most cooling and soothing thing to do after applying your lotion ever (even without refrigeration—the stone just holds a cool temperature!). I hold a lot of tension in my jaw so love to use this at the end of the day to just let go of all that muscular stress, and I've really noticed a reduction in puffiness since I've started using mine regularly! I wasn't sure about whether or not I'd love it so decided to ease in by getting this $10 steal from Amazon, but there are some really beautiful options like this beauty that has two different sides on each end for getting into different dips and curves of your face!

Saje Diffuser Essential Oil Collection ($35-$55) & Aromagem Diffuser ($80)
This is literally the gift that anyone could use. Diffusers not only create an amazing cloud of heavenly scent in whatever space they're in, but they also help you fully apply the powers of aromatherapy (think a refreshing scent for a work zone or a calming blend for wind-down time in your bedroom) and the negative ions they emit are thought to combat the positive ions our appliances and phones produce. I love picking out an essential oil collection I think my recipient will especially love (for instance, there's a great Les Femmes collection that would be amazing for one of my girlfriends!) but you can also shop all the oils individually.
Supracor Bath Mitt ($24)
I used to be a dry brushing fanatic until I met the Supracor Bath Mitt—it's not only amazing at getting the most out of your bath gels (and the best travel companion, dries super quickly!) but it is the best exfoliating product ever! I use this in the shower to double-duty for my dry brushing, lymphatic drainage and also just to really lather up my product and get more bang for my buck when it comes to my bath products!

Saje The Headache Duo ($23)
Saved Matt's fave for the last one! This duo has become a nightly thing for us now—the tried-and-true Peppermint Halo is the first thing to go on to loosen up any tension or alleviate any headache and then the most incredible head massager ever comes into play! It's the most soothing thing ever and such a nice way to unwind. I feel like everyone could use this in their life!
Saje All is Calm Candle ($14)
The ultimate hostess, co-worker or Secret Santa gift! I know, I know—lots of Saje in this guide. But they're honestly one of my fave brands and their products are always such a hit—I swear I've turned on not only my whole family, but Matt's family and a ton of my friends on to Saje! I am a big believer that candles are not only necessary little luxuries because of their scents, but because of the way they help us relax. This chic candle is not only beautiful but the scent is a major people-pleaser and geared towards relaxation with its lavender and chamomile blend.
Again, I've used all of these products a ton and absolutely love them! Whether it's for a loved one, a hostess gift or even just to treat yourself a bit, they are absolute musts for this holiday season!