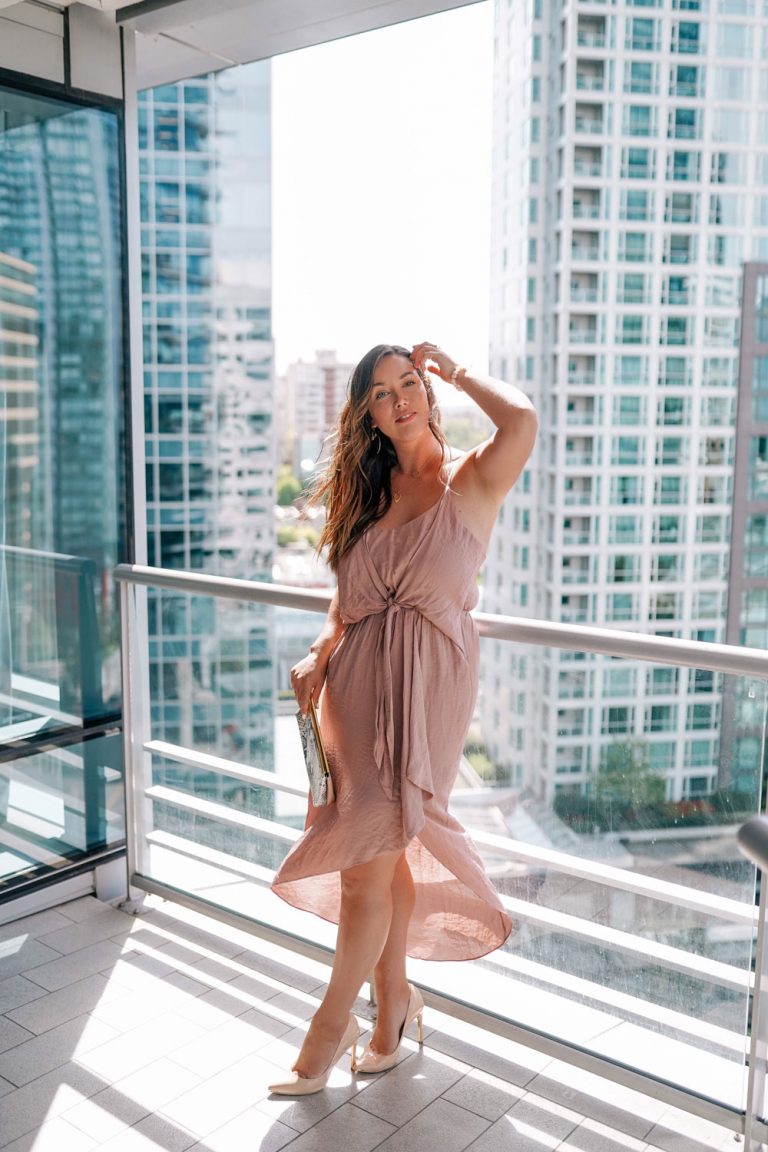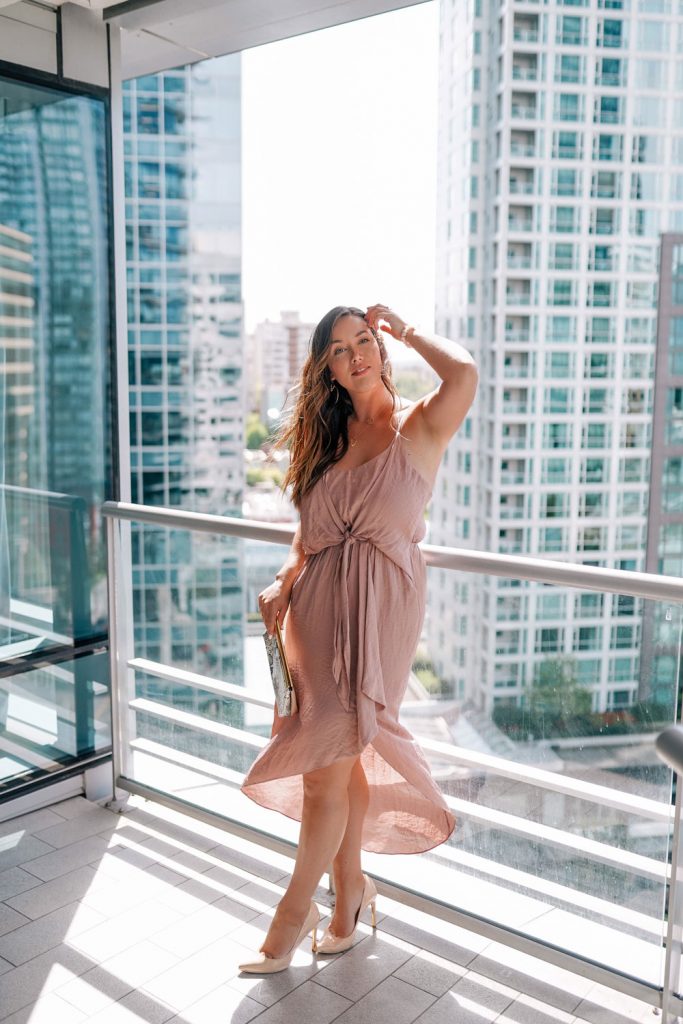 Sorry for such a late-in-the-week post guys! If you saw on IG Stories, I had a freak accident of sorts this past Sunday—walking from our rooftop deck back down the stairs into our apartment, somehow my left foot (which was in the slipperiest slippers known to man, so dumb of me) shot out from underneath me as I took the big step down to reach the first step at the top of our staircase, sending me flying in the air and crashing flat on my back about halfway down the staircase. I then pummelled my way down the rest of the staircase until I landed in a heap on the ground. In shock (as this had all happened in a microsecond) and thinking I had broken something as a lot of my body had just gone numb, I crawled over to my rug in my living room and felt around—nothing was broken but a lot very battered, and I was immediately pretty concerned about my head and my back which had both taken the majority of the impact. I've been dealing with the aftermath since then, which has involved a mild concussion, really bad whiplash through my shoulders and neck, the gnarliest bruise/pain in my low right back and butt, some nasty cuts, bruises and rug burns on my forearms and all in all just being kind of mad that I didn't at least beat myself up doing something cool—nope, just walking down the same flight of stairs I've done, like, 20 times a day for the past 6 years. Hard to believe doing something so mundane resulted in so much pain, this is really the worst accident-variety injury I've ever had!
Anyway, other than being beat up, I was having a lot of concussive issues earlier this week that made it hard to be on my computer for too much time, hence the later post! Posts may be a little slower rolling out for the next week or so as well as I continue to heal but hoping to be 100% again soon. Also, worth noting that I just saw my physio today and she mentioned that this is surprisingly some of the most common types of injuries—people fall off ladders, take a funny step off a curb, overload themselves carrying things down the stairs, etc. I'm not one to usually say this but…be careful! Anyway, let's talk about something not so boring & annoying: weddings! While Matt and I have decided not to get married, that hasn't stopped me from thoroughly enjoying attending them. Food, wine, dancing, friends and (usually) celebrating two people I love? I'm down!
What does cause me a bit of a headache sometimes (speaking of head injuries, ba dum tiiiiiissssshhhh) is sorting out the outfit beforehand—wedding style is a whole different breed, where you not only want to look great but you also don't want to take attention away from the bride, you need to be appropriate, you need to pick something suitable to the venue, etc, etc. I'm breaking down 3 different weddings with 3 different looks over on IGTV later tonight so stay tuned for the other 2 looks in the mix as well, but I wanted to highlight this romantic blush look because it really encapsulates the safest go-to's that I always rely on for weddings. They are…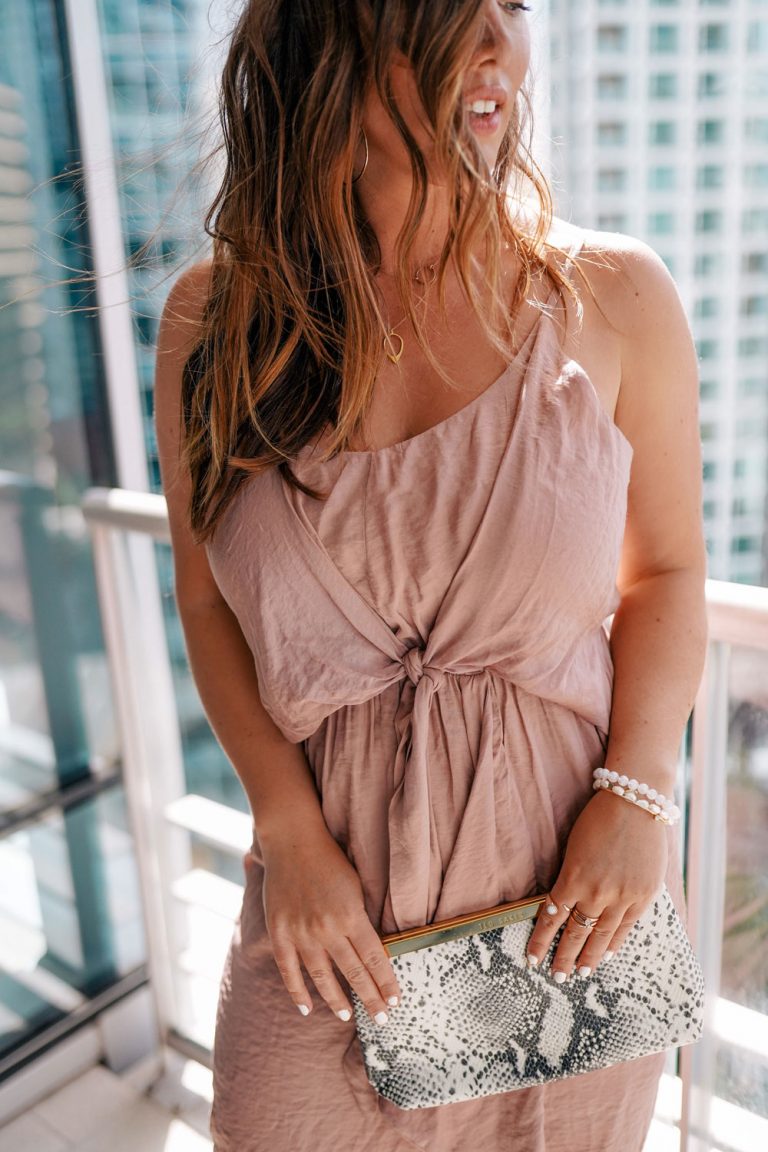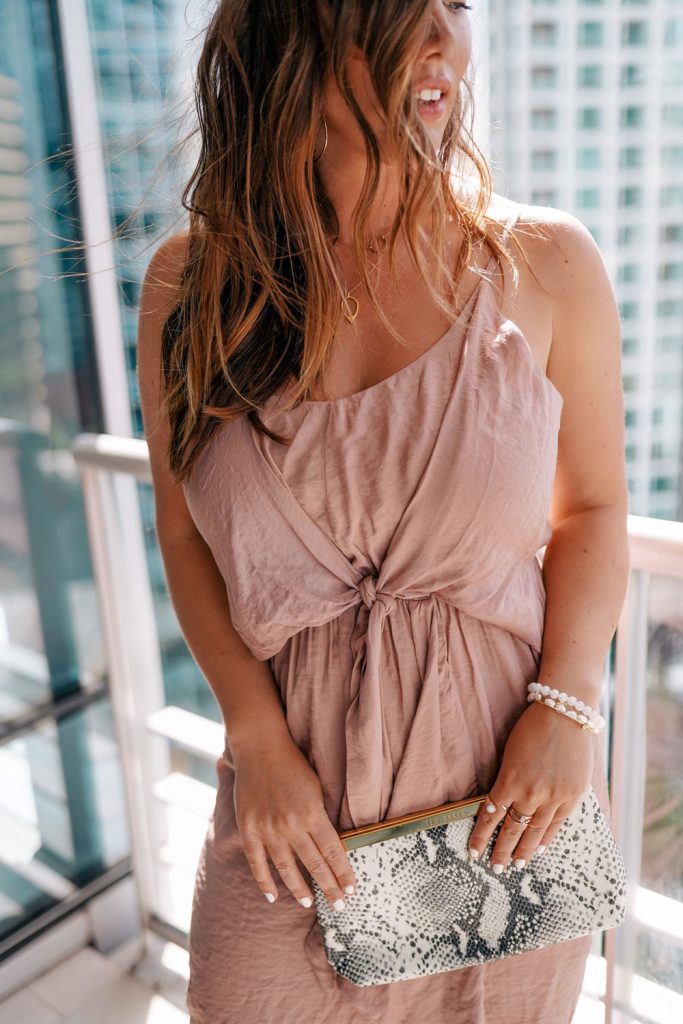 A Flowy Dress That Hits Past the Knees
If I'm concerned about looking appropriate, if I'm not sure how much skin I should show, etc, etc, this length of a dress is always safe. Being someone who has big bazungas too, having something not too body-con ensures that nothing is on display too much either. You can literally find a dress like this in any colour, any print and it'll do the trick, though since white is actually my favourite shade to wear and that's a no-no, blush is something I often rely on because it's still romantic and airier without being a potential faux pas. This dress is super similar to the one I have on here and comes in a ton of different colours too!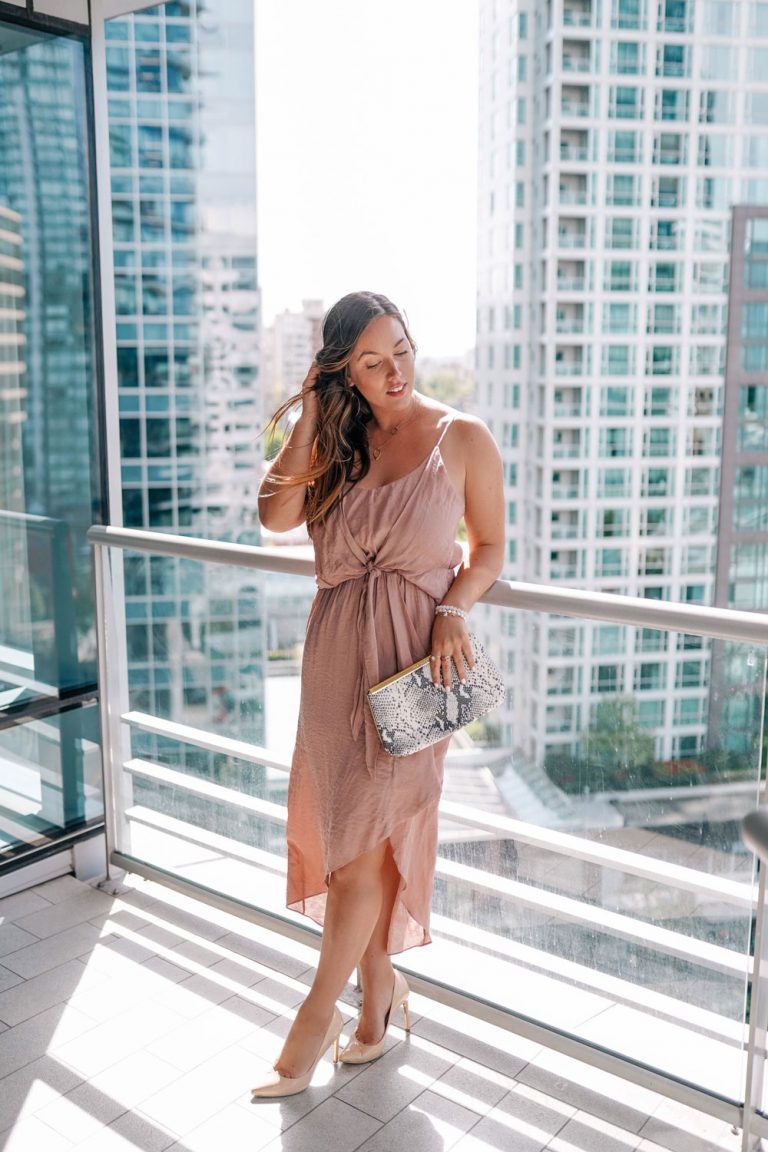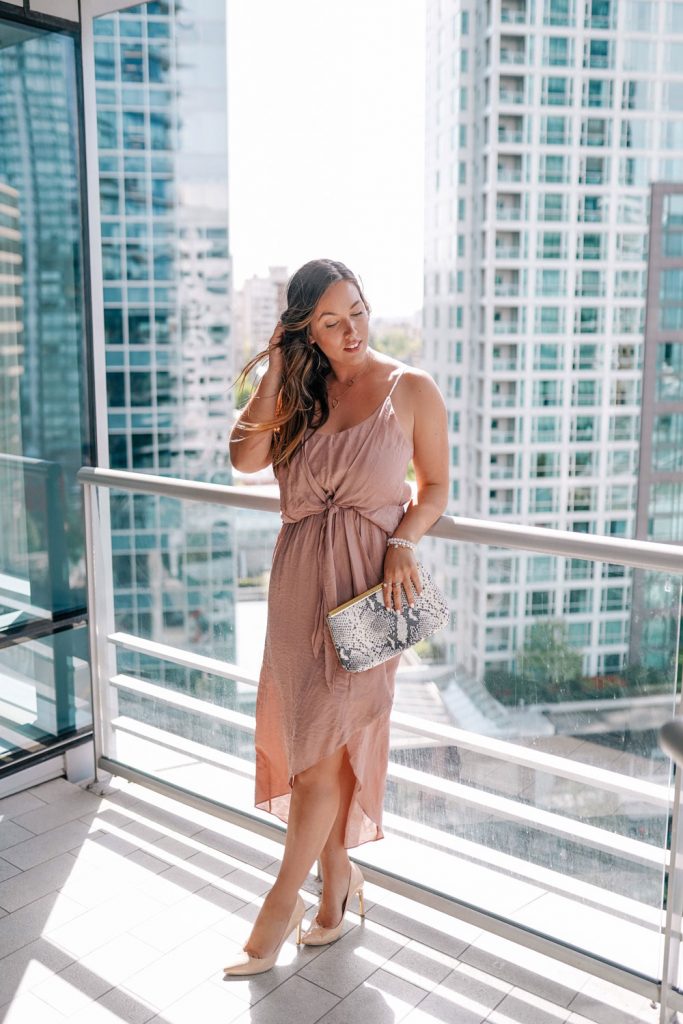 Nude Pumps For the Win
A comfy pair of nude pumps will not only work with any dress (key for when I'm traveling and have a last-minute change of heart re: the dress), but if you find a pair that are also patent, they're unbelievably easy to clean in the event of inclement weather or mucky grounds. Finally, they are leg-lengtheners, which I'm always in need of! They also will work at any venue and are formal enough without being too over-the-top for something more casual. This pair of Sam Edelman's (which are always comfy) is a good price at $150 and super cute.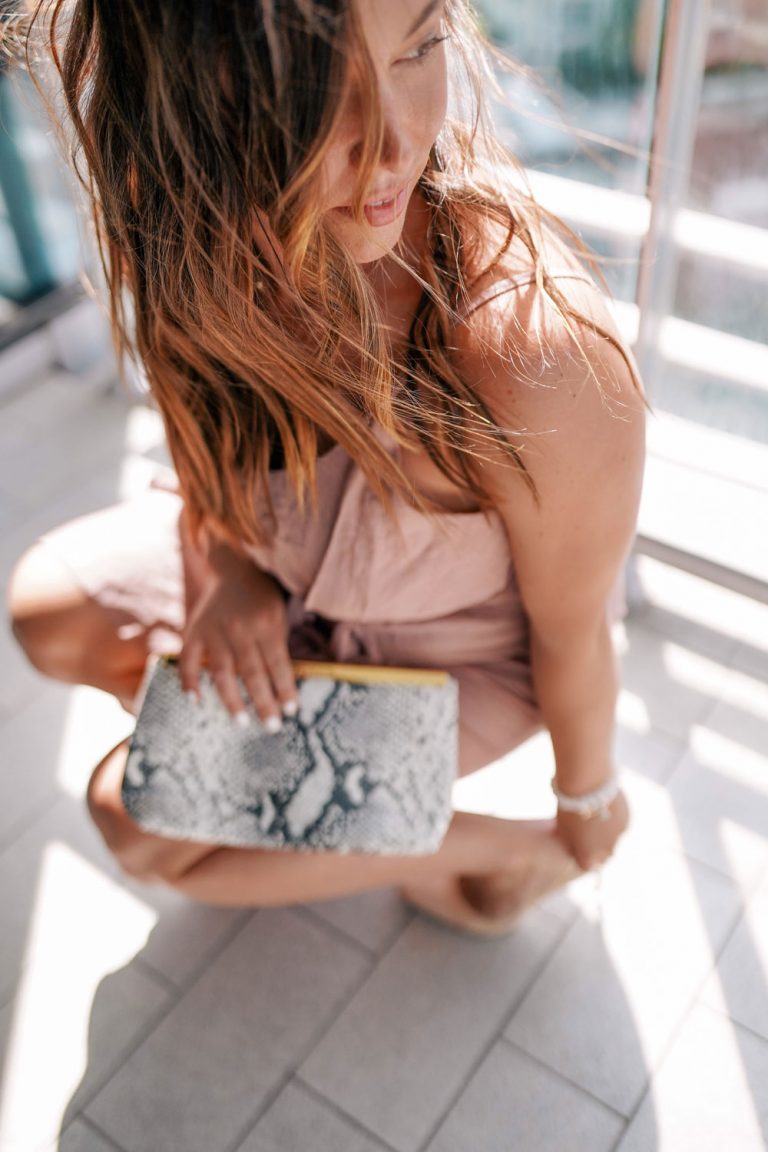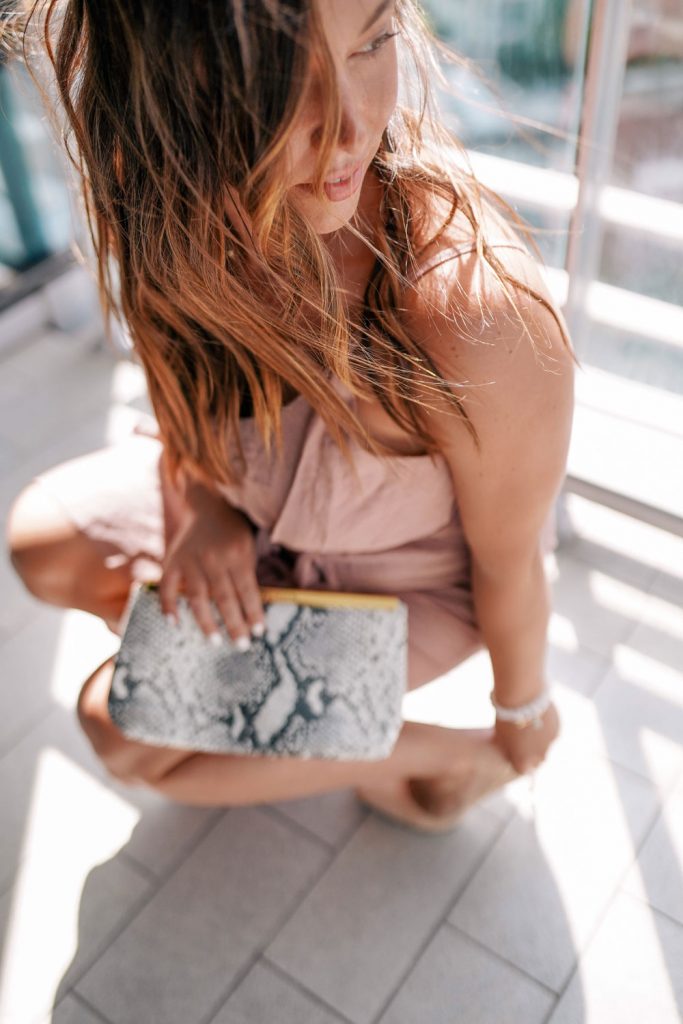 In a Clutch
I don't ever wear clutches except for formal events and weddings, and since I go to very few of the former it's pretty much just weddings. I love adding in a little print (like snakeskin) here and there's enough room to fit all your wedding essentials: Advil, bandaids, lipstick, powder, wallet and extra bobby pins. I particularly love this one from Ted Baker because it has a chain strap that you can tuck into the clutch but if you want to go hands-free (because you're famished/dehydrated and desperately need bubbles and a canapé) you can whip out the strap.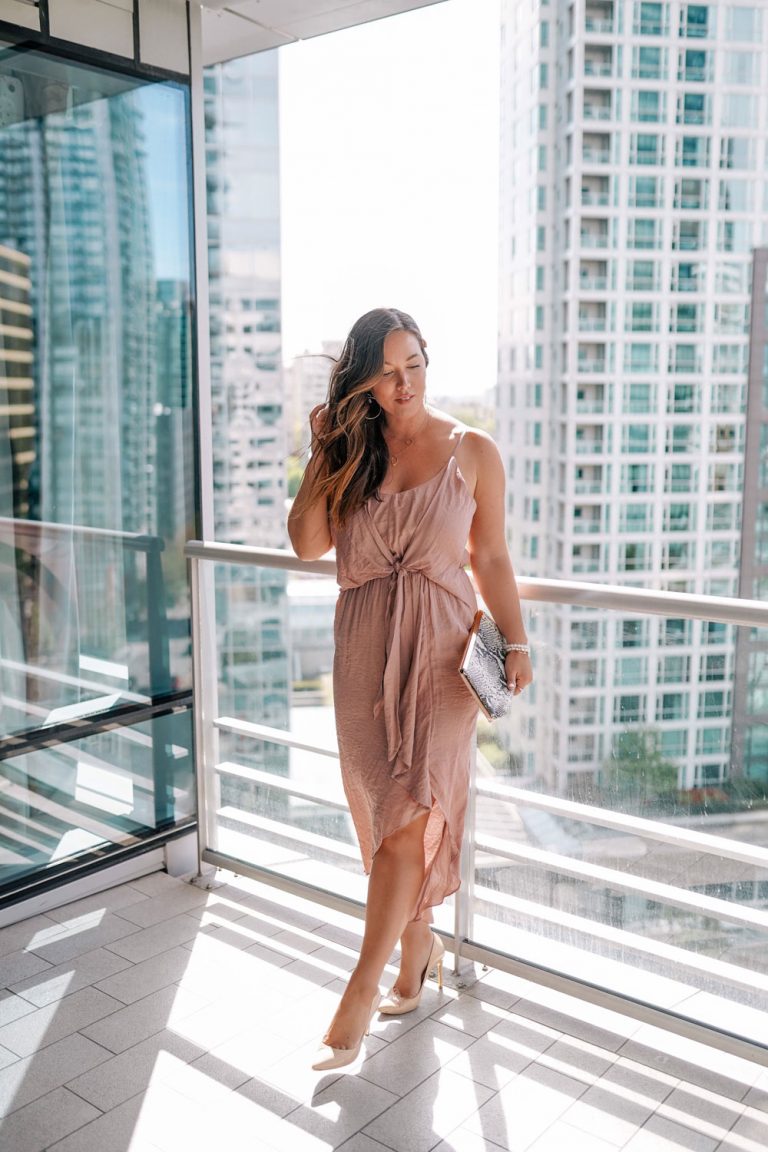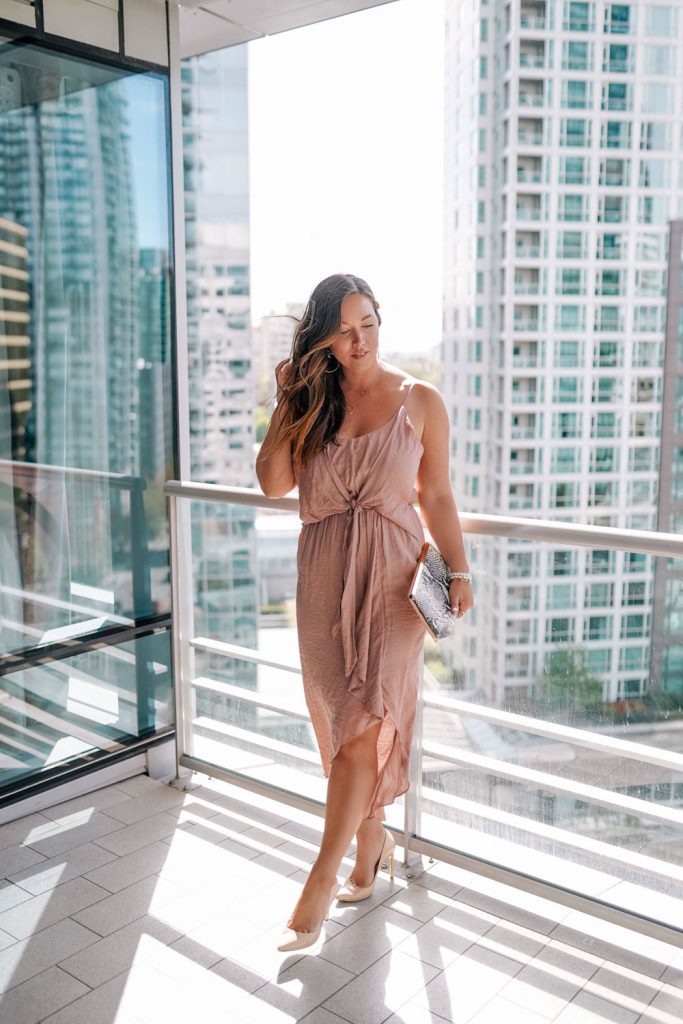 Rely on these three no-fail essentials and you will never go wrong with wedding style! If you're curious, I have more wedding style stories here: a formal wedding look, a garden wedding look, three no-heat wedding hairstyles, and the floral wedding look. I also wanted to thank the Shangri-La Vancouver for such a gorgeous location to shoot this look in – I can't wait to share more of the space we were in and to highlight this local hotel (as I always get questions asking for Vancouver hotel tips!).
SHOP THE LOOK