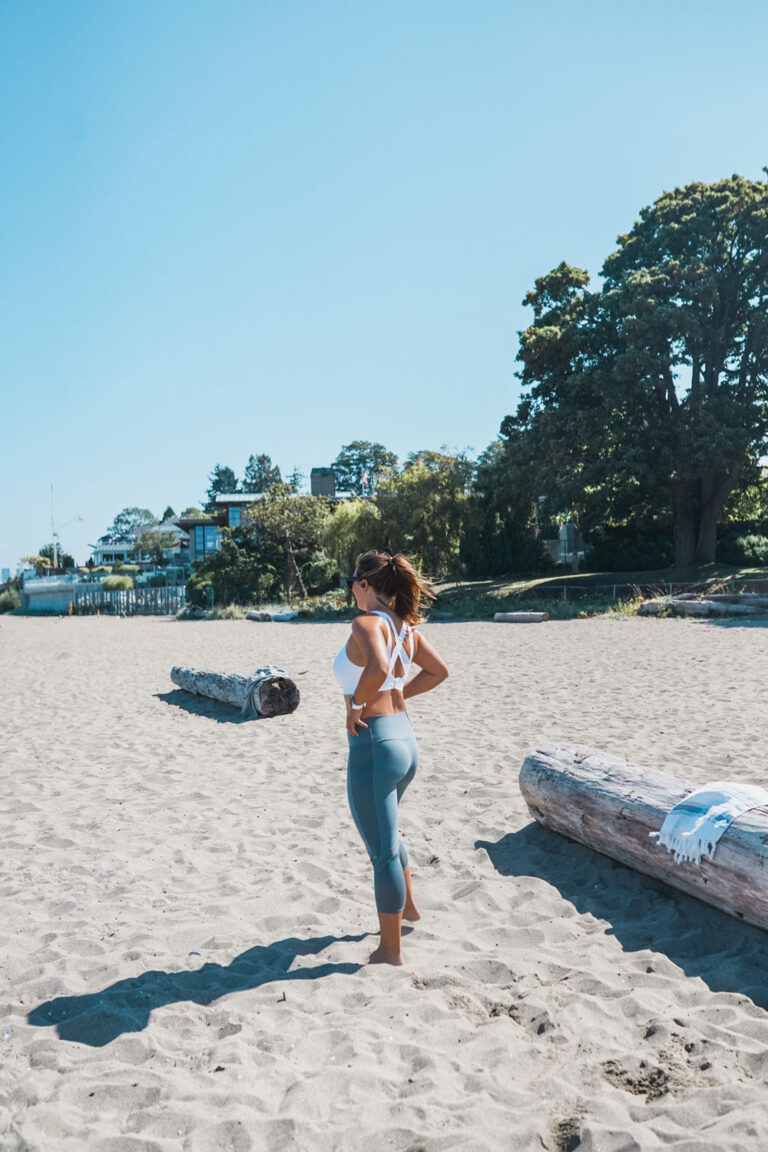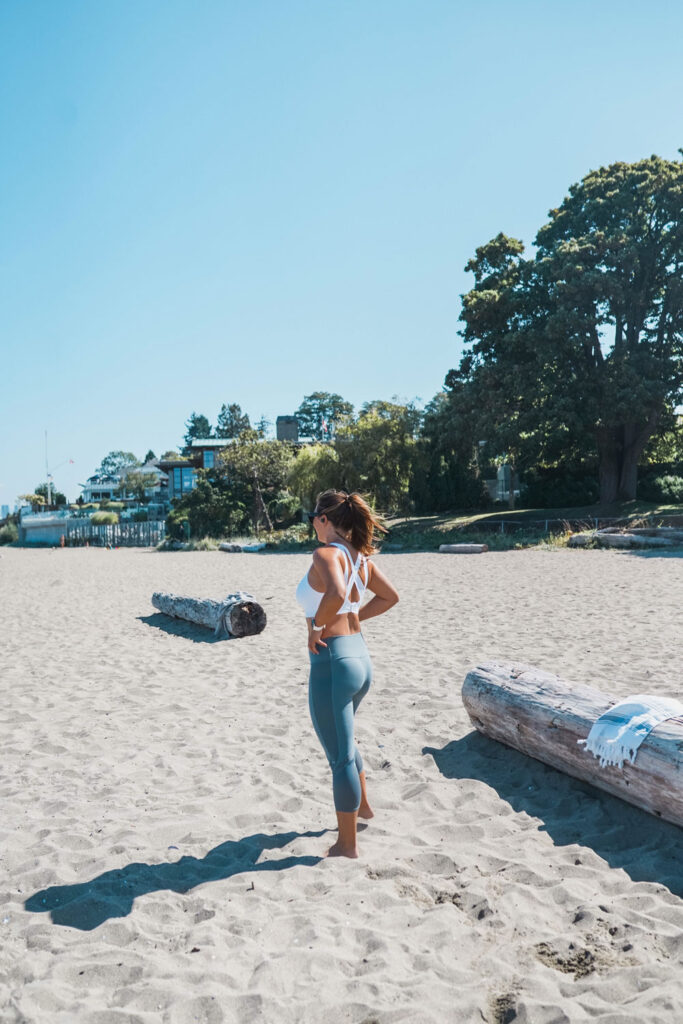 It's hard to believe but we're officially entering September! I, for one, have no idea where the summer went and am still trying to do all the summer things, but despite not wanting summer to end yet, there is something about this time of year that still after all those years brings about those "back to school" vibes. Since I'm no longer in uni, the excitement of a new school term has been replaced with the anticipation of a new year in a sense. I like to think of September as the start of something similarly to Jan 1st, a time when you get those new clothes (for the school year or if you're anything like me, just using the back-to-school vibes to excuse a big shopping haul), set new goals and have a little reset after a summer of fun before diving into fall.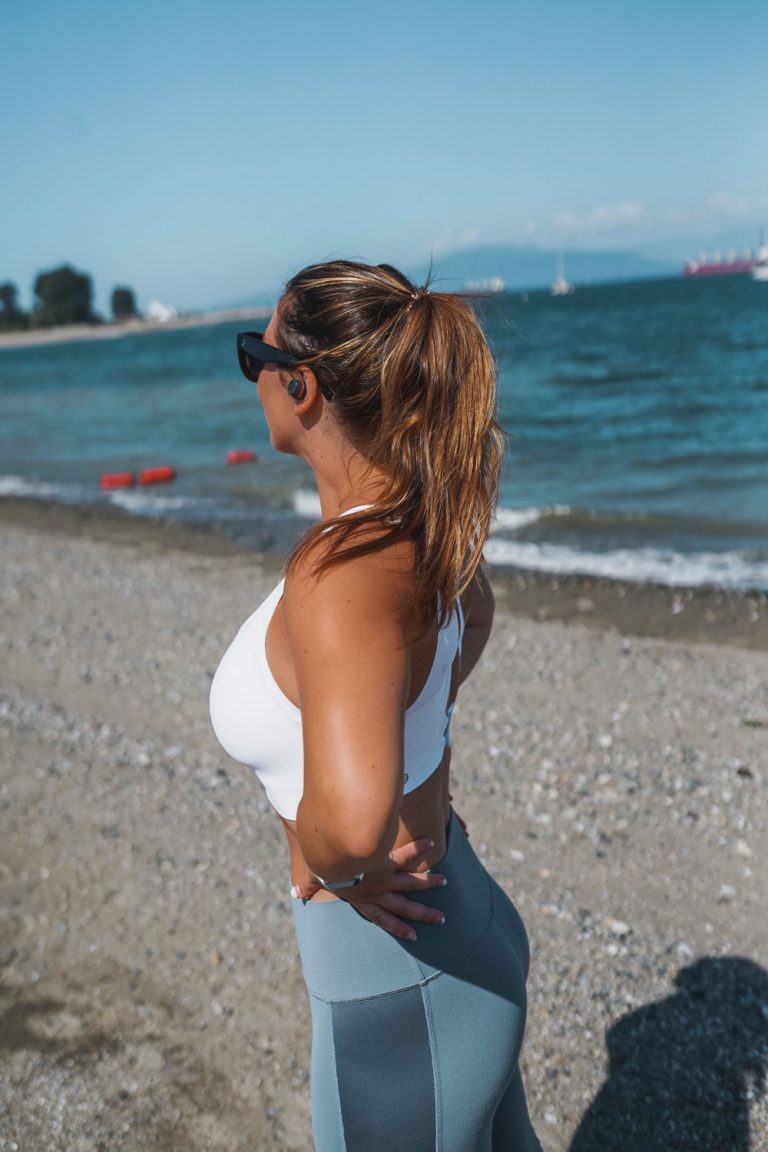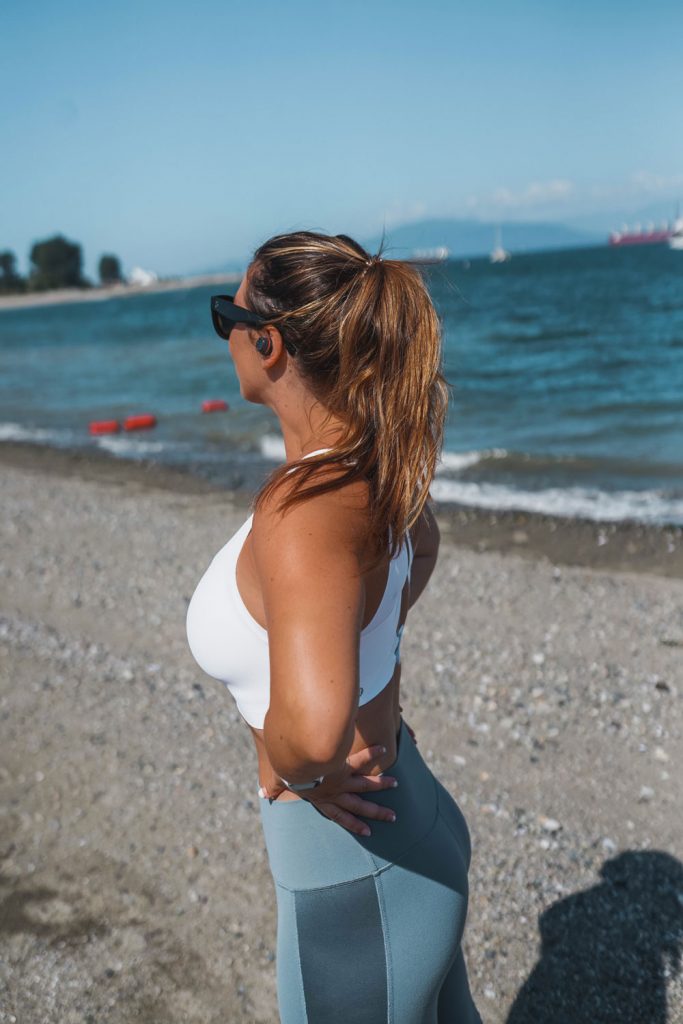 Personally, fitness is something that factors into these general back-to-it vibes a lot for me, particularly because while this time of year means back-to-school for a lot of people, this time of year usually means an uptick in travel for me. I tend to travel pretty solidly September through November, and that increase in sitting time and the general toll that travel takes on your body coupled with darker and shorter days (which consequently means less playing outside in the sun) means that I really like to reaffirm and fine-tune my fitness goals and focuses!
With that, I'm soooo excited to share my super quick "tune-up" workout (as I like to call it) because whether I'm across the world or on a weekend trip to Whistler, I always, always, always try to squeeze in a workout when I'm away from home. Not only does it help me stay on top of my fitness game and not lose steam while I'm gone, but it's critical to me for a number of other reasons: burning off any travel or work stress I might have (since I'm often travelling for work), helping beat jet lag (seriously, nothing better than a good workout to get reset to a time zone) and most importantly, it helps keep my back in good condition so that I don't have any flare-ups with the chronic issues I have with my back.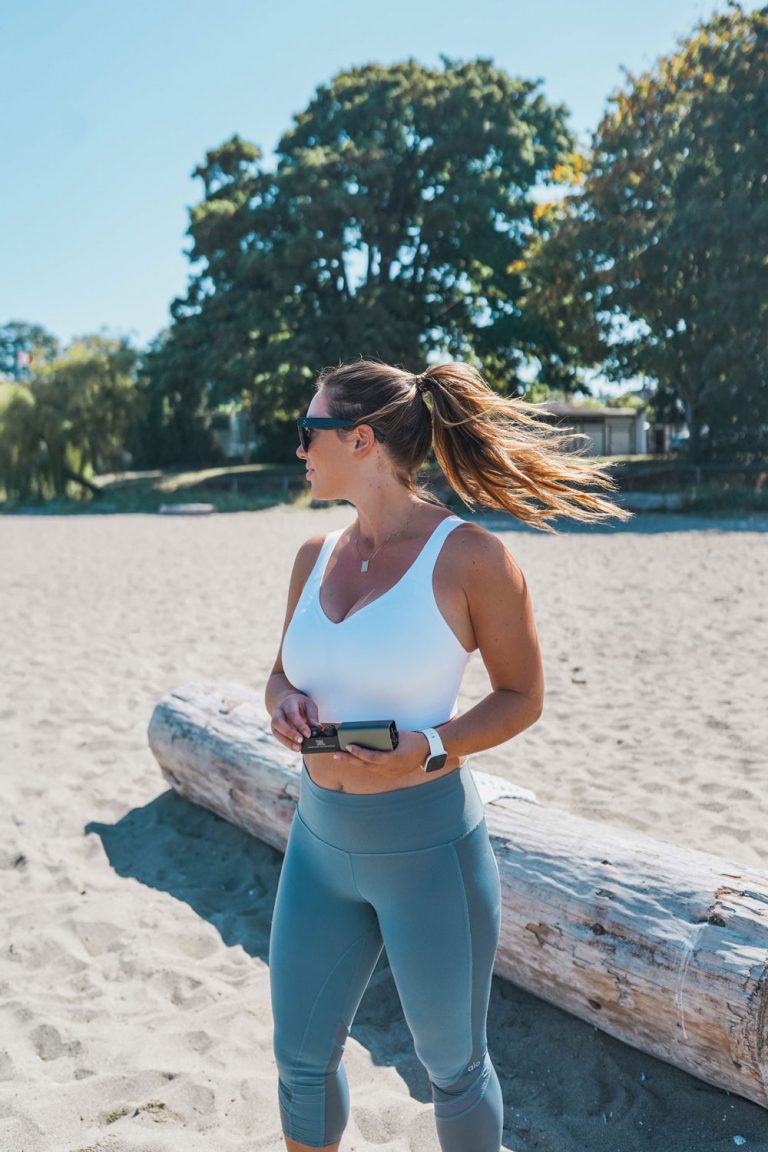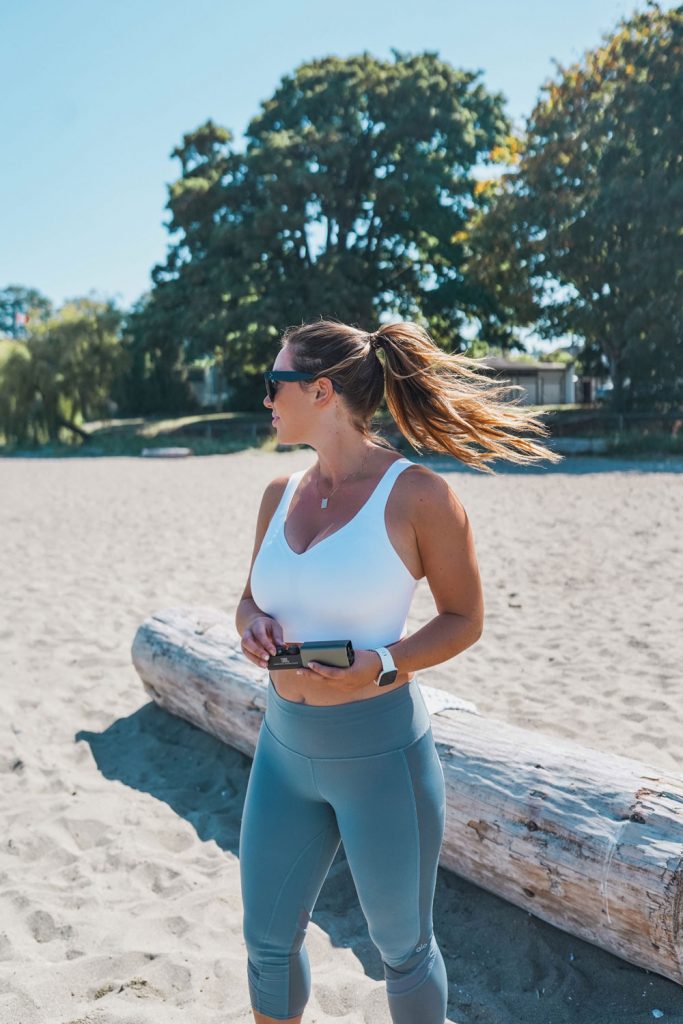 I'm sharing the full workout at the base of this post but wanted to touch base on a couple of the products that also support me and encourage me to stay fit while I'm travelling! Not only do I wear my Fitbit Versa from Best Buy Canada at home to track my workouts here (I usually do 4-5x per week, mostly weight training but a mix of other classes or workouts like boxing, running, spinning, etc) but I pack it with me for travelling too! Not only do I love it for my workouts and always track my specific workout to see progress, but I love it for its general biofeedback, like making sure I'm keeping my heart rate down (especially during stressful travel moments!), doing its guided relaxation sessions and tracking my sleep! I also love that I can set different alarms/timers on it—key for when you're travelling and need to stay on top of a million things, be it random wake-up calls or my personal fave, setting timers to remind myself to get up and move when I'm on the plane.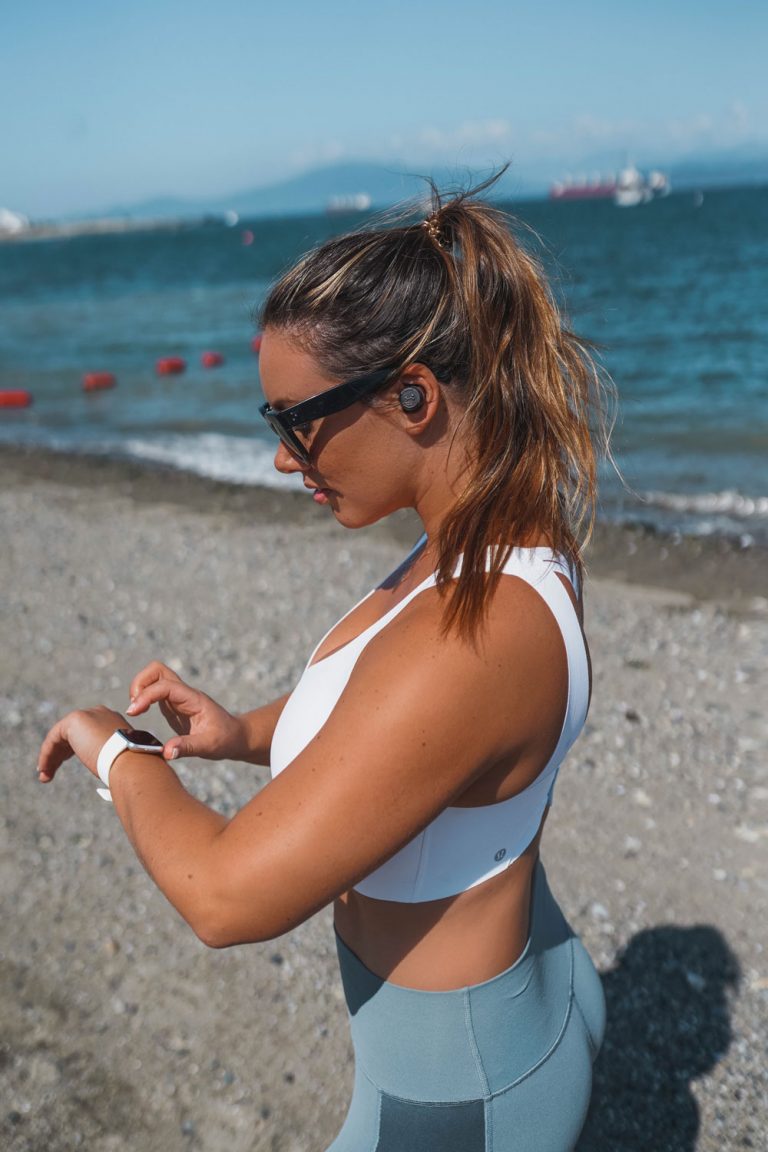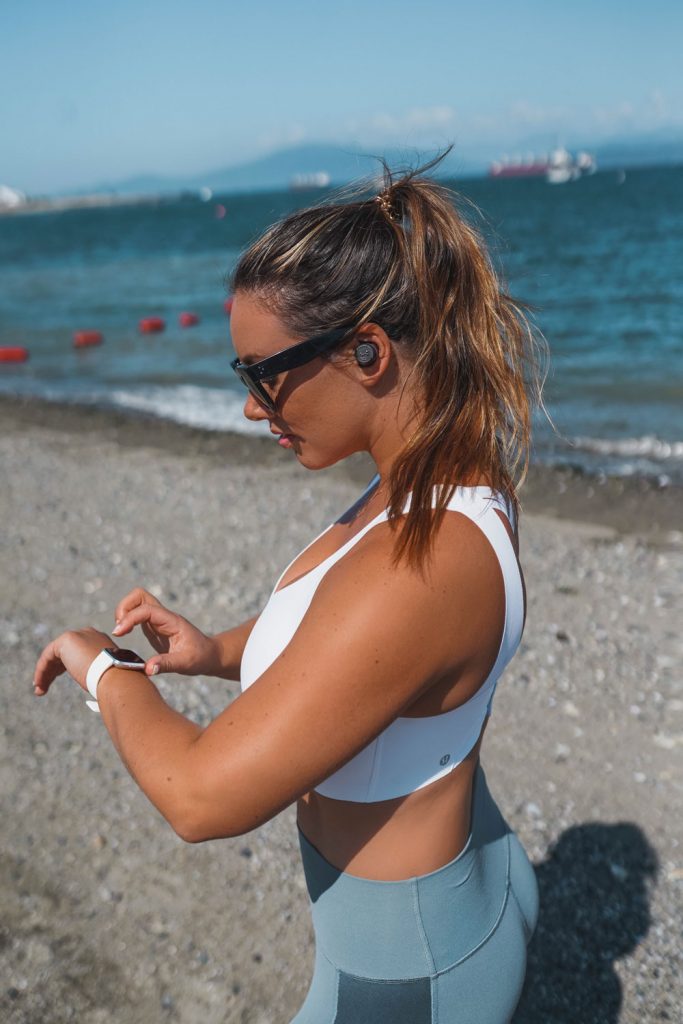 There's also some sort of weird satisfaction from being able to accurately count my steps and see just how many I crushed in a day—I think the record right now is at 48K! I also seriously appreciate that it's water resistant up to 50m because playing in the water factors into my travel as much as I can allow for it, and it's a relief to not have to always worry about taking everything off before jumping in (part of the reason a lot of the jewelry I travel with is beads and that kind of thing—it's just harder to be precious with things when you're travelling and trying to enjoy the moment!). Again, I love the Fitbit Versa just for at home though if you're trying to track your fitness more closely as it is, which is something that I always feel as we enter September—what with being generally less active in the fall/winter as I am in the summer, tracking my steps and my workouts is such a motivator for me to stay on top of everything!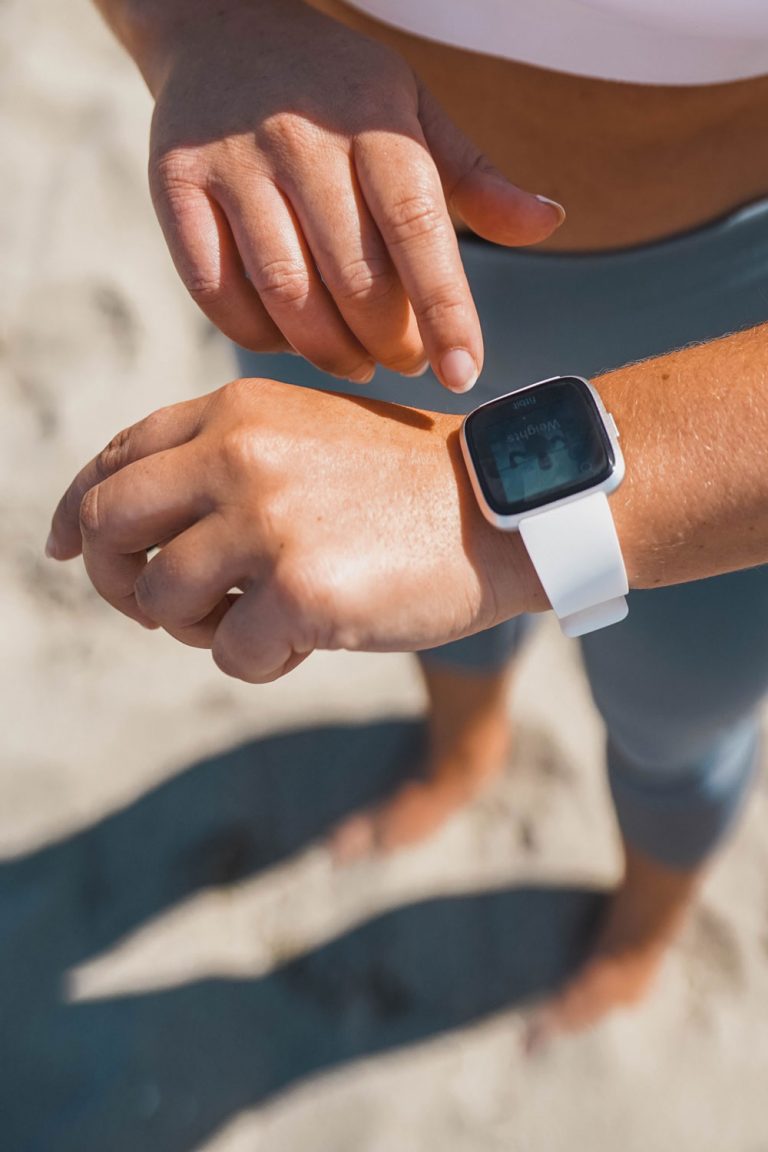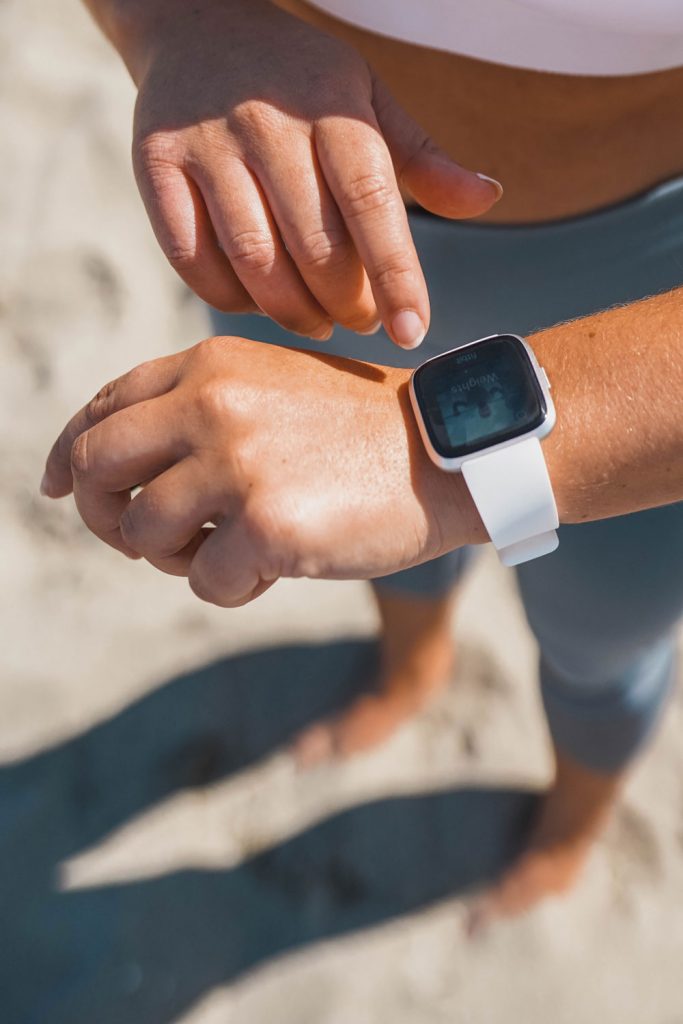 I also am obsessed with my JBL Under Armour Headphones—as I mentioned in my travel essentials guide, I'll never get over how amazing my over-the-ear Bose headphones (also from Best Buy) are for on the plane, but I sweat a lot when I work out so need something sleek and in-ear. I usually travel with my over-the-ear headphones for the plane or commuting, some old ratty headphones I got given on a plane years ago in the event my phone dies or something along those lines and I need to plug into a plane's entertainment system and finally, a sleek pair of in-ear headphones to wear for my workouts or even when I just want a more discrete look than my over-the-ear headphones.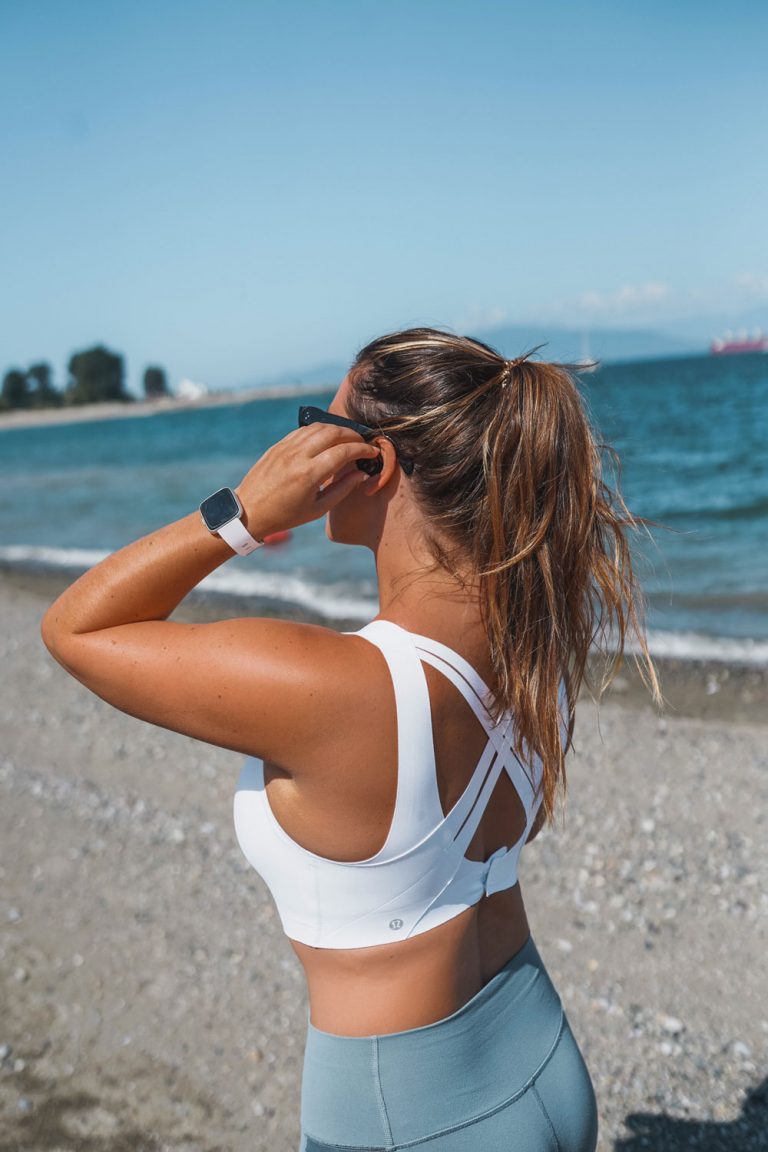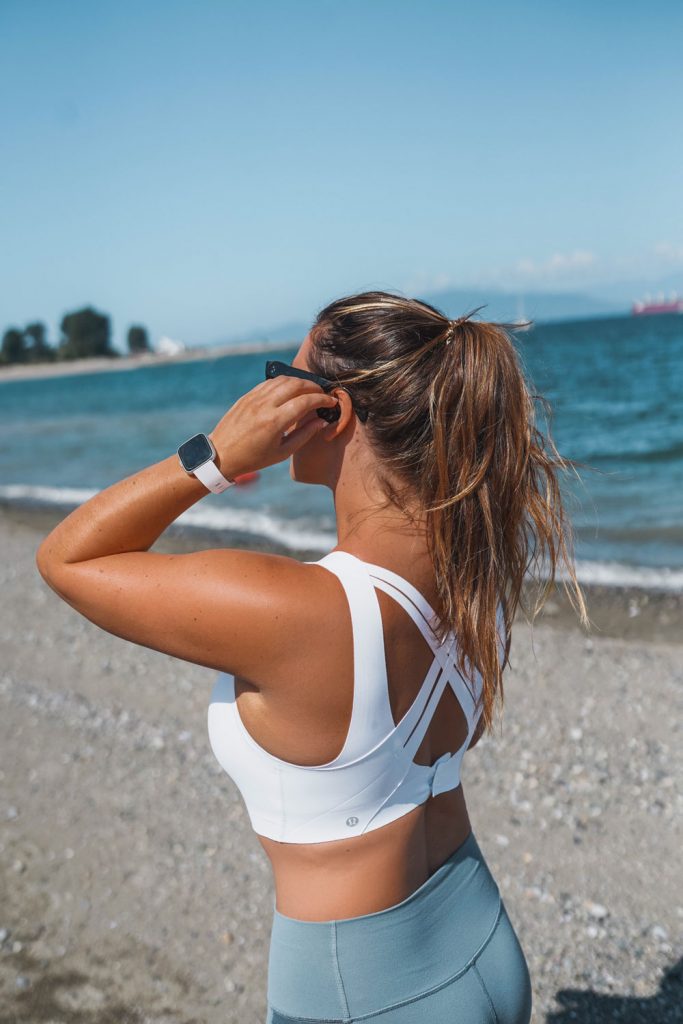 I had a pair of in-ear headphones before that were okay but really didn't deliver on the audio front—the sound was always tinny and just not big enough (I really need music for my workouts, and ideally for that music to be full volume and blasting!). These JBL headphones are incredible—not only are they effectively full noise-cancelling (making them a great option for in-air use too if you want to just pack one pair of headphones), but you can also do noise isolation in one tap. One tap to the left headphone and you can hear everything around you while the music turns down—two taps and it allows for just ambient noise to come through in the event that you don't want full noise cancellation (if you were running in traffic, for example). The sound quality is amazing and while I was a bit nervous at first about whether or not these would be comfortable (because I have smaller ears/ear canals), thanks to the variety of buds and securing arms they include, it's super comfy while also being super secure!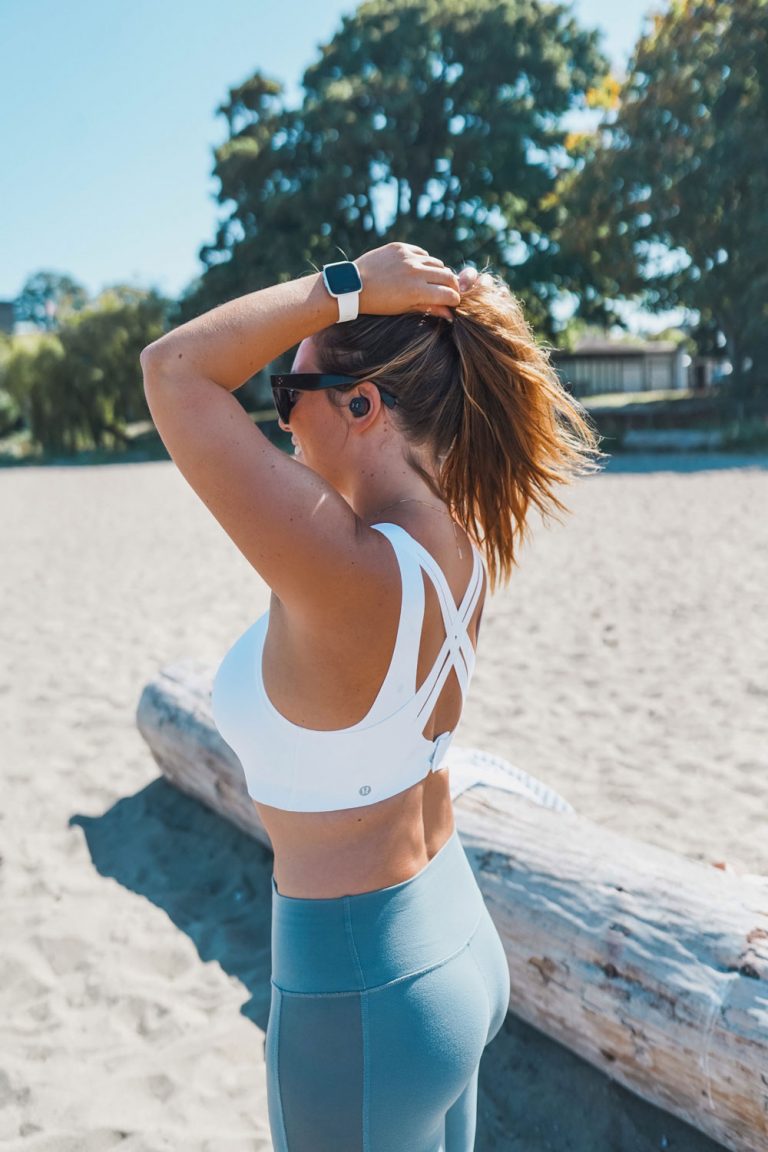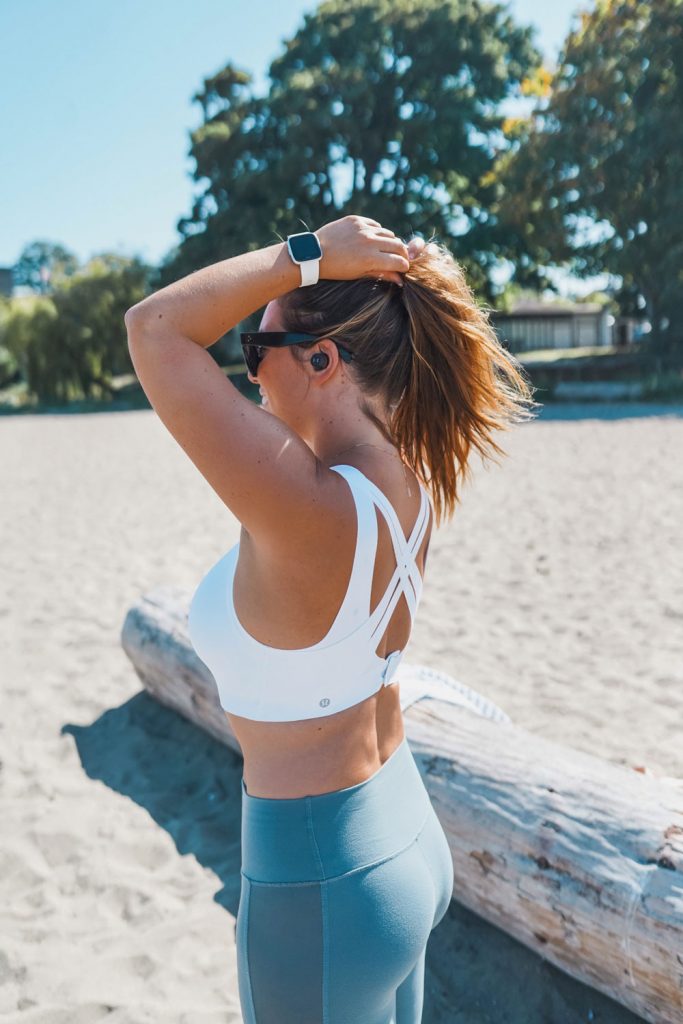 Between my JBL headphones and my Fitbit Versa, I love that I can really just focus at the task on hand (my workout) and not have to play around with my phone—both allow me to easily change songs if needed or to pick up calls, check messages, etc. When you're trying to get in and out quickly with a workout, it makes things that much easier to just streamline the whole process by having tech that is really designed to make life simpler. I also really appreciate that both aren't big pieces of fitness equipment I feel obligated to bring—they're both light, stylish and sleek, and also function so well for my everyday life (and my travels!) in addition to my fitness game. This is why my workout below is also designed around just one little piece of equipment: a resistance band that packs down to nothing in your suitcase! That along with a lacrosse ball that I pack for muscle release (critical for anyone else with back/hip issues, gets all those knots out of your glutes!) is literally all I pack for my workouts.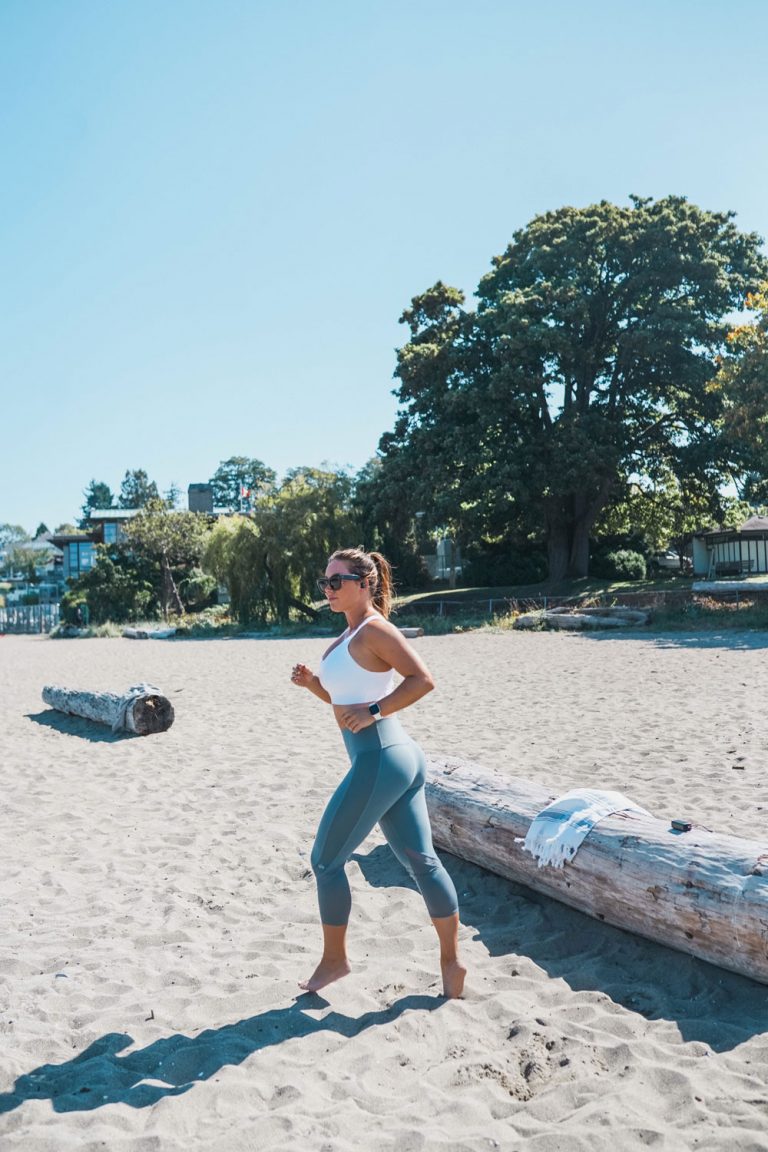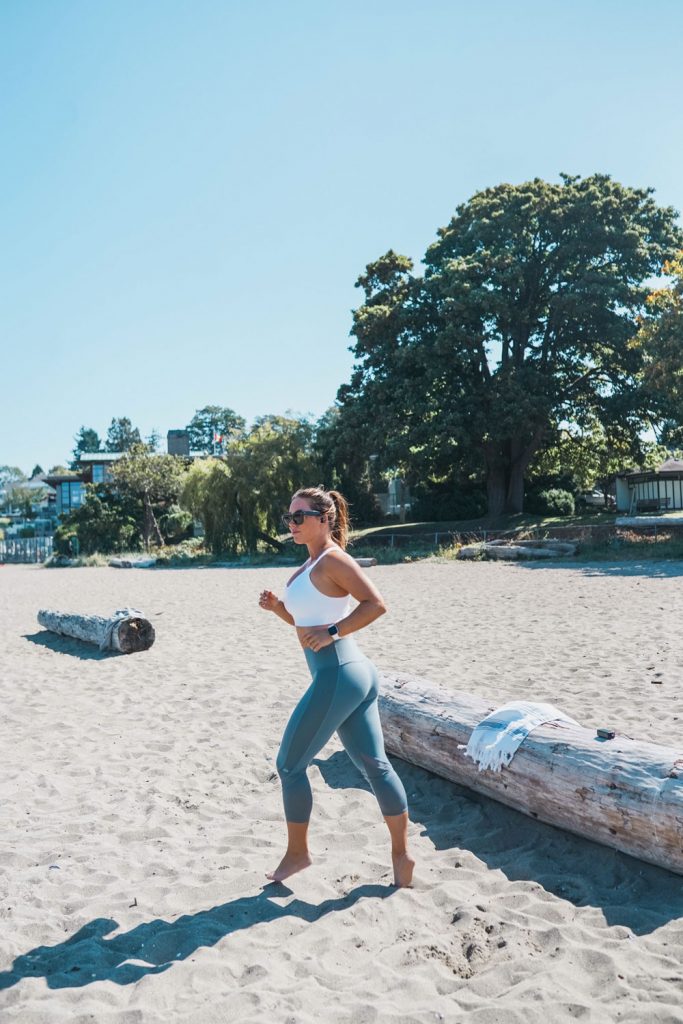 Speaking of which, finally, my workout! You can see it in action in the video at the top of this post but I have everything detailed below, in addition to a few extra moves I didn't include but that I like to tack on if time allows. Really, these are just my critical moves to "tune up" everything while I'm gone and keep my back healthy—I hope you guys love it! Make sure you stop by BestBuy.ca to discover more tech needs that will boost your back-to-school vibes (or "back-to-it" goals, as I like to think of it for those of us now out of school who still get that fresh September feeling!) and see how other bloggers test-drive the coolest tech gear with the hashtag #BestBuyCanada on Instagram!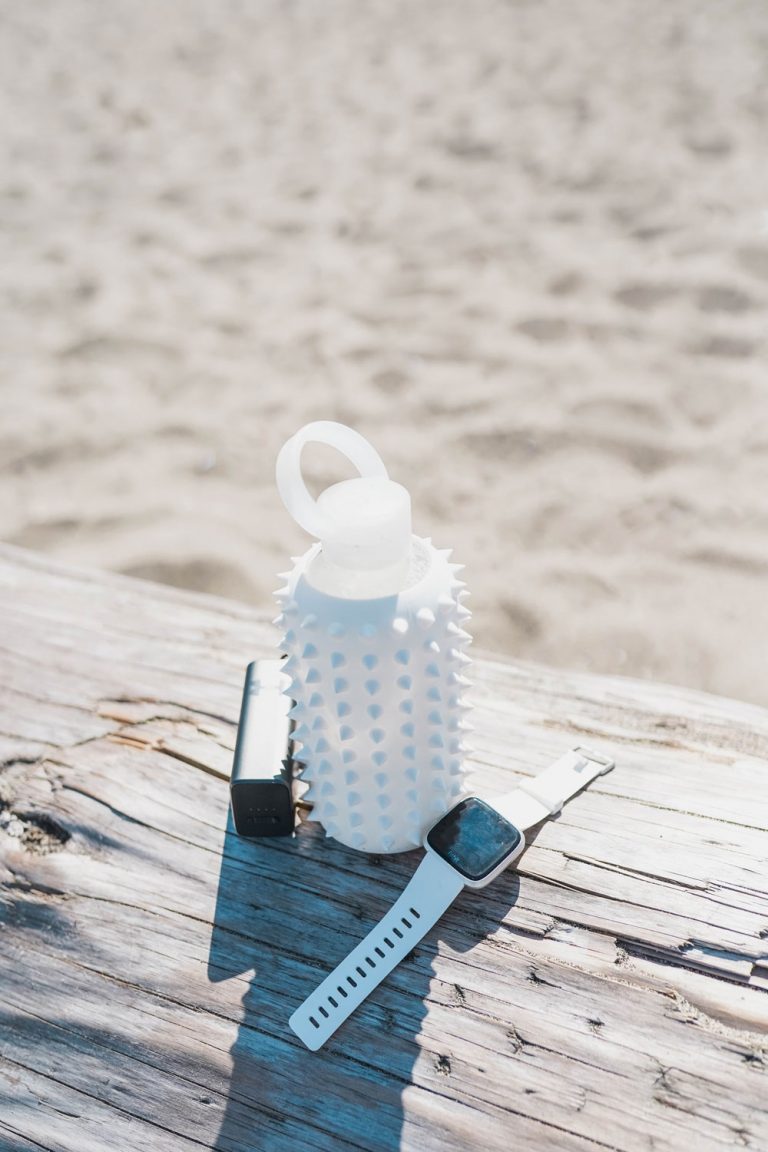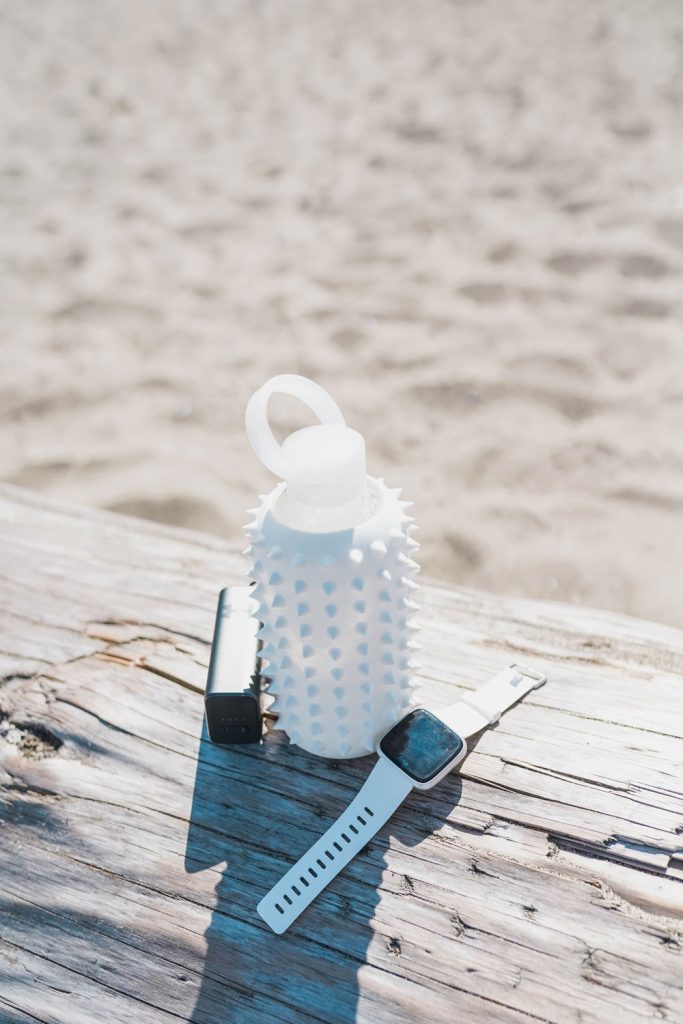 My Quick Travel Workout
Do 3 sets each (reps noted for all exercises)
Equipment: looped resistance band
Ideally warm up for 5-10 minutes (if you're in a gym and have access to a cardio machine, or you can do a little side-to-side shuffle/dance if you're in an Airbnb, at home or accommodation without a cardio machine)—at the very least do a few stretches to warm up your body! This is also a good one to tack on at the end of a workout if you like to do a jog, swim or bike ride first.
Banded squat side shuffle x 15 per side
Get into a low squat and maintaining squat, step out to right side with right foot, then step in with left foot to return to squat position—continue for 15 (or if space is limited, do a smaller set and maintain count back and forth). Do 15 reps per side.
Banded squat to lateral raise x 10 per side
Squat, then squeeze glutes to come up—as you come up engage right glute and laterally raise right leg to the side. Only do this to the point that you feel glute engagement (i.e. don't take it into the back or lean to the left!). Do all reps on one side then do the left side.
Banded clamshells x 15 per side
Lying on side, keep heels together and open knees part, engaging glutes. Flip over to repeat for other side.
Banded glute bridges to glute side drops (x 10 for each, x 20 total)
Lying on back with knees bent and feet directly under knee, engage pelvic wall and core to have a slight pelvic tilt and anchor upper back (space between shoulder blades) into the floor so that you don't put pressure on your neck. Engaging your glutes, bring hips up into a bridge and then lower. Repeat for 10.
After 10 bridges, add on an extra burn by opening knees to sides (really engaging glutes) for 10 additional reps.
Extra exercises if time!
Push ups x 15
From toes or knees, keep body in plank form as you bring down to floor for count of 5 and then push up in count of 1.
Plank variations
I usually throw in a plank of some kind but it changes all the time! Usually I try to do a hold for 2 minutes and in those 2 minutes will hold a static forearm plank for 30 seconds, go to each side to do side plank with oblique twists and then hold for the last 30 seconds in a saw (on my forearms, going forward and backwards gently to engage my core even more). Other times I take it from my hands and then play around with a plank variation on bird dog, do shoulder taps, etc. Whether you do a static one or add in variations, a plank hold is a great addition for travel!
Bird Dog x 10 per side
This is a really good one if sore—I do this one if my back is acting up as it's very gentle. On all fours, keep back perfectly still and extend left leg and right arm (leg doesn't have to come up high at all)—hold for a count then return to original position. Repeat on the other side.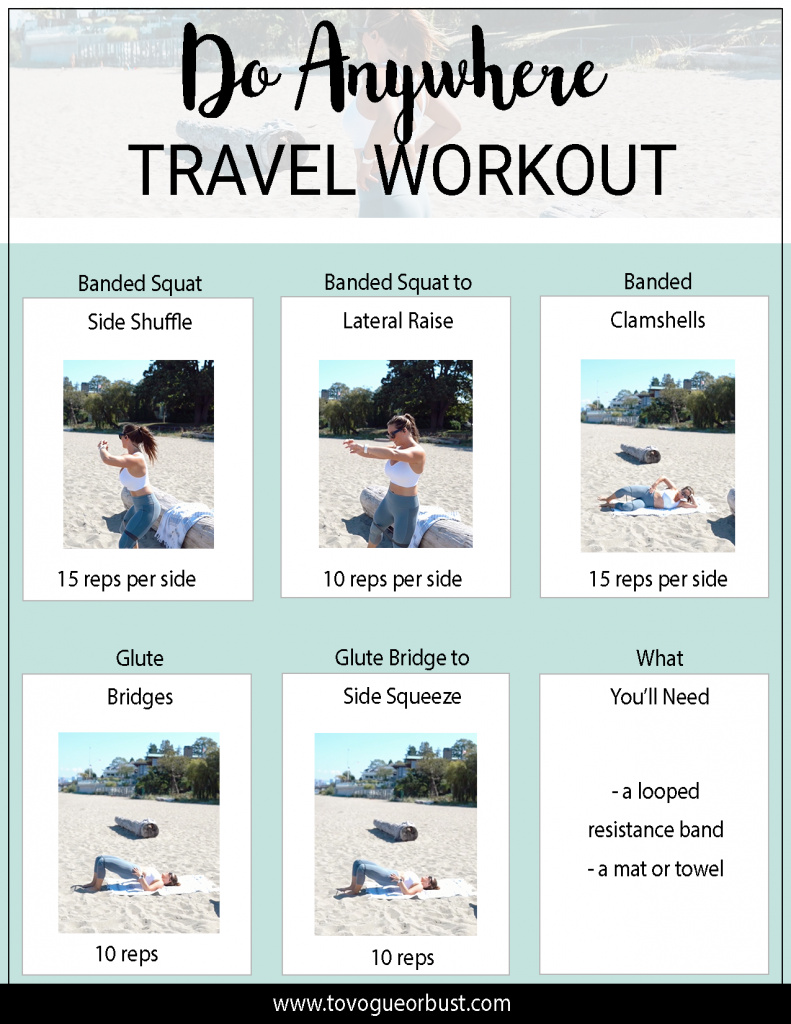 This post was created in partnership with Best Buy Canada but all opinions are my own