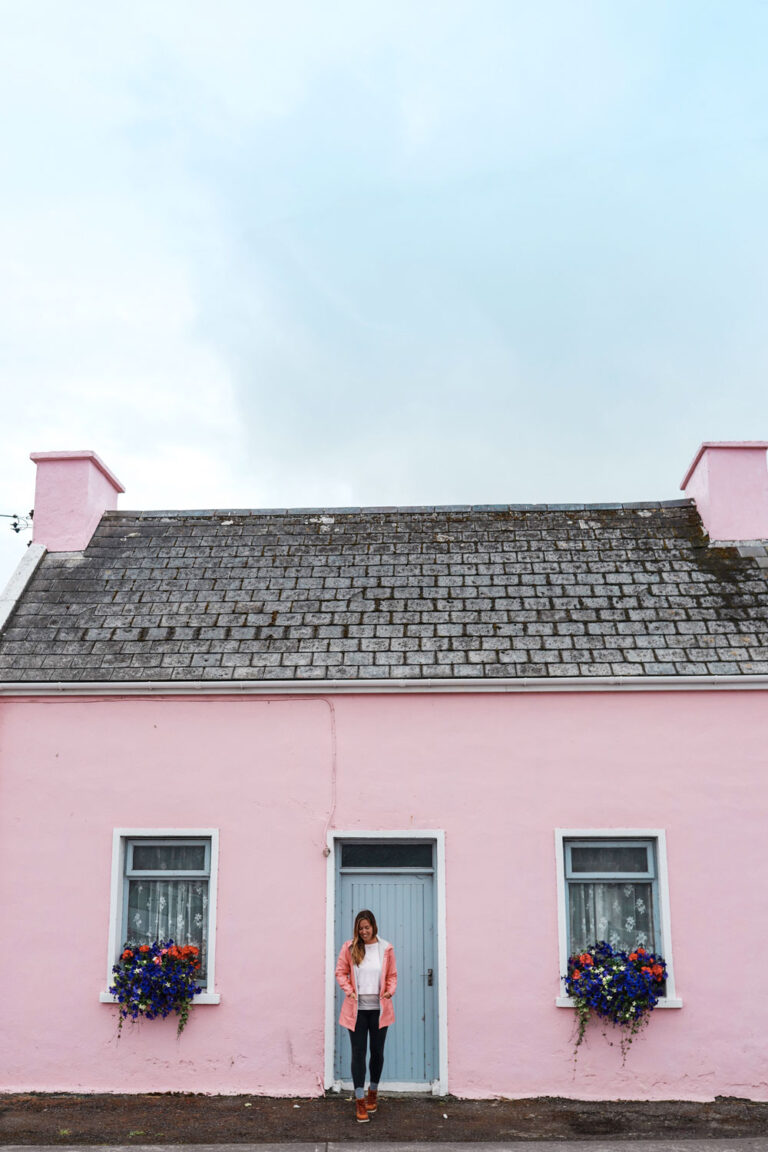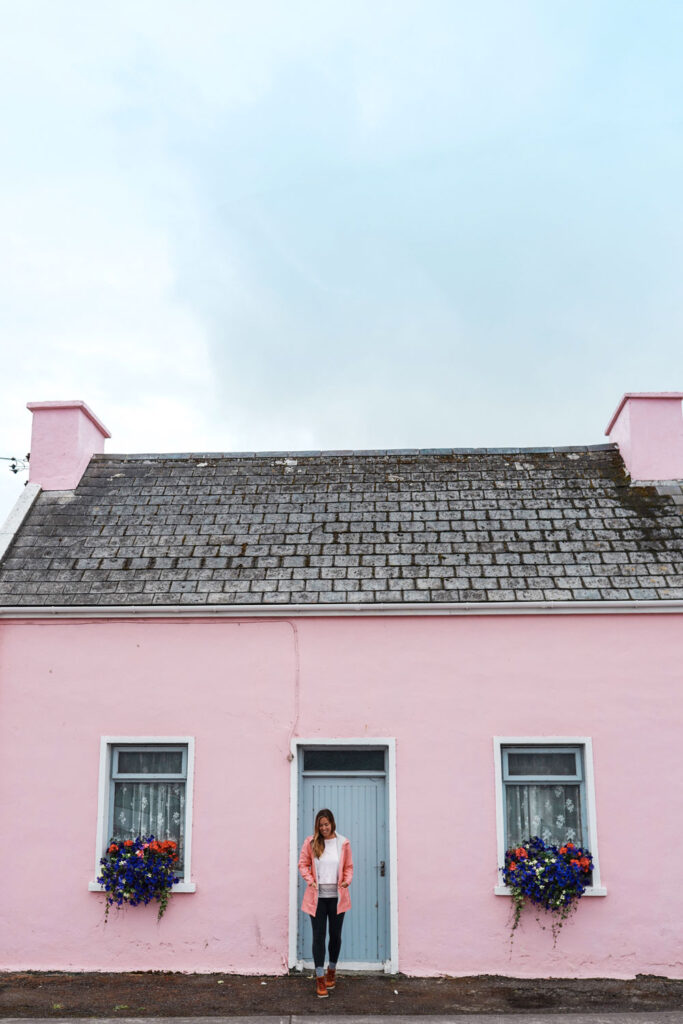 There are a lot of great hotels in Ireland but personally, after experiencing all types of accommodation on my many trips to the Emerald Isle, my favourite way to stay in this gorgeous, friendly country is via bed and breakfasts or Airbnb's. Not only does this mean you get a delicious full Irish breakfast most of the time, but this is kind of the traditional way of staying in Ireland as it is so naturally, they've really perfected it.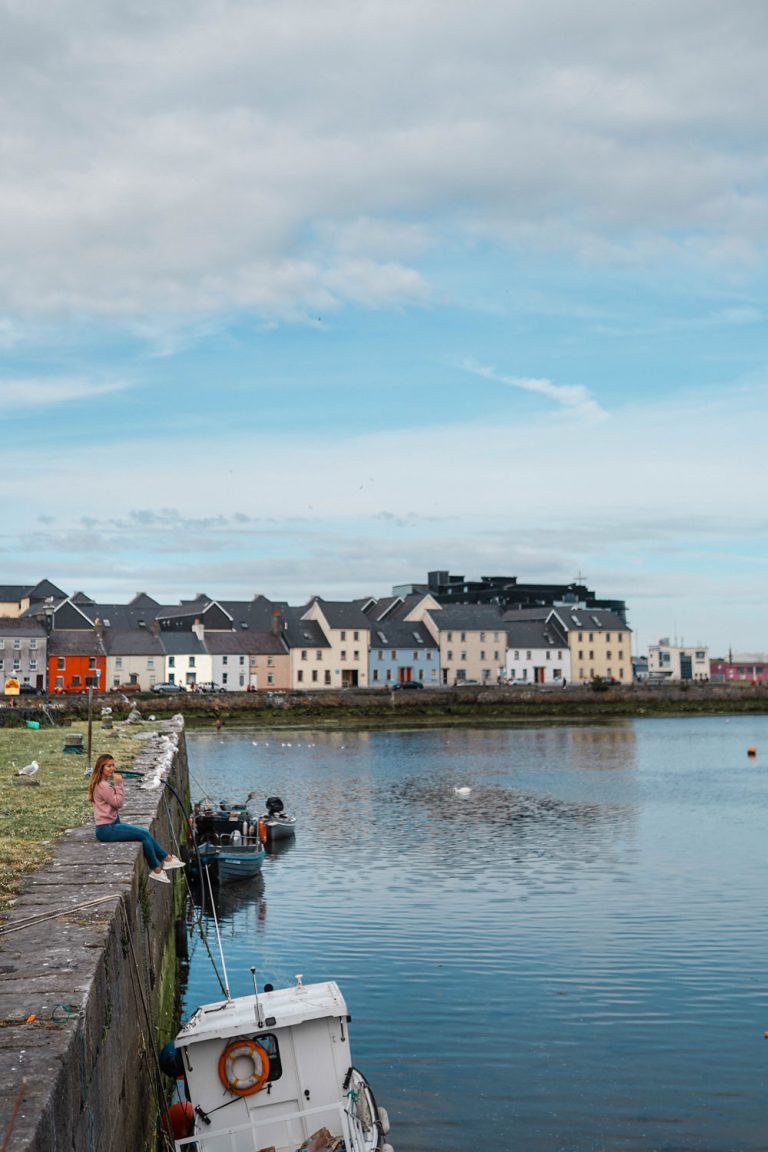 From cozy & quaint bedrooms to thoughtful little touches everywhere to warm, accommodating help from hosts (who I've found are more than happy to always help you sort out plans for the day and the like), it makes for such lovely stays. It also means that you get to experience the rural parts of Ireland (which are generally my favourite parts – see more of where to go in my Irish road trip guide and my top 10 must-see's guide) that generally don't have hotels, and often they can make for a really unique stay too! Read on to get all 12 of my top picks, all under $200CAD/night (depending on the season)!
Dublin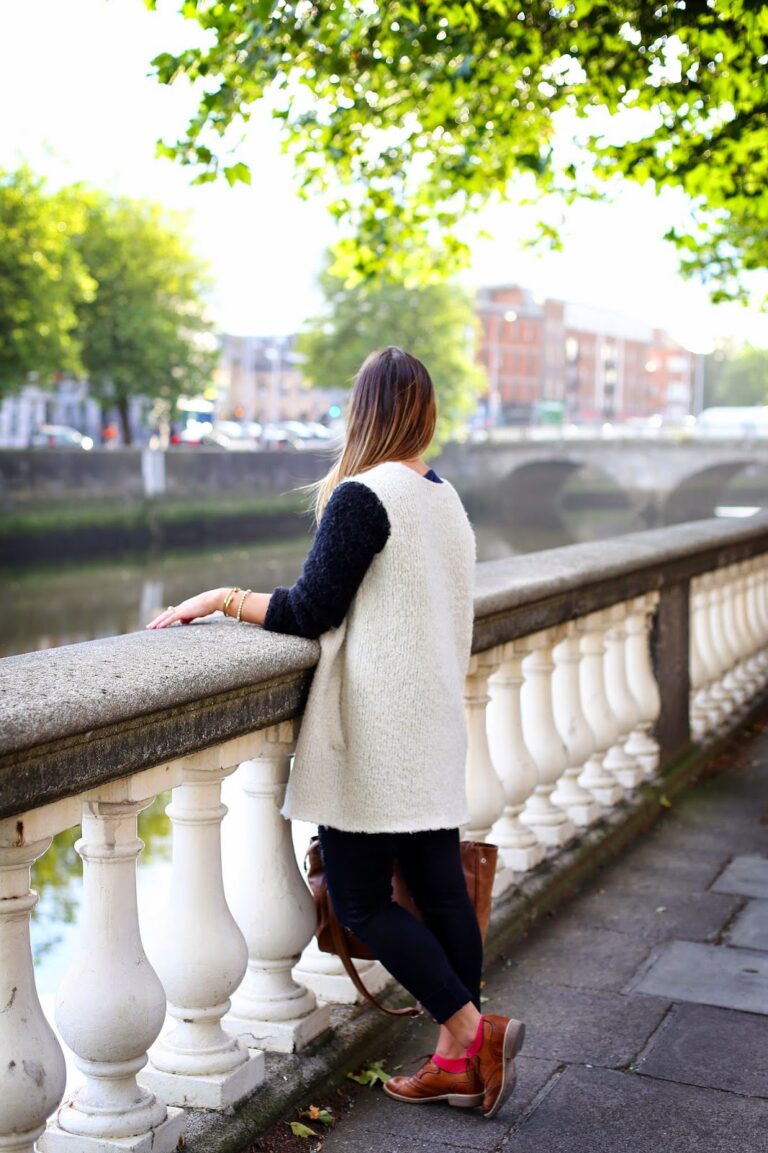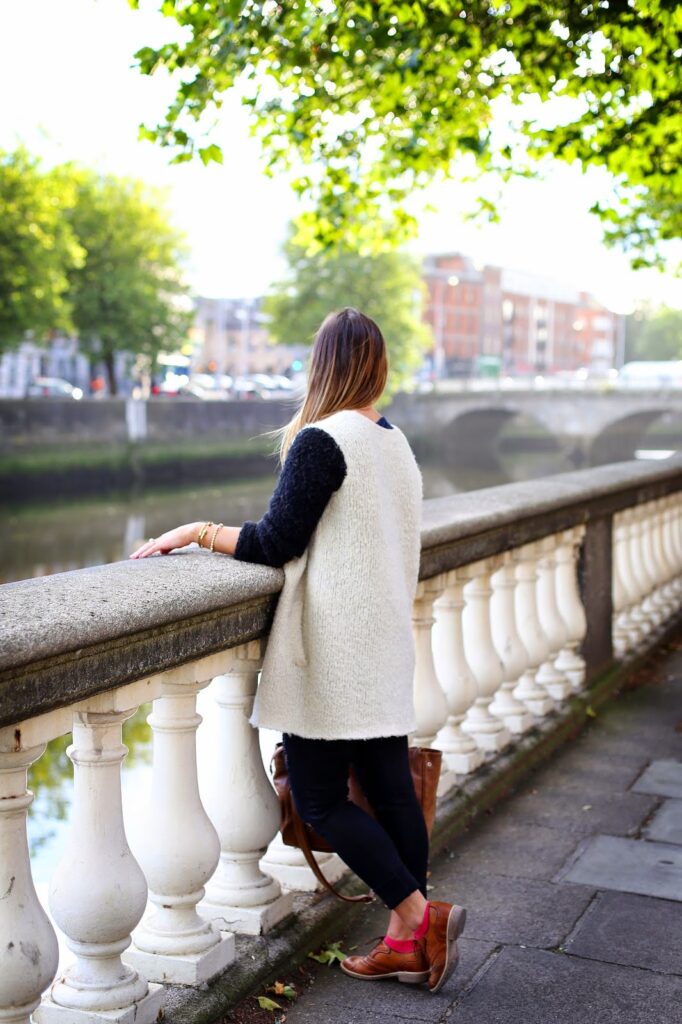 The Area: other than London and New York, Dublin is honestly the most expensive place for hotels. I don't really know why but it's insane! We ended up staying at the Hilton this last time because we booked a bit last minute and all the nice Airbnb's were booked up, but honestly, have done the hotel route a few times here and while they've all been really lovely, I'd much prefer an Airbnb slightly outside of the main city centre. Dublin's not a crazy busy, bustling city but there is a lot of partying in and around the Temple Bar area and I'd rather somewhere quiet to cozy up in after a night out. Dublin's pretty well-connected with the Luas or cabs, so getting around is easy! Giving you two options here since Dublin in particular books up quickly – book these well in advance!
Period Canalside Retreat – $176/night
This is a gorgeous Airbnb just 20 minutes from the city centre by foot – I've actually stayed in this area by Croke Park before and loved it, it's a bit closer to the airport (you can get there using the airport bus really easily, stops right nearby), it's a lovely walk into town along the River Liffey and this space itself is SO beautiful.
Sunny Private Room in Central Apartment – $116/night
I normally try to avoid doing private rooms in apartments (preferring to do entire apartments/houses whenever possible) but I make an exception for both Ireland and Italy (see my Italy Airbnb guide PS!) – something about it here never bothers me! This is an amazing location just far enough from the city centre that you won't be bothered by noise but right near a lot of the attractions you'd like to see, like the Guinness Storehouse.
Wicklow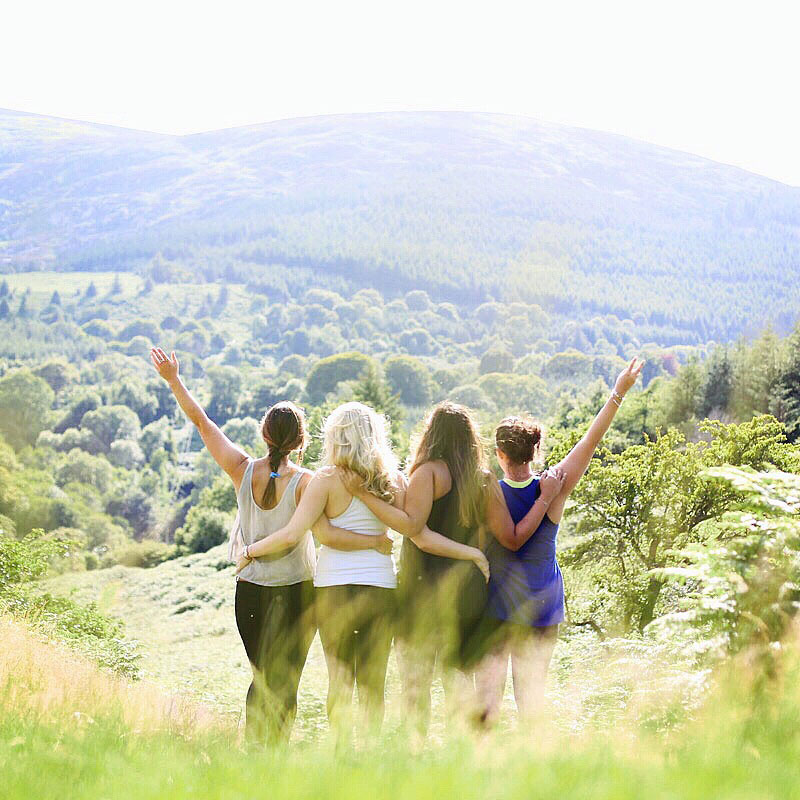 The area: now for something completely different! I, for one, am all about the country stays – I do love a mix of both city and country (I do live in a city after all, though I really think I'm more of a little-seaside-town type of person) but find my favourite parts of any trip are usually when we're up in the mountains or on the edge of the ocean somewhere. What I really love is that you can get some super unique stays this way too – think little cabins or treehouses!
Cozy Secluded Cabin – $42/night
Right near Avoca in the heart of the Wicklow wilderness, there's this gorgeous little cabin that offers a true glamping experience. It's near the host's home (so not entirely secluded, with full shower and washroom available plus wifi in the kitchen cabin) but it will still offer that tranquility and calm that the Irish countryside has in leaps and bounds. A super sweet touch is that breakfast is delivered via baskets to your cabin so you can enjoy at your own leisure in your little countryside escape! The next time I go south of Dublin to gorgeous Wicklow, I'm 100% booking this unique stay.
Galway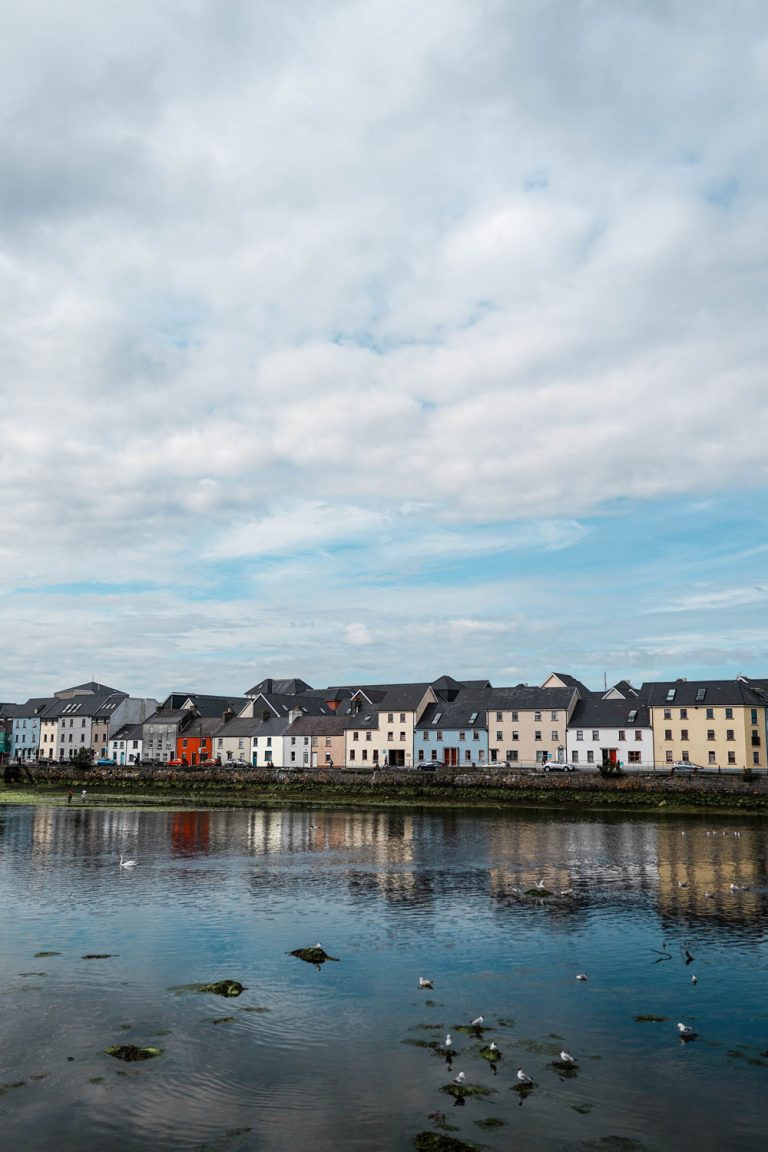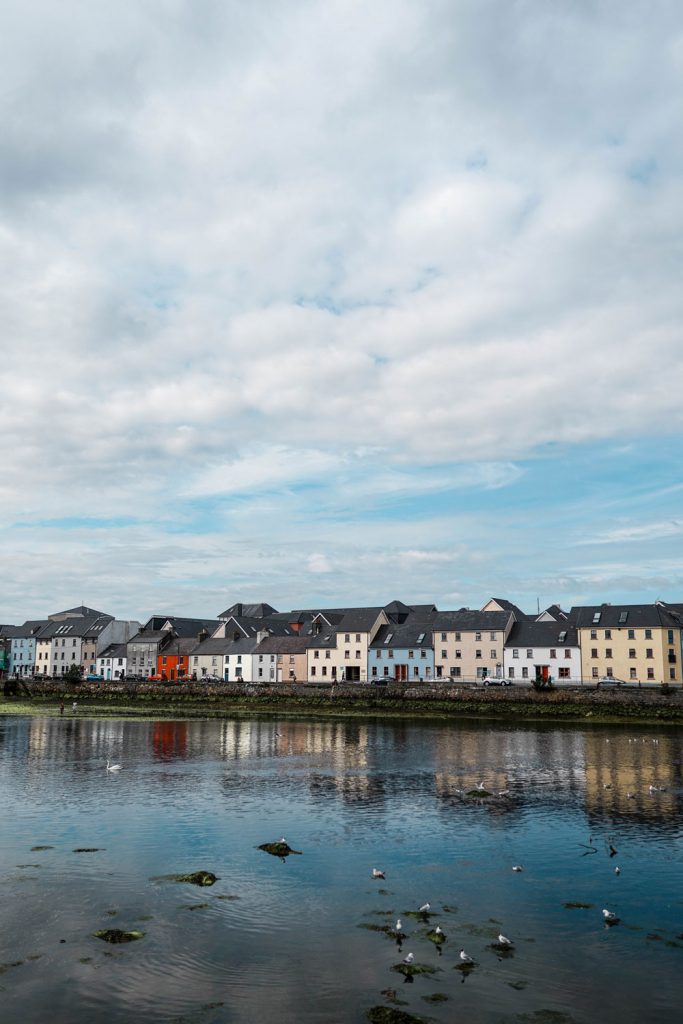 The area: my personal favourite city in Ireland is Galway – it kind of combines city and country in this beautiful seaside place and not only has lots of amazing history, but some of the best food in the whole country, lots of seaside fun and is also a good jumping off point to other areas on the west side of Ireland. I've stayed both right in town (off Quay Street) a few times and just outside of the city – my personal preference is to be a bit outside because of the noise during the night but it really all just depends on whether or not you're there for a super short stay (in which case I'd recommend being right in town) or a bit longer! I have two places below for either option.
15th Century Townhouse in Latin Quarter – $161/night
It doesn't get more central than this location, literally right in the heart of Galway with the Spanish Arch just steps away. It looks absolutely gorgeous, and I love that it's a combo of historical and modern style. There are a lot of ancient buildings along Galway's main lanes but sometimes, if they haven't been refurbished I personally find it a little bit creepy/dingy (I stayed once in a 15th century apartment right off Quay and I was not loving it). This one is so gorgeously renovated, could not be a better mix of everything Galway has to offer (location, history, etc).
Airy Apartment Near Ashford Castle – $146/night
This place looks so gorgeous. If you're driving and want to take in Galway but not necessarily stay here, this would be an amazing option – it's about a 40 minute drive north of Galway City and is actually just on the border of Galway and Mayo (so it's technically in County Mayo). It's right near Ashford Castle and is another 40 minute drive from Westport, another must-see in Ireland. This would be a serene and beautiful resting point for days of sightseeing in either direction.
The Burren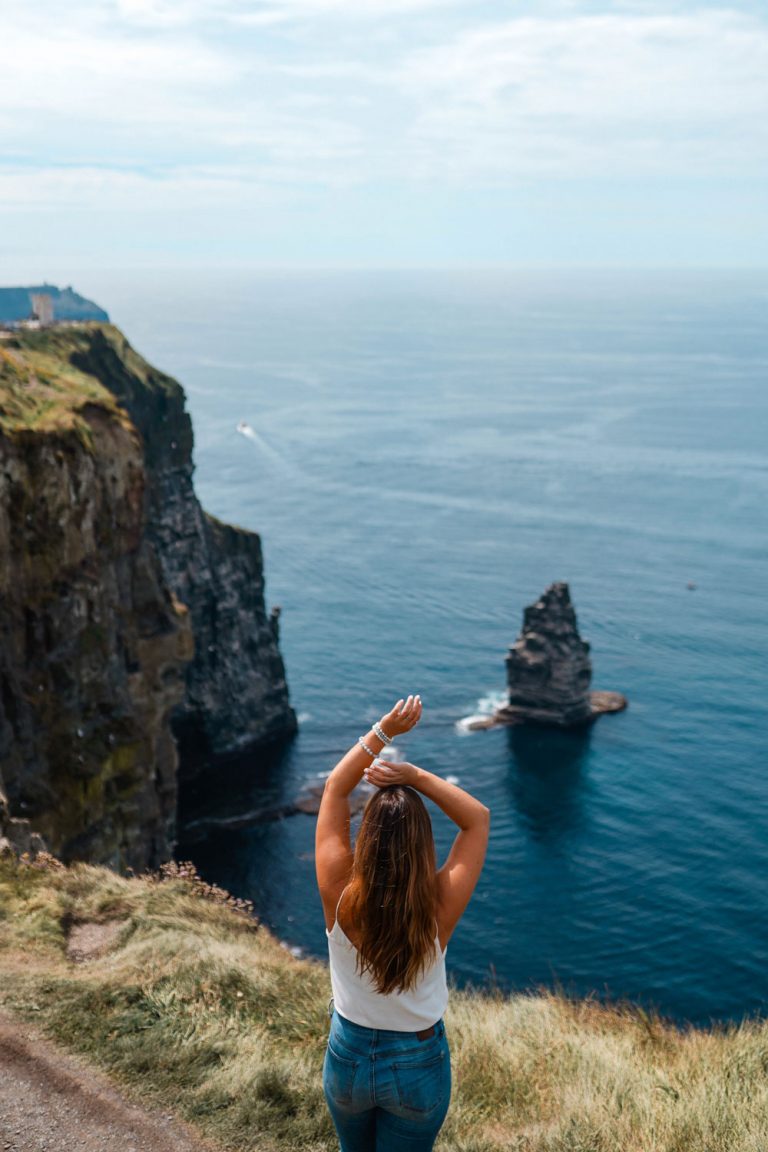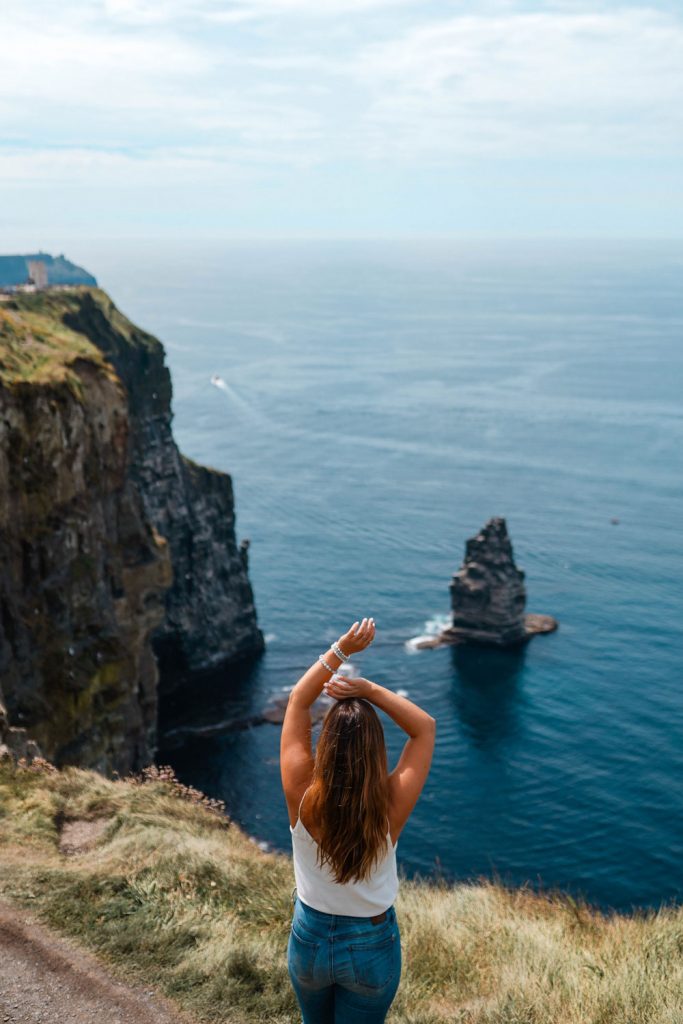 The area: the Burren is one of my favourite parts of Ireland. It's a gorgeous area in County Clare that is famous for being home to the Cliffs of Moher, but there's so much more to the Burren as well, from stone forts to gorgeous seaside walks to some amazing hiking! I always wish I'd spent a night here instead of bombing it from Galway to my next destination (just stopping in the Burren on the way) – next time I'm 100% staying here, particularly because this cottage below could not look like more of a dream stay.
Blue Stonecutters Cottage – $139/night
Remember in my recent Ireland guides, I talk about how we so wish that we'd had the time to do the Doolin Cliff Walks (the hike between Doolin to the Cliffs of Moher that offers the most gorgeous views)? Well, this cottage is basically right on that trail so not only do you get the most amazing stay (and historical, since this cottage was built right after the famine), but you have such an amazing starting point to taking in the cliffs (for free, might I add – parking is a bit ludicrous there) and taking in the beautiful views beforehand near Doolin. I'm 100% putting this on my must-book list for next time.
Cork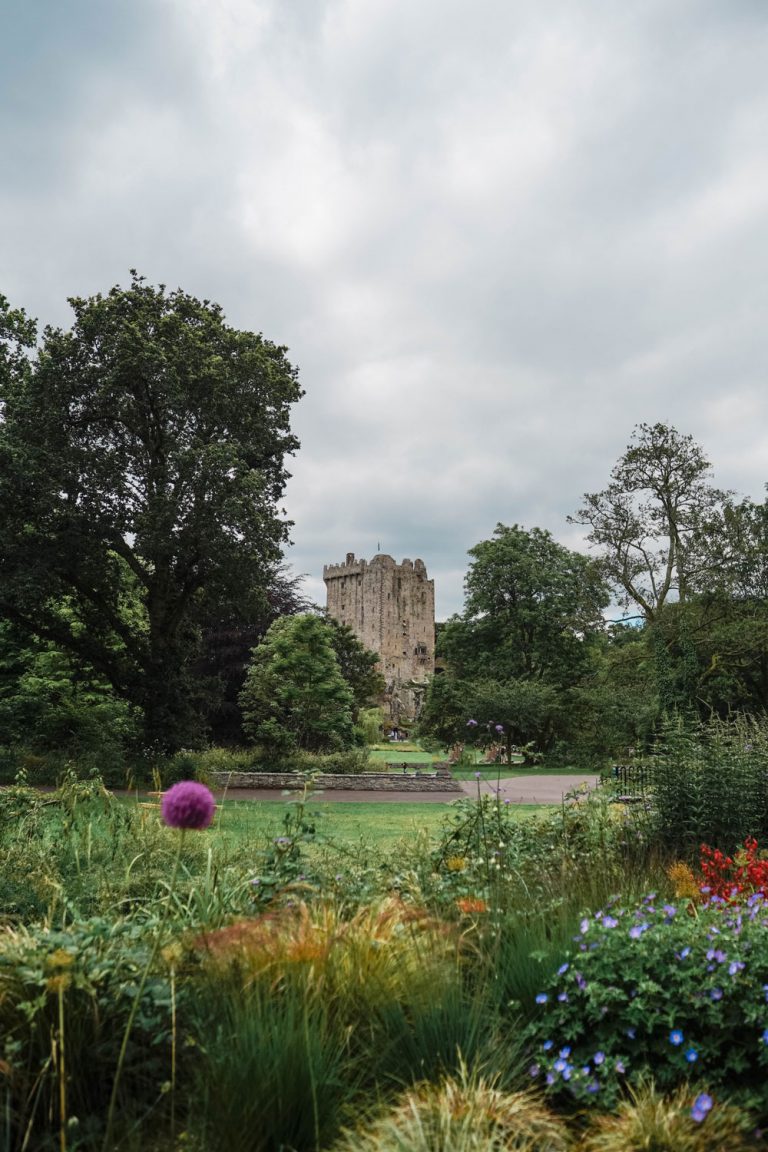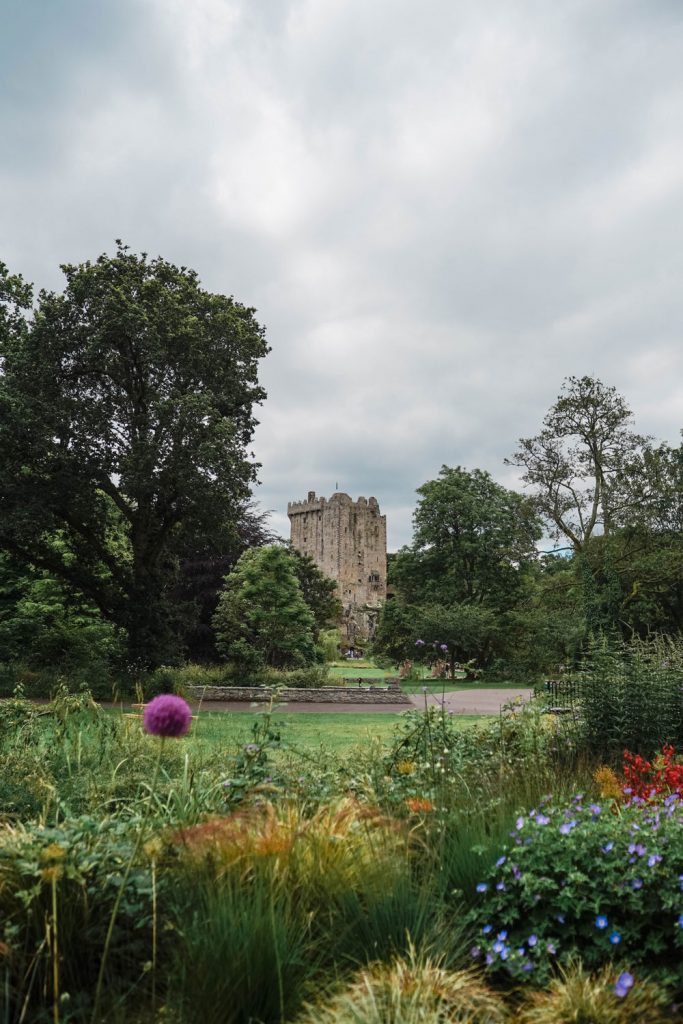 The area: the city of Cork is really lovely but as far as cities go in Ireland, it's definitely of the slower-paced variety. While I'd 100% recommend stopping in for a meal here (because it is one of the best places in Ireland for food) and it's still a great place to spend a night, if you want to take in more of the gorgeous pastoral vibes of the county, there are some gorgeous countryside areas of Cork that would be worth staying in. Being in the southern part of Ireland, you'll also have access to some amazing seaside hikes, strands (beaches in Irish) and towns. Here's my top pick below for a countryside stay in Cork.
Four Directions Cottage – $88/night
This cottage looks like such a dream – surrounded by gardens with views of the sea, it's in the famous Beara Peninsula that has Hungry Hill, Bantry Bay and so much more to explore surrounding this little dreamy place. The cottage itself could not be cuter and offers such a tranquil place to rest and relax after a day of exploration.
Caherdaniel, Ring of Kerry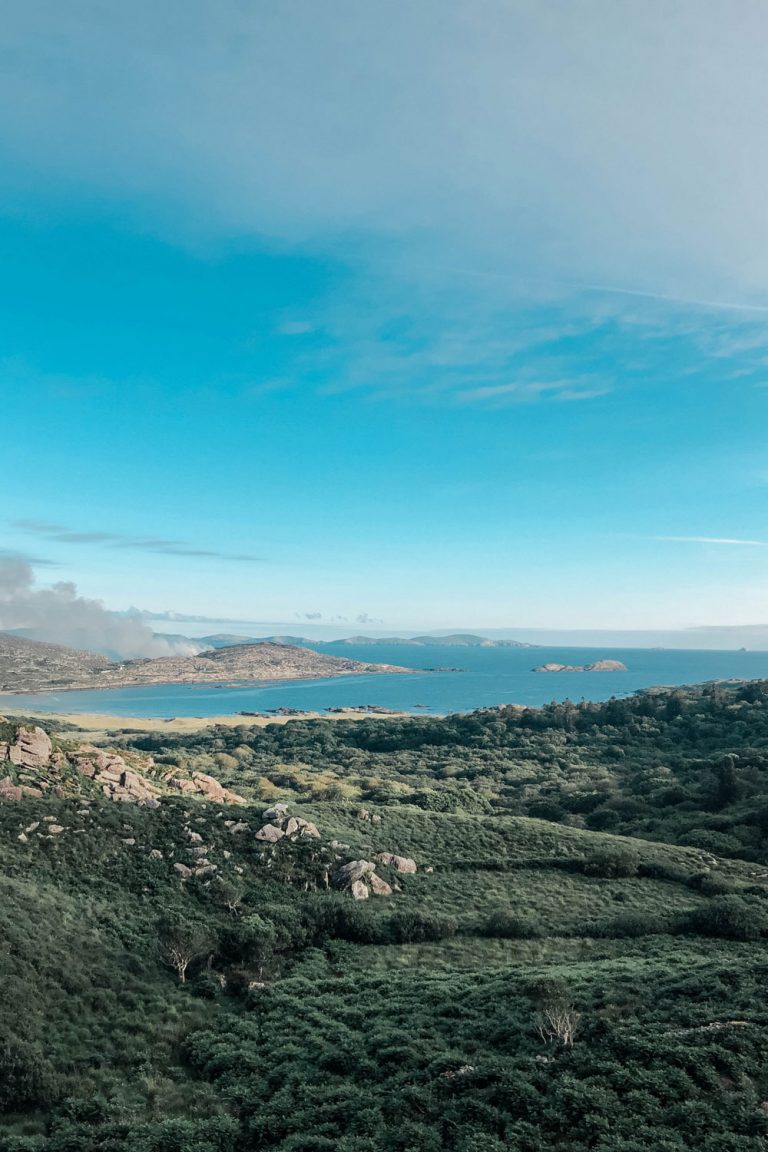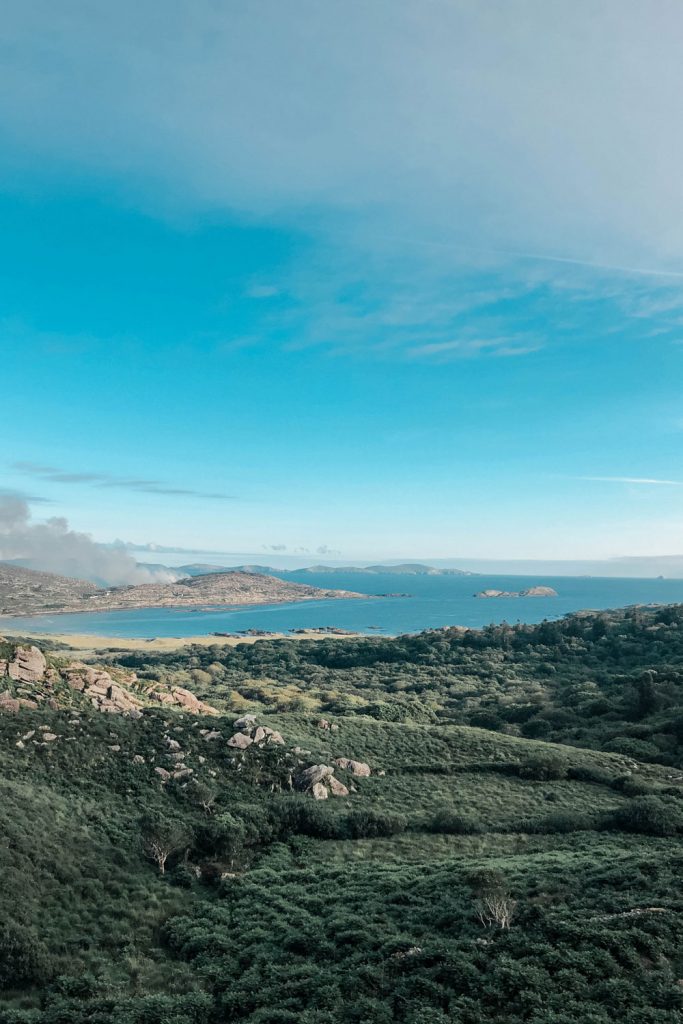 The area: I have to list two from this area because I am so obsessed with Caherdaniel. We only spent one night here but the next time I come, I'm going to spend as much time as humanly possible here and take in the Derrynane Shores more, do a Skellig Michael landing tour, etc. I've gone into so much detail about the Ring of Kerry on my last few Ireland guides so won't wax poetic about it again, but just know that it's truly one of my favourite places in the whole country and one that I want to visit again ASAP and for as long as possible!
Fisherman's Farmhouse – $145/night
Speaking of unique stays, this farmhouse would be the most amazing stay in gorgeous Caherdaniel right near the beach (which is what this area is so famous for). The decor is so lovely and has been restored so beautifully.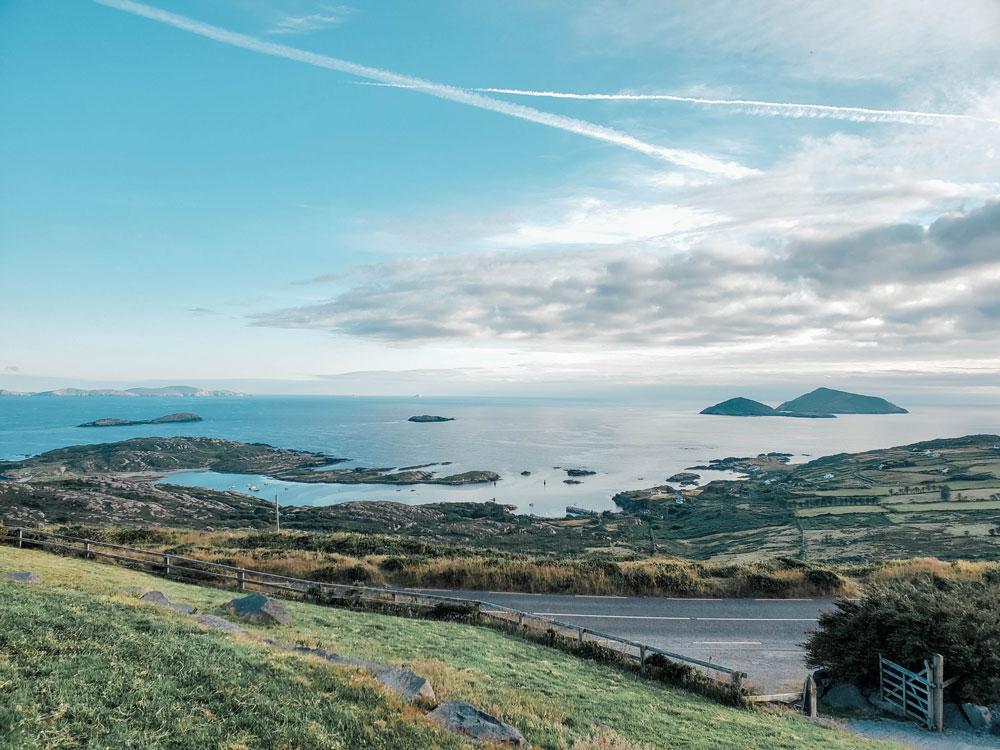 Thidwick B&B – $132/night
This is where we stayed in Caherdaniel and these snaps from our phone were taken right from the driveway of our gorgeous B&B – quite possibly the most amazing views along the Ring of Kerry! Clare was such an amazing host, making us the most delicious full Irish breakfast and also really walking us through an amazing itinerary when our plans got hijacked by some serious rain and wind when we woke up the next morning! Can not recommend this place enough.
Glenbeigh, Ring of Kerry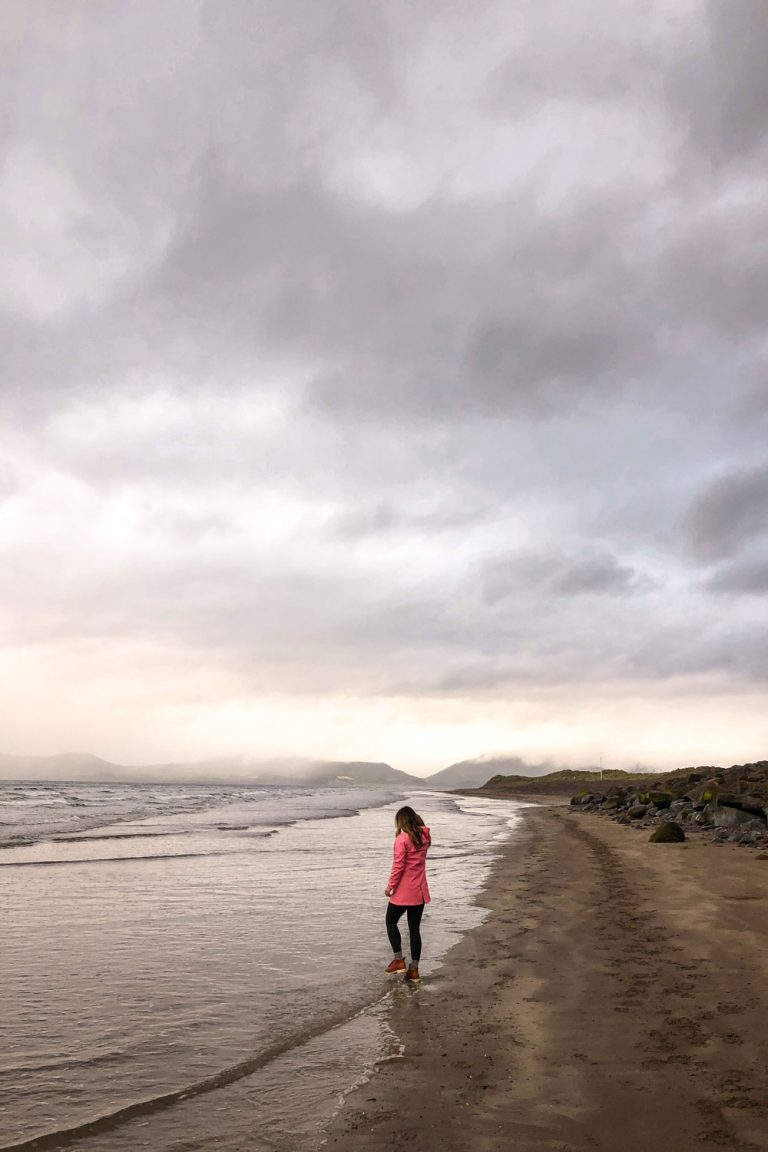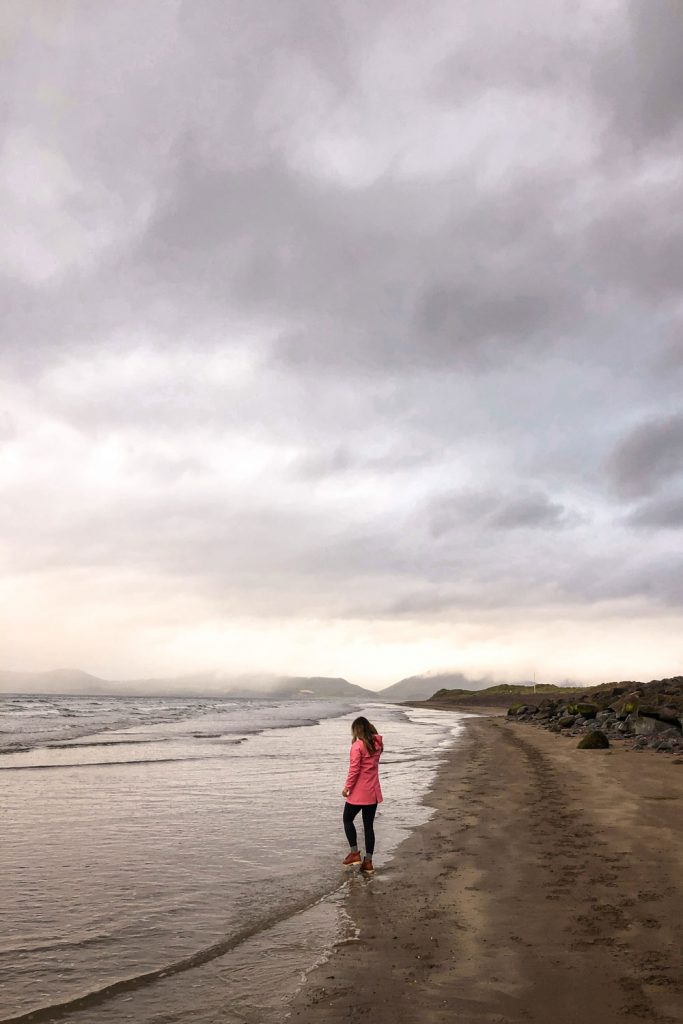 The area: this is a great resting point after swinging through most of the Ring of Kerry (which I'd suggest doing clockwise, as it seems a lot of the tour groups go counterclockwise), as well as Skellig Ring and Valentia Island (which I cover in our road trip guide). We sadly got rained out here too but there are gorgeous beaches, viewpoints and general seaside fun in this area and I would 100% come back here (and again, budget for more time to allow for inclement days in case they happen – this is Ireland, after all!).
B&B in Glenbeigh – $102/night
Gretta was such a kind and accommodating host, and our room was gorgeous. We had an amazing breakfast the next morning and the space was perfect as a home base for exploring this amazing area (plus so quiet – we slept like babies!).
Dingle Peninsula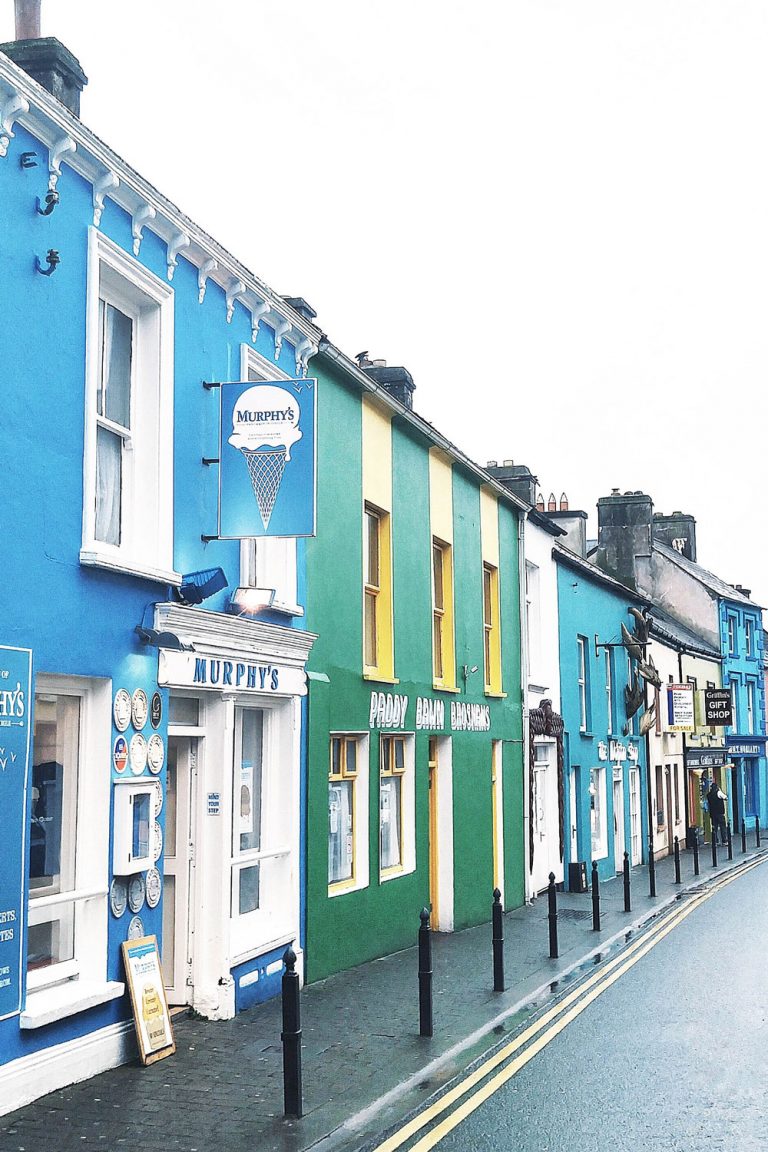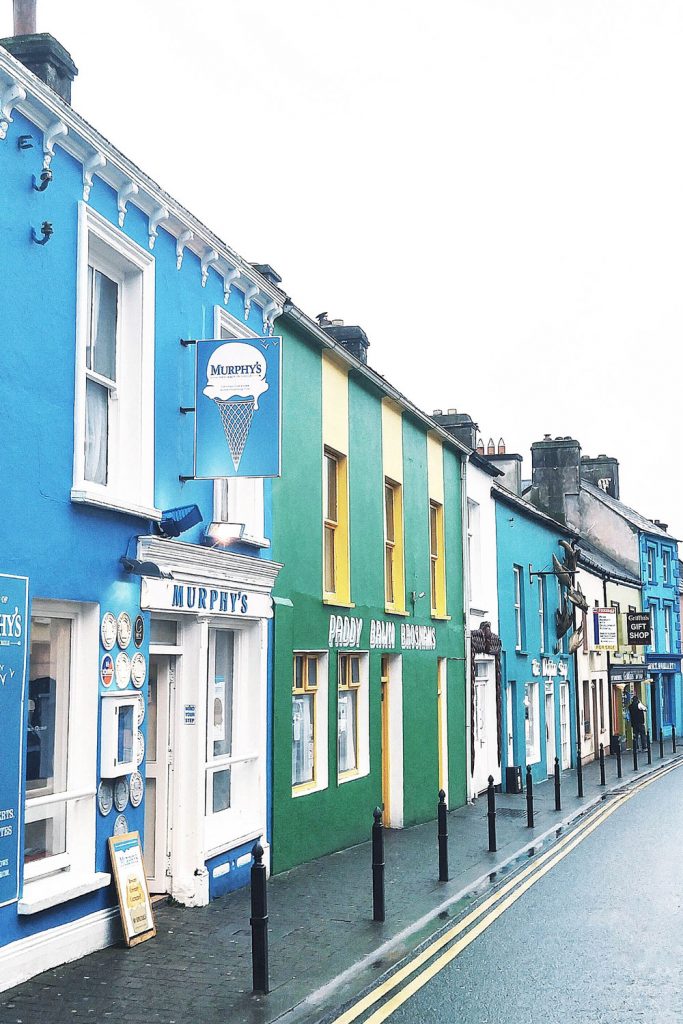 The area: Dingle Peninsula is a gorgeous stretch of typical Irish rugged seaside vistas, with beautiful little Dingle at the end. While Dingle itself can be a bit touristy (though honestly worth a visit to see resident dolphin Fungi hanging around in the harbour), the rest of the area is breathtaking. I love Inch Beach, the Slea Head Drive, Dingle Bay and if you get a chance to do the Blasket Islands, I am 100% so jealous – still need to visit them! I've only been once but it's somewhere I'd love to spend a ton of time in the next chance I get.
Dunquin Studio Apartment – $86/night
Not only are you near everything I mentioned above (and particularly well-located for Blasket Islands), but you're near the Dunquin Pier which is one of the most famous views of the Dingle Peninsula! There is just so much more I want to see and do in Ireland and exploring this area more is at the absolute top of my list.
Northern Ireland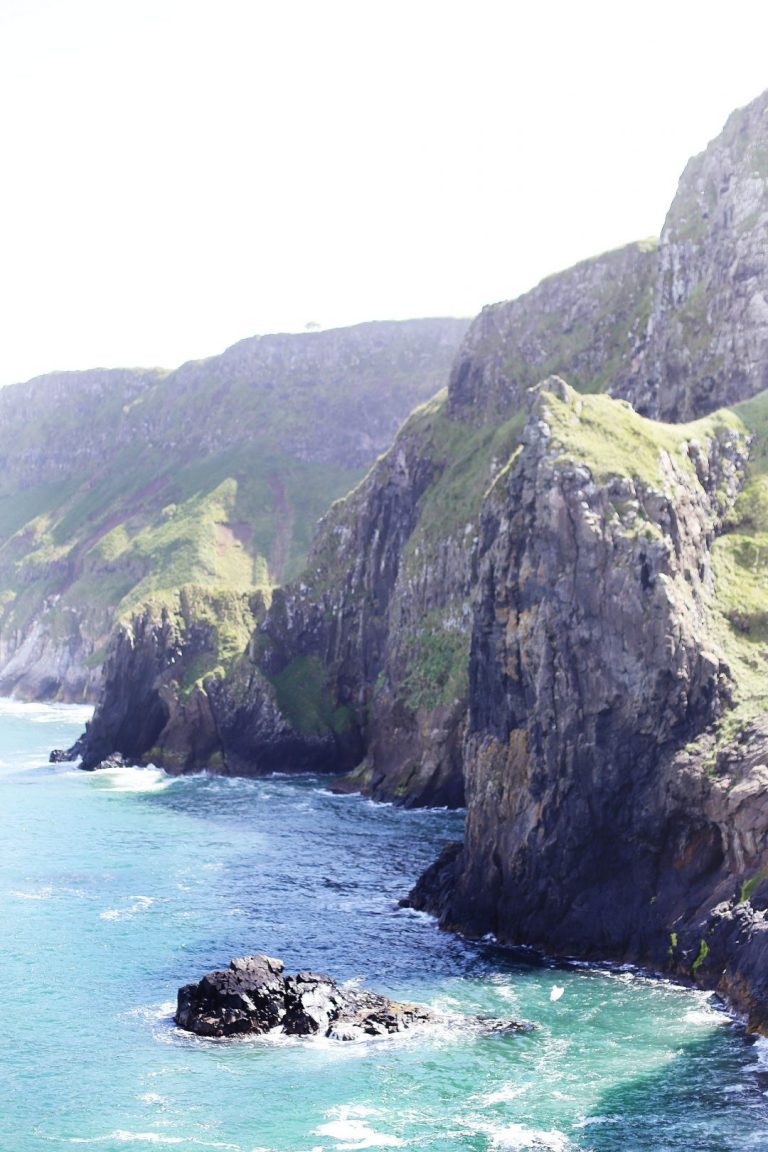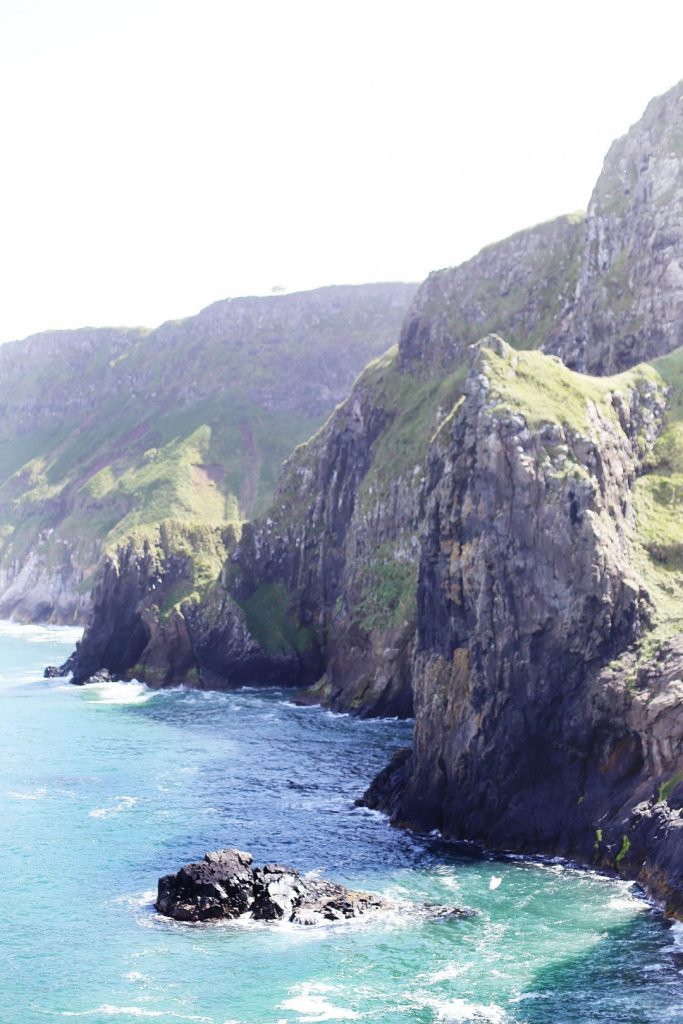 The area: I cover my guide to Northern Ireland in this post here, but if you get a chance to go up for an overnighter (or even extend your stay up there), there is so much to see in Northern Ireland and it's a gorgeous place. There is a lot of sad and recent history in Belfast specifically, but it's also a vibrant and super fun place – literally one of my favourite nights out ever was there! And heading further north, there's gorgeous seaside towns like Portrush and of course everything along the Wild Atlantic Way to take in.
Belfast Victorian Townhouse – $144/night
This is a gorgeous Airbnb right in the heart of Belfast. The space itself is beyond beautiful, and it's in such a great part of Belfast so that you can easily walk about the city and come back here to unwind. This would also be a great starting point to take in parts of the Wild Atlantic Way, like Carrick-a-Rede and the Giant's Causeway!
I hope this helps tons in your Ireland planning! I seriously can't recommend going the Airbnb or B&B route here because there are just so many incredible places to explore, and having a unique and cozy base like this just makes it that much more special! Feel free to pin the picture below to save and bookmark this for your next Ireland adventure!
All the photos from this post were edited with the Landscape Preset from The TVOB Presets Classic Collection.