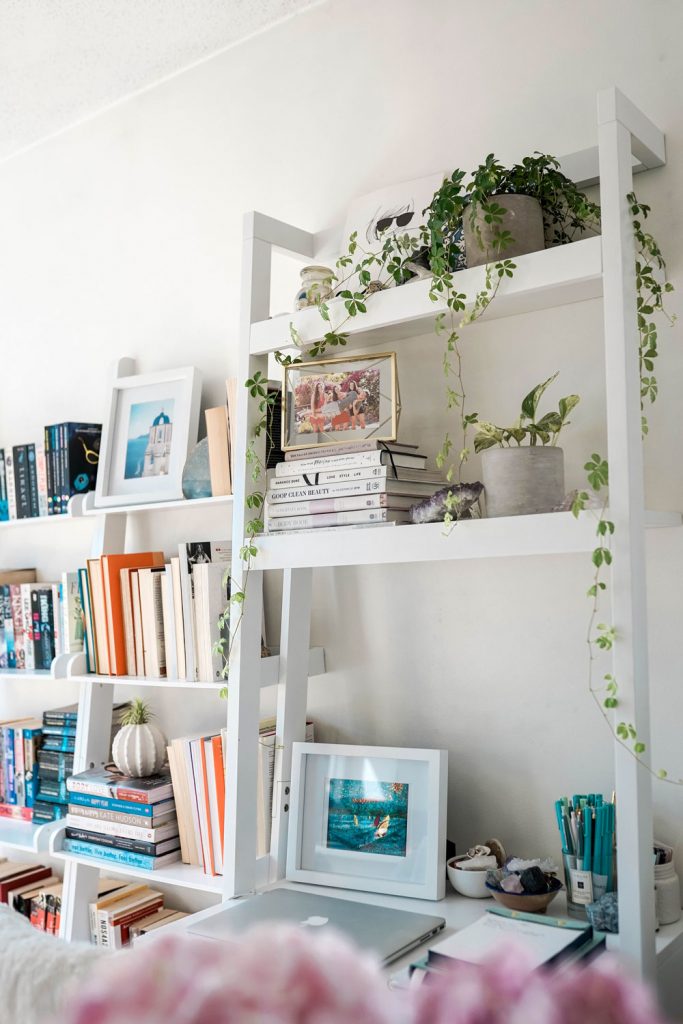 I think it goes without saying that watching the Coronavirus pandemic (as it's officially now been categorized by the W.H.O.) sweep across the world has been, well…a little scary. Here in Canada, it's been reassuring at least to see that our government is investing a lot in health supplies, education and more and so far, our number of cases is still relatively low, but if there was ever a time to work from home (particularly if you start to feel a bit unwell), it would be now.
I've worked from home for years and Matt joined me here at home some time ago (his company had a merger and their HQ moved to Ontario, so he had the option of going into a shared workspace or spending all of his time at home with me his angel girlfriend and CLEARLY he chose the latter), so while I can't in all honesty say that I'm perfect every day about work-from-home practices (I think it's just kind of in the nature of my job, honestly – no day usually looks the same), I know what helps me be most productive. I also have a perfect case study in the form of Matt, who is very unwavering in his work from home practices to an almost annoying degree (he's started to just fully tune me out when I try to show him a new dance I made up). So without further ado, for all of you making that transition to working from home my 7 tips are:
---
Don't go straight from bed to your desk
Seriously. The biggest struggle for me when I went from working a 9-to-5 to working from home is that I'd just kind of cruise on over to my desk upon waking and then feel like I was just a bit brain dead the whole day. Go for a walk first, do a little stretch, hit up the gym if you like to exercise in the morning, do a meditation, etc. On that note…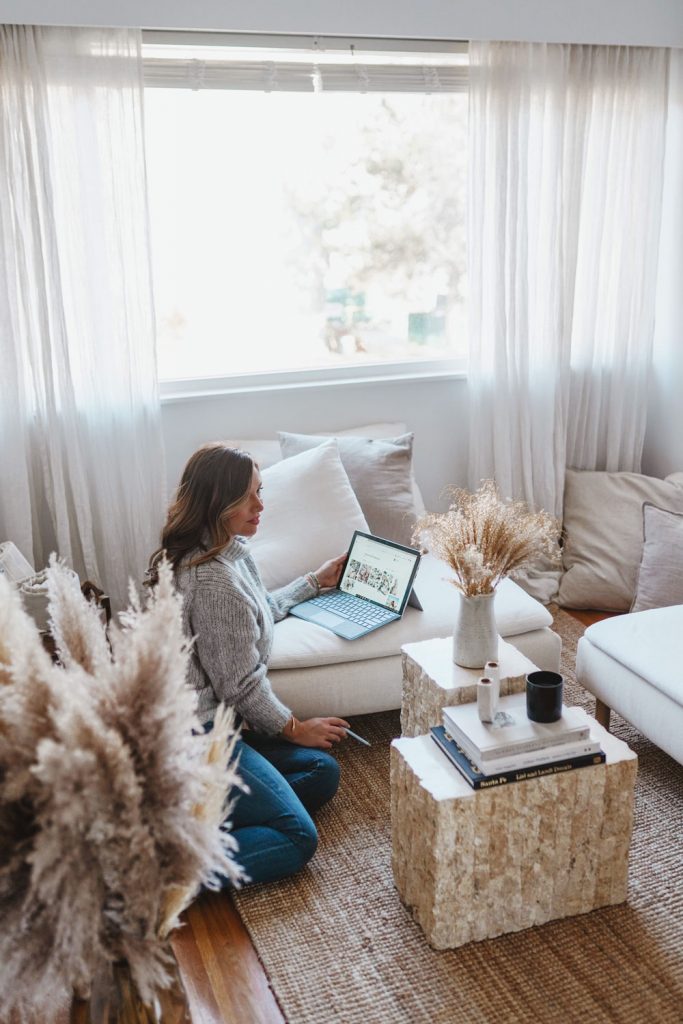 ---
Make a morning routine that works for you
My morning routine looks different than what it used to be a couple years ago, so the main thing here is to be flexible and find one that works well for you in your present stage of life (and most importantly, that feels good, helps mark the beginning of the day and helps you transition into work). Currently, I like to wake up, take a minute to just meditate or think about some positive affirmations/thoughts for the day, throw on some workout gear and go for a 30 minute walk on the Sea Wall with hot water and lemon in my thermos. I then come back and make Matt and I a green smoothie while doing a couple stretches, then I have coffee, do a little journaling, map out my day in my agenda and fill up on a ton of water. Then I dive into work feeling SO much more productive than if I'd just rolled half-asleep from bed to my desk in my PJ's (it's not like you have to get dressed to the nines but even putting on workout gear for me helps signify that the day is starting). If you're starting work around 9, something similar would just mean you'd want to get moving around 7:15 or 7:30 so you can not feel rushed, but usually I'm ready to go for 8:30 so by all means start your work earlier and finish earlier if your employer is flexible about that (this is what Matt does – he's usually done work around 3:30 or 4 which is amazing).
---
Use Focus Keeper
This app helps me immeasurably. While I have an obsessive nature (I can go down a rabbit hole of researching some random historical event for like 3 hours if given the opportunity, and writing a blog post on a trip will happily occupy me for a whole day), I can also have trouble focusing if it's a task I'm not particularly keen to do (so anything admin). Focus Keeper uses the pomodoro method of 25 minutes on, 5 minutes off (with a longer 25 minute break after I believe 4 rounds of this). It keeps me focused on one task at a time and I appreciate that there's built-in (but timed!) breaks that also pull me out of the zone if I'm starting to feel too pulled into a specific task. Download it here!
---
Create a happy work space
Even if working from home will just be a temporary situation for you during this Coronavirus period, try to set up as best as possible a nice little office nook for yourself. The key essentials for me are some nice visuals (I like a vision board personally but even just a nice framed picture is perfect), some sort of green houseplant, crystals because I'm a hippie and my notebooks stacked neatly beside me for note taking, mapping things out, etc. Whatever makes you happy, set it up and try to have a nice designated spot.
---
Wear some noise-cancelling headphones if your partner or roommate is home
I'm usually the one bugging Matt, so this is more his trick than mine. His headphones on are a signal for me to not bother him, which most people would respect. For me it's 50/50 – sometimes I decide it's not worth it, other times I'll just very sweetly pull his headphones out so that he knows I need attention (usually to show him a new TikTok I'm losing my mind over, or my improvement in flossing). Totally the Tevin to his Peter Klaven. It must be fun dating me!!!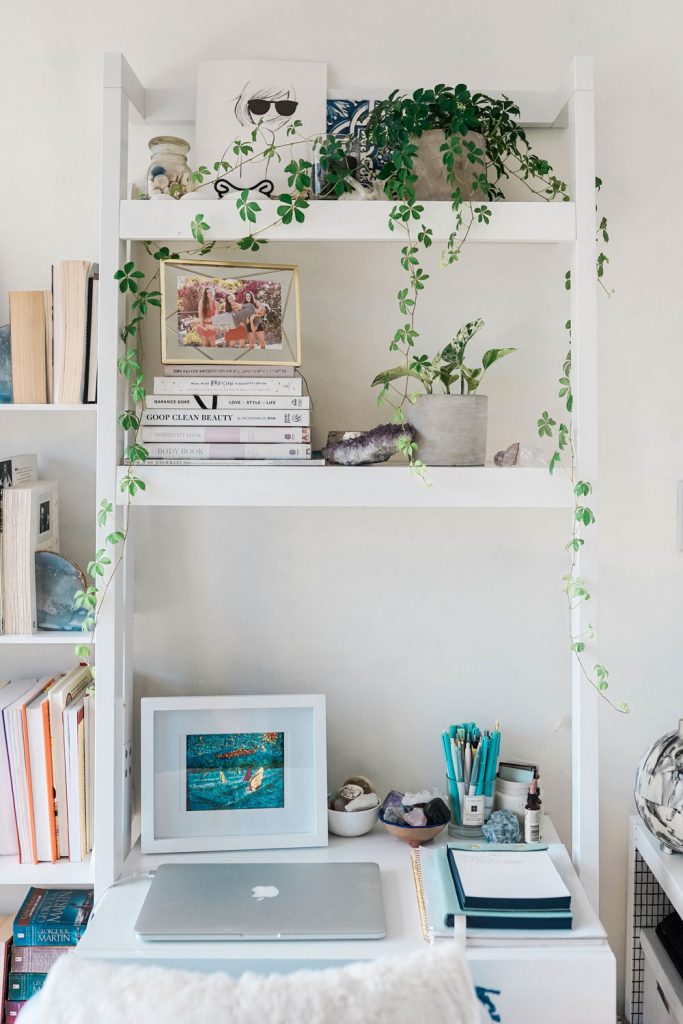 ---
Have a clear start time and a clear end time
This one also doesn't really adhere to me because working on social media, you don't really have clear starts and stops, but I do try to start work around 8:30 and I try to call it quits on my laptop at the very least around 4:30-5 latest. I'll continue working usually into the evening, whether that's posting to social, research, etc, but I like to time up with Matt to go for an afternoon walk, run our errands, hit the gym, etc and get back to things around 6:30 or so before calling it quits fully in the evening. If you're working from home right now because of Coronavirus and have general work hours, then definitely stick to them and try to turn off notifications after your closing time.
---
Build in friend time (or carve out alone time!)
The thing that's always been hardest for me about working from home is not being around other people. I'm extraverted and find too much alone time to actually be kind of damaging to me, so need the buzz of other people around me to feel, well…normal. Matt making the switch to working from home has honestly been such a huge blessing to me – we fortunately are kind of both built the same way as far as extraversion so we tend to do well with lots of time with one another, but obviously not everyone will have their partner or roommate home with them depending on your living situation and everyone's work situation. If you're feeling starved for social interaction, try to build in a lunch date with a friend or book in a workout after your work hours – key for not getting cabin fever at home alone. If you're someone who's more introverted or requires alone time and your roommate/partner is also home, then do the opposite – figure out ways within your own space to get that alone time, or go for a walk, to a class, shopping, etc on your own. If you're introverted and no one's home, then enjoy this wonderful time in your life.
Of course, follow all best practices as well for health & hygiene right now: wash your hands for 20 seconds often (the equivalent of singing Happy Birthday twice through), clean your devices, steer clear of any visibly sick people (brutal but sadly necessary right now!), limit your visits to super packed public spaces, etc. Hope you all stay safe and healthy out there!