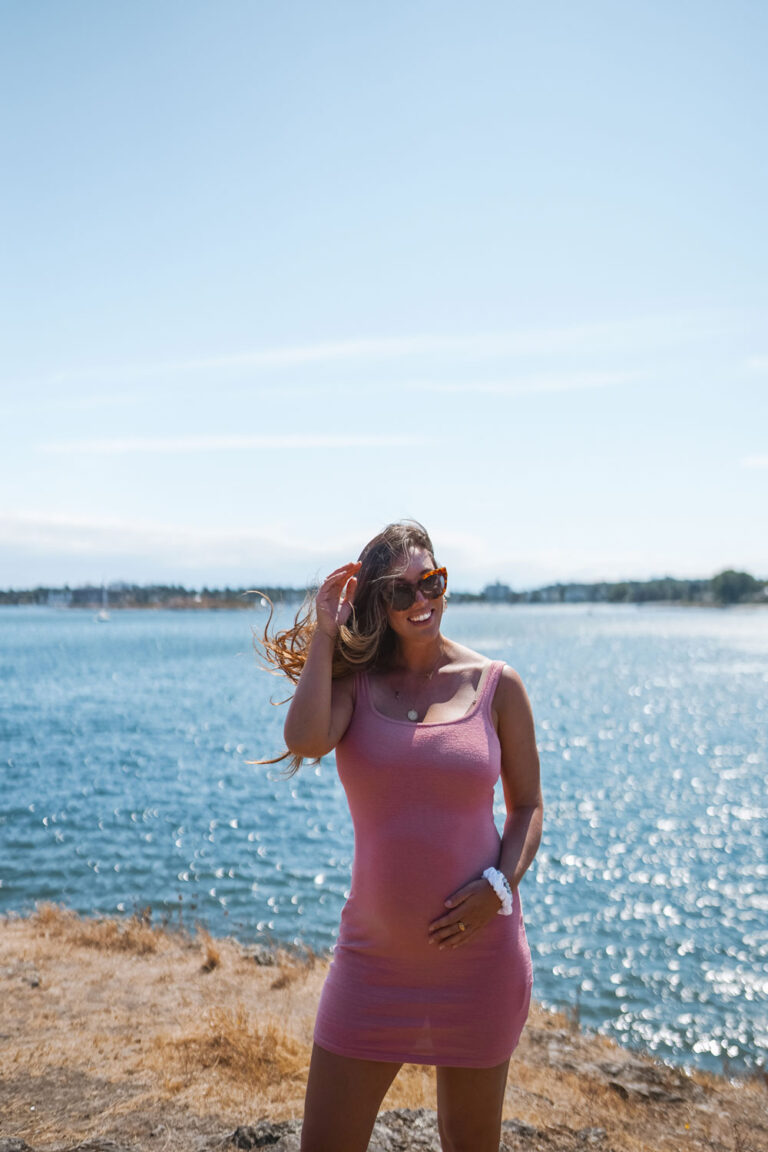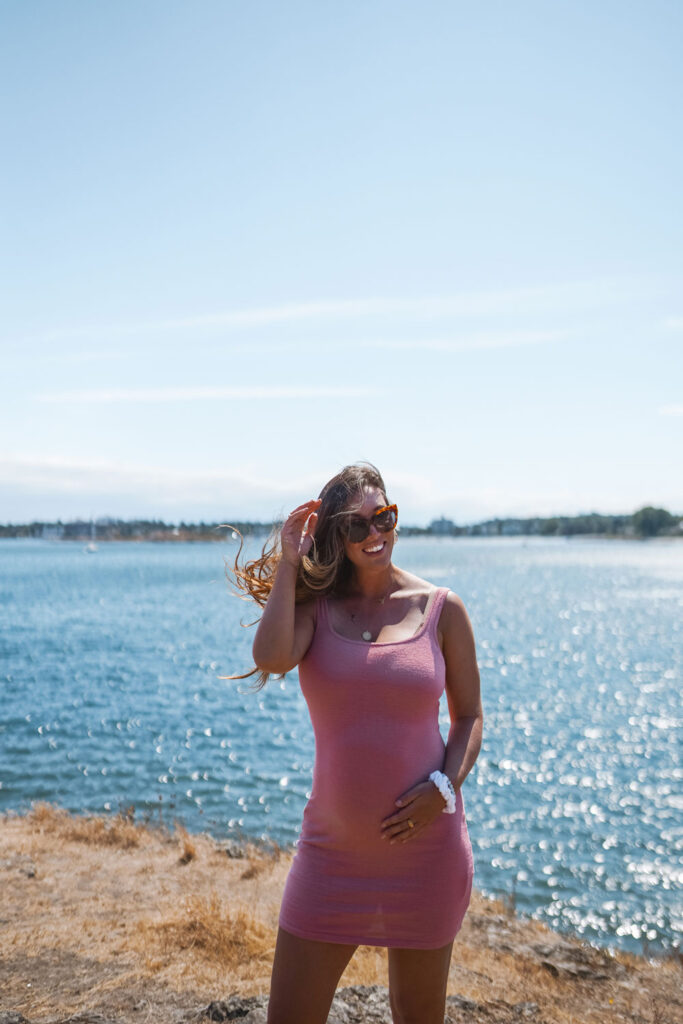 I am pretty much at the end of my pregnancy (if these false labour surges are any indication, the end could be even nearer than anticipated, but then again who knows anybody's guess is as good as mine!) and I'm starting to really realize that baby will soon be earth side…as much as I'm feeling more & more ready for it, in a weird way it will be so bizarre & maybe even a bit sad to not have him tucked away safely in there! I feel like it'll take a bit of adjusting & getting used to my body being, well, my body again, and baby not being a part of it anymore.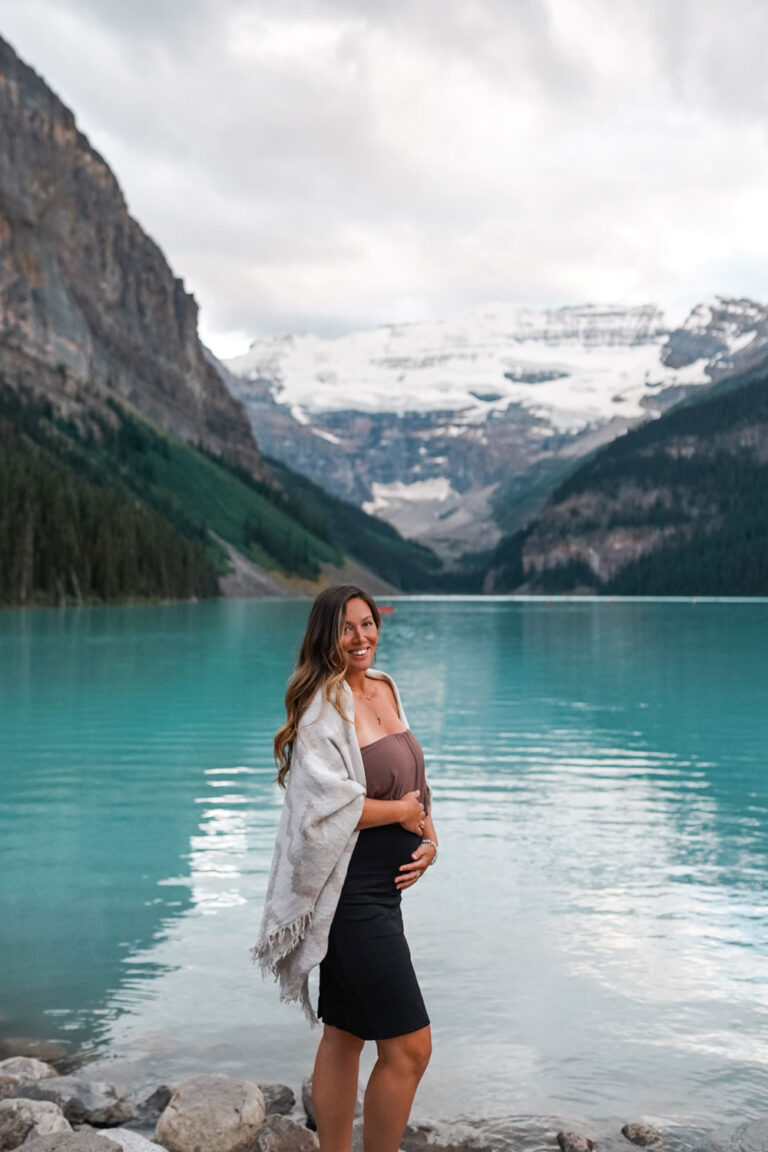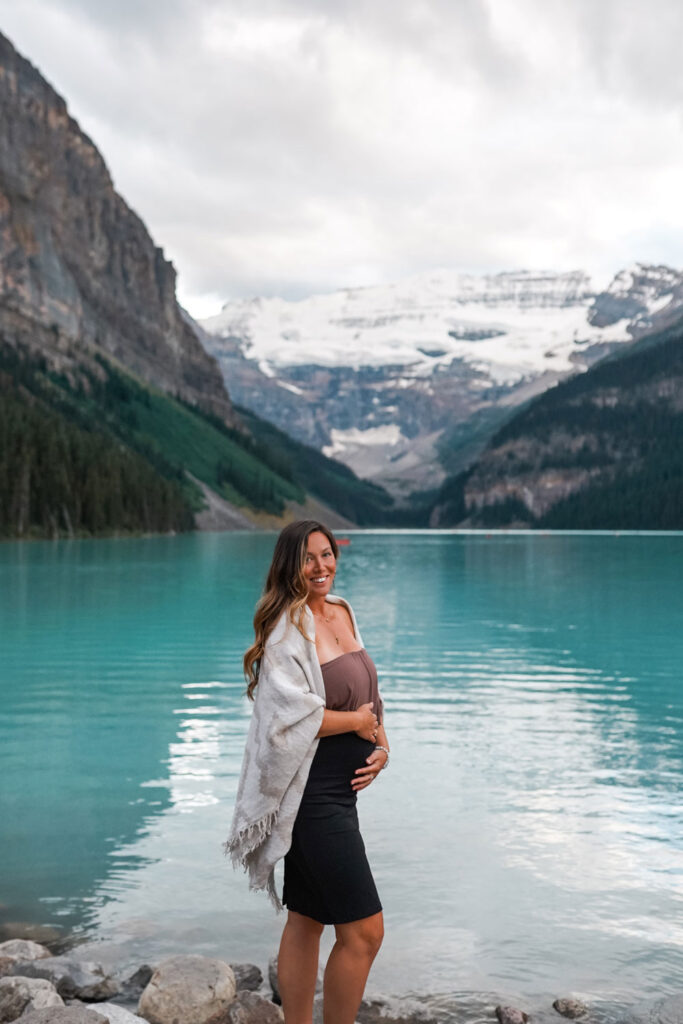 I feel like I've gotten so used to dressing for my pregnant body that dressing for postpartum will be a whole new ballgame, but fortunately I really kept an eye on pieces that would work for after baby was born as well so hopefully will have lots to wear in those early weeks. I somehow did end up getting through this pregnancy without getting any maternity clothes other than a belly band when my jeans stopped buttoning up, which was never an outright goal of mine, but just the way it worked out for me over my pregnancy! Just between being pregnant mostly during warmer months, being a bit strategic & I think just carrying in a particular way, I was able to really stick to the non-maternity pieces all the way through and consequently, feel like I can very confidently point you in the direction of some critical essentials that I know you'll be able to rock through pregnancy & beyond!
Want to give you a heads up that Shopbop is hosting their The Fall Event sale right now (ends tonight though!) so if you're looking for some of these pieces to round out your wardrobe, that'd be an amazing place to look! You can score up to 25% off with the code FALL20 on all applicable items – linking to some fave products throughout here.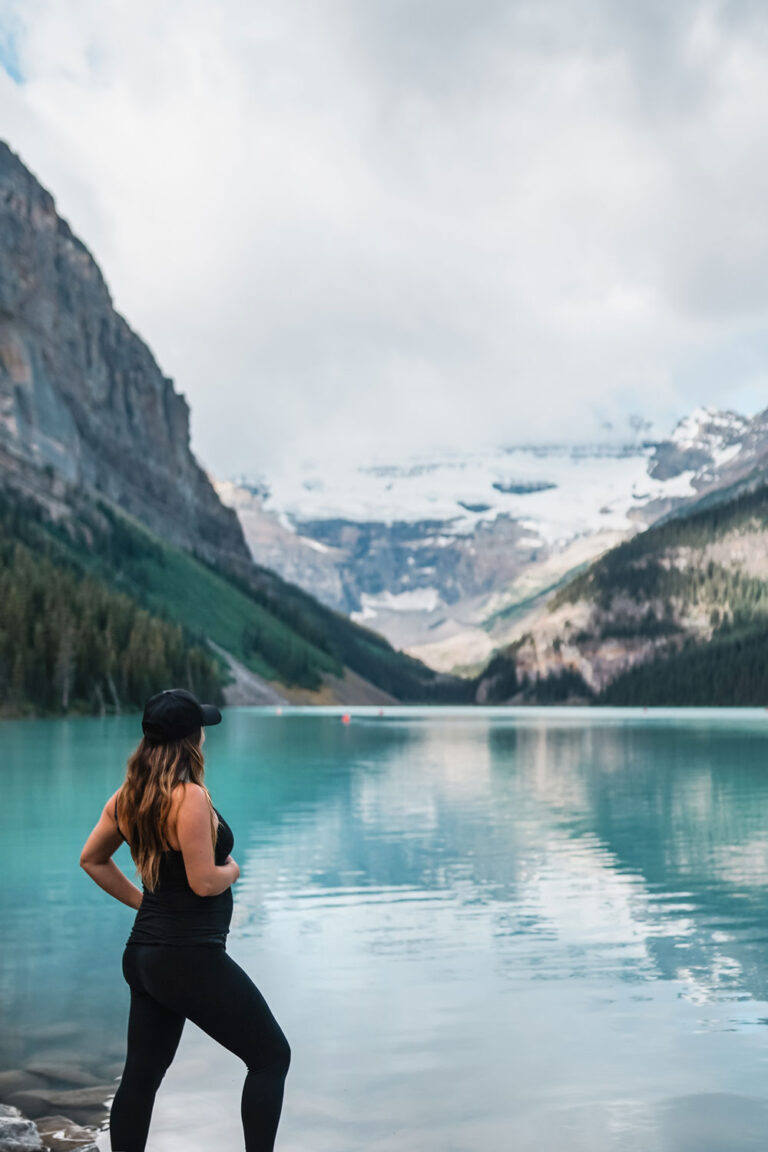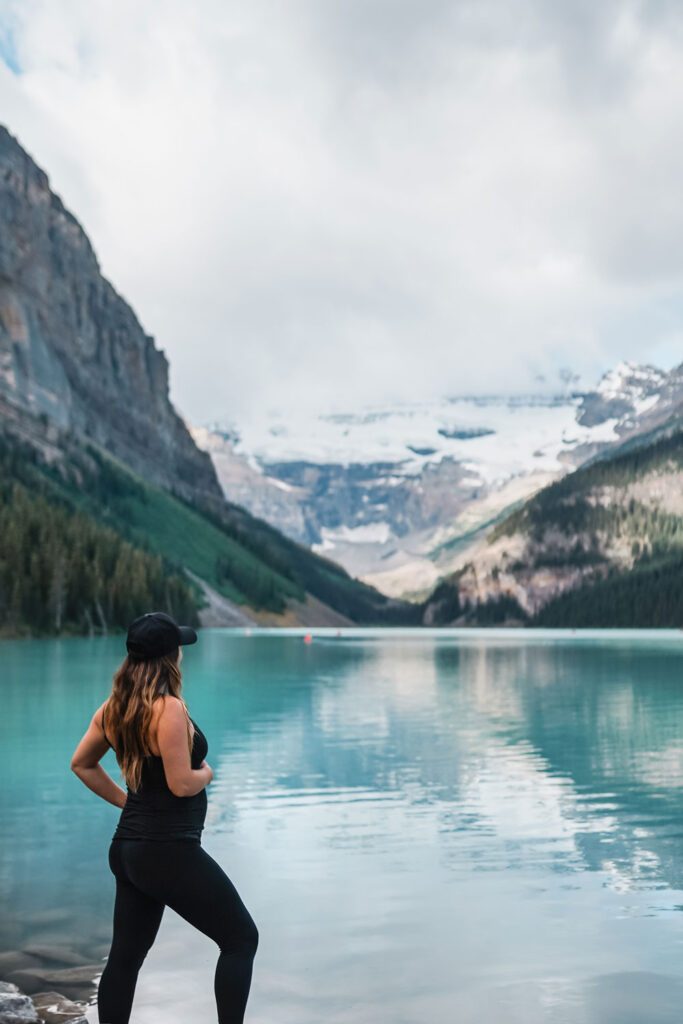 Basic Cotton Leggings
I got just a couple basic stretchy pairs that I really love—they worked really well with the longer sweaters or tanks I wore! These are also great for fall in different tones if you're finding your usual long sweater dresses are riding a bit high. If you're wanting a shorter version for the warmer months these are an amazing option and on sale!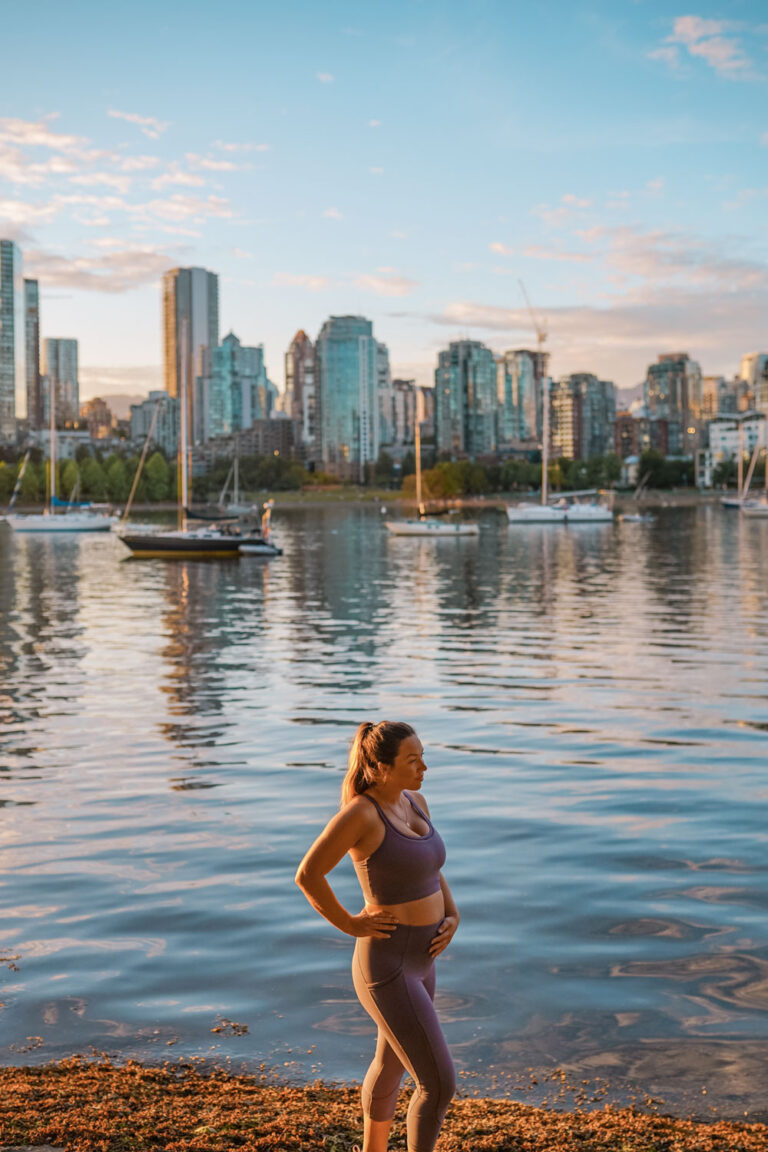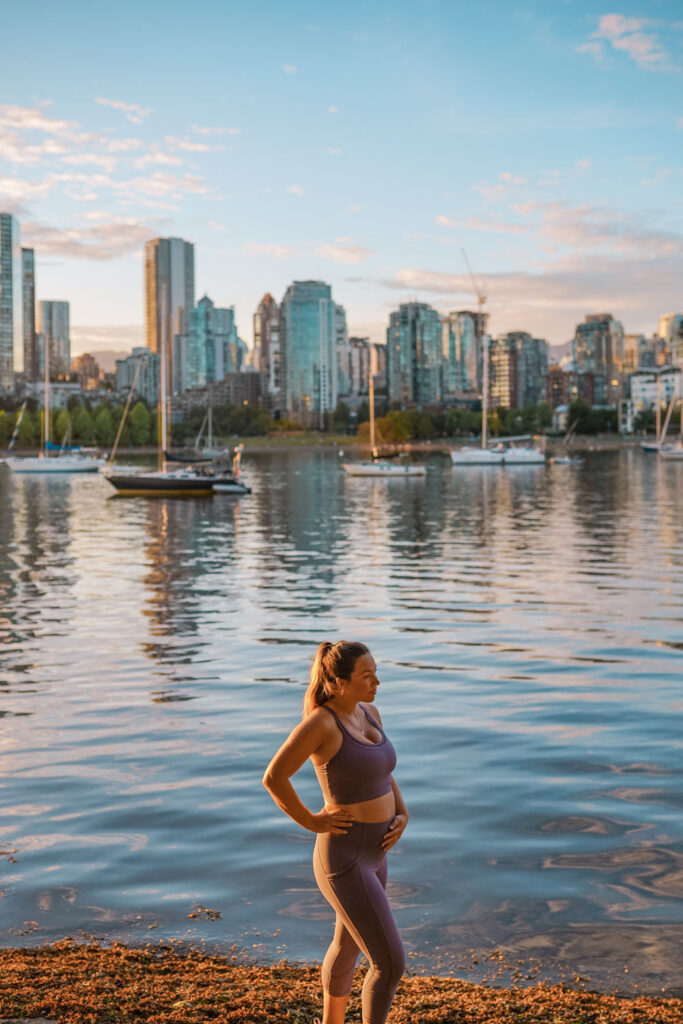 High-Waisted Active Leggings
I have a ton of faves from Lululemon (the Align a size up, a must!) to Joe Fresh to Aerie. I stocked up on these as I know that most of what I'll be doing postpartum will be hanging around home and going for long walks with the baby, so basically legging central for another few months! I found these gave some nice compression to my core too, which really helped especially as I started to feel him descend a bit lower into my pelvis and had more pressure through my pelvis/low stomach. Shop more leggings here!
Long Stretchy Tank Tops
I got about 5 tanks from H&M Basics in white & black & I wear them literally all the time. They work well with those aforementioned cotton leggings (and are great if you're layering on top with a sweater), they kind of help keep everything compressed, they cover up my belly band and jeans and help smooth out the buttons and all that even more, etc. Also, they're style basics that are just worth having in your closet anyway! Lots more tank options here, like shopping for them in the activewear section because they're often a bit more basic/stretchy!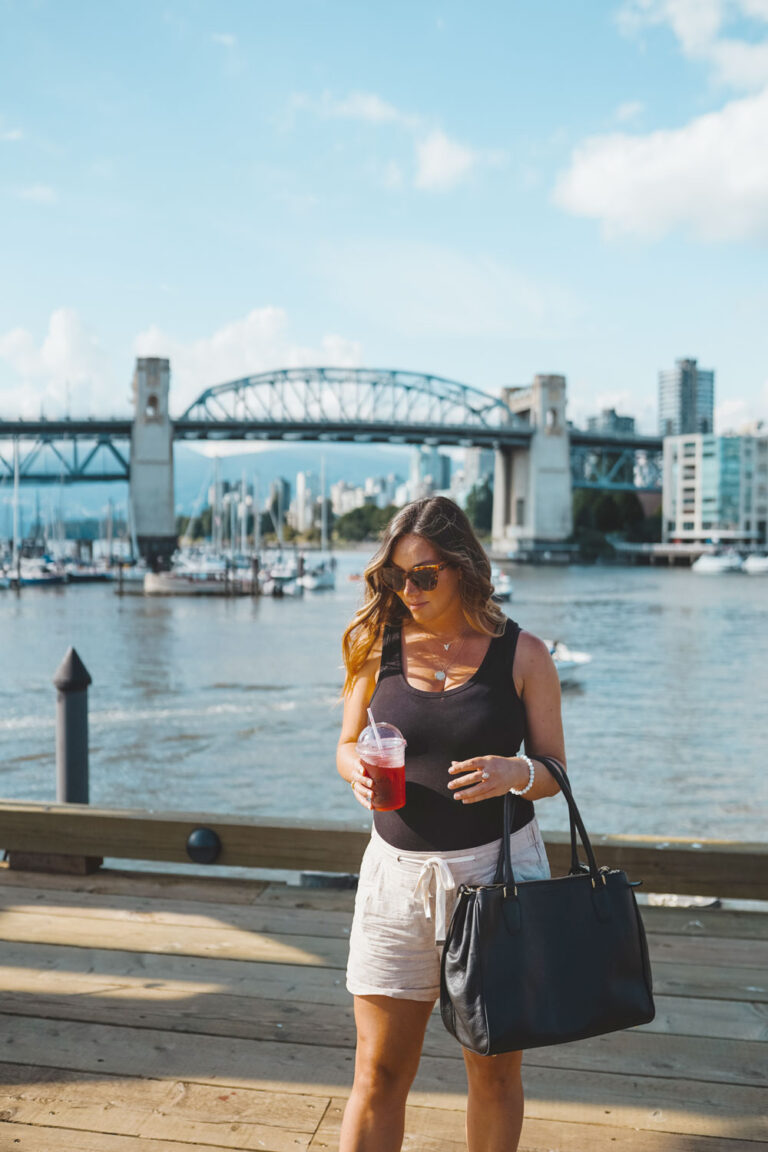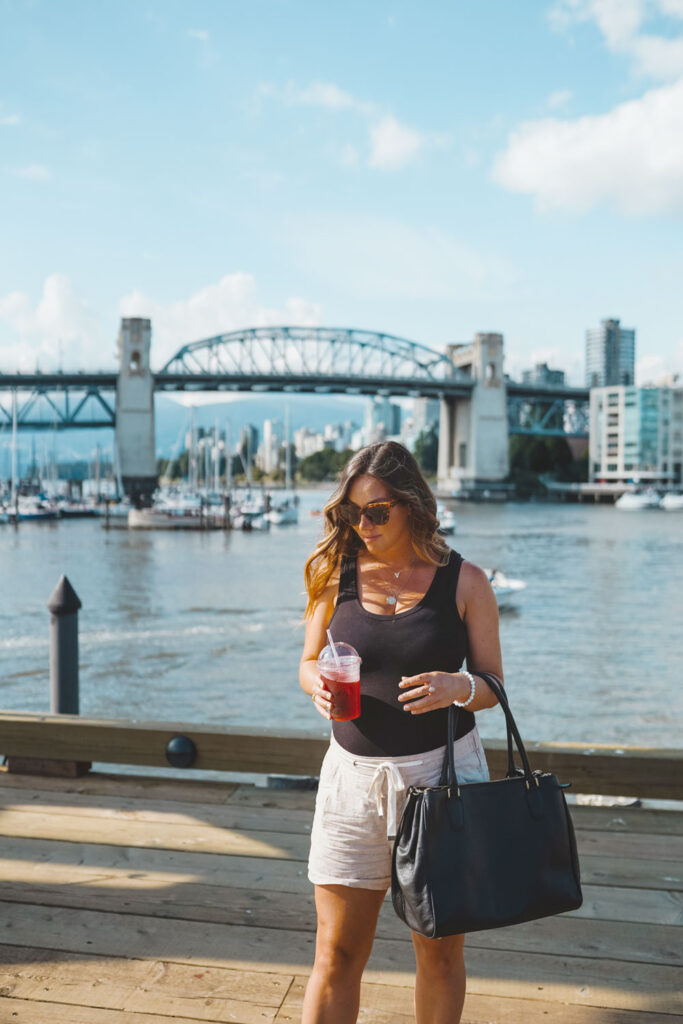 Elastic Waistband or Stretchy Shorts
Whether it was basic cotton pairs from Aerie or H&M, biker shorts or more chic linen shorts from Joe Fresh, I had about 5-6 shorts that really got me through the summer! Worn with those stretchy tank tops mentioned above (you can see that look in action here) or looser T-shirts, they were just such an easy option. Biker shorts especially (these ones are on sale) are the most versatile one for summer to fall if you just add in an oversized tee and jacket or chunky knit! So many shorts to choose from here.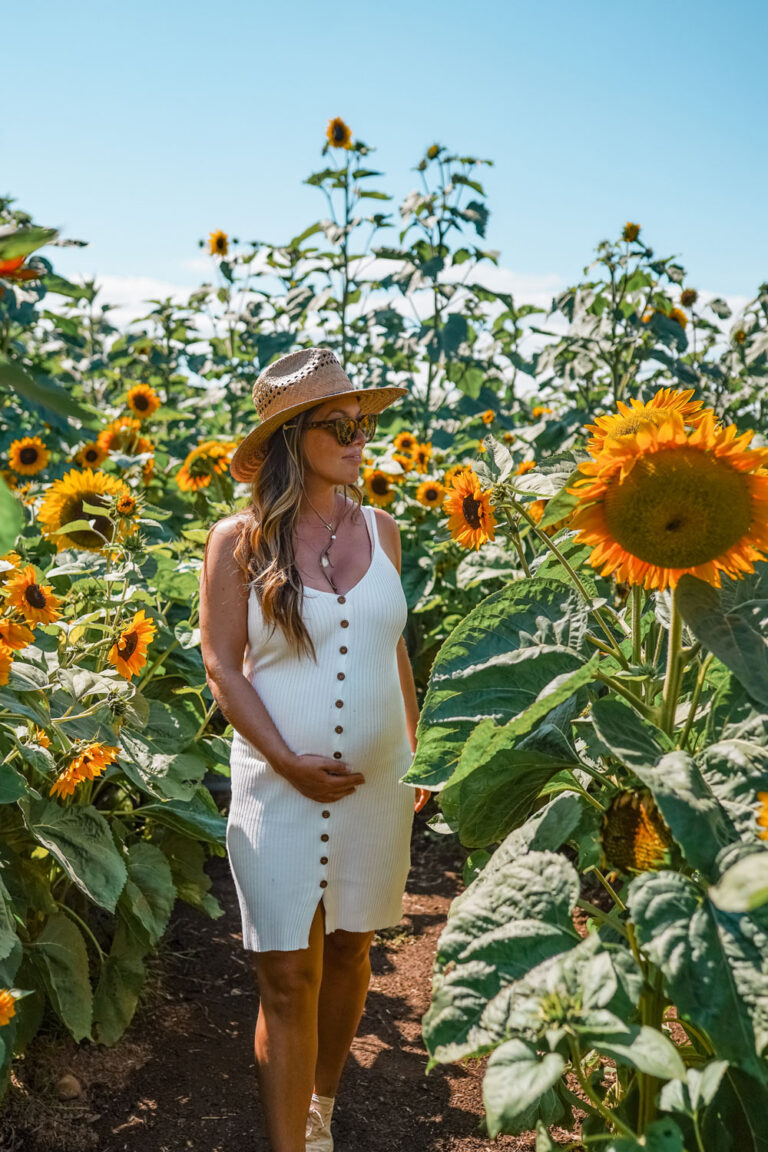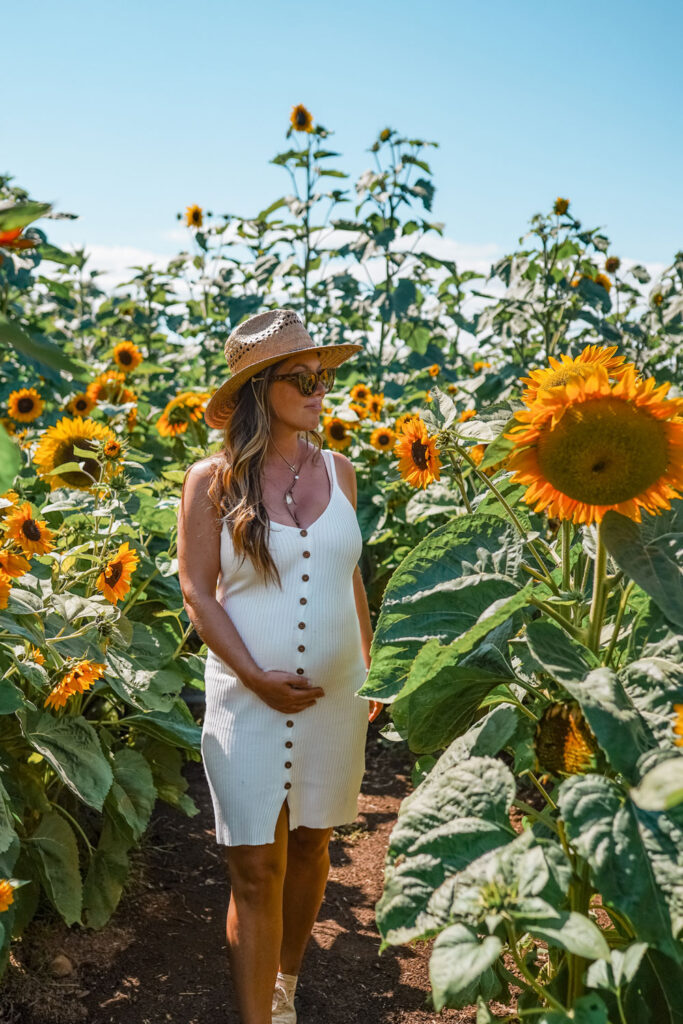 Stretchy Bodycon Dresses or Skirts
My personal fave! It can feel hard to feel pulled-together in general these days with COVID and whatnot, but being pregnant makes it all the more tricky…especially during the warm months when you just want to be comfy! I love bodycon dresses because they're so flattering during pregnancy & really highlight your bump beautifully, plus they're just so comfy & really easy to layer up as the temperatures get cooler too! This is literally the most perfect stretchy ribbed black maxi…if there's one piece you get for pregnancy, this would be it IMO.
Long Cardigans
Not only is this kind of a body-skimming fave that also allows your bump to still shine, but I find my temps are all over the place thanks to my little built-in baby furnace so having something with lots of ventilation is key! And again, really flattering with bodycon dresses, shorts & a tank, etc. You guys know how I feel about White + Warren – literally one of my all-time fave brands. Their trapeze cardigan (which I have in two colours) would be the ultimate fall piece to indulge in, all their pieces are forever pieces (seriously, some of my W+W pieces are 5+ years now and still looking amazing). Toooons more chic cardigan options here (which are also great for nursing after baby's born).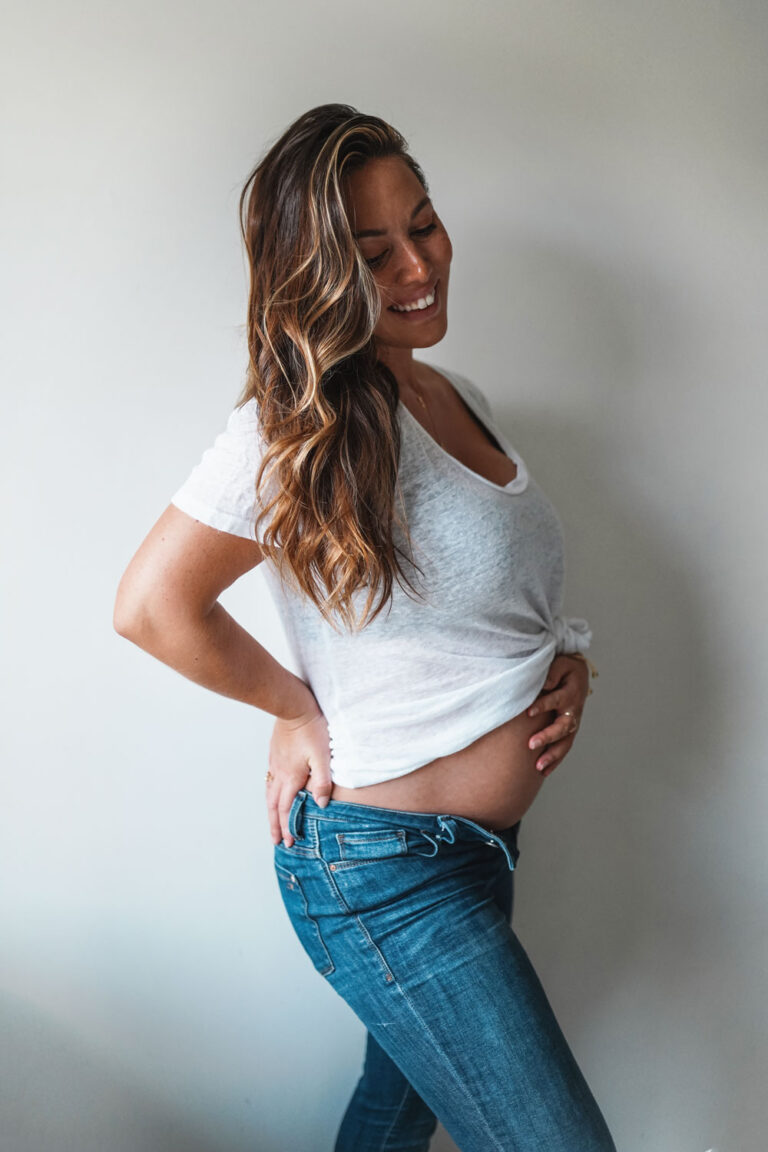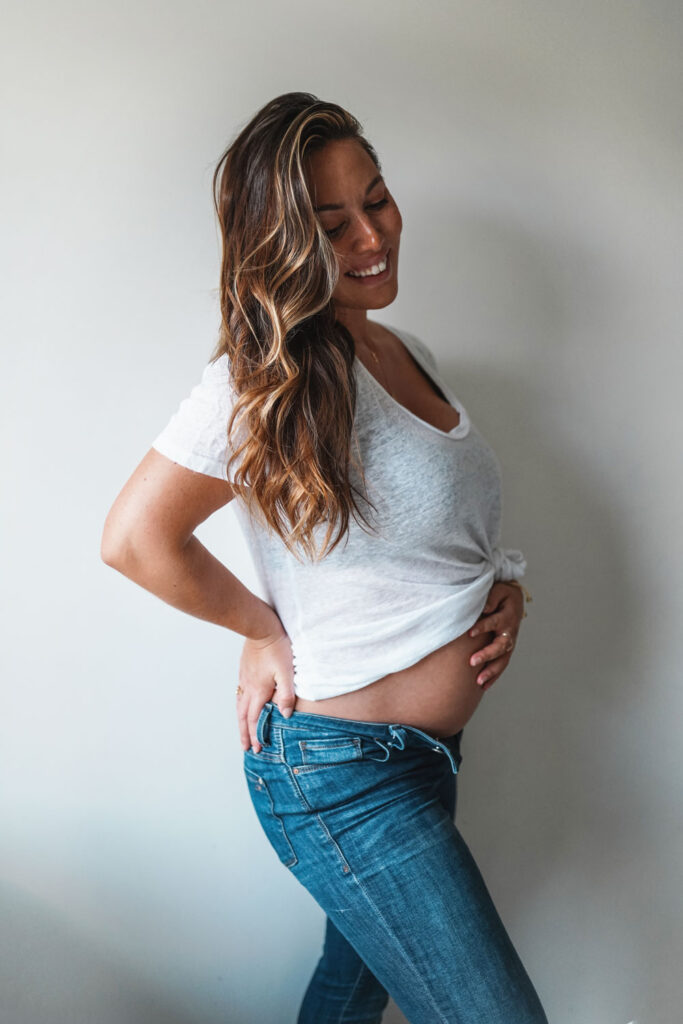 Stretchy Jeans
I picked my top three stretchiest pre-pregnancy jeans and just wore those with the belly band whenever I felt the need to wear jeans (which was quite rarely, honestly…one of the perks of the pandemic, the need to dress up was pretty minimal!). And honestly, sometimes I'd just forego the belly band if I was layering on top with a tank and sweater or something because #lazy. Was always surprisingly comfy! I've heard amazing things about Good American & how stretchy & comfy they are – just ordered a pair for (hopefully) postpartum as part of Shopbop's The Fall Event sale so I'll let you guys know how they go! Shop more jeans options here.
Oversized Sweaters
The Winnie the Pooh look kinda started happening for me around 7-8 months—sweaters that once easily came down past my hips were starting to float up around my belly button and it wasn't my best look. I got a bunch of oversized cotton sweaters that I wear for all my walks and running errands. Any knit oversized sweaters I have too have started coming back into rotation as the temps fell with my leggings! You guys might already know from my stories how much I've stocked up on anything Honeydew Intimates – I'm obsessed with this brand and have 2 loungewear sets of theirs already along with a few shorts (I'm really stocking up on the loungewear in anticipation of, well, a lot of postpartum lounging coming up). I love this sweater for around the house, easy access for nursing & also because it happens to match a pair of shorts I already got from them! Also currently having a moment with anything in a waffle knit. Shop more knits here!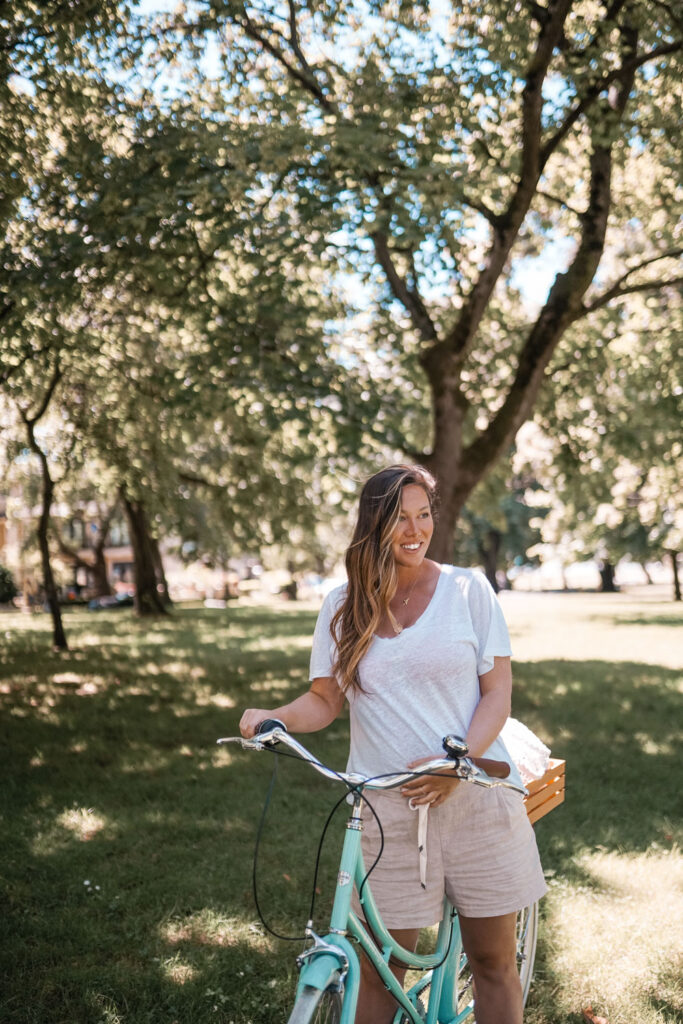 Oversized T-Shirts/Tanks
I sized up in some basic shirts and I liked to knot them at the waistline of my leggings as I liked to highlight the bump but needed the extra fabric to get around my widest part! In the summer when I was burning up it was nice to just throw them on while moving around outside, whether that was biking or doing a big walk. I didn't have to get a ton of new ones in this category because I have ones I already love that were always my comfy oversized go-to's, like this Whisper tee from Madewell I've had for a few years (as I write this now I realize I should probably stock up on some freshies/different colours, especially since it's on discount right now).
Sweater Dresses
Now that we're into fall and I'm finally beginning to feel like I'm not roasting 24/7 I've been loving some sweater dresses (really cute with Converse [I personally love the all-white ones], ankle boots, flats, etc) for a casual-chic look. Also cute with leggings and knee-high boots or wellingtons if those are still comfy for you too! Speaking of Madewell previously, sizes are limited but this gorgeous navy V-neck dress is as classic as they come and would work beautifully preggo or not. Shop more knits & sweater dress here!
Just a note that re: bras (something I get asked about all the time), I was able to wear most of mine up until about 7 months or so, at which point I just stuck with my comfy ones without underwire…the comfiness factor really increased then though so I probably would've made the switch earlier if I'd been smarter! As far as underwear, I am trying to opt for briefs now, albeit cute briefs (usually would wear thongs)—not to be TMI but this is largely just to keep haemorrhoids at bay hopefully, something that comes up a lot in pregnancy and especially towards the end when you have tons of pressure on your lower region! So far haven't gotten any and just wanna keep that area breathing comfortably so the thongs have gone to the back of the drawer for the time being.
Finally, footwear! I've been sticking to comfy sneakers as much as humanly possible. I wear my APL Techloom Wave Sneakers literally just about every day, they're so comfy & cute (shop more APL sneakers here, I have 3 and love them so, so much, especially the slip-on options!), and opt for my waterproof ones from Vessi when we get rain. If I do wear other footwear, I try to keep it to ankle boots or riding boots that are flat or just have a low heel! I was really paranoid about my back since I have scoliosis and have been really lucky so far, my back pain has been really minimal (and as someone who's struggled with back pain for most of their life, so grateful for that!). So I think part of it has been luck, and part of it has also just been staying active, choosing smart footwear and resting smart (with a body pillow that I got really early on, like 17 weeks!).
Last note is if you did want to shop maternity wear, there are so many chic maternity wear options here. Again, more just incidental the way it all worked out for me but from Hatch to Ingrid & Isabel, there are maternity wear brands that make the cutest clothes and a lot of them can transition into postpartum too!
If you have those 10 items in your arsenal, whether you opt for maternity wear or not you can know confidently that these will come into major play throughout your pregnancy (and postpartum, and even beyond depending on sizing!). Make sure you shop Shopbop's The Fall Event before it ends tonight! There are also so many more fall looks to shop from here in their Fall Trends page. Now I'm off to nap in my sweater and leggings, my current WFH combo I seem to constantly be in! I'm in a state of perpetual exhaustion this last week which has been really strange—my energy has actually been okay up until this point. I get a surge of energy first thing in the morning and then again for an hour or two in the late afternoon but otherwise I could very happily be horizontal and asleep the rest of the day/night. Any of you also get this over the last leg of your pregnancy?