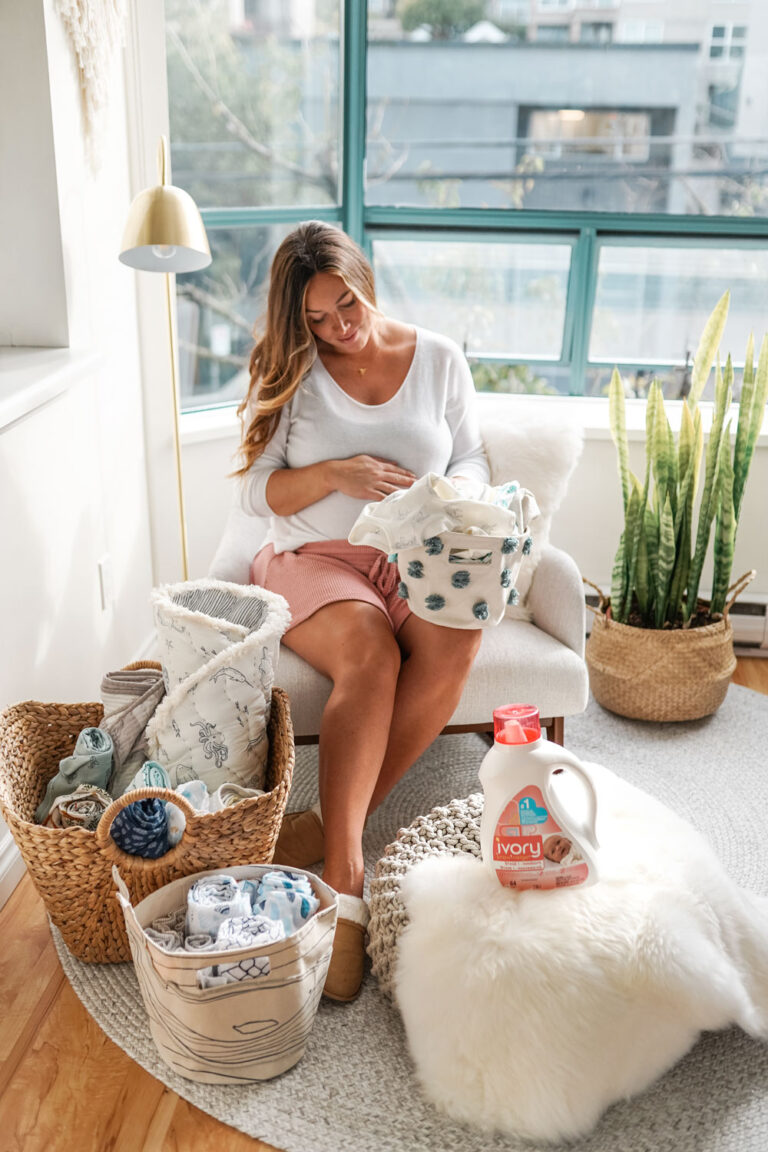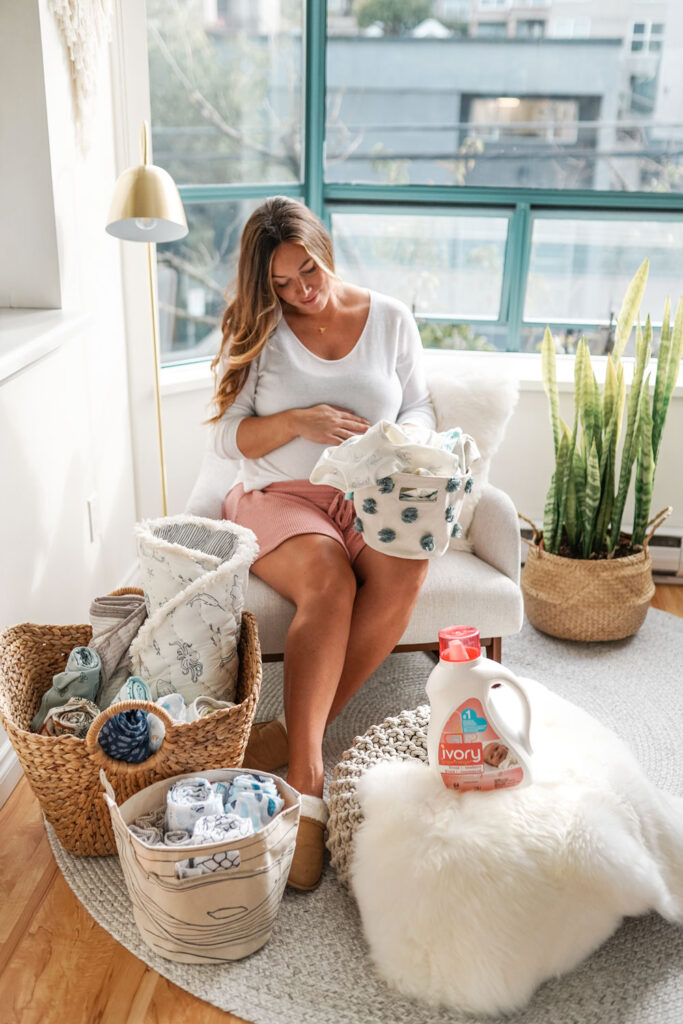 It's pretty surreal looking at my pregnancy progress tracker & seeing the percentage left in tiny, single digit numbers (think we have 2% left now). I've been saying it basically from the get-go and even now at the tail end when you'd expect that time would've slowed down, for whatever reason it still feels like it's going at lightning speed for me. While it feels like we've been busy at work in our place and getting ready for at least the last couple of months, I'm grateful to still have a few tasks left to do and things to pick up in these last few weeks (or days, depending on when he comes!) because it's helped keep me busy and distracted!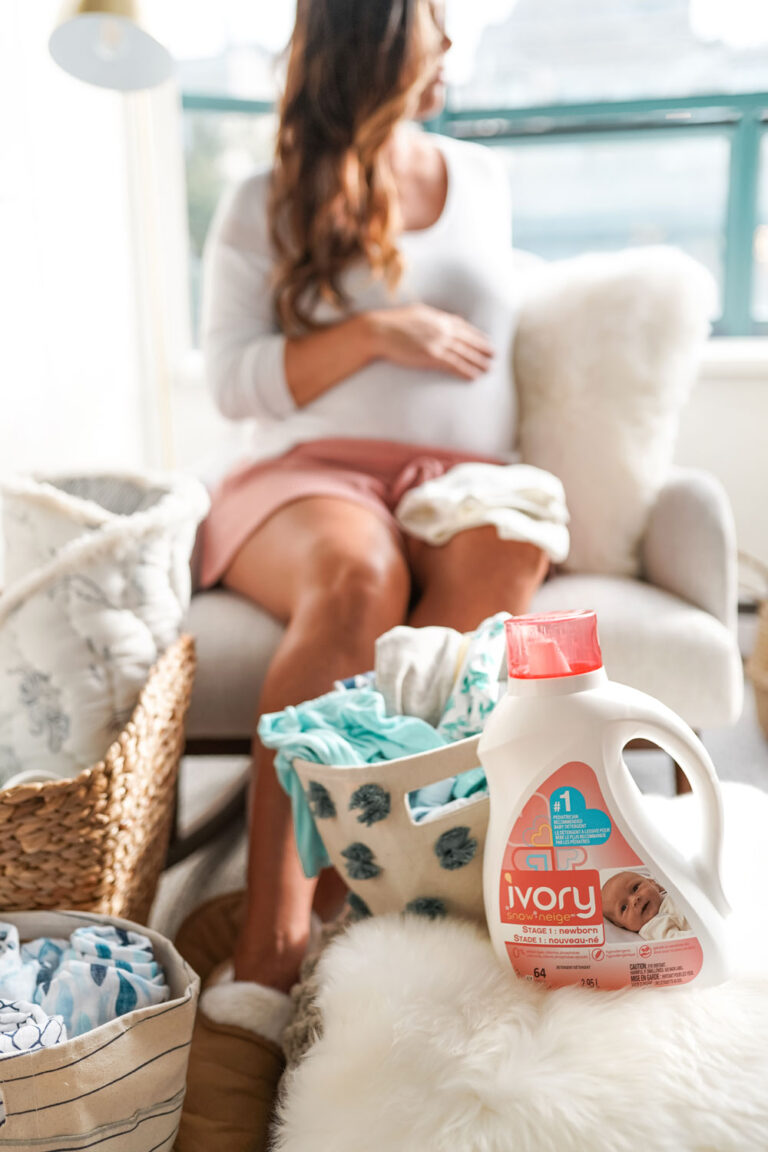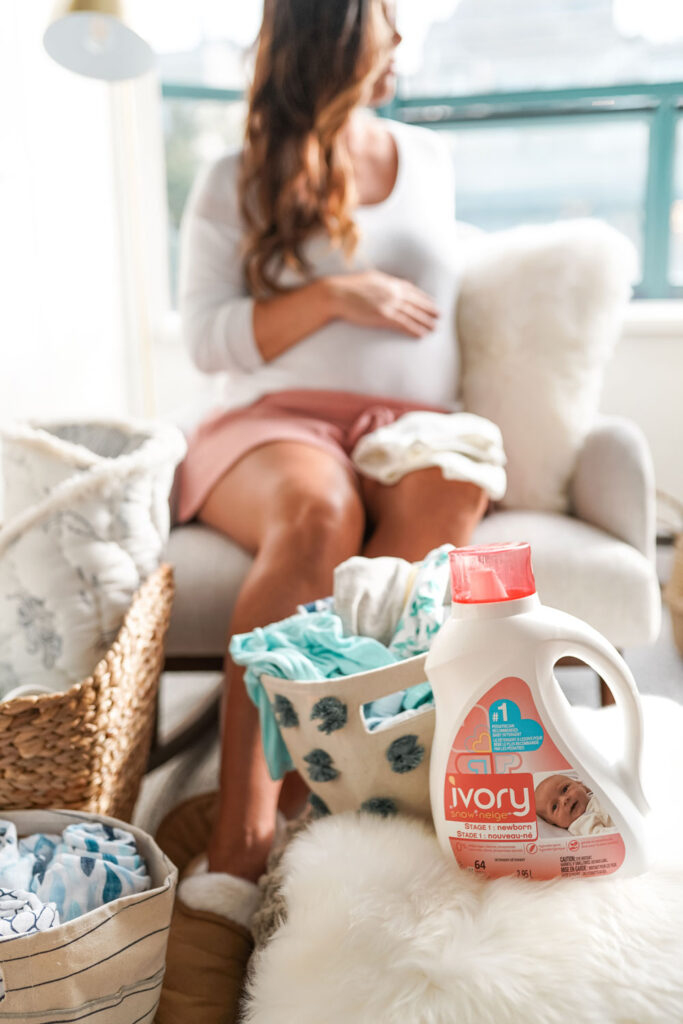 Wanted to touch base on some essentials today that you need in case you're trying to tend to the must-have's and must-do's, either in your last little stretch of pregnancy like me or if you're ahead of the game and getting to all of this months beforehand! Or of course if you're just planning for the future—I'm still shocked by how very little I knew about babies, pregnancy & just what the preparation would entail (nothing too daunting or big, just not anything I really expected!).
---
Ivory Snow Stage 1: Newborn Laundry Detergent
I'm so excited to be partnered with Ivory Snow both before and after baby's arrival as it is the #1 recommended laundry detergent by pediatricians and dermatologists. I had no idea about pre-washing before becoming pregnant, and even less knowledge about why it's important to use specific detergent for a newborn's delicate skin.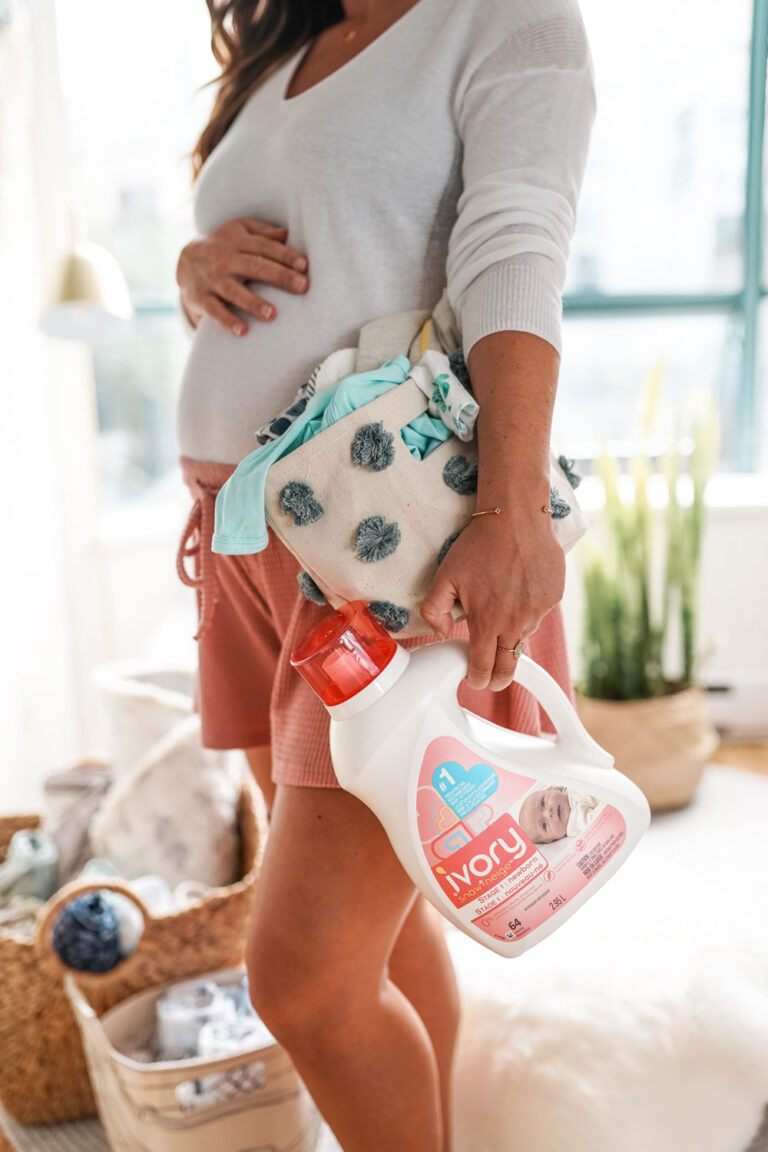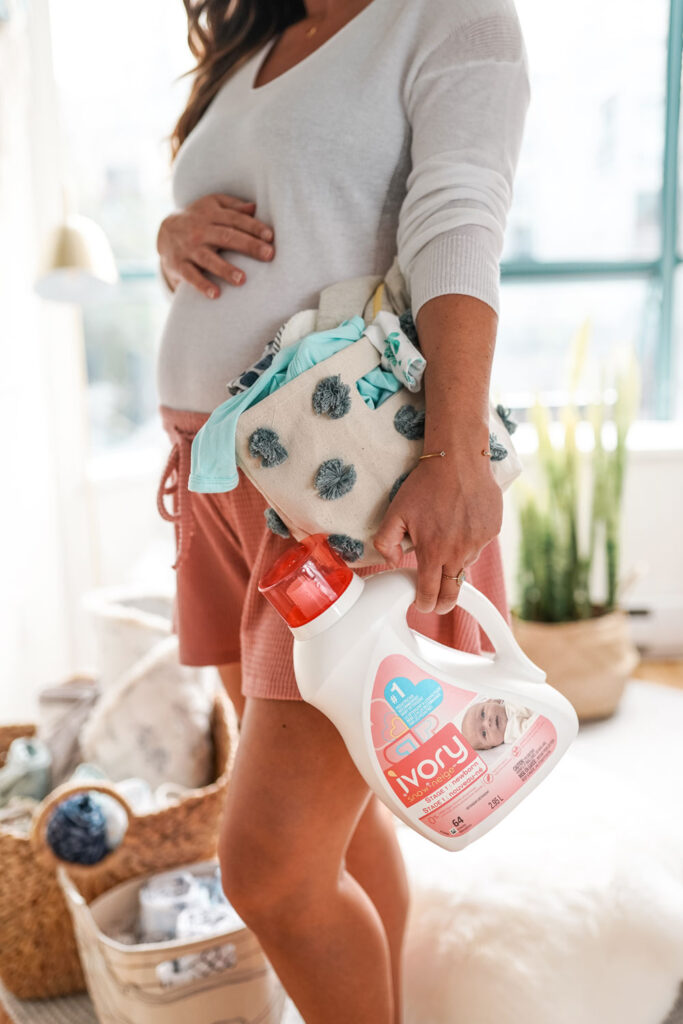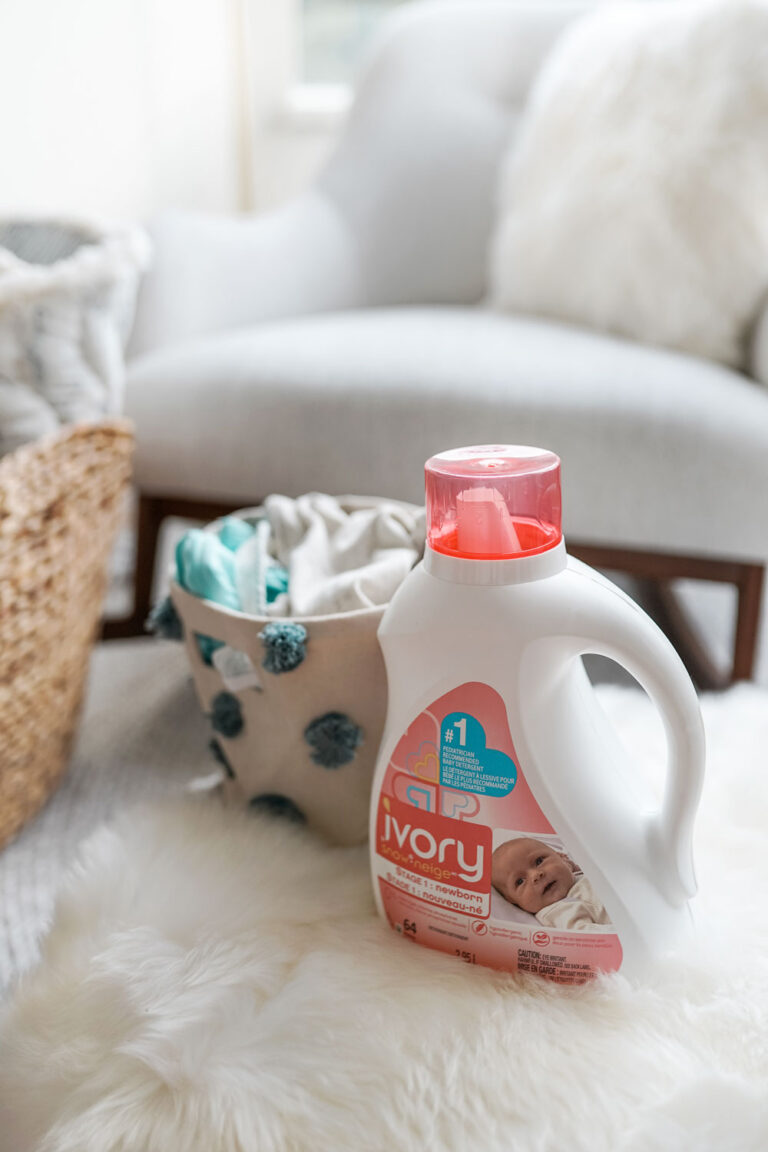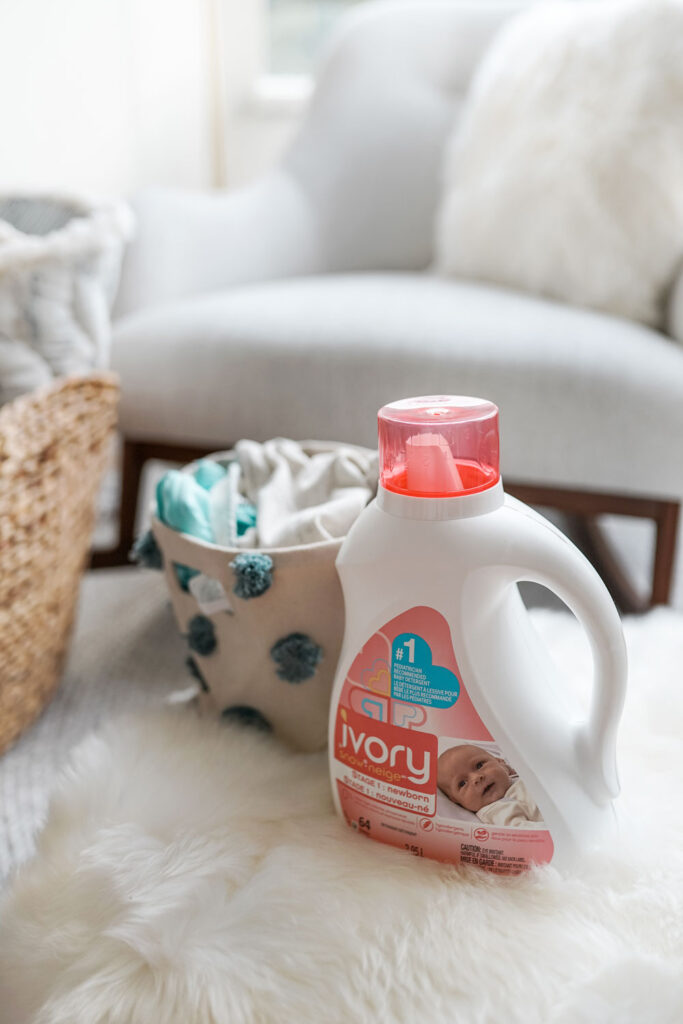 Ivory Snow is hypoallergenic and has a detergent for every stage of baby's life, from newborn to active baby as they get older and more mobile (and their clothes get very likely dirtier & dirtier from more exploration and introducing solids into their diet!). The smell is quite literally heaven. I've had very limited newborn exposure (though lots of baby exposure, just don't know that I've ever actually held a brand-new baby) but something about this scent already reminds me of him and of that soft newborn baby scent you always hear about.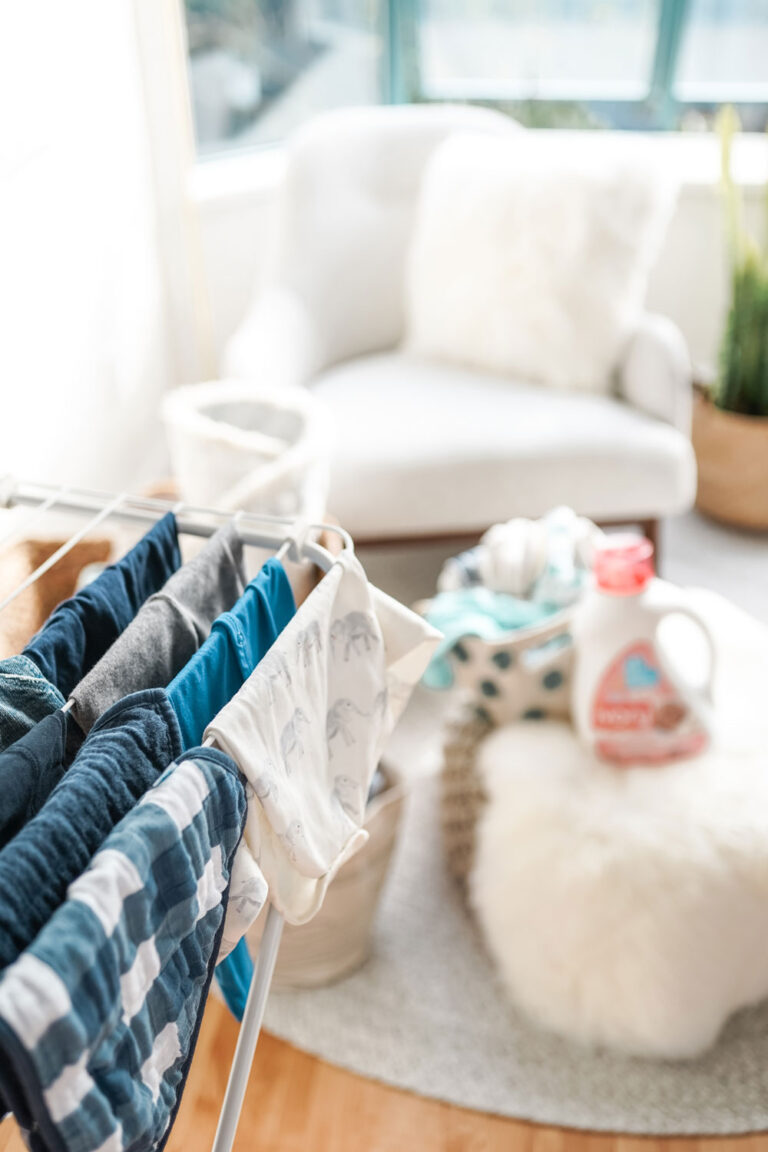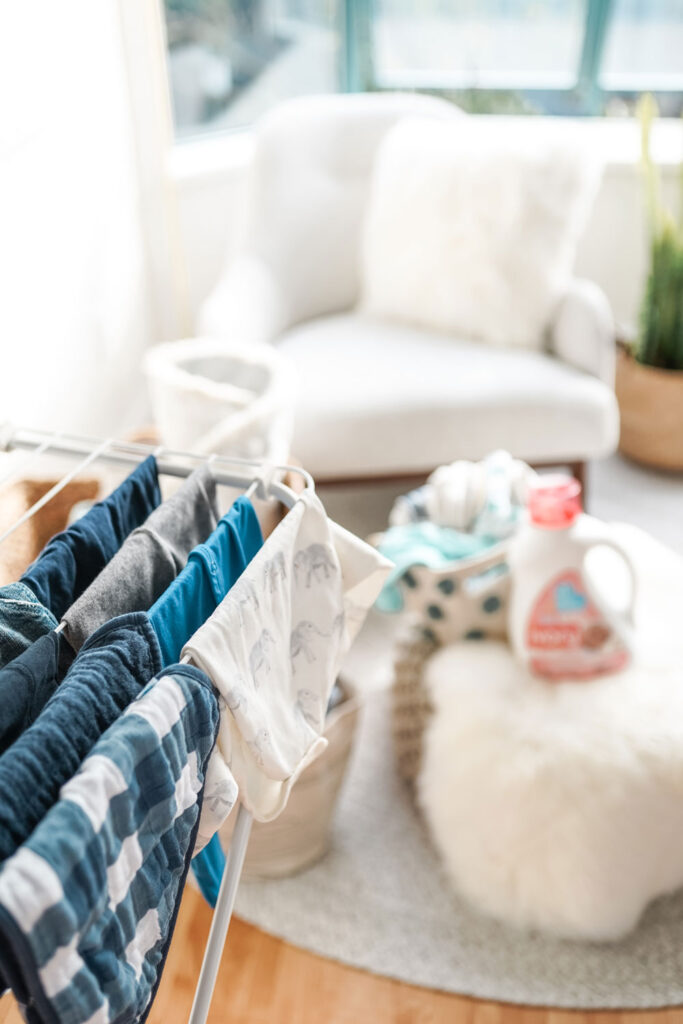 Pre-washing is something that makes total sense but just wasn't something even on my radar before becoming pregnant. Obviously, you're going to be a laundry machine in the days that follow baby's arrival, but making sure all their adorable, teeny-tiny clothes & accessories are clean is one less thing to do before they come. It's also unexpectedly been the most lovely little ritual—I've done maybe 7 loads already (this kid has a lot of clothes) and it's just a really special, loving moment to fold the Ivory Snow scented onesies and tiny pants and swaddles and bibs up in anticipation of his arrival, imaging him in them so, so soon. I've felt pretty bonded to this little jolly jumper in my belly for pretty much the whole pregnancy, but it just makes it all feel more real and makes me that much more excited/bonded to him.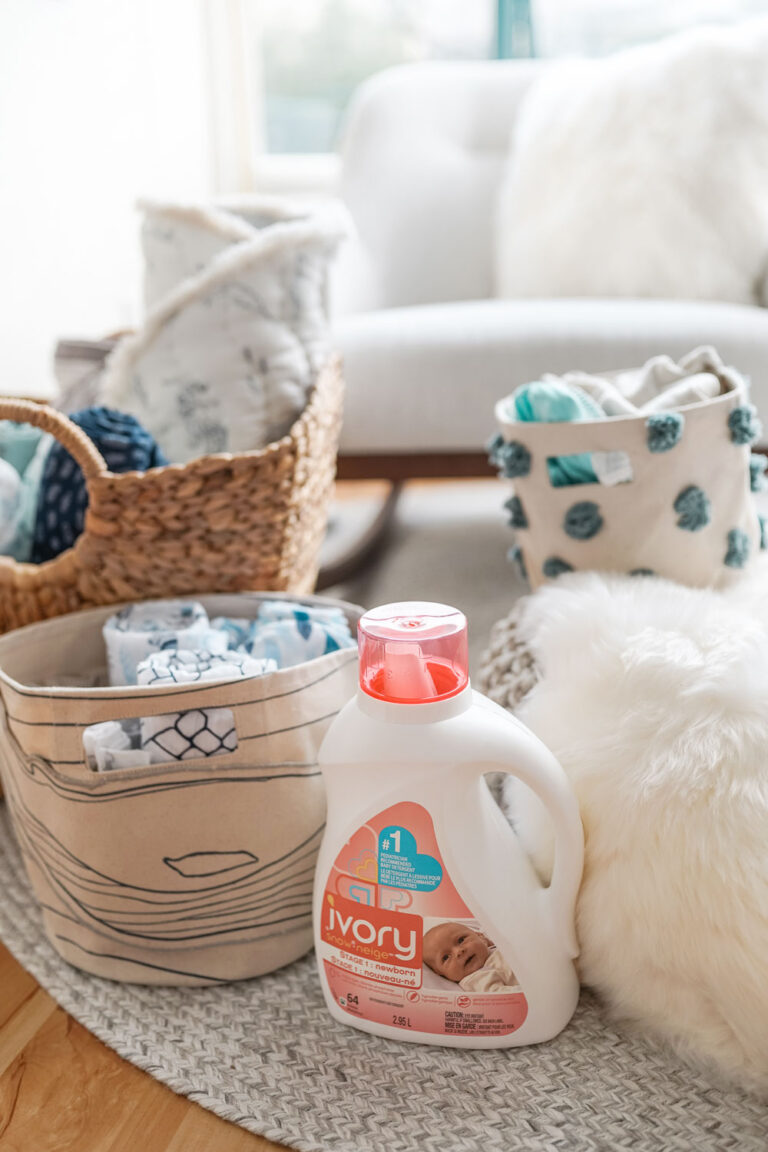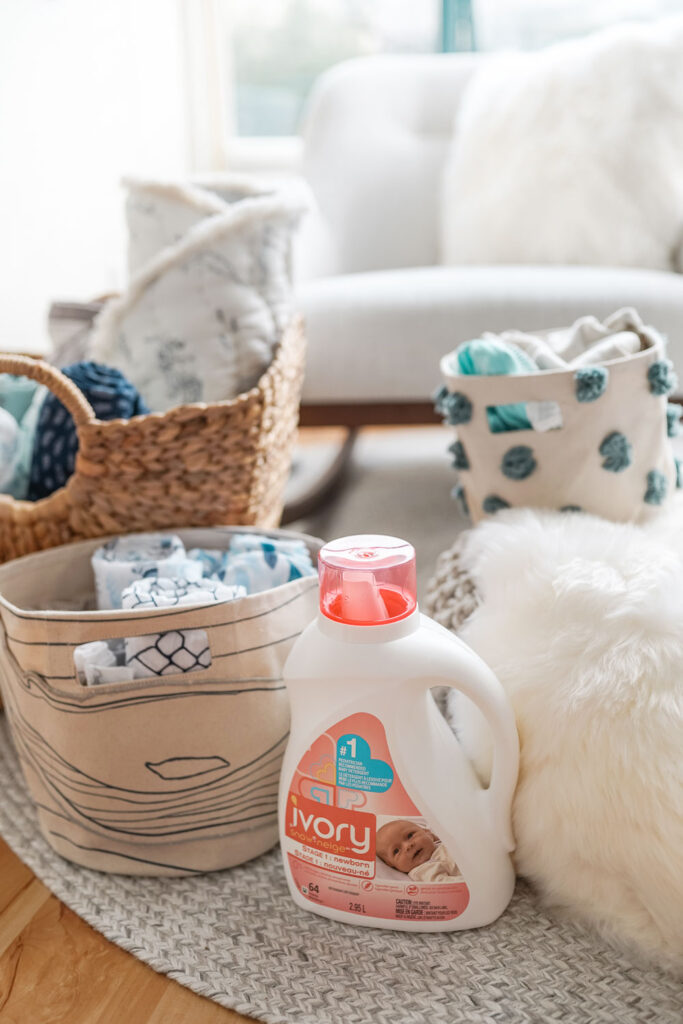 I had extremely sensitive skin as a baby (and still do) and have always been eczema-prone (seriously, there are some very scary rash pictures of me as a 6 month old) so knowing this is formulated to be exceedingly gentle on newborn skin while also being insanely effective when it comes to cleaning and stain-busting is such a relief. Learn more about Ivory Snow's product range here and if you want to try Ivory Snow Stage 1: Newborn baby detergent for yourself, click here!
Zipper Onesies
Speaking of pre-washing, I feel already like I've washed countless onesies…when I asked you guys on stories way earlier in my pregnancy as to what you'd recommend for baby apparel, the consensus was loud & clear: zippered onesies! I do have some with snaps (usually reserved for the more special looks, like a couple nicer onesies or bodysuits that I want to snap pics of him in or to go meet his new aunts, uncles, pals, etc in) but by & large his entire wardrobe is mainly comprised of super soft, zippered onesies, which between friends & my amazing online community, sound like they're by far the easier option for those late night changes and whatnot. I got as many fold-over mitten and either footed or fold-over footsies ones as I could as well for the 0-3 month age when he not only can't control his reflexes (so may scratch his little angel face), but it'll also be the coldest time of the year so the extra warmth for his teeny hands and feet will be so needed! You guys also really suggested two-way zippers which we also tried to stock up on! Helps so that you can just zip up for changes without having to take baby out fully and expose them to the cold.
Bibs
This one came up a lot too and again, looking at me as a baby (with drool pouring out of my mouth & a steadily reddening rash developing around my chin and neck as a result), I just want to plan for another drooler and have these on hand as much as possible! I'd really suggest looking into bib-burping cloth hybrids (that you can unclip and toss over your shoulder when burping, then clip back up around baby's neck) just because I'm all for multi-function products! At any rate, this should help protect baby's clothes so that you can cut back on outfit changes if they tend to spit up or drool a ton (which let's face it, most babies do).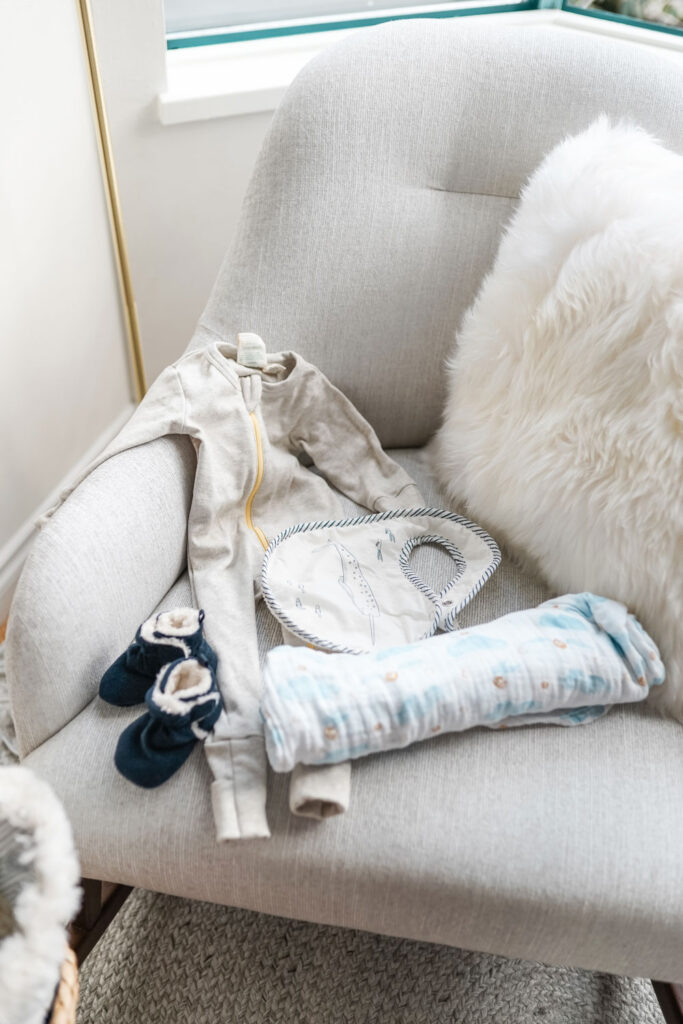 Muslin Swaddles
I don't know why I'm so obsessed with swaddles but it's become a weird fixation of mine over the pregnancy and in addition to being gifted so many beautiful swaddles, find myself just picking the odd one up here and there once every other week or so (for, like, the last few months so you do the math). I do feel like especially as newborns, babies live in them whether it's for soothing or naps or whatever else. They also are such multi-function pieces, whether it's draped over their bouncer or lounger to save from spit-up messes or as a little privacy shield draped over their strollers.
Fleece Booties
This one's for fall/winter babies but these came so highly recommended because they actually strap on really securely (so the constant cycle of losing little shoes/socks shouldn't happen with these strap-on options) and are so warm that even if your onesie only has a fold-over mitten option (which I've noticed a lot do—personally feel like they should have fold-over for both hands and feet if they're going to include it at all!) then your little one's feet will stay warm & toasty. All of the above I pre-washed with Ivory Snow! I've found it's easiest to just wash all on cold and hang to dry since most baby clothes dry really quickly and I want them to be in mint condition when he comes! Now all of his things have this addictive smell and are ready & waiting for him to come home.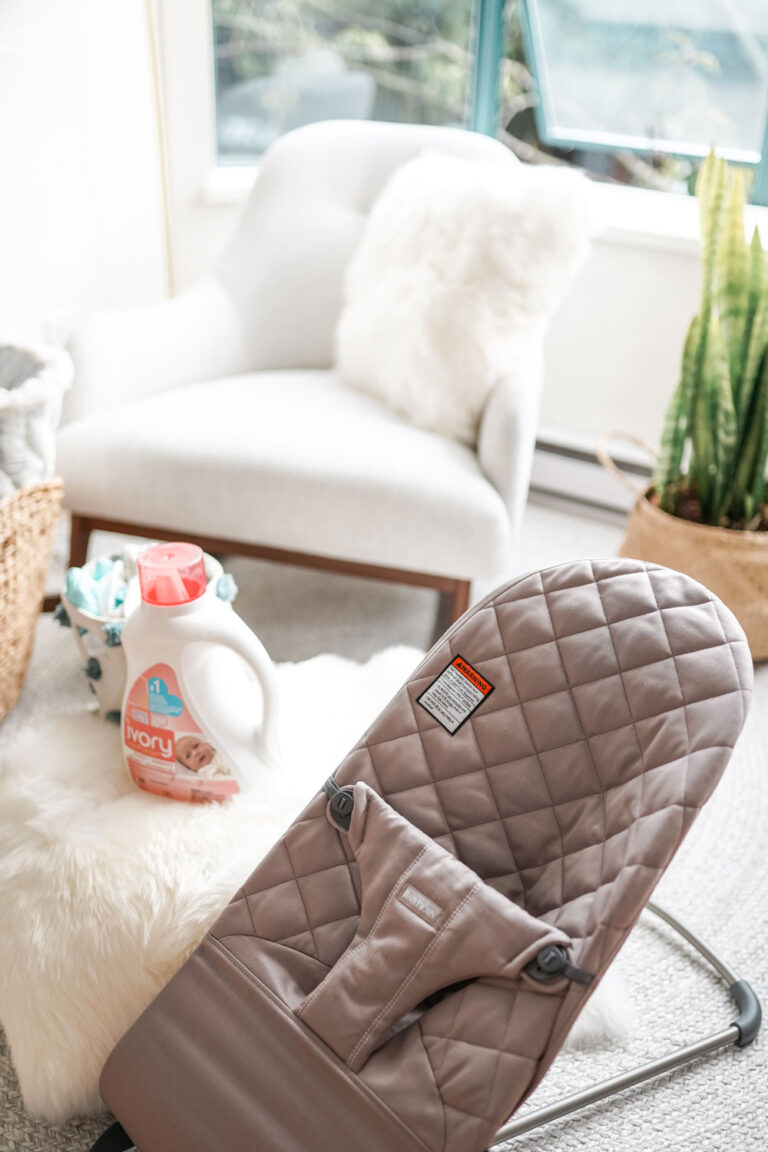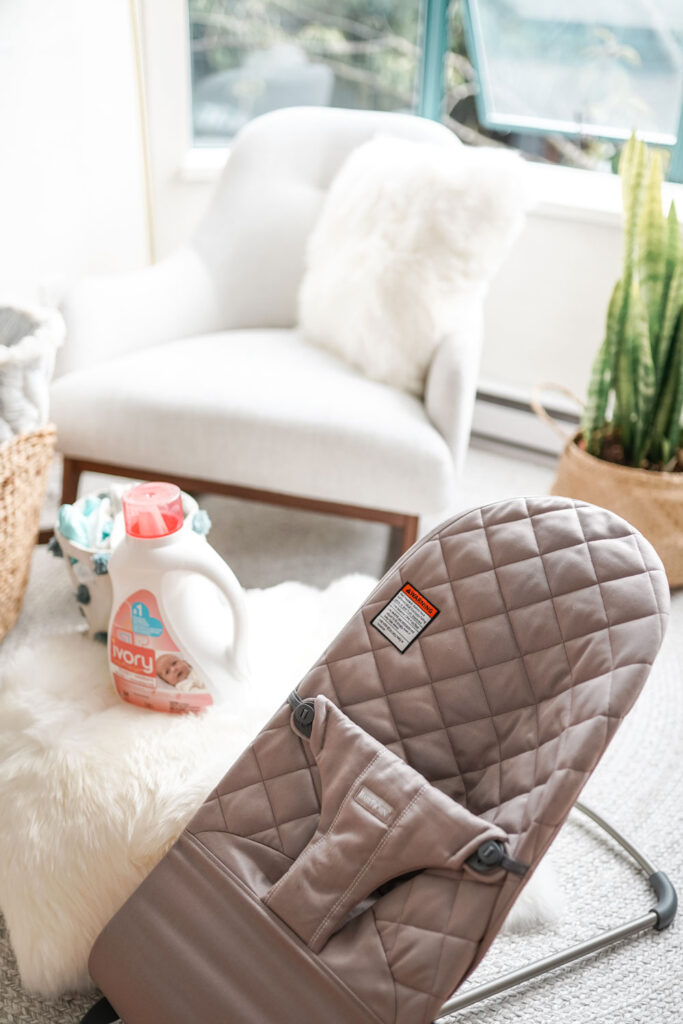 Bouncer
Moving on from apparel options, any friends who have a bouncer have said it's such a godsend. I'm kind of readying myself for a baby who wants to be held or tended to all the time based off of his general energy levels in utero and the stories I've heard both about Matt and I as a baby (especially Matt, for such a low-key guy now he sure sounds like he was an exceptionally high-maintenance baby) so in addition to having options to keep him on me a lot (getting to those in a second), I think something like a bouncer will help keep him comfy & near us but allow us to get some hands-free work done sometimes, whether that's actual work (since I'm not really taking a full-blown maternity leave) or household chores. Also a really easy-to-pack option to bring him over to grandparents and the like as well.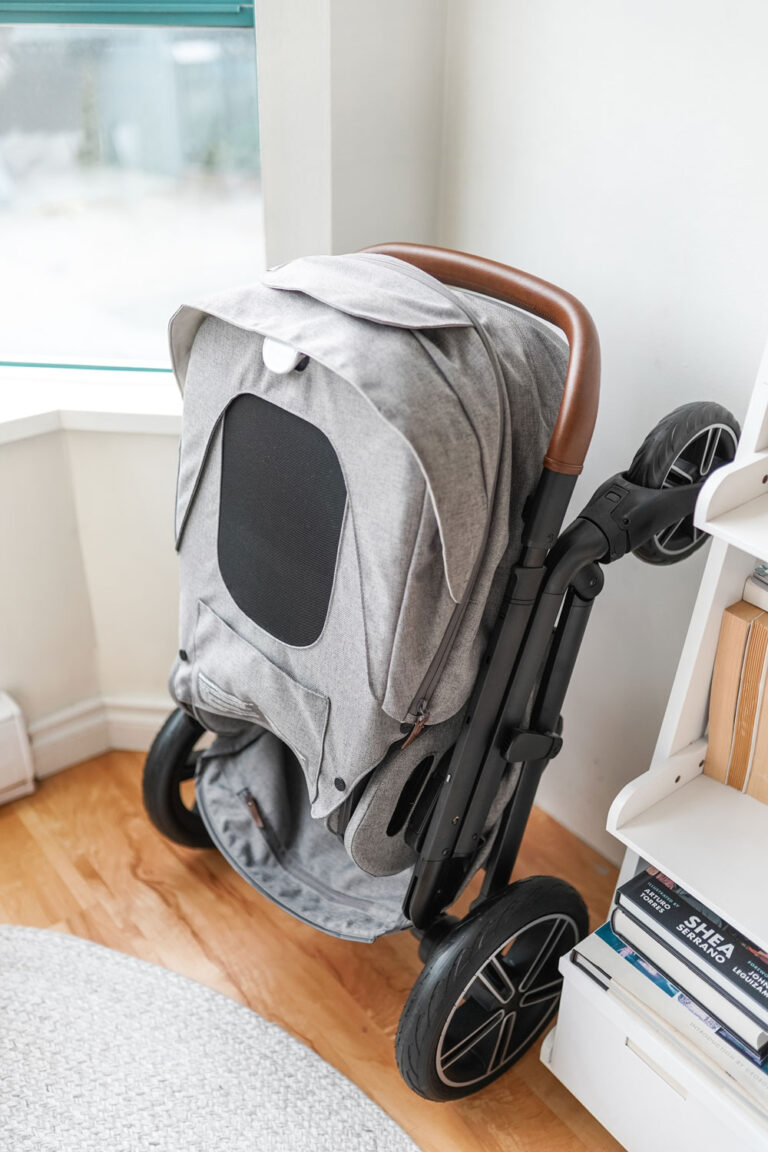 Stroller + Car Seat System
This is a big and very obvious one! Even though I'm planning on mostly using the carrier (I just like the idea of having him right on me, especially at the beginning) you do need a great stroller. We love ours and are so excited for our first family Seawall walk together! Feel like it's especially necessary when you're out running errands because it not only offers tons of storage (for groceries or other things you pick up), but it allows baby to nap or chill in its own space if you're out for brunch or taking a load off at a cafe. We also have our amazing car seat all set to go that works seamlessly with this stroller and the car seat is officially all set up (a requirement most hospitals have before you can get discharged!).
Carriers
We have both a more heavy-duty carrier that buckles up and a swaddle-style one that I'm planning on using more at home if he doesn't want to get put down. I'd personally recommend both because while an ergonomic option is key for those long walks, I can't imagine wearing one all day around the house would be the comfiest option between the buckles and straps.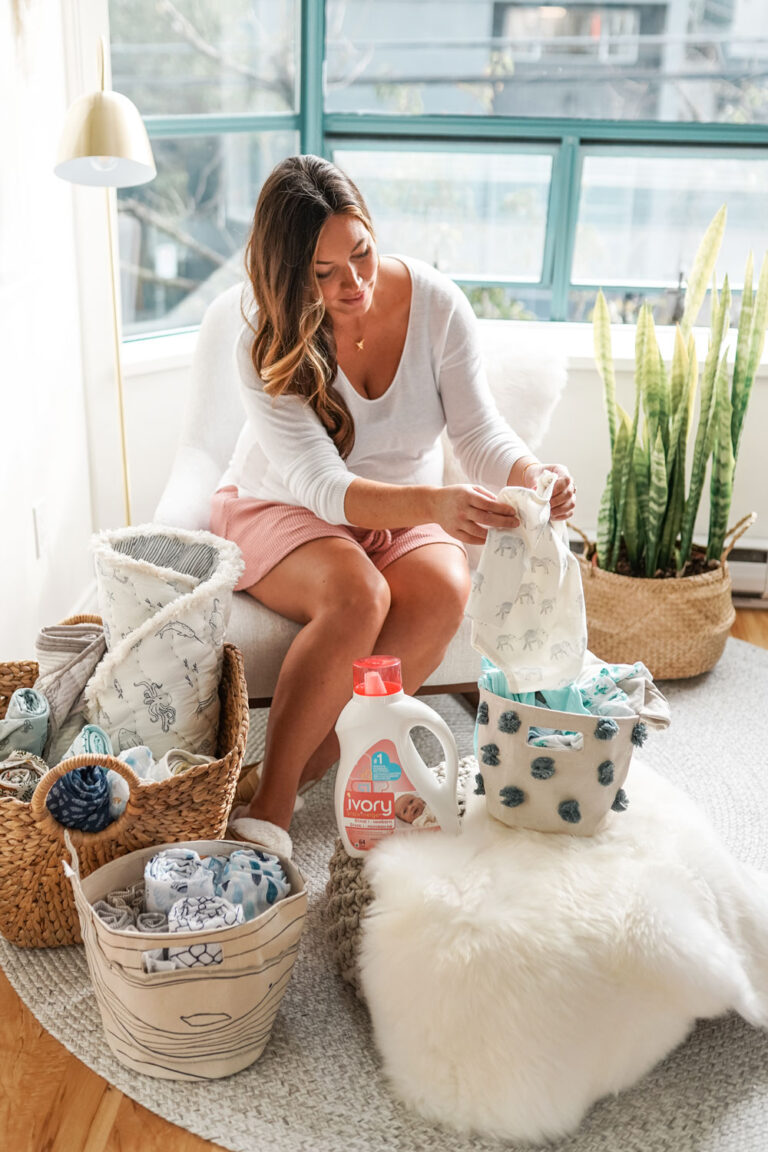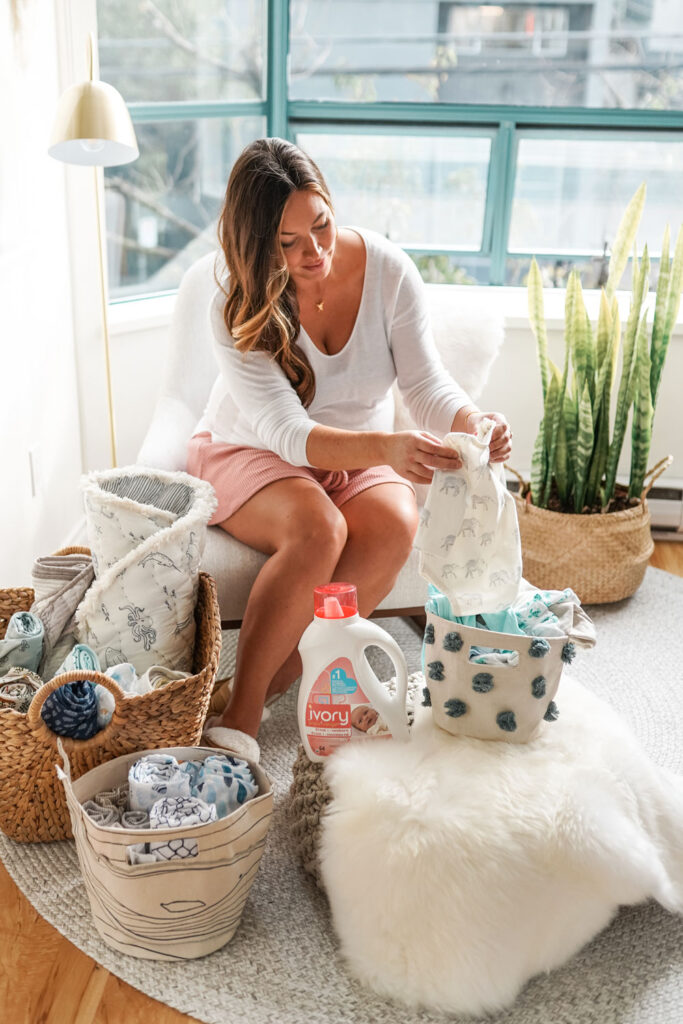 Bassinet
It's generally recommended that baby sleeps nearby in a bassinet for the first stage of life, basically until they start getting more mobility or outgrow their bassinet. We've had ours set up next to our bed for the last couple of months which, if you're planning on having baby in the same room as you, I'd recommend doing because it's one less big change in your space or bed routine to have to adjust to! Feel very used to the bassinet next to my side now (though think it will still be a bit of a surreal shock having a baby actually in it soon enough!). We've got all his fitted sheets washed with Ivory Snow and one already on the mattress!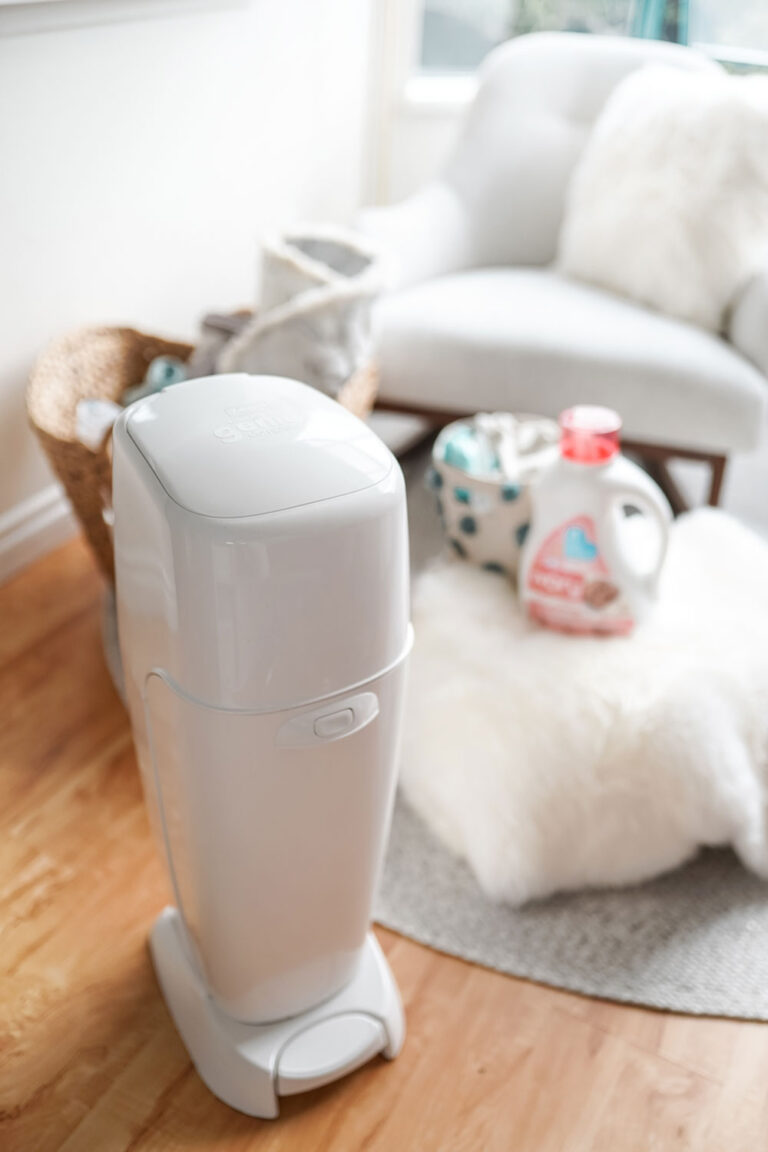 A Change Station
Since we're staying in our 1-bedroom apartment a bit longer and were really intent on not making the space feel too cluttered (I get claustrophobic easily so hate feeling like things are piling up all over the place, which is hard to not do when you're in a small space!), we didn't get a dedicated change table but actually just integrated a changing station into a pre-existing piece of furniture we had and I think it's going to work well! It's a storage console that's behind our couch (one of my top tips for small space living: use blocked visual space for added storage, this console holds so much) and we basically just cleared out 3 units of storage in it for his toiletries, diapers, changing pad, etc. We'll likely keep the changing pad out on top of the unit since we'll be doing so many changes (and are also new to changing, so don't want to add an extra step every time as we're early on in our learning curve!) but whenever we have company or want to tidy up the space, can just wipe down and put away the mat in its dedicated little space. We also have our diaper pail stowed away next to a bookcase so it's basically hidden from view as well! You get creative and strategic with less space to work with, and honestly we feel like we have all of our essentials (and more) but our space has never actually felt airier and more organized thanks to all of our intense nesting and planning.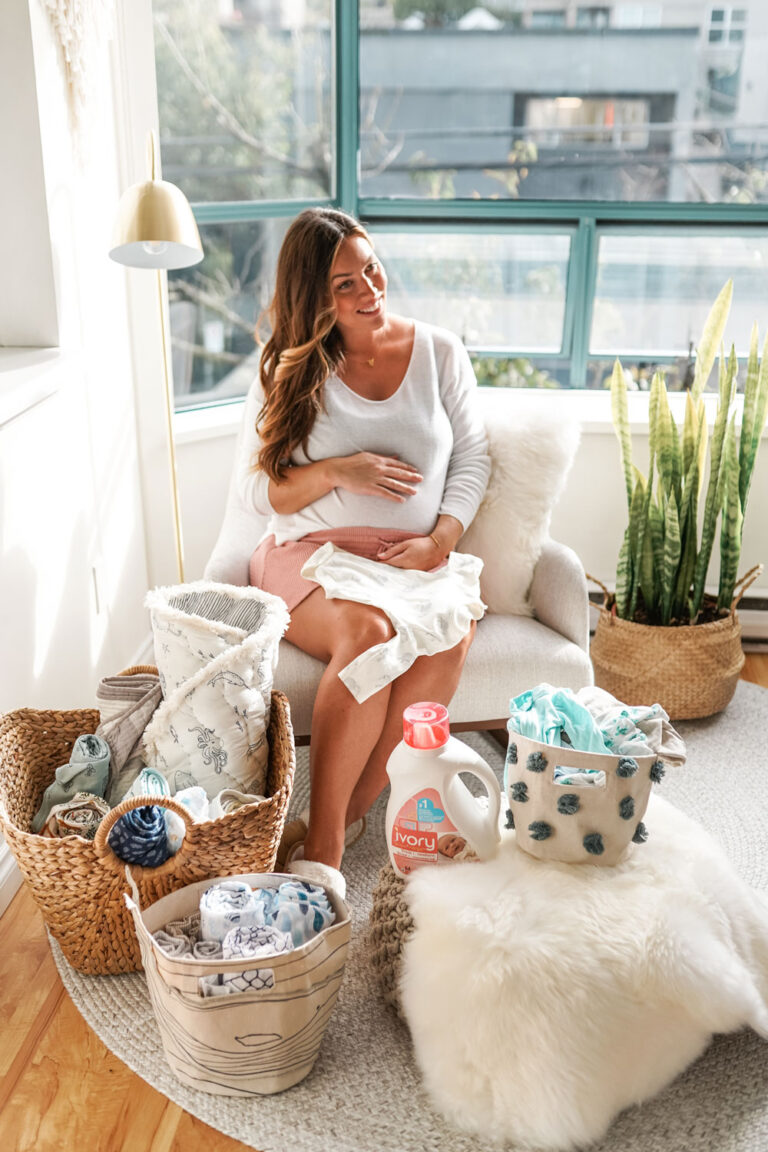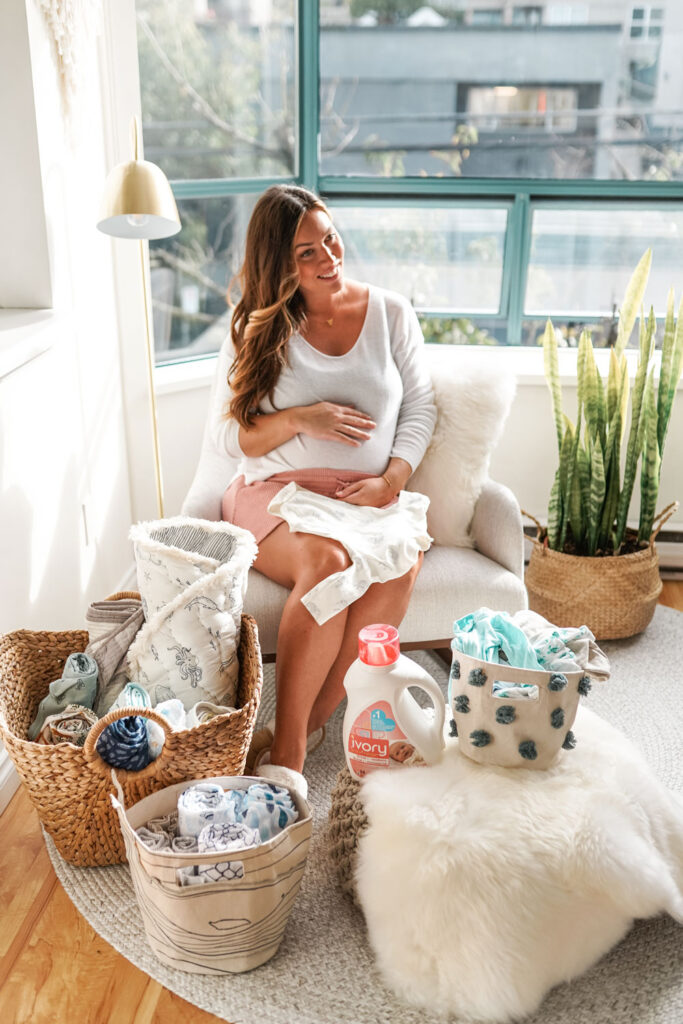 Hope this helps you guys hone in on the essentials you need to welcome baby to the world! I'm obviously no expert yet as we're still waiting on the little one, but I do know that we feel way more ready than I anticipated and I really credit that to just giving in to the nesting urge and making that a priority a bit earlier on. I've been really lucky to still be very mobile even at this stage of my pregnancy, but it was absolutely easier to get on all fours and pull stuff out from under the bed earlier on so glad we began the whole process earlier so that I can just focus on doing the little organizing and cleaning tasks now, including my fave aforementioned task: cleaning & putting away all his adorable little clothes, sheets, accessories, swaddles and even some toys that can get washed to make sure it's all ready for your little angel with Ivory Snow!
This post was created in partnership with Ivory Snow but all opinions are my own