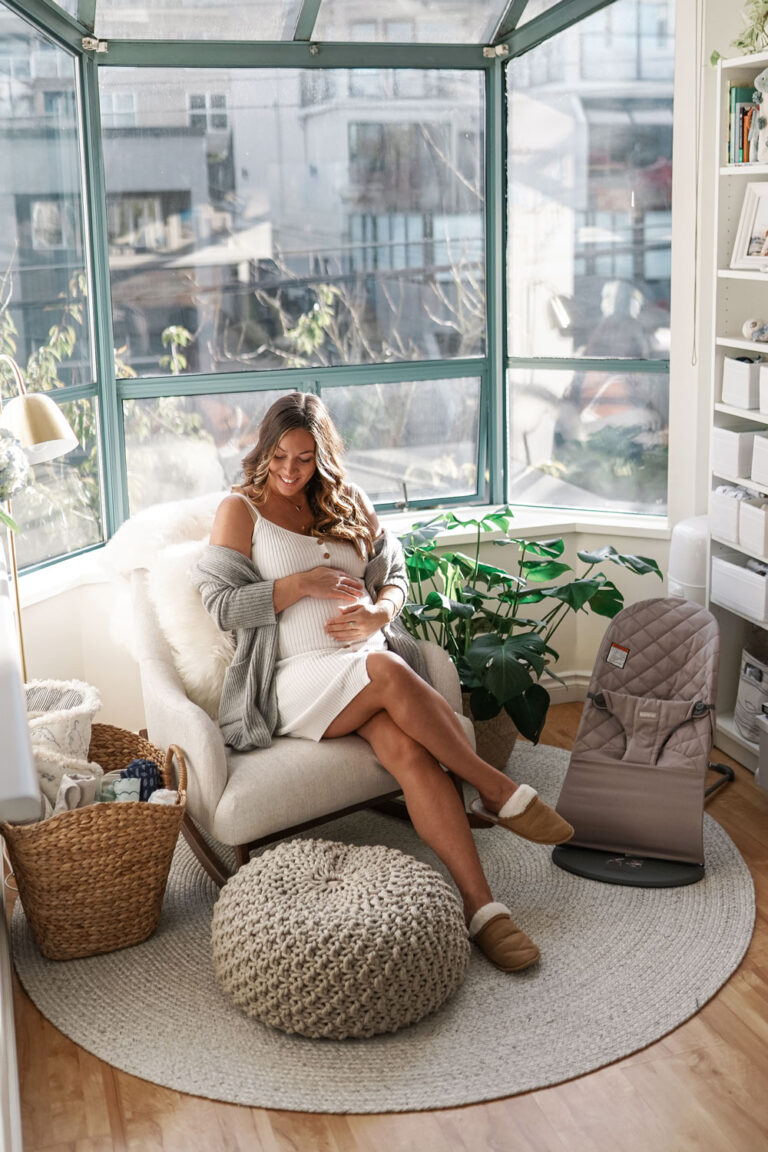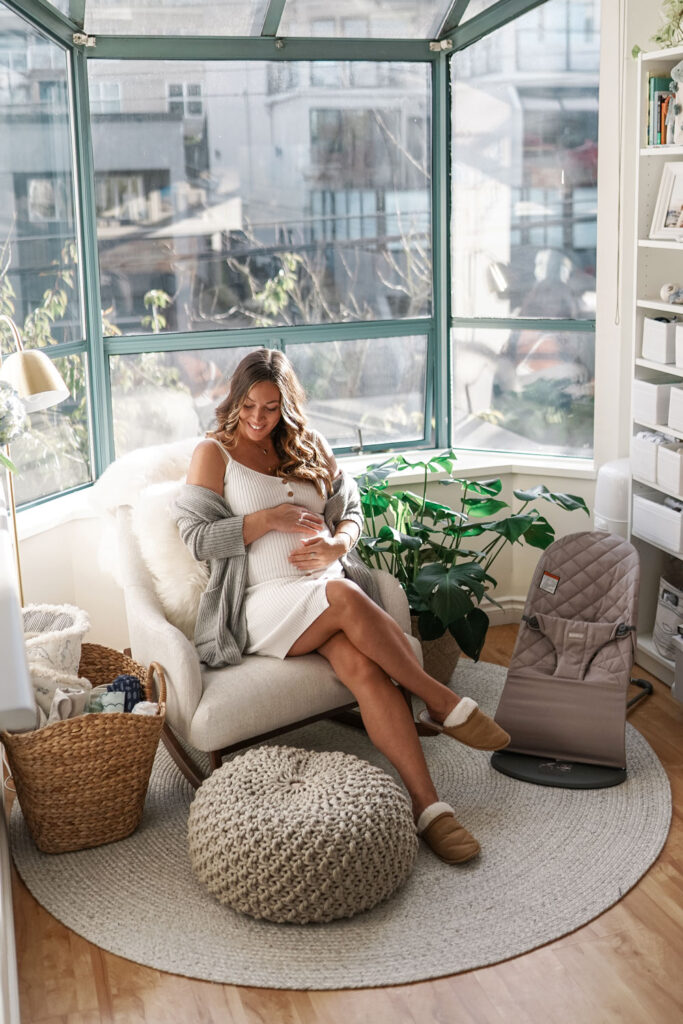 When we first found out we were pregnant in February, one of the first things that sent us reeling a bit was whether or not we'd need to move for baby. We love our space and while we knew it wouldn't be somewhere we could stay for long once we started expanding our family, I don't think either of us were quite prepared to move on from it. We've also seen some friends very successfully make smaller spaces work with baby and once we started mapping out how we could change our space to make it a bit more baby-friendly, it started feeling actually super feasible and it was one less thing to have to worry about (I've had friends move while expecting and it seemed stressful, to say the least).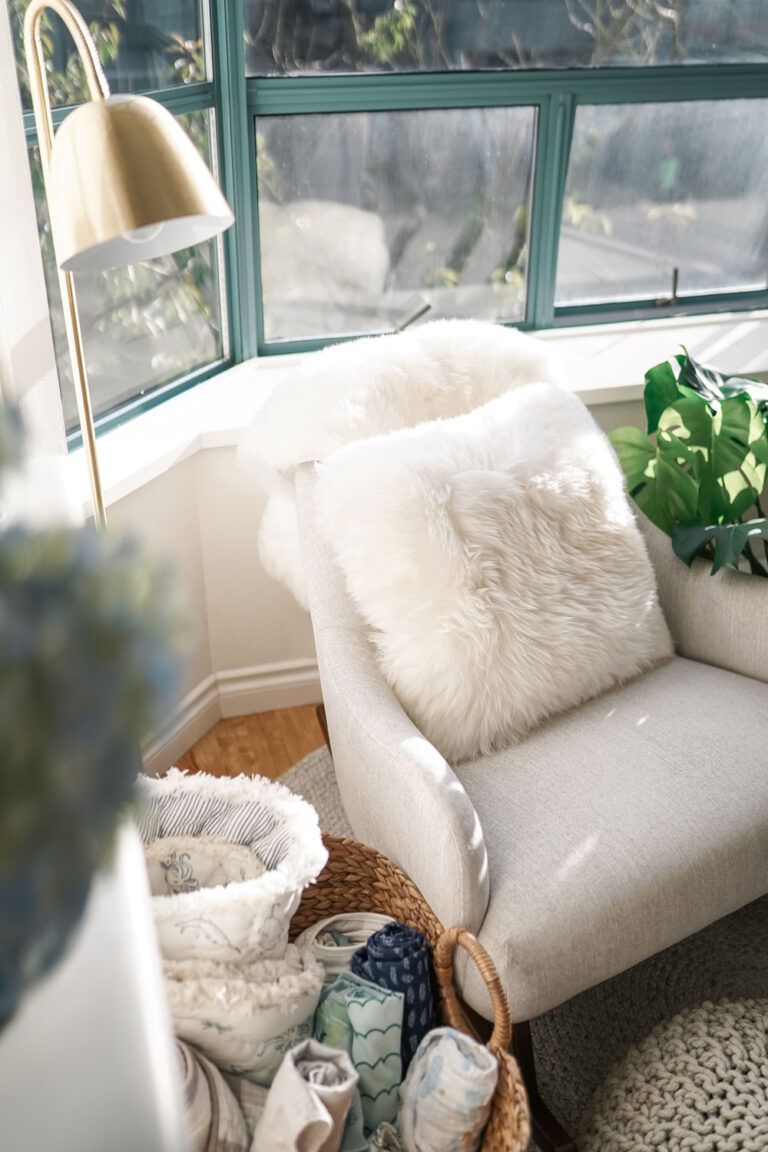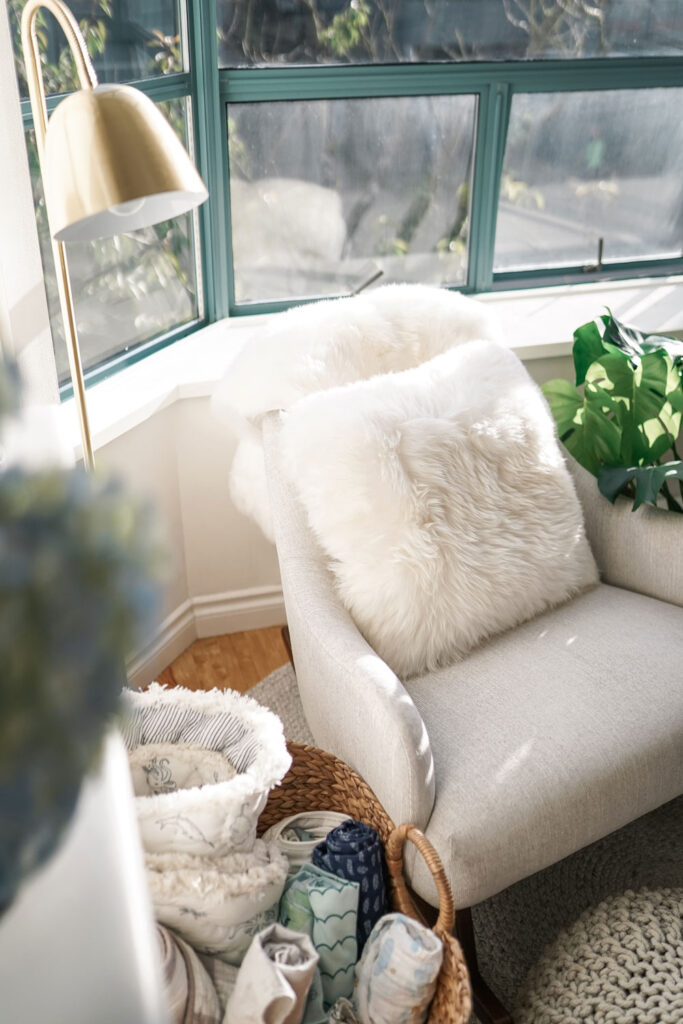 I was worried because I felt like my nesting instinct wasn't kicking in for a long time and that our place would never come together, but I'd say definitely by the time I was 30 weeks it had fully taken ahold of me and there were quite a few weekends there that were fully committed to just completely purging our space and updating it. Now that everything is mostly done, I'm just quite compulsive about tidying and doing laundry, but it does really feel pretty much all set and it's honestly the most organized, serene and airy it's ever been, despite adding in quite a few baby pieces!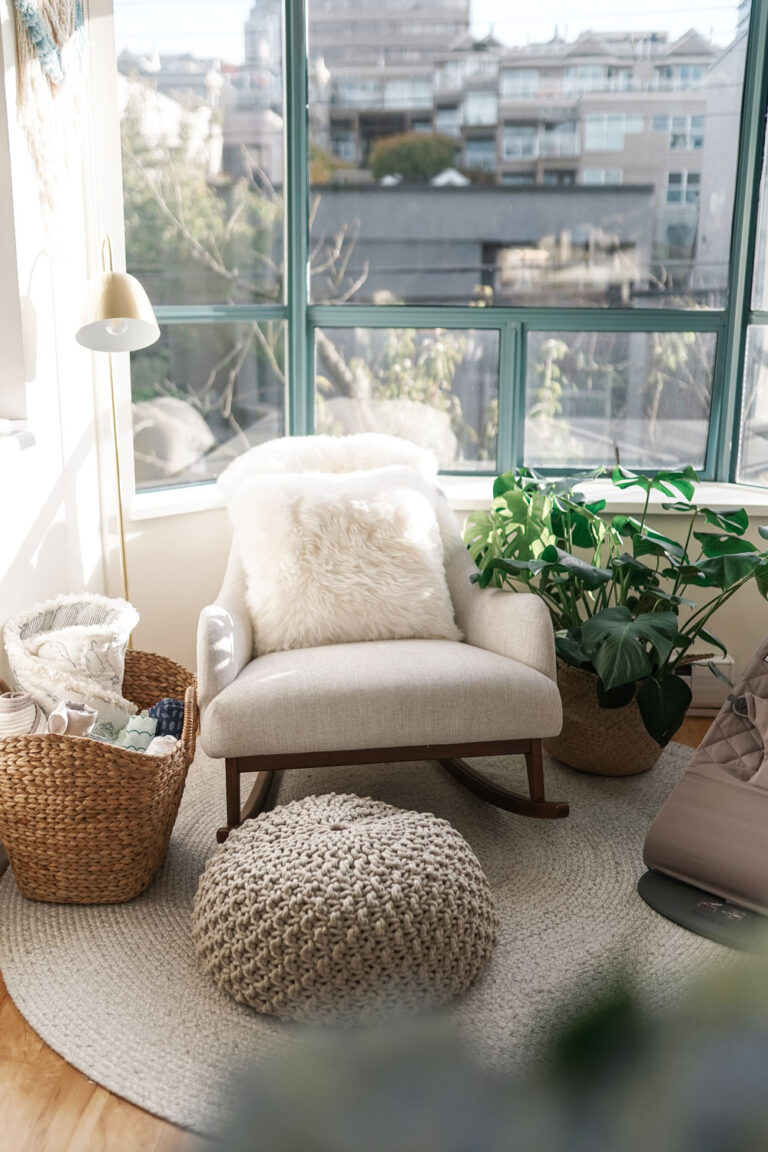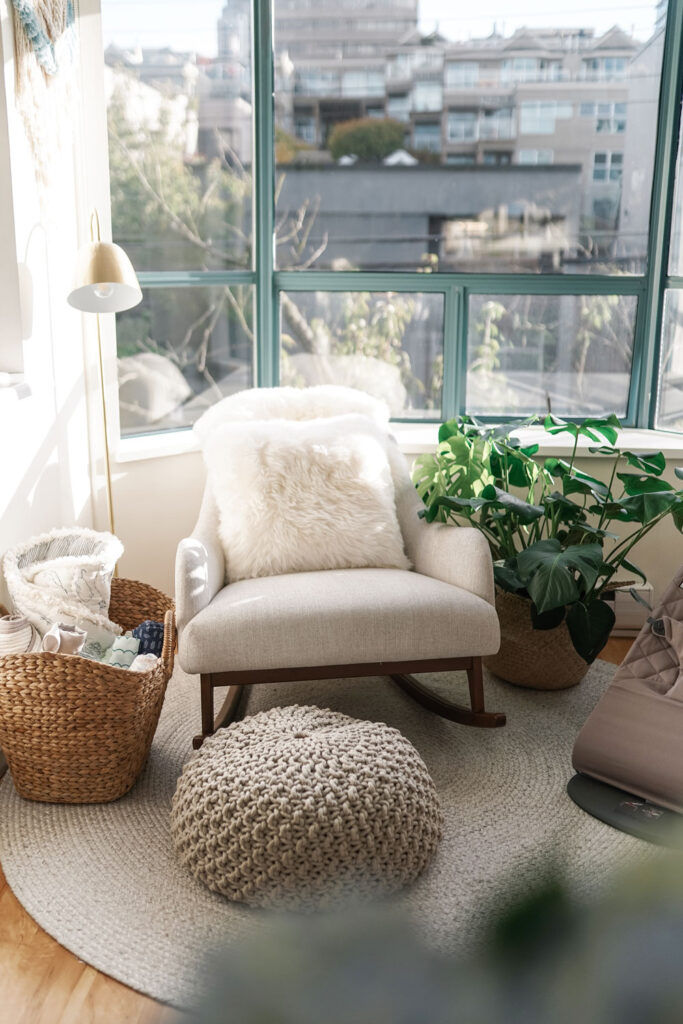 A huge part of that was setting up a little "nursery nook" (as we call it) with Article pieces that are very much nursery-friendly but not actually nursery furniture—in other words, all pieces that we can transition into a living space but that also have created a little serene space for him as a newborn now.
I'm actually really proud of how we've used our space and a lot of our pre-existing furniture, while only thoughtfully adding in items that will be forever pieces no matter where we move (because we are eyeing a move in about a year's time when little man is more mobile)! Wanted to share the beauties we got from Article today, who as you guys may know I've partnered with for years and years now (seriously, our place is mostly Article): from our couch to my studio to our side patio, their pieces are just such incredible quality, their customer service is unparalleled and their gorgeous, timeless mid-century aesthetic works so perfectly with our style! I'm so loyal to them because they honestly make beautifying your space so easy—not only are their pieces so stylish and functional, but they deliver quickly, offer a flat shipping rate of $49 in Canada & the US (or free shipping on orders of $999+) & are keeping you safe with Contactless Delivery, which is so key right now. I feel like if there was ever a time to really make your home as beautiful and serene as possible, it'd be now and I couldn't recommend Article enough for sourcing the pieces that will help take it to that level!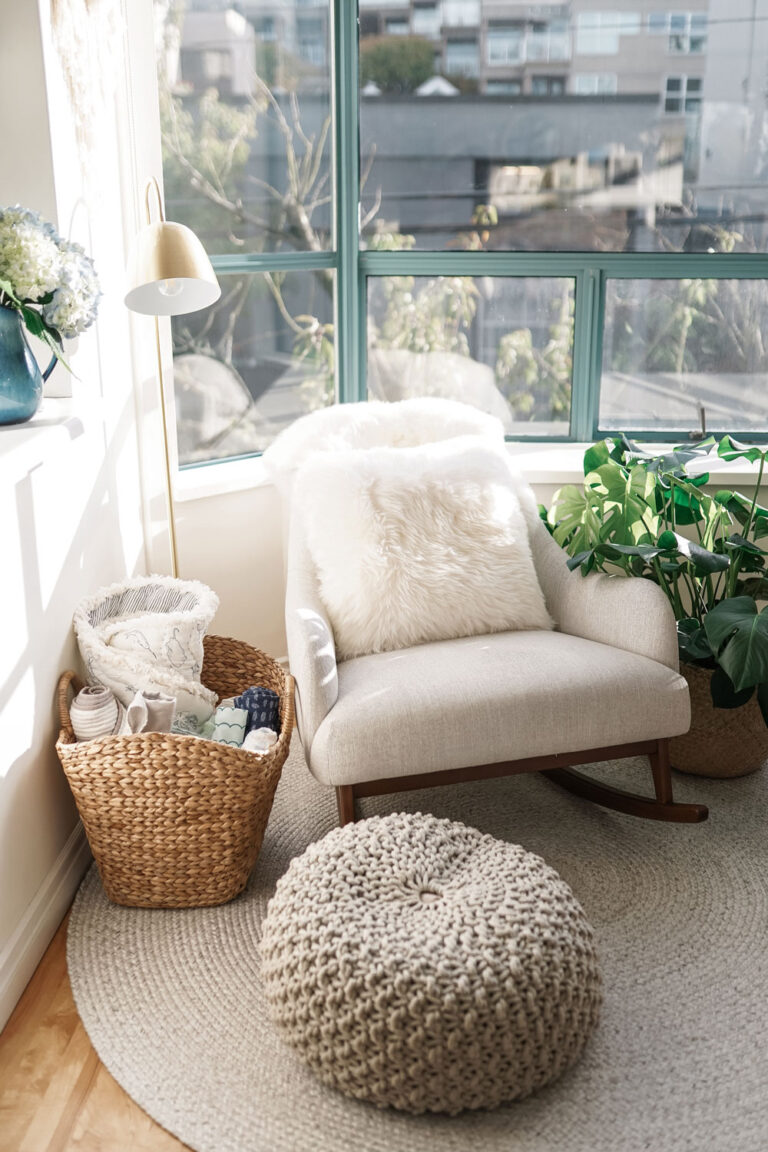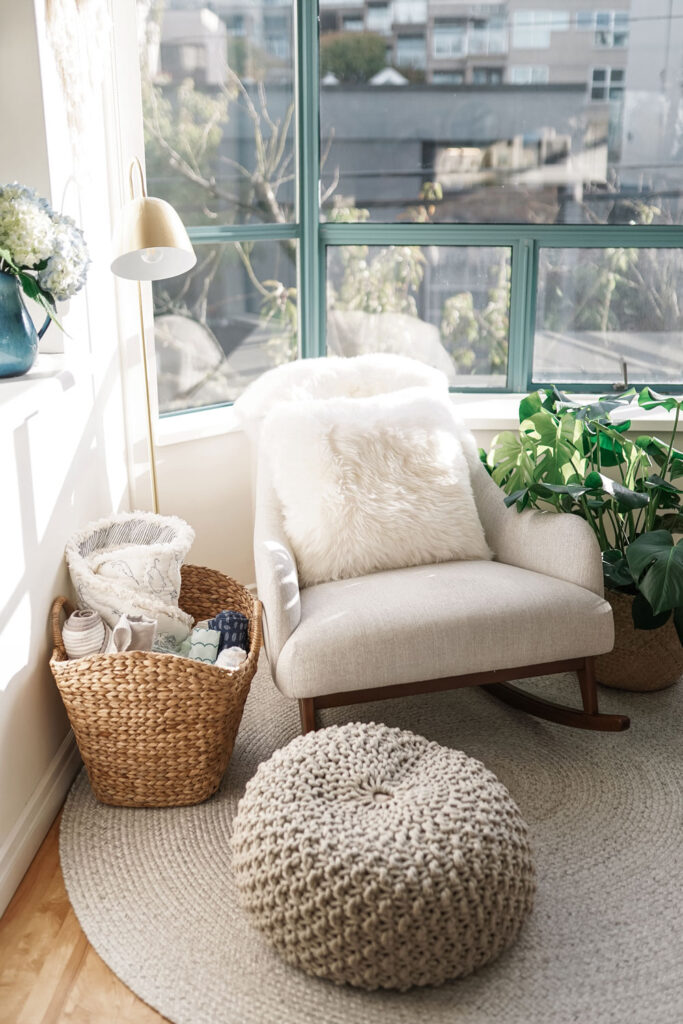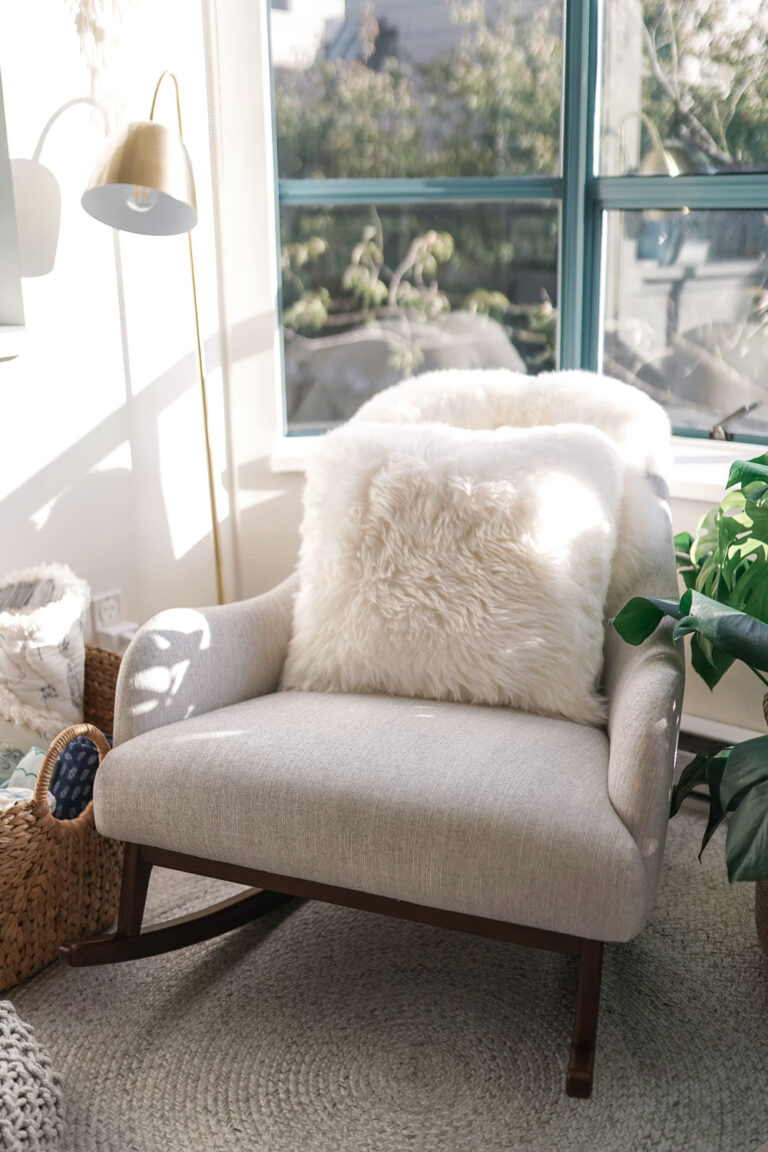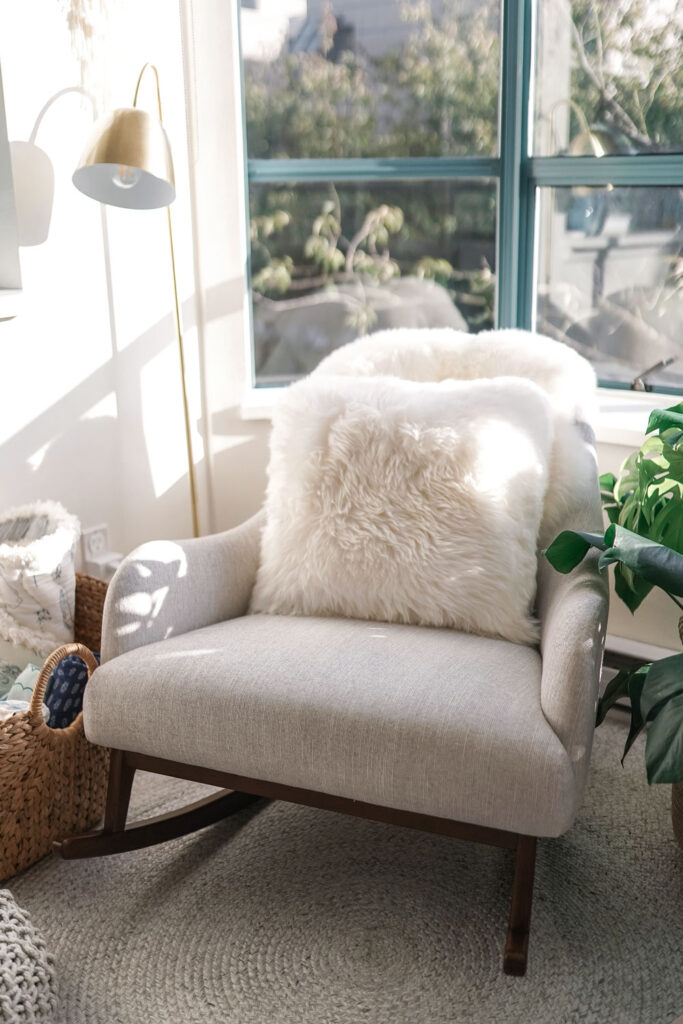 But I want to dive into this little tour because I'm so excited by how it all turned out! First of all, the hero piece: the Embrace Rocking Chair! I really wanted a rocking chair but when I was looking at baby stores and the gliders available, while some of them are really chic it just felt like a bit of a one-off piece and they all seemed pretty bulky too. I'd been eyeing the Embrace Rocking Chair in Coconut White for a really long time as it is, and was anxious to see if it'd work well with nursing and just general cuddles with bebe. First of all, once we got it into our place, it not only was somehow way more stunning in-person (it's this perfect light grey tone that works with everything—we styled it up with sheepskin for now but would offset punchier tones so well when it comes to accessories!), it was also unbelievably comfy.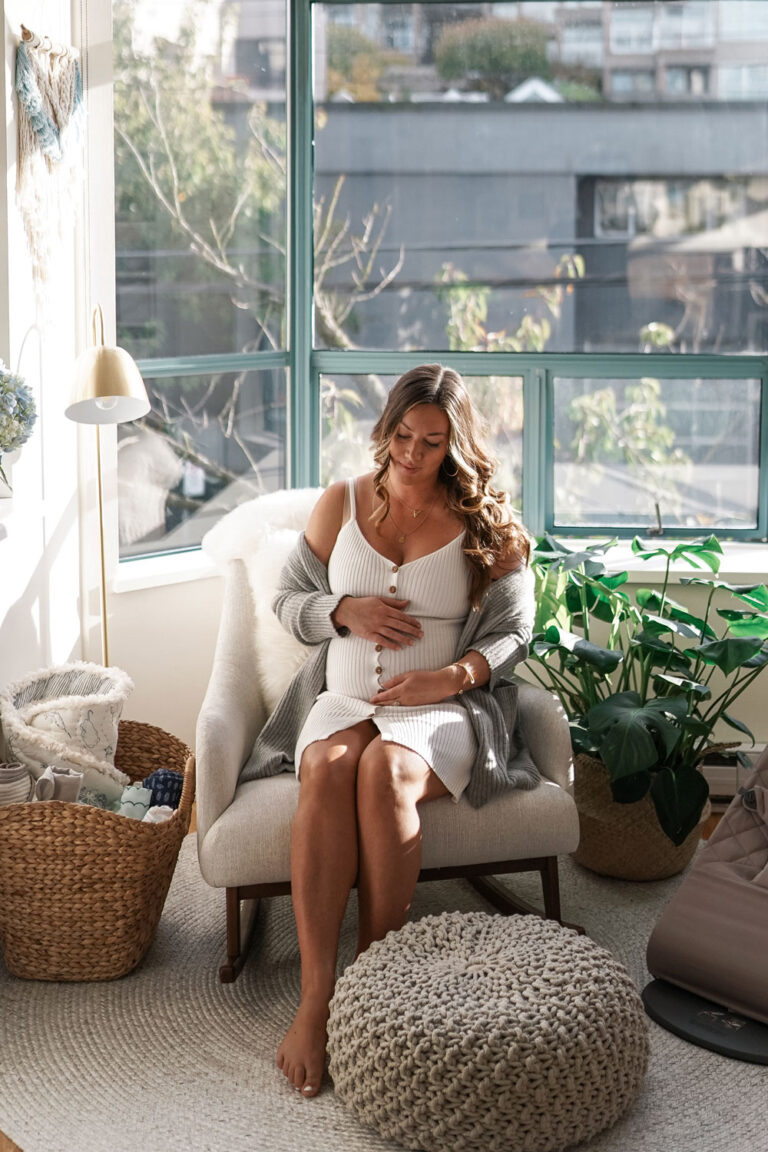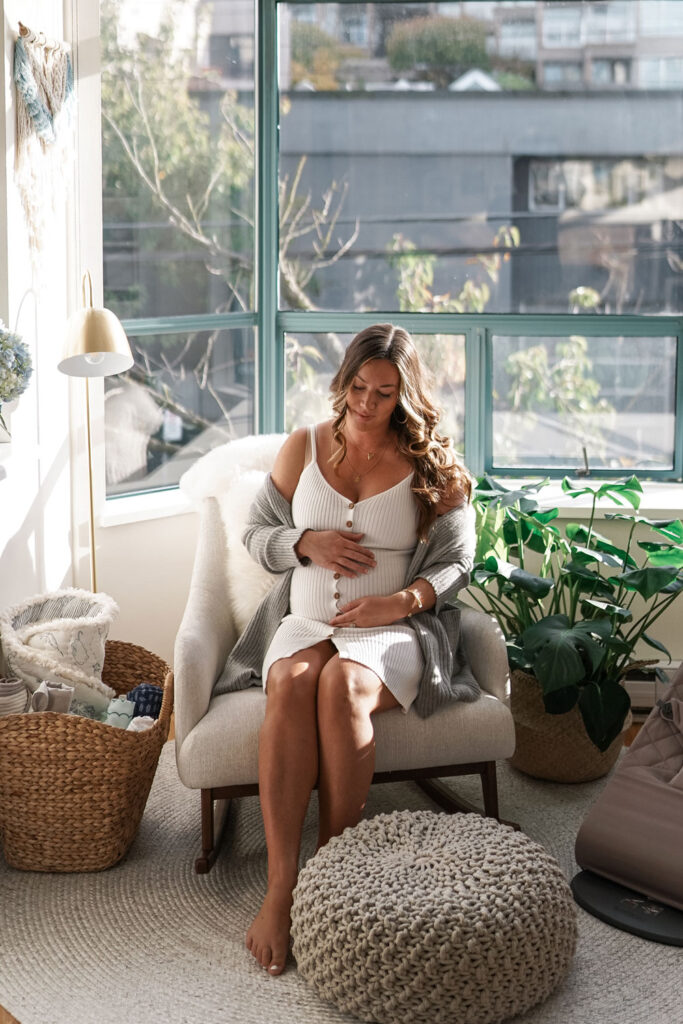 The profile and silhouette is actually very discrete too which I was concerned about since we placed our little nursery nook in a longer common space. Our layout is really weird since our place is spliced by our rooftop patio stairs right in the middle of our apartment, so we have our bedroom and bathroom all tucked away to one side of the stairs (which is actually really nice with baby because our room is fairly large and actually has lot of sound-proof privacy from the rest of the space, so if we put him in there for bedtime or nap we can still go about our usual business in the rest of our space), but the rest of the space on the other side of the stairs is pretty much entirely open other than the kitchen, so creating division and proper spaces was key! Having the rocking chair as a focal point now has really created a beautiful dedicated space instantly—it already feels like it's the epicentre of "his space." We keep jokingly calling him the Prince of Fairview and have noted how pleased his highness will be with this dedicated area just for him, most of all with this cozy, gorgeous chair to rock the days away in.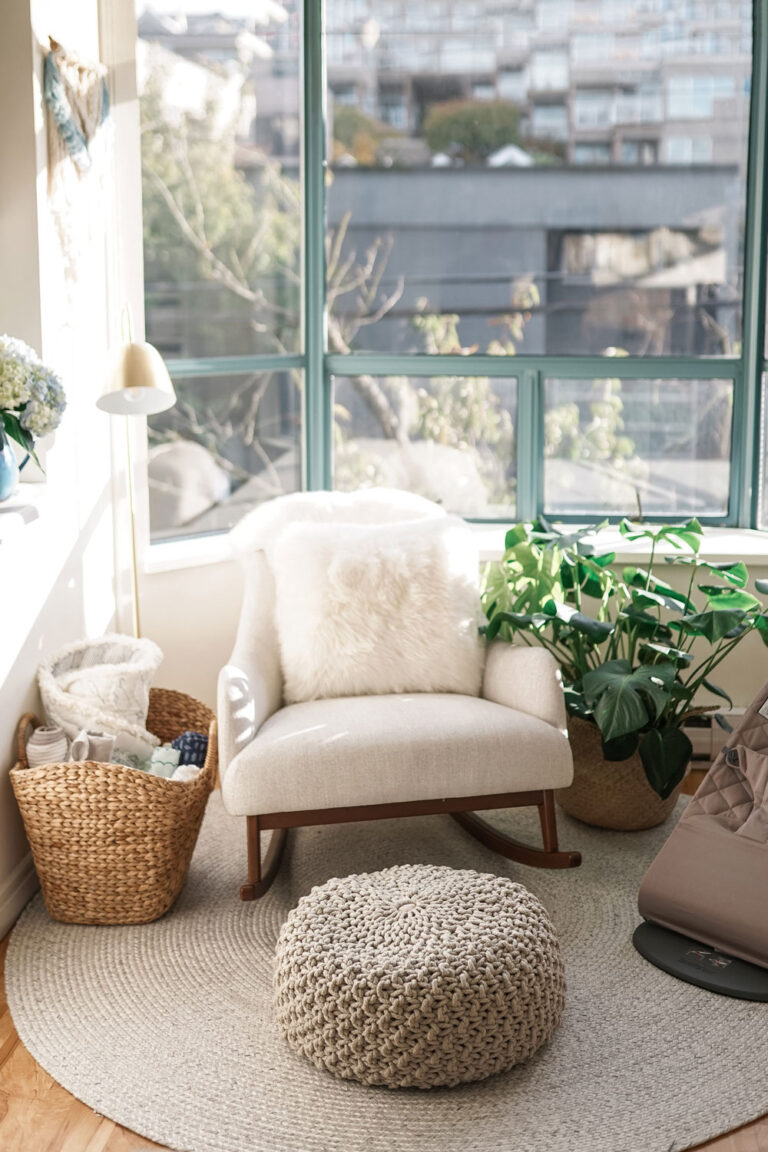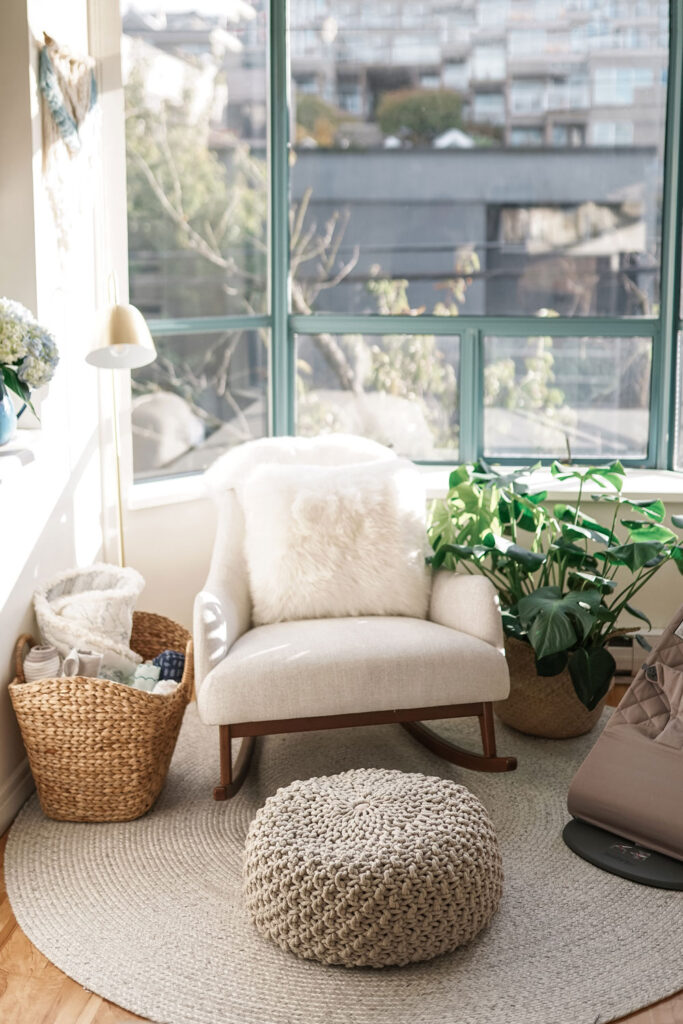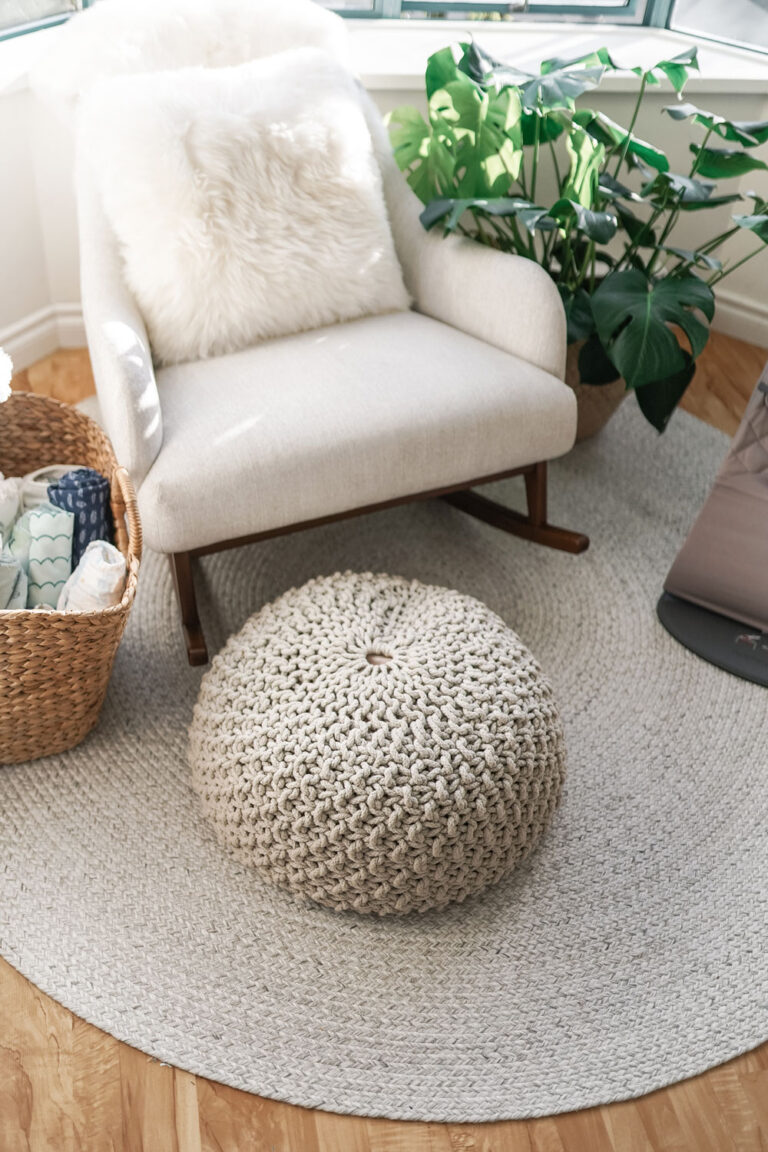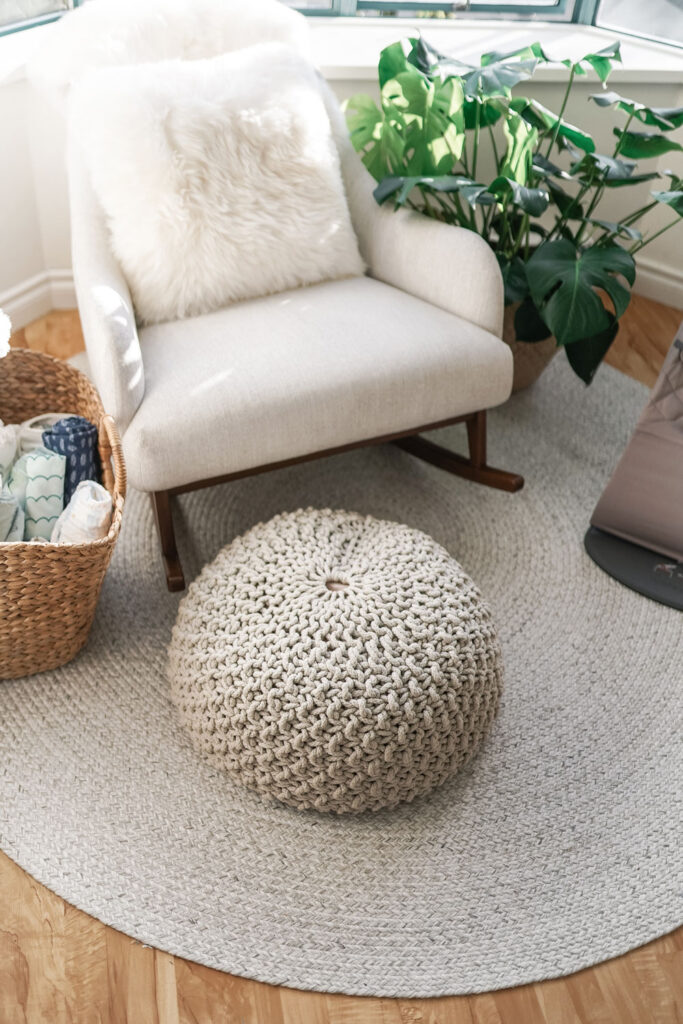 Another piece that really brought together this space was the Natica Rug (6' in Light Gray), which is actually an outdoor rug but works just as well for an indoor space! It's the perfect grey melange to offset and tie together the rocking chair, and especially since it's tricky with a rectangular rug in this space since it also has to function as his little changing area, it helps create a dedicated visual space without taking up too much room. I actually feel like the outdoor rug used indoors is a bit of a functional hack because they're designed to be more durable and stain-resistant, both things you need with a baby! We have swaddles aplenty (that basket is just one of many dotted around our place) to hopefully act as a first barrier so that he's not spitting up, pooping or puking all over our pieces, but it's nice to know that worst case he has some sort of explosion and it gets on the rug, we can do a really easy tidy of it!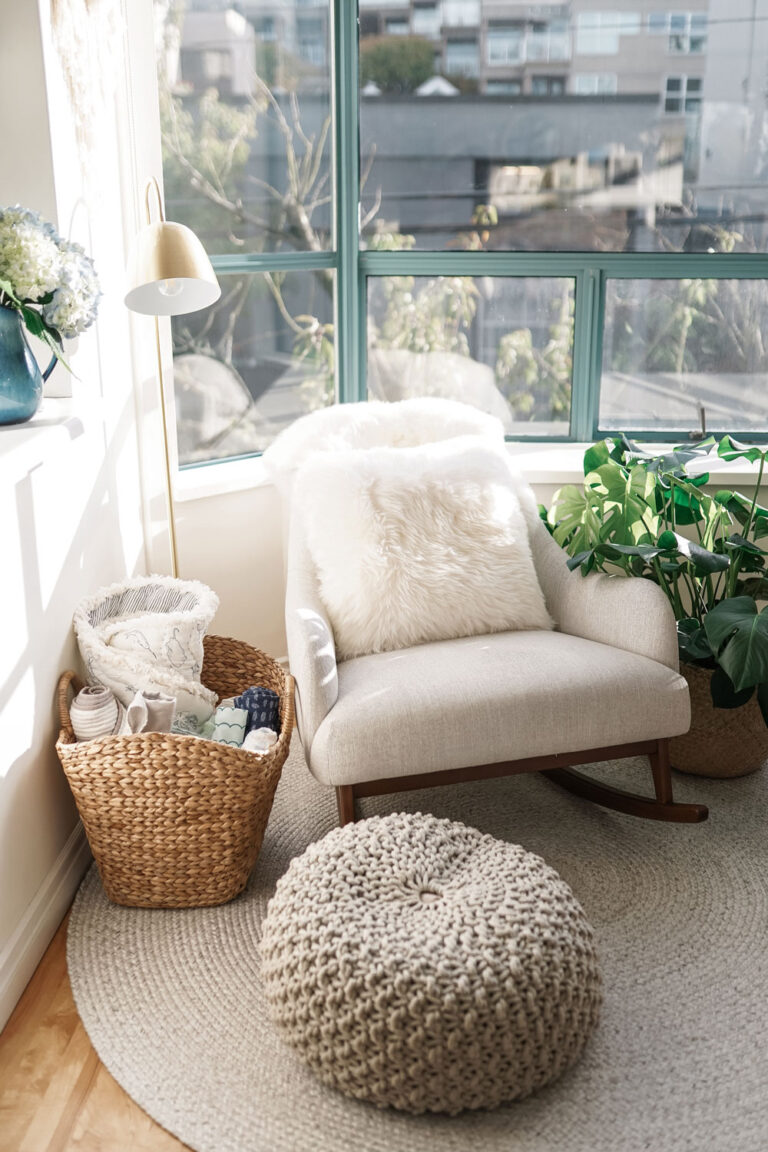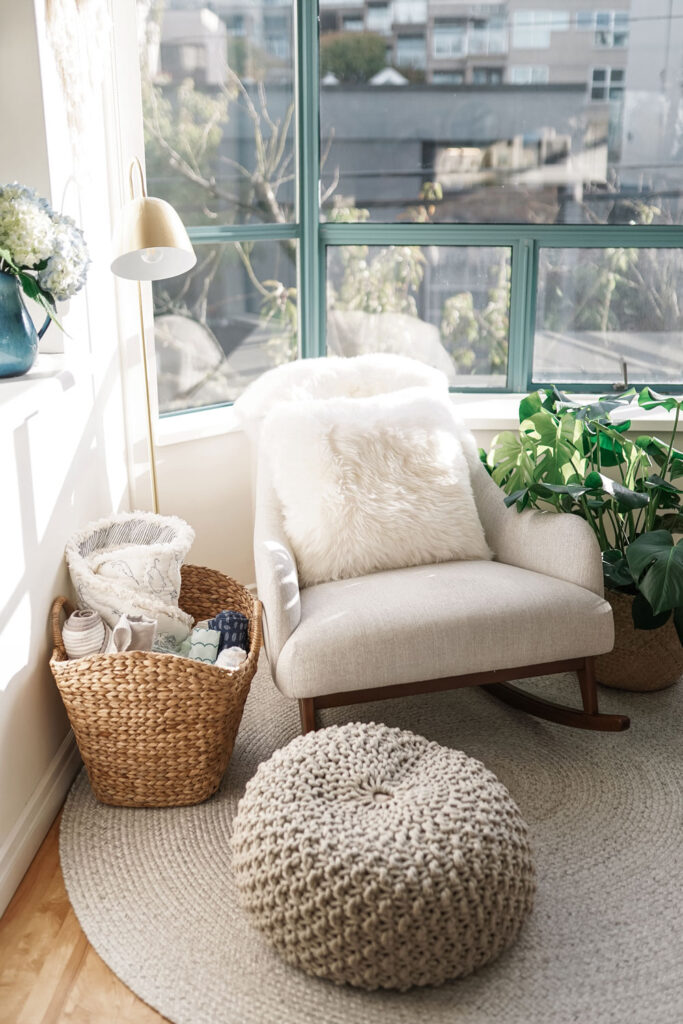 One thing we've been a bit lazy about over the years is lighting, largely because we get so much light thanks to the huge bay windows we have in our space that we don't even really need to turn on lights during the day, even on the darkest of days. But in trying to focus on all things cozy (and accounting for nighttime feeds or cuddle sessions), I really wanted to bring in more lovely lighting to create a bit more of a warm vibe. The Lissom Floor Lamp in Brass was a really easy choice for me—it's super streamlined which is important in a small space, but more importantly it is extremely stylish. The beautiful lines of the brass lamp work in any space, and the marble base is a gorgeous feature in and of itself. We've actually hooked up the lamp to our Google Home system so we can do hands-free on-and-off commands which is a little nursery hack I'd really recommend! Can just shuffle out with baby in the middle of the night, turn on the Lissom with a voice command and get cuddled up in the Embrace Chair.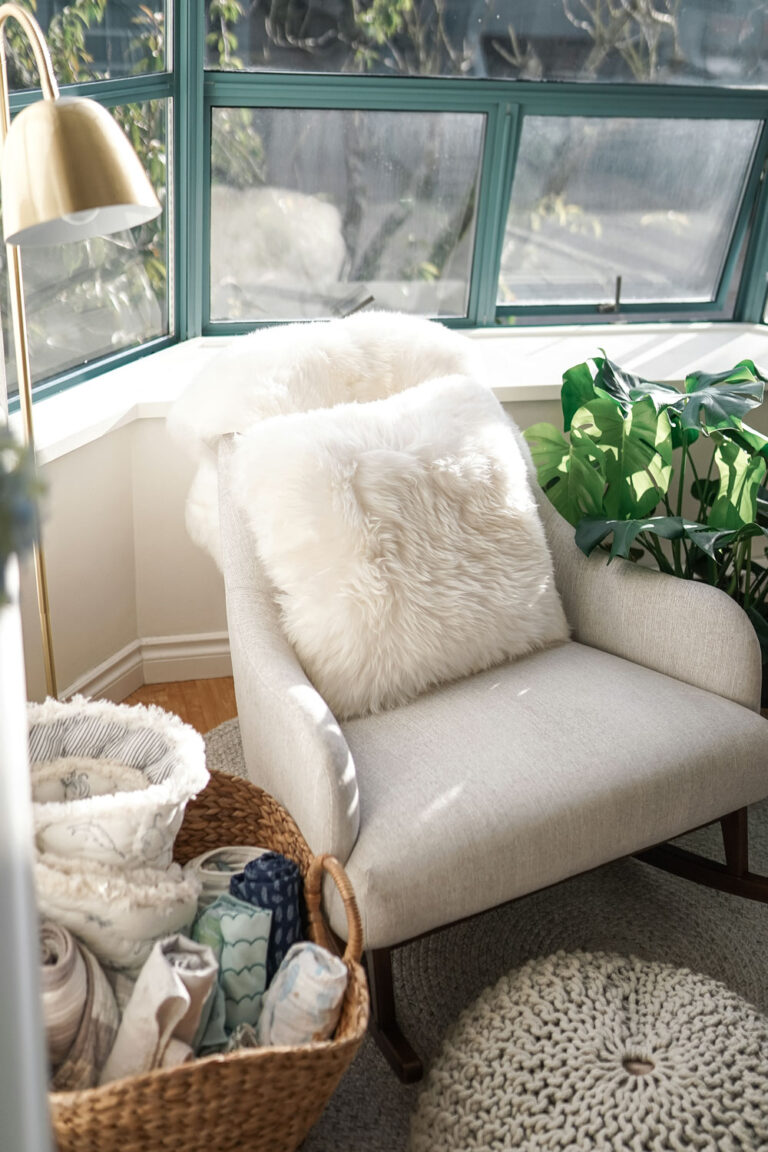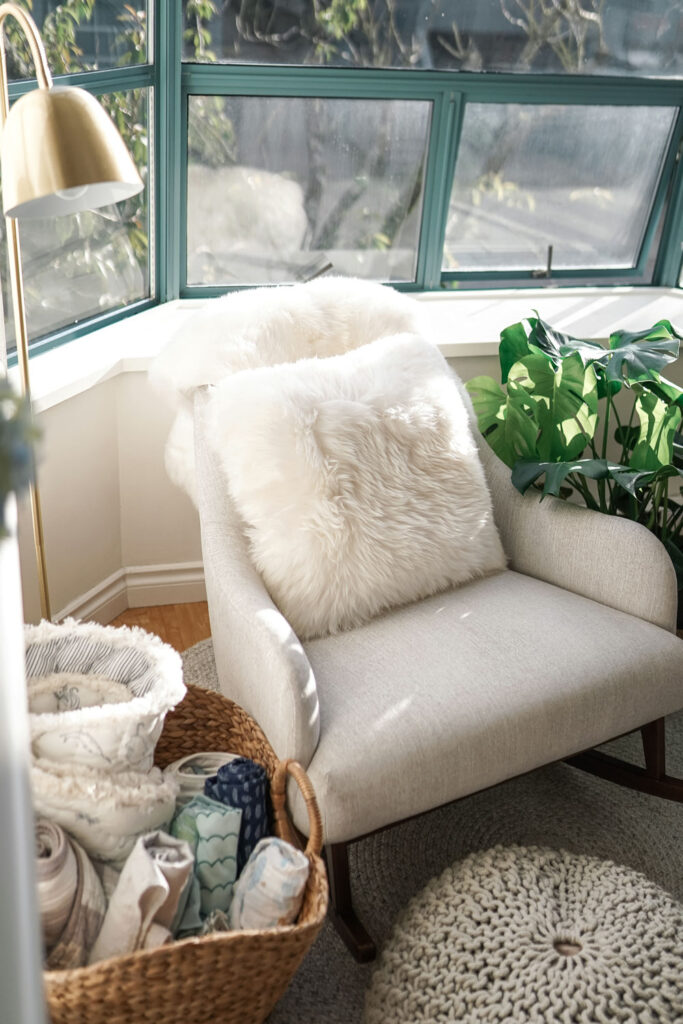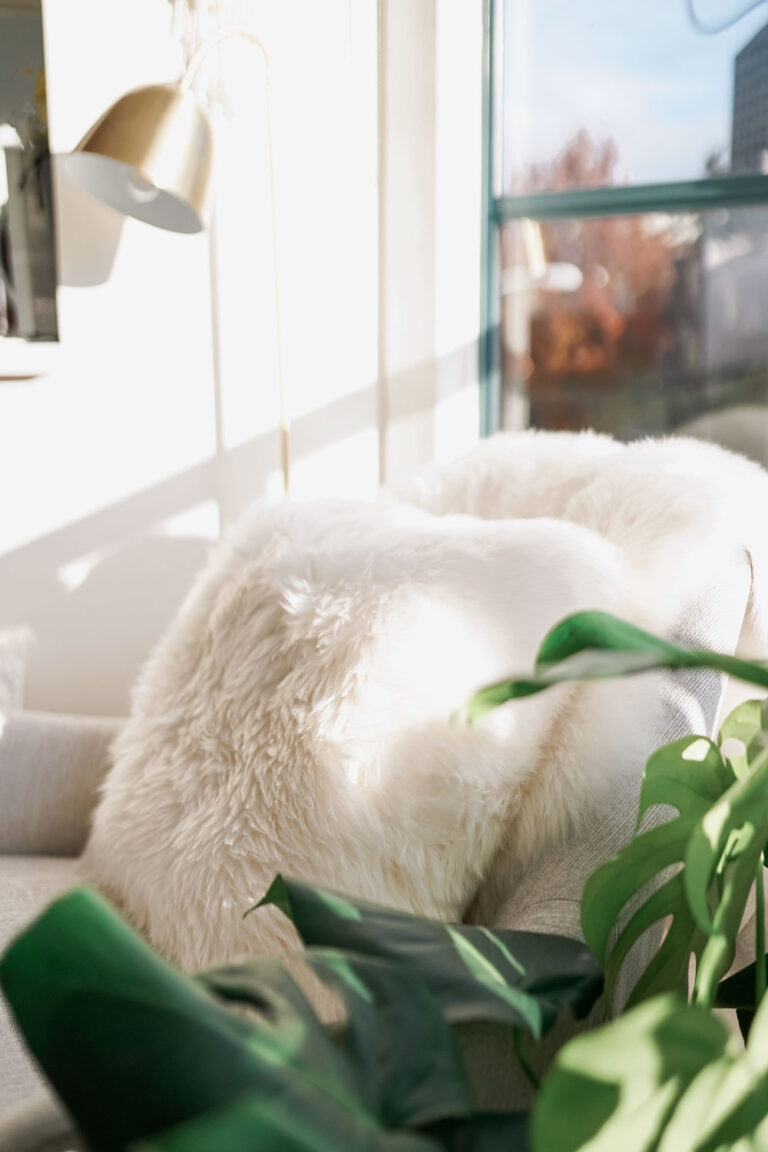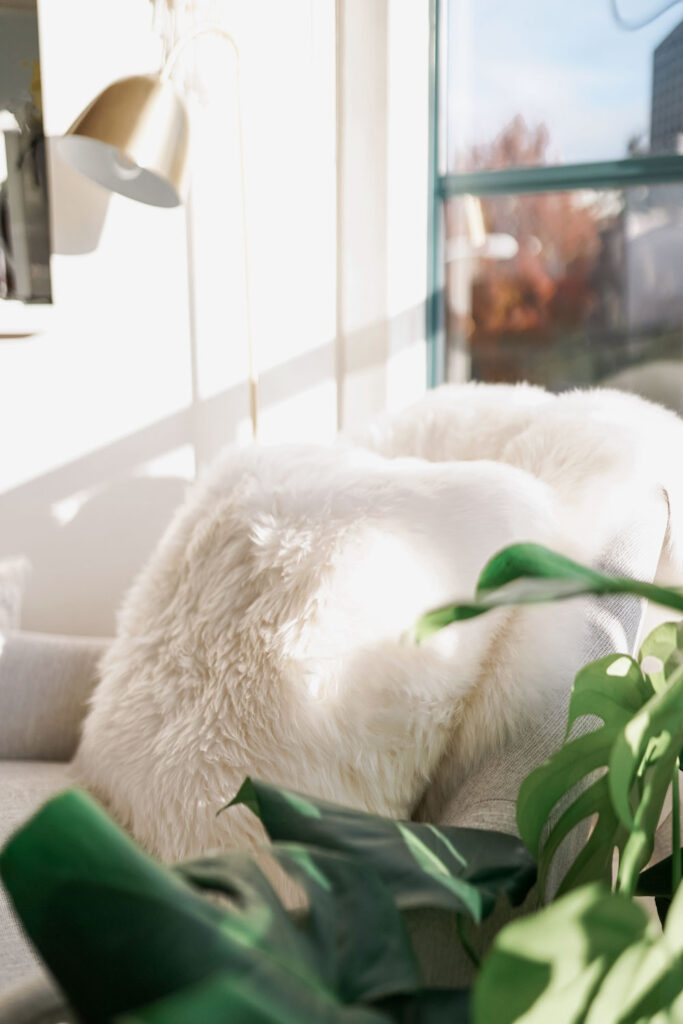 While all these pieces were primarily chosen with baby in mind, I wanted to get a couple things for Mum too (aka me) since I'm mentally preparing myself for those early newborn days and wanted to make sure I felt like I had a luxe space not only for the baby, but for myself too. I'll be covering up these gorgeous sheepskin pieces with a swaddle when we come out to make sure it's protected, but I wanted that plush, dense quality for comfort's sake, especially thinking of how often I'll be set up feeding him! The Lanna Sheepskin Pillow in Ivory was an immediate pick, it's just the perfect sheepskin pillow. Ethically sourced and so silky, it's the comfiest pillow and just adds that gorgeous texture.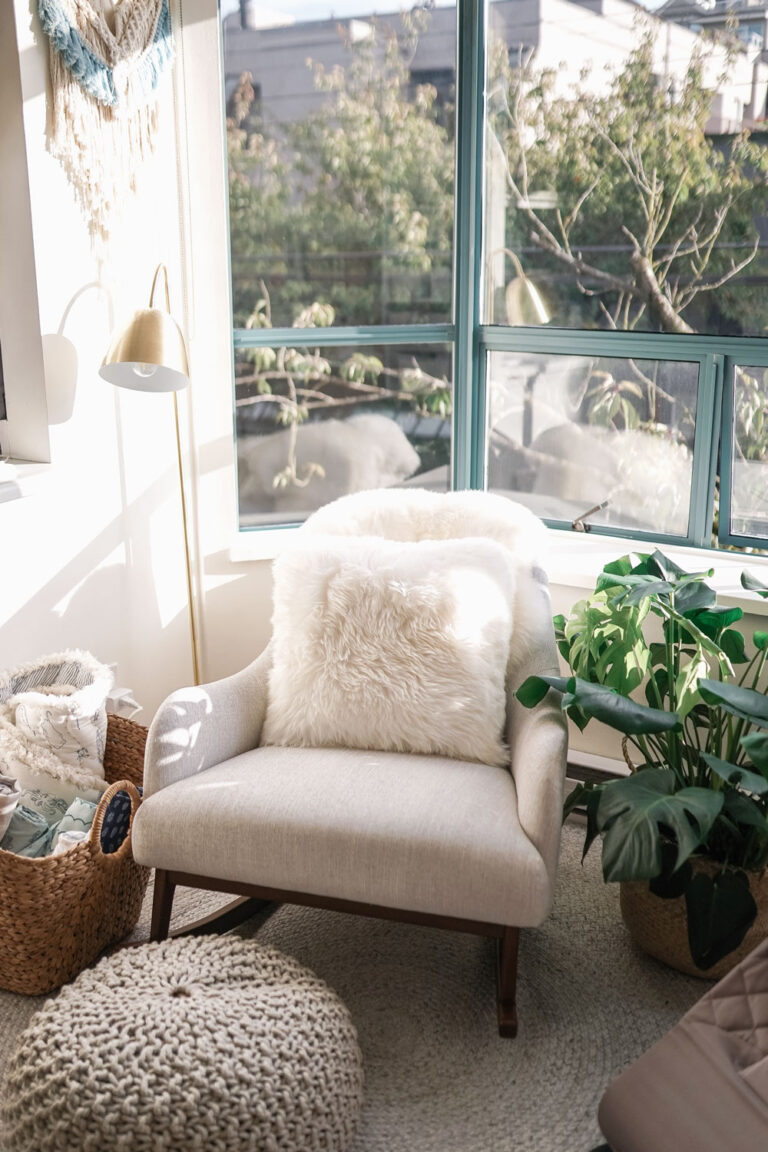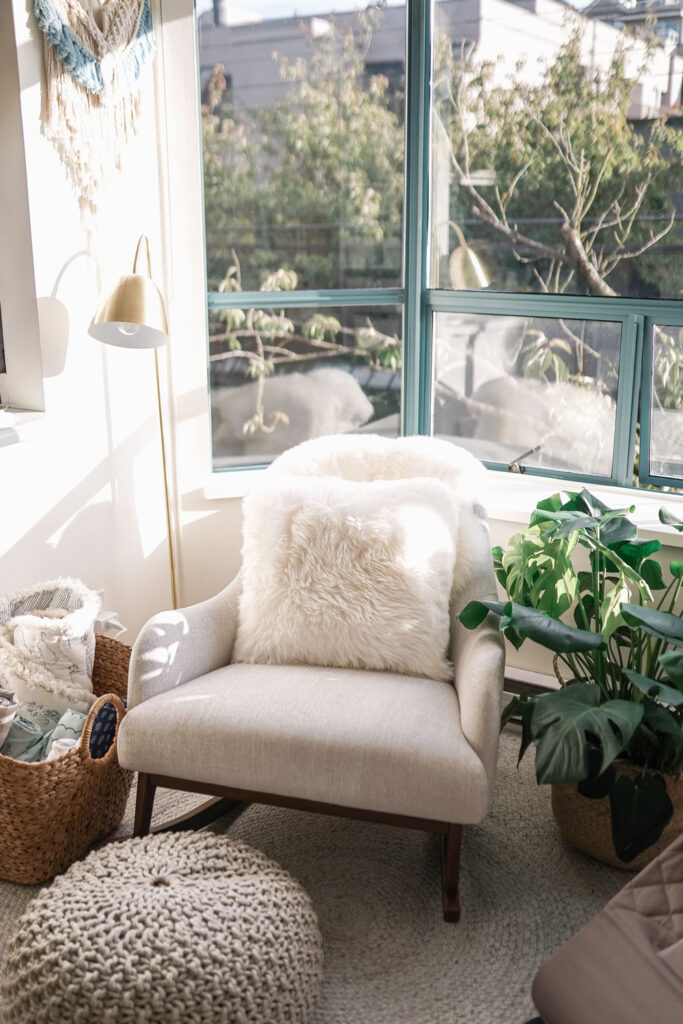 We also got the Lanna Sheepskin Throw in Ivory (2' x 3' for reference) and it's similarly luxe and beyond beautiful. I may move this to our couch (the Soma Sectional from Article, which I share more about here) just to bring in more visual cohesion to our whole place with touches of sheepskin scattered throughout at a glance, but for now it's another gorgeous textural piece to bring our little nook together.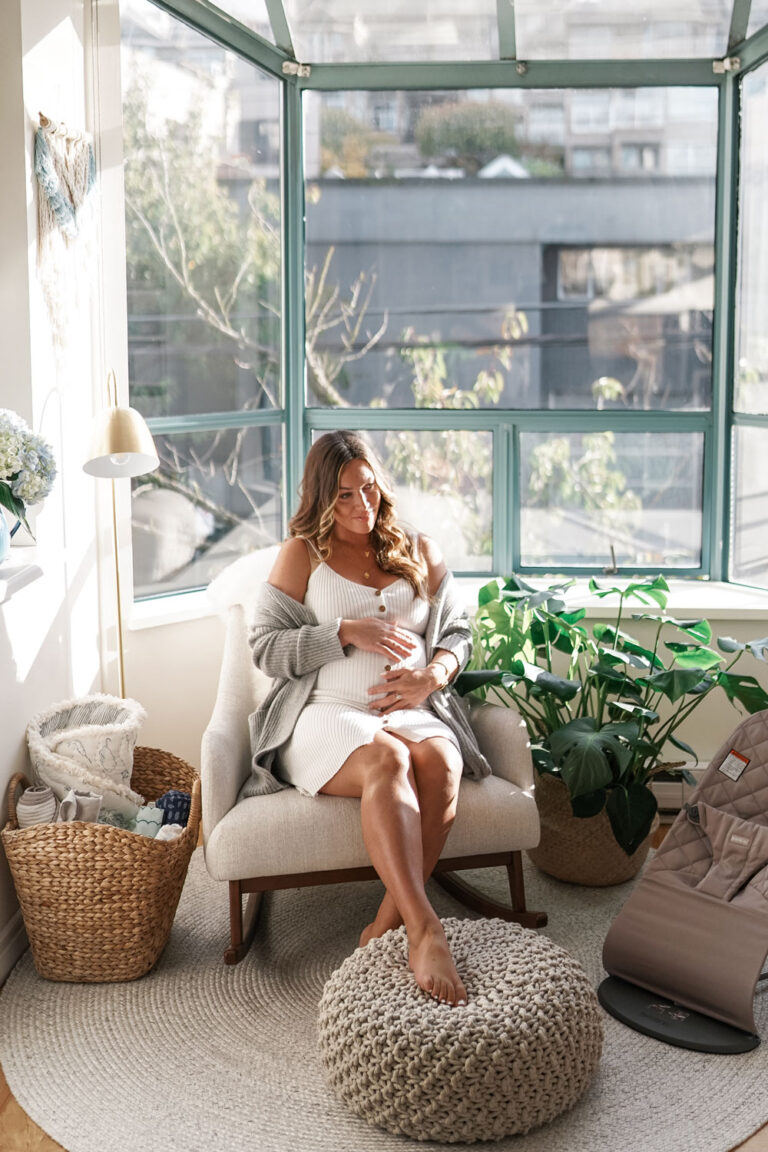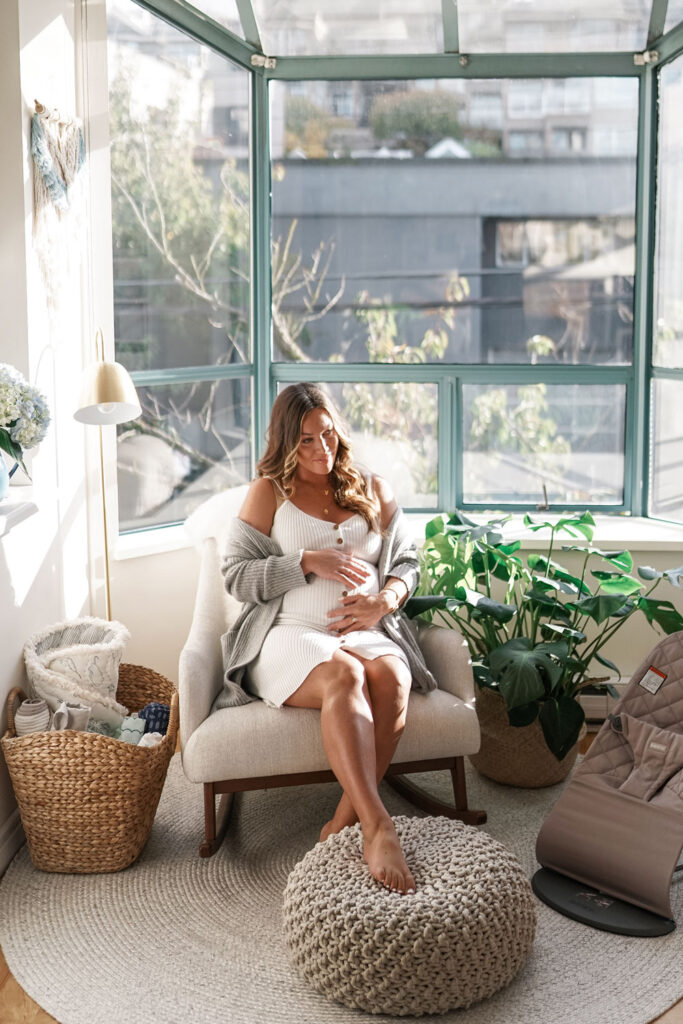 Other than these gorgeous Article pieces, we've just made really good use of blocked or vertical space in this area to create a changing station within a pre-existing console we already have behind the couch (as well as storing a lot of his toiletry musts and a little laundry space) and storing a lot of his books, clothes, toys, swaddles, etc in a very high bookcase. We've added in little musts like his diaper pail and bouncer to our nook and because all of the other pieces we picked are so streamlined, nothing feels too cluttered—just cozy and like we can keep an easy eye on him wherever we set him up! It feels so good to have this little space set for him…the second it was done and we'd gotten rid of the last boxes and donations (well, actually we have one more load of donations to get rid of today…I keep having purging waves and finding more stuff to get rid of), I felt not only lighter and happier in our space, but that much more ready for him!
Speaking of being ready, I'm 39 weeks as of yesterday and baby is officially full-term! Still wrapping up a few loose ends work-wise and around our space but honestly, would be so happy if he came any time now (though did just find out he's posterior so hoping I get some time to turn him). Ready to meet him!
---
PIN ME