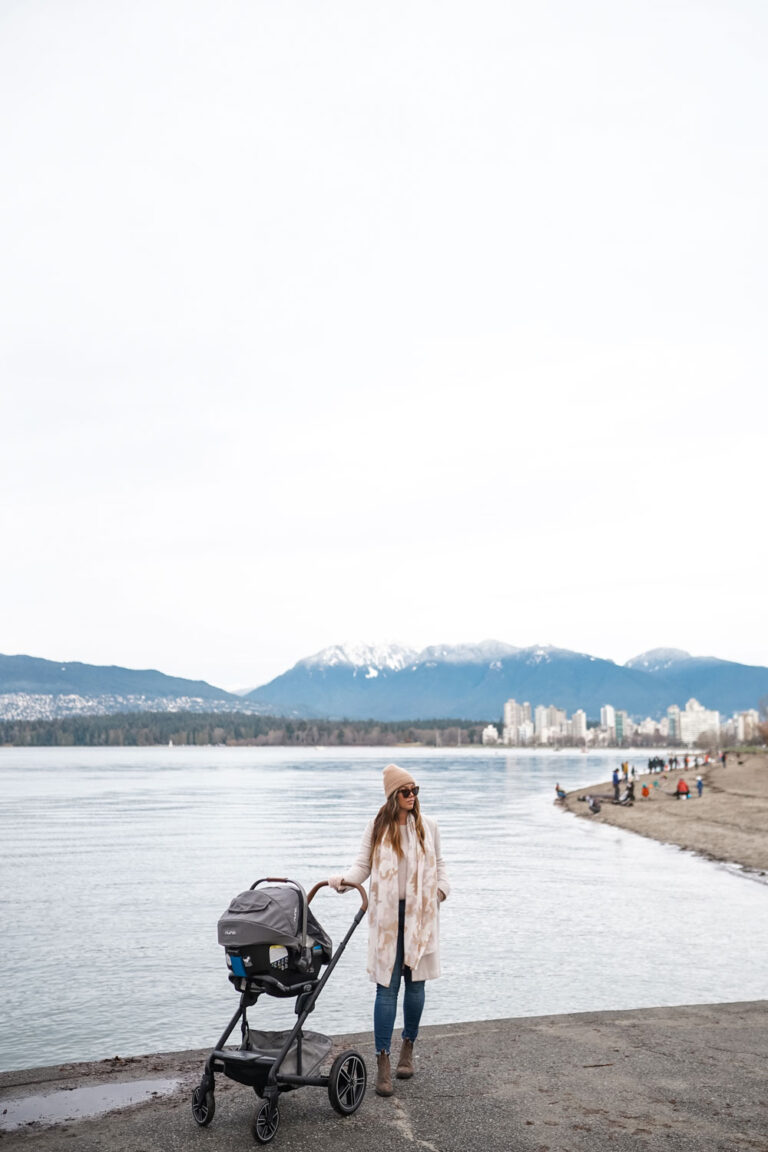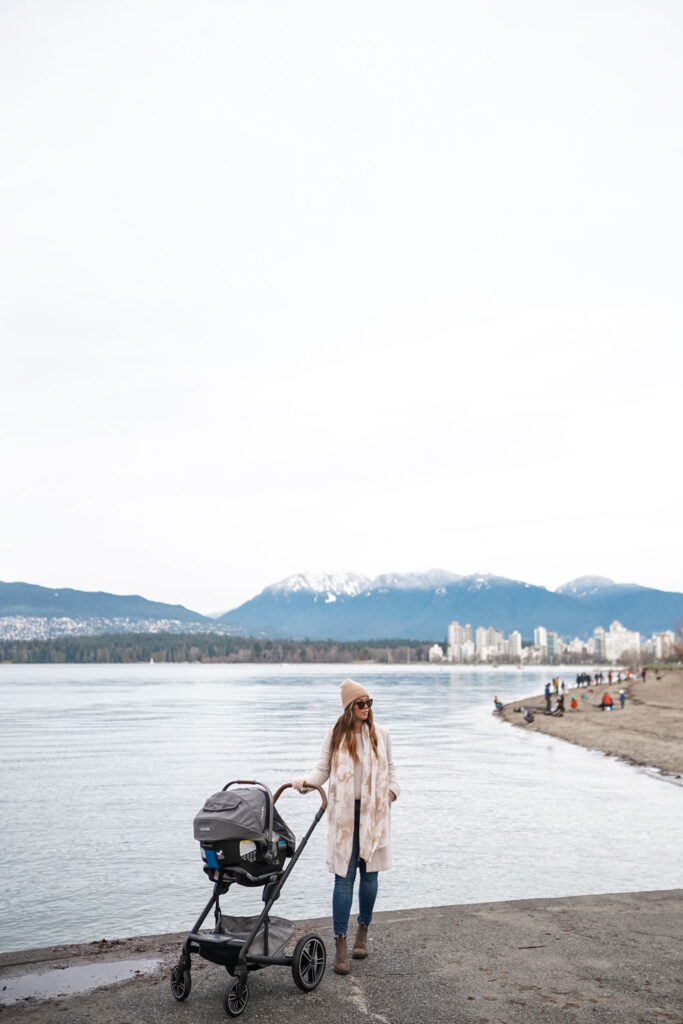 I can not believe I'm officially 13 weeks postpartum as of today! Time has honestly flown by—I've never experienced such a vortex-like period in my entire life when days bleed together and everything speeds by, but the good and the hard parts have all been so fleeting and I'm wishing I could freeze time (or at the very least, slow it down) lately. Ever since 8 weeks especially I feel like I've started to get my bearings so much more and it's been so amazing getting back to my life but with my new little angel sidekick along for the ride with me…whether that's going for brunch, our long weekend walks, even hanging with friends (now physically distanced of course, but still) it just feels so much sweeter doing it all with him and as special as those first weeks are, I really feel so happy and more like myself in this new phase of babyhood since the beginning as amazing as it is is also really hard and just a huge learning curve (more on that in another post soon).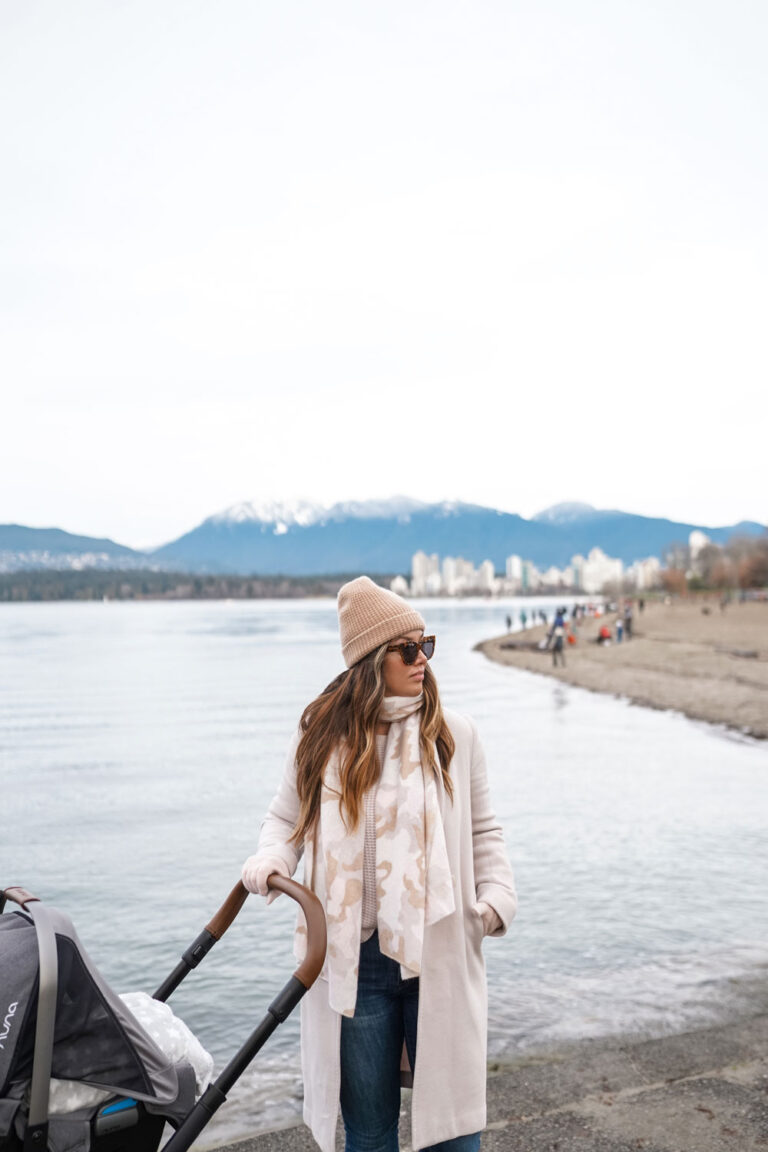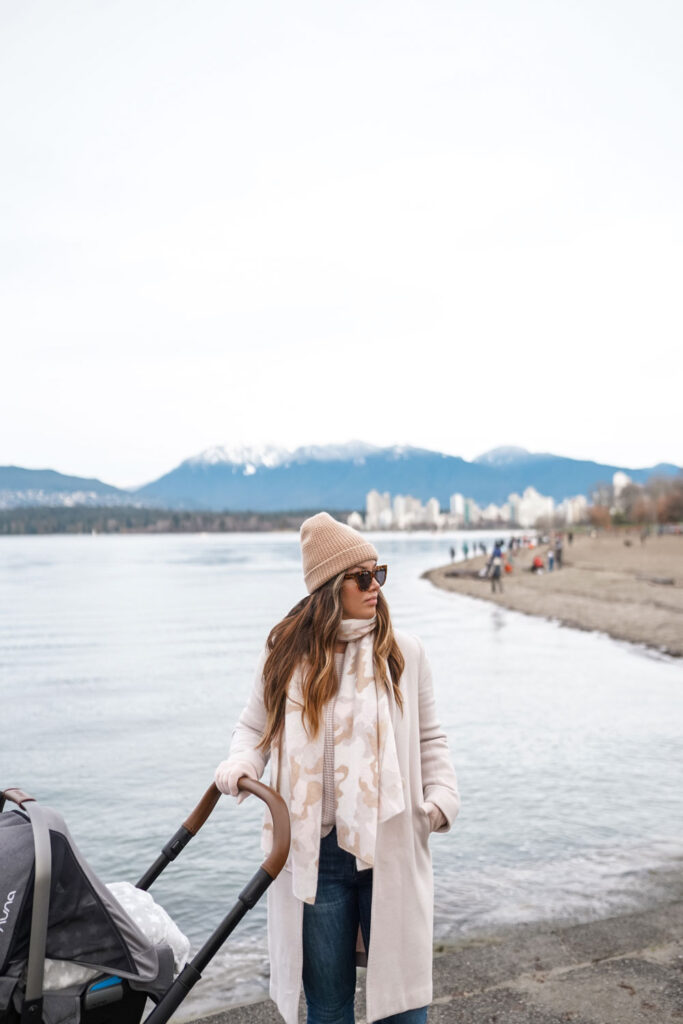 One thing that's been interesting is not only getting back to my clothes that I had benched during my pregnancy, but actually having to reconfigure my style juuuust a little bit to work with my life now (which means a bit of shopping for me, so I can't complain)! My outfits used to be dictated just by whatever I felt like wearing that day and accounting for the weather, but now I have to take everything else into consideration and really feel like I'm set (but hopefully, a bit stylish too!) before I leave the door with him.
Whether that's being able to nurse comfortably, the risk I want to take with spit-up, being able to bend down and lift him or the stroller up easily, etc, my outfits need to be pretty heavy on the comfort and functionality front but I also still want to look cute.
So many of you guys asked me to share my postpartum style tips (I hate when bloggers say that but truly, you guys asked!) so I wanted to share some of my current postpartum style faves today. What's nice is that none of these are "nursing" specific pieces like nursing camisoles or whatever—I 100% wear nursing bras every day (tons of cute maternity clothing options here), but other than that my outfits are basically always just normal clothes that I've just chosen strategically to work in this new season of my life!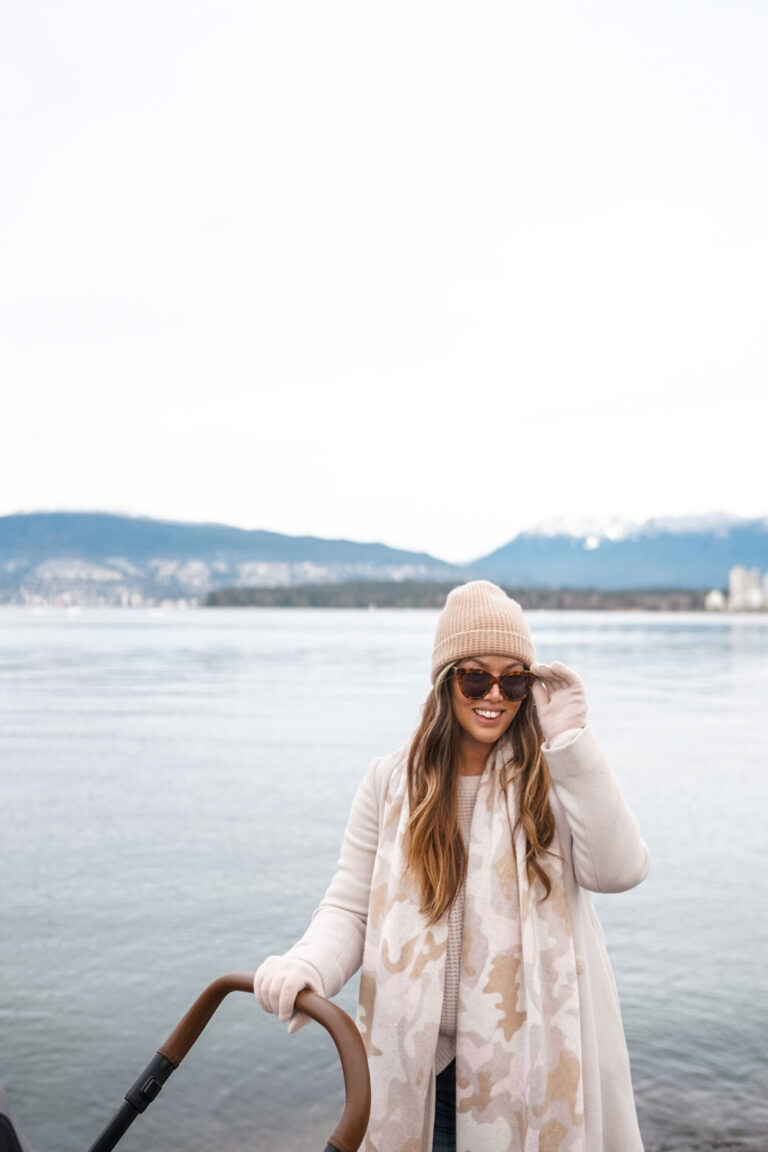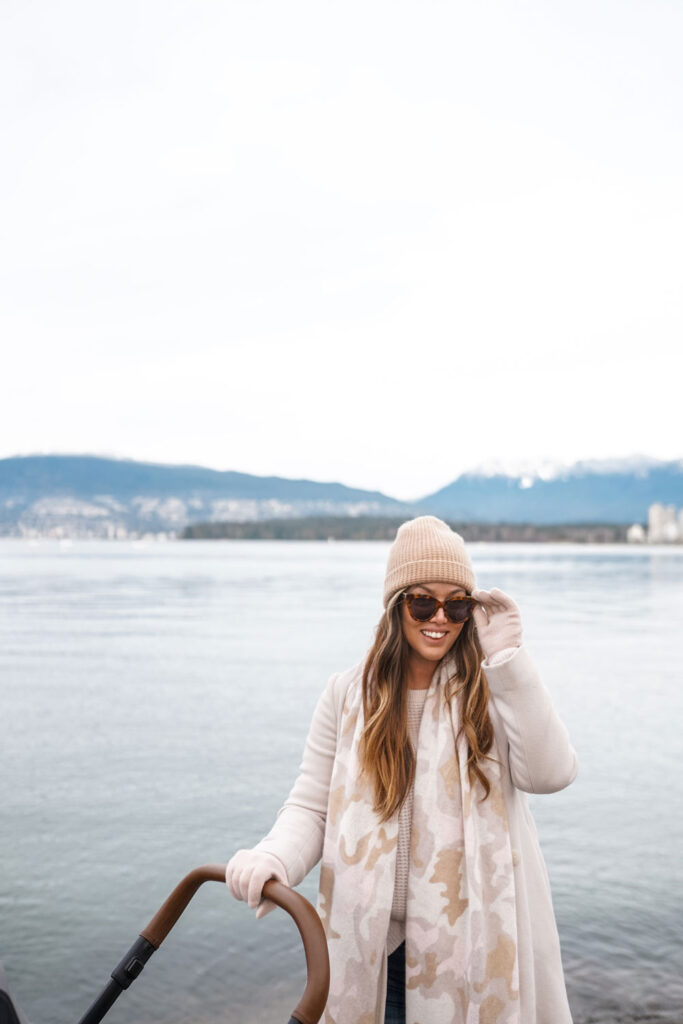 The Cropped Thermal or Sweater
I got the cutest waffle thermal recently (anyone else obsessed with waffle knit texture in general these days?) and I am so in love with it, I've gone ahead and gotten a few more already—for nursing it's perfect since there's so much less fabric to have to wrangle with (I've had a couple long sweater moments when I'm rolling and rolling and rolling up the fabric, pinning it under my chin and hoping it doesn't all unravel on Cal), and it works so well with the high-waisted jeans or leggings I'm wearing these days on repeat. I've really gotten used to feeding out in the open with him (you kind of have to during the pandemic, right?) and so I love that this keeps me warm and covered for the most part and is also super convenient—just lift up slightly and Cal has easy access to his meals. Plus, it's just so cozy and warm right now! Whether it's a cotton-weight thermal or a cashmere sweater, it's a cut I'm really living for. So many gorgeous sweaters & knits options here, and Shopbop currently has a Weekend Retreat edit that has so many other cozy options!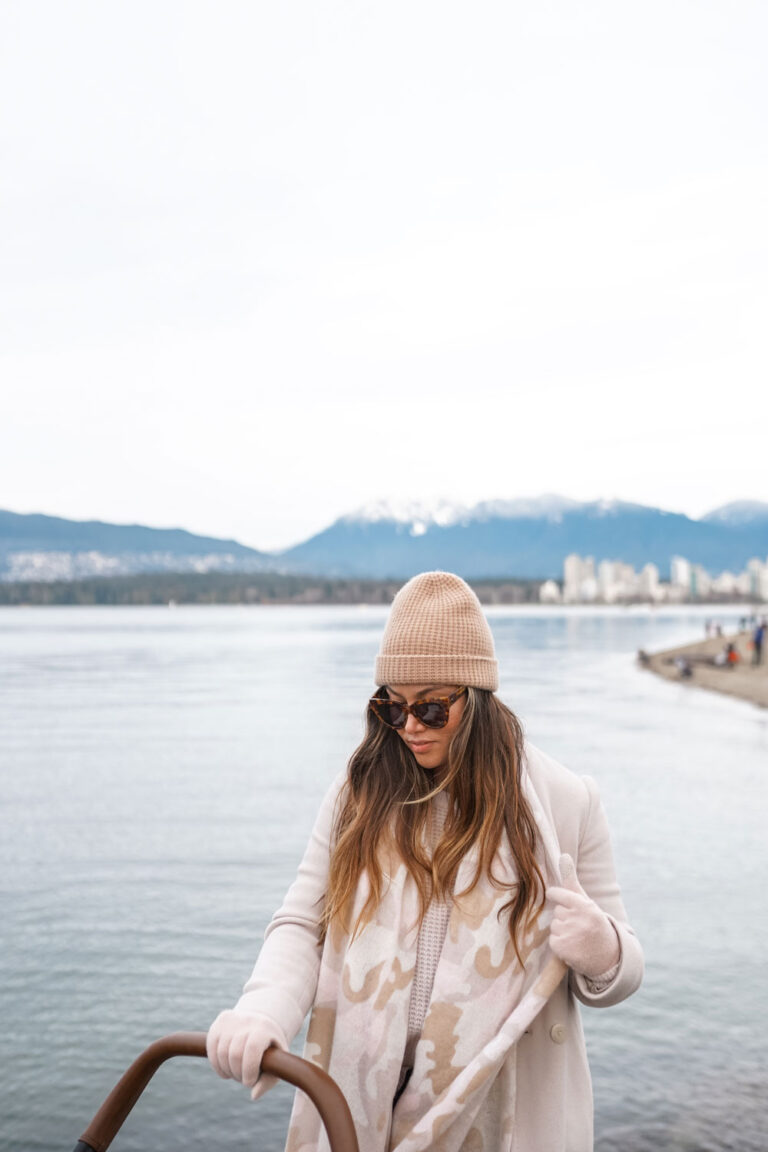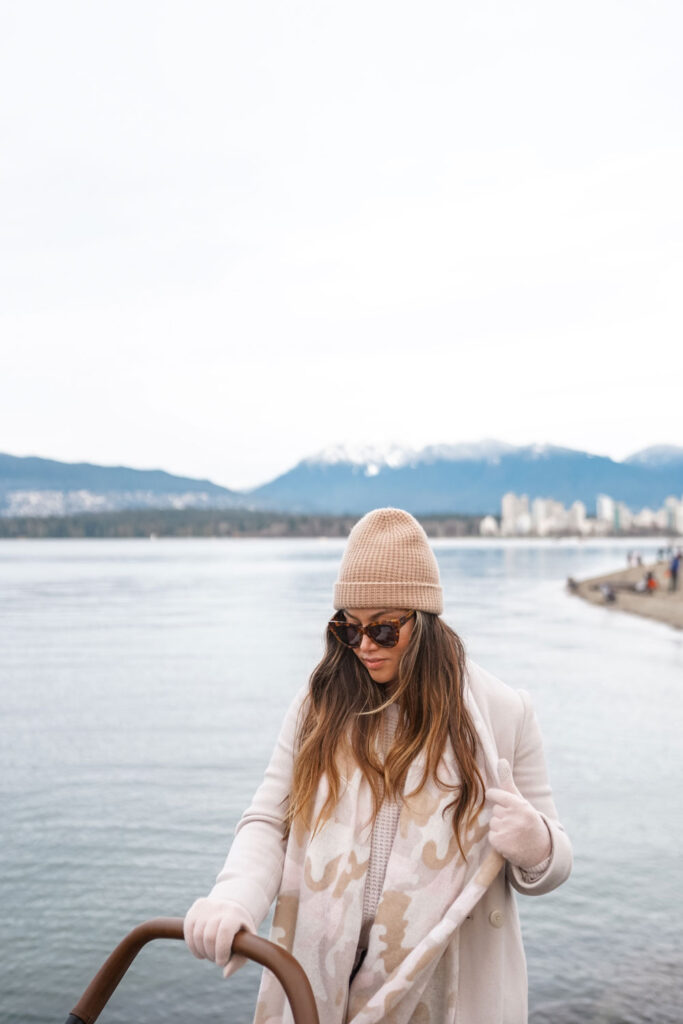 The High-Waisted Leggings & Jeans
I already loved this silhouette pre-pregnancy as it's always suited my figure best, but high-waisted jeans are absolutely indispensable now. Like the crop tops, it's the perfect combo of comfort, style and also a bit of concealment (not so much for modesty's sake, but for warmth because I'm feeding  outside in the cold constantly these days) that is so key for nursing. Stretch is key, not just as your body transitions back postpartum but also because nursing and having a baby in general are both very physically demanding things and no one's got time for rigid denim! I probably drop into a low sumo squat at least 50 times a day…it's just not worth a split in the seam of your jeans. I'm also constantly in leggings and activewear features super prominently in my wardrobe (that was the case pre-pregnancy too!). I remember discovering Sweaty Betty when I'd visit my sister in London & so excited to see Shopbop carrying this gorge activewear brand now! Need all the loungewear pieces especially. This active edit also has so many other amazing brands & pieces…when you're in activewear as much as I am, you need all the options!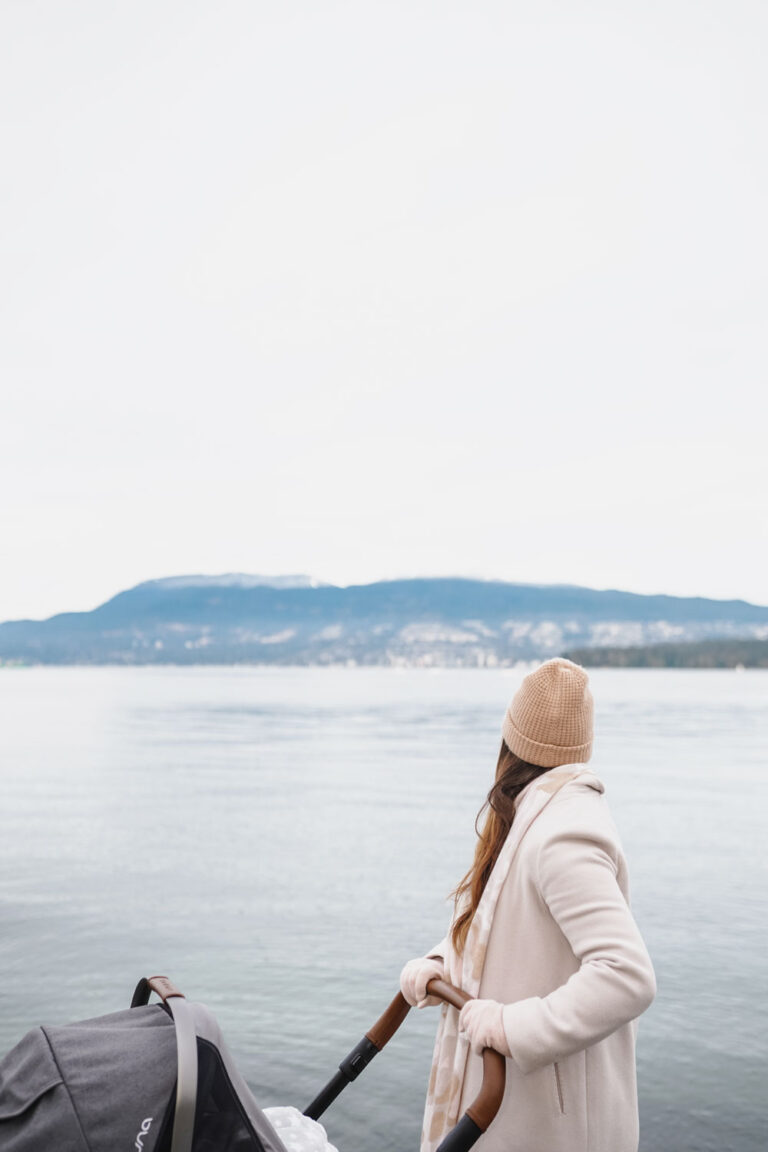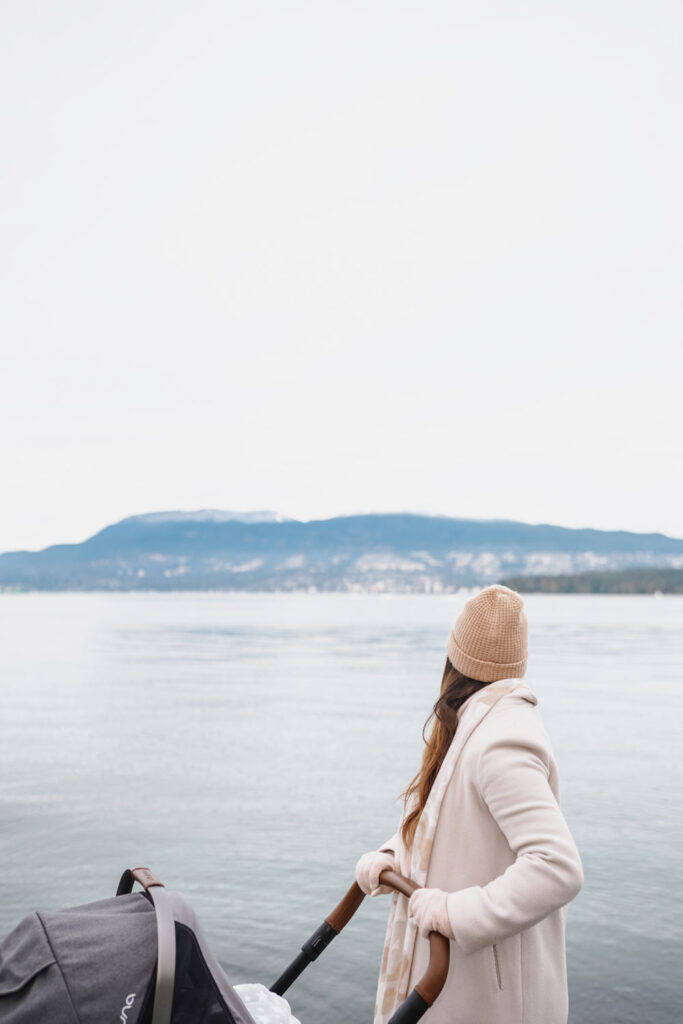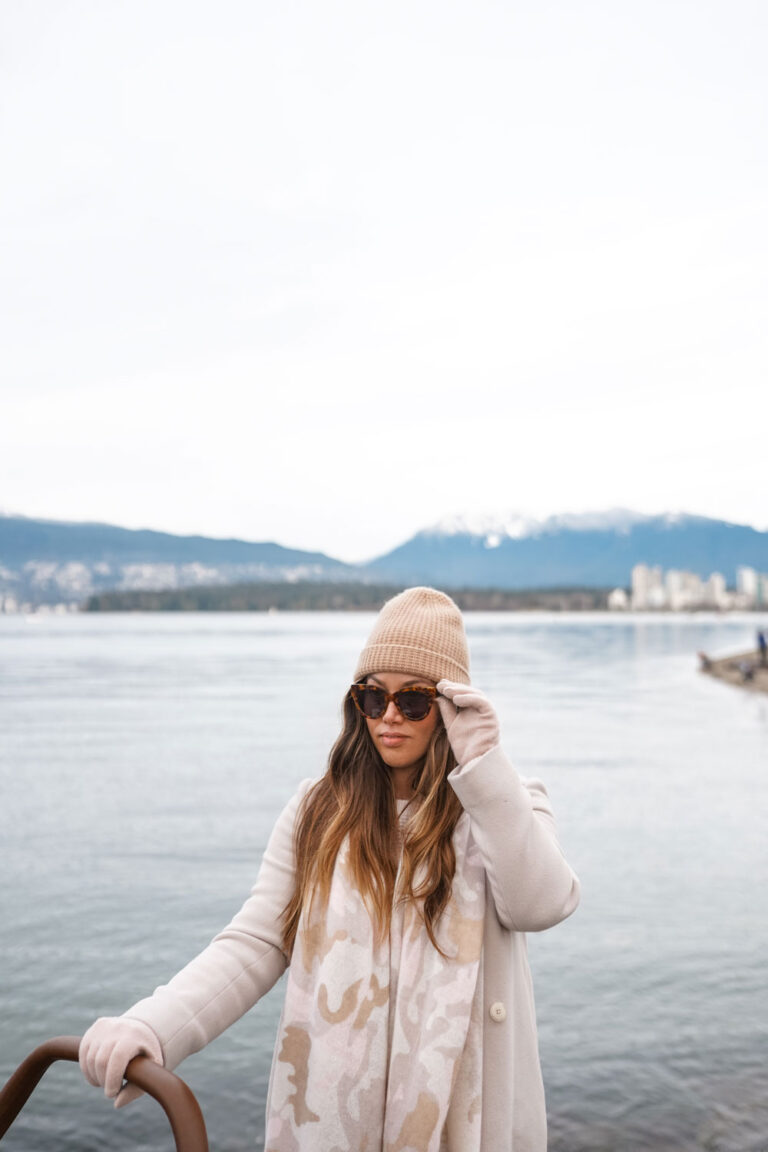 Cozy Accessories
I literally spend so much of my time outside doing walks these days, I almost feel like I've been spending more of my waking hours outside than in (even when it's raining…just feel like after the first few weeks of being cozied up inside I got claustrophobic and want to be out all the time now!). I just find being outside lots makes for a happier baby and just as importantly, a much happier mum. With the pandemic making it hard to still connect indoors with a lot of loved ones, getting that time to connect outside is so key for my happiness and it's also such an amazing way to ease back into being active at the beginning too. Being a wintertime first-time mummy, having a roster of chic beanies, scarves and gloves is so key since that's where I'm most able to add a bit of style to my outfits. This White + Warren cashmere travel wrap is an absolute obsession of mine right now (and always is, these have been forever staples of mine), but the pastel camo is the dreamiest thing ever and if you do want to cover up, it serves as the chicest nursing cover ever (just make sure it's out of the firing range of any spit up if you need to burp your baby, it's far too luxe to get any spit up on it!). I also am obsessed with any chic beanies right now—they just add so much beautiful texture to a look, and more importantly, so critical from a comfort standpoint when it's cold out! Same with mittens—I have two different pairs I've been wearing on repeat, and whether it's big fluffy mittens or sleeker gloves, they are so critical for pushing around the stroller right now. I made the mistake of not having cute gloves/mittens at the beginning and my hands suffered for it! So many more winter accessories options here.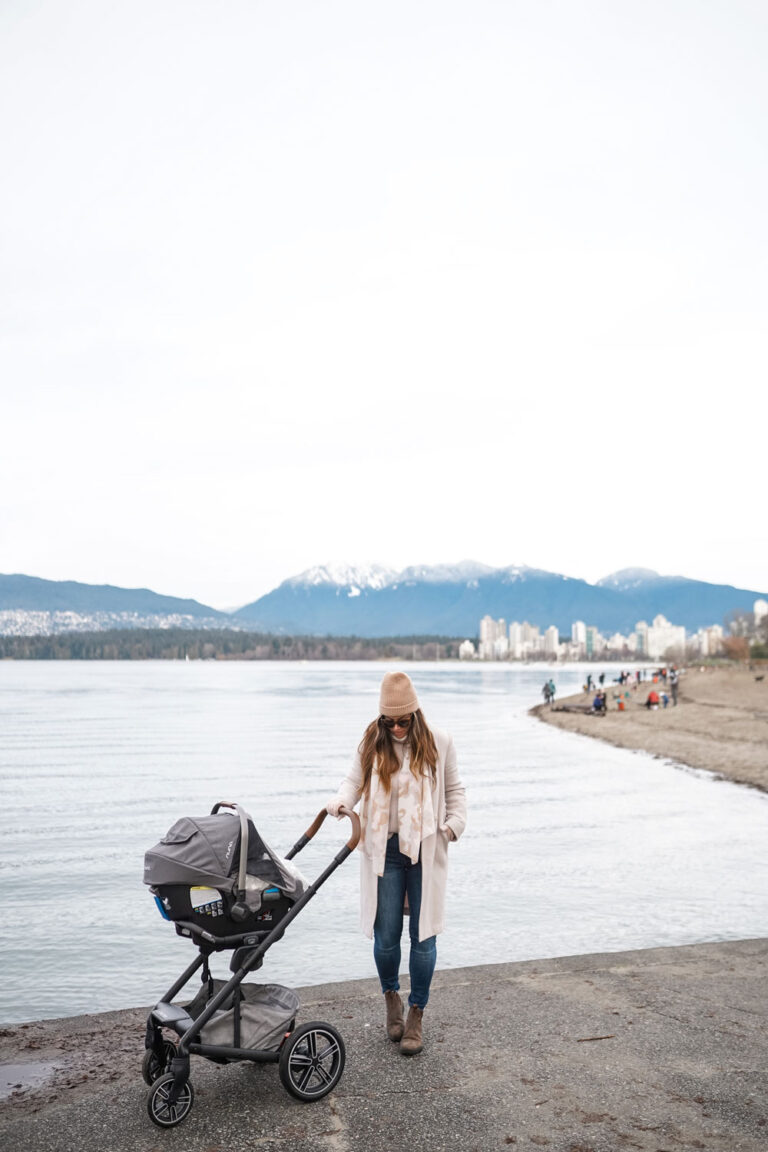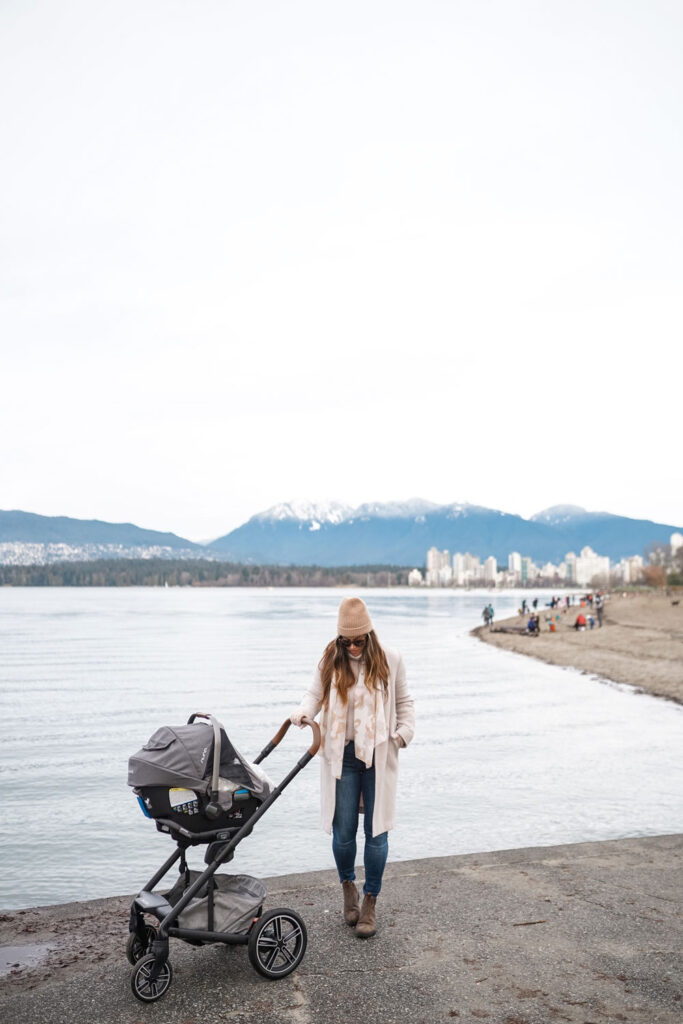 Walk-Friendly Boots
I can not stress enough that having some cozy but cute ankle boots is so key during the winter months and during motherhood in general. I love wearing my sneakers (I love APL's especially), but it's too chilly in the winter to get by with just them. I've been wearing my Blundstones a ton but also love Dr. Marten's—and when we get proper snow, I'm in my Sorels! Just make sure that whatever you invest in is something that you can spend hours walking in comfortably because our bodies already go through so much carrying, delivering and then carrying baby again, it's just not worth messing up your back or hips. Living on the Seawall too and in a neighbourhood notorious for uneven pavement surfaces and unplowed roads, it's so key to have boots with really strong grip on them for both my safety and Cal's, so I'm always on the hunt for really quality, comfortable and durable boots!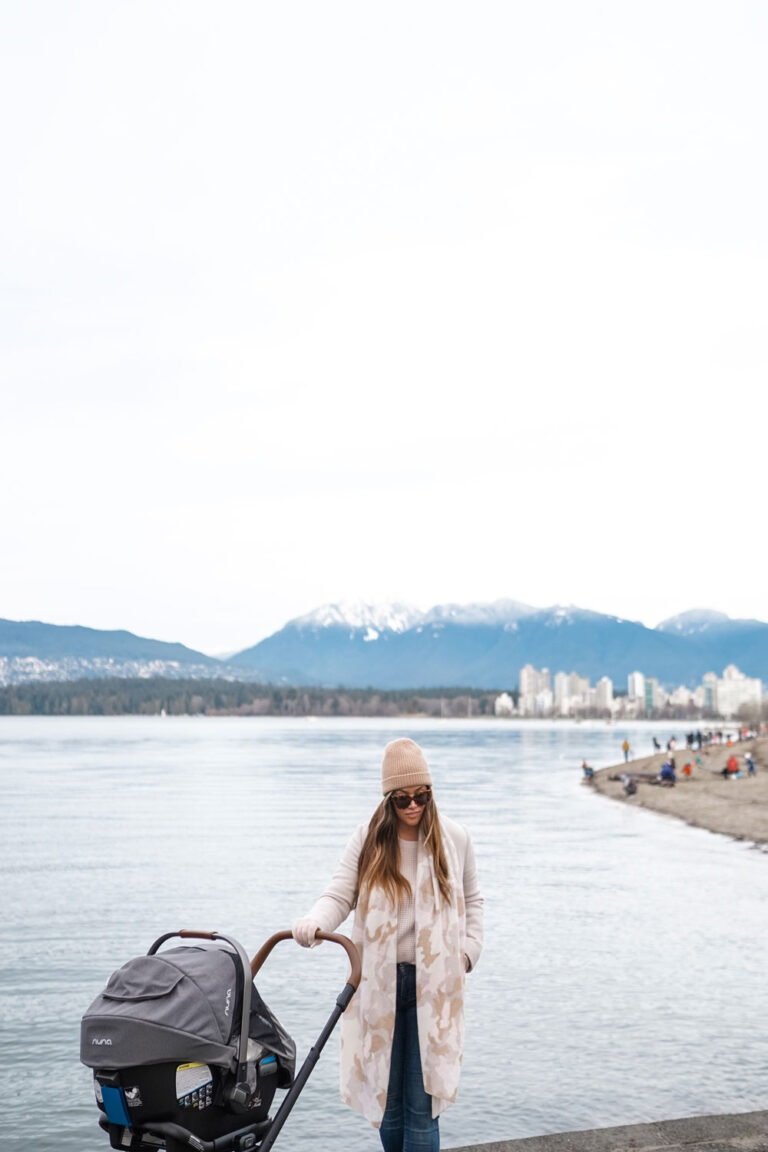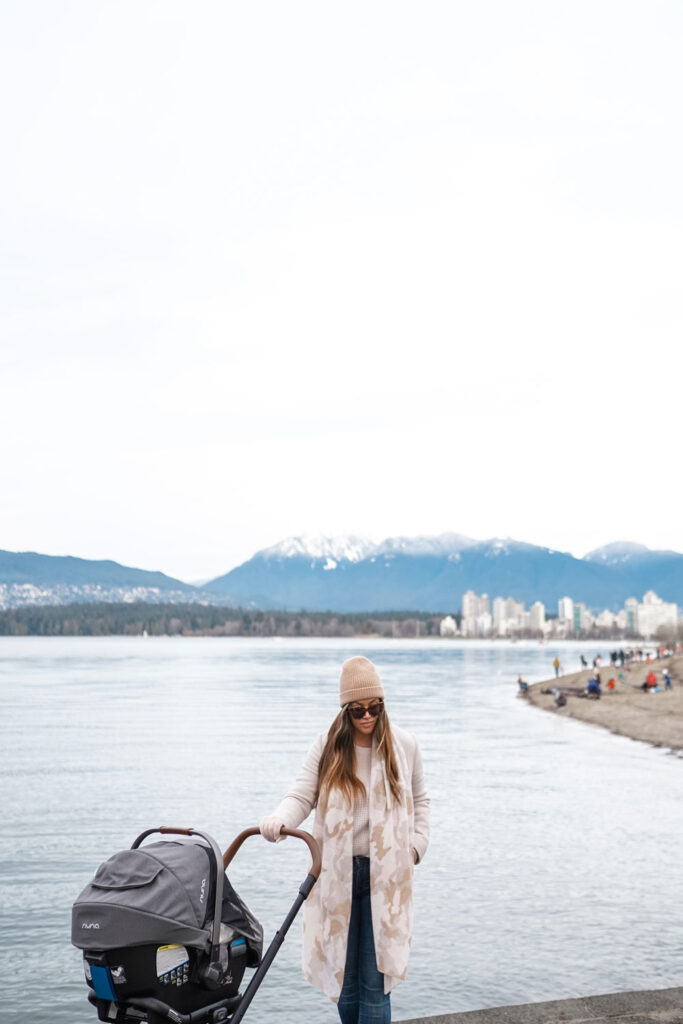 Basic, Warm Coats
There was a time that I'd really play around with my outerwear more but as mentioned, having a baby is really quite physically demanding! You're picking them up off the ground, you're carrying strollers, you're wearing baby in a carrier, you're swinging them down to feed, you're pushing a stroller up a hill, etc, etc. I've been so grateful to be getting back to my workouts a few times a week but honestly, just taking care of a baby in and of itself is a serious workout. So function has become really, really important to me…is it warm, is it cozy, is it something I can move in. And, of course, is it cute. These are the things I value way above pure style factor now, so that means I'm more often than not opting for puffers, rain coats, sleek wool coats, etc. I 100% will wear something like a teddy coat again one day soon because you've still got to live your life (I actually have a whole photo shoot planned with my fave teddy coat since Cal will officially fit into his bear onesie soon enough and obviously we have to be twins) but for day-to-day wear, it's all about the strong, reliable but stylish basics. A neutral wool coat like this is an easy win for what I call my "dressed up" look these days (so…just anything that actually buttons up) as it goes with any denim rinse and pairs so beautifully with all my accessories (but is also super, super functional and basic). But honesty, most days I live in my activewear and I'm looking to a cozy puffer or a lined raincoat that will keep me warm and cozy. My key tips is to look for pieces that you can wear open easily if you want to wear baby in a carrier, that offers room in the shoulders to allow you to lift and carry and move easily and that'll go with your key colours easily! 
I'm going to be sharing more postpartum style tips over the coming months but more than anything, I'm just excited to get back to doing style content in general! Truly, just about any outfit can be mum-friendly, it's just during this early season of motherhood when your body is still changing and you're really just calibrating to the physical demands of it all that I think it's worth just investing a bit more and being slightly more strategic in your style choices so that you get the best of all worlds (comfort, ease and style!). Any experienced mamas, were there any style pieces you couldn't get enough of? Let me know in the comments below!