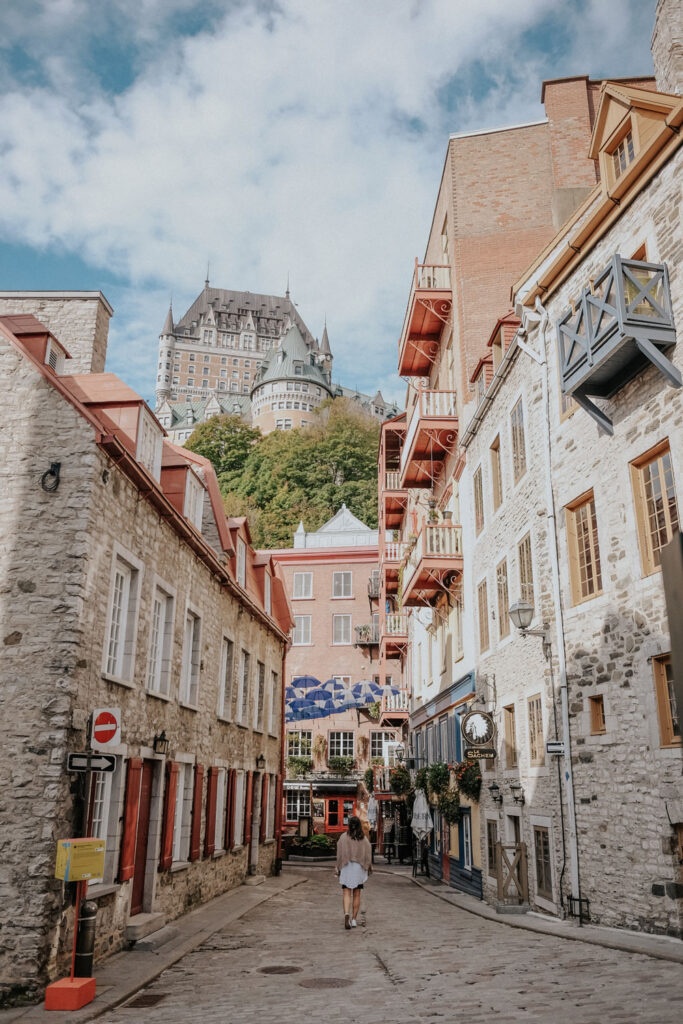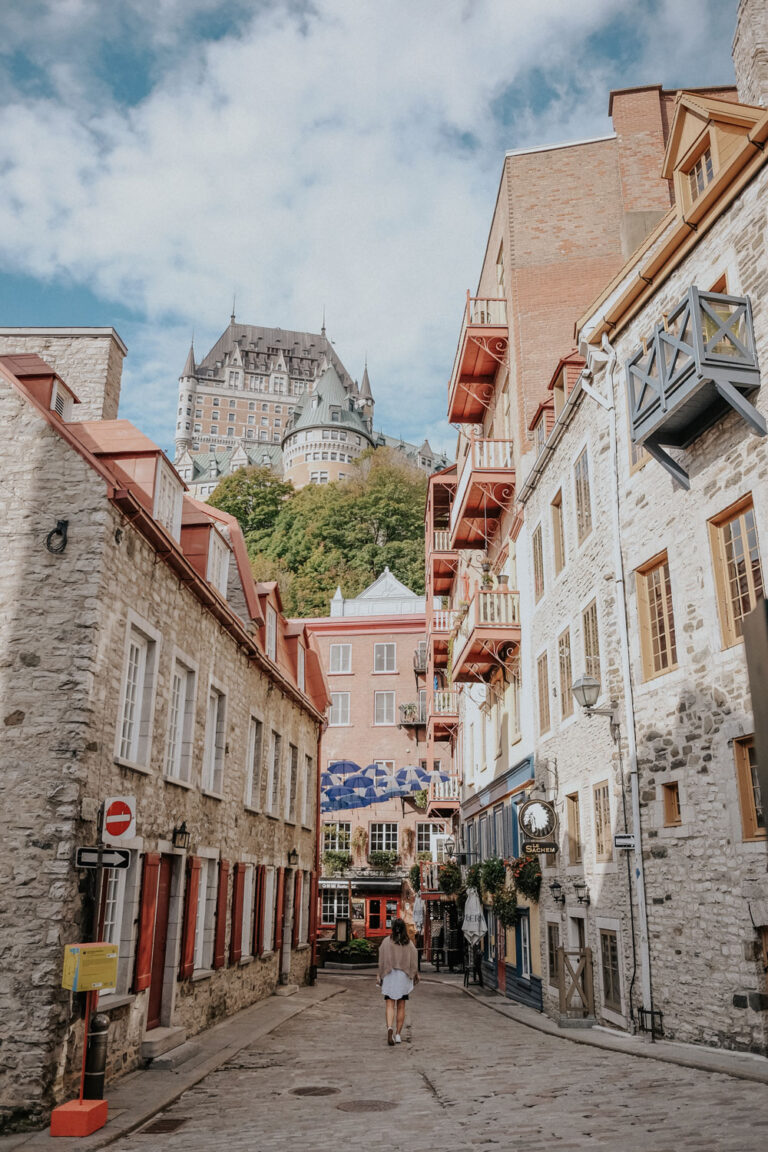 Nothing like coming in a month late to wish you all a very happy 2022! The start to 2022 kicked off in a sliiiightly less-than-amazing way for us…we all got COVID (but staggered and before they dropped the restrictions on close contacts having to quarantine, meaning we had to all just keep extending our quarantine at home while being incidentally snowed in too) and I feel like I just didn't get that usual big kick off to the new year that I always look forward to. Looking on the bright side though, it kind of gave me more space and time than I would ordinarily get to really map out what I want in this coming year, recalibrate or introduce some things I normally struggle to find time to work on (namely getting really consistent on childcare and developing a better strategy there so that I can get more time to work, which is going to be the biggest help to me) and also to review the previous year and really think of what went right, what could've been improved on, etc.
One thing that came to mind immediately that was definitely all kinds of right and that was such a highlight of 2021 was our trip out east. While we weren't ready to travel internationally yet, going to Québec City is like taking a trip back in time, and to a whole other country…it's often described as a piece of Europe in Canada and that's absolutely right, but it has a charm all its own that instantly captivated us.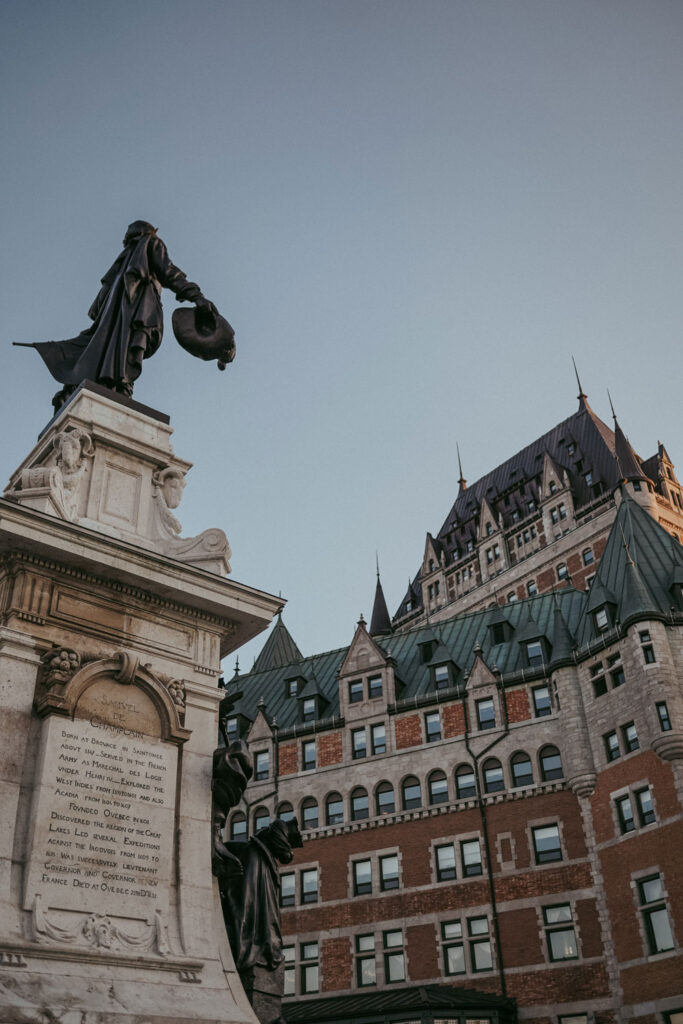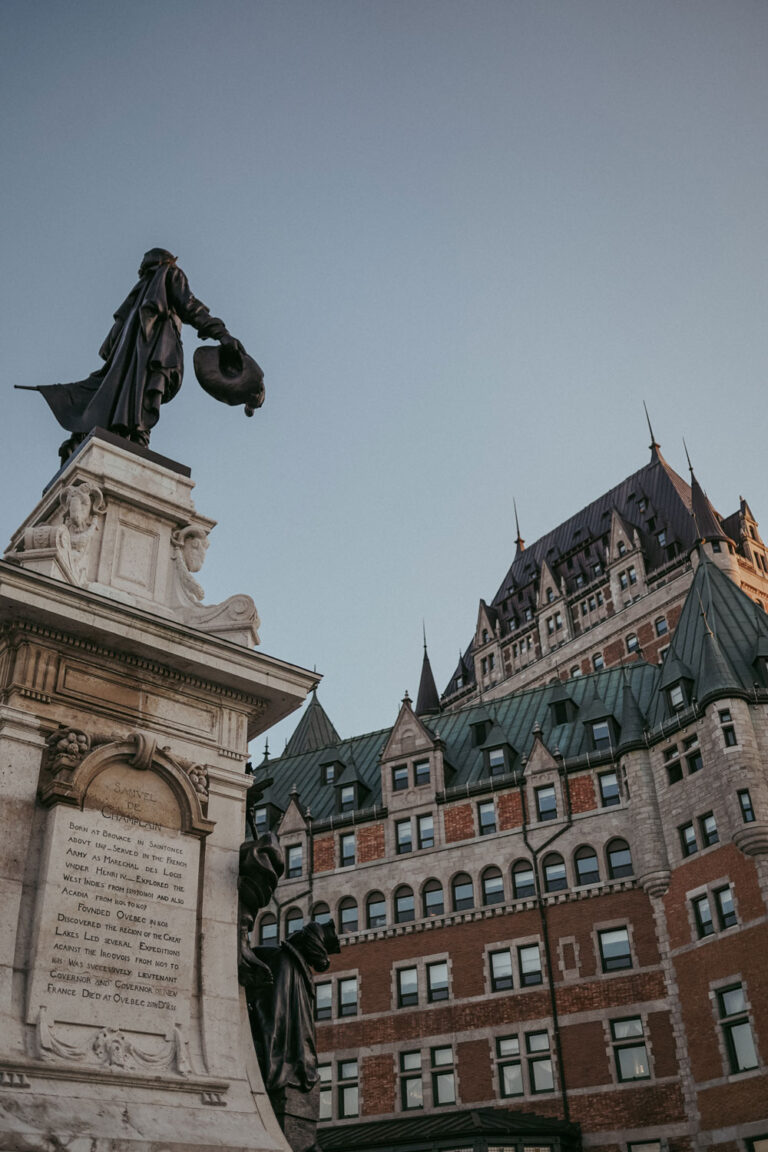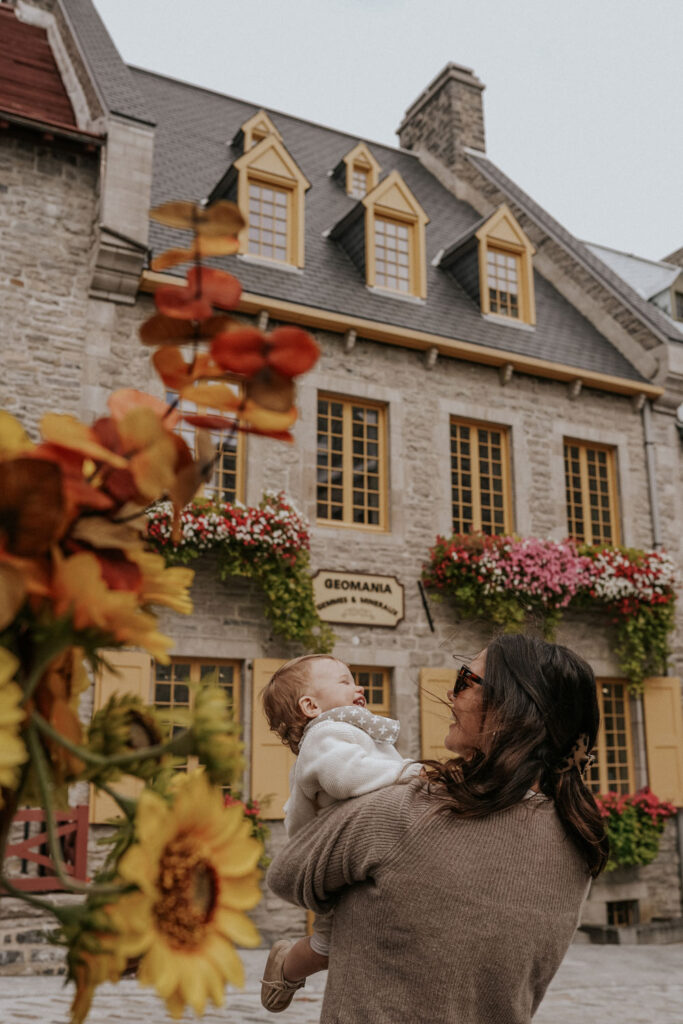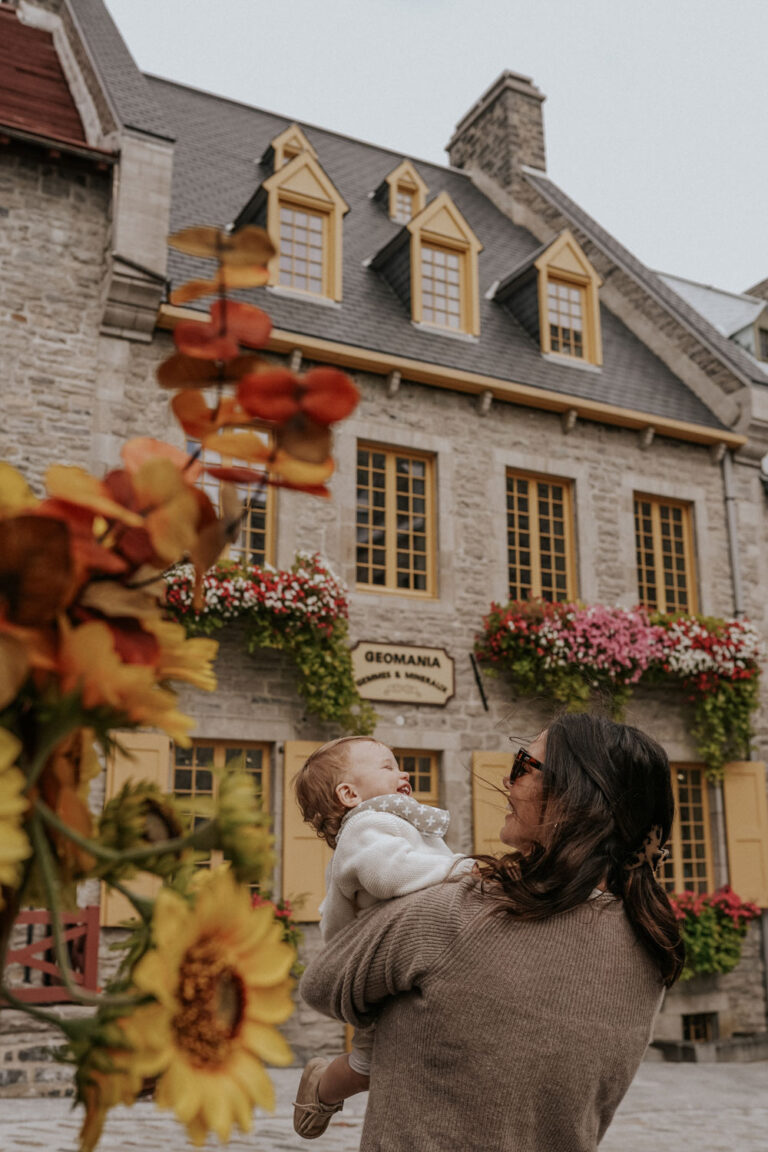 I'm actually from Gatineau, Québec originally—we moved out west fairly early in my life so all that I remember of my childhood is Vancouver, but I actually didn't speak English until we moved out here and it took me some time to learn it, which is something I always find so crazy since English is my first language now! Still fluent in French but it's definitely my second language now. At any rate, Québec has a special place in my heart obviously, and I'd never been to Québec City in my return trips back out east so I was so, so excited to explore it for the first time. I was also so unbelievably excited to travel for the first time with Cal…I was pretty nervous about how he'd be but he honestly exceeded my expectations beyond what I could've ever imagined, he was not only so easygoing and happy and agreeable, but he actually seemed to love travel. He's already such a happy little dude, but it's like his happiness was off the charts the entire trip…he was just so engaged and excited about the experience and as an avid traveler myself who is so looking forward to getting back to more and more travel as the pandemic slowly turns to an endemic, I just can't wait to experience even more with him.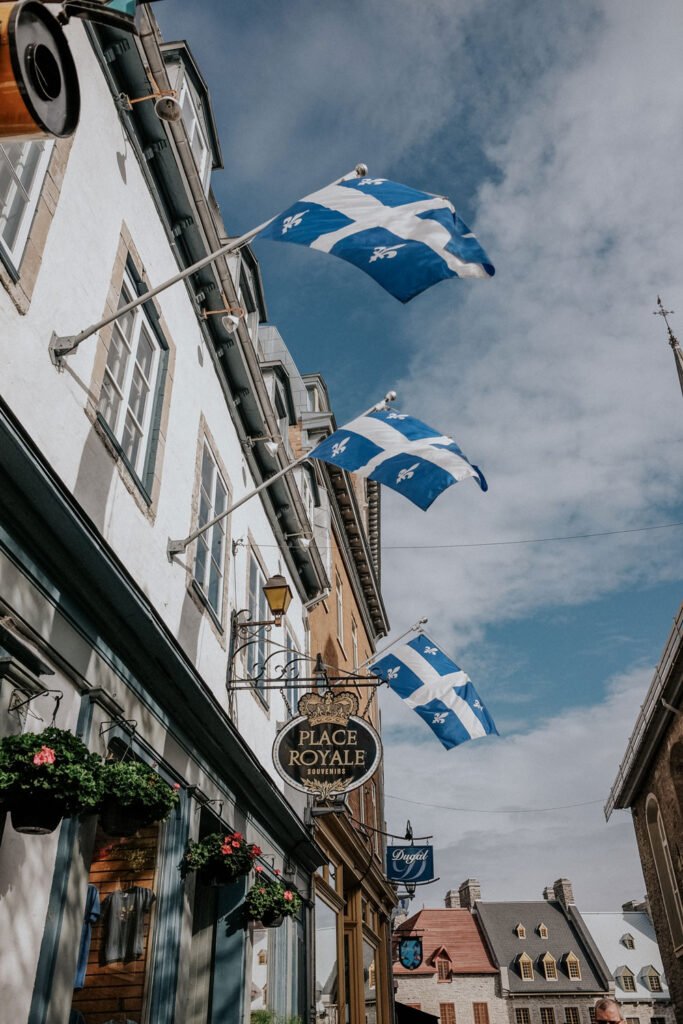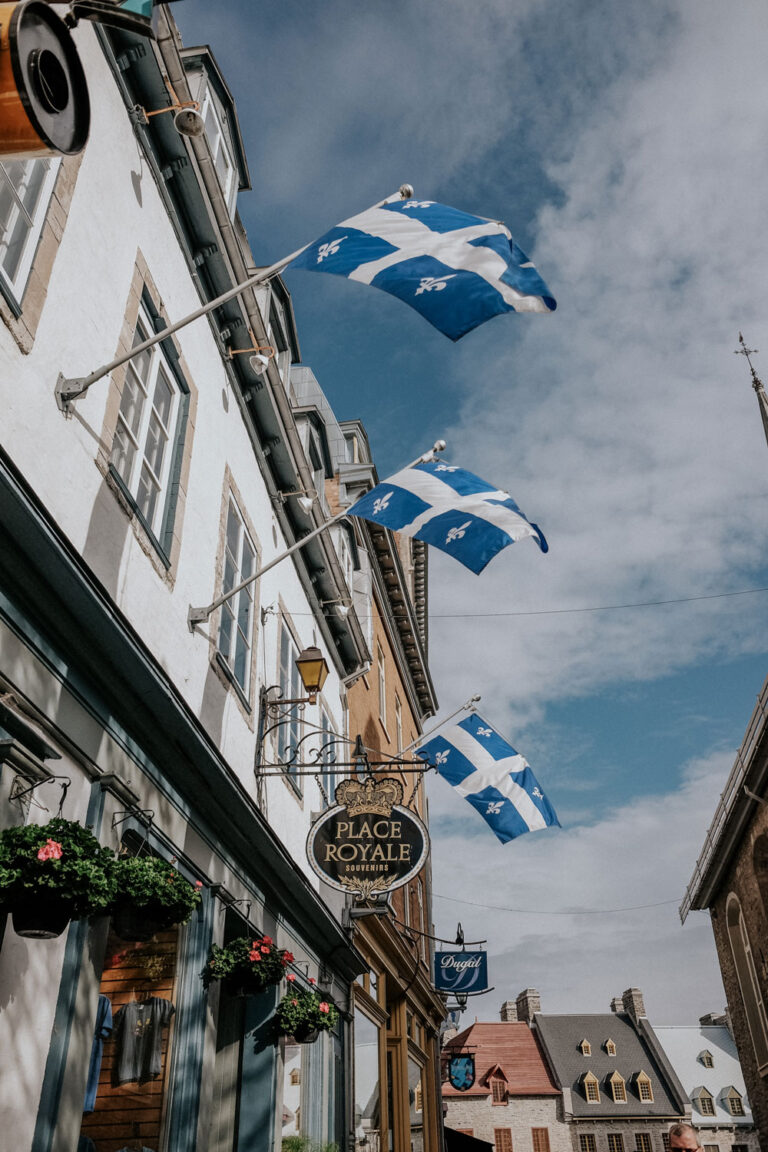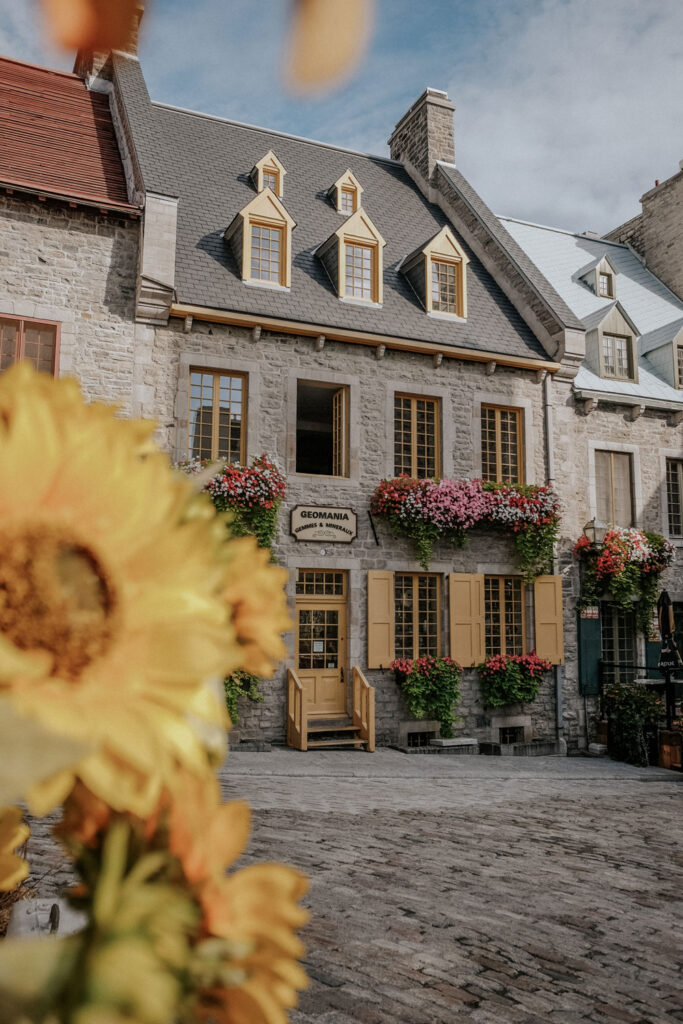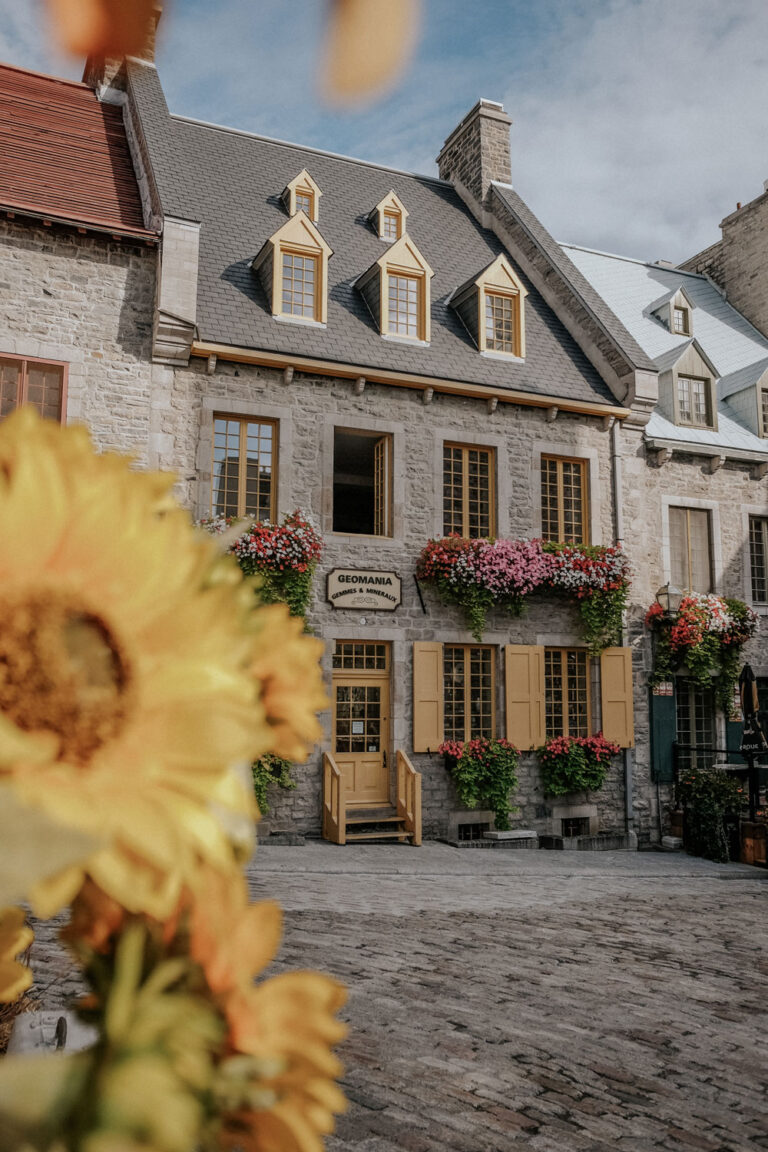 Anyway, that little prelude/catch-up out of the way, I really am so excited to share Québec City with you because like Cal, it blew away my expectations. it is the most unbelievably picturesque, charming, pristinely maintained place. It's also not only a photographer's dream, but it's got really interesting history and is also situated amazingly for day trips as well. Let's dive in!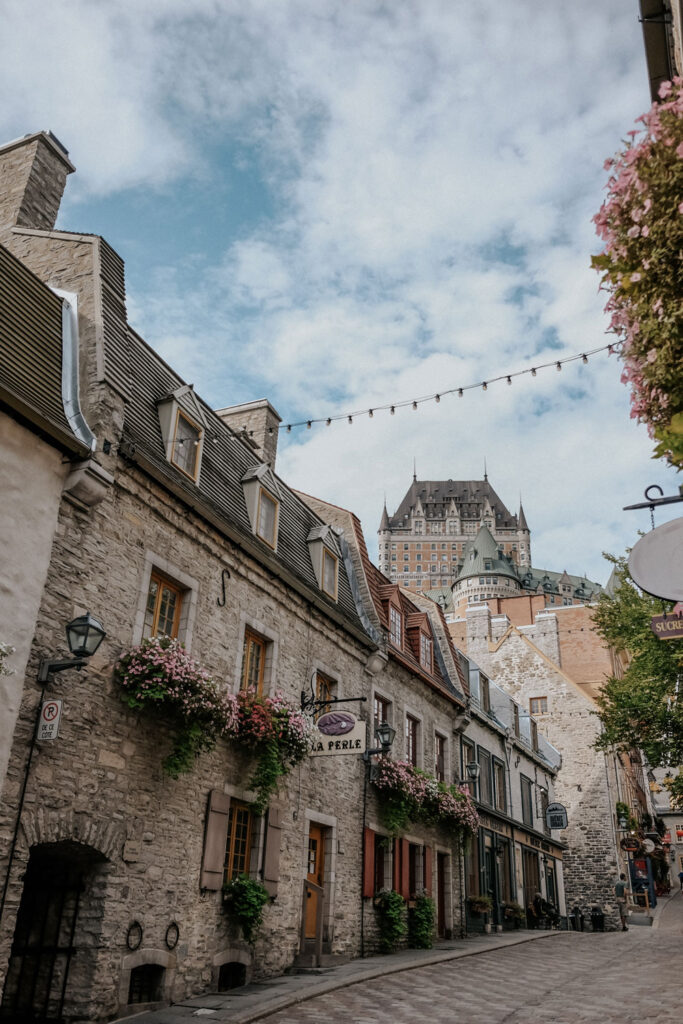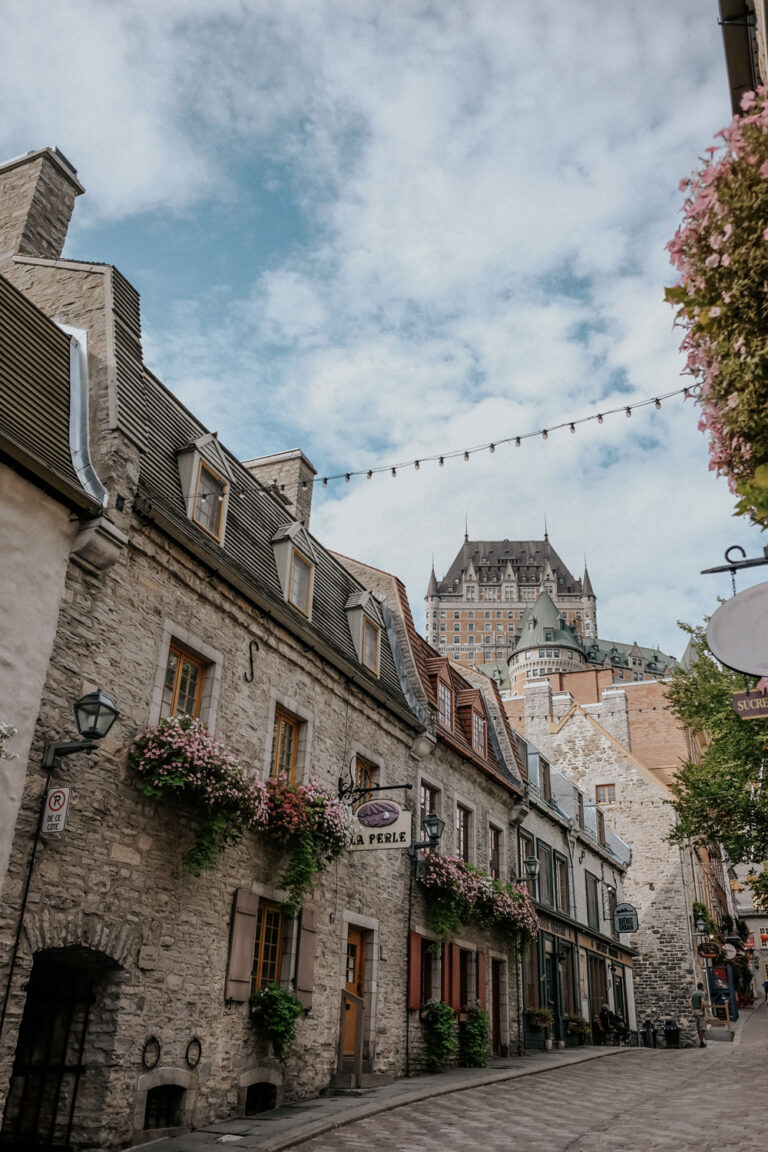 ---
Where to Stay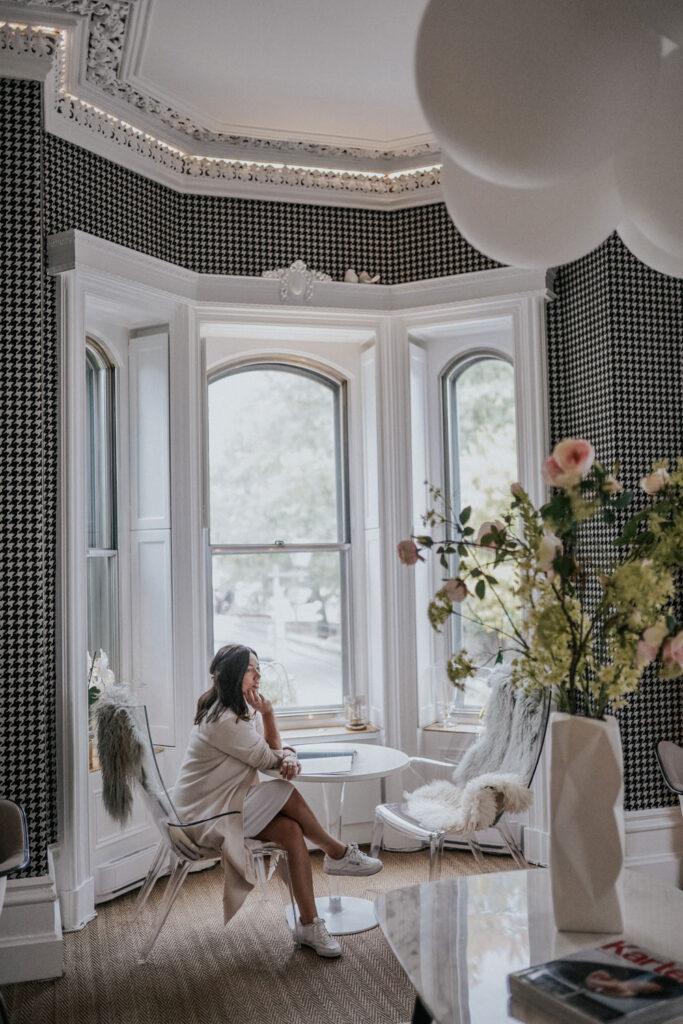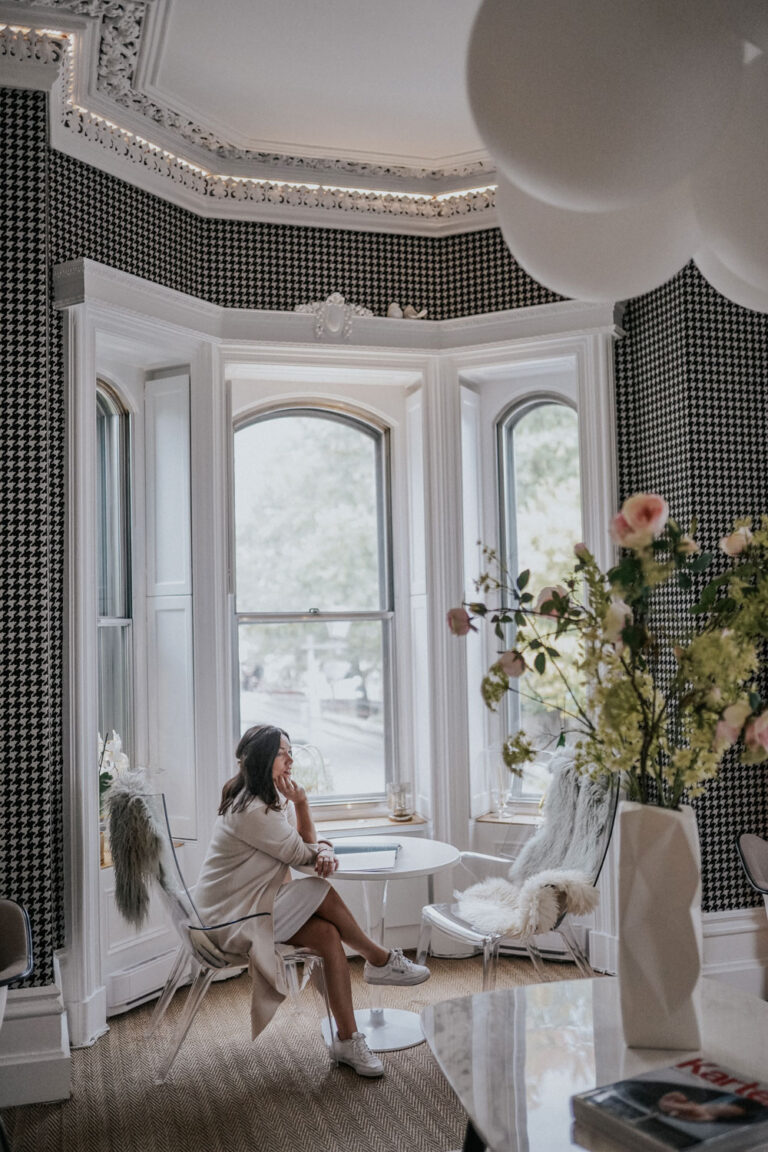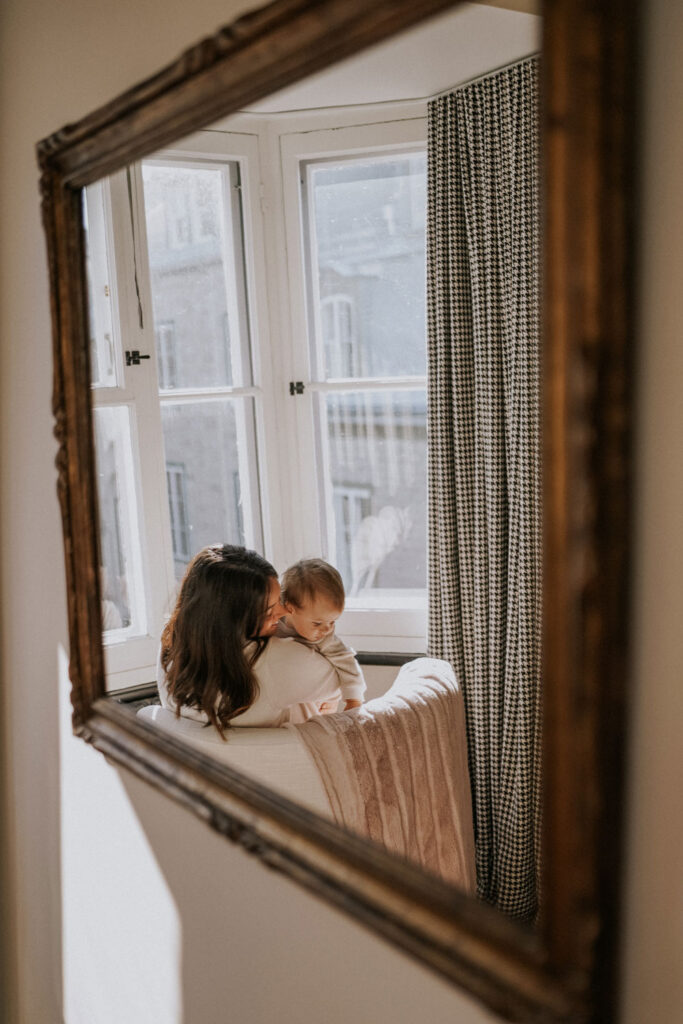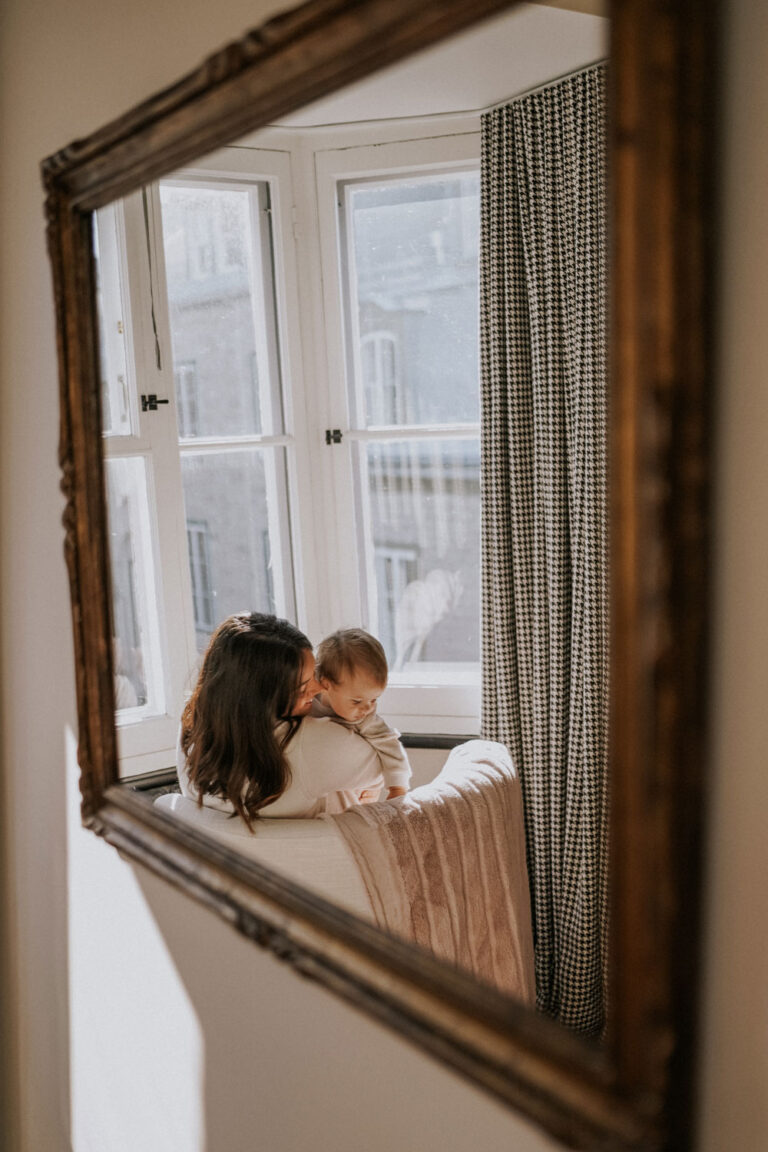 We were lucky enough to stay with Hôtel Nomad, situated right in Vieux-Québec, and wow—we wanted a unique experience particularly since Québec City is such a unique travel experience in and of itself (it's like the city was just perfectly preserved in the most beautiful époque of its long history), and it really delivered on all fronts. Each suite is like its own unique travel experience itself—for instance, we stayed in the Chanel junior suite, and from beautiful vintage Chanel memorabilia to thoughtfully chosen decor that really captures the spirit of Chanel, it was not only a really beautiful and unique accommodation experience, but it was really luxurious and comfortable as well.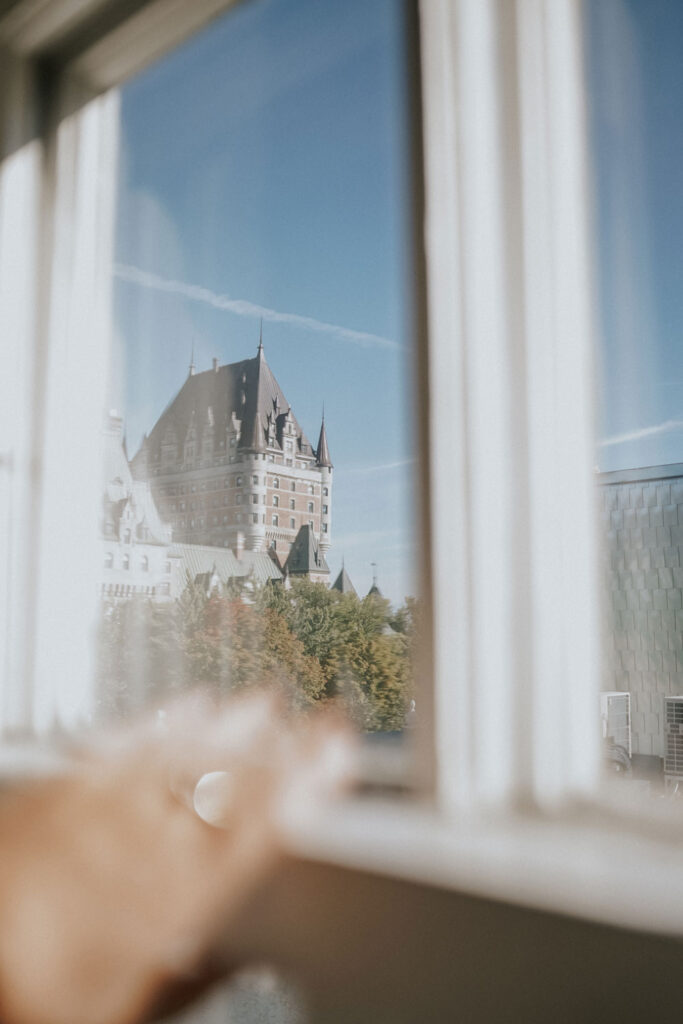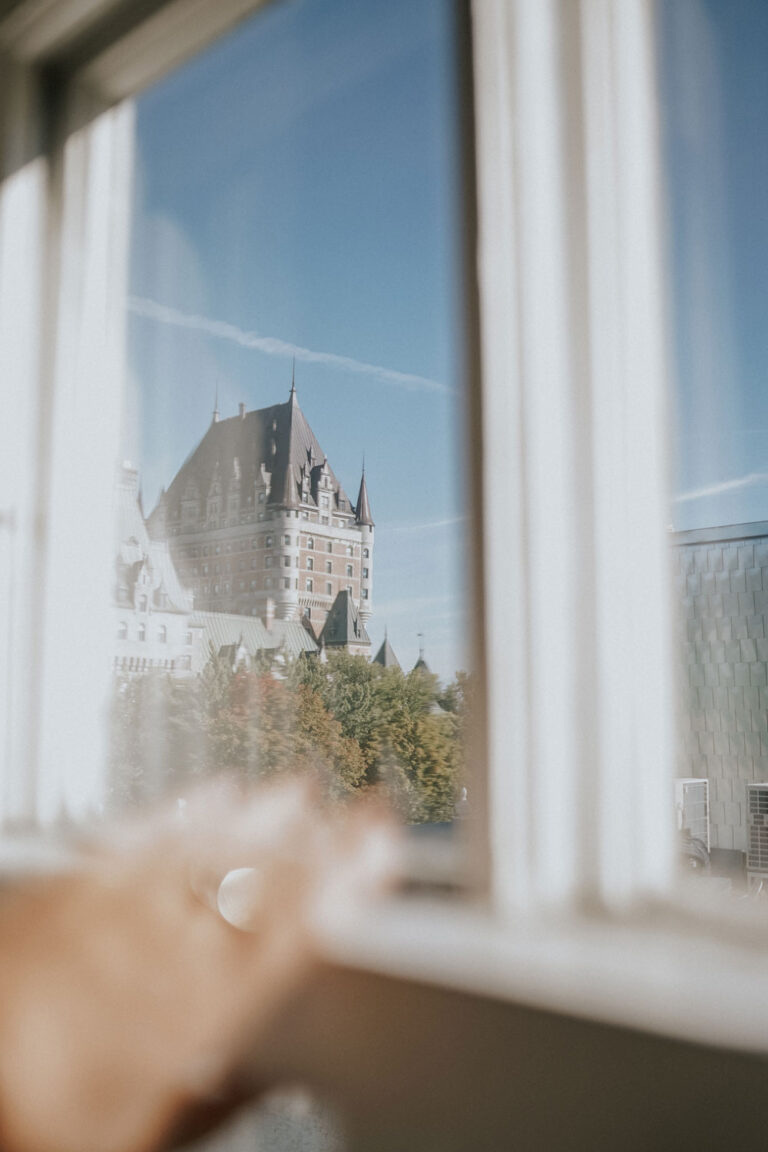 Our bed was unbelievably comfy and they were so sweet and had a playard for Cal all set up when we arrived (because he had this habit of cracking his head against his wooden crib at home, we actually transitioned him to a pack 'n' play as it is since it was safer for him, so it was literally perfect to have the exact same space for him to sleep in there!).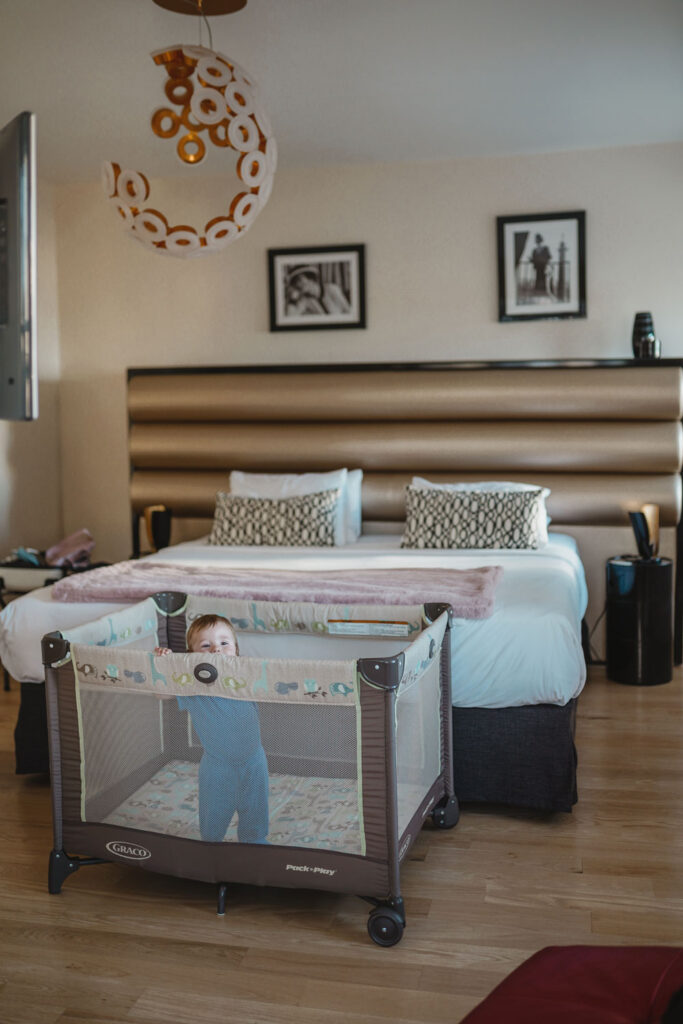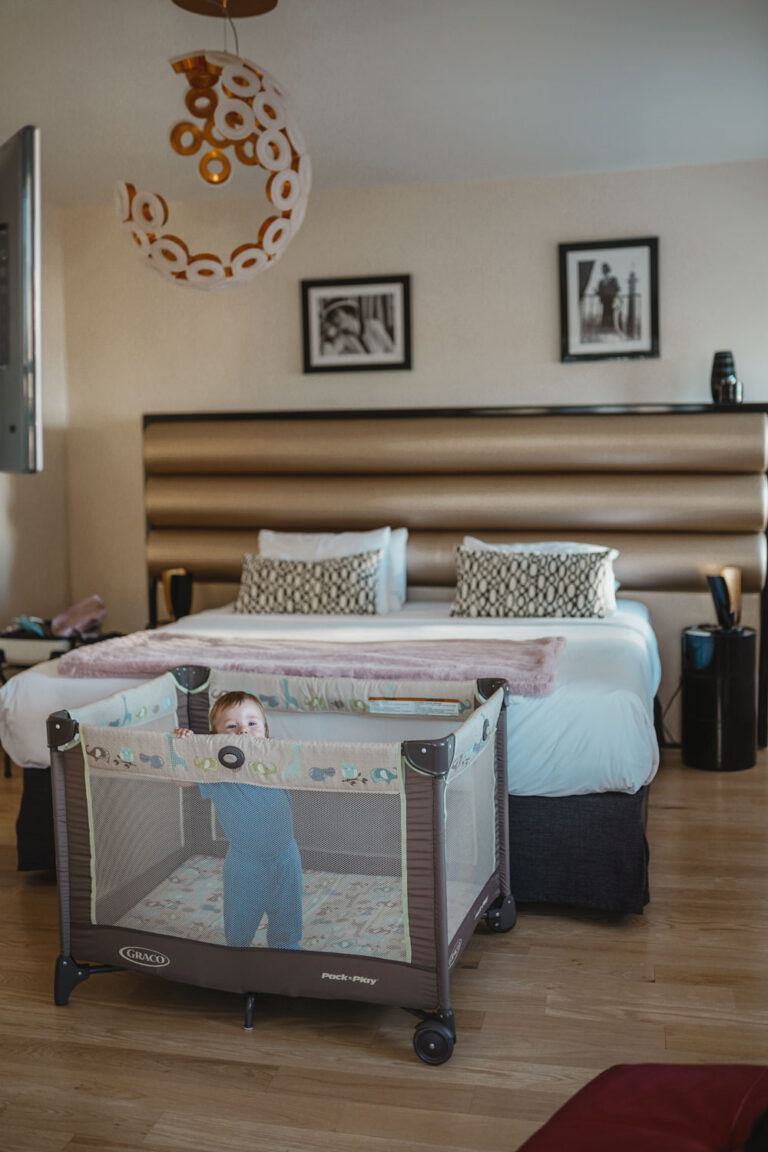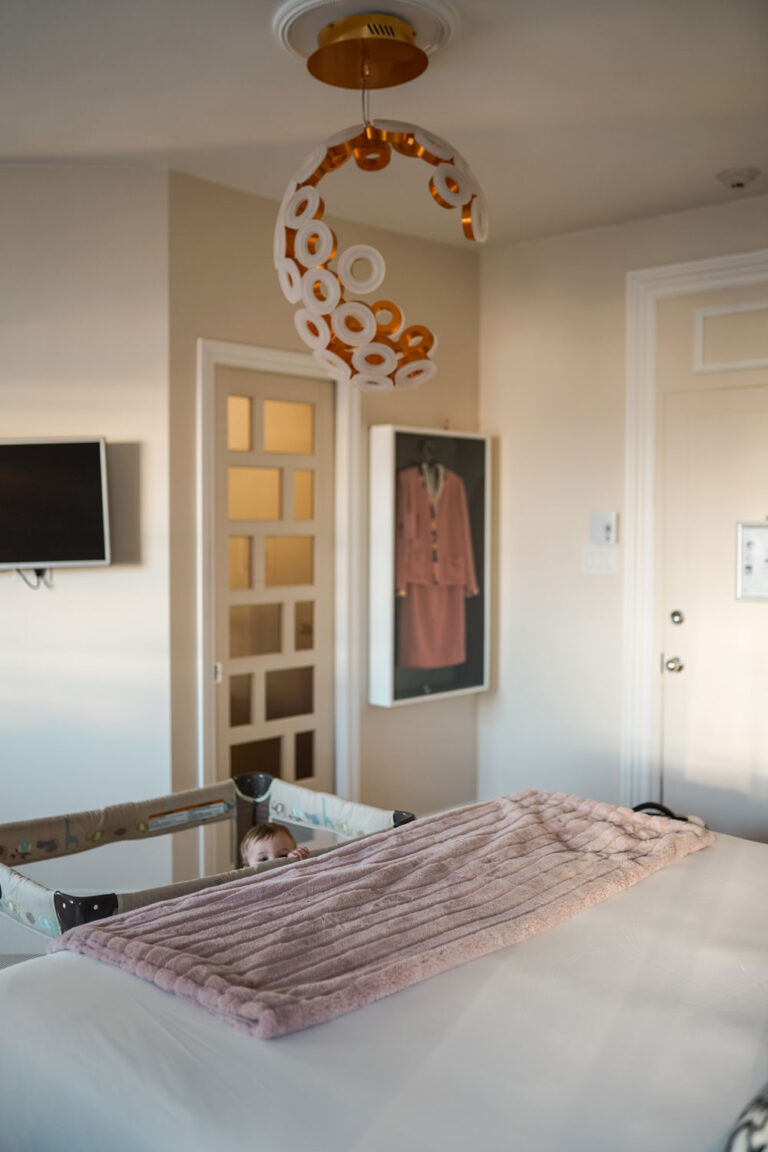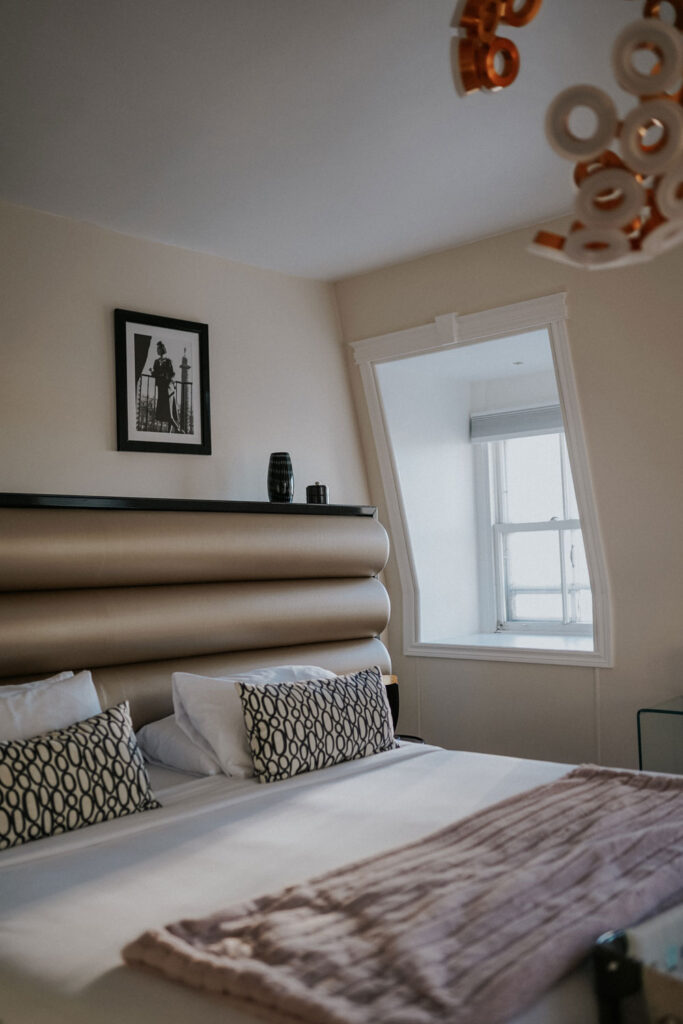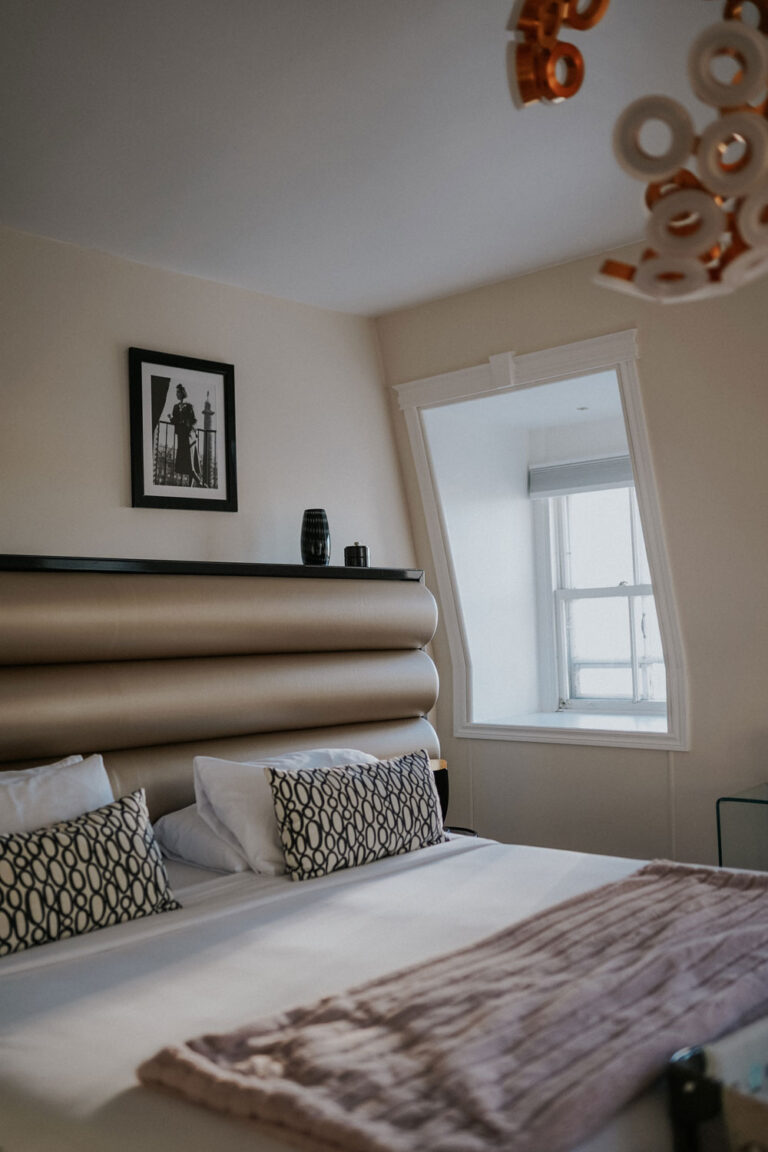 Being such travellers, it'd been disappointing not getting to travel as much with Cal so we really just soaked in every moment of getting to travel together here as a family and it was made all the more special by feeling like Cal was so comfortable and tended to here.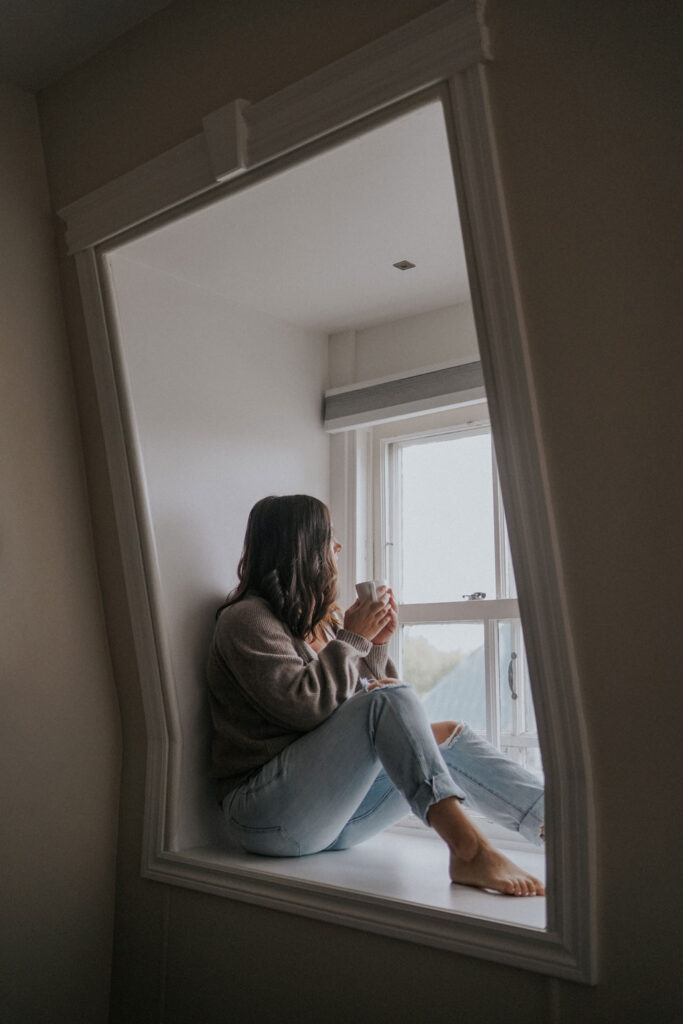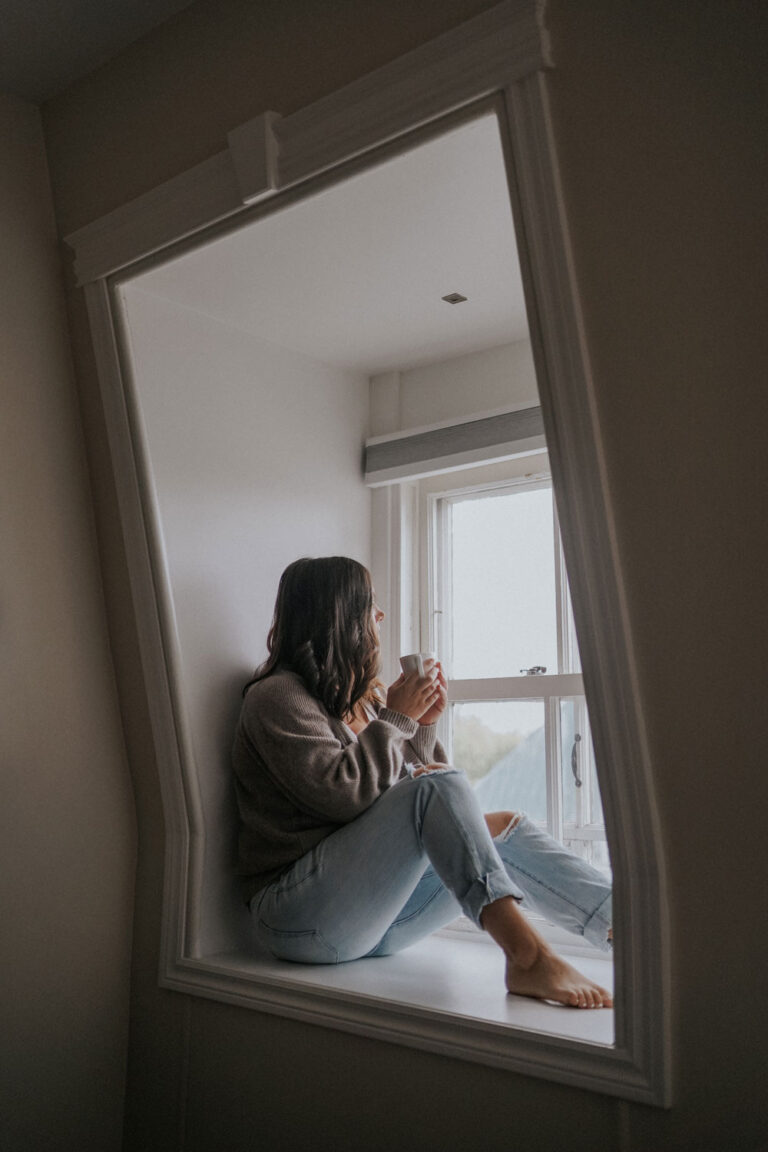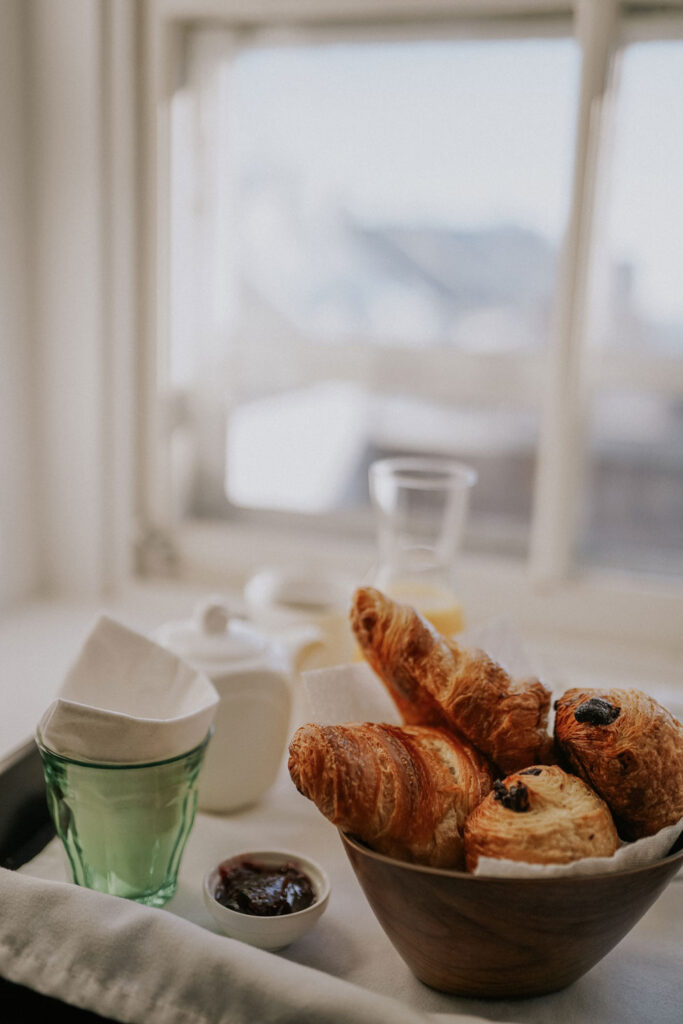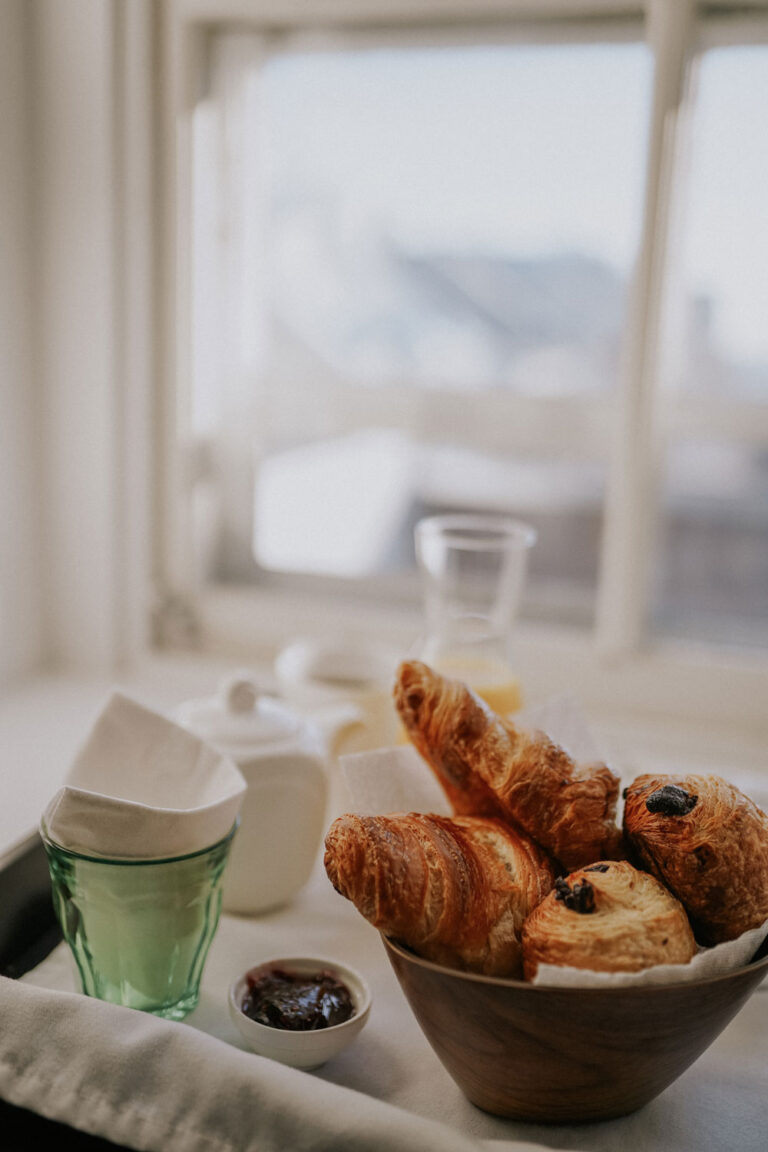 While we had all our espresso all set in our suite, every morning we were greeted with fresh, delicious coffee and literally the most unbelievable croissants ever…can not recommend opting for the breakfast while staying there! I loved sitting in one of the window boxes and looking out at the Château Frontenac while having some jammy croissant…one of those travel memories that just sticks with you.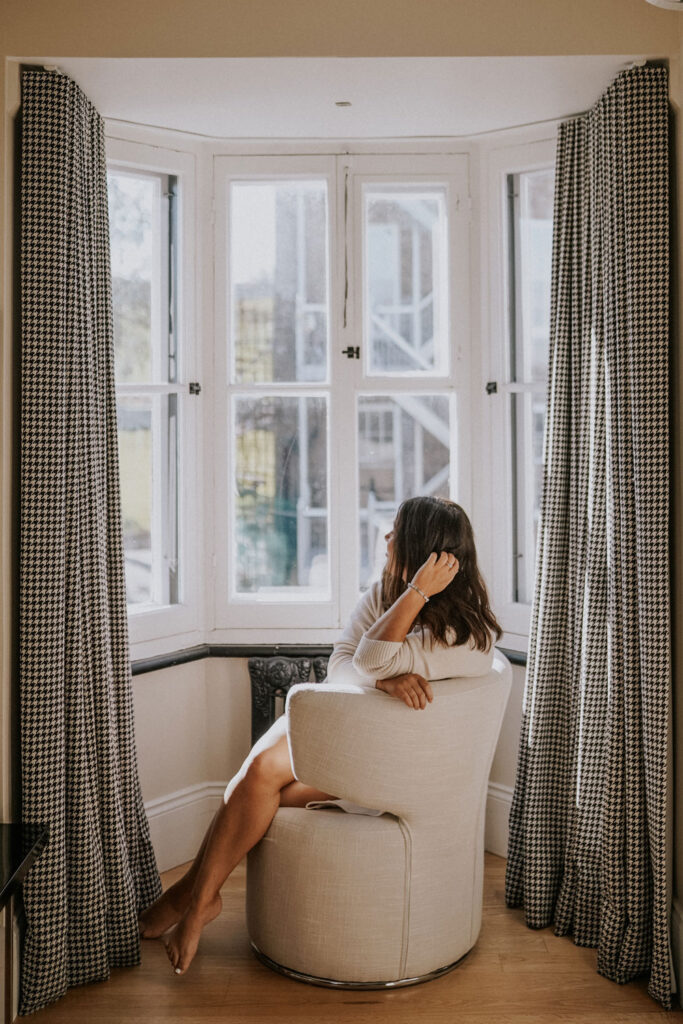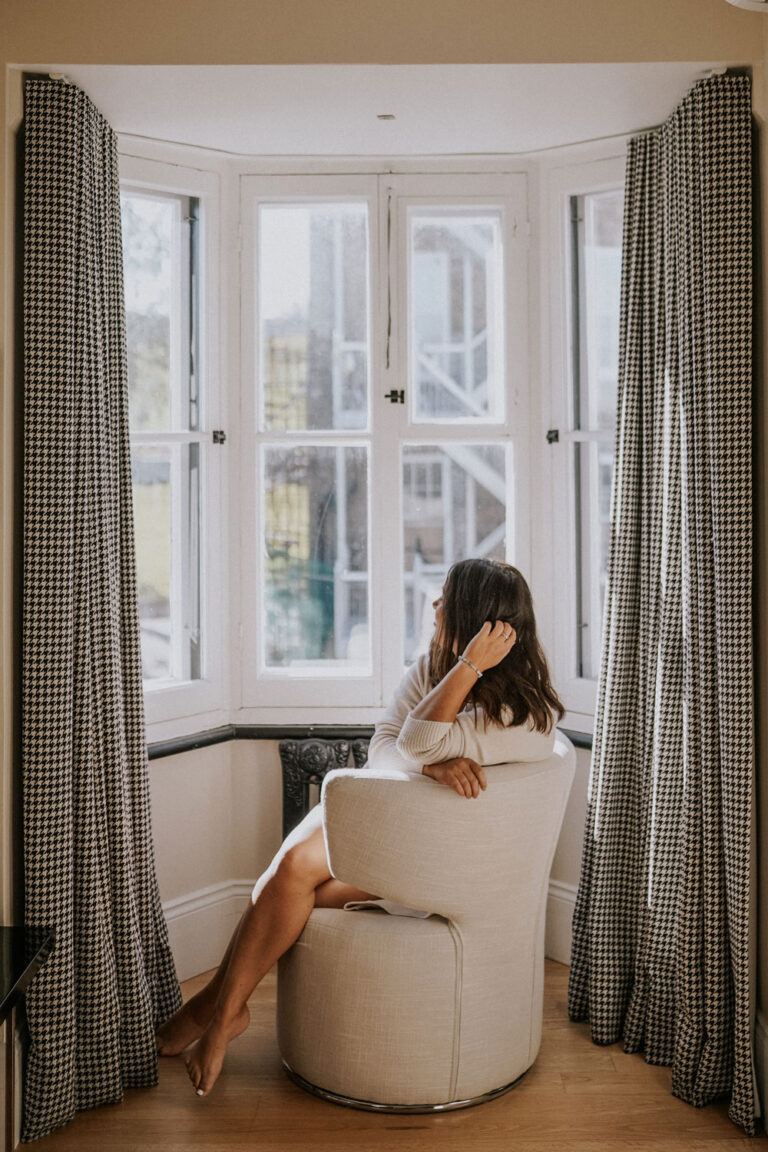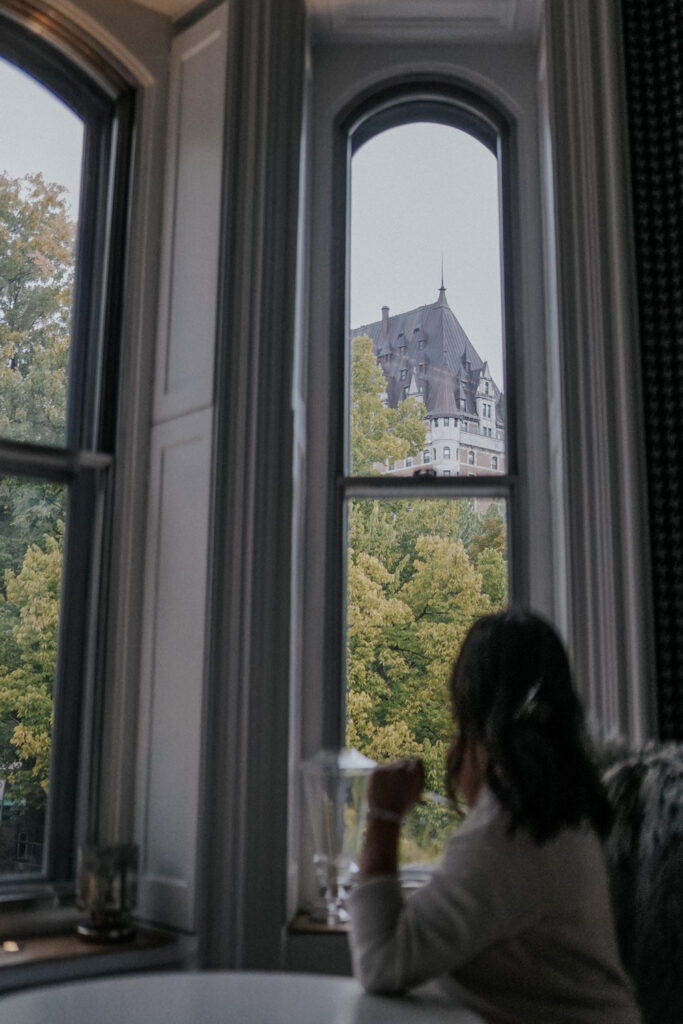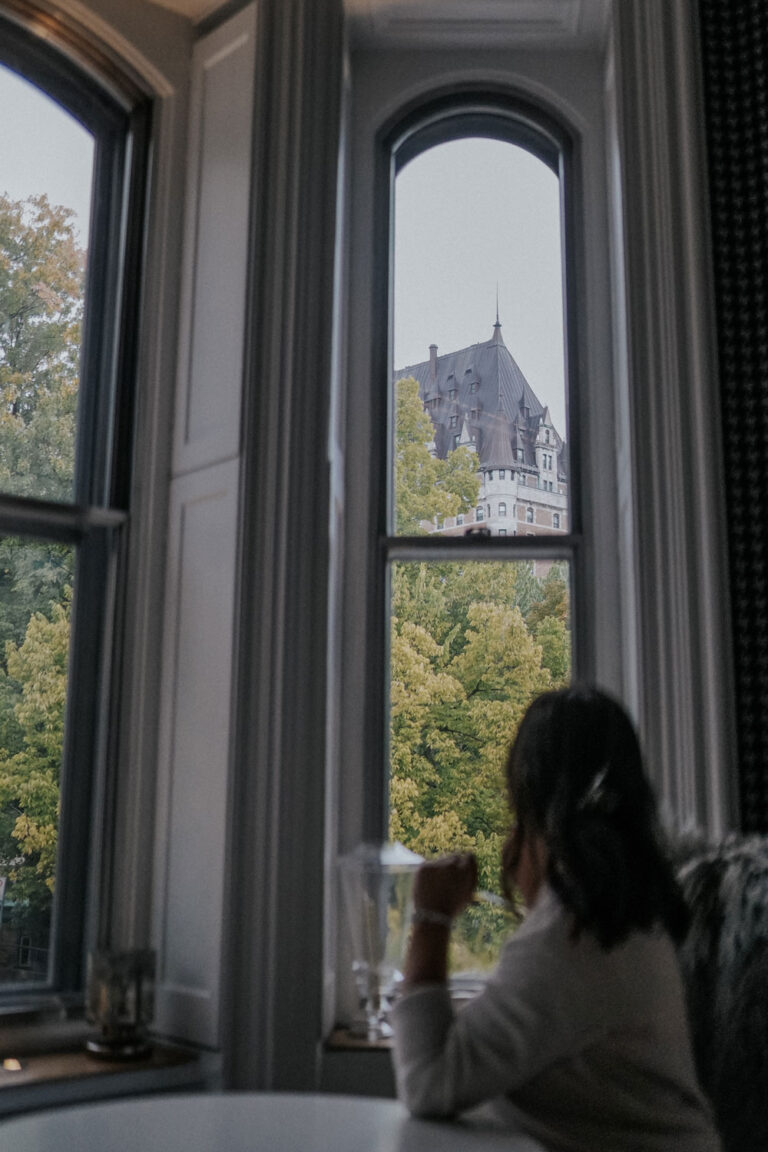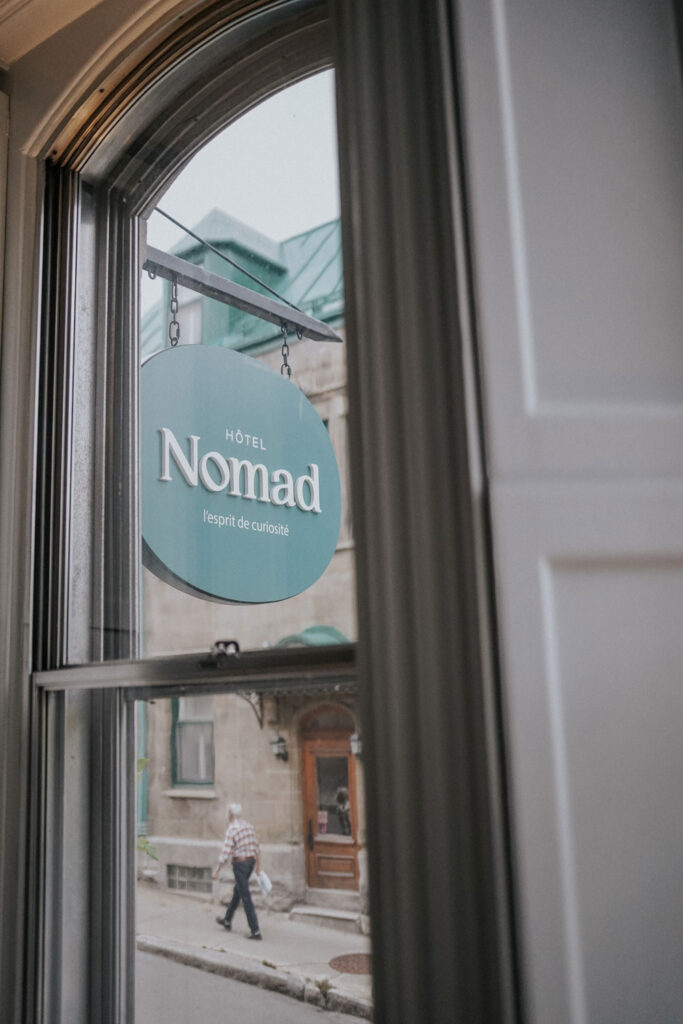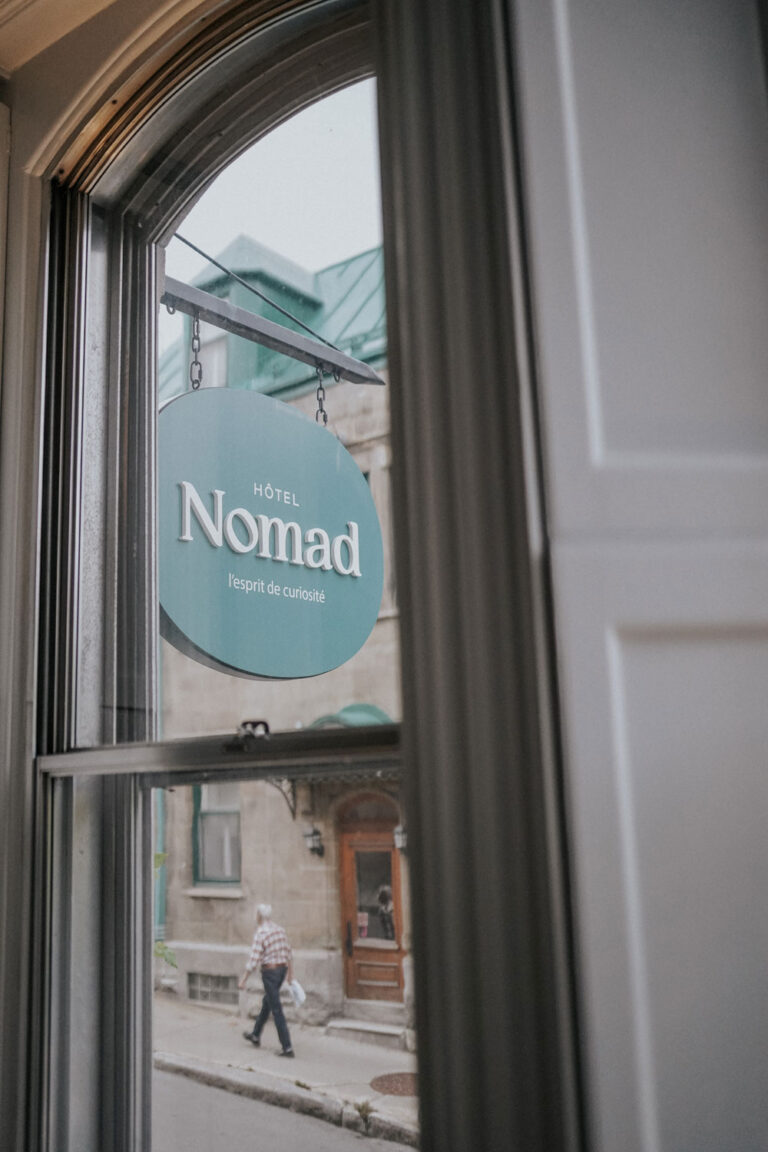 The dining space at the hotel is also just so unbelievably gorgeous…in redesigning this hotel, the team at Hôtel Nomad really just brought to life the space in such a beautiful way, playing to the hotel's long history but also incorporating so many amazing, more contemporary decor accents and amenities. Even just the exterior was so captivating to me!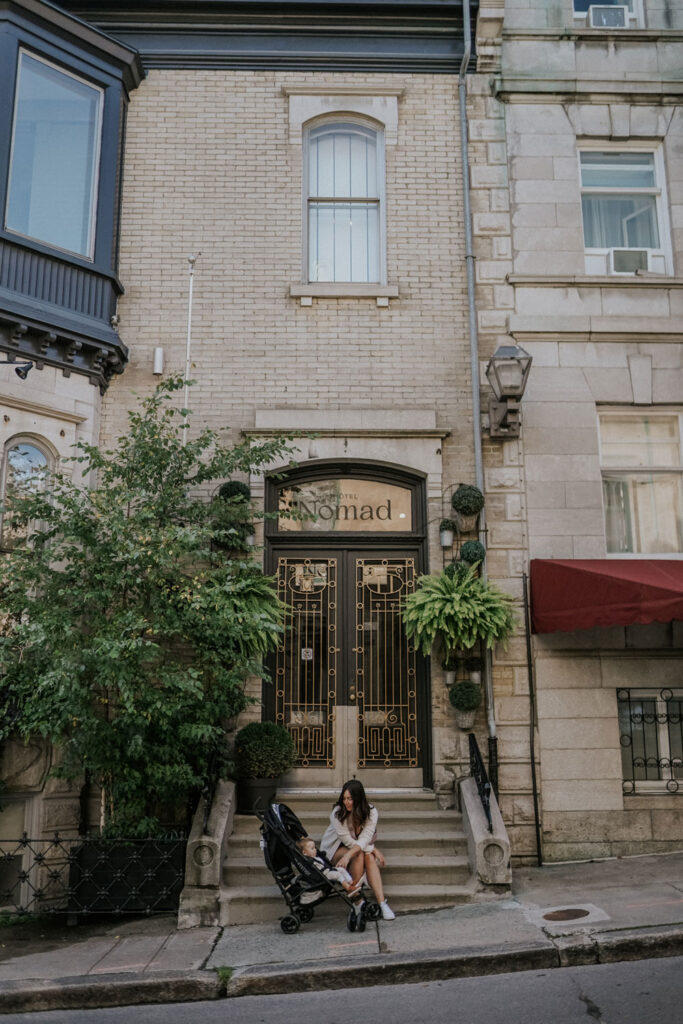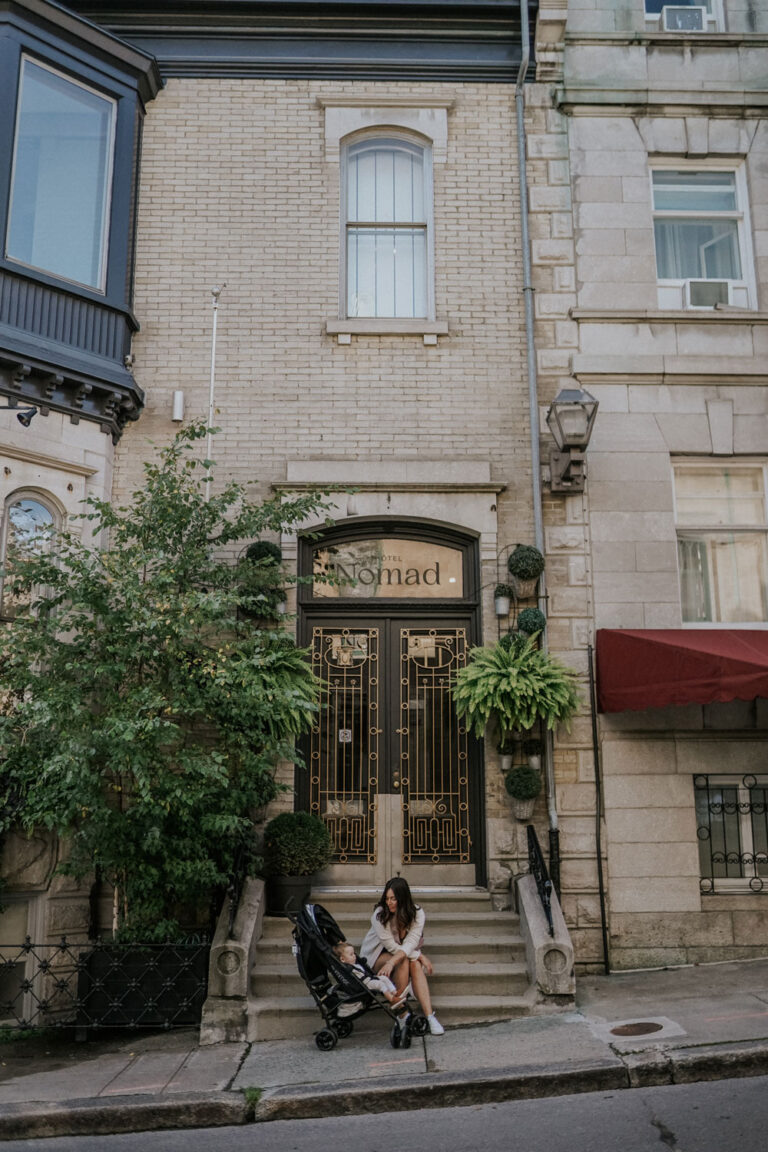 Anyway, the location was perfect, just next to the citadel and a 2 minute walk over to Château Frontenac. Our first evening there we took a stroll right down to the Château to catch sunset and that was when we first realized just how beautiful this city is…surrounded by a river, with lower Vieux-Québec stretched out below us (unsurprisingly, all of Vieux-Québec is a UNESCO World Heritage Site), we were just instantly blown away.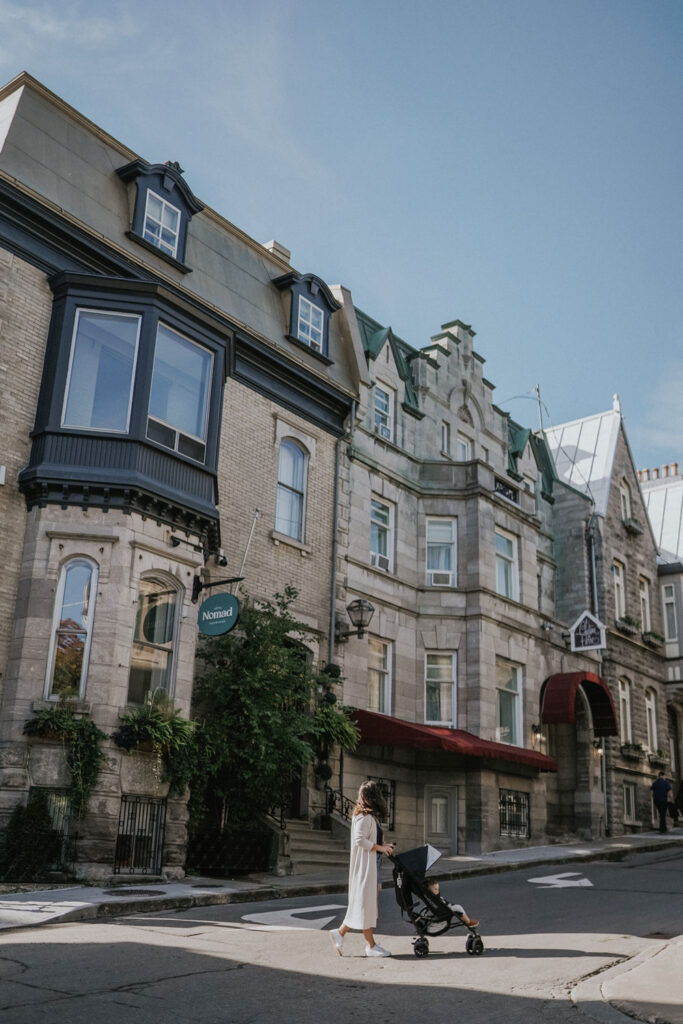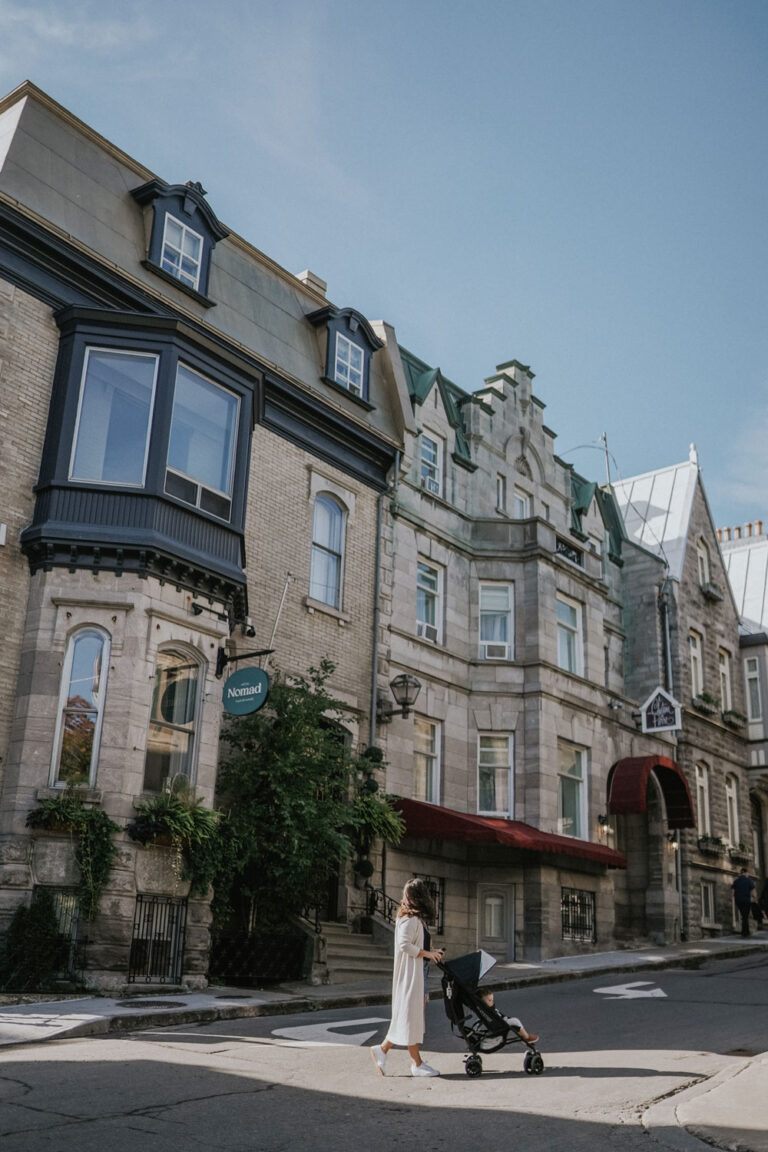 ---
What to Do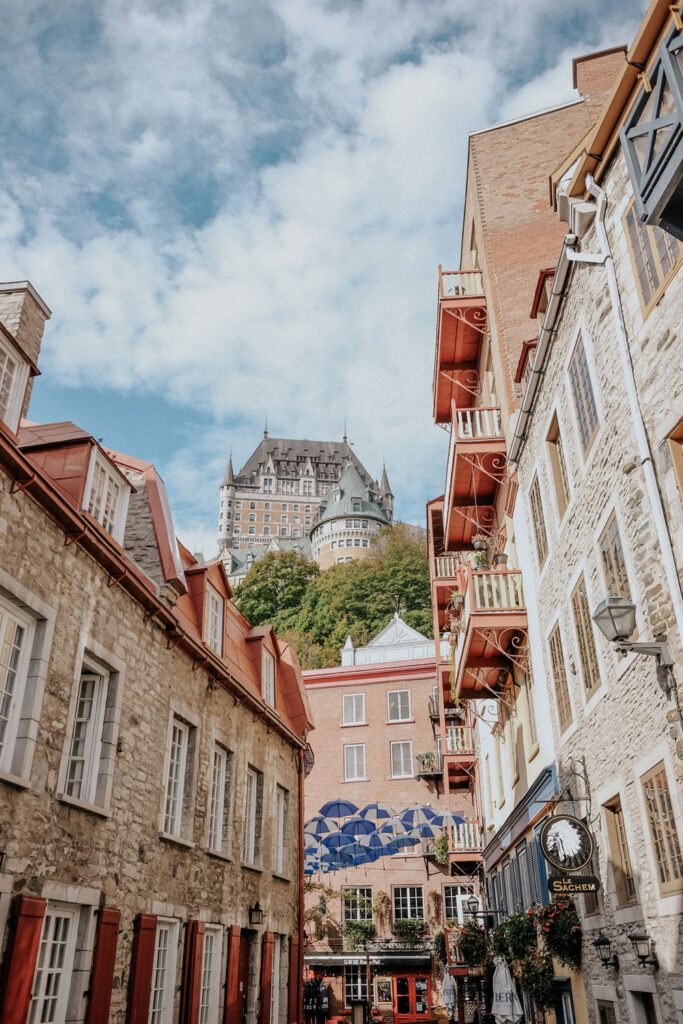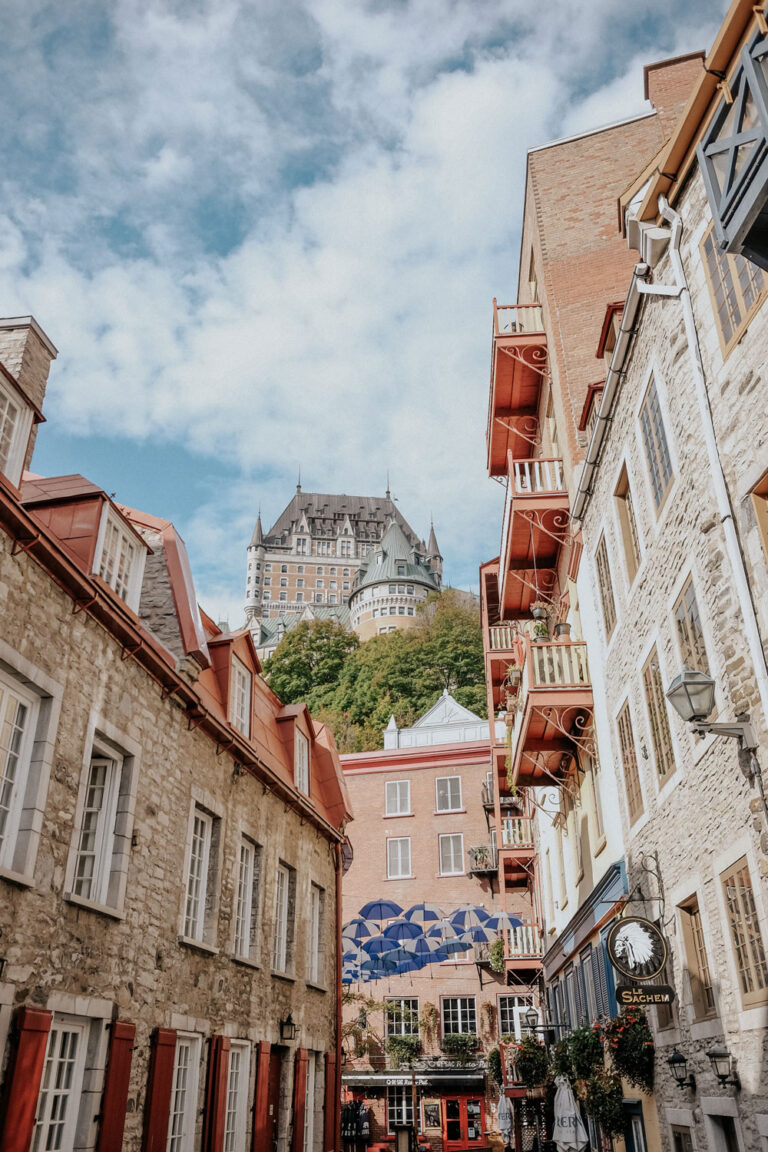 While I'm listing some top attractions below, Québec City reminds me of a few especially beautiful cities (Paris comes to mind instantly) where you really benefit from just wandering aimlessly…lace up some good walking shoes, make sure your camera is fully charged & just point your feet in any direction. You'll inevitably discover something breathtaking within seconds.
Having said that, these were sights or experiences that you definitely wouldn't want to miss (but if you're concerned about missing anything, don't worry…you really can't…it's a very small area!):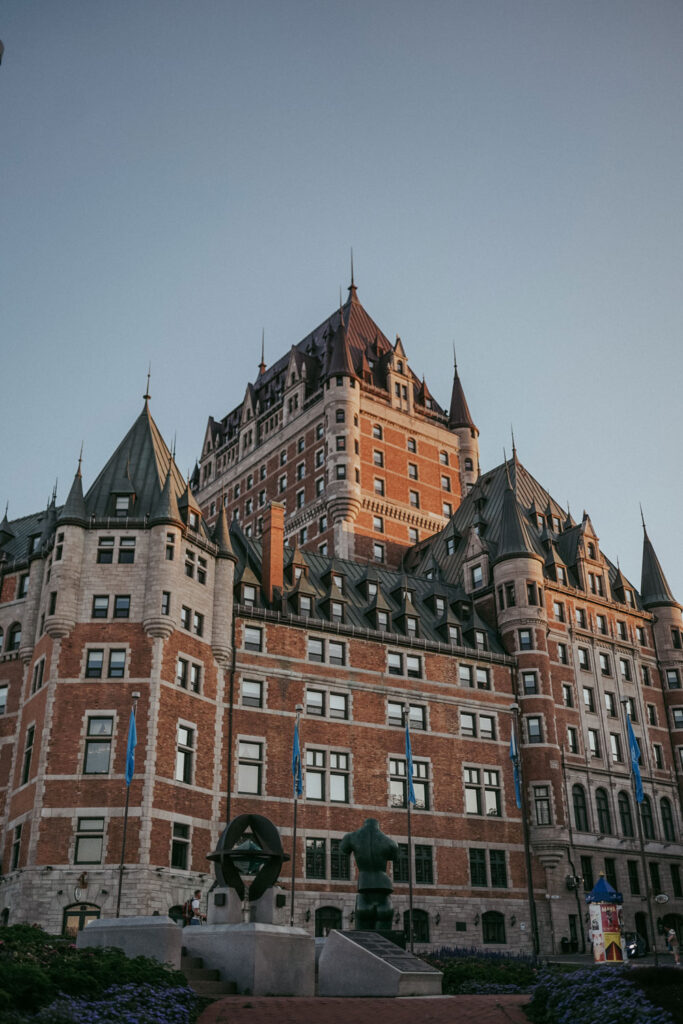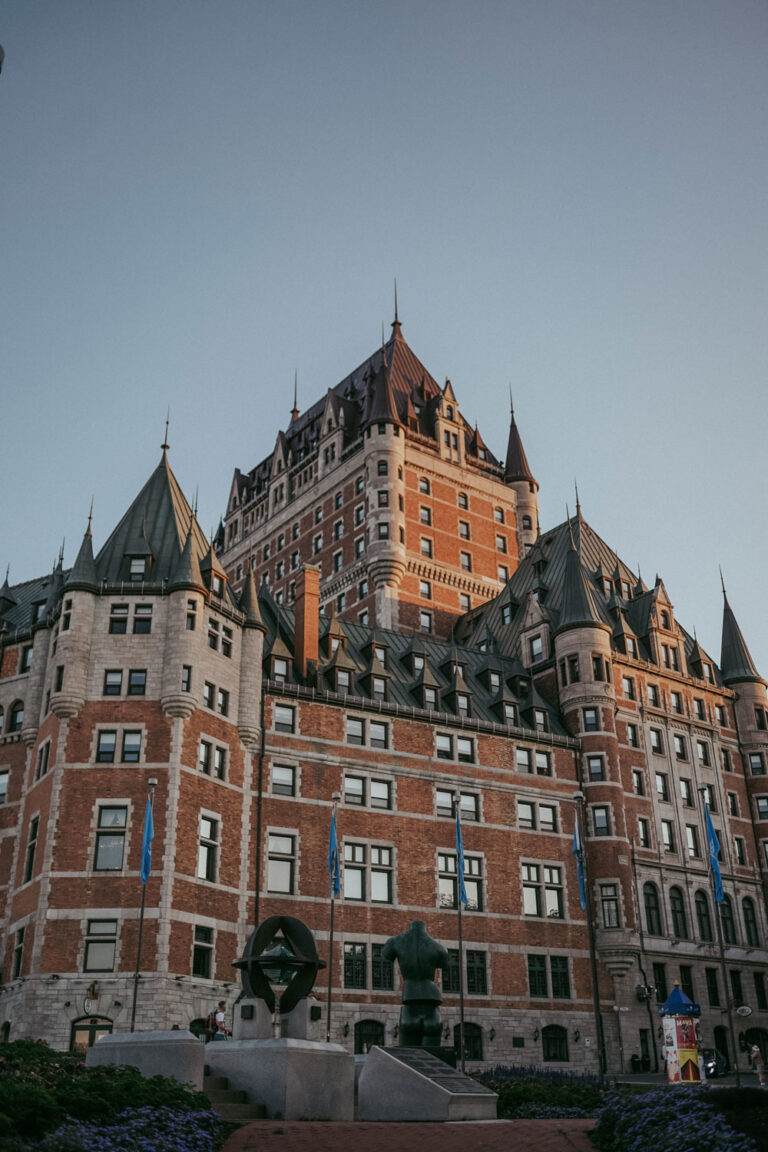 Château Frontenac
This iconic Fairmont property is kind of the North Star of Québec City…if you're lost and trying to find your way back to Vieux-Québec, you can just spot it atop the hill and know to start your climb back there. It is a gorgeous, gorgeous chateau that was built in 1893 with the goal of promoting luxury travel in the city…I think you could say it achieved that goal! It's a National Historic Site and really just the centre of the city.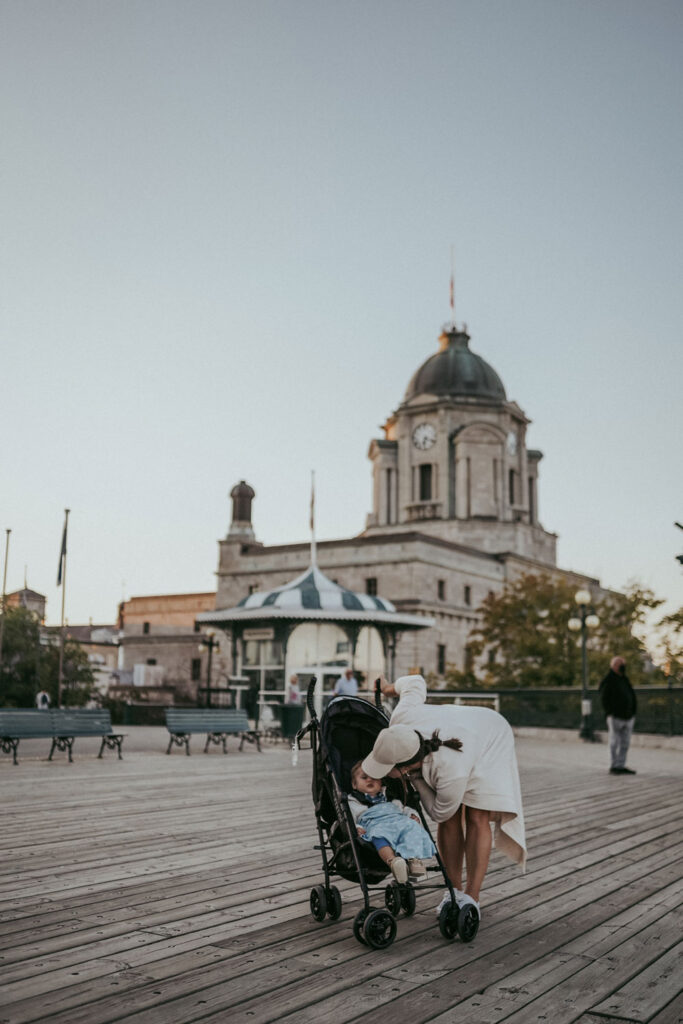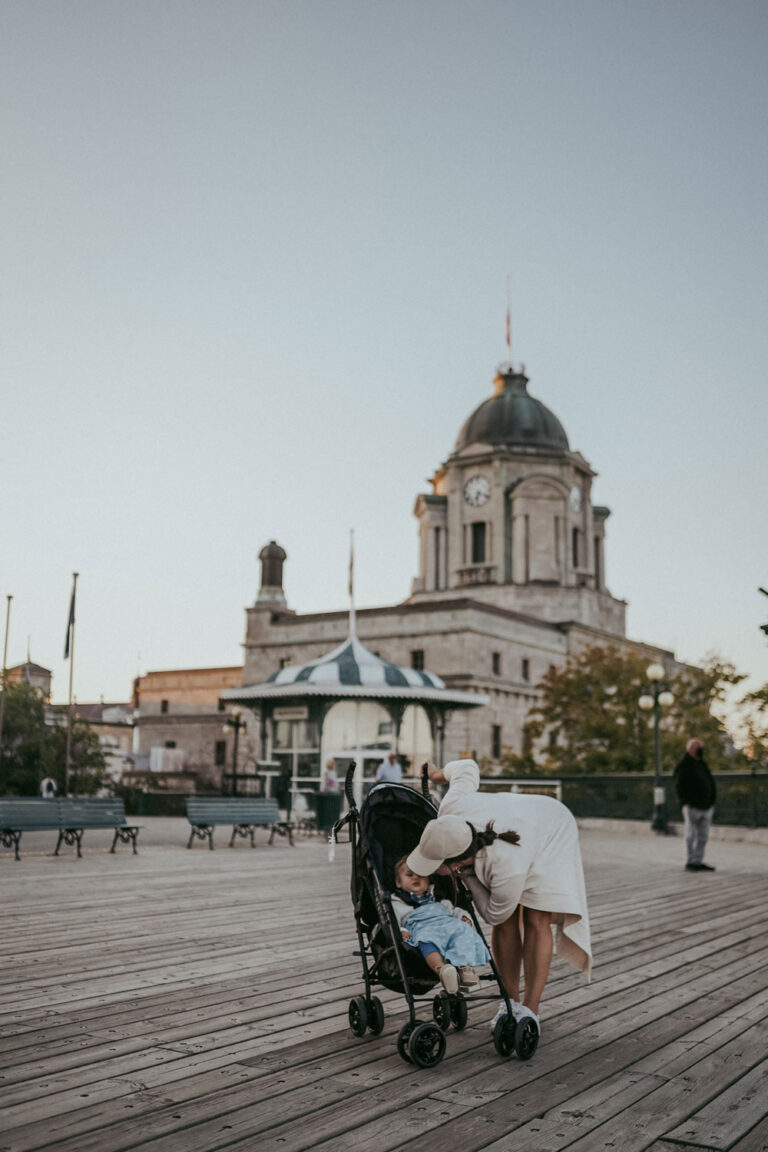 See Sunset at Dufferin Terrace
Dufferin Terrace is the platform of Château Frontenac and it looks out at the St. Lawrence River…like we got to experience on our very first night there, the sunset from here is so spectacular. It's also just a picturesque and fun place in general, with antique signage for the funiculaire and with buskers playing live music. Apparently in the winter there's a toboggan run! One of my goals is to return to Québec City in the winter, it looks so unbelievably gorgeous from the snaps I've seen.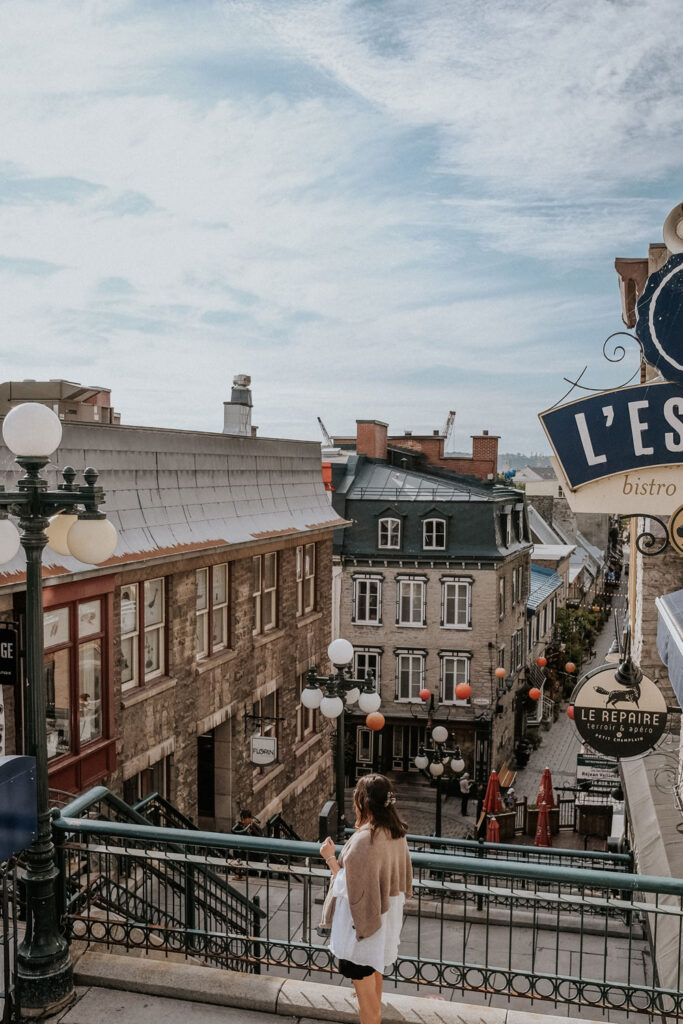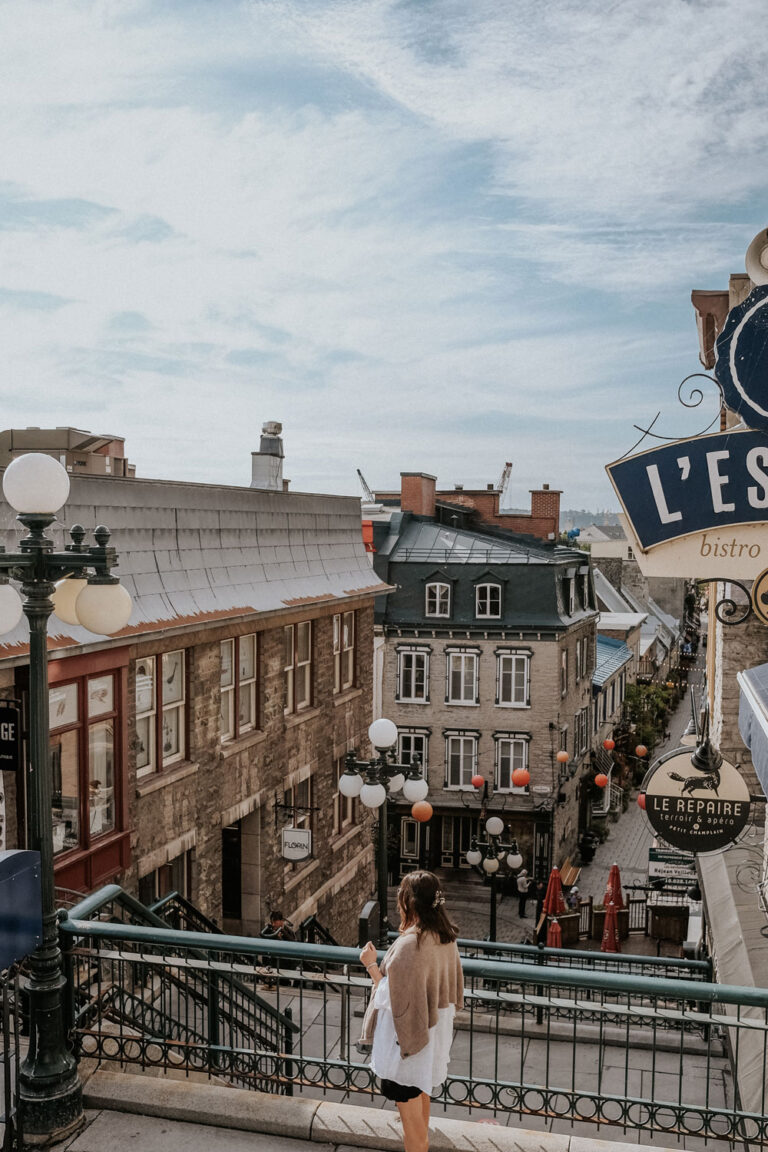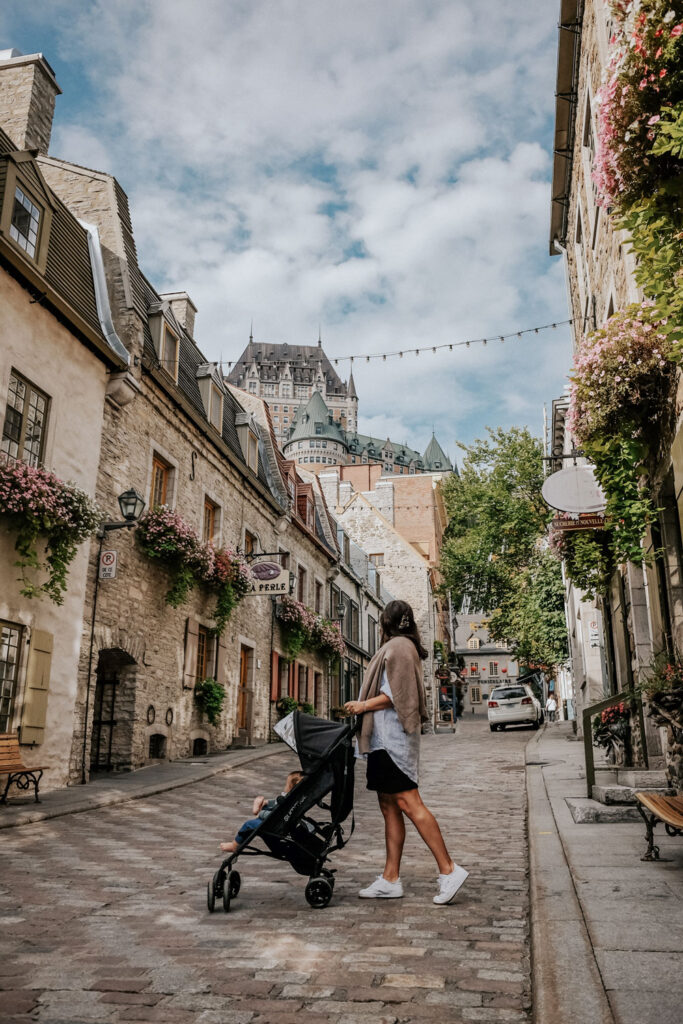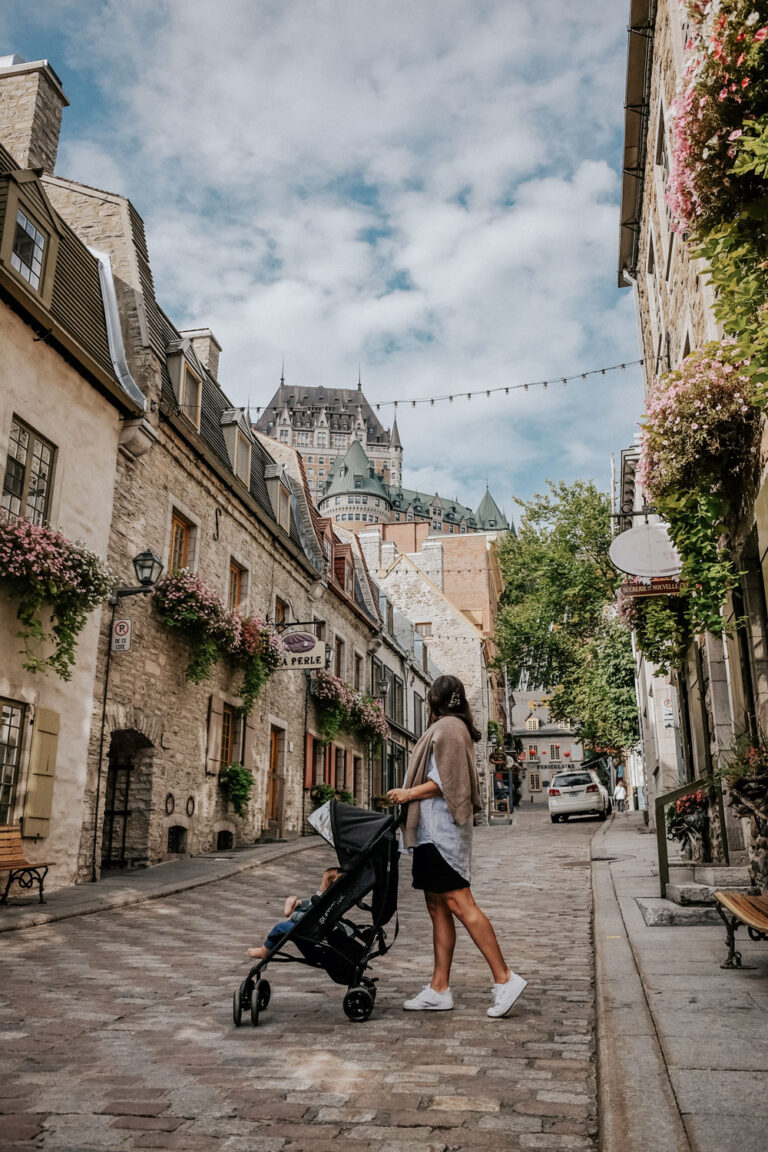 Wander Vieux-Québec
If you're coming from above, I'd recommend going down Escalier casse-cou (English: Breakneck Stairs) which were built in 1635 to really get the most unbelievable first introduction to Vieux-Québec with a beautiful vantage point from above.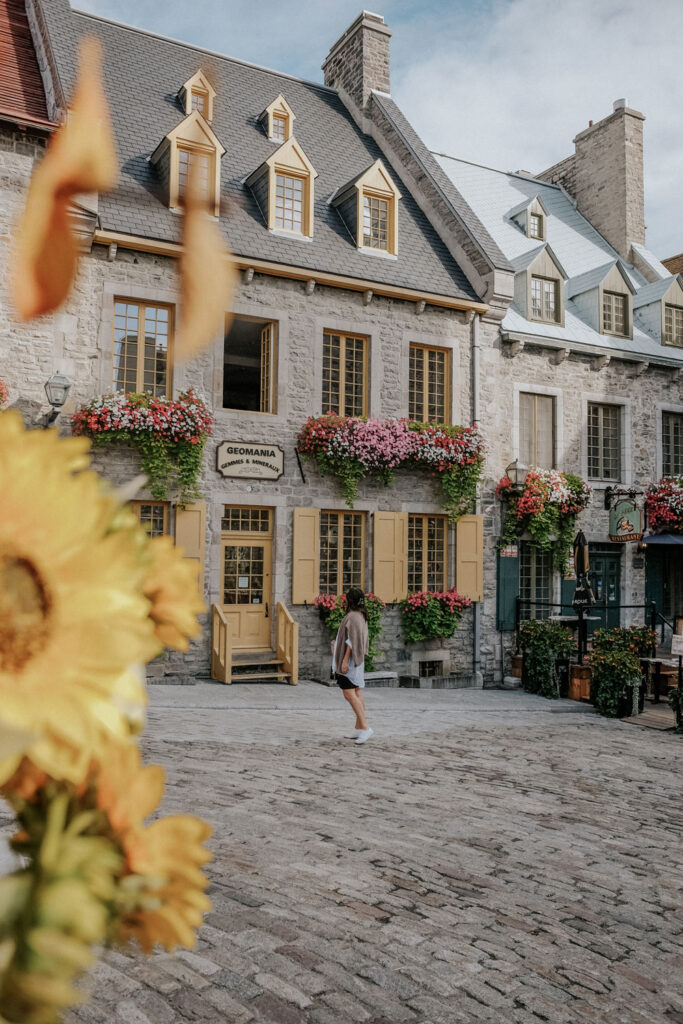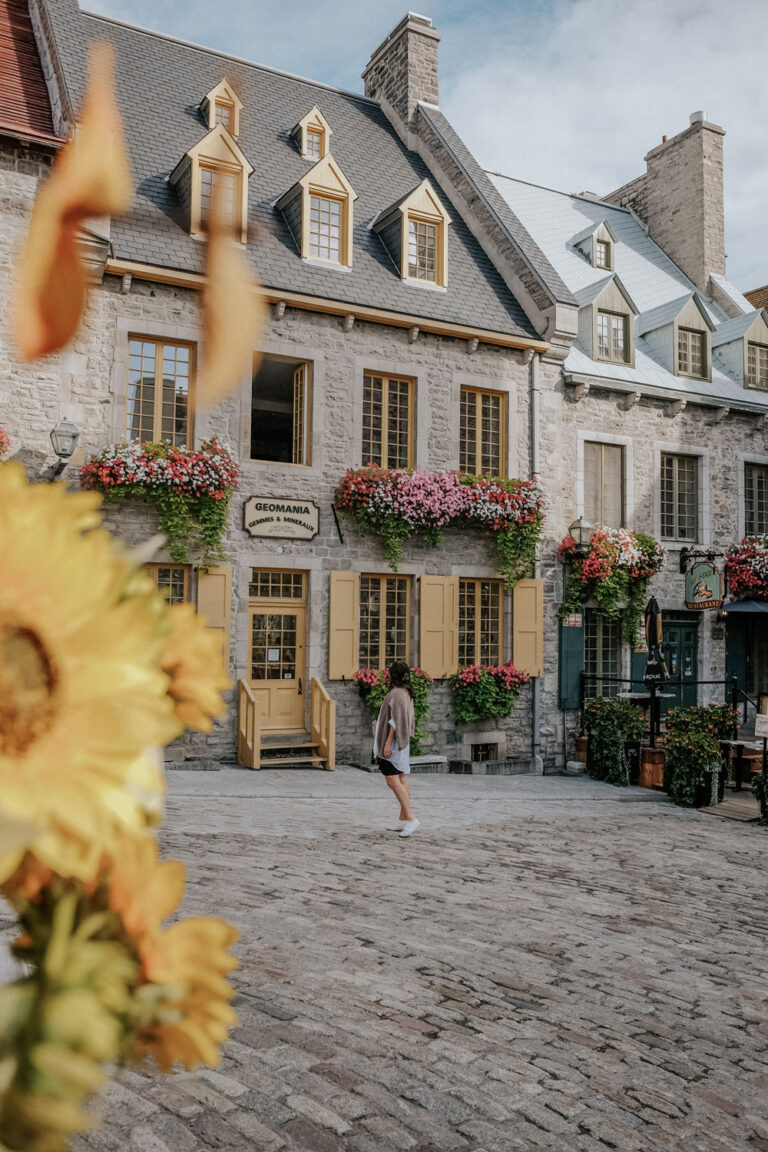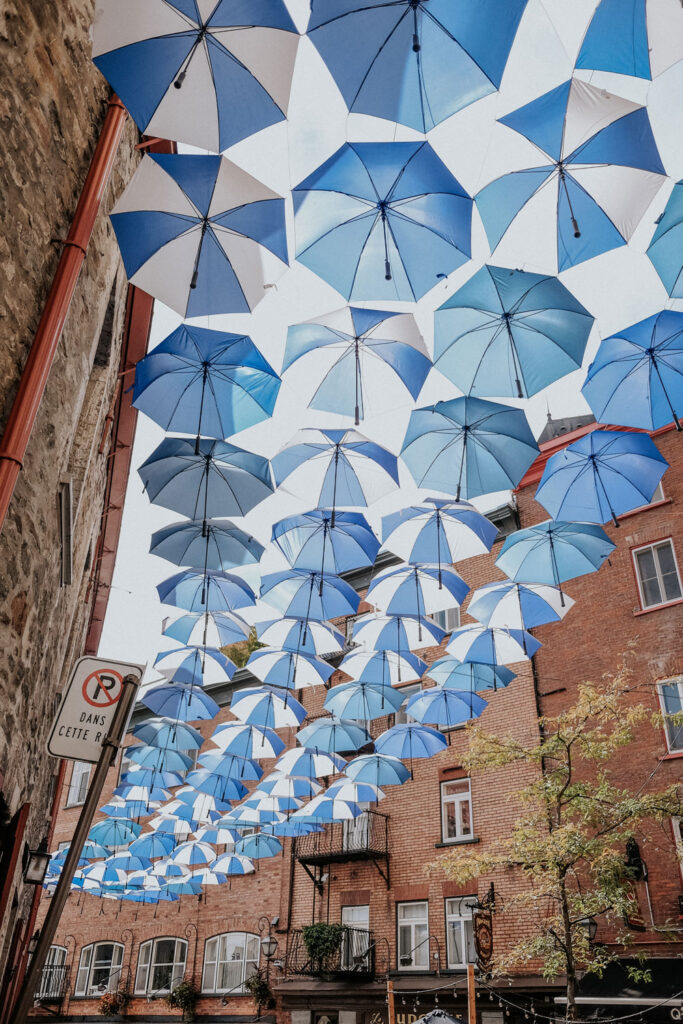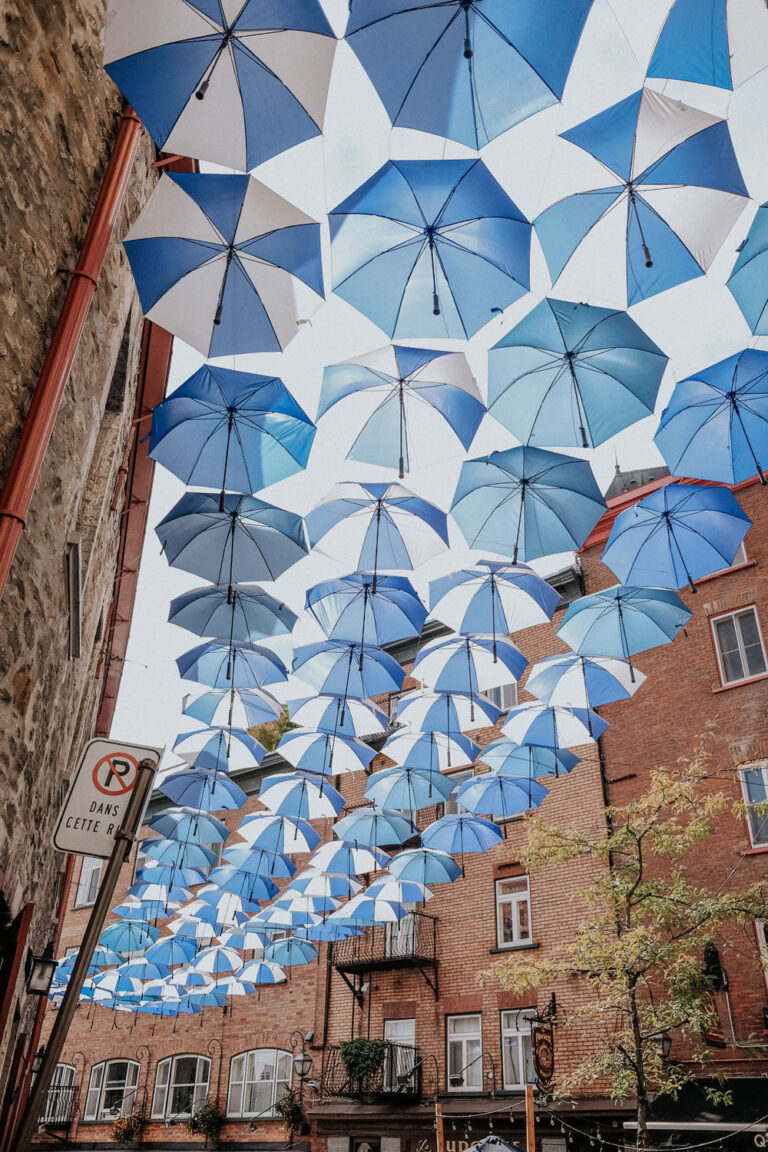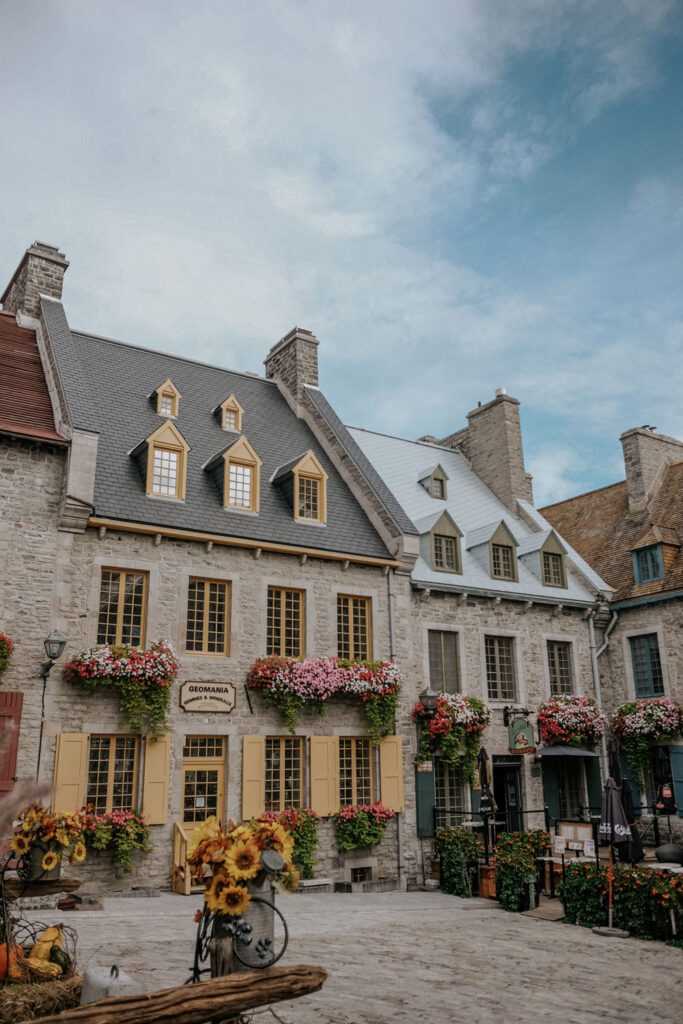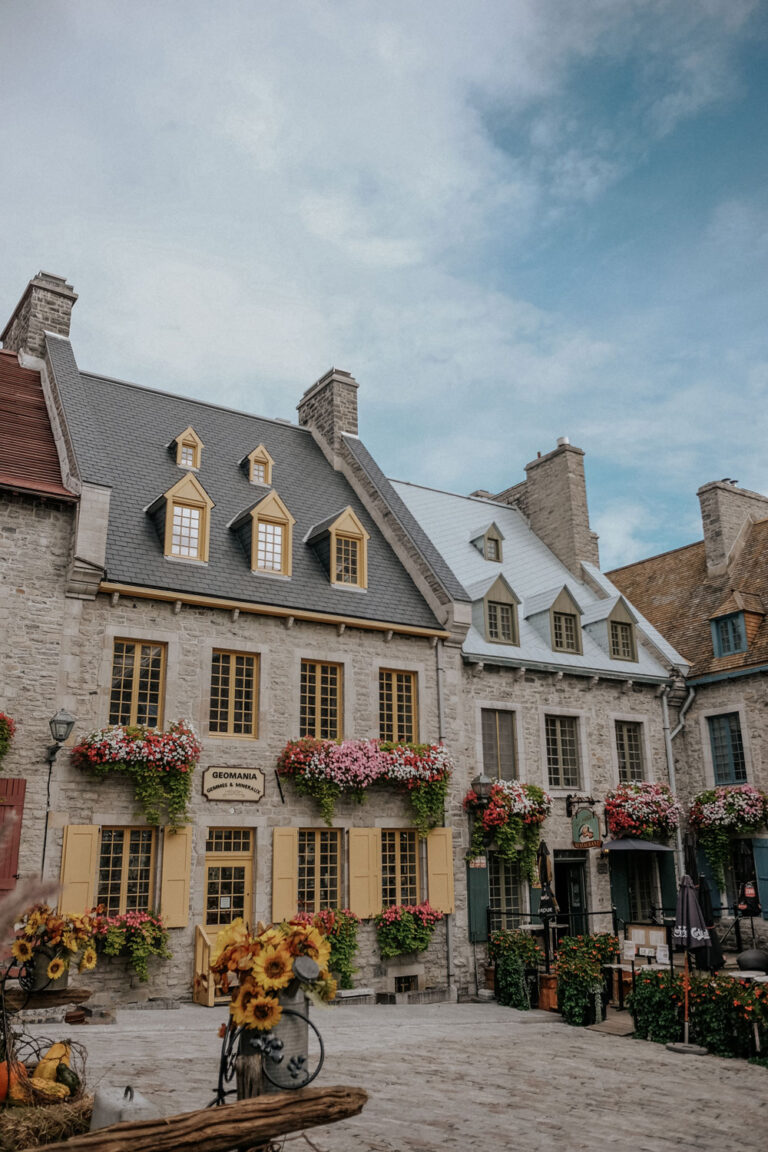 Then just wander around! There are beautiful murals, stunning squares, etc. Place Royale to me was one of the absolute most beautiful parts of it all, and has such amazing history…it's apparently the site where the whole city began, with Samuel de Champlain building the fort that started it all here!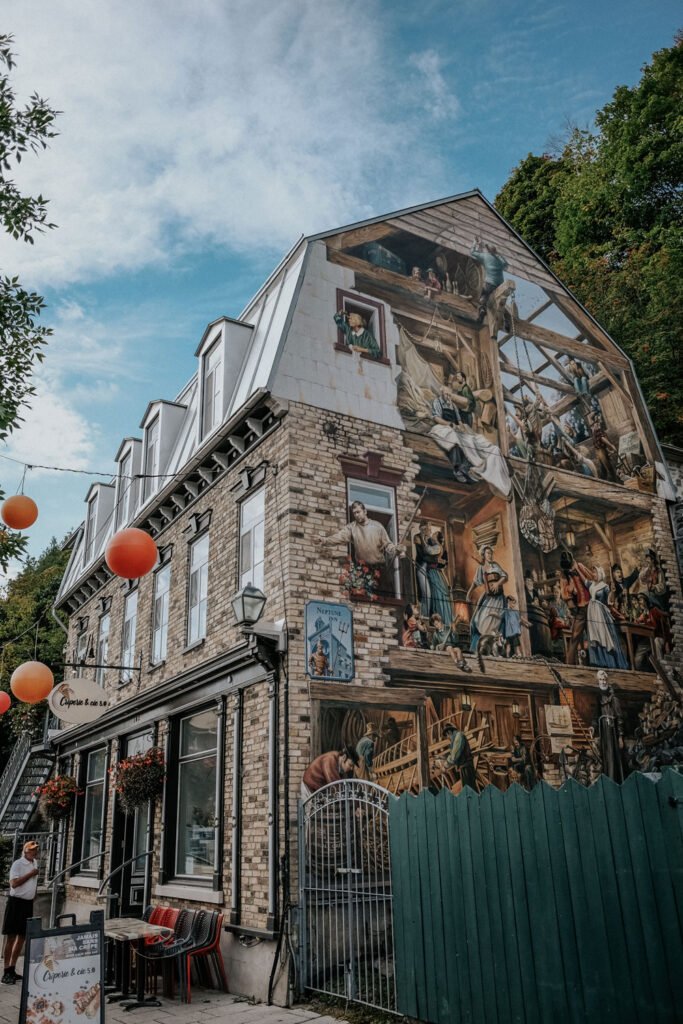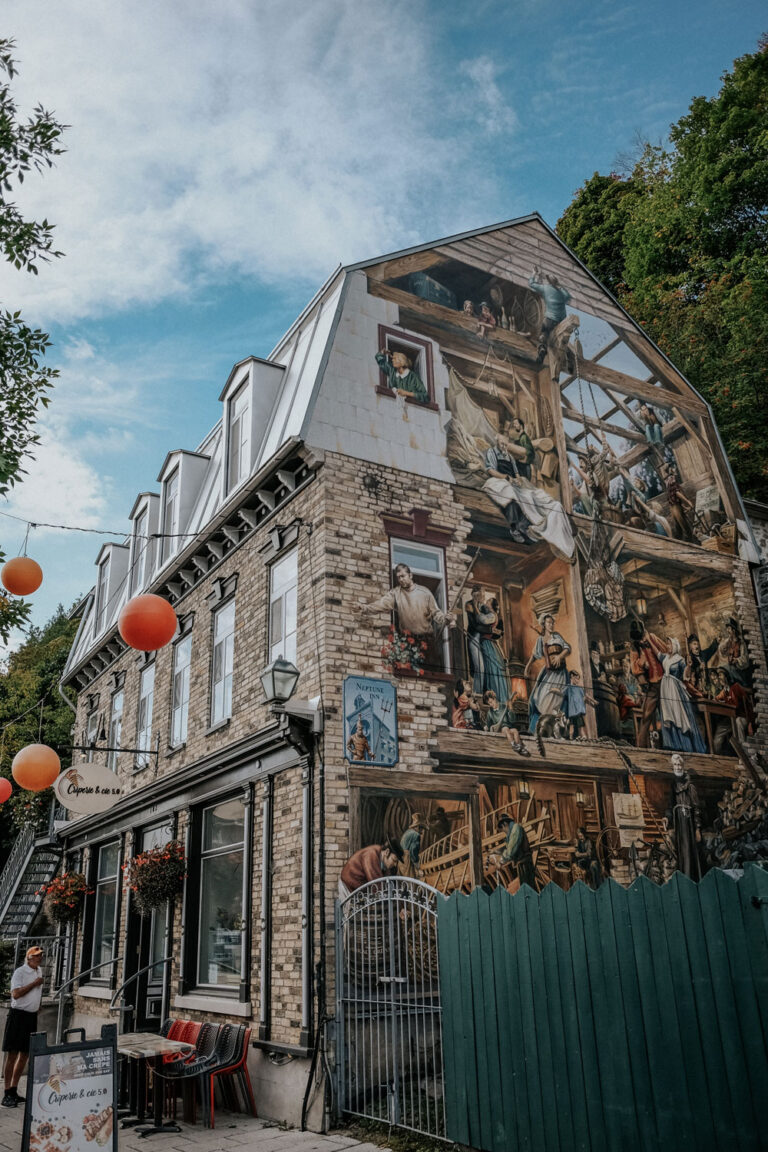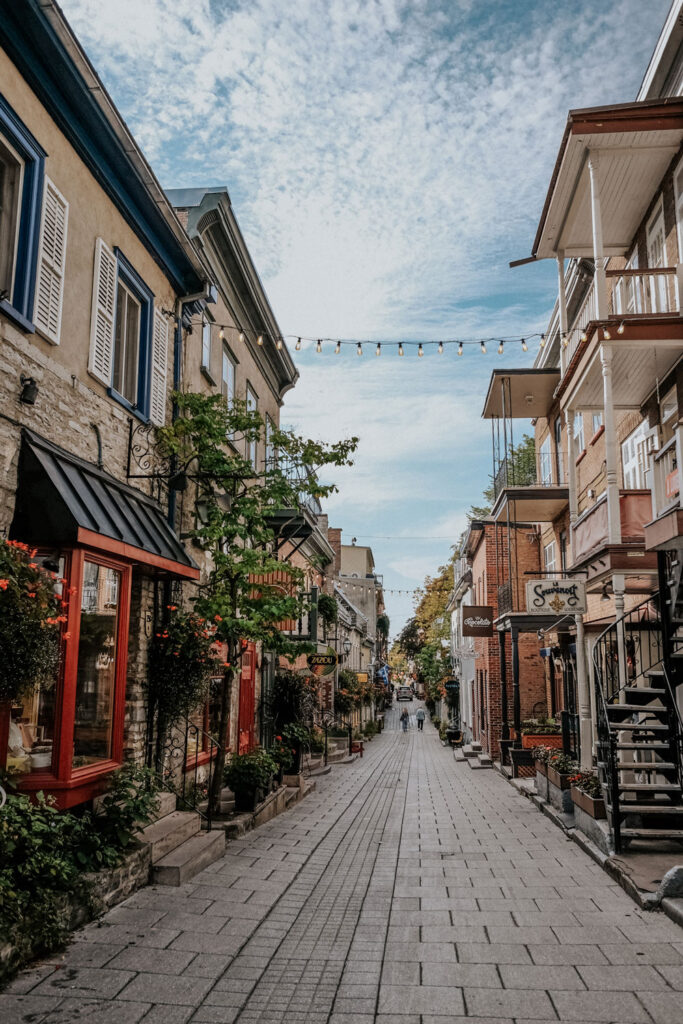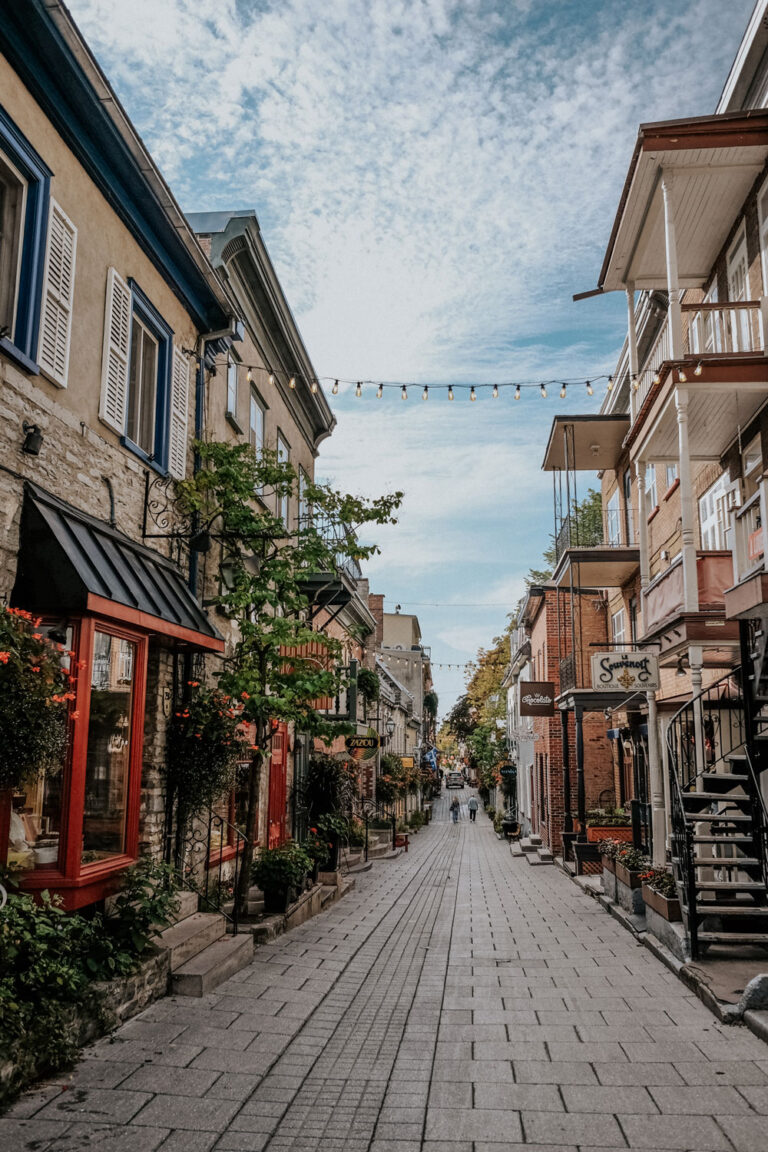 Shop in Quartier Petit Champlain
Once you're down Breakneck Stairs, there's so many cute shops around here! For the other mamas, literally the cutest stuff ever is at les ptits mosüs—they knit some of their pieces in house and we got the cuuuuuuutest toque ever for Cal! It's one he can grow into still a wee bit big but so special to have something like this he can use and that's a memento for all of us!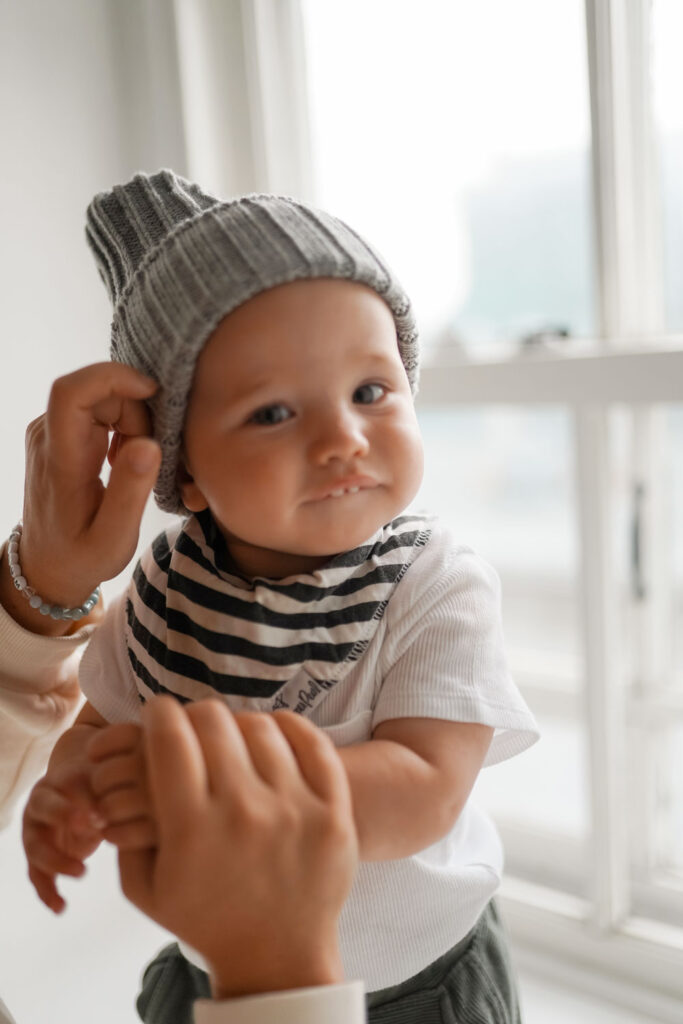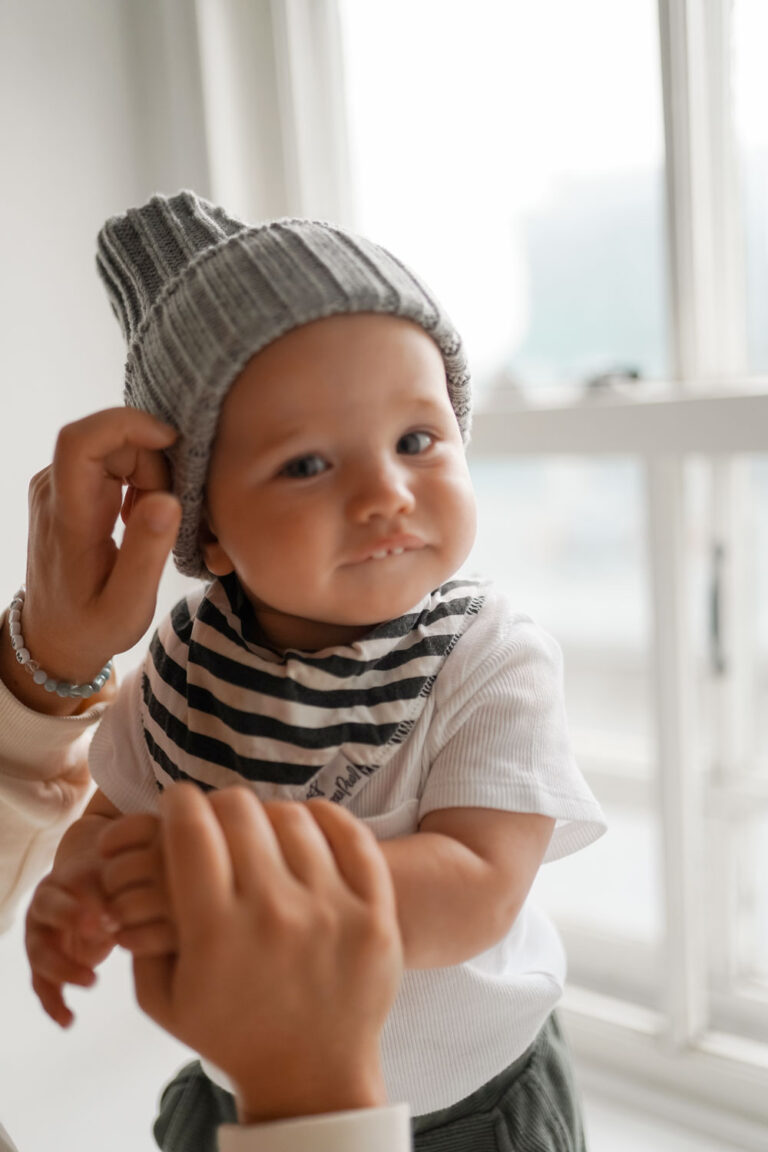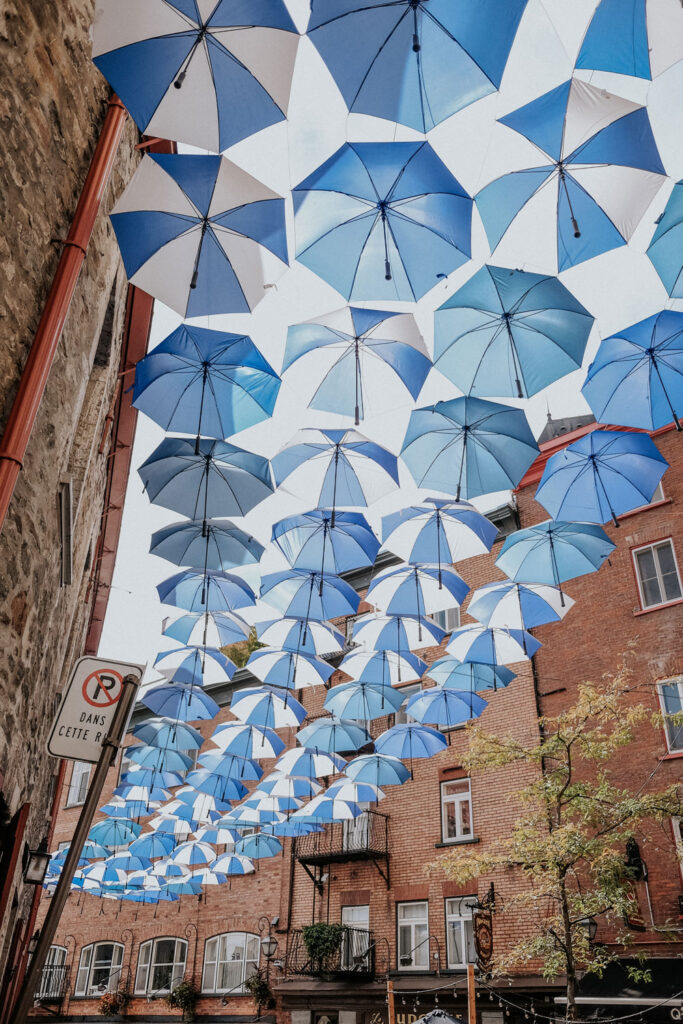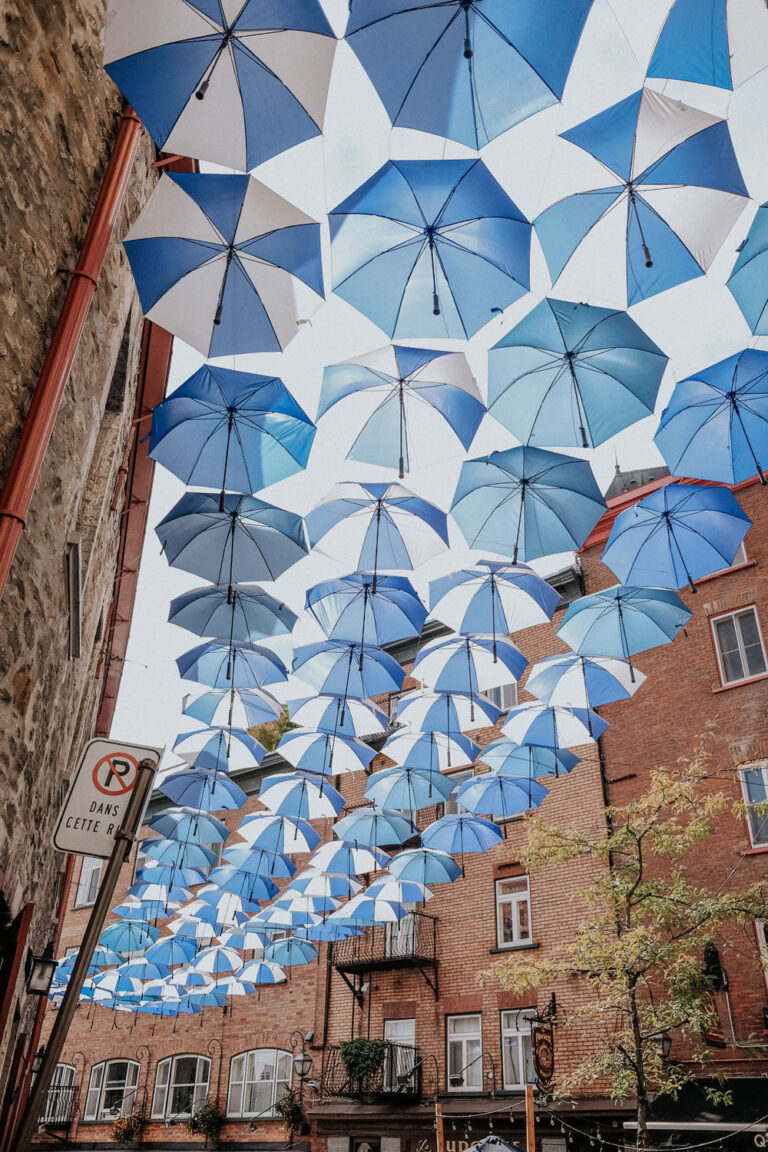 Cruise Rue Saint-Jean
This is more of a commercial stretch, but taking you in and out of the fortified walls of Vieux-Québec, this is the most direct route and it houses so many great restaurants, cafes, bars, etc. We'd wind up on here every day as we'd leave Vieux-Québec to go check out the breweries, restaurants, bars, cafes in the rest of Québec City (because there is a huuuuge expanse of the city that isn't Vieux-Québec!). It's not as picturesque as the main area closer to Quartier Petit Champlain, but having said that it's still so beautiful and it's also central to so much…city hall, Place d'Armes is nearby, etc!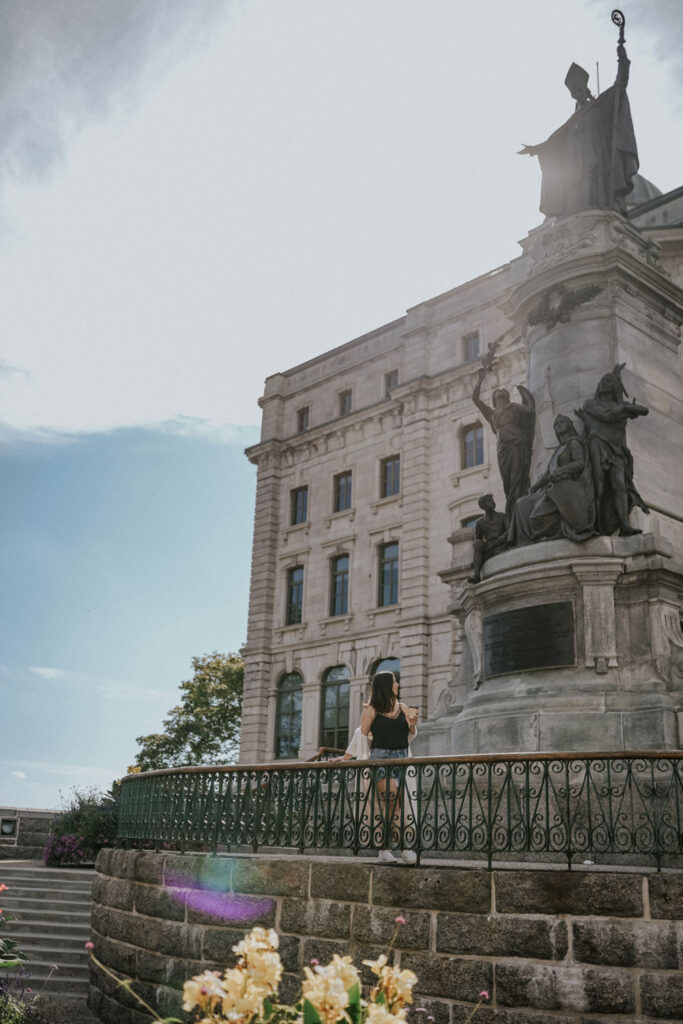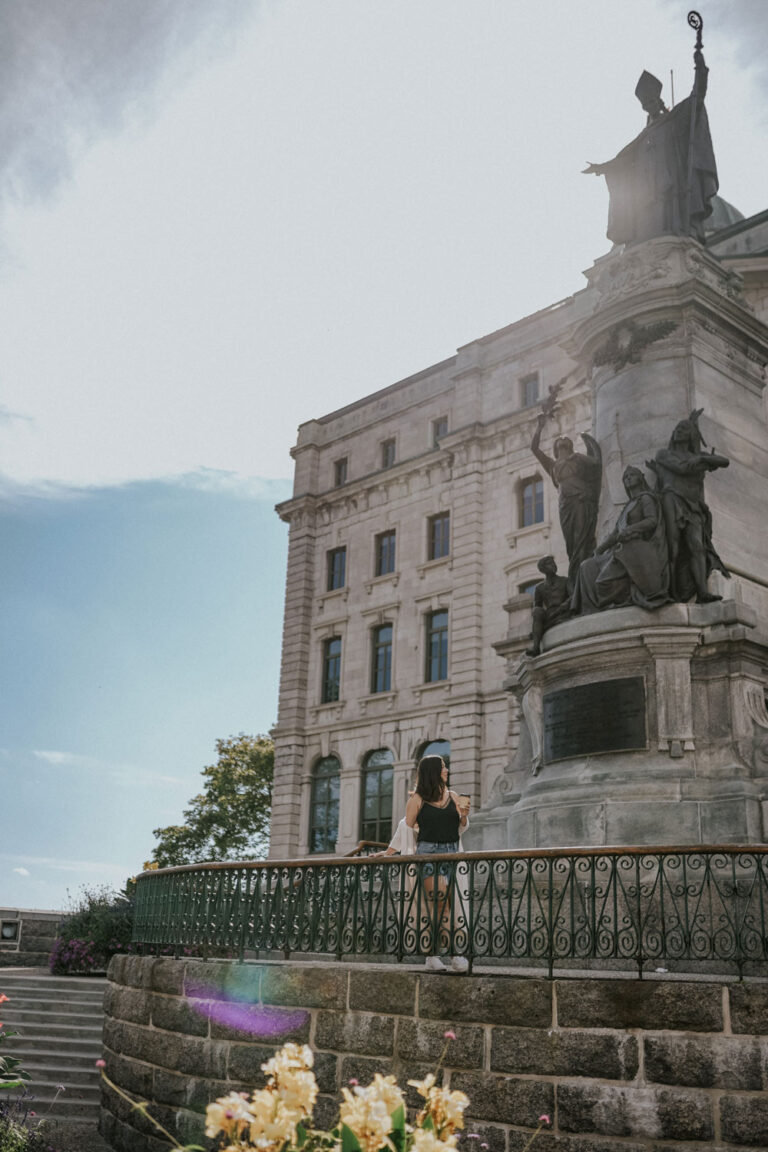 Ride the Funiculaire
It's all of like 30 seconds between Upper & Lower Vieux-Québec but it's a fun little experience and historical too…it was originally built in 1879! It's like taking a slanted elevator up. Cal loved it!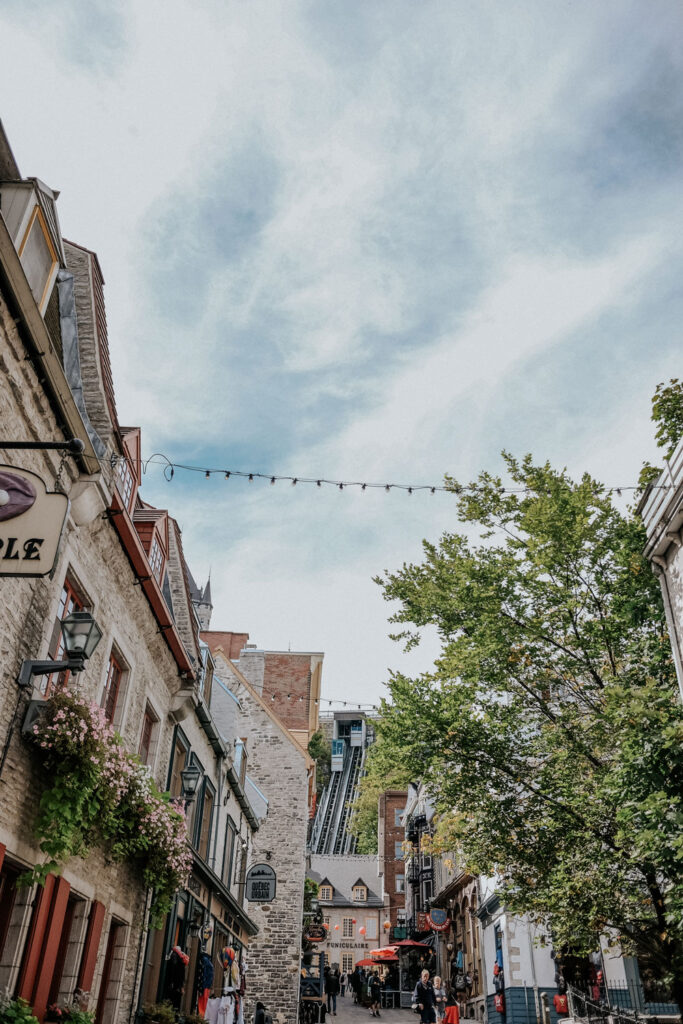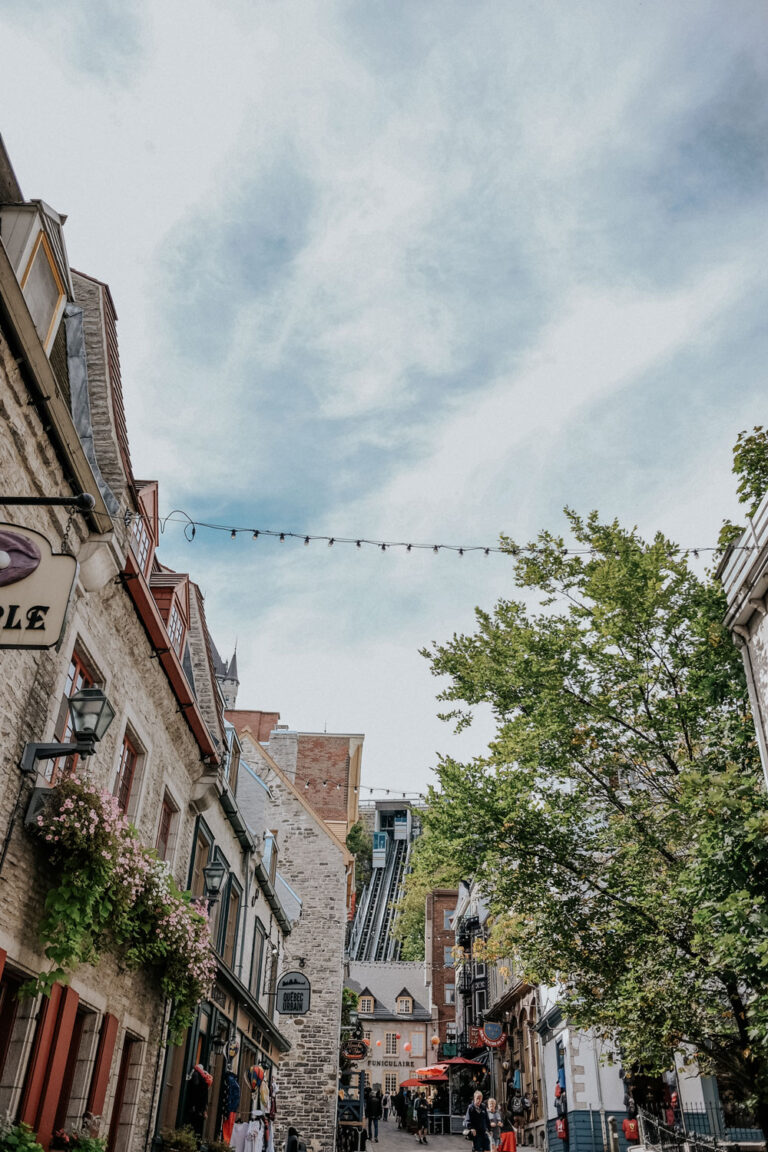 Do a Day Trip
We went to Île d'Orléans & Montmorency Falls, and I definitely recommend both. The only thing I'd say is that Île d'Orléans definitely would've been a better summertime activity I think…we were a bit late in the season and a lot of things were closed and there was construction on a huge part of the road that circles the island. Having said that, we still loved circling most of it. It's basically home to so many Quebecois delicacies, from delicious little Québec strawberries to maple syrup sugar shacks to breweries and so much more! You could just pack up for the day and sample everything there, stopping at beaches in between to do some walking!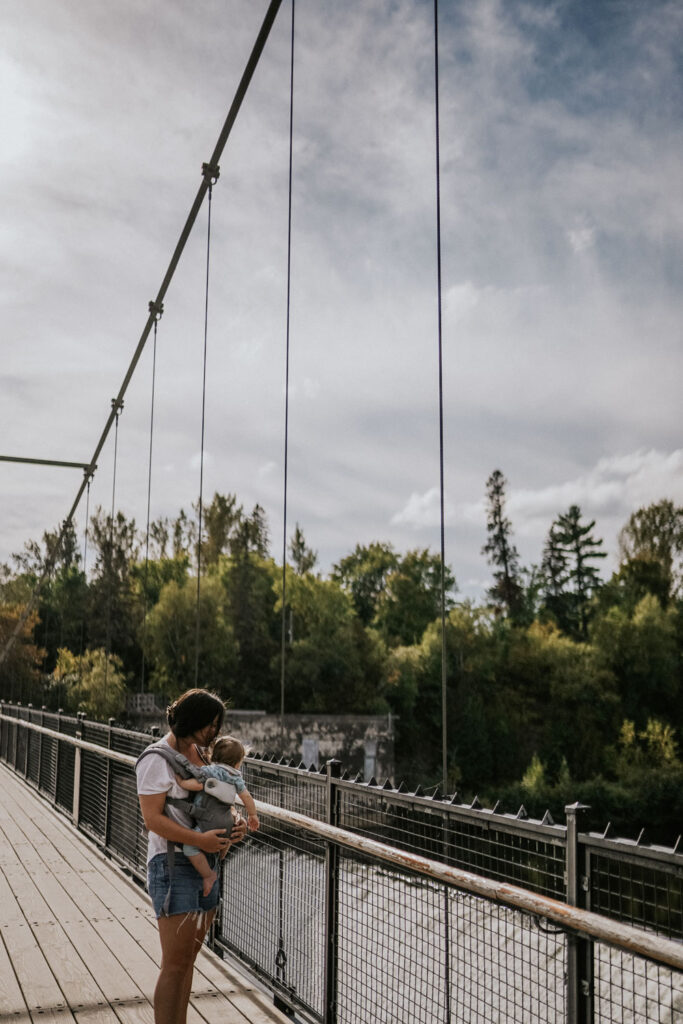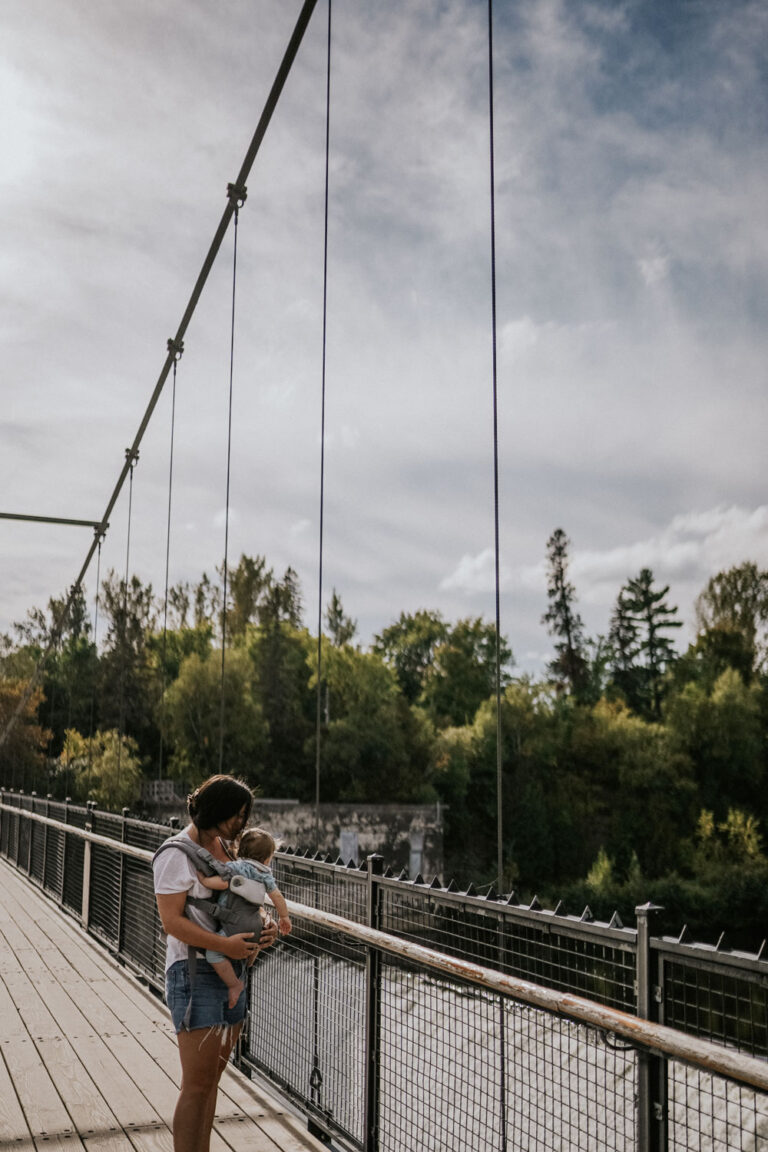 Montmorency Falls is so gorgeous and definitely worth a visit. I would definitely budget more time for it than we did (I thought it'd be something like Shannon Falls where you just kind of walk up with parking super nearby) but it involves a bit of walking at the upper site, and there are a ton of different platforms and staircases you can choose to get different vantage points. Again, would love to see this in the winter…apparently it's just unbelievable frozen in the snow!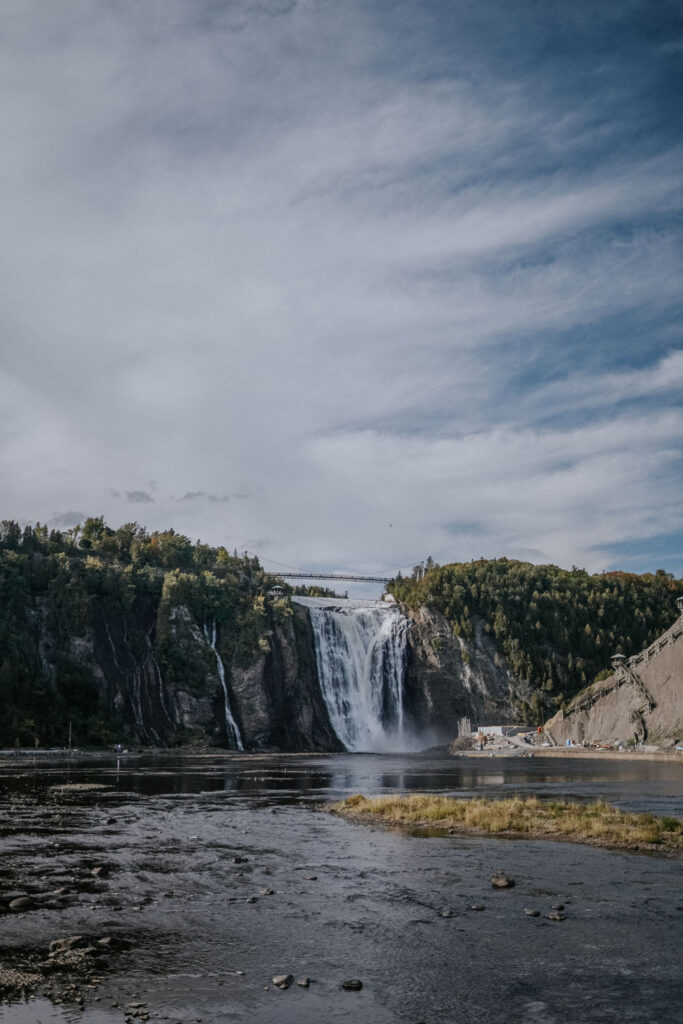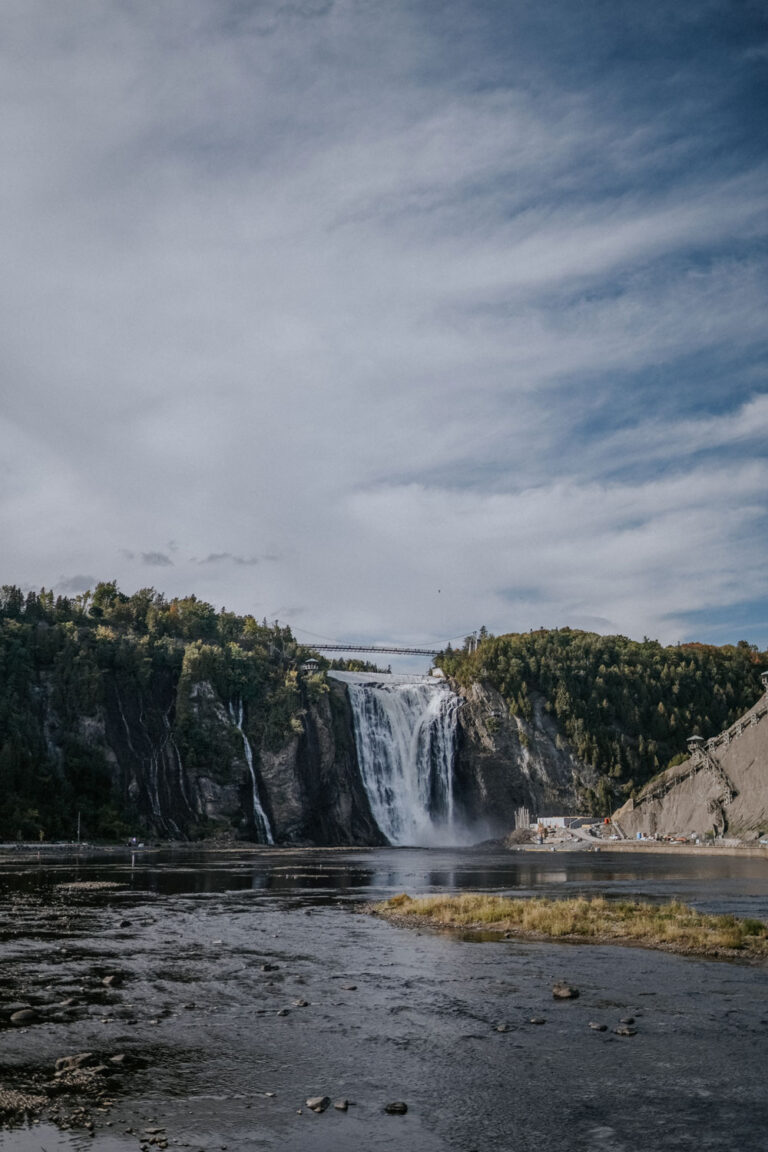 Get Out of Vieux-Québec!
As much as I could've happily spent 99% of my time in Vieux-Québec (and we did spend most of it there), and also as much as I couldn't stand the unbelievable amount of construction happening in QC outside of the old city walls, I'm really glad we got out and checked out other parts of the city. There are really cool up-and-coming hoods with lots of cool breweries (you could honestly just do a little brewery tour of the city), going along the old port, etc! If even for just a few hours if you're limited for time, but if you're staying in Vieux-Québec, just take a bit of time to check out some of the different restaurants, cafes, and bars. And speaking of which, let's dive in to where to eat because unsurprisingly given that this is Québec, there are some unreal places to eat here…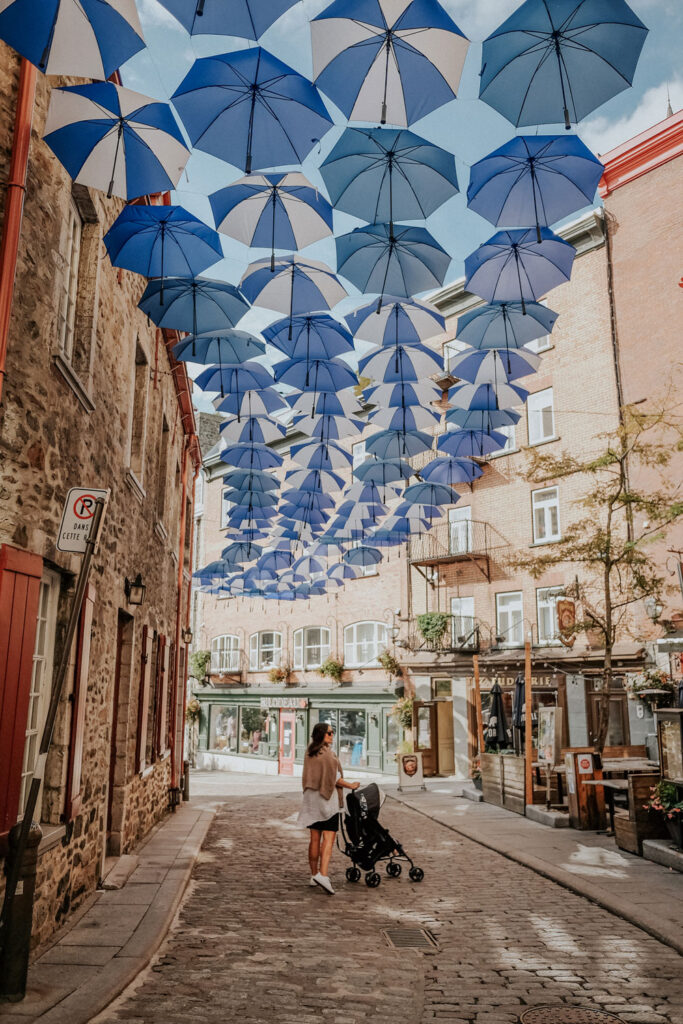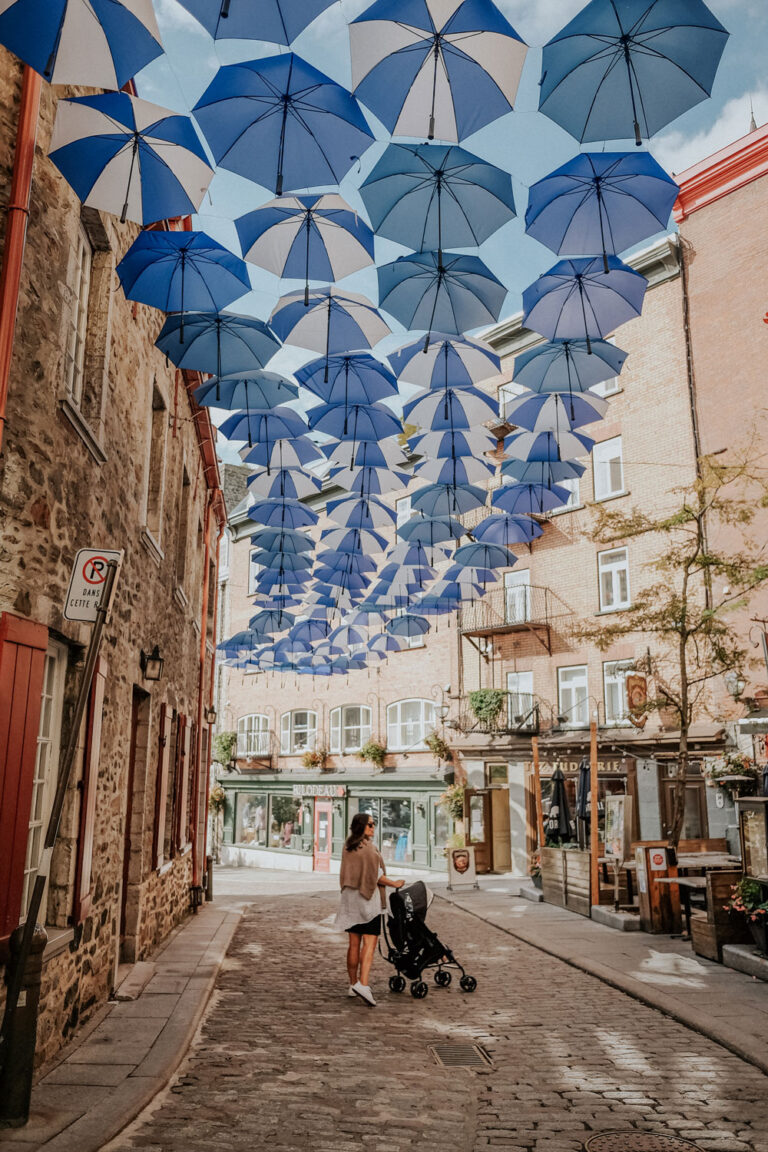 ---
Where to Eat + Drink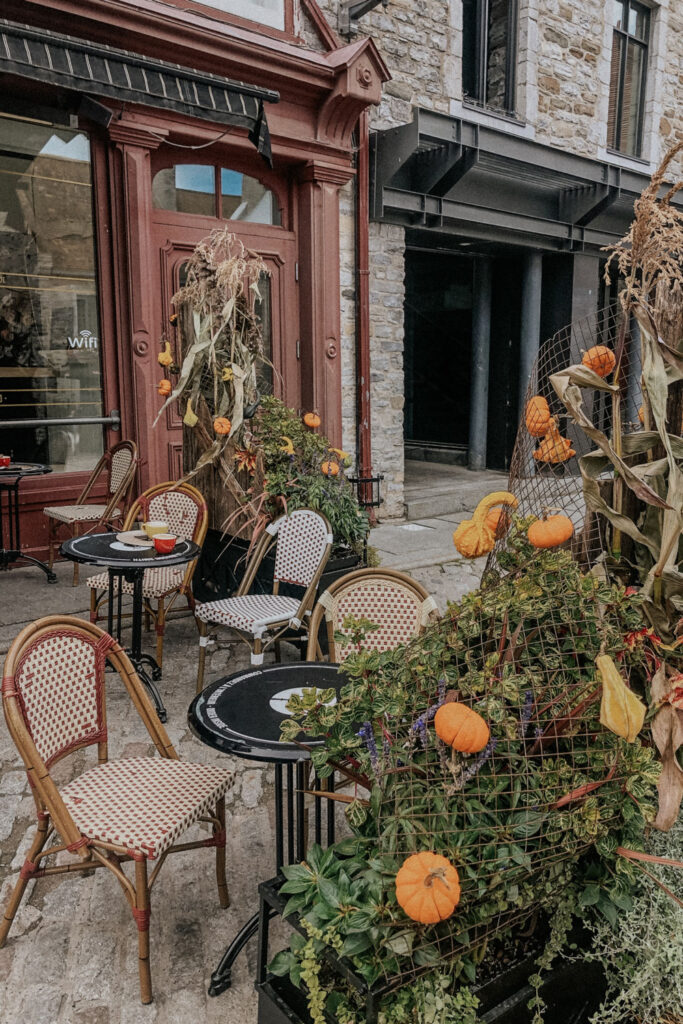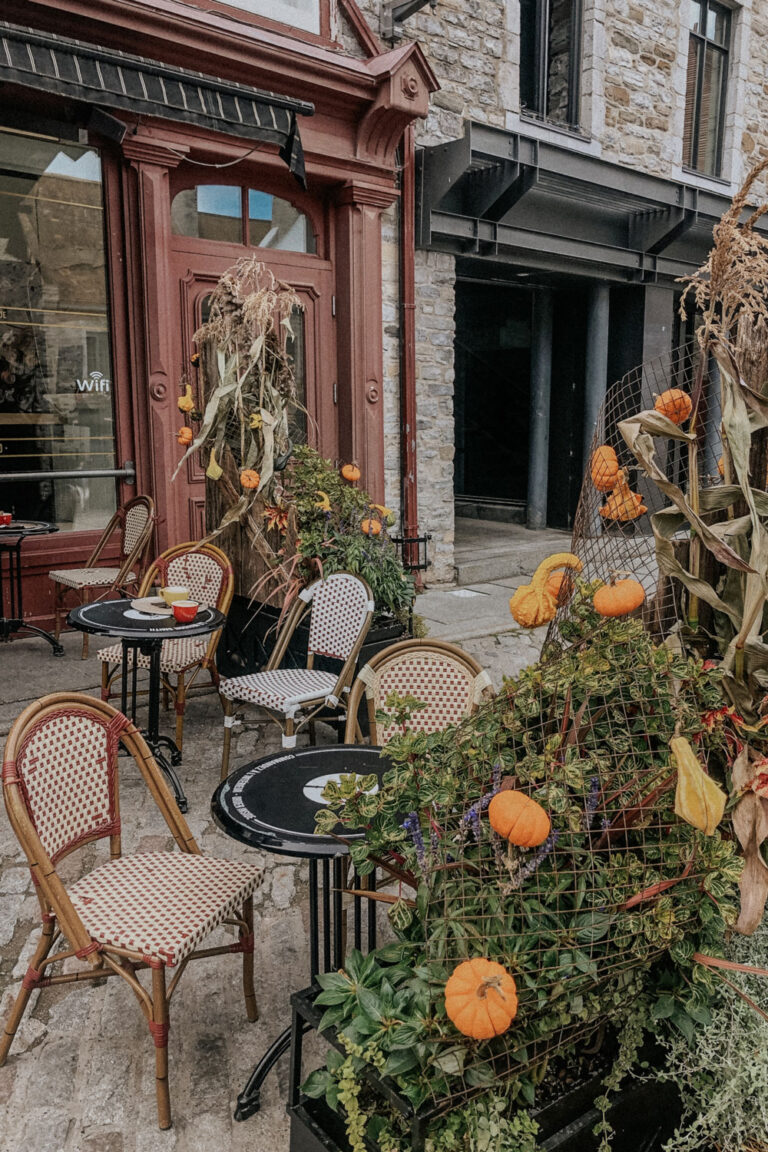 Cafes
Café La Maison-Smith: this is kind of your Starbucks of Québec City, but I don't say that with any shade…they're just consistent, conveniently everywhere and good! They also have a solid patio game so definitely recommend if you just need a snack or coffee and see one!
Faux Mouvement: just near Petit Champlain, this place has unbelievable coffee! One of the best coffee joints we visited (and we both are big coffee drinkers and aficionados so generally know our stuff in this area!).
Cantook Micro Torréfaction: really delicious coffee, all roasted on-site.
Nektar Caféologue: if you end up in the lower part of Québec City, this is definitely solid coffee in this area!
Café Saint-Henri: unbelievable pastries here!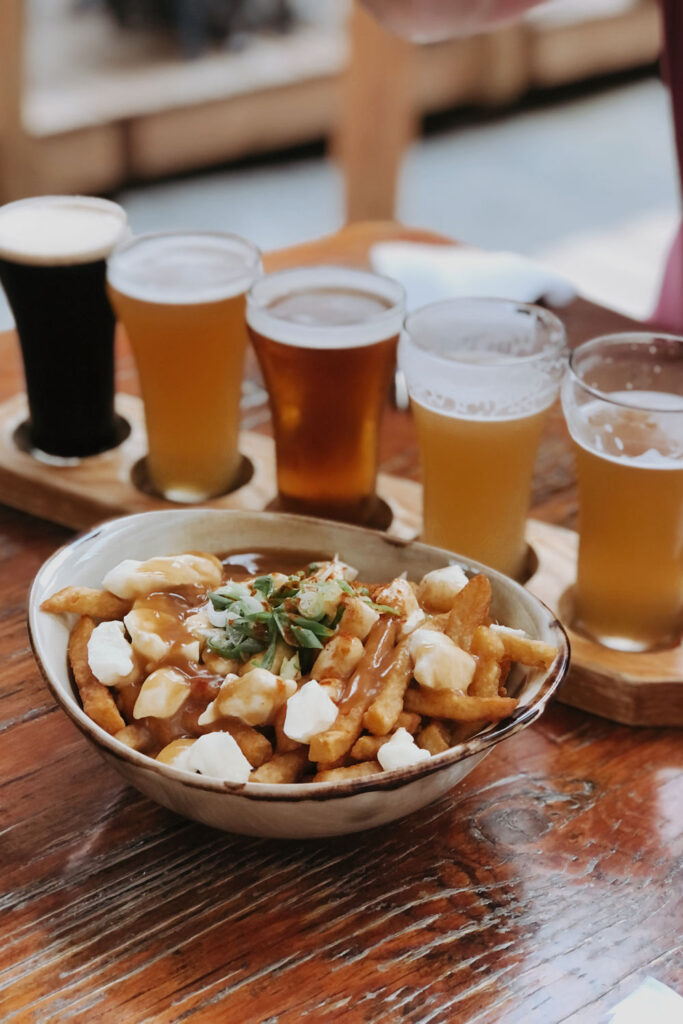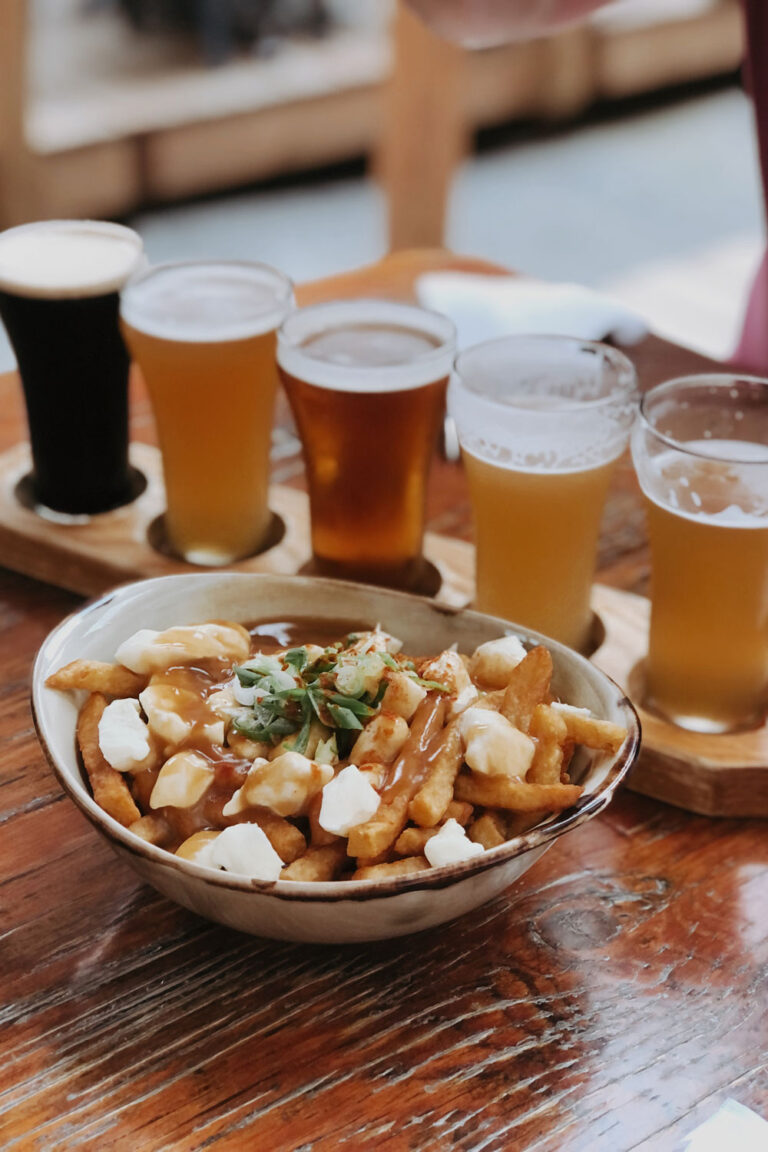 Breweries, Pubs + Bars
La Barberie: we came here our first night and we loved their selection of beers! They had great food too but definitely more of a drinks place.
Noctem: we loved it here! Great food, great beer selection.
La Korrigane: we stopped here during one day that we dedicated to exploring outside of Vieux-Québec and had a super delicious poutine and great beers!
Griendel: okay I'm cheating a bit here because we never actually made it out this far, but so many of my followers recommended this I want to include it because it would've been a must for us too had we not had Cal (and needed to get back for his bedtime!).
Bar Le Sacrilège: this place is known for its back patio that has a jungle theme! We popped in just to check out the patio and have a quick drink…it was the middle of the day so maybe not the vibiest time to come but I could totally see this being a must-visit for cocktails or a drink in the early evening!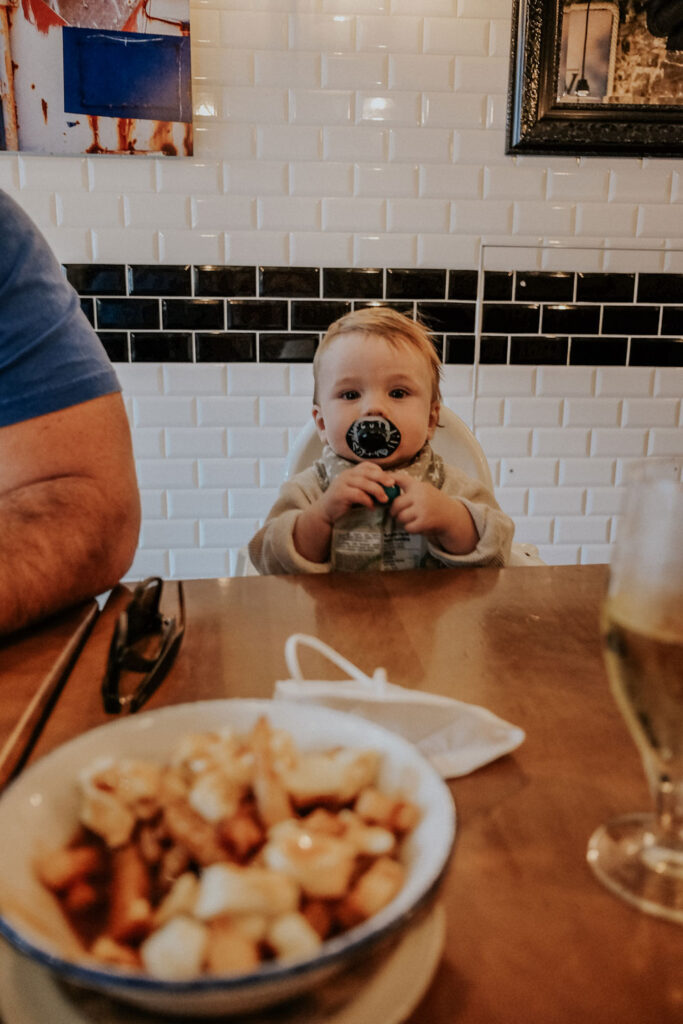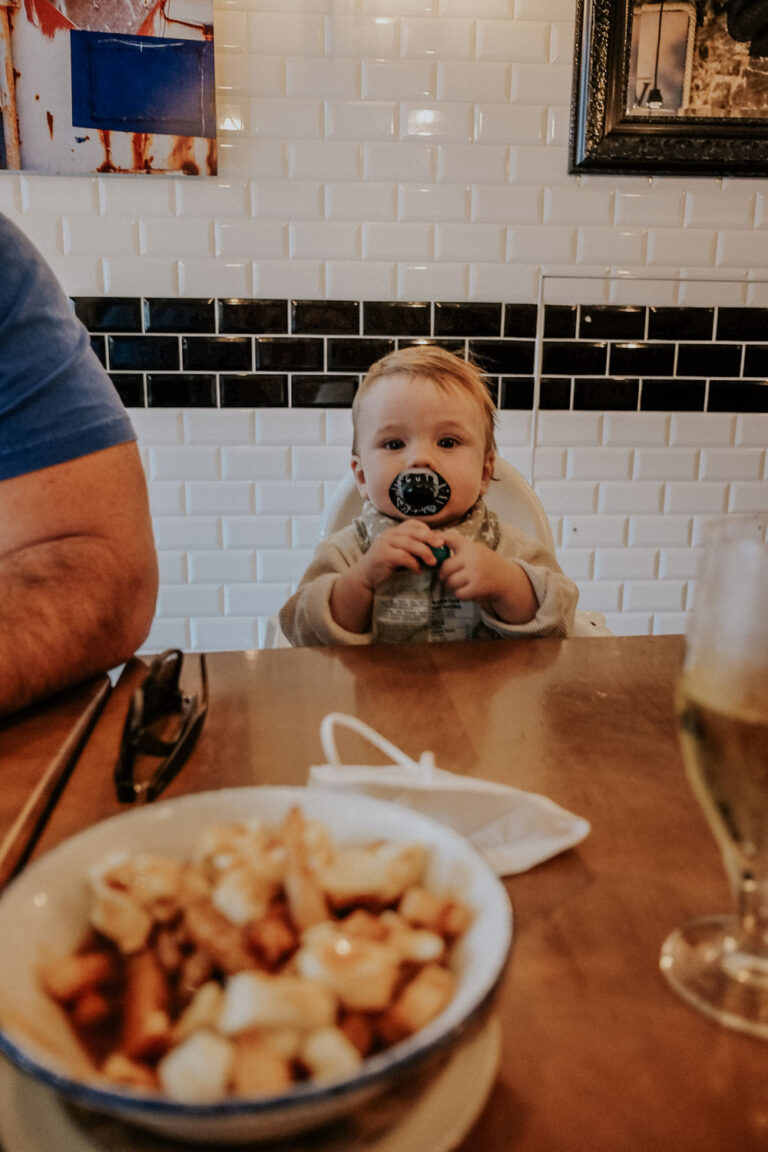 Restaurants
Cochon Dingue: this multi-location Québec City classic is definitely a must. Some tourist institutions start to lose their quality but we felt like the food was really delicious here! Lots of traditional quebecois classics to choose from.
Sapristi: if you're craving Italian (which for me, is always) this is a great option, again with more than one location to choose from!
Le Lapin Sauté: another classic French Canadian bistro! They also have a lovely little patio you can sit on in the summer.
Poutineville: we ate…a lot of poutine on this trip. If you're trying to consolidate your poutine experience, you can come here and try a few different variations out! Really good.
Nina Pizza Napolitaine: another Italian option…listen, I'm a mama now so sometimes you just need to have a quick dinner of pizza, have your glass of wine and get back for bedtime! This place is great though.
Restaurant La Buche: I wasn't sure about including this restaurant because while the food was very good, it is very touristy. So just know that if you're going to come here…the quality is there, but it's definitely going to be a French Canadian experience tailored for tourists! Having said that, I decided to include it because if you're short on time, you'll know that you'll get to try some French Canadian classics here, and service was great!
Chic Shack: another option in Vieux-Québec, this is for the burger lovers! I find I really place more of a premium on good but convenient (and slightly faster) options since having Cal as opposed to a really long, multi-course meal these days…but again, the quality is amazing and it's an institution!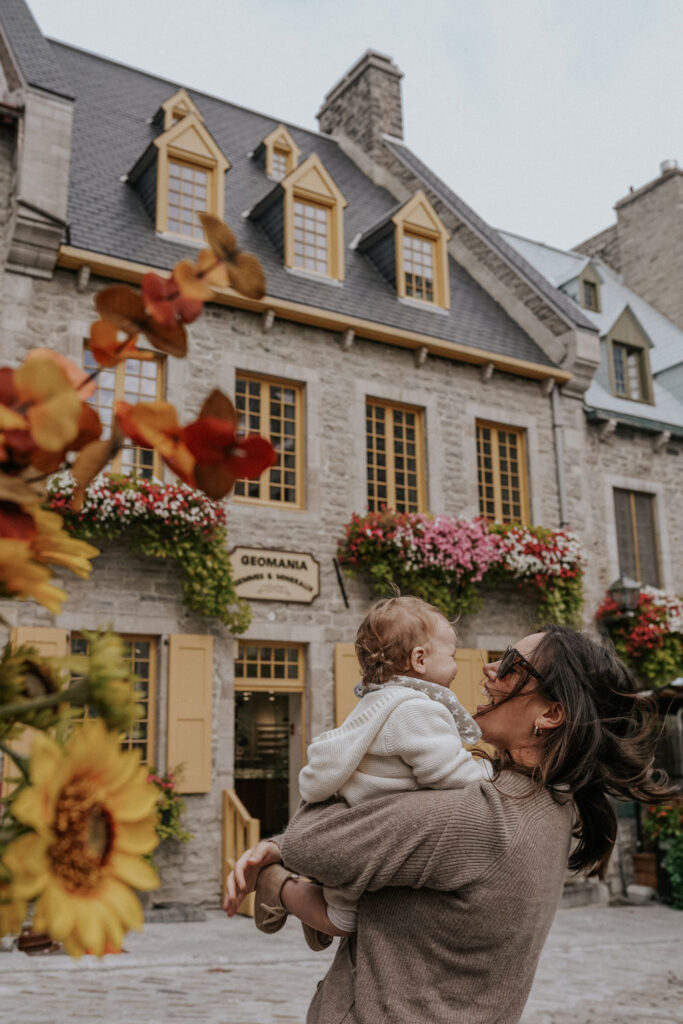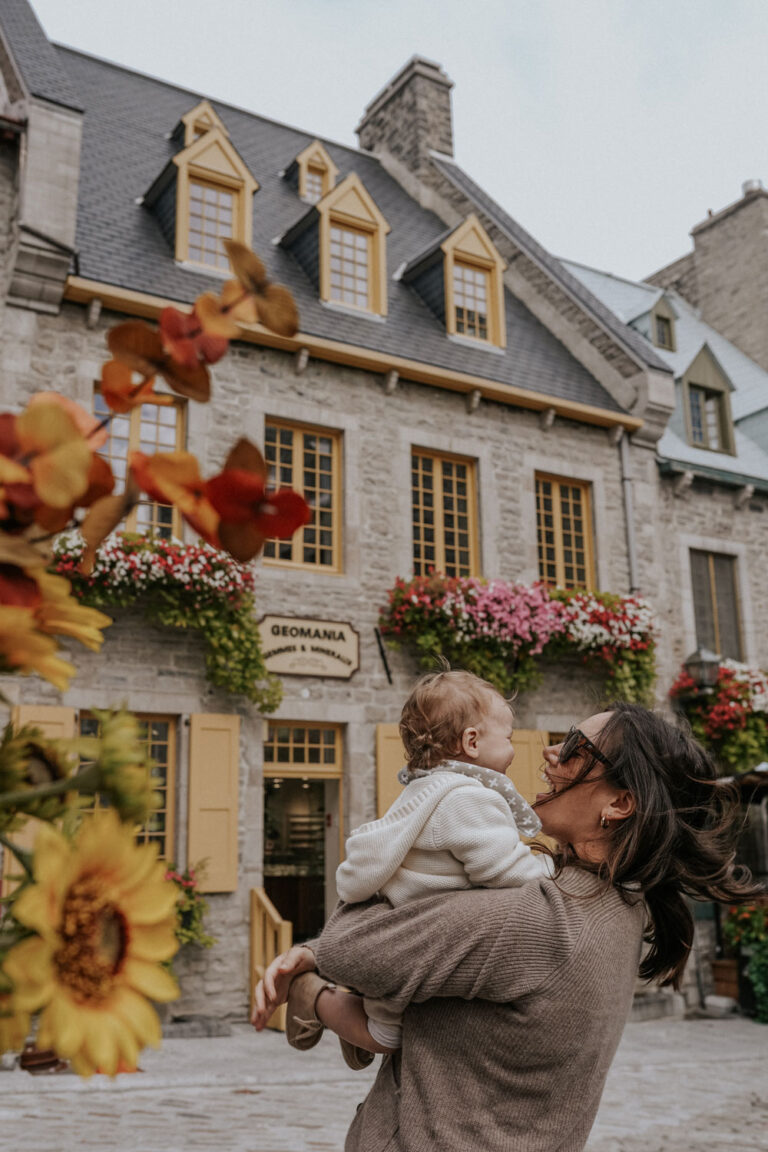 Final thoughts on Québec City…we were there just as the leaves started turning and it was already looking so dreamy, but I think going right in the heart of fall or in the spring would both be so beautiful if I had to pick a season or two to visit. Winter too but I am also terrified of the cold! Come with a huge memory card because you are going to be snapping pics like crazy. Wear good footwear because everything is built up on a hill and you'll be taking lots and lots of stairs, climbing hills, walking on cobblestones, etc. Tipping is the same as anywhere else in Canada (at least 15% is customary) and finding car rentals and the like is really easy, there are lots of rental locations (including in Vieux-Québec, which was really convenient). People are unbelievably friendly and we had so many lovely convos with locals, though of course it helps when you have a cute baby, especially one who is as much a people person as Cal and literally waves at people to have them come and pay attention to him! He's the best…such a little ray of sunshine. I'd recommend 2 nights at least here, ideally 3 just to really slow down and enjoy it! It's not a huge city but there are great day trips if you're someone who likes to pack their days (that would be us), but it's also a great place to slow down the pace of life and really just soak in this special, beautiful place.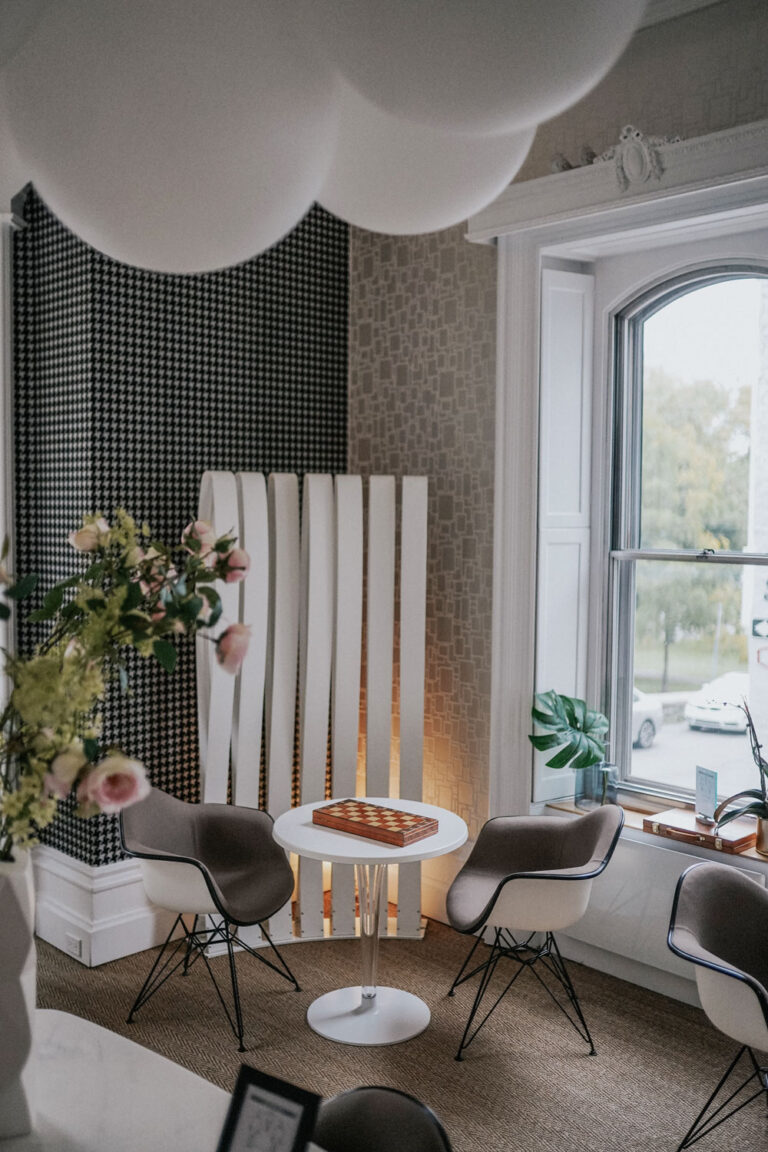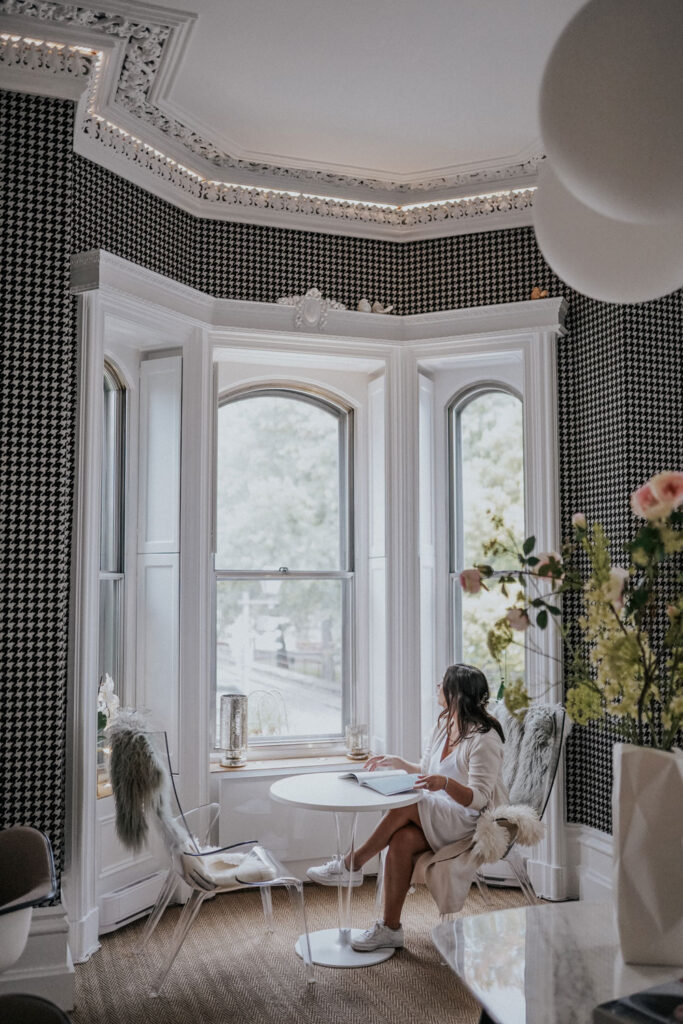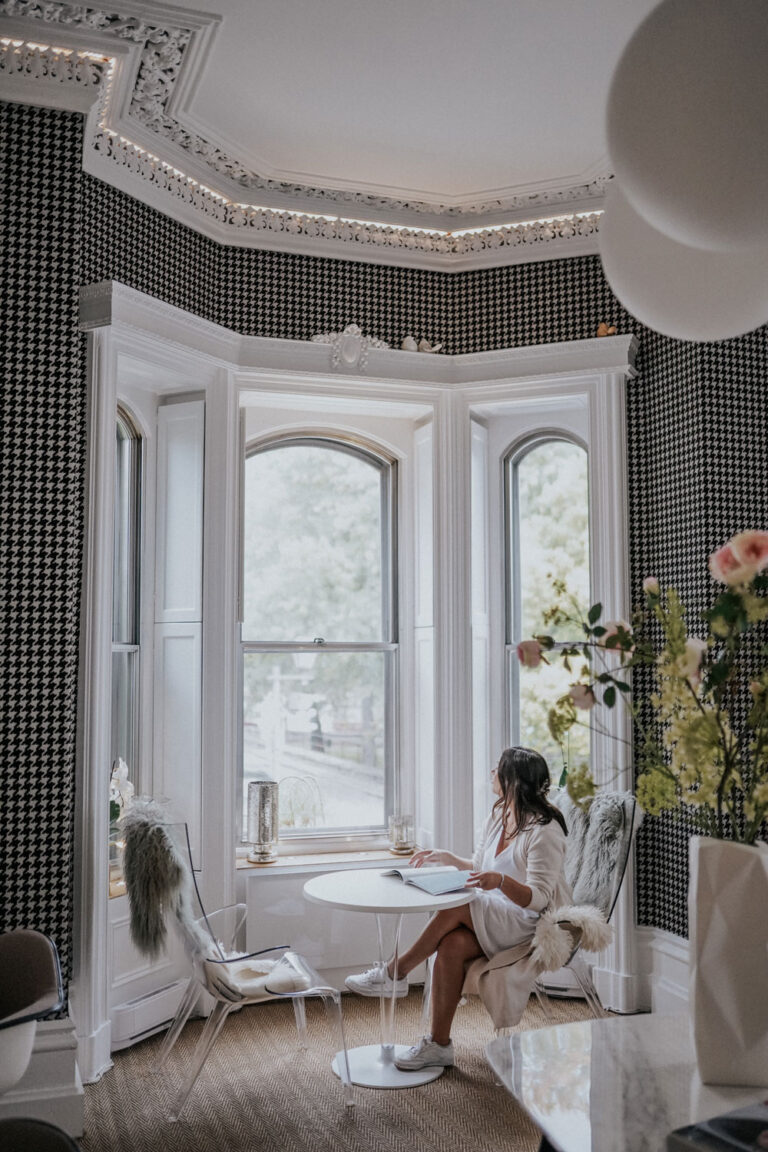 Please visit Hôtel Nomad's page here…can not recommend staying with them enough! They have some unbelievable packages actually, and like I mentioned above, I think spring would be such a beautiful time to visit Québec City!
Hope you guys loved my travel guide (honestly, the first one in a loooong time…how I miss doing these more regularly!). Speaking of travel, oddly since having COVID I kind of feel like, well…I'm about as safe as I can possibly be right now. I'm getting my booster soon and we all have antibodies now (including Cal). He's such a great little traveller (can't wait to share my baby travel tips soon!) and I just don't really want to wait on these experiences with him anymore. Manifesting at the very least one Europe trip and Maui with my little bud this year! We gotta get those flights in before he turns 2 and we have to pay for a seat for him! But while we decided to stick domestically so far during COVID, going to Québec City was basically like going to a whole new country…it really is a slice of Europe in Canada, but pristinely maintained so a whole new experience in and of itself! Can't wait to share my Montreal guide soon, along with an overdue Whistler experience and some of my Euro trips that I was holding on sharing (thinking COVID was going to end at the time…2 years later, think I'll just go ahead and start sharing these Balkans guides!). Any questions about baby travel or anything else, please just let me know in the comments below!
---
pin me