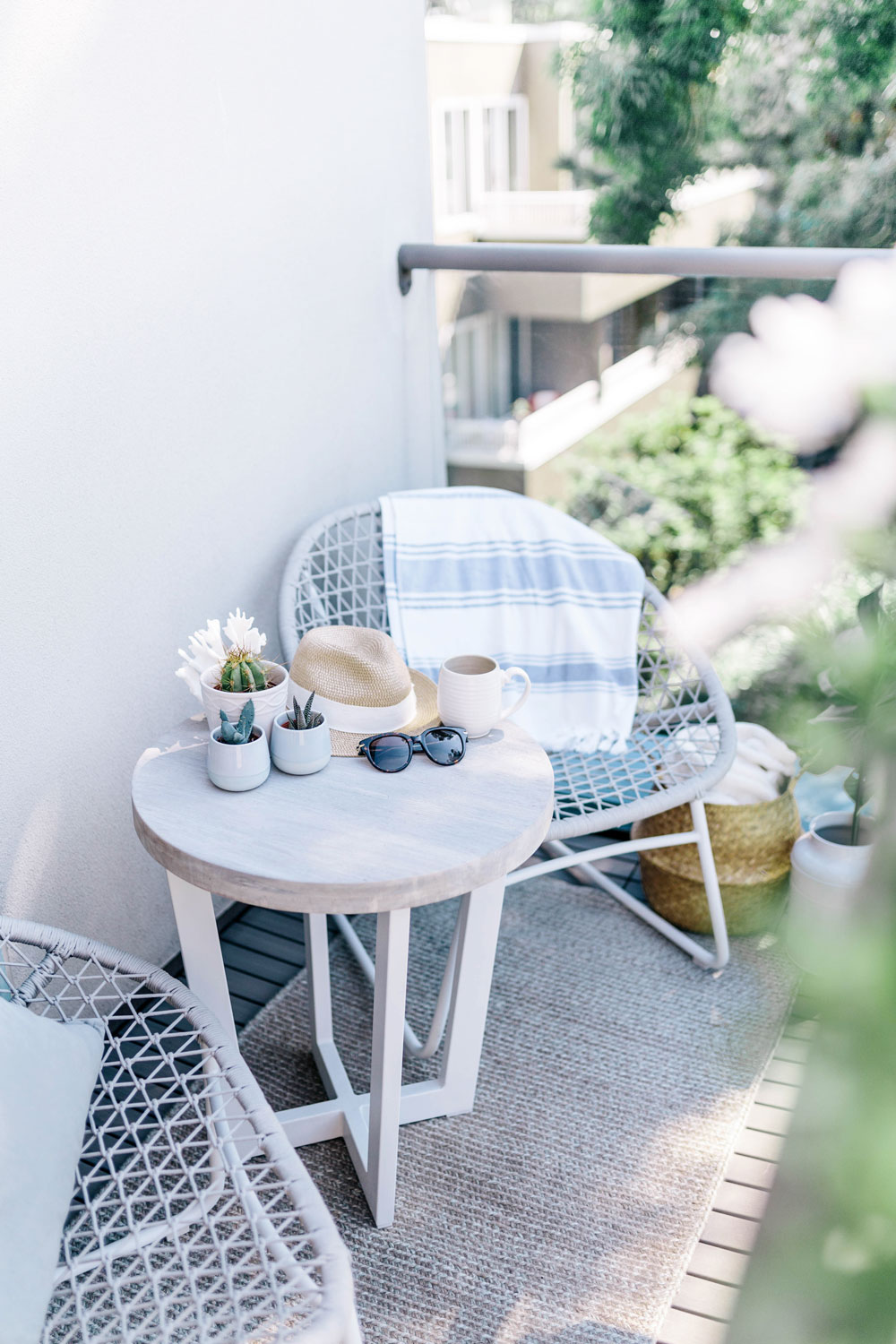 If you guys have followed me on Instagram for any length of time, then you probably quickly surmised that I am obsessed with our rooftop deck – it's literally the reason we decided to rent our space years ago and it's where I spend a ton of my time. From working up there to having our dinners to hosting our friends over for parties, the rooftop deck has been used so much over the years and is definitely my favourite part of the whole apartment – having said that, when we moved in there was this little side patio off our bedroom that I always felt was really sadly neglected (I posted a pic of its original state even after floor replacements at the bottom of this post – so gross!).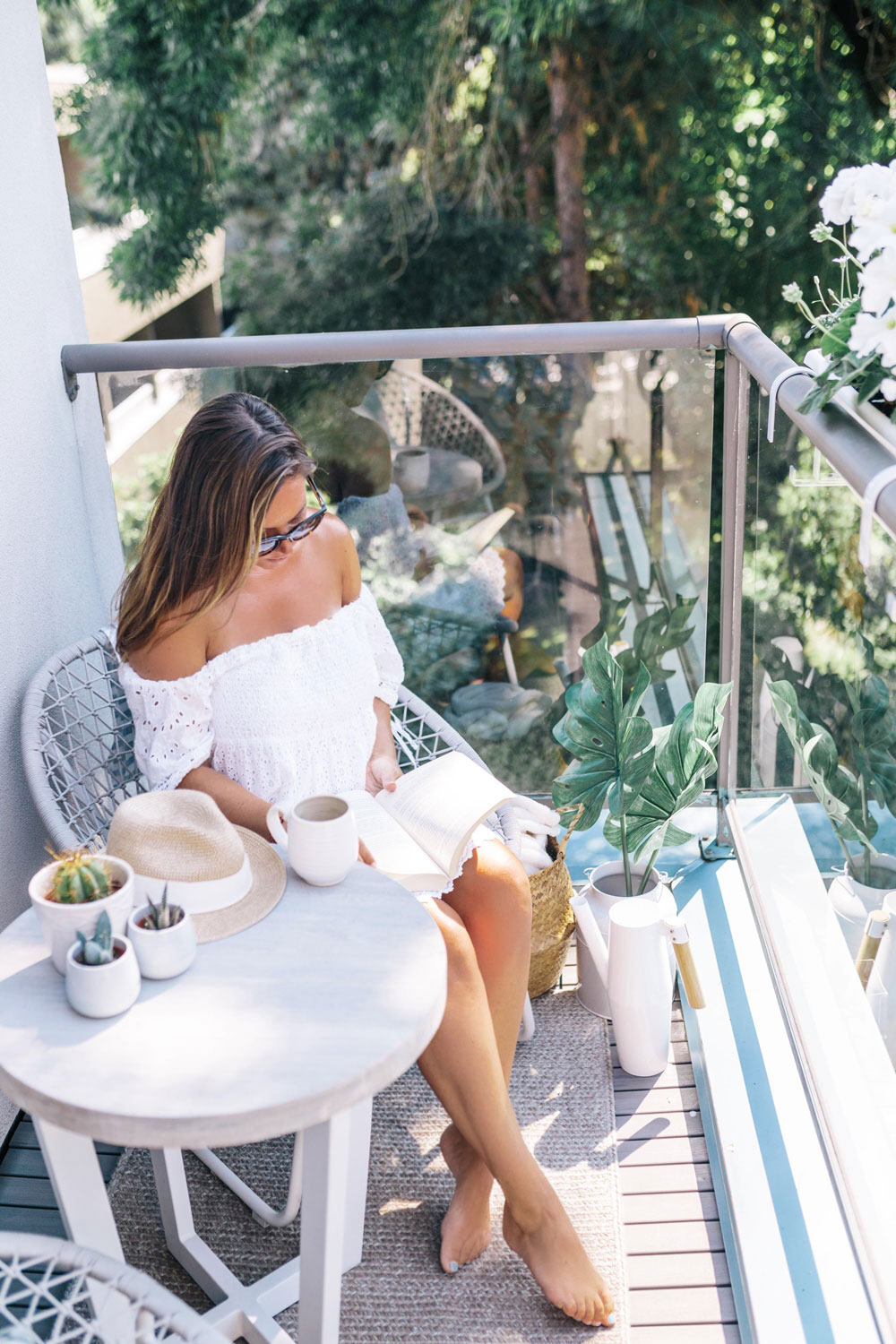 When we moved in, it was literally in complete disrepair – the floor was rotted through, the glass was opaque with green algae or whatever was growing all over it, the walls were dirty beyond belief. There were a bunch of random glass panes and a bucket just to top it off – long story short, it was a shit hole. As tenants, we don't want to do too much major work on the space (and aren't really allowed to) so we sadly had to leave it as is for years, until thankfully our strata (who we actually love!) decided to redo all of our decks.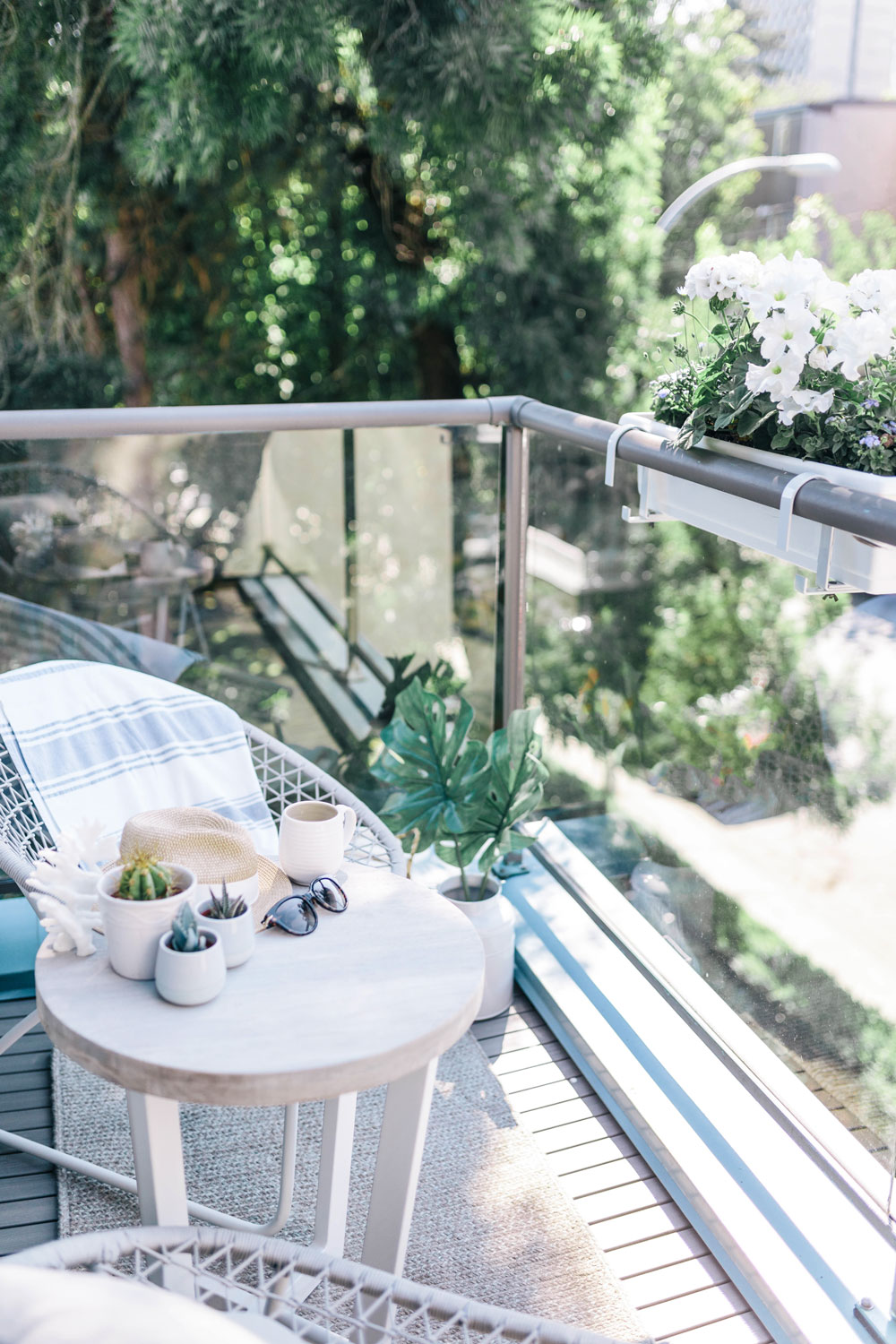 The new flooring in (with the promise that I wouldn't fall through anymore), I hatched this pipe dream of having a lovely little breakfast and nook area since this area always gets lovely shade in the summer (whereas upstairs gets roasting hot, even under the umbrella). Matt was for whatever reason reluctant to the idea at first but an industrial clean later and our little side patio was officially ready to be loved and lived in! Cue in my fave go-to for decor and furniture: Article!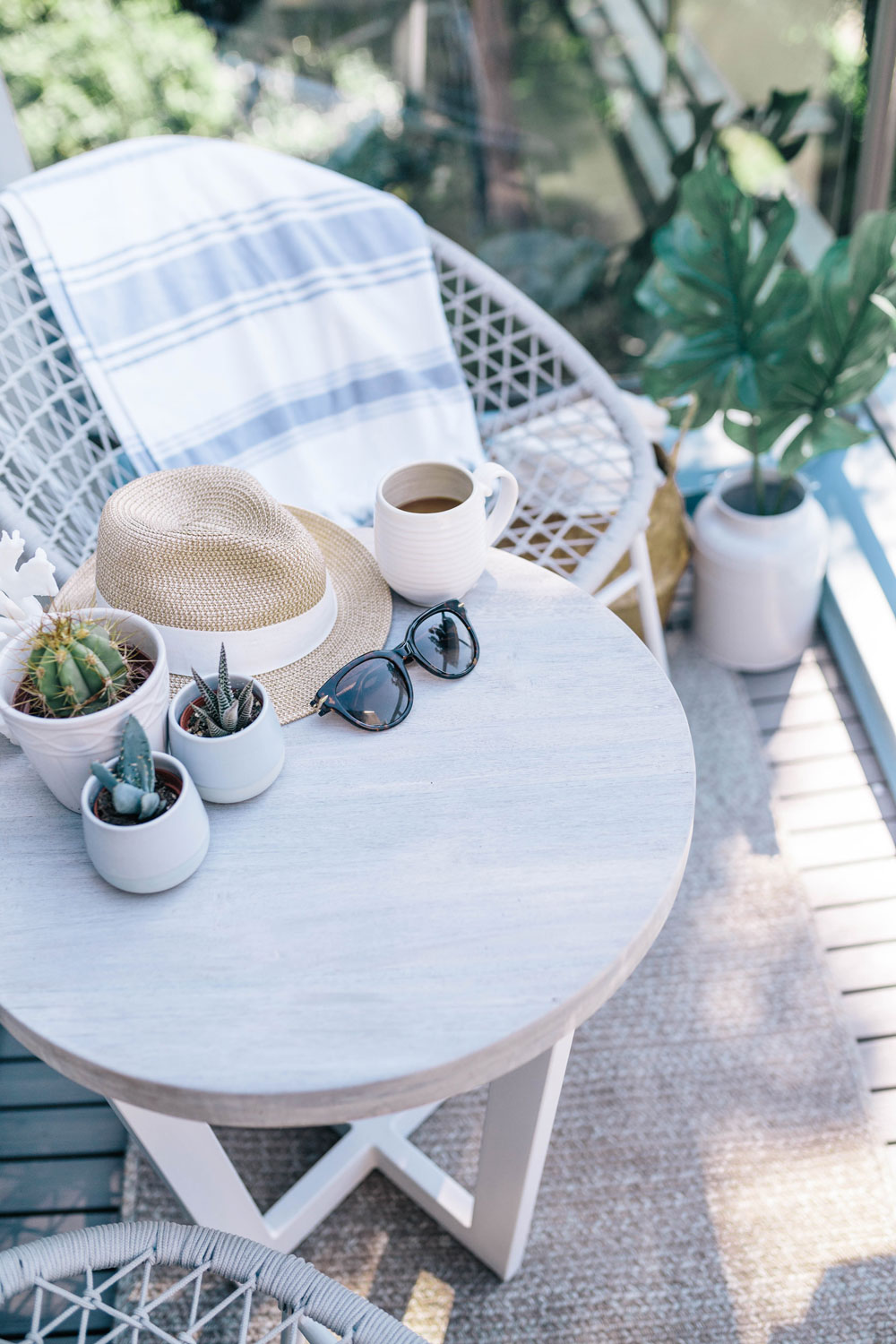 I am a huge fan of Article – if you haven't caught it yet, see our little dining space (perfect for small spaces) story here, the only couch you'll ever need here and my studio makeover here. When it came to redoing our outdoor space I knew that Article would be my first go-to, especially because they just launched their outdoor line and I was lusting after everything.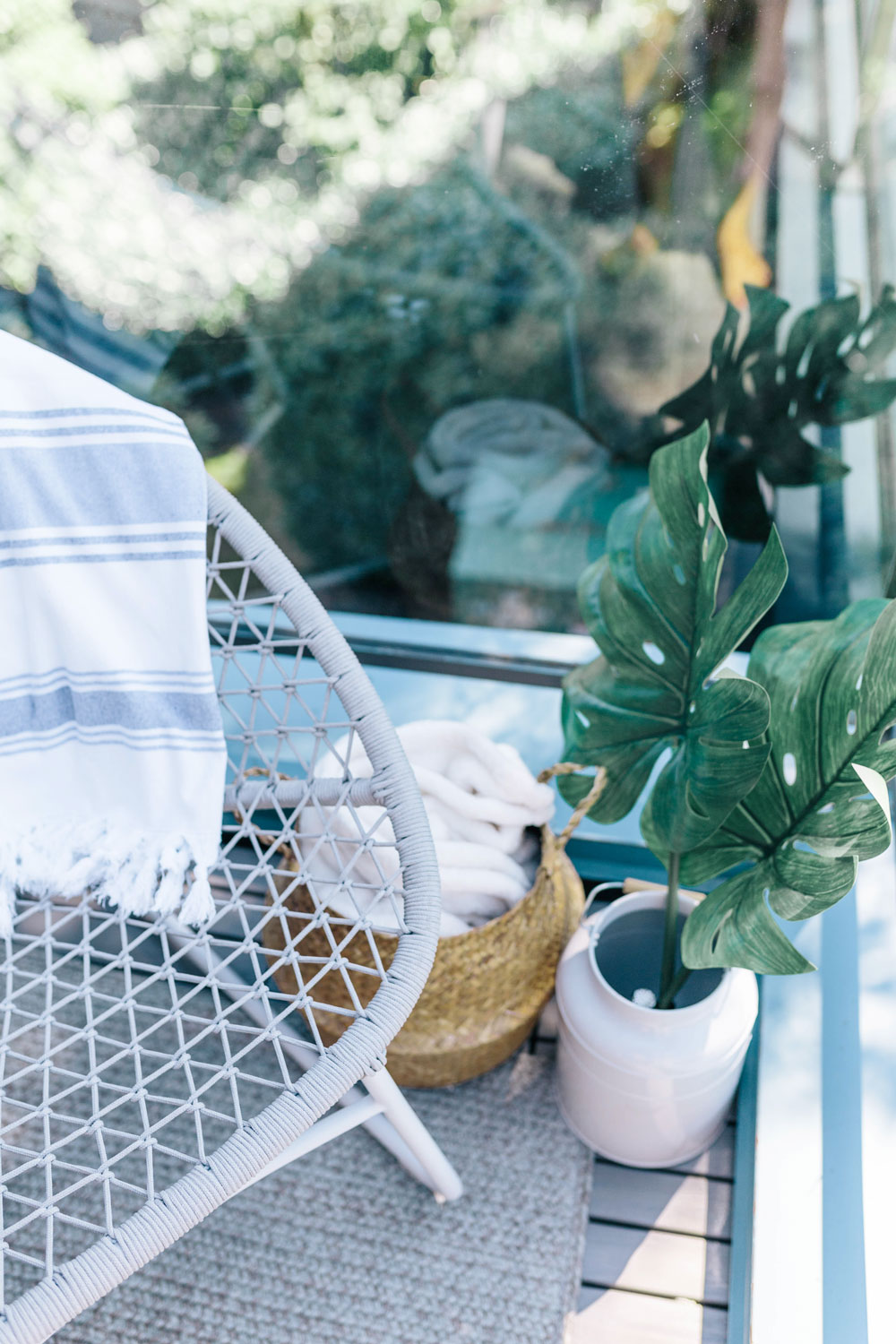 First things first – the chairs! I feel like when it comes to an outdoor space, you start with the chairs and then design everything else around them. Why? Because being outside is supposed to be about relaxing and unwinding, and if you have a small space they'll likely take up the most room. So not only should you be focusing on your chairs from a comfort perspective, but a style angle too (just think of how a couch sets the tone for a whole living room). Without a doubt, I knew I wanted the Bene Graphite Lounge Chairs – I loved their weatherproof woven cord design which adds a cool modern and graphic touch to the space, plus I knew that we'd have to bring them in when the winter set in and I loved that they were super lightweight.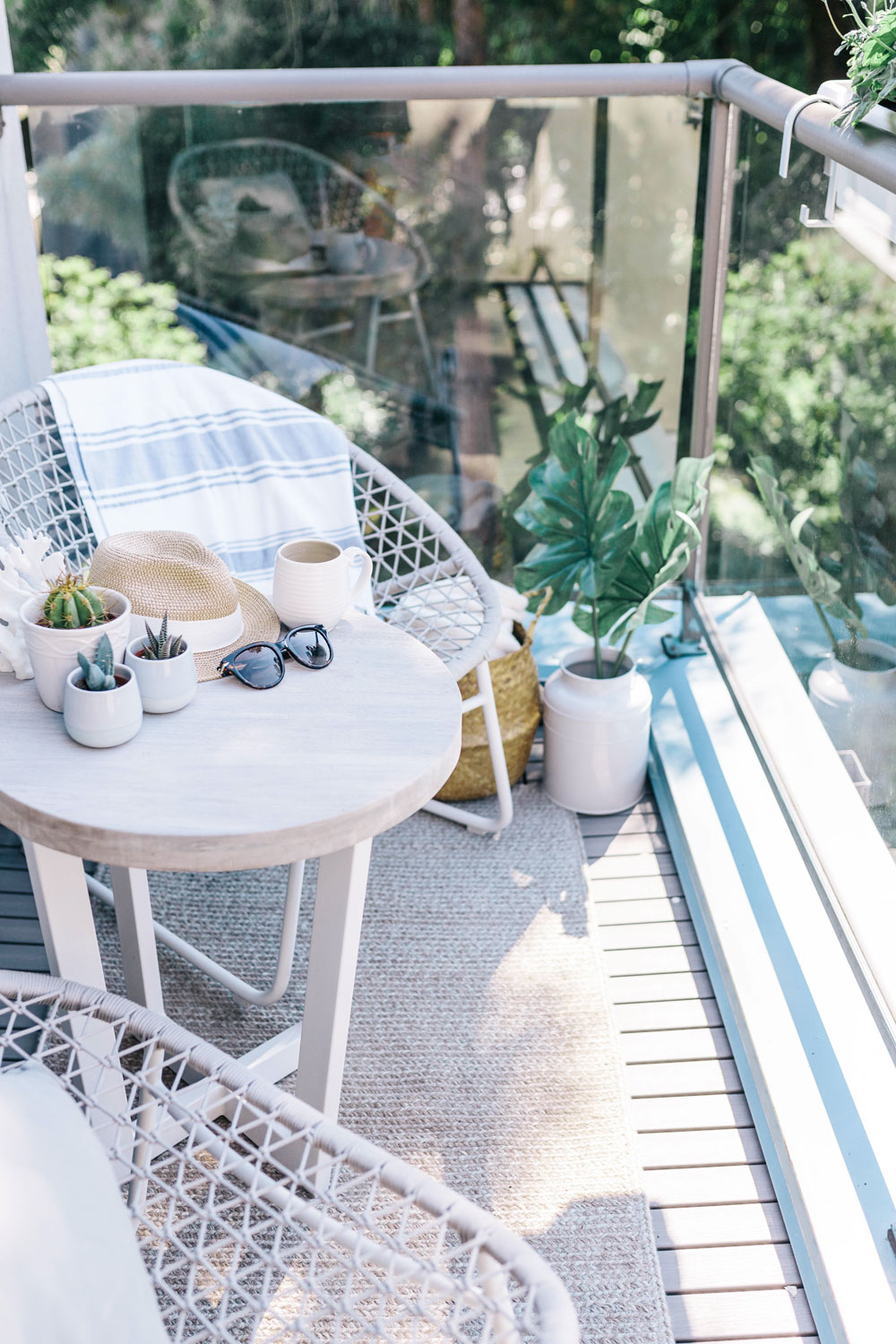 What I didn't realize until we got them in was just how comfy they'd be – they're honestly like sitting in a cloud since the cord just conforms to your body! I have some spinal alignment issues so have to be careful about sitting for too long but honestly, this has become my new workspace when I know I have to sit and do some writing for a long time. I've also taken to coming out here with my breakfast and doing all the "weird" morning stuff that Matt doesn't get (aka journaling, meditating, not rushing through meals – not dating a very zen person, that's for sure).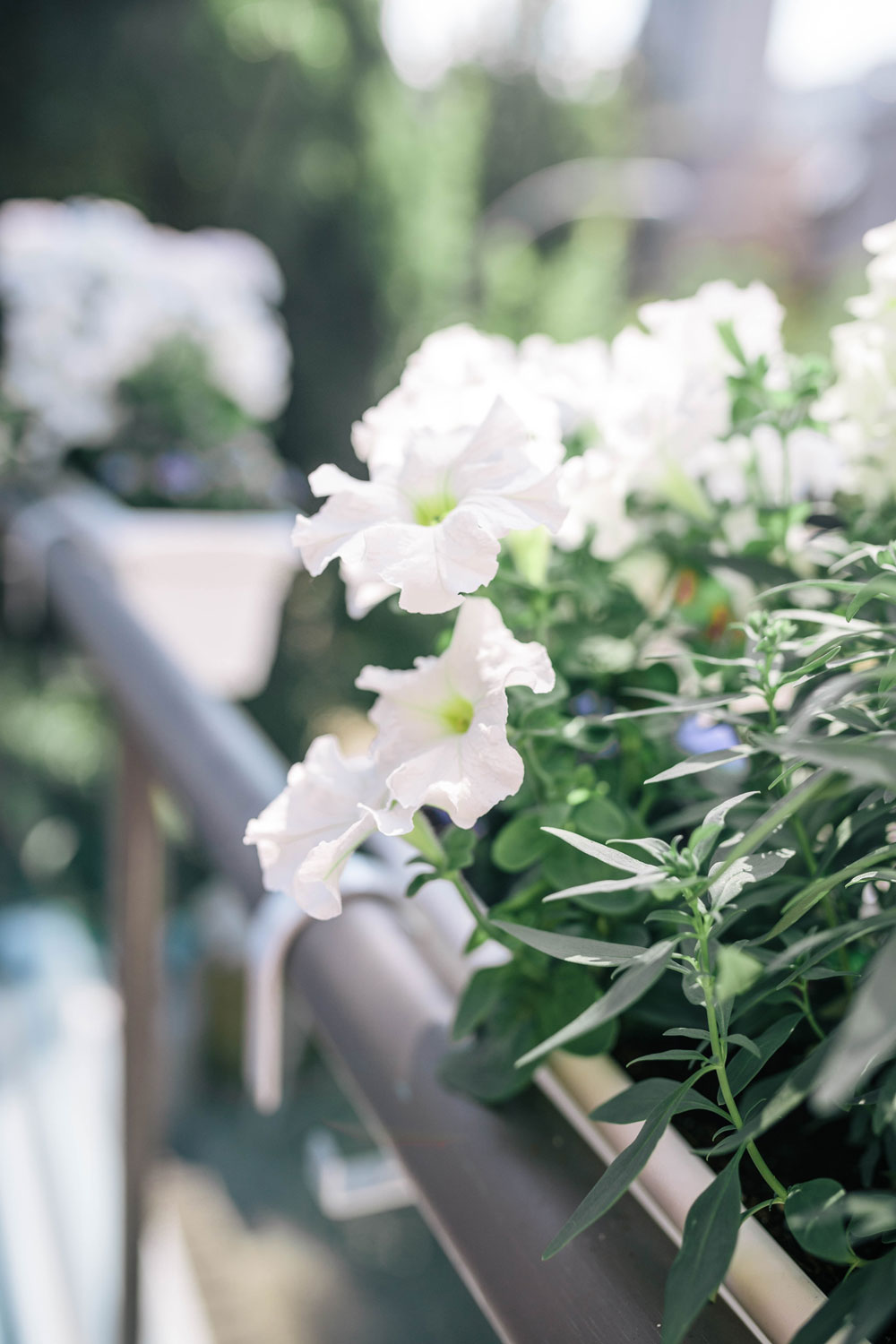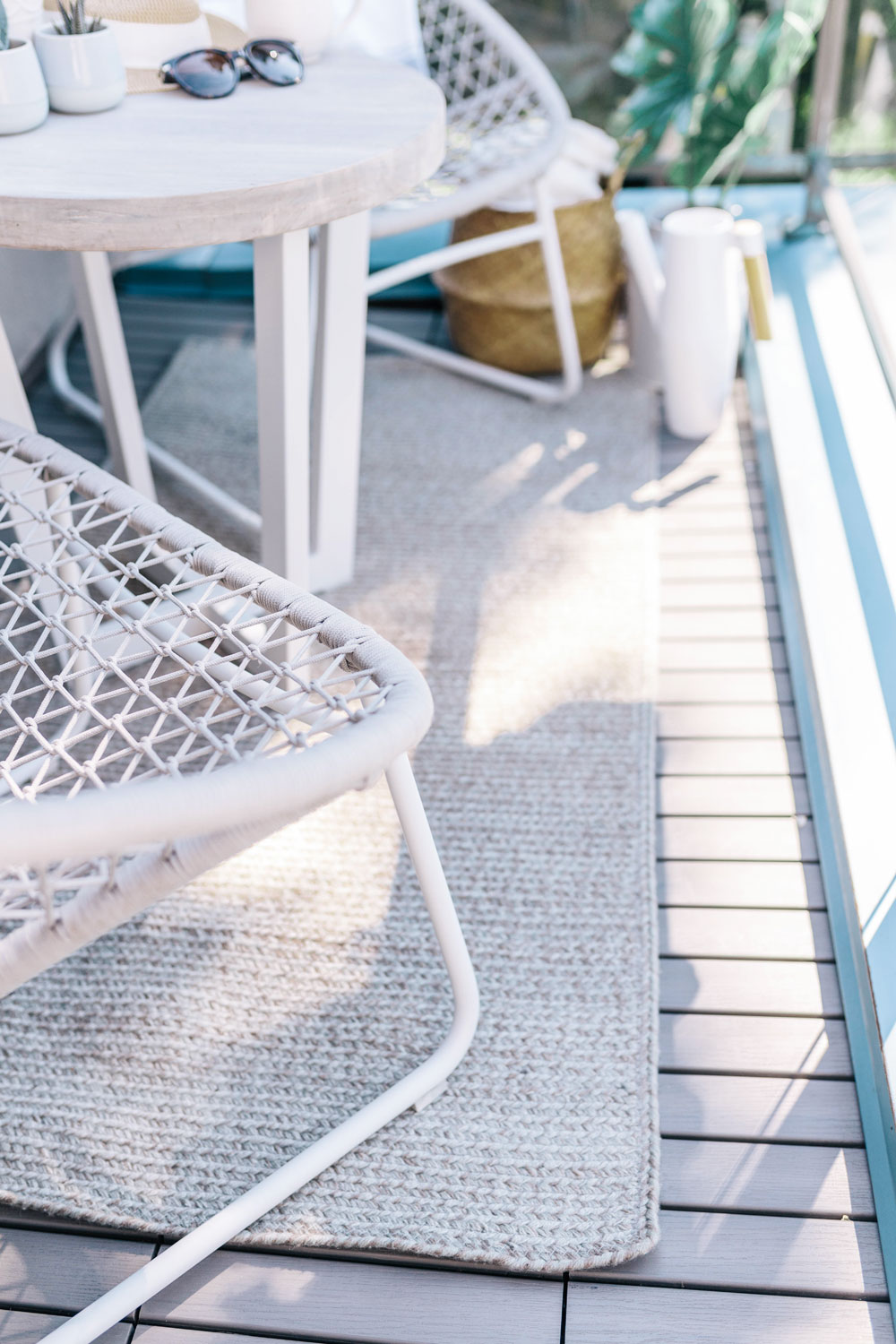 Because I like to come out here first thing and the flooring is actually kinda slippery, I wanted to add a rug in for practicality's sake, but also because I thought the whole space could use a lot more texture. One thing I've learned over the years as I've strengthened my decor skills is that when it comes to a small space, not overwhelming with colour is key – opt for texture play instead. It helps add interest and style without adding bulk! The Stria Lightweight Grey Outdoor Rug was my immediate go-to because I knew I wanted to play to the cool greys already going on outside and just adding pops of colour via plants and flowers (which by the way we grabbed from Hunter's on West Broadway here in Vancouver – my new favourite ritual is coming out in the morning while I'm oil pulling [another morning habit Matt is quite perplexed by] and watering my pretty little posies!).
 Finally, because we're limited with space, I knew I needed a pretty petite side table but I wanted it to be still something I could work on since I envisioned I'd be out here a lot working (and I really have, even more than I anticipated!). The Toba Side Table in Driftwood Gray was a no-brainer – it is the perfect size for our space and I love how it can get repurposed for indoor use in the winter (I like to move our things from inside-out in the summer [you might recognize some things, like the seagrass basket and palm fronds, from earlier indoor decor posts] and then outside-in in the winter). Again, the rustic wood grain adds some beautiful texture to the space and gives just enough room to have a little cacti arrangement (something that loves all the sun we get here in the later afternoon) and my morning musts (coffee, a book, etc).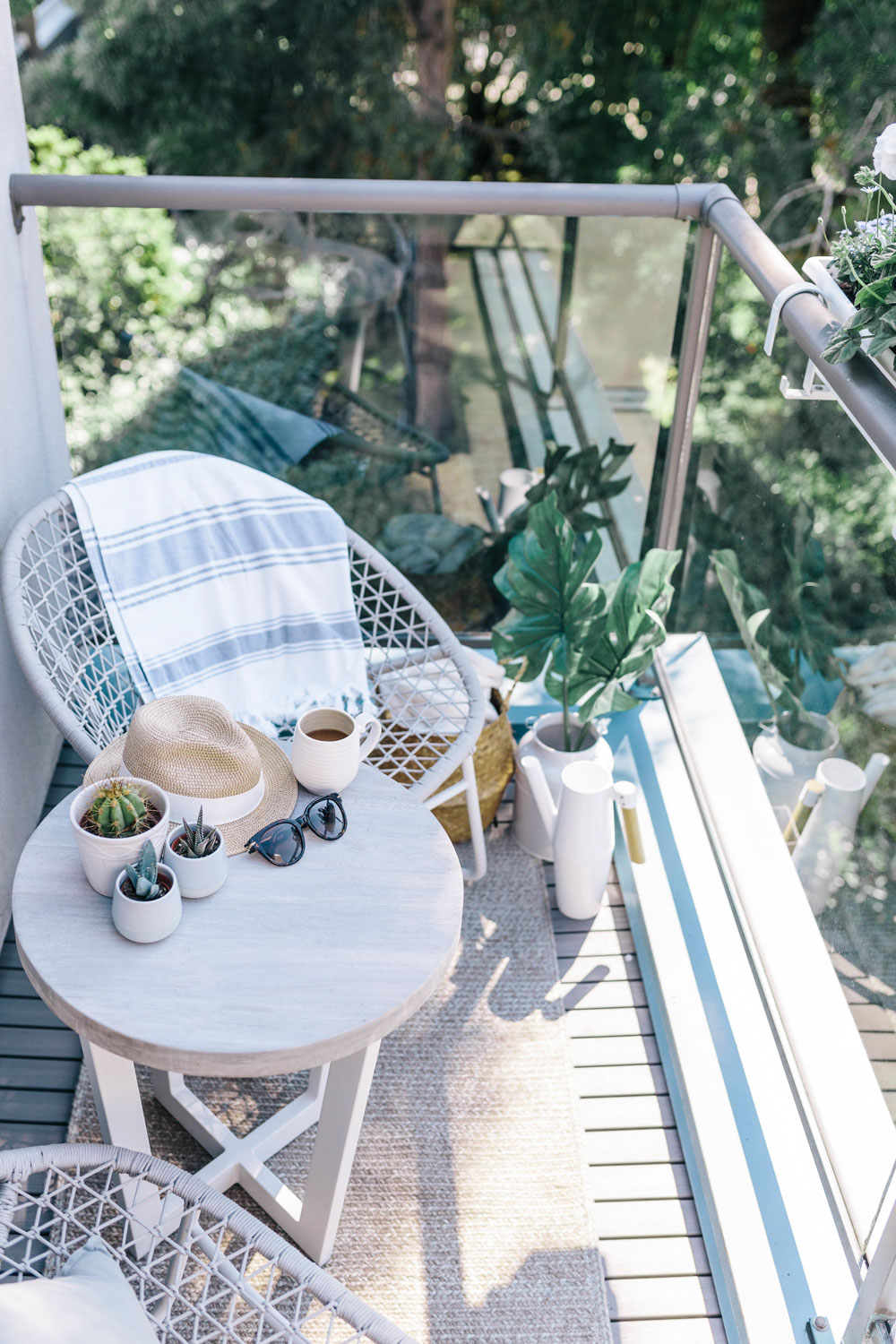 What I love about Article other than the obvious (high-quality, innovative and perennially stylish pieces) is that they're so customer-focused – I try to focus on purchasing from and partnering with brands that have the customer's best interests in mind, and a common thread with a lot of these brands is that they're focused on eliminating the middle man to reduce product costs for the customers, while ensuring that more nervous shoppers (or even people who ultimately find that a piece isn't the right fit for their space) can return hassle-free. Article offers a 30-day no questions asked return policy, which is a perfect amount of time to really see if a piece is the right fit. They do such a great job of representing colour, offering perfect dimensions and sharing a product visually styled in different ways on their site to eliminate any uncertainty before purchasing, but it's such a wonderful added bonus to know that you can return if needed. I've had countless questions about the Soma Couch which we love to bits and that has gotten so much use (in fact, we have a guest on it tonight!) and the main thing I tell everyone who asks other than how much we love it is that it's well worth just trying because you have 30 days to really see how it works for you!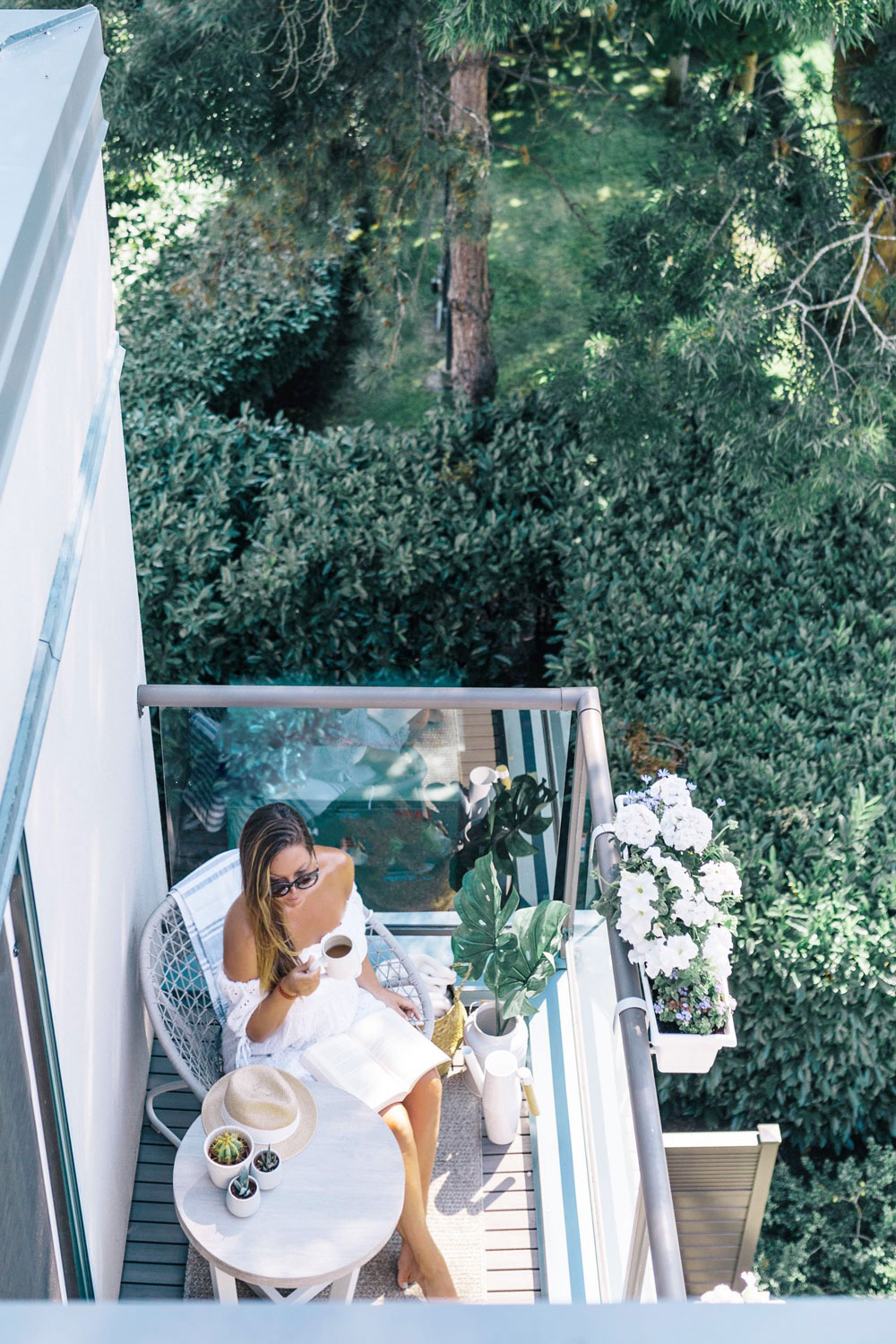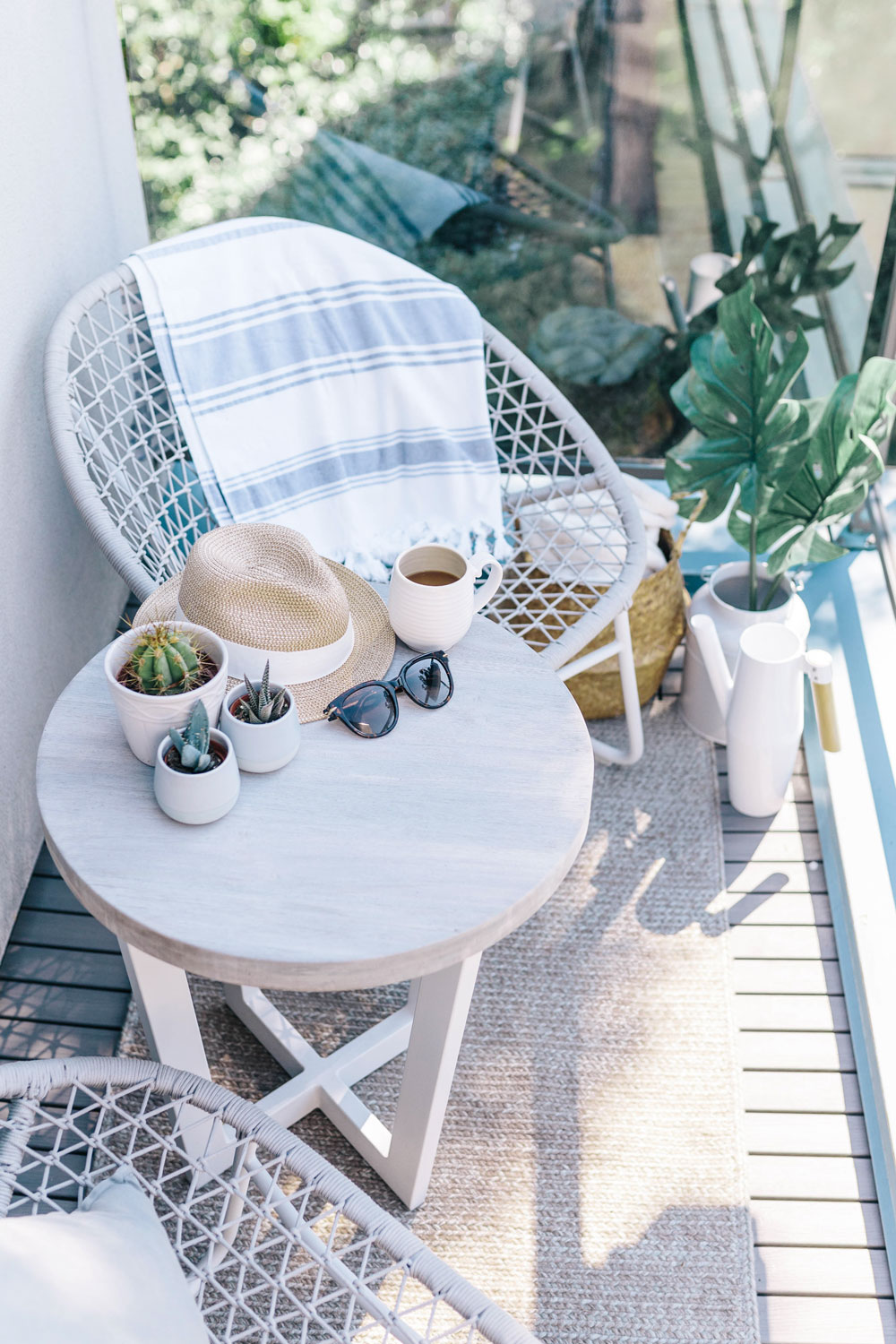 The other thing I love about Article is that they're Canadian – it's really important for me to support homegrown talent and brands and this is one of my favourites to support because I just love every piece I've ever had from them. They literally make my space! Shop more of their beautiful offerings here and if you have any questions for me, leave them in the comments below! And yes, the reveal of our formerly disgusting side patio…gulp. Feel awful that it was left like this but in our defence, we're tenants!!! It wasn't our fault!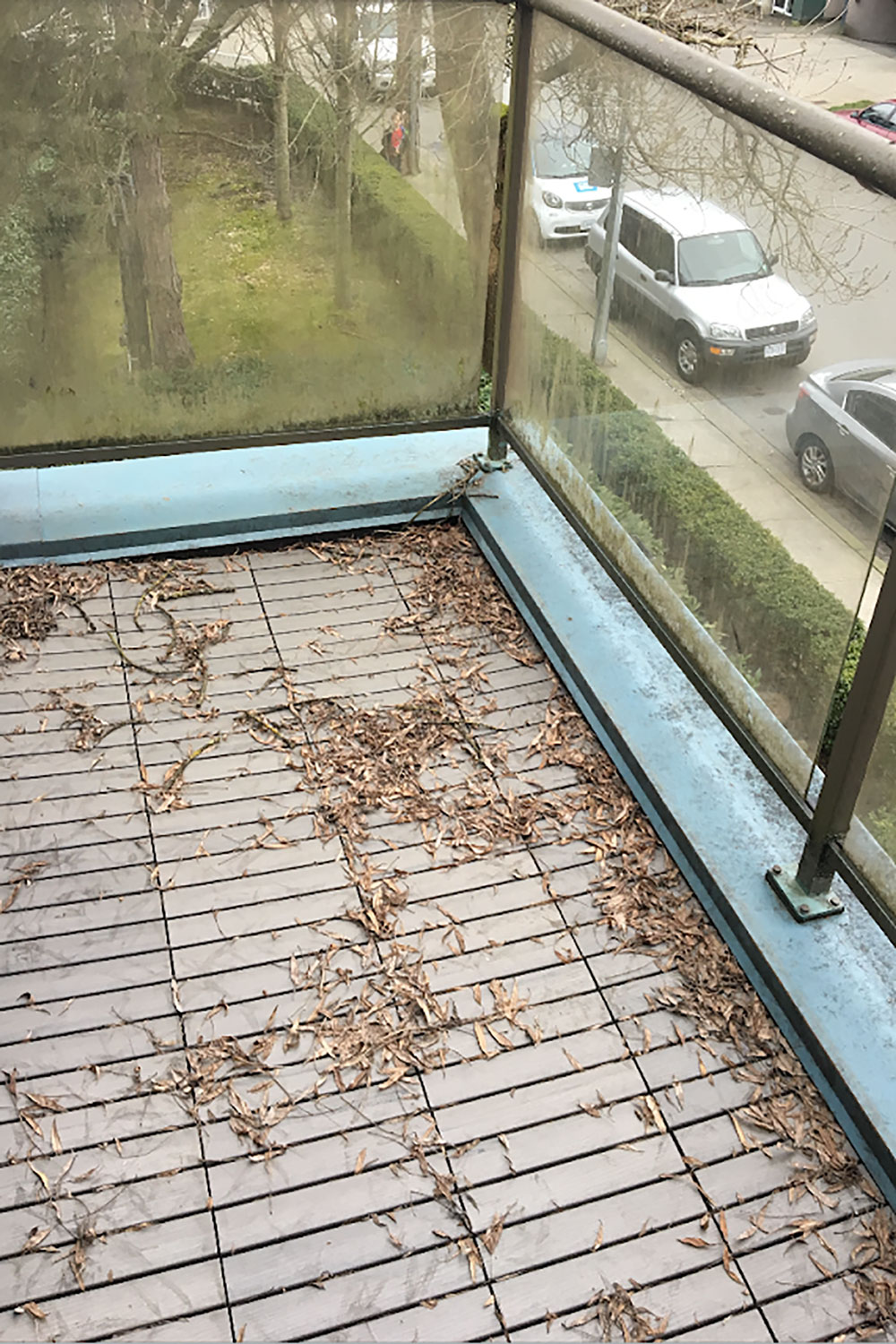 Sorry for the image quality but you get the point. Not to toot my horn but it's quite the makeover and honestly, it's been so rewarding because I get so many slow precious summertime moments here, along with a surprising amount of rewarding hours spent working away here in peace! I love it. Thank you again Article for working with us to make this once decrepit little space my dream patio!